Tactical Analysis: Ryan Mason's Tottenham Hotspur
Another big English football club, another post-José Mourinho salvage mission. The Portuguese manager's time at Tottenham Hotspur was probably his worst overall as a manager, as his 86-match stint was the shortest since his União de Leiria days in 2001 and 2002, and this was also the first time he failed to lead a club to an honour of any sort after taking charge of Porto in 2002. Besides keeping 'the history of the Tottenham' going, the ex-Chelsea tactician's points per match average of just 1.77 was the lowest in his managerial career.
His replacement, at least on a temporary basis, was Ryan Mason. The Spurs academy graduate, who went on to make 53 appearances for the club, had to acquaint himself with  the managerial business earlier than he probably anticipated, as a horrific head injury that he sustained while playing for Hull City forced him to cut his playing career short. Just a couple of months after officially announcing his professional retirement, Mason joined the Tottenham coaching staff.
After roles as official Academy Coach for the Under-19 UEFA Youth League side and Head of Player Development, Mason was thrown in the deep end as interim manager until the end of the 2020/21 season. With four wins from seven matches in all competitions, Spurs have done alright under their the Premier League's youngest-ever head coach, so let us take a closer look at how he set his side up:
Formations and Personnel
First of all, let us take a look at the players that Ryan Mason used most often in his short tenure as head coach. In his six Premier League matches, the 29-year-old English manager stuck to a 4-2-3-1, largely fielding the same XI as his predecessor too.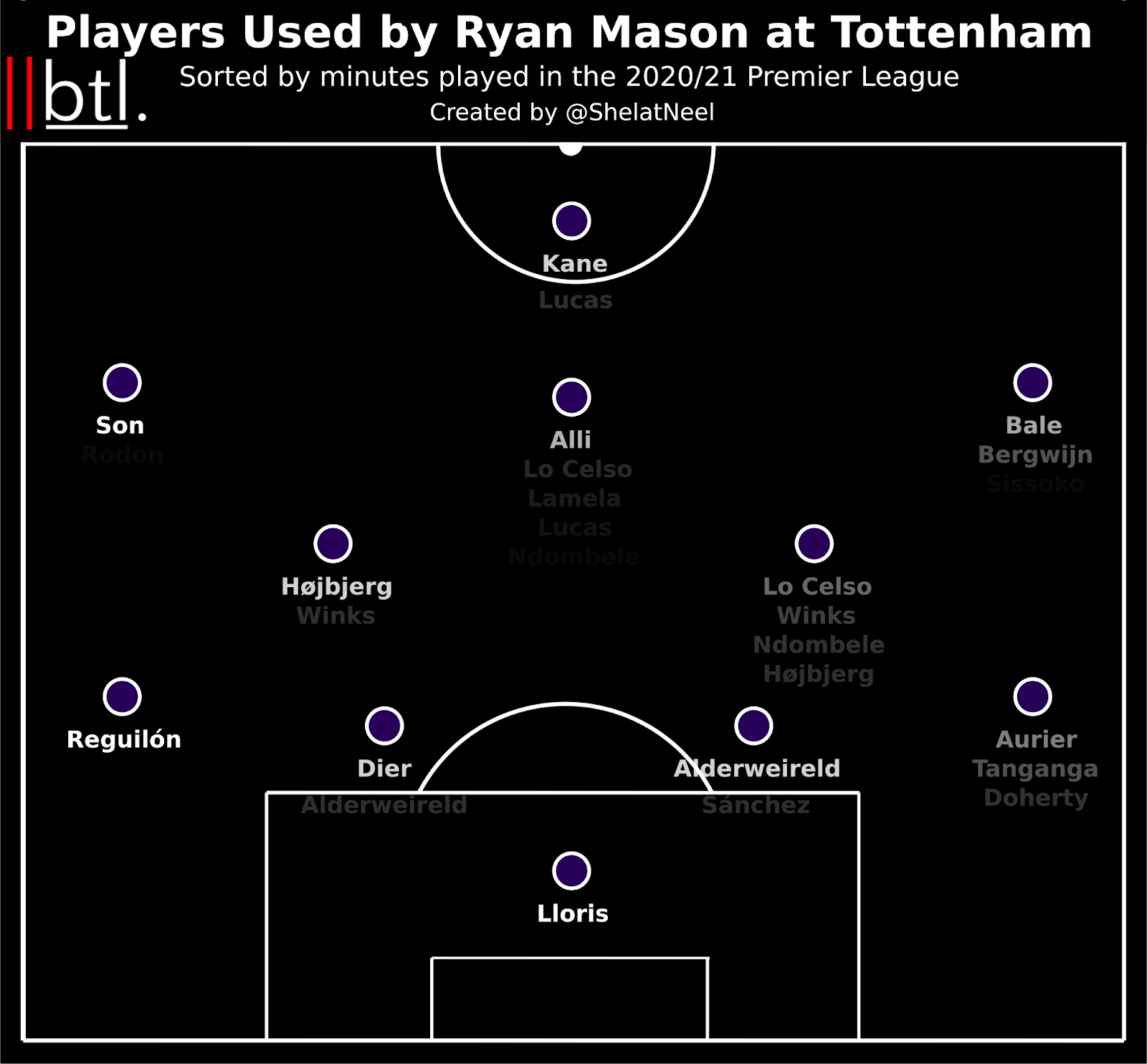 A couple of changes saw Dele Alli benefit from Mason's tenure with his reinstatement to the core squad after being alienated by José Mourinho, with Lucas Moura and Érik Lamela being the main losers in the front-four as Gareth Bale shared the spot on the right wing with Steven Bergwijn. Further back in midfield, Mason was puzzlingly been reluctant to use Tanguy Ndombele – a player whose ball-carrying and progression ability could have been vital to Tottenham's style of play – favouring Giovani Lo Celso or to a lesser extent Harry Winks instead.
There was one occasion – the League Cup final against Manchester City – when Spurs switched up their formation to a 4-3-3 and operated in an altered system, but that turned out to only be a situational change. It did give us a little glimpse into Mason's tactical adaptability, but unfortunately, we did not see enough of it to get overly excited.
Improved Pressing
One stark difference between Tottenham Hotspur under José Mourinho and that of Ryan Mason was that the latter was much more active in terms of pressing, seeing his side come away with a lower PPDA (Passes allowed Per Defensive Action) than his predecessor in every match bar the clash against Leicester City on the final matchday.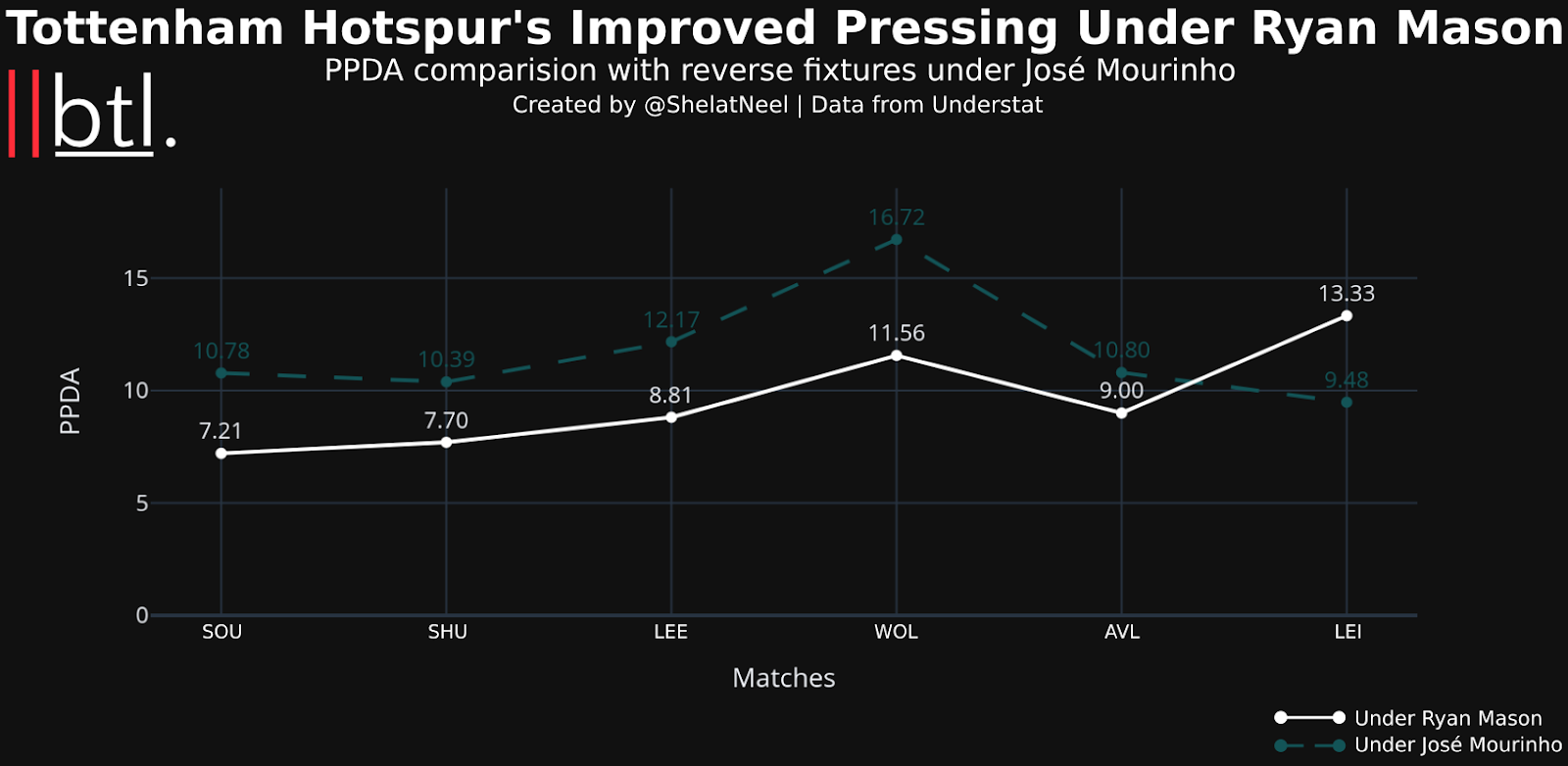 It must be said, though, that in the rare occasions when Mourinho's Tottenham looked to press their opponents, their system was incredibly similar to the one Mason employed. They stayed in their 4-2-3-1 formation, with the front four's primary objective being to close off any passing options for the man in possession.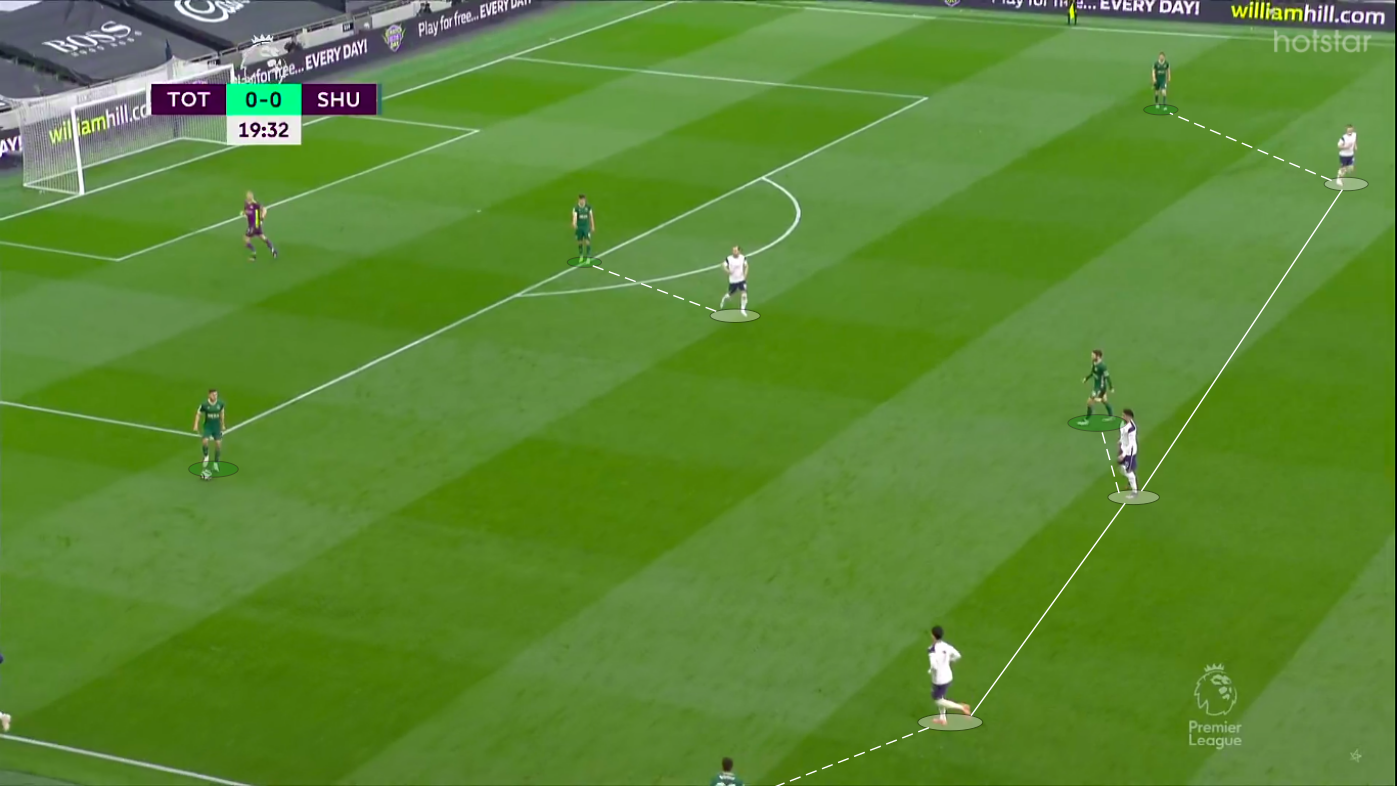 Then, as the man in possession would be forced to release the ball, he would either have to go long or play a risky ball into midfield, where the double pivot sat fairly advanced in a bid to make interceptions.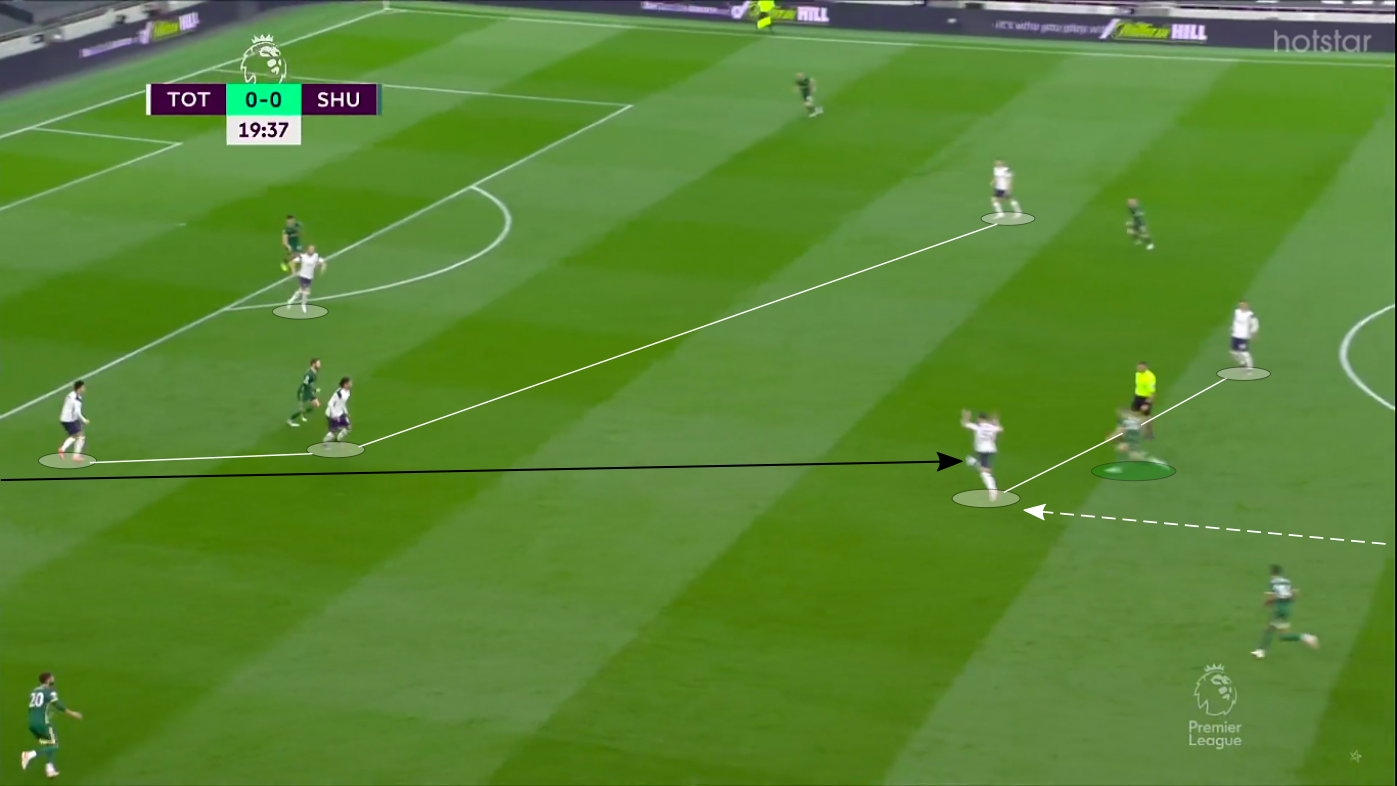 Since their pressing structure primarily involved forcing the opposition to play a difficult pass into a central area, it should be no surprise that most of their interceptions in the attacking half were made in such areas.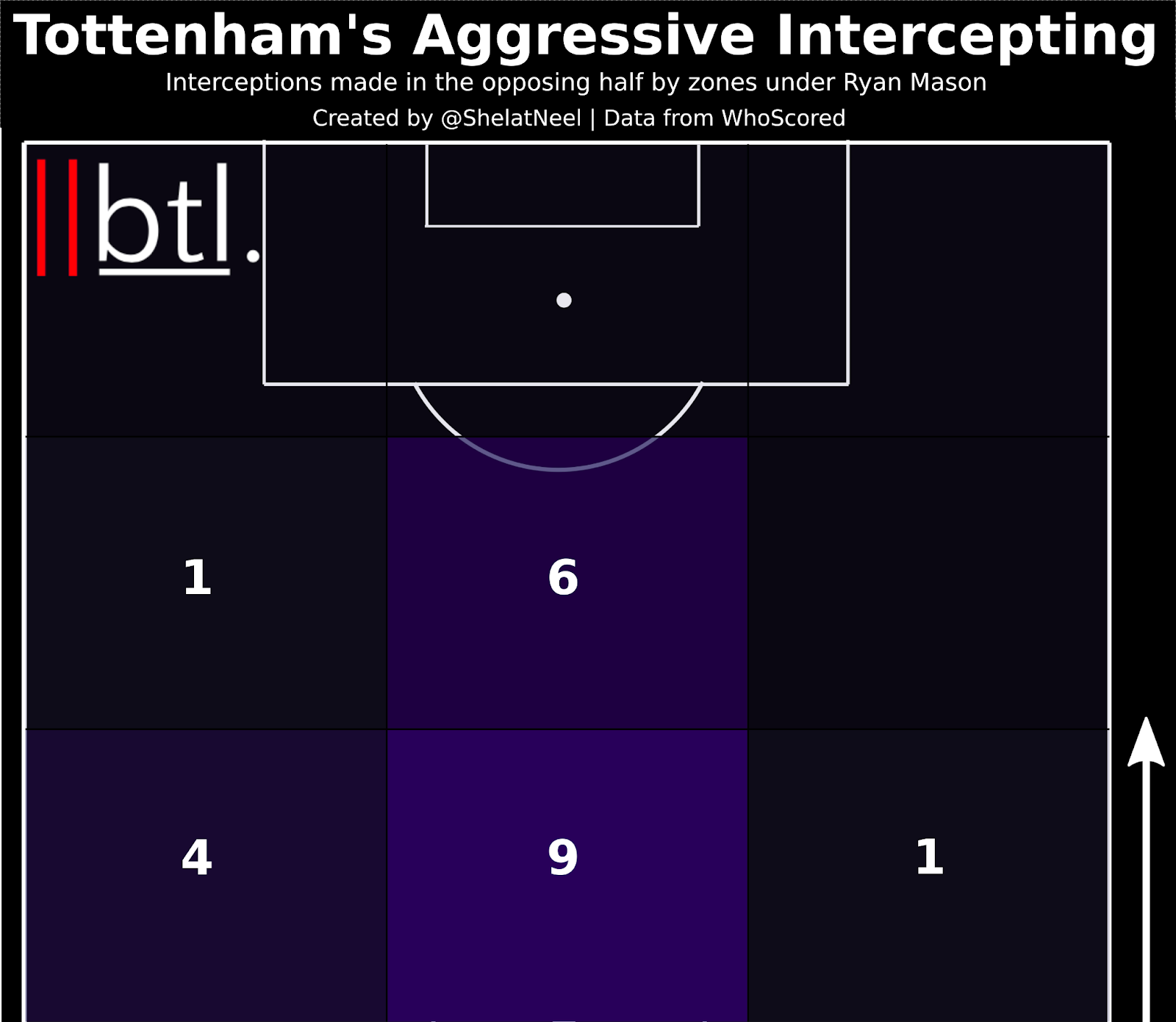 It should be noted, though, that Tottenham were nowhere near the top pressing sides in the league. The main flaw in their pressing was the lack of initial pressure on the man in possession, so a centre-back comfortable with the ball could simply carry it forward and open up passing angles for his midfielders.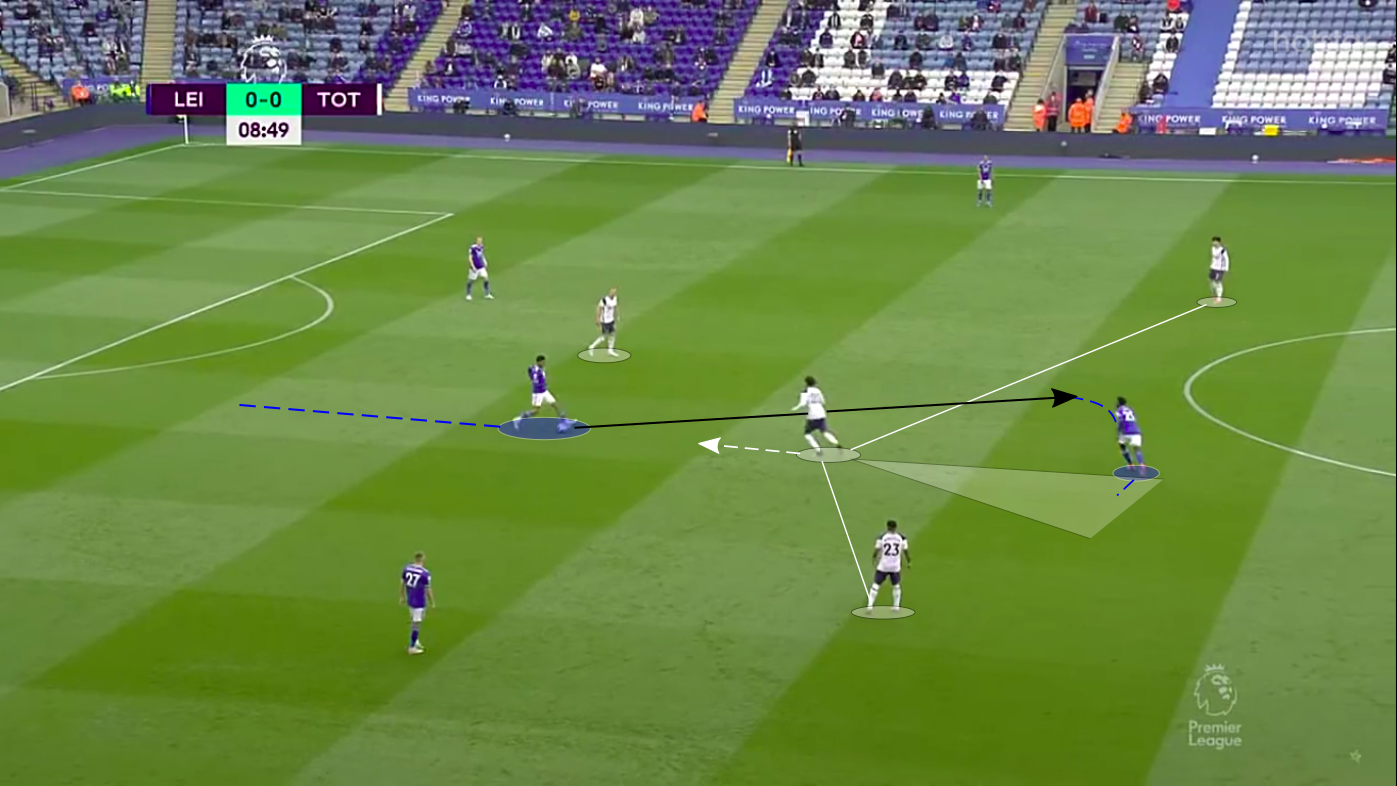 The other issue is that pressing, in general, involves maintaining a high defensive line, which is a bit of a problem for Tottenham because of their lacklustre selection of centre-backs – especially against pacey forwards.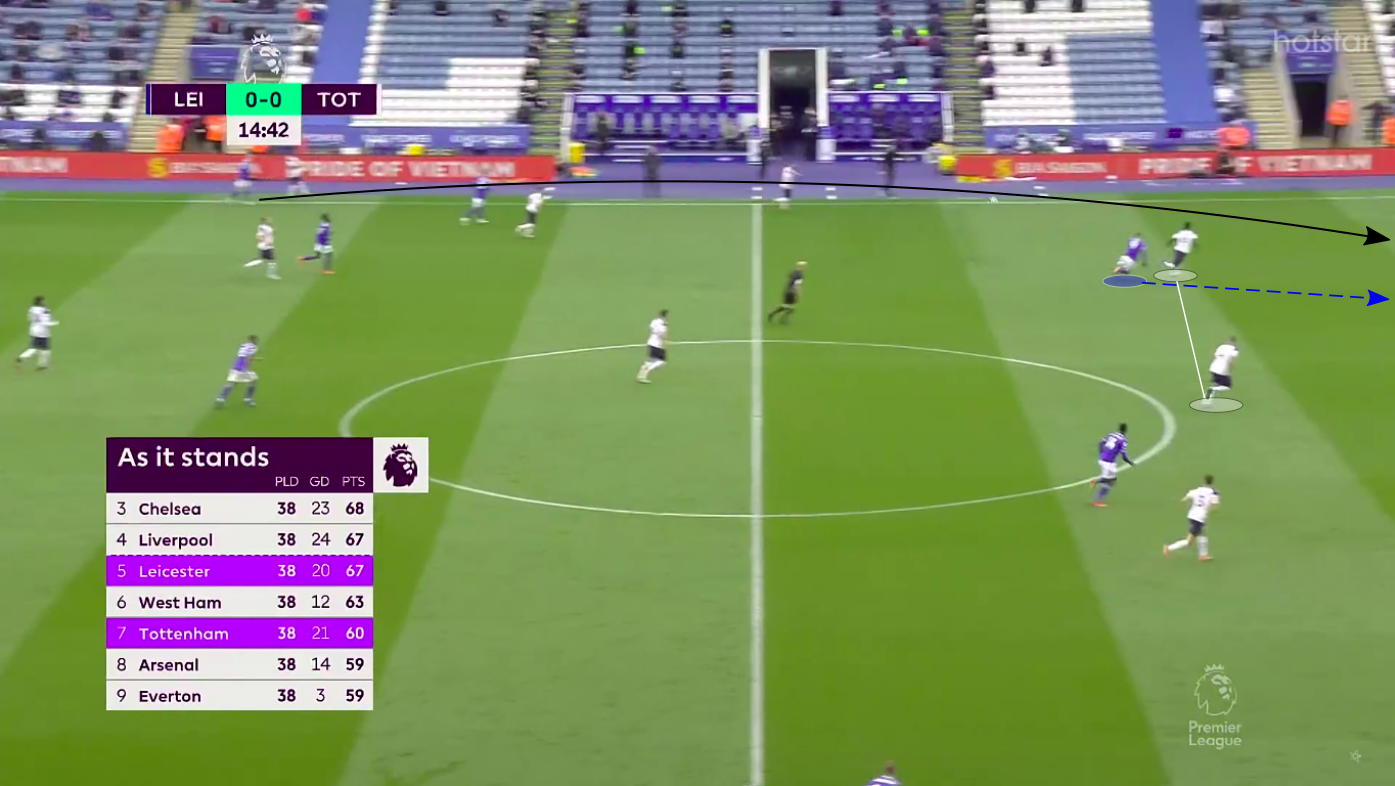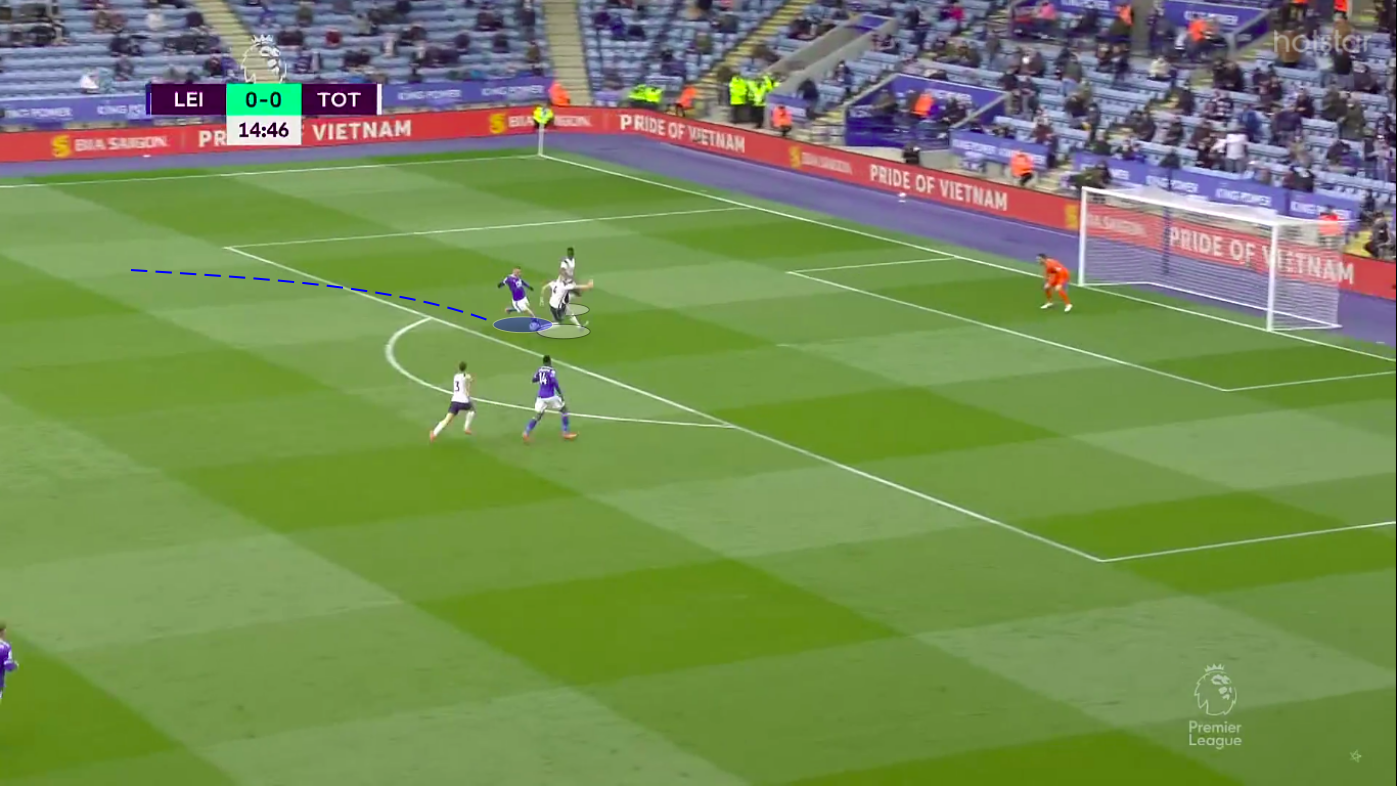 Defensive Deficiencies
In their seven matches under Ryan Mason, Tottenham Hotspur conceded nine goals. There were clear patterns visible, so let us explore them: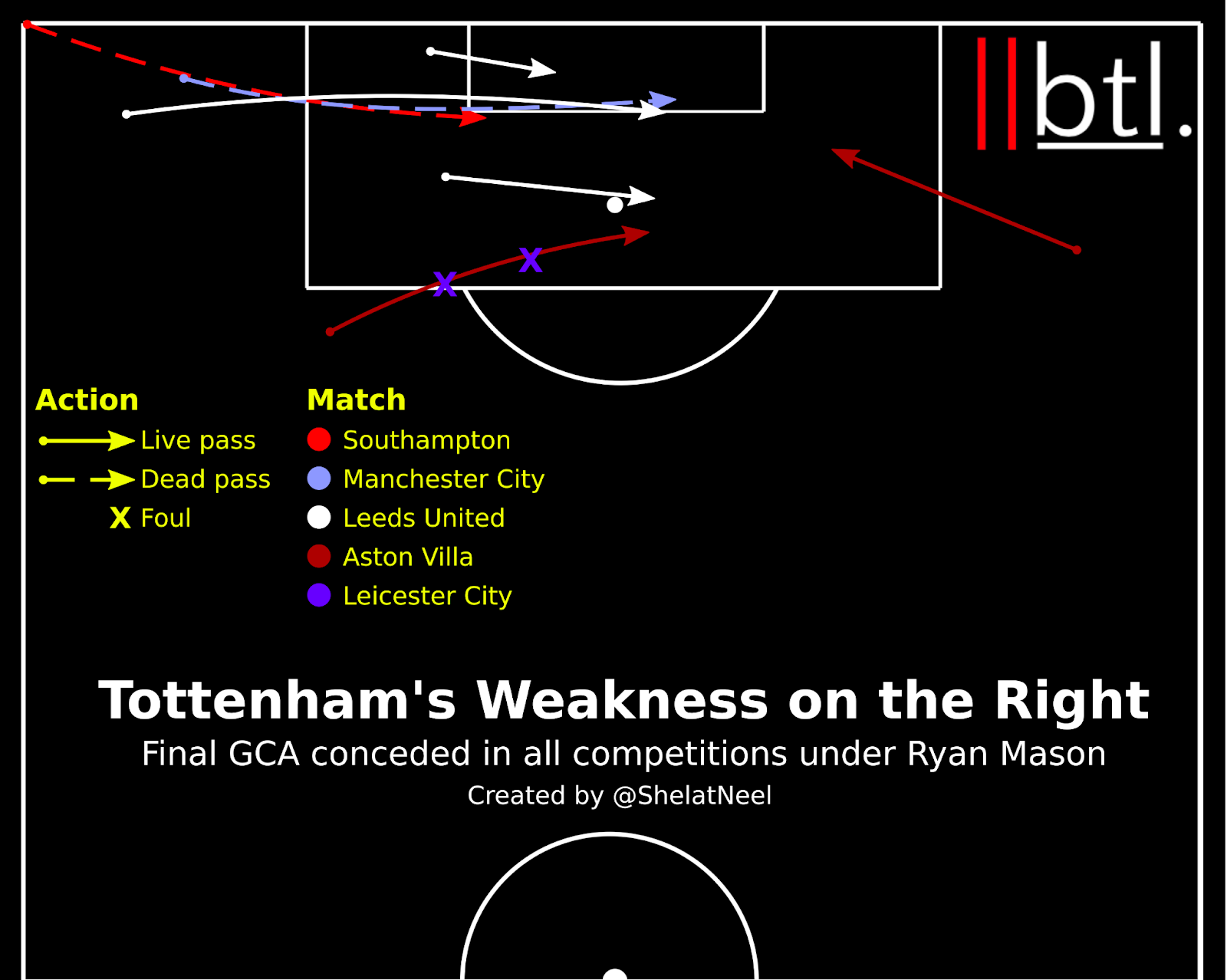 The standout issue clearly is the fact that all but one of the goals conceded came from the Tottenham right, which proved to be a bit of an unguarded gateway to their goal. Tottenham Hotspur's defensive shape was a simple 4-4-1-1, which they dropped into when their press was broken. Once again, this was close to a continuation of what we saw under Mourinho, as the attacking midfielder stayed forward while the wingers dropped into the midfield line.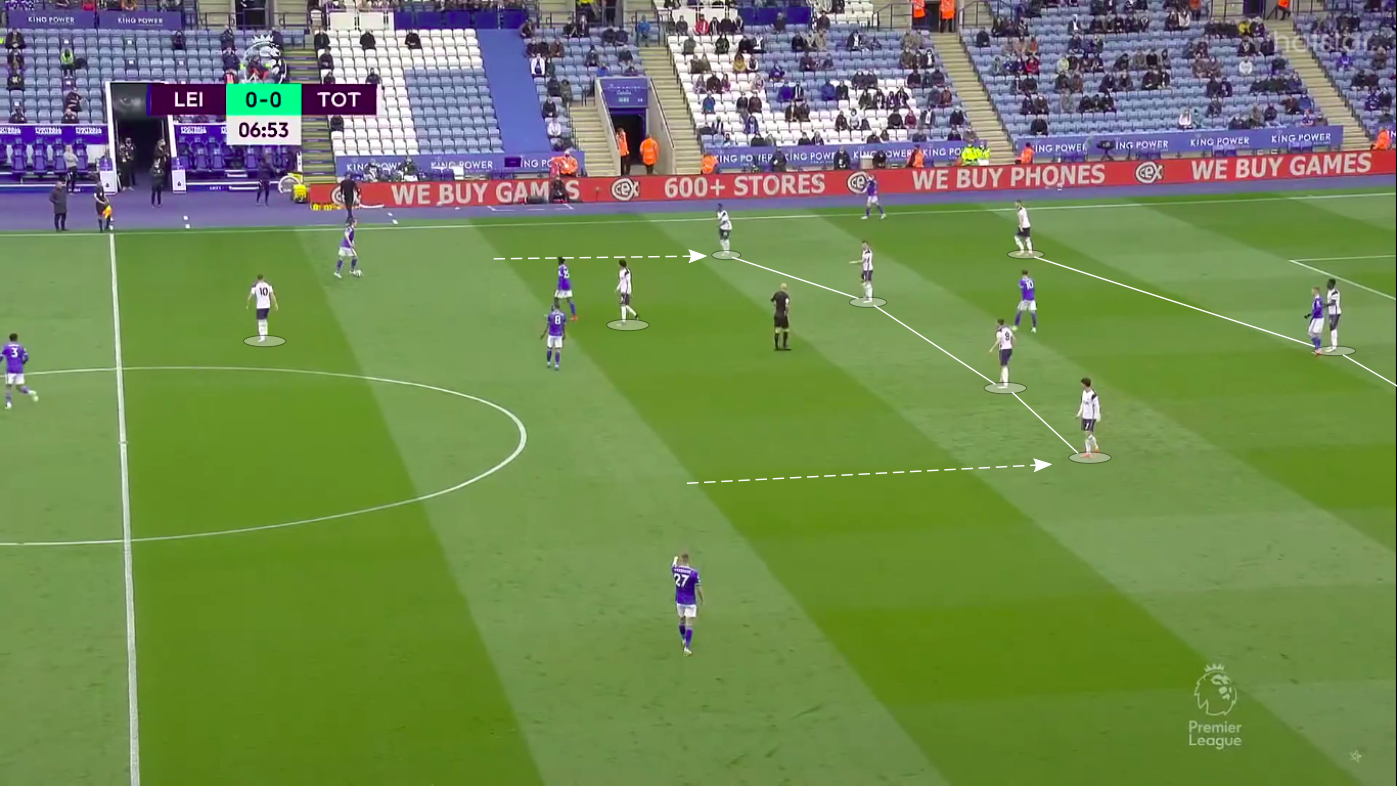 Going back to the issue on the right of defence, it is easy to identify the cause of the problem by looking at their 4-4-1-1 shape. Put simply, Mason's favoured line-up simply did not have a defensively capable player on the right. Gareth Bale is not exactly renowned for his work rate, Giovani Lo Celso's strengths mostly involve having the ball at his feet, and Serge Aurier is notorious for his defensive weaknesses. Leeds United's first goal in their 3-1 victory over Spurs at Elland Road pretty much summed all of this up: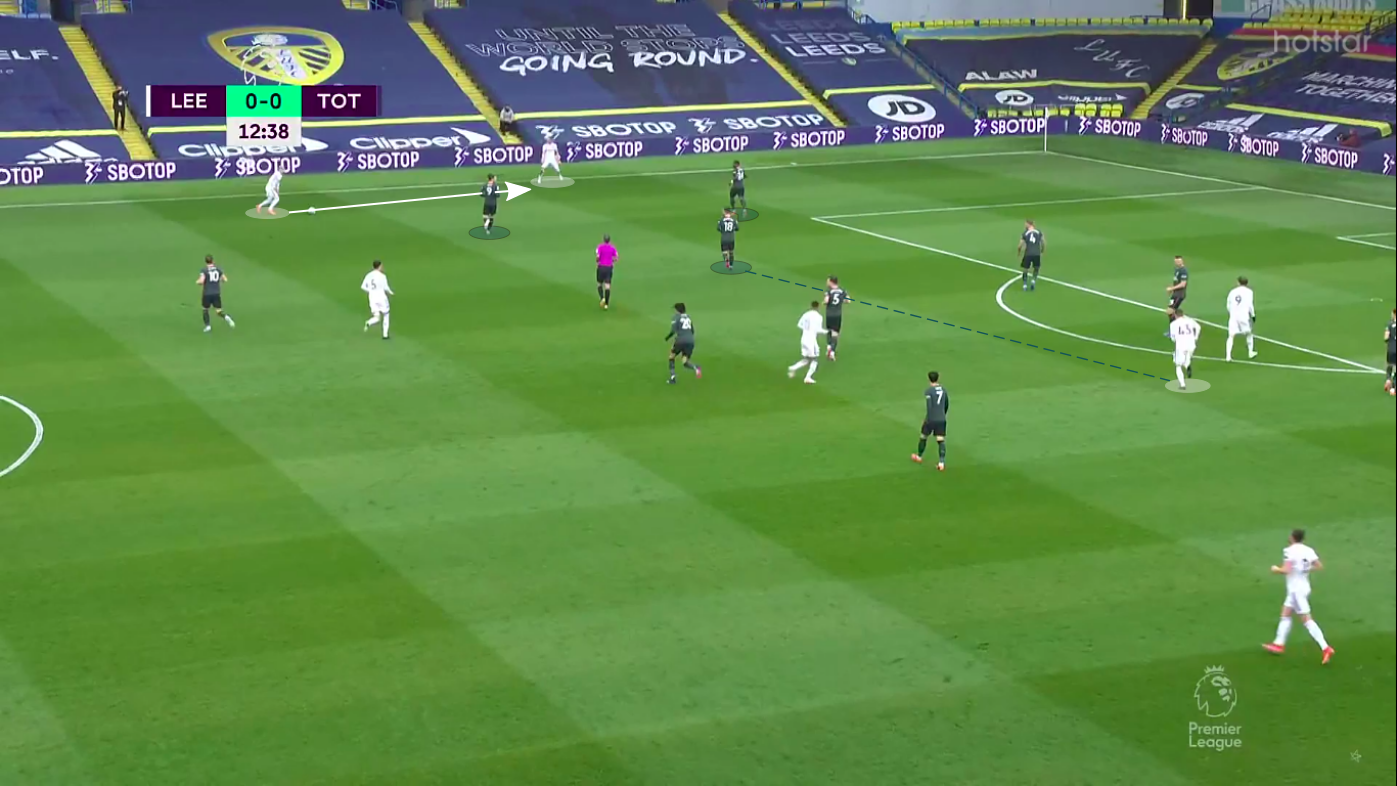 Problem number one: Bale is quite literally doing nothing. He is nowhere near the opposition left-back, not even trying to get there quickly as he is jogging, and not cutting off any passing lanes or closing down any other players. Also, notice how Lo Celso is miles away from Mateusz Klich, the man he should be marking. That would go on to be another issue.
Aurier was then left one-on-one against Jack Harrison, and he got done by a simple stepover. Meanwhile, Eric Dier had to track Klich due to Lo Celso's failure to do so, which took one defender out of the danger area for Tottenham.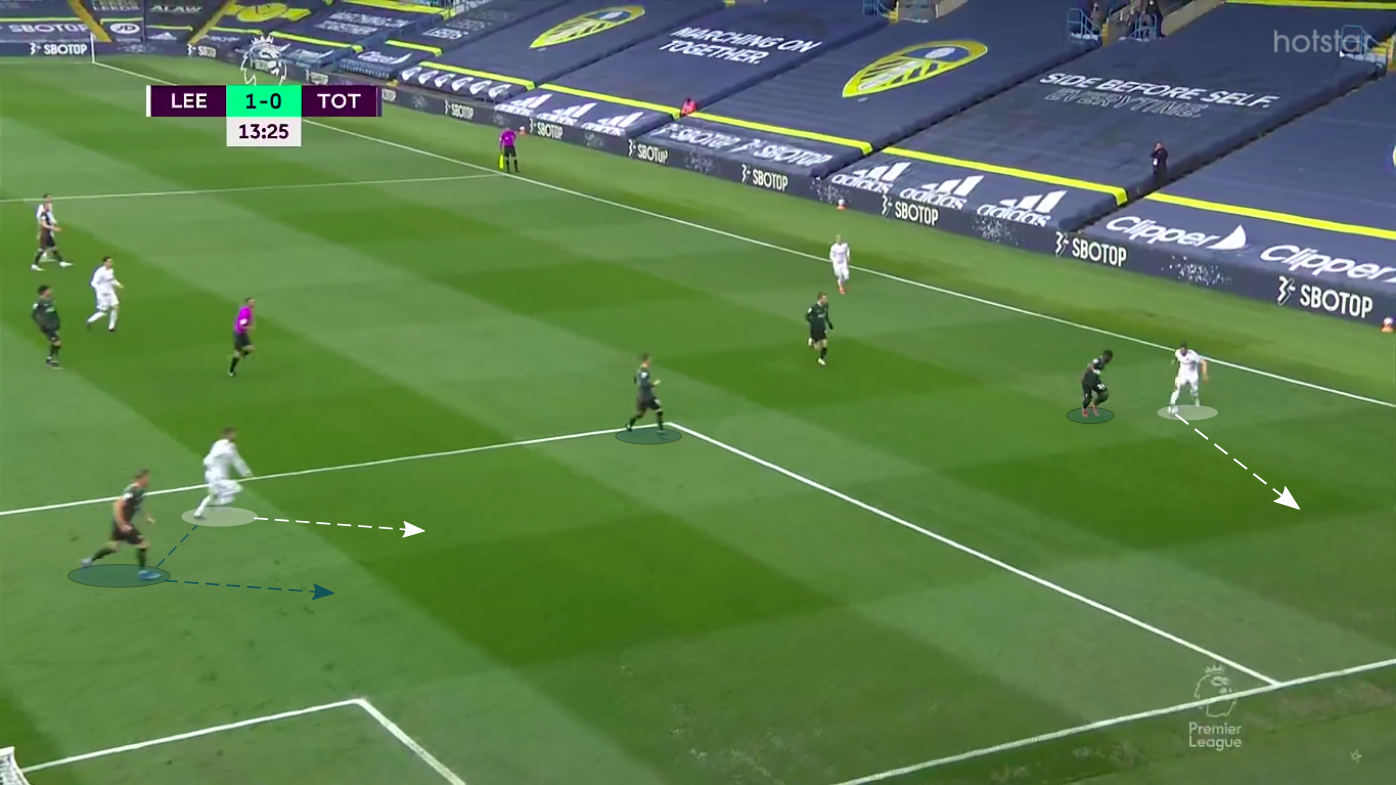 The stepover was all the attacker needed to do to create enough room for himself to cross, and once the ball came flying across the face of goal, trouble was inevitable, especially with just two of the back-four in a position to stop the cross.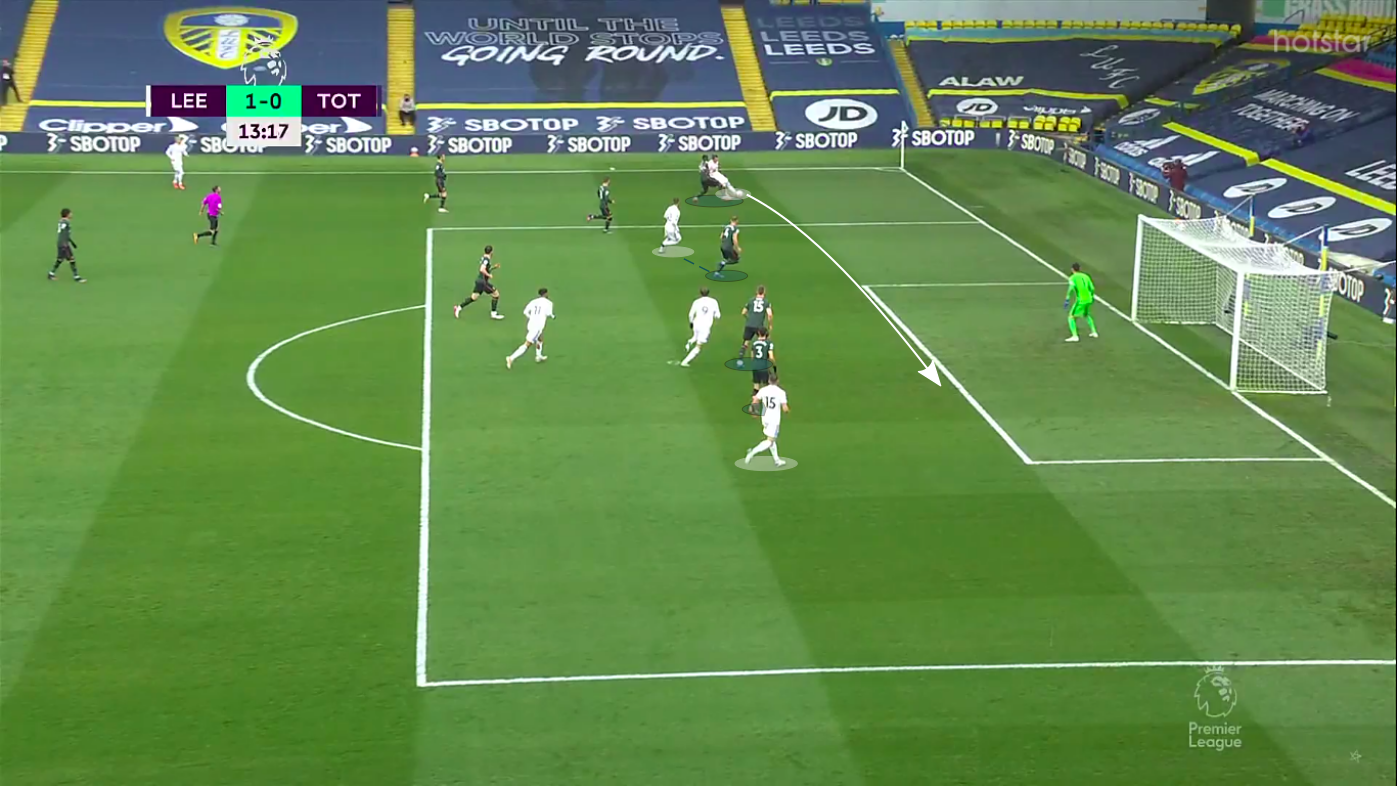 This goal involved (as shocking as it might be) a relatively good piece of defending on Bale's part, quite simply because he was at least visible in the frame. In most other cases, the Welshman might as well have gone golfing when Spurs didn't have the ball as his defensive contribution was about as close to zero as possible.
For Leeds United's second goal, for example, their left-back Ezgjan Alioski made an overlapping run from the halfway line to get the assist, while Bale was nowhere to be seen. It should not be surprising, therefore, that all but one of the open play goals conceded from the Tottenham right came when either Aurier or Bale were on the pitch.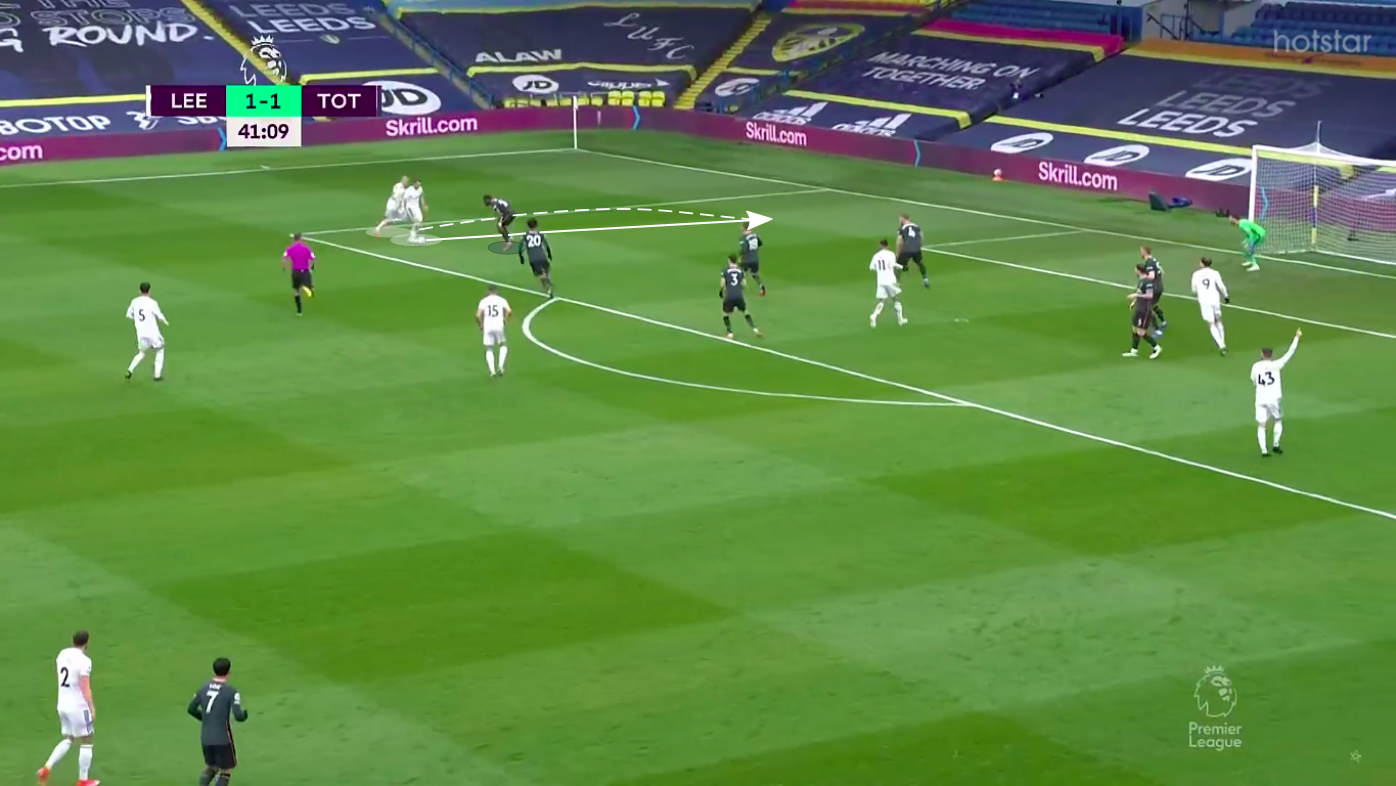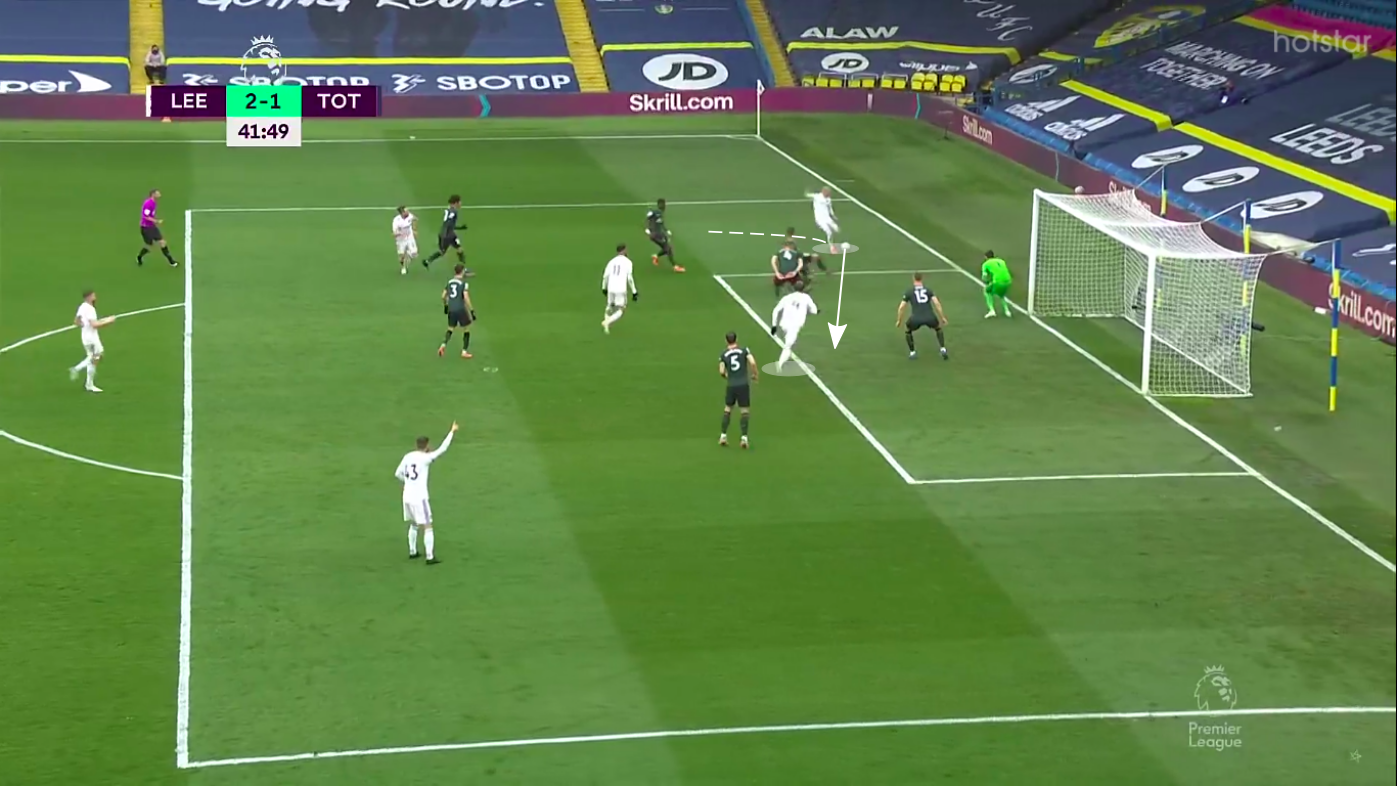 Rudimental Structure in Possession
José Mourinho's detractors often criticised him for his very basic system in possession, but unfortunately for Tottenham Hotspur, much did not change under Ryan Mason. The one major difference, though, was that Spurs were happier to keep possession under their interim manager. They still had a basic 2-4-4 in possession, which was rather uninspiring.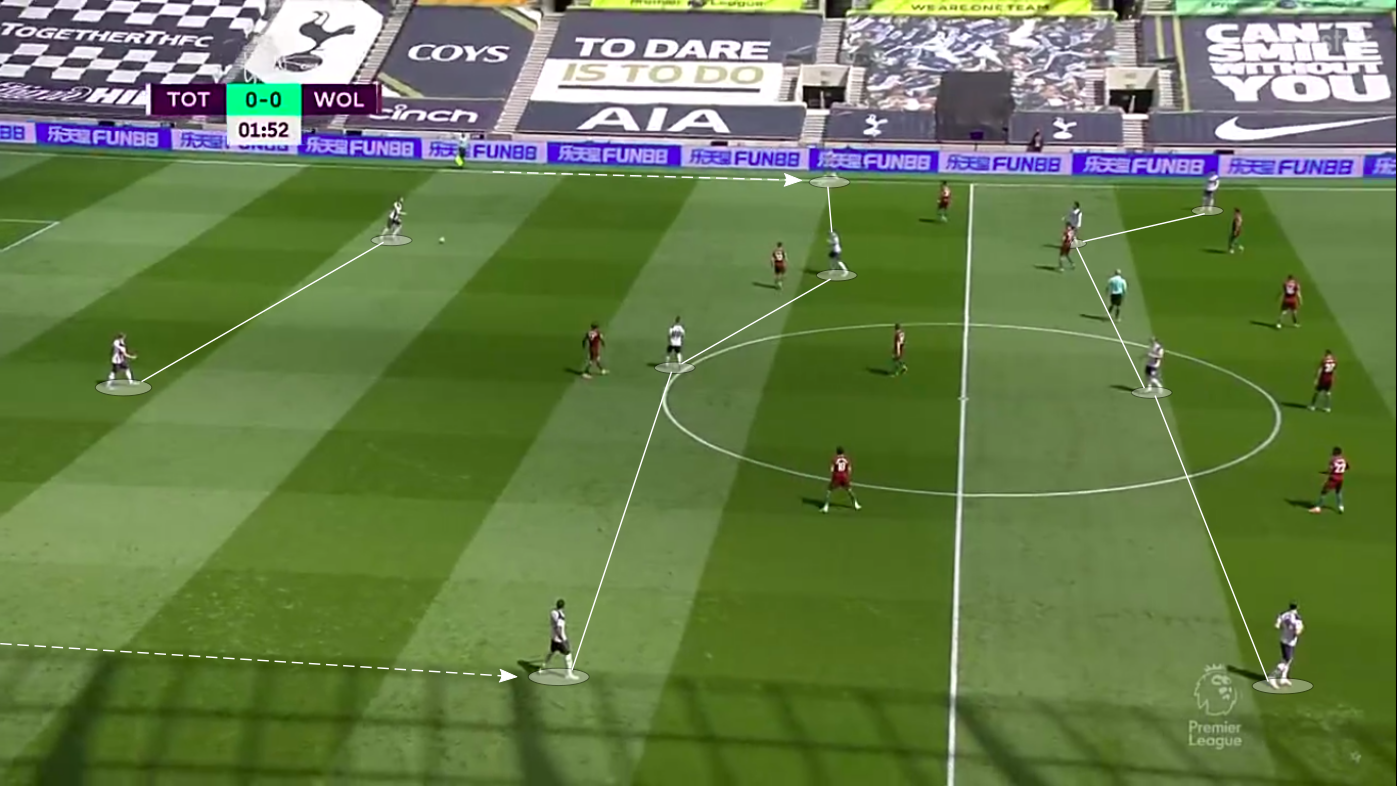 Spurs did like to build from the back even under pressure, where their shape from goal-kicks and similar scenarios was a 3-4 (-4) as the centre-backs split to either side of the keeper.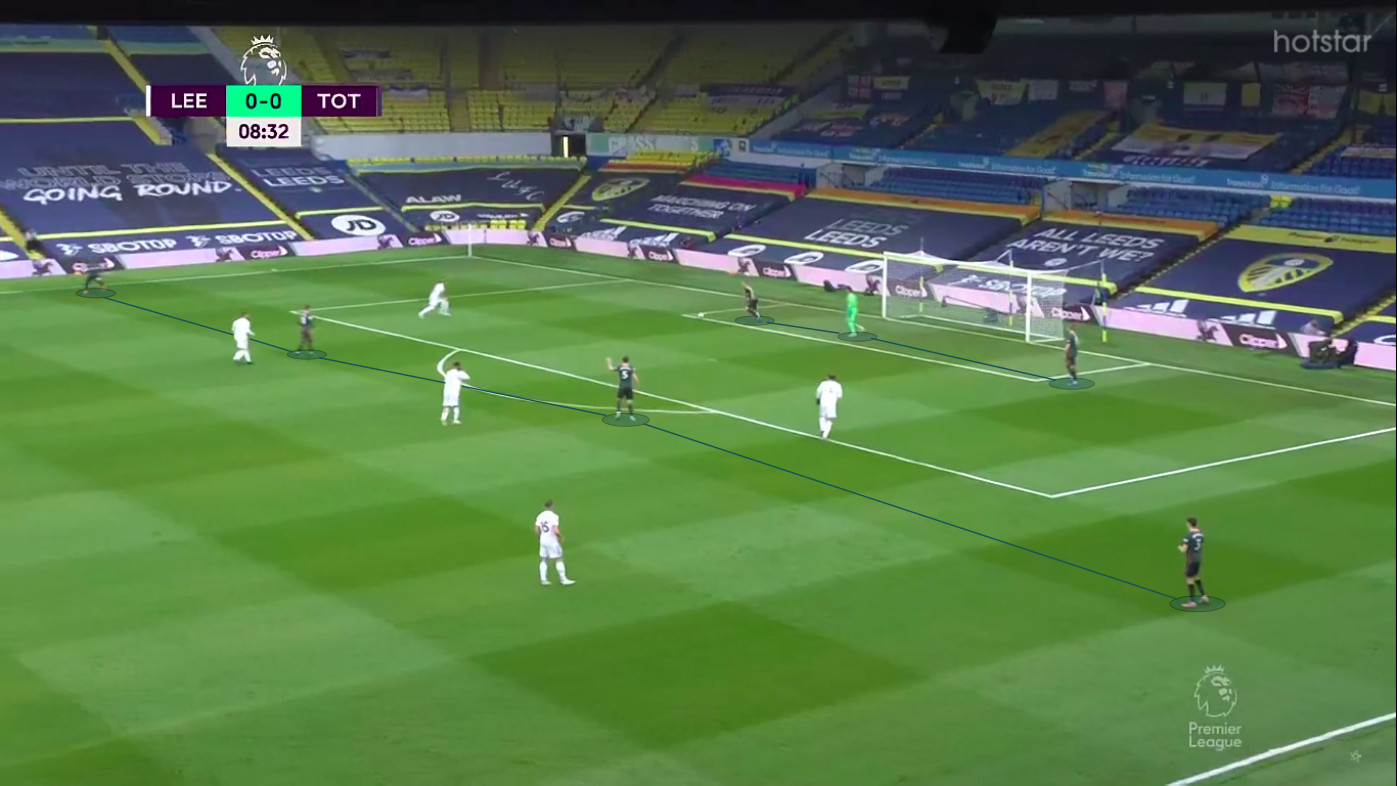 In terms of Hugo Lloris' involvement, it is difficult to see any major difference from his role under Mourinho yet again, as his average of 21.83 passes completed per match in the last six league matches is not exactly a huge step up from the 19.75 prior to that.
Looking more closely at the above image, we can notice that all the players of every line are occupying the same horizontal channel, highlighting some poor homework from a tactical standpoint, which cannot be excused for a lack of preparatory time as this was Mason's fourth match in charge of Spurs. For a side that so actively wanted to build out from the back that they are even ready to face a Leeds United press, such unpreparedness was unideal as it creates difficulties in ball progression.
The good news, though, is that we did get to see some improvement on Mason's part in the next match against Wolverhampton Wanderers, where Giovani Lo Celso was asked to occupy a channel higher than Pierre-Emile Højbjerg.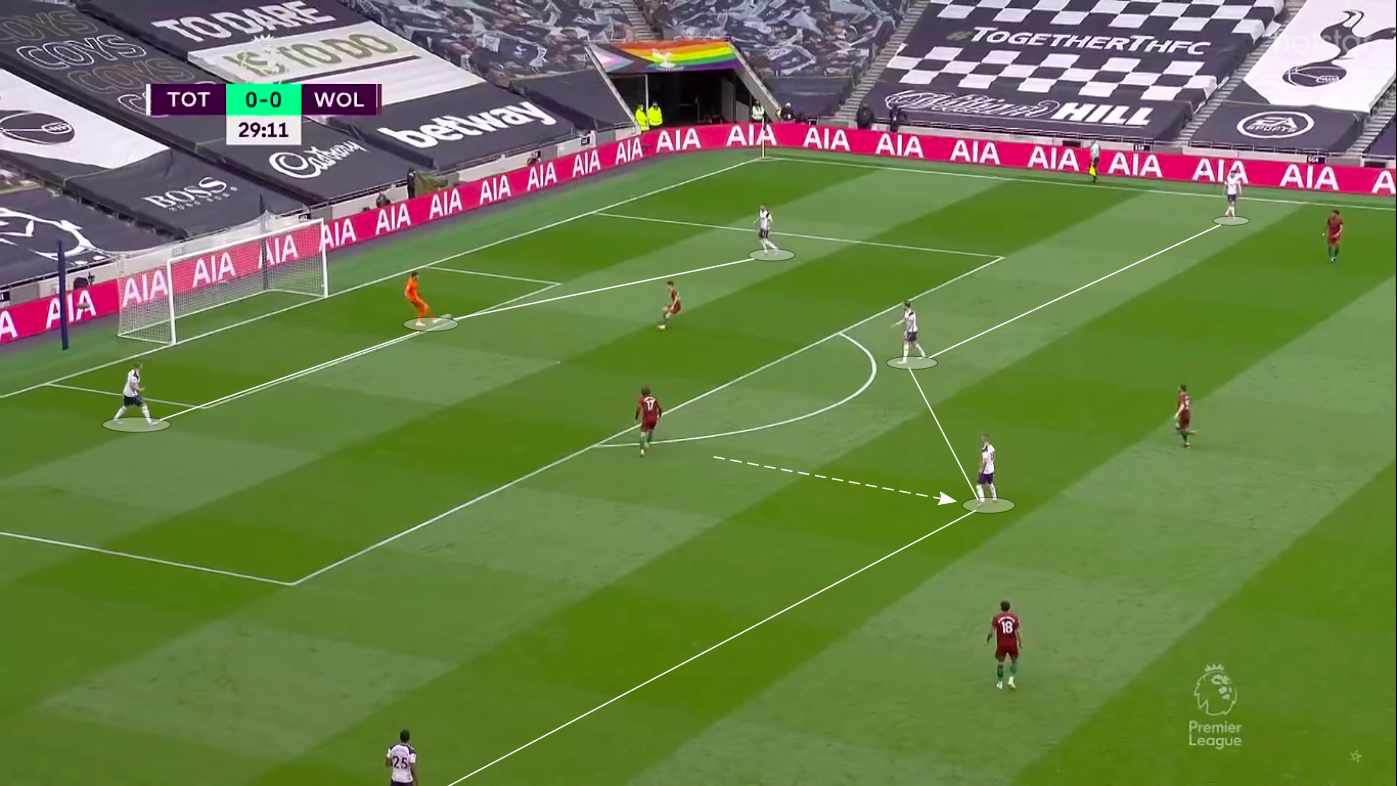 With that being said, though, it isn't exactly encouraging when a manager's most notable improvements in the English top-flight involve the use of different horizontal channels. Either way, though, the 2-4-4 proved quite problematic when pressed appropriately, as the number of passing options and their availability was limited due to its basic shape.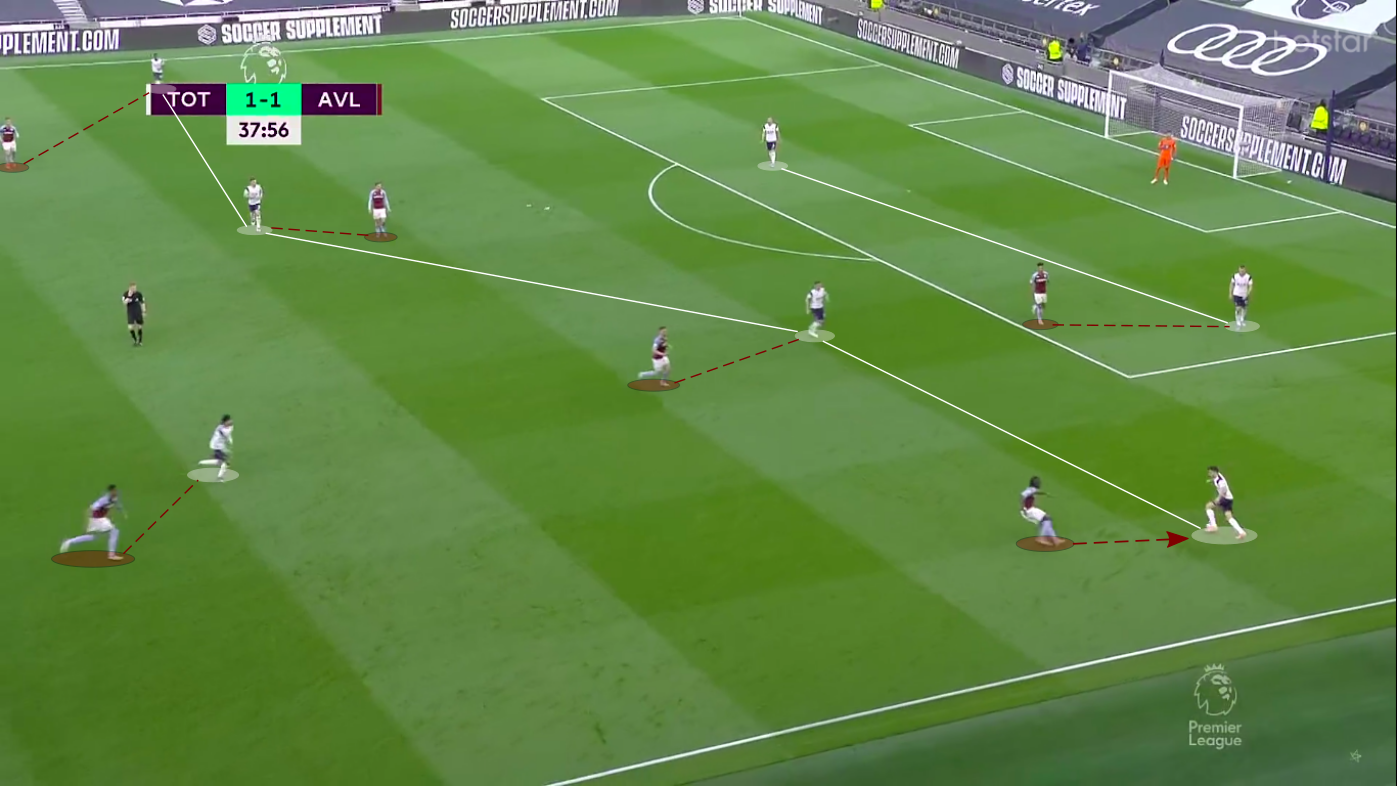 Looking forward, there was a slight variation in horizontal positioning in the front-four as well, as the striker and attacking midfielder typically dropped between the opposition lines while the wingers looked to play on the shoulder of the last man.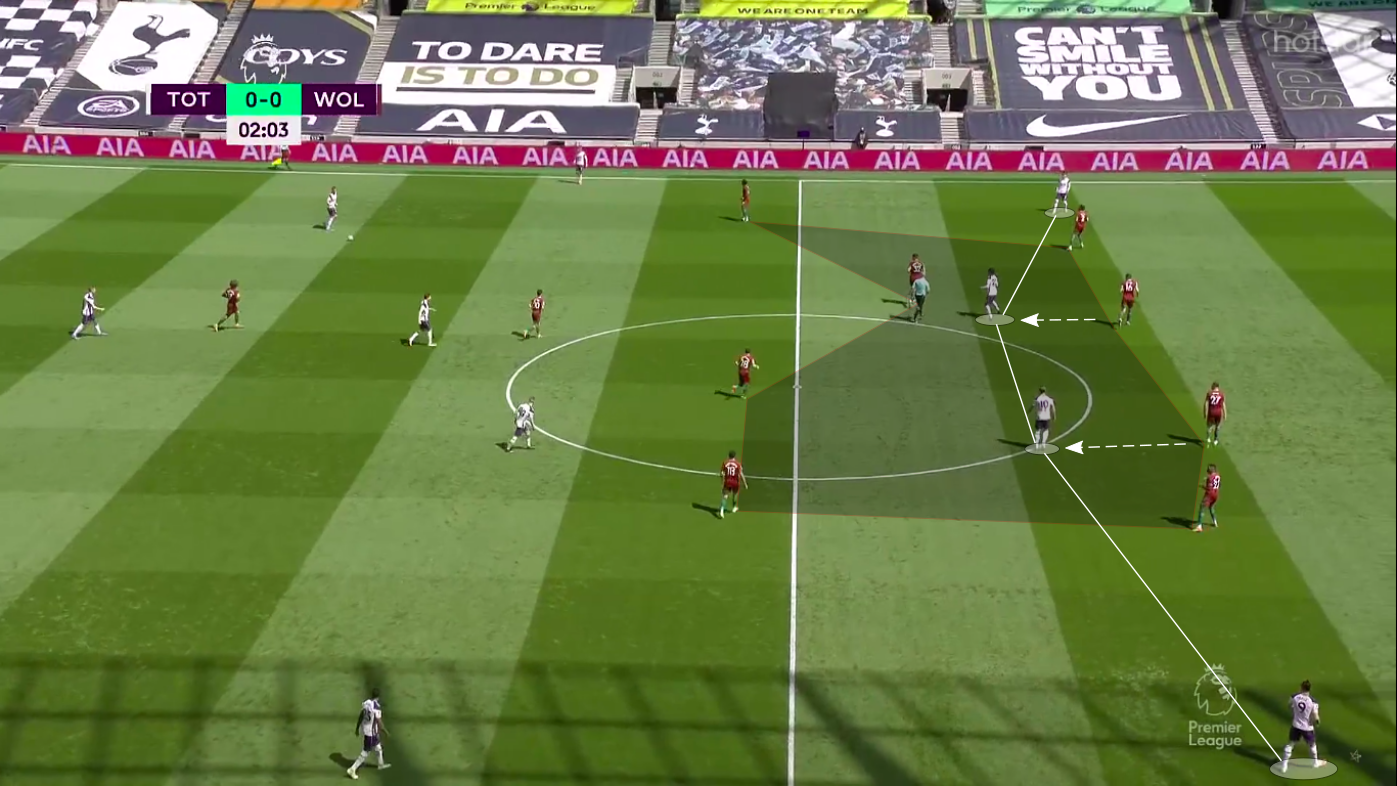 Moving on to the progression phase, they did have a couple of rotations to keep things interesting. Firstly, just as he did under Mourinho, Højbjerg would often drop to the left of the centre-back to create a sort of 3-4-3, as Dele Alli (the number 10) took his place in midfield.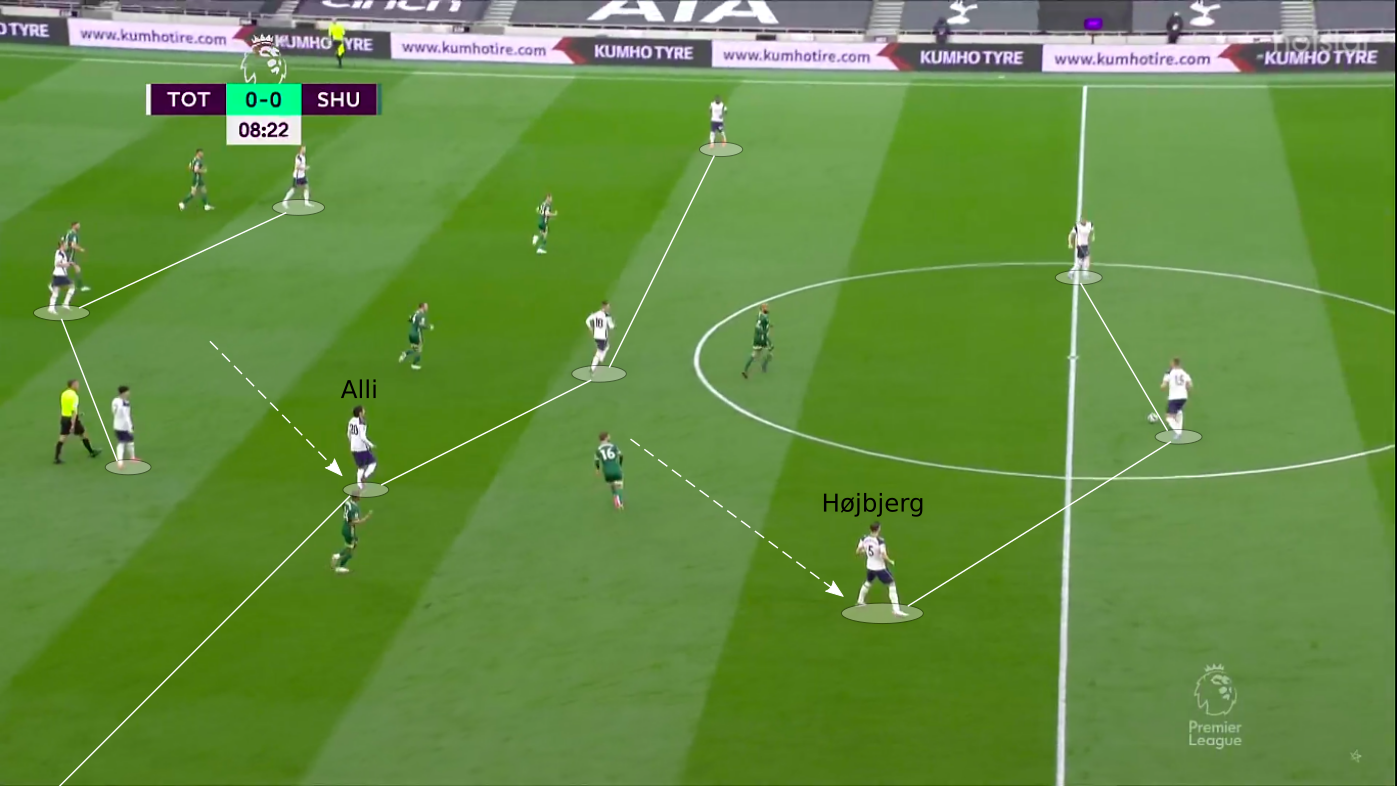 We got to see a very minor amount of ingenuity from Mason in his final match in charge against Leicester when he used Højbjerg on the right of midfield to allow Matt Doherty to get further forward. But, when playing a midfielder on the opposite side of the pitch as your most notable tactical decision, you probably aren't doing too much new.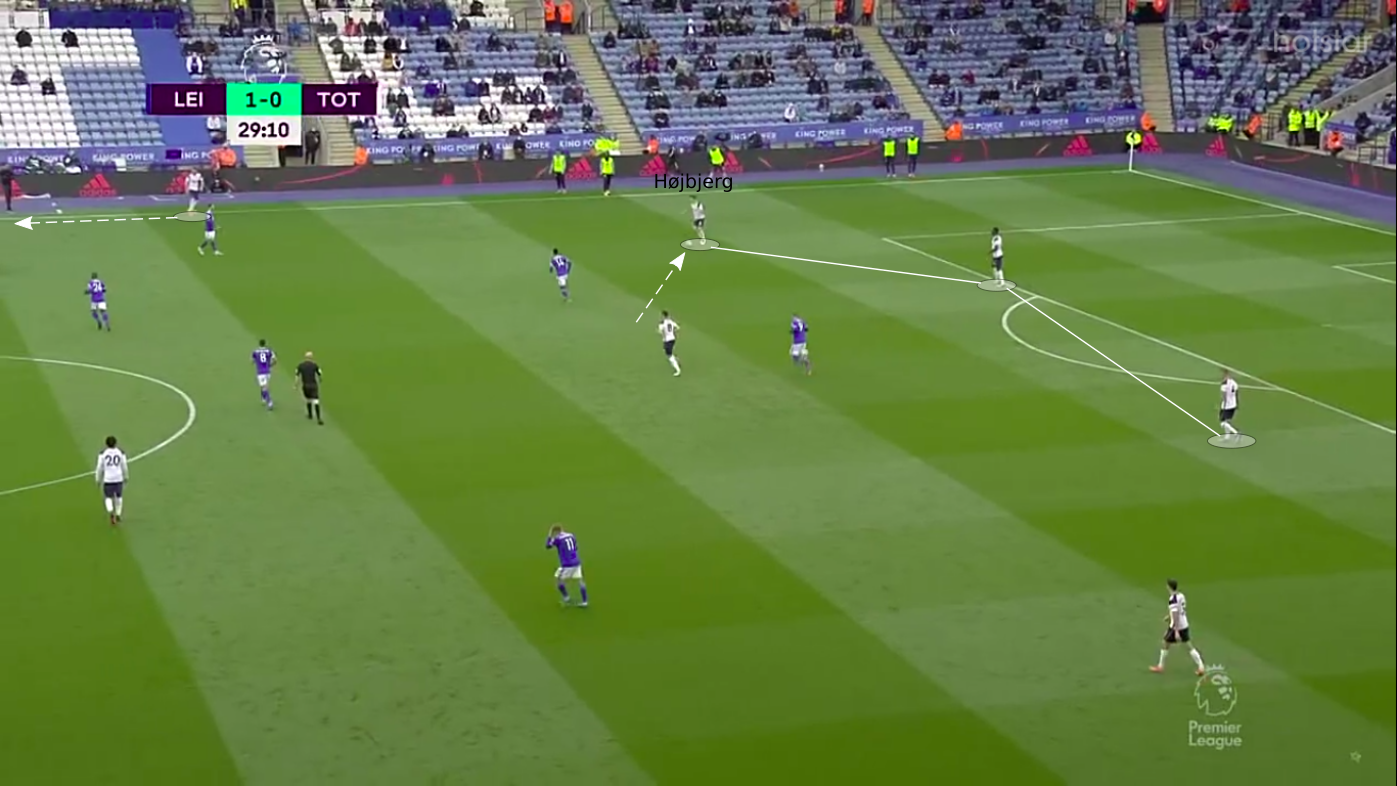 Harry Kane and Alli were usually interchangeable when it comes to dropping back as the striker is quite good in such deeper positions too. Typically when Højbjerg dropped to the left of a back-three, Sergio Reguilón simultaneously pushed forward, freeing up Son Heung-min to drift into the left half-space in the process, from where he is better equipped to make runs in behind the opposition defence. In this respect, the left-back had a lot more freedom to get forward than his counterpart on the right.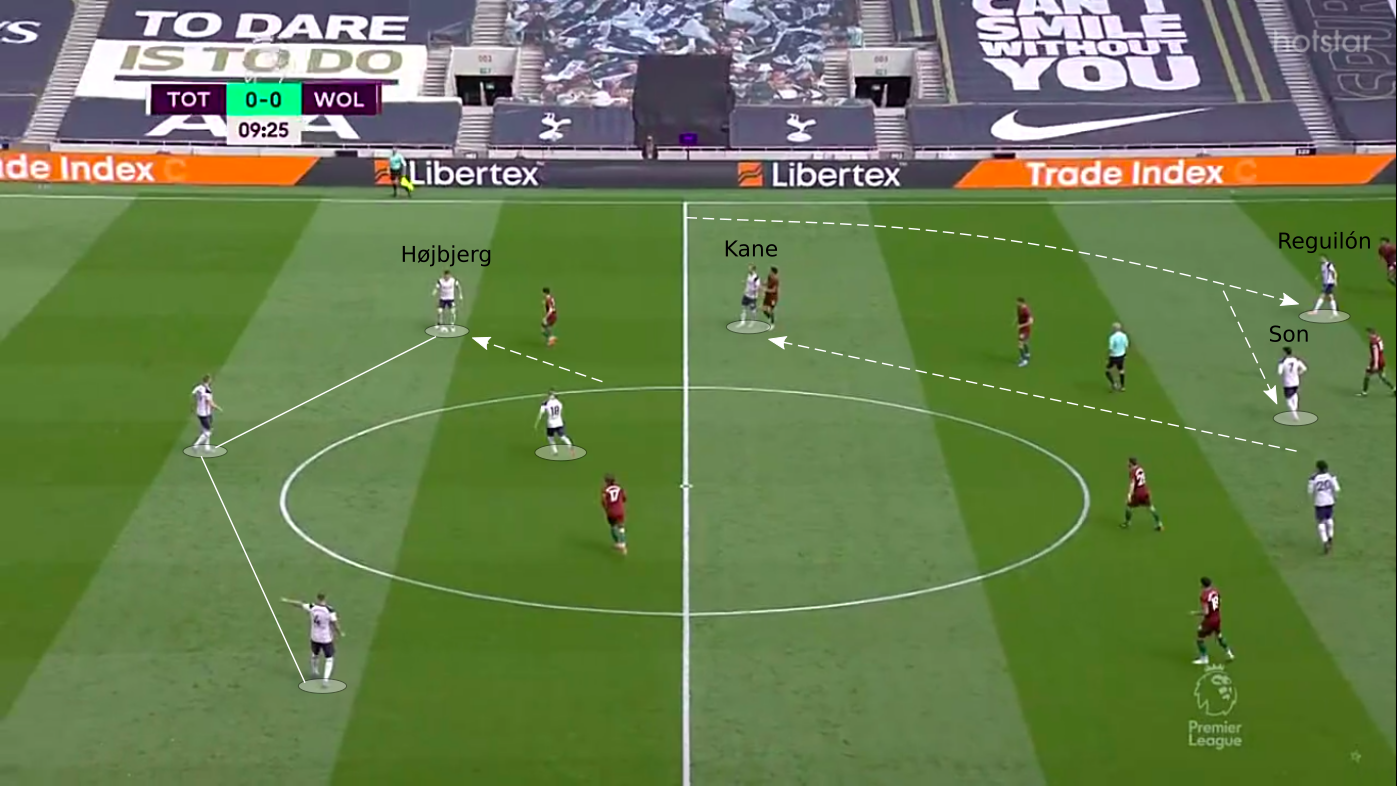 It should be noted, though, that Kane did this a lot less often under his new manager, as the consistent use of a natural midfielder in Alli as opposed to another forward such as Lucas Moura meant that the attacking midfielder was better equipped to drop deep in possession.
This is why the English striker's average of 21.3 touches in the midfield third per match in the league under Mourinho only improved to 22.4 under Mason even when his side's average possession went up from 50.04% to 58.32%. In other cases, Højbjerg stayed in holding midfield while Alli dropped back, with Lo Celso slightly moving forward to form a triangle in midfield.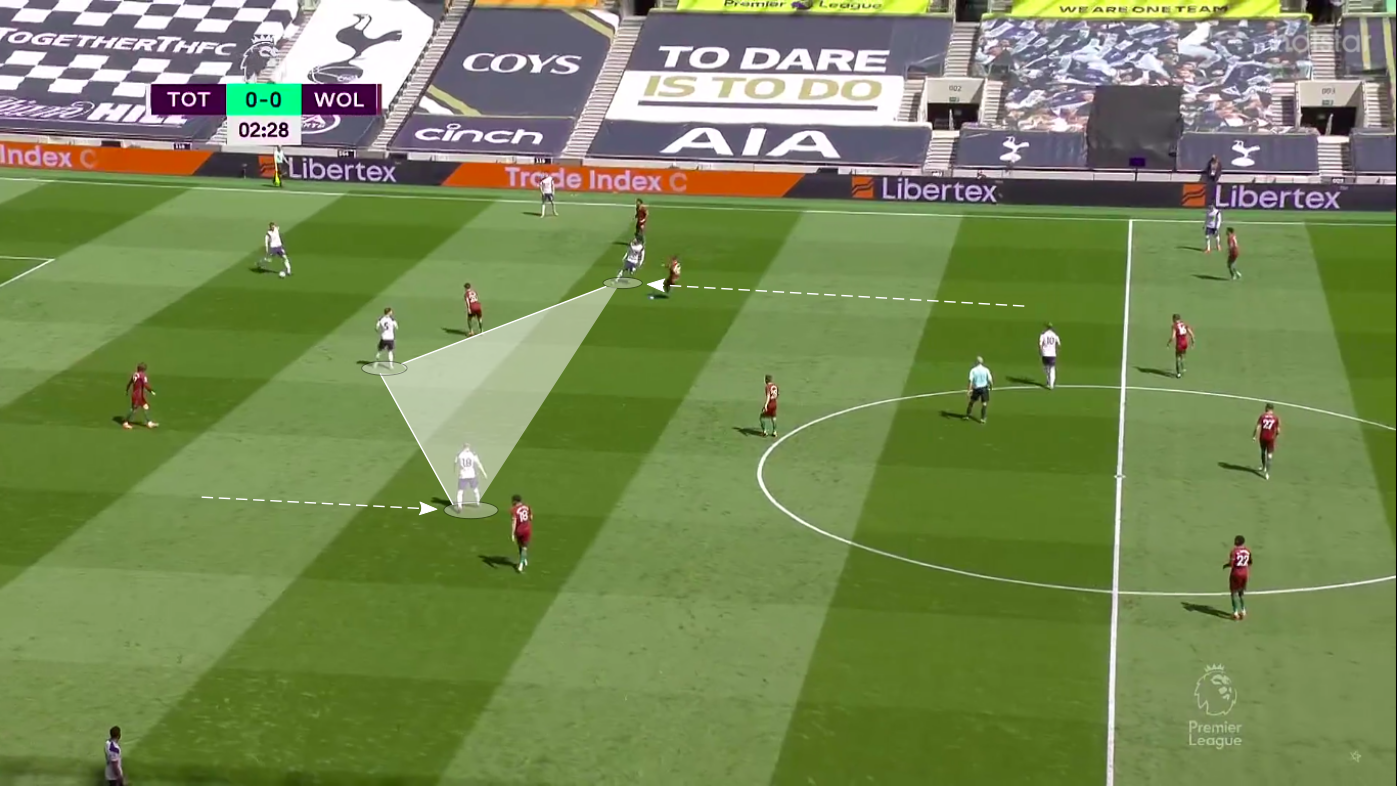 Due to this rather simplistic structure in possession, Tottenham continued to rely on direct football quite often to get their goals. Their disallowed goal against Sheffield United was a brilliant example of that. In fact their average of long balls attempted per match went up from 96.75 under Mourinho to 98.67 under Mason, so if anything, they were dependent on direct football even more under their new manager.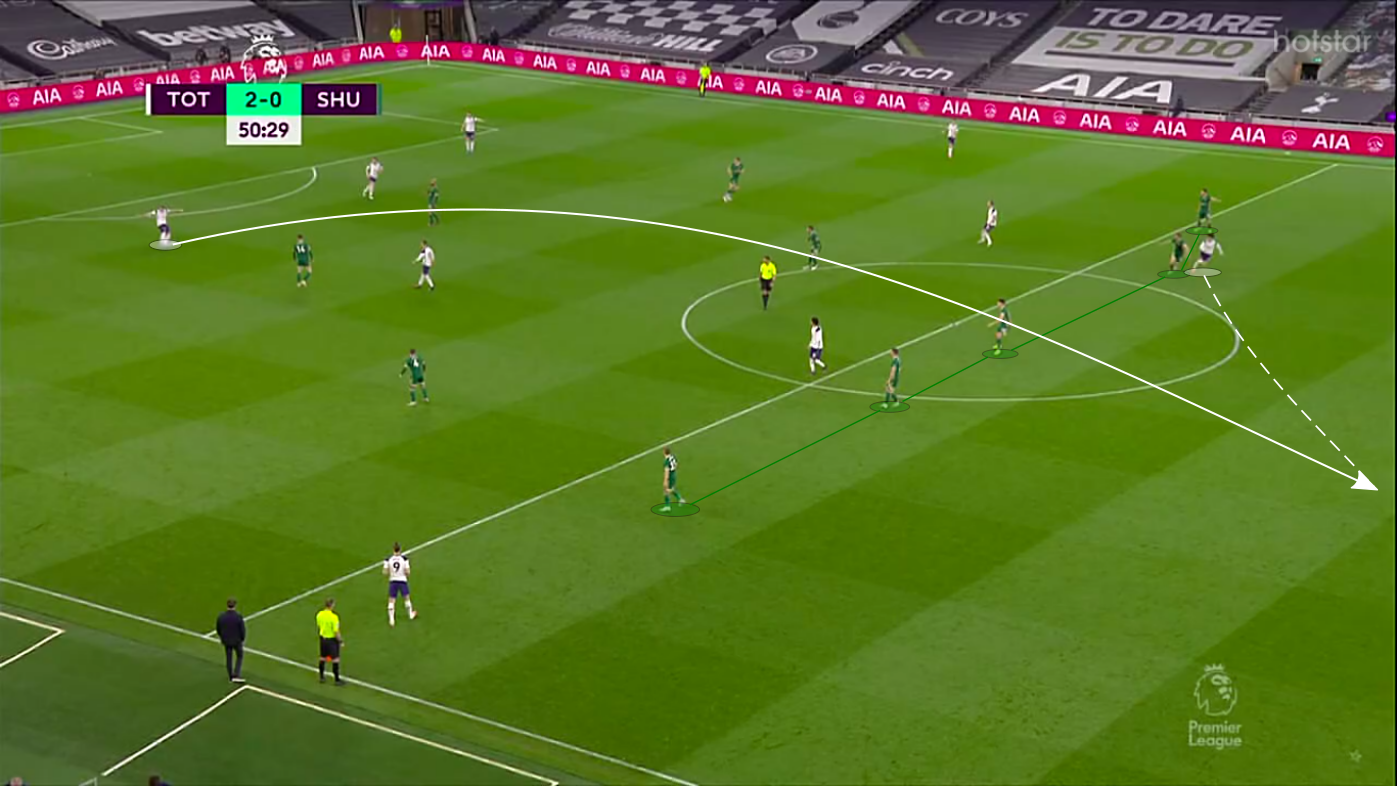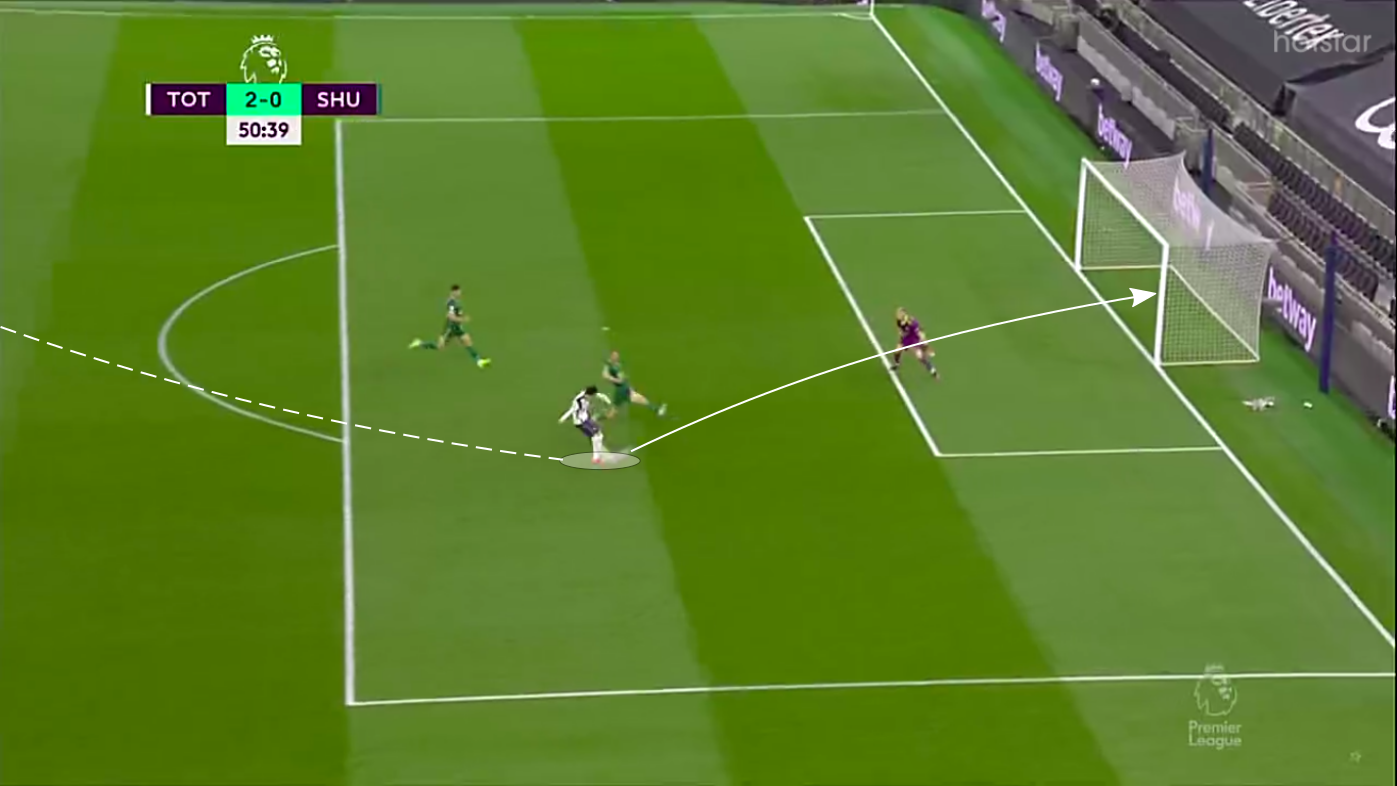 Reliance on Individual Quality in Attack
Once again owing to their rudimental structure in possession, Ryan Mason's Tottenham Hotspur often had to call upon the individual quality of their attacking stars to unlock defences. In fact, it is hard to think of a single goal scored by Spurs under Mason where their tactical superiority unlocked an opposition defence. Most involved a moment of brilliance from one of the attackers, such as this through ball played by Dele Alli for Son Heung-min's goal against Leeds United after he carried the ball forward from halfway.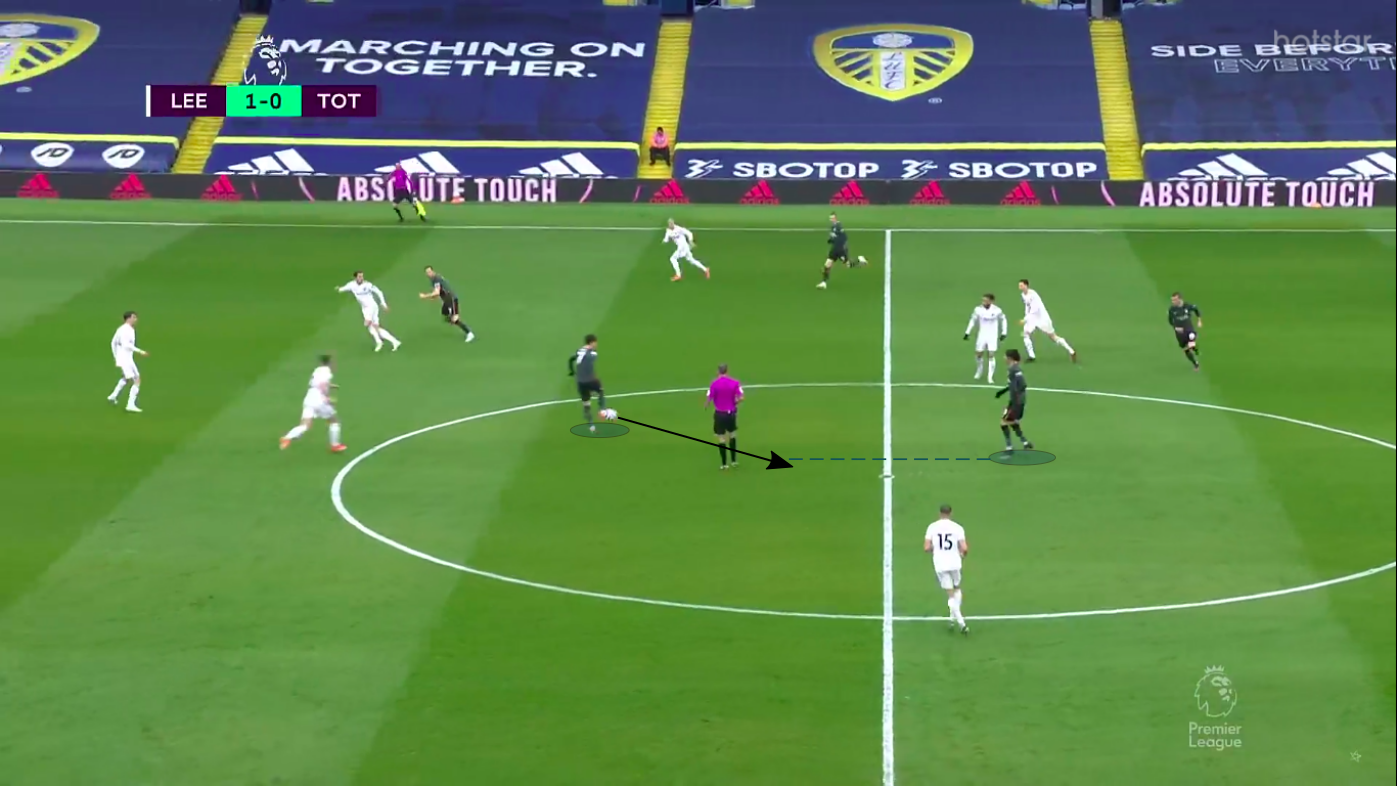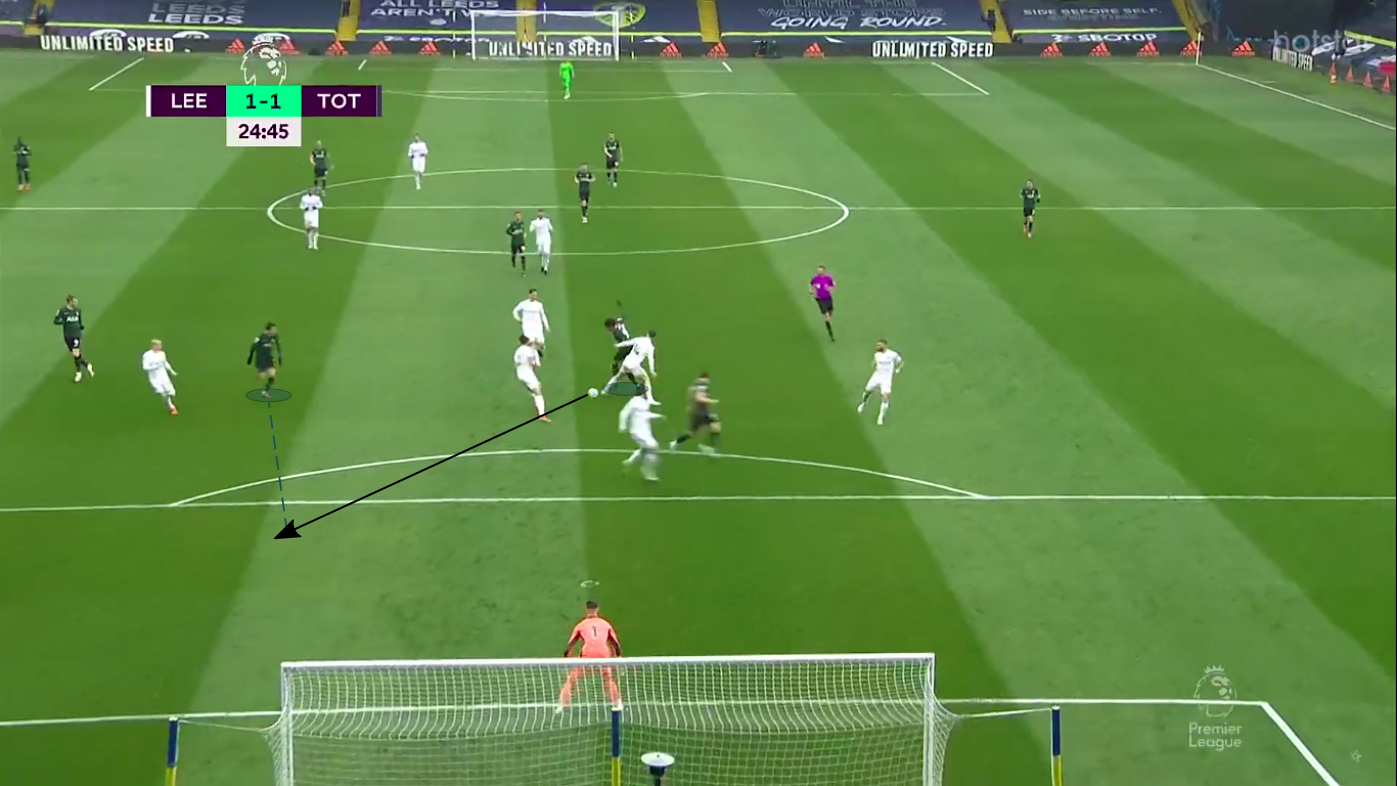 …or this strike from Steven Bergwijn against Aston Villa where he won the ball after a lapse on the opposing defender's part and smashed it home.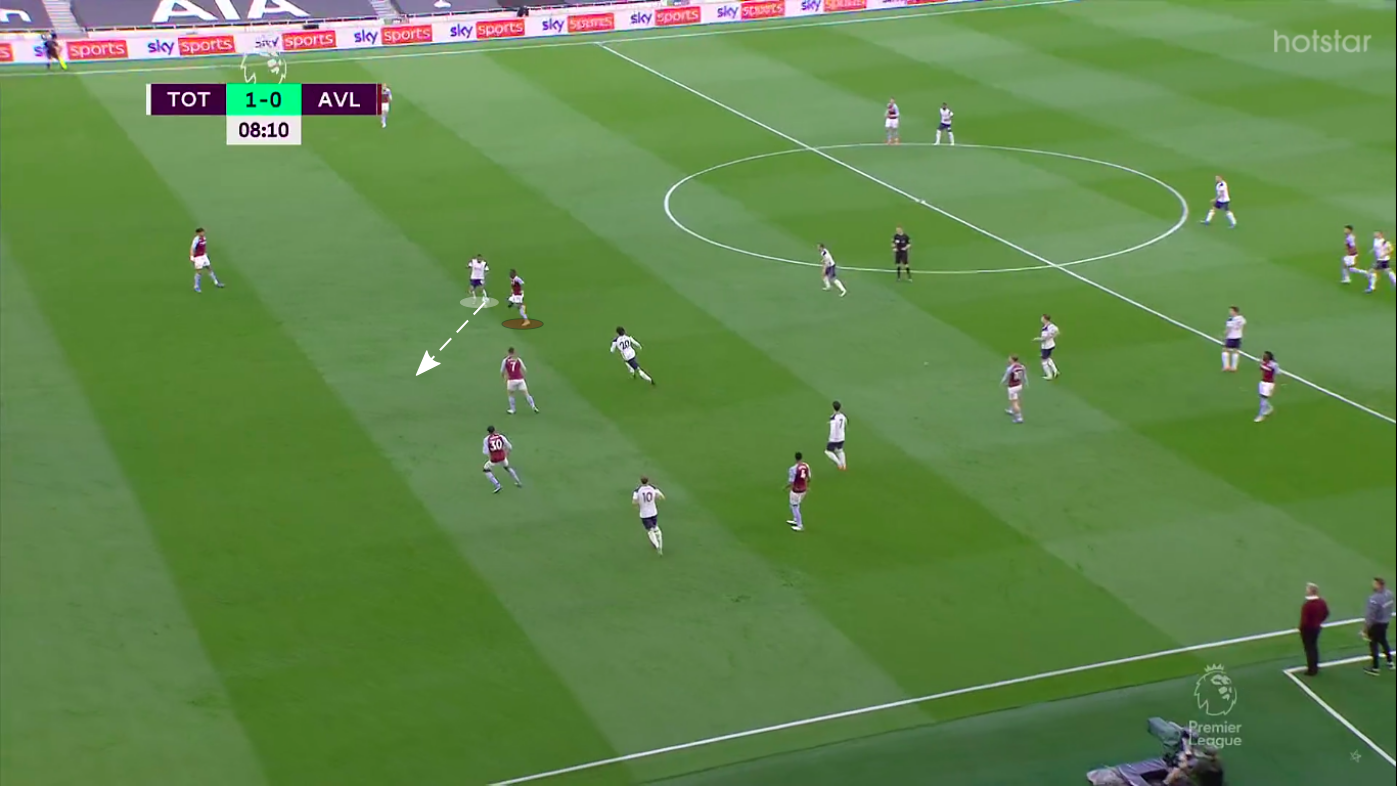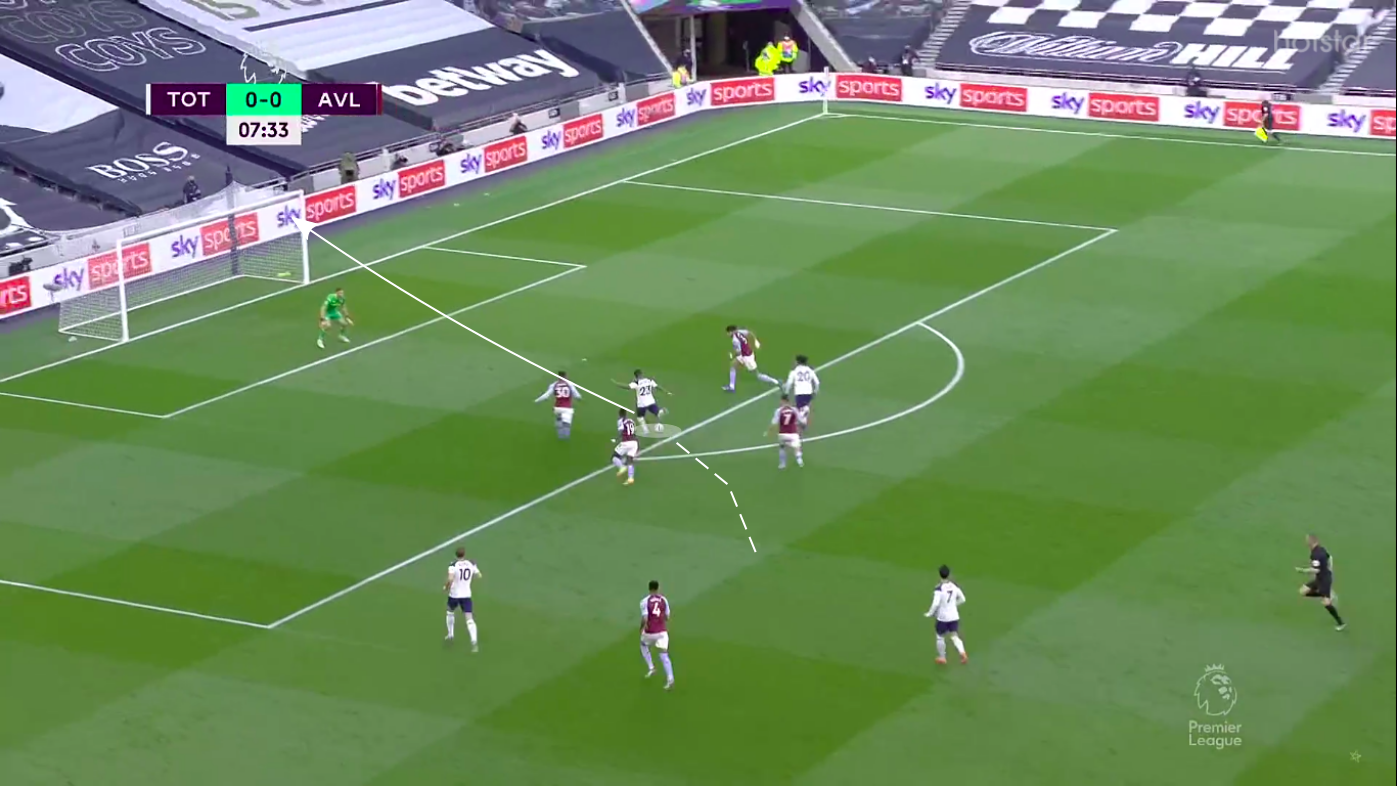 Some of Spurs' recent goals have been absolutely glorious hits, but again, they don't do the manager a lot of credit.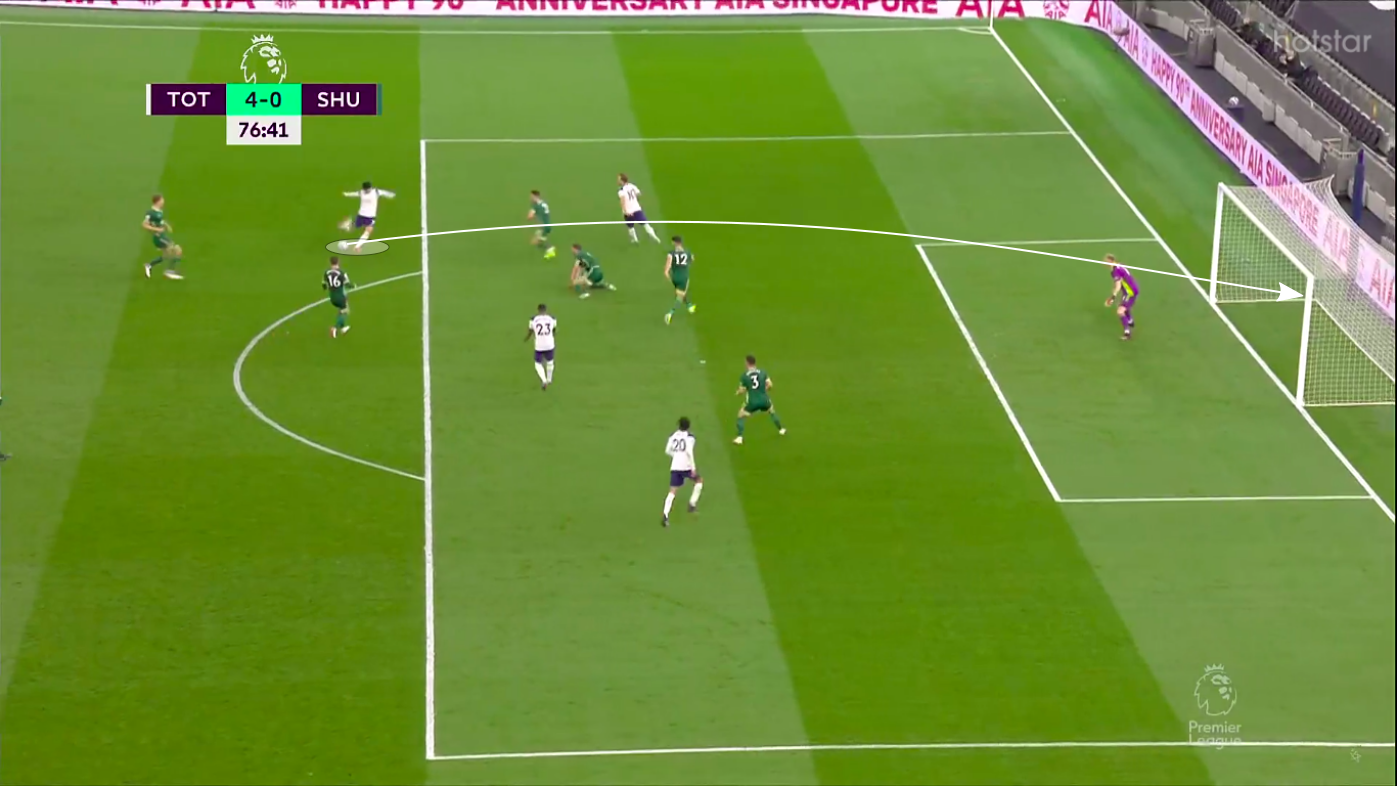 Spurs also continued to rely on counterattacks for some of their goals, which is another situation where individual brilliance proves useful.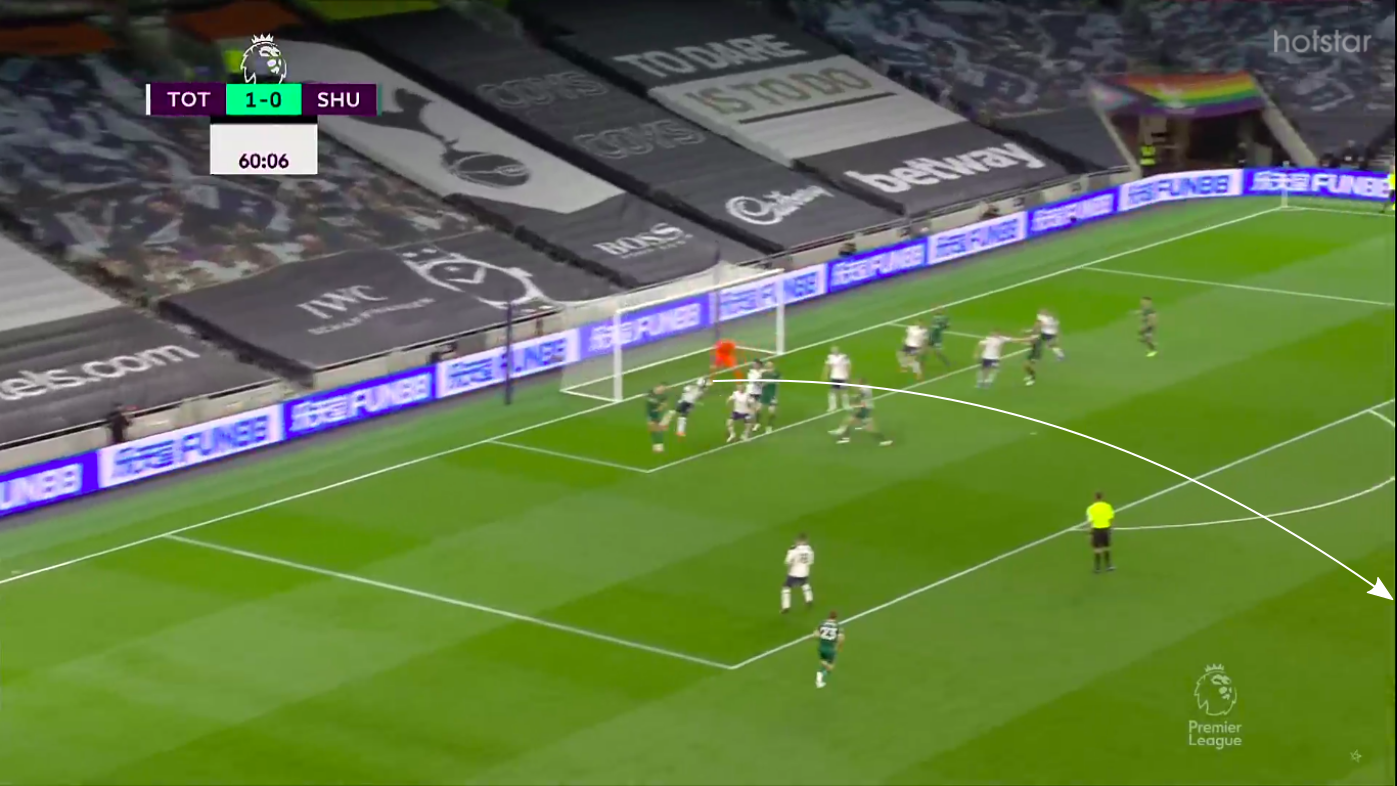 Case in point: Their second goal against Sheffield United, where Son Heung-min took three opponents out of the game before releasing Gareth Bale in a one-on-one.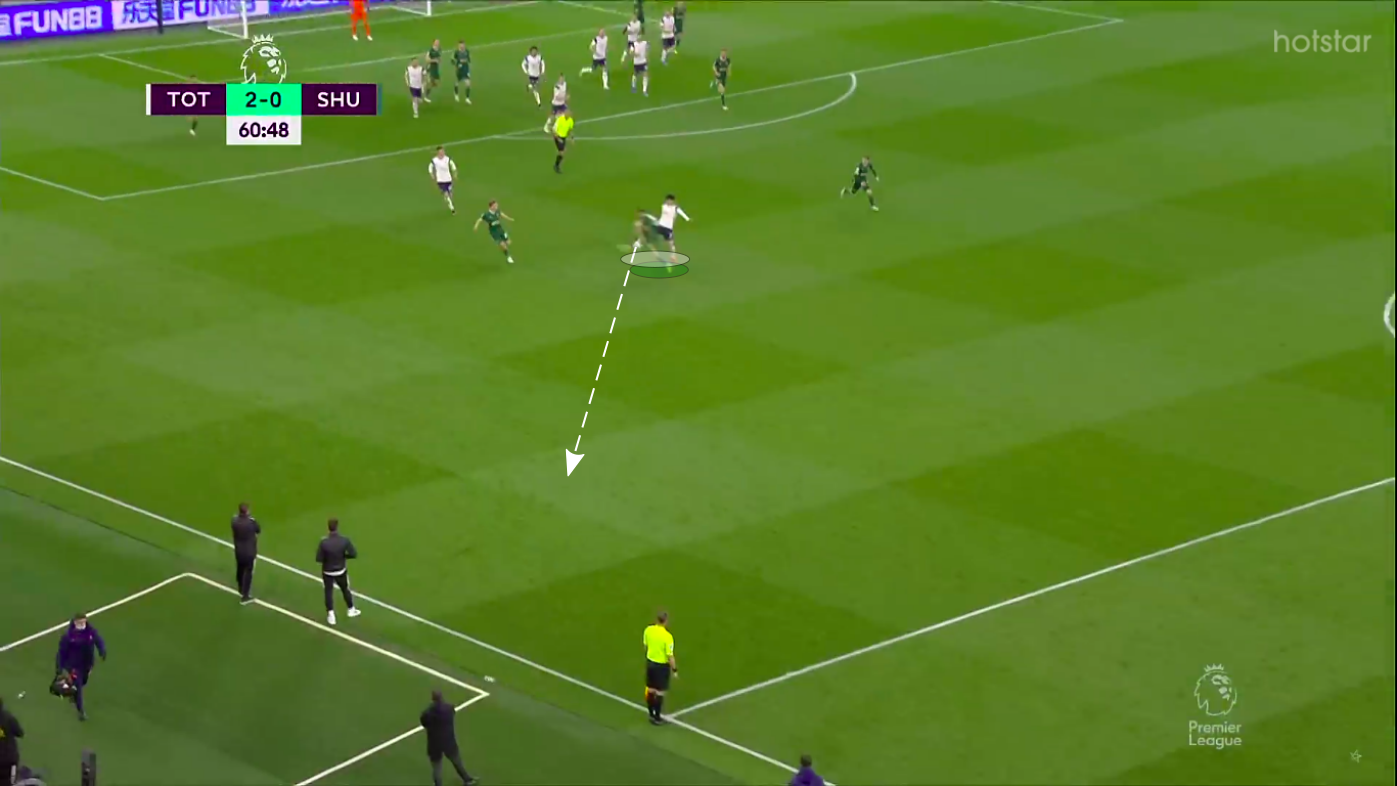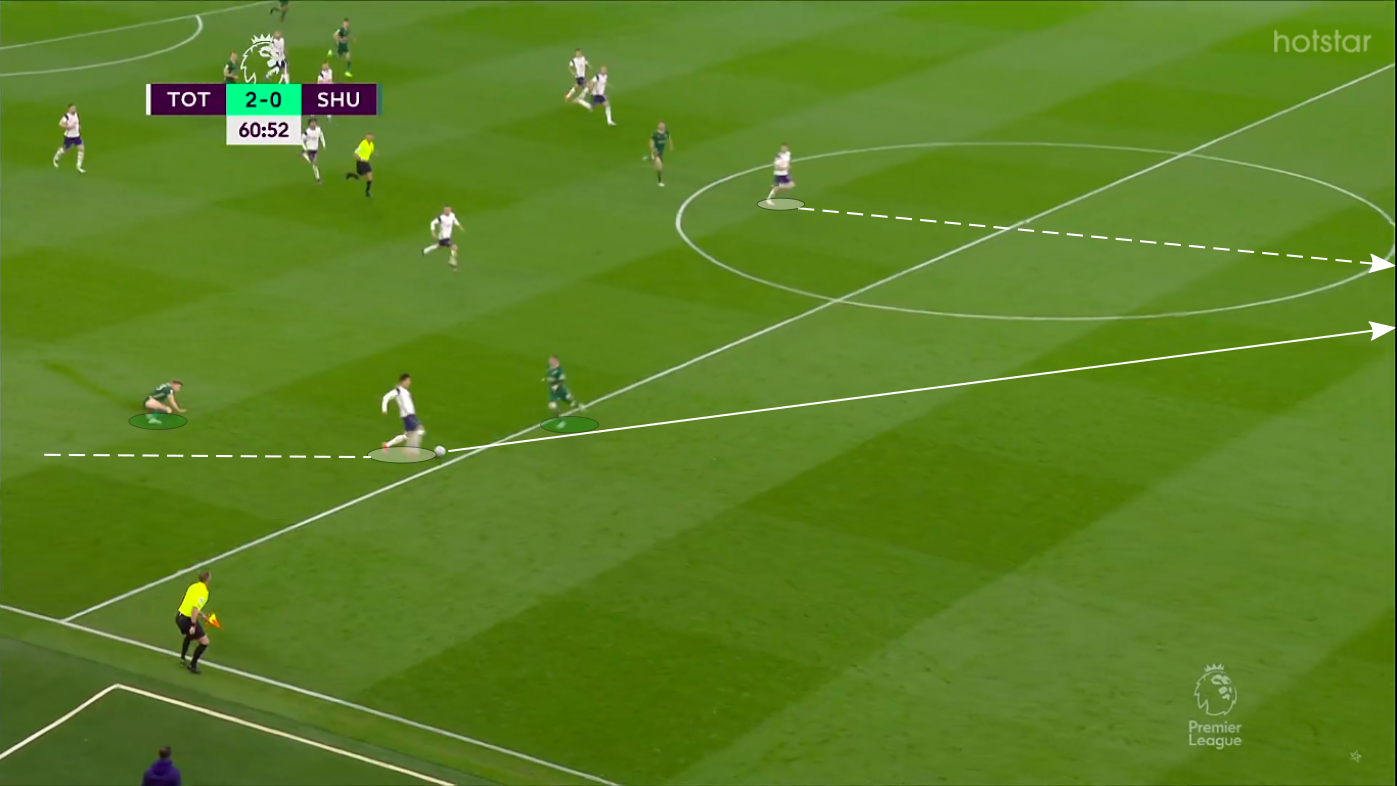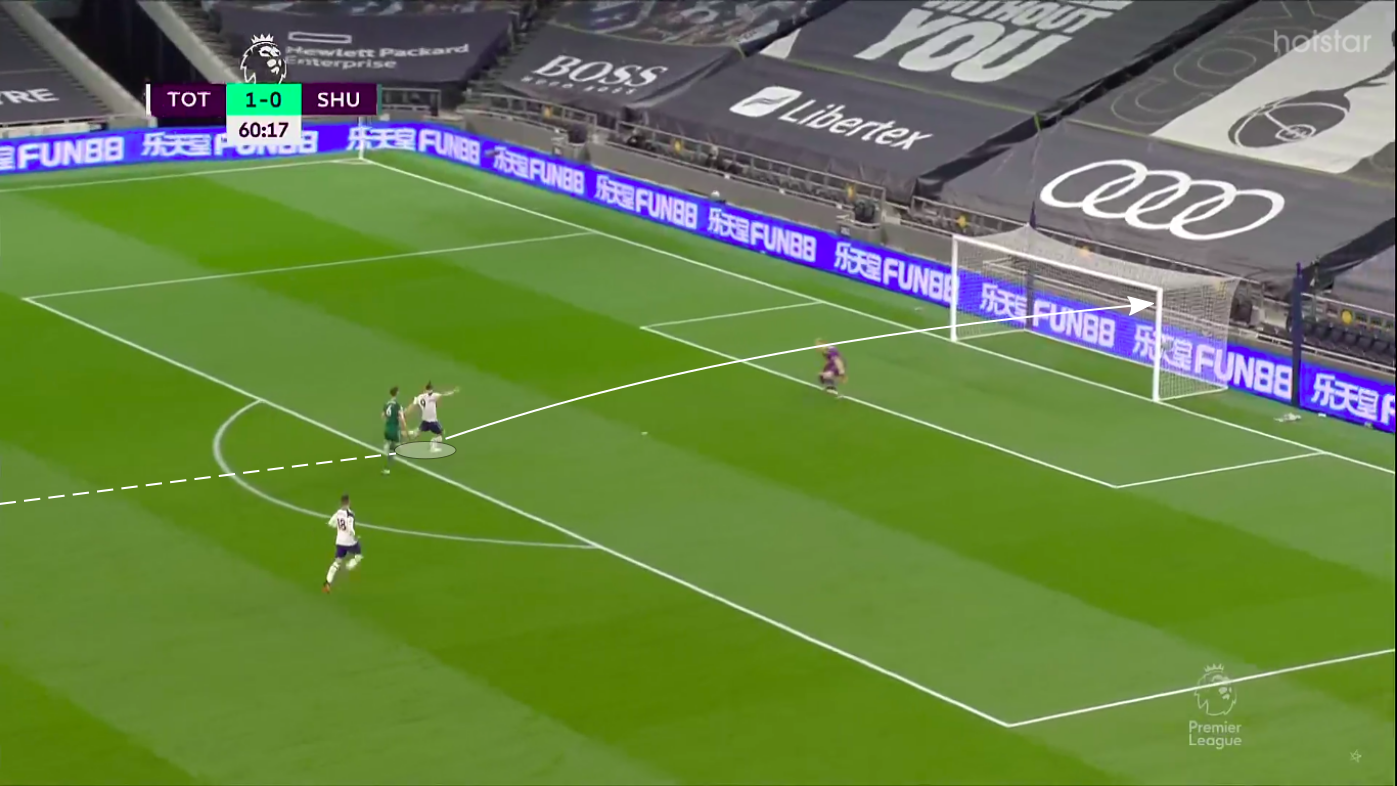 Overall, we can see that Mason's Tottenham have relied quite heavily on their main front-four of Harry Kane, Son, Alli and Bale, with these players contributing to well over half of their team's SCA despite playing less than 80% of the maximum minutes they could have in the Premier League.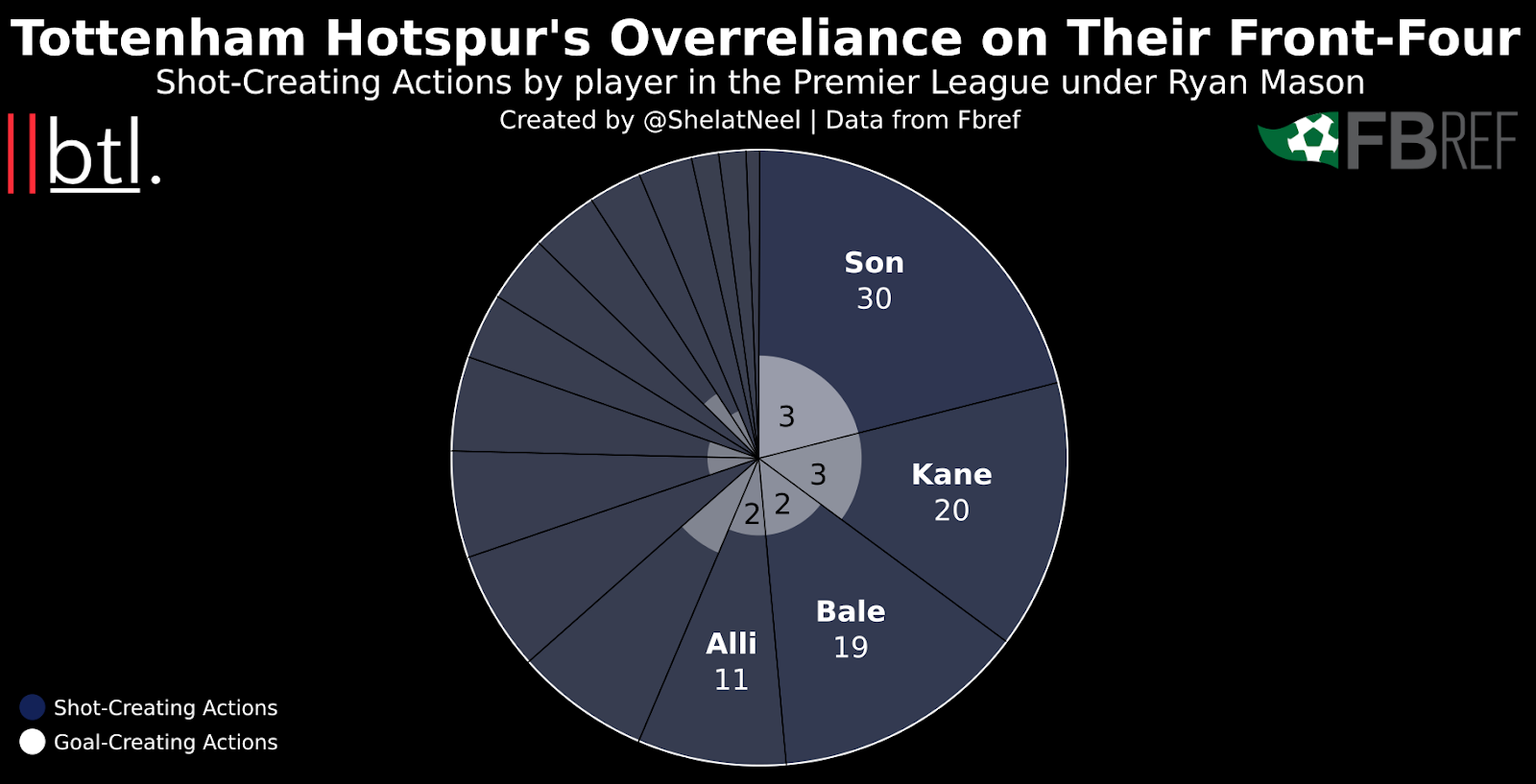 Conclusion
In case you haven't caught on yet, Ryan Mason did not do too much new at Tottenham Hotspur. The one major improvement that the 29-year-old managerial debutante made saw his side create 3.32 xG from winning positions in the league in six matches, which is nice to see because José Mourinho was often accused of parking the bus after taking the lead, where his weak defence was exposed time and again.
Mason's three-straight home victories gave him the best start in those terms for a Spurs manager since Harry Redknapp in 2008, which looks nice on paper, but maybe is not such a huge achievement when you realise that they beat three clubs who were well in the bottom half of the table in Southampton, Sheffield United and Wolverhampton Wanderers. While you can understand a new manager relying on the quality of his obviously world-class stars, it would really have been nice to see Mason try something new at Tottenham, even if fundamentally sticking to the principles of the 4-2-3-1.
His lack of tactical ingenuity means that while he will almost certainly not get a continued role as head coach of Tottenham, other top-flight clubs will probably not show too much interest in him either. Contrast this with someone such as Edin Terzić at Borussia Dortmund, who may have failed to secure a long-term role at his boyhood club, but certainly has drawn attention from elsewhere.
So, Mason's entrance into the managerial world has been rather uninteresting, and he will probably have to take a couple of steps back and learn this trade at relatively lower levels before jumping back up to the big stages. As for his club, Tottenham Hotspur have managed to secure a spot in the new UEFA Conference League with their acceptable end to the season, but with big names such as Harry Kane and Gareth Bale potentially set to depart for good, their next manager will have a serious rebuild on hand.
By: Neel Shelat
Featured Image: @GabFoligno / Michael Regan – Getty Images
Stats courtesy Transfermarkt, Fbref, Understat and WhoScored.