Tactical Analysis: Sevilla vs. Real Sociedad
In a match between two strong contenders for Champions League football, Imanol Alguacil's Real Sociedad paid a visit to the Ramón Sánchez Pizjuán where they would take on Julen Lopetegui's Sevilla. The hosts went into the game unbeaten in La Liga since December 5, whilst La Real had only won one match from their past eight games after a 6-game winning streak from October to November.
Line-ups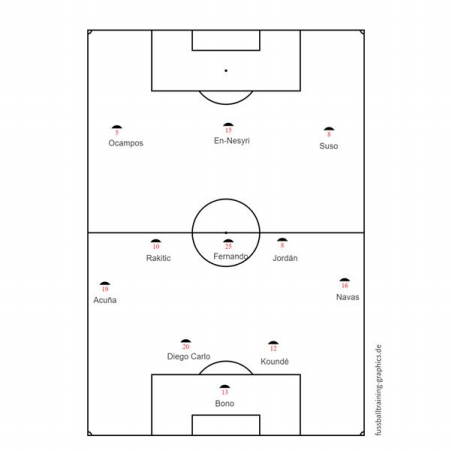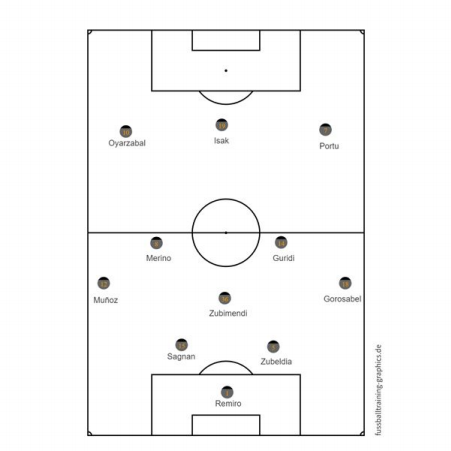 Sevilla's Pressing
Sevilla chose a rather variable 4-3-3 formation. In their pressing, it was noticeable that they decided for man-orientations in the midfield. Ivan Rakitić (10), for example, pushed up as CM to cover Martín Zubimendi (36). Fernando (25) followed Jon Guridi (14) and Joan Jordán (8) played against Mikel Merino (8). This allowed Sevilla to control the visitors' center, which often forced Real Sociedad to play long balls or play over the wing in their build-up-play. 
The 3 Sevilla offensive players defended together against the opposing back-four. First Youssef En-Nesyri (15) tried to cut off the passing lanes between the 2 CB's via cover-shadow, so he could then press the ball-carrying CB in the outer-half-space. At this moment, the ball-far side winger pushed up to the ball-far CB, and the ball-near winger man-marked the opposing FB. 
So, there were plenty of gaps behind Sevilla's midfield line, but Sevilla's had superior numbers in their back-line, so they were able to close those gaps well. The pressing height was quite high for a large part of the game, but when Real Sociedad were able to play out of the pressure, Sevilla dropped back to the halfway-line, yet the pressing only changed in the spacing between the defensive-lines. Since in the deeper pressing Sevilla's back-line was no longer picked by the halfway-line as an offside-line, they could position themselves a bit closer to their own midfielders. 
These methods worked very well against Real Sociedad, who could not find many solutions in their build-up-play. Most of the time, this led to Real Sociedad playing more from the wings, which often failed, but also resulted in the 1-1 equaliser in the meantime. Apart from that, only Merino (8) stood out in the center by creating some space at certain times by working with clever double-movements. Nevertheless, this mostly only ended up in back-passes caused by missing passing-options. That's why the visitors focused more on the transition-moments.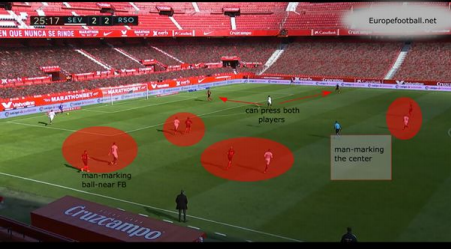 Real Sociedad's Pressing
The more uninspired Real Sociedad's positional-play was, the better their pressing-routines were. Although Real Sociedad also lined up in a 4-3-3 formation, the two defensive styles hardly resembled each other as the visitors played much more zonal-oriented. The main strength of Real Sociedad's pressing was their ability to change from midfield-pressing to attacking-pressing. In midfield-pressing, they initially defended in a 4-1-4-1, in which they kept tight spaces between each other. 
When Jules Koundé (12) received the ball, this was the trigger for Real Sociedad's Portu (7) to apply ball-pressure, while cover-shadowing Marcos Acuña (19), as left-back, simultaneously. This pressing-movement was secured by Real Sociedad's back-four pushing to the right so that Andoni Gorosabel (18) as right-back could attack Acuña (19) if he received the ball.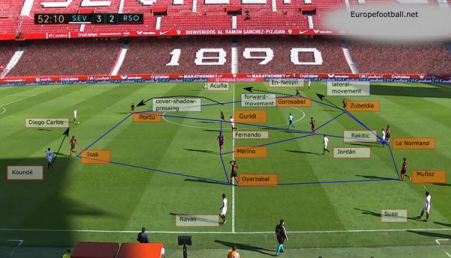 Sevilla's Solutions
Sevilla consistently found some solutions despite Real Sociedad's decent pressing against those structures, because they were well prepared. Sevilla's GK Yassine Bounou (13) always had a good eye on the pressing-movements of Gorosabel (18) and tried to play some long balls into his back, which forced him to defend lower and leave Acuña (19) free, who then worked as a passing-option for the air-duel. In the course of this, En-Nesyri (15) also repeatedly dropped to the wing, making him a good target-player for long balls with his athleticism. 
A second way to beat the Basques' pressing was to play into space behind when Portu (7) did not form a good cover-shadow. Often, Rakitić (10) would therefore drop to the left of Diego Carlos (20) and Sevilla would build up with 3 players in the first-line. In such situations, Real Sociedad's CM Guridi (14) frequently pressed further up front and attacked Rakitić (10). 
But this left Sevilla with the option of Rakitić (10) playing on to Acuña (19), so Gorosabel (18) had to push the long way forward. Now Real Sociedad's entire defensive block moved forward, only the remaining defenders had to stay on the halfway-line, as they could not yet put the strikers in offside-position. 
This was the very thing that Sevilla took advantage of. Caused by Rakitić's lower-position, which made Guridi (14) have a more offensive role, there was no opposing player in Sevilla's left half-space in midfield, so for Acuña (19) the passing-lanes to the offensive players stayed at the half-way-line, was open. 
In order to give Acuña (19) more time in these pre-pressing-moments until Gorosabel (18) could attack him, Rakitić (10) normally passed in his inner right foot, so he usually solved the pressing with one touch. The strikers then had to keep possession with defenders at their back. En-Nesyri in particular did that well. Furthermore, there were most of the time some quick-minded midfielders, who supported in these scenes or there was the opportunity to switch the play to the other wing.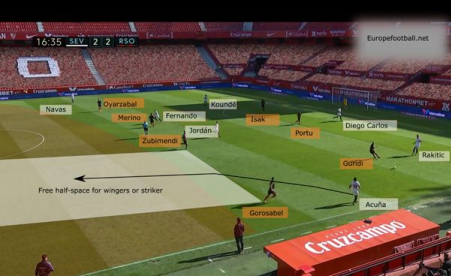 Sevilla's Offensive Play
In longer periods of possession, it was remarkable that Sevilla's playing-style was not really dominated by principles of positional play but rather focused on the group and team-tactical routines as well as individual game-intelligence. As a result, positions were not overlooked, but spaces were not optimally occupied. In this respect, the positioning in the central midfield seemed suboptimal as they occupied the gaps in the opponent's defensive block too inaccurately. It was also noticeable that Fernando (25), Jordán (8), and Rakitić (10) liked to look for similar spaces in the possession-phase, so the 3 CM's sometimes were not well-staggered. 
What Sevilla did really well, on the other hand, was to overload the left-side. Similar to the last picture, especially Rakitić (10), but occasionally also Jordán (8) or Fernando (25) dropped into the left half-space in the near of Diego Carlos to build up from a three-man-line. In this way, the opposing defensive block was lured to this side. 
Following this, Rakitić (10) looked wide to the right wing where Suso (8) as the attacking winger always started a diagonal-deep-run behind the defensive-line., which meant that his direct counterpart Aihen Muñoz (12) had to defend deeper to follow Suso's movement. That was the opportunity for Sevilla's right back Jesús Navas (16) to push high and occupy the offensive wing for diagonal balls from Rakitić (10).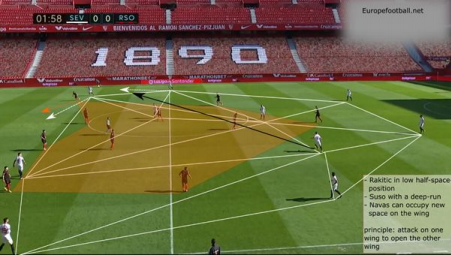 Sevilla on the Wing
Sevilla's main offensive focus was consequently more on playing trained habits on the wing. There, they paid particular attention to keeping the interface between the opposing FB and CB as wide as possible and not occupying the wing in goal-nearer positions with more than 2 players in order to lure as many opponents away from the ball as possible. Most of the time, this resulted in a 2 vs. 2.
Due to the fact that opposing FB's were not additionally protected, it often reached to play a well-timed pass for the attacking winger into the half-space to solve the 2 vs. 2. Alternatively, however, the FB or even a CM could start by making a dynamic-run into that free space, too. This effect was amplified when Lucas Ocampos (5) and En-Nesyri (15) switched positions, as it gave them great variability to occupy the box afterward.
On the one hand, Ocampos (5) has had a couple of superb runs to the first post. On the other hand, En-Nesyri (15) scored 2 goals (1-0 & 3-2) using his blind-side position at the second post. (at 3:2 he goes to the first post afterward, but the origin was on the second post).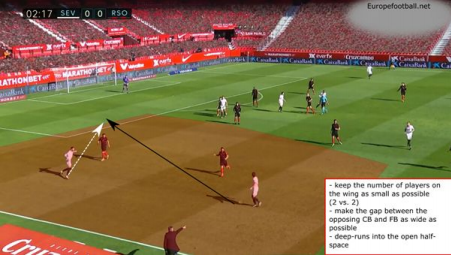 The Role of Martín Zubimendi
Real Sociedad's single-pivot Martín Zubimendi (36) played a very interesting role in the team's defending, as he defended in higher zones in their attacking-pressing, but he also deliberately dropped in lower defensive situations into the last defensive-line. The aim behind this was to protect against the threat of En-Nesyri, while he has positioned in the half-spaces. This method also helped them to defend crosses a little better by allowing more frequent overloading of the wing in defensive-situations. 
It should also be mentioned, that Real Sociedad is very accurate in defending long balls behind their last line. If the opponent has the ball in the build-up, Real Sociedad's back-line is always in lateral body-position to get passes in their backs faster. In addition, they secure the partners in their defensive-line well in the air-duels, so that they could intercept at most dangerous long balls. To come back to the dynamic back-five, it is to say, that passes on the wing were just rarely prevented. This was mainly due to the fact that the four-man-midfield now focused on closing the center.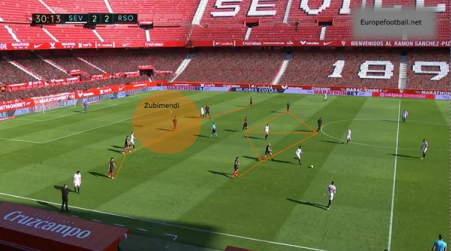 Conclusion
Even when the game was quite spectacular, it was clear that both teams have their strengths more in pressing and transition-moments than in positional-play. While Sevilla, through planned routines, provoked structural problems for their opponents, La Real didn't really know how to react to the man-orientations of the home-team. Real Sociedad's pressing, meanwhile, is not bad, though Sevilla found good solutions to beat, so they were certainly the dominant team of the game and all in all, deserved to win the game.
By: Darius Schwering
Featured Image: @GabFoligno / Quality Sport Images – Getty Images