Tactical Analysis: Slaven Bilić's West Bromwich Albion
Over the past five years, only two managers have managed to win promotion to the Premier League in their debut season in the Championship: Rafa Benítez's Newcastle in 2017 and Nuno Espírito Santo's Wolves the year after. However, Slaven Bilić joined the club last month after a 2-2 draw with QPR on the final day of the season, sealing West Brom's return to the top flight after a two-season drought and condemning Brentford to a spot in the promotion play-offs.
After a short-lived spell at Saudi side Al-Ittihad, Bilić took charge of West Brom on June 13, 2019, who had lost to Aston Villa in the promotion play-offs semifinal. Before a ball was kicked, Bilić was tasked with replacing three players who had combined for 54 goals the prior season: Dwight Gayle (23), Jay Rodriguez (22), and Harvey Barnes (9).
Rodriguez was sold to Burnley for £10 million, with Gayle and Barnes proving impossible to sign on permanent contracts after their loan deals from Newcastle United and Leicester City had expired. Bilić also inherited a defence which conceded 62 goals during the previous campaign, and that had lost starting center back Craig Dawson to Watford for £5.5 million.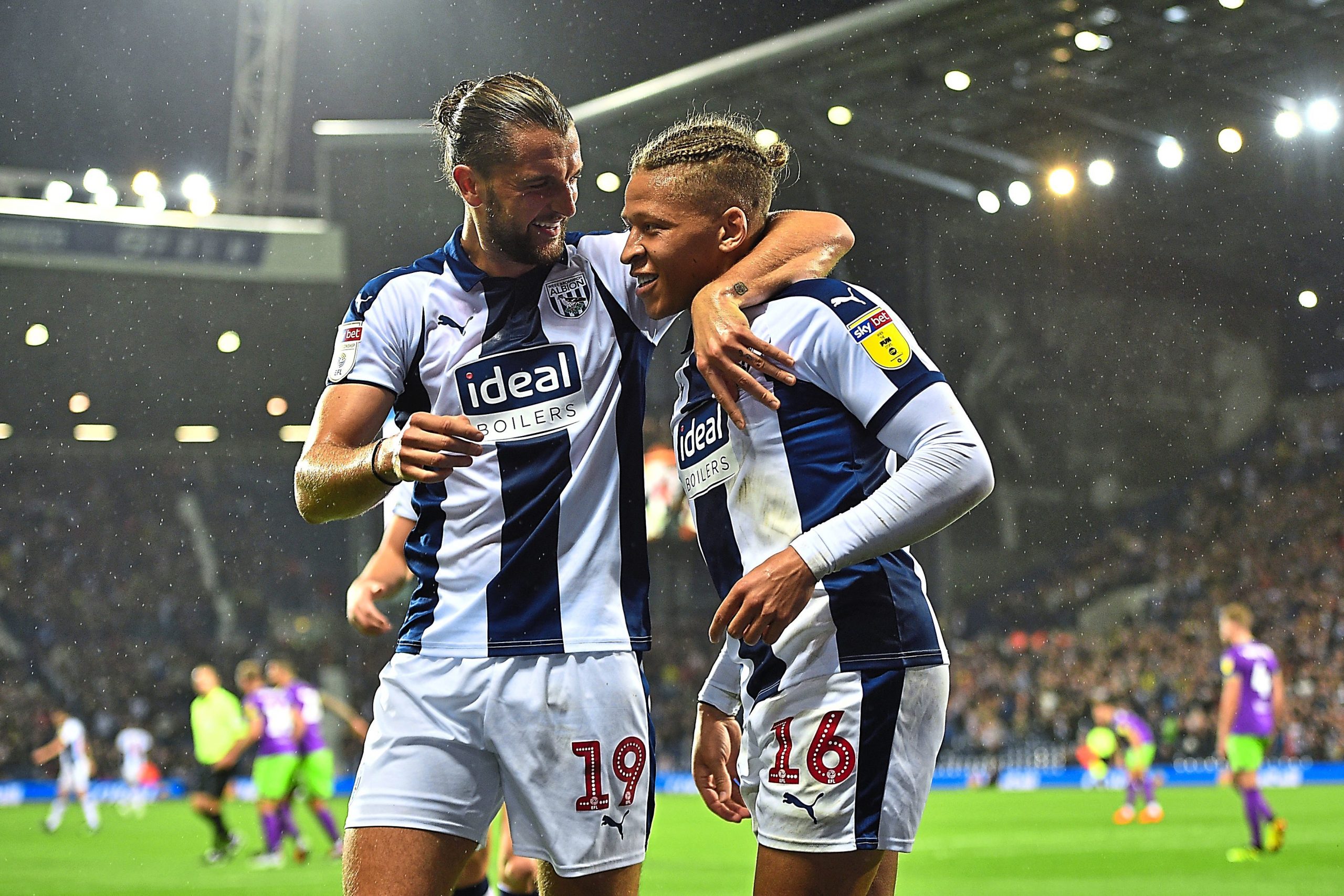 Photo: Joe Giddens / PA Wire
Bilić worked closely with Sporting Director Luke Dowling to reshape the squad over the summer. However, they were forced to work with a vastly reduced budget in comparison to previous Albion bosses as the club dealt with the financial wreckage from failed investments such as Oliver Burke and Brown Ideye.
To reinforce the defense, Semi Ajayi and Darnell Furlong were signed from Rotherham and QPR respectively for a combined fee of £3 million. Meanwhile, two promising right backs in Dara O'Shea and Nathan Ferguson were promoted from the academy to the first team, as West Brom shrewdly dealt with the departure of Allan Nyom to Getafe.
They set about replacing the 54 goals lost from the previous season by signing two centre forwards: Kenneth Zohore (£8 million from Cardiff) and Charlie Austin (around £4 million from Southamption).  Matheus Pereira, Grady Diangana and Filip Krovinović arrived on loan from Sporting, West Ham, and Benfica, respectively. Romaine Sawyers was signed from promotion rivals Brentford for just under £3 million, and he has been one of the bargains of the Championship, providing energy and passing quality to the midfield.
Furthermore, they brought in forwards Kamil Grosicki and Callum Robinson from Hull City and Sheffield United in the January window, as Dowling looked to give Albion with a final boost over the jam-packed promotion race.
Formation and Set-Up
Throughout the season, West Brom consistently lined up in a 4-2-3-1 shape, but Bilić never quite established a guaranteed starting line-up. Instead, the Croatian preferred to keep the squad on their toes and regularly rotated throughout the season when results were poor, players lost form or if the opposition called for it.
Only three outfield players managed more than 3,500 league minutes on the pitch (Ajayi, Jake Livermore and Sawyers). 17 outfield players also played more than 900 league minutes (the equivalent of 10 full matches) showing Bilić's belief in not allowing any player to get too comfortable as a guaranteed starter.
In defence, Bilić often used Ajayi and Kyle Bartley as his main center back pairing, with the two forming a solid partnership in the heart of defense. Ajayi, the ball-playing centre back of the two, was comfortable pushing forward to press the opposing centre forwards. On the other hand, Bartley would hold his position and cover the space that Ajayi left in behind, using his leadership qualities to organise the Albion back four.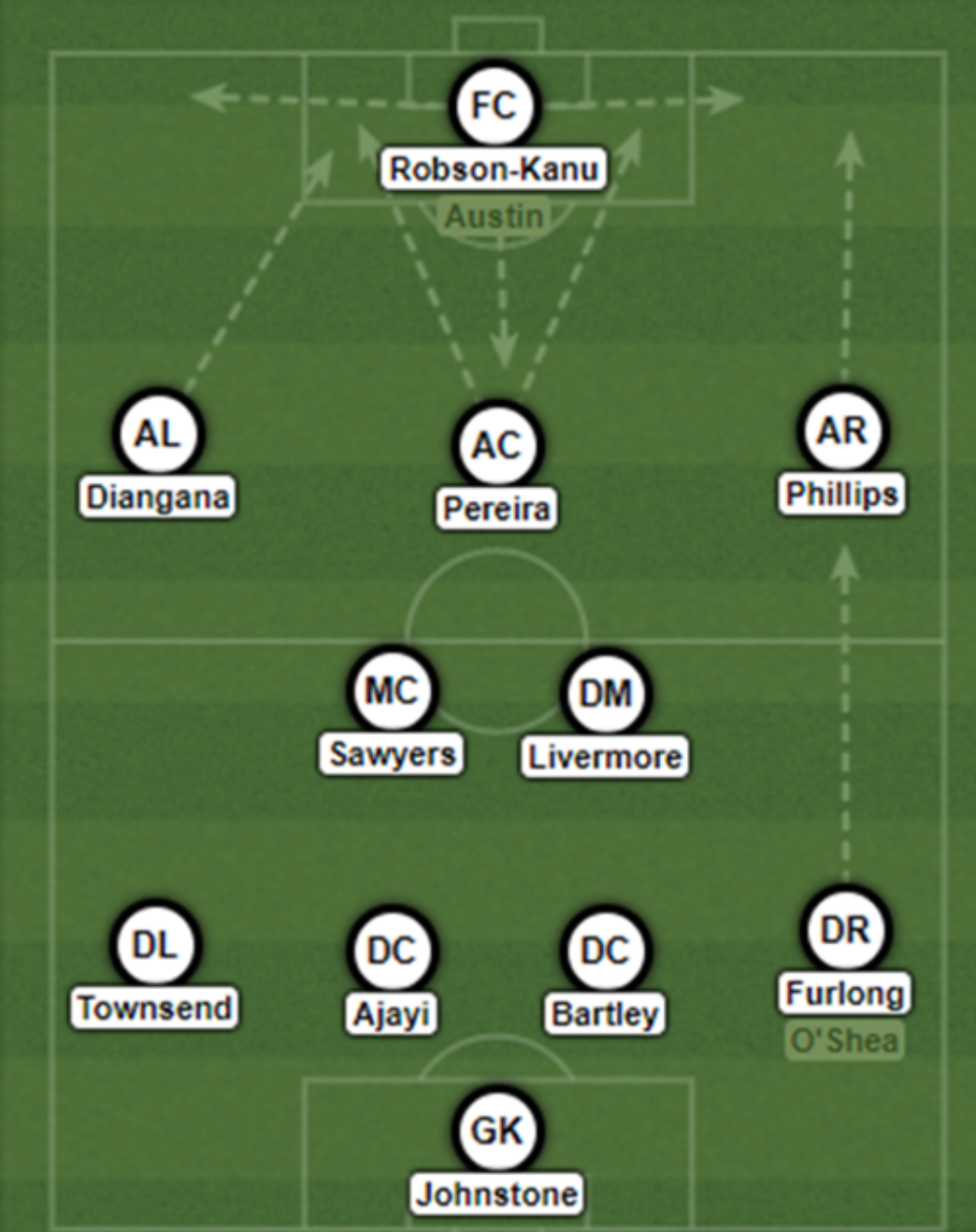 It's worth noting that in the 11 league games where the two didn't start together at center back, West Brom won just three times. Ahmed Hegazy also made 14 starts at centre back but was used more as a rotational option for Bartley or Ajayi.
Furlong and O'Shea competed against each other for the right back position throughout the season, with Ferguson being frozen out after refusing to agree a contract extension. Furlong was preferred in big games due to his defensive knowhow, whilst O'Shea was preferred against teams that sat in a low block due to the Irishman's superior ability going forward. If Pereira played on the right, O'Shea was often selected on the right to complement the Brazilian's runs infield.
At left back, Conor Townsend was a regular for Bilić, filling in for the injury prone Kieran Gibbs and providing steel to the back line. In midfield, Livermore and Sawyers were two of the first names on the team sheet. While Livermore was the midfield destroyer, Sawyers was the main link between defence and attack, constructing attacking moves from deep and putting a foot in whenever necessary.
The attacking three behind the centre forward mainly consisted of Matt Phillips on the right, who would hold his width and play as a 'chalk on your boots winger.' Pereira, arguably the best player in the entire Championship across the season, operated in the #10 role, whilst Diangana operated on the left, making more direct, infield runs than Phillips provided.
Hal Robson-Kanu and Charlie Austin took turns to leading the line over the season. Neither player scored more than 10 goals over the season, but both played important parts throughout the campaign, particularly with their ability to free up space for the attacking three behind them.
With Robson-Kanu being more of a ball-to-feet type player who could link the play together, Austin was more of a tricky striker who could beat the offside trap by making clever movements behind the opposition back line and dragging defenders out of position. Crucially, both players could hold up possession well, whilst big money signing Kenneth Zohore started just five games over the season and was mostly limited to appearances off the bench.
Build-up Play
Since Bilić's appointment last summer, West Brom have gained a reputation for being a possession-based team that always tries to play the ball out of the back and patiently move the ball through midfield. However, as the season went on, their attacks became slightly more direct; less focused on a fixed pattern of build up play and high possession counts.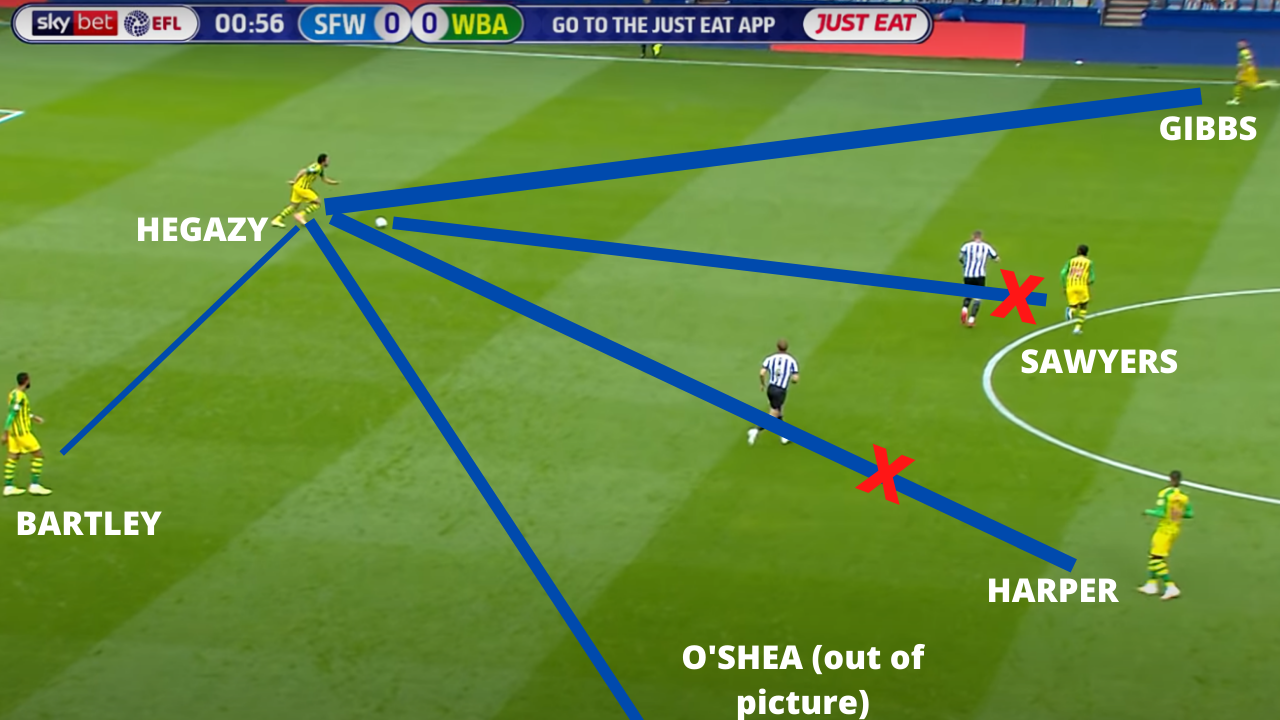 Opponents began to take notice of Livermore and Sawyers's ability to start moves from deep and progress the ball, and as a result, many opposing teams would employ a mid block to block the center backs's passing lanes to the central midfielders, as seen in the above example.
Sheffield Wednesday allow Bartley and Hegazy with plenty of time on the ball, but they closely mark Rekeem Harper and Sawyers to prevent them from picking the ball up from deep.
To solve this, Bilić encourages both full backs (O'Shea and Gibbs) to advance high up the pitch, allowing Hegazy with a clear vertical pass to Gibbs on the left. Moreover, he still has a simple pass to his right with Bartley, as well as a riskier pass to O'Shea should West Brom need to switch play quickly. To counteract this, however, opponents tend to push their wingers high to block the passing lanes from West Brom's center backs to the full backs.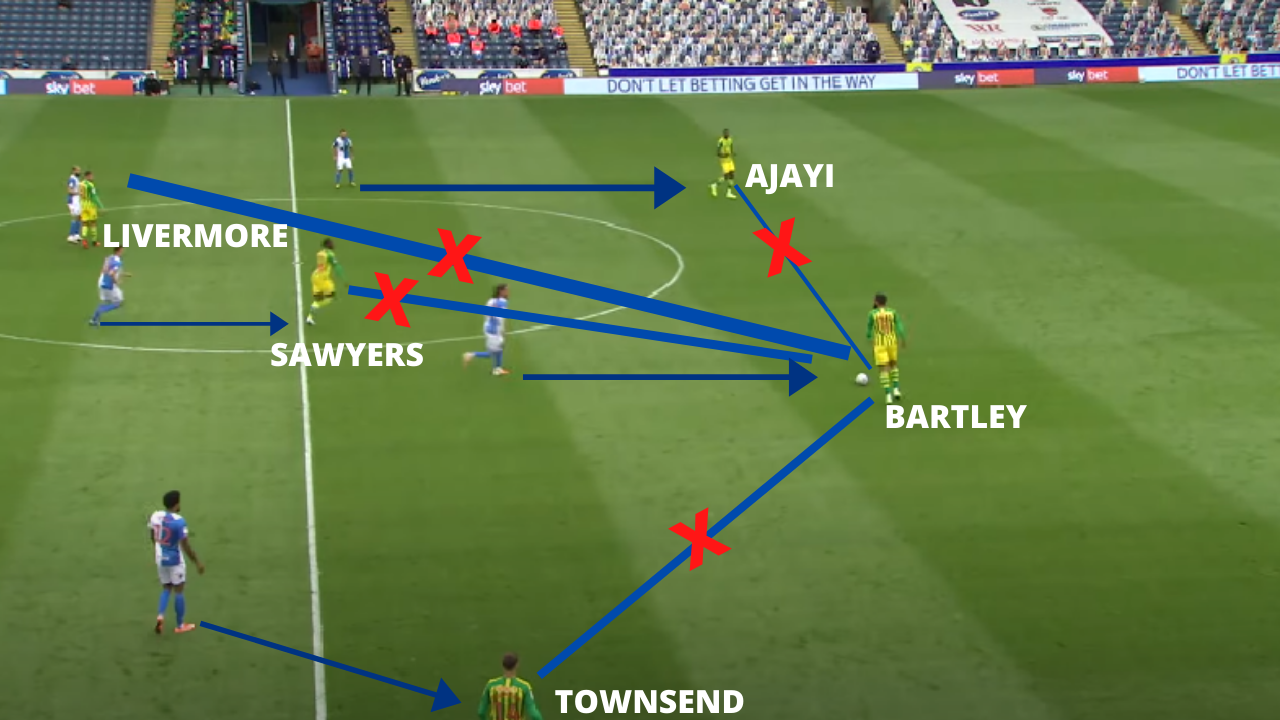 When West Brom are faced with an aggressive press (as shown above against Blackburn Rovers), they struggle to deal with the opponent, who not only close down the passing lanes into midfield, but the simple sideways passes into Ajayi and Townsend.
Rather than try to play through the press, Bilić encourages his center backs to hit a long ball to the front four. With Ajayi and Bartley both proving more than capable in terms of their passing ranges — Ajayi completes 2.5 long balls per 90 and Bartley with 2.8 per 90 — they have the players available to play through the defense with direct passes.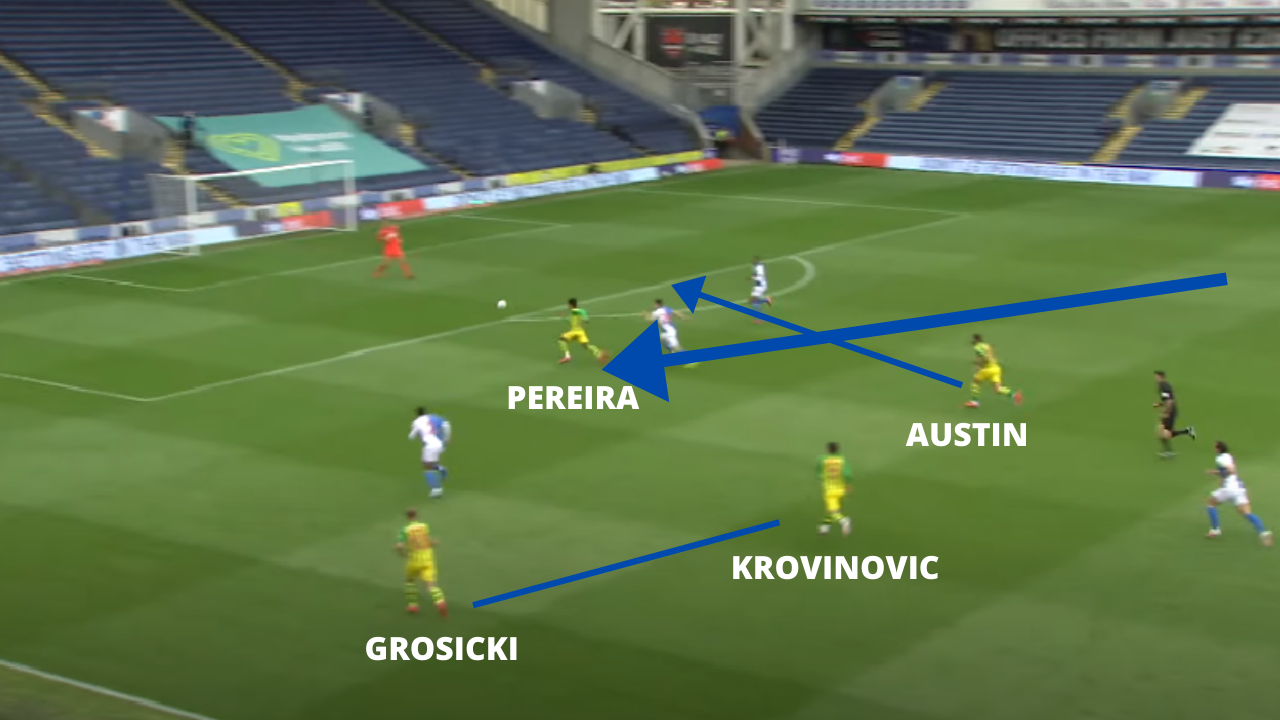 In this example, Bartley launches the ball forward to Pereira, who finds space in behind Blackburn Rovers's defense, and in doing so, he showcases West Brom's smooth balance between the front four. Whilst two forwards — Pereira and Austin — run in behind the defense, two players — Grosicki and Krovinović — drop deep to offer a direct passing option.
Austin is about to make a run in behind the defense, whilst Pereira is making a diagonal run from the right flank into the center. In doing so, they give Bartley and Ajayi with the option to play the ball long. When teams intensely press West Brom, they give them less time on the ball and cuts out their passing angles, but it also provides the likes of Pereira, Diangana and Austin with far more space to run in behind and break on the counterattack.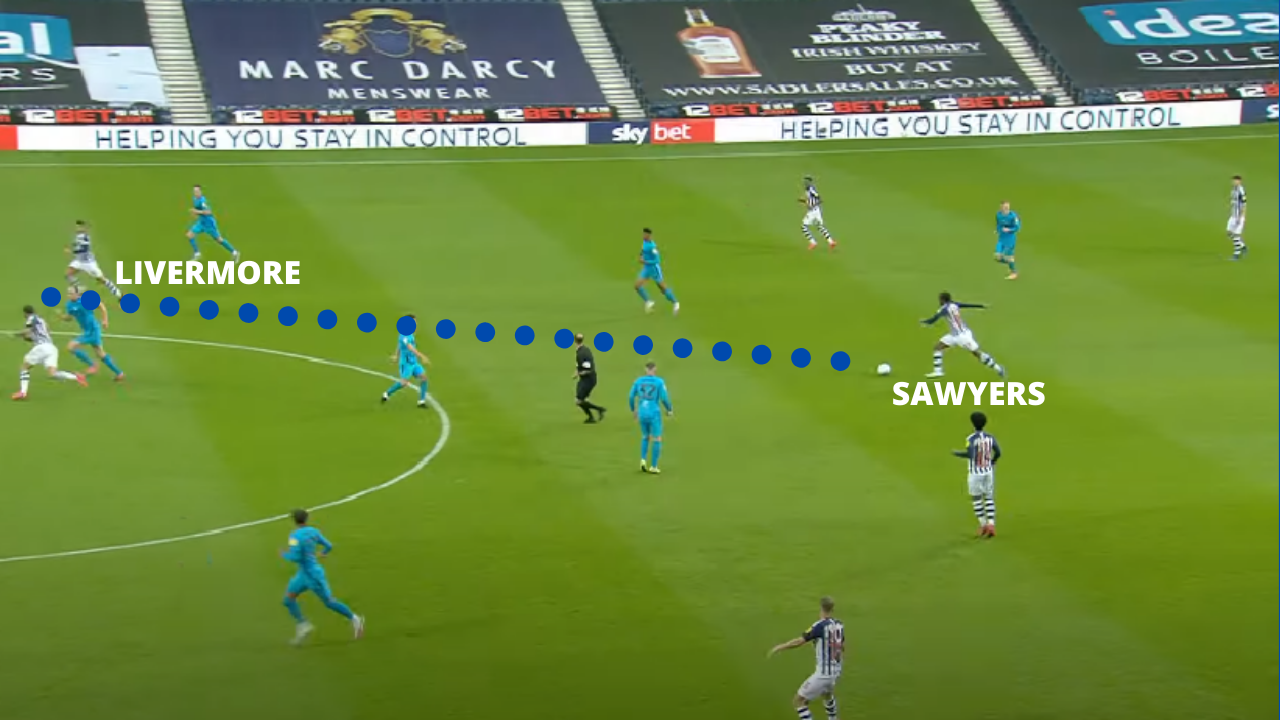 West Brom boast plenty of players who make clever off-the-ball runs, forcing the opponents to drop deeper. In turn, this gives Livermore and Sawyers more time and space on the ball to control possession and sustain pressure.
Sawyers acts as the metronome in the middle of the pitch, having completed 90% of his passes, the highest passing completion percentage in the 2019/20 Championship season. Furthermore, he also boasted the highest pass volume of all midfielders in the second tier with an impressive 62.4 passes per game. On the other hand, Livermore was given more defensive responsibilities at the heart of midfield, averaging 2.2 tackles per game and a successful tackle rate of 67%.
Despite Livermore being the midfield destroyer between the two, when West Brom are in possession, Sawyers and Livermore rotate, with Sawyers taking up the deeper position in midfield whilst Livermore pushes forward, as highlighted by the latter's seven goal contributions compared to Sawyers' two. They have built a solid chemistry at The Hathworns, with Sawyers picking out Livermore's run in this scenario.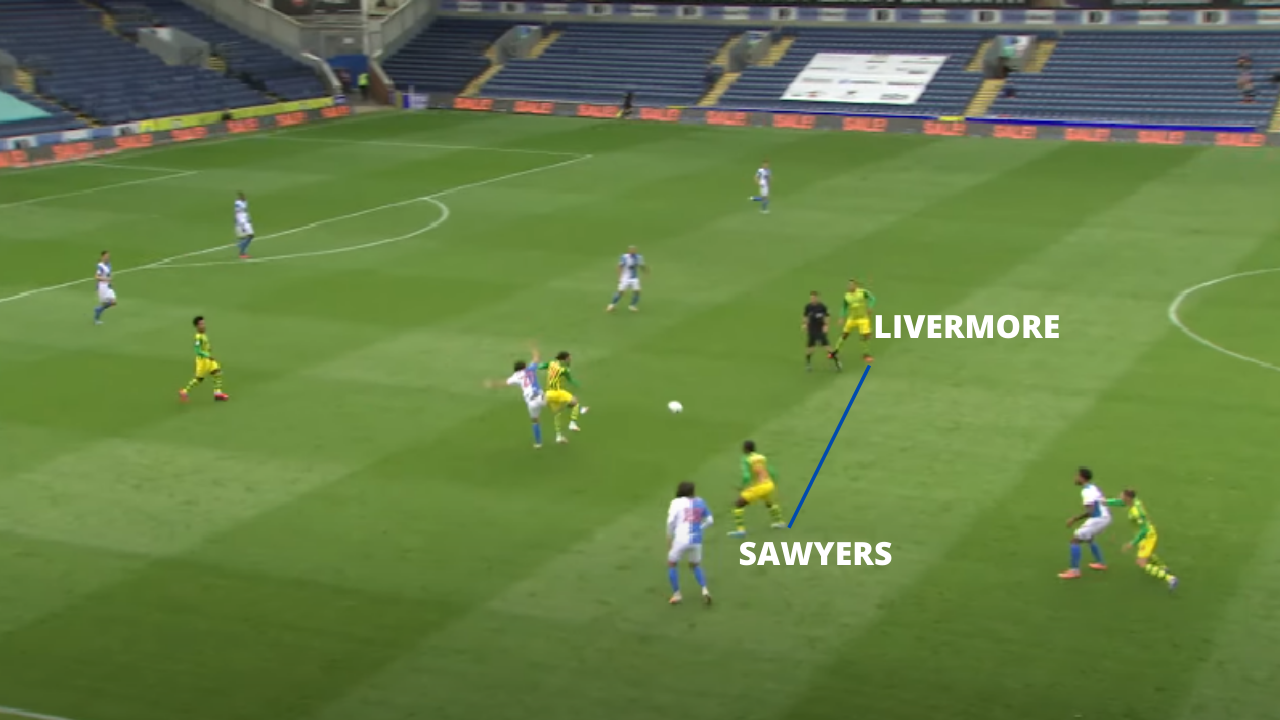 Livermore and Sawyers showcase their ability to sustain pressure in this example, staying in close proximity to one another and pressing high up the pitch to intercept possession. This makes it impossible for Blackburn to get out of their own half with the only realistic escape route being long balls forward.
However, with Bartley and Ajayi's aerial prowess (the two winning over 70% of their aerial duels) it makes it inevitable that the ball will only go back to West Brom. Sawyers and Livermore's intelligence on and off the ball allows West Brom to dominate play in the middle and attacking third.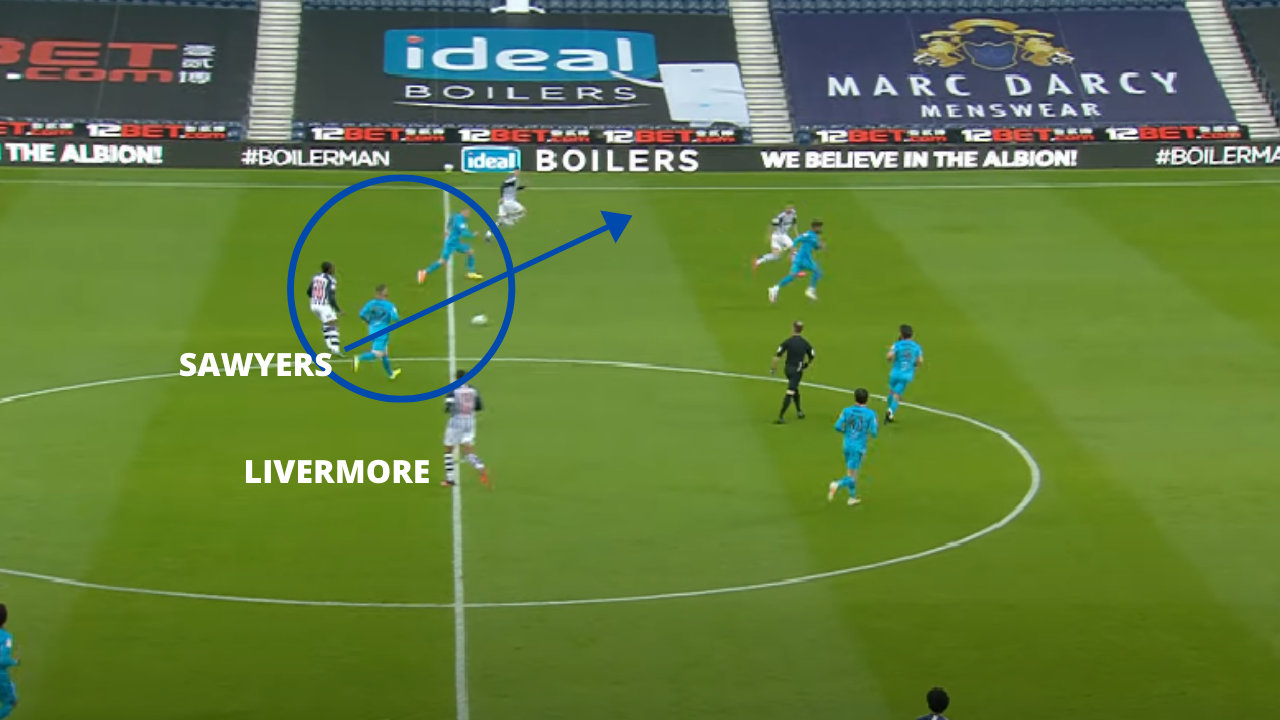 Sawyers has also proven to be extremely press resistant and brilliant at controlling the tempo of games. He attracts two Derby players in to press him, drawing them inside before playing the ball into open space on the counter, and catching the opponent out on the back foot. 
Attacking Methods
West Brom averaged the lowest possession out of each of the Championship's top four, but they proved to be extremely effective on the ball, finishing second to Brentford in terms of goals scored and finishing second to Leeds United in terms of expected goals. But just how did Bilić pull this off after losing 54 goals before a ball had even been kicked?
The signing of Matheus Pereira helped massively, with the Brazilian winger proving to be the most creative player in the division. With 16 assists across the season, he came close to breaking Graham Dorrans's single-season record of 22 assists in the 2009/10 season, but his form dried up during the home stretch, failing to register a single assist over the last four league matches of the campaign.
Furthermore, he also created a chance every 29 minutes — the best average in the division — whilst also providing 8 goals himself, many of which came from moments of sheer individual genius. Pereira proved crucial in terms of scoring and creating from set pieces, as they scored 23% of their goals from dead ball situations. After a sensational loan spell, it was only a formality when West Brom exercised their £8.25 million purchase option to sign him on a permanent deal from Sporting.
As brilliant as Pereira was, it would be wrong to suggest that they were a one man-attack. Despite scoring 77 goals, no one player scored more than 10 goals individually, serving as a testament to Bilić's fluid attacking philosophy and the importance of the system over individual players.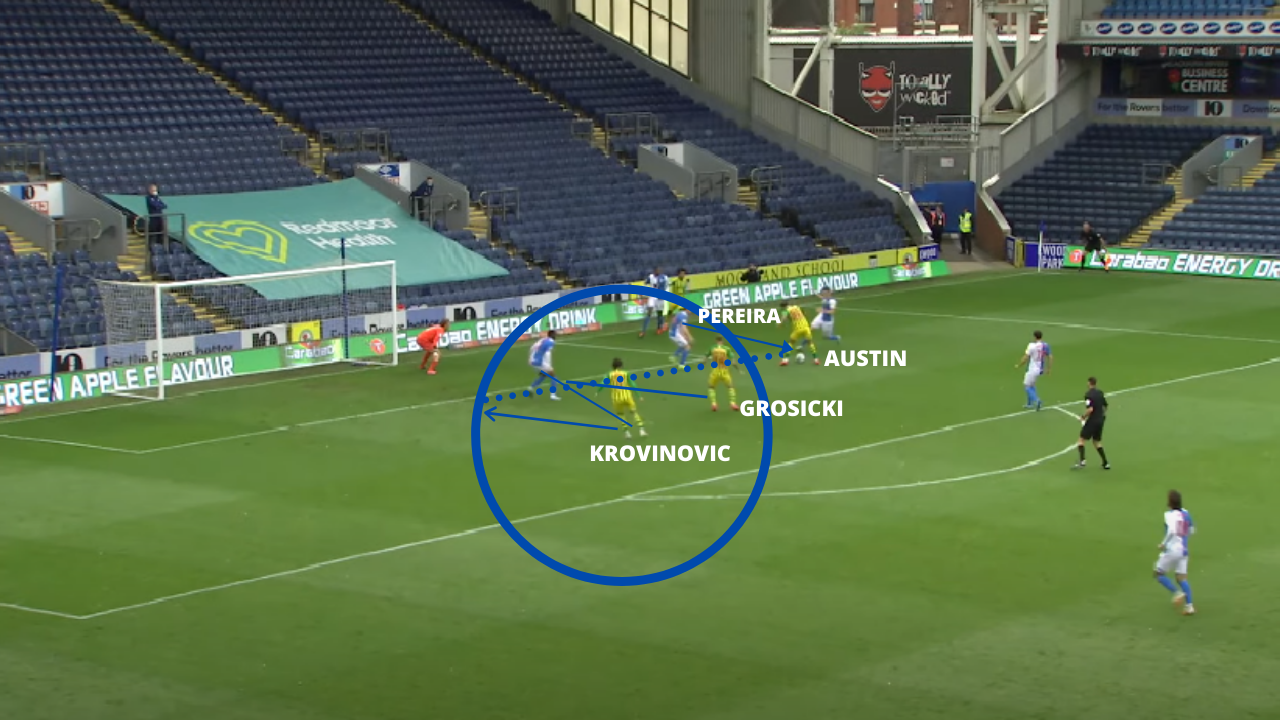 West Brom have two clear methods of attack from open play: creating crossing opportunities through third-man runs, and attempting through balls from deep to feed West Brom's runners in behind. The third-man run has become particularly useful for West Brom, with players alternating between who makes the run into space away from goal.
In the above example, Austin moves wide to support Pereira, who finds himself on the byline. Austin's run causes confusion in the Blackburn defense, leaving right-sided center back Darragh Lenihan outnumbered against two attackers. Austin's incisive third-man run goes untracked by Blackburn's defenders, and Grosicki and Krovinović fill the space that Austin vacated, acting as makeshift center forwards.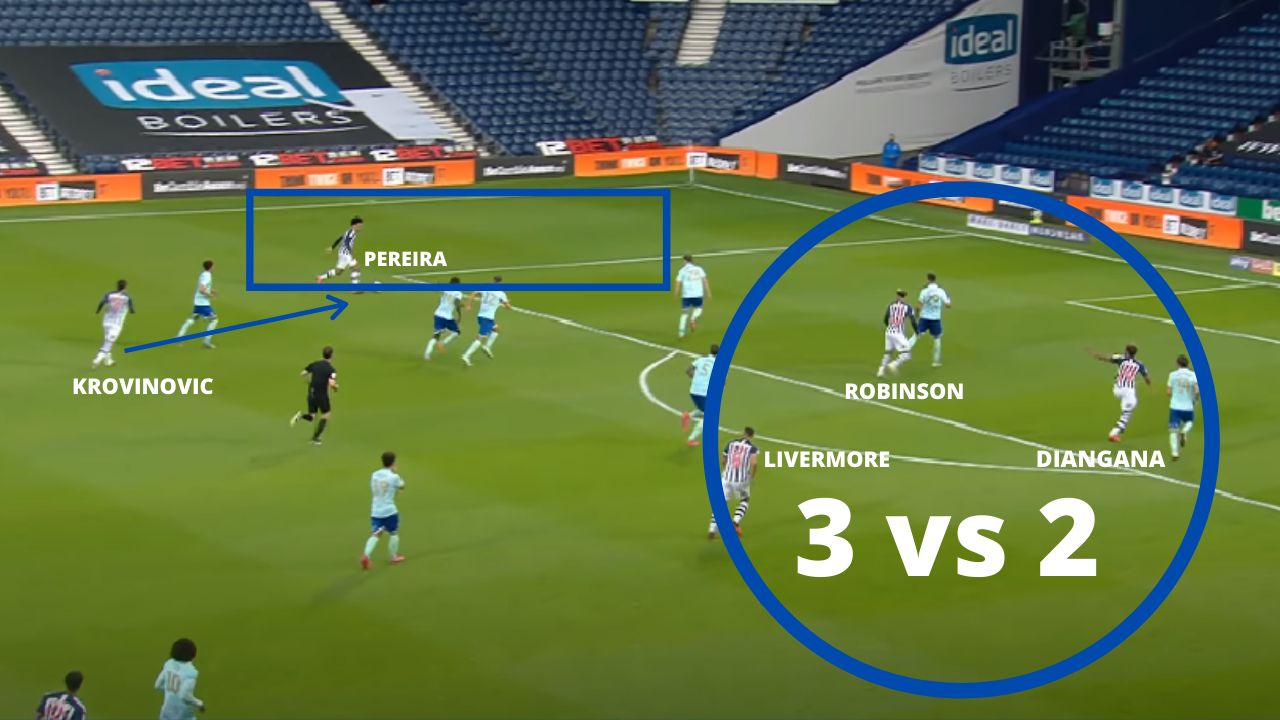 In the above scenario, we see an alternative use of the width with Krovinović, West Brom's number 10 on the day, picking up a position close to the left wing, drawing players towards him and away from Pereira.
The Croat threads in a pass to the most creative player in the Championship, leaving him with time and space to pick out his cross with his stronger left foot. West Brom's positional fluidity causes confusion in QPR's backline and leaving West Brom with a 3v2 situation in the box, with Livermore making a late run.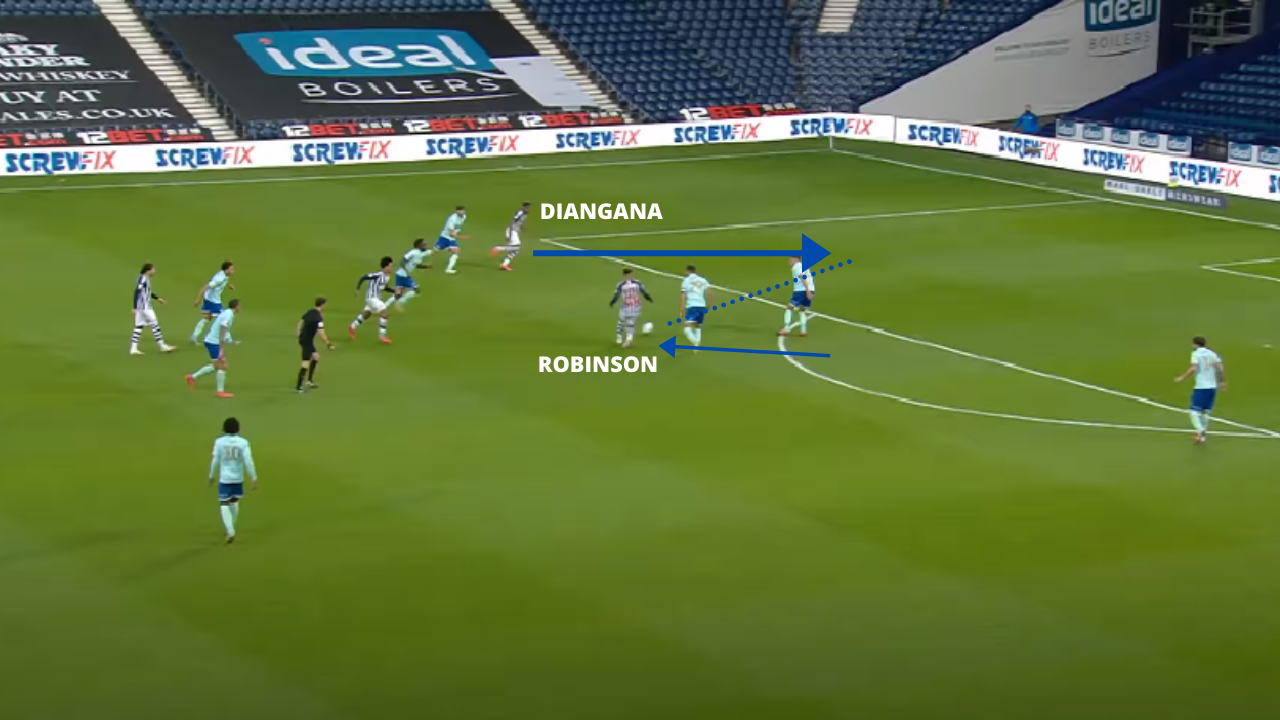 Here, we see another example of Bilić's Total Football identity; Robinson, the center forward, drops deep, whilst Diangana beats QPR's offside trap with a direct run towards goal. Acting as a makeshift #10, Robinson opens up the angle to allow Diangana to receive in space, the latter of which acts as the center forward in this scenario.
West Brom's other main method of chance creation is via through balls; Diangana is the main outlet for this strategy, with the West Ham loanee registering 8 goals and 7 assists this season, the majority of those coming through through balls.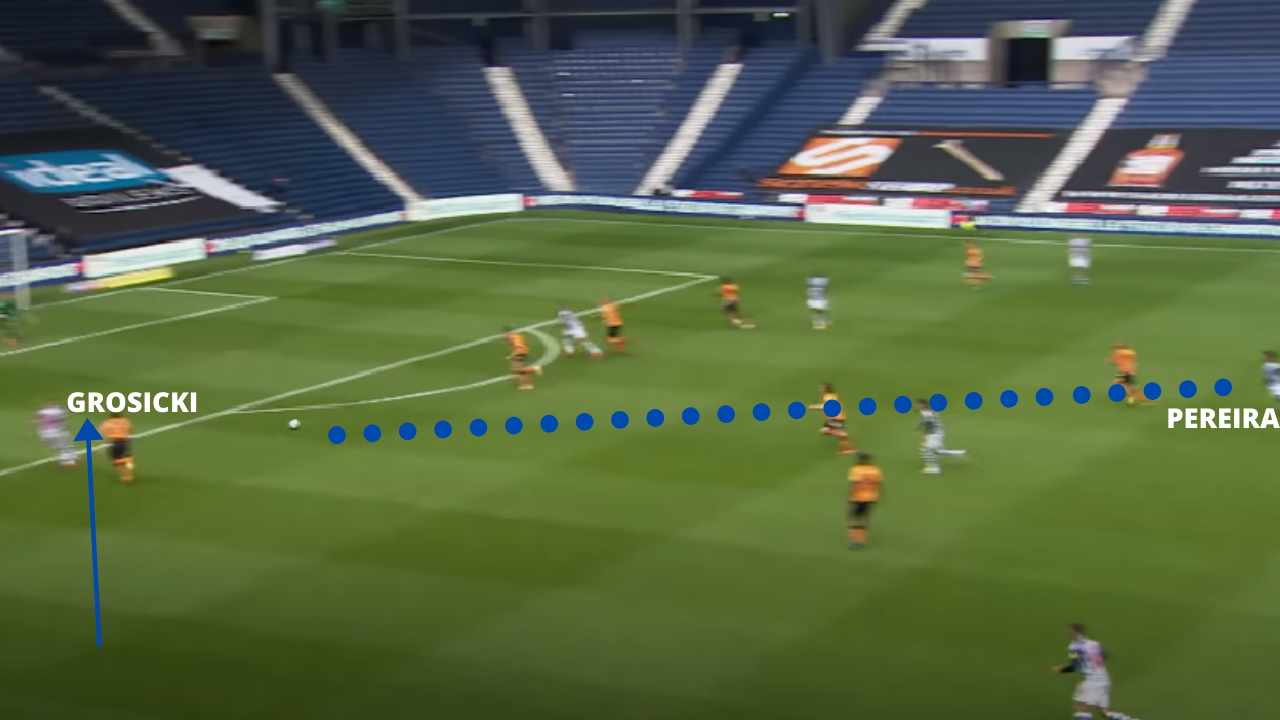 While he is a dangerous threat behind the defense, Pereira is also able to drop deep and feed balls into runners who exploit space in behind. In this instance, he sets up Grosicki, who fires in the go-ahead goal against his former side just a minute after Hull's Mallik Wilks leveled the score.
West Brom are also a huge threat from set-pieces thanks to Pereira's ability to fizz the ball into the front post from either side. Albion look to overload the front post to accommodate Pereira's delivery, with Hegazy escaping his marker to make a late run towards the near post.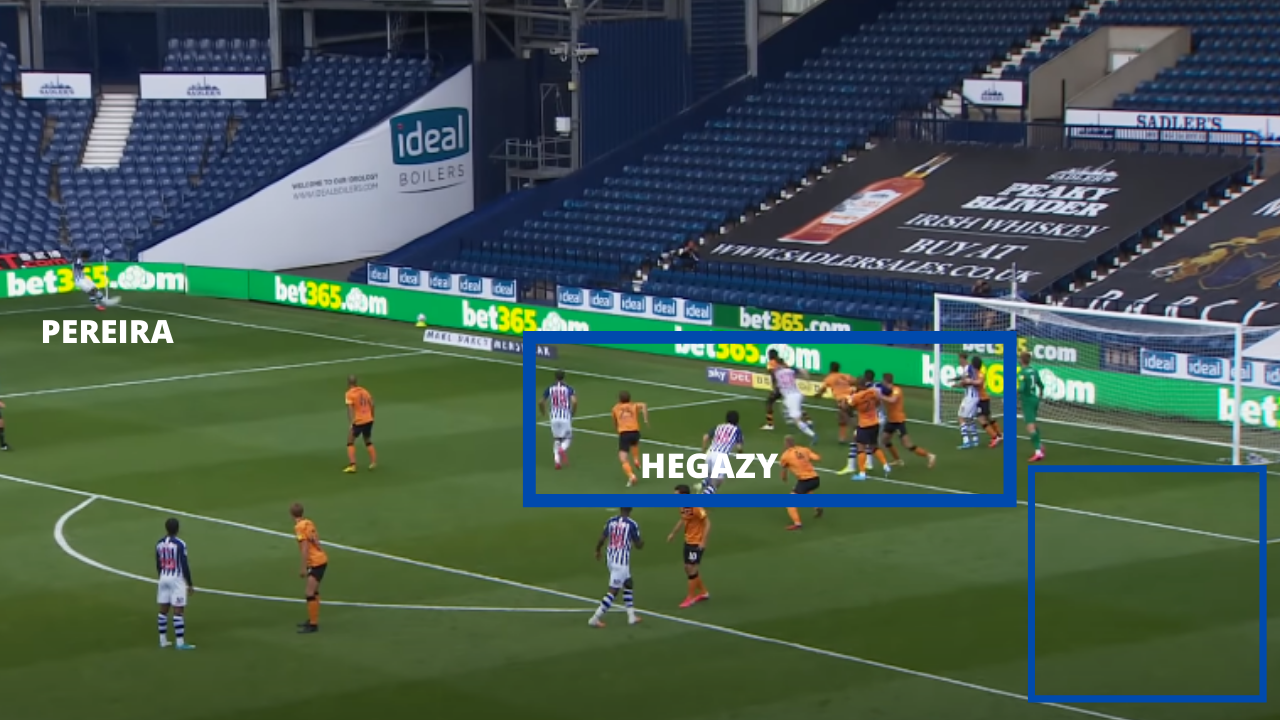 With this pinpoint delivery, all that is needed is just a slight touch towards goal, and the sheer speed of the ball makes it very difficult for the goalkeeper to prevent the ball from hitting the back of the net. Take note of the bottom right corner of the image: there's nobody making a run into the far post to catch Hull goalkeeper George Long off guard. Instead of varying their options, West Brom put all their eggs into one basket.
This delivery has also forced opposing sides to concede 3 own goals over the past season, note of the lack of runs or players around the back post. In this example, though, Hegazy saunters into the near post before heading home West Brom's second goal.
Defensive Organisation
Whilst Bilić's West Brom has earned a reputation for their reputation of attacking the near post during set-pieces, they also have a major weakness when it comes to defending set pieces, and they will need to improve on this if they are to cope with the likes of Trent Alexander-Arnold and Kevin De Bruyne on a regular basis. It's more a tactical issue than an individual one; Bartley and Ajayi are excellent headers of the ball themselves, but West Brom must work on this area if they are to repeat their fate of 2018, when finished bottom of the Premier League.
Despite his excellent shot-stopping ability (as highlighted by the fact that he has outperformed his expect goals against by 7.7), Sam Johnstone does make occasional errors on set pieces and will need to take a stronger grip of his penalty area if West Brom are to improve on defending set-pieces.
Whilst West Brom conceded 16 goals in set-piece situations this past season, they only conceded 25 goals from open play — ranking them as the best in the Championship by a fair margin. They deployed a fearsome mid block last season that squeezed opponents out of possession and allowed them to sustain possession.
In this example against Derby, West Brom's back four remains horizontally compact and pushes up to the half way line, refusing to drop deep whilst also ensuring that they aren't exposed on the counter. Ajayi initially pushes too high up, but he quickly retreats to maintain the shape with the back four. Bartley, the veteran leader of the defensive line, is barking orders at his teammates, telling them to get back into position.
Livermore and Sawyers keep the team vertically compact, blocking off passing lanes in front of the defense, whilst Grosicki rushes to cut off the passing lane to the onrushing right back Jayden Bogle. West Brom's opponents struggle to break their defense down in open play, as they desperately rely on 1v1 duels or moments of individual quality to evade the mid block.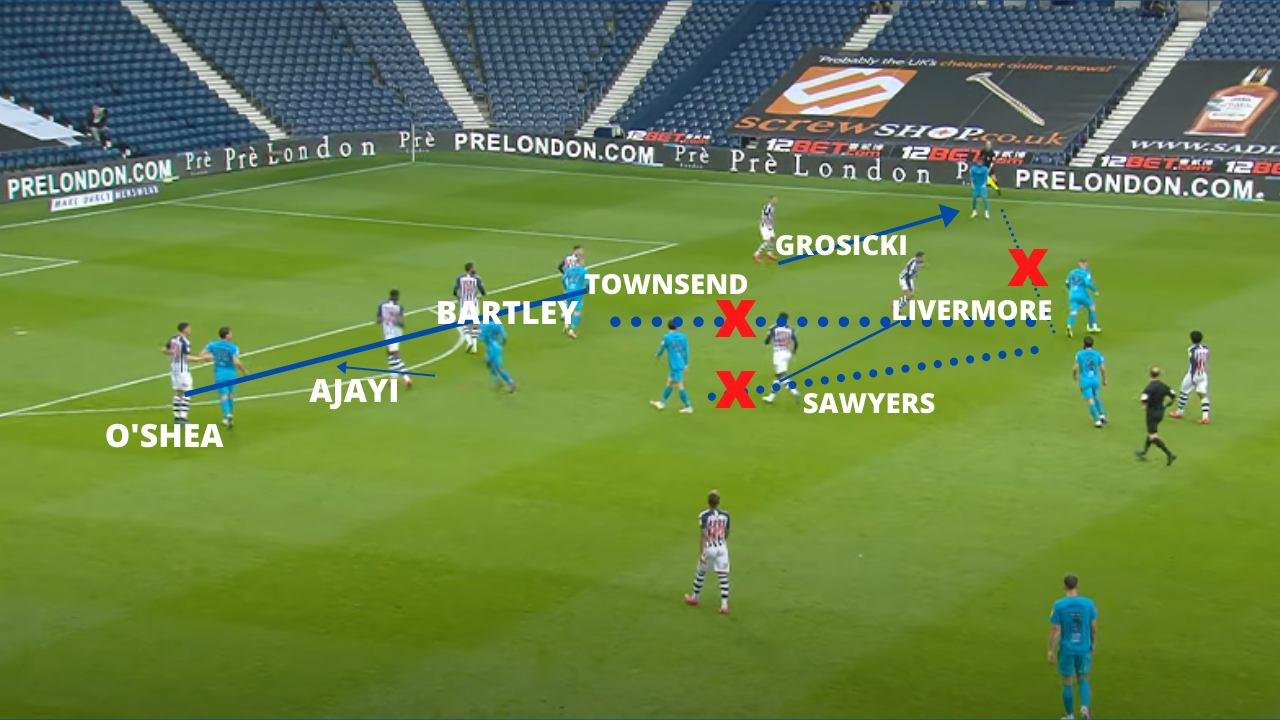 Are West Brom Ready for the Premier League?
Whilst West Brom finished the form in underwhelming fashion, with 4 defeats and 5 draws in their last 12 matches, it must be said that their consistency was otherwise excellent. Once West Brom found their way into the top two on October 5 after defeating Cardiff City, they didn't fall out of the automatic promotion spots until 36 match days later. Moreover, they also ascended to the top of the league on several occasions this past second, only to be leapfrogged by Leeds United at the end.
Apart from exercising their purchase option on Pereira, West Brom have not made a single signing in the summer transfer window so far, and they'll need to do so in order to stay up in the Prem. However, according to reports that surfaced today, the Baggies are close to bringing in Diangana on a permanent transfer for an initial fee of £12 million which could rise to £18 million. Sealing this deal will be vital for their promotion hopes, as Diangana is their main attacking outlet who can run in behind and latch onto Pereira's through balls.
West Brom do need to solve their set piece woes and defensive issues, and at the moment West Brom aren't just considered odds on to be relegated, according to Sports Betting Dime, they're even money to go straight back to the Championship. Whilst Ajayi, Bartley and Hegazy have served them well in the Championship, they'll need to sign one more center back if they are to stay alive in the physically demanding top flight. Brighton's Shane Duffy has been named as a potential option, whilst Celtic's Kristoffer Ajer has also been linked.
Moreover, West Brom are looking to bring in Krovinović on a permanent deal from Benfica, and they could and perhaps should recruit another center forward. It remains to be seen whether Robinson, who scored 3 goals and 2 assists in 16 Championship matches this season, will be brought in on a permanent transfer; Sheffield United signed him from Preston North End for £8 million, whilst the Baggies are reportedly only offering £4 million to purchase him.
Given Charlie Austin and Hal Robson Kanu's previous struggles in the Premier League, West Brom may elect to sign another striker who can provide the goals in the top flight. 
Bilić will be desperate to prove himself in the top flight again after being sacked from West Ham in 2017, whilst veterans such as Bartley and Livermore will attempt to redeem themselves after spells in the second division. With the right signings, West Brom may just be able to stay up in the Premier League after a two-year spell in the Championship.
By: @OscarMarrio
Photo: @GabFoligno / Shaun Botterill