Tactical Analysis: Sweden vs. Poland
After yet another miserable international tournament display at Euro 2016 in France, the Swedish national team decided it was time to gamble. Back home, a recently promoted side, IFK Norrköping, had just won the Allsvenskan for the first time in 26 years. Their manager, Janne Andersson, had only coached two sides before that unprecedented title win, but that was enough to convince his country to come calling. 
Having just finished bottom of their group with one goal to their name – an own goal – and with Zlatan Ibrahimović hanging up his international boots, things didn't look great for the new boss. Further to their dismal display in France, they'd failed to qualify for the World Cup in 2014, finished bottom of their Euro 2012 group, and hadn't qualified for the knockout stages of any international tournament for over a decade. 
Yet, fast-forward four years, and Sweden are gearing up for their second Round-of-16 tie in as many tournaments. Competing in two major competitions under Janne Andersson, Blagult have finished top of their group in both, outranking both Germany and Spain along the way. And, with seven points from nine this time, they've even now gone unbeaten. 
It's a managerial success story that perhaps doesn't get as much credit as it should. Yet, as Sweden broke Polish hearts to record a last-gasp win over Paulo Sousa's men today, eliminated from Group E with a singular point from their three games, the value of Andersson's pragmatism and team unity became clear against a similarly talented side, who just don't seem to have that same organisation, solidity and consistency.  Robert Lewandowski very nearly carried the Poles through, but it was the Scandinavian determination that ultimately won the day, and, indeed, the entire group. 
Man of the Match: Emil Forsberg
While Andersson's success has largely been built on a solid, compact 4-4-2, RB Leipzig's Emil Forsberg has long been the ace in the pack. Starting out on the left, his constant energy and positivity as he drifts between the lines is often the creative force behind the Swedish attack. Today, though, Forsberg was the finisher, linking up magnificently with the up-and-coming superstars who look to be the most luxurious footballers that Sweden have produced since Forsberg himself. 
Just two minutes into Poland's must-win game, and it was the 29-year-old who fired the Swedes into the lead, picking up the ball after Alexander Isak was hacked down, before nicking it away from a swinging Polish leg and smashing it across goal with his supposedly weaker foot. The talented attacking midfielder would then go on to grab his second of the game just after half-time, rifling home from the edge of the area after a sensational run and lay-off from Dejan Kulusevski.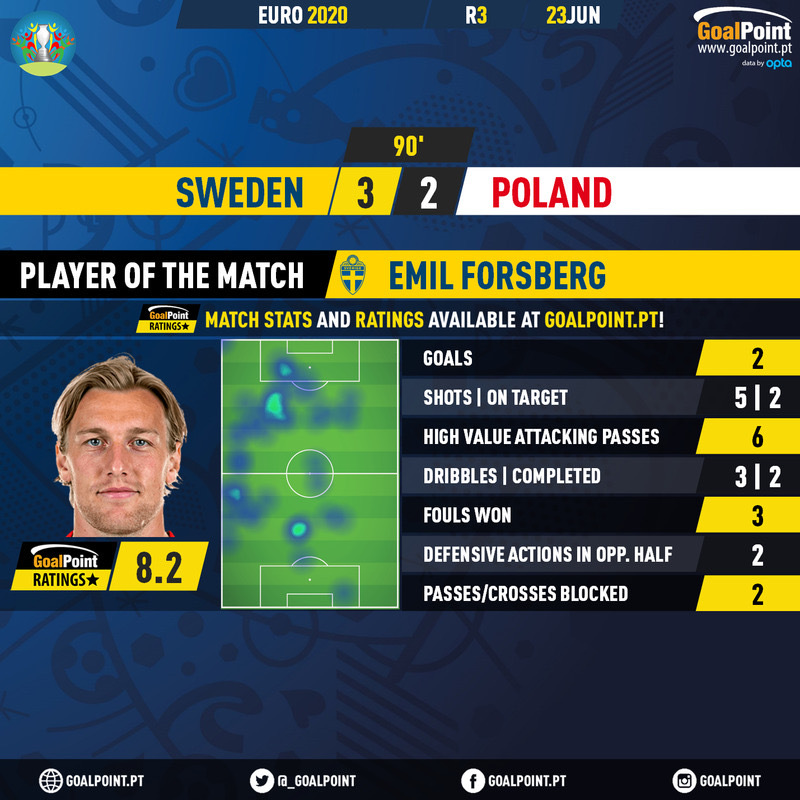 A typically busy performance from Emil Forsberg, who was incredibly clinical when chances fell his way. 
Aside from his goal-scoring contributions, though, Forsberg was a constant thorn in the Polish defence, picking up those awkward positions to drag defenders away and vacate space in behind. He was typically neat and tidy with the ball at his feet too, completing 80% of his passes, as well as finding six high-value attacking passes, showing his creativity and imagination on the ball. 
Knitting together the Swedish attack with his elusive movement, and popping up with two, expertly taken goals, it was close to the perfect performance from a player whose experience and intelligence may well hold the key to any further Swedish success at Euro 2020. 
Conclusion
And so, while Poland crash out at the first hurdle, Sweden progress to the knockout stages once again, eager to replicate their World Cup quarter-final run of 2018. Their reward for finishing top of Group E is an enticing tie with fellow dark horses Ukraine, with the winners facing either Germany or England in the last-eight. 
Despite their victory, Poland's two goals will be a slight cause for concern for Janne Andersson, particularly Lewandowski's second, coming from an uncharacteristic mistake at the back from Marcus Danielson. Usually imperious in the air, the Swedes did concede a number of chances from set-pieces, something that big striker Roman Yaremchuk and set-piece specialist Ruslan Malinovskiy will be looking to test early on in that upcoming knockout game. 
Otherwise, though, Swedish fans couldn't have really asked for much more. With Alexander Isak dazzling and Janne Andersson – as he always does – finding a way to win, Sweden are well worth keeping an eye on as Euro 2020 edges towards the business end of the competition. 
Dejan Kulusevski's Long-Awaited Arrival at Euro 2020
With a positive COVID-19 test result ruling him out of the tournament opener against Spain, Dejan Kulusevski's 55th-minute introduction against Poland provided us with the first glimpse of Sweden's young, exciting, post-Zlatan attack. And, while it's mostly been the excellent Alexander Isak earning the plaudits so far, the 21-year-old Juventus winger showed us exactly what he can do in a remarkable cameo appearance, providing two impressive assists in an encouragingly positive and direct performance. 
After so many tournaments of target-man football, with the likes of Marcus Berg, Ola Toivonen and Johan Elmander offering their aerial support to Ibrahimović over the years, the pace, power and positivity of both Kulusevski and Isak could well lead to a refreshing revolution of Janne Andersson's pragmatic approach.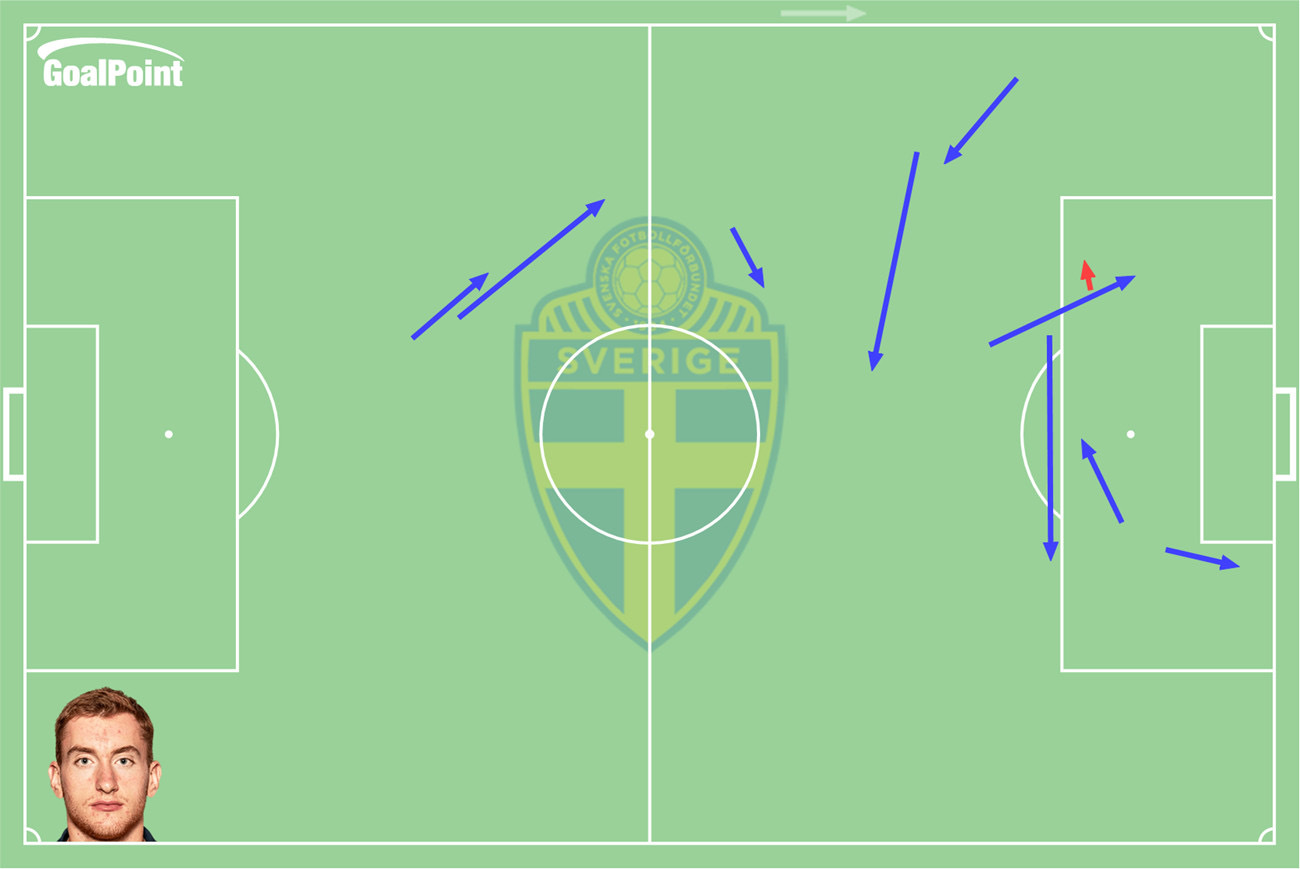 Kulusevski's cameo was direct, positive and industrious, popping up all over the pitch in an attempt to find his teammates further up the pitch. 
Today, having been on the pitch for a matter of minutes, Kulusevski roared onto the international tournament stage with an exhilarating assist, picking up the ball deep inside his own half before driving fearlessly towards goal.
Shrugging off a flailing defender on the way, the winger's aggression and power was followed up by a moment of composure, bursting through the challenges of three defenders before deftly laying the ball off for a first time Forsberg strike. His second assist, the 92nd minute game-clincher, also showed his ability in tighter spaces, delaying his run before poking a clever dinked ball through to Viktor Claesson to finish. 
With the ability to drop deep with Forsberg to create, coupled with the pace to burst forward alongside the dangerous Isak, Sweden's new-found counter-attacking capabilities, alongside their tried-and-tested defensive unit, makes them a whole new proposition heading into the knockout rounds. 
Robert Lewandowski: A One-man Attack
For the casual observer, Polish football has long been synonymous with Robert Lewandowski, and Euro 2020 didn't do very much to revolutionise that idea. Scoring three of his country's four goals, the Bayern München striker once again ran the show, scoring twice on his ill-fated one-man mission to drag his country into the knockout stages. 
Despite Poland's agonising defeat, condemning the side to a one-point, bottom-placed finish in Group E, Lewandowski made another case for his Ballon d'Or charge with his heroic efforts, popping up all over the pitch once more in a desperate attempt to win fouls and drag his team up-field. Even after an inexplicable miss in the first half, hitting the crossbar twice in the space of two seconds, the talisman was a magnet up front for Poland, drawing the ball in before driving forwards with seven key passes and two progressive carries.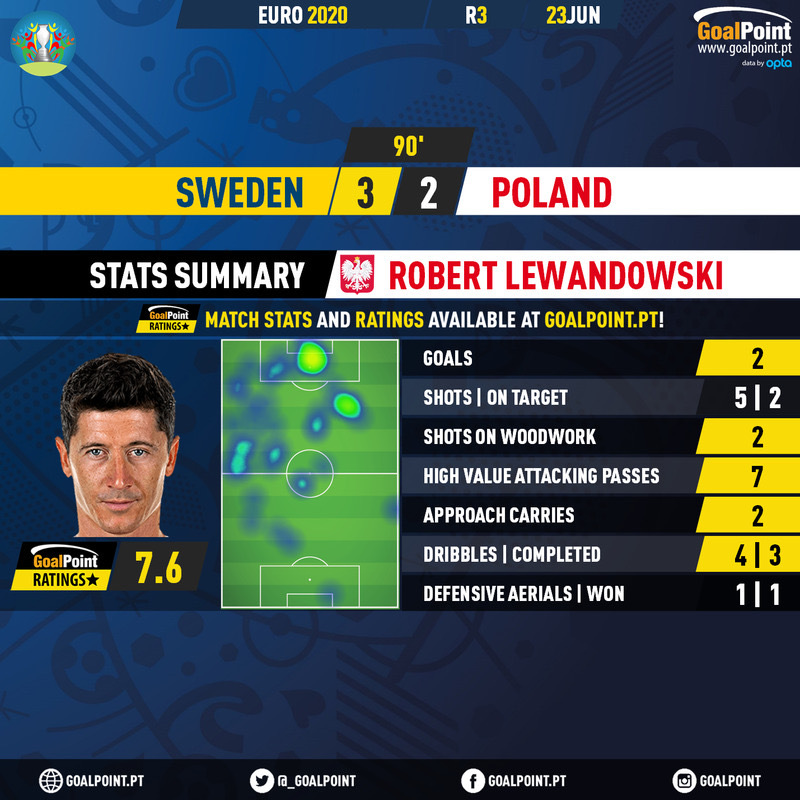 It was another striking masterclass from Robert Lewandowski that ultimately, just wasn't enough for Poland. 
His goals, once again, were perfect examples of his supreme quality. Showing his unmatched ability to lead the line on his own, his opening goal was arguably his best of the tournament, chasing a long, hopeful ball before cutting inside, shimmying, and placing a deliciously whipped finish into the far corner.
While his efforts ultimately weren't enough, the fact that Lewandowski kept Poland dreaming right until the 92nd minute of the final group game only goes to show how much their star-striker means to them. They might not have made it through – and they may have looked pretty uninspiring in the process – but while Poland have Robert Lewandowski, they always, always have a chance. 
By: Thom Harris / @ThomHarris_
Featured Image: @GabFoligno / Gonzalo Arroyo – UEFA