Tactical Analysis: The Netherlands' 5-3-2 Formation at Euro 2020
The 5-3-2 formation is known to be composed of 5 defenders, 3 midfielders and 2 forwards. That's just a general way of putting it. A more football-related description would be 5-3-2 when out of possession and 3-5-2 when in possession / building up phase. The 3 center backs consist of 2 man-to-man markers and one sweeper for "additional security" when the team is defending.
However, building up with 5 players positioned at the same line along the width of the pitch is difficult; this is why the 2 wide defenders are the most important in this setup. They need to work their flanks and cover the whole length of the pitch for the whole match duration. Not only do they need to have the technical skills to pass an opponent and deliver a good cross, but they need to be left and right midfielders when building up, left and right wingers when in the opponent's final third and left and right backs when defending.
They need to be good with the ball, comfortable moving forward with it, unlikely to lose possession easily, so that they can give the center backs an additional option for passing. The German teams of the 90s had this issue: their wide defenders had a hard time keeping the ball, so their center backs often looked for a creative midfielder, or opted for the long ball to the forwards, hence losing possession was more likely.
On paper, this setup differs from the usual 4-3-3 by dropping one of the 2 wingers for a 3rd central defender. The 2 remaining forwards will have more freedom. They can even be 2 natural wingers not compelled to work in a certain zone on the flank. A formation on paper is one thing, how it actually performs on the pitch is another. Only the players, after perfectly understanding its pros and cons are responsible for perfect execution.
One of the main pros of the 5-3-2 over the 4-3-3 is that it allows the team to play compact when the opponent has the ball. Out of possession, the distance between the defensive line and the 2 strikers has to be as small as possible; it cannot exceed 22-25 meters. No team is able to carry that out for 90 minutes, but a 5-3-2 formation empowers it for a big part of the game and that makes the whole difference.
5-3-2 Success Rate Worldwide and With Dutch Coaches
Argentina's team in the 1996 FIFA World Cup, Germany's team for the 1996 Euros, and Brazil's 2002 FIFA World Cup side are a few examples of a perfectly applied 5-3-2 that ended up with a title. Before Ronald Koeman decided to take the Feyenoord job, they finished 10th in the league and suffered a historical humiliating 10-0 loss at Eindhoven. They had almost a negligible budget and 2 of their main players made a move to other clubs.
With inexperienced academy players, a 5-3-2 formation brought an immediate upturn in results. For the first time over a decade, Feyenoord finished as runners-up. Louis Van Gaal and Ronald Koeman locked horns while at Ajax and they had a strained relationship; Louis however is a professional. He was impressed by Koeman's "innovation" and decided to adopt it for the WC 2014 after the loss of Kevin Strootman and a friendly loss vs. France 3 months earlier.
"I think Louis Van Gaal needs to fix the Strootman absence and [Wesley] Sneijder's lack of fitness by using a more conservative approach…I won't bet on Holland though," Koeman stated regarding Netherlands' chances at the 2014 FIFA World Cup. With an average quality group of players and against all odds, the Dutch went on to secure the bronze medal, cruising easily past two title favorites: Spain and Brazil.
Wrongfully considered as a more conservative approach, Guus Hiddink believed it was needless in a Euro 2016 qualifying group with the Czech Republic, Turkey and Iceland. The Dutch paid the price dearly. After a disastrous period from 2014 to 2018, Ronald Koeman took over the Netherlands job. All media and Dutch football experts were positive that a 5-3-2 formation would be carried out, and they were right.
The first match was a home friendly vs. England. It was not a typical 5-3-2 though with Georginio Wijnaldum and Strootman as the only "true" midfielders.  That was a mistake that handed the midfield to England and the Dutch lost 0-1. A few days later, Koeman deployed a prototypical 5-3-2 in a friendly against Portugal. It didn't have the best player in each position but it was a "perfect" 5-3-2. The European champions enjoyed 60% possession, but a poor performance in front of goal from Cristiano Ronaldo saw the Oranje win 3-0 in Geneva.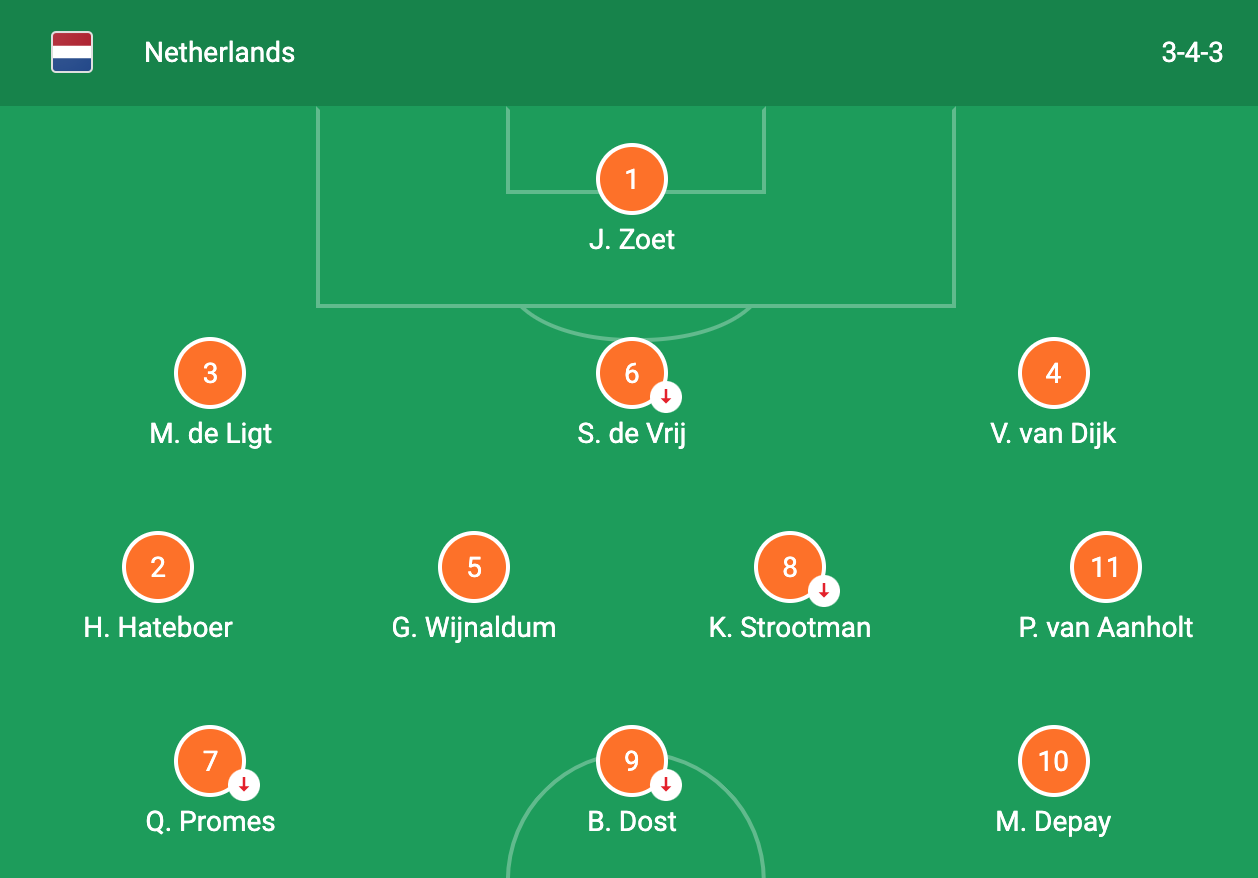 Netherlands' team in their 0-1 defeat to England on March 23, 2018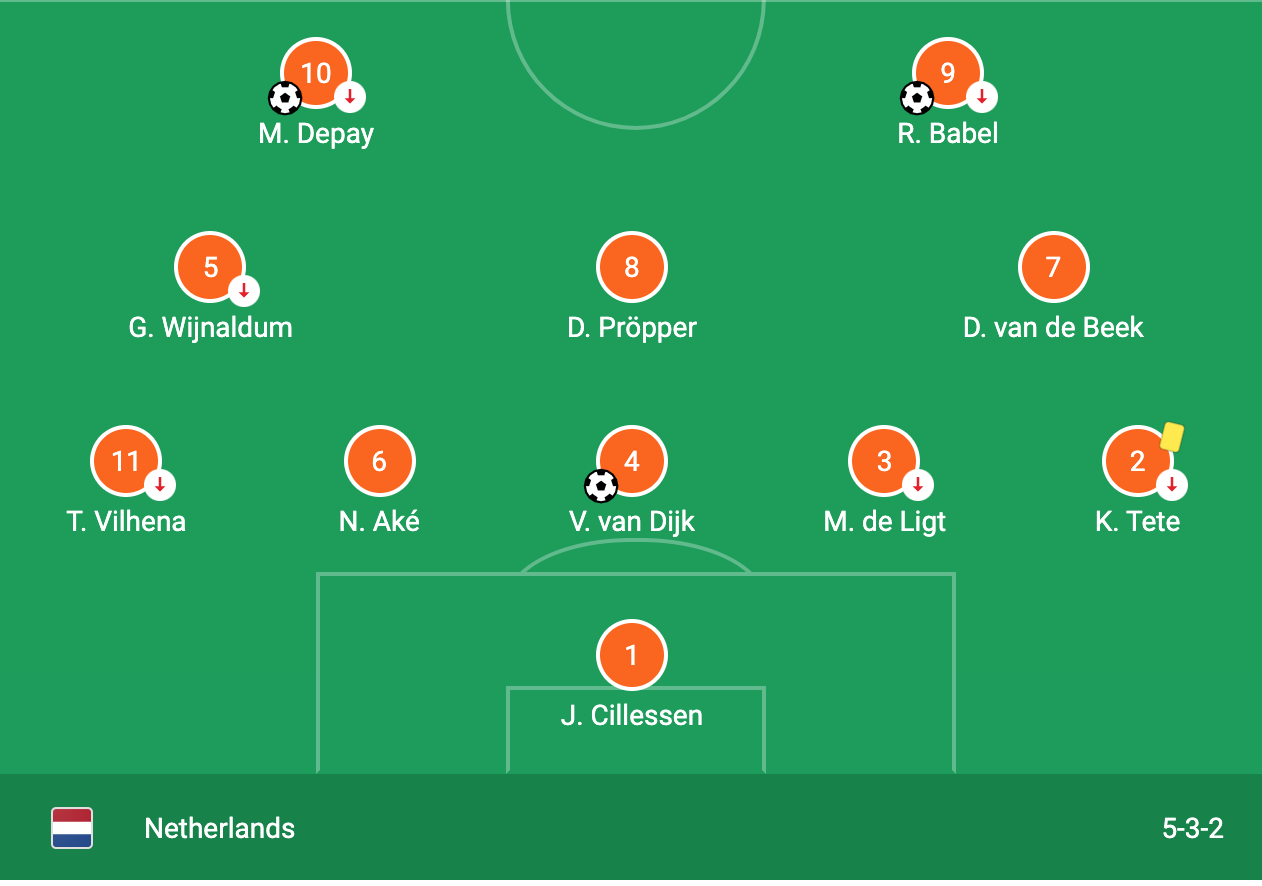 Netherlands' team in their 3-0 victory over Portugal on March 26, 2018
Surprisingly afterwards, Koeman claimed that some players came to him and stated that they were uncomfortable defending with 5 and that they would appreciate a second shot at 4-3-3 which he consented to.  From their first official match vs. France in the UEFA Nations League and up until the last Euro 2020 qualifier, the Dutch played again with 4-3-3 formations. They reached the Nations League Final by beating the last 2 world champions, qualified for Euro 2020, had top-class center backs even at the bench, and of course Frenkie de Jong. The 5-3-2 was suddenly deemed redundant.
Frank de Boer Replacing Koeman
Many international players who worked with Frank De Boer think he's a good coach. His spell outside his homeland was not up to expectations after 4 Eredivisie titles. Besides all the coaching diplomas, a coach needs to adapt to modern football realities. Bringing his own Dutch way and Total Football to Crystal Palace competing in the Premier League is just unreasonable.
One might think that it's very unlikely for De Boer to compromise his rigid methods for the sake of a better end result. This could be deducted from his short spells in England and Italy. Nevertheless, he stunned all Dutch media and fans, as well as the Italian coach Roberto Mancini by lining up a 5-3-2 formation in the UEFA Nations League away match vs Italy. The Dutch performed much better than their first encounter in Amsterdam, had 14 shots vs 8 for Italy and recorded zero yellow cards.
"I wanted to play with 5 at the back so that my forwards didn't have to keep chasing back with their overlapping players. My feeling said I should do this. The one training session we had to practice the system was also very encouraging," De Boer explained after the match. Even though he never used it again in the following matches, that match vs Italy shows that it might be within his plans for Euro 2020.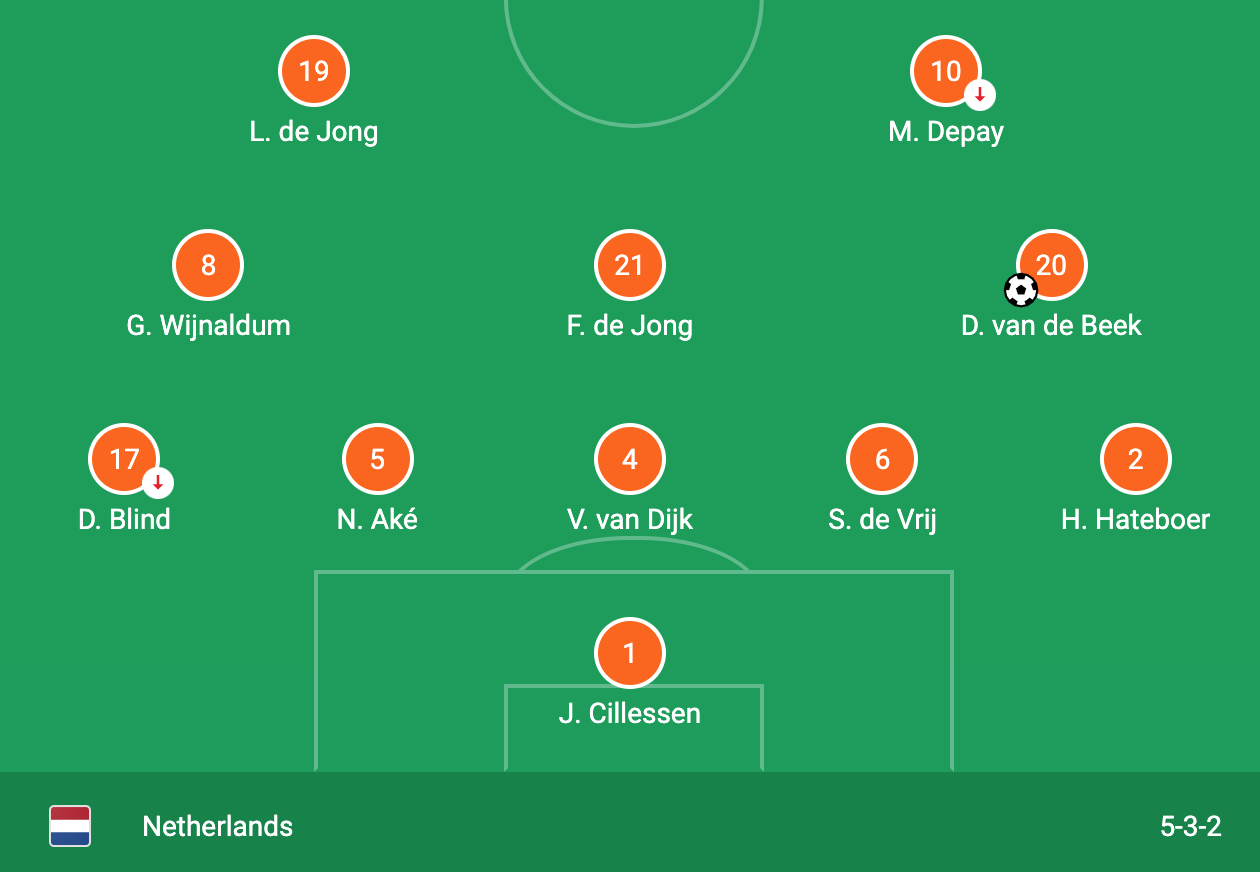 Netherlands' team in their 1-1 draw vs. Italy on October 14, 2020
The ideal organizational form does not exist. Every system will have its pros and cons and no matter how the coach distributes the names on the board, every player will end up covering multiple distances and zones on the pitch. In addition, the tiresome never-ending debate of the old Dutch school will keep resurfacing every now and then.
With the possibility of this being his last chance at top level, De Boer needs to be brave enough to ignore that debate once and for all and leave it for TV shows. Virgil Van Dijk won't be joining but "every disadvantage has its advantage". The 70s-90s nostalgia and the sacred untouchable 4-3-3 won't get you far. "Putting water with the wine," realism, flexibility might. The Dutch current selection of 34 lacks brilliance up front, but they possess top class central defenders.
A 5-3-2 seems convenient, if not for the whole tournament, at least against top teams. It won't be a brand new formation for the current group as it was for the one heading into the 2014 World Cup. Jasper Cillesen, Stefan De Vrij, Daley Blind, Joël Veltman, Wijnaldum, Memphis Depay played it in Brazil, Frenkie de Jong played it this season at Barcelona, Maarten De Roon and Hans Hateboer enjoyed it for two seasons at Atalanta and many others performed it well in the Nations League match vs Italy.
The Dutch will look less predictable in possession, less vulnerable for counter-attacks and with starting center backs like Matthijs de Ligt, Stefan de Vrij and Nathan Aké, they will represent a big threat from set-pieces. If Greece at Euro 2004 and Portugal at Euro 2016 sent any message to the world of football, it's this: To win an international tournament, you don't have to be the strongest team participating, you just have to be a team that is hard to beat.
By: Michel Nasrallah
Featured Image: @GabFoligno / ANP Sport – Getty Images