Tactical Analysis: Tottenham 3-0 Arsenal
The fourth-place battle in the Premier League between Arsenal and Tottenham Hotspur is still on fire, and will continue until the final round in order to secure the qualification to UEFA Champions League the next season.
With two games remaining for both contenders, Arsenal is leading the race with 66 points and with only one point difference from Spurs, even after the latter secured a 3-0 comfortable home win against Arsenal.
Let's shine the spotlight on the most important game phases, and the main ideas applied by Antonio Conte and Mikel Arteta, starting with formations: Spurs with the 3-4-2-1 shape against the 4-2-3-1 shape from Arsenal.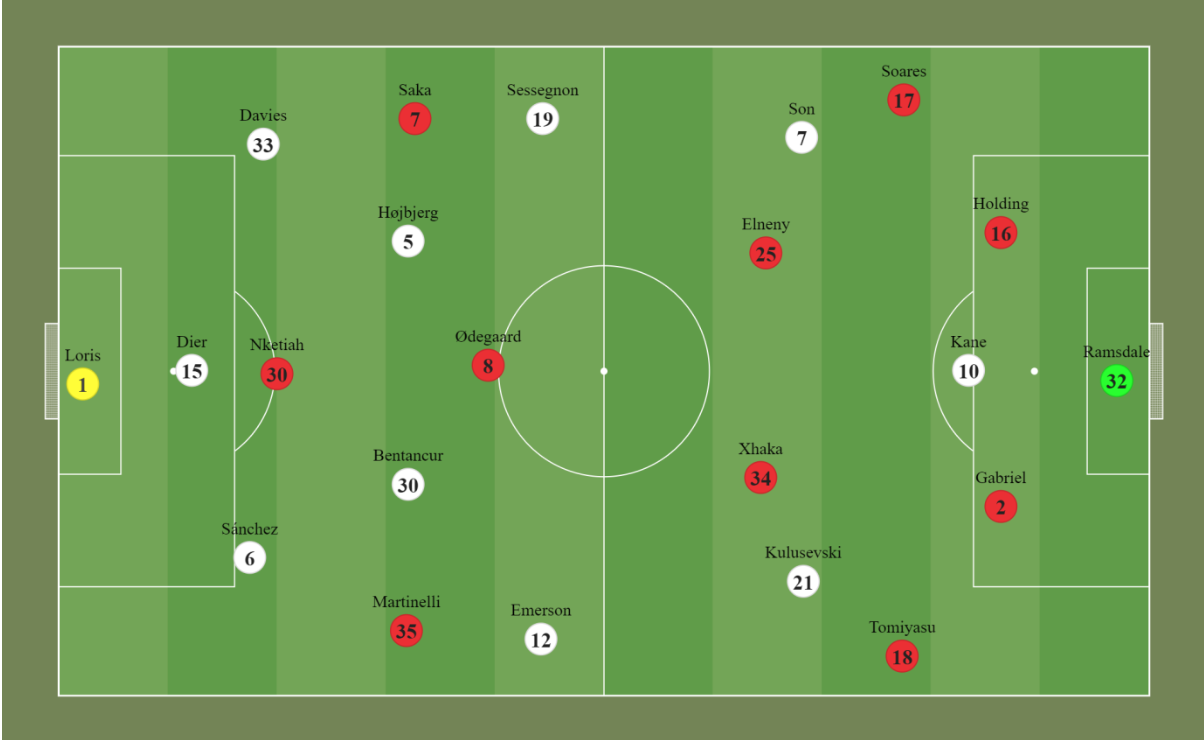 One of the most important game phases was Spurs mid press, as Conte's side tried to choke Arsenal left side areas, whether on the wing or in the half-space, and this was one of the most used by Arteta to have the advantage over his opponents in the last few games.
Spurs used an asymmetric pressing scheme to face such overload which usually led to playing combinations between Takehiro Tomiyasu, Granit Xhaka, Gabriel Martinelli and the dropping center forward Eddie Nketiah, aided by their dynamic positional rotations.
Harry Kane was pressing Gabriel while putting Mohammed Elneny in his cover shadow area, Dejan Kulusevski was pressing Tomiyasu, Emerson Royal against Martinelli, Davinson Sanchez jumped higher to press Xhaka, while Rodrigo Bentancur and Pierre-Emile Hojberg eying Nketiah's drop. Hojbjerg tried always to stay deep in front of his defensive line to face Martin Odegaard and Nketiah, if they become free to receive the ball.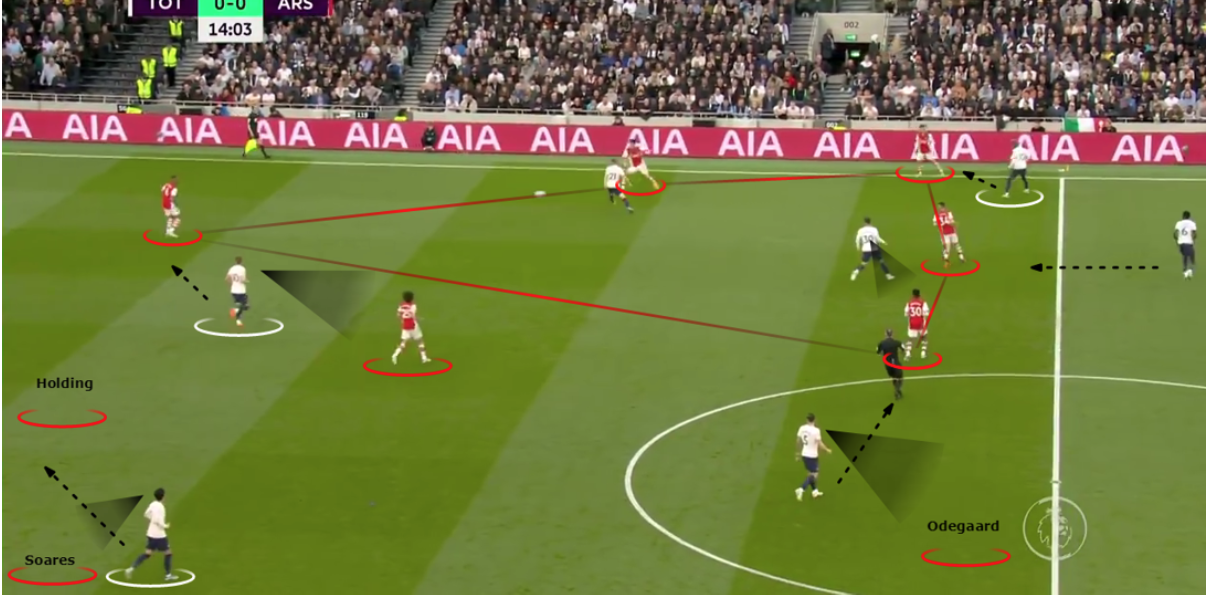 Arsenal then shifted the play directly to the opposite side to drag Spurs' pressure line there and start another try, hence they were able to progress a few times and force their opponent to retract to low block situations.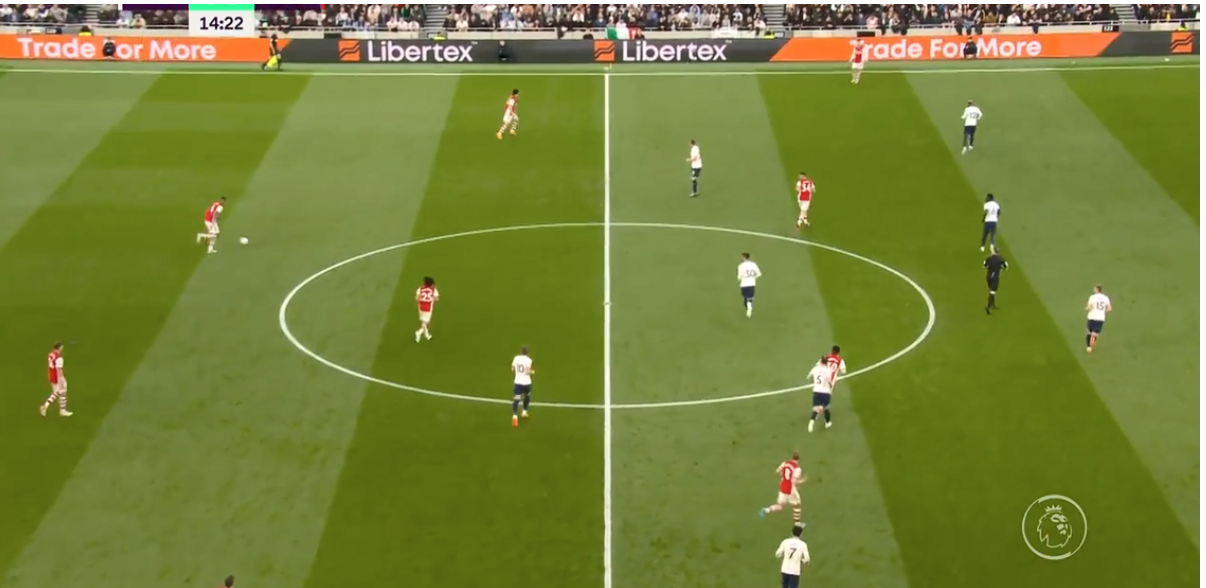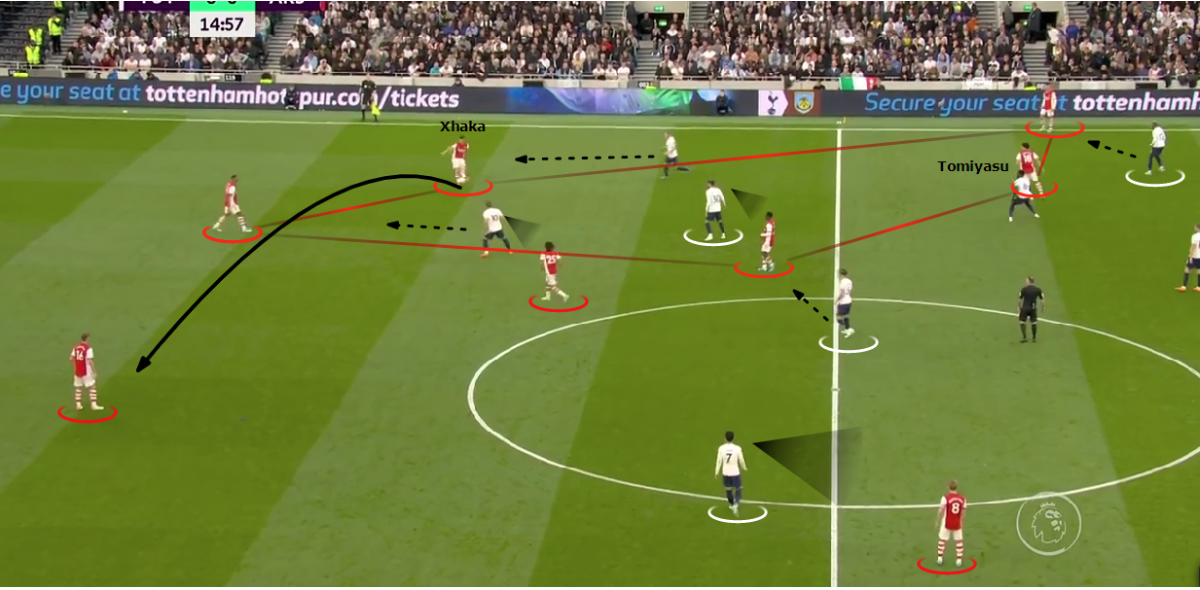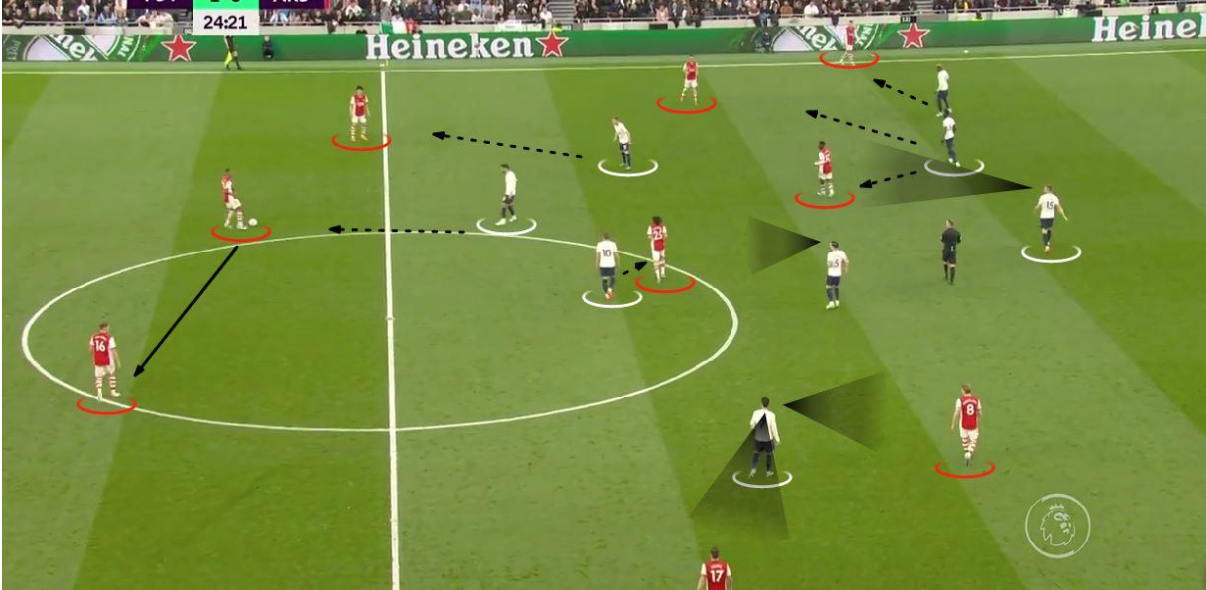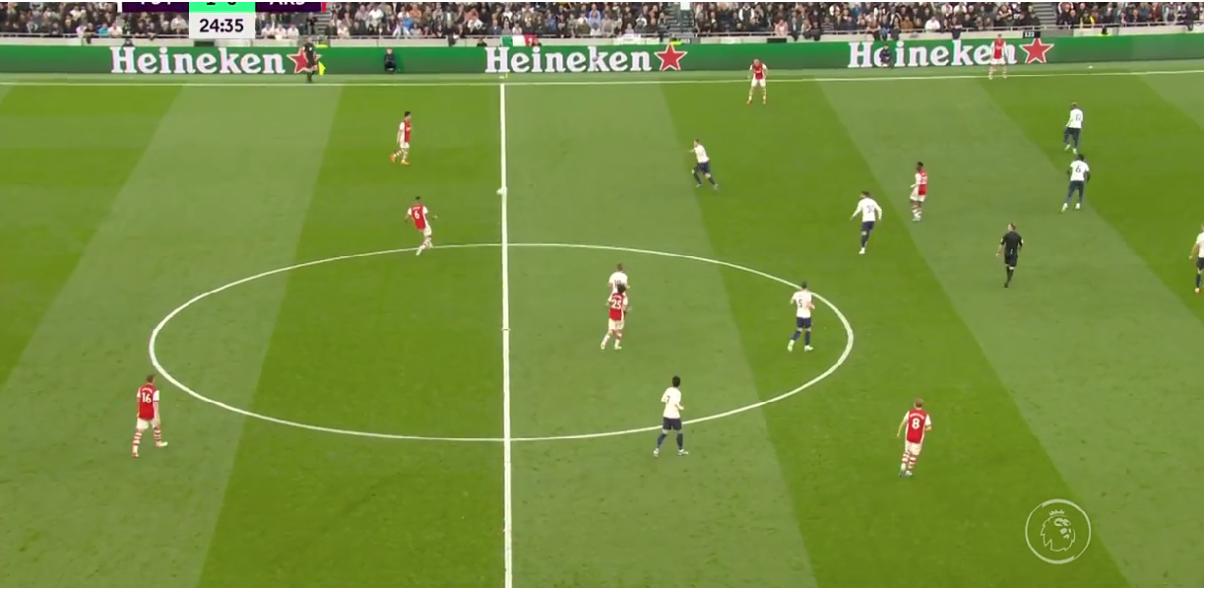 In this case, which was the only situation that Arsenal could make a threat from such scheme, as the play direction was shifted again to Arsenal left side, Kulusevski and Bentancur tried to double up pressure on Saka, while Nketiah moved forward to get out of Bentancur's cover shadow area and Sanchez was late to press Tomiyasu, which has opened passing angles to Xhaka.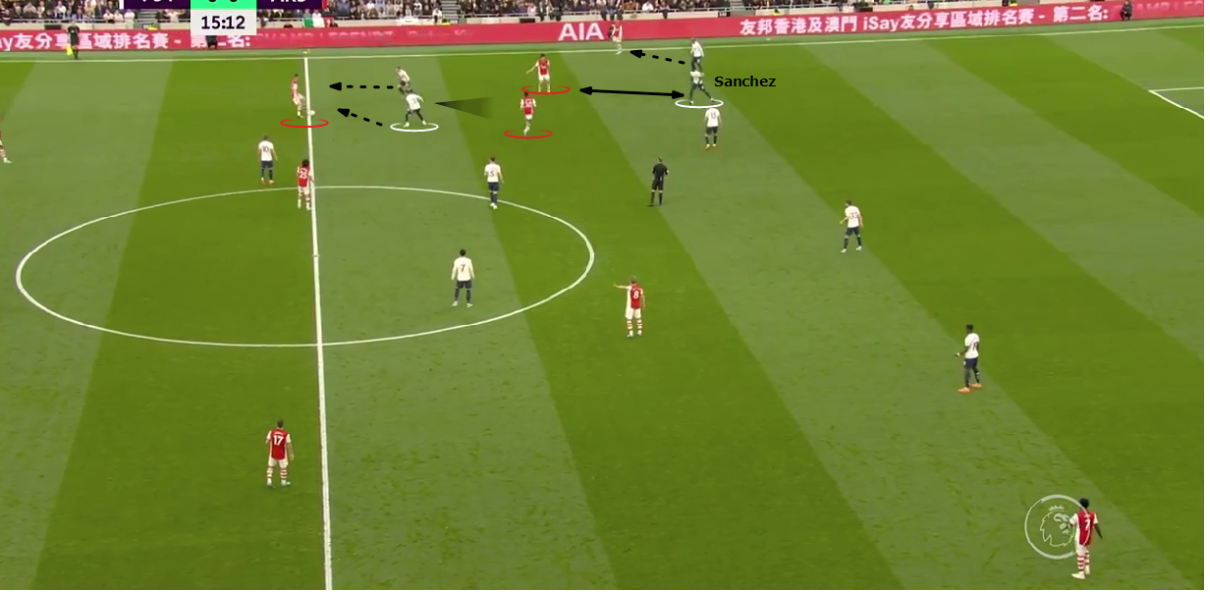 As Sanchez finally jumped to press Tomiyasu, the latter found a path to release the ball to Martinelli in order to use his pace in a 1v1 situation against Emerson, then a cross to the far post or a cutback…And that's what Arteta trying to do, as he did before many times. (Watch Arsenal's second goal against Leeds in the previous game)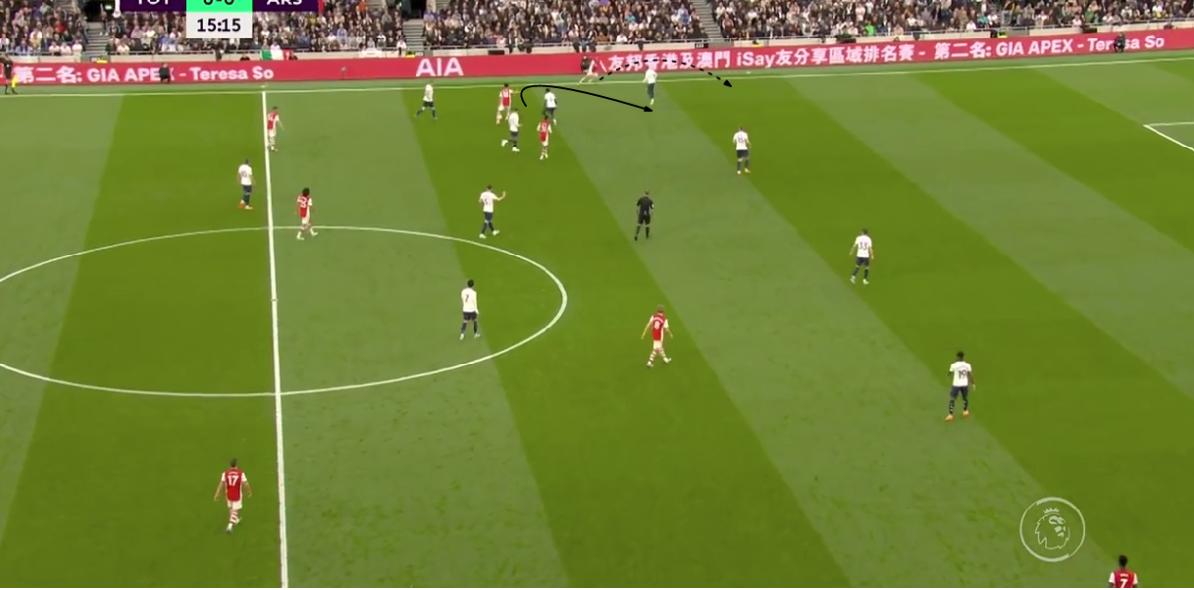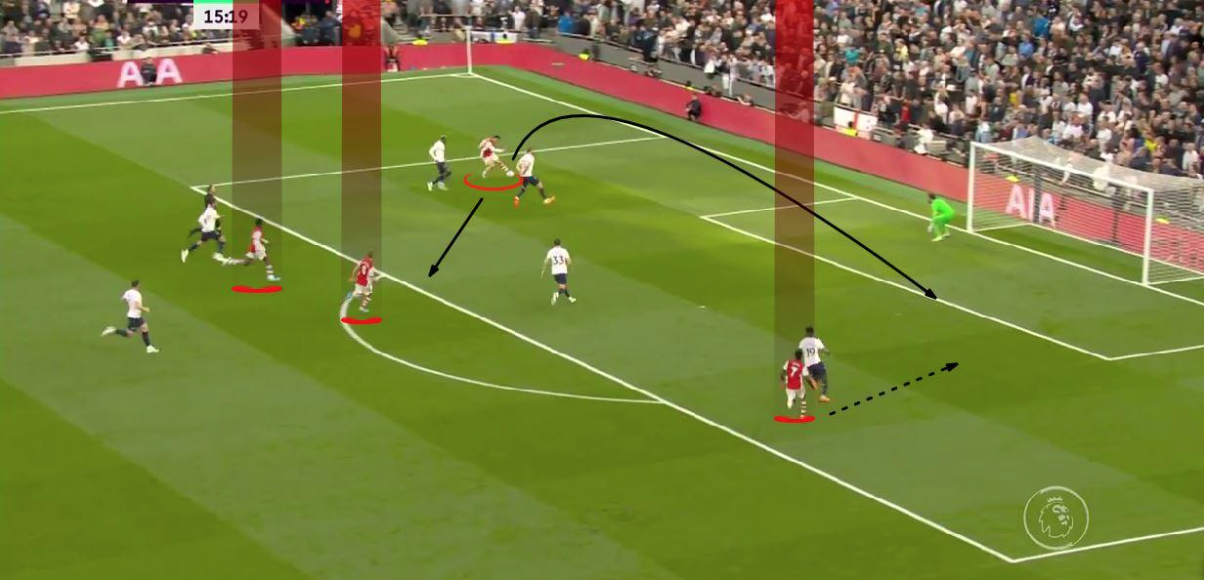 Let's move on to another defensive phase for Tottenham: the low block situations; Arsenal focusing again on their left flank during such situations…or to be more precise, trying to release Martinelli and deliver the ball to him.
It was very clear that Spurs' wide right side players (Emerson and Kulusevski) were doubling up pressure on the Brazilian winger; even Sanchez and Bentancur joined them sometimes, the thing that made Tomiyasu and Xhaka free in the half-space in many situations.
Although the intense blockade made against Martinelli, he could use his dribbling skills to survive and deliver some crosses; But the numerical superiority for the home team inside their box served them well.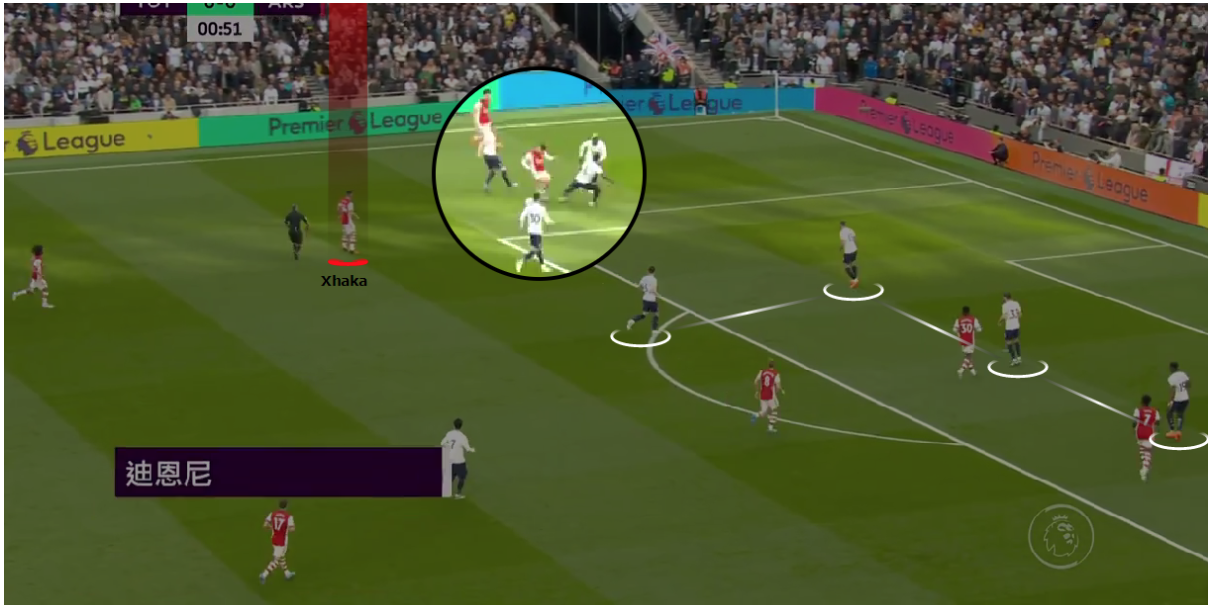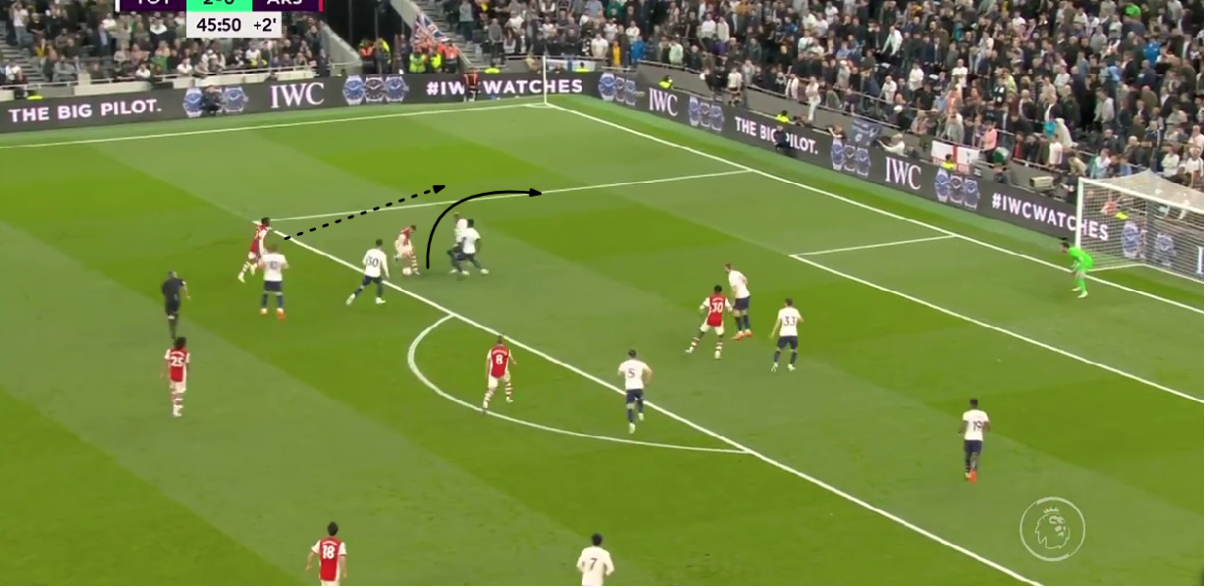 But it is also worth mentioning that the multi pressure against Martinelli, which dragged Sanchez and Bentancur wider made Sessegnon always facing Saka or Cedric Soares, which means free space for Odegaard penetration as Hojbjerg was shifting to cover Bentancur, but Arsenal players even couldn't benefit from such situations.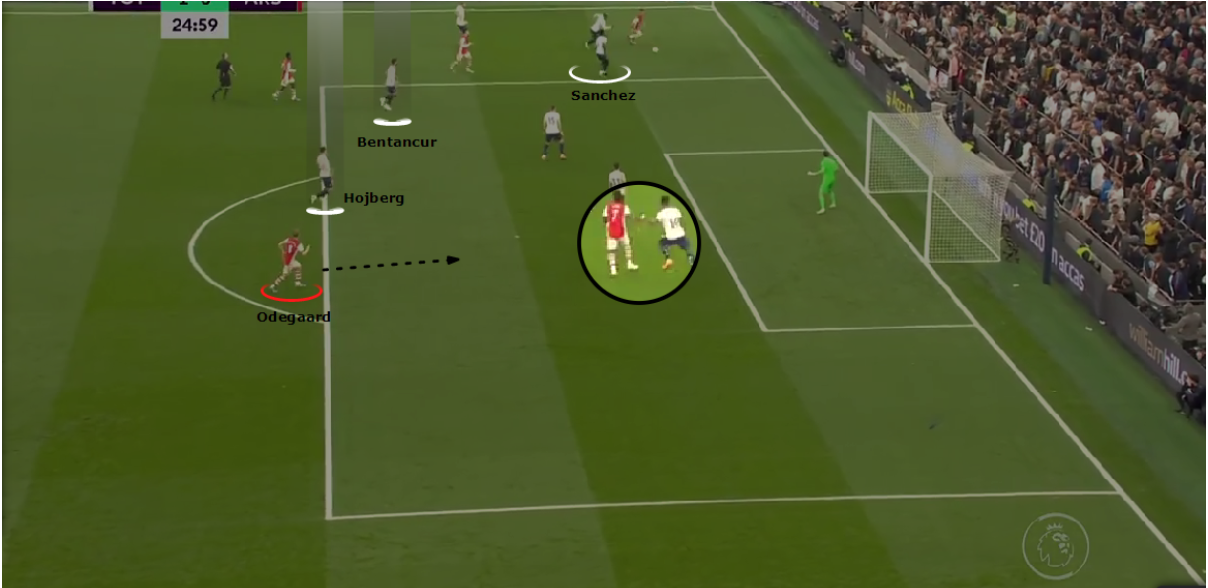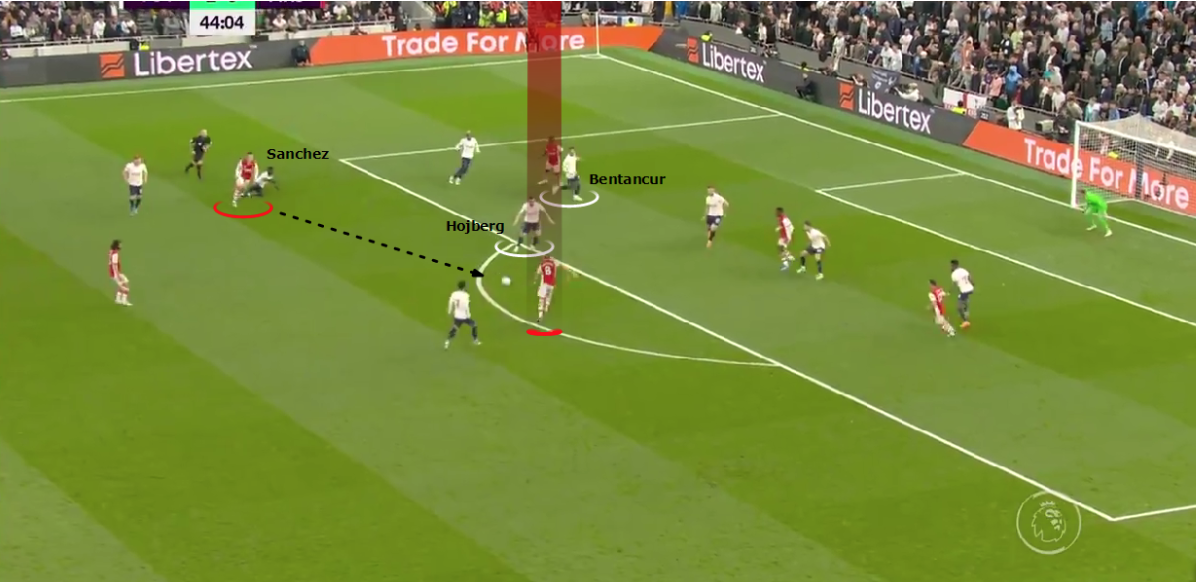 After Rob Holding's sending off and during the second half, Arsenal had nothing to lose tried to push forward with all the team shifting between 3-4-2 formation (Saka as an additional striker) and 4-4-1 in the last minutes, but Tottenham low blocking with the entire team with 5-4-1 formation always had the same numerical superiority around and inside the box.. Something that Conte executes very well.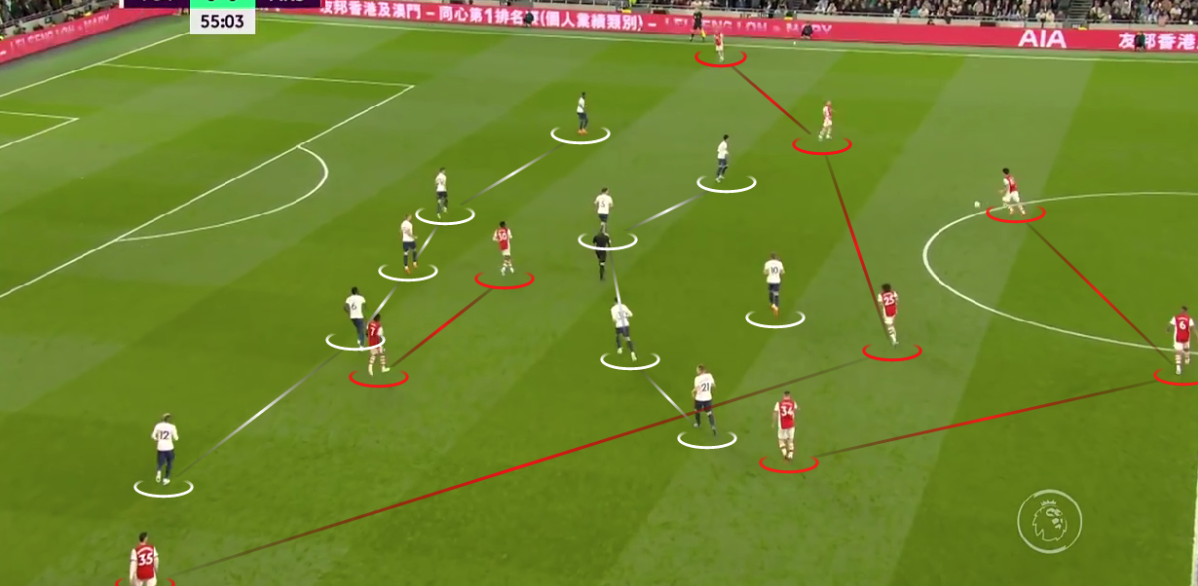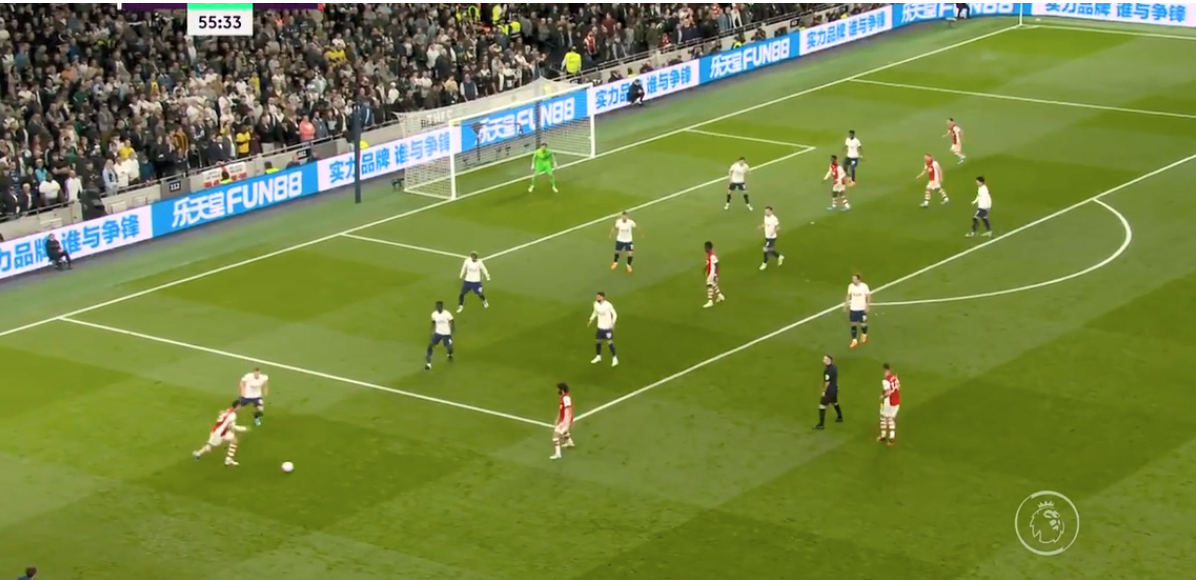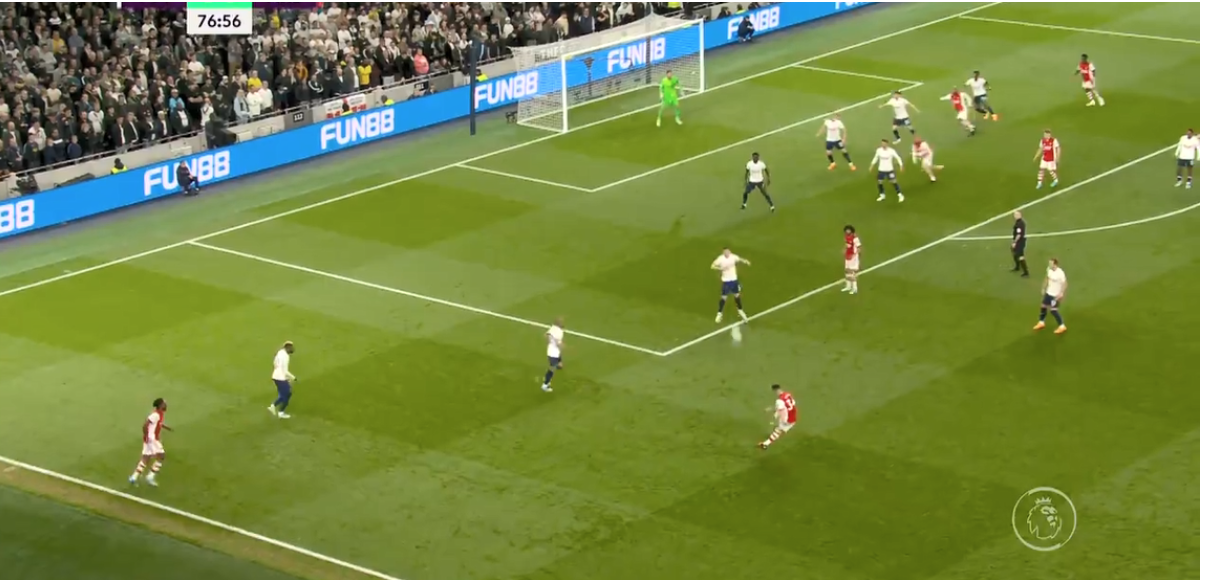 Talking about Spurs' offensive phases, the build up against Arsenal high press was one of the most important phases to analyse, the home team using 3+2 scheme (with wing backs higher positioning) for build up against four players from Arsenal.
While Spurs players were moving the ball to their left side Nketiah was pressing Dier and trying to put Sanchez in his cover shadow area while Saka pressed Davies, while Martinelli had to push back against Emerson and Odegaard with Xhaka against Spurs pivots: Bentancur and Hojbjerg.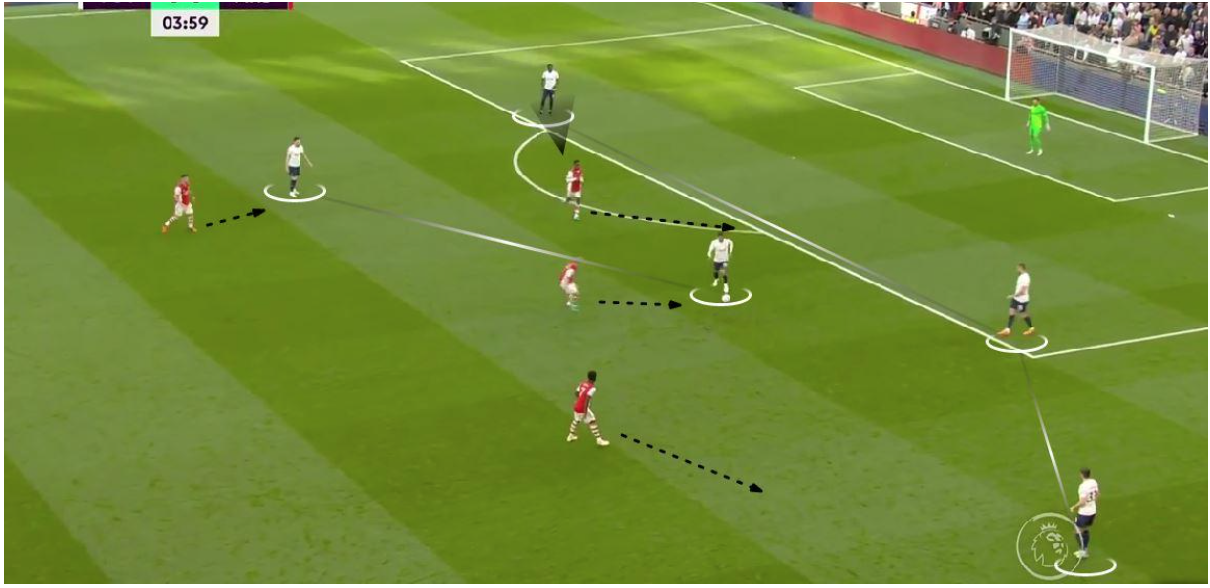 Shifting the play direction, Arsenal pressure lines shifted accordingly, Saka and Odegaard moved to press Hojberg and Bentancur, while Xhaka jumped higher to press Sanchez.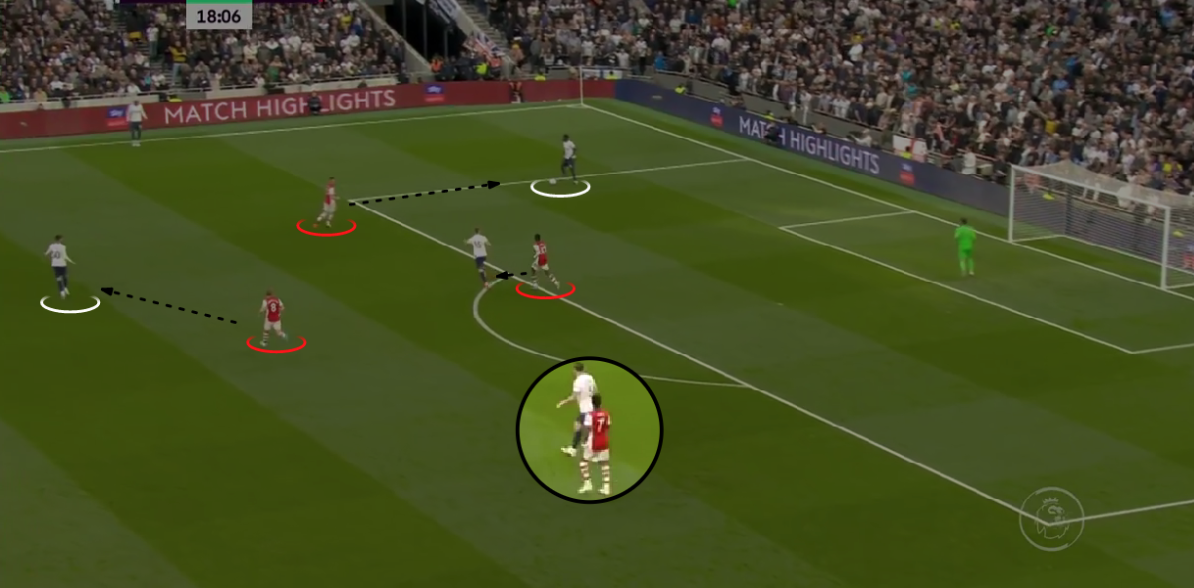 To surpass such pressure schemes (the case that happened almost by winning duels of off ball movement of a third man), Spurs wing backs and wingers had to drop to receive the ball while the intense pressure was applied by Martinelli and Tomiyasu on Emerson and Kulusevski, the same happened on the opposite side from Soares and Holding against Sessegnon and Son.
Elneny stayed deep in front of his defensive line to cover the centre back that jumps higher to press the opponent winger or to mark Kane when he was dropping, to prevent evacuating the central areas in Arsenal's defensive third if one of centre backs pushed high to press him.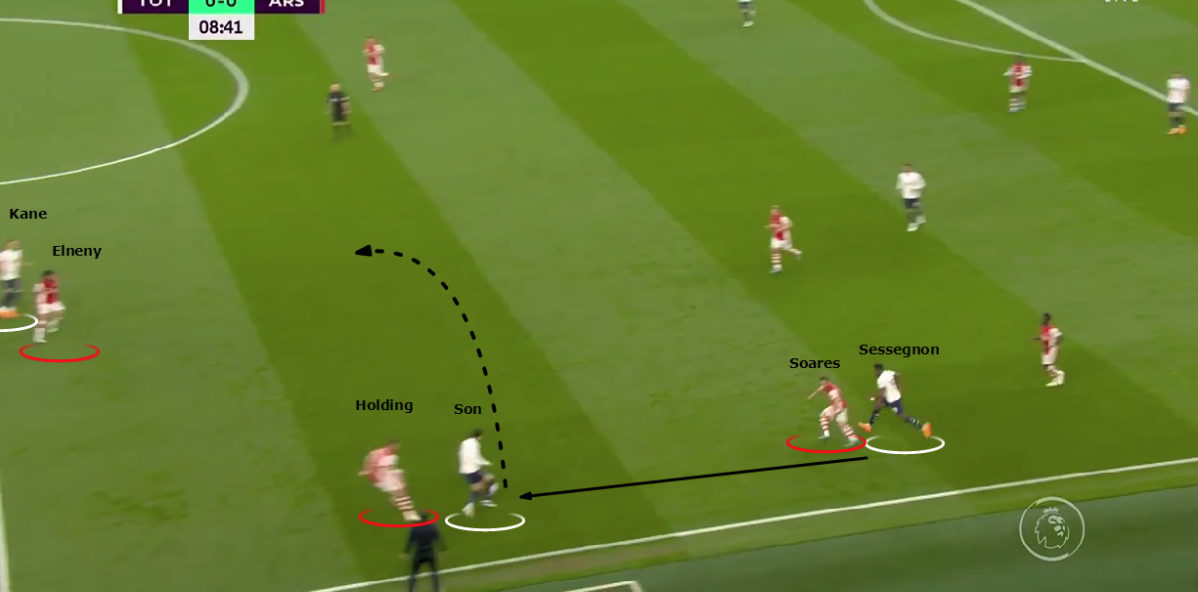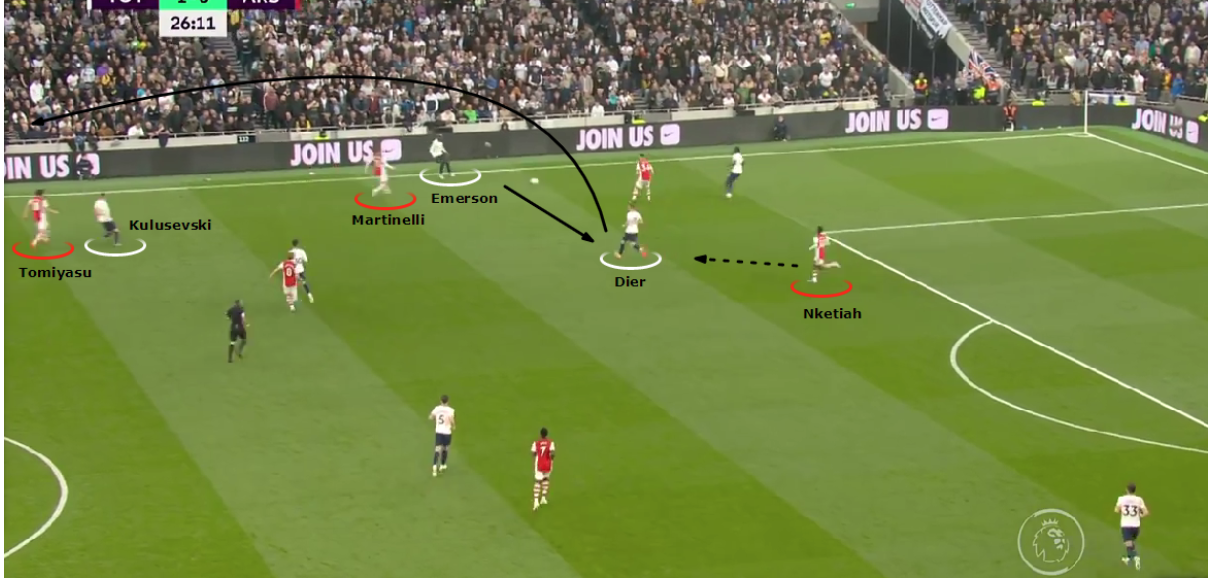 Moving to Spurs' progression phase against Arsenal mid-block, Hojberg dropped beside his centre backs to provide numerical superiority against Arsenal first pressure line (shaped in 5-3-2 formation with Odegaard joining Nketiah and Martinelli pushing back as an additional defender), while Davies drifts wide to draw Saka.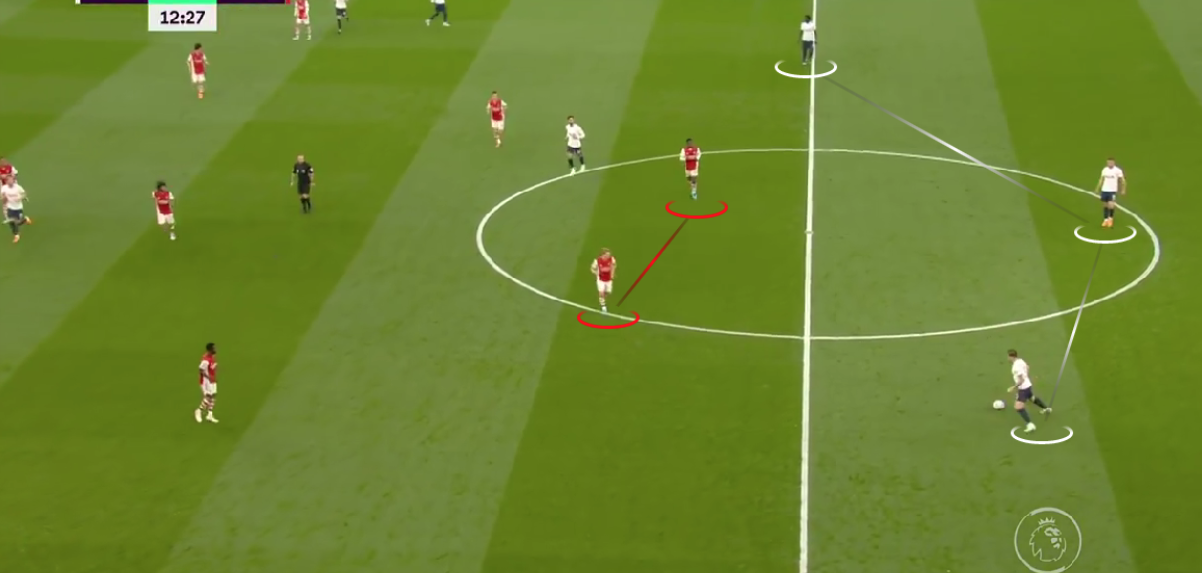 What was Conte trying to apply is to evacuate space for runs from Kane behind Arsenal Arsenal defence in the half space area by dropping Son beside Sessegnon do draw Soares and Holding or even to free the space for Sessegnon out to in runs behind Soares (which only happened a few times).
Arsenal could face most of their opponent attempts during this phase successfully, as they defended with five players instead of four, and with Elneny doubling up with a centre back against Kane.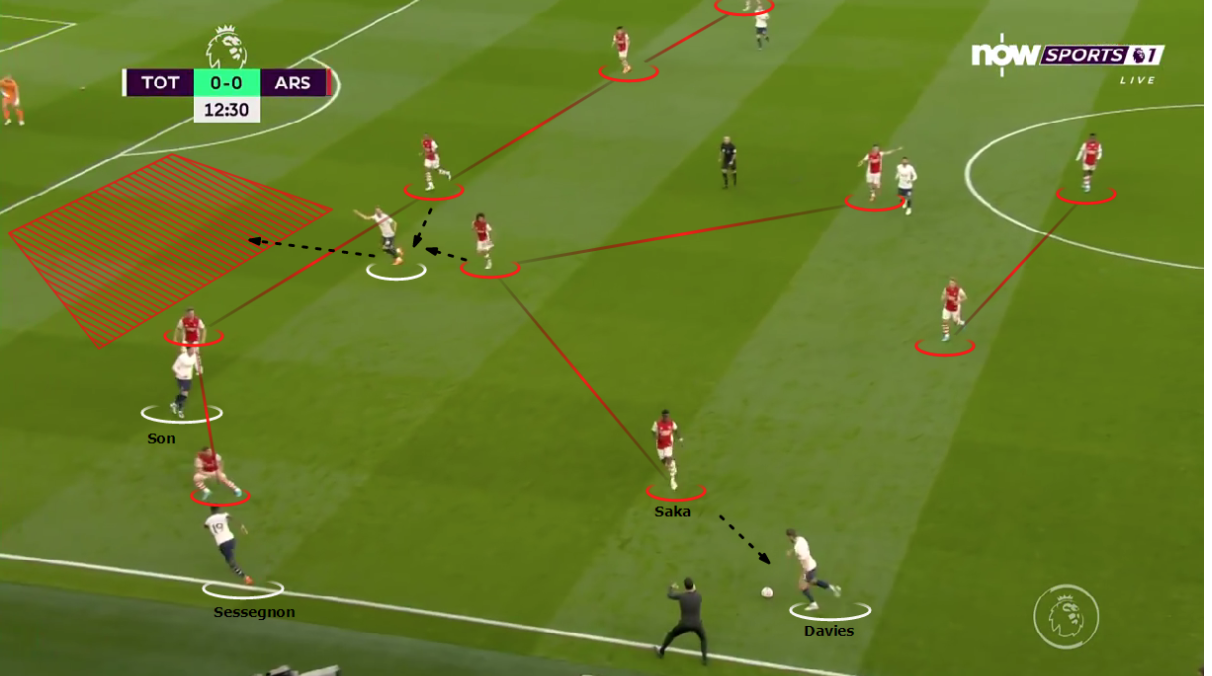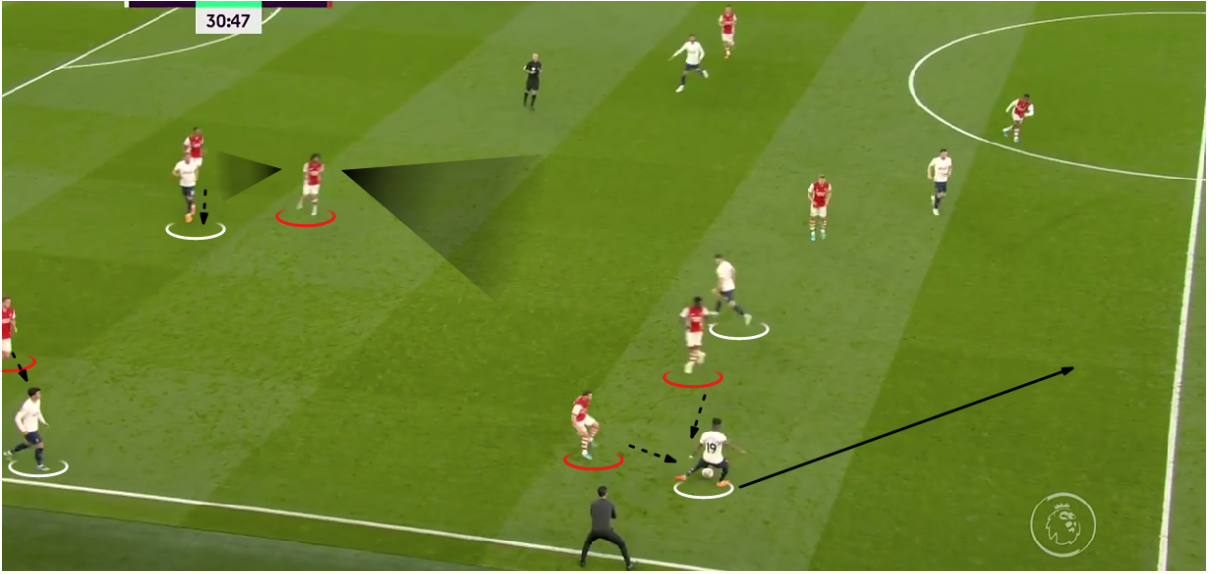 When Holding was sent off, Odegaard played a double role while Arsenal shape shifted between 5-2-2 to 5-3-1 (with Tomiyasu moved as a centre back and Xhaka as a left back) as Spurs carried the ball forward: Pressing forward with Nketiah and back to follow Davies as Saka moved on Elneny's left.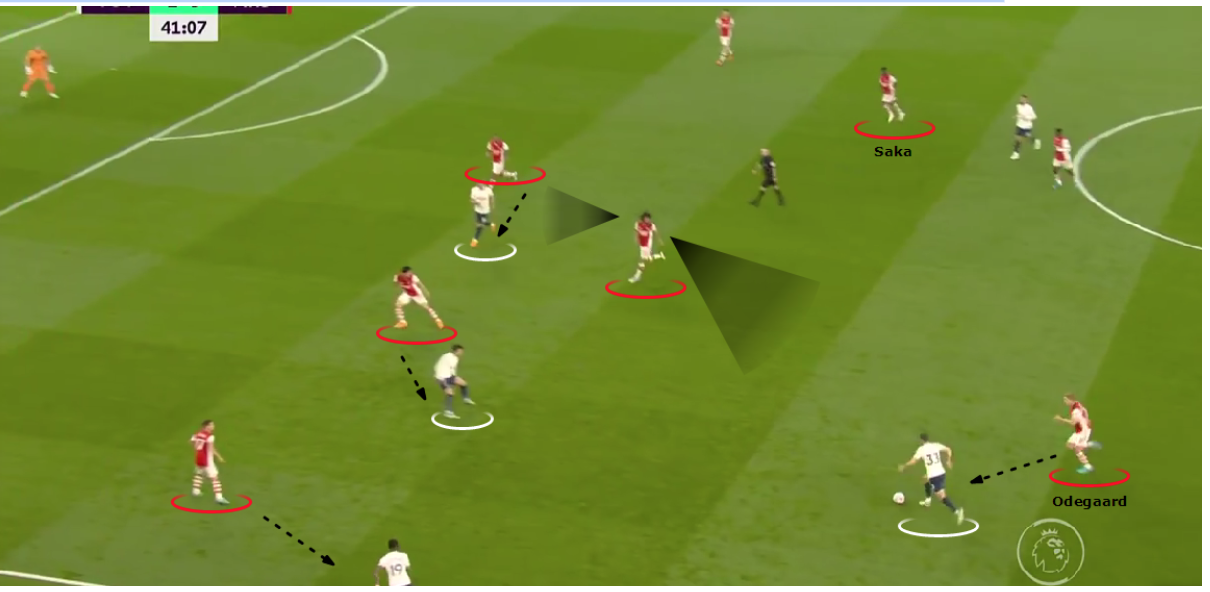 But it's also worth to mention that Tottenham third goal was scored from a similar situation but from the opposite side, and with errors from Elneny who was late to support Gabriel against Kane, from Gabriel himself who sticked to Kane instead of leaving around 50 cm away from him while ensuring body contact with his arm which made the latter to twist easily with Gabriel, and for sure with Odegaard and Tomiyasu leaving Son free.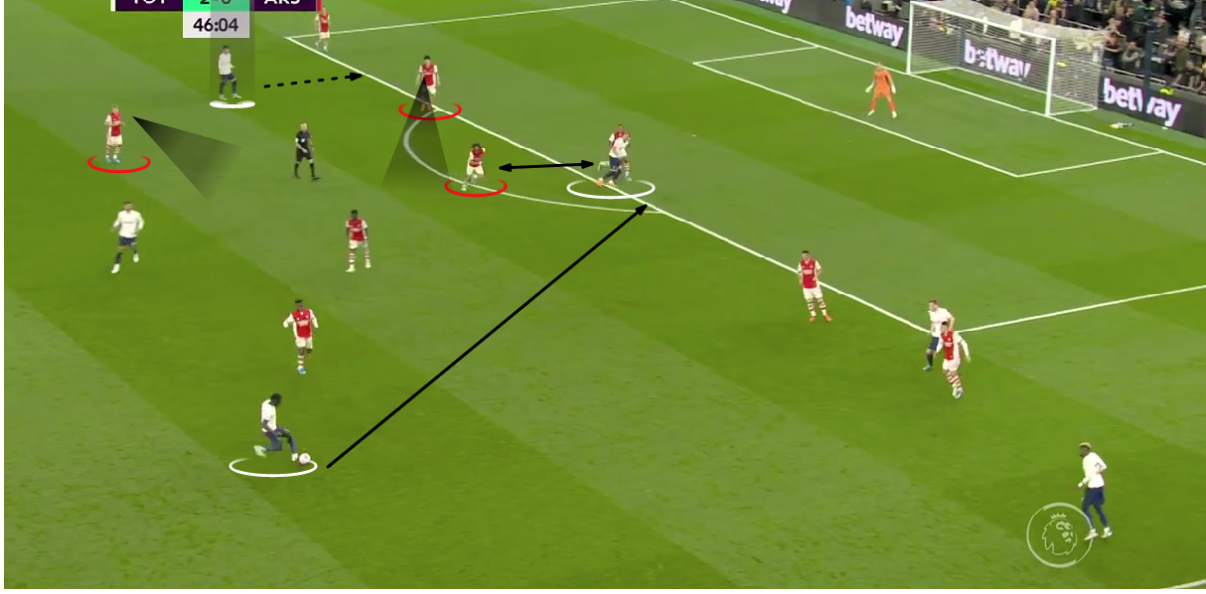 And finally, talking about Arsenal low block which was also successful during most of the very few first half situations because of the five men defence (mentioned before) with Elneny's support inside the box. This ensured always the Gunners numerical superiority, although their opponent presence inside the box was with a quite sufficient number of players as the opposite wing back (Sessegnon) penetrates the box towards the far post.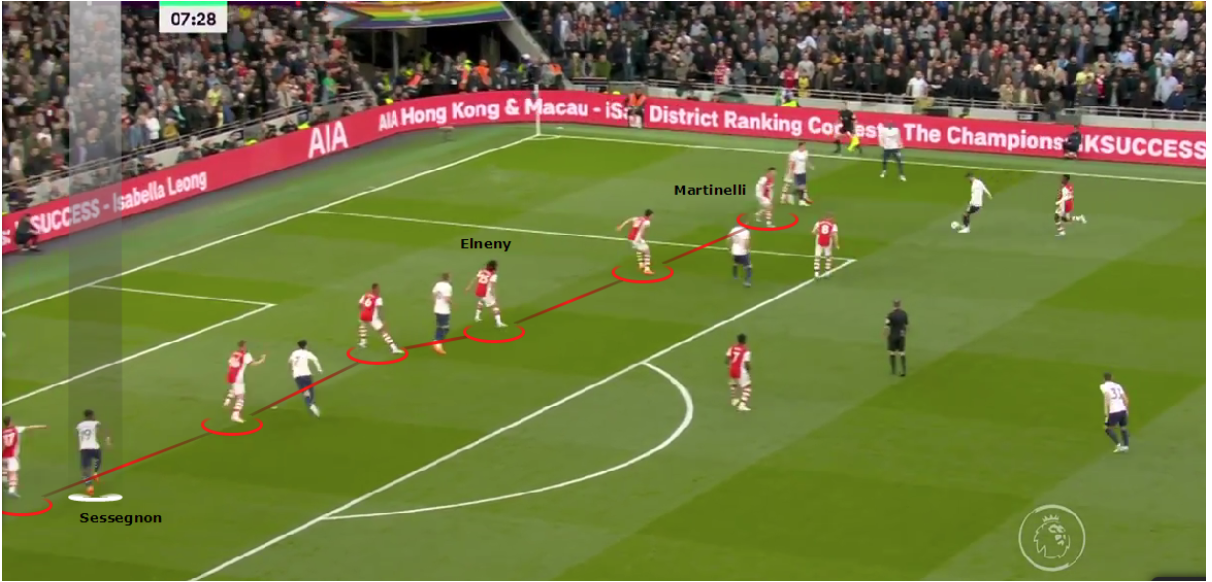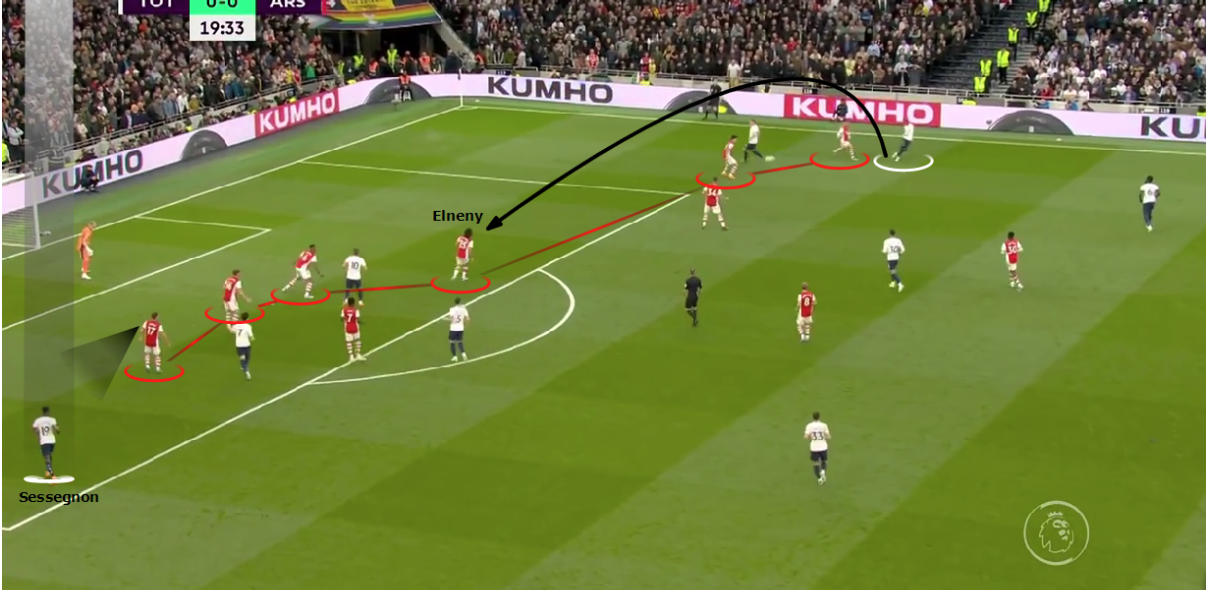 Maybe the only time that Arsenal players didn't react well against such situations was the penalty kick from which Kane scored the first goal for Spurs; we can see how Holding (who committed many technical errors in addition to his unnecessary double yellow cards) and also Soares reactions against Spurs attempt.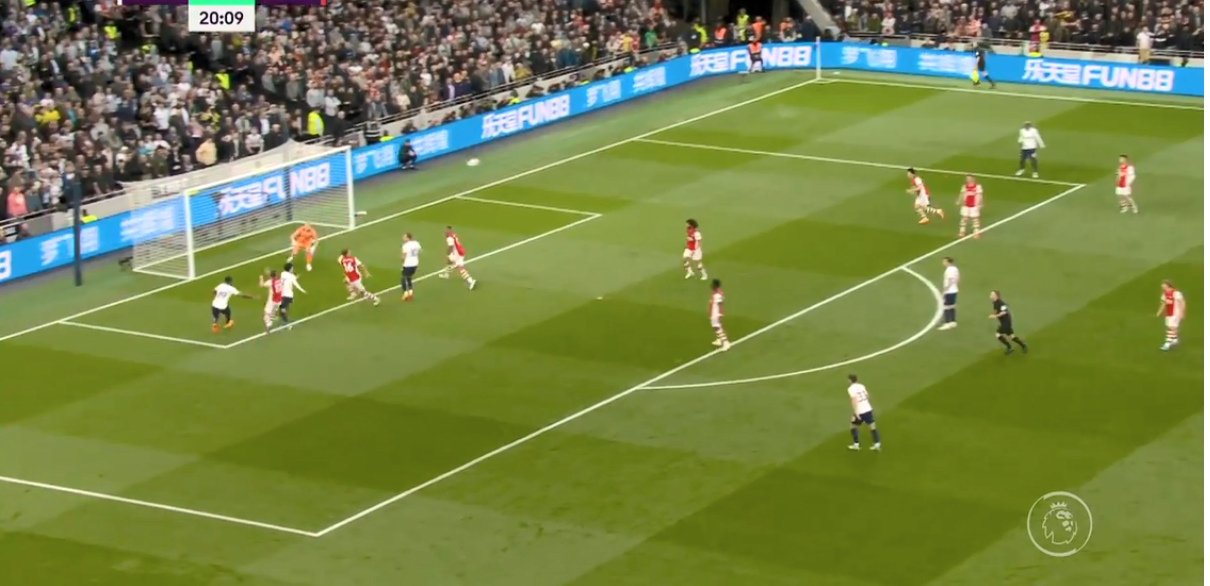 Conclusion
From my point of view and as clarified, Arsenal could excel in many phases as Spurs, but the latters could benefit very well from their opponents individual mistakes, which were not many by the way. The turning point of the game was Holding sending off which prevented the team from many possible and maybe effective solutions, especially during the second half.
As Arsenal lost the game, they are still leading the UCL qualification race, But let's see what will happen as they will face Newcastle with their good form after the Saudi acquisition and then Everton who are trying to prevent relegation, while Spurs will face Burnley who also try to secure their Premier League presence next season before finally playing against Norwich, who relegated already. 
By: Loay Mamdouh / @loay_mamdou7
Featured Image: @GabFoligno /  Chris Brunskill/Fantasista / Getty Images