Tactical Analysis: Tottenham Hotspur 2020/21
José Mourinho's style of play has, and will always, come under scrutiny. Ever since he graced English football, his defensive, rigid, villain-like philosophies have always raised eyebrows. That situation is no different now with Tottenham Hotspur. It is always important to remember the incredible success Mourinho has had during his career, but this season, his tactics have been severely questioned, to the point where his job is in serious doubt.
Spurs can end their 13-year trophy drought by defeating Manchester City in the Carabao Cup Final on April 25, but in other competitions, their form looks incredibly dire. Tottenham were eliminated from the FA Cup and the UEFA Europa League by Everton and Dinamo Zagreb, respectively, and they currently sit 7th in the Premier League — six points behind fourth-place West Ham. Let's take a look at the Spurs' 2020/2021 so far, from a tactical point of view.
Defensive Shape
The defensive strategies Mourinho has implemented have been the main talking point. Throughout the season, we have seen Tottenham employ low or mid-blocks: the defensive system where typically players defend very deep in their own territory and restrict the space for opposition players to exploit. So, let's start with the positives, specifically the period when Tottenham found some joy in their defence to the point where they were top of the league. There was a run of games where they took seven points off Manchester City, Arsenal and Chelsea without conceding a goal. 
Here is an example of the successful defensive system that Mourinho implemented against Manchester City. This was Spurs' best defensive performance, and result, of this season. Firstly, as you can see in the image below, Tottenham's shape is very deep. Son-Heung Min put Spurs 1-0 up through a nicely worked ball in behind, so this gave Mourinho even more incentive to sit deep. 
Pep Guardiola's Man City are fantastic at creating a lot of attacking patterns on each wing, usually helped by a full-back and a creative midfielder to try and gain a numerical advantage with great technical link-up play. Mourinho clearly attempted to nullify this. Spurs have created triangles on each side: Sergio Reguilón, Pierre-Emile Højbjerg, and Steven Bergwijn on the left-hand side. And Moussa Sissoko, Son, and Serge Aurier on the right. 
This was effective and worked in stopping any Man City rhythm out wide. However, as seen, Sissoko and Højbjerg – the midfield partnership –  being occupied with that has left a gap in zone 14 which could be exploited. But it wasn't for long periods as Kyle Walker is starved for progressive passing options, and then he is forced back to Rodri, who is being monitored by Tanbuy Ndombélé. As you can see below, Spurs started with a mid block during City's first phase of build-up play. 
Spurs didn't engage City in advanced positions, but tried to stop City's passing rhythm into their half. Their shape would shift up to become a mid block, triggered by Ndombélé pushing high with Harry Kane to make it a front two off the ball. Ndombélé would pressure a Man City defender – Rúben Dias in this example. Rather than acting as an inverted midfielder, Walker became the third centre-back in build-up play to try and bypass the Spurs' pressure through safe passing options.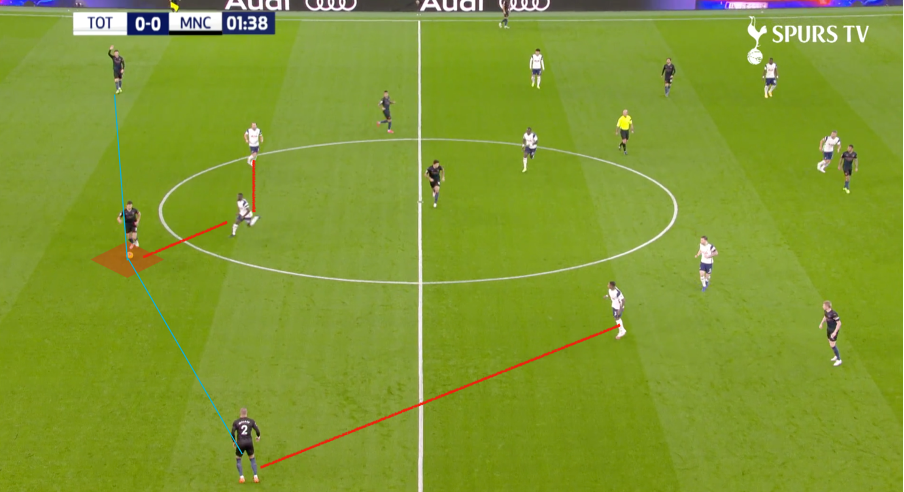 But Tottenham again had an answer defensively. Bergwijn, with a trigger on when Walker received the ball, pressured the right-back, forcing him to pass backwards to Dias. Spurs' midfield could stop a clear passing lane into Rodri: the midfielder who is key in progressing the ball from deep.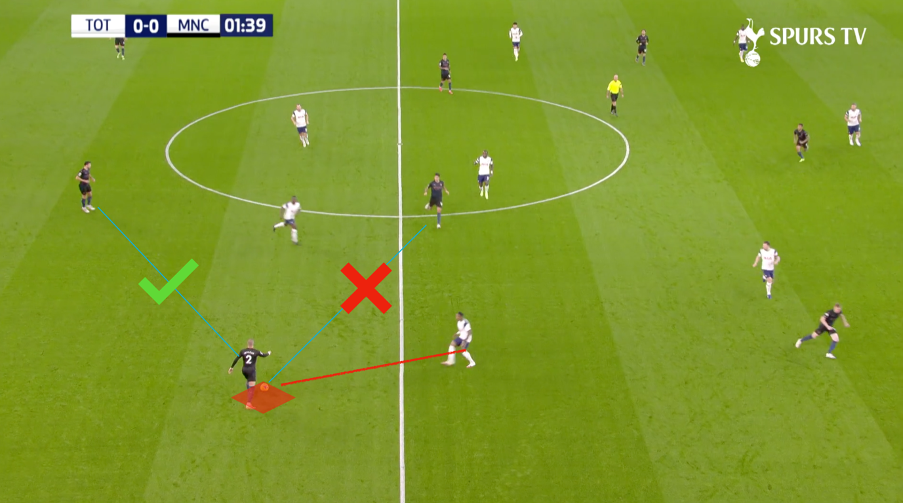 This was a good shape from Spurs. A shape that was very cautious but effective. But this effective defensive approach didn't become a permanent viewing and Spurs' approach to games has not only been exploited but been the main argument for Mourinho's sacking. This heightened by the frustration at the approach after going a goal ahead; Spurs have been in a winning position for 42% of the time in 2020-21 – only lower than runaway leaders Manchester City (52%).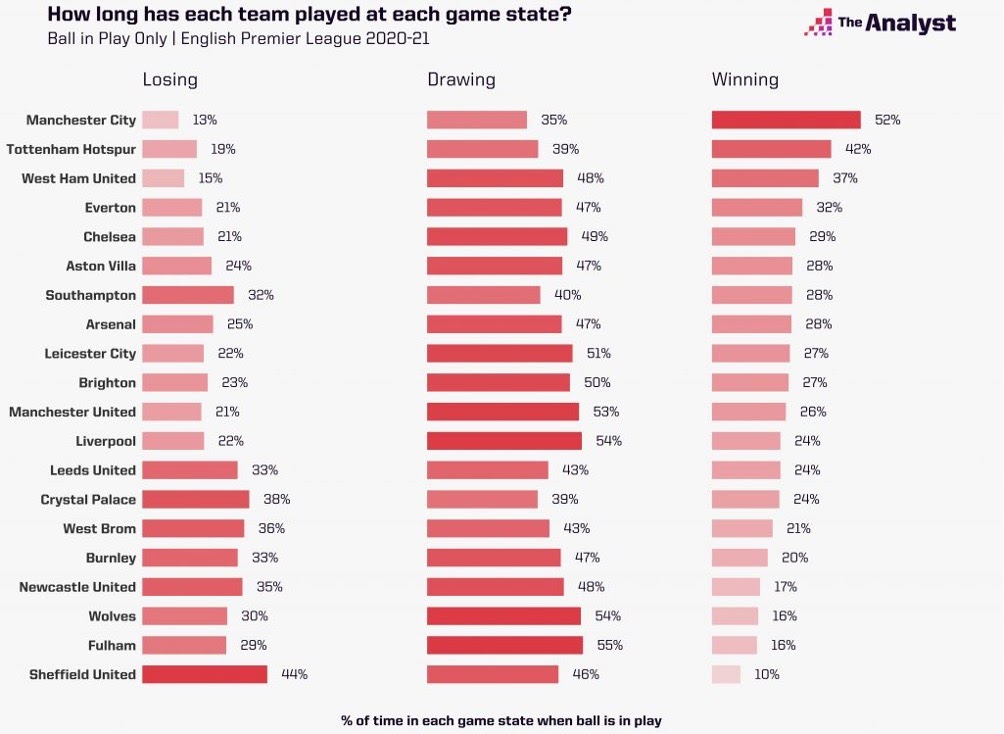 Photo: The Analyst / @OptaAnalyst
That stat looks good, but Spurs have dropped 18 points from those winning positions in the Premier League this season, second only to Brighton (20). It's the most points a Mourinho side has dropped from winning positions in a single Premier League campaign. So, let's analyse games where Spurs have thrown away a lead, starting with the most recent game against Manchester United.
Spurs went into half-time 1-0 up through a well-worked goa finished off by Son. Mourinho's side had 51.2% possession while amassing 0.63 XG. Manchester United had a low 0.05 XG all while not having a shot on target. It was a good half for Mourinho. But in the second-half, Man United's attacking patterns blew Tottenham away, but it was a very familiar sight.
Similar to Man City, Spurs are in a mid block. This had the intention of defending the middle section of the pitch with the purpose of stopping United's dangerous technical players. Giovanni Lo Celso and Tanguy Ndombélé, a pivot when not in possession, were in charge of applying pressure to a deep midfield source (Fred and Scott McTominay usually). They had to cut passing lanes and stop their rhythm of progressive passes. But too often Man United could cut through it.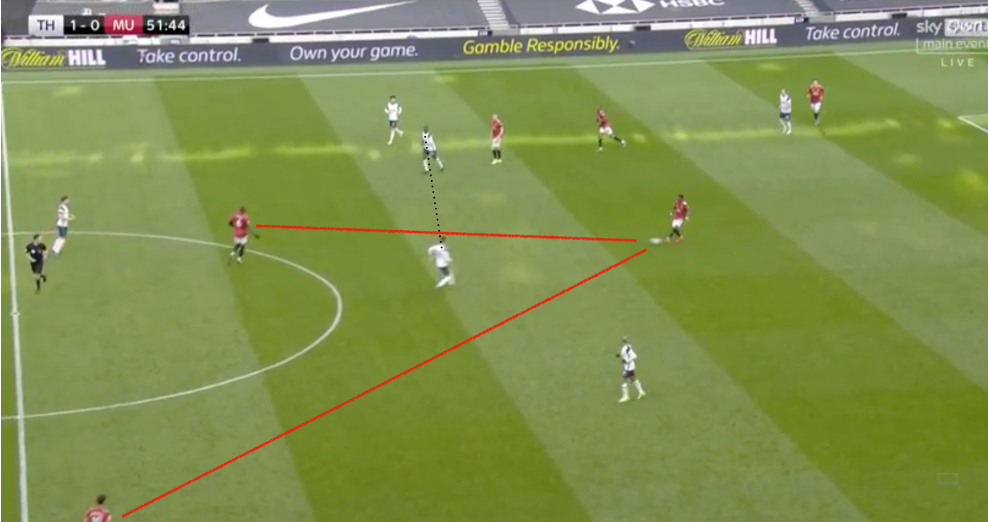 Look at the example above. Under barely pressure, Fred can play a progressive pass into Pogba (Højbjerg is dragged in by this) or a riskier one in Bruno Fernandes. Paul Pogba then receives the pass on the half-turn. Fernandes' positional sense is excellent and has picked up a dangerous pocket which Højbjerg can't come across to stop as he has been sucked in by Pogba.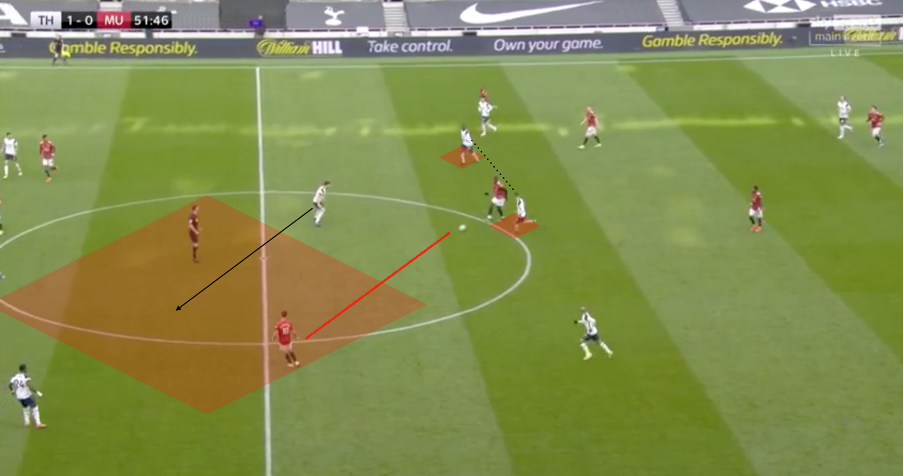 Now look at this position below: United are in an extremely dangerous situation. Spurs are narrow, stretched, and vulnerable. Dier has come out to attend Fernandes, which has left the channel behind him available. But the most dangerous is Aaron Wan-Bissaka on the right-hand side, with a lot of yards ahead of him. Reguilón has been dragged inside to cover Marcus Rashford's inside run and Son can't track him. 
The move actually comes to nothing, but only two progressive passes from Man United midfield have bypassed Spurs' weak midfield press and opened up a dangerous opportunity. This is a good example of how United bypassed Spurs with relative ease, and they eventually went on to score three goals to win the game.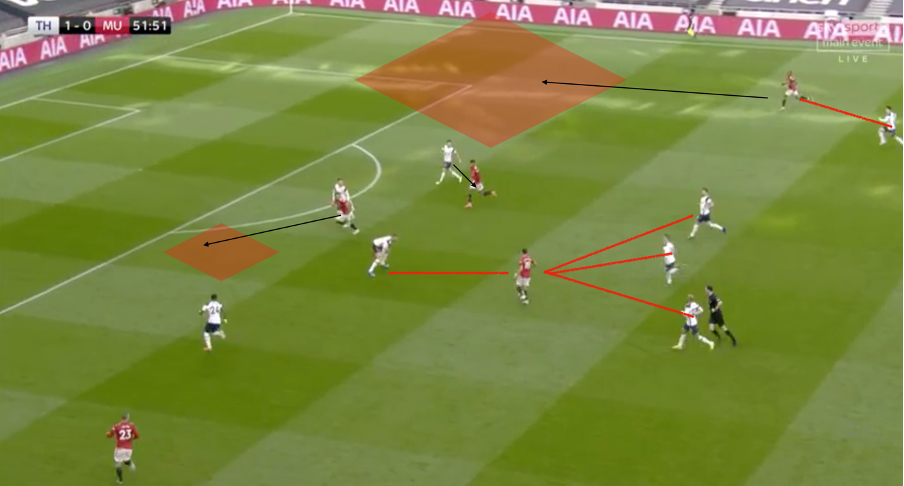 Another example of a poor Spurs defensive display was in the North London Derby where they lost 2-1. Their defensive approach in this game was similar to the example and Arsenal found a way around the block, but through targeting the right-hand side. 
As seen below, Granit Xhaka is allowed to pick a pass under barely any attention. Gareth Bale isn't shutting off the passing lane to Kieran Tierney, who is high and wide. There are also three Arsenal players – Emile Smith-Rowe, Alexandre Lacazette, and Martin Ødegaard between the lines ready to receive the ball in a dangerous position.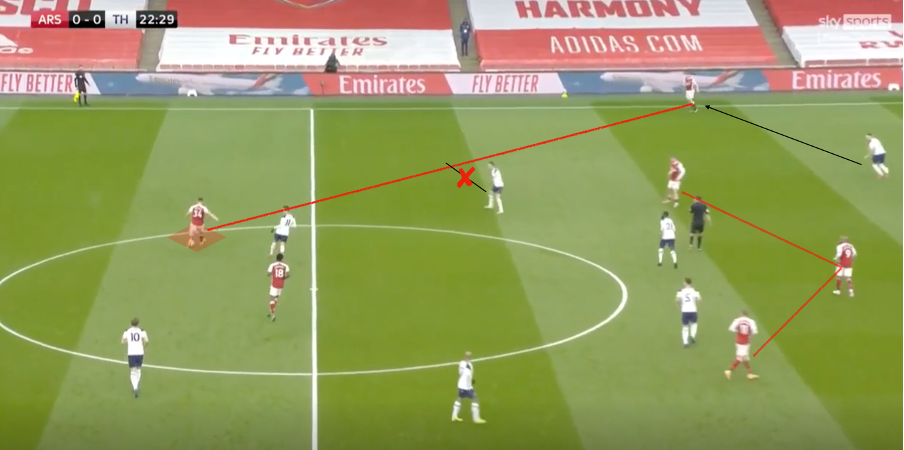 Tierney receives the ball and Matt Doherty leaves his position in a flat four to go and put pressure on him. This left space behind and Smith-Rowe shifted into the space very cleverly. Similar patterns caused Mourinho problems throughout.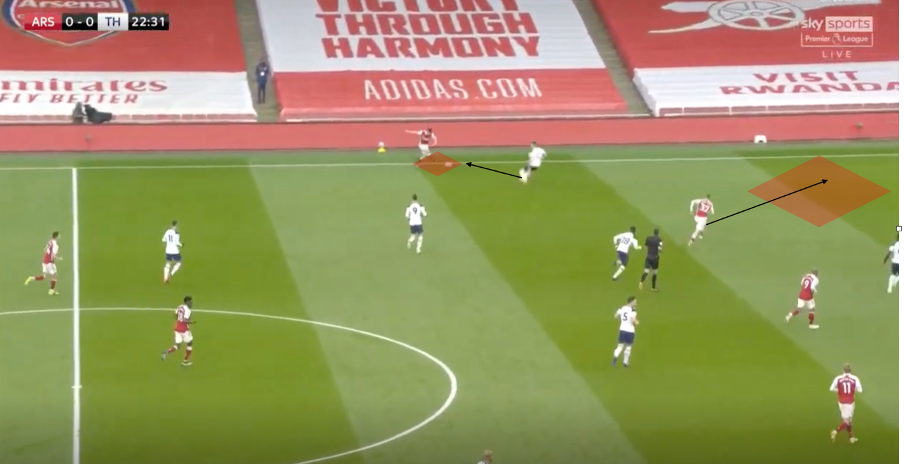 And then, as seen below, Arsenal are in a good position on the left-hand side within two passes. Arsenal danced around the mid block through targeting the width on their left-hand side, and United dissected it going direct through the middle. It was far too easy for both of these sides to get around the defensive shape.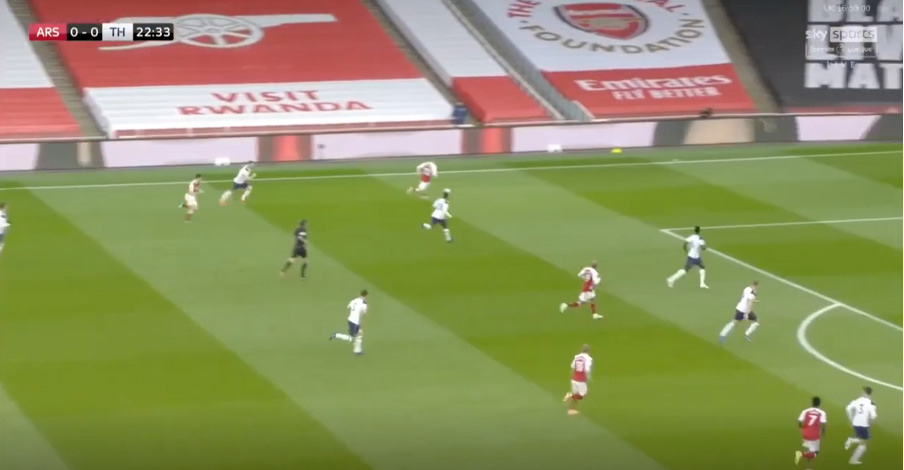 Arsenal created similar patterns throughout and their equaliser just before half-time was similar. Tierney beat Doherty in a 1v1 and found Ødegaard lurking in the box. And because Érik Lamela opened the scoring – Spurs' shape naturally became deeper and Arsenal kept on gaining territory. These are small examples, but one that any Spurs fan will tell you has been seen on multiple occasions. 
Spurs had success in their defensive shape, as shown, but ever since – their approach, shape, and set up keeps getting exploited. Also, there are serious of tics that cannot be explained from a tactical point of view: the defensive line drops that just a couple of yards, the safe sideways pass instead of the ambitious progressive through-ball, the little cues that alert an opponent that the momentum is shifting, and individual errors (Doherty losing out to Tierney is a good example). Spurs, defensively, at this moment in time, are not good enough. 
In Possession 
Tottenham, this season, have been just as interesting on the ball. Naturally when in the defensive shape explained: quick, sharp transitions on the counter-attack are usually the intentions of this Spurs side. Again, this had good success at some stages in the season. Kane and Son thrived in their partnership – but the reliance on them has proved to not be sustainable. In essence, the offensive 'system 'relied on individual brilliance rather than an attacking plan.
So much of Mourinho's top attackers aim is to come up with something different, rather than anything coherent or constructed. Spurs are dependent on spells of form. Lamela's rabona is a perfect example. Kane's general world-class build-up play, passing range, and clinical edge also help this. 
A lot of games there is a feeling that they have no game plan for attacking transitions, which is the concept in which Mourinho sides are supposed to specialise. Of course, they can find goals, but an overall lack of attacking identity is clear. Spurs fail to progress the ball effectively from deep, especially when pressed high. Take a look at this example against Chelsea, a game where they struggled with this very problem.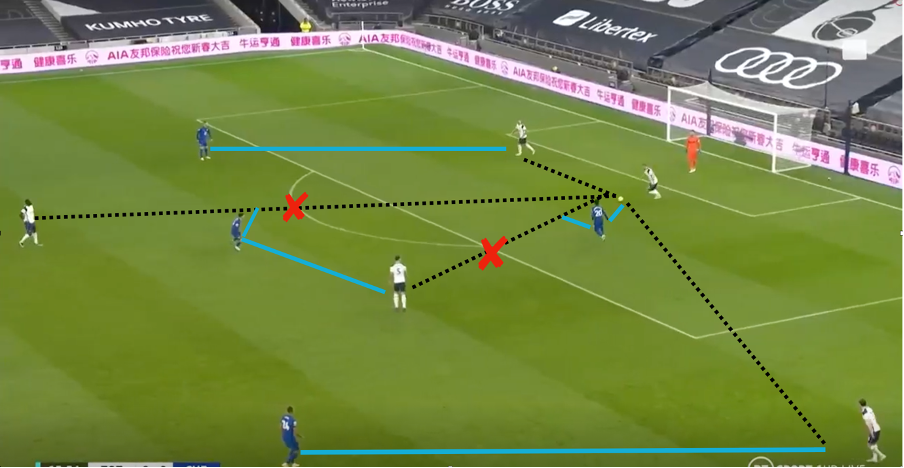 Toby Alderweireld has received the ball in his own box, but has no forward midfield passing lanes available. Chelsea's press is very good. It's proactive and high, but Sissoko and Højbjerg should be trying to bypass the press by making themselves better safe passing options. Ben Davies and Eric Dier are safe passes but will be pressed quickly by Reece James and Timo Werner respectively – so Alderweireld goes long and the ball turns over to Chelsea. 
Below is a very similar problem. All passing lanes are being shut down or will be shut down by the time the pass has been received. Alderweireld goes long, again, only for the ball to be turned over.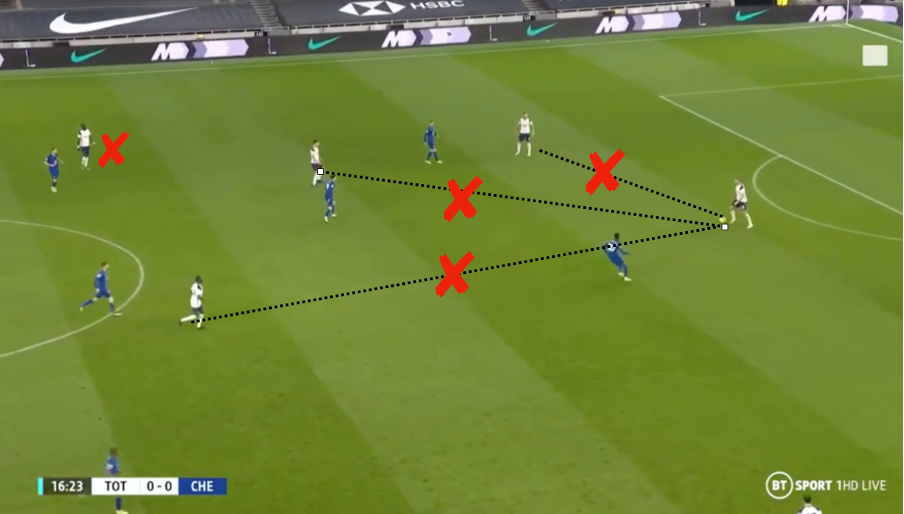 So, progressing the ball from deep is a recurring problem. But fast, sharp, counter-attacks during transitions are typically how Mourinho wants Spurs to attack. But recently, teams have even shut that down – and this was best on show against Manchester City in February. 
When Spurs begin a counter-attack, opposition teams have worked out what they need to do: smother the out ball as that renders the counter null and void. And this is what you can see below – after some quick interplay Kane finds himself between the lines, with good space and gaps to exploit but only has Son advanced ahead of him.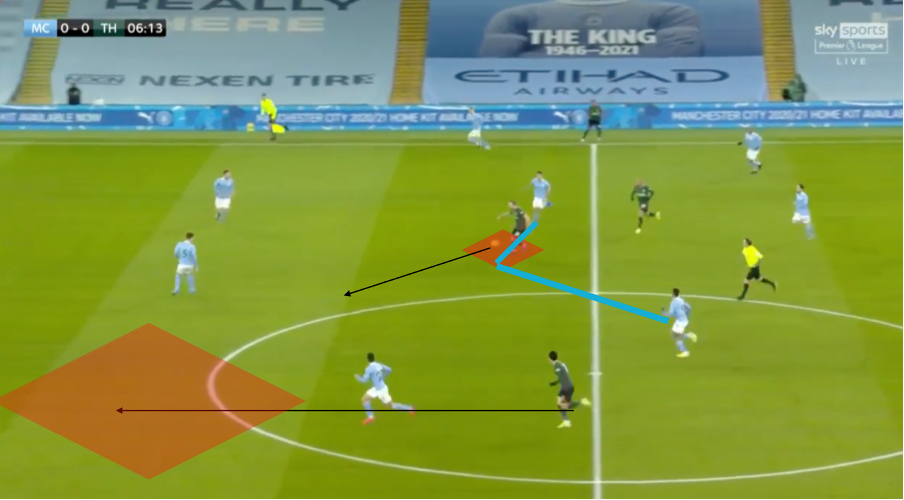 And then within seconds Manchester City have isolated him through pure numerical advantage, in the case a 4v1. His incredible ability on the ball warrants this sort of intention. Just for context, Kane actually bypasses this pressure: he is an excellent press-resistant dribbler. But he then finally got smothered out through João Cancelo after, as Son was the only player in an advanced position with him.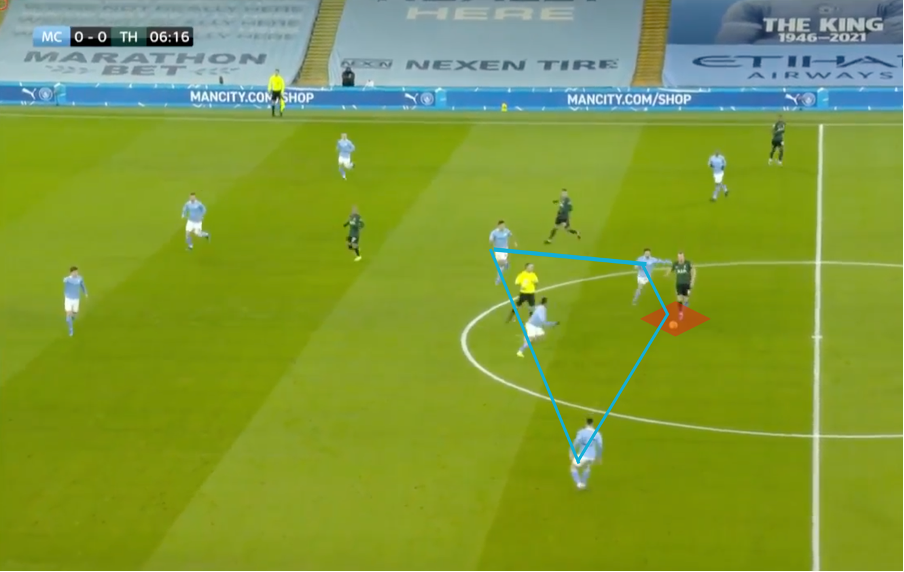 Essentially, shown by this example, opposition can cut Spurs' counter attacking patterns by stopping the first source. The lack of numbers committed to these quick transitions mean that not allowing one player (Kane in the example above) space to dribble or pass can stop the counter-attack dead. A big issue Mourinho has to address. 
As always, it's important to show the good with the bad. Spurs have shown some attacking promise in various games: specifically their fairly recent wins over Burnley and Crystal Palace – two teams that require you to break them down due to their deep low block strategies. Tottenham's first goal against Crystal Palace comes through a relatively high press – a strategy that has been used few and far between in Mourinho's career.
Below shows the pressing strategy by Kane, Son and Lucas Moura. They have squeezed Palace into the sideline, effectively using the touchline as an extra defender. Son has stopped the passing lane to Joel Ward as has Kane with Gary Cahill. Cheikhou Kouyaté is fooled into passing into Luka Milivojević but this was a trap: Lucas will snap in as soon as he receives the ball.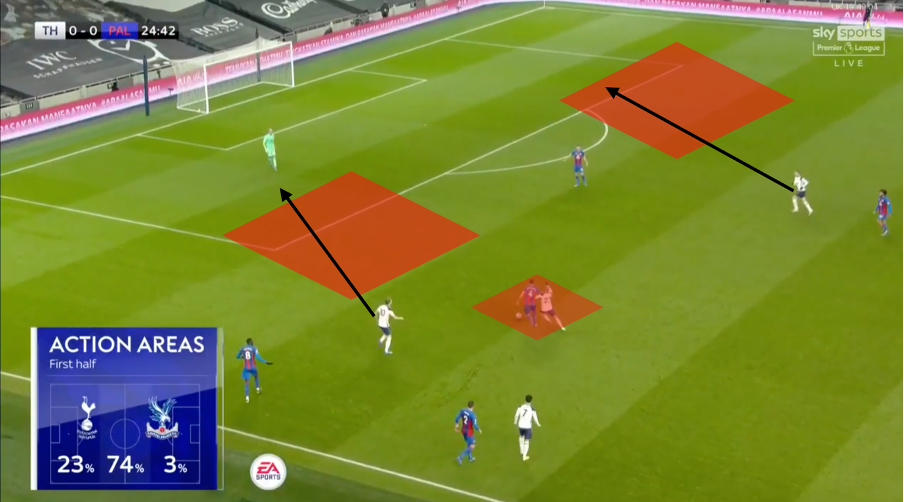 Lucas then wins the ball. Gaps and spaces are rife for Spurs to exploit, as you can see above. Kane gathers the ball, squares it to Bale who scores. Mourinho rarely has deployed this, but it does raise the question as to whether Spurs are more suited to winning the ball back in advanced positions, especially with the good 'pressers' (Kane, Son, Lucas, Lamela, Ndombélé) available to them, and the technical quality that can make teams pay if they're successful. 
The fourth goal in the 4-0 win over Burnley shows off the potential in Tottenham's attacking interplay. Starting with Ndombélé, who, in my opinion, is vitally underused by Mourinho. He can be so influential from the centre of the park due to his controlled aggression, an incredible dribbling technique in addition to the fantastic decisiveness to execute line-breaking passes from deep. He so often takes the risky forward pass, a trait that other Spurs midfielders don't possess. 
Look at the image below. Instead of taking the safe option back to Alderweireld, he flicks the ball forward to Son which begins the fantastic move that leads to a Bale goal.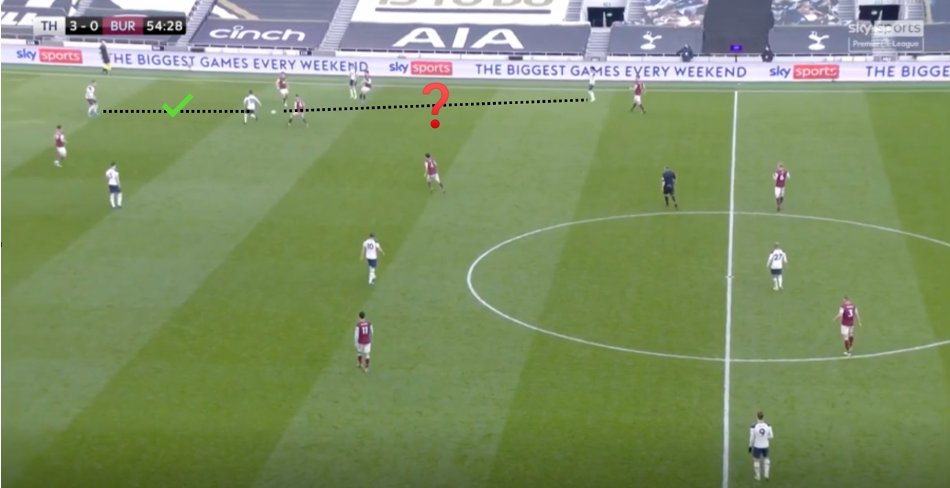 After a nice give-and-go with Reguilón, Son is in a dangerous position within two passes. Kane, this season, has dropped into deep positions to help smooth over build-up play: this has added a new element to his game which the 13 assists can back up. 
So, Kane as a result is a late runner, Lucas is making the inside run into the half-space, but Gareth Bale is the most dangerous with a ton of space on the right. Son eventually tees up Bale who finishes well to make the score 4-0. Four passes, 10 seconds, one half to the other: this is the quick interplay that Mourinho has to drill into his players more regularly. There is potential going forward for a really successful blueprint.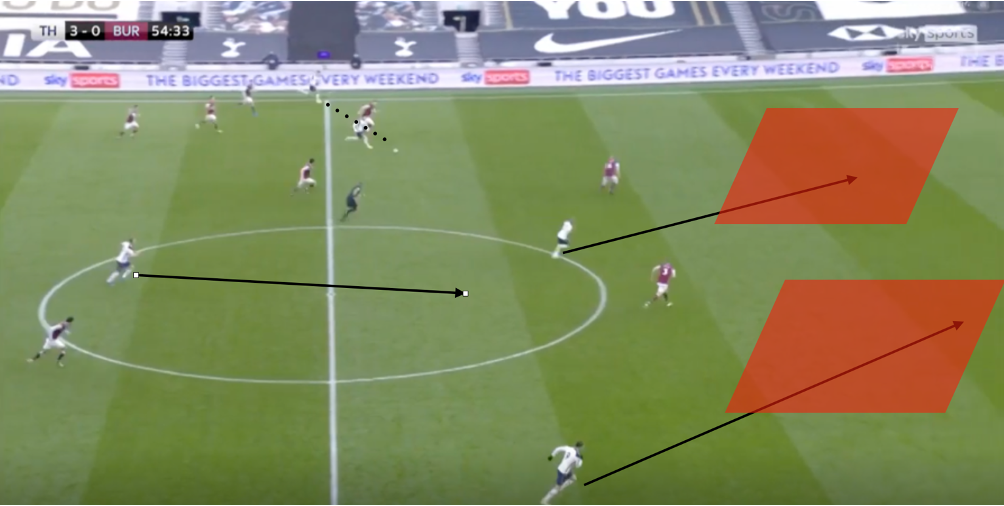 Width is something Spurs sometimes lack in attacking positions. Son operates as an inside forward, and full-backs (apart from Reguilón) don't thrive attacking space or don't have the license too. Bale has only accumulated 568 Premier League minutes but when called upon his natural width has caused problems as it can stretch defences, something that Spurs struggle to do in build-up play.
Conclusion 
José Mourinho's Tottenham future is bleak: the eagles are circling for his sacking. They are seventh in the league – six points away from a Champions League spot. In the era of philosophers, high-press, and high-lines: Mourinho remains the pragmatist, utterly focused on nullifying the opponent rather than having his own Plan A. 
This approach has won Champions Leagues, Premier Leagues, trebles, and doubles. But it's an approach which is starting to look a bit outdated. That opinion may be up for debate, but what isn't up for debate is that, from a tactical point of view: Mourinho is failing at Tottenham. 
By: William Furness
Featured Image: @GabFoligno – Clive Rose / AFP