Tactical Analysis: Turkey vs. Wales
Within 15 minutes of the first matchup between Turkey and Wales since 1997, the tone had been set. Burak Yilmaz eagerly pressed the Welsh defence, only to see his teammates fail to join him. His scream of fury summarised Turkey perfectly; promising, but incoherent.
Wales were on top of their opponents throughout the opening 25 minutes. Aaron Ramsey had two opportunities inside the box as Turkey failed to deal with his runs from deep. Despite impressive defensive moments, like when Caglar Soyuncu made a fantastic last-man tackle on Gareth Bale, Turkey would ultimately enable Ramsey's opener in the 42nd minute. Able to run in-behind unmarked and onside, Ramsey collected a Bale pass and finished coolly.
Half-time changes came from Turkey, but Wales still created the best chances in the second half. Gareth Bale should have put Wales 2-0 up after 60 minutes, when he blew a penalty over the bar. Turkey only threatened from headers, with Merih Demiral's late effort forcing a good save from Danny Ward. Yet Bale would ultimately make up for his penalty miss, assisting Connor Roberts for his first international goal since 2018, and sealing a 2-0 victory in the last minute, a win few saw coming. 
Man of the Match: Gareth Bale
With Bale playing just 28% of Premier League minutes for Tottenham last season, it's fair to say the Welsh captain's performance against Turkey was astonishing. His long-ball assist to Ramsey in the first half was spectacular, just one of his 5-big-chances-created (a match-high). It was a huge improvement from against Switzerland, where Bale failed to create any chance at all.
Although Ramsey was also fantastic at building dynamic Welsh attacks, Bale was central to everything successful for Wales throughout the game. He completed 7 high-value attacking passes, with his through-balls in particular continuously stretching an unorganised Turkish defence.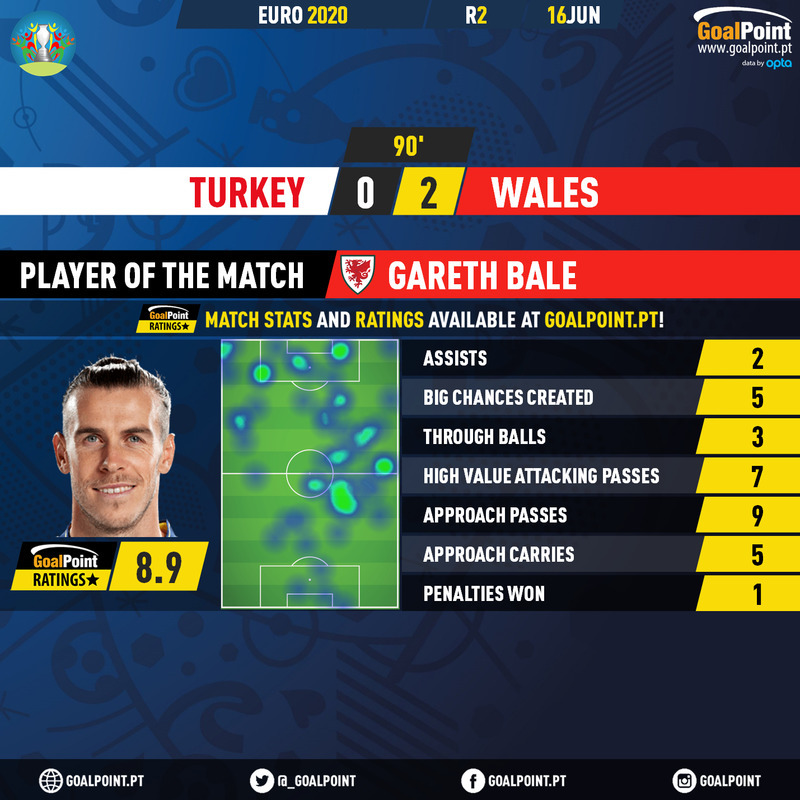 Despite turning 32 years old in July, Gareth Bale proved against Turkey he can still offer a wealth of attacking contribution at the highest level.
In the second half, Bale's penalty miss threatened to hand momentum to Turkey, but he kept working hard and helping Wales escape mounting Turkish pressure. His highlights undoubtedly came in the dying minutes. Bale twice powered past tired legs to drive into the box, creating two 90th minute chances for Wales. When Roberts scored the second of those, it marked Bale's second assist of the match.
This was possibly the best performance we have seen from Bale since his golden days at Real Madrid, and it adds confidence to a surprisingly dangerous Wales team.
Conclusion
Wales could pose Italy their biggest threat so far this tournament when both sides face off on Sunday. It could also be Kieffer Moore's toughest test yet. He may have dominated Turkey in the air, but the duo of Chiellini and Bonucci will be a totally different challenge.
Meanwhile, Turkey can look to Sunday to salvage their dwindling tournament hopes. A victory over Switzerland in Baku could still see them faze through into the knockout stage via third-placed passage. Yet after so much pre-tournament hype, 2021 threatens to be an embarrassing year that Turkish fans will want to quickly forget.
By: Alex Barker / @EuroExpert_
Improvements From the First Game
Robert Page put out the same XI that stole a draw against Switzerland in matchday one but the difference in the Welsh team went beyond the change of jerseys. Against Switzerland, Wales played a traditional 4-3-3 occasionally 4-5-1 and were as predictable as possible, easy to defend against. The players played to their positions and the majority of their offensive play was centred around counterattacks and hopeful crosses targeted at Kieffer Moore.
This time around they switched things up, the players were given more flexibility with their positions and it played a role in confusing their opponents. Kieffer Moore was required to be selfless, serving as a decoy and drawing the full attention of the Turkish centre backs while Aaron Ramsey ran into the space created with several clear sights on goal. Wales were aesthetically pleasing and efficient in their chance creation, although they failed to replicate the efficiency in their finishing, The Dragons looked like scoring every time they went forward.
Another major upgrade from the first game was Wales' passes becoming more dynamic, which worked out well thanks to Gareth Bale's supreme technical ability. They sliced through their opponents like it was Thanksgiving Day and carved open the defence surprisingly easily, creating chances at will and here's how they did it.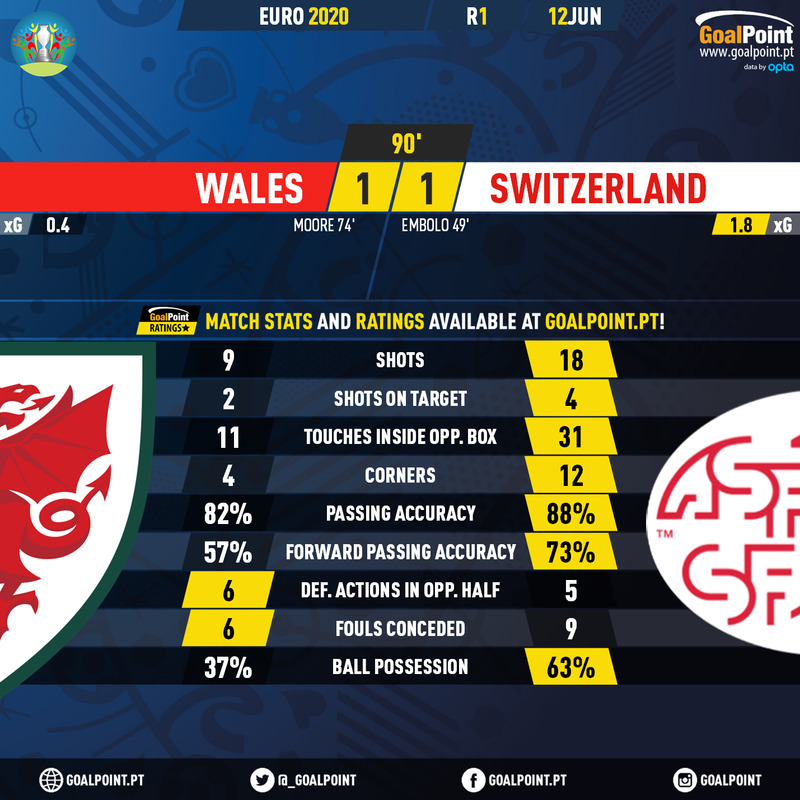 After an underwhelming opening match against Switzerland, Wales turned things around in Baku in the second matchday with a dynamic performance from the likes of Aaron Ramsey and Gareth Bale.
Robert Page's Influence
Wales performed at such a high level because everyone was at the top of their game, including the manager. Robert Page fixed the issue of predictability in the last match by finding new ways to utilise the talents at his disposal. It required a lot of energy and running which is what the players gave. Aaron Ramsey exemplified that energy with an incredible performance, he covered every blade of grass and was influential at both ends of the pitch.
Having successfully caught Turkey off guard with the Kieffer Moore/Aaron Ramsey decoy in the first half, Page read the game brilliantly once again and switched up the tactics. Senol Günes brought on Merih Demiral in place of Okay Yokuslu, adding a third centre half to contain the attacking threat of Aaron Ramsey's runs and Gareth Bale's passes.
Wales responded quickly by switching Bale to a free role, giving him the freedom to play from anywhere across the frontlines. Unlike the first half where he was mostly on the deeper right-hand side looking to pick out a pass, Bale was everywhere in the second.
At this point, Ramsey had resumed his primary duty as a midfielder alongside Joe Allen and the impressive Joe Morrell who played at such a high level it would have been difficult to believe he's a squad player for championship side, Luton Town.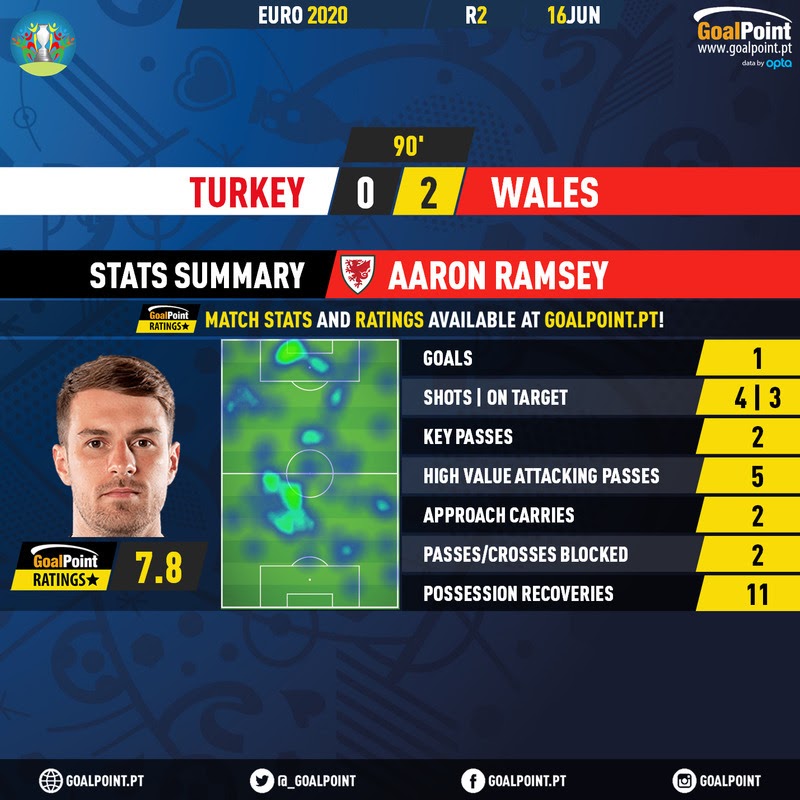 Aaron Ramsey's energy and ability to be everywhere proved pivotal to executing Page's tactics effectively.
Page outsmarted Günes multiple times within 90 minutes. Wales took full advantage of the lack of steel in the Turkish midfield after Yokuslu was subbed off at halftime leaving them with no natural defensive midfielder on the pitch.
The Welsh team was very well drilled and it was evident in their gameplay. They pressed high and low at appropriate times and made sure to find the open man in transition quickly and efficiently. Rob Page got it right tactically but that alone would not have been enough to beat Turkey so convincingly and pretty much guarantee a spot in the Round of 16.
The high level of talent available to him made it work so well. None of it would have been possible without Bale's incredible performance, Ramsey's relentless running, Daniel James' pace and energy, Kieffer Moore's selflessness and the rest of the team being so efficient.
By: Tunde Young / @tunde_young
Featured Image: @GabFoligno / Darko Vojinovic – Pool / Getty Images