The Tactics behind Union Saint-Gilloise's Belgian Title Challenge
The Jupiler Pro League (Belgian first division A) has largely been dominated in recent years by just a handful of teams. You would have to go back to 1997 to find a champion whose name isn't Club Brugge, Gent, Genk, Anderlecht, or Standard Liege. If you travel all the way back to 1935, you enter an era dominated by Royale Union Saint-Gilloise.
USG won three titles between 1932 and 1935, and after hibernating for over 70 years, they are back at the top of the table. Only promoted last season, they currently lead perennial champions Club Brugge by 4 points.
14 games played, 10 wins, and 3 defeats. 33 Goals for, 13 against, and a goal difference [20] eleven goals better than the next best in the league. Though the fairy-tale nature of their start to the season feels very Leicester-like, USG are not succeeding due to poor form from rivals. Club Brugge have only lost one game, while Royal Antwerp sit second with 8 wins. 
Many interesting dives into the rise, fall, and resurrection of the club under Brighton chairman Tony Bloom have been written. Few though have studied the tactical setup of USG though, and how manager Felice Mazzu has swept aside the heavyweights of the Benelux. There's a wholesome uniqueness about the attack, and a riskier edge to their defence.
A Focus on Wing Play: Attacking Tactics
USG set up in a 3-5-2 system, and their attacking emphasis focuses on a relatively under-spoken tactical concept: wing play. Though this has varying definitions, the general focus is to push the ball as wide as possible and exploit the flanks. It can be a smart way to progress the ball quickly up the pitch, if not to totally dangerous areas.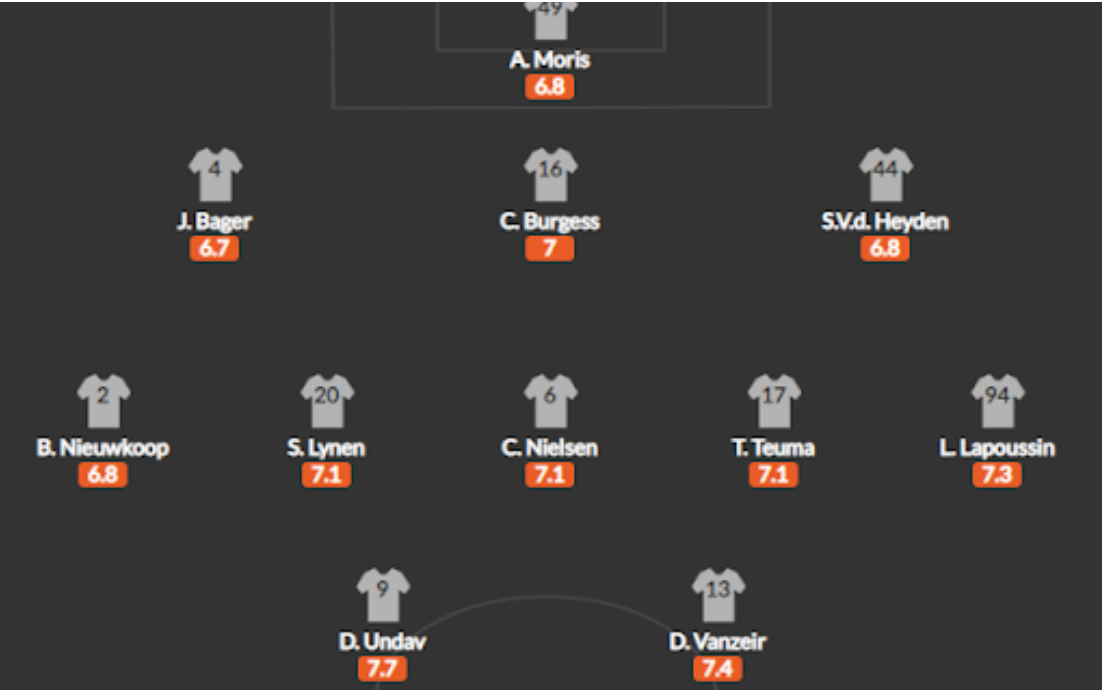 USG's most-used XI (14 times used in the league)
In forwards Deniz Undav and Dante Vanzeir, USG has two players totally committed to this concept. They're a big part of the reason why 76% of USG's attacks go down the left & right-hand side. Whether it's against a deep block or a ball-dominant side, USG have found success with this wide channel focus.
Here's a sequence vs KAS Eupen, where Eupen had 63% possession. The left midfielder Guillaume Francois, has pulled as wide as possible to receive the ball, with striker Dante Vanzeir just ahead of him.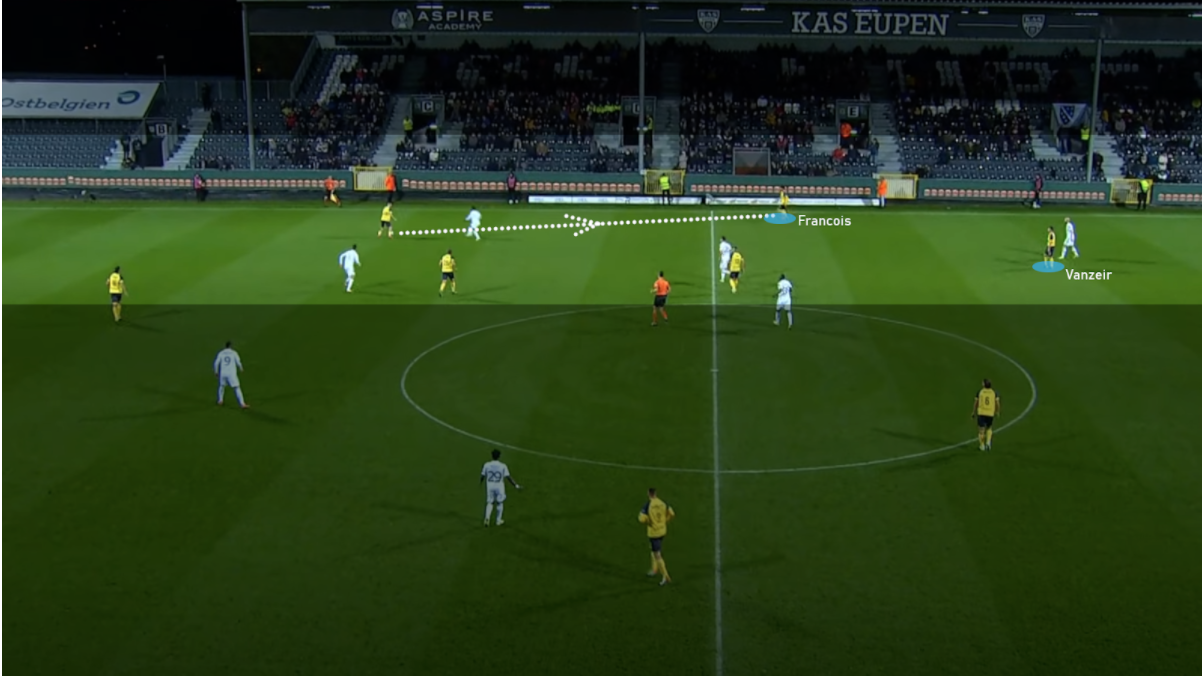 Rather than look to receive the ball and lay it somewhere else, Vanzeir busts a gut to race into the left wing behind Eupen's CB Jonathan Heris. In one touch, he ends up cutting it back towards the edge of the box where Casper Nielsen scores the winner.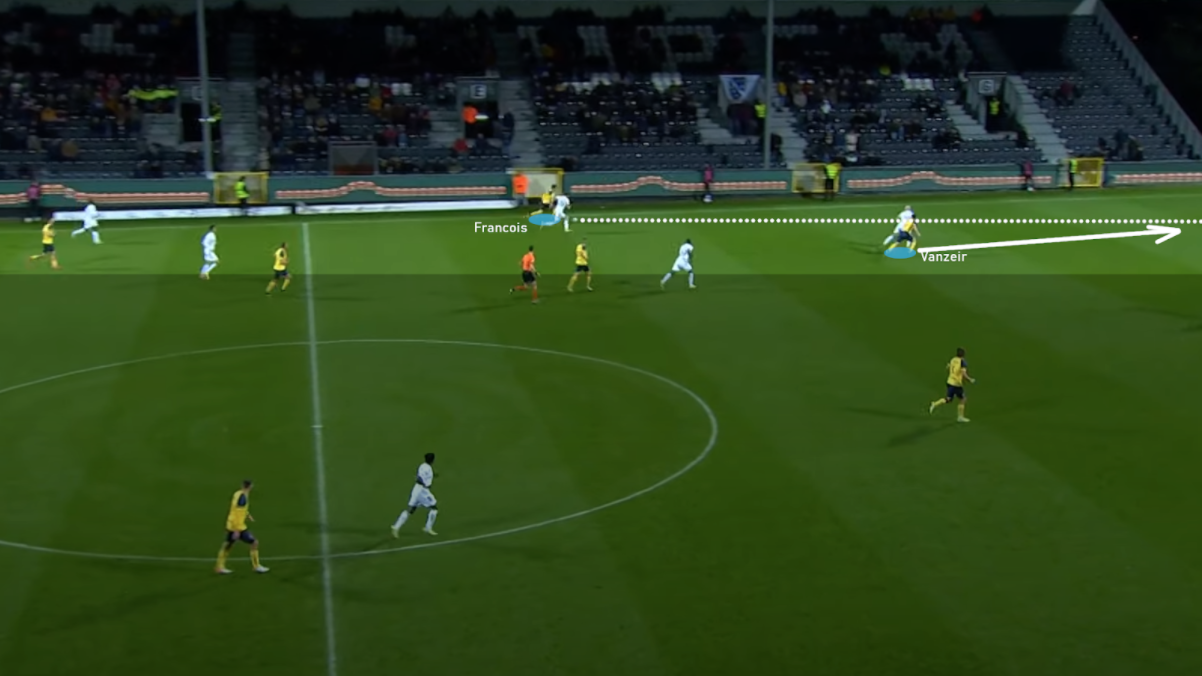 The Brussels-based side are incredibly well drilled in this exact pattern of play – progressing the ball down the line in order to cut it back. It's led to Undav and Vanzeir making 14 assists and scoring 19 goals between them in 28 appearances (Combined 33 goals in 28 games).
Here's another example, versus Royal Antwerp in one of their only 3 defeats. This time, Undav has dropped into the zone you would expect the LWB to be in. This has pulled out Antwerp's RB, creating space in behind. Once again, Vanzeir charges into the empty wide space.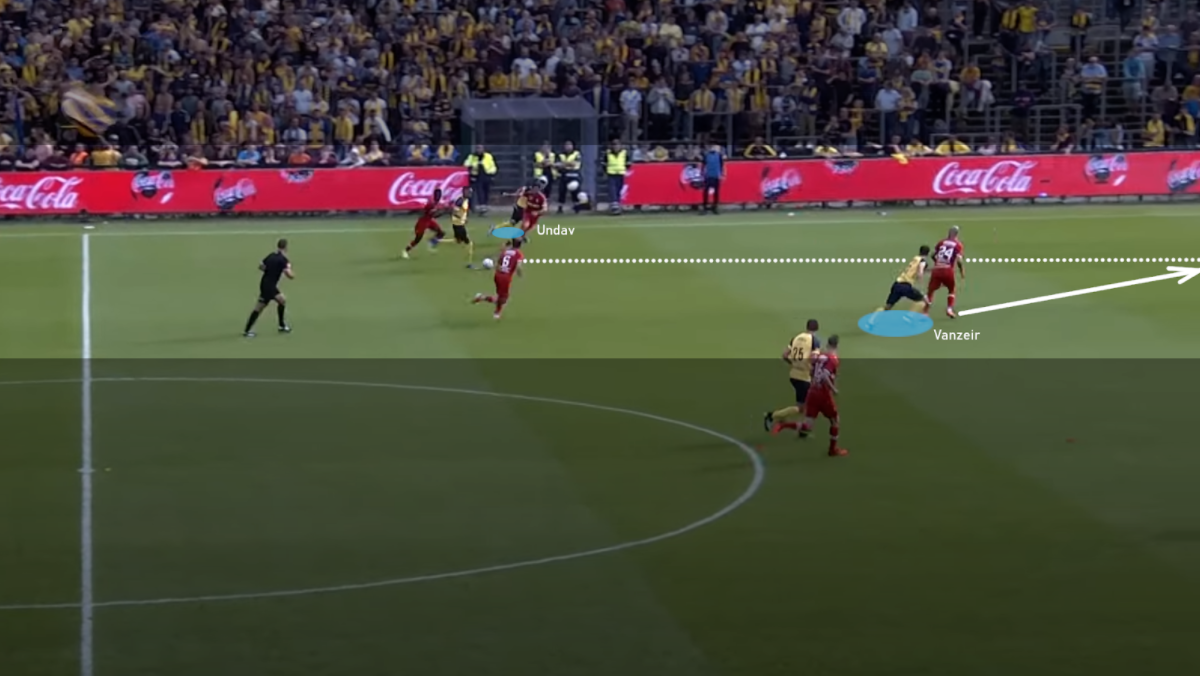 Though Vanzeir ended up being just offside, the intent behind this movement is clever. Most defences are happy for the ball & striker to go wide. The danger is moving away from the goal, and it leads to situations where the box is completely empty, like below.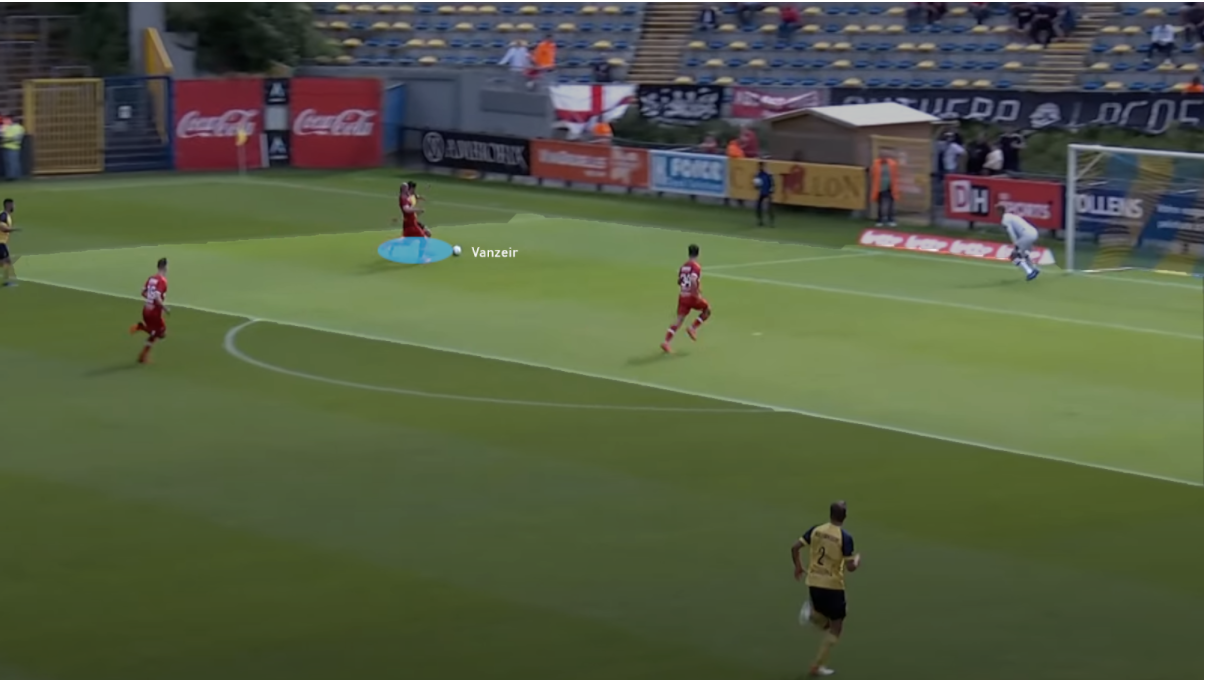 Something that Vanzeir and Undav do quite cleverly is holding up play at the right moment. Vanzeir [23] came through the well-famed youth system of Genk, so perhaps his technical quality is not surprising. He drops his marker below, before playing it across at the right time leading to the disallowed goal.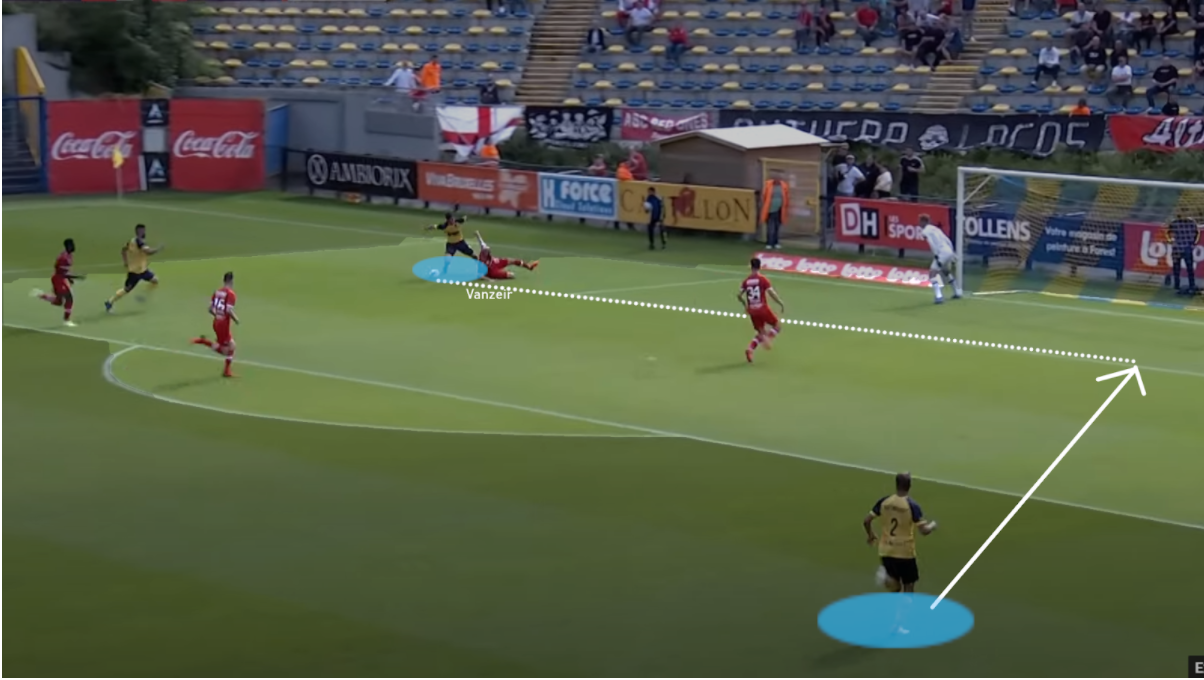 Deniz Undav [25] is probably the less technically gifted of the two. The German's goal conversion rate of 16%, is ten percent less than Vanzeir's 26%. Undav spent 5 years in the youth of Werder Bremen before getting released, something that happened again at Eintracht Braunschweig. Undav had only played in the third tier of German football until USG swooped for him in 2020.
Undav's main strengths come in his positioning and running. Heis usually the man ready to bury the shot after the ball is cutback. He's taken 47 shots inside the box this season, scoring all 10 goals from there. One of those goals is shown below. This time, Loic Lapoussin charges into the space behind Zulte Wargem's right-sided CB.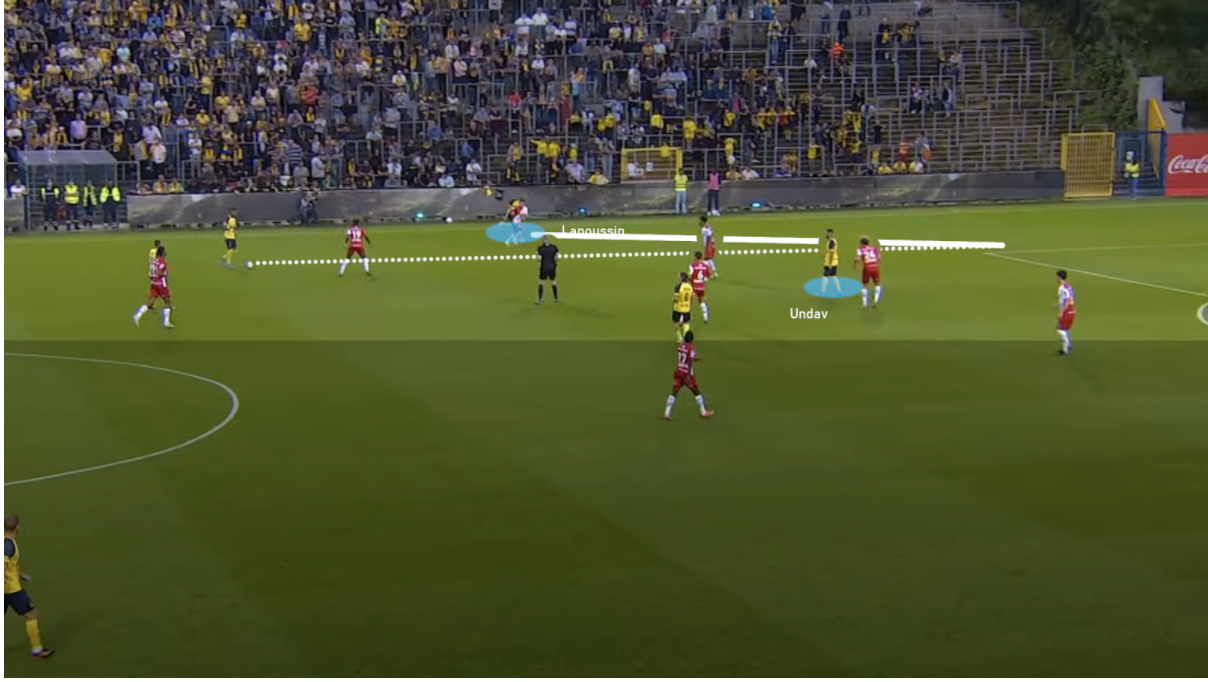 Undav slows his run as Lapoussin reaches the ball to cut it back, and Undav calmly finishes first time into the far corner.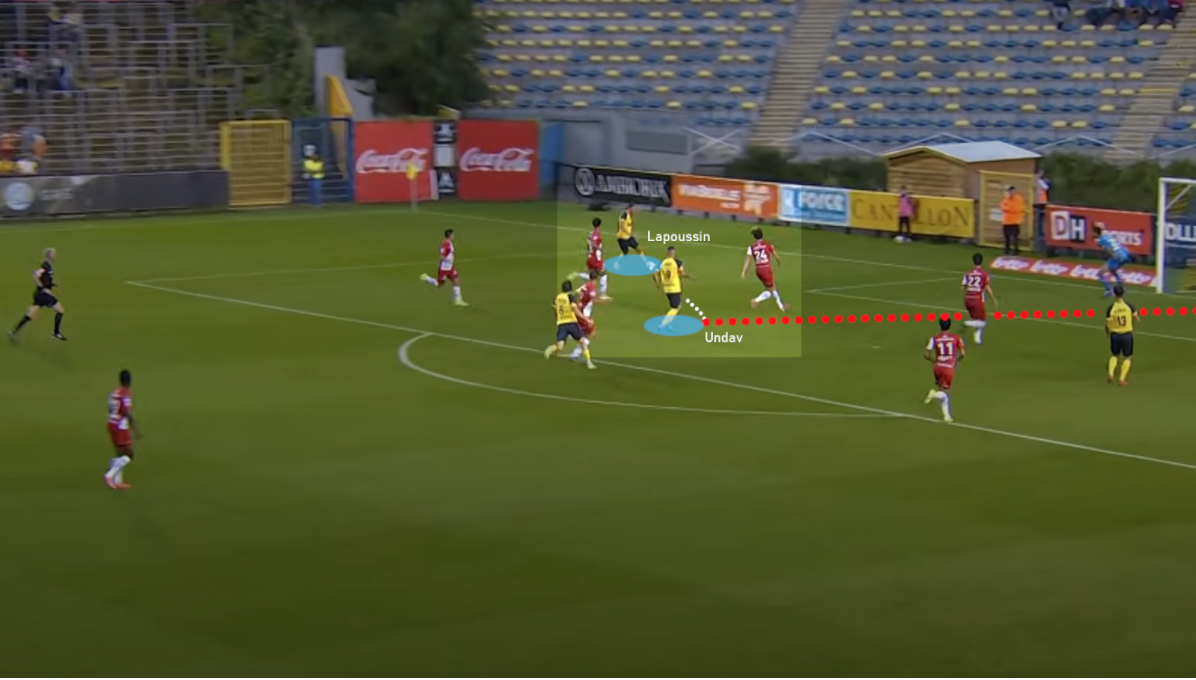 Lapoussin is another player who is crucial in progressing the ball. Only Noa Lang and Mousa Al-Tamari are completing more dribbles per 90 than Lapoussin [2.1 p90] in Belgium. The Madagascar international is also completing more tackles per 90 than anyone else in the squad [2.5 p90].
The 25-year-old is also right-footed despite playing at LM. This helps him make passes down the line that curve away from the central defenders, playing into USG's playstyle. 
Potential to Be Exposed: Defensive Tactics
USG's defensive tactics are quite brave, but so far effective. No side has conceded fewer goals in Belgium than USG, with just 13 goals against in 14 games. It's questionable, though, if a more cutting team could score against them.
The back three have a strong, man-marking emphasis on defending. Siebe Van der Heyden [23], Christian Burgess [30] and Ismal Kandouss [23] are very aggressive in looking to close down opposition, even if it means leaving space behind them. This can be seen below against KAS Eupen, as Heyden aggressively follows Konan N'Dri as he drops to receive the ball.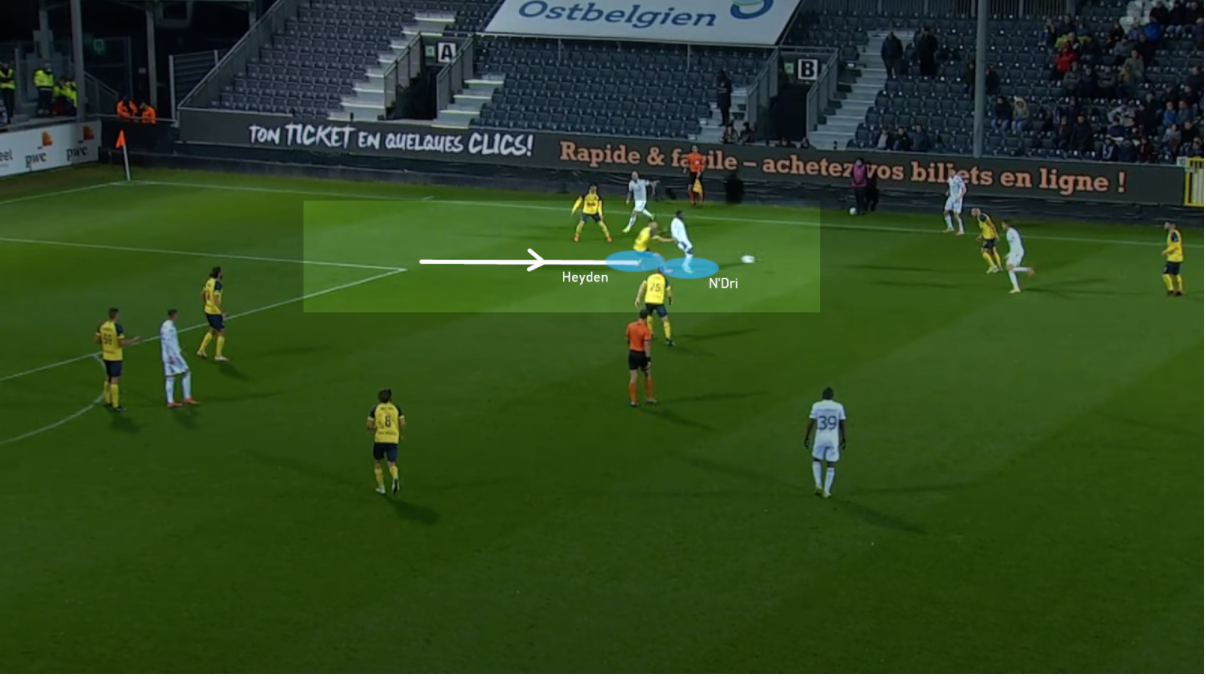 You can see Francois at LM drop inwards and Burgess at CB drop slightly, with both players positioning themselves to deal with a ball passed into that space.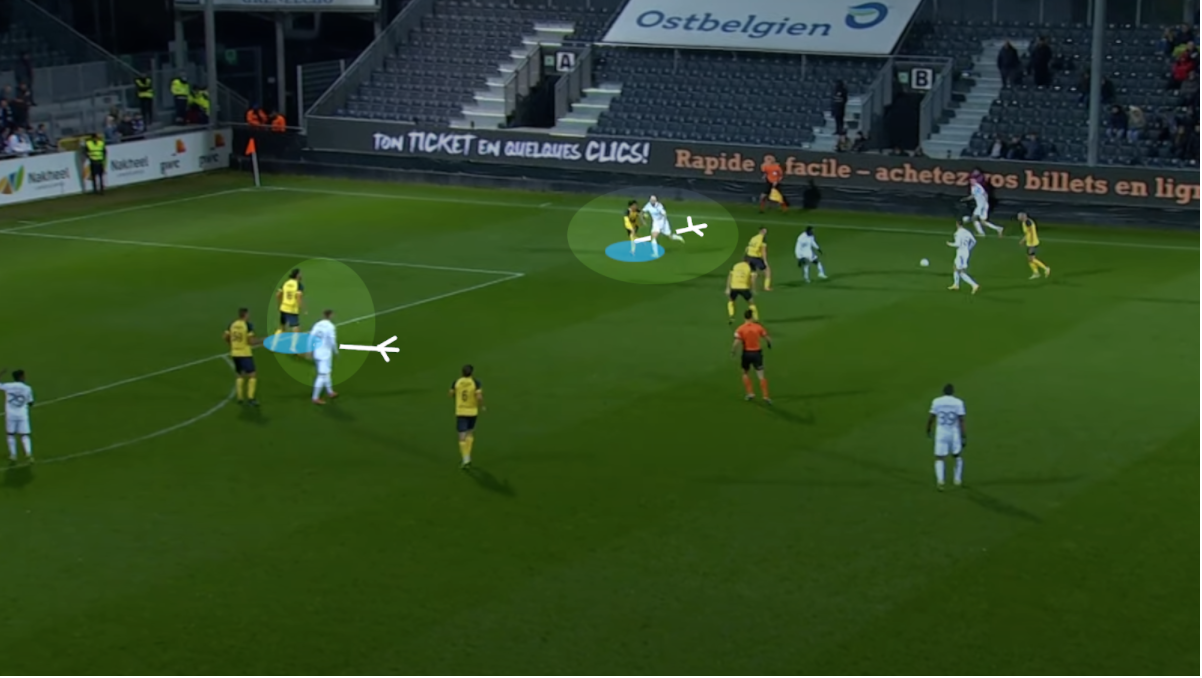 That's what works about this defence. The players know exactly how they want to operate, and how to cover for any space vacated by aggressive movements.
 The midfielders also drop in well, aware of any defensive spaces that need filling. The well-respected Belgian football analyst @DrMukherJee highlighted this aspect after USG's game against Charleroi, as both Nielsen and Teuma dropped deep to cut passing lanes.
One thing people miss about @UnionStGilloise is how solid defensively they are.

Out of possession, they have a solid defensive block & they get back into position really fast.

Marq, Nielsen & Teuma are quite okay to drop deep to cut passing lanes. #UsgCha pic.twitter.com/RiH6n2zlQu

— SMukherjee (@DrMukherjeeS) November 6, 2021
Sometimes though, the boldness has cost them. Below, Antwerp hit USG on the counterattack and CB Jonas Bager follows his player tightly as he makes a run, which leaves Benson Manuel completely free of pressure. He ends up scoring the winner.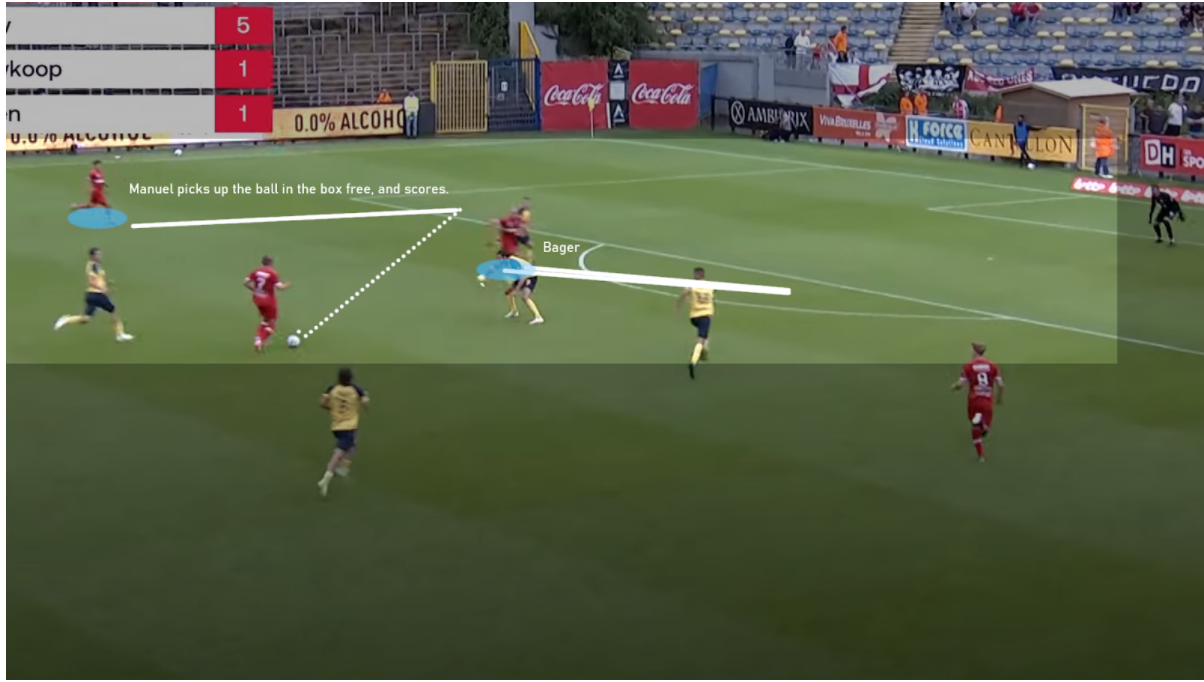 There has been a level of dependence on goalkeeper Anthony Moris too. The 31-year-old is the first team goalkeeper for Luxembourg and joined USG last season. Moris has saved his side 2 goals by XG against (Fotmob), and has done well in 1v1 situations.
Can They Do It?
An overperforming goalkeeper, a tight defence, a plan to score goals and overall strong discipline: are all healthy ingredients for a title charge. Despite their lack of top-flight experience, Felice Mazzu's side look strong in every area. 
Mazzu, of course, is the man lightly touched on so far. His highest-profile job came with Genk in 2019, lasting just 20 games and finishing with a 40% win rate. That's not to discredit the respectable work he did in a 6-year spell before that with Charleroi. Now though, he is receiving praise like never before.
The only worry for Mazzu is how teams adapt to playing against his side. In Belgium, teams play 34 games in the regular season, meaning USG have 20 matches left to finish top of the table. However, that only launches USG into a playoff group of the top four teams from the league, leaving 6 games that can still decide where the title goes. 
Still, if Deniz Undav & Dante Vanzeir can keep firing and the defence avoids any leaks, we could end up seeing one of the oldest clubs in European Football get a deserved, happy ending to this season.
By: Alex Barker / @EuroExpert_
Featured Image: @GabFoligno / Isosport – MB Media – Getty Images