UWCL Final 2022: A Tactical Masterclass from Sonia Bompastor
The 2022 UEFA Women's Champions League Final (UWCL) was highly anticipated, arguably the best two teams in Europe going head-to-head: FC Barcelona, who defeated Chelsea 4-0 in last year's Final in Gothenburg, and Lyon, who have won every single UWCL since 2016 with the exception of Barça's 2021 triumph.
This match-up was supposed to be something of a redemption for holders Barcelona as they looked to exact revenge after the 4-1 defeat, they suffered at the hands of Olympique Lyonnais in the 2019 Final in Budapest. Unfortunately for FC Barcelona Femini, Sonia Bompastor and Lyon had a game plan that they executed perfectly.
Designed to frustrate Barca and prevent them from playing their much-admired possession-based football, Lyon took control of the game right from the off and implemented a highly physical and defensively solid style of play which enabled them to counterattack to utilise their lethal attacking prowess. Let's take a look how Lyon became European champions for the eighth time since 2011.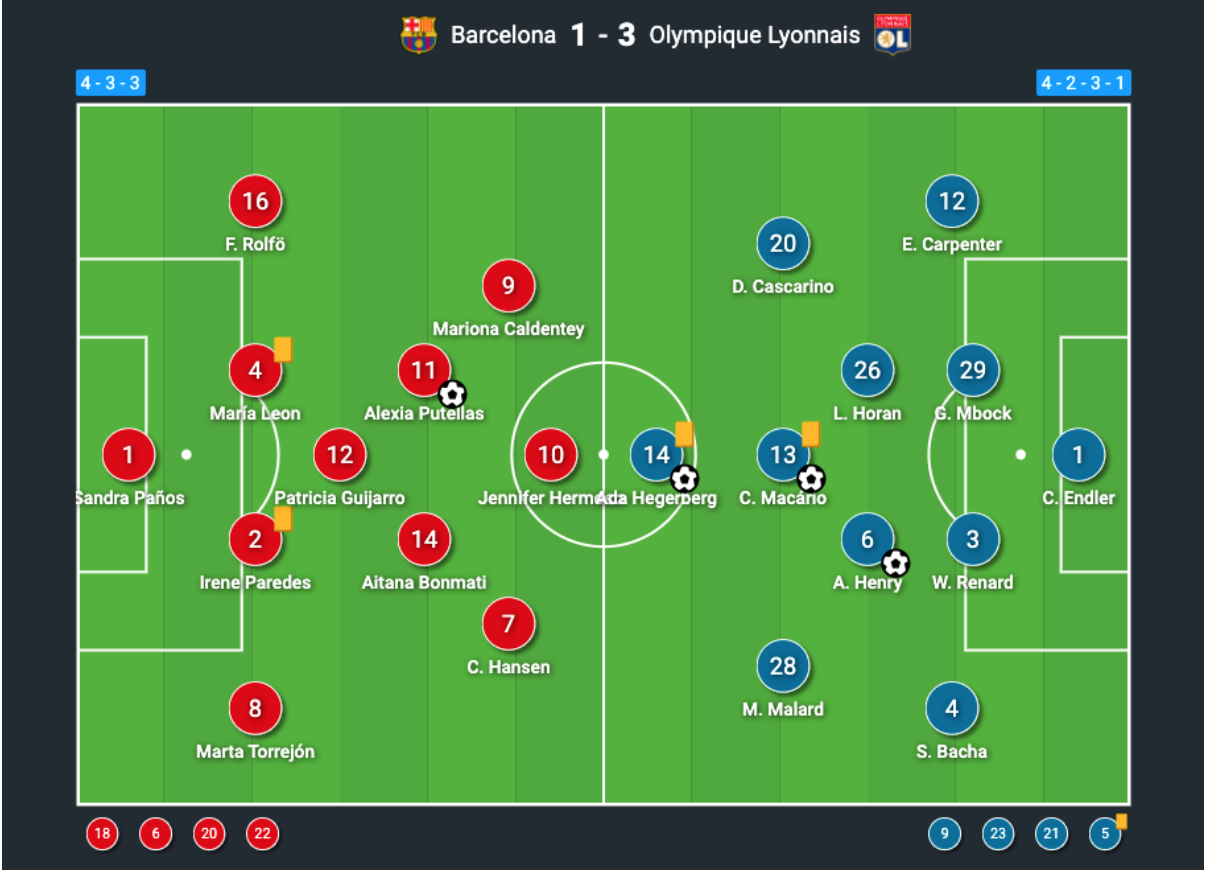 Barcelona lined up in their usual 4-3-3 formation, the emphasis being to play through the middle due to the exceptional skillsets of Putellas and Bonmati. Lyon on the other hand, deployed in a 4-2-3-1 formation with the double pivot of Amandine Henry and Lindsey Horan in midfield.
OL were very fluid with their formation as they often switched to a 4-4-2 while pressing with Macario joining Hegerberg to press from the front. They also switched to a 4-5-1 in order to prevent Barca from building up from the back.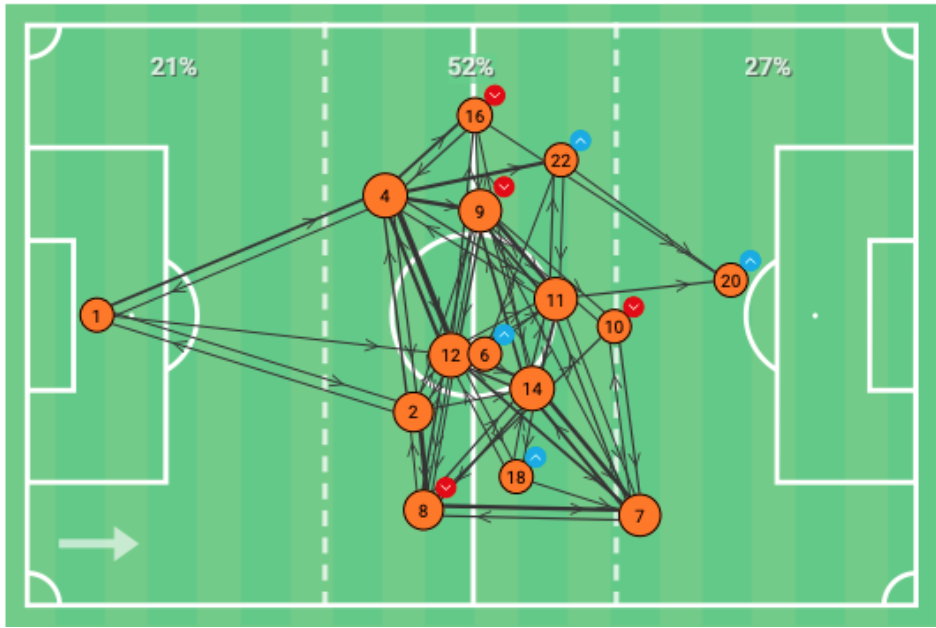 Looking at Barcelona's passing network (source: Wyscout) their wish to play the desired passing style of play becomes clear. They had 52% possession in the middle of the pitch which shows how they like to dominate possession, retaining the ball and using it to create goal-scoring opportunities via intelligent off-the-ball movement from runners from midfield. 
Whereas looking at Lyon's pass network it is clear that they played the game with their focus on defence, frustrating Barcelona and preventing them from creating in midfield. Lyon played with a very compact system, happy to sit deeper as 30% of their possession was in their own third with 20% in Barcelona's third.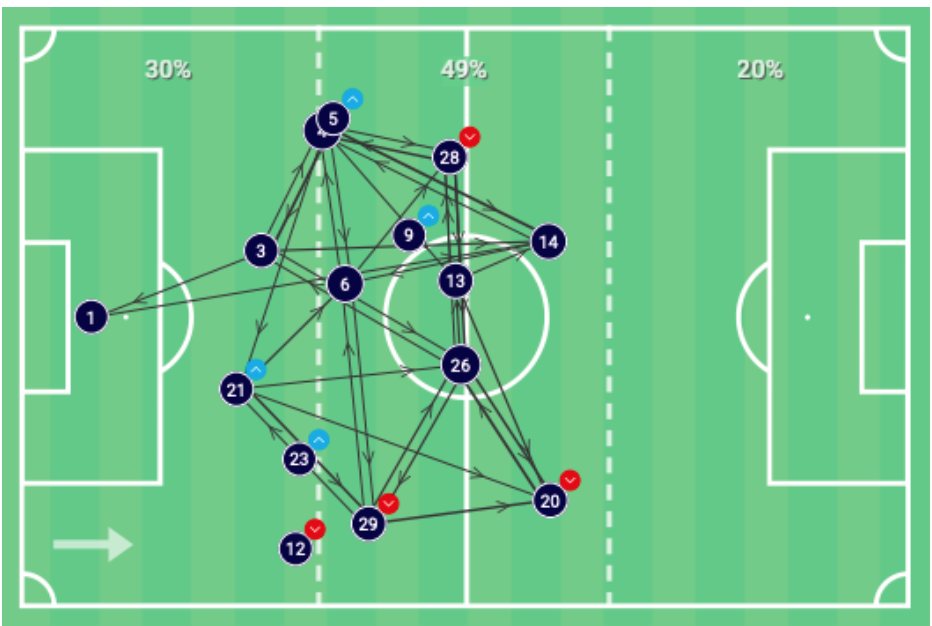 The key to Lyon's success lies in the midfield trio of Amandine Henry who is really the heartbeat of this team, Lindsey Horan and Catarina Macario, they ran the game and ensured that the OL press worked to full effect in order to launch devastating counterattacks.
Lyon's game plan was apparent right from the off as they charged into a high press just seconds into the game. Bompastor sent her team out with the intention to dictate the tempo and prevent Barcelona from getting into any sort of rhythm.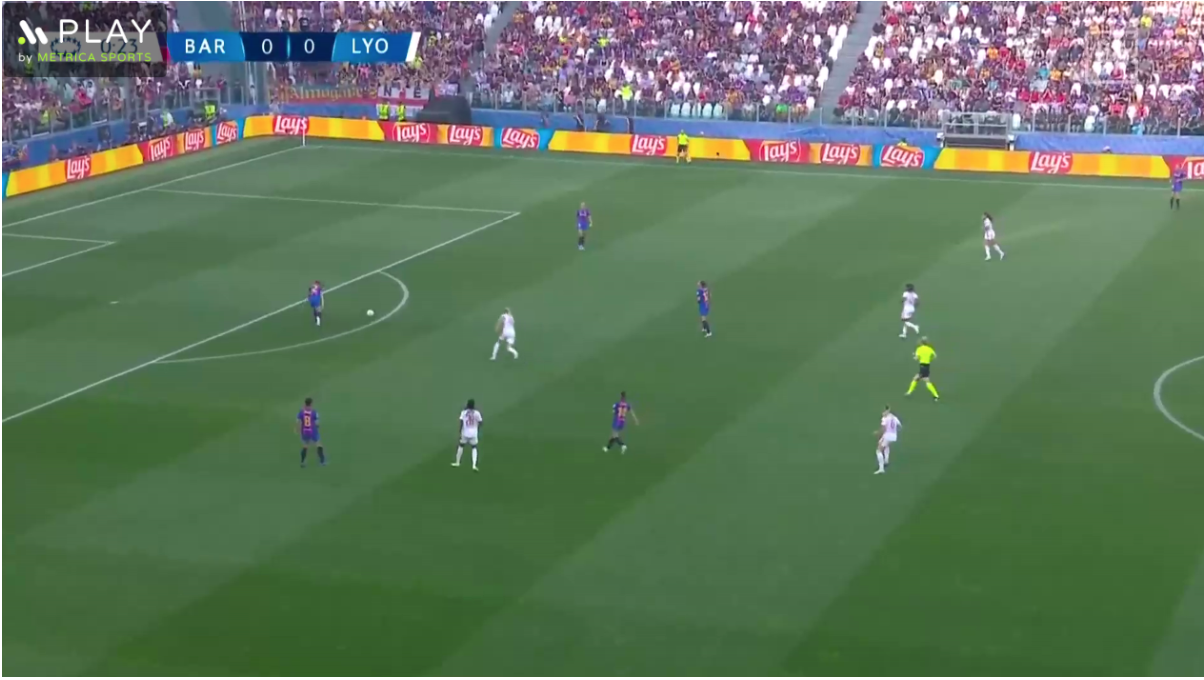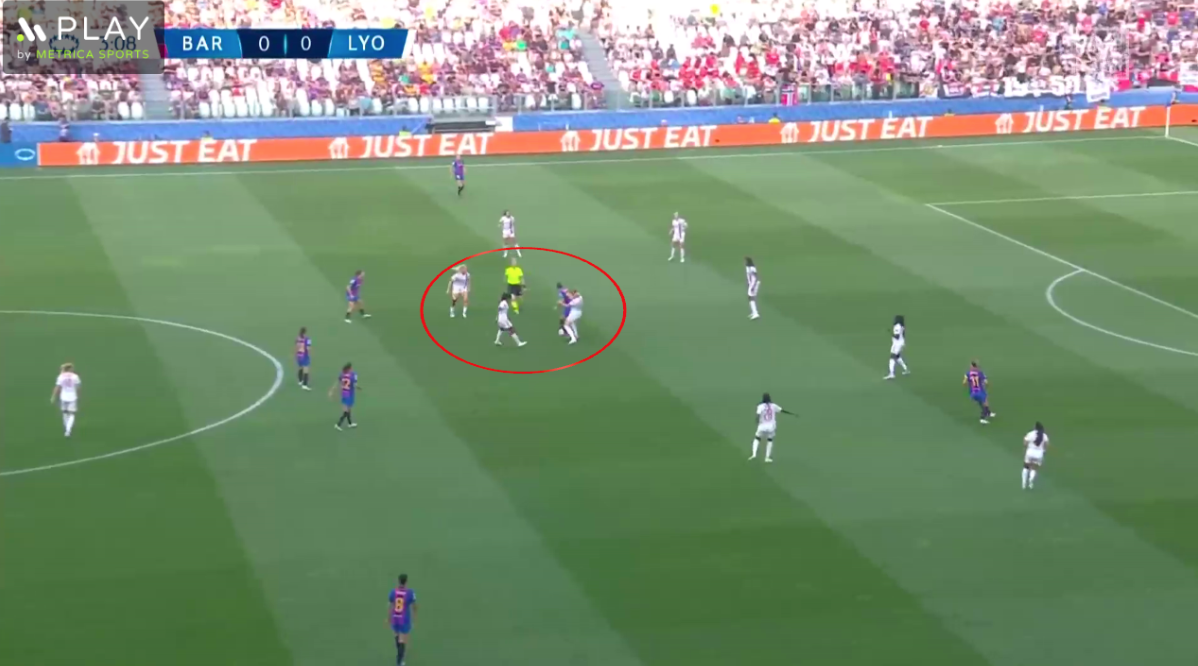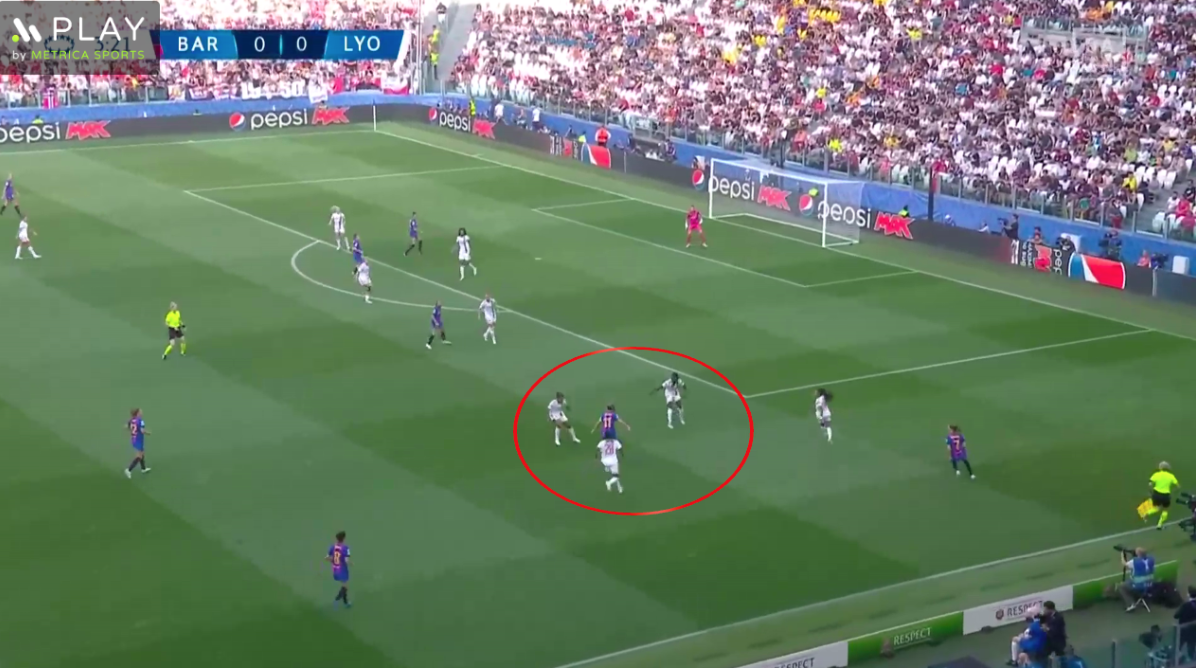 When Barcelona did have possession in the midfield, there were always two or three OL players ready to swarm around them to cut off any passing lanes. This again was Lyon unsettling Barca and preventing them from playing in their desired way.
With Lyon enforcing this constant high tempo in the first half it forced Barca to often rush their passes and caused them to turn over possession. Therefore, Los Cules were forced to try and build up from the back, unfortunately for Jonatan Giráldez's team, OL fell back into a 4-5-1 formation to close the spaces that Barca love to play through.
This was the basis for an exceptional defensive game plan to isolate Barca's most creative players and essentially take them out of the game.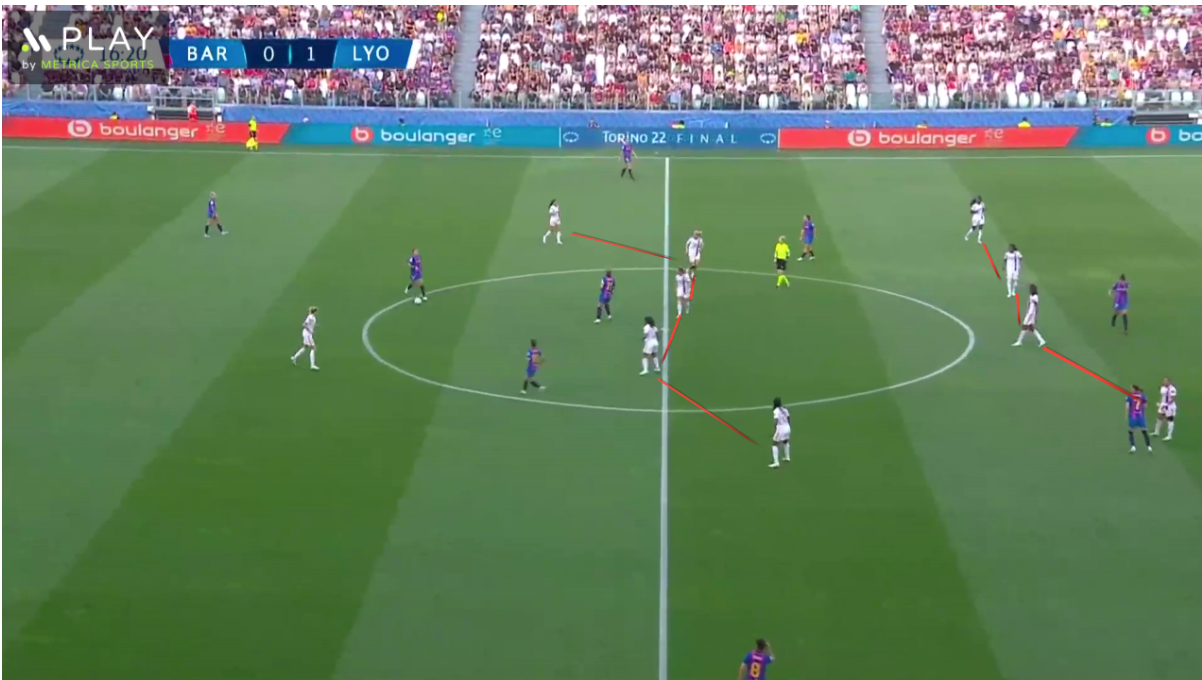 Lyon legend Amandine Henry was one of the standout performers of the game. She marshalled the midfield using all her experience, often sitting deeper allowing Horan and particularly Macario to join the attack.  Worth noting- she also opened the scoring with an absolute rocket!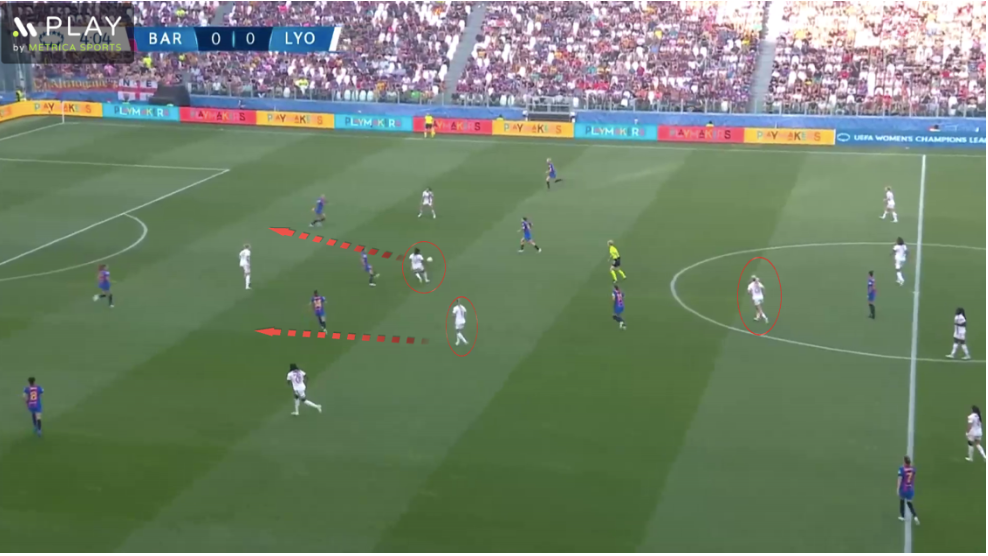 Lyon's next two goals were executed via counterattacks; Selma Bacha played an inch-perfect cross from the left while Ada Hegerberg just peeled off her marker to nod home for 2-0. Hegerberg then turned provider after some questionable defensive work in the box from Barca, the Norwegian played a simple ball through to Macario who was able to tap in.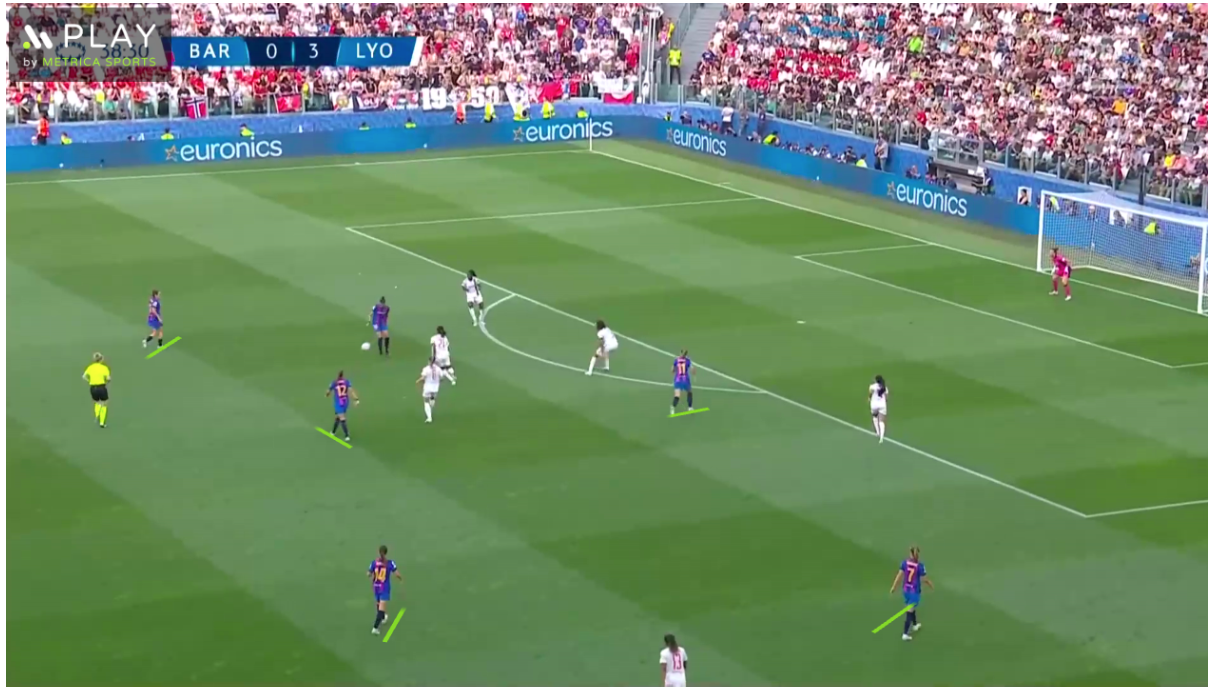 There were opportunities for Barcelona, on occasion they were able to get forward with numbers, often their decision-making let them down and they chose to play a 'safe' pass rather than execute a more ambitious through ball.
In the image above Hermoso has possession, she is able to play a through ball to Putellas who has found space between Renard and Bacha. Hermoso opts to retain possession and allows Lyon to get back in numbers and the chance is gone. However, they did take advantage of a lapse in concentration from Lyon.
As seen in the image below there is a rare lack of communication between Henry and Horan, both assume the other will pick up the run of Putellas so neither end up going with her and she has a free run into the area as Mbock is slow to react to the situation allowing Putellas to meet Graham-Hansen's cross and pull one back for Barca, making it Barca 1-3 Lyon at the break.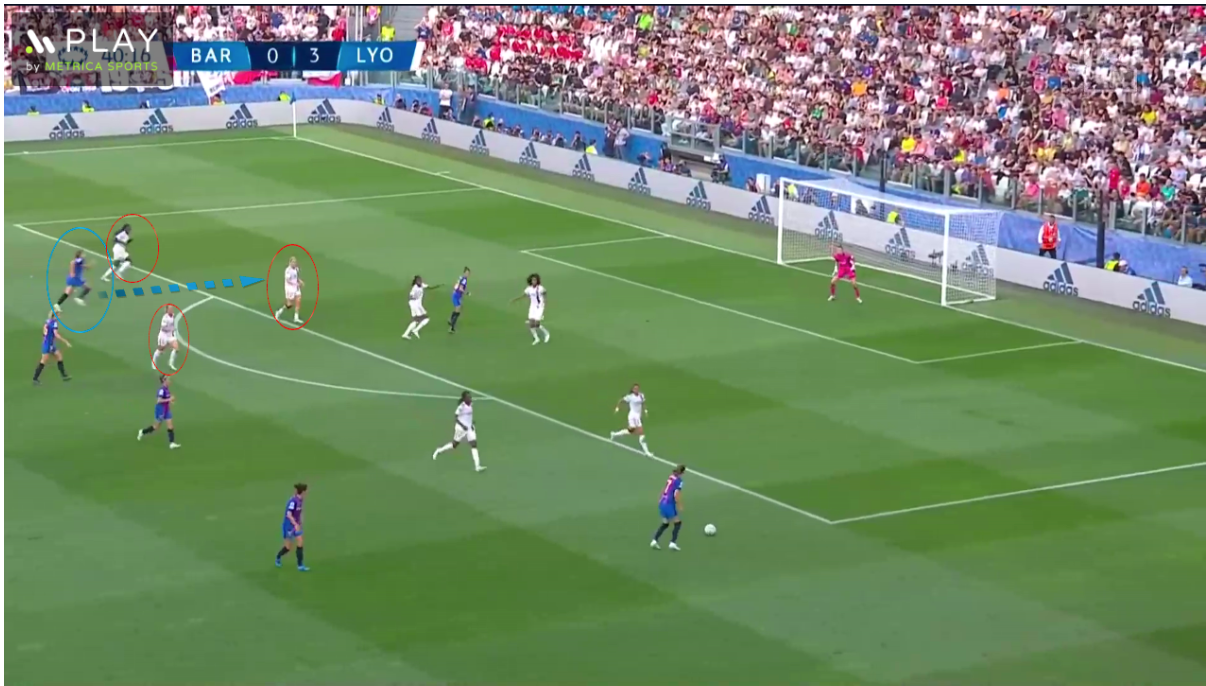 The second half saw Asisat Oshoala take to the pitch to replace Jennifer Hermoso, this a recognition by Giráldez that using the latter as a False 9 was not working and Oshoala could offer more in an attacking threat with her pace and willingness to run in behind.
It is possible that this game would have been a lot different had Oshoala started, playing Hermoso as a False 9 really played into the hands of Bompastor and Lyon whose defensive line was rarely stretched in the first 45 minutes. 
As expected, Barca did try and get forward in numbers for much of the second half, pushing for another two goals. Lyon stood resolute though, captain Wendie Renard guided the defence and kept them calm and focused on the task throughout.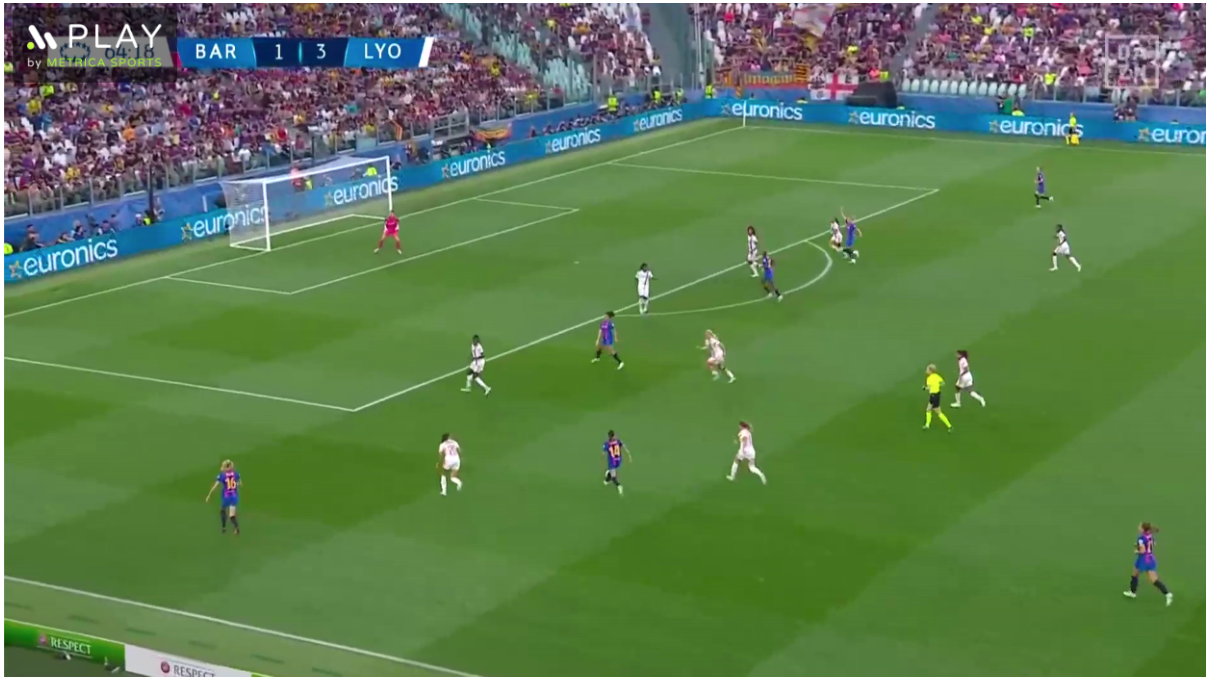 It's fair to say Oshoala didn't have the desired effect as she often mistimed her runs and was caught offside, again not really forcing Lyon's defensive line into any action.
As the game went on OL became more and more compact, allowing Barcelona space on the wings and backing themselves to deal with any crosses that came into the box. Horan and Henry became quintessential Defensive Midfielders, sitting just in front of the Centre Backs (Renard & Buchanan).
There was a multitude of Lyon players on hand to defend the penalty area when Barcelona were looking to cross the ball, as seen in the below images.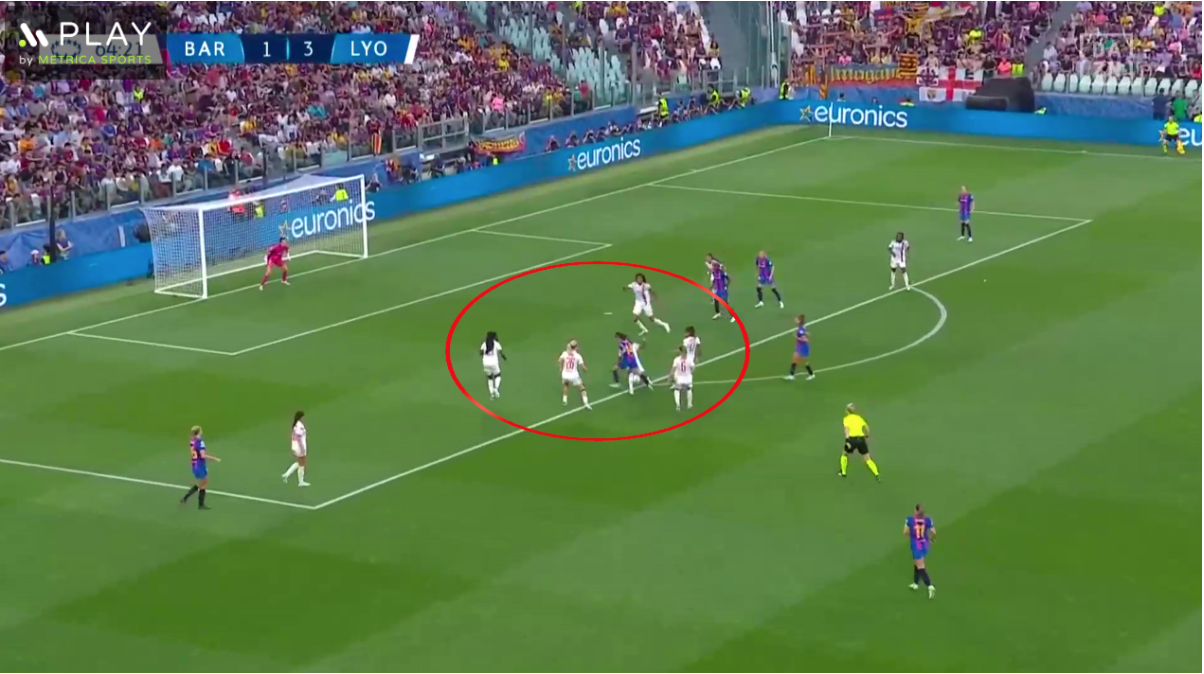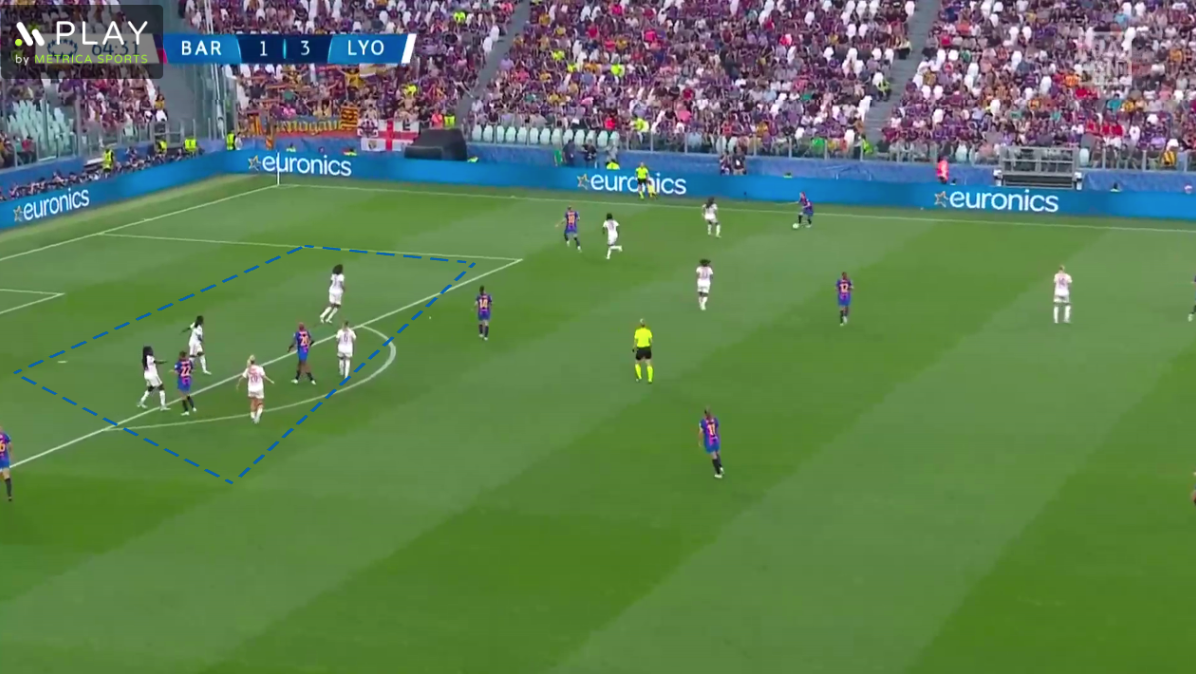 Overall, a defensive masterclass from Sonia Bompastor, she sent her team out to be physical, compact and frustrate their opponents. They were clinical on the counterattack which enabled them to focus themselves defensively and utilise the attacking prowess of Hegerberg and Macario when bursting forward.
Some poor decision making from Barca did help Lyon on their way however it was clear that they were rattled by the intensity Lyon infused into the first 40 minutes of the game. 
As a player Bompastor was part of an OL team that absolutely dominated Women's Football, now as a coach, she's ready to ensure that Lyon recapture that dominance.
While Lyon have an unbelievably talented group of players, it was a great tactical masterclass from their coach which guided them to regain their crown and become Queens of Europe for an eighth time. 
By: Bethany Limb / @fmbeth94
Featured Image: @GabFoligno / Marco Canoniero / LightRocket