What Can Be Learnt About Football From Analysing 2018/19 Borussia Dortmund
Bolstering the likes of Achraf Hakimi, Christian Pulisic, Jadon Sancho, Julian Weigl and Marco Reus, Borussia Dortmund were one of the most exciting teams to watch during the 2018/19 season. They forced games to be constantly played on the transition through their attacking football always played on the front foot, and they used fast attacks and the interchanging movement combined with quick passes to constantly create. 
However, the point of this article isn't to waffle about how entertaining this team was – it is supposed to analyse what can be learnt from this team. Firstly, I will look at why Dortmund used the rotation of players and how this allowed them to create so many chances and play on the front foot. 
Always Try to Create Space 
From watching this team I could gather that the methodology of total football is a big influence of how Lucien Favre aims to set his teams up. The rotations of Dortmund's attacking players is synonymous of those in total football in the 1970s. The main idea of the rotations in total football is to make space for players – when a player is marked he can attract an opponent away from a good defensive position which in turn creates space.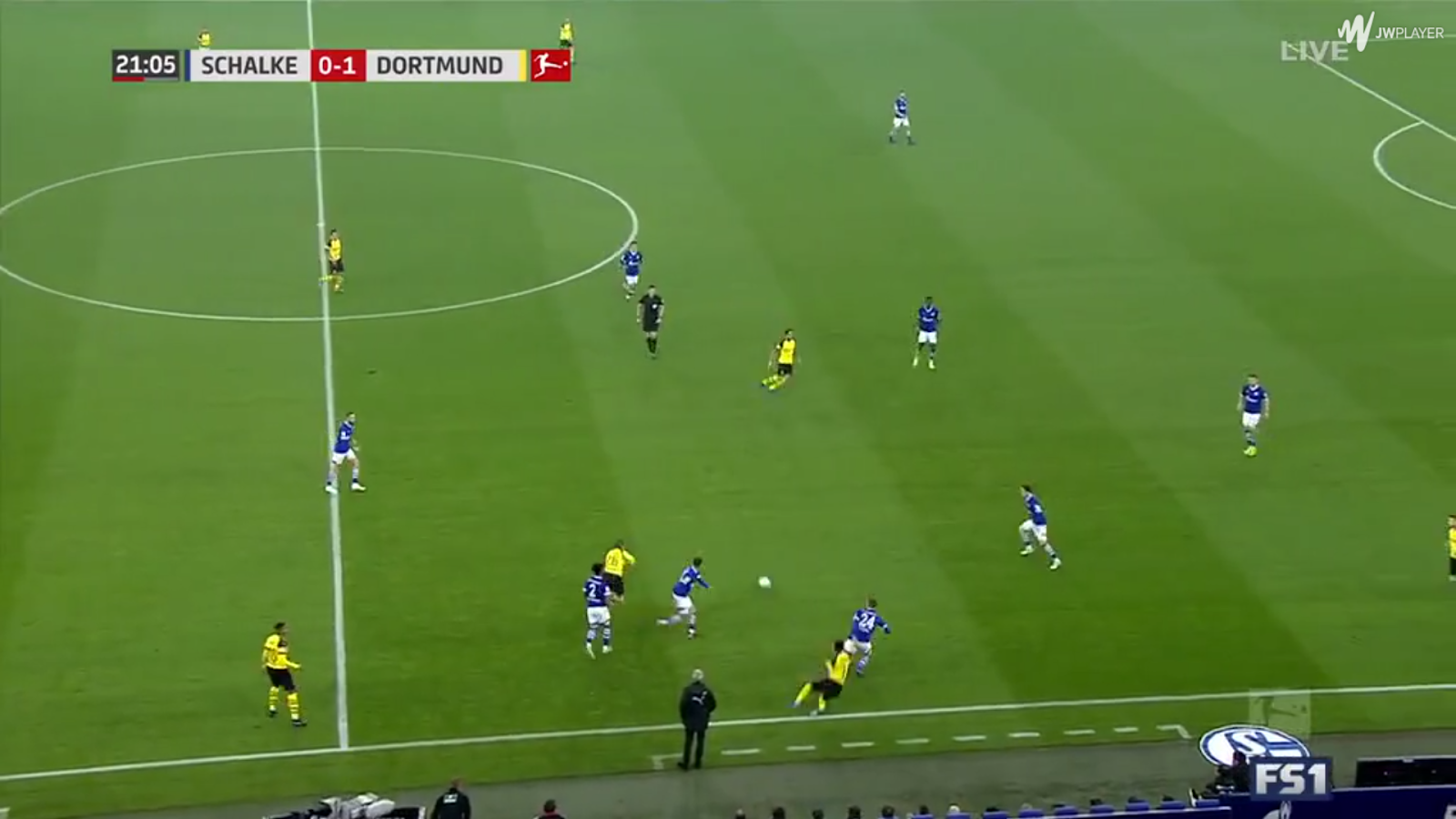 Reus makes a forward run into the space left by Sancho dropping off. This space is then exploited by Łukasz Piszczek who makes a run into space.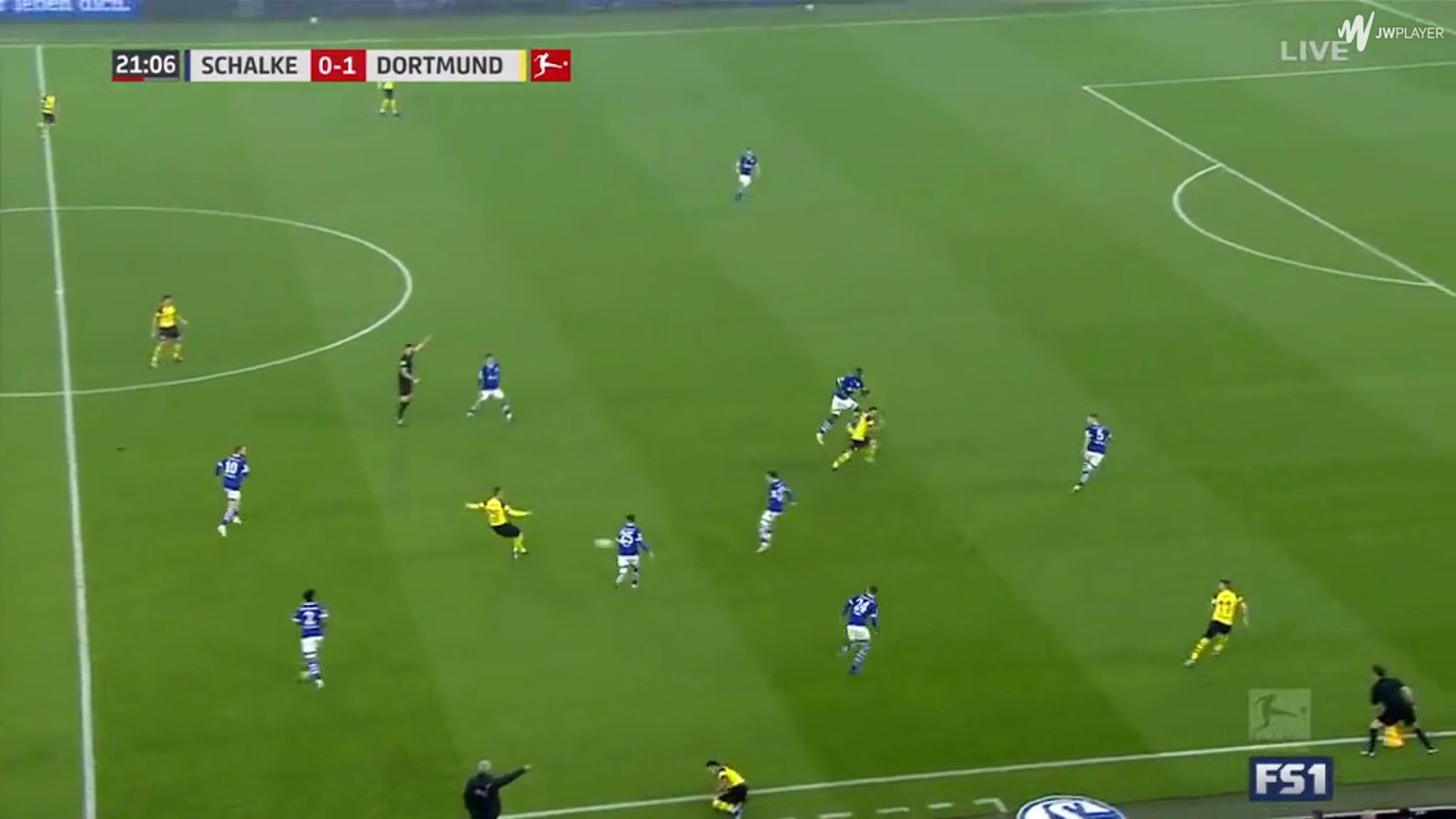 This prompts Bastian Oczipka to come off his line and press Sancho, allowing Piszczek to play a through ball towards an unmarked Reus.
To summarise this idea, the space created by an opponent moving out to press a player receiving the ball in space can then be occupied by another player. As long as the player around can play fast football to get the ball to there e.g. moving to make an option quickly then space can be exploited e.g. in the images above. The effect of the players being in such good access can be compounded with the second point. 
Always Try To Attack Quickly
Attacking quickly is somewhat of a norm in German football. It is difficult to find a team that play football in a 'slow' way, often passing sideways and backwards. This idea of fast transitions can lead to very big chances; counter-attacks that can leave players in very big spaces are based around the same principle as Dortmund's vertical football. 
The main idea of this is to create space by having fewer defensive players in front of the ball – if the ball is moved vertically quickly then the players who have had the ball pass them will not be able to get back in front of the ball. Because players can't get back, they leave spaces that could usually be filled by a player being able to get back. 
Know How To Move Intelligently in the Final Third
A massive feature in how this Dortmund team were able to score so many goals was due to how smart the players were in their movement in the last third. The players knew how to move to create themselves a shooting opportunity – through making themselves small pockets of space in the last third and finding space in goos areas. In the final third for Dortmund, it was usually the striker who caused the most disruption in an opponents defence in the last third. One example of this is Paco Alcácer here when he makes space for Reus.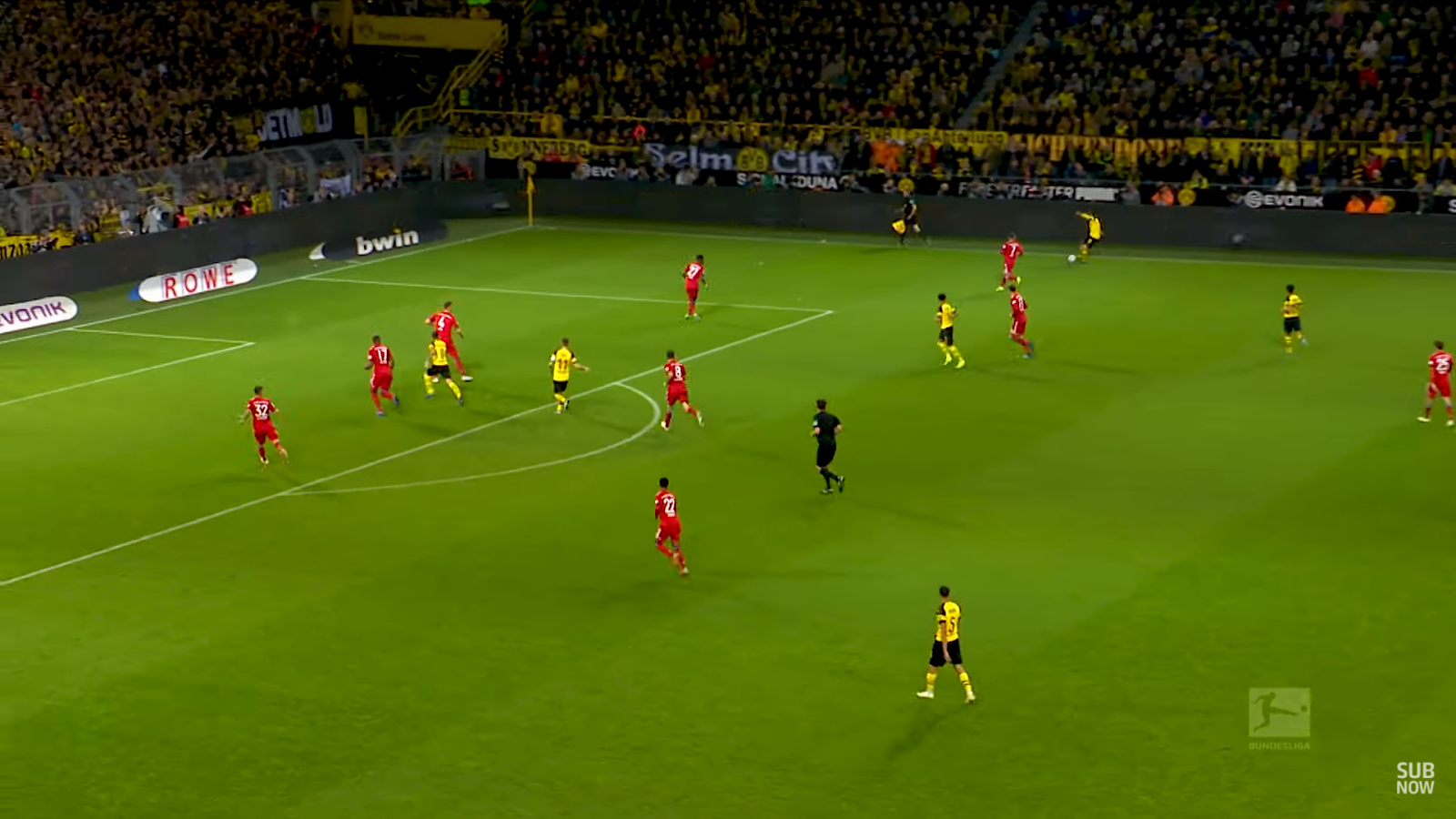 Alcácer makes the run which forces Jérôme Boateng and Niklas Süle to run forwards making space in the box for Reus to score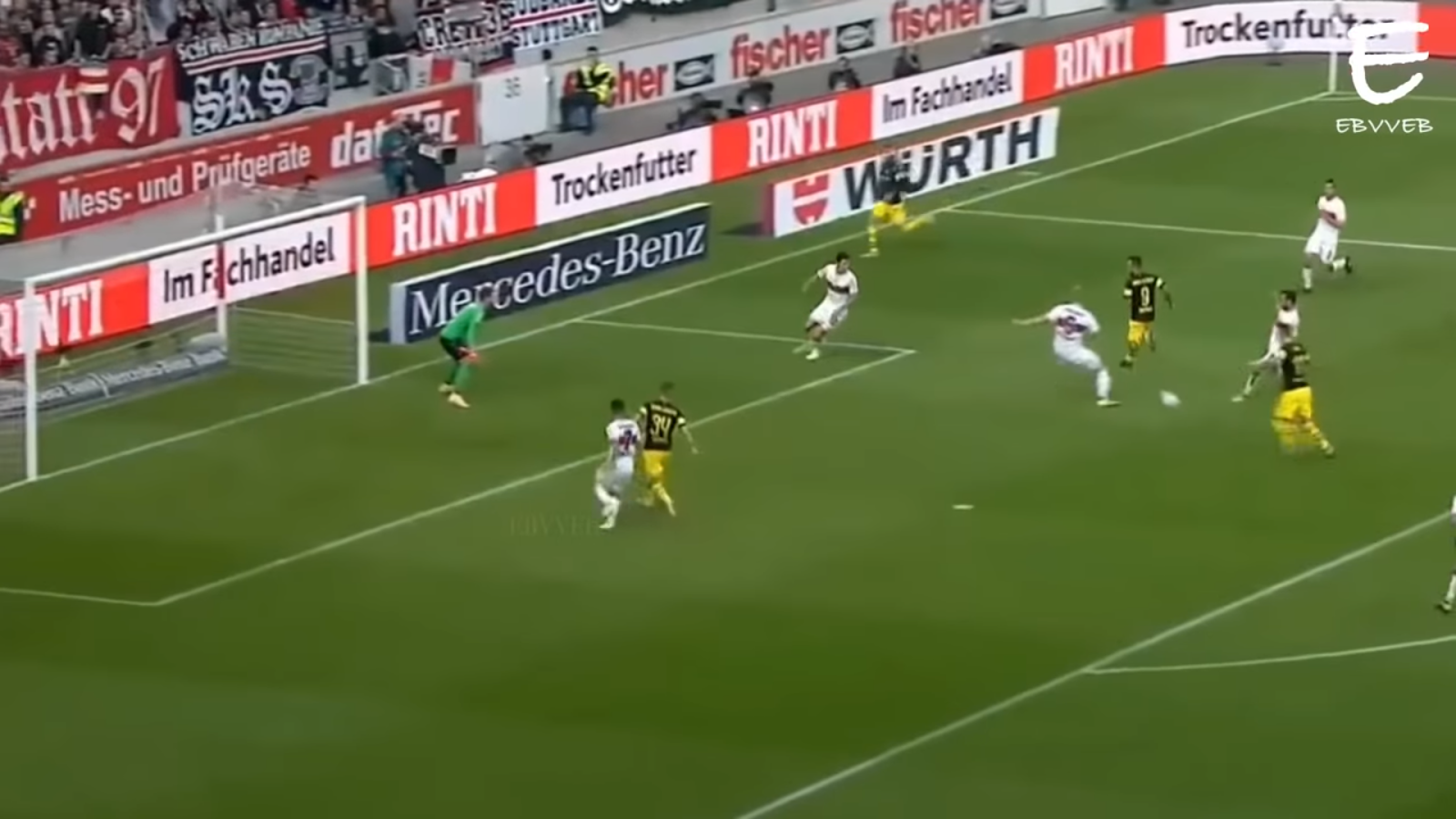 This is the best example of a dummy run for Dortmund – Alcácer attracts 2 players which gives Reus lots of space against Stuttgart's defense
The space that is made for the Dortmund players through dummy runs and faints (which trick a defender into thinking an attacker will make a run into a space) is exploited so well because Dortmund attackers are proactive in finding space. This is done by attackers scanning their surroundings and from this finding open spaces where they can create or score. 
Conclusion 
From this Dortmund team, a lot can be learnt about how to create a lot of quality chances consistently. Smart movement and vertical football can create big spaces which therefore create chances. This combined with good runs and players always using their brain when doing things creates a brand of football that is effective yet a spectacle to watch.
Borussia Dortmund narrowly lost the league title to Niko Kovač's Bayern Munich, whilst being eliminated by Tottenham Hotspur and Werder Bremen at the Round of 16 in their cup competitions. Nevertheless, there is plenty that can be learned and studied from the 2018/19 Dortmund side, and plenty of reason why Lucien Favre won't be out of a job for too long.
By: Harry Jones