What Can We Expect from Roger Schmidt's PSV Eindhoven?
After spending the past two years managing Chinese Super League side Beijing Guoan, Roger Schmidt, who captured the imagination of thousands with his gegenpressing and beautifully aggressive and direct offensive patterns during his time at Bayer Leverkusen and Red Bull Salzburg, has returned to Europe. This time, Schmidt is with PSV Eindhoven in the Netherlands. 
There are factors that make this project very exciting, and one of them is the squad. This group contains young, creative, thrilling players that have high ceilings such as Noni Mudieke, Mohammed Ihattaren, Ritsu Doan and Donyell Malen to name just a few. These exciting and compelling prospects, alongside a handful of older senior players, ensure that this is a balanced squad that promises to supply an intriguing campaign.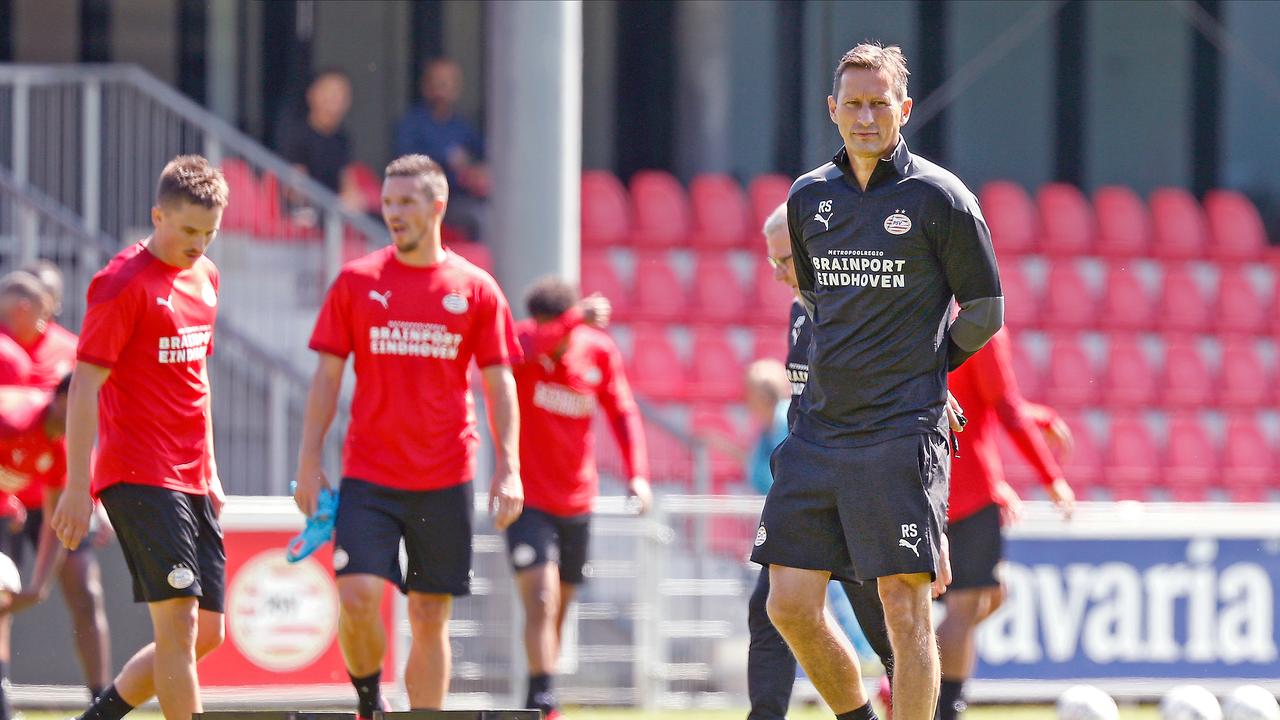 Photo: Pro Shots
The truncated 2019/20 Eredivisie season was nothing short of a disaster for PSV, who finished fourth behind Ajax, AZ Alkmaar and Feyenoord. However, the arrival of Schmidt not only ensures a cultivating and dynamic style of football, but the promise of a genuine title challenge.
This article will be focusing on the tactical aspects of PSV's first preseason match, which saw them defeat SC Verl 3-0 at the Stadion an der Poststraße. While their Eredivisie opponents won't be as weak as Verl, who currently compete in Germany's third tier, this friendly does give us some insight into what we can expect from Schmidt's PSV ahead of the 2020/21 season.
Game: SC Verl 0-3 PSV (1-4-3-3 v 1-4-4-2)
In Possession
Build-up (Goal Kick)
PSV always attempted to build from deep when possible, but the option to play long diagonal passes was always available if they could not construct adequate sequences and combinations to bypass the pressure, especially given that this particular opposition pressed extremely antagonistically.
They used the intensity of their opponents to their advantage as they would always exchange a short pass between the goalkeeper and a central defender, which would then draw the front three of SC Verl further forward and narrow, creating space for either fullback to receive, and allowing them progress down either flank.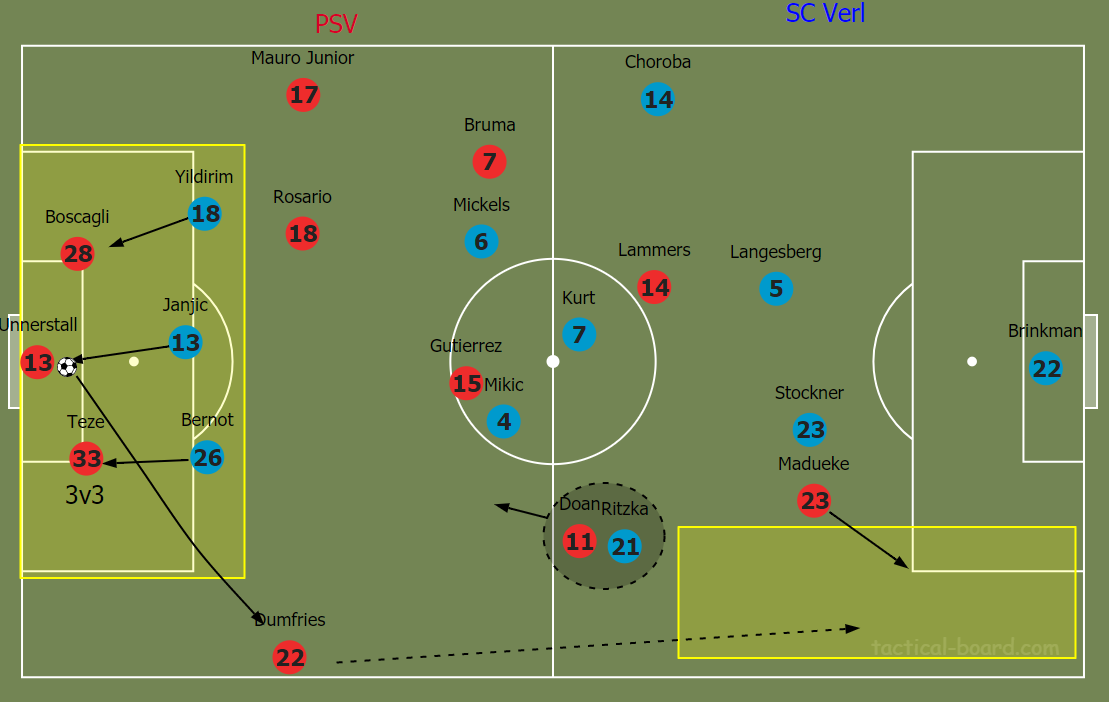 Build up (General Play)
SC Verl is highly aggressive and proactive when out of possession. The front three of SC Verl become very narrow when pressing, and they do so based on ball orientation. For example, when PSV have possession on the left side of their own defensive third, the entire Verl team screen and shift to the left, to deny their opponents clear and short passing options, thus underloading inaccessible spaces which in turn creates numerical superiority in the ball area.
The flaws within SC Verl's pressing system were effectively exploited by PSV, as they would circulate the ball efficiently and naturally create scenarios of greater numerical superiority in order to progress through the thirds, predominantly through the outer corridors.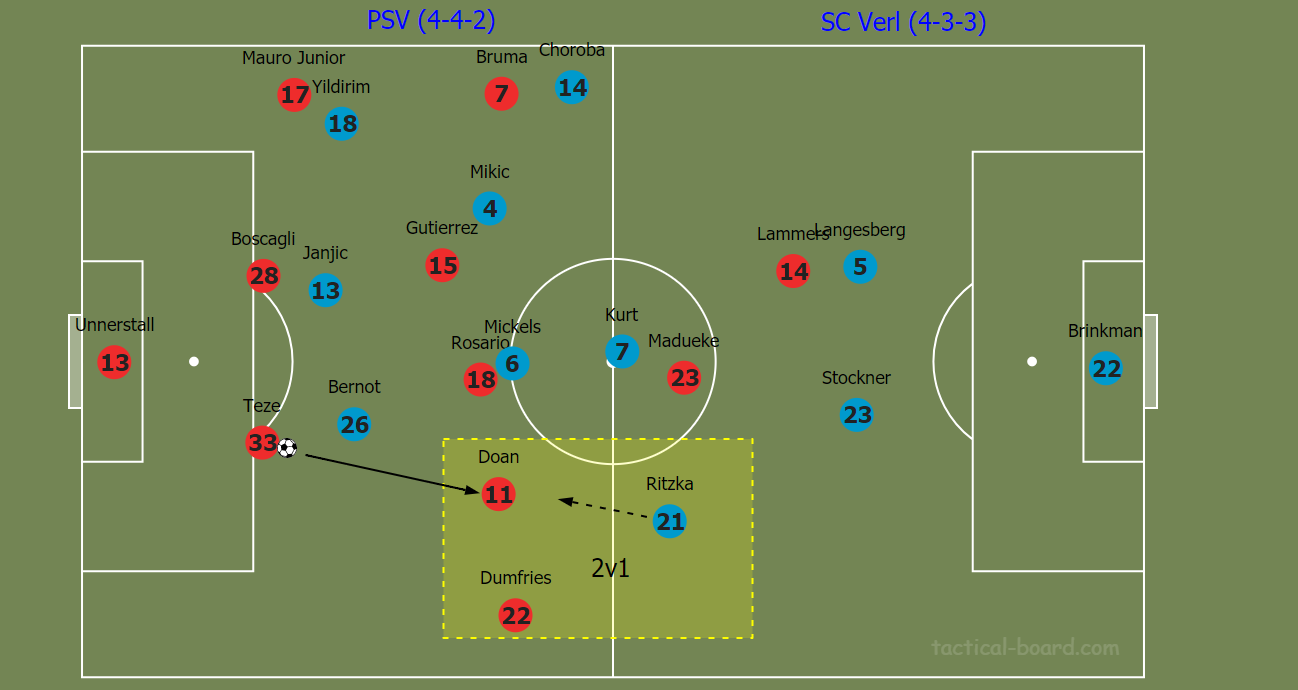 Midfield 3rd Progression
Midfield 3rd progression focuses on how a team transitions from general build-up to a more penetrative and direct offensive phase. PSV progressed into the final third by exposing space and SC Verl's fragile pressing system, which had many potential areas of weakness that were bypassed and exploited efficiently by Schmidt's side.
The main method of progression was their intelligent use of the half-spaces (the space between the wide and central players). Players such as Madueke and Doan would come inside into the half-space, offering a progressive and line-breaking passing option, before either turning onto their back foot and attacking the space or laying it off to the fullback.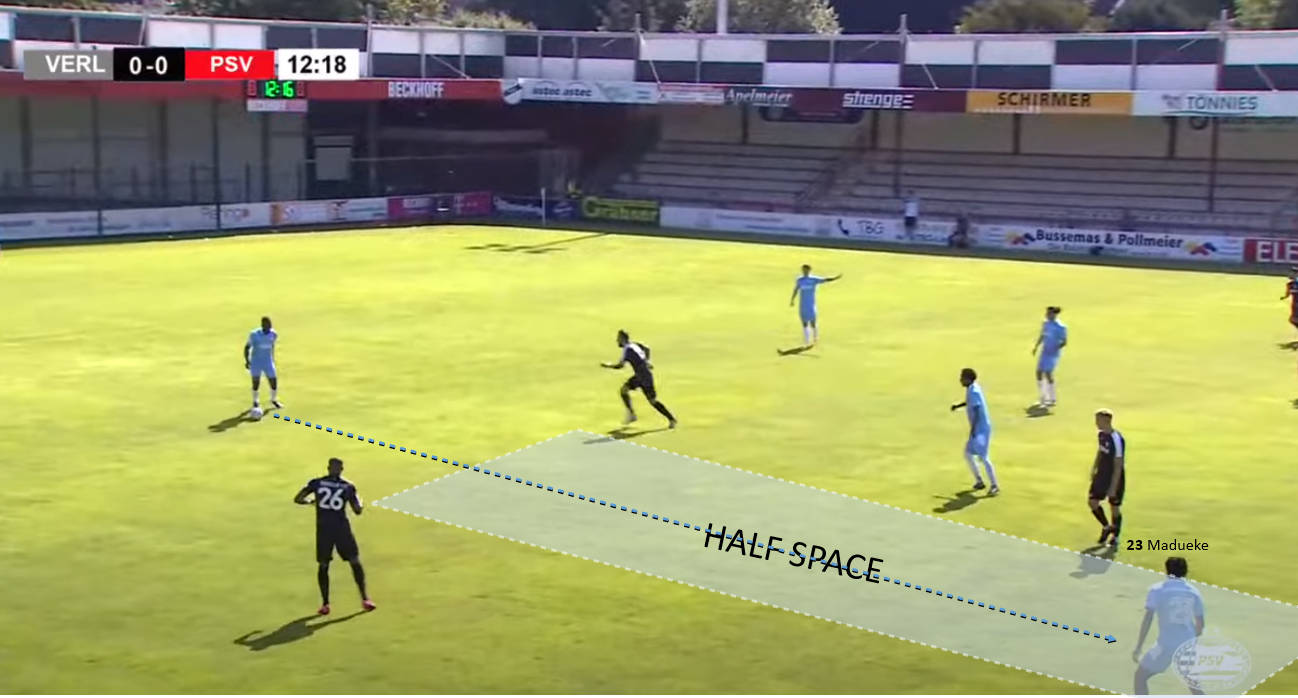 Final 3rd Penetration (Wide and Central)
Wide Penetration
When the ball was circulated wide to either flank, the relevant midfielder (Erick Gutiérrez, left and Pablo Rosario, right) and Madueke, who operated as a false nine, moved laterally to support and create overloads against the opponent's respective winger and fullback to create a 4v2. The numerical superiority ensured that PSV progressed with ease and most importantly space, regardless of the method used to attack.
Creating space in a 4v2 scenario in the outer corridor was straightforward as it put the fullback in a dilemma of whether he should press Madueke or stay with Bruma. Regardless of his decision, one PSV player would always have time and space to attack into the final third.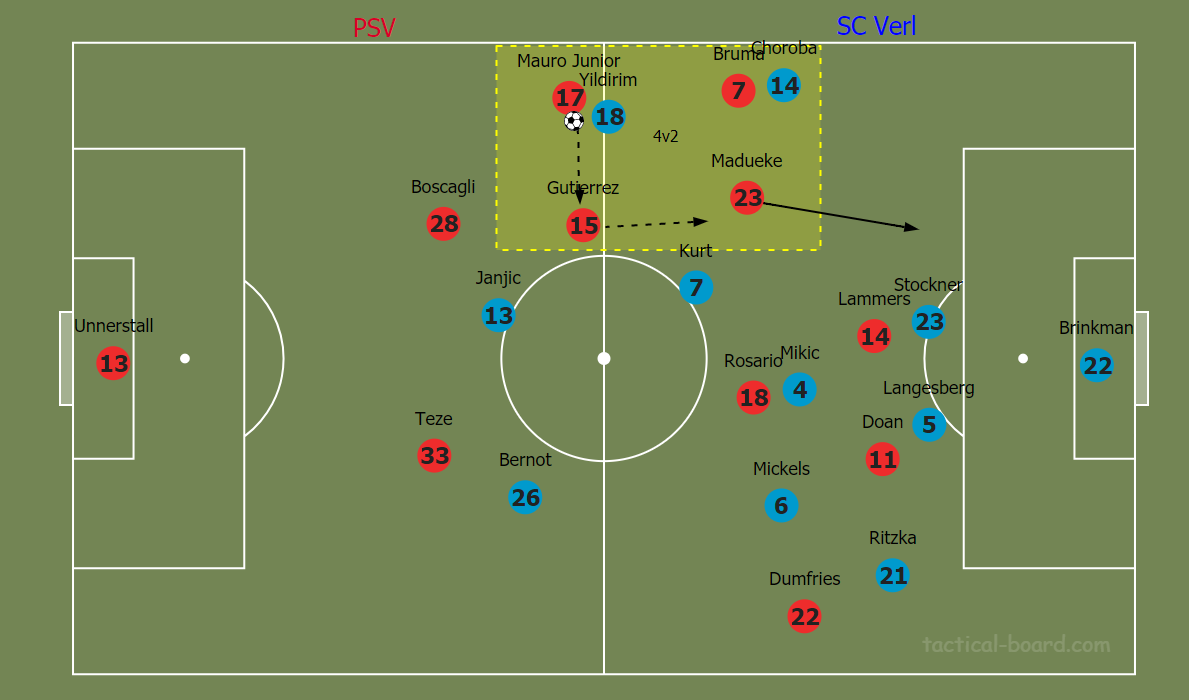 PSV also utilised the third man in the wide channels, relying on either winger to come infield, dragging the opposition fullback with him, and allowing their fullback to expose and infiltrate the space vacated.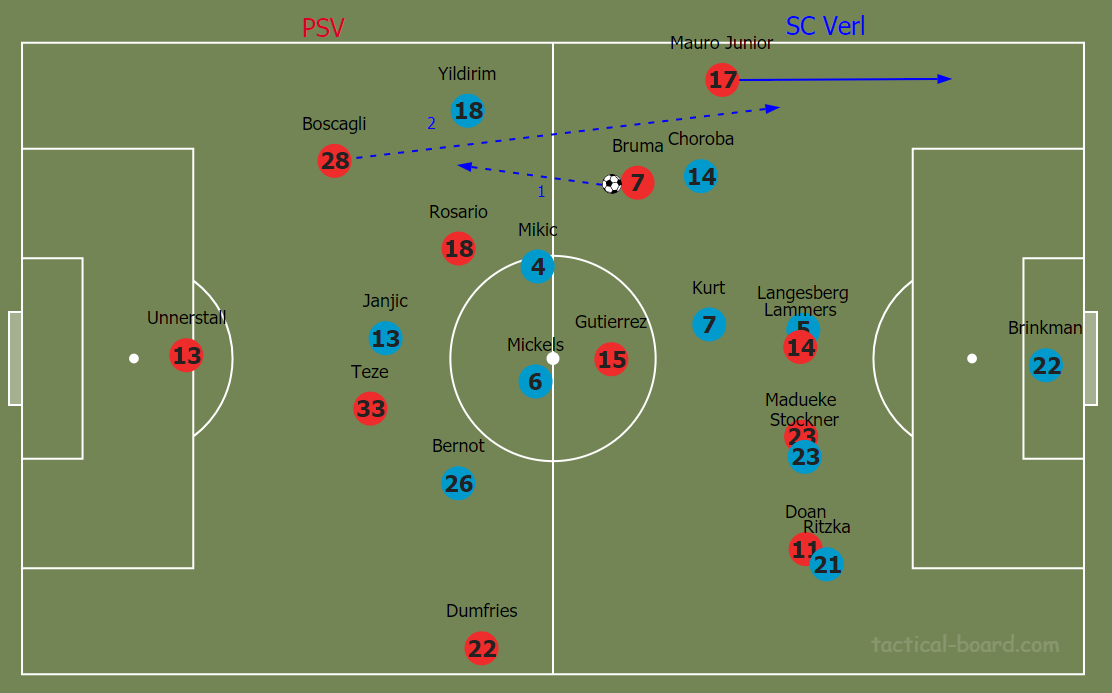 Central Penetration
In order to penetrate centrally, PSV would firstly play the ball wide, which would consequently create space centrally as SC Verl's players would press the wide areas, creating space in between the lines and stretching the half-spaces which players such as Madueke would accommodate to create progressive passing options.
Upon receiving the ball, Madueke uses his pace to attack and expose the space to create goal-scoring opportunities for himself or surrounding teammates.
Out of Possession
Final Third Defensive Transition
Upon possession loss in the final 3rd, PSV's counter-pressing/gegenpressing immediately begins. The closest player to the ball initiates the press and the surrounding players immediately join in. It is clear that the pressing system is ball-oriented as they are not attempting to direct the opponent in any specific direction, only simply to win the ball.
Midfield Third Defensive Transition
After losing possession in the middle third, the defensive shape is determined by the positioning and movements when in possession. The closest player to the ball aggressively presses and the surrounding players immediately recover to mark their opponent.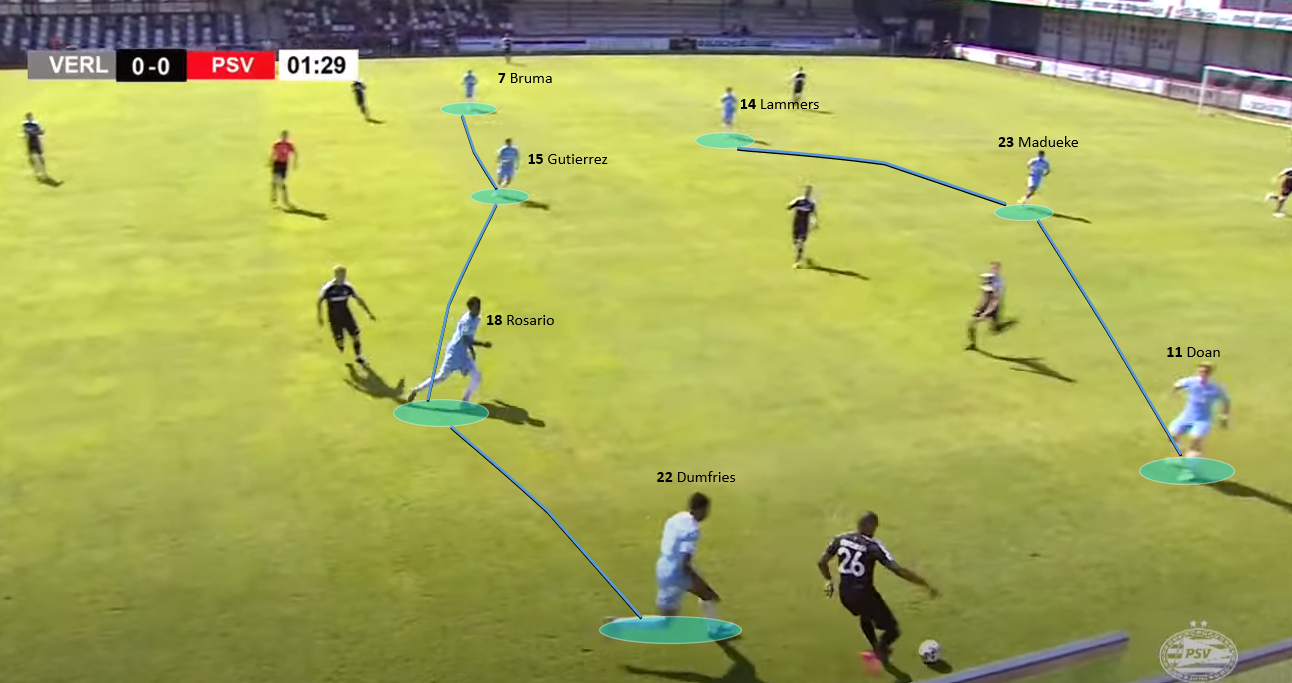 The pressing remains aggressive with each opposition pass and once again, they never appear to be forcing the opponent is any particular direction, only striving towards winning the ball back in the shortest amount of time possible.
One clear feature was that they attempted to use an offside trap, as the back four instantly pushed up which also corresponds with their principle of applying pressure and limiting time and space. 
Pressing
When SC Verl distributed the ball into the outer corridors during the build-up phase, PSV would intensely press in an asymmetrical 4-4-2, as the ball side wide players (relevant full-back and winger) would apply pressure deep in the opposition's defensive third and structure a momentarily 3-4-3.
Alongside the pressing runs of the wide players, the remaining players would become very compact, creating smaller distance between themselves, defending as a unit and consequently forming double and triple teams by underloading inaccessible spaces, as displayed below.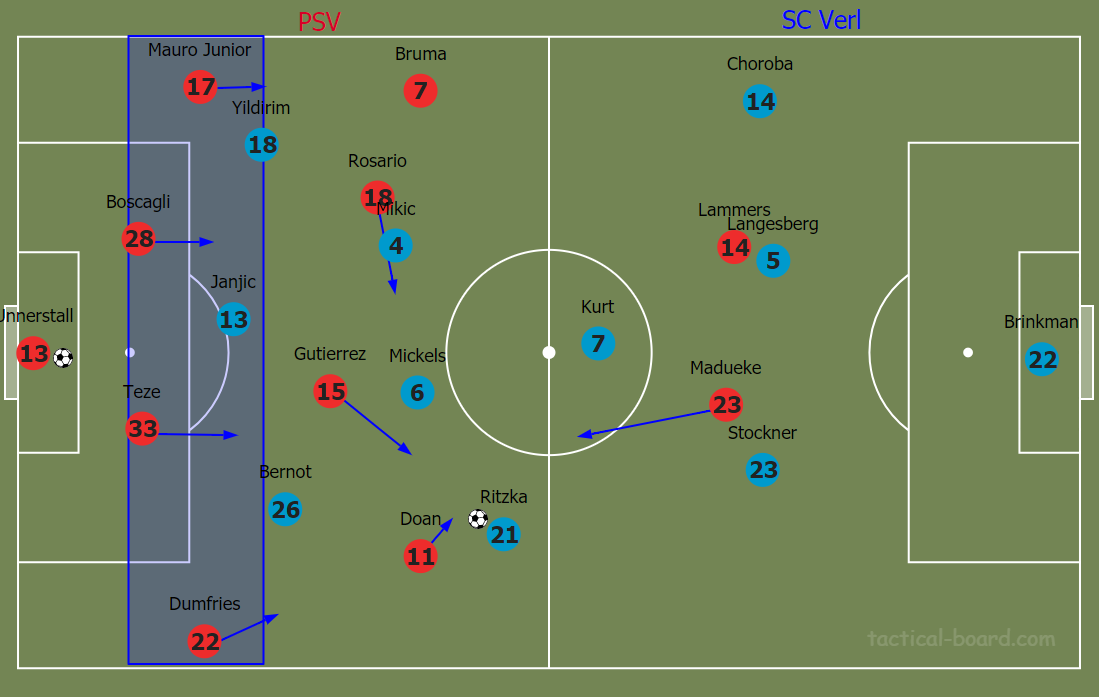 Defensive Organisation
When out of possession, Schmidt's side formed a disciplined and structured 4-4-2. They defended in a high block for the majority of the game, but they had a medium line of engagement as they would patiently wait for either centre back to drive into the midfield third and this would be the pressing trigger.
From that point, the ball-side winger, midfielder and striker would apply pressure and deny passing options, resulting in either turnovers or backwards passes to the goalkeeper.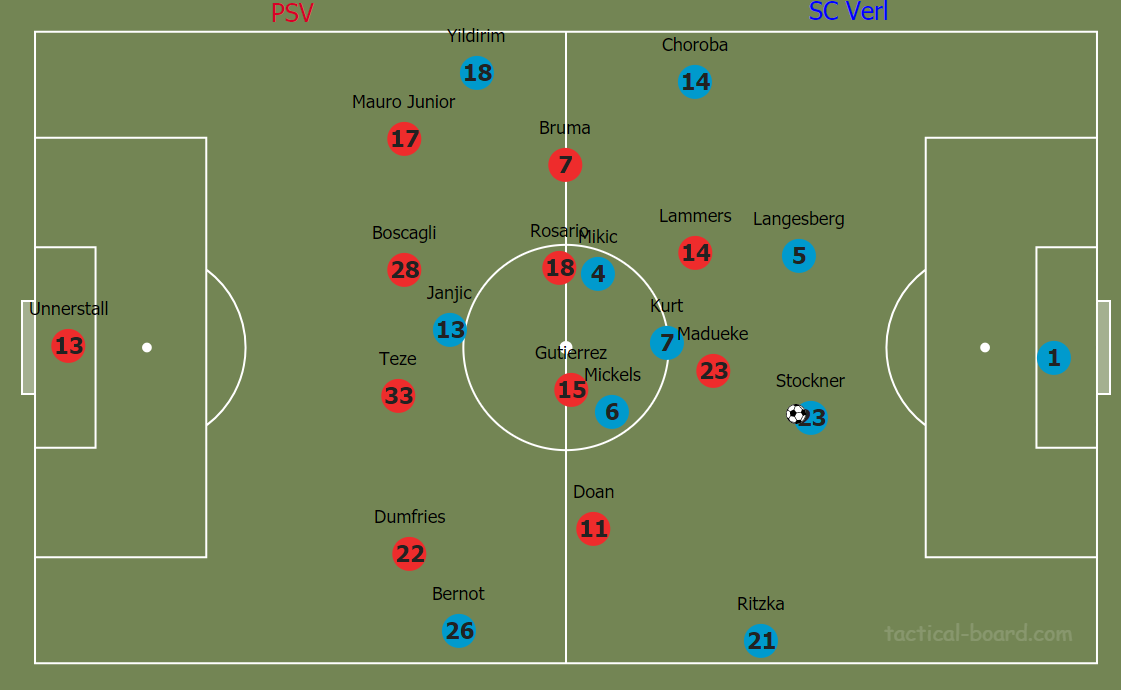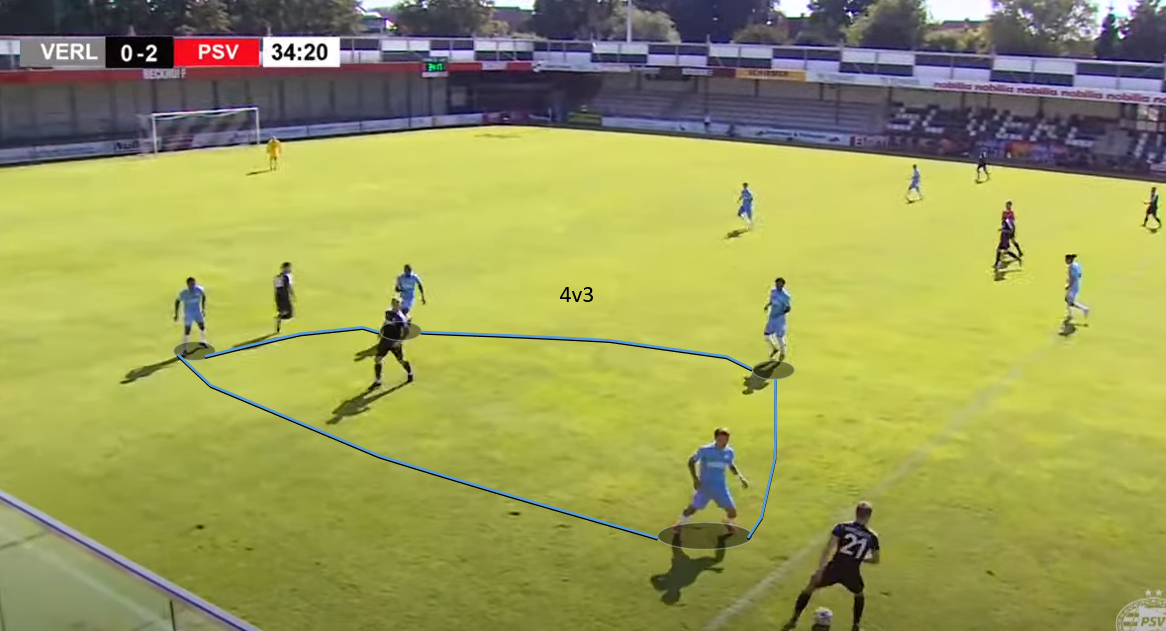 PSV clearly attempted to restrict passes centrally and enticed Verl into passing wide to their fullbacks. When these scenarios occurred, PSV would shift and screen across and use the touchline as the secondary defender, making the opposition's play predictable and causing them to fall into the trap of overloading the ball-side and underloading inaccessible areas.
Conclusion
Whilst it is clear to see that there are some characteristics that are synonymous with Schmidt's teams, such as the aggressive pressing and overloading the ball sides to achieve numerical superiority, it was interesting to see Schmidt experimenting with new player roles and pressing concepts.
The clear example would be the false nine role of Noni Madueke and how PSV formed a momentarily 3-4-3 when the opposition distributed the ball wide in the build-up phase. Furthermore, while Schmidt's teams are heavily oriented on verticality, it was clear that PSV had the patience and were prepared to play the ball wide first in order to penetrate Verl centrally by creating space. 
Of course, pre-season is a period of experimentation and focusing on regaining match sharpness and fitness, meaning that PSV's sub-principles are subject to change. Nevertheless, an enticing campaign awaits the 21-time Eredivisie champions and their German manager.
By: Lewis Roberts
Featured Image: @GabFoligno / Soccrates Images / Getty Images