What Makes Diego Simeone's Atlético Madrid So Good Defensively?
As Eibar's goalkeeper Marko Dmitrović fired a penalty past Jan Oblak, many seemed to forget it was only the 7th goal Atlético Madrid have conceded this season. Diego Simeone's momentous mix of tactical preparedness and sheer willpower has Atlético renowned for their defensive strength, but averaging 0.41 goals conceded per game this season is beyond even El Cholo's wildest dreams. So how can a team, hampered so heavily by injuries, retain such a strong defensive record?
The Slovenian Wall
Well, the answer to that question begins right at the back. Only Benoît Costil of Bordeaux has as many clean sheets (11) this season as Jan Oblak, and he's played three more games. The imperious 28-year-old is the defensive figurehead in Simeone's side since joining from Benfica seven years ago. 
As shown in the graphic below, every shot on target from further than the penalty spot has been denied by Oblak; a magnificent feat and is a compliment to the concentration of the Slovenian shot-stopper. When your team is so organised defensively, shots on your goal can be few and far between, but Oblak remains focussed and has pulled off some quite outstanding saves. If the only goals you're conceding are in and around the six-yard box, you've done your job as a goalkeeper.
In terms of goals conceded, Atlético Madrid's expected goals conceded (xGC) is 14.63, double what they've actually let in. It's fair to say this is most definitely helped by possessing the world's best goalkeeper, Jan Oblak.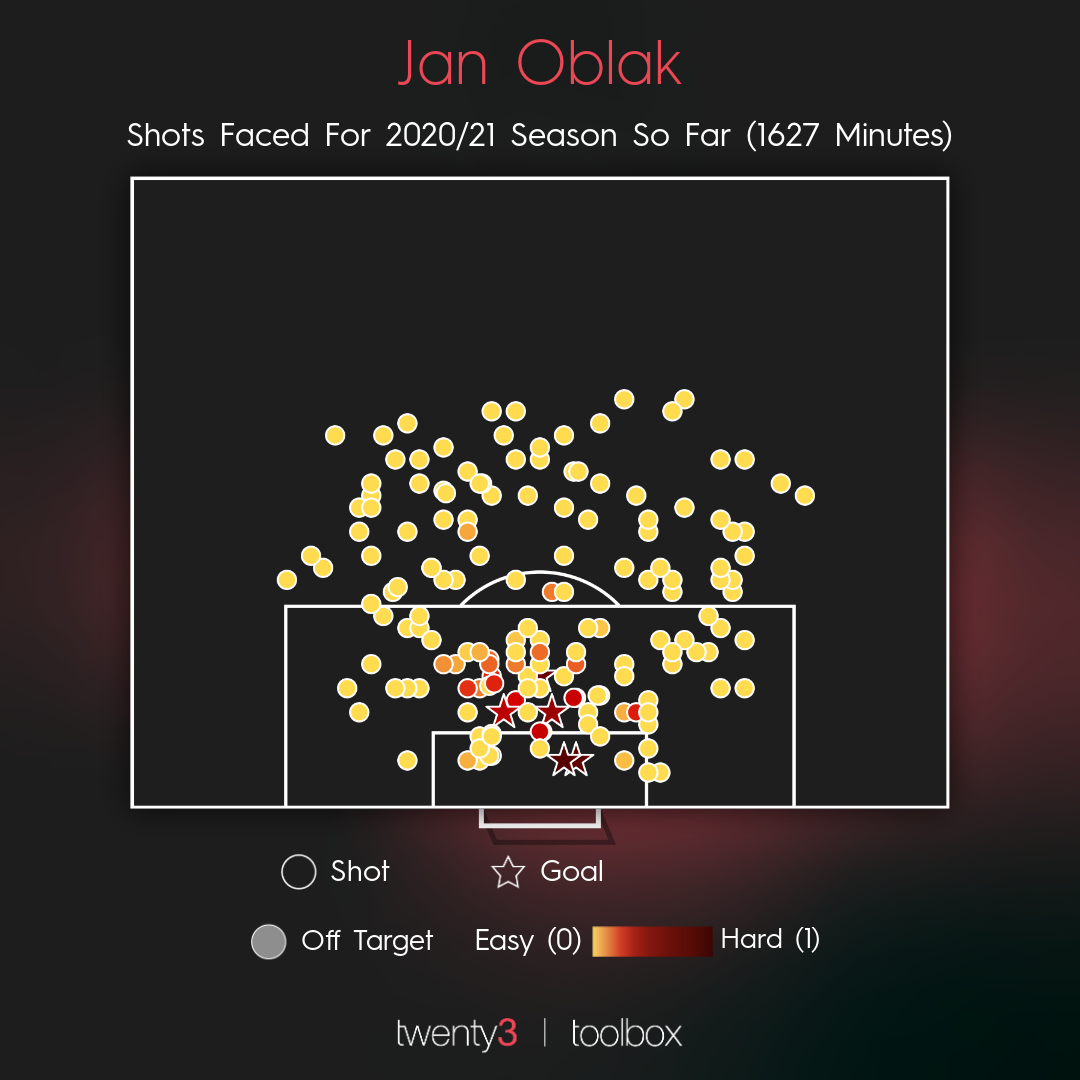 Dmitrović's strike from 12 yards out is the furthest strike to beat Oblak this season [Twenty3/Wyscout]
Simeone's Change of Shape
There used to be fewer things certain in football than Diego Simeone utilising a 4-4-2 formation. But times have changed. With the introduction of players like Luis Suárez and of course João Félix for a record-breaking fee, two banks of four do not have quite the same impact. What this has seen this season is Simeone's daring flexibility, rather than an attempt to shoehorn creative players into a more disciplined system.
Whilst a 4-4-2 was used in five of the opening seven La Liga games, Atléti's defensive shape has been changed to predominantly a back three. This is intriguing as multiple defensive woes, including the commanding José Gimenéz and Mario Hermoso, do seem to leave them rather short-staffed at the back. Gimenéz especially so, as the Uruguayan has missed eleven games this season. Despite this, the exceptional performances of Stefan Savić and Felipe Monteiro have allowed Atlético to continue with a three-at-the-back approach.
The three at the back works well for two reasons: the quality of the central defenders and their positional awareness to close space and protect the box. Second, the willingness for the whole team to defend and force teams wide to put in crosses. The crosses, of course, are dealt with expertly by the central defenders.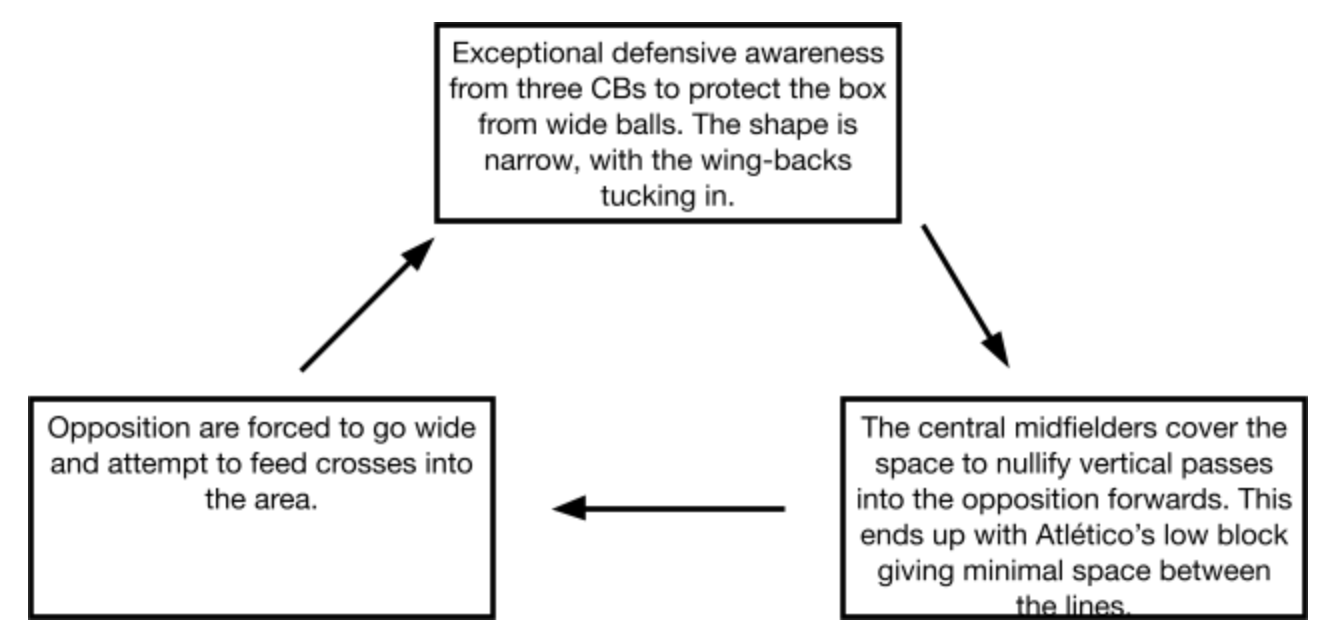 It's a simplified model of what's actually taking place as the defending midfielders and recovering forwards have precise roles in protecting their space but is an easy way of explaining how simple defending and doing the basics can be so effective. This of course worked well in a 4-4-2 formation, but simple mathematics will tell you that having one more central defender will give less space for the opposition in the penalty area.
And that's just what it is. It's the basics of defending that so often get lost, even at the top level. It's easy to look at the statistics and think, "Wow, Simeone must have some tactical masterplan", but the reality is he doesn't. He drills his players to their core that working hard and limiting space in your final third will ultimately result in fewer chances for the opposition. The profile of the players he brings in has to love defending, and that's why the system is often hard to replicate at such a high level.
Of course, there are still problems with Simeone's change to a back three. You could see it against Sevilla. Youssef En-Nesyri occasionally managed to sneak between two of the central defenders in transition. Hermoso has been caught out wide and Gimenéz, instead of recovering, comes towards the ball. This allows En-Nesryi to escape in behind the defence.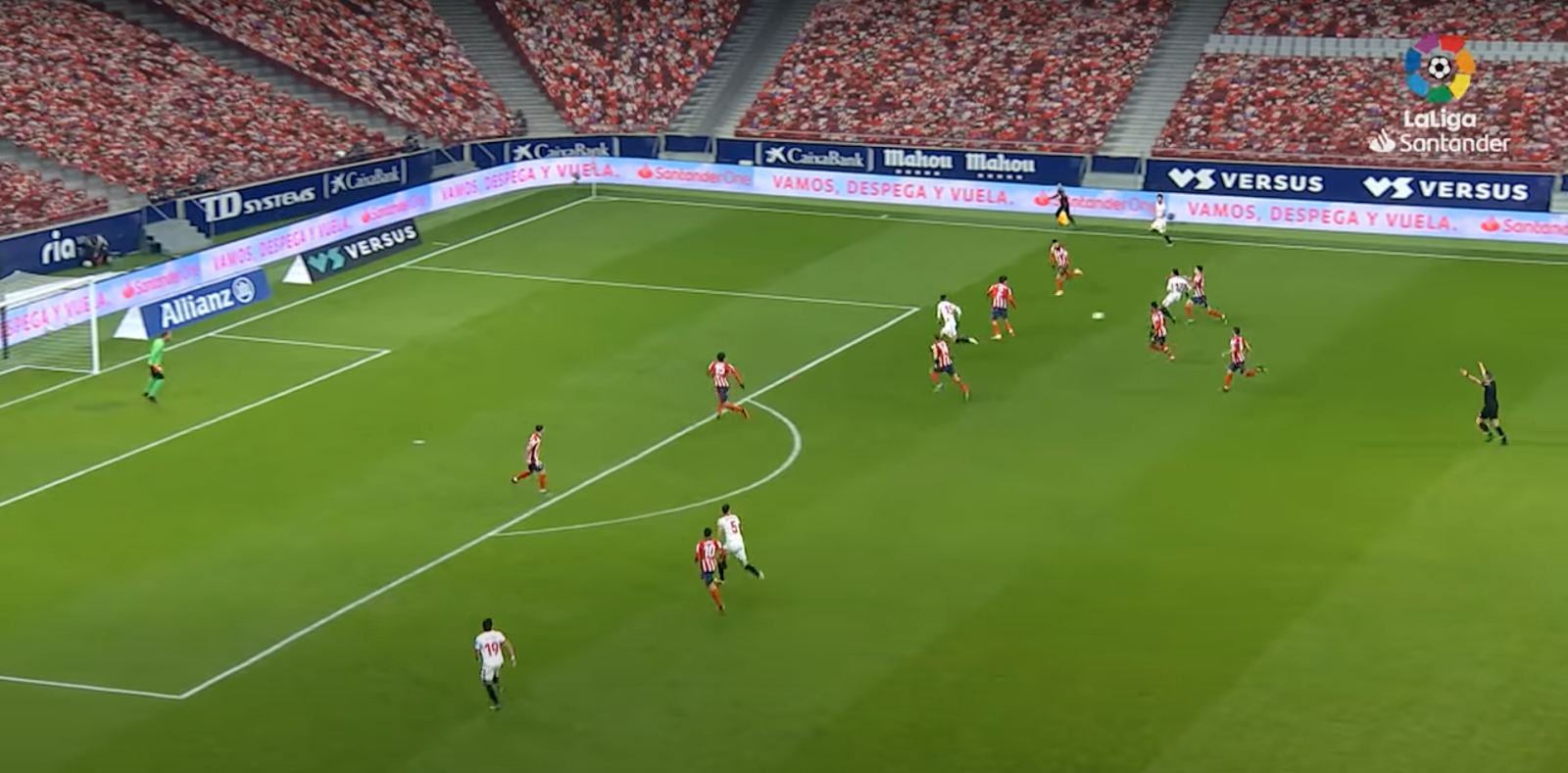 This is a rare occurrence but it highlights that the Atlético players may not quite be comfortable in their new shape and can be exploited against higher-quality teams with pace to hurt you. Concentration and awareness is crucial in Diego Simeone's defensive system. After years of a 4-4-2 shape, reliant on defending before attacking, El Cholo has compromised his principles to allow more creative players the freedom to go out and attack. 
There were questions as to whether this change would damage Atlético's 'defend first' philosophy, but it has in fact done the opposite. Not only are they the second top scorer in La Liga, but they have conceded just seven goals this season, eight less than the next best team. Top-quality centre-backs, determined on protecting their area, force the opposition to shoot from range. And one thing is certain: you don't beat Jan Oblak from range.
By: Tom Quartly
Featured Image: @GabFoligno / Soccrates Images – Getty Images