What We Learned from Manchester United's 6-3 Defeat to Manchester City
After four consecutive Premier League wins, Erik ten Hag's Manchester United went into the Manchester derby full of confidence. However, they suffered their latest humbling defeat in a terrible 6-3 loss. Following impressive defensive displays against Liverpool and Arsenal, they found themselves 4-0 down at half-time for the second time already this season, with their bad habits of last season rearing their ugly head once again.
On Sunday, Ten Hag's plan was clear from the outset. United were defending in a 4-2-3-1 shape, and were actually incredibly brave, man-marking City's midfield. As you can see below, Bruno Fernandes is locked onto the pivot (in this case Ilkay Gundogan), with Scott McTominay and Christian Eriksen responsible for sticking to the free eights, Bernardo Silva and Kevin De Bruyne.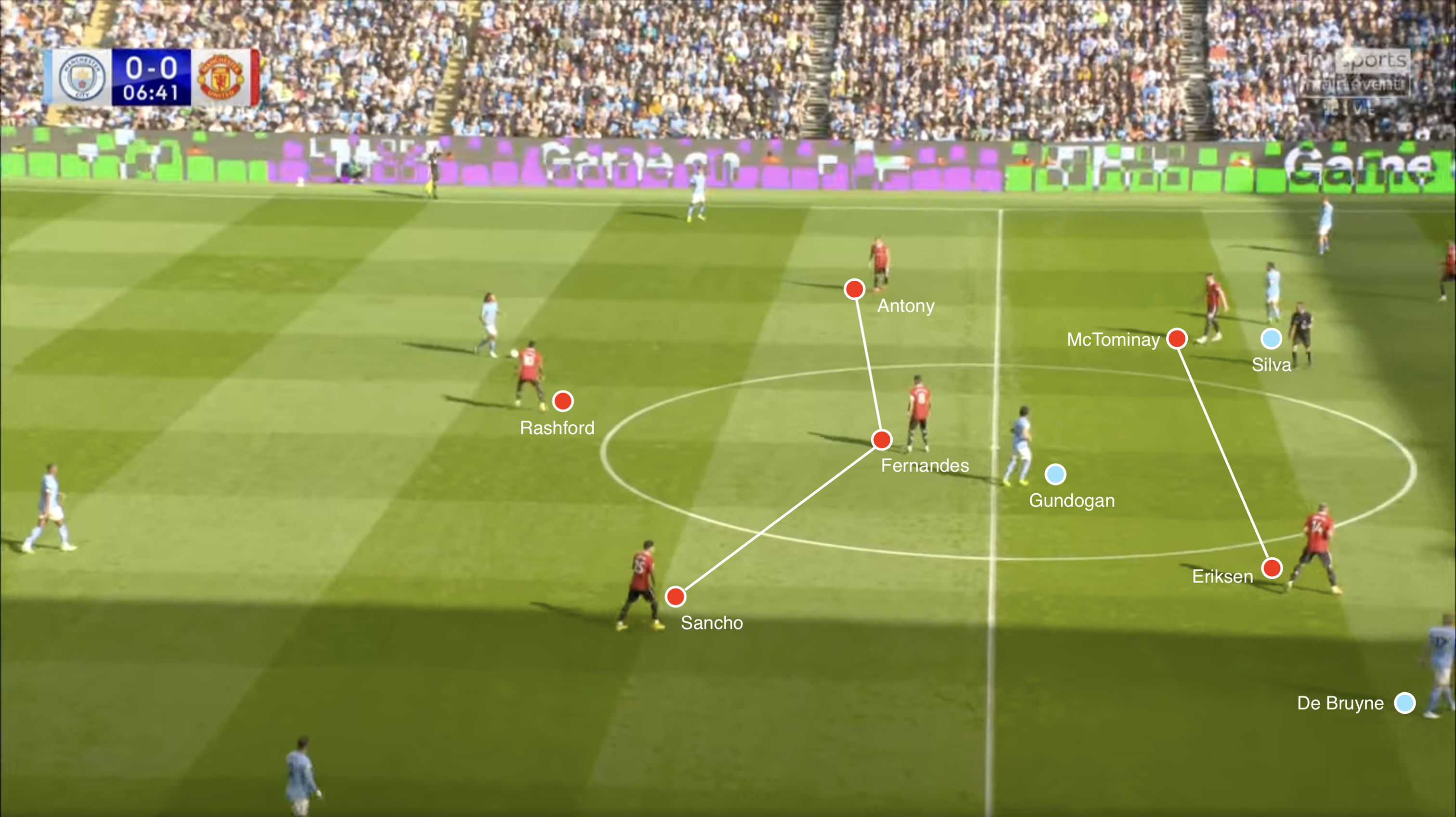 United's unraveling all stems from this man-marking system. Throughout the match, they end up causing a lot of their own problems by being sloppy in possession, and there's an example of this just prior to City's opener.
They actually win the ball in a good position to spring a counterattack, but Jadon Sancho immediately loses possession and they are caught seriously out of shape. Scott McTominay and Diogo Dalot had struggled to contain Bernardo Silva and Jack Grealish all game, and in the build-up to Phil Foden's first goal of the afternoon, they had been pulled in all sorts of directions.
In fact, United are so scattered that when Phil Foden receives the ball on the right-hand side, their back four has essentially become a back seven. McTominay finds himself in the right-back position, where he is clearly uncomfortable, after trying and failing to figure out who he should be marking. His body shape is all over the place.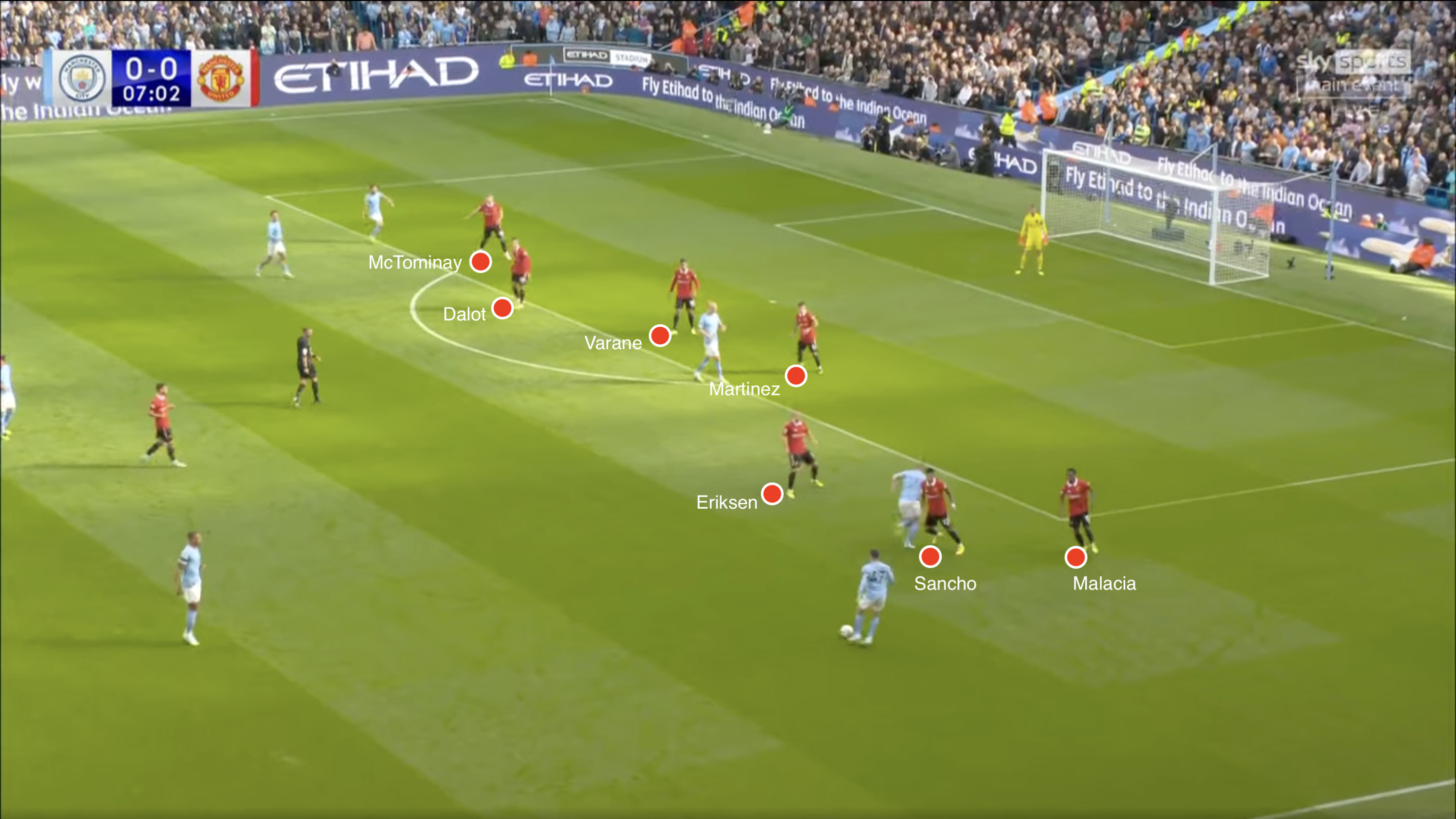 Silva is able to find the space to pull off the customary City cut-back, finding Foden in the middle who finishes into the top corner brilliantly. Eriksen doesn't track the run at all, but really if United had kept their organisation and shape better, they would've defended the cross much more easily.
For the second goal, United are once again established in their pressing shape, and this time deal with the midfield rotations much better, passing marking responsibilities to each other far more effectively. On Sunday, Pep Guardiola asked his free eights, De Bruyne and Silva, to pull slightly wider than they usually would. This created a giant space through the middle, where Erling Haaland was able to repeatedly drop into, providing a progressive passing option to cut through United with ease.
Joao Cancelo bypasses the press by finding that pass into Haaland, who gives the ball to Foden, allowing the Englishman to run directly at United's back four. Some panicked emergency defending prevents City from actually scoring in this phase of play, but it's from the resulting corner that they are able to double their lead. In terms of organisation, though, the third goal was probably the worst.
After a good spell in possession, in which United had established themselves in City's half, impatience set in, and once again a lack of quality on the ball cost them. Eriksen attempts a hopeful but harmless ball over the top, which Ederson claims with ease, and he quickly starts the City counterattack.
United quickly recover into their shape but a really basic rotation sees Silva occupy the wide space while Grealish comes inside. McTominay follows his man, but Dalot hasn't backed up the press, failing to push up onto the City number 10, who is able to run straight through United's massively stretched and vulnerable midfield.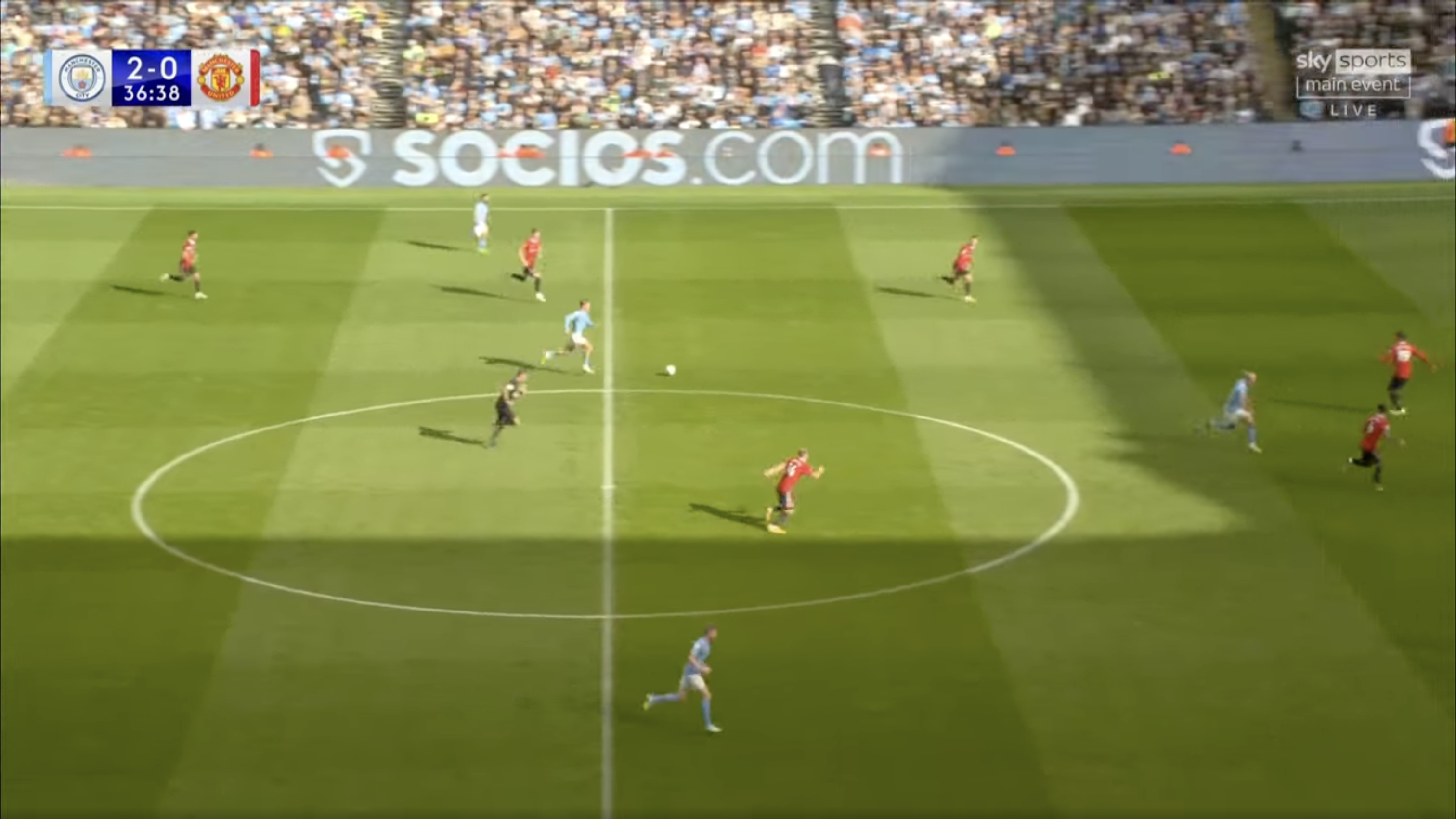 When you leave players like Kevin De Bruyne in that sort of space you're going to be deservedly punished, especially when his deadly half-space crosses are being received by Erling Haaland. It's an extraordinary pass and finish, but it really shouldn't have been allowed to happen. City's fourth, and Foden's second, is quite simply a wonderful goal, and it would be a bit unfair to pin too much blame on United for this one.
Granted, with a different line-up, you may have had Casemiro marking Kevin De Bruyne on the transition rather than Eriksen, whose tactical foul came later than it would have done by a more natural holding midfielder. Despite that, they recover into a good shape and are defending 6v2, but it's a ruthless counter-attack and the pass from Haaland is out of this world.
Tiredness and a bit of low morale had started to kick in by the time Haaland completed his hat-trick. There's a bit of a scrap in midfield to win the ball, but City come out on top and United's players seem to just stand still rather than rushing to get back into their shape.
The hosts are able to easily find the pass out to the left hand side, where Dalot receives absolutely no support from Antony. As a result, substitute Casemiro is forced to pull across to help out, leaving the midfield stretched once again, and allowing De Bruyne space in the middle. The quick wide combination by City is one that we've become so familiar with, and Sergio Gomez find the space to cross low and hard into Haaland, who finishes with ruthless inevitability.
While Haaland's second was the worst organisationally, Foden's third was the most inexcusable. At the risk of sounding a bit 'football man' here, the lack of intensity in United's defending on City's sixth and final goal is simply unacceptable.
This is the one that most resembles what we were seeing in 21/22. Dalot, Fred, and Casemiro all show themselves in a pretty terrible light here, Dalot in particular making shockingly little effort to get back in shape and stop the continuation of his side's humiliation.
Clearly, the plan to man-mark City's midfield didn't work. On those occasions where United's forwards and midfielders pressed aggressively, it wasn't supported enough by the back-four. For example, Haaland wouldn't have had so much success dropping into midfield if the centre-backs stuck to him.
Similarly, McTominay wouldn't have been given the run-around quite so severely had Dalot backed up the press and kept close to Grealish. It was a poor defensive display from a group of players that were visibly struggling to execute the game plan, you could argue that never should have been the plan in the first place?
This squad has built a reputation as a team that struggles out of possession, particularly when trying to defend on the front foot, so you could argue ten Hag is to blame for choosing such an aggressive strategy? With the inclusion of Casemiro and a shift from a 4-2-3-1 to a slightly deeper 4-3-3, the Dutchman could have fielded a side with a bit more protection, while still man-marking City's midfield three. This is how something like that may have worked.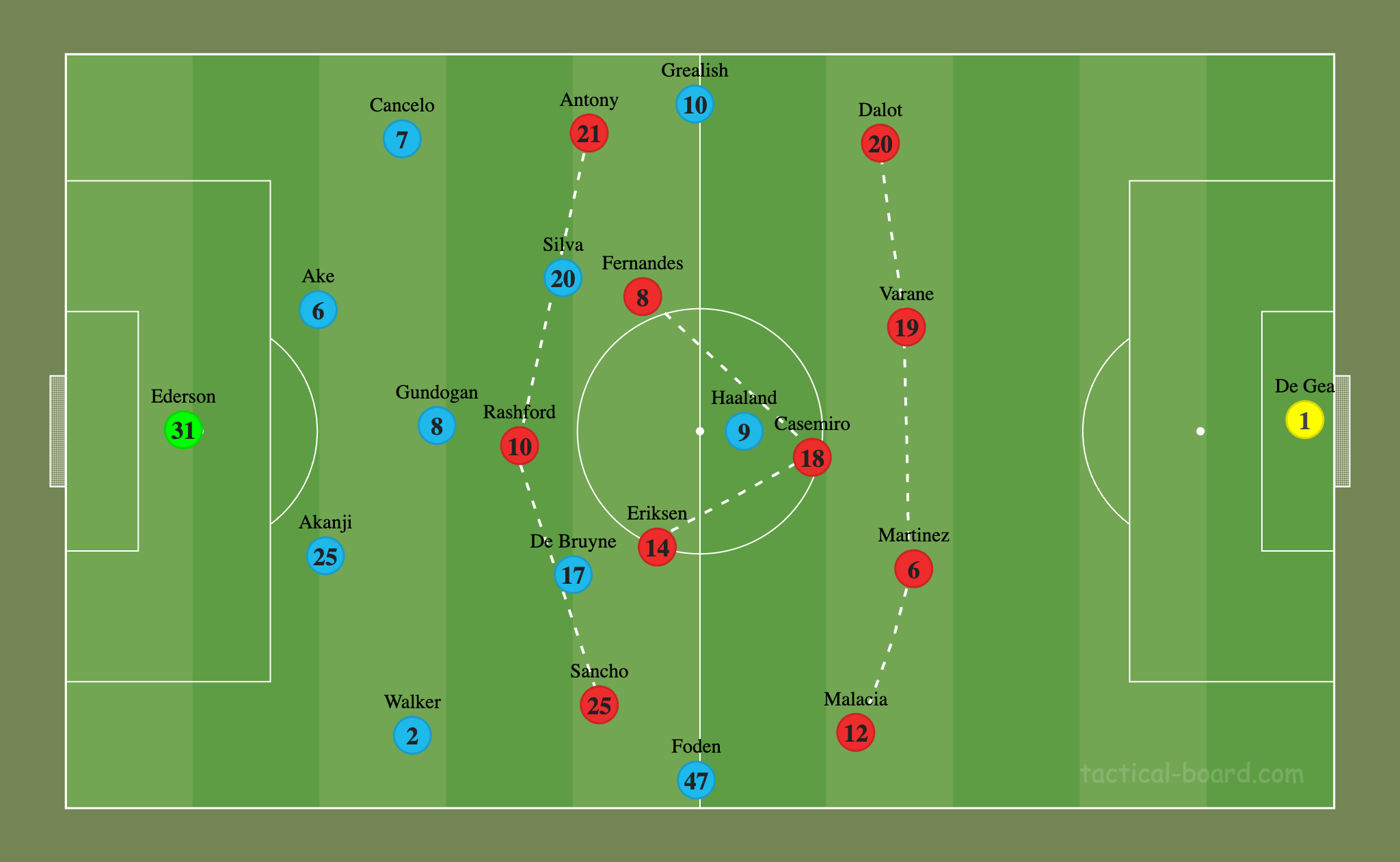 Here, Casemiro not only helps to better protect against Haaland coming deep, but also offers another level of security on the transition in the event that man-marking the free eights fails. You'd have to sacrifice some of the pressure on the centre-backs by dropping Rashford onto the pivot, but you'd rather have Manuel Akanji and Nathan Ake have time and space on the ball than Gundogan, De Bruyne, or Silva.
It would be fair to call ten Hag's plan at the Etihad a bit naive. Guardiola's City are possibly the best team in the world, and are one of the best in the history of the game, so there's no shame in compromising your more offensive and aggressive principles in order to be a little more secure against them. United's manager needs to find a balance.
Some of these players may never be good enough to do the things that ten Hag wants them to do, but he's at the start of a very long journey to implement his footballing philosophy at Old Trafford. Even if he adapts in order to find better short-term results, eventually he's going to have to get back on track to that end goal.
He needs to carefully pick and choose those moments where he has to adapt, but equally must keep his eyes on the prize, and either get this squad playing the way he wants, or get definitive proof of who shouldn't be part of his long-term plans.
By: Jake Lane / @jakerslane
Featured Image: @GabFoligno / Ash Donelon / Man United