What Went Wrong for Julian Nagelsmann at Bayern Munich?
Bayern Munich currently sit in second place on the Bundesliga table, just one point adrift of rivals Borussia Dortmund. They have also qualified for the quarter-finals of both the UEFA Champions League and DFB-Pokal where they will face Manchester City and SC Freiburg respectively. The Bavarians have a realistic chance of winning three competitions this season, and yet they have just sacked their manager, Julian Nagelsmann. With so much success still in reach, why did Bayern decide to part ways with the young coach and what does this entail for the rest of their season?
On the surface, it may appear as though the Bavaria-born manager was having a good season in Munich, keeping the club competing on all fronts and looking particularly strong in European competition, but the reality was startlingly different behind the scenes. Perhaps most significantly for any doomed manager, Nagelsmann failed to garner the full respect of the Bayern Munich squad. This is what primarily caused concern amongst the board with regards to the club's short-term and long-term goals. 
Bayern Munich CEO Oliver Kahn stated that "the quality of our squad — despite winning the league last year — has shown less and less often", adding that "the strong fluctuations in performance put our goals in danger this season, but also beyond this season". This essentially explains the club's thought process in making a change just before the crucial run-in towards the season's end. At the Allianz Arena, success is a prerequisite, therefore the club couldn't afford to waste a potentially trophy-laden season. 
According to BILD reporter Christian Falk, Nagelsmann didn't have the support of the players anymore and many of his tactical decisions were being questioned. For a coach who lives and dies by his tactical innovation and fluidity, this essentially made the situation unsalvageable. Raphael Honigstein of The Athletic wrote that the players had complained that Nagelsmann was "overcomplicating things in training, making too many changes during games and not communicating enough with them".
At a club like Bayern Munich, player morale is vital and the most influential players in the dressing room possess significant power and sway. Upsetting the likes of Thomas Müller was never likely to endear the former RB Leipzig coach to the other Bayern players or the board itself. Nagelsmann also infuriated Manuel Neuer after sacking his friend and long-time goalkeeping coach Filip Tapalović. Failing to cultivate positive relationships with World Cup winners and stalwarts of the club that embody its culture was always going to leave a dent in the young coach's ambitions of long-term success in Munich.
In the same Raphael Honigstein piece, Nagelsmann was said to have "put the system over the needs of the players". This was a problem faced early in Pep Guardiola's tenure in Munich due to the Spaniard also being an astute tactician who often made many changes, but Guardiola had the experience, pedigree and man-management skills to encourage the players to buy into his philosophy. Unfortunately, this simply wasn't the case for Julian Nagelsmann.
The players were said to have craved a "father figure" in the dressing room — Nagelsmann simply didn't provide this due to behaviours such as arriving to training on a skateboard and riding a motorcycle in the city. It's worth keeping in mind that he is only 35 years old and, subsequently, he was always more likely to act in this way as opposed to how a far more experienced manager would behave. This isn't necessarily a bad thing across the board as it may help certain players feel more comfortable with the manager, but it evidently didn't send the right message at Bayern Munich.
This disconnect between players and manager began to manifest itself in the team's on-field results which became increasingly distressing. Bayern's dropped points after the World Cup were hugely concerning as they allowed Borussia Dortmund back into the title race, ultimately leapfrogging the reigning champions. The Bayern bosses felt as though the season could still be salvaged with the hiring of Thomas Tuchel and that fast-tracked the decision to relieve Julian Nagelsmann of his duties immediately.
Bayern Munich's performance away to Bayer Leverkusen was ultimately the straw that broke the camel's back. The Bavarians looked completely rudderless and bereft of ideas and Xabi Alonso's side took full advantage of this. Although both of Leverkusen's goals in the 2-1 victory came from the penalty spot, this doesn't negate the fact that they were indeed the better side on the day and fully deserved the result. Early in the season, Nagelsmann deployed a 4-2-4 shape but quickly abandoned it due to inconsistent results and performances. In recent months, it's been more common to see him set up in a 3-2-5 shape offensively.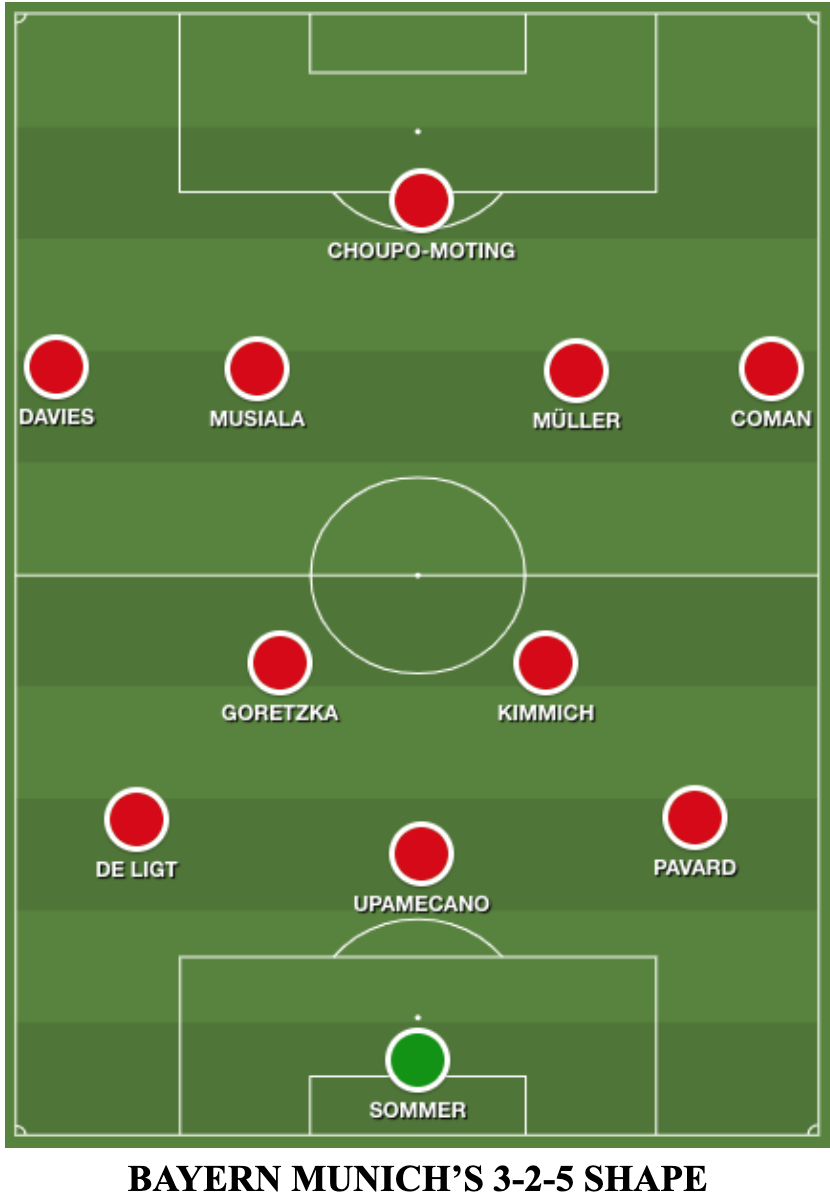 In this shape, the left-back pushes up high whilst the right-back tucks in next to the centre-backs to form a back 3. The right winger plays high and wide, whereas the left winger moves into the left half-space, ensuring all of the zones are covered.
Whilst this is a popular shape amongst the best teams in Europe, it was reportedly rather unpopular amongst the Bayern squad, especially in conjunction with Nagelsmann's possession-based tactics. Nagelsmann's version of this shape was also far narrower than what is deployed by most coaches, subsequently leaving less room for Bayern's more dynamic players, despite the possessional and defensive benefits of such a shape.
Nagelsmann was renowned for often changing his systems and shapes during his stints with Hoffenheim and RB Leipzig, but these frequent changes did not go over well with the Bayern players. One of these changes was evident during Bayern Munich's loss to Bayer Leverkusen as Julian Nagelsmann set his side up in a 5-3-2 shape defensively. This defensive structure was poor and matched up particularly badly against Bayer Leverkusen's shape.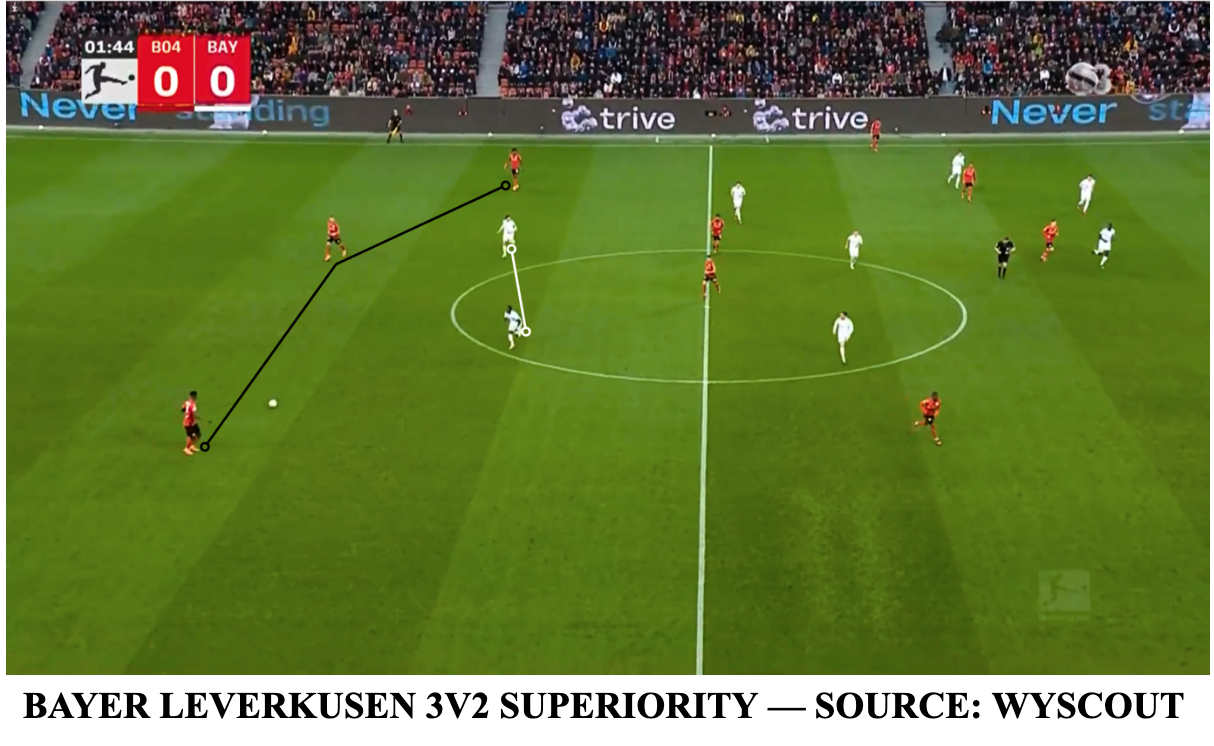 Due to this shape and lack of consistent pressure, Bayern Munich failed to gain any real control as Bayer Leverkusen regularly progressed the ball to have a numerical superiority during each phase, beginning with the first phase. Nagelsmann instructed his side to press with 2 men against Leverkusen's back 3, but the press wasn't nearly intense enough.
This allowed Xabi Alonso's side to progress the ball with sufficient control through the phases before often having a 5v5 situation against Bayern Munich's back 5. Nagelsmann made changes at half-time and set the team up in a 4-3-3 shape defensively. This allowed Bayern Munich to press with 3 men against Leverkusen's back 3.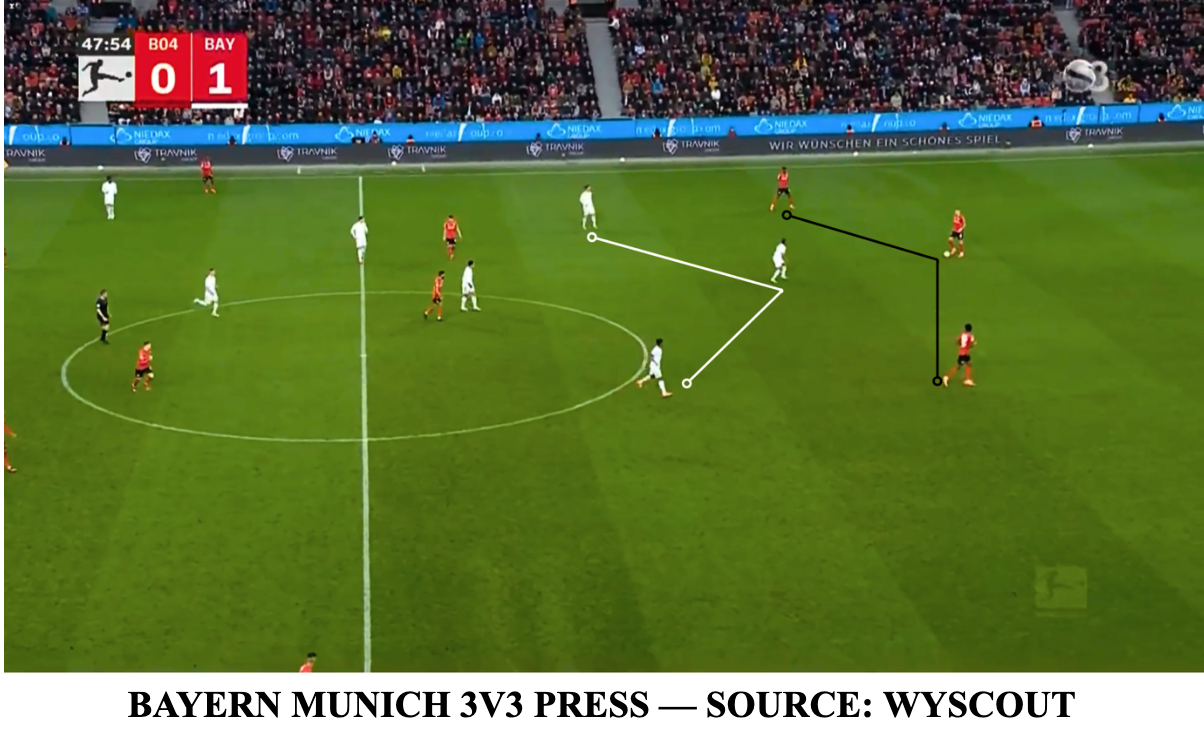 These changes were effective in disrupting Leverkusen's build-up and allowing Bayern to match up man-for-man. This was an improvement on the first-half approach, but Bayern's lack of intensity remained and they struggled as Leverkusen progressed higher up the pitch.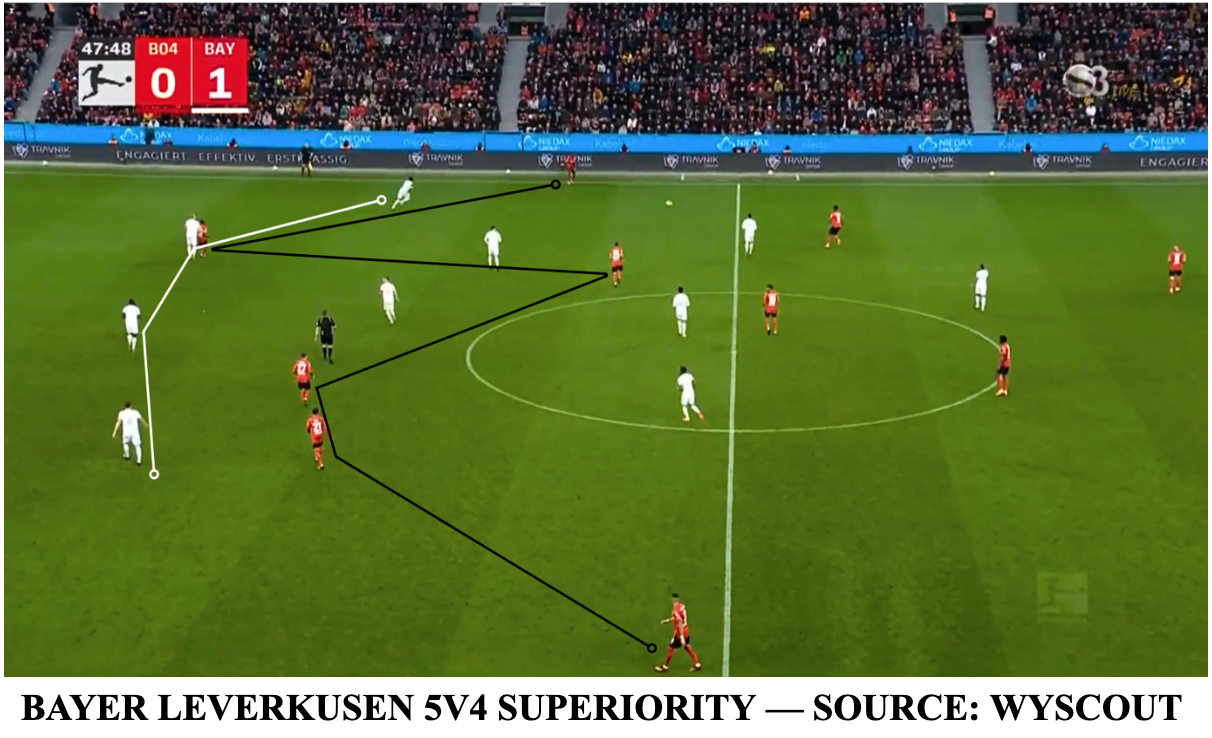 Bayern Munich's change to a back 4 allowed them to press with more numbers higher up the pitch, but it also made it difficult for the players to track Leverkusen's wing-backs as they stayed wide, hugging the touchline and forcing the defence to make a decision. This created gaps in Bayern's shape, particularly in the half-spaces, and Leverkusen were able to exploit these gaps with runners in the channels.
This performance was far from Bayern Munich's only underwhelming display in recent months, but it epitomised the absence of a coherent structure currently present with the German champions. The players have often seemed confused and unaware of their tactical requirements under Julian Nagelsmann and their results have consequentially suffered. Bayern's qualitative player advantages over opponents have allowed them to stay competitive in games and keep another league title very much within reach, but the underlying performances have worried the board and a decision had to be made.
Crucially, with Tottenham Hotspur circling, Bayern Munich didn't want to lose out on Thomas Tuchel again as they did to Paris Saint-Germain in 2018. They moved quickly to relieve Julian Nagelsmann of his duties and hire the former Chelsea boss during the international break in order to allow him to prepare the players for the most important part of the season.
Despite his tenure in Munich not working out, Nagelsmann shouldn't face any problems finding a new coaching job with Tottenham Hotspur reportedly interested in the German coach. Real Madrid are also long-time admirers of his, therefore he may have his pick of clubs when the time comes for him to re-enter management. The future is still bright for Julian Nagelsmann and, as made evident by this piece, the future appears bright for Bayern Munich too.
By: Lebohang Mwamuka / @lebzygold
Featured Image: @GabFoligno / Ronny Hartmann – AFP