What's Going Wrong with Al-Ittihad's Build-up Play?
Despite a summer that saw them sign the likes of Karim Benzema, Fabinho, Jota and N'Golo Kanté, Al-Ittihad have plenty of flaws that need to be ironed out as they look to win their second straight Saudi Professional League title and 10th overall. After stringing together victories against Al-Raed, Al Tai, Al Riyadh, and Al-Wehda, Al-Ittihad would enter halftime with a 3-1 lead, only to fall to a 4-3 defeat to Al-Hilal with Aleksandar Mitrović grabbing a hat-trick for the visitors.
They would bounce back with a 1-0 win at Al Akhdood courtesy of Benzema's 72nd-minute goal, before thrashing Uzbek side AGMK 3-0 in the AFC Asian Champions League with Harouane Camara opening the scoring early on and Romarinho recording a brace in the first half. Today, we'll be taking a look at Al-Ittihad's victory against Al Akhdood and specifically, their issues in the build-up.
Having mainly operated in a back four since taking charge, Nuno Espírito Santo went with a back three with new arrival Luiz Felipe playing on the right side of defense following his arrival from Real Betis, whilst fellow new signing Hassan Kadish played on the left side following his move from Al-Taawoun, and Ahmed Sharahili played in the middle. Despite various absentees in attack like Igor Coronado and Abderrazak Hamdallah, the Portuguese manager was still able to field an attack featuring Benzema, Romarinho and Saleh Al-Amri whilst Kanté partnered Fabinho in the center of the pitch.
Santo wanted to take advantage of his attack-minded fullbacks, Ahmed Bamsaud and especially Madallah Al-Olayan, who is often deployed as a makeshift right winger despite only playing as a right back. But while on paper it looks fine, on the field, and especially against another back 5 used by Al-Okhdood, Al-Ittihad's reliance on the wingbacks to hold their width had its limitations and handicapped their attacking threat.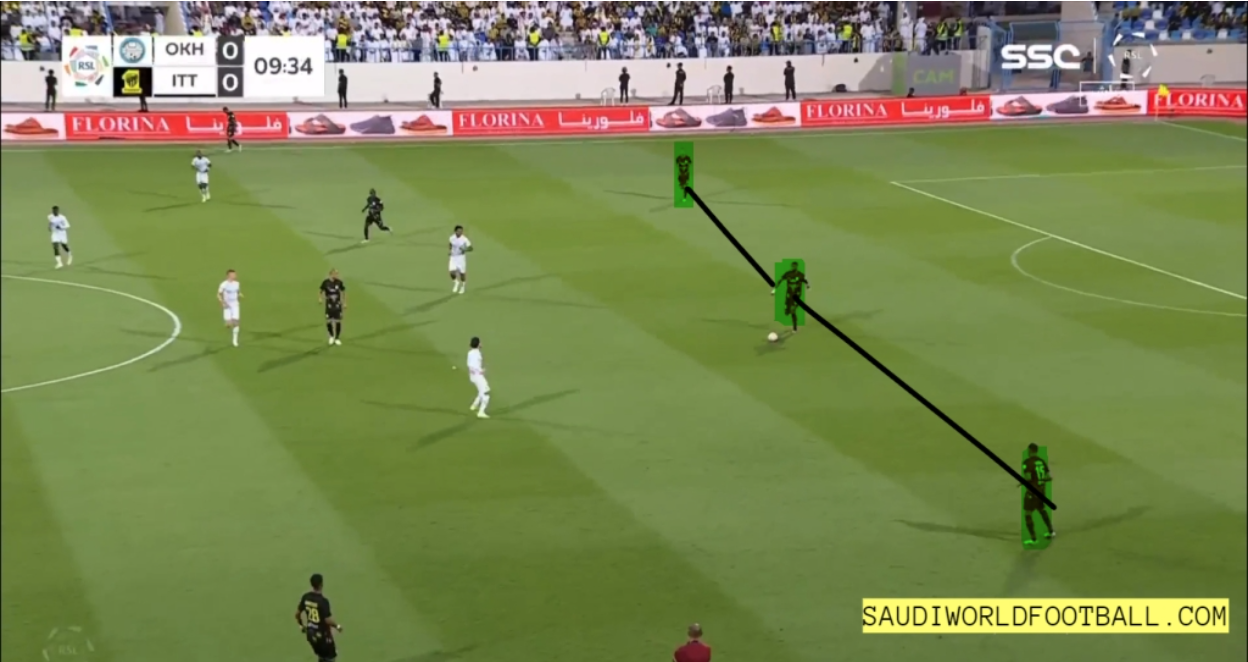 Al-Ittihad had too many players involved in the first phase of play, building with a 3-4 shape, but this still wasn't enough against Al-Okhdood's medium-high press. The Tigers would even drop Romarinho, their inverted winger, an Al-Amri to receive and offer greater passing options in the center, thus taking their tally to nine players in the first phase of play whilst Al-Okhdood only utilized six in this area of the pitch.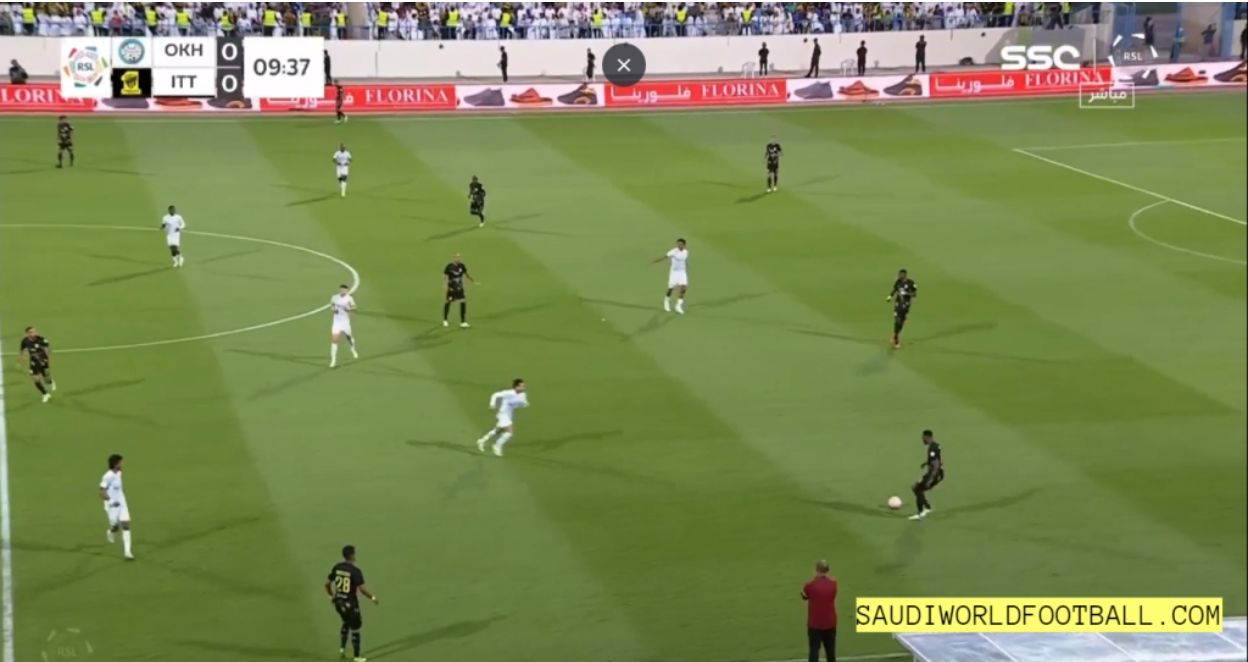 With Marcelo Grohe being available as a passing option in goal, Al-Ittihad had a 10 vs. 6 situation, meaning that Benzema was constantly isolated against a high line of four defenders, with the 35-year-old French striker often being forced to drop deep when there was no passing lane available. We can see a few examples below of Al-Ittihad not finding solutions in the build-up despite having nine players in their own half.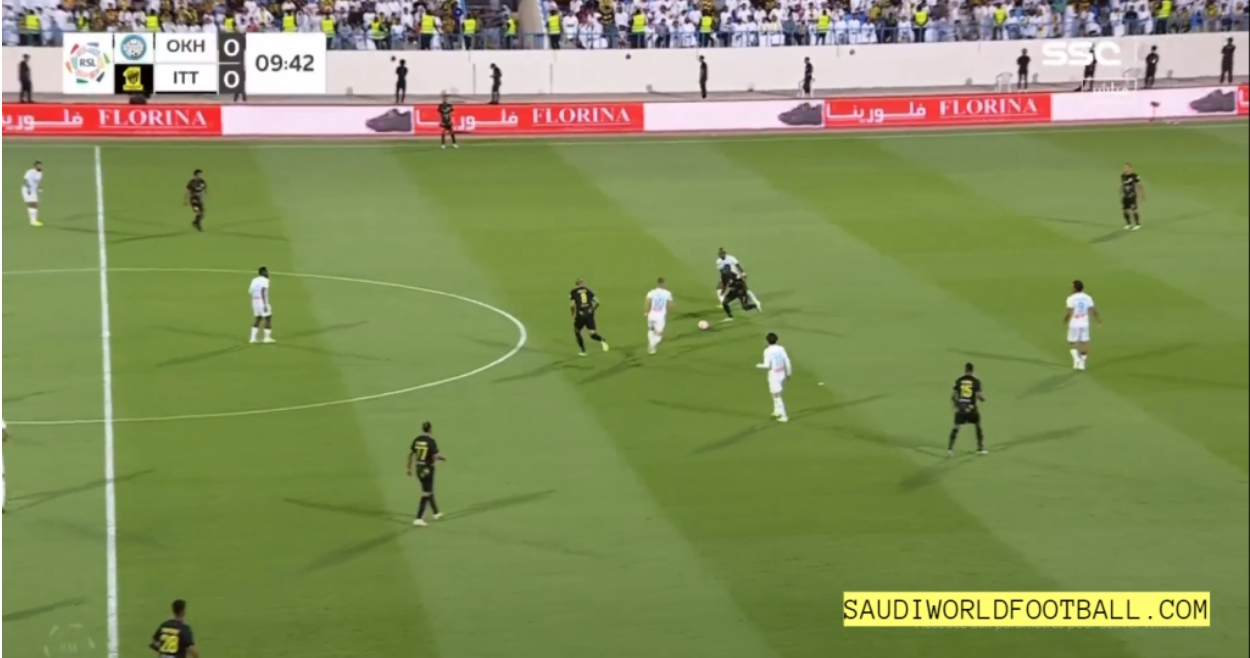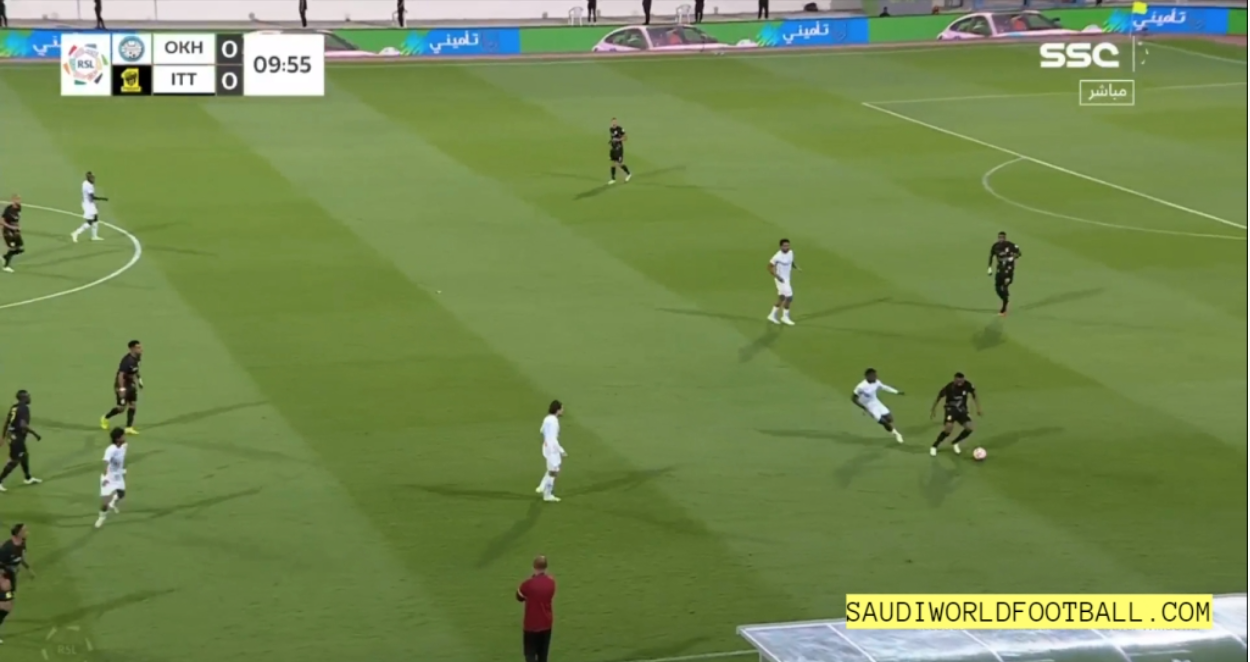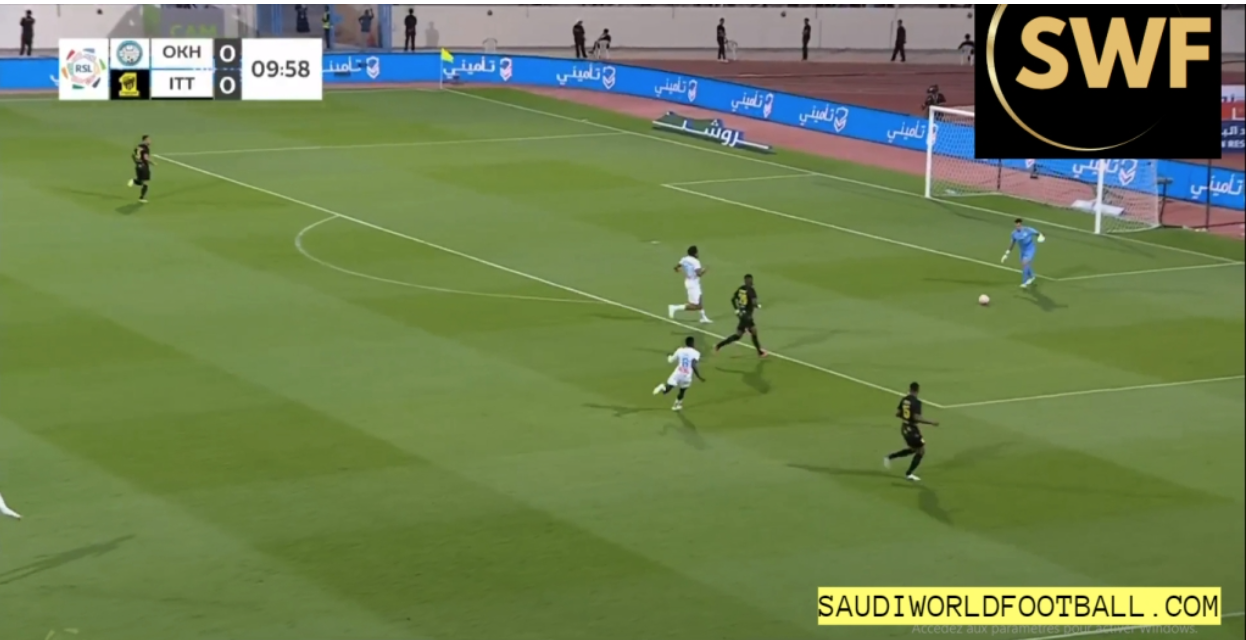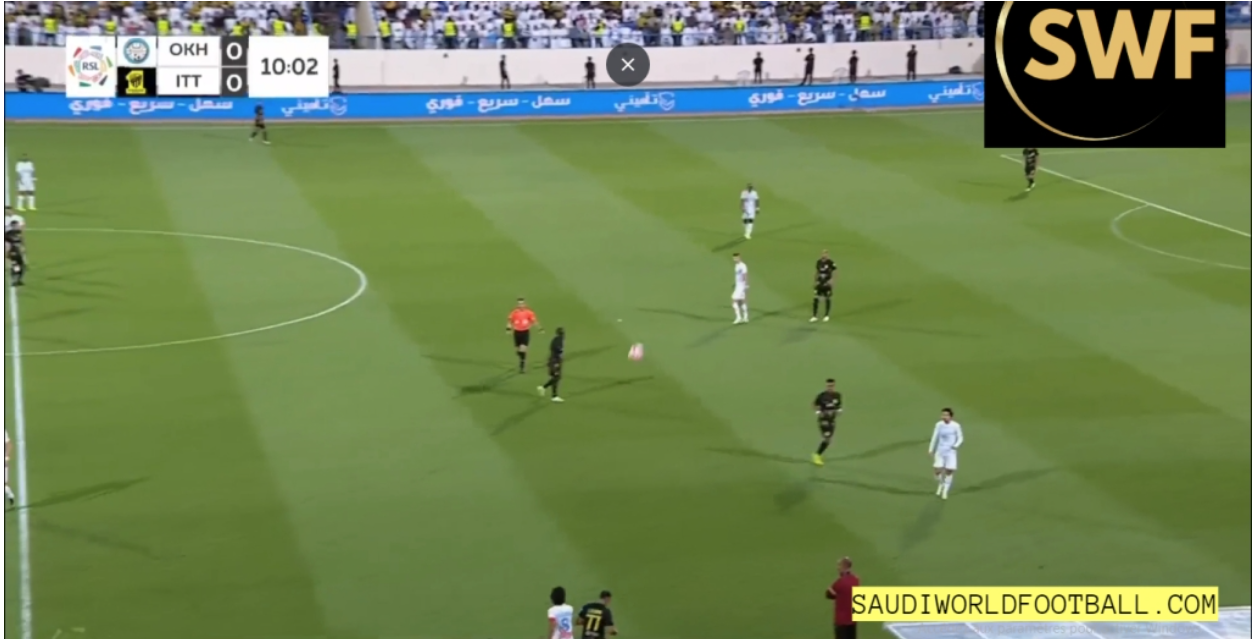 Conclusion
Al-Ittihad had more than enough players to get the ball out of their own half, but they failed to do so due to an unwillingness to take risks in possession and speed up attacks. The absence of speedy players in the Tigers' squad is a major vulnerability for Al-Ittihad, lacking the physical tools to exploit a high press or operate with a high line.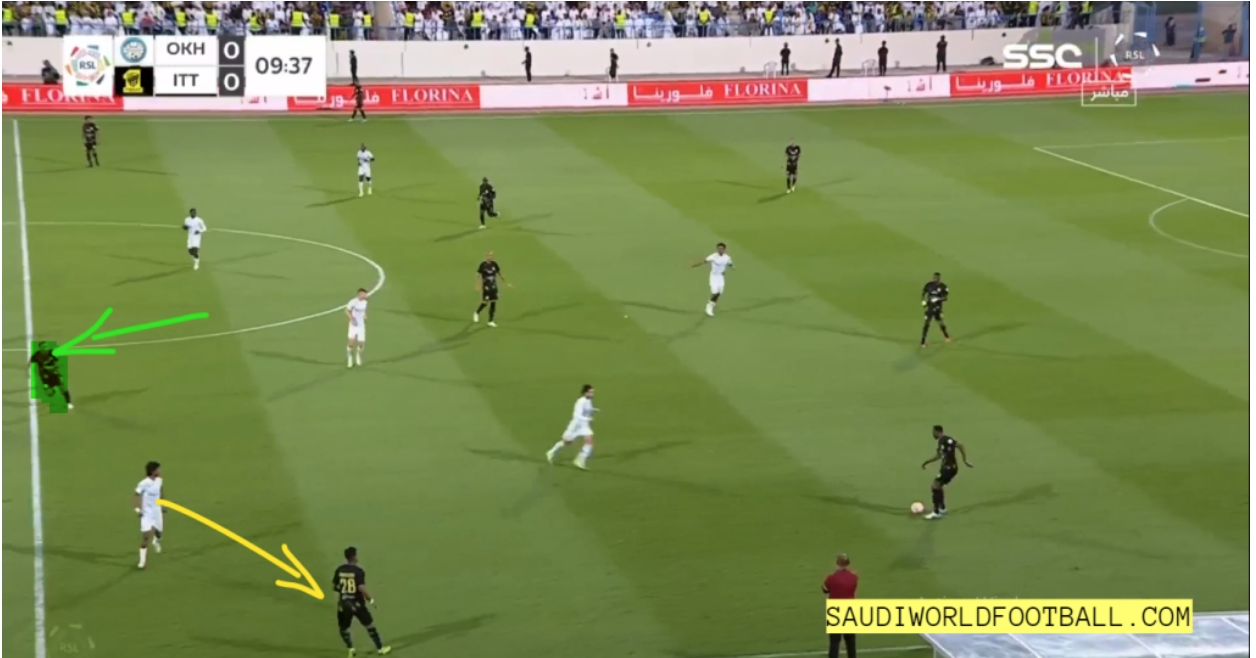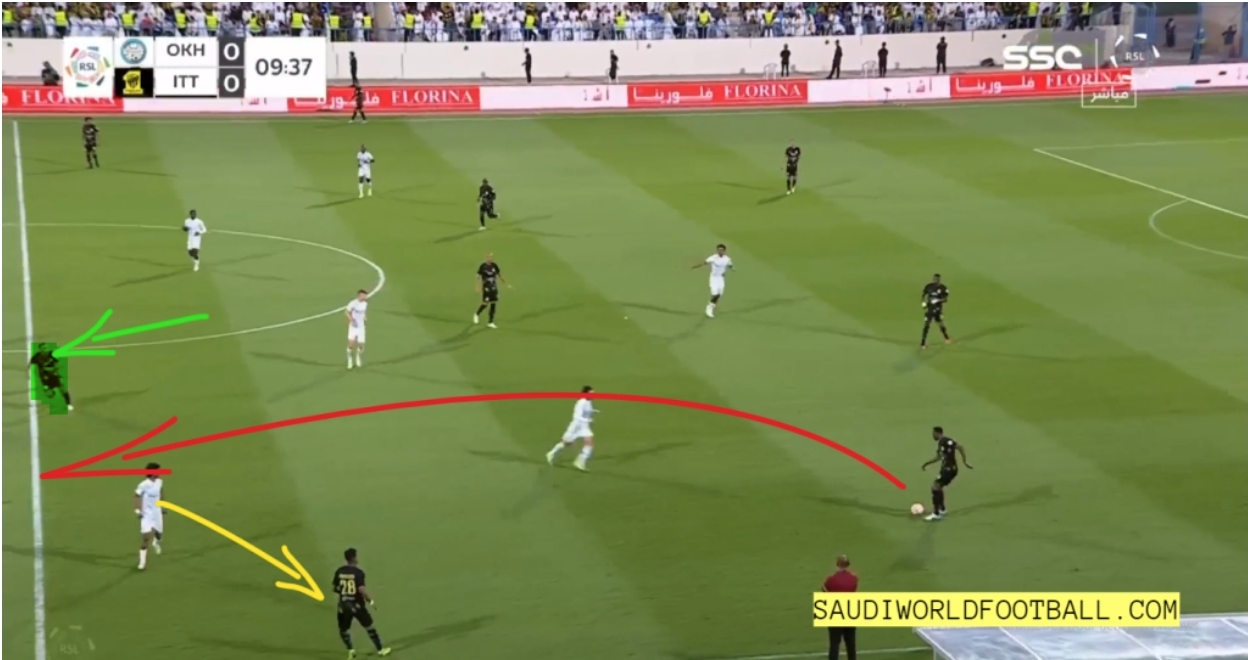 Only Saleh Al-Amri had the speed to exploit the open space and create problems for the opposition with dangerous runs in behind. Moreover, Ahmed Bamsaud operating at the left wing-back position helped to pull Al-Okhdood's right wing-back Hussain Hassan Mushaib Al Zabdani out of position, creating a big gap in defense.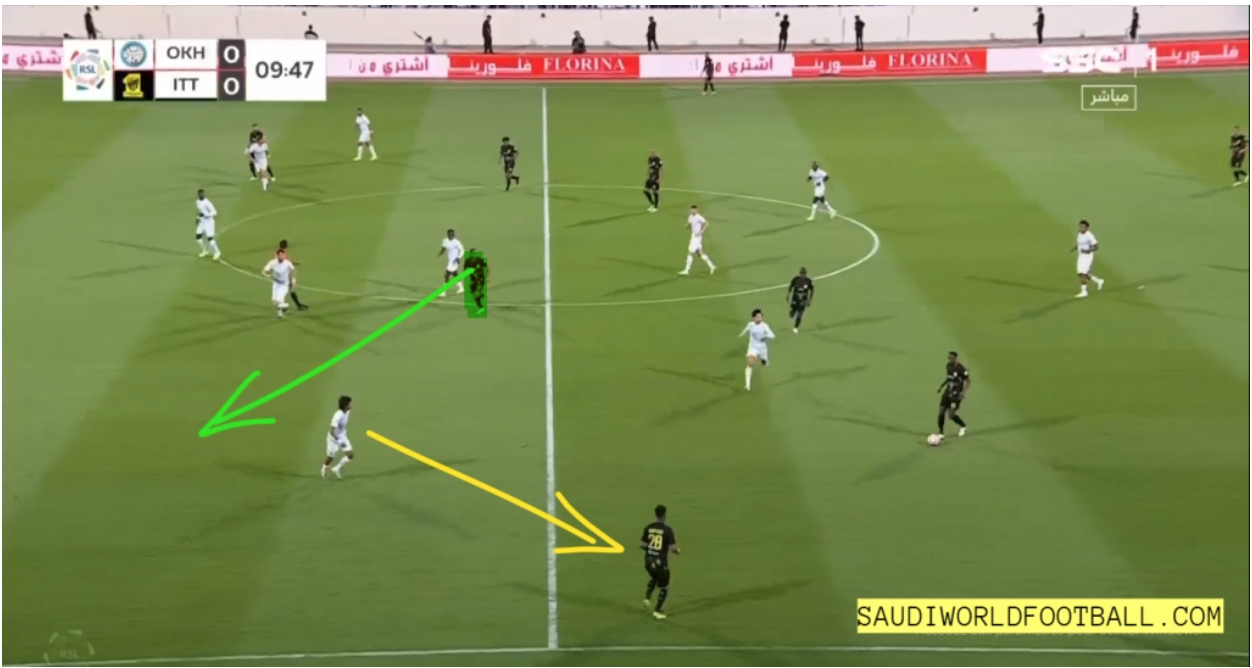 However, Al-Ittihad failed to exploit this due to their unwillingness to take risks in possession as well as their lack of long-range passers. Despite the defeat, Al-Okhdood will take plenty of positives from their performance, and many teams may look to copy their tactics against the Tigers: press fairly high, operate with a high defensive line, stay compact in the middle and force them to shift play towards the wings.
As for Al-Ittihad, they sit just one point behind league leaders Al-Hilal and level on 15 points with Al-Ahli, but they need to seriously improve in the build-up as they look to win their 10th Saudi Pro League title. They will face a stern test today as they host an Al Fateh side featuring the likes of Jason Denayer, Lucas Zelarayán, and Cristian Tello, which has won their last two matches by a combined scoreline of 8 to 2.
By: @SaudiWorldFoot
Featured Image: @GabFoligno / Tottenham Hotspur FC
You can find more in-depth analysis of the Saudi Pro League on Saudiworldfootball.com / @SaudiWorldFoot.