What's Going Wrong with Leeds United?
After returning to the Premier League for the first time in 16 years, Leeds United enjoyed a superb campaign under Marcelo Bielsa, finishing 9th in the table. However, the following season has started on a bitter note as Leeds lost four preseason friendlies — including a 0-4 thrashing against Ajax — drew two friendlies, and only managed to beat sixth-tier side Guiseley. 
Despite a poor start to the pre-season, Leeds were not as active in the transfer market as they perhaps should have been, while other Premier League clubs were actively buying players to rectify their weaknesses in the transfer window. They paid 15 million euros for Junior Firpo from Barcelona early on in the window, and in the final week, they paid Manchester United 29 million euros for young winger Daniel James. Aside from Jack Harrison, who was on loan at Leeds, was permanently bought from Manchester City. The departure of Ezgjan Alioski, whose contract had expired, put Bielsa in even more trouble.
The ultimate result is what it would be. Their Premier League start was below average. Bruno Fernandes's hat-trick in the league's opening match led to a devastating 5-1 defeat for Leeds' United at Old Trafford. Even The full Eland Road crowd failed to encourage them after a long period; instead, they went down twice against Everton, but managed to draw 2-2.
Leeds's performance against Burnley at Turf Moor was also unsatisfactory, as they were held to a 1-1 draw in a game that Burnley dominated for the majority of the time. After three games, Leeds is now in 15th place in the league table, with only two points. This isn't a positive sign. So far, they've conceded 8 goals while only scoring three times. Only Norwich and Arsenal have surrendered more goals than them, causing Marcelo Bielsa to be concerned.
We'll try to figure out what's causing Leeds' bad form, as well as how Marcelo Bielsa's side can overcome it and go back to their previous domination.
Lack of Creativity
Leeds's game was different last season due to their quick transitional attacking style, but they have yet to replicate that in this season. The lack of creativity in Leeds's midfield is noticeable in every Premier League match. As a result, they have struggled a lot to get goalscoring chances.
Raphinha, Leeds's right winger, is the team's most creative player. His form, on the other hand, has not been up to the mark so far this season. Rather, he has been often dispossessed by opponent center-backs while trying to cut in centrally with the ball from the right wing. As a result of his poor form, Leeds's overall performance has suffered significantly.
The Brazilian has only created one big chance in three league games so far, making 1.3 key passes per 90 (down from 2.1 last season) and losing possession 26.7 times per 90 (compared to 18.8 times in last season). His poor performance has affected Leeds's overall gameplay, and fellow winger Harrison's form isn't looking good either.
Last season, Harrison was frequently seen cutting into the box and taking attempts to the goal, linking Alioski in quick one-two passes; but his connection with the new left-back Firpo hasn't been as effective, which is why Harrison has struggled this season. He hasn't been seen attempting much to enter the opponents' box when cutting in from the wing in the final third.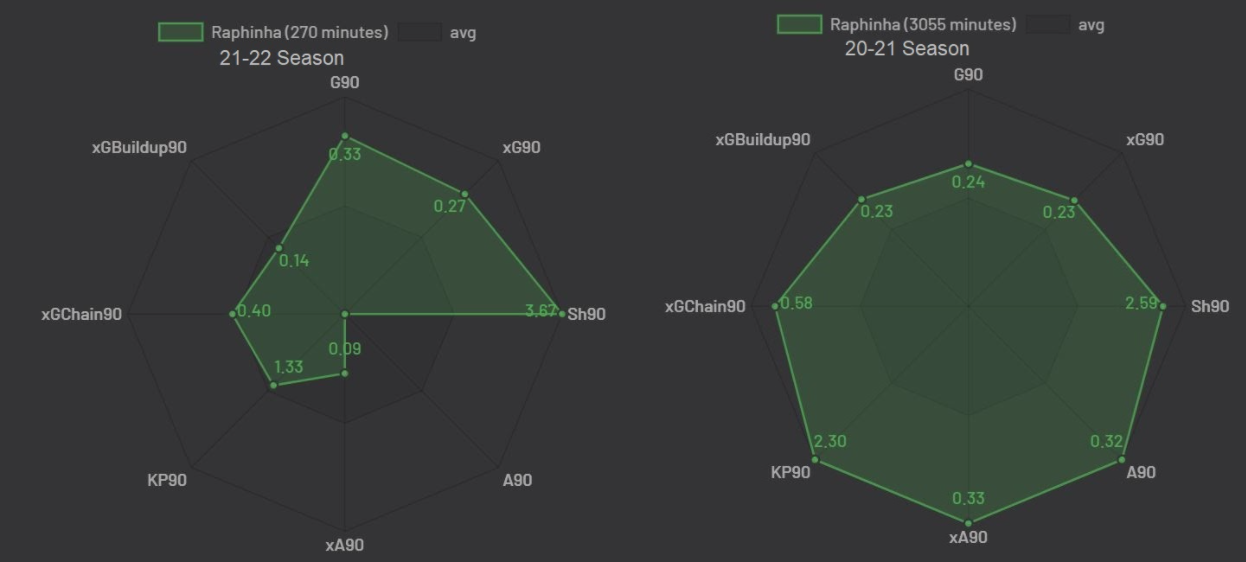 If we compare Raphinha's performance this season to previous season in the diagram above, we can observe that his creativity and build-up involvement have dropped significantly this season. Raphinha has attempted much more shots this season than in previous, although the number of line-breaking passes or shot-creating actions committed by cutting inside from the right flank has significantly decreased.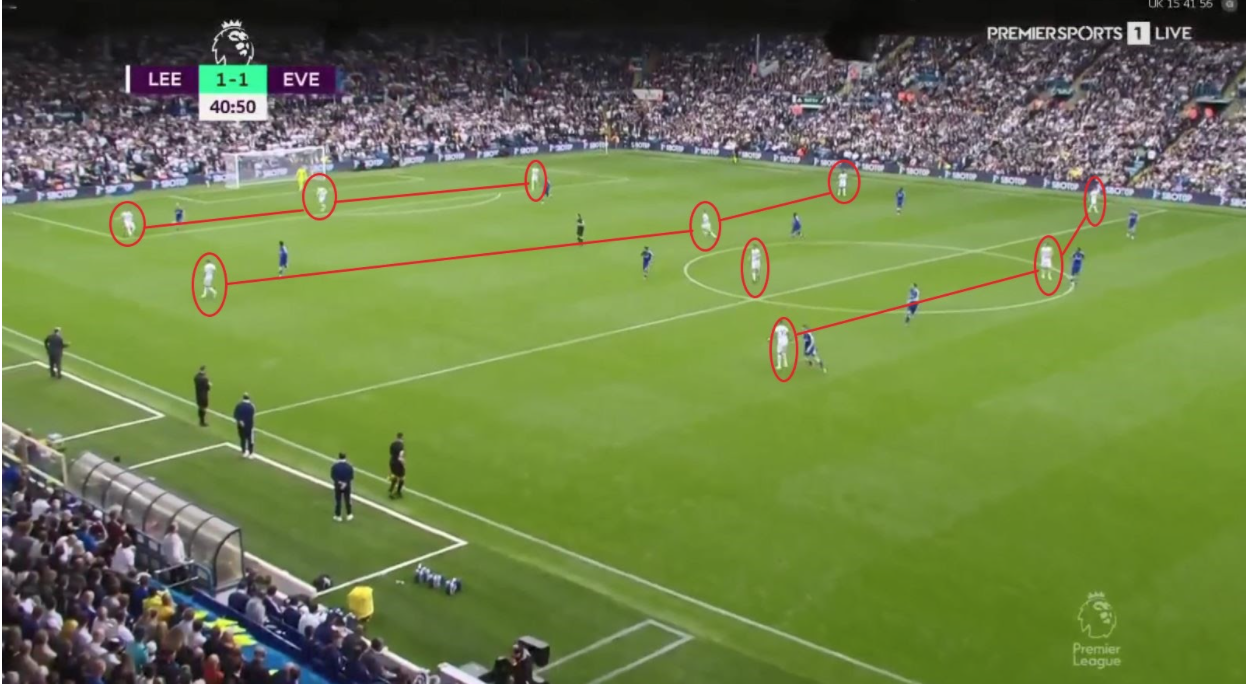 Bielsa has used the 3-3-1-3 system(except the match against Manchester United)  for the majority of this season, with one additional player in defense to achieve numerical superiority on defense. Leeds's attack, on the other hand, has been severely hampered as a result of this.
Leeds used two box-to-box midfielders when they played in the  4-1-4-1 formation; one's duty was to make the most of the space generated in between the lines, while the other's job was to find the box using Bamford's created free spaces as a second striker. Due to the additional man on defense, Bielsa has sacrificed the player who plays as the second striker, resulting in a shortage of one man in the forward line.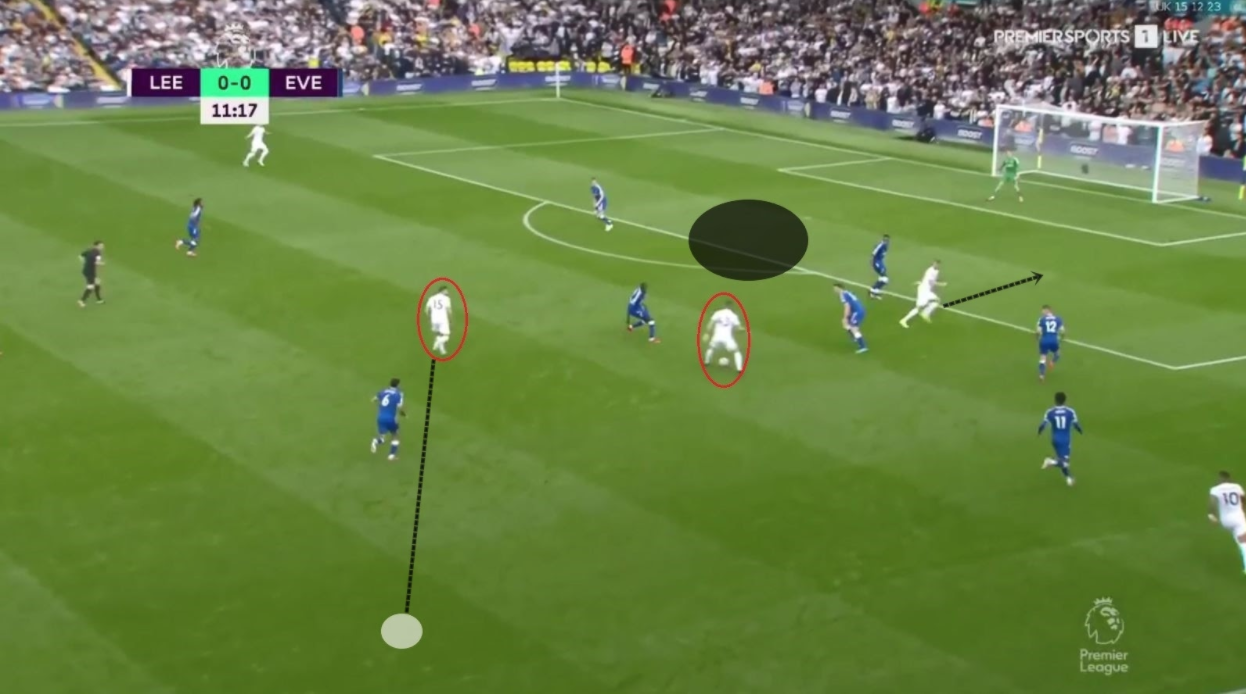 In the image above, the ball is sent to Mateusz Klich by one-touch passing from the right flank. At this moment, Bamford's diagonal run through the right provides a lot of space between the two center-backs. Even though Stuart Dallas made a quick forward run, Everton's defensive line had time to form up before he appeared, and by blocking Zone 14, they squandered a chance to score.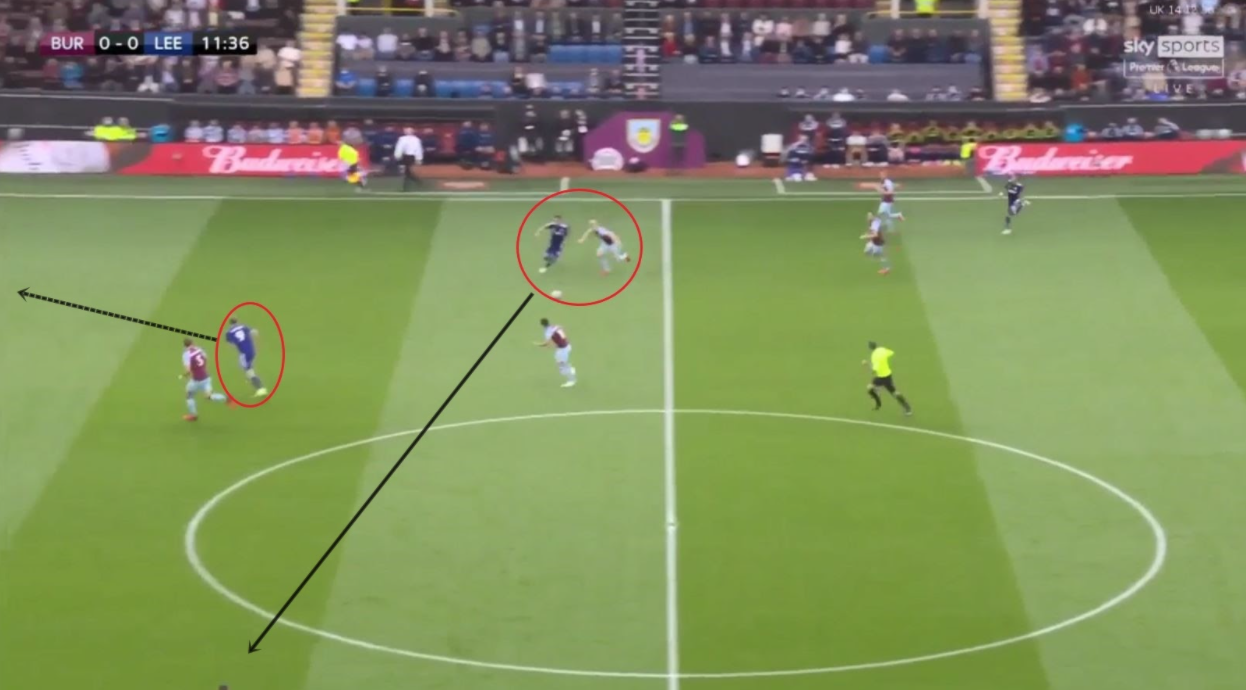 Another big problem for Leeds was the lack of creativity in the center area of ​​the final third. Either Klich or Rodrigo plays the role of in-between the line operator in the league matches, but neither of them is very creative. Klich usually generates a triangle in the wide area of ​​the final third and gives a lateral pass to the box or takes a long-range attempt from outside the box; he is not seen to give a line-breaking pass usually.
Rodrigo didn't do too badly last season as a second striker, but he also lacks a lot to create chances. That's why none of them can show creativity as in between the line operator, which is why a line-breaking pass through the center area was not seen at all.
In the picture above, Rodrigo beats his own marker with a beautiful fake dummy through Diego Llorente's pass. Bamford then took a run, but Rodrigo passed to Harrison on the left side without giving the ball to Bamford. As a result, Burnley's defense line got enough time to become organized.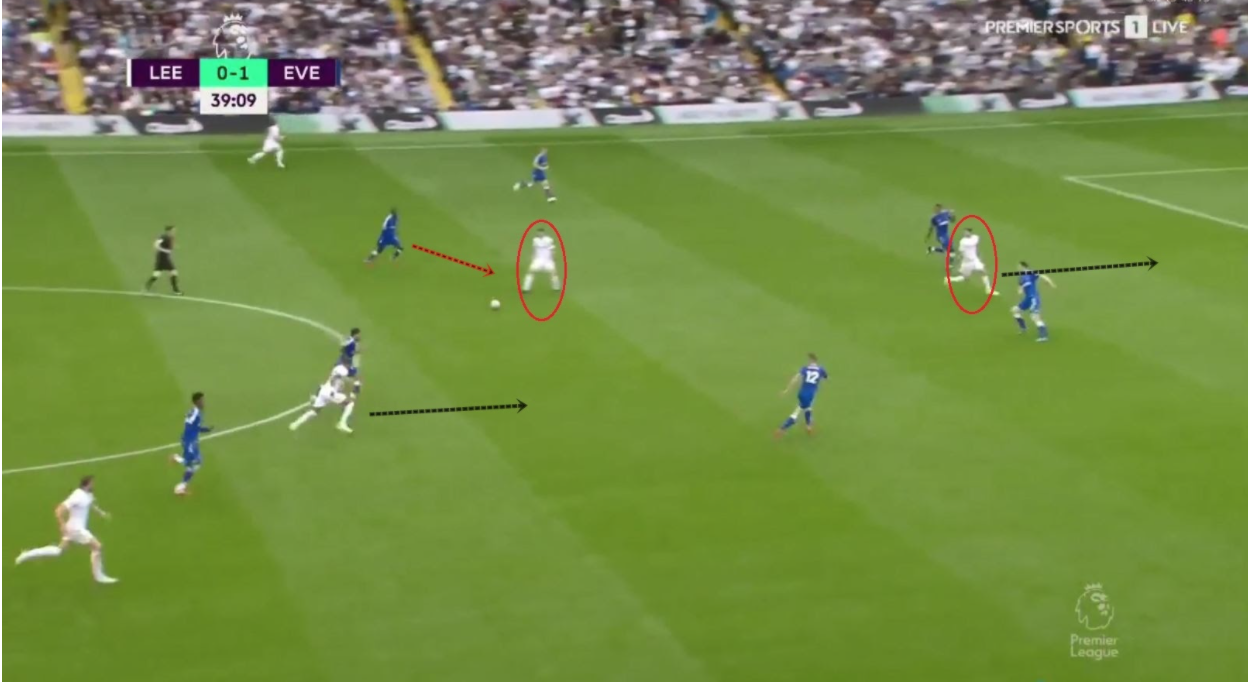 When Klich received the ball in open space outside of Zone 14, Bamford made a quick run behind the defense. However, it took a bit longer for Klich to receive the ball, and in the meanwhile, Abdoulaye Doucouré started pressing him.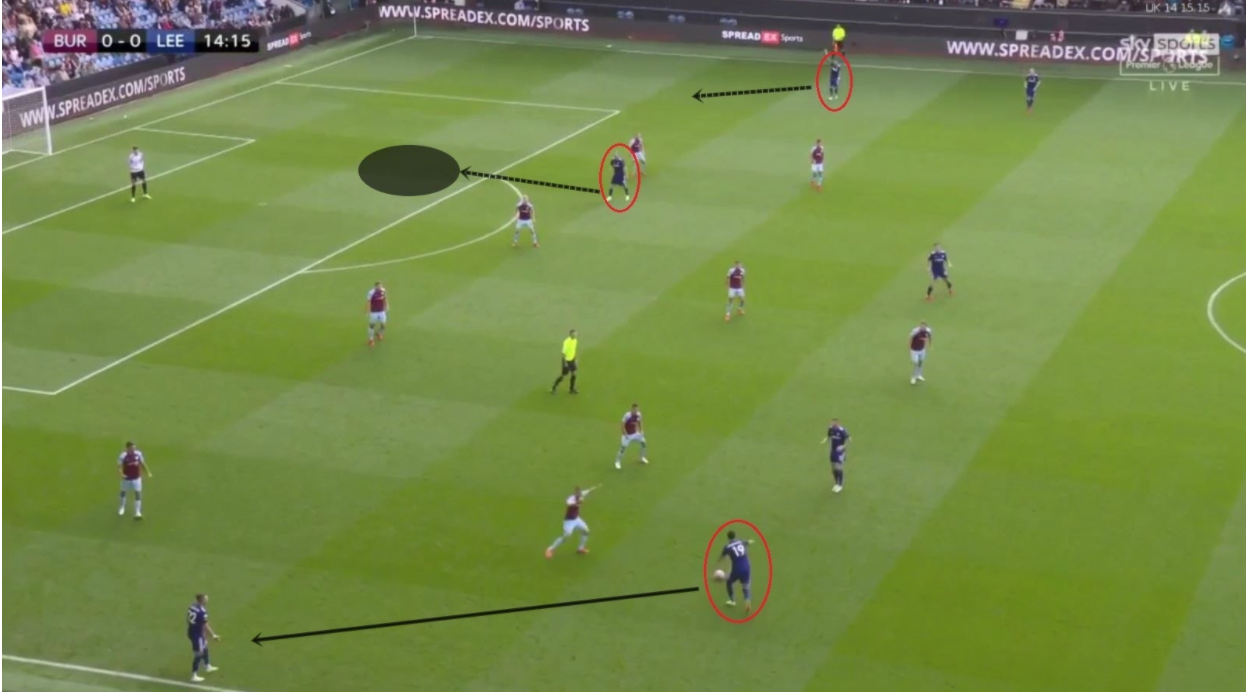 Rodrigo dropped deep from his position and received a pass from Dallas. At that point, he attempted to give the long through ball and both Bamford and Raphinha took a run behind the defense in the center and right area respectively. But Rodrigo ended up giving a short pass to Harrison on the left instead of providing a long ball. But a high goal-scoring chance would have been created if he attempted the long ball.
Poor Defensive Organization
Leeds United has conceded 8 goals in their first three league games. Despite the defense relatively performed well against  Burnley, in the Everton and especially in the Manchester United match the defense was totally horrifying. Leeds's unsteady defending organization and terrible man-marking were more awful than their individual weaknesses of the defenders. 
They conceded a total of 5 goals against Manchester United, almost every goal was due to a blunder by the defenders. In the absence of Phillips, Robin Koch, who played as a defensive midfielder in that match, was also given the role of directly man-marking the main player of United, Bruno Fernandes. If there was Phillips, we would have surely seen him in that role and it is quite certain that Phillips would have definitely done better than Koch in individual battles with Bruno Fernandes.
In all of Bruno's three goals, Koch's weak man marking has caught the eye while marking Bruno, Koch almost always moved out of his position, allowing other Manchester United players to easily exploit free space outside the box.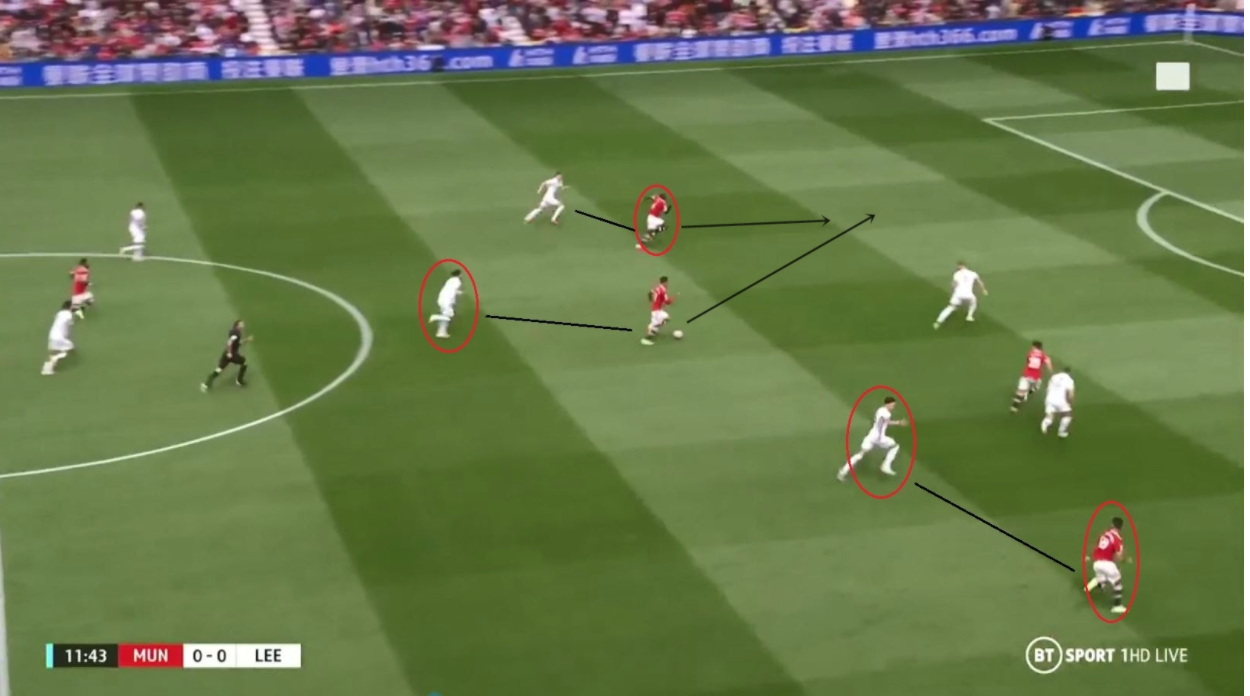 Mason Greenwood received a pass by dropping to midfield from his position and Pascal Struijk marked him and came high up on the pitch. At the same time, Bruno moved right and Koch tracked him, and Leeds's disorganized defense line became completely exposed. When Paul Pogba took a run in free space, Greenwood passed the ball to Pogba, who got a chance to take an attempt with Ilan Meslier at a one-on-one position.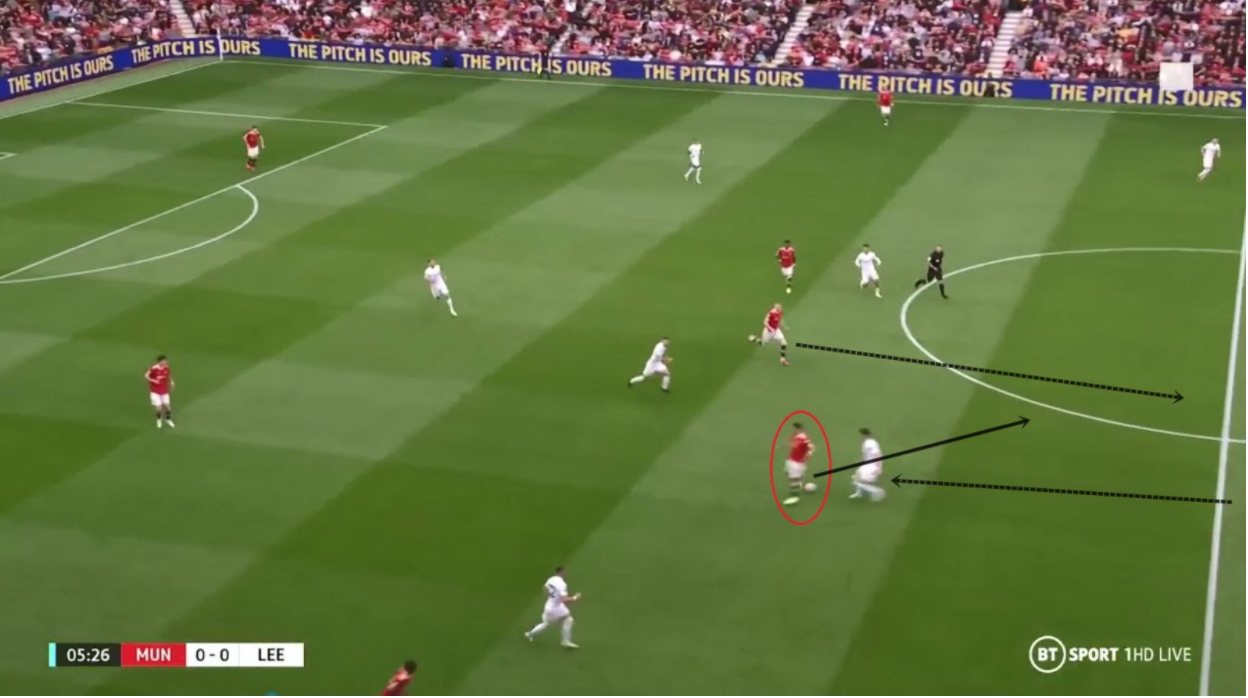 Bruno dropped his position and went to his own defensive half and made his marker Koch out of position. At that time, when Harry Maguire passed to him, Bruno's one-touch back-flick evaded the entire Leeds midfield.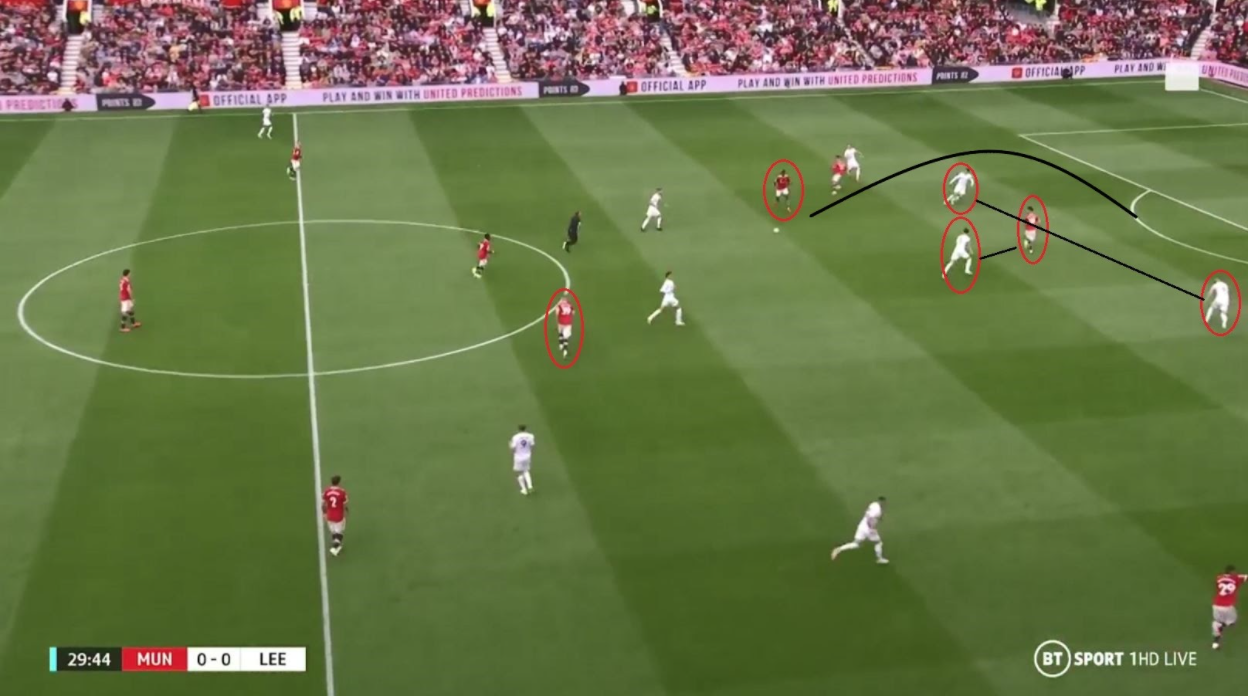 Greenwood drifted wide and dragged Struijk towards himself after Scott McTominay gave the ball to Pogba from center-half. This widened the gap between the two center-back Pascal Struijk and Liam Cooper.
After receiving the ball, Pogba turned quickly to make a chipped pass towards Bruno. Koch had yet again failed to spot Bruno. Then, in a one-on-one situation with Meslier, Bruno got the ball in open space in the center channel to give Manchester United the lead for the first time.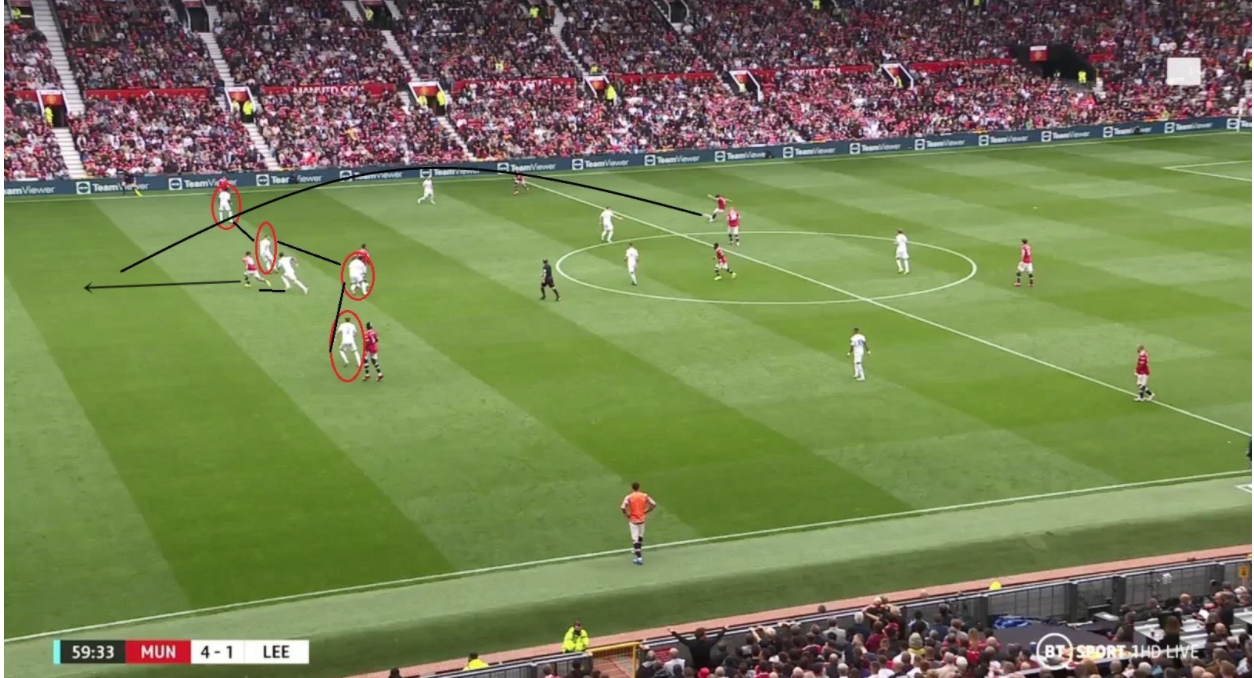 Victor Lindelöf completed a long ball and Bruno ran in behind the defense through the center area. Leeds's defenders were high up on the pitch. Luke Ayling put Bruno in an onside position by positioning himself slightly below the line.
Greenwood dropped down a bit and held his position, also bringing his marker Struijk out of position. Again Koch failed to track Bruno at the right moment and as a result, United scored their fourth goal to knock Leeds out of the match altogether.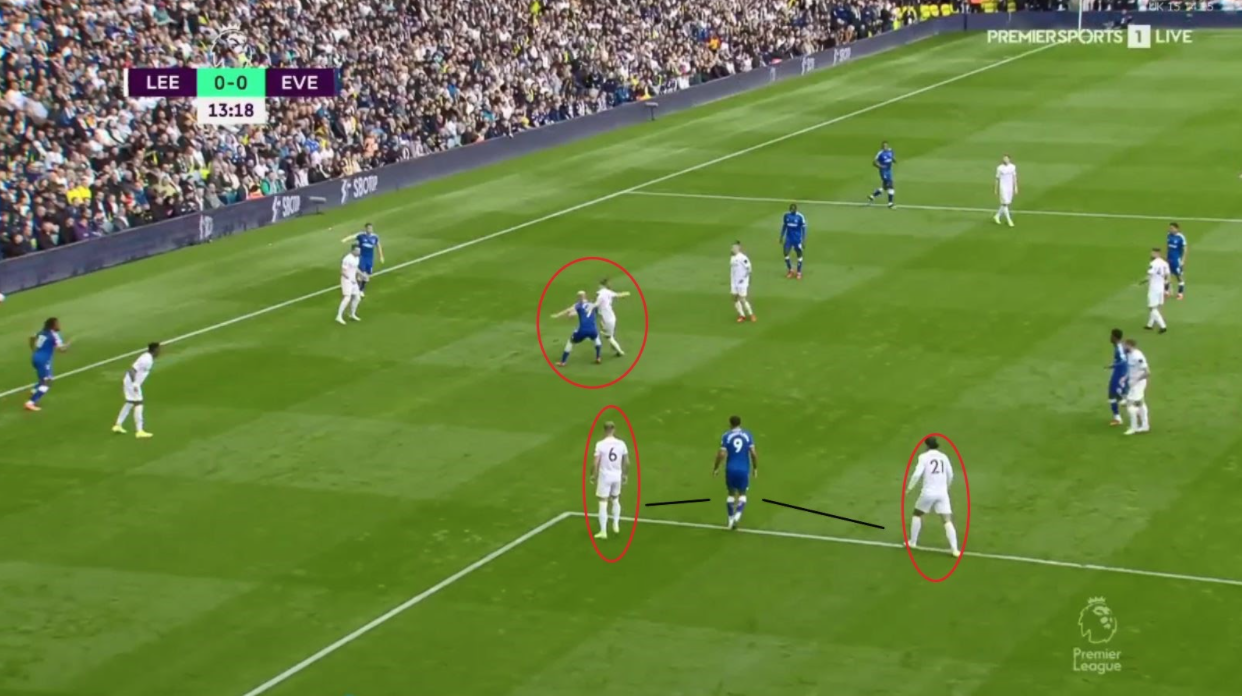 Let's see another example of Leeds' poor defensive organization. Seamus Coleman's throw-in and Richarlison received the ball from the touchline and took a quick turn to beat Ayling who was pressing him.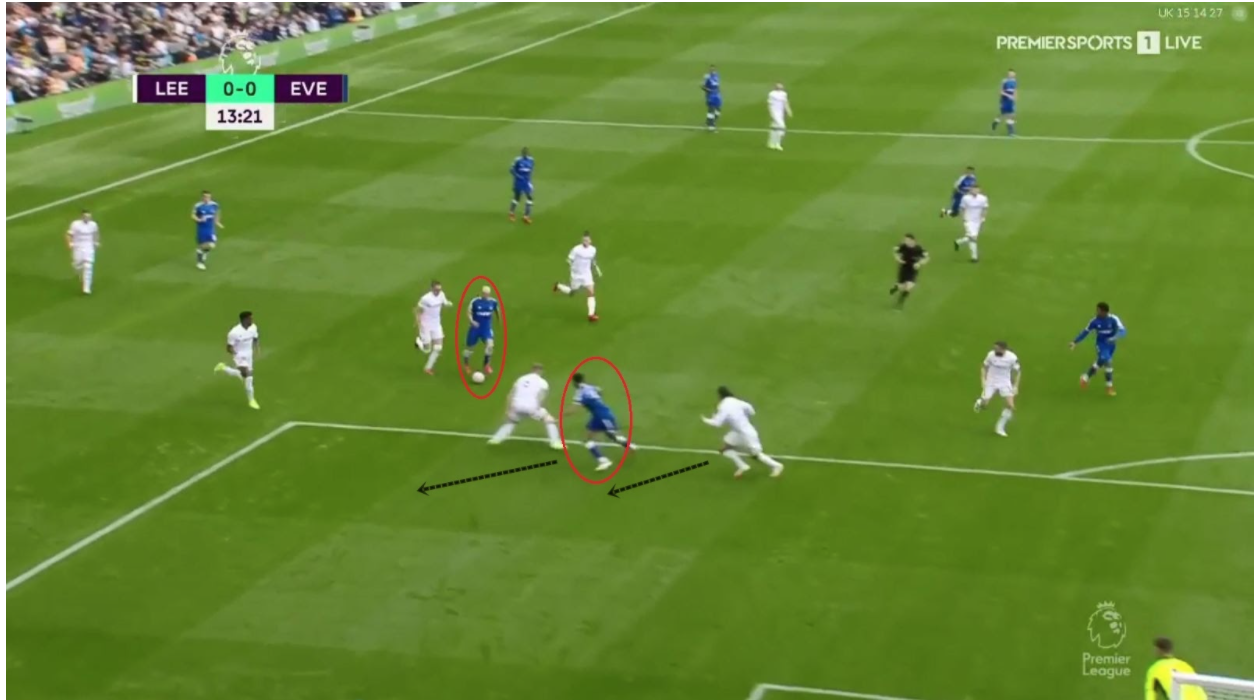 Ayling tried to anticipate him while Richarlison took a central run with the ball on the half-space. At that time, Dominic Calvert-Lewin tries to drag two center-backs Cooper and Struijk to his side with an in behind the defense run through the left side.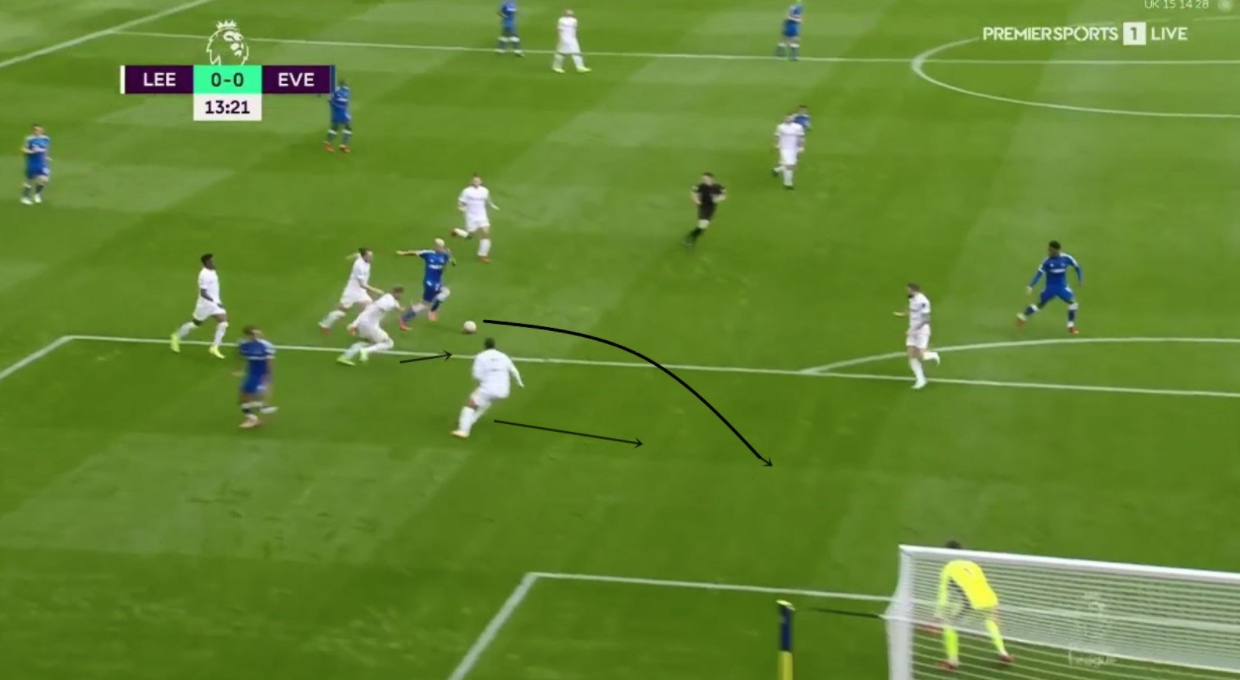 Cooper and Struijk both followed Calvert-Lewin hence giving Richarlison plenty of free space outside the box. Then they realize their mistake and both went to anticipate Richarlison, but it's too late. However, Struijk was able to block Richarlison's shot.
Junior Firpo has struggled to convince in the start of his time at Leeds, although Diego Llorente's return from injury should help them strengthen their defense and provide more of a guarantee alongside Liam Cooper. Despite Daniel James' underwhelming spell at Manchester United, it is undeniable that Marcelo Bielsa has had his eye on the Welsh forward for quite some time and his eye for talent and track record with young players speaks for itself.
One potential solution to Leeds' lack of creativity could be playing Raphinha in a free role behind Patrick Bamford, with Daniel James and Jack Harrison on either flank linking up with Junior Firpo and Luke Ayling. Having missed Robin Koch and Mateusz Klich during their 1-1 draw vs. Burnley, Bielsa will be hoping his squad can remain fit as they attempt to avoid Sheffield United's plight from last season and stay afloat in the top-flight of English football.
By: Amartya Das Dip/ @amartyadasdip
Featured Image: @GabFoligno / Robbie Jay Barratt – AMA / Getty Images / Jan Kruger / Getty Images