Tactical Preview: North London Derby
The upcoming weekend in the Premier League will be the first time that José Mourinho and Mikel Arteta will face off against each other in the North London Derby. Considering what is at stake for both clubs, it is highly unlikely that the match will disappoint.
Tottenham can leapfrog Arsenal with a win, which could be just what they need to turn around their dismal post-break form. Arsenal, on the other hand, could take a 3-point gap over their crosstown rivals with a win over Tottenham Hotspur Stadium on Sunday, as both sides seek to push for the final Europa spot, currently occupied with the Gunners who sit in eighth place.
Spurs's Key Players
Harry Kane
Harry Kane is still struggling to reach top form following his hamstring injury in January, but his clinical finishing in front of goal poses a threat to any team in world football.
He can find the back of the net with either foot, whilst his movement and hold-up play has been crucial in all phases of play since Mourinho's arrival in November.
Photo: Tottenham Hotspur
Heung-Min Son
Heung-Min Son's directness combined with the ability to threaten with either foot in 1v1 situations has seen him become a thorn in the side for many defenders. 
The South Korea international's unpredictability allows him to get shots off that neither the defenders nor the goalkeeper are expecting. Moreover, he has the energy to do both the defensive work and explode forward during counter-attacking opportunities.
Photo: Tottenham Hotspur
Giovani Lo Celso
Despite just registering 2 goals and 2 assists since his arrival from Real Betis in the summer, Giovani Lo Celso has arguably been Tottenham's best player this season. The Argentine is able to drive forward with the ball glued to his feet and break the lines with his passing.
He has formed a solid partnership with Moussa Sissoko at the base of midfield, and he'll be vital for Mourinho's rebuilding project as they look to brush off the disappointment from this season and push for a spot in the top four.
Photo: Tottenham Hotspur
Spurs in Possession
Build-up
Spurs build in a 3-2-4-1 shape. Ben Davies forms a back 3 with Eric Dier and Davinson Sánchez. Serge Aurier pushes higher up, maintaining the width on the right.
Kane drops deep, looking to receive a pass from the centre backs to progress play into the 2nd phase. The two 6s (Sissoko and Lo Celso) then make third-man runs further forward. Lucas Moura and/or Dele Alli attack the space in behind the centre backs, should they decide to track Kane deep.
Spurs push their players up to the 2nd phase. They compete to win the 2nd ball to then build their attack from the 2nd phase.
Second Phase
Spurs set up in a 3-4-2-1, with Aurier maintaining width on the right and Son staying wide on the left. Spurs look to break down mid blocks in their 3 + 2 setup with quick patterns.
Kane drops deep between the lines, looking for an opportunity to receive from the centre backs. When Kane is deeper, Dele looks to run in behind.
If the centre back follows Kane, Dele attacks the space that was vacated. Spurs' back 3 are instructed to play this pass when this movement occurs, usually leading to Dele being played in on goal. Specifically, Toby Alderweireld has proved numerous times that he is capable of playing this pass to create goal scoring opportunities.
Lucas drops deep into the right half space. This manipulates the body shape and momentum of the outside midfielder, as he is forced to pinch in.
Aurier makes a run in behind, and after receiving the ball, he will either be free to cross or dribble against the opposition left back.
Dele drifts to the wide-left space to help progress possession up the pitch. Son moves centrally, whilst Kane pins the right-centre back. When Dele receives the ball, Son attacks the channel.
Sissoko drops deep into a false right back role, whilst Dele shifts inside to occupy the central space. Lucas starts high in the half space, with Aurier also in an advanced position on the right.
Lucas dropping deep is a cue for Dele to attack the space behind the back line. If this pass cannot be played, Kane drops deep to receive the ball into his feet. Upon reception, he can pass to one of the 6s or find Lucas with a quick pass.
Final Third
Throughout the phases, Spurs often break the lines both with horizontal and vertical passes. Even though the 2nd man may have a defender on him, their set-up is focused on setting the ball to a runner underneath.
Vertically, this creates space to attack space behind the opposition, as defenders are drawn out of their positions. Horizontally, this tightens the opposition's block, creating more space for Son and Aurier out wide. These combinations are especially common in the final third.
Lucas or Kane will fill the right half space, attracting the fullback to close space inside, in turn creating more space for Aurier to arrive into. His natural starting position allows him to arrive with pace in behind the back line without being offside.
Dele and Kane arrive at the front and back posts, Son arrives from the wing into the area looking for a cutback, and Lucas arrives late to attack a deflection.
In Possession to Out of Possession Transition
Final Third
Sissoko and Lo Celso provide protection to pick up any loose clearances from the opposition. Dier, Davies, and Sánchez all hold more reserved positions, allowing them to stall counter attacks until the rest of the team can retreat back into their block.
Second Phase
Spurs's 3 + 2 set-up allows them to have a good protection of space upon losing the ball in the 2nd phase. This usually buys enough time to prevent the opposition from progressing up the pitch before the attacking players can recover to defend.
Spurs Out of Possession
Press
Mourinho elects to not press goal kicks. The only time that Spurs press the opposition in their own third is when a pressing trigger (such as an under-hit pass) occurs.
Mid Block
Spurs's mid block is in a 4-4-2 shape, with their defensive and midfield lines remaining compact and narrow.
This fits the mid block's goal of blocking the central spaces, but as a result, they leave opponents free to engage in 1v1 duels out wide. They rely heavily on winning these duels to regain possession of the ball. 
When the ball is wide in these areas, the block shifts, but they rarely double down on a player in possession in wide areas, in order to remain compact in dangerous central areas.
The midfielders rarely ever jump out of their position. They are patient and wait until Dele and Kane press the opponents and force an error that can be pounced on.
Deep Block
Tottenham's deep block is in a 4-4-2 shape, with all lines remaining compact and narrow. There is a maximum of 5 yards for the opposition to operate between the lines outside of the 18 yard box.
The wide duels are once again where Spurs rely to win the ball back. Their midfielders and defenders wait to spring on a mistake from the opposition. 
When the fullback steps out to engage with a wide winger, a midfielder drops in to block the open channel.
Out of Possession to In Possession Transition
Deep Block
Spurs immediately look to play direct into Kane, and Alli, Son, and Lucas all rush underneath Kane to win the 2nd ball. If they can win the 2nd ball, they have the momentum to hurt the opposition on the counter.
Mid Block
If the opposition play with a back two in possession, Kane or Dele moves onto the outside of the centre backs as an outlet.
When a pass is played into them, they protect the ball until more numbers join in on the counter attack. The pass into these wide spaces also spreads the opposition out, leaving more space to attack centrally.
If the opposition have a back 3 in possession, Tottenham look to play direct to Kane, who then plays it to Dele who can drive up the pitch or dish it off to Lucas or Son.
Tottenham's Threats
Runs From Deep Through the Centre
Kane dropping deep creates uncertainty throughout the opposition's back line. If they leave Kane free, he can receive between the lines and pass back to a teammate behind him. If he is tracked into this deeper position, the likes of Dele or Lucas can explode into the space vacated by the centre back.
Aurier's 1v1 Skills
Spurs rely heavily on Aurier's ability to succeed in the 1v1 duels. As seen below, Lucas drops deep from a high starting position, manipulating the body shapes of West Ham's left-sided duo of Aaron Cresswell and Pablo Fornals. This creates space (time) for Aurier to control the ball and attack Cresswell in a 1v1 duel.
Opportunities for Arsenal
Dropping Deep vs. Mid and Deep Blocks
Due to the reluctance of Spurs's midfielders to jump out of their positions, the best way to force them to do just that is to have an attacker drop in front of the midfield line.
Spurs' centre backs will undoubtedly pass the forward on to the midfielders, who will then have to pick him up. Once the center forward has made this engagement, his movement must be clever enough to open a passing lane for a teammate between the lines.
In the photo above, if Sergio Agüero drops deep, Harry Winks will have to shift over (due to Lo Celso marking Kevin De Bruyne). This will open up space for İlkay Gündoğan as the opposite interior.
If Fernandinho is unable to play this line-breaking pass before Dele pinches in in to shut off the passing lane, he can instead choose to play to Riyad Mahrez who would be isolated 1v1 vs. Davies (out of shot).
Isolate the RW 1v1 vs. Davies
Bukayo Saka has proven to be an incredibly versatile player who has added tremendous quality to Arsenal's attack, and his ability to beat players 1v1 has been a useful tool for both Unai Emery and Arteta this season.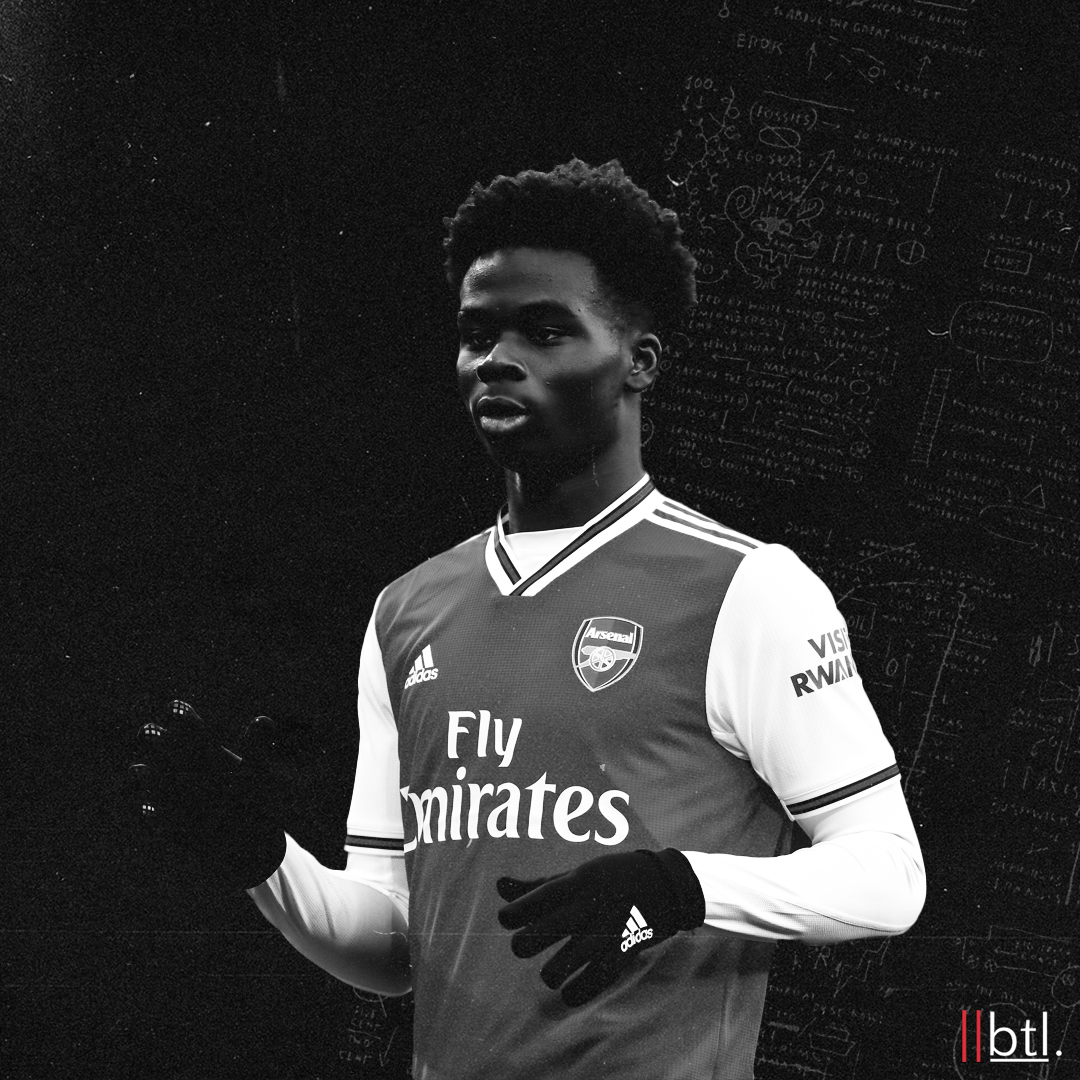 Due to the way that Spurs set up out of possession, Saka will undoubtedly have numerous 1v1 situations to attack. His production in these areas will not only help to eliminate a defender from Spurs's defensive shape, but also force Spurs to send another defender out to close him down. This will create more space centrally to help break down Spurs's block.
Tottenham – Plan
Anticipated Starting XI
Mourinho will likely set up his team in the 4-2-3-1 shape as he has elected this system in every game since the restart of the Premier League. Davies, Alderweireld, and Sanchez will form a back 3 in possession, while Lo Celso and Sissoko will form a double pivot to give Spurs a 3 + 2 shape in the 2nd and 3rd phases.
Aurier will push forward, aiming to arrive into 1v1 situations with speed. Lucas' movement will be crucial to isolate Aurier in these moments.
Kane and Steven Bergwijn will be the front 2 for Spurs. Kane will often come deep, with Bergwijn looking to run in behind Arsenal's back line. Son will play as a left winger, aiming to capitalize on transitions with his speed and unpredictability.
Surprise Starting XI
Mourinho could elect for a more defensive approach and opt for a 5-2-2-1, with Japhet Tanganga replacing Bergwijn.
This system had been used frequently by Spurs before the pause of the Premier League. The natural back 3 would allow for both Davies and Aurier to attack from wide positions without pushing Sissoko back as they do in their 4-2-3-1 system.
Once the wingbacks receive in these areas, Son and Lucas can penetrate with dynamic runs and create havoc for opposition's defenses. However, the lack of a high wide player could prove an issue for Spurs while in possession and in transitions.
How Arsenal Can Deal With Spurs
Barring no major surprises, Arsenal will likely enjoy the bulk of possession against Spurs' mid block. When the ball is in play, it is necessary that Arsenal's players circulate possession quickly and stay focused.
This high intensity will lead to a higher chance of Spurs' players making mistakes, creating potential forward passing lanes for Arsenal to break the block.
Arteta should opt for a 4-3-3 with Rob Holding, David Luiz, and Granit Xhaxa making up the back 3, forming a 3v2 vs Spurs' first line. Xhaka's quality from this deeper position will help to aid Luiz and Holding in finding forward passes more consistently.
It is important for the free CB to push forward after receiving a pass in an attempt to draw a Spurs player out from the 2nd line. This will create numerical superiority for Arsenal past Spurs's first line. 
In order to create opportunities for the CBs to penetrate Spurs's block, Alexander Lacazette needs to succeed in dropping deep behind Spurs' midfield line. As he drops deep, he will need to engage one of the center midfielders with his movement. After the midfielder is engaged, he must drag the midfielder away from the passing lanes to create space for Joe Willock or Pierre-Emerick Aubameyang.
If Lacazette drops deep and drags Lo Celso to a more central position, Willock will be open in the right half space. If Son is able to pinch in to block the passing lane to Willock, then Saka will be open to attack Davies 1v1 from a wide area. If a direct pass is not available, Lucas Torreira will be open to play wide.
It is crucial that Aubameyang occasionally looks to make runs in behind the Spurs' backline in an attempt to push their defensive line back. This will create more space between the lines for Willock and Lacazette to operate in.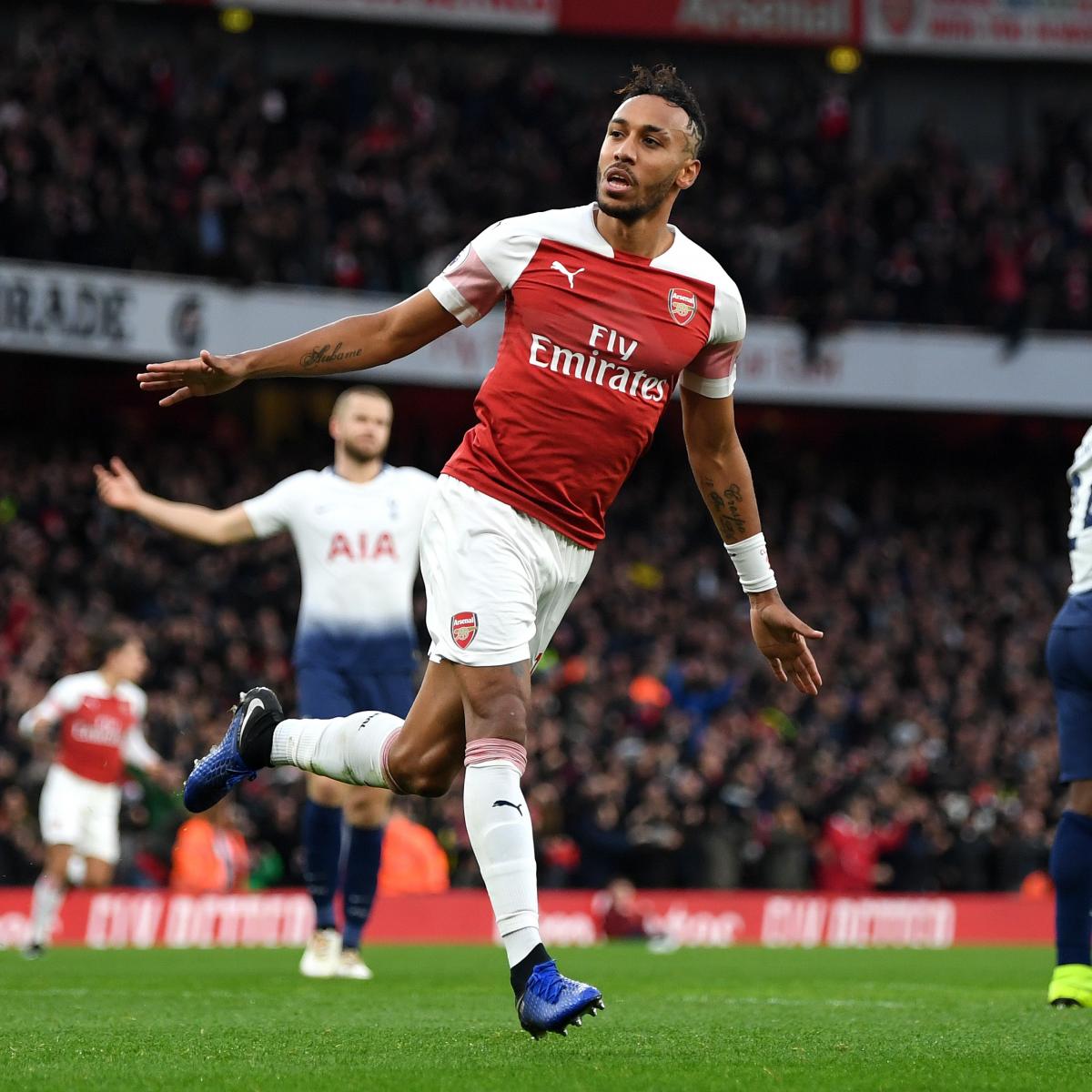 Photo: Shaun Botterill / Getty
Torreira and Dani Ceballos will have a big role in breaking Spurs's block not only on the ball, but also off it. Similar to Lacazette, they must constantly be thinking about how their movement can manipulate the Spurs midfielder out of position.
The 3 + 2 build up shape will give Arsenal protection if they lose possession. It can also lead to counter-pressing moments as Torreira, Ceballos, Willock, Lacazette, Aubameyang are all close to the area of a potential turnover. They must try to stop the counter attack by immediately applying pressure to the ball, with the others cutting off passing lanes.
Out of possession, Arsenal can set up in a 5-4-1 mid and deep block. This shape naturally cuts off access to the channels while also being able to cover wide areas effectively.
Kieran Tierney must constantly be aware of Aurier's late movements in the final third in order to prevent Spurs from getting in behind Arsenal's back line, as they could hurt Arsenal from these areas with cutbacks to the likes of Kane and Son.
Photo: NurPhoto via Getty
Assuming that one of Lo Celso or Sissoko will push forward in attack at some point in the game, Arsenal will have opportunities to counter. With a 3+1 base for Spurs in transition, Arsenal can look to exploit the wide spaces through Saka and Aubameyang when countering.
Potential Threats to the Game Plan
If the players in the 3 + 2 buildup for Arsenal in the 2nd and 3rd phases make unforced errors, the pace of Bergwijn, Son, and Lucas will be a real test for Arsenal in transition.
The biggest shortcoming for Lacazette during his spell at Arsenal has been his lack of ability to play between the lines intelligently. The game plan relies heavily on him being able to manipulate spaces between the lines in order to create passing lanes for players in more advanced positions.
If Saka is unable to beat Davies 1v1 consistently throughout the game, Spurs will not need to draw numbers away from the middle for protection. If Arsenal's midfielders and forwards take too long to press, Spurs will be able to break a half-hearted counter press with ease and progress up the pitch at will.
By: Ryan Lamping
Featured Image: @GabFoligno