Tactical Preview: The 2021 UEFA Champions League Final
With the Champions League Final just a few days away, this article analyses the previous match played between Chelsea and Manchester City and seeks to find out what challenges lie ahead for both teams on the big night. Both teams did not field their best eleven in the game, but there were some patterns that they used that probably will re-occur for their final game of the season.
Pep Guardiola fielded a back three with Rúben Dias, Aymeric Laporte and Nathan Aké with Rodri as the single pivot. Raheem Sterling and Ferran Torres played in the midfield with Sergio Agüero and Gabriel Jesus forming a partnership up front.
On the other hand, Thomas Tuchel utilized a back three of Andreas Christensen, Antonio Rüdiger and César Azpilicueta with N'Golo Kanté and the 19-year-old Scottish midfielder Billy Gilmour forming the double pivot. In attack, they had Timo Werner in the center with Christian Pulisic on the right and Hakim Ziyech on the left.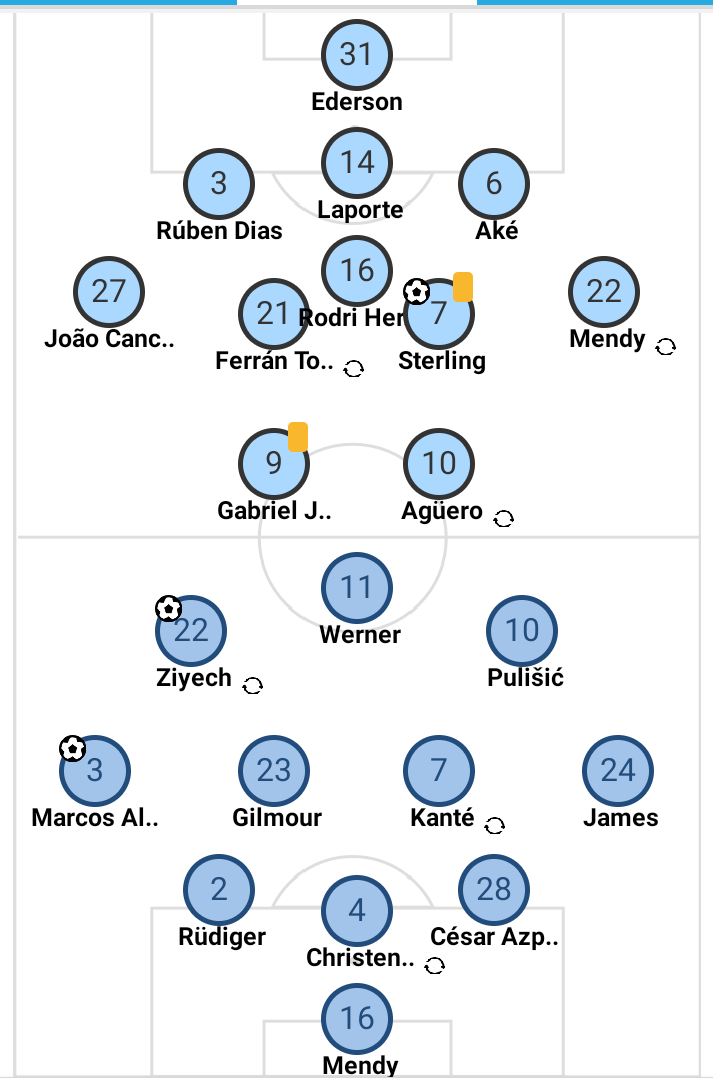 The most notable feature of the game was the pressing system Guardiola deployed against Chelsea. Chelsea builds up with a back three and two pivots forming triangles between them. Pressing Chelsea with a flat front three would mean that the Chelsea pivots find enough space to receive the ball and if the opposition were to use a midfielder to press one of the pivots, Chelsea would still have a free player in their build-up structure.
Fielding more players in pressing would mean that if Chelsea make a successful build-up they would be able to make a very smooth progression since the opposition has used more players in pressing. So Guardiola came up with a two-layer active pressing system that has two players in each layer.
Initially, Torres and Sterling would mark the Chelsea pivots and Agüero and Jesus would press up front. But if Chelsea manages to play the ball to one of their wide center backs, Sterling or Torres whoever is close presses the wide center back in possession and the other presses the ball near Chelsea pivot while the ball far city forward drops to mark the ball far Chelsea pivot.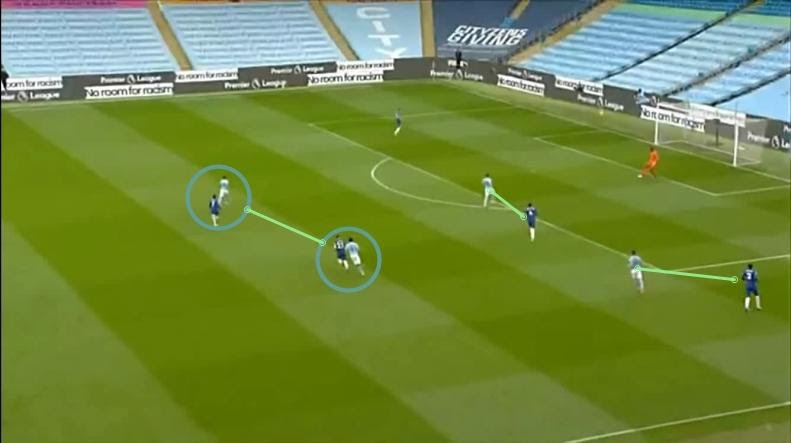 City's two-layer pressing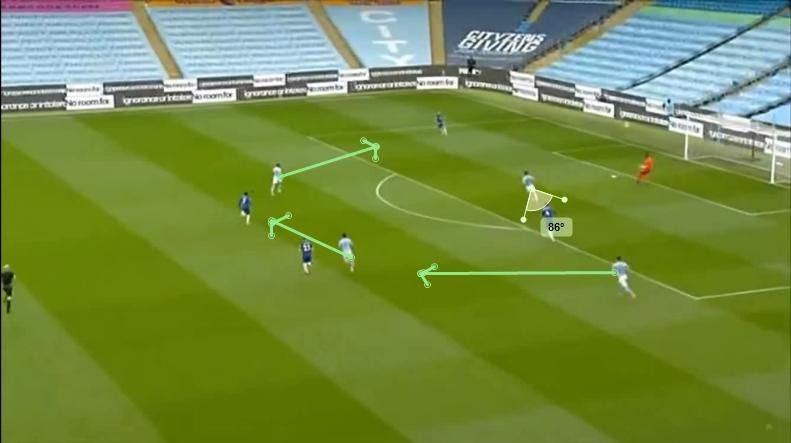 City's press shifting as mentioned above
This way, Manchester City would cut off the passes to the other side and squeeze the space forcing Chelsea players to make a mistake. Guardiola would probably use the same pressing structure for the Champions League Final and it would be interesting to see how Chelsea would counter this.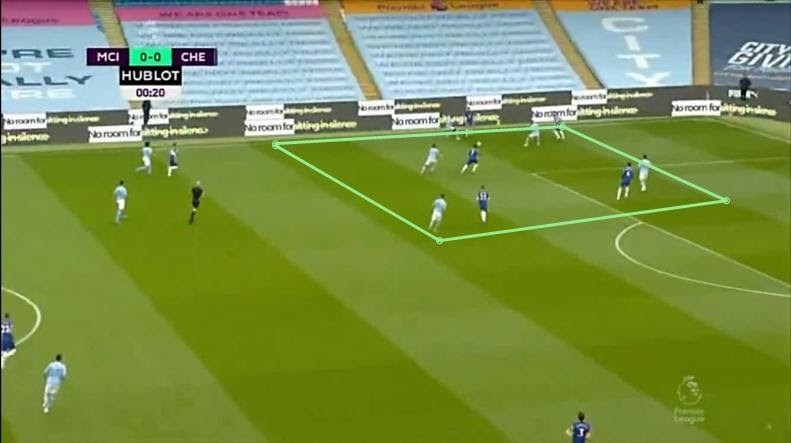 On the other side of the field, City builds up with three backs and Rodri as their single pivot. The other city midfielders Sterling and Torres would take up positions higher up the field. Chelsea's front three stays narrow protecting the center and Gilmour, one of the two Chelsea midfielders was tasked with the duty of pressing the city pivot. This created a 2v1 situation in the midfield in favor of City.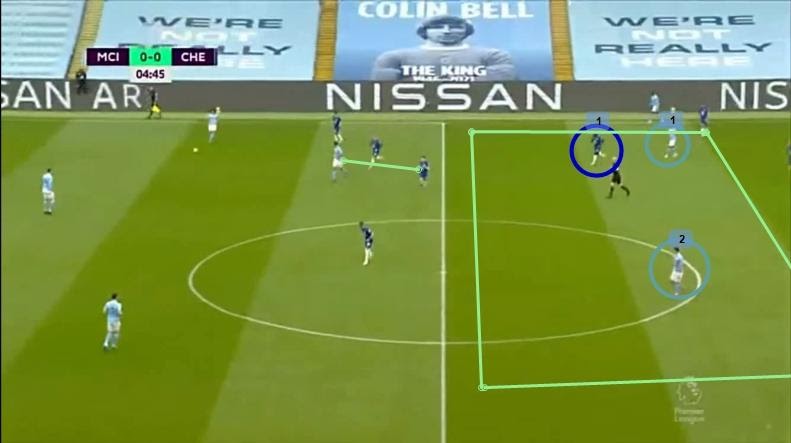 As seen above, Gilmour pressing Rodri means that Aké can find a player between the lines thanks to their 2v1 advantage in midfield. However, Chelsea tried to negate this advantage that City had by pushing Rüdiger or Azpilicueta to mark Sterling or Torres at times.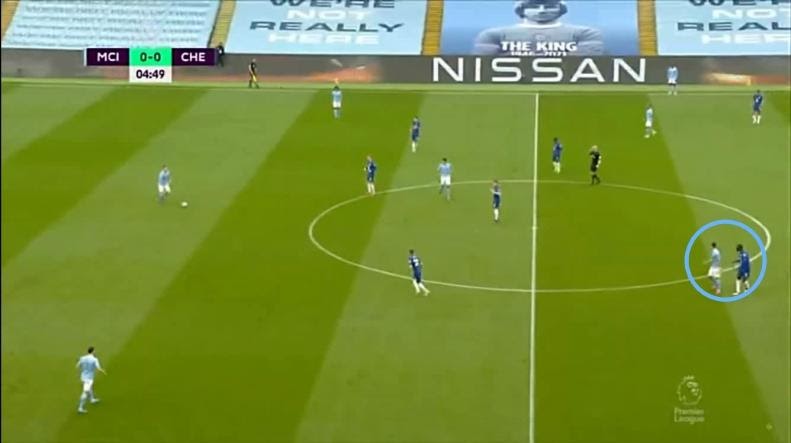 City also positioned Agüero and Jesus between the Chelsea back three, effectively pinning them down. This made it difficult for the wide center backs because if they pushed forward to mark the City midfielders in their attempt to negate the superiority that City had in the midfield, then the forwards would attack the space they leave behind.
If they decided to stay back, Sterling or Torres would find themselves in space to drive towards the Chelsea defense. This has been so effective in creating chances for the Citizens and Chelsea will definitely have to come up with a solution for this predicament. We can see below how the pinning action of City forwards can create space for Sterling to attack.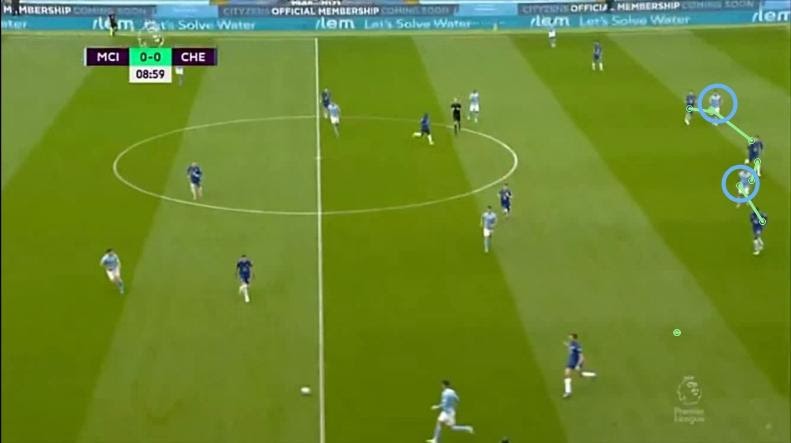 One way that Chelsea can expose City is by exploiting the pace and work rate of Timo Werner; with Chelsea's wide midfielders dropping, they will drag City's wide center backs along with them and give Werner the opportunity to attack the space left in behind. If Tuchel decides to go with Havertz as the center forward, a player who can drop between the defensive and midfield line, Werner could be useful in attacking the space with outside-to-inside diagonal runs.
Whilst Werner has come under heavy criticism in his debut campaign in England for his inability to stay onside as well as his lack of efficiency in front of goal, he has proven against the likes of Real Madrid and Atlético Madrid that he is not to be taken lightly and that he can cause havoc against all sorts of defenses. Tuchel will be looking to put an end to Chelsea's recent run of poor form — both in league matches as well as cup finals — and deliver them their first Champions League since 2012.
By: Jairam Gopal
Featured Image: @GabFoligno / Richard Heathcote – Getty Images / Michael Regan – Getty Images