Best World Cup Matches: Croatia-Russia
Introduction
Both Russia and Croatia were coming into this match with wins over Spain and Denmark respectively on penalties. Russia's win over 2010 World Cup winners Spain on penalties was a huge upset in the last 16 and now it was time to face the eventual World Cup Finalists and dark horses in Croatia. Croatia themselves had a tough battle against Denmark which went to penalties, with Croatia taking the win moving on to the next round.
Russia's Defensive Structure and Attack
Russia utilised as they have done throughout the tournament, a well-coordinated 4-4-2 block with situational pressing triggers such as when one of the Croatia fullbacks was in possession of play. The 2 wingers would then press them with a pressing run from outside to in.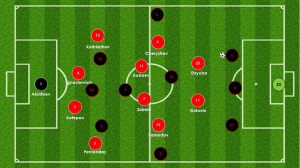 The nearest ball forward would then at times close the fullbacks from moving inside and hence force them to go back and play a pass towards the CBs. This good shifting from left to right made it difficult for Croatia to penetrate through them and forced them to utilise a more wing-oriented focus of attack.
Russia would revert to a situational 4-3-3 when pressing Croatia's CBs in Croatia's build up play with Samedov moving further forward joining the front which meant Fernandes would push up to press Strinic leaving space in behind on the left wing.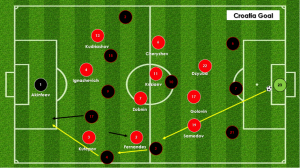 This situational 4-3-3 which did come at a cost after they went 1-0 up, with Croatia's goal coming through a direct ball towards Strinic who headed forward towards Perisic, with which Mandzukic was positioned on the right of Kutepov and in a dangerous position Mandzukic then played a cross into Kramaric who headed it in to equalise.
In possession Russia's build up play was low risk with a lot of circular passes between the CBs and CMs every now and again playing a pass backward. Russia's attacks were mainly oriented towards the right flank, Fernandes advanced positioning and Golovin/Samedov's inside positioning were to allow for 2nd ball recovery and from there begin attacking Croatia aiming to maintain forward movement with few passes in an attempt to score a goal. Fernandes was the key component of those direct passes from deep to get crosses into Dzyuba.
Croatia's Attacking Play
Croatia in a similar take to Russia, where also at times direct in their use of possession. Mostly aiming to get the balls wide to the advanced fullbacks, especially Vrsajlko on the right-hand side who was the more advanced of the two fullbacks.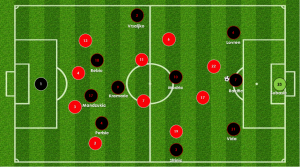 Rebic, Mandzukic and Perisic kept Russia's back 4 deeper into possession but Croatia found it difficult to play passes towards them as Russia's CMs were usually deep enough at times to help close the space they had at times to reduce Mandzukic and Kramaric's time on the ball.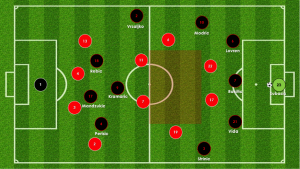 Rakitic often dropped in between Lovren and Vida in the build-up phase and then moved further up alongside Modric when in Russia's half of the pitch. Modric had a freer role to move in behind the Russian front 2 forwards or move onto the right flank position pushing Vrsajlko further forward it meaning that there were various situations where Croatia's central occupation was non-existent forcing the CBs to either play direct passes towards Mandzukic or Rebic and then allowing Croatia to shift play towards an oncoming near ball fullback. Or allowing Modric to dribble inside and then play a vertical/diagonal pass towards Kramaric or Mandzukic who would then shift play towards the wing. Croatia's best chances of the half came from crosses from Vrsaljko with Mandzukic not taking one of those good opportunities.
In the 2nd half there was a change with Rebic and Perisic changing flanks and Kramaric at times dropping into deeper central positions to provide more central passing options to help progress penetration.
Mandzukic, Rebic and Perisic continuously created problems for Russia's back 4 with constant movement between left and right flanks and at times the 3 where more compact in their positioning in the central area freeing up space on the wings for the 2 fullbacks especially Vrsajlko on the right-hand side who was creating a great deal of problems with his constant crosses into the box.
Kramaric's deeper movement also provided the two Croatia CBs with now more options to play to, without having to go long when Modric was not able to receive a pass, in order to progress play forward and also was another way of drawing Russia's player's narrower and in turn freed up space on the wings for the 2 fullbacks to cross balls into the box for a shot at goal.
Brozovic came on for Perisic which pushed Rakitic a lot higher as the advanced midfielder as Brozovic became the pivot and Kramaric moved towards the right flank.  
Conclusion
In conclusion it was a game that went into extra time after a goal each at full time. Both teams scored a goal each from set pieces, and then Croatia went on to win on penalties and eliminate the hosts from the World Cup. Russia can still be pleased at their overall performance through out the tournament and even eliminating Spain which was a great upset and something to be proud of. Croatia on the other hand had a great tournament and unfortunately lost to France in the Final after some great performances throughout the tournament.
By: Michael Musaba