Kosovo: The Disputed Territory
In a recent match that took place in Group E of the World Cup, Serbia played Switzerland in Matchday 2 of 3 in the group stage. A dramatic contest, the Serbians scored first but were unable to preserve their lead, conceding 2 unanswered goals to the Swiss – goals supplied in the second half by current Premier League players Granit Xhaka and Xherdan Shaqiri. Despite the moment of sheer happiness, scoring for their country, the Swiss footballers performed a more meaningful and controversial action that took place when the ball had past the opponents' goal line, running across the pitch to cheer with their fans. Not 1, not 2, but 3, of the Swiss footballers were caught performing a gesture of what looked like for many, to be an "X", or the recent "Wakanda Forever" salute from the film Black Panther. However, this motion was actually a nationalist symbol, representing the double headed eagle on the Albanian national flag.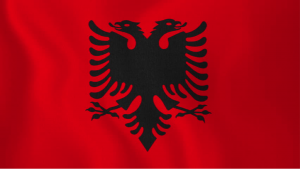 Background
Kosovo is a partially recognized state bordered by Albania, Macedonia, Montenegro and Serbia. There have been many conflicts and wars involving the nation, such as "The Battle of Kosovo" in 1389, "The Balkan Wars" in 1912, and "The Kosovo War" in 1998, but how FIFA and football fits into this category is all related to the footballers and their families and the state individually, that currently consists of a mix of several Bosnian, Albanian, Serbian, and Turkish individuals.
On February 18th of 2008, Kosovo declared its independence from Serbia, with 113 UN member states unanimously supporting and recognizing the action. They became known as the "Republic of Kosovo", or "Republika e Kosovës (Albanian) / Republika Kosovo (Serbian) and this is where several issues have surfaced, due to current players families being forced out of the state during the time conflict occurring in the 1900's between Serbian and Albanian fighters. Thousands were killed in an extraordinary evil and with Kosovo having a majority of Albanians in the region, this is why the celebration was performed by Swiss players Xhaka, Shaqiri, and Lichtsteiner.
Football Federation of Kosovo
Until a couple of years ago in 2016, most players of Kosovan descent did not play for the Republic of Kosovo. UEFA (The Union of European Football Associations) and FIFA (The Fédération Internationale de Football Association) denied the states membership to play within either association, due to their dubious recognition as a liberated state, furthermore opposing each professional footballers' values and wants.
To this day, many players have joined other nations that they may have been displaced to, or were born in. Past, present, and future, this has been, and continues to be, an ongoing issue that FIFA continues to monitor.
Today, I will analyze what that team of Kosovo could actually look like today, with the addition of six well-known international players that have a Kosovan descent. They currently play on the national sides of Belgium, Albania, and Switzerland respectively.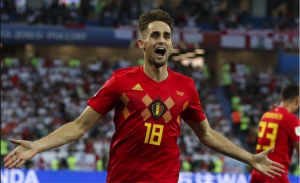 Belgium
ADNAN JANUZAJ, was born and raised in Belgium with parents of Kosovar-Albanian descent. His family emigrated to the land in 1992 to avoid being called into the Kosovo war. Starting his career with his hometown club Brussels, he quickly moved to rivals Anderlecht at the age of 10. 6 years later, with his hard work and training paying off, he was scouted by Premier League giants Manchester United and joined the English club in 2011. After an impressive start, his career at Old Trafford swindled out of control with poor performances, as he lost playing time. He was sent out on loan to Borussia Dortmund and Sunderland in the 2015/16 and 2016/17 seasons, before being officially signed by Spanish side Real Sociedad ahead of this past season.
Somewhat of a 'chance of redemption', the now 23-year-old scored 3 goals in 18 starts for the Spanish side, providing 5 assists this past season. He managed 60 shots with an 80.5% pass success percentage, earning himself 4 'man of the match' awards. A left footed player, Januzaj can play on the right for left flank of the pitch. He prefers to play in a winger or attacking midfielder role, being able to beat his opponent by making a move and cutting inside closer to the center of the pitch. Last season, the youngster attempted 182 dribbles, an average of 7 dribbles per match in all competitions. A player who likes to hold onto the ball, Januzaj is often fouled as he swerves in and around the opposition, changing pace and accelerating. He challenges the defenders head-on, using his great control to quickly take a touch and escape into open space. This is where he is most deadly, as he often walks right into the box for a strike or sets up his teammates perfectly with those final key passes that he is so good at creating. Crossing is not his preference – it is a 'run into the box and try to score or set up my teammates' type of play. Still with many years left of football within him, Januzaj has the potential to be a top-class attacker. The player has 9 caps for the Belgian senior squad, with more likely to be around the corner.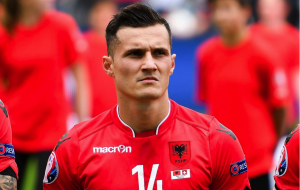 Albania
TAULANT XHAKA, was born and raised in Switzerland with parents from Kuršumlija (Serbia), only 150 km away from Kosovo. His father was a student in the capital city of Pristina, Kosovo, when was sentenced to 6 years in prison for acts against the Communist Yugoslavia ruling. Due to this, his family moved to Basel, where both Taulant and his brother Granit (who will be mentioned later) were born and started their youth careers as footballers. Granit has been with the same club in Basel since 2002 – his only time away from the club was in the 2012/13 season when he went on loan to Grasshopper for first team playing time.
The option to play for multiple nations, Taulant played for the Swiss youth sides until time had come to play for a senior team, in which he opted for Albania. With 20 caps to his name, the 27-year-old can play as a right-back or a central midfielder, making him very versatile to the nation and his club Basel. At only 5'9, Xhaka is a beast of a footballer, not scared to jump into any challenge. His biggest strengths surround his defensive play (more than attacking) due to his ability to win balls in the center of the pitch with his strong tackling ability, and defensive awareness. This has been seen not only in the Swiss league, but also in European completion, as Xhaka and Basel have played in the Champions League and Europa League on multiple occasions. More comfortable just in front of the two center backs, Berisha made 34 appearances in all competitions last season. He had 3 goals, 2 assists, and 17 yellow cards in this span which shows how aggressive of a player he really is (a yellow card in every other match).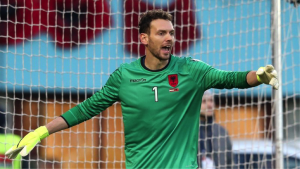 ETRIT BERISHA, is a goalkeeper who was born in Pristina – the Capital of Kosovo. He played for KF 2 Korriku in the second tier Kosovan football league for the first 10 years of his career (1997-2007) before moving to Swedish side Kalmar FF. after a successful trial. A fan favourite, Berisha stayed in Sweden for 5 years before moving to Lazio in the summer of 2013. This is where he managed to make a name for himself, playing in a well-known top five league in Europe. However, even after having made a good impression on the club and the league, Berisha was always considered to be a back-up for Lazio, and he moved to Atalanta (also in Italy) on loan first, before being officially bought in 2017. Though born in Kosovo, Berisha has chosen to represent Albania (through his Albanian ethcinity), where he has now made 48 appearances.
At 6'5, Berisha is a tall towering structure who is very athletic. At 29-years of age, the keeper played in 42 total matches for the nerazzurri last season, with 10 clean sheets, and only 45 goals conceded – almost an average of only 1 goal allowed per match. He has a tremendous reach, being able to get to almost every low driven shot into the corners and has quick reactions, looking to make the second and third save if the ball is still loose in his box. This is his next strength, his ability to command his 18-yard box when set-pieces are being delivered. He stands up tall and comes off his line to make incredible saves and punch the ball away from his net. A surprising trait comes from his penalty ability, as back in Sweden, the goalkeeper scored 5 of 6 penalties he took with Kalmar.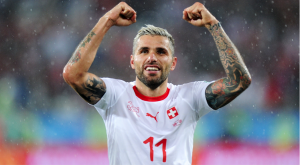 Switzerland
VALON BEHRAMI, was born in Titova Mitrovica, Kosovo. At a young age after both of his parents had lost their jobs, Behrami and his family moved to Stabio in Switzerland, where he started playing football in 1993. He stayed in Switzerland for 10 years, until then Serie B side Genoa picked up the young midfielder ahead of the 2003/04 season. After impressive performances with Genoa, Hellas Verona (where he was sent on loan), and Lazio up until 2008, the midfielders time in Italy was over as he moved to Premier League side West Ham for 3 years. He then bounced back to Italy to join Fiorentina and Napoli in 2011 and 2012 respectively, before starting a new adventure in Germany for the 2014/15 season. Once again, he travelled back to England, this time with newly promoted Watford. Owned by the Pozzo family, after 2 years with the side, he moved to Italy for the 2017/18 season to play with Udinese, who is also owned by the Pozzo's.
Valon, now 33 years of age, has 82 caps with Switzerland since making his first appearance in 2005. Another player who wanted to play for a recognized country, Behrami also wanted to give back to the nation that had allowed him to develop and grow. He has made his name known all across Europe, as he has always left a good impression on whatever club he plays for: he makes his way into the starting 11 and never is replaced as he becomes so vital to a team's success. This past season with Udinese, he made 20 appearances for the club, scoring once, assisting once, and picking up 5 yellow cards. A player who can play anywhere in the midfield, his preference tends to be playing as a holding midfielder where we have seen him play in this 2018 World Cup so far, or a central midfielder, where he has played interchangeably his whole life.
Behrami is 6'0 tall and is a defensive work horse. Though he does not contribute as much as he would like to be going forward, he is essential to his club and country with his terrific ability to read the progression of a play and intercept through balls and passes. In addition to this, he has terrific stamina and running abilities which were all put into display in his World Cup outings to date. A standout match for him was the first against Brazil, where he was able to keep Neymar from performing at all, always sprinting at him and not allowing him to pass by.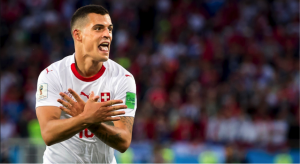 GRANIT XHAKA, enter controversy part 1. Granit, the brother of Taulant, is the second biggest name on the list. He started his career with Basel (where he stayed for 10 years) before moving to Germany to play for Borussia Monchengaldbach in 2012. A defensive midfielder like his older brother, he is 6'0 and has been deemed by many as the next "Schweinsteiger" – pure grit and strength, with technical ability. After 4 years with the German club where he picked up over 100 caps, he moved to Arsenal in the Premier League in 2016. Since then, the now 25-year-old has made 83 appearances for the English side – last season he played in 44 matches in all competitions, starting 42 of them. He was able to secure 2 goals and 7 assists for the club, while also receiving 11 yellow cards in this process. He had an 89.1% pass success completion, with 73 total shots, and 134 attempted tackles. In addition, Granit plays for the nation of Switzerland – a different nation to his brother, as this is where he grew up.
Xhaka is well known for his aggressiveness and long shot ability. He constantly puts in a warrior's performance playing in front of the 2 center backs with his great work ethic, grinding his hardest until the ball is won back. This is completed by constantly pressing the opponents who are incoming or using his intelligence to read a play. Though not known for his dribbling, Xhaka often beats his man by taking a quick touch when receiving the ball and accelerating in a direction. This throws off the opponent as they do not expect it from the Swiss man. In addition,
his passing is sublime, completing layoffs, and working out wide in matches to move forward. He also is able to hit a long ball to switch the play with ease. Lastly, the players long shots. When the ball comes off his foot and it is on target, it is usually causing trouble for the opponent's goalkeeper, as his shot is a rocket. This was on full display in the World Cup against Serbia, when he smashed in a shot in the bottom corner. This is where the "double eagle" celebration was performed for the first time. Xhaka drifted off towards the Swiss fans and held up his arms in that harmless "X" position.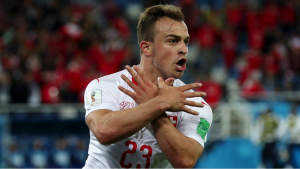 XHERDAN SHAQIRI, enter controversy part two. The biggest name on this list, Shaqiri was born in Gjilan, Kosovo, but his family emigrated to Switzerland only a year later in 1992. He started his career with SV Augst before transferring to Basel in 2001 at the age of 10, where he worked his way up through the youth ranks. He made first senior team appearance 8 years late in 2009 as an 18-year-old, receiving interest from all around the top 5 leagues in Europe. After winning the League Cup and Swiss Cup on two occasions within 3 years, in 2012, Shaqiri accepted a move to Bayern Munich. He fit right into the squad, even playing in Champions League football with the side. That season, he became one of the players to secure a treble with the club, winning the Champions League, Bundesliga, and the DFB-Pokal. In January of 2015, after minimal playing time, he moved to Inter to play in Serie A. However, once again he was not getting the time on the pitch he wanted and opted for a move to the Premier League with Stoke City that summer. This is where he has been since, making 92 total appearances for The Potters. In addition, Shaqiri plays for Switzerland's national side. After Kosovo joined FIFA, Shaqiri had declared that he would switch allegiances and play for his native country, but since he continued to play for the Swiss after Kosovo had become a member of the Federation, Shaqiri was ruled out for a switch.
Last season, he played in 38 total matches, scoring 8 goals while providing 7 assists – for a team that earned relegation, finishing second last, Shaqiri was a bright star in a dark time at Stoke. A small player, Shaqiri is only 5'5 – one of the shortest players in the game. This is why many thought he would not make it as a footballer, but what he lacks for size, he makes up for and provides in skillful quality. Shaqiri is left footed and is terrific with the ball at his feet. Passing, dribbling, and shooting, he is the perfect package for an attack-minded player. His preference is on the right-side of the pitch, where he is incredibly fast and uses his dribbling ability and balance to work his way into the pitch and have a shot and these hits are usually lethal, as we have seen so many times for club and nation: the bend and power he is able to put behind a ball is bizarre and he usually puts them in a spot unable for a goalkeeper to reach. He had 69 total shots last season, and 44 were outside of the box, showing how keen he is for a long-shot. Shaqiri can also play as a more central attacking player, right behind the striker, but many have seen his work from the right-flank and know this is where he is most effective. With his work ethic moving forward, he also has the vision to make key passes and spot his teammates. This is supported by 77 total key passes, or 2.1 on average per match he has played in last season.
Shaqiri scored the second goal of the match against Serbia in extra time, to secure the win for his country. Once again, after removing his shirt, the now 26-year-old performed the "double eagle" celebration, stirring more controversy between the Serbians. Despite this, Shaqiri has had an excellent World Cup outing so far, increasing his value for when he will be leaving Stoke this upcoming season.
By: Steven K. Moore
Featured Image: Sam Wilson