How Morocco Held Croatia to a Clean Sheet to Open Their World Cup
Four years after losing to France in the 2018 FIFA World Cup Final, Croatia began their 2022 FIFA World Cup by taking on the Atlas Lions in their first group stage match. The match was in Al Khor, Qatar, but it could have just as easily been in Casablanca due to the large number of Moroccan supporters. Despite the 0-0 end result, we saw an aggressive Morocco team that exploited Croatia's flaws and could have come away with a win had it not been for their errant finishing.
Morocco's Build-up Play
Whilst Croatia kept 65% possession, both sides had two shots on target whilst Morocco had 8 shots to Croatia's 5 thanks to their impressive build-up strategy to counteract Croatia's high press. As Andrej Kramarić was switching his pressing direction between the Morocco centre backs (applying direct pressure on the ball carrier and cover shadowing the other one), Achraf Hakimi (RB) was dropping deep to support the build-up on the right flank as Croatia (switching between 4-4-2 and 4-1-4-1 in this phase) blocked the the build-up options through the central areas.
Morocco could then progress the ball forward by using dynamic triangles and benefiting from the pass-and-move combinations between the near side centre back, full back and defensive midfielder (Sofyan Amrabat) and the same between ball side full back, central midfielder and winger. However, Croatia held firm defensively as Joško Gvardiol and the rest of their defenders constantly stepped out and dealt with the threat.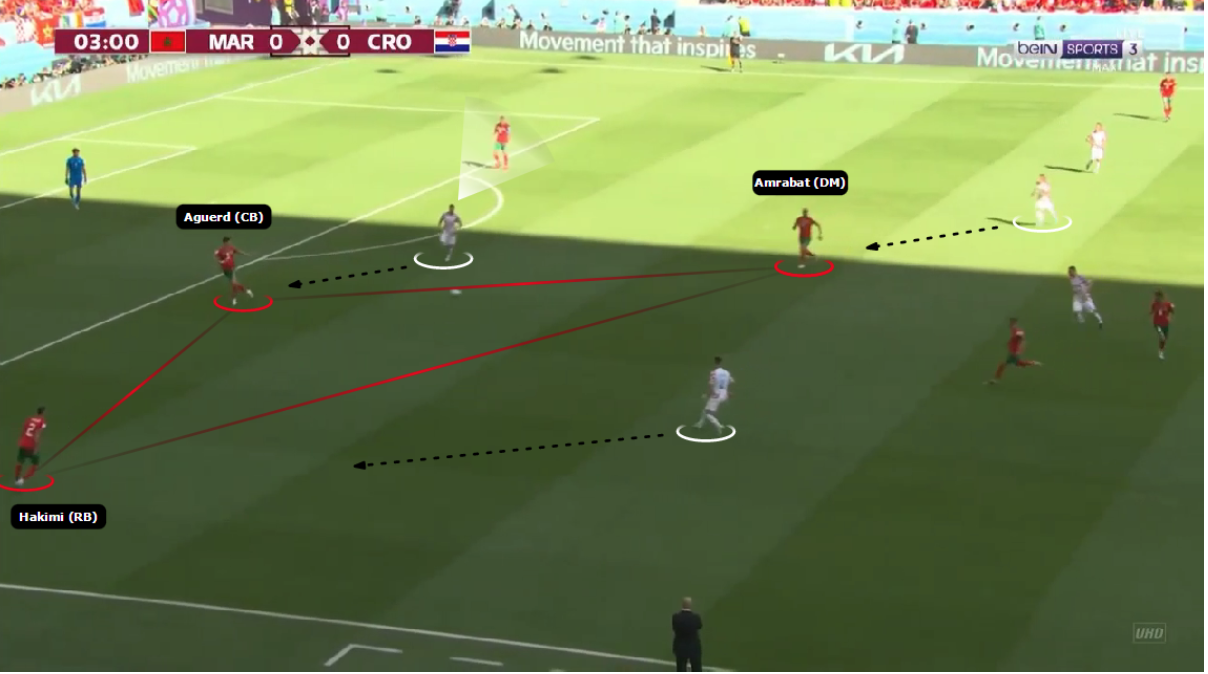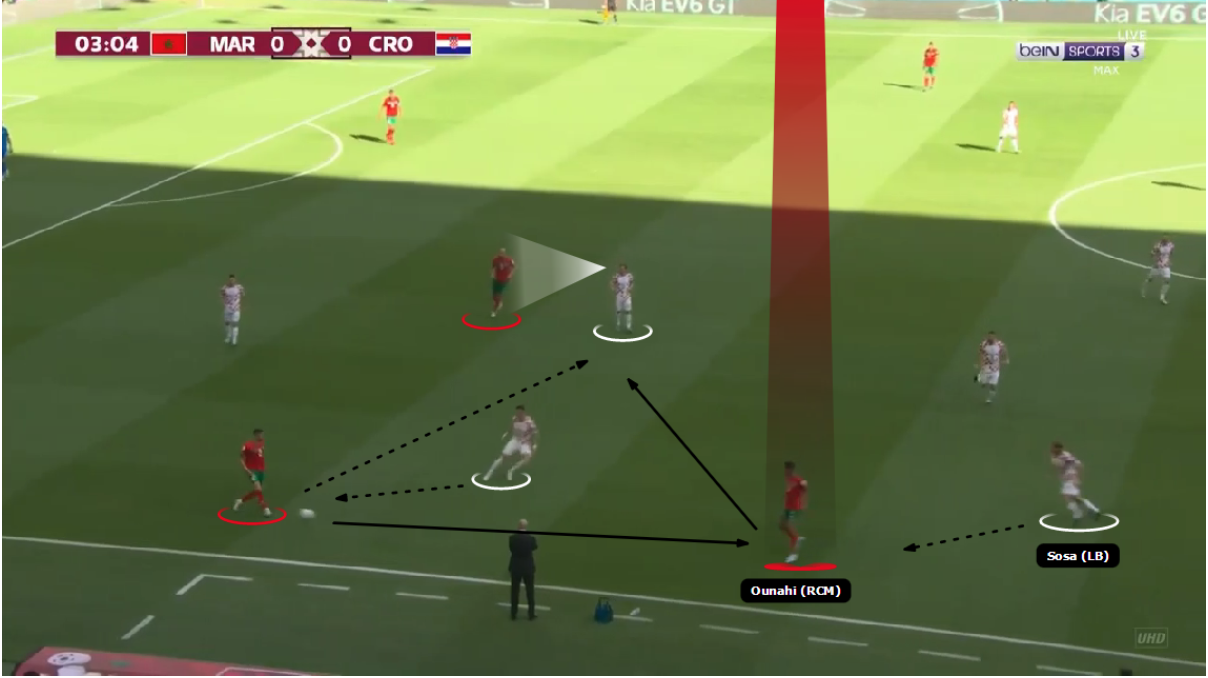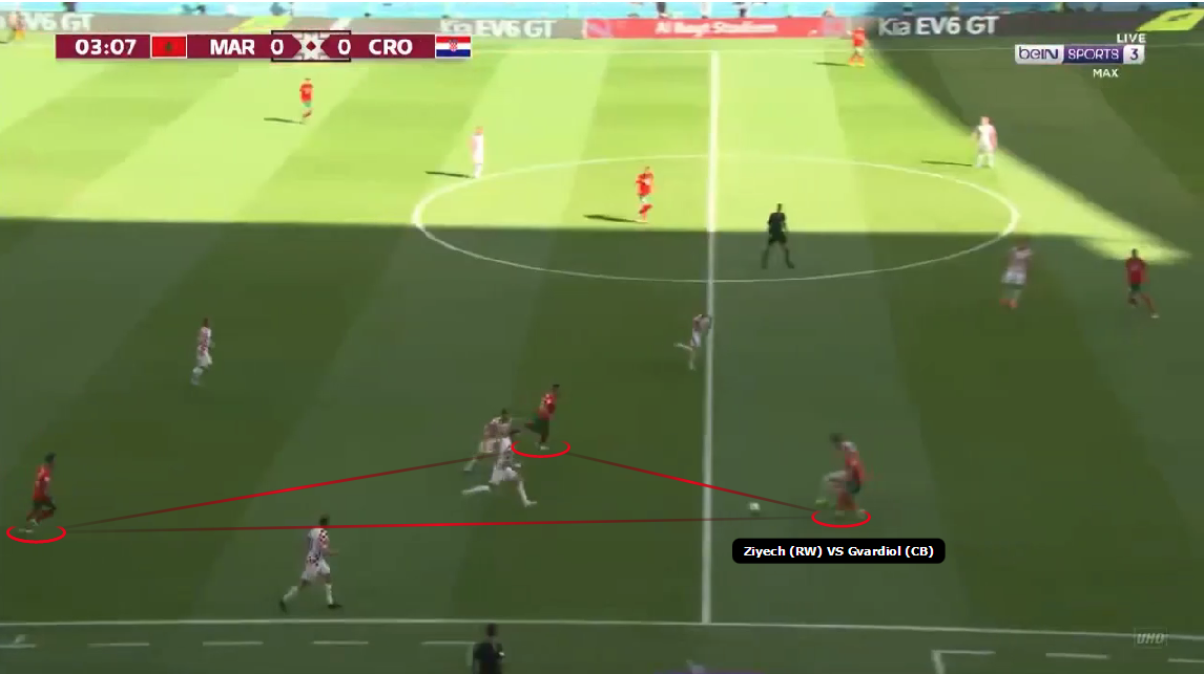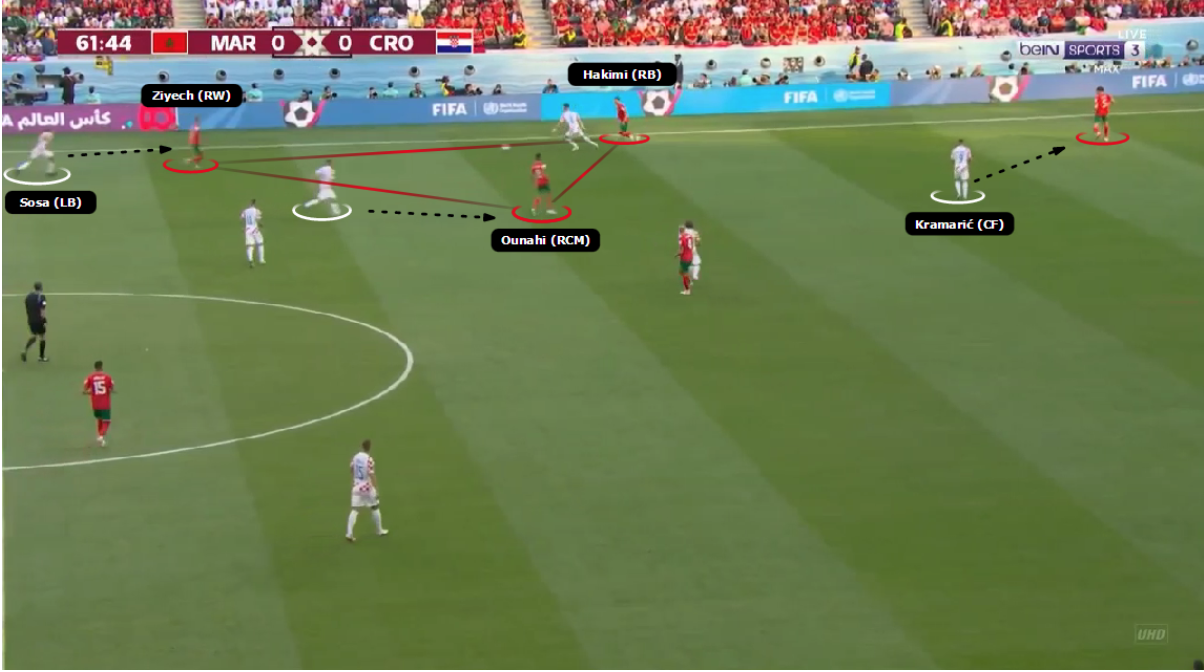 Morocco's central midfielders Sofyan Amrabat and Selim Amallah could also utilize their technical abilities, dribbling to escape 1v1 situations during the build-up and forcing their markers to commit fouls against them in order to prevent the Moroccan players from carrying the ball forward and exploiting the acres of space between Croatia's first line of press and their backline.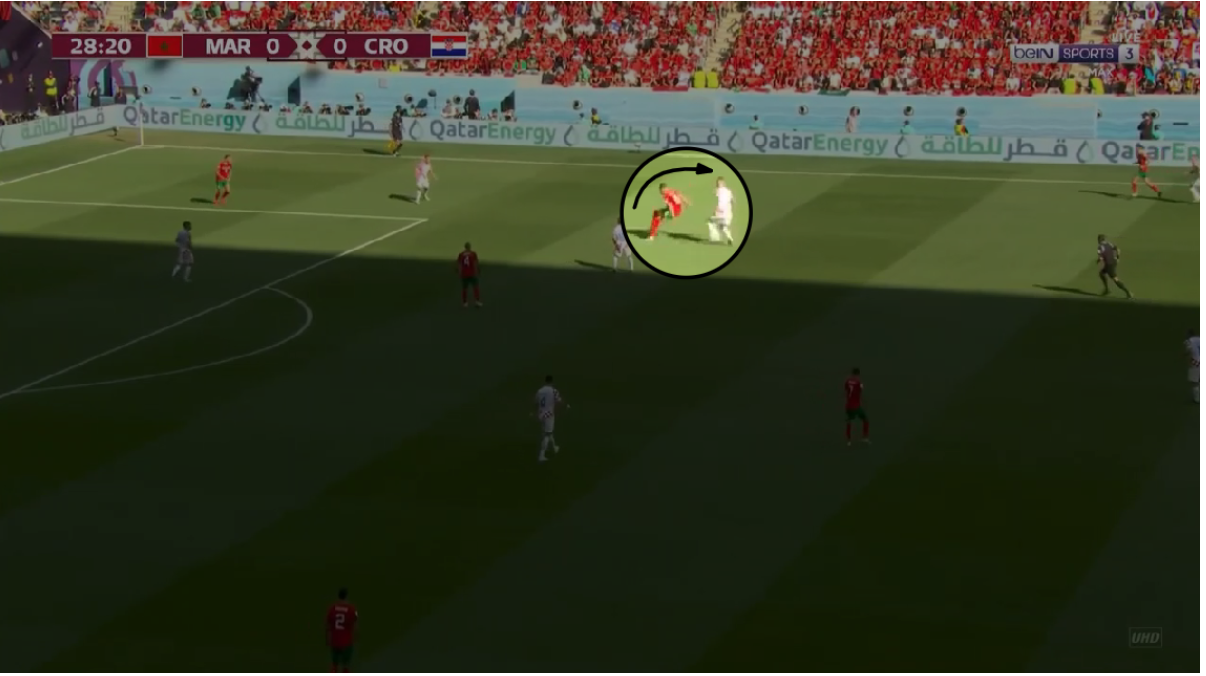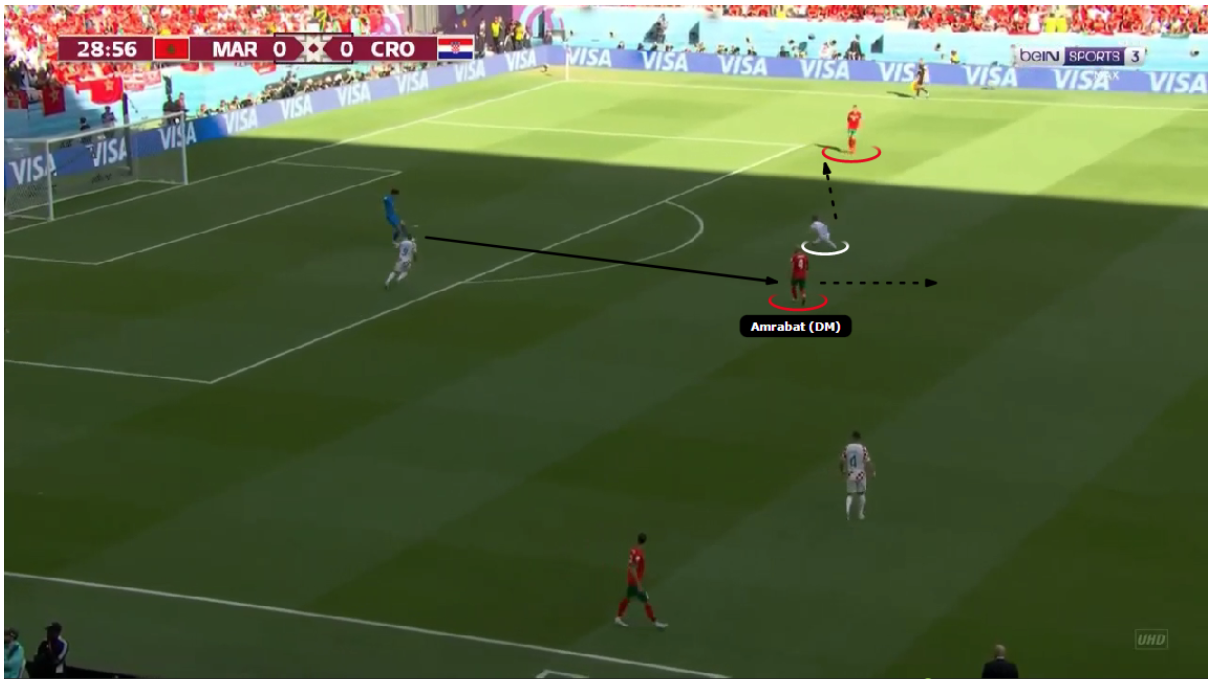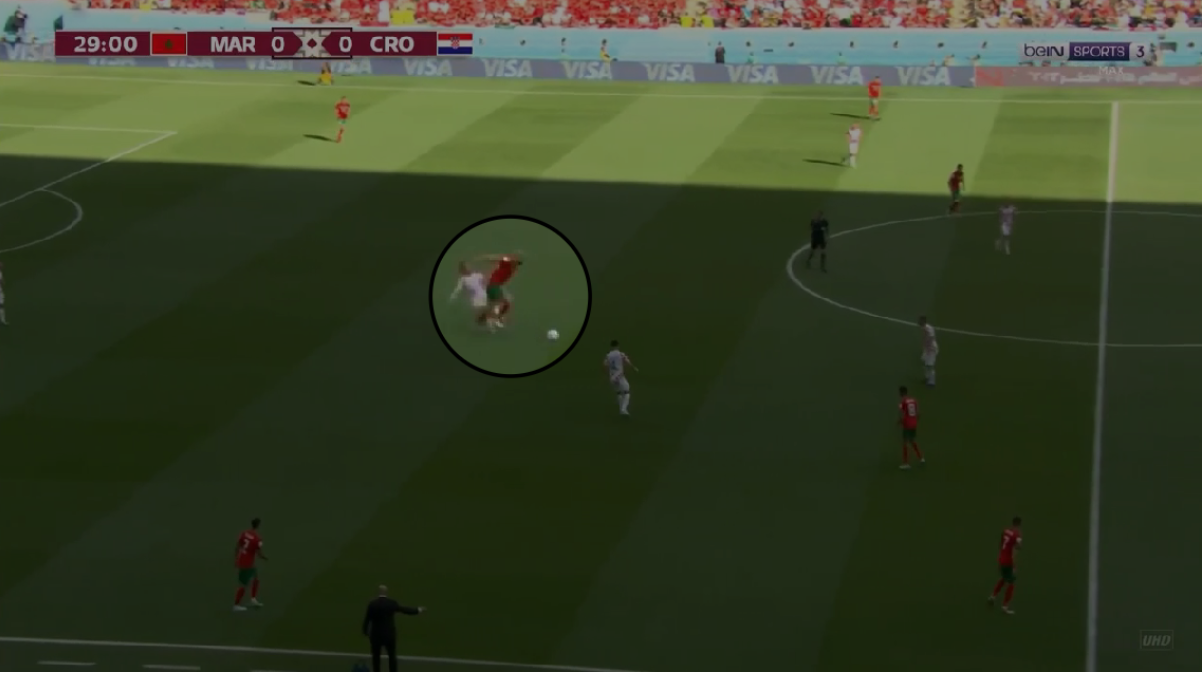 Croatia's Progression in the Second Build-up Phase
Against a narrow zonal-oriented (4-1-4-1) Moroccan mid-block, Croatia were focusing on giving time and space on the ball for their best progressive passers (Joško Gvardiol, Luka Modrić or MarceloBrozović) rather than keeping a constant numerical shape for such a phase.
On the other hand, Morocco were relying on some constant principles regardless of the player who applies them: Pressing the ball holder, marking Brozović as the main outlet to Croatia's attackers by directly pressing or cover shadowing, keeping the midline in shape until an opponent drops deeper beside his backline — then the nearest midfielder would jump higher to press him and the most important principle is blocking passing lanes to their Croatia front line players.
Amrabat had a key role acting as a sweeper in front of his four defenders, covering his teammates who pushed up to press higher, filling the spaces or gaps behind or between them and following Kramarić (CF) who was dropping often very deep to create an additional progressive passing option. 
Morocco's players applied these ideas very well and could prevent their opponent from progressing the ball easily, and their direct pressing speed, intensity and aggression when one (or more) of them would come out to press was very effective.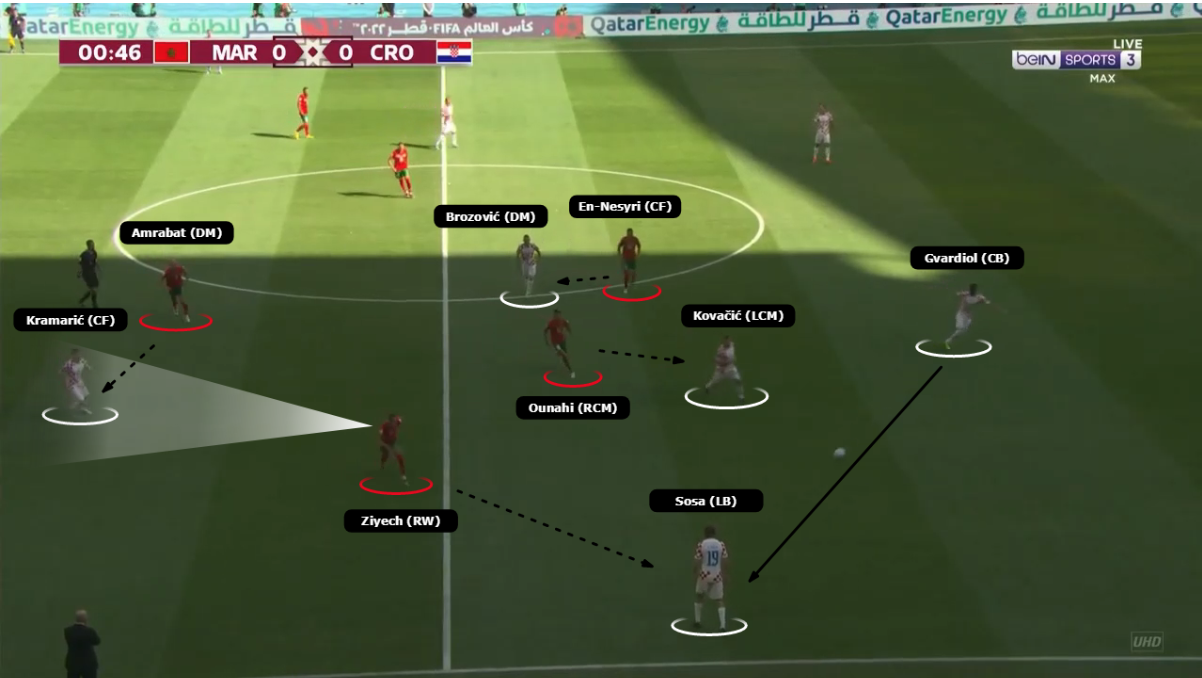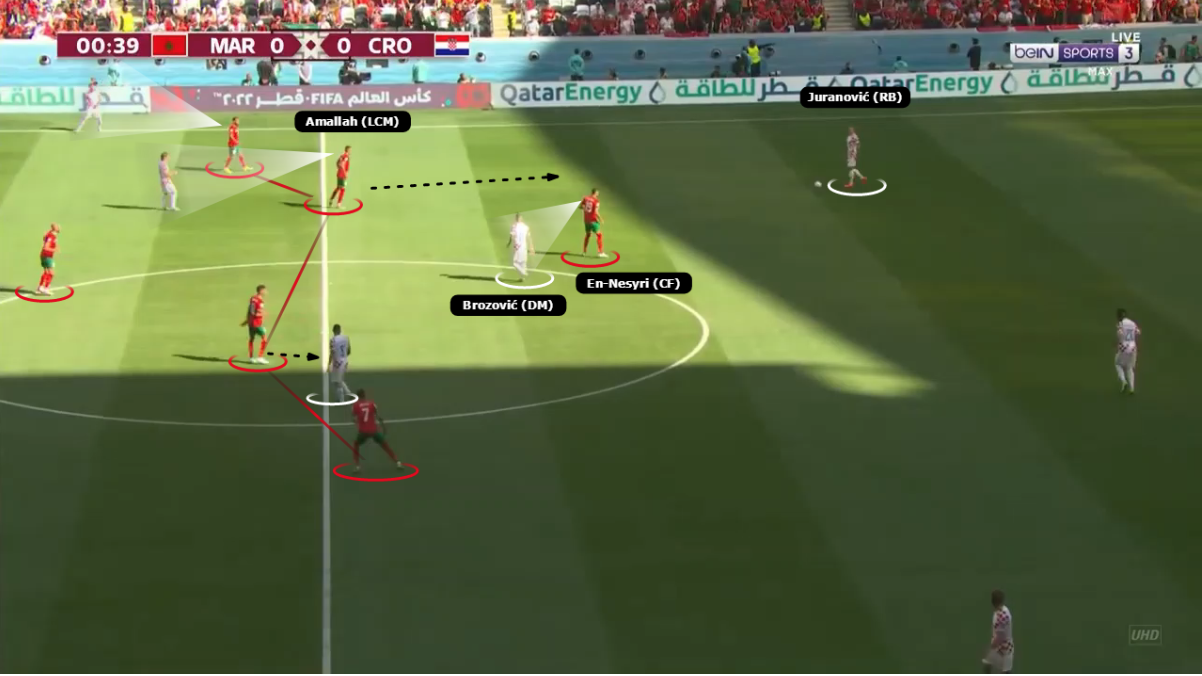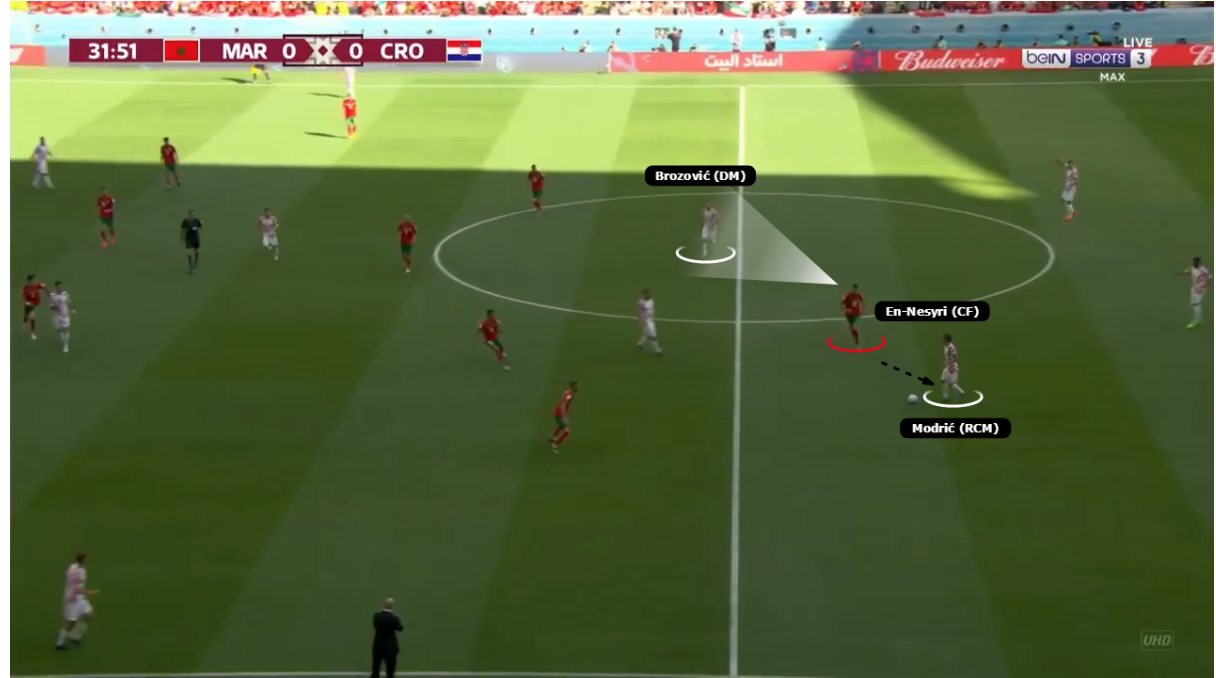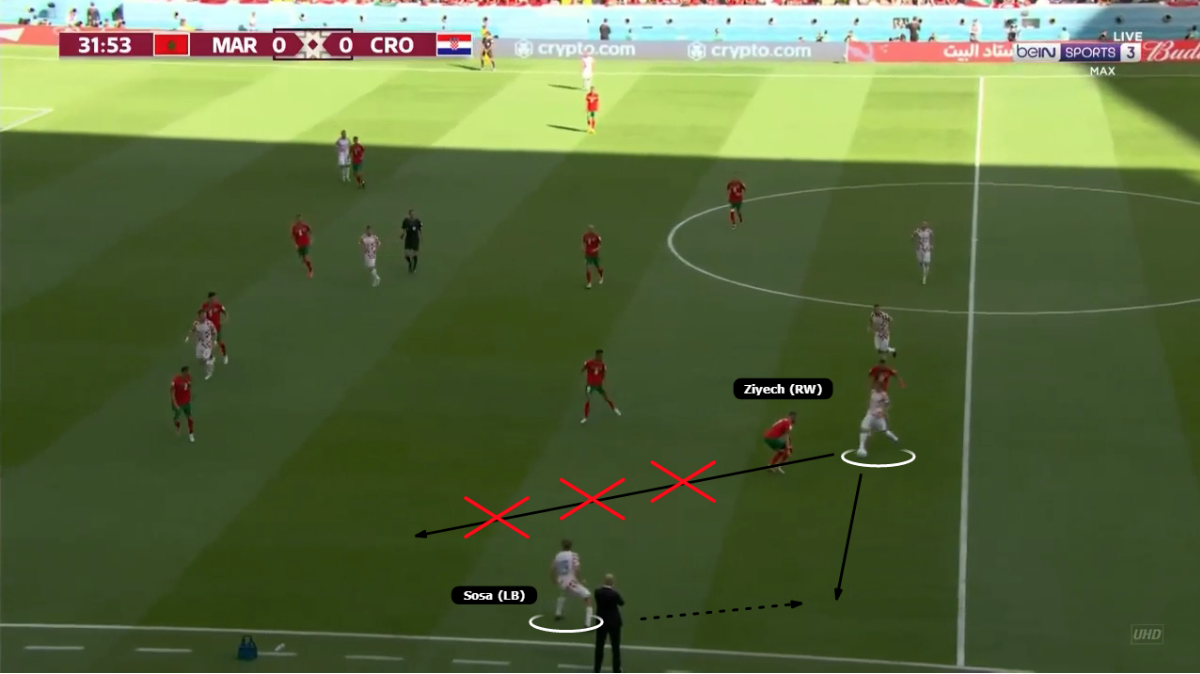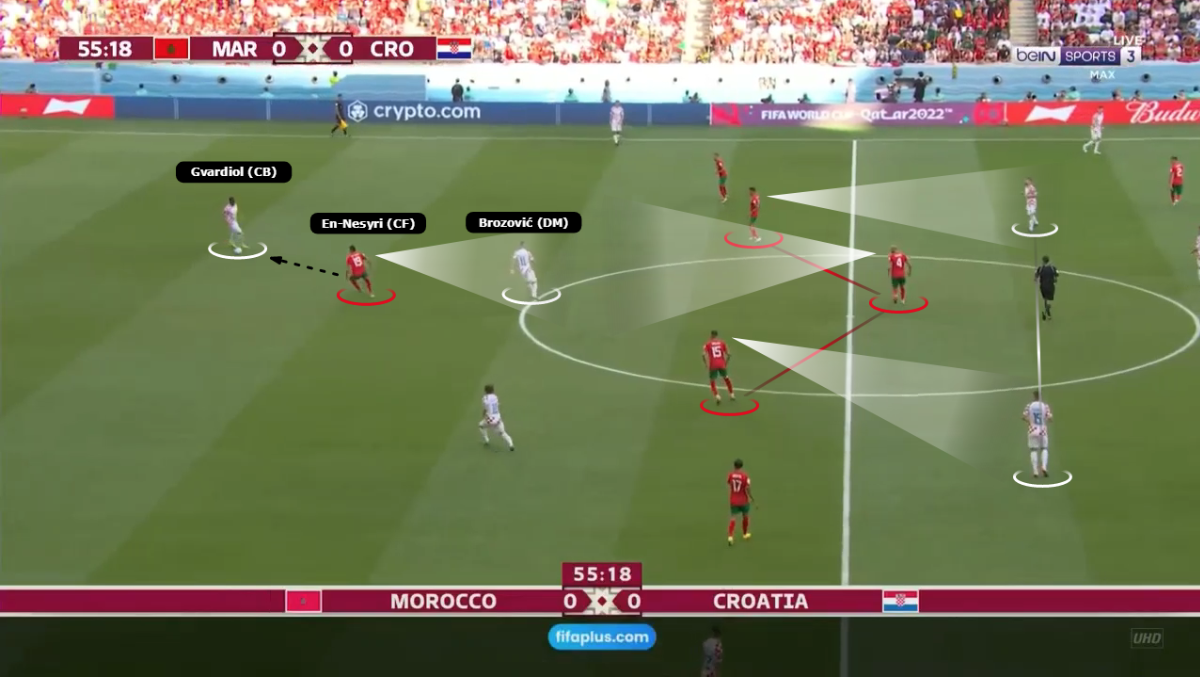 How Croatia Kept Possession Against Morocco's Low Block
With Croatia failing to find a way to progress the ball through the flanks against the Moroccan mid-block, the latter would occasionally retreat to a low block and a double pressure was applied against Croatia's wide ball carrier, mostly by the ball-near full back and the tracking winger.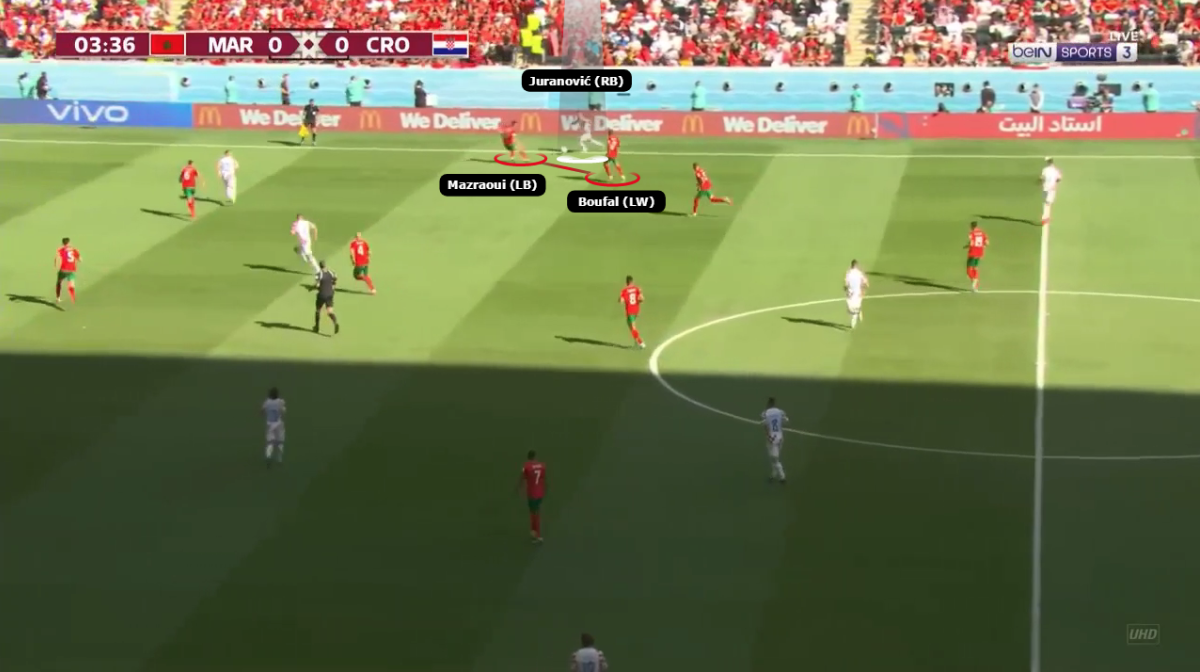 The lack or the delay of support of Croatian players who were assisting in the build-up/progression phases made things easier for Morocco during the low block phase; and we can see this in the below example with a 3v1 situation against Mateo Kovačić whilst having a 5v5 behind him.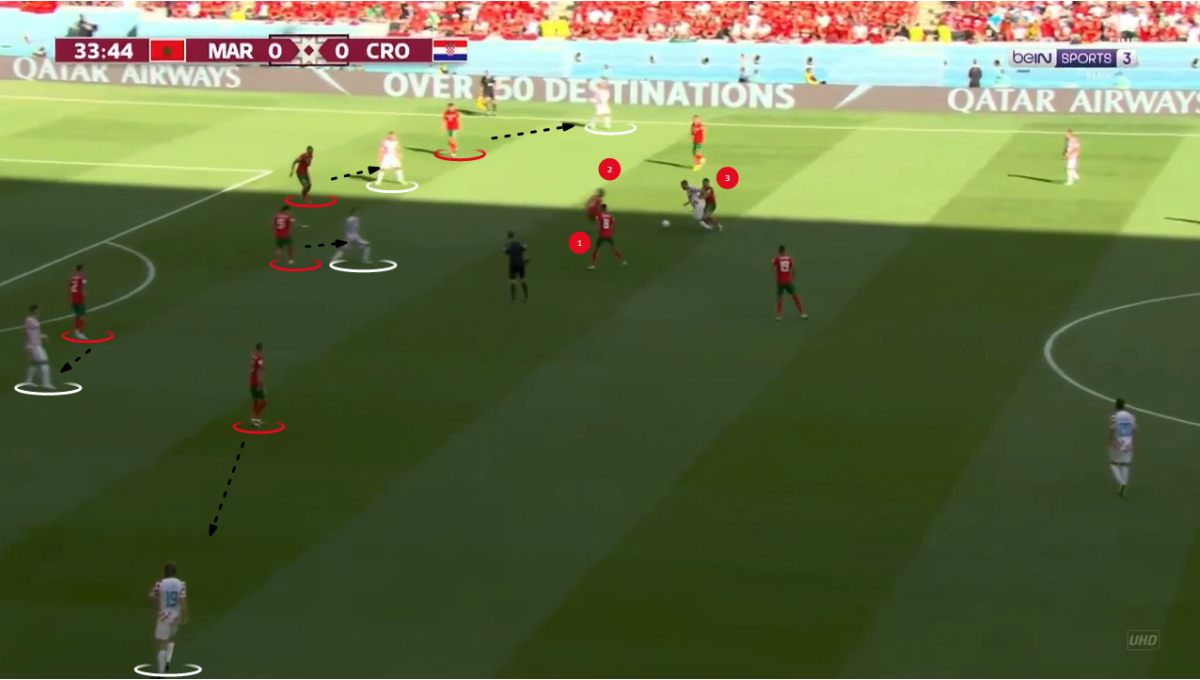 Conclusion
Whilst they had more than enough chances to pick up a winner, Morocco settled for a point against Croatia, picking up their first clean sheet in a World Cup match since 1998, whilst Croatia were rendered scoreless in a World Cup match for the first time since 2006. The Atlas Lions will look to follow that up with an impressive result against Belgium, whilst Croatia will be taking on Canada in what promises to be a fascinating second round of matches.
By: Loay Mamdouh / @loay_mamdou7
Data visualization / stats by: Yahia Rashwan – Twitter: @Rush1_Analytic
Featured Image: @GabFoligno / Boris Streubel – Getty Images