Serbia World Cup Preview — Part Five: The Front Three
Now that we have the crux of the side, it's time to add the cherry on top — the Serbian attack. Another area of the team that not too long ago was considered a weakness, but now is a strength. Serbia not only has a diverse attack, it also has depth. A lot is expected of Serbia's front 3 in Qatar, and rightfully so, as I will show with this blog.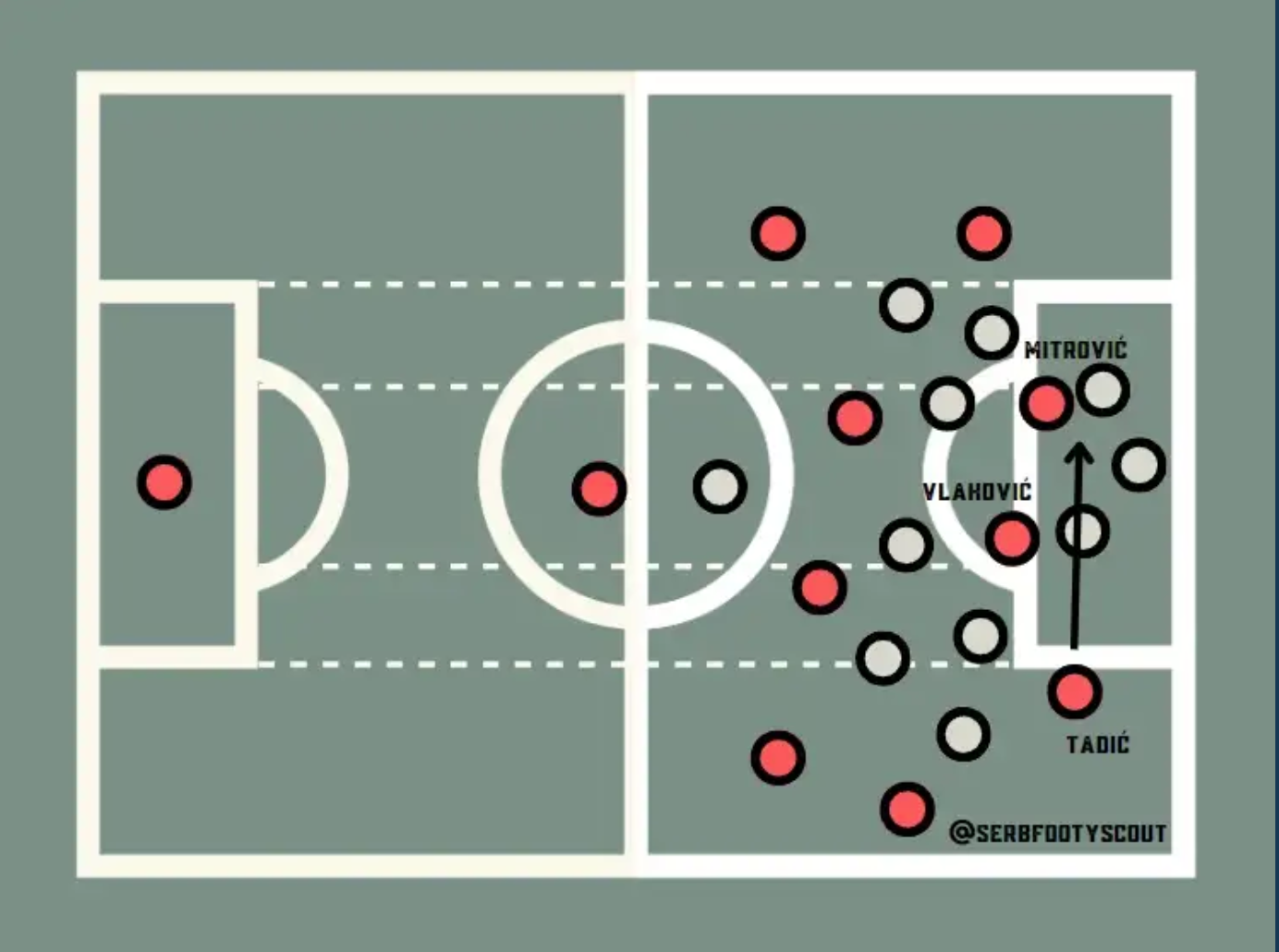 Breakdown of the Goals
I've studied the last 14 official matches Serbia played to see whether certain patterns emerge. First, I looked at the type of goals that were scored by the team.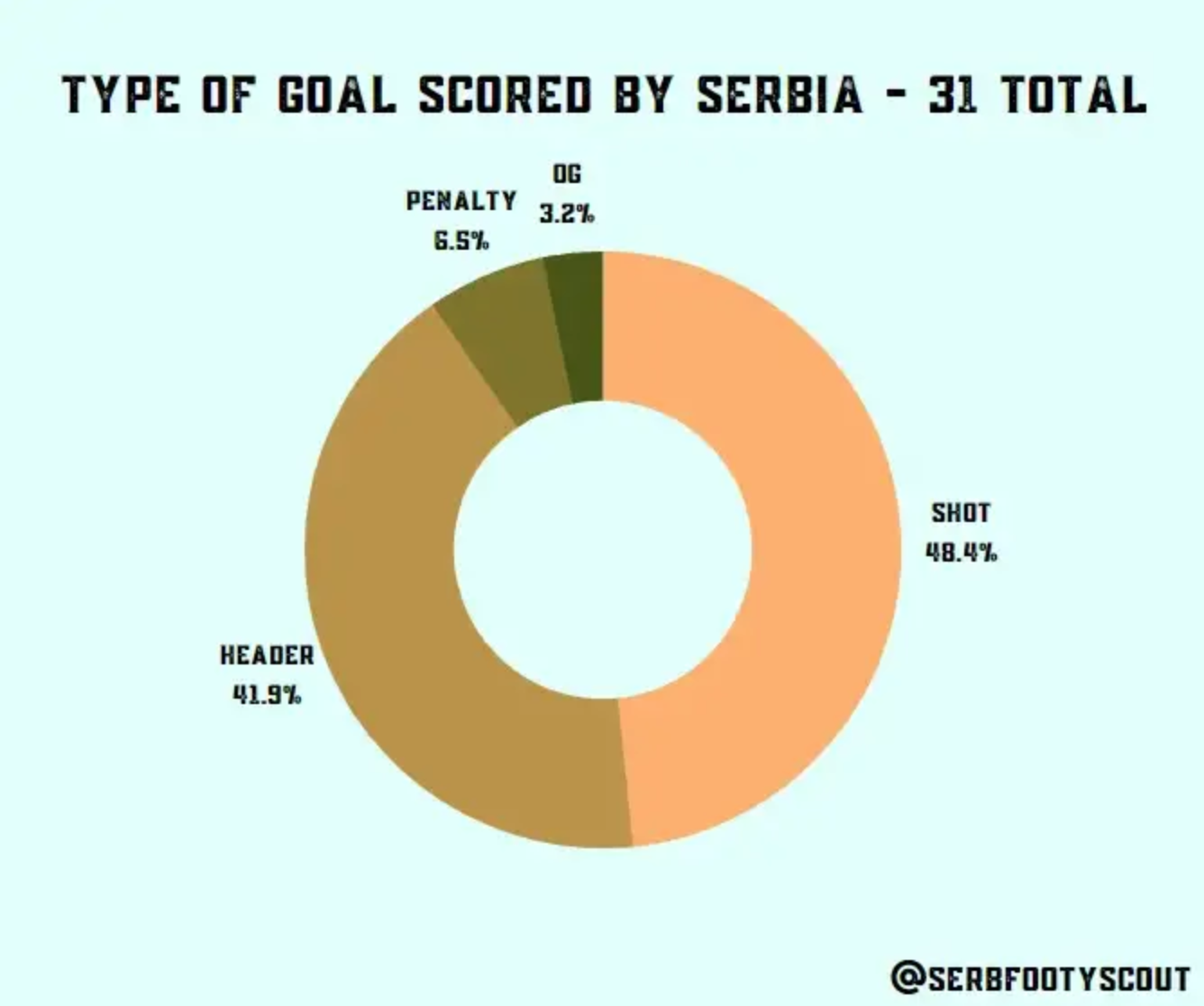 Serbia's goals are almost evenly split between regular shots and headers, which is impressive, but not entirely surprising as the Balkan nation is the tallest national team for the second World Cup in a row.
We were the tallest national team at the World Cup in 2018, with an average height of 185.6 CM and as expected we're still the tallest.

We've actually grown, with an average of 187.2 CM this time around.

Even Živković can't keep us down. 😀

🇩🇰 2nd with 186.1. 🇫🇷 3rd with 185. https://t.co/u2g9bKfosF

— Serbian Football Scout (@SerbFootyScout) November 15, 2022
But it's not just height. In Aleksandar Mitrović, they have one of the most powerful and precise headers of the ball in world football today. Recently, I made a post suggesting just that and I received some responses from other fans. I'd brought Cristiano Ronaldo into the discussion myself, but others mentioned the likes of Olivier Giroud and Luuk de Jong, so I decided to compare them. When it comes to total headers scored since the start of the 2021/22 season — in all official competitions — there is no comparison.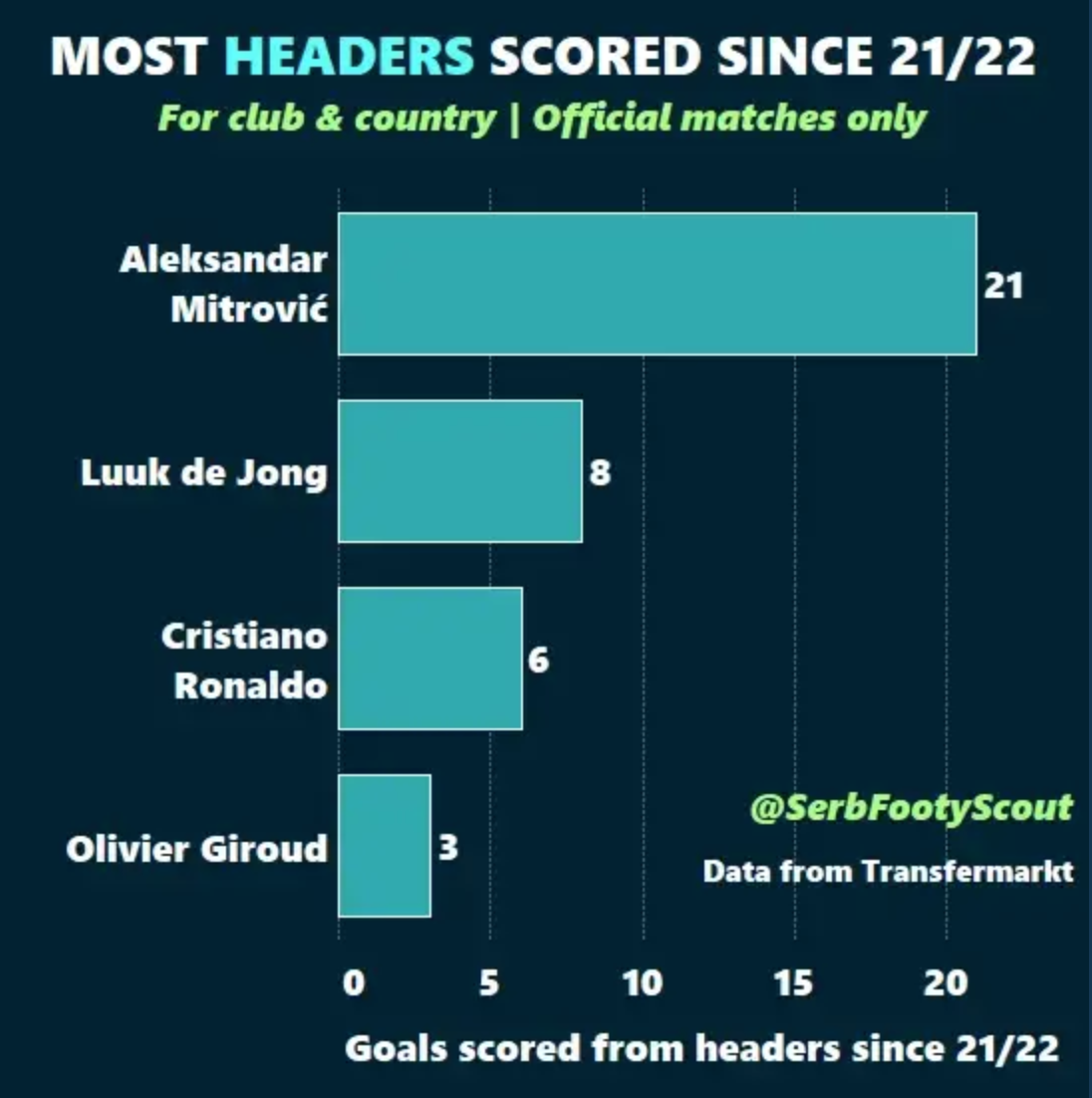 But a closer look at the per 90 stats, shows that De Jong is even more lethal from headers than Mitrović. Still, both deserve the world-class label when it comes to heading, as I doubt there are many on their level active in the big leagues right now.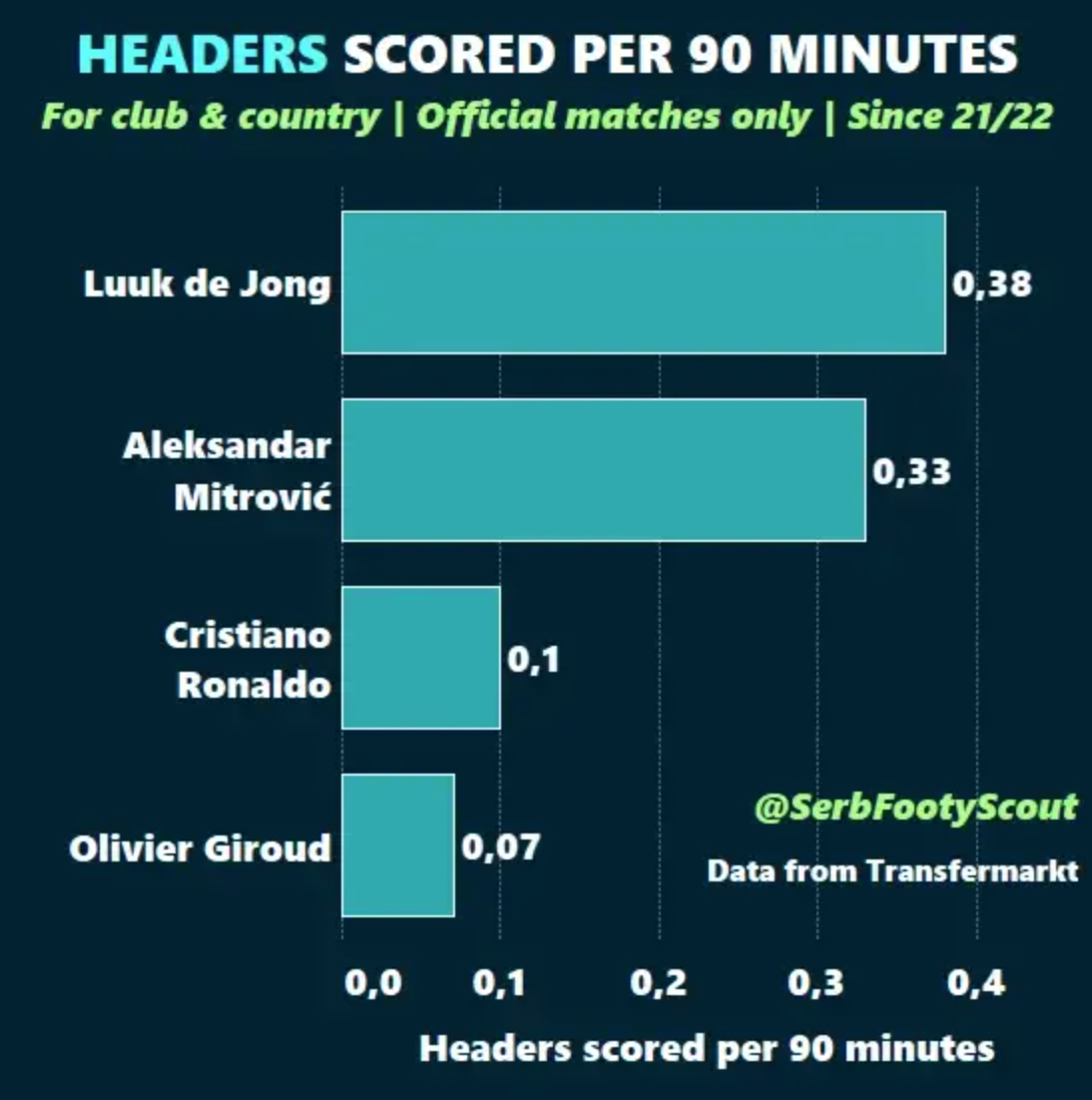 Penalty Box Bombers
Unsurprisingly most of Serbia's goals are scored from inside the box, but 4 out of 31 — or 12,9% — were scored from outside the penalty area. In general, it's safe to say that Serbia's qualities lie within the box with plenty of movement and bodies entering the final third across the full width of the pitch and a strong physical presence to boot.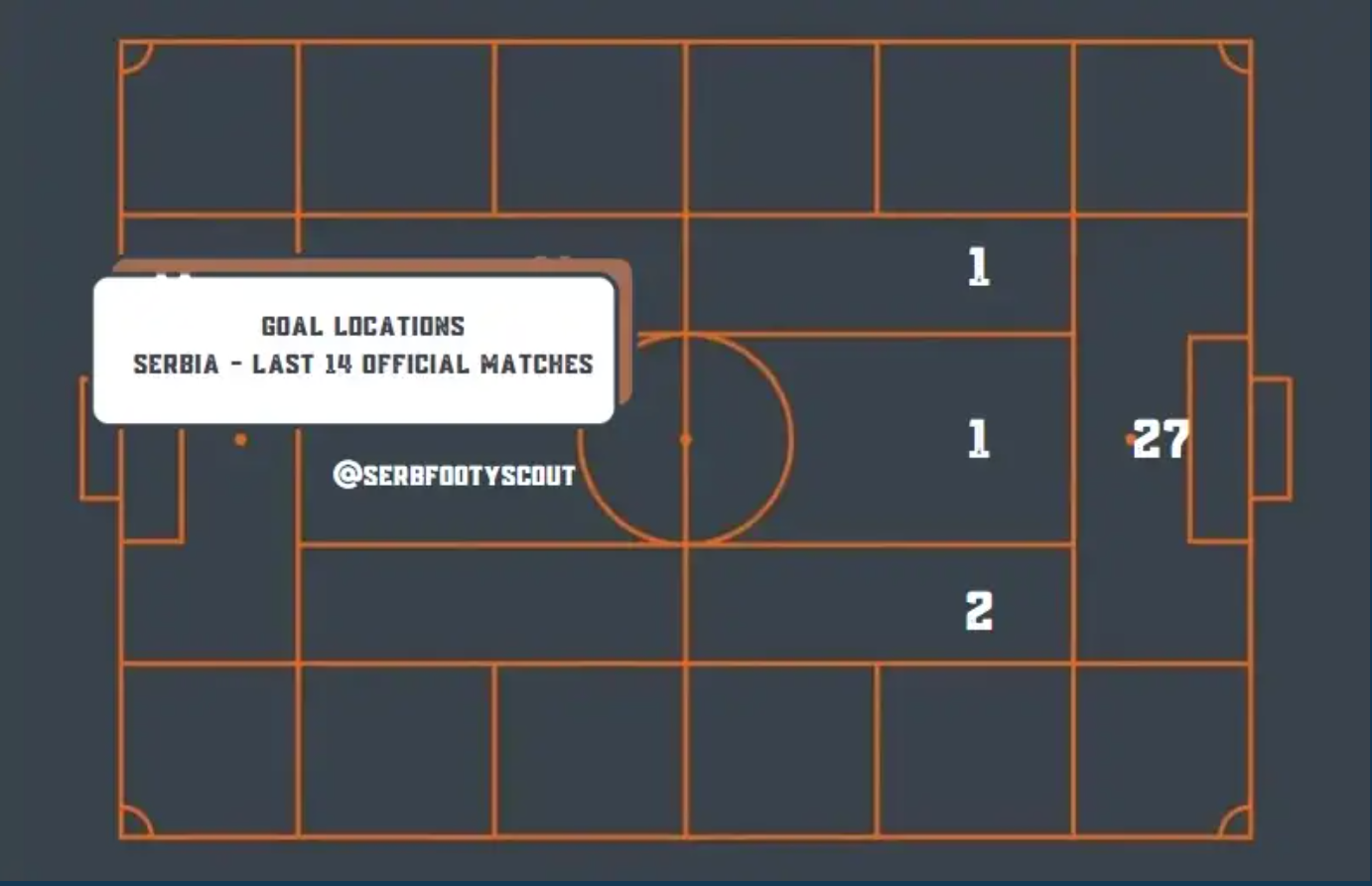 The Golden Generation
Finally, it's time to zoom in on the goalscorers and see just how much impact the front 3 have — including the offensive options coming off the bench.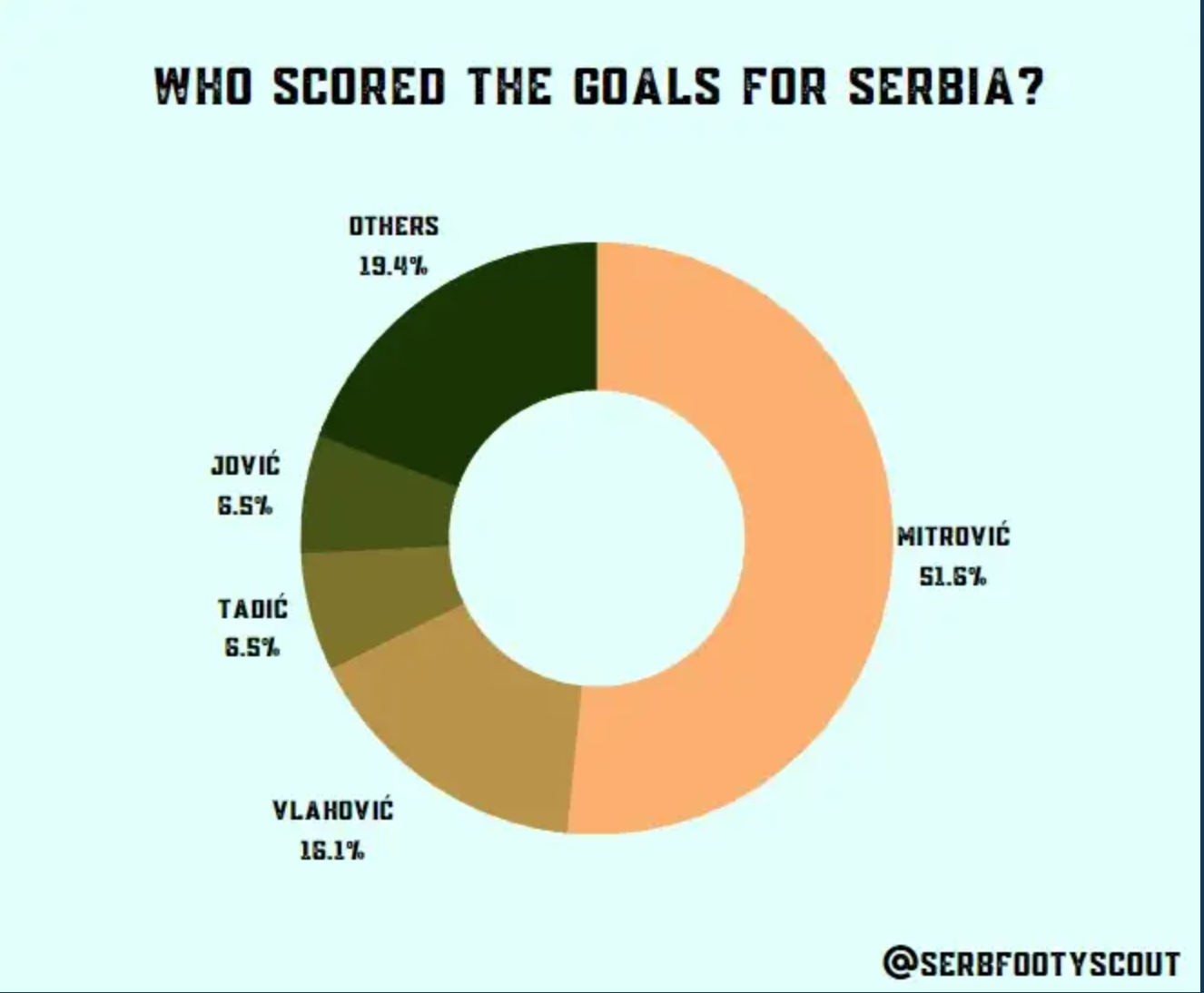 Over 80% of Serbia's goals are scored by just 4 players and Aleksandar Mitrović is responsible for half of them. This attacking trio + Luka Jović coming off the bench, is as elite and potent, as Serbia has seen throughout the last 3 decades.
The best part is that the Mitrović-Vlahović partnership is still relatively new, but has shown a lot of promise already. They seem to be a good fit, with Mitrović's tendency to drop off and Vlahović's knack for attacking space. The future is now.
Speaking of Dušan Vlahović — he has quickly become a household name in European football and with fame comes scrutiny. Whereas he was Serie A's golden boy last season, this year he's been at the backend of some criticism. Now, I'll be the first to admit that Vlahović is not even close to being a complete striker yet, but with his work ethic and exemplary mentality, he is on his way. Furthermore, some of the things he's achieved at the age of 22 are incredible.
Spelers geboren na 1 januari 2000 met de meeste Serie A-doelpunten:

1. Dusan Vlahovic – 57
2. Giacomo Raspadori – 19
3. Junior Hamed Traoré – 18
4. Moise Kean – 17#JuveEmpoli pic.twitter.com/c4y0Jl4cph

— Wesley Victor Mak 🇮🇹 (@WesleyVictorMak) October 21, 2022
Posted above, you see his Serie A goalscoring record, compared to players from his generation or younger. Impressive. His goalscoring record for Serbia obviously fades in comparison to Mitrović's, but there's no shame in that. His importance, however — even at a young age – can not be understated. There's a difference in how important goals are. A 4–1 is obviously not worth as much as the 1–0. And I looked at who scored the deciding goal for Serbia, in the 10 out of 14 matches they won.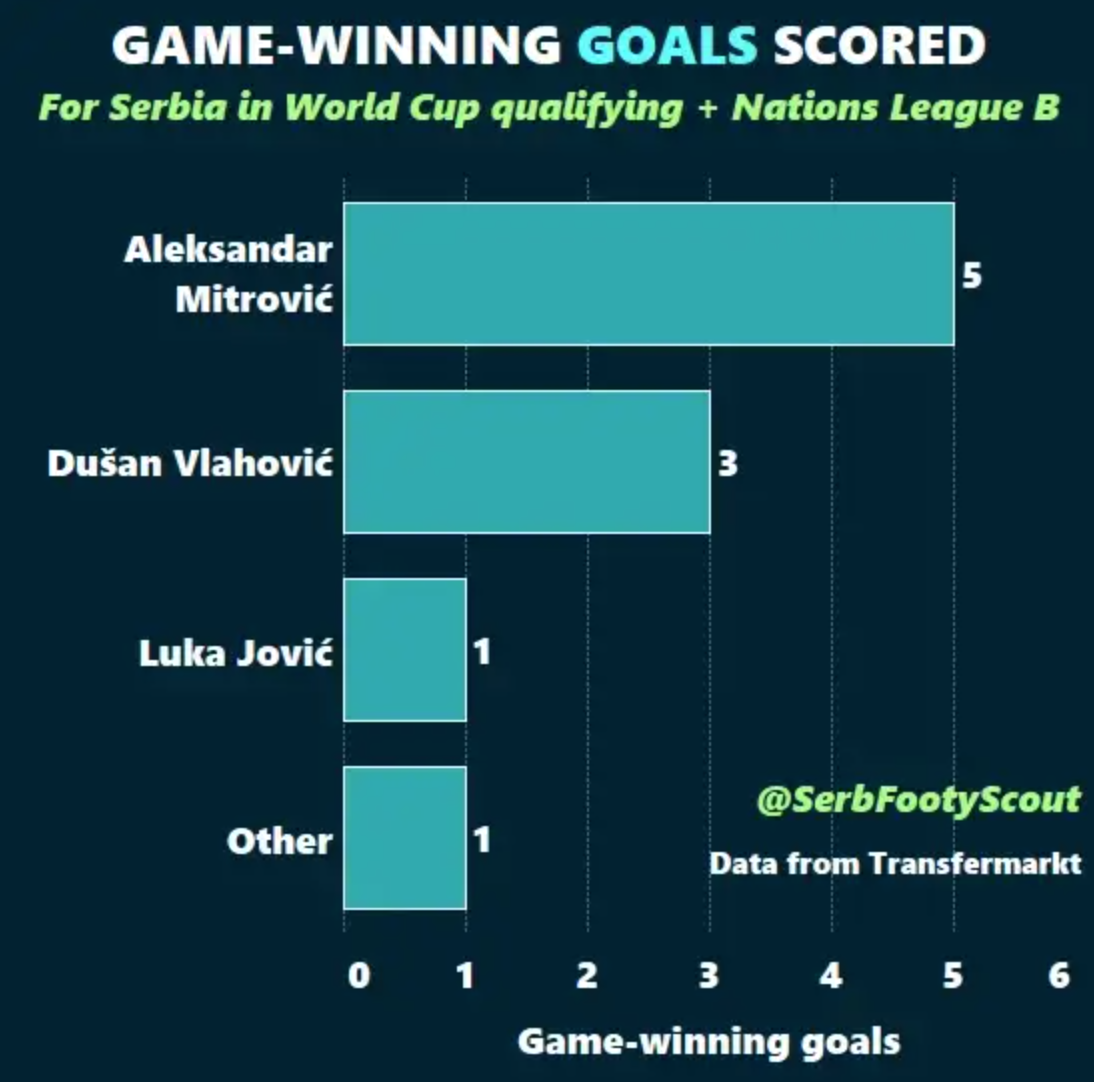 The gap between Serbia's strikers is much smaller here. Vlahović has shown he can step up when it's needed and I'm expecting at least a couple of goals from him in Qatar as well.
Is Dušan Tadić Really Finished?
If you follow the Eredivisie or Serbian media in general, you might have seen or read that a portion of the Ajax faithful booed Tadić and that many call for him to be benched. So, let's take a deeper look at what exactly is going on in Amsterdam and whether it's deserved, by using data. Let's start with his attacking involvement compared to teammates.
Ajax 2022-23 https://t.co/H4cssfDxdy pic.twitter.com/yVM5auaLh2

— Opta Analyst (@OptaAnalyst) October 25, 2022
No further explanation needed. Still the most influential player in the squad, with some distance. Now, how do these numbers translate to the pitch, and how well is he doing compared to creators in other top 10 European leagues?
11 – Mike Trésor assisted 11 goals in the Jupiler Pro League this season, more than any other player in the Top 10 European Leagues in 2022-23. Bountiful. pic.twitter.com/mQX439MTaG

— OptaJohan (@OptaJohan) October 25, 2022
Nothing to complain about here. In fact, looking at the underlying numbers, he is indeed less of a goal threat than in previous seasons, but at the same time his xA — expected assists — are at their highest point since joining the club from Amsterdam.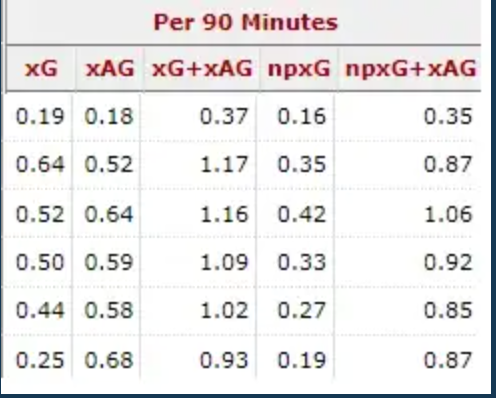 Tadić's stats this season
Anyone who regularly watches Tadić play will tell you he's not the same player who got a 10 rating from L'Équipe for his masterclass in the Bernabeu. Considering he'll be turning 34 in a few days, that's only normal. But there are several reasons why some fans have turned on him, and I'll list them briefly.
The team has lost a lot of quality over the summer, including a top-class manager, and that makes life more difficult for everyone in it He started the season on the right side, after having spent years on the left or as a centre-forward. New partnerships, new mechanisms, etc, takes time getting used to While he is of course very creative, his play style is also very risky, resulting in a lot of lost possession. But when he does pull it off, it's usually a major chance created — high risk, high reward.
He is the leader of a struggling side, and it's normal for the more experienced players to get blamed in such a situation But make no mistake, Stojković does know how to use him and with a potent strike force in front of him and another great playmaker behind him, this could be a beautiful final dance for him.
No Longer Just a Target Man
I've written about Mitrović's heading ability, I've demonstrated his importance to the side with stats and he himself is proving all those who doubted him wrong, with 9 goals in 12 appearances in the Premier League already. Mitrović is like a movie-star who's been typecast. His role is that of the brute target-man, when in reality he's blossomed into much more.
He plays an important role in the build-up, as I've shown in my previous blog. He also puts in an incredible amount of defensive effort for his sides, and he's a positive leader, who adds to team cohesion and a general sense of comradery. Having said all that, there is one scenario in which Mitrović could get benched. It's happened before — against Portugal — and it didn't stop him from deciding the match and sending Serbia directly to the World Cup.
Vanredni #MitroPonedeljak na godišnjicu gola

Srećan Mitrovdan svima koji slave pic.twitter.com/xYjef4hHpz

— Šareni (@sarenivol2) November 14, 2022
One of the key reasons why Mitrović wasn't as successful in previous EPL campaigns, was the style of play of his respective teams. Usually they played some form of counter-football, which simply doesn't suit his game. He doesn't thrive with space in behind defences. In order to be successful, he has to be part of a side that plays dominant football and allows him to be in or around the opposition box, where he can make a difference.
So, if Serbia decides to go with one up top against Brazil, injury or not, Vlahović is probably the better choice to start with. He has the pace, the movement and likes to play off the shoulder of the last defender. Which is a plus, with playmakers like Tadić and Milinković-Savić ready to send him away. Bringing on Mitro is then of course the perfect plan B, if necessary.
The Comeback Kid
On the bench, Serbia has one more striker whose rise to the top was meteoric and fall from grace was nearly as spectacular. I'm of course talking about Luka Jović. Still only 24 years old and making a comeback in the beautiful city of Florence.
Just did the math. Luka Jović played 508 minutes in those 10 games & scored 6 goals.

That comes down to 1.06 goals per 90 minutes in the last 10 matches.

Absolutely lethal & we all know he's not even hit half the level he was on in 2018. Now, imagine if he does. pic.twitter.com/wz6TqVBvdF

— Serbian Football Scout (@SerbFootyScout) November 9, 2022
In Serbia, football opinions often fluctuate between extremes. Someone is either the best or the worst of the bunch, and Jović has been part of that second category for a while now. And to be fair, his off-pitch decision-making has indeed been poor.
If he still wants to achieve greatness, that'll have to change. But talent is definitely not the issue. When you list through some of the legends on this viz below, and you see Luka's name among them, you realize just how special that 2018/19 season was.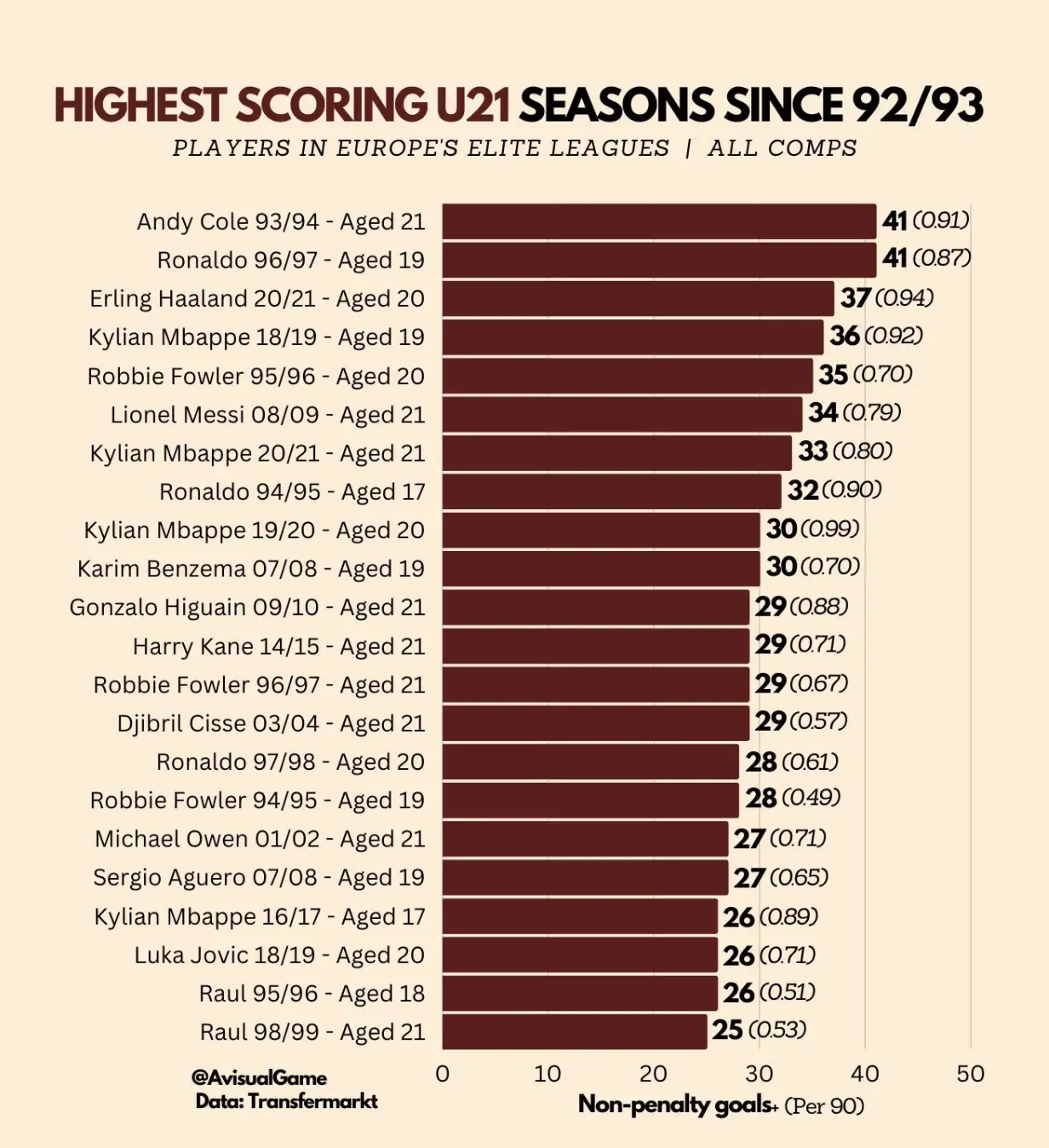 With 9 international goals already, Jović could be one more surprise package coming off that long Serbian bench. Another player you'll find there is Filip Đuričić. A wonderkid who got lost and found his way back in Serie A, only to get injured and have to start again.
Before his injury, he was fighting for a spot in the starting 11, but ever since he's struggled to get back in form. Perhaps the World Cup can provide the spark that he needs, because on his day, he is a wonderful natural footballer, who can be a threat with both his creativity and penetrating runs.
Conclusion
A balanced midfield, an improving defence, attacking wing-backs, a reliable goalkeeper and a strike-force even the highest rated nations would be proud of. But best of all, the right coach for the job. Serbian fans are quietly optimistic about their chances, and I believe there is good reason for that. Whatever happens, this side won't fold. Instead, like Dragan Stojković said, they'll be a problem for everyone.
By: Kristijan Plazonja / @SerbFootyScout
Featured Image: @GabFoligno / Srdjan Stevanovic / Getty Images