Serbia World Cup Preview — Part Four: The Goalkeepers
If someone had told Serbian fans that they'd have 3 goalkeepers in top 5 leagues to choose from a decade ago, I think most wouldn't have believed it. But it's 2022 and times have changed. If you count Mile Svilar at Roma, there are even 4 of them. But I'll be focusing on the 3 that made the World Cup squad in this blog.
What The Numbers Say
Dragan Stojković's search for a starting goalkeeper hasn't been easy, as all 3 have played a substantial part of the last 14 official matches. Looking at the percentages only, you'd think Predrag Rajković is the favourite to start in Qatar, but is he?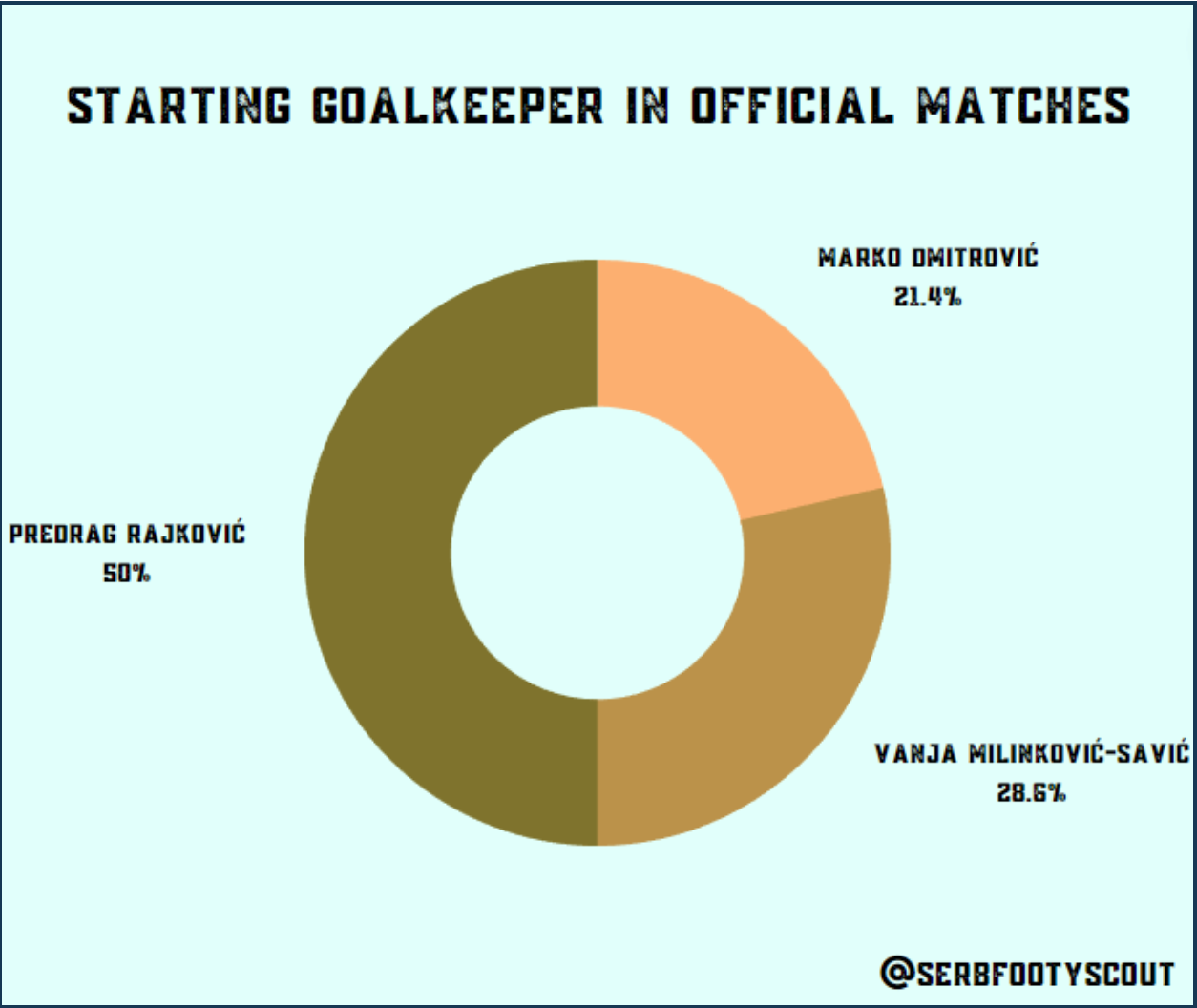 All 3 have 1 clean sheet behind their names. Predrag Rajković conceded 0,86 goals per game, Vanja Milinković-Savić 1 and finally Marko Dmitrović 1,33. But it would be too easy to judge them solely off of that number. For instance, Dmitrović faced Portugal and Ireland in 2 out of his 3 matches, not exactly the easiest match-ups. Also, they were the first two games during Stojković's reign, which had its impact as well.
The first to make a name for himself in the big leagues was Marko Dmitrović. He worked his way up through the lower leagues and fully earned his right to start for Eibar in La Liga. During his debut season there, he was even chosen as player of the year by the fans. In total, he spent 4 years in Basque Country, before joining Sevilla for free in the summer of 2021.
Since then, Sevilla has played 52 league matches, out of which Dmitrović has started only 9. He seems to be comfortable in his role as backup, although Sampaoli's arrival may shake things up. Whereas he was Stojković's first choice when he'd just arrived, he's been demoted to third choice ever since his move, with minimal chances of starting in Qatar. So that leaves us with 2 goalkeepers.
Stats vs. the Eye Test
I won't pretend I'm an expert when it comes to goalkeeping techniques or the finer details, because I can honestly tell you that I'm not. But for certain aspects, you don't have to be an expert. First, though, let's compare them through the lens of FBRef, who collect stats via Opta.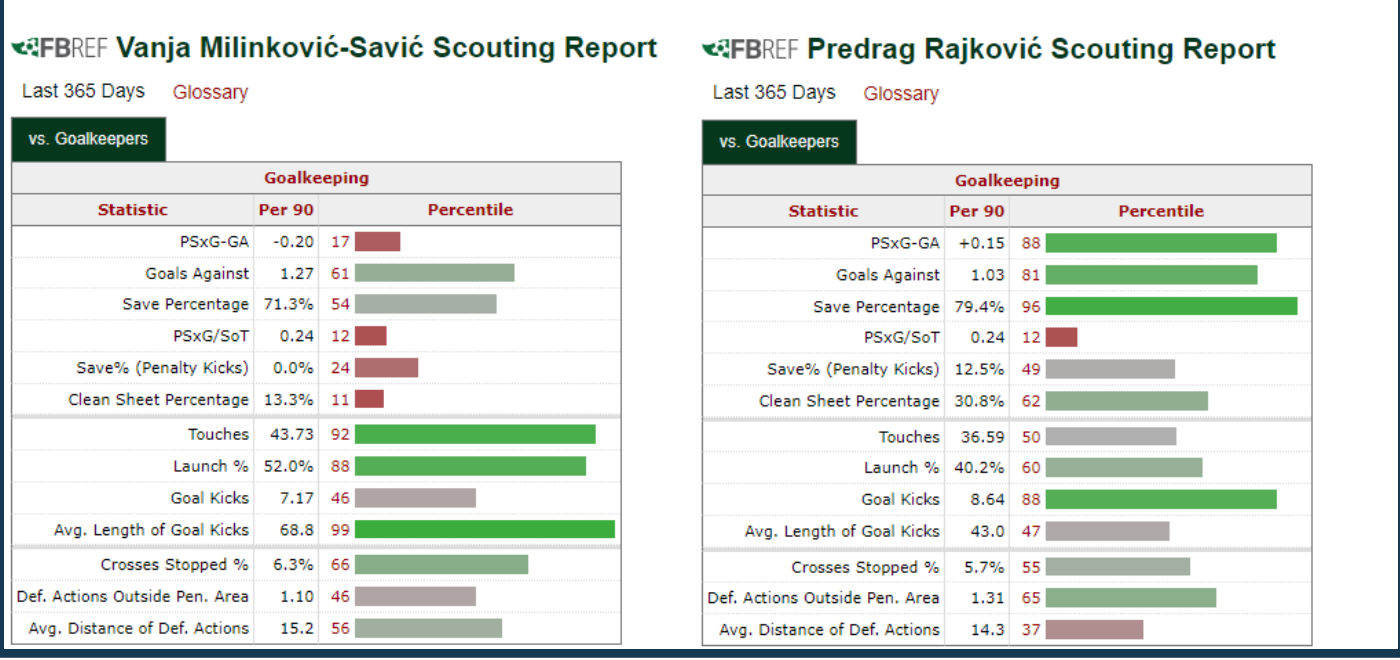 As you can see, Rajković scores higher in most of the goalkeeping categories. Case closed then? Not quite Whereas Rajković was undoubtedly the most impressive Serbian goalkeeper I've watched at youth level — a key player in both the U19 Euro and U20 World Cup winning squads — it hasn't fully translated to his senior national team career. During these campaigns, he had one major mistake that directly cost a goal and another goal where he deserved partial blame.
But if there's a term to describe his performances for the national team, it would be 'lacking confidence'. On the other end, Milinković-Savić hasn't made any major errors yet, though he has of course played 3 games less. He's started the last 3 matches and has looked reliable and confident for the most part.
And if there's one area in which he trumps Rajković, it's his on-ball ability. Serbian fans don't count on much when they see the ball played back to the goalkeeper, under pressure or not. Usually it either ends up out of bounds or in possession of the wrong colour jerseys, but with Milinković-Savić that has changed.
While he's not quite Ederson, he's the most comfortable goalkeeper Serbia has had in possession. As he himself stated, he started out as a powerful striker and only switched to goalkeeping, because he was lazy and didn't have to run much that way. So, that might have played a role. Only recently, one of his long kicks ended up a goal, via the penalty that ensued.
Serbia's Plan B in Build-up
I've spoken about how Stojković wants his team to play out from the back, but he's not rigid about it. He's been pragmatic enough to build in a B-option for when a short pass from the back simply isn't possible, and Milinković-Savić is one of the several key figures in that sequence.
In Aleksandar Mitrović, Serbia has one of the best headers of today's game and a player who is able to act as a target from long kicks. Add one of the best progressive ball carriers in Europe — Filip Kostić — and a striker who likes to play off the shoulder of the last defender — Dušan Vlahović — and you get the following sequence.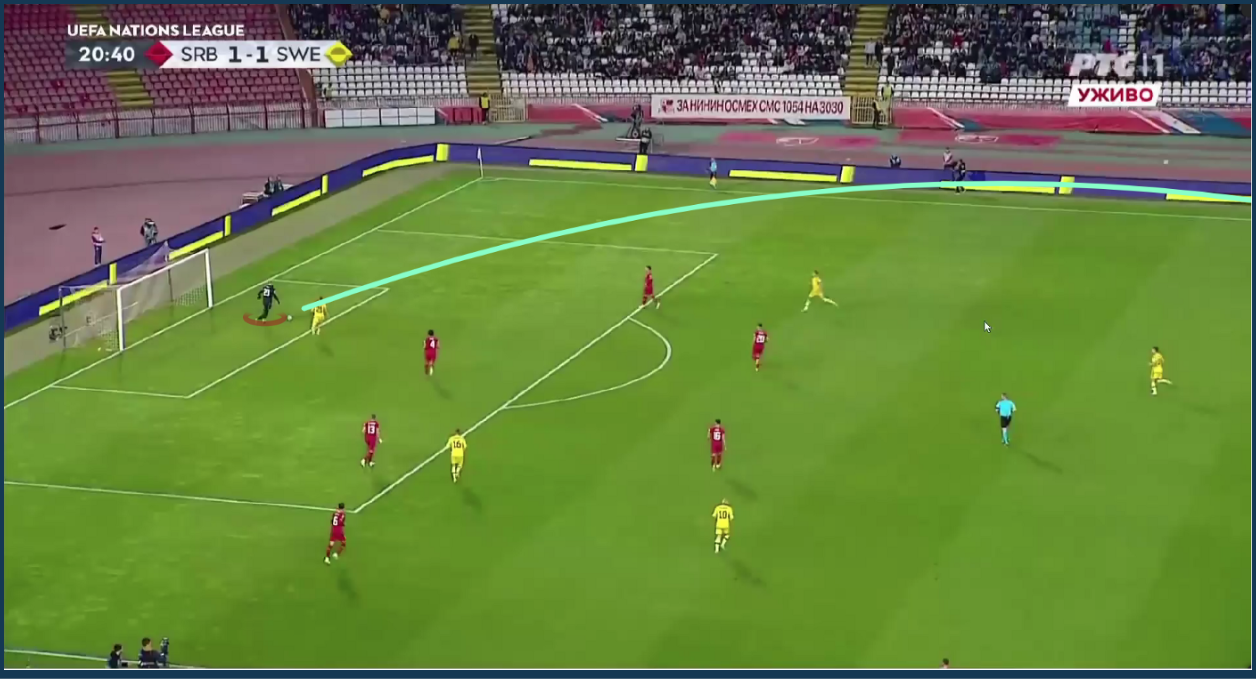 Milinković-Savić's best option in this case is the long ball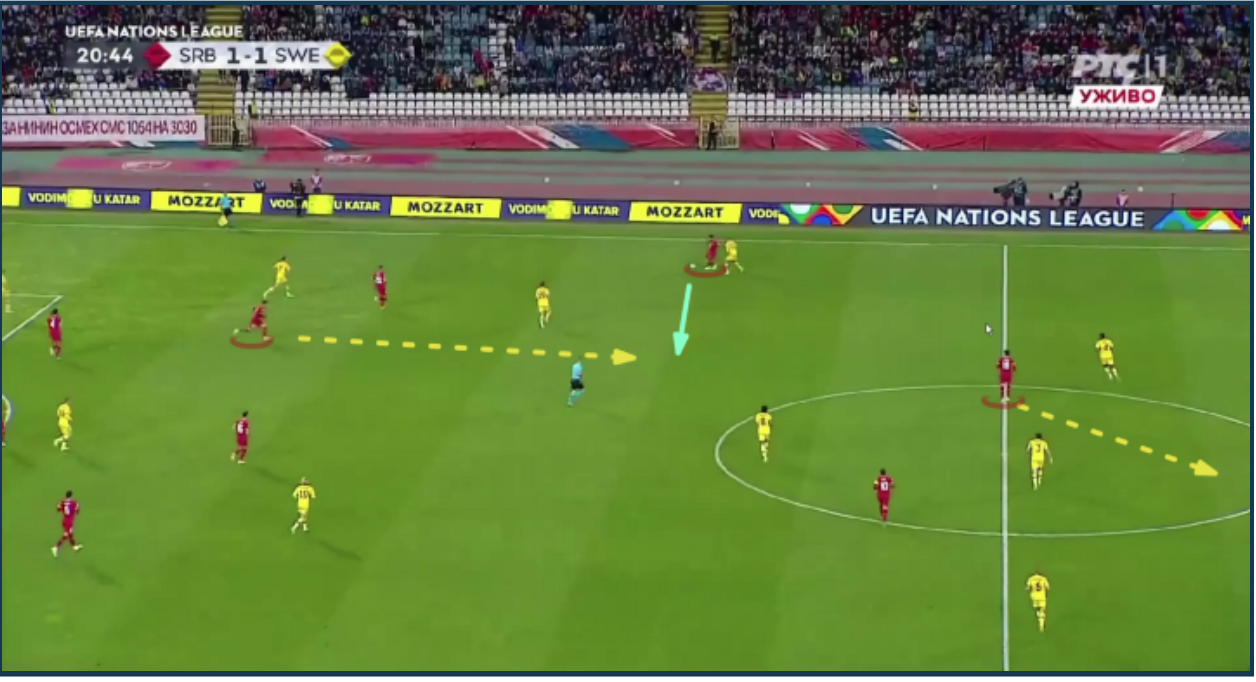 Mitrović chests the ball down under pressure and waits for the runner, in this case Kostić
Kostić receives the pass and make a run into open space. At the same time, Vlahović starts his run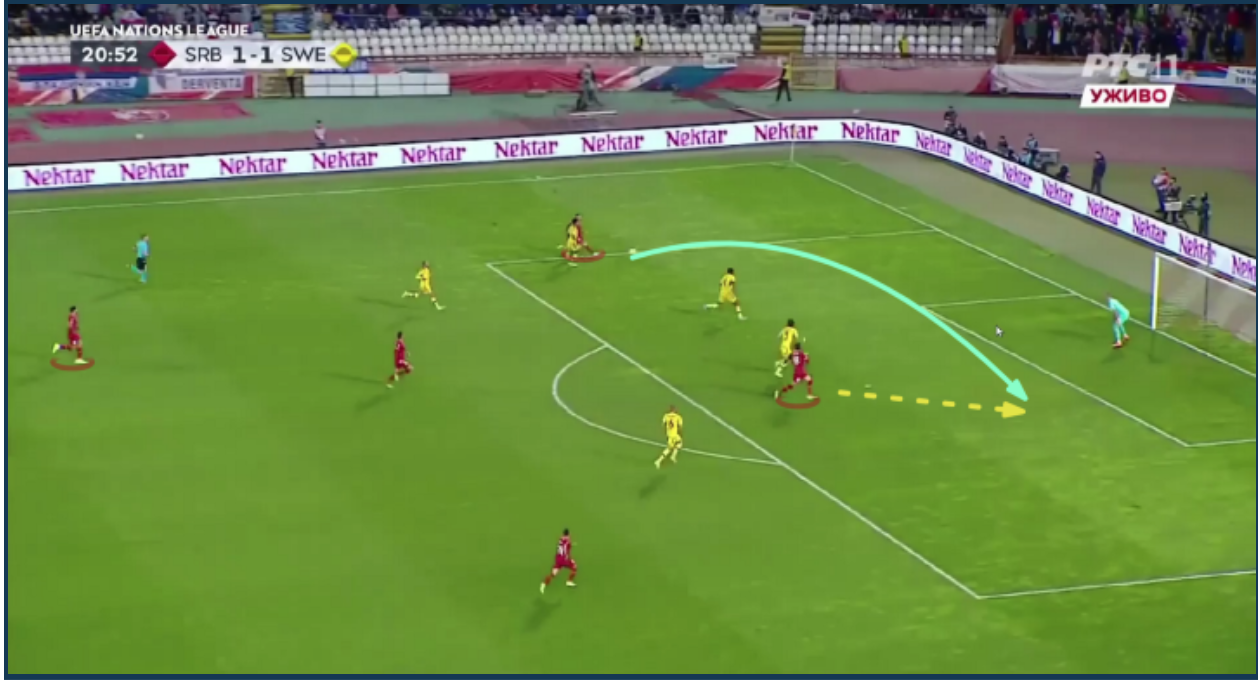 Kostić finds Vlahović with a low cross, but the attempt goes just wide
Conclusion
All in all, it's safe to say Vanja Milinković-Savić is the odds-on favourite to start in Qatar. Whereas he yo-yoed between the bench and the starting 11 last season, this season he's been undisputed at his club, Torino. And when you add his recent performances for the national team and his on-ball ability, the choice makes sense.
While he might not be considered a top-class goalkeeper at club level, his commanding presence is becoming an increasingly important factor for the national side. Serbia's fans won't have to worry about their goalkeeper being a liability, like so many times in the past.
By: @SerbFootyScout
Featured Image: @GabFoligno / Pat Elmont – FIFA