Serbia World Cup Preview — Part One: The Double Pivot
With Serbia's 2022 World Cup campaign set to kick off in Qatar, it's high time to delve into a deeper analysis of the Serbian national team. I'll be dissecting the team in five parts: the goalkeeper, the back three, the wings, the front three, but to kick things off, we'll be looking at the heart of the team — the double pivot. To do so, I'll use stats, screenshots, videos, quotes and more.
A Break from the Past
The Serbian midfield has undergone a transformation in personnel, but more importantly, also in the style of play. The numbers back that up, as Serbia out-possessed the opposition in 7 out of 8 qualifying matches, including the deciding match in Lisbon — 56.41%. This definitely wasn't the only factor contributing to a successful campaign, but it was a major one.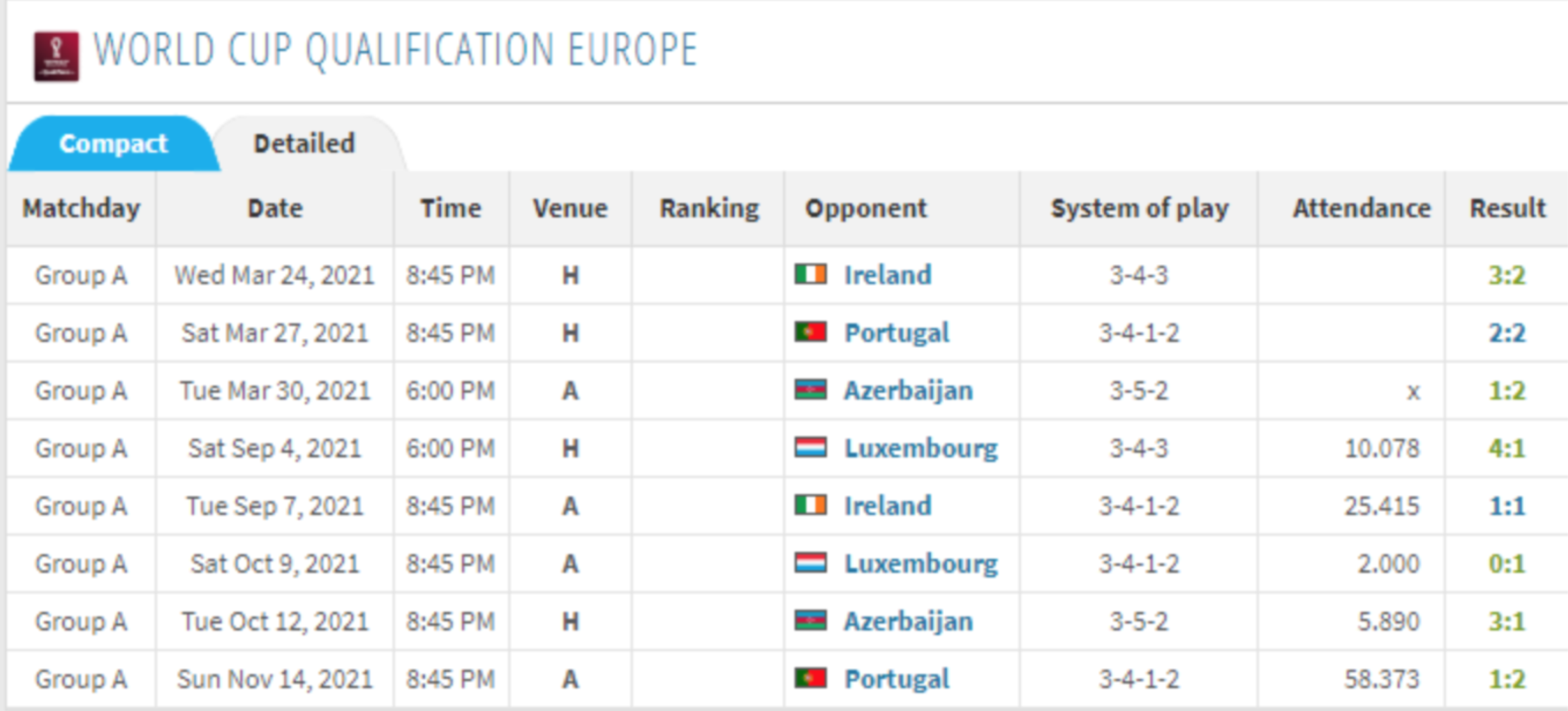 Before Dragan Stojković's appointment as manager in March 2021, the team couldn't best sides like Armenia, Azerbaijan and Montenegro when it came to possession. In fact, the last time Serbia played Portugal away, was as recently as 2019. Fernando Santos was their manager, just like in 2021. The difference was that Serbia only had the ball for 31.96% of the match and was subsequently under pressure for most of it.
Now, Serbia is not a side that keeps the ball for the sake of keeping possession. The average over 8 matches is 54.15% — not exactly Barcelona under Pep Guardiola. Instead, Stojković wants his side to attack whenever the space is there to exploit. But some subtle nuances have made a big difference, as has the change in personnel.
Midfield Controller(s)
One player who doesn't get much credit in Serbian media or from fans is Nemanja Gudelj. On the surface, his role is unspectacular and perhaps even dull, but he has brought much-needed stability to a midfield that was all but stable.
"It is statistically proven that players actually have the ball for three minutes on average. So, the most important thing is: what to do during those 87 minutes when you don't have the ball? That is what determines whether you're a good player or not." — Johan Cruyff
And luckily for Serbian football fans, Gudelj's qualities mainly lie in his off-ball work. He provides a rest defence, closes gaps when they appear, intercepts passes, clears the ball when necessary and basically is responsible for the dirty work that hardly ever gets the praise it deserves from the general public. In possession, Gudelj is tasked with helping in the build-up.
As Stojković wants his side to play out the back — whenever that is possible — one of the pivot players frequently drops back in line with the three centre-backs to form a back four, particularly useful when facing a side with 3 forwards, to create a numerical advantage.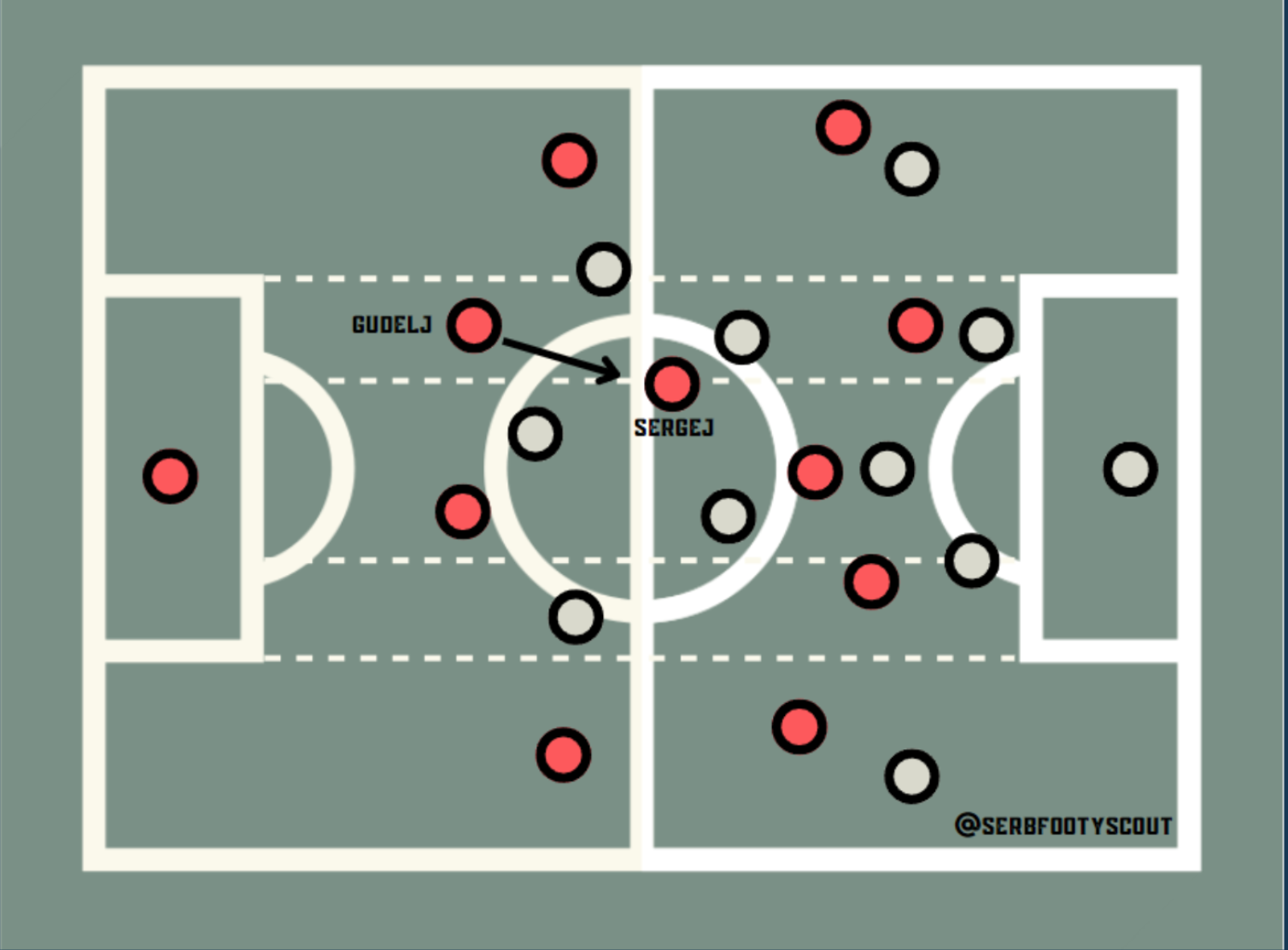 During the early stages of the build-up, Serbia's formation can transform into a back four
Otherwise, he keeps things simple. The goal is to get the ball to either of the two playmakers, usually Sergej Milinković-Savić, who has a lot more freedom with the ball — or to the wings. Part of it is tactical, but it's also simply the type of player Gudelj is — as the chart below shows.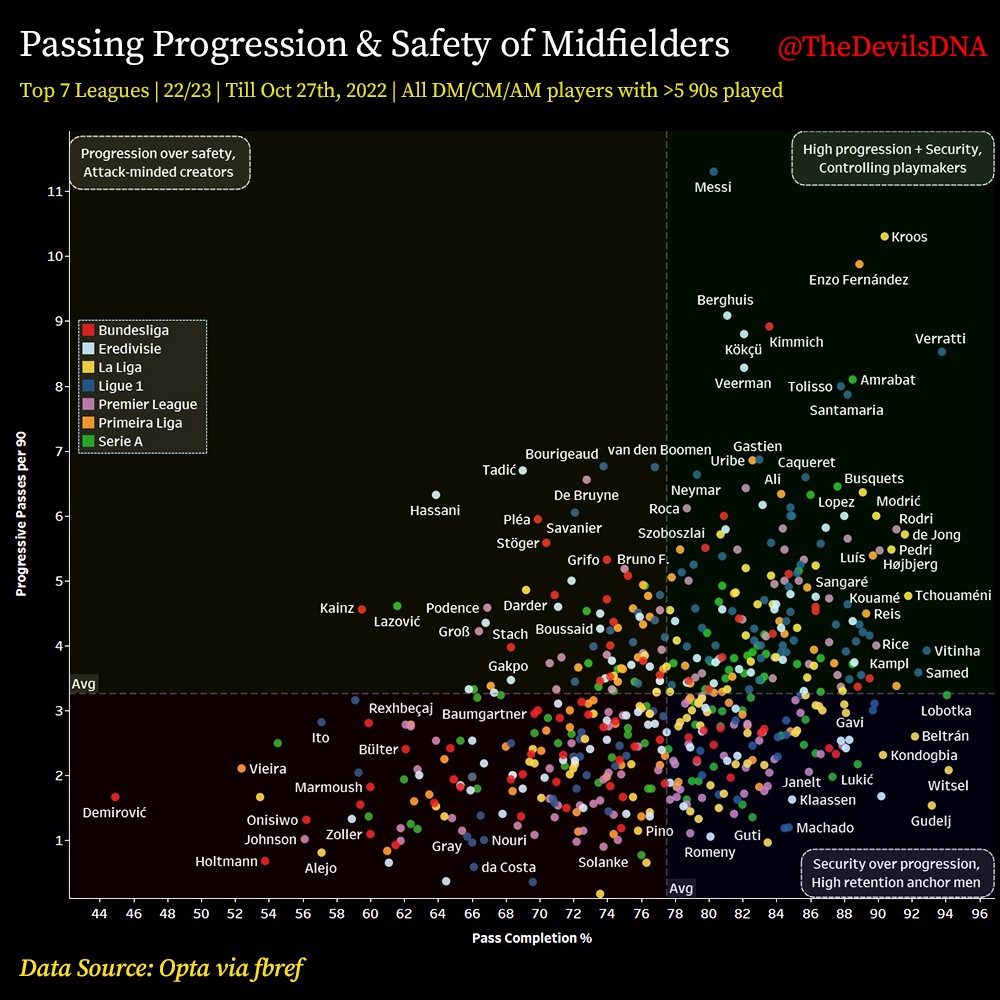 Gudelj can be found in the bottom right corner under 'high retention anchormen', which describes his role to a tee. Now, if you look just to the left, you can find another Serbian midfielder, namely Saša Lukić. With Gudelj out injured during the last international break, Lukić took his chance. He was asked to replace the anchorman and did so, in his own way.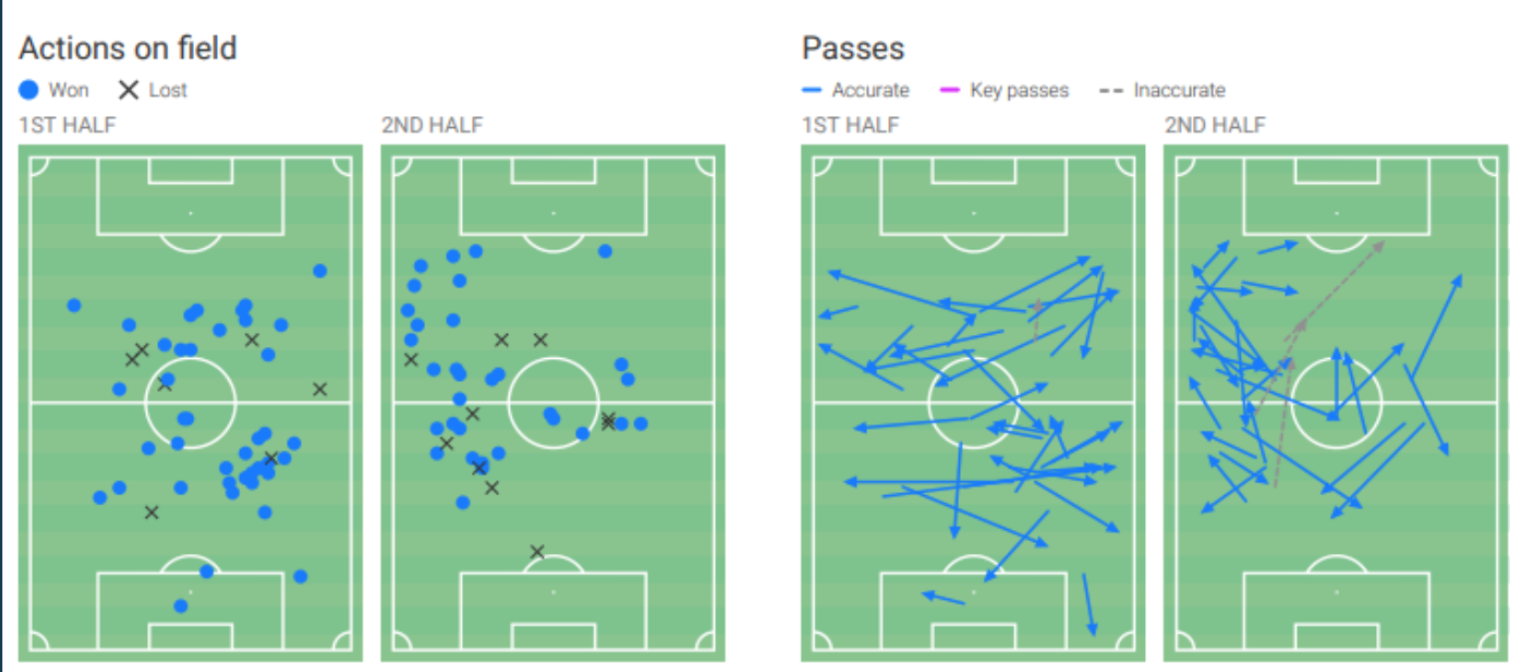 Lukić is great at finding pockets of space to help connect players in different phases of the attack
Obviously, there are several differences between them, but the main one is movement. While Gudelj is fairly static and barely leaves his own half, one of Lukić's main qualities is his off-the-ball movement and availability all over the pitch. However, when it comes to progressing play — as you can see in the chart above — the difference is minimal, 2.83 progressive passes per 90 minutes, compared to 1.65.
Furthermore, Lukić only has 6 assists in 162 matches for Torino, while Gudelj has 0 in 126 appearances for Sevilla. For the national team, Lukić has 2 and Gudelj once again has 0 assists in a combined total of 80 caps. Therefore, it's safe to say both aren't creative midfielders at heart and would remind of Serbian pivot duos of the past, if by chance they were paired up.
It Wasn't the Formation That Was the Problem
In the (recent) past, Serbia usually started in a 4–2–3–1 formation and often failed to control proceedings. It wasn't down to the formation, however. A lack of progression from central midfield was often at the root of the problem.
The switch to a 3-at-the-back was inspired by a lack of quality fullbacks and general suitability looking at player profiles, but the main change in progression from midfield can be attributed to one man — Sergej Milinković-Savić. I won't bore you with another essay on the big man, instead, I'll copy two passages from my previous articles.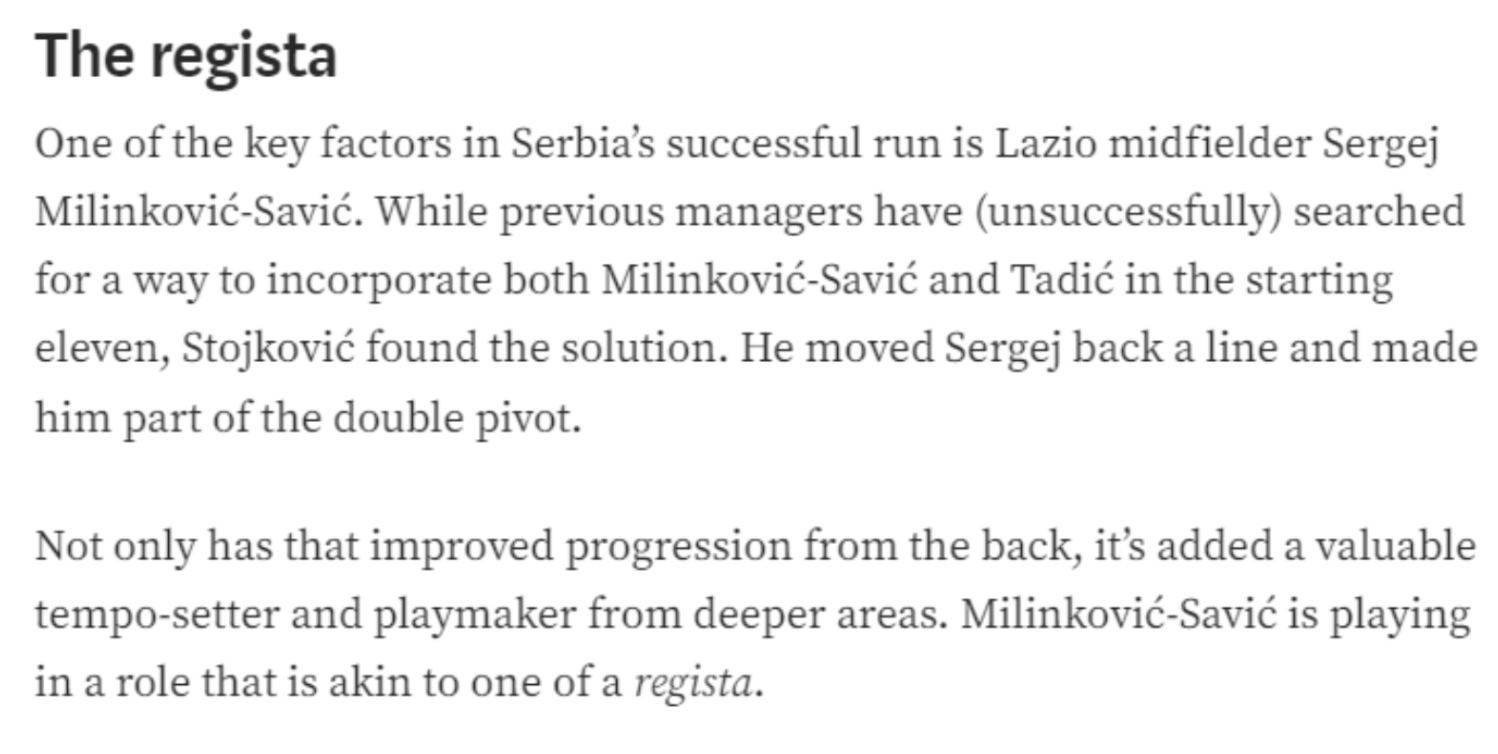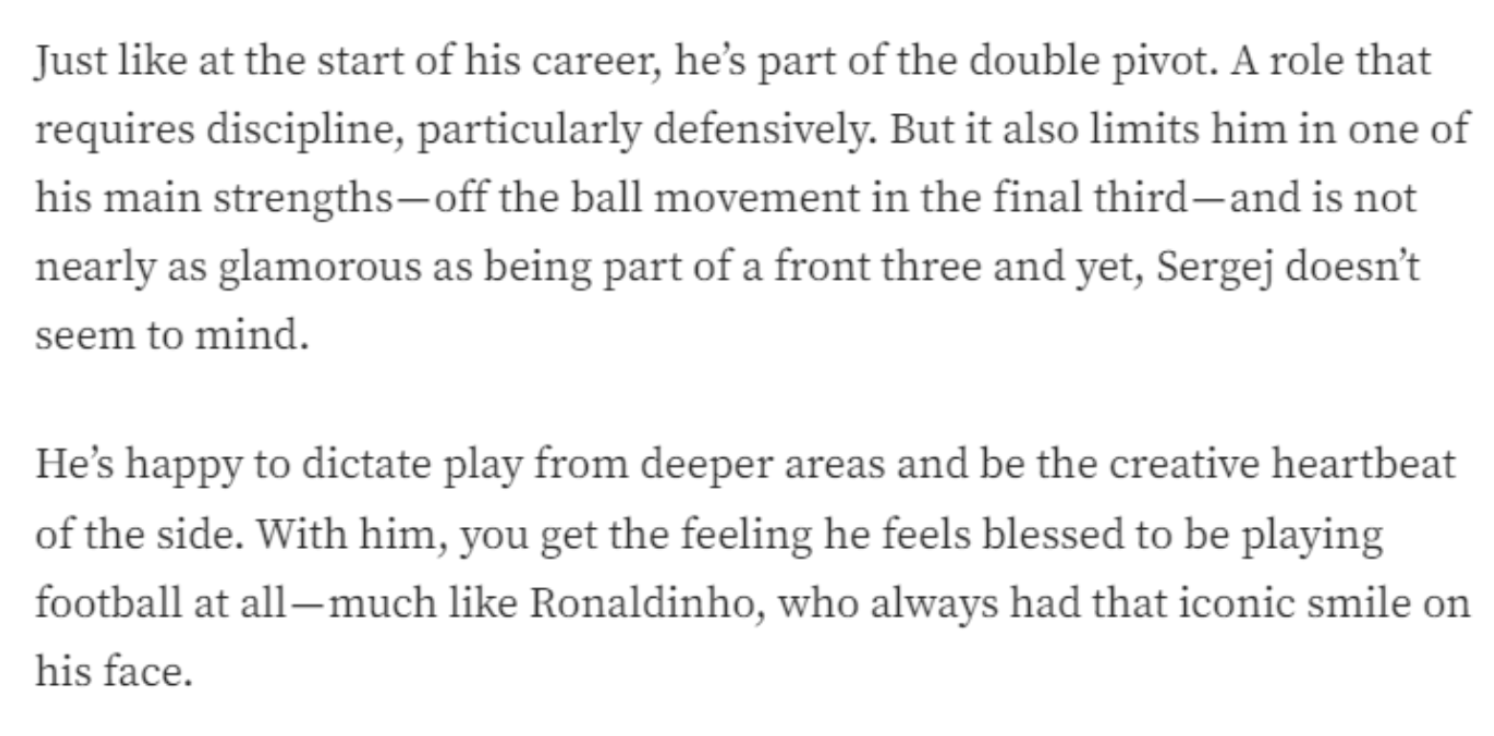 The numbers below clearly show Sergej is a different type of beast — one of the most creative midfielders in the top 5 leagues. And while his goal contributions may suffer in his new role for the national team, he now has the entire pitch in front of him. This allows him to progress and dictate play far more than he usually does for Lazio.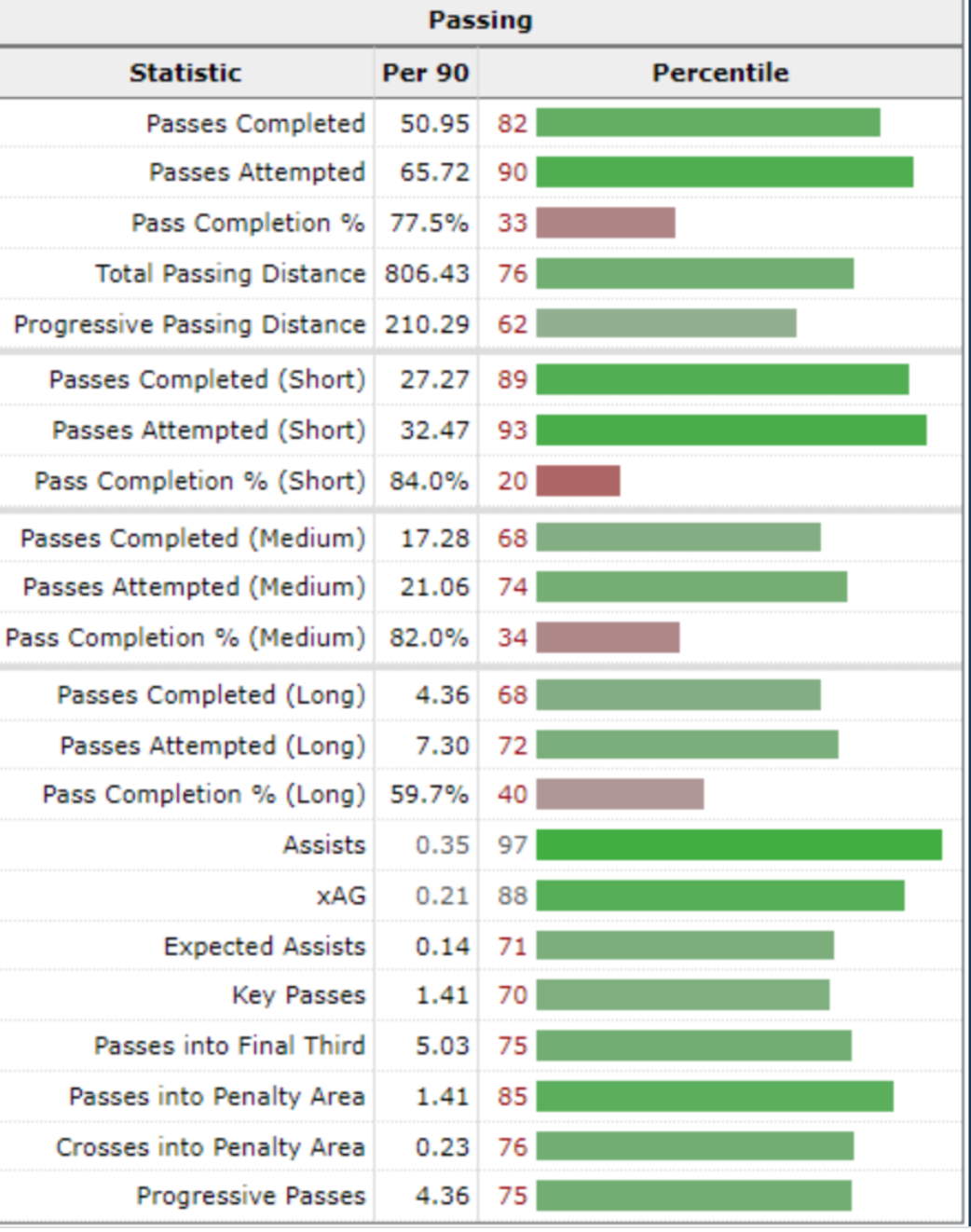 If you're wondering how that regista role plays out on the pitch, here's a recent example from Serbia's 4–1 Nations League win over Sweden. Note the large number of progressive passes from deep. Absolutely key to Serbia's success.
Sergej Milinković-Savić. A professor of football.

We know, Serie A fans know, Piksi definitely knows, as he gave him the keys to our midfield & now, hopefully, the entire planet gets to find out at the World Cup.pic.twitter.com/B8lemiZJqk

— Serbian Football Scout (@SerbFootyScout) September 25, 2022
Impressive Midfield Depth
The last international round also provided some answers in regard to midfield depth. While the team can count on former U20 World Champs Nemanja Maksimović and Marko Grujić as solid back-ups, it was rising star — Ivan Ilić — who confirmed his potential and showed that he can be an important figure in serious matches.
The only question that remains is whether he'll be fully fit in time, as he's been out for over a month now. Here are Ilić's highlights from the recent must-win Nations League match away to Norway, to give you an impression of Serbia's future in midfield.
Ivan Ilić (21) had just played 108 mins for the NT before this crucial match, replacing 1 of our best in Sergej.

Started timid – like our entire team – but grew as the game progressed. His 2nd half was fantastic, on both ends, rewarded with an assist.pic.twitter.com/1pAAkRrOP6

— Serbian Football Scout (@SerbFootyScout) September 28, 2022
Variations and Predictions
While Stojković usually opts for the double pivot, he's shown he's not averse to making changes if the opposition or occasion requires it. In the deciding qualifying match against Portugal, Stojković went with a three-man central midfield.
Therefore, it's not unimaginable that he'll do the same against Brazil, if only to provide extra cover to the wings, where Brazil is extremely dangerous, while keeping Gudelj as the anchorman that he is, right in front of the defence, to pick up Neymar whenever he enters his zone.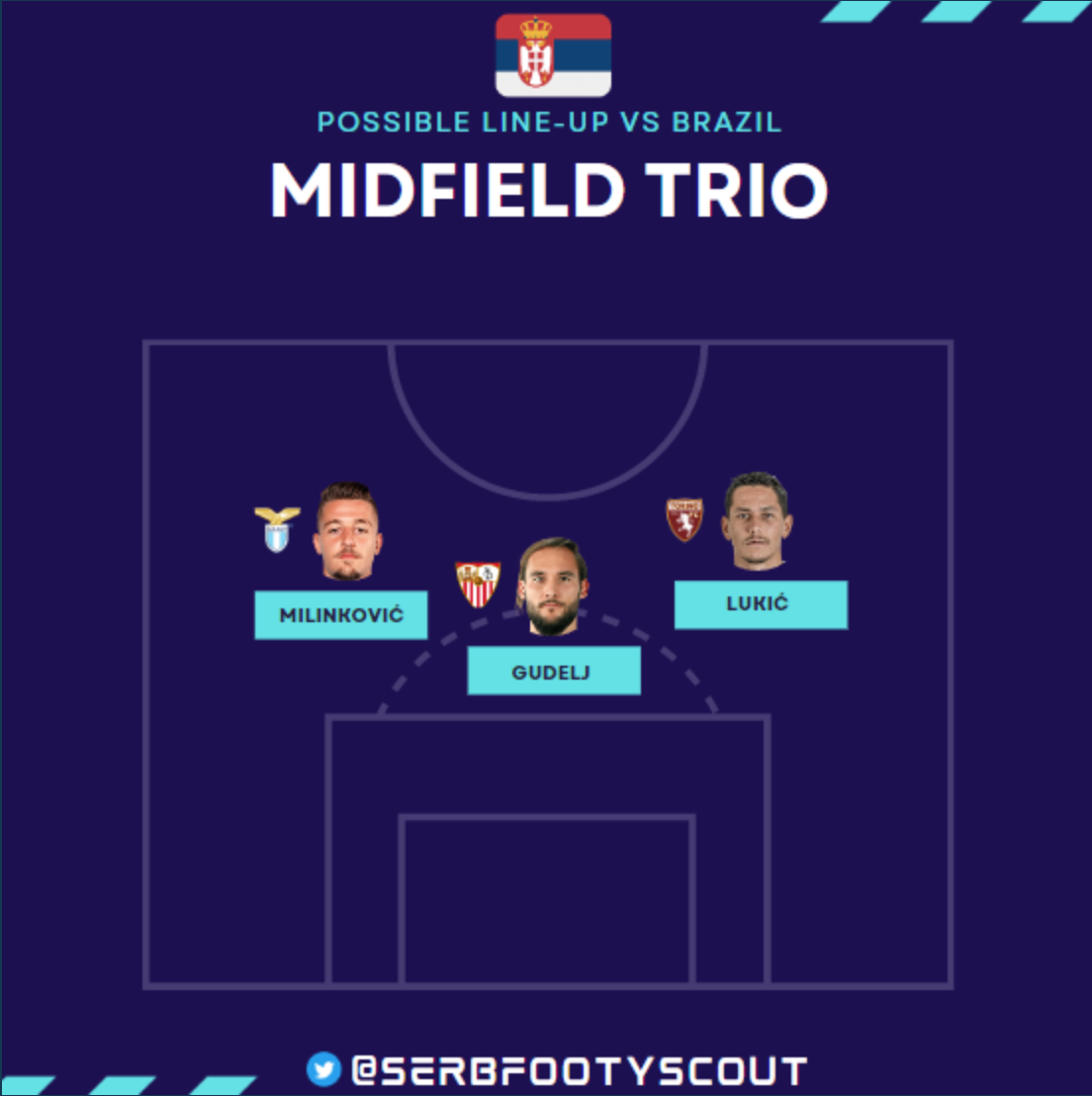 In the remaining group stage matches, I'm fairly certain Stojković will go with his usual double pivot. The only question that remains is whether Gudelj or Lukić will be the one to accompany Milinković-Savić. Personally, I would pick Lukić — with his expansive movement — against Cameroon and Gudelj — as a more secure defensive anchor — against Switzerland.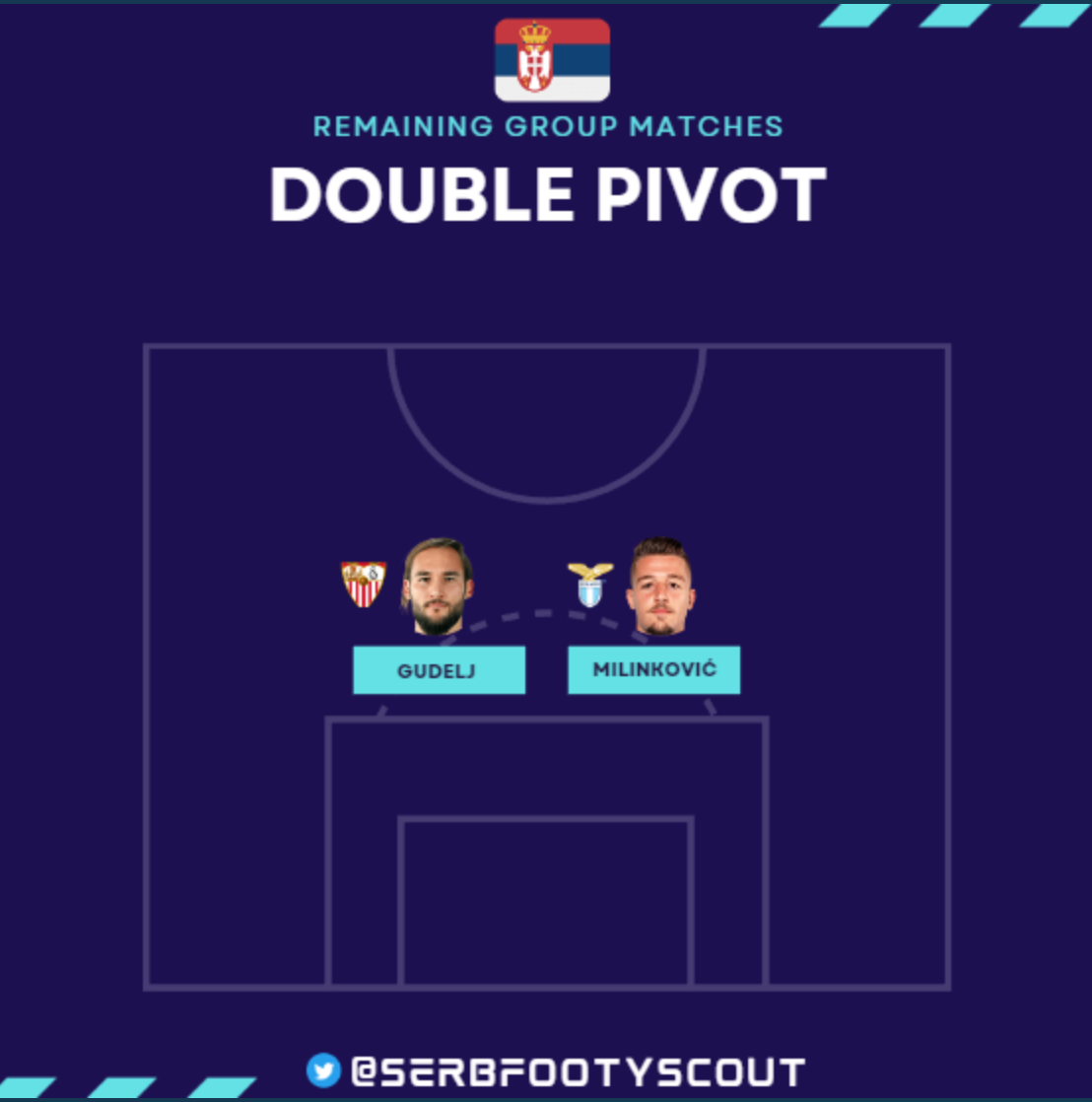 By: Kristijan Plazonja / @SerbFootyScout
Featured Image: @GabFoligno / James Williamson – AMA – Getty Images