Serbia World Cup Preview — Part Three: The Centre-backs
Amongst Serbia's national team, the defenders tend to get a lot of stick from the fanbase. Some of that is justified, however, a healthy portion of it is not. Is Serbia's defence really that bad compared to other nations, or do the underlying numbers suggest something different? And what are the main reasons why Serbia is conceding its goals? Let us take a deeper look.
Collective Defending and an Attacking Approach
Football has changed through the decades, and defending is no longer the sole responsibility of those in the backline. It starts with pressure from attackers, midfielders provide protection to the defence and wide players track opposition runs from deep, which is not always the case for Serbia. Then there's also the fact that under Dragan Stojković, Serbia is playing the most offensive brand of football I've ever seen the national team play, and that brings along a plethora of risks. Regardless, things could be better, and they will be, as Serbia's back-line is constantly evolving.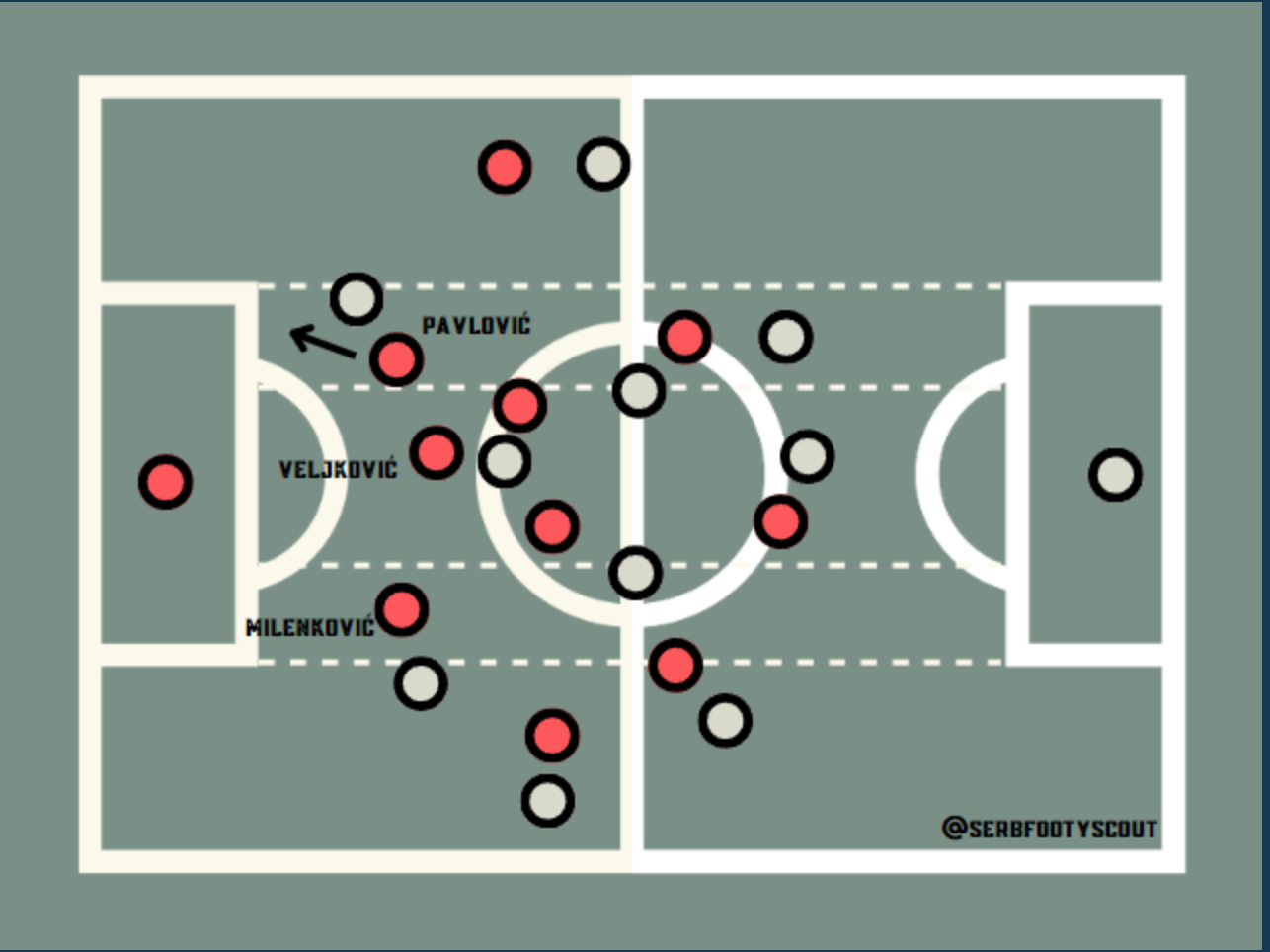 The expected back three in Qatar
What The Numbers Say
It's a good thing that clean sheets aren't that high up Stojković's priority list, because Serbia hardly ever gets any. In the last 14 official matches, the team only had 3 clean sheets. The silver lining is that 2 of them came in the last 4 matches, against Sweden and Norway. Not exactly impotent nations upfront. In total, the team conceded 14 goals in those 14 matches, or 1 per game.
That's not a terrible record, but it can of course be improved. First, it's a good idea to look at Expected Goals Conceded, or xGC. In Serbia's case, that's 12,24, which means that the team conceded 1,76 goals more than what was expected. Per game, that comes down to a xGC of 0,87, which already looks better than 1 per game.
And if you're wondering how that holds up to other teams, let's look at Portugal to compare — generally considered one of the best defensive sides in the world. I only took their qualifiers — they played 10, including 2 play-off matches — and not their Nations League A matches, as there would be a disparity in the quality of opponents.
They have a xGC of 0,78 per game, which means that we're only 0,09 behind them. Not as bad as you thought it would be, be honest. Now let us look at the assist locations on the goals. Where there weren't any, I used the spot where the ball was given away.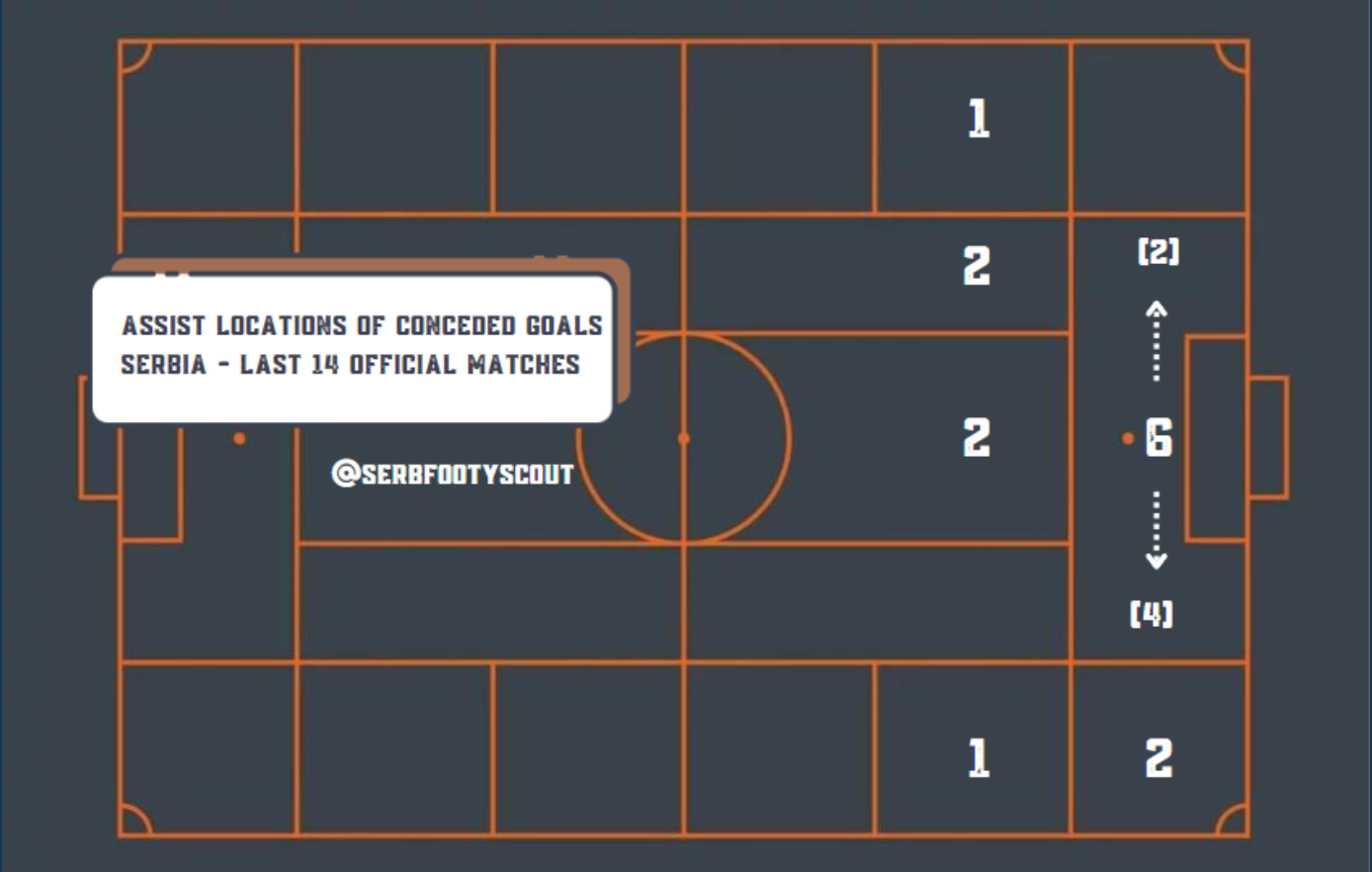 Serbia concedes most of its goals from the wide areas in the box, particularly on their left side. After that, it's a split between their left side, the area right in front of their box and the one on the right of it. Next up, the type of assists.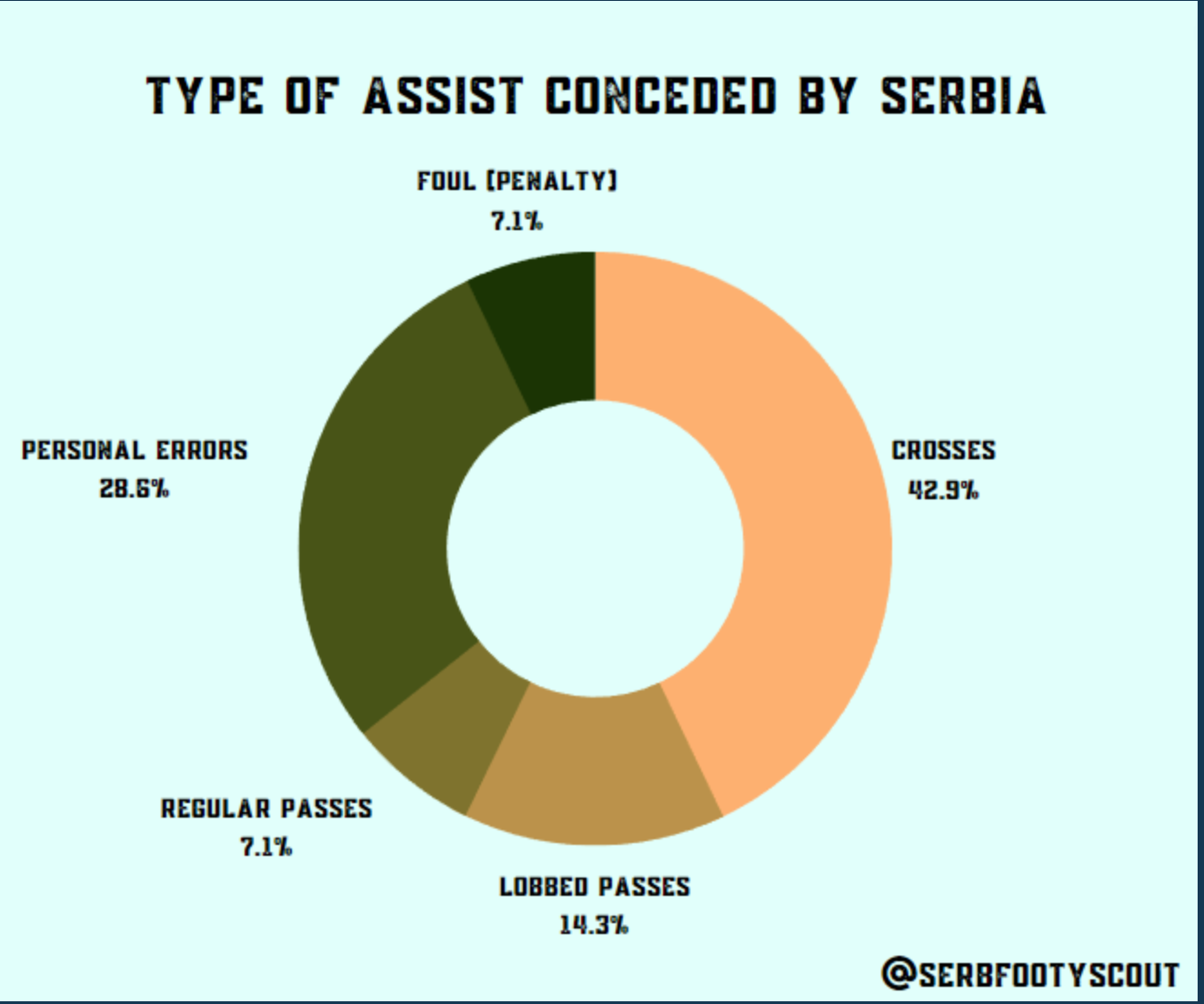 A pattern emerges. Serbia's somewhat vulnerable to crosses. A closer look at the type of errors that occur from crosses shows that 5 out of 6 goals come from poor marking, and the last 1 from a wing-back being beaten to a header at the back post. All goals come from a mistake or several somewhere during the attack, whether minor or major, and I looked at who the main culprit was for all 14 goals separately.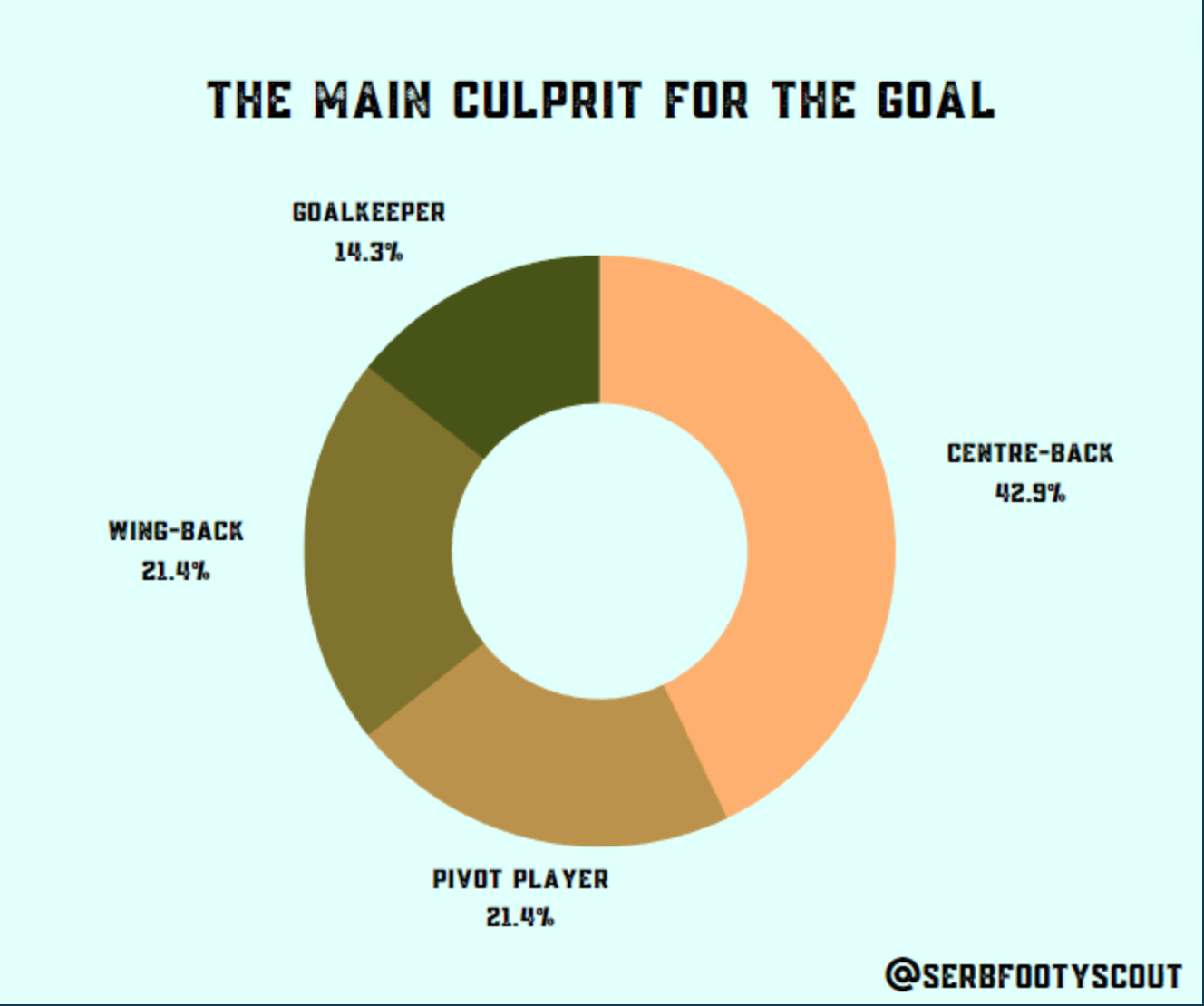 This comes back to what I started with. Serbia's defence could do better, but it's not all down to them. The wide areas need to be defended better collectively, and a more compact middle could also prevent a number of goals. Finally, there are a number of major individual mistakes that directly led to goals, and below you can see a compilation of them.
If we want to have any chance of success, we will need to stop shooting ourselves in the foot.

These 4 goals could've easily been prevented, through better concentration & communication. This can not happen in Qatar. But I'm convinced Piksi is on it.pic.twitter.com/IUFSJsWe80

— Serbian Football Scout (@SerbFootyScout) November 10, 2022
These are 4 errors — that amount to 28.6% of all of Serbia's goals conceded — that could and should be avoided at all costs. This absolutely can not happen at the World Cup, and that is a question of concentration and communication mainly. Having said that, it's time to introduce our centre-backs.
The Human Wrecking Ball
On the left is the youngest of the bunch, 21-year-old Strahinja Pavlović. After an impressive qualifying campaign, Strahinja fell off because of a serious lack of playing time. But after having been picked up by RB Salzburg — in what many would consider a surprise move — he's been better than ever. Pavlović is an aggressive, physically dominant, all-action centre-back.
He still has steps to take when it comes to positioning in certain situations and tactical discipline in general, but he's improving rapidly in Red Bull Salzburg's high-pressing talent factory. One unique aspect he adds to the team is ball progression through carries. His passing is also quite good, but it's not nearly as spectacular as one of these runs.
— V1D2E3O4 (@V1D2E3O4) November 11, 2022
Another thing that makes him important is his recovery pace. He's the fastest centre-back Serbia has and is one of the main reasons why their high line works most of the time. And if you're wondering why I called him 'the human wrecking ball', watch the video below.
More than just shades of Vidić last night, but with progressive play & pace.

Remember, Nemanja made his debut for the NT 9 days before he turned 21, while Strahinja at the age of 21 already has 21 caps to his name.

The kid deserves some credit.pic.twitter.com/drUMkDTplY

— Serbian Football Scout (@SerbFootyScout) September 28, 2022
The Progressor or the Veteran Down the middle, it'll be between two players, Miloš Veljković or Stefan Mitrović. Both are far from elite centre-backs, but they are usually reliable. One thing they have in common is that they're not the fastest, to put it lightly. Where they differ is ball progression.
Ball-playing centre-backs are a developing phenomenon in Serbia, as the emphasis is usually placed on other attributes. Luckily, things are changing in that regard. Miloš Veljković, however, did not receive his footballing education in Serbia. As a son of immigrants, he played for Basel in Switzerland, before joining Tottenham. He is also Serbia's best passer from the back, which I explain in detail in the following thread.
Miloš Veljković having a good season. Sure, it's the 2. BuLi, but they're 2nd & he was also very important in our last 4 qualifiers.

He offers something most of our CB's don't: intelligent, progressive passing & the ability to play out under pressure. I'll show you 4 examples: pic.twitter.com/53RjEXwRK5

— Serbian Football Scout (@SerbFootyScout) February 21, 2022
Stefan Mitrović is a veteran compared to Serbia's fairly young squad, with his 32 years on this planet. The other players call him 'grandpa' lovingly, and he is a very popular figure within the team. But he has his qualities on the pitch as well. A more old-school type of defender, who became famous for stopping Cristiano Ronaldo from scoring in the qualifier in Belgrade, or did he?
— V1D2E3O4 (@V1D2E3O4) November 11, 2022
Master of Duels
Finally, on the right, Serbia has Nikola Milenković. A player who like Pavlović was thrown into the deep end at a young age and already had 37 caps at the age of 24. In fact, he was one of the few bright spots during Serbia's World Cup appearance in 2018. Since then, his development has stalled a little. There are still moments of concentration loss and poor marking, that have been costly for the national team as well.
— V1D2E3O4 (@V1D2E3O4) November 11, 2022
But, looking at the bigger picture, Milenković is a quality defender who still has time to reach a higher level and where better than at the World Cup? He's a duel monster and absolutely elite in the air. His passing from the back is solid, albeit not creative. He does lack some pace for that wide centre-back role in a back three, but usually makes up for it with his positioning.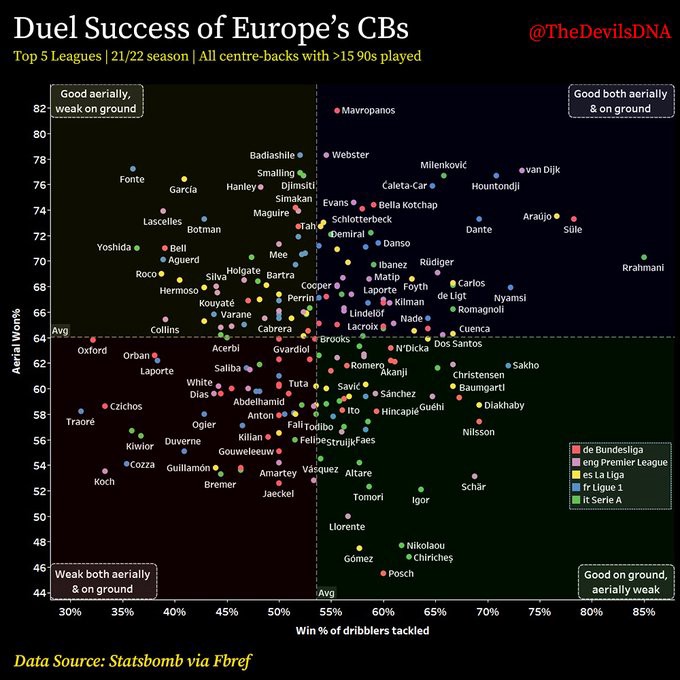 Milenković is one of Europe's most dominant centre-backs on the ground and in the air
Sudden Depth
For a while, it looked like Serbia's centre-back coverage was thin, but during the last year, several candidates have put their names forward as possible World Cup squad members. There's the left-footed former U20 World Champ, Srđan Babić, who has worked his way up from the Spanish second division and has turned some heads in La Liga this season for Almería
Then there's Erhan Mašović, playing in the Bundesliga and whose career hasn't developed in a linear line either. Both were approached by Bosnia & Herzegovina but chose to stay with Serbia. Finally, there's Strahinja Eraković, a player with a bright future, who is on the brink of the squad, but could be left out until the next qualifying campaign. I do predict he'll become a starter for Serbia within a year or two. Matija Nastasić is probably a blast from the past for many.
A former wonderkid, who became a regular at Manchester City at the age of 19 and suffered many injuries throughout his career. Still only 29 and a possible squad member, although the three players listed above would definitely be more deserving at this point in their respective careers.
Serbia's Defensive Success Will Depend on the Team as a Whole
So, there you have it. Serbia's defence put under the loop. Is it really as bad as is portrayed a lot of the time? No, but it can definitely be improved. Do the centre-backs deserve all the blame? Definitely not. With Serbia's attacking style of play and certain weaknesses, success in Qatar will depend on the collective. Some players might put in great individual performances — cue Strahinja Pavlović — but Serbia will need to show the same focus they showed against Portugal in that deciding qualifier and against Norway in the all-or-nothing Nations League match. Only that way will there be a chance of a clean sheet or two.
By: Kristijan Plazonja / @SerbFootyScout
Featured Image: @GabFoligno / James Williamson – AMA / Getty Images