Serbia World Cup Preview — Part Two: The Wing-Backs
In any 3-at-the-back formation, the wing-backs play a significant role, but in a 3–5–2 with an attacking midfielder and two strikers up top, their importance gets magnified, as they have the entire wing to themselves.
Serbia originally went down this route because of a lack of quality fullbacks, but the Balkan nation hasn't looked back since. Where most teams rely on pure wing-backs, Stojković hasn't been afraid to play out-right wingers in those positions and the results have not suffered because of it — quite the contrary, actually.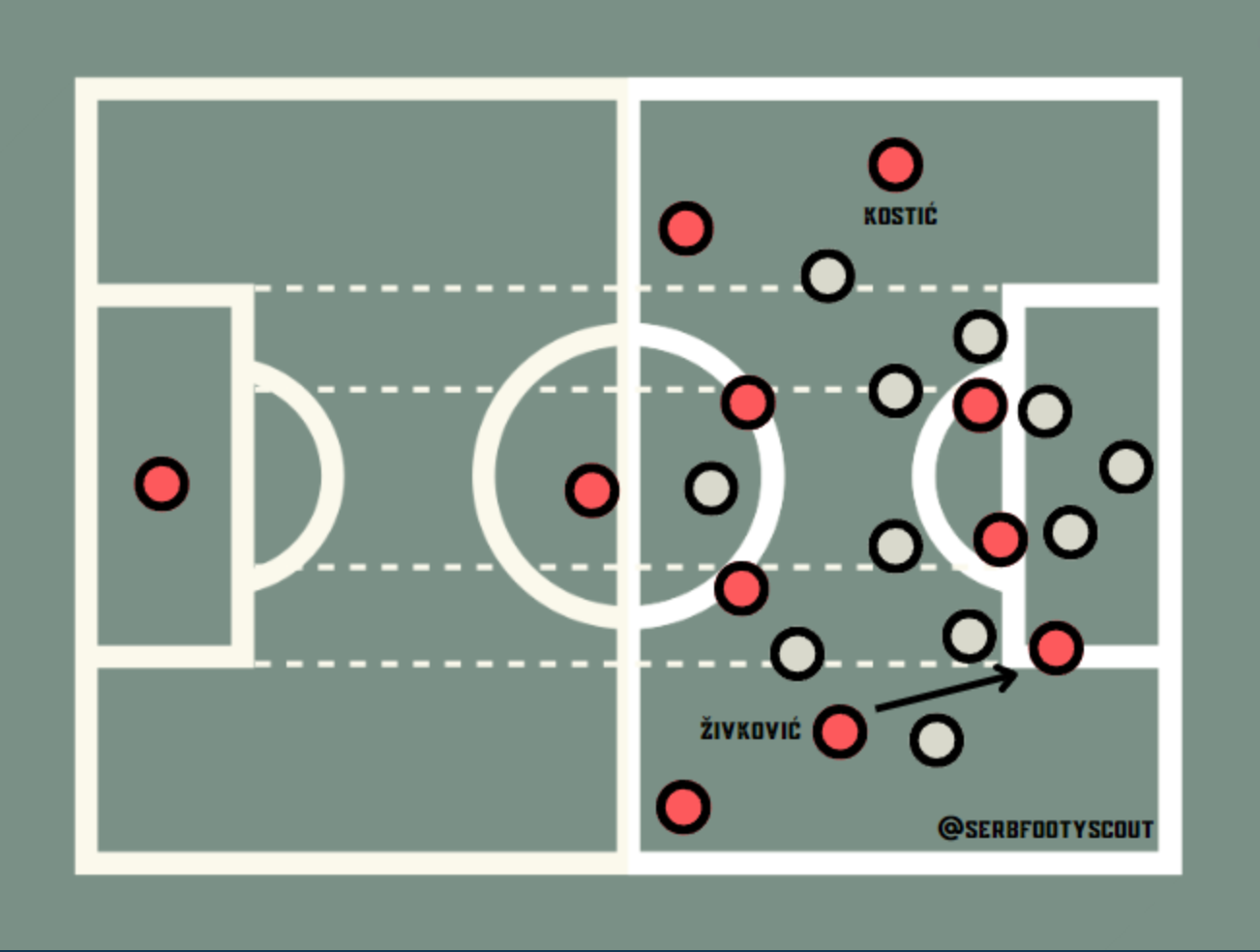 Andrija Živković as a possible creator on the right and Filip Kostić in his favoured isolated role on the weak side
Serbia's Reliance on Crossing and Wide Players
It should come as no surprise that the tallest national team from the previous World Cup — and probably this one too — which also has Aleksandar Mitrović in its ranks — is a threat from crosses. Looking at the last two campaigns — World Cup qualifying and the Nations League B — Serbia scored a total of 31 goals in 14 matches. 13 of those goals — or 42% — came from some form of crossing: 9 from regular crosses 3 from set-pieces 1 from a cutback. But it's not just crosses.
Serbia's wide players were responsible for 14 goal contributions in total — 11 assists and 3 goals — which translates to 45% of all goals. Therefore, it's not out of place to state that the wing-backs have been another major reason why Serbia has been so successful in the last year and a half.
One of Europe's Best Wing-Backs
As a winger, he wasn't close to being top-tier, but as a wing-back, Filip Kostić is one of the most highly-rated players active in Europe right now. A more withdrawn, wide and isolated position allows him to use all his main qualities: Penetrating straight-line runs from deep — with or without the ball, his incredible engine and stamina levels, perfect for transition football, and last but not least, his sublime crossing technique — in all different types.
While his form for country has fluctuated, he'll be an important cog in Stojković's machinery, operating on that familiar left flank. And with playmakers like Sergej Milinković-Savić and Dušan Tadić in the team, his runs won't go unnoticed. In total, he has 13 goal contributions in 50 international games, which is a solid return. But it somewhat fades in comparison to his club record — particularly that of last season, when he had 22 goal contributions in 43 matches for Eintracht Frankfurt.
1 – Filip #Kostic is the player with the most chances created (87) and the most open play crosses (218) in the Bundesliga 2021/22. Fancy. pic.twitter.com/NM69Xj85yk

— OptaPaolo (@OptaPaolo) August 8, 2022
Kostić's crossing has been the talk of the town for over a year now. And while his quality can't be disputed, it's important to note that he is a volume crosser, with 11.92 attempts per 90 minutes — which puts him in the 99th percentile. It's not so much accuracy, as it is technique and being able to get them off with minimal amounts of space available.
And then there are the variations — low and hard crosses, floaters, cutbacks — he can do it all and make it look effortless. I would like to see Serbia make more effective use of his cutbacks, but luckily that's being worked on, in Turin of all places.
Building a Connection with Dušan Vlahović
Not many Serbian fans are still as excited as they were when they heard that the two would pair up, after Juve's underwhelming start to the season. But there's no denying it's had its advantages as well. Two important starters have had the chance to work on their relationship — on and off the pitch — and the results are slowly starting to show, as they're developing an understanding which could potentially lead to more goal contributions from Kostić.
One thing that's got me excited about our left side is the Kostić-Vlahović connection that's developing at Juventus.

It looks like Kostić's cutbacks will be more effective than they were so far for the national team. More on that in today's blog.pic.twitter.com/fsA7wNjtCb

— Serbian Football Scout (@SerbFootyScout) November 8, 2022
The Right Wing-Back Dilemma: Penetration or Creation?
While the left side is a lock, the right poses more questions. For a long period of time, Darko Lazović was the obvious first choice. A Serie A veteran, who's been playing as a wing-back on both sides for years now, although he too started out as a winger. Lazović's main characteristic is his directness, both with his passing and dribbling. He combines pace with carrying ability and is quite good in 1v1 situations. This chart from last season sums him up well.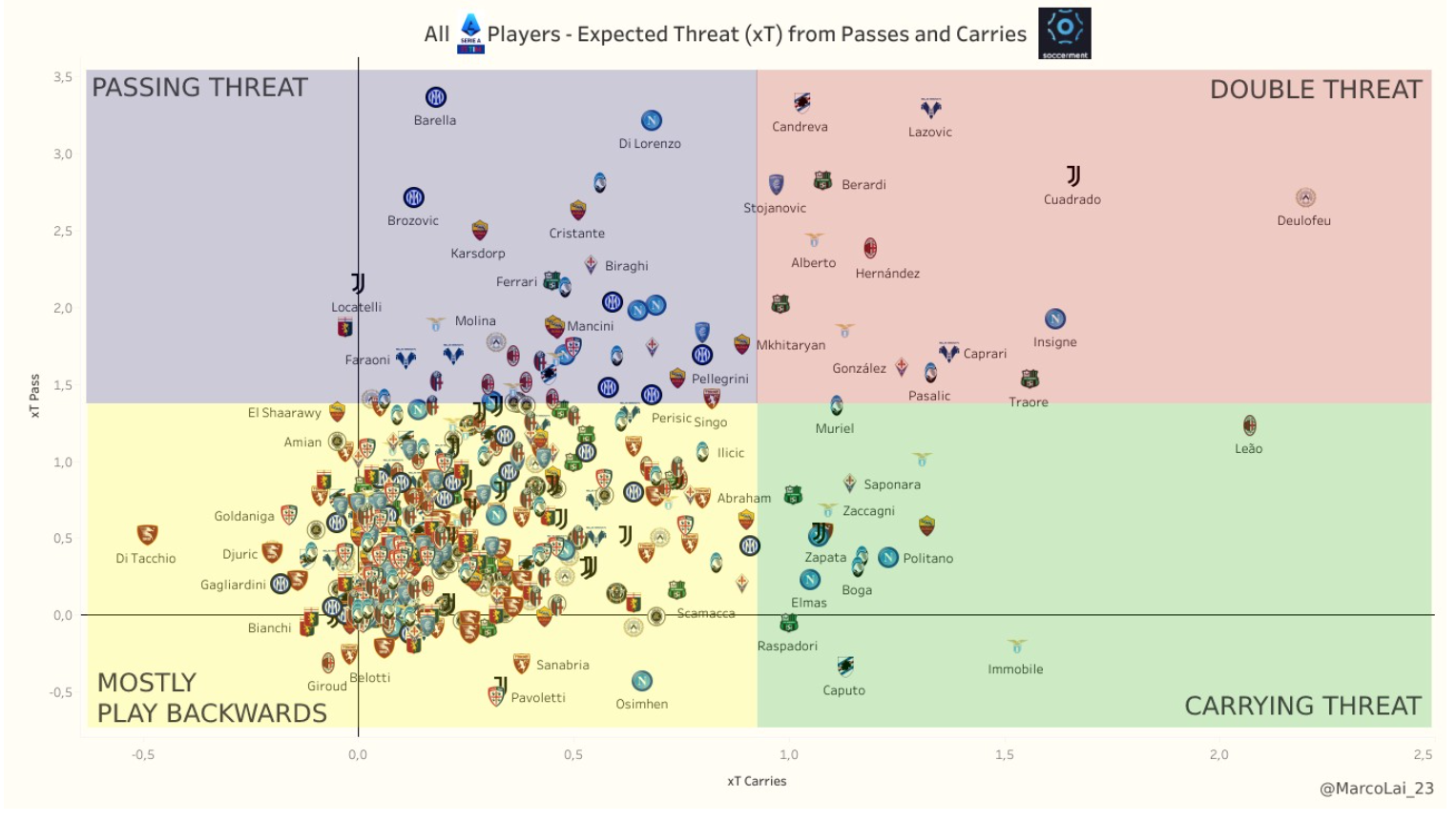 Lazović can be found in the top right area, classified as a double threat
In recent matches, however, his status as a starter has been seriously challenged by former U-20 World Champion, Andrija Živković. Unlike Lazović, he's new to the role, as he usually plays as an inverted winger for his club, PAOK. But that hasn't stopped him from impressing. Živković is left-footed, which means that his crosses from the right are inswinging.
He doesn't make as many runs in behind, but is a player who likes the ball played to his feet and has the creativity and passing ability to unlock stubborn defences — with which he offers a unique dimension to Serbia's wide play. For an example of this, here are his highlights from the Slovenia match.
Andrija Živković vs Slovenia. pic.twitter.com/xKh7Etlm5e

— Serbian Video Scout (@SerbVideoScout) June 6, 2022
Defensively, his work-rate can not be faulted. Obviously, his positioning, defensive techniques and body orientation aren't always ideal, but it's fair to say that he hasn't looked out of place in this role. And when you look at his defensive numbers compared to other wingers, it's no surprise.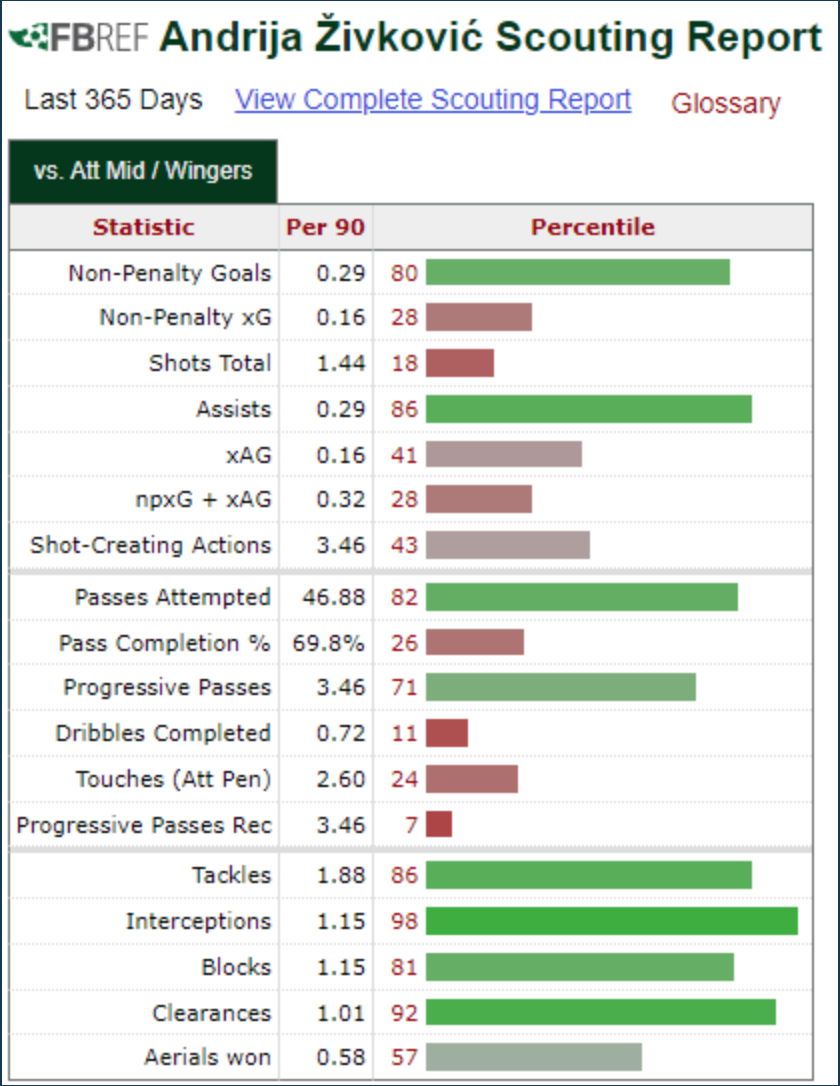 A Left-footed Specialist and a Joker
When it comes to back-ups, Serbia has several on the left side — Filip Mladenović, Mihailo Ristić and Aleksa Terzić. But realistically, out of the three of them, Filip Mladenović is probably the closest to the backup role. Not only is he blessed with a fantastic left foot, he's also having by far the best season out of the three, with 0.70 goal contributions per 90 minutes for Legia Warsaw.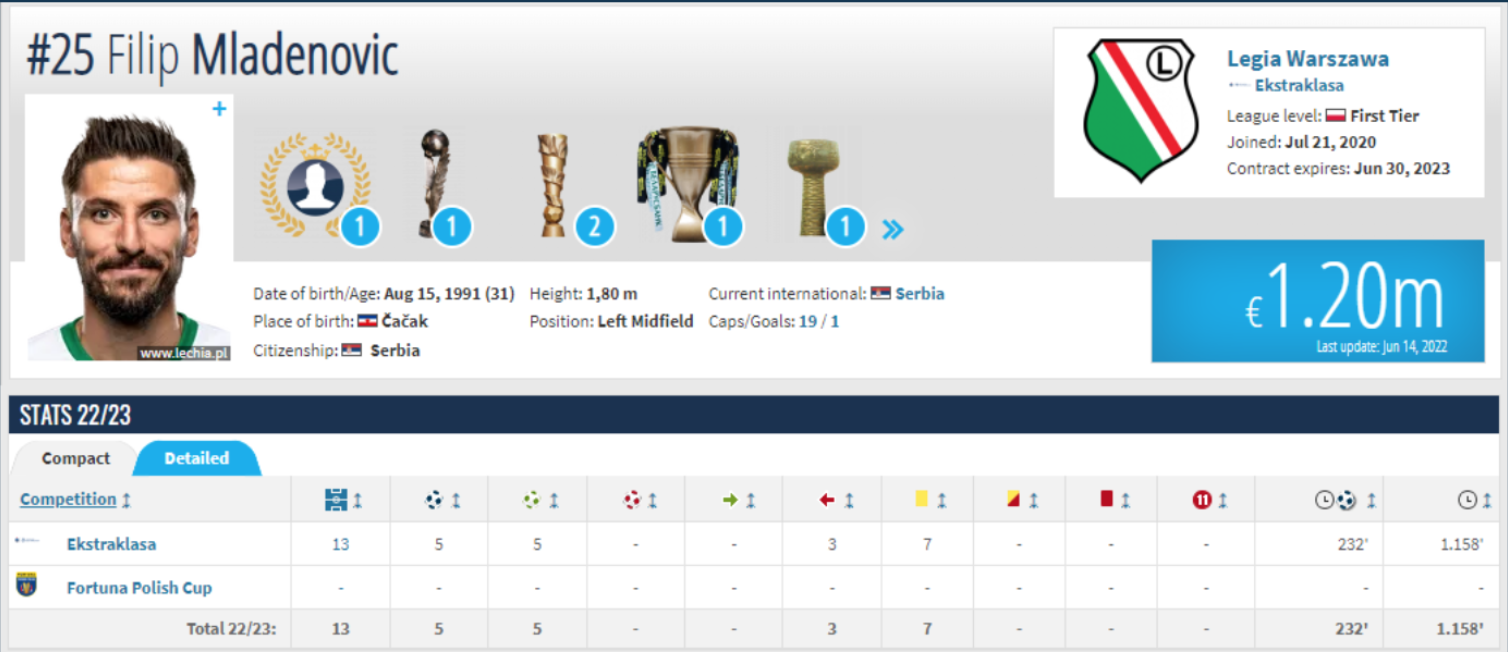 On the right — and also sometimes on the left — there's the popular NR7, better known as Nemanja Radonjić. A player blessed with incredible pace, Brazilian flair and mazy dribbling ability. If only his decision-making — on and off the pitch — was as fast and concise as his feet, the sky would be the limit for him. But alas, that is not the case.
However, that doesn't mean he can't be of use to the national team — which he luckily is on occasion. Like during this sequence, which can without doubt be described as the best counter-attack I've seen in all my years of watching Serbian football. And the best part is that the wide players were key to this beautiful goal.
One of the best goals 🇷🇸 ever scored & definitely our best ever counter-attack.

Shows our strength in offensive transitions & the importance of our wide players.

And not in a friendly, or against some bogus team. Against a defensive juggernaut – 🇵🇹.pic.twitter.com/Vxf7kwtTKD

— Serbian Football Scout (@SerbFootyScout) November 8, 2022
Radonjić is an ideal joker to bring off the bench when opposition defences are slowly getting tired and larger spaces start to open up. Therefore, he could be a deciding factor in one or even more of these matches.
So Who's Going to Start?
We don't even have to speak about the left side, but the right could be a split decision. I wouldn't be surprised if Stojković went with Lazović versus Brazil. With Serbia pushed back, he'd offer an outlet during offensive transitions and could do more damage with the space that would appear, while on the defensive end, his pace could be important in Serbia's struggle to contain Vinícius Júnior.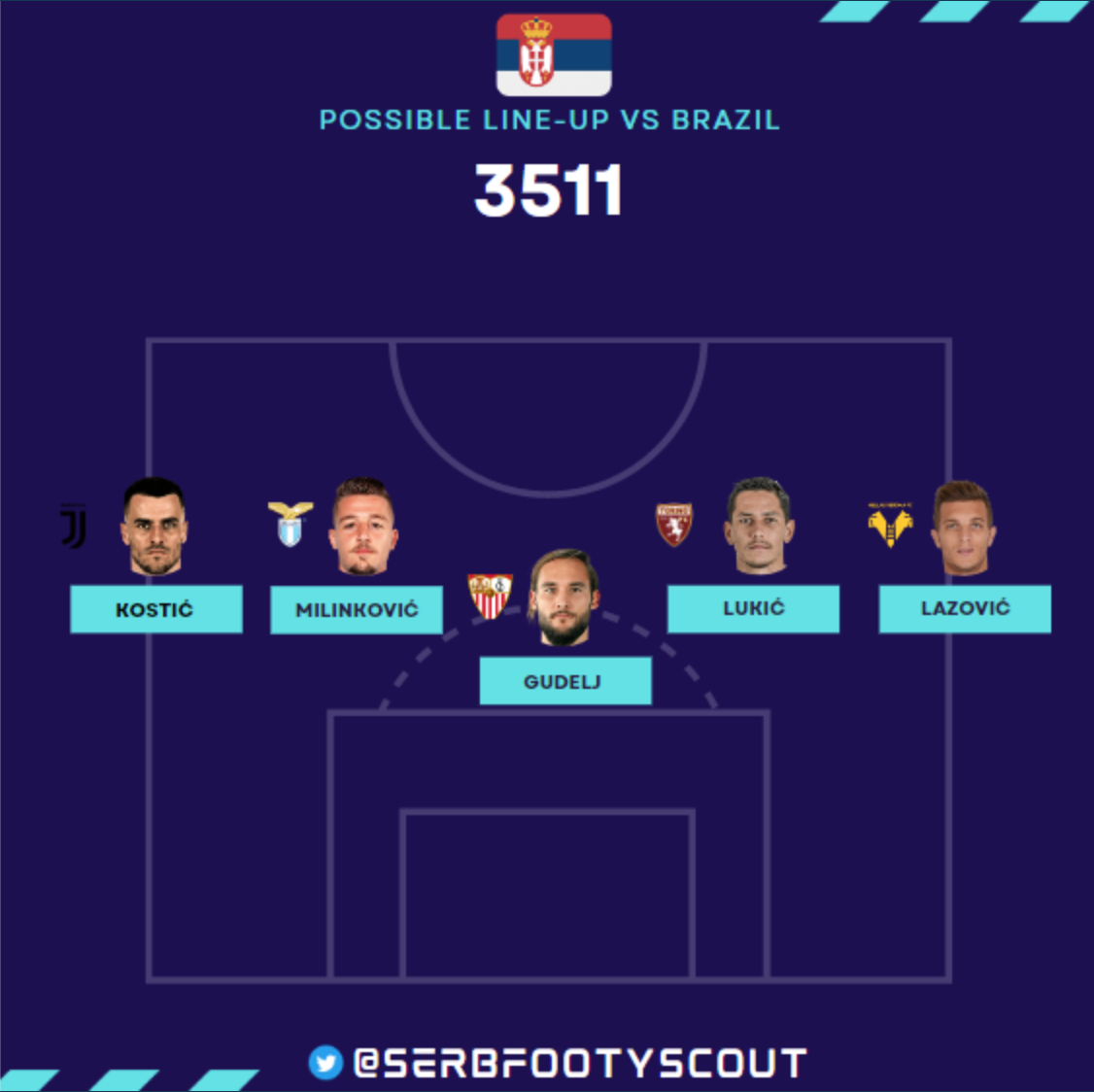 In the remaining two group matches against Cameroon and Switzerland — with Serbia expected to be more dominant — Andrija Živković would probably be the better fit. His creativity from out wide could provide the spark that Serbia needs.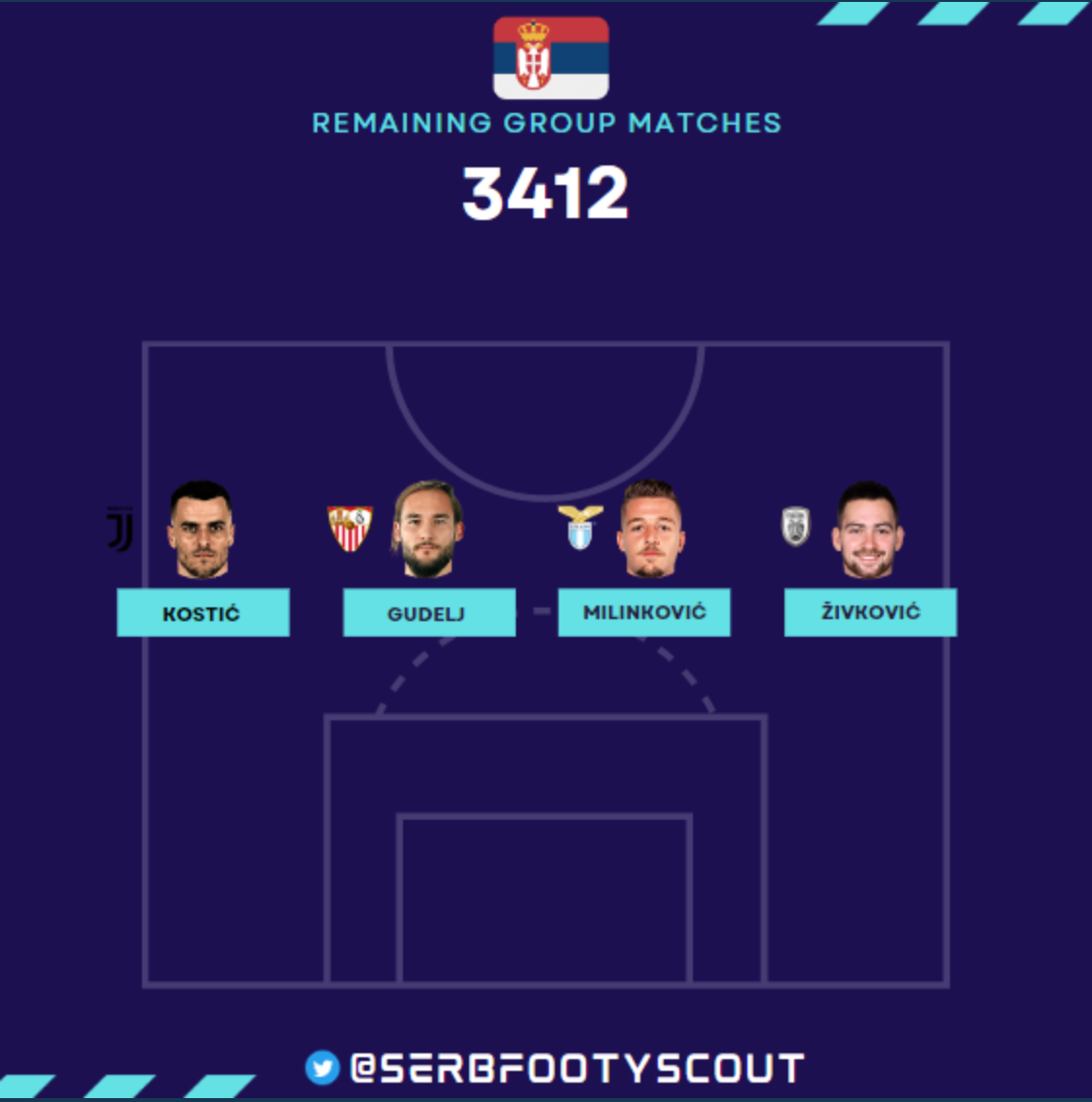 No Matter What, the Wide Areas Will Be Vulnerable
Whoever plays will not change the fact that Serbia's wide areas will be vulnerable defensively. It's a logical consequence of the fact that barely any of the players involved are natural defenders. These issues can be partially masked through a combination of compact, collective defence and hard work — which may come at a cost of attacking efficiency.
By: Kristijan Plazonja / @SerbFootyScout
Featured Image: @GabFoligno / Gualter Fatia / Getty Images