Tactical Analysis: Argentina 2-1 Australia
After sealing a knockout round berth for the first time since 2006, Australia faced off against Argentina in the Round of 16. Both teams had bounced back from disappointing results early on, with La Albiceleste responding from their 2-1 defeat to Saudi Arabia by beating Mexico and Poland and the Socceroos responding from their 4-1 loss to France with wins against Denmark and Tunisia to finish second in their group.
Australia manager Graham Arnold went with a 4-4-2 formation with Jackson Irvine playing alongside Mitchell Duke in the strike pair and often dropping deep to defend, whilst Lionel Scaloni went with a 4-3-3 formation with Lionel Messi operating as a false 9 alongside two inside forwards Julián Álvarez and Papu Gómez.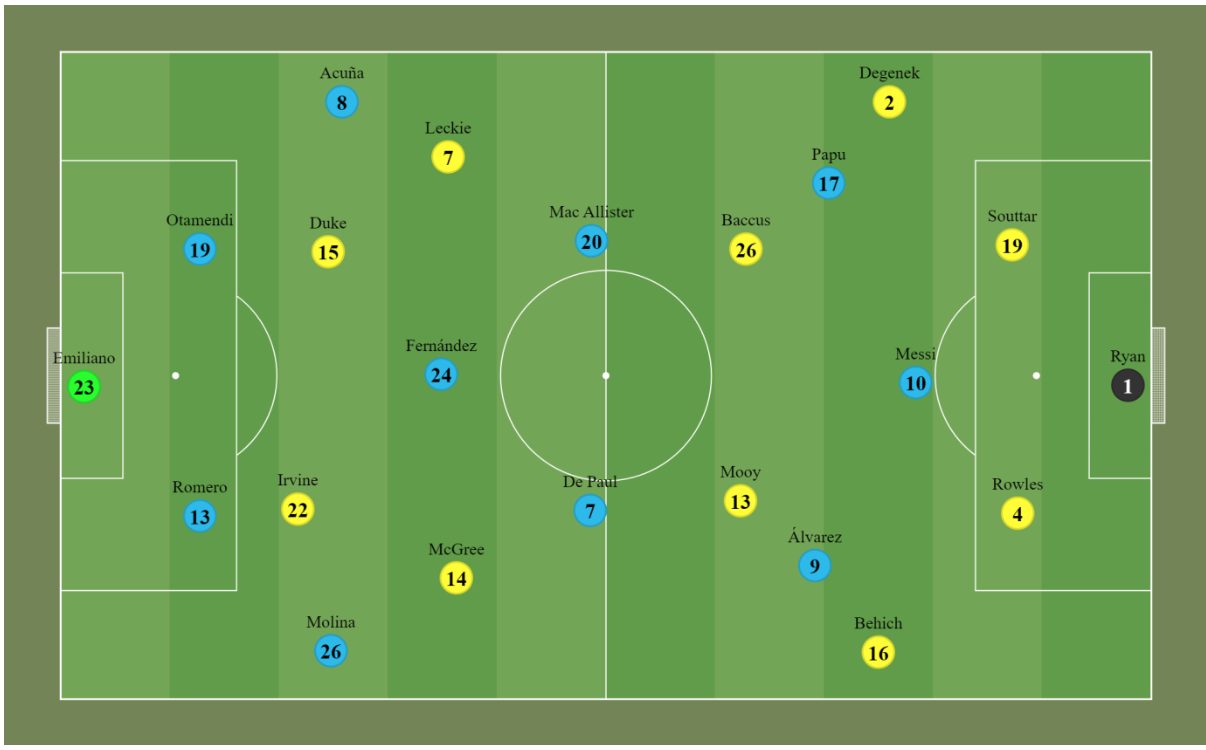 Argentina's Build-up Play
Against Australia's narrow (4-4-2) shaped man-oriented high press using (6-CB) technique for the first line of pressure; as Duke and Irvine were alternating pressure on Argentina's ball-side centre back and defensive midfielder (Enzo Fernandez) in order to restrict the central build-up, Argentina were shifting between (4+1) and (2+3) shapes, depending on their fullback's height where their build-up was directed to.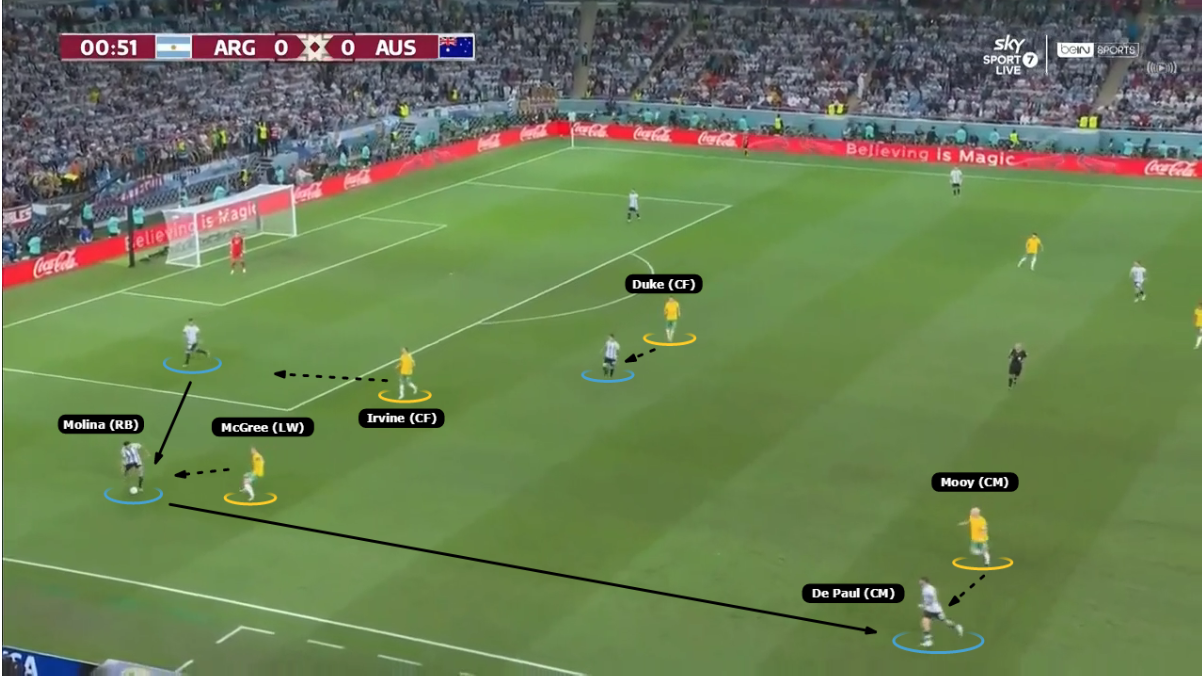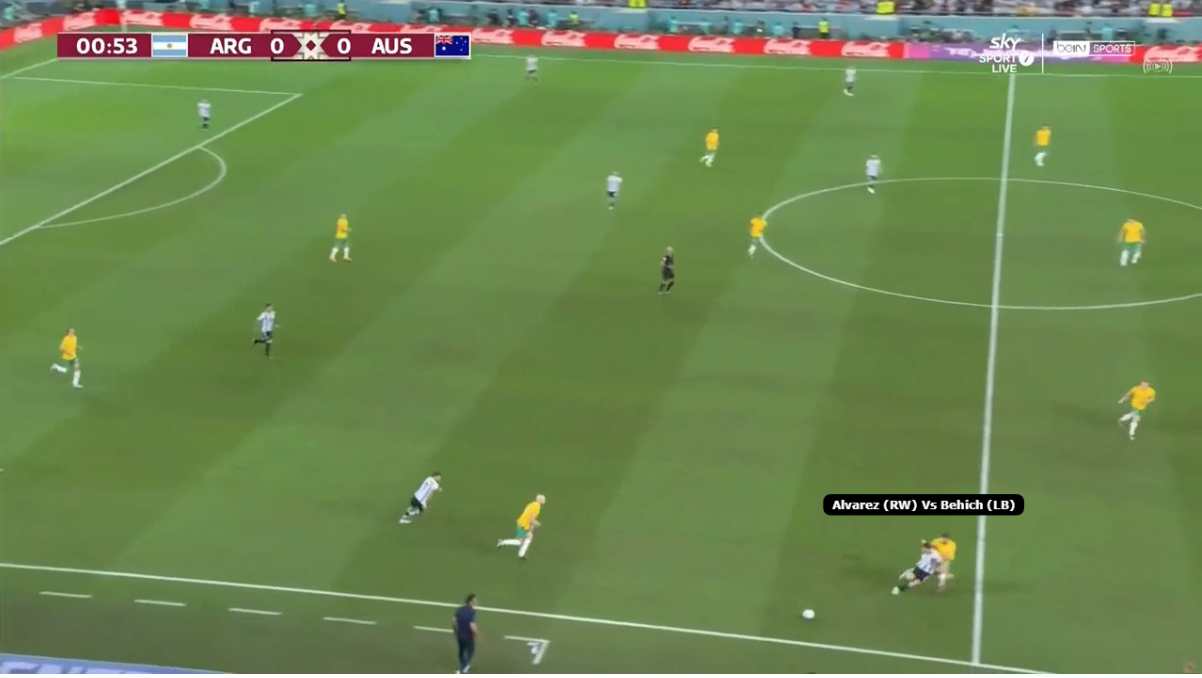 A pass to the fullback (Nahuel Molina in this example) was the pressing trigger for the Australian near-side winger (Riley McGree) to jump higher to press him while Argentina's ball-side central midfielder (Rodrigo De Paul) drifted wide to create space for the ball side winger (Álvarez) to drop into and receive the ball, as the former had to be followed by the near Australian central midfielder (Aaron Mooy).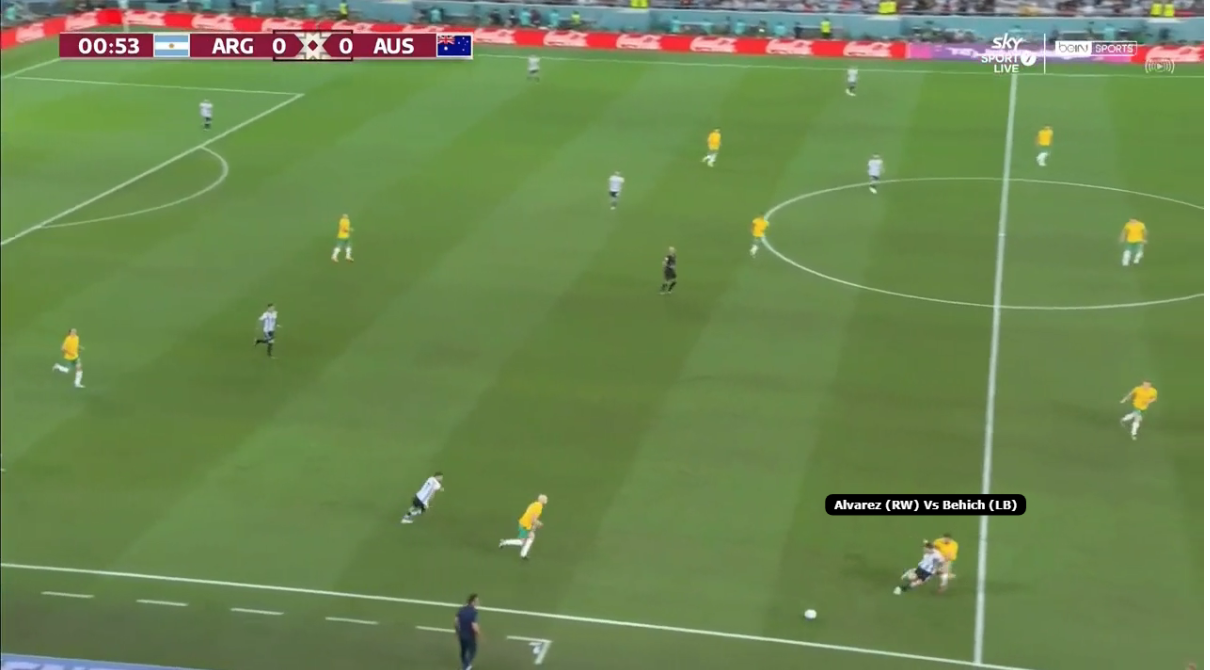 Such a build-up scheme by Argentina was faced by the proactive front-foot defending from Australian fullbacks (Aziz Behich), making them unable to progress the ball forward. The same was happening on the opposite side, but also a very important detail to notice: Argentina centre backs began to stretch wider while Fernandez moved higher so that the three become further from each other, making the previously explained (6-CB) pressing technique harder on Australian centre forwards duo in order to provide an option for central build-up; but the same was handled by cover shadow marking technique from the latter to restrict their opponent build-up to the flanks again.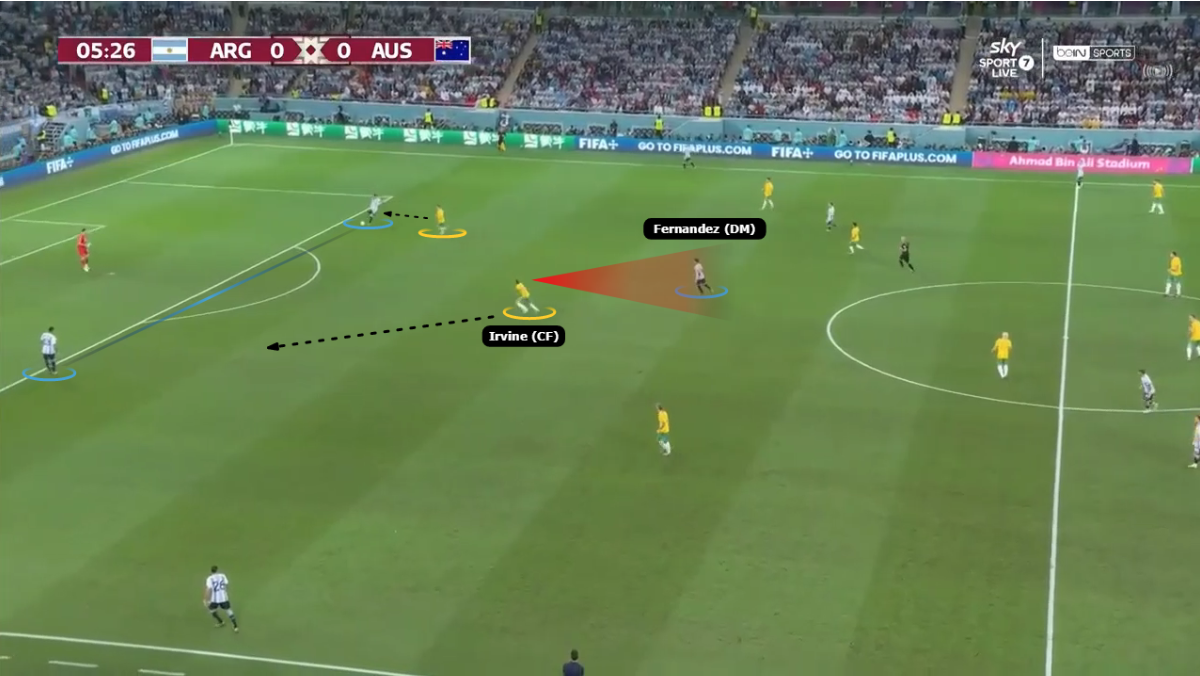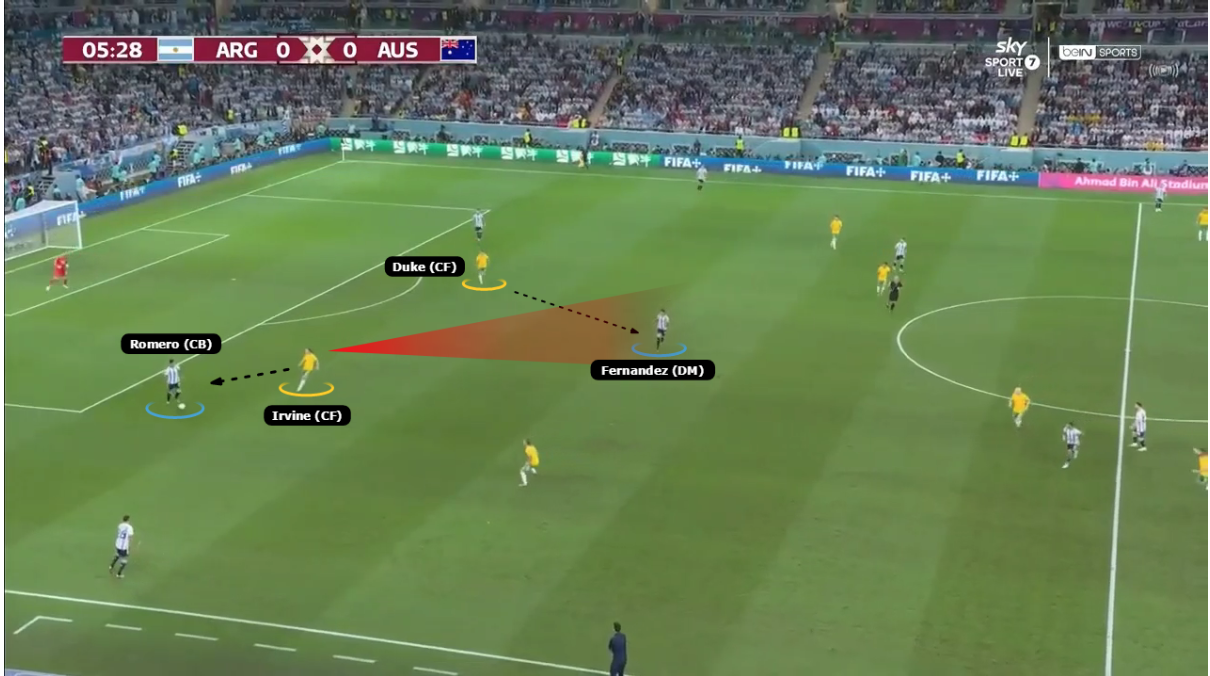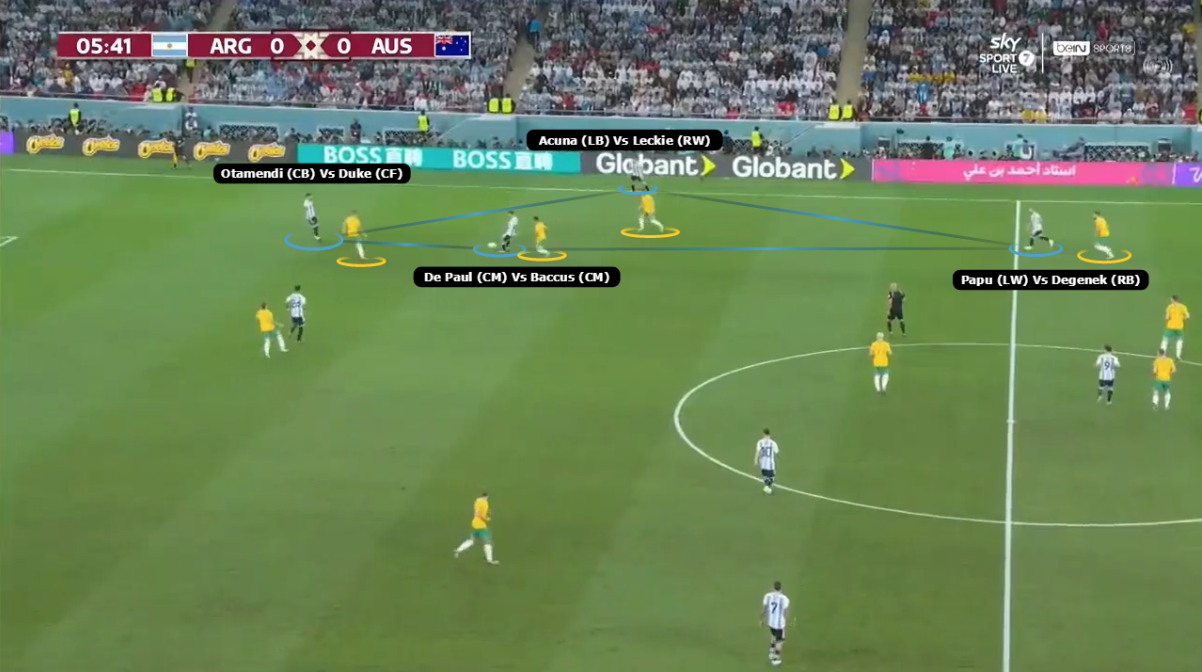 Argentina could only carry the ball forward centrally once, when Duke tried to dictate the build-up to their right side instead of marking Fernandez, who became free to receive the ball. 
But in the final ten minutes of the first half, and after Messi has scored one of his registered trademark goals, Graham Arnold had to shift to "Plan B", which was a more extreme high pressing scheme to be able to recover the ball in higher areas of the pitch by pushing the ball side.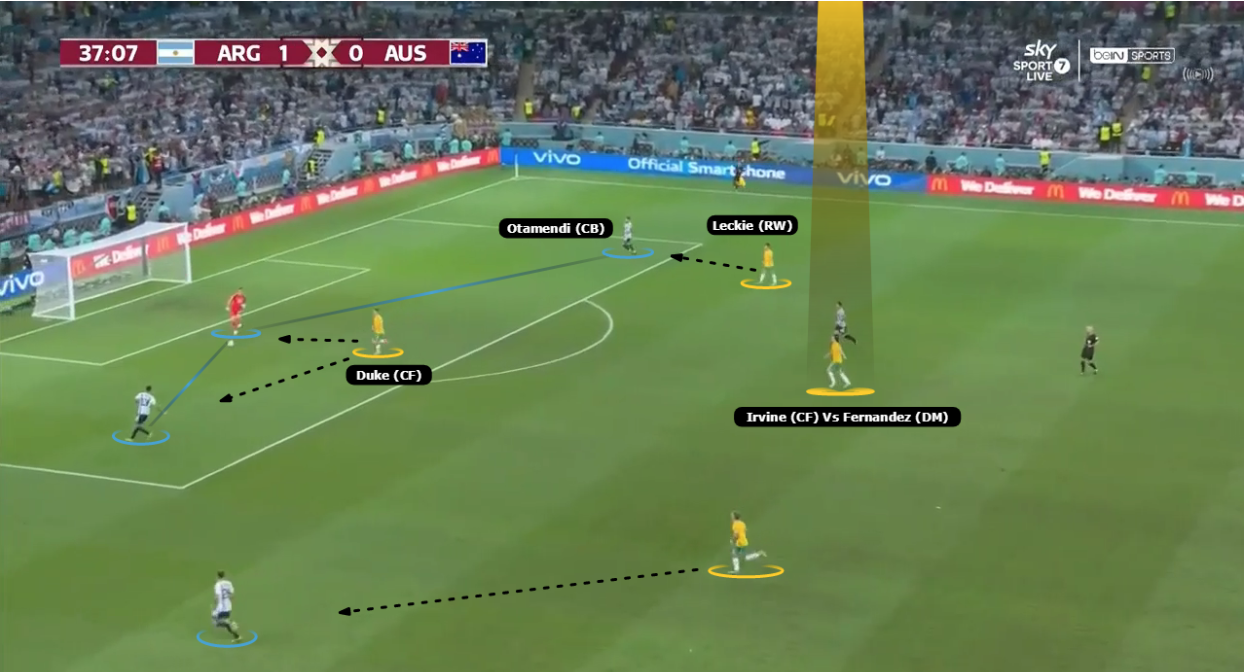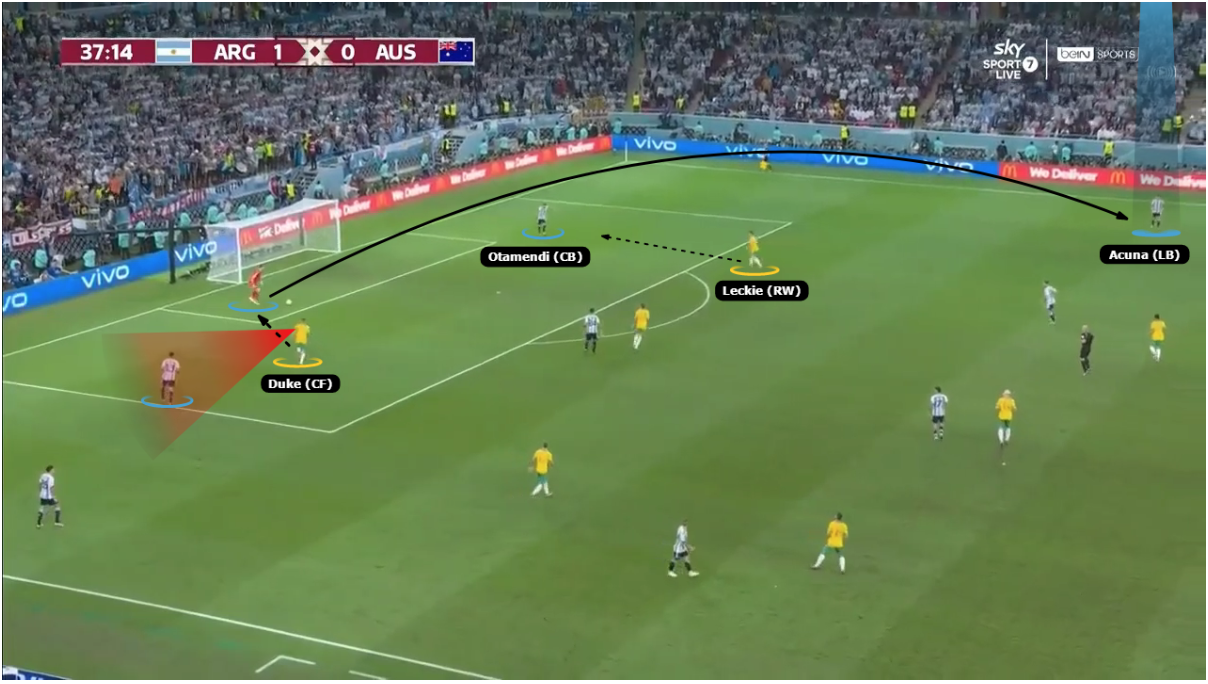 And hence comes the turn for Australia's near-side full back to jump higher and press the opposing full back (Milos Degenek vs. Marcos Acuna) while taking the risk of being deprived of numerical superiority advantage at the backline, but again the Australian intense and aggressive pressing was enough to prevent Argentina's progression.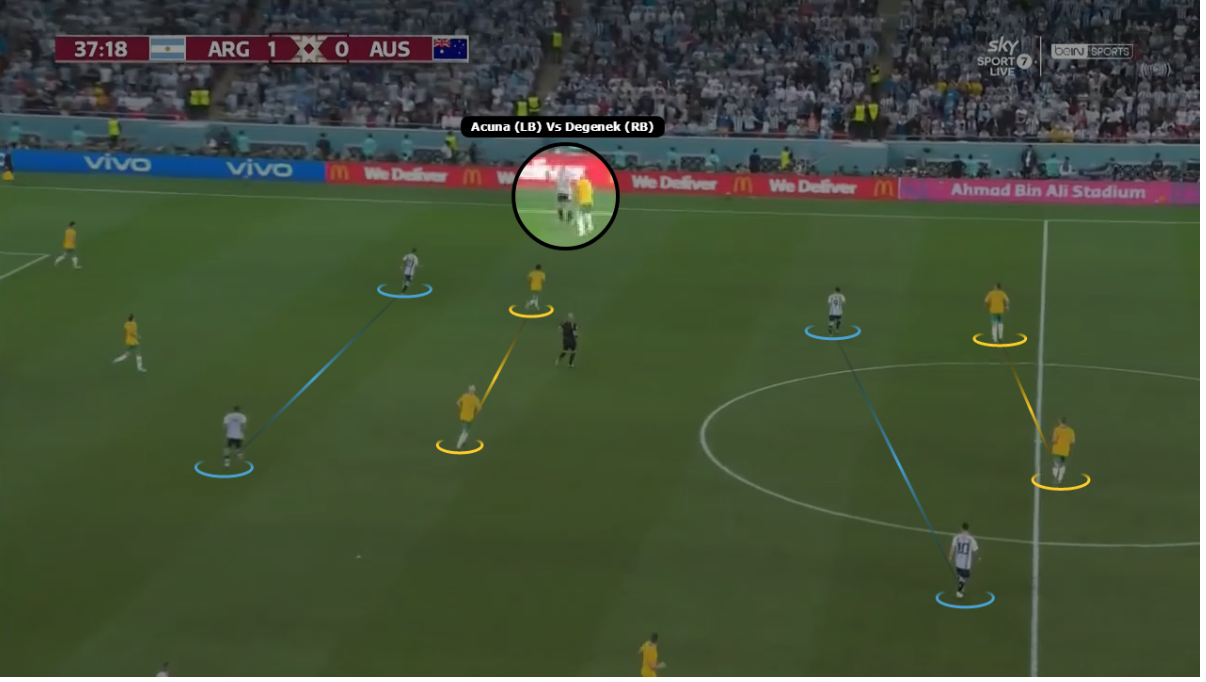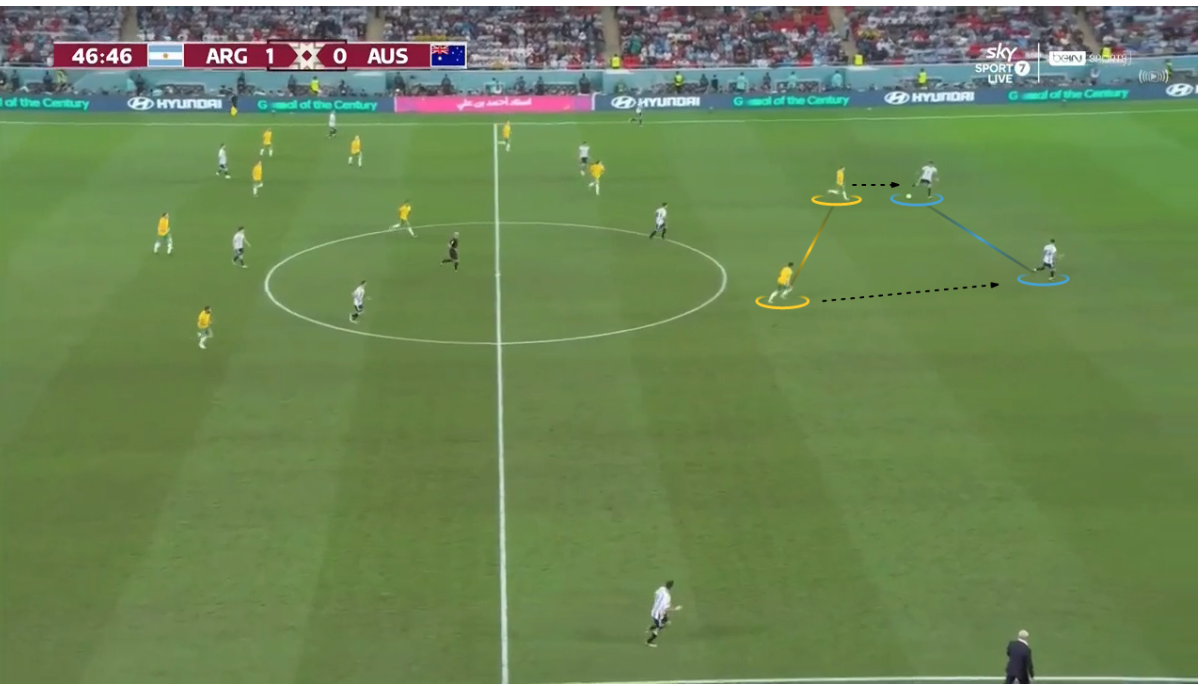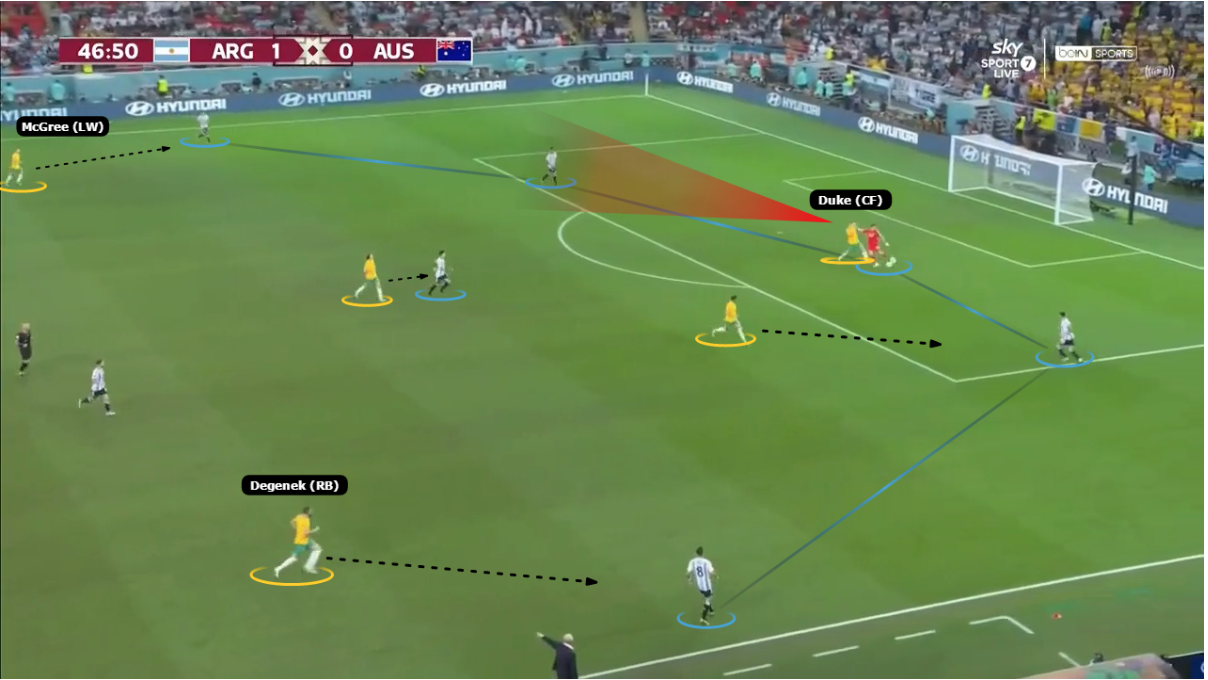 Such a pressing scheme remained active with the same positive result even in the second half when Argentina switched to a3-1-4-2 as Lisandro Martinez was introduced instead of Papu Gomez, Duke (CF) and both wingers pressed their opponent centre backs while the second centre forward (Irvine) kept Enzo Fernandez man-marked.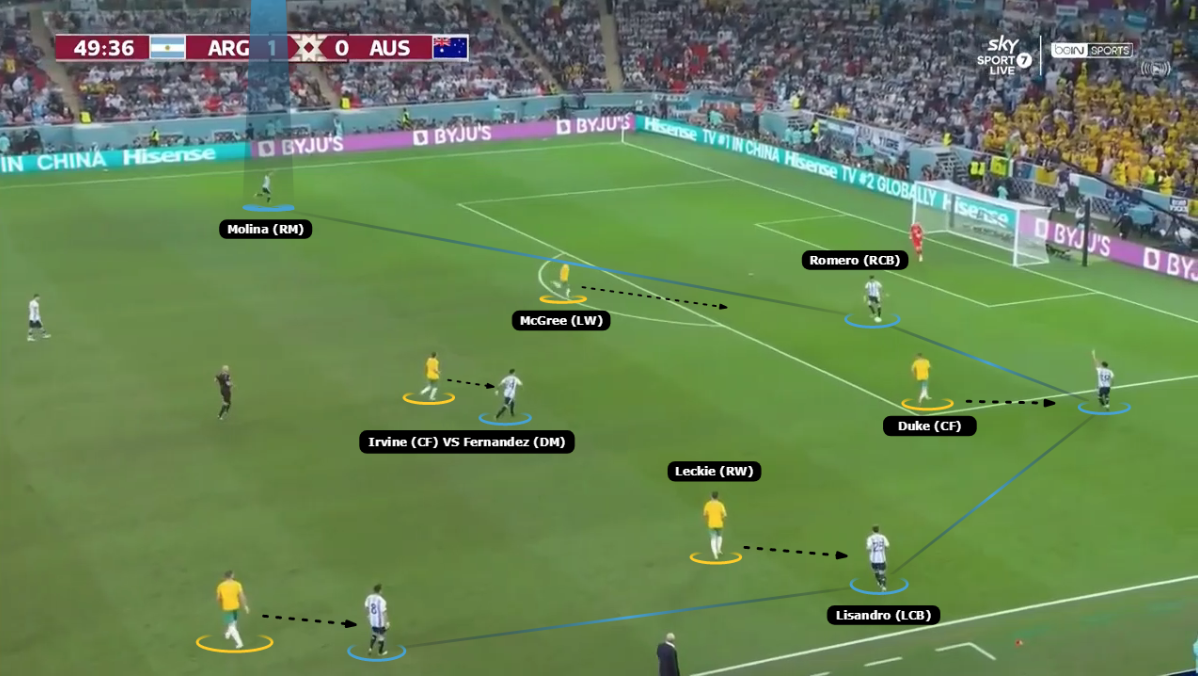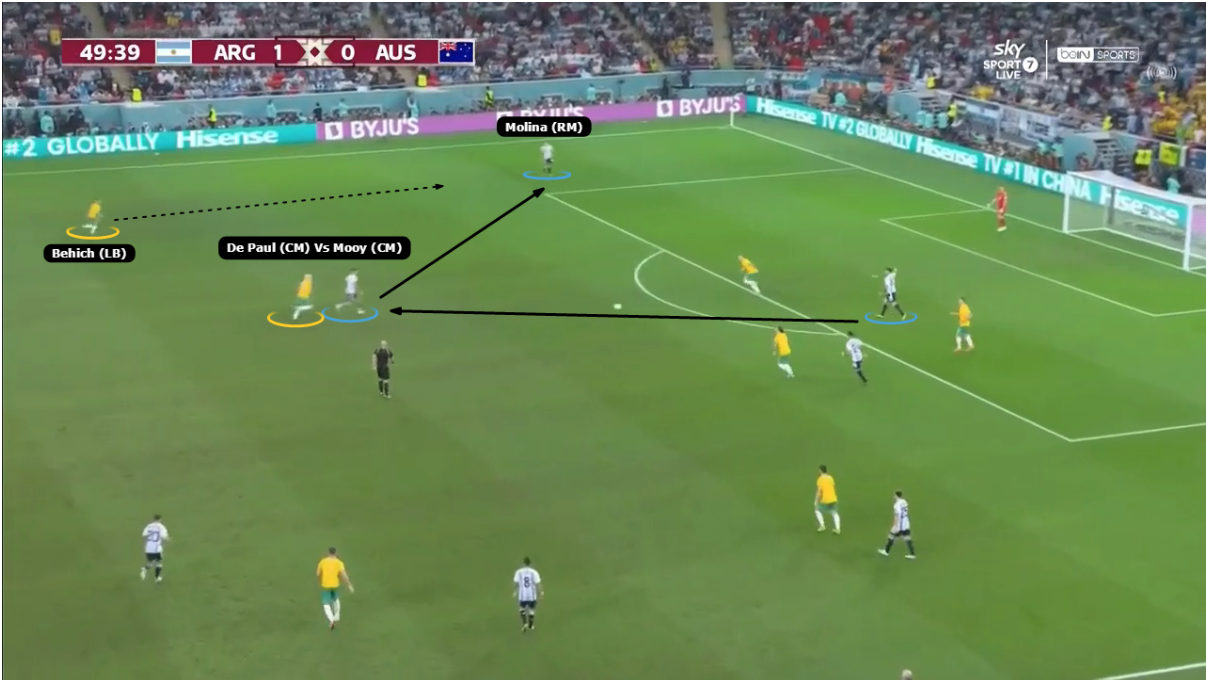 Argentina's Progression (Second Phase of Build-up)
One of the very few game phases that Argentina could overcome their opponents tactically, is progression (second phase of build-up) against Australia mid-block; as the Albicelestes were having already a numerical advantage against the Australian first line of pressure.
This was happening because Enzo Fernandez dropped between the centre backs to face Australia's (4-4-2) mid-block with a (3-3-4) shape with midline stretched to the maximum by Argentina Full backs, who were the main target for ball progression as Lionel Scaloni was seeking for making them free to receive the ball wide, or at least provide them with a couple of seconds before being pressed by a tracking back opponent player in 1V1 situations.
Australia's far-side winger (Matthew Leckie) was only tending to press if Argentina's far side centre back (Nicolas Otamendi) tried to carry the ball forward, or whenever the same side full-back received the ball. Moreover, the drop of an additional frontline player (at least) against Australia's midline served Argentina well to progress the ball forward using various ideas:
For example, the drop of Messi and De Paul has drawn McGree's attention by the former as the latter positioned himself centrally to pin the ball side central midfielder (Mooy), preventing him from tracking back to support wide areas defensive actions; we can also notice very well that Argentina wingers were doing the same against Australia's full-backs so that Molina became ready to receive the ball completely free.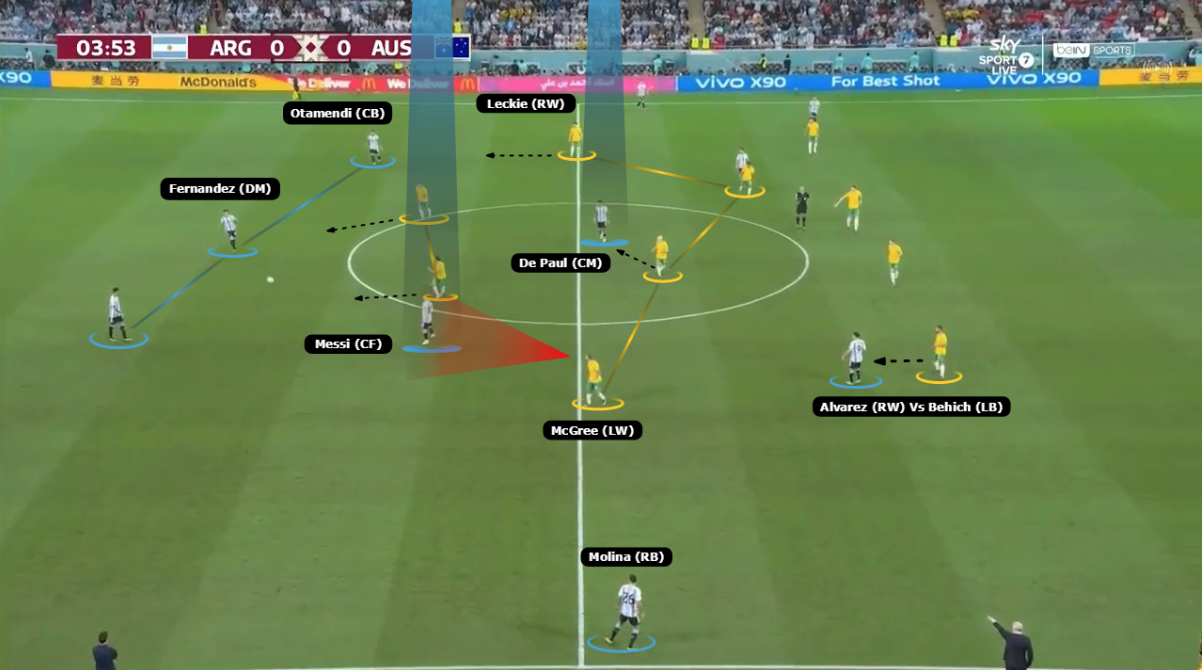 Even after a few seconds of possession, De Paul switched positions with Messi to deliver a long ball to Molina who made the forward run to receive the ball behind Australia's defense and with time advantage before Behich (LB) reached him for 1V1 intervention.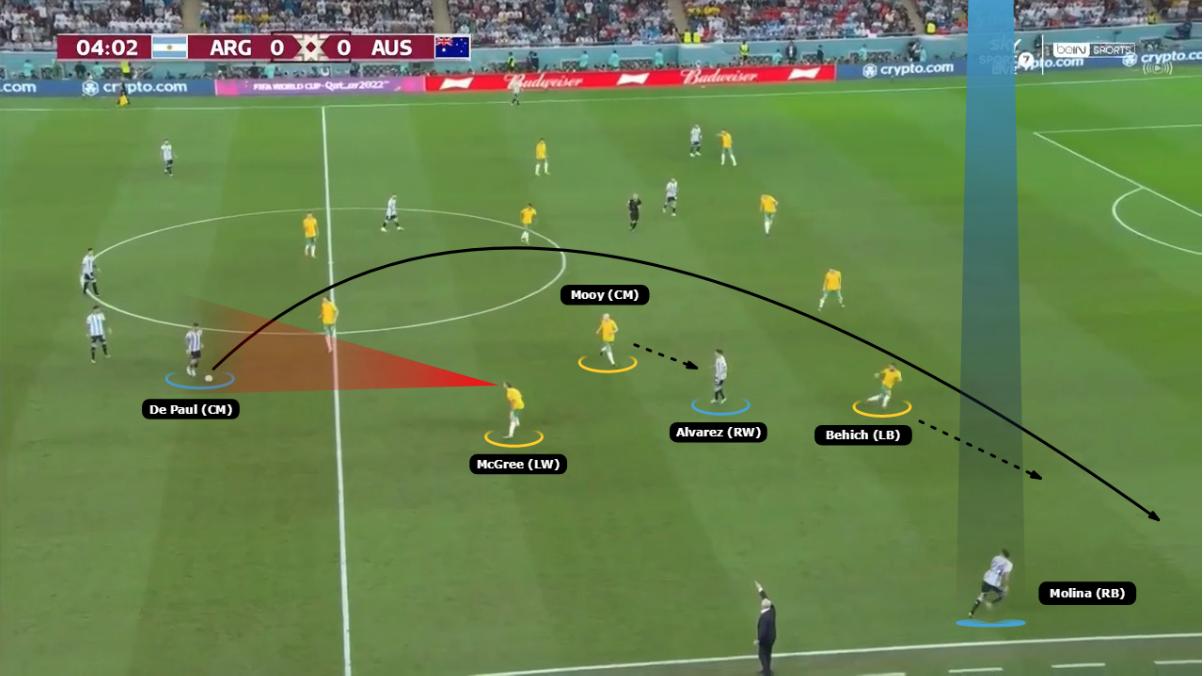 A very similar idea also happened (Below screenshot), when Romero exploited the backline numerical advantage (3v2) to have time and space for progressive carrying and then passed to Molina who was followed by the near Australian winger (McGree) in a 1v1 situation, as De Paul and Messi were respectively pinning the opponent ball side central midfielder and fullback.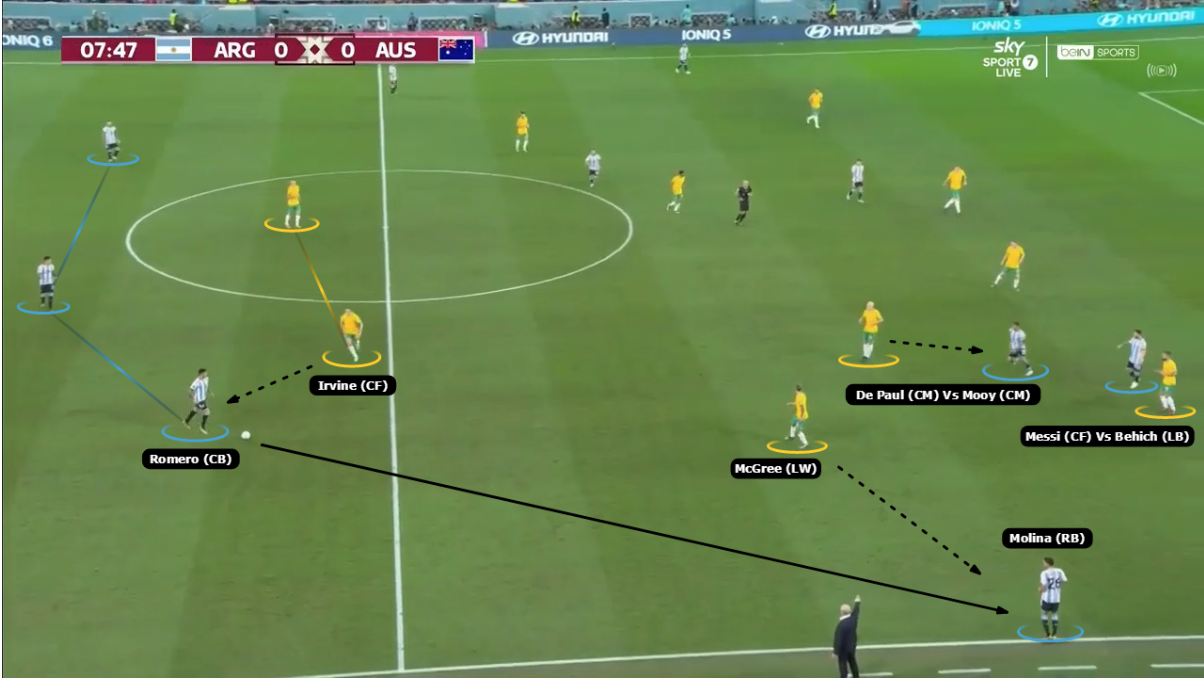 Another idea, as Messi and De Paul drop to central areas to pin Australia's double pivots (Mooy and Baccus) and with a backline numerical advantage, Fernandez has an open passing angle to MacAllister who dropped to receive, turn and face his opponent's goal faced forward.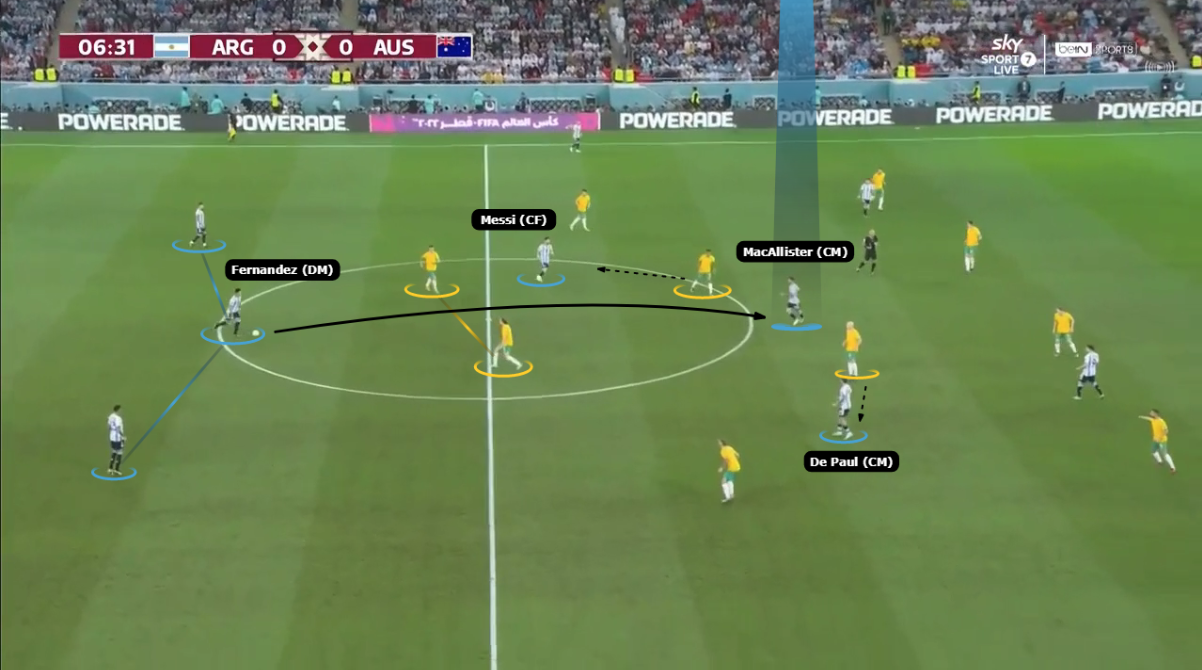 To solve such issues that made Argentina able to overcome Australia's mid-block, Graham Arnold instructed the ball side winger to rapidly jump to press Argentina's nearest centre back (McGree vs. Cristian Romero); but again Argentina could find the numerical advantage and this time in wider areas, as their near side full back (Nahuel Molina) dropped deeper to receive the ball freely.
Similarly, as Messi's positioning pinned ball side central midfielder (Mooy), the near Australian fullback (Behich) was forced to jump and press Molina, who had the advantage of time on the ball against the former; more space is being vacated for Alvarez to run across his marker (Harry Souttar – CB) by De Paul dropping deep followed by near-side centre back (Kyle Rowles).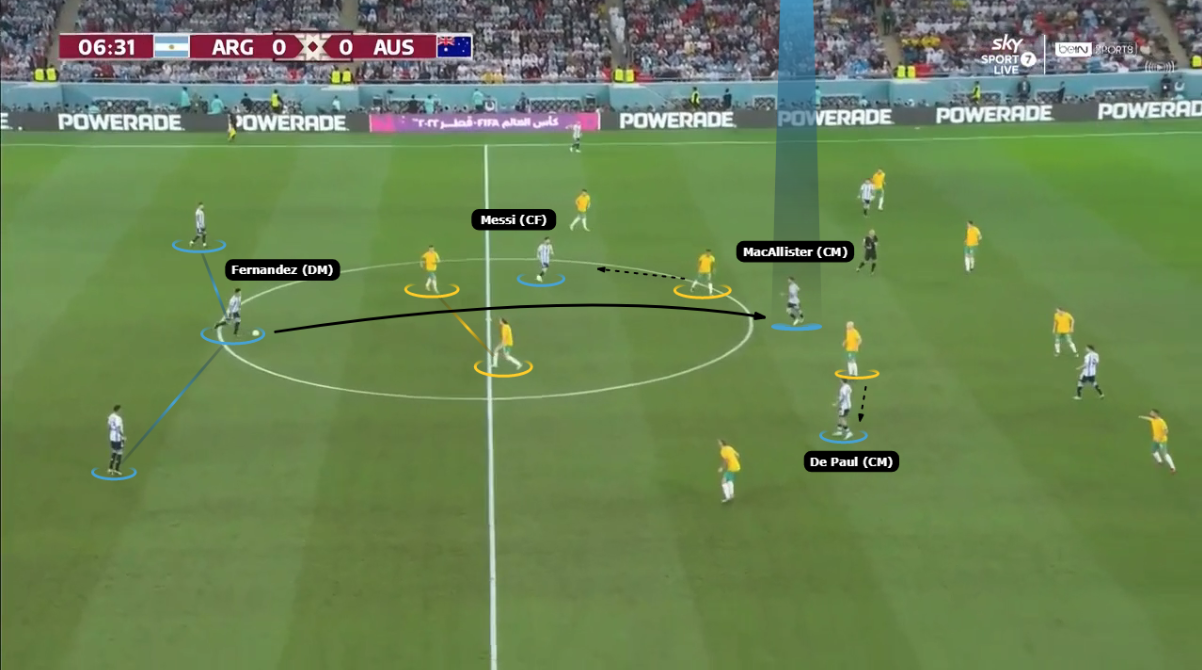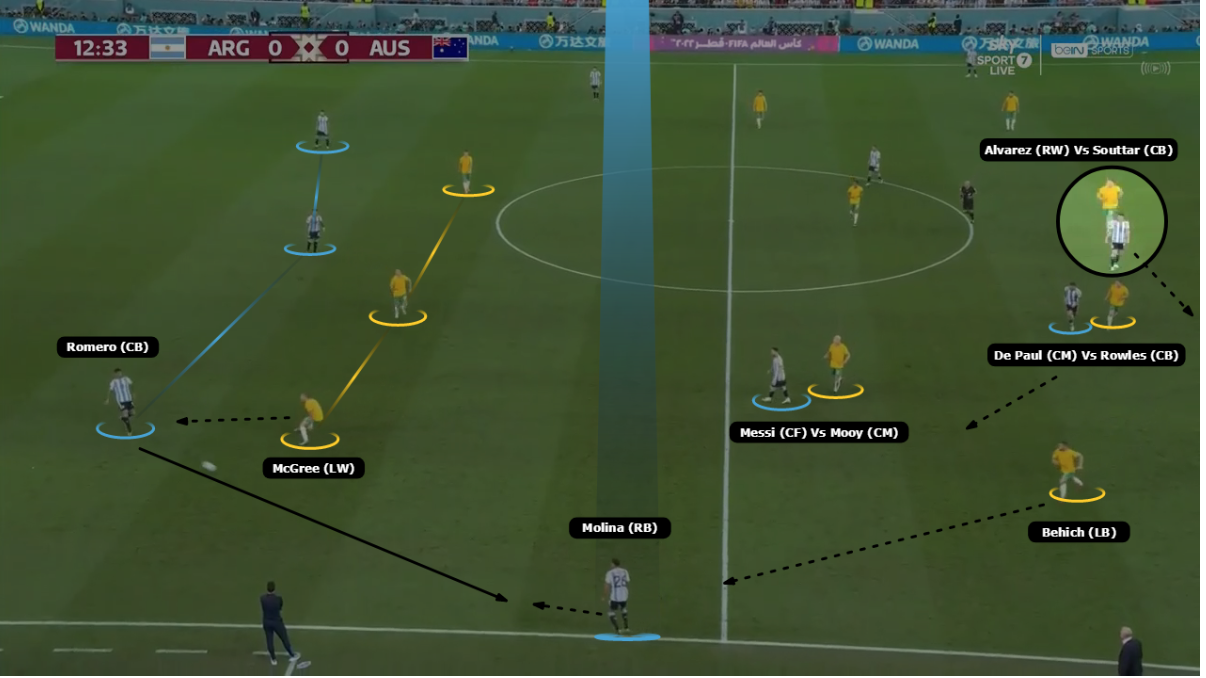 Argentina's final third possession against Australia's low block
As Argentina were able to progress the ball forward, Australia were forced to shift to a low block phase with a very compact and coherent 4-4-2 shape that their opponents could be able to beat in rare situations; which were wasted because of bad decisions or inaccurate crosses. Argentina were seeking wider areas overloads, to beat their opponents by numerical or technical advantage from the ball side or to find the isolated wide player in the opposite direction free in space or in a 1V1 situation.
As clarified in the below screenshots, it was not a big thing that Australia could numerically equate their opponent's wide overloads but the main reason for their superiority in such a phase was that their strike pair were defending relatively deeper in their defensive third of the pitch; we can notice from the below screenshots that one of them joins the overloaded side to support and ensure numerical superiority, while the other was marking Enzo Fernandez to make the play direction switching more complicated.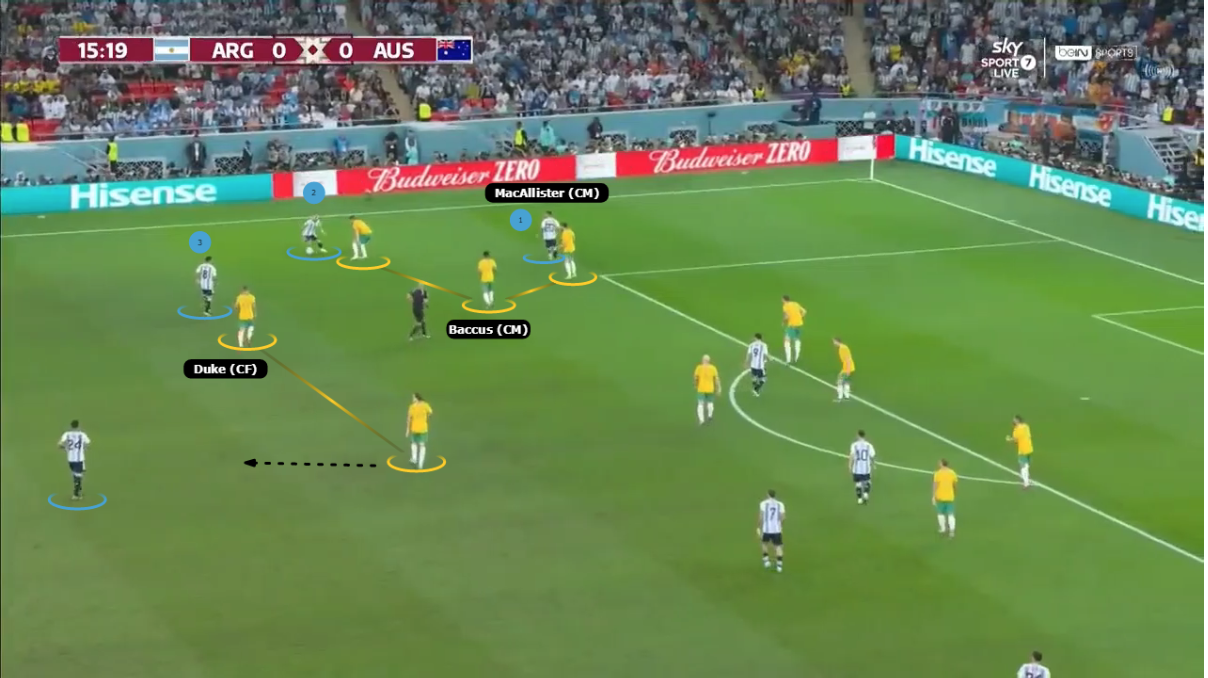 Argentina's Attacking Situations
Transitions, being much more random than other open play phases, can be the main strong point for a team who has technically highly skilled players; such a strength point would be multiplied if you have an X-factor as Lionel Messi.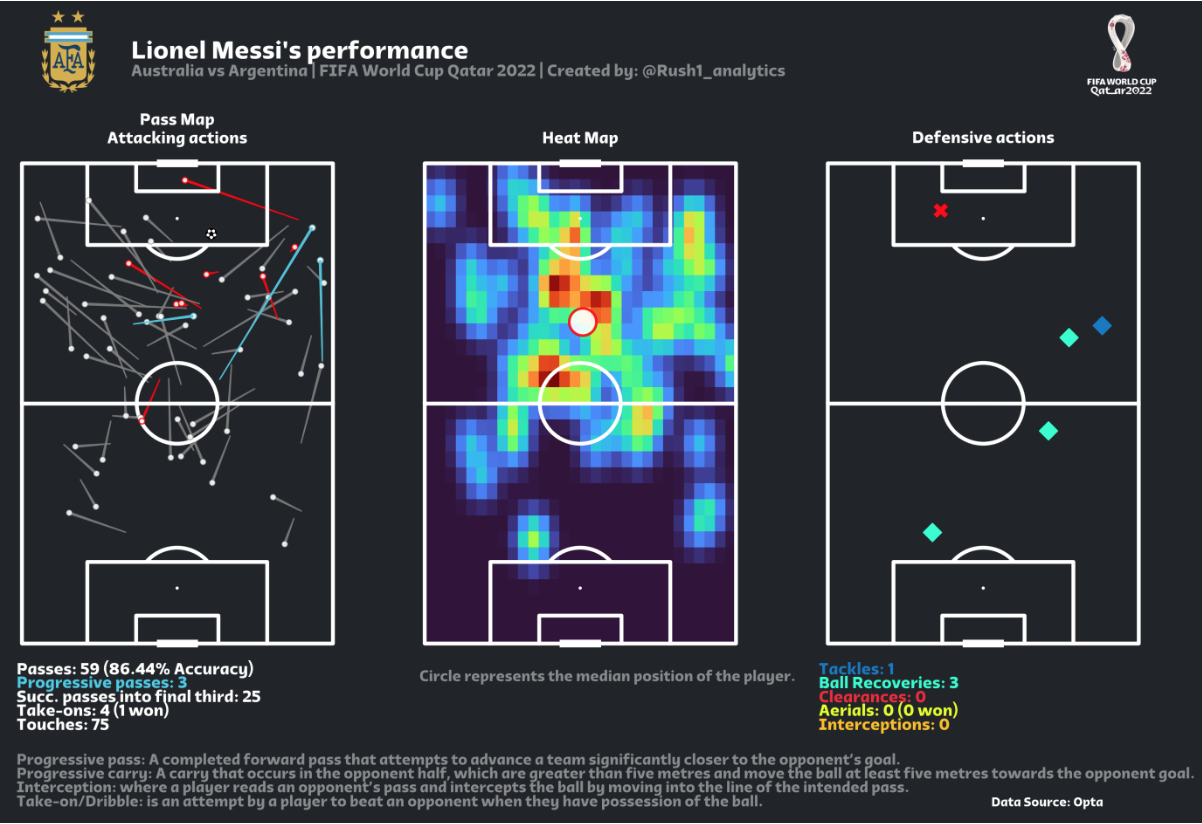 Data source: Opta, created by: @Rush1_analytics
Messi's positional presence covering almost the middle third, his ball control dribbling skills and his high passing accuracy percentage for a frontline player were very useful not only through organized play phases but also in transitions with many opponents trying to press with more intensity and aggression to recover the ball.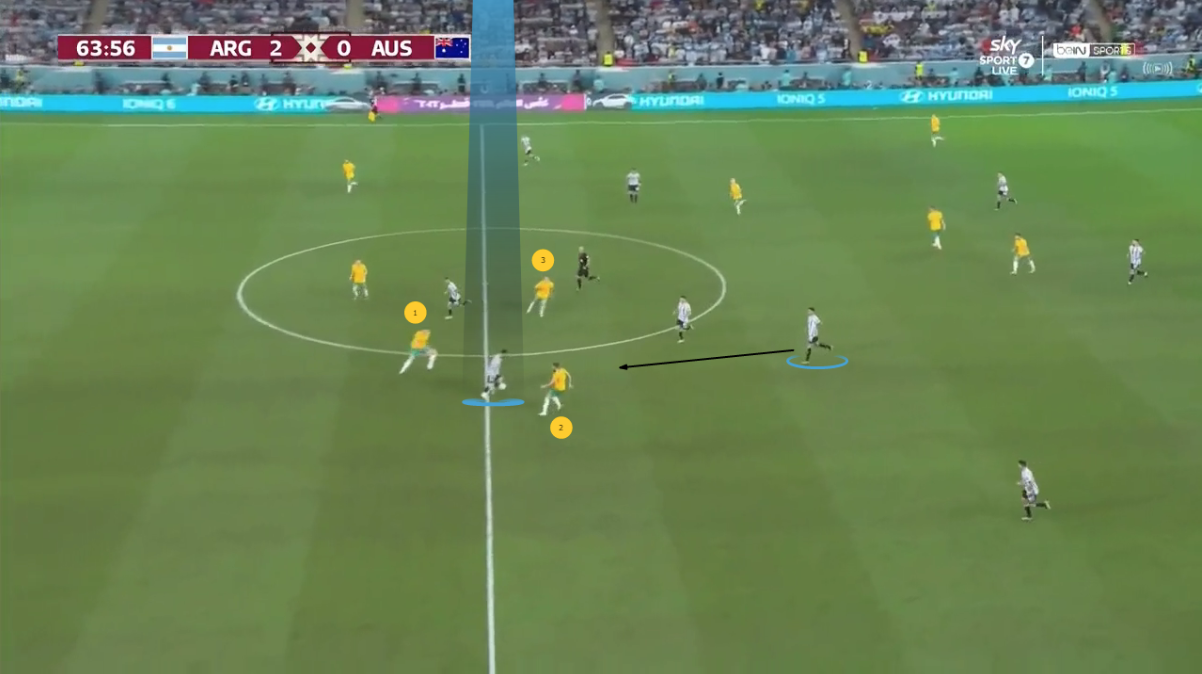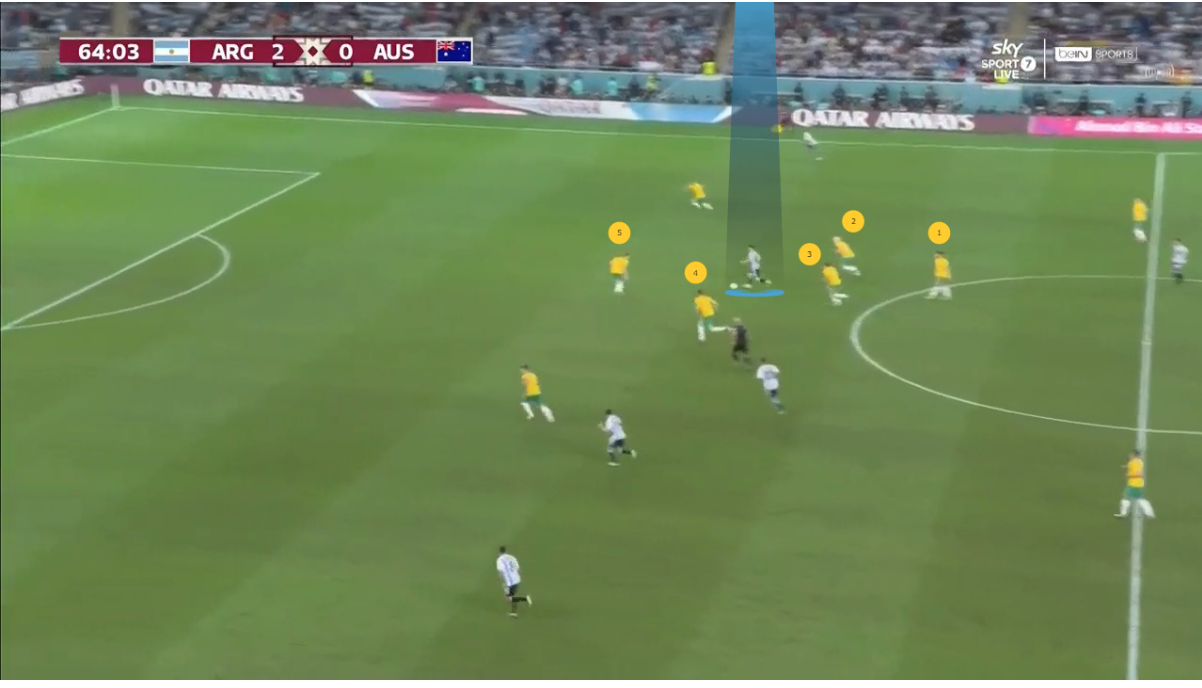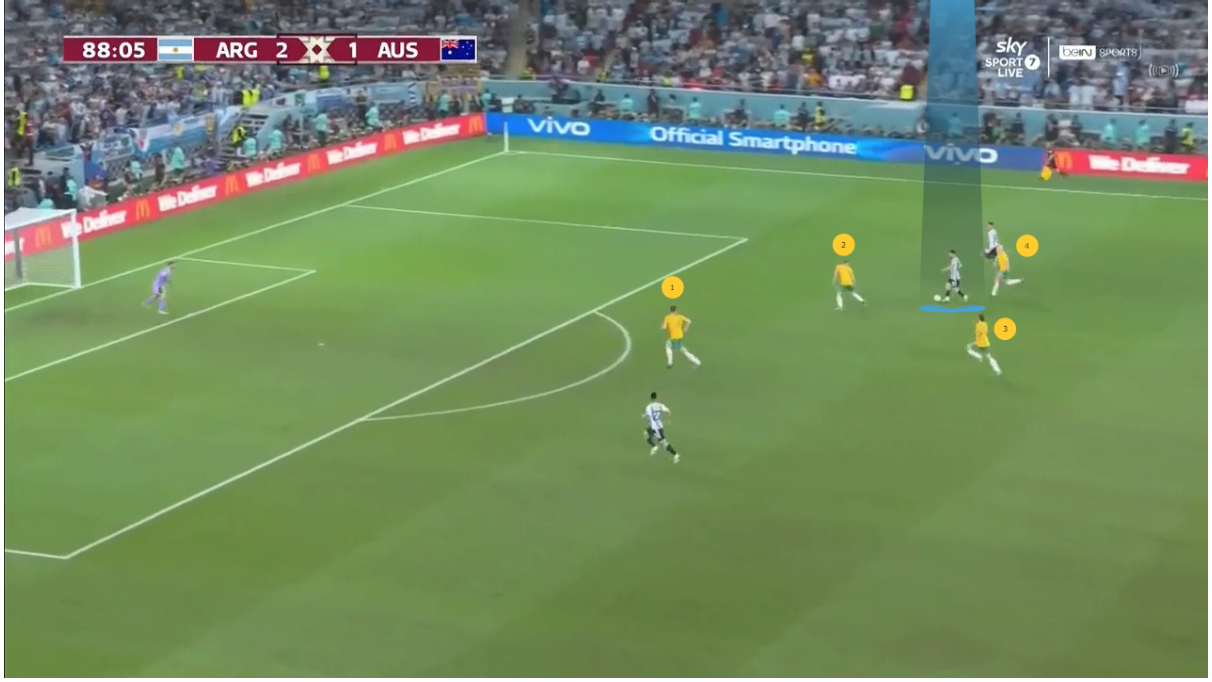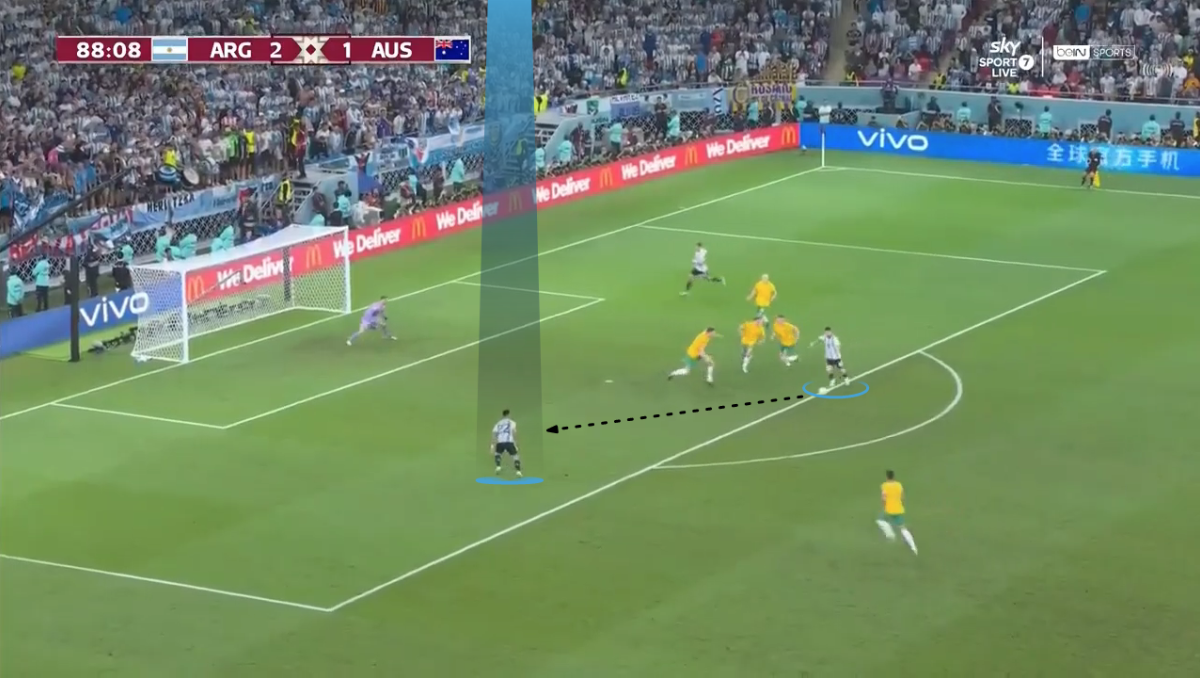 Argentina's High Press against Australia's Build-up:
As Australia's build-up took the (4+2) shape against (4-1-3-2) high pressing shape from Argentina, the formers could overcome such as pressing by long passes from their goalkeeper (Mathew Ryan) who was used as a third centre back (as the original two were pressed by Messi and Alvarez) towards the wide players generally and especially their highly positioned fullbacks.
Having the numerical superiority for a midline stretched to the maximum width is very hard to defend against the opponent's second line of pressure when switching the play's direction by a player centrally positioned and having the vision of a goalkeeper. Hence more time is required to isolate the opposite fullback and shift towards the ball side, and even Argentina's ball side fullback can't press very early and risk losing his backline numerical advantage as Australia had both of their central forwards and wingers positioned high up.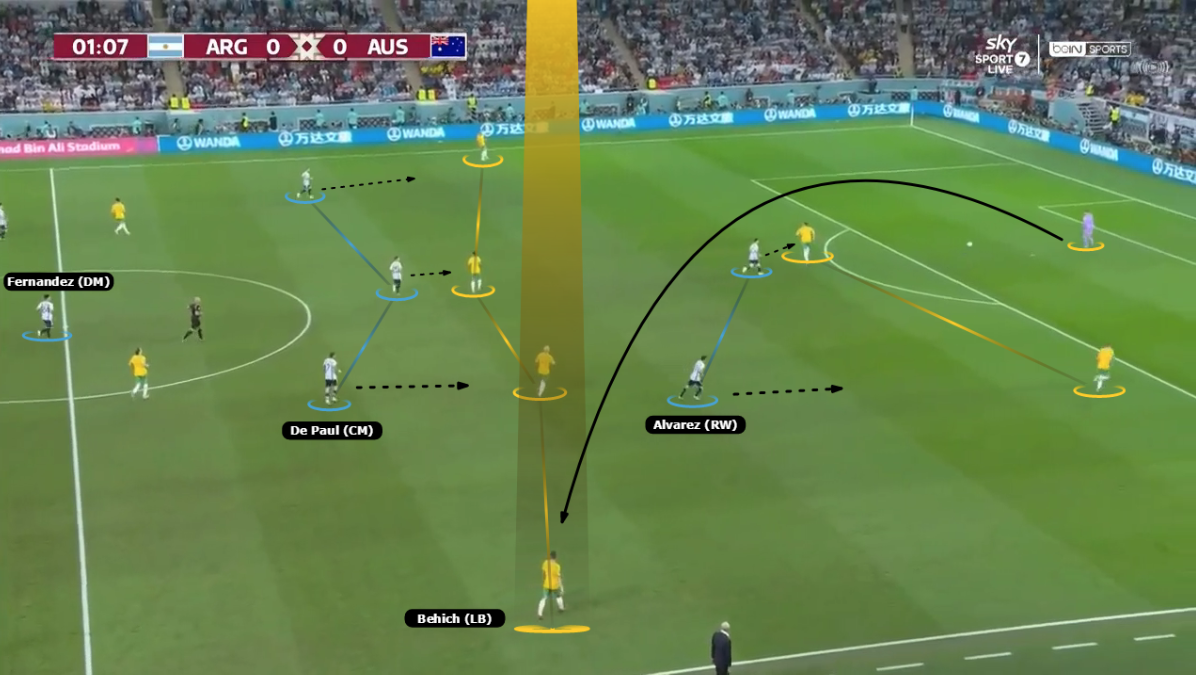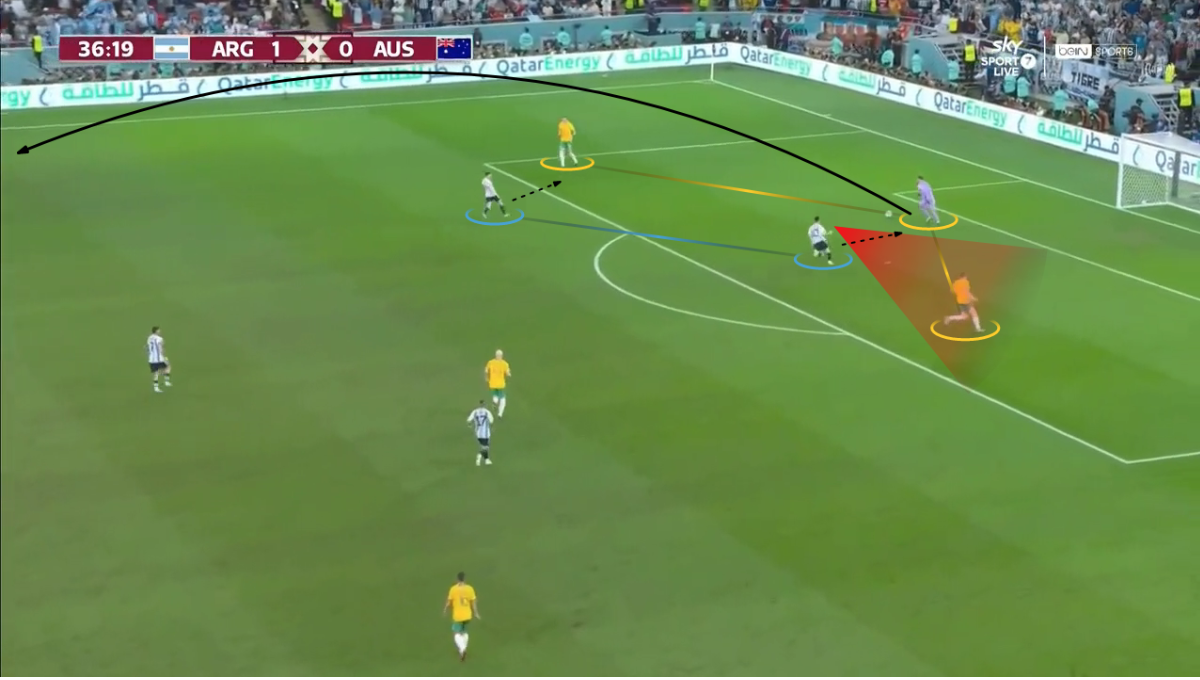 With such long balls towards the wide player, time and space as a free player for the ball receiver, Australia were seeking 2v2 or 3v3 situations at the ball side areas, in order to use their physical skills to carry the ball forward or to progress by passing combinations.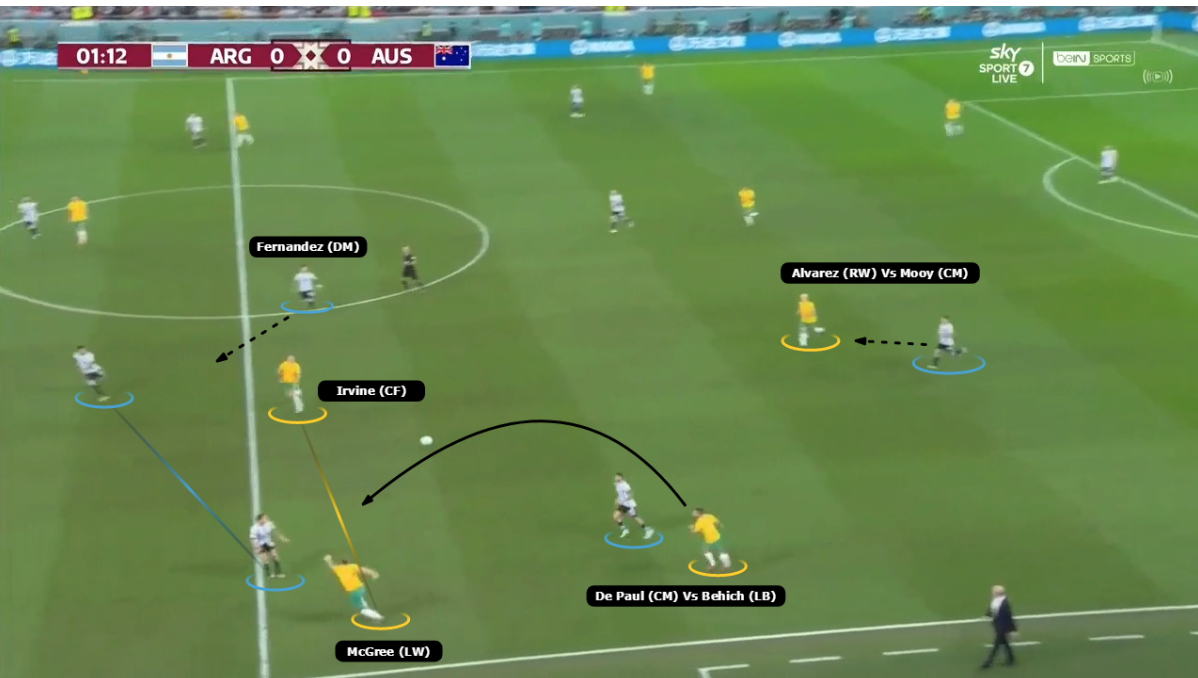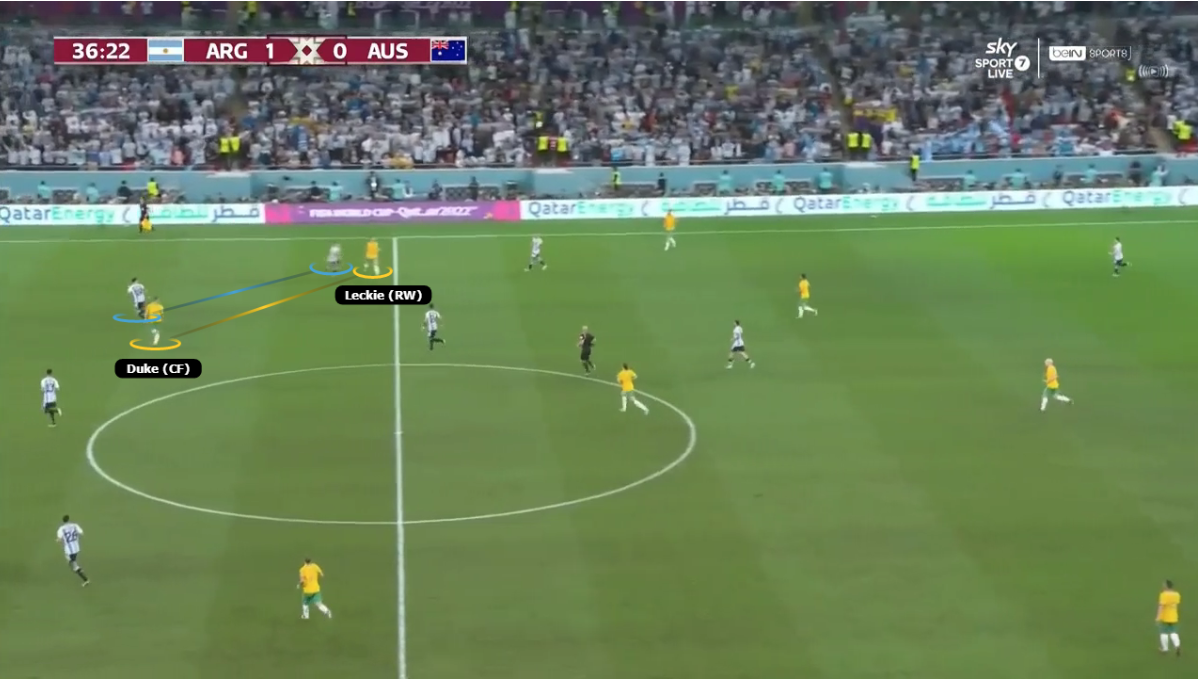 Another attempt or idea that was applied by Arnold's men was to get out from Argentinian high pressing centrally; This was done by the movement of Australian double pivots (Mooy and Baccus) very near to the ball-playing area to attract Argentina's midfielders (De Paul and MacAllister) there,  creating a huge central empty space for the dropping CF (Irvine) to receive the ball delivered by a diagonal pass from the ball side CB and face the Argentina goal; as in similar situations, being outnumbered by only one player is always a disadvantage. However, such attempts and ideas of wide or central build-up had nearly no end results, as the difference of player qualities was playing for Argentina's side.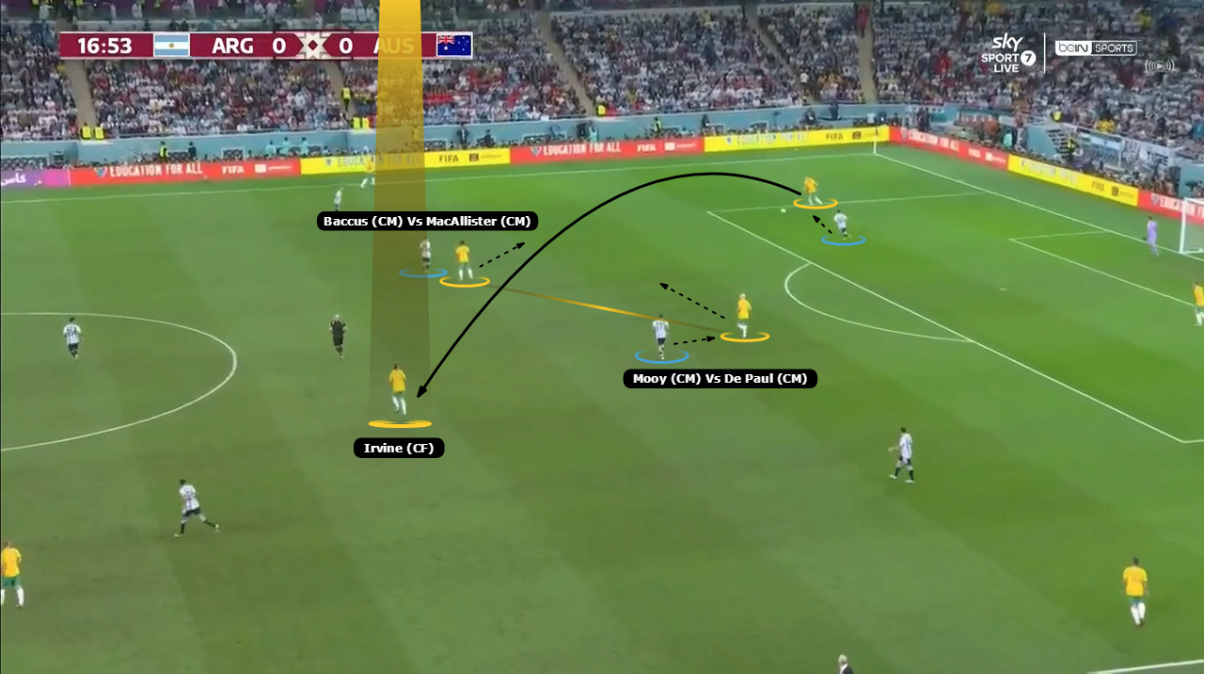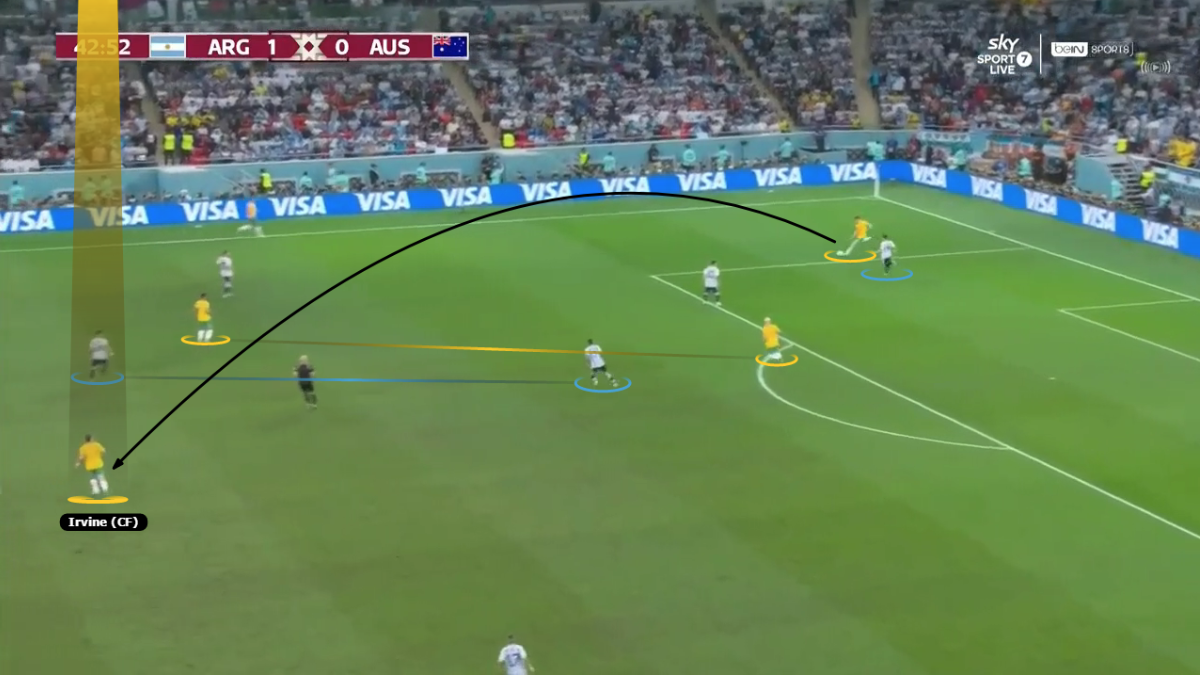 Conclusion
Whilst a late own goal from Enzo Fernandez made for a nervy final 20 minutes, Argentina held onto the victory thanks to goals from Lionel Messi and Julian Alvarez to eliminate Australia from the Round of 16, and they'll be looking to follow that up with another victory as they take on Louis van Gaal's Netherlands in the quarterfinals.
By: Loay Mamdouh – Twitter: @loay_mamdou7
Data visualization / stats by: Yahia Rashwan – Twitter: @Rush1_Analytics
Featured Image: @GabFoligno / Fantasista / Getty Images