Tactical Analysis: Argentina 3-0 Croatia
Four years ago, Argentina began their World Cup campaign with a 1-1 draw to debutants Iceland before losing 3-0 to Croatia, narrowly defeating Nigeria 2-1 to book their place in the knockout round, before losing 4-3 to eventual champions France in the Round of 16. Having defeated Australia and the Netherlands to return to the semifinals, they faced off against Croatia in a match-up that would pit the two last runners-up against each other.
After opting for a back three against the Netherlands in the quarterfinals, Lionel Scaloni reverted to a 4-4-2 that would resemble a diamond in possession, with Nicolás Tagliafico getting the start at left back in the place of the suspended Marcos Acuña, whilst Leandro Paredes came into the team for Lisandro Martínez. Zlatko Dalić, on the other hand, went with the same 4-3-3 formation that defeated Brazil on penalties.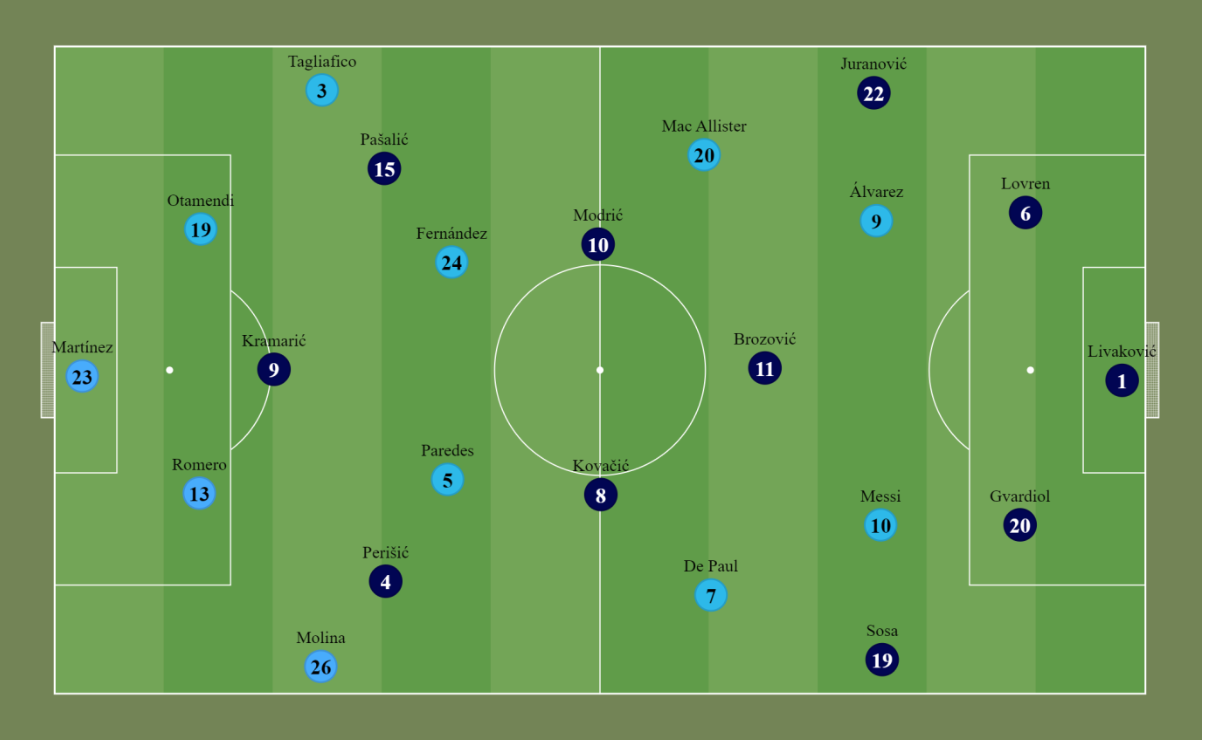 Croatia's Build-up
Croatia tried to build up with their 4-3-3 through Marcelo Brozović who was dropping close to the centre backs, whilst Luka Modrić and Mateo Kovačić pushed forward from the central midfield areas. Argentina's press would see Lionel Messi and Julián Alvárez shift between the ball-holding CB and Brozović (6-CB technique), whilst Rodrigo De Paul and Alexis Mac Allister would press Borna Sosa and Josip Juranović on the flanks, Paredes would press Kovačićc and Enzo Fernández with Modrić.
Argentina's weakness in the pressing appeared when Dejan Lovren received the ball as Brozović would become free with time and space due to Messi's failure to track him, so Enzo had no other option but to ask Paredes to mark Modrić while the former moved up to take care of Brozović, hence De Paul became Kovačić's marker.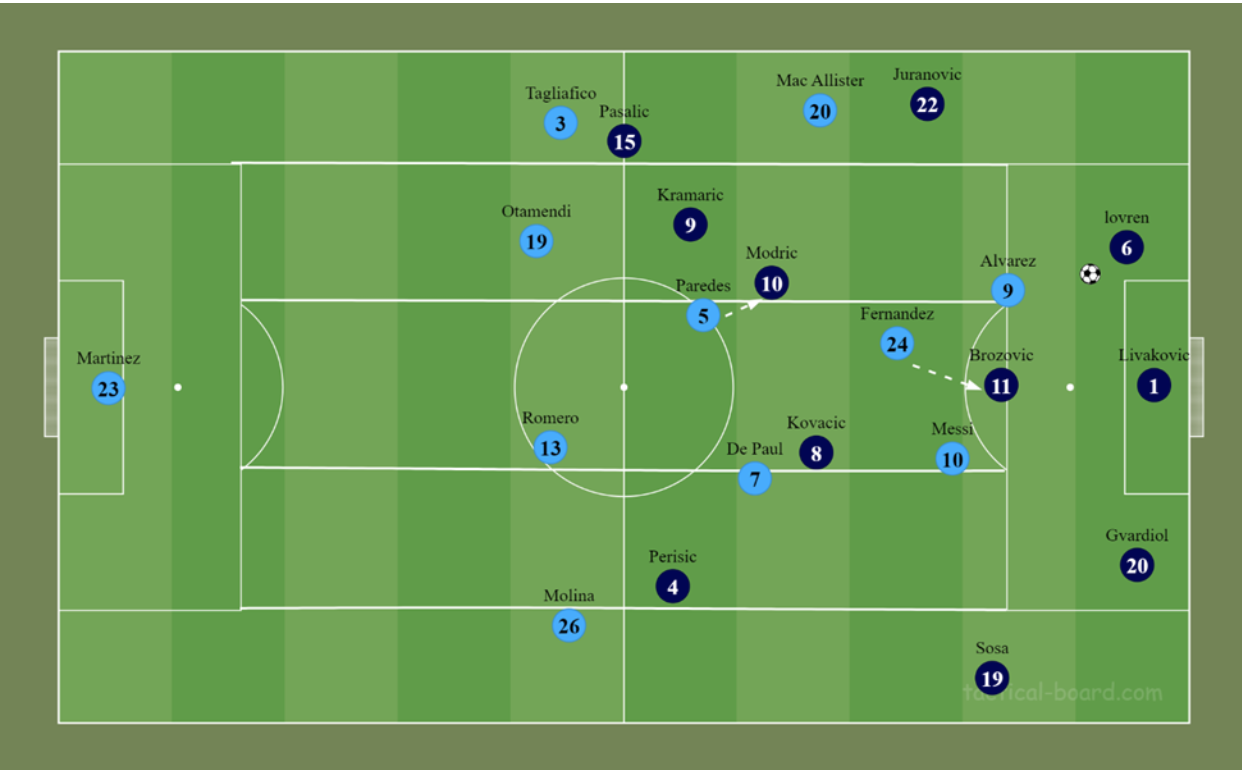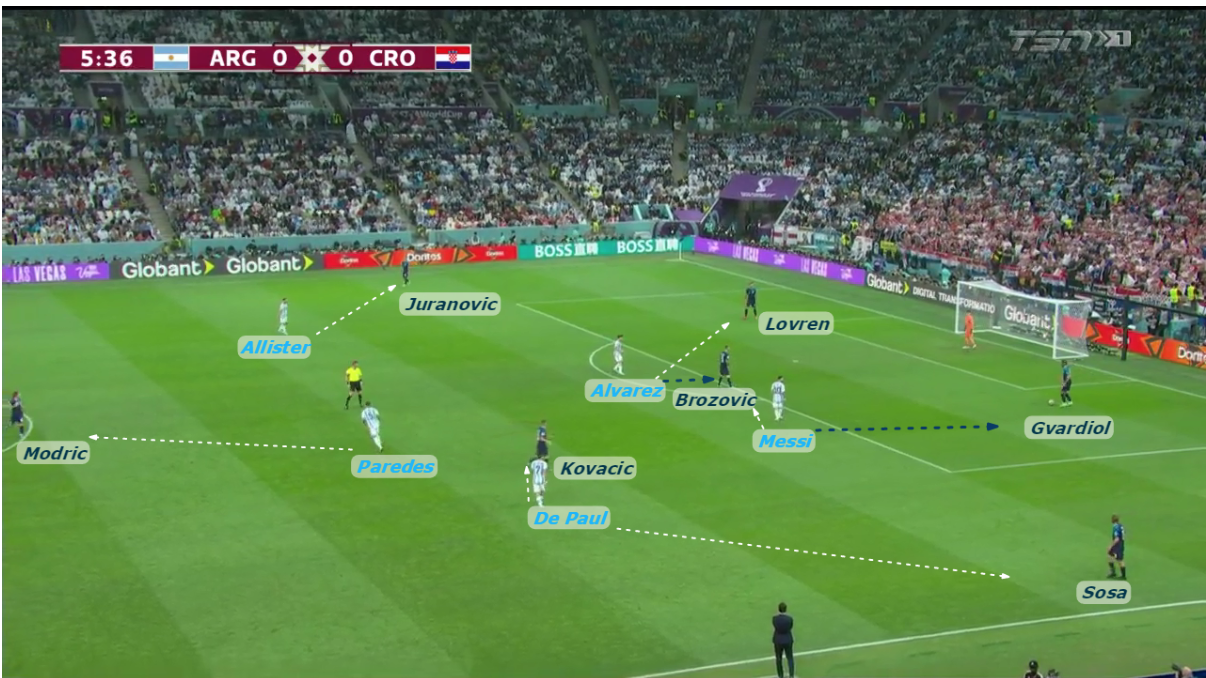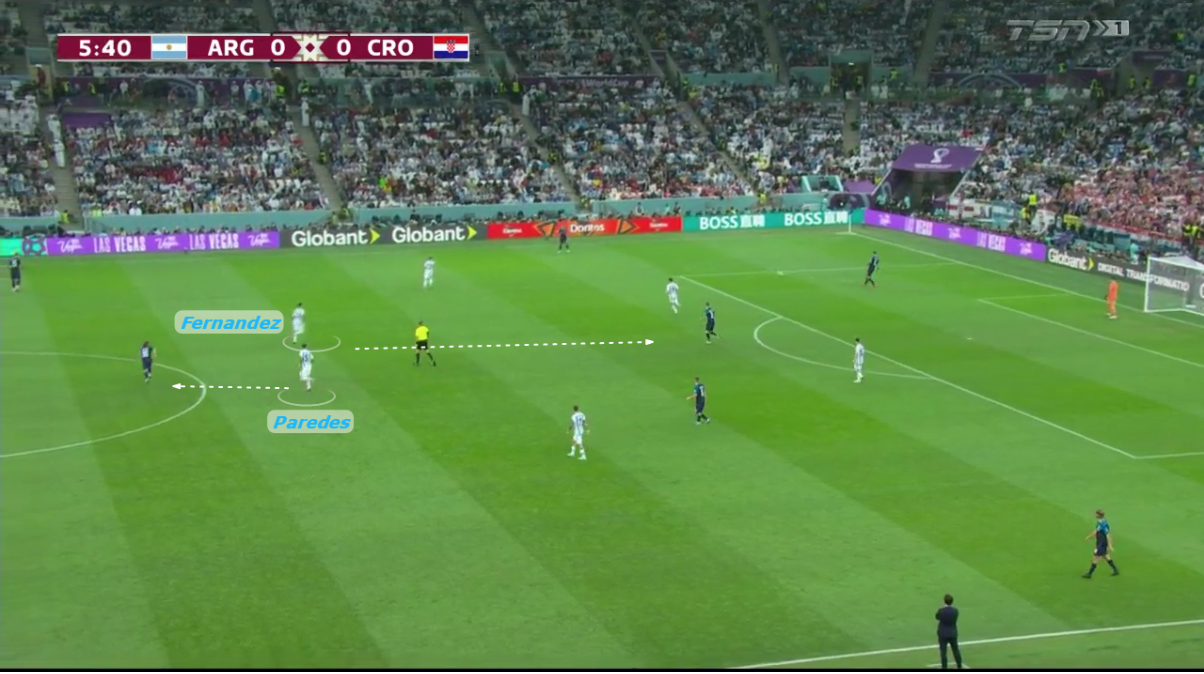 Whilst all Argentina's side are shifting left, Croatian striker Andrej Kramarić dropped to the middle third within his side's right half-space, trying to create a numerical advantage. As Modrić noticed this, he asked Juranović to pass to him, as Nicolás Otamendi would be in a dilemma: Either move out of his position to press Kramarić or let him receive and then act accordingly.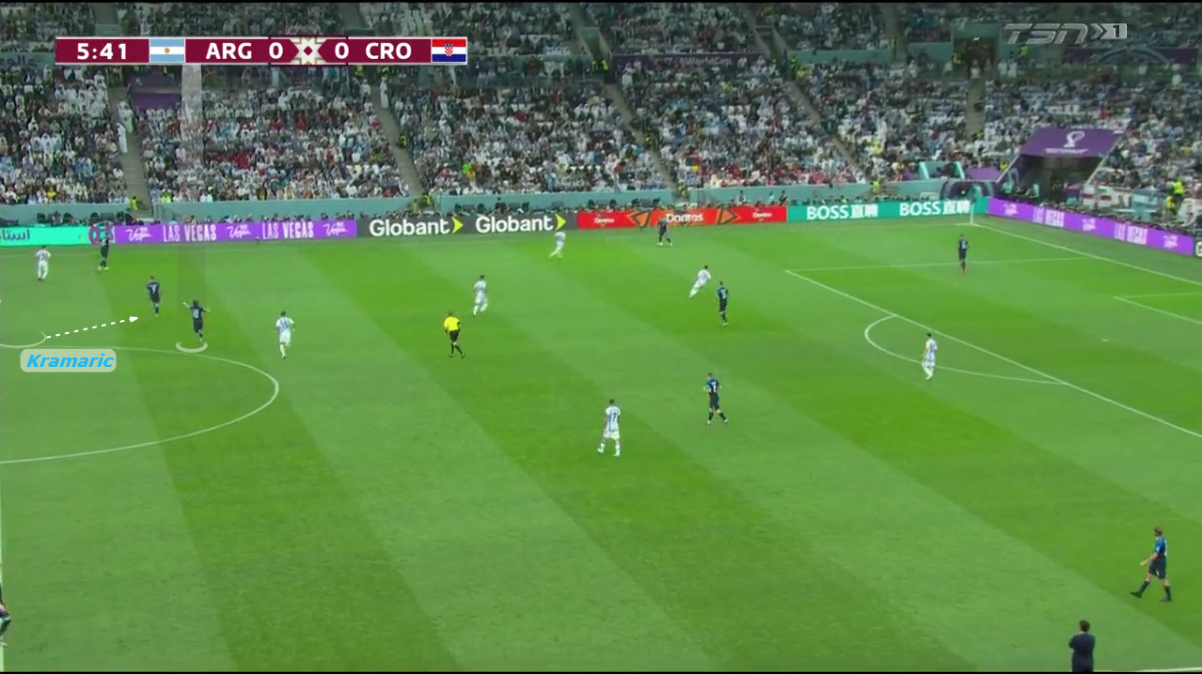 All that chaos on the right flank led to a huge problem for Argentina when the play switched again to the opposite direction. As the same pressing scheme was shifting, De Paul went back to press Borna Sosa, leaving Kovačić free in a huge space to receive the ball with enough time on the ball, forcing Cristián Romero to jump all the way higher from the defense to deal with the situation, which ended later with a foul for Argentina.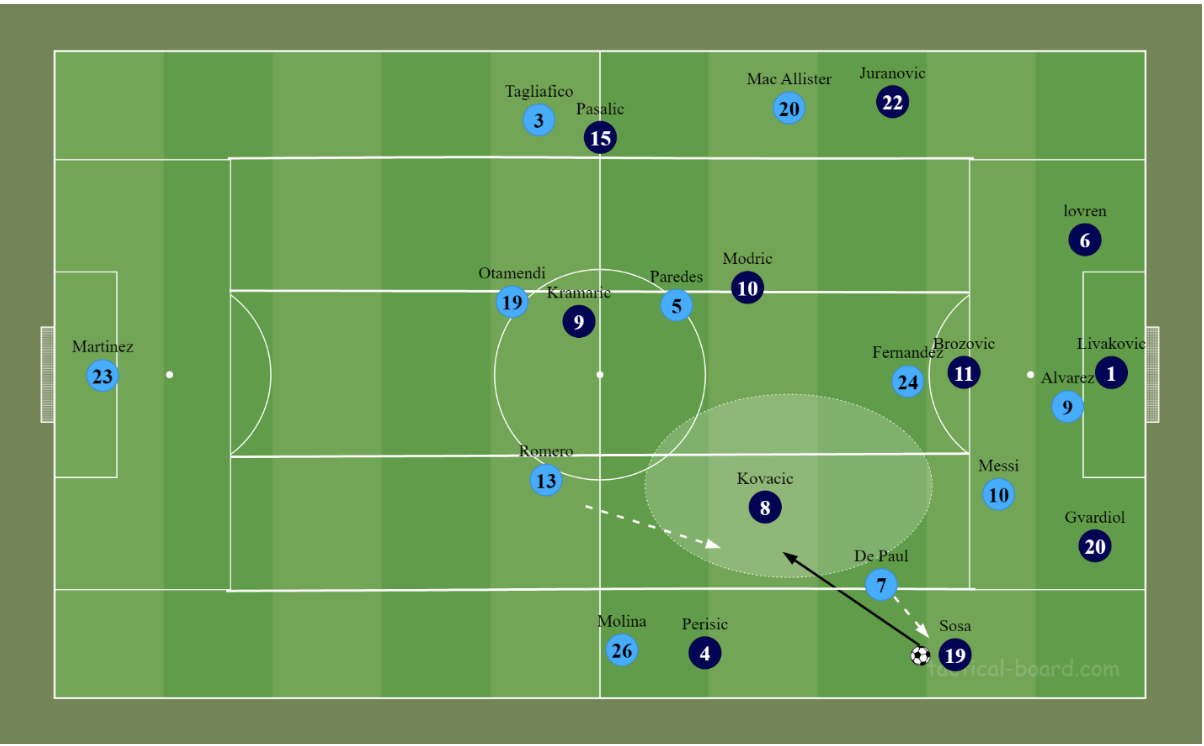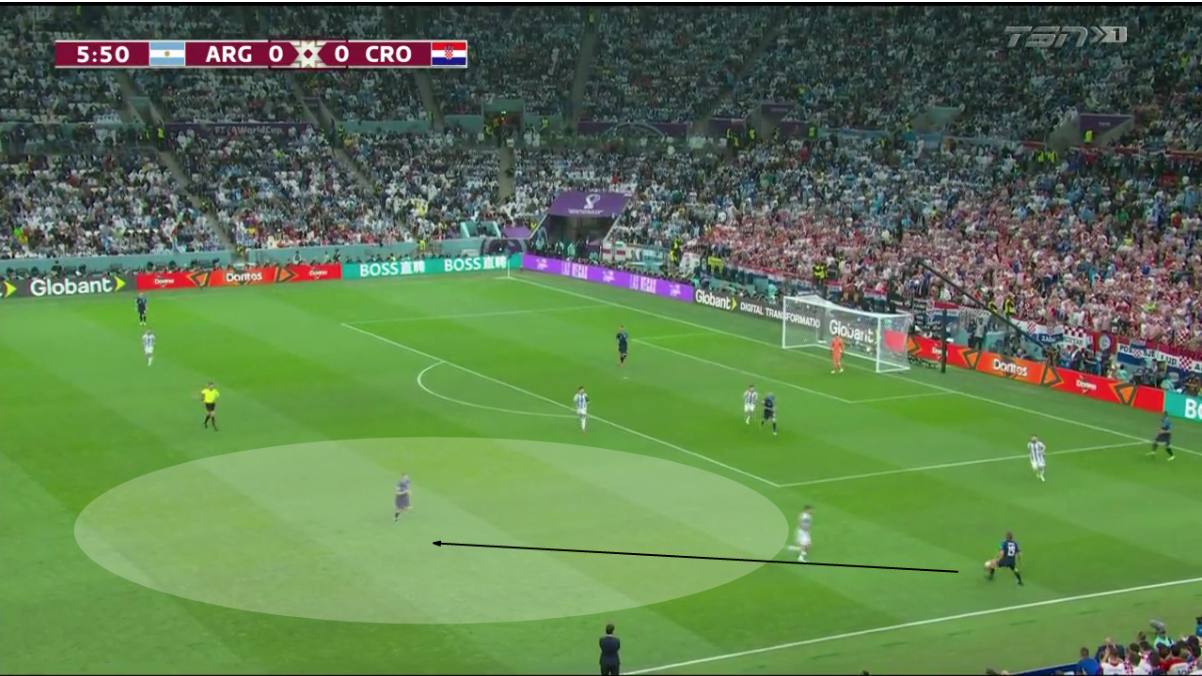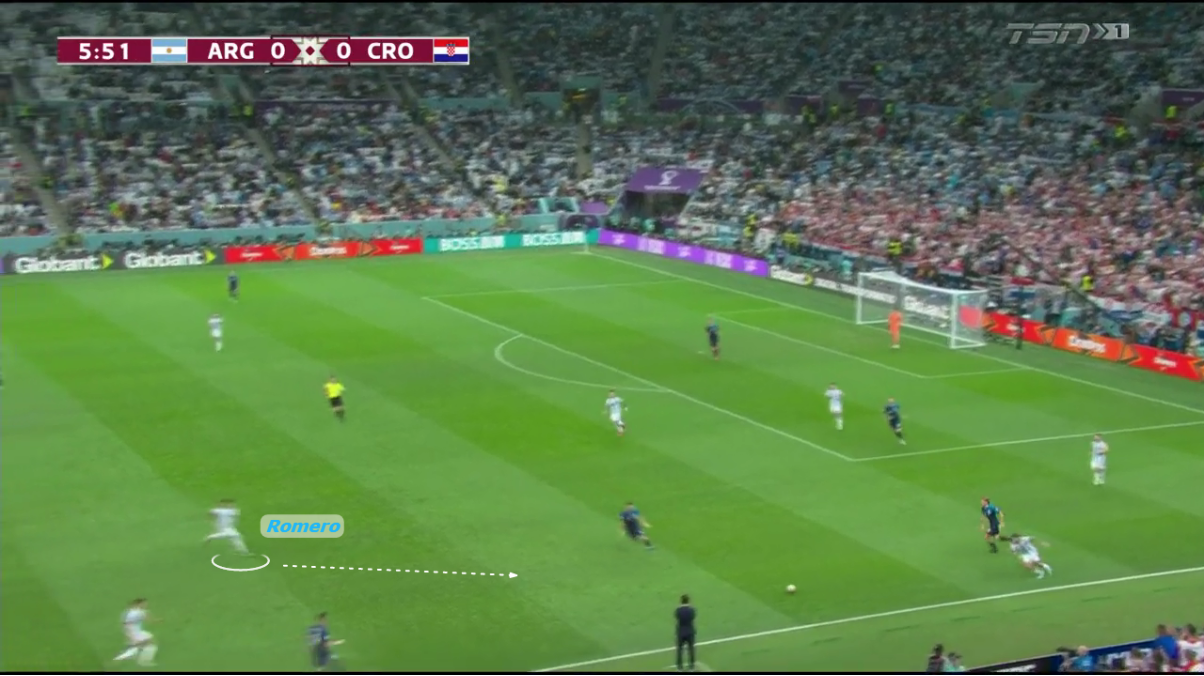 As long as Brozović was free, Argentina suffered being one man less than Croatia in midfield. In the below example, Brozović was supposed to be marked by Messi, and Modrić was calling for the ball. Enzo realized that he was unmarked so he stepped up to press him, while cover-shadowing Modrić at the same time.
A top-quality player like Modrić would surely be smart enough to escape Enzo's shadow whilst he'd been busy with Brozović, Otamendi then could be able to read the situation well as he jumped higher to defend the Real Madrid midfield maestro on the front foot and recover possession.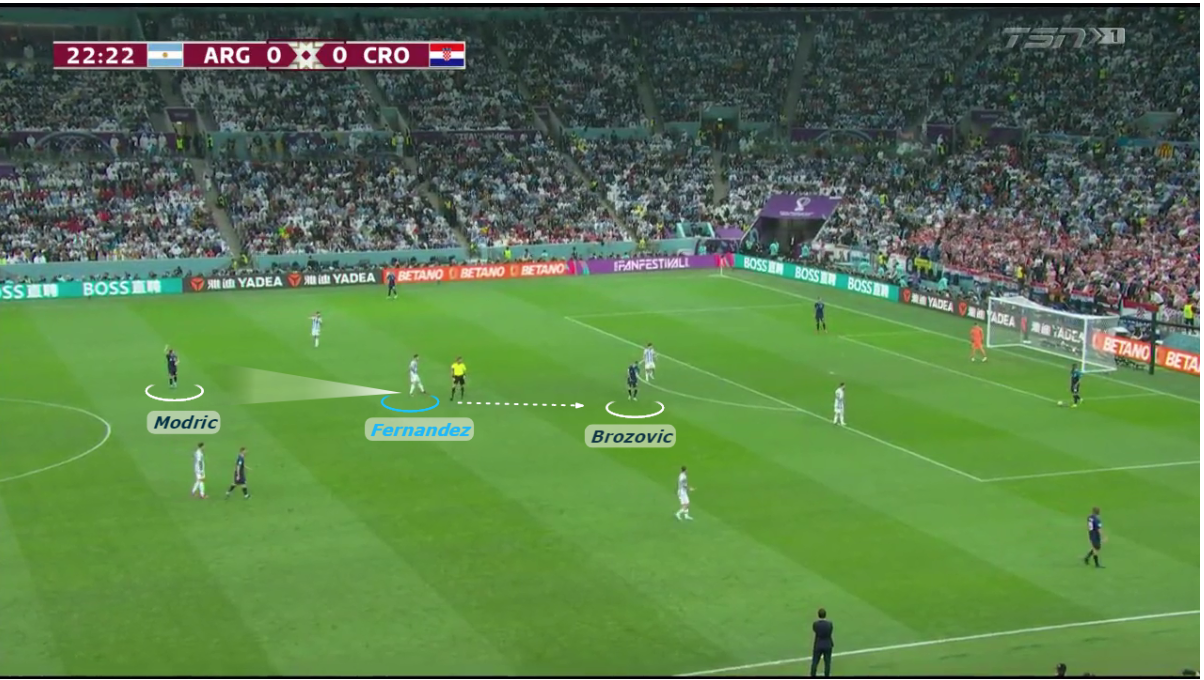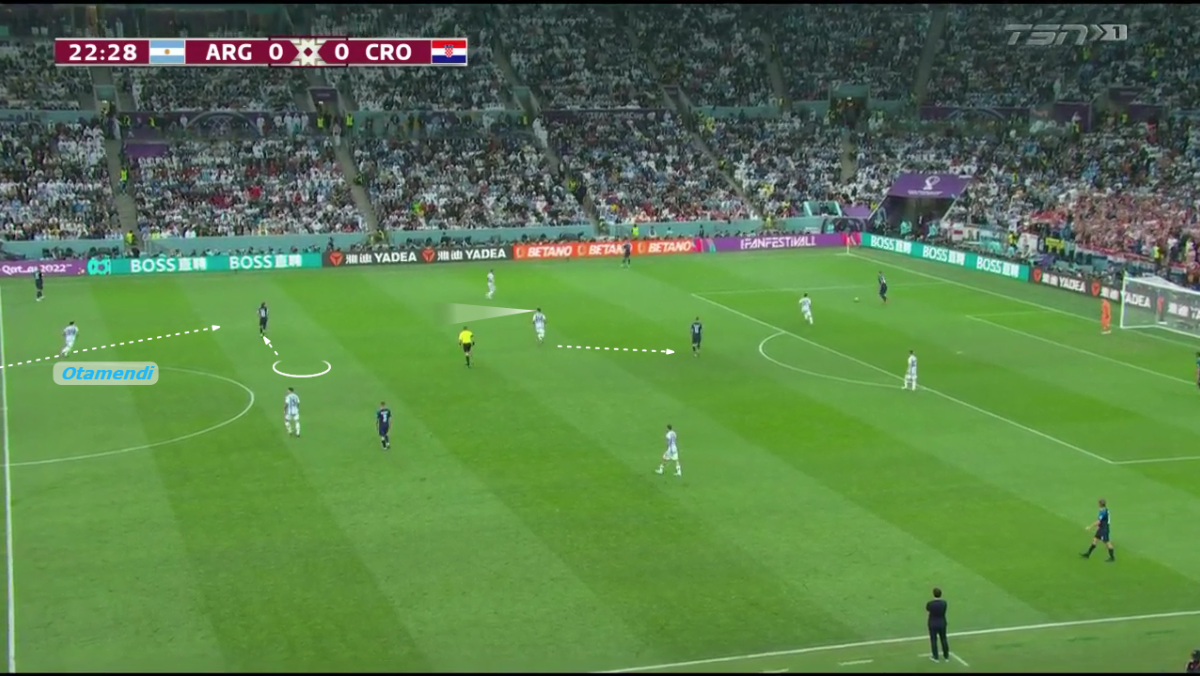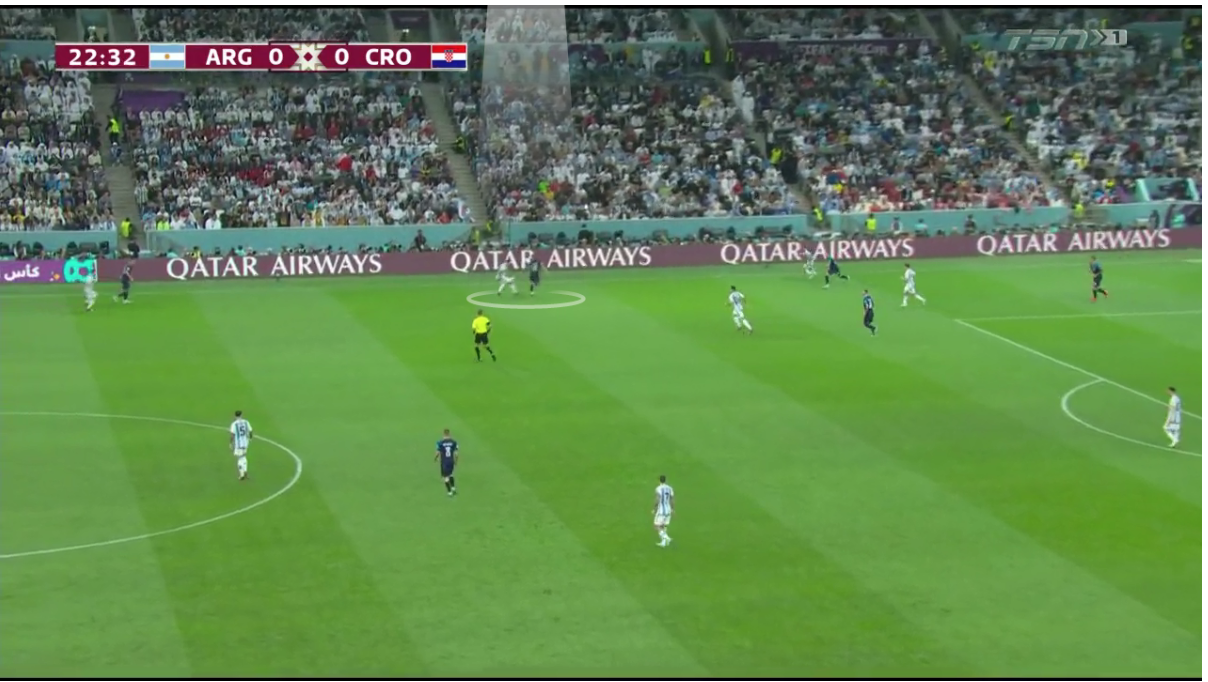 To avoid the inevitable to such an early need for an additional CB to equalize the Croatian numerical superiority in midfield, Argentina went back to the roots, with a classic 4-4-2 while pressing, as Fernández was taking care of Modrić, whilst Paredes was marking Kovačić. But that absolutely didn't solve the main issue: who had to press Brozović?
The ball kept rotating from left to right and Brozović still unmarked, creating 3v2 situations against the Argentinian first pressing line, which later resulted in time and space for either Lovren or Joško Gvardiol to deliver the long passes.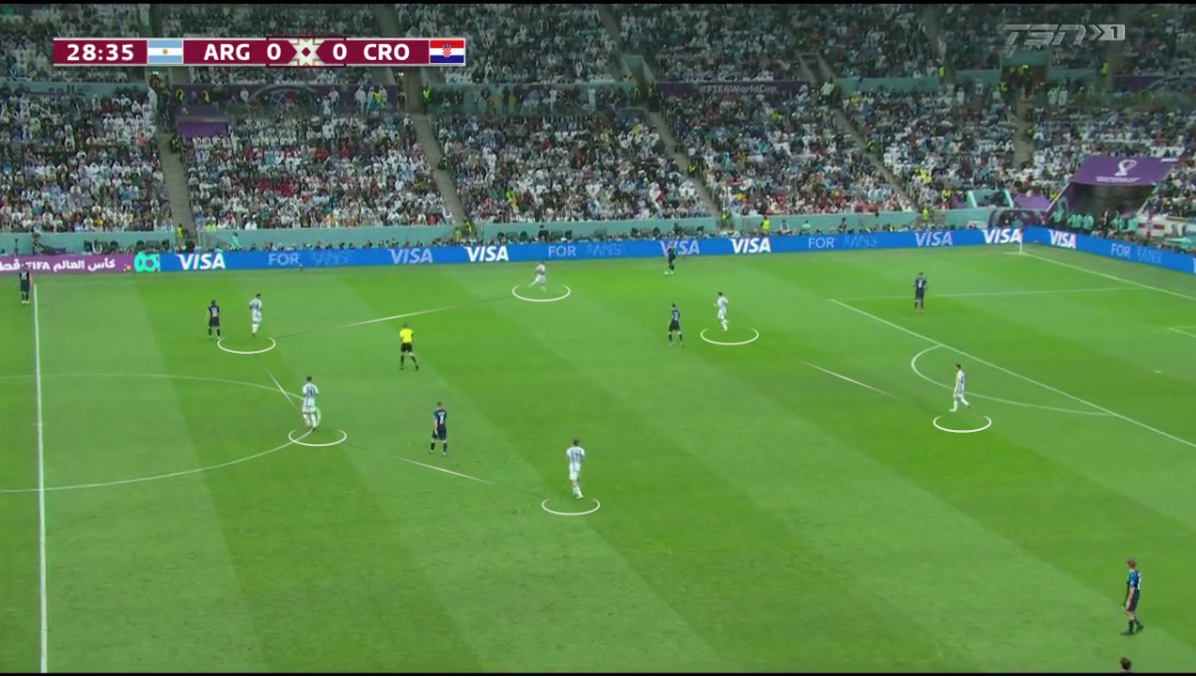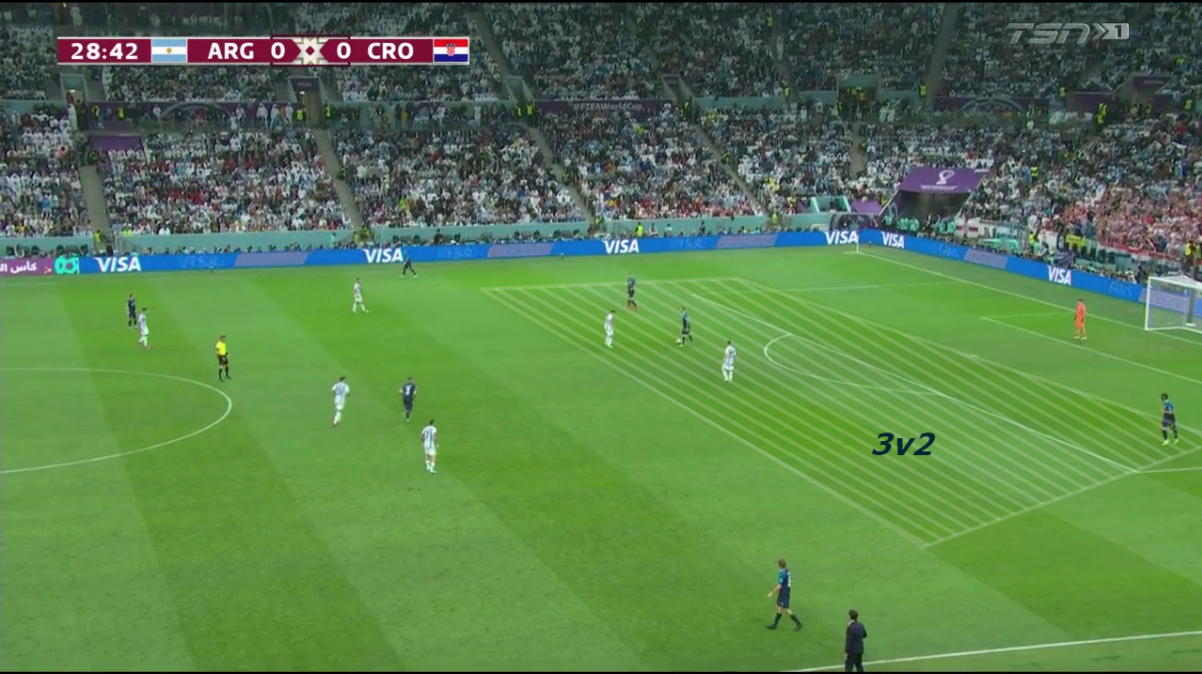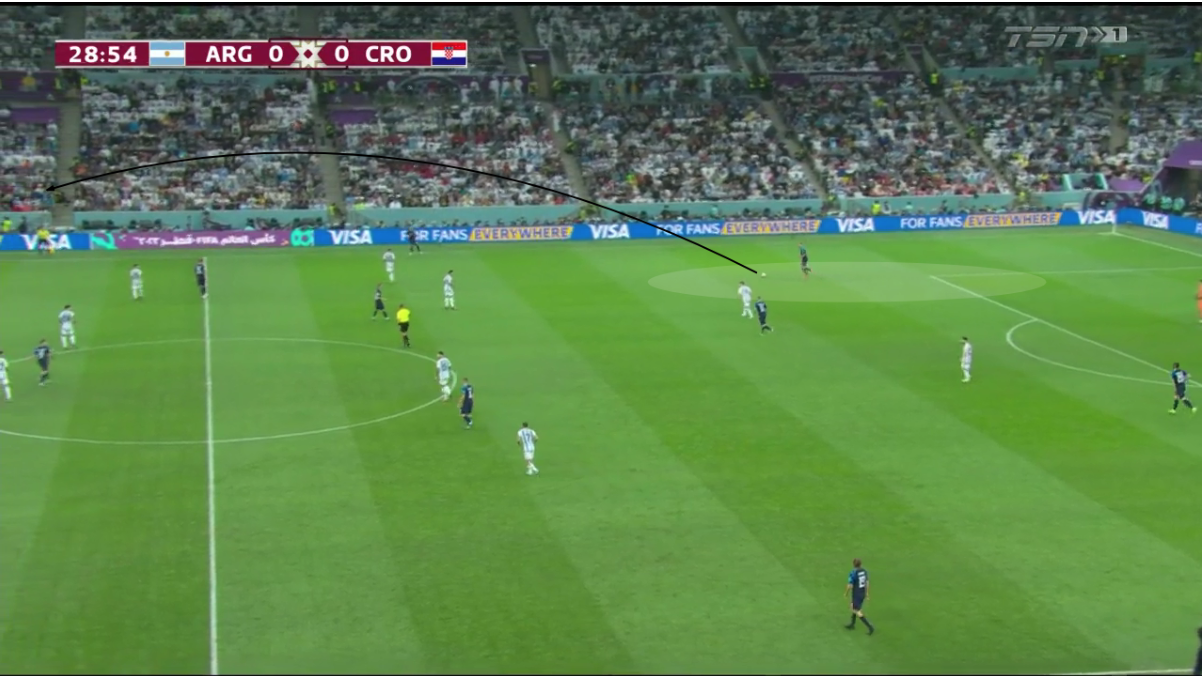 Second Phase of Argentina's Build-up
Both contenders' passing networks make it all clear: While Croatia excelled in the build-up phase which resulted in fluid ball delivery to their opponent's defensive half of the pitch, they lacked creativity and good decisions with the ball there; the Croatian front line players passing lines width and even nodes sizes are obvious evidence for the fact that they could not benefit from their possession to create threat or big chances. On the other hand, Argentina's passing network shows us that progression against the Croatian mid-block was such a considerable phase to talk about.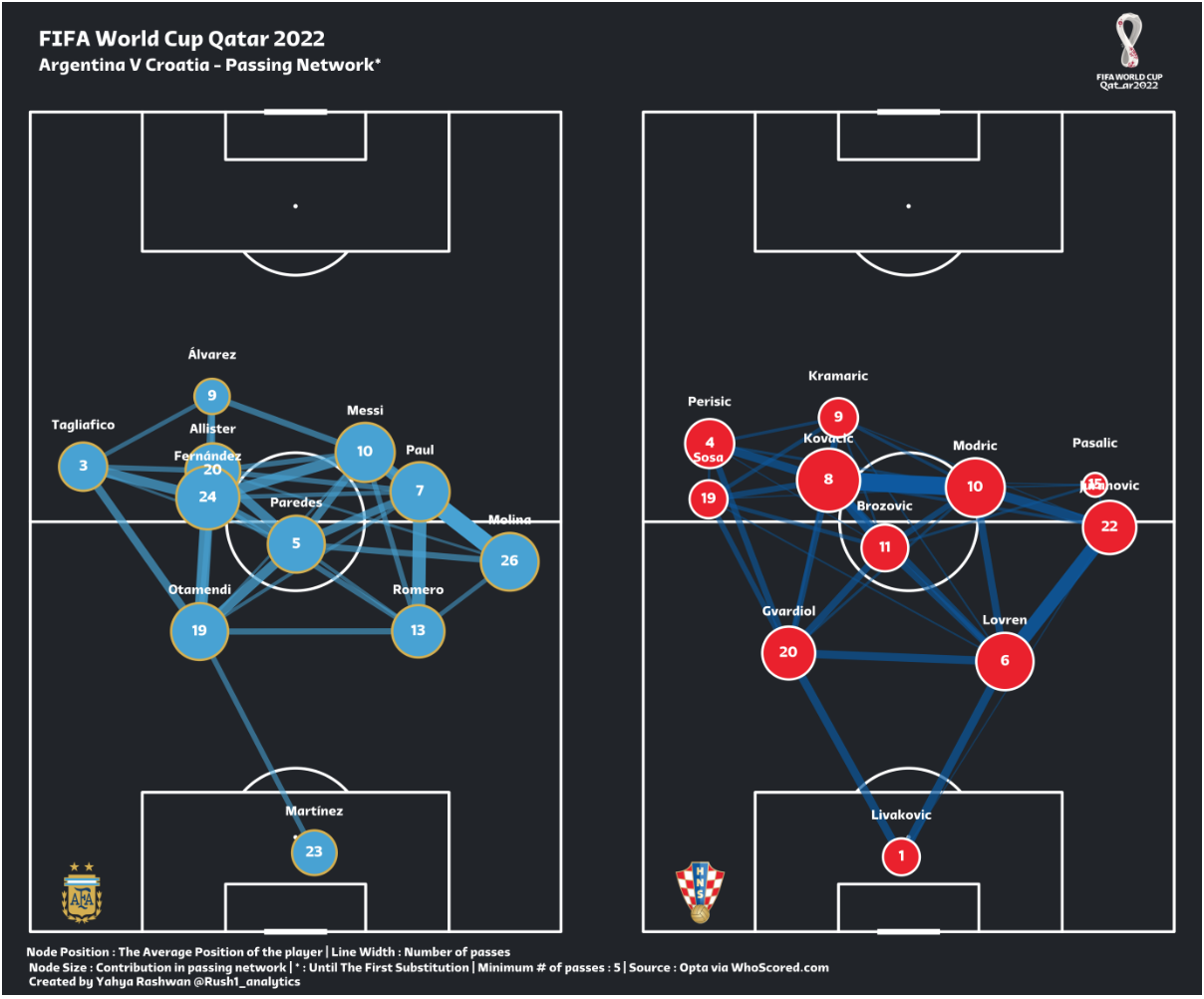 Data source: Opta – Whoscored.com – Created by: @Rush1_analytics
As Argentina's progression took the (2+3) shape with Leandro Paredes between the relatively wide and high full-backs, A (4-5-1) mid-block shape was enough for Croatia to close passing lanes to their opponents' attackers while marking their full-backs at the same time. 
That's why Paredes started to drop deeper and closer to the CBs, in order to have time and space on the ball against Andrej Kramarić, who was already struggling to press horizontally between them. But one more important reason for Paredes to drop is worth mentioning, inviting pressure for one or more Croatian midfielders, and that's what happened.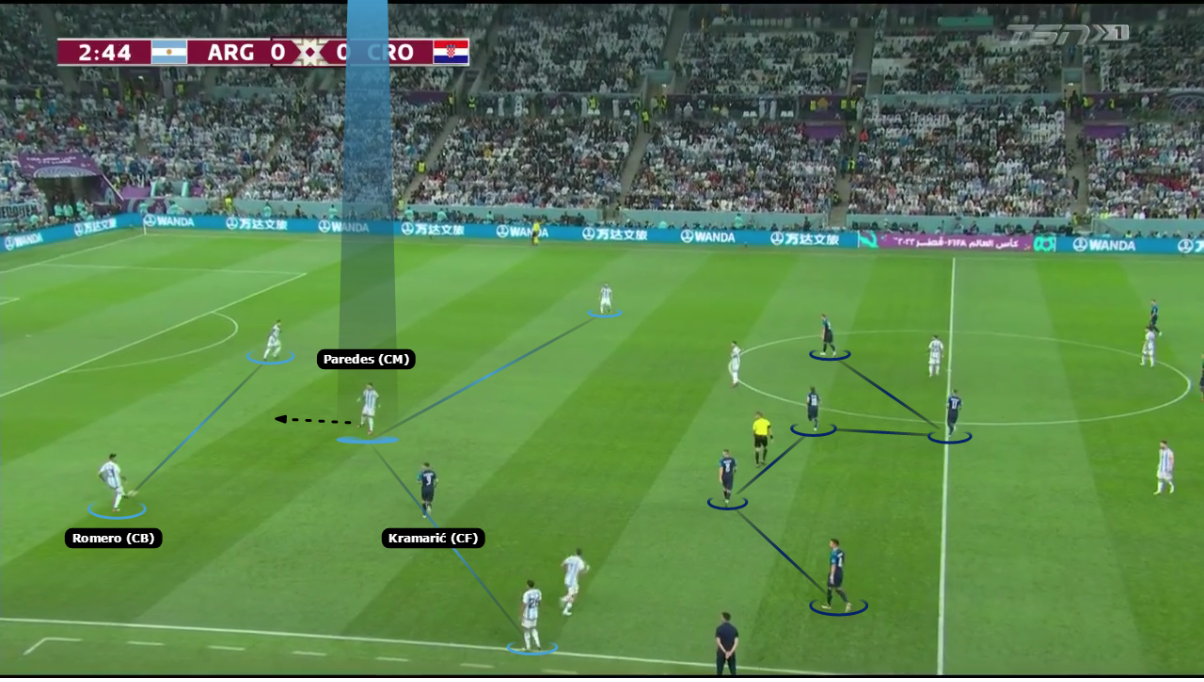 Paredes tried always to carry or pass the ball towards his team's left side, hence increasing the distance between Kramarić and Romero, but as Modrić pulled the trigger to press the ball within a relatively smaller area, Enzo had to drop before being followed by Brozović and hence switch the play to Romero, who has already moved away from Kramarić's cover shadow.
This was Scaloni's aim as Romero is his best ball-playing/progressor Centre Back on the pitch, we can also notice from the below screenshots that Romero could carry the ball freely as Nahuel Molina and Rodrigo de Paul's positioning was preventing Ivan Perišić and Mateo Kovačić to jump higher early.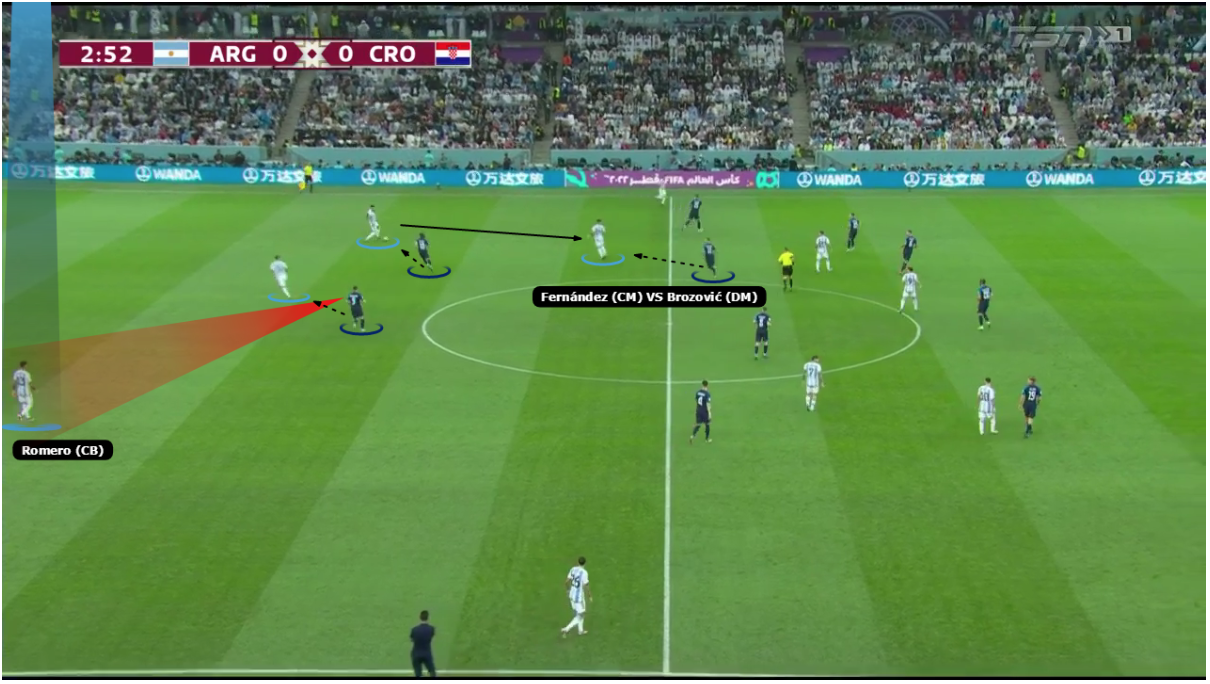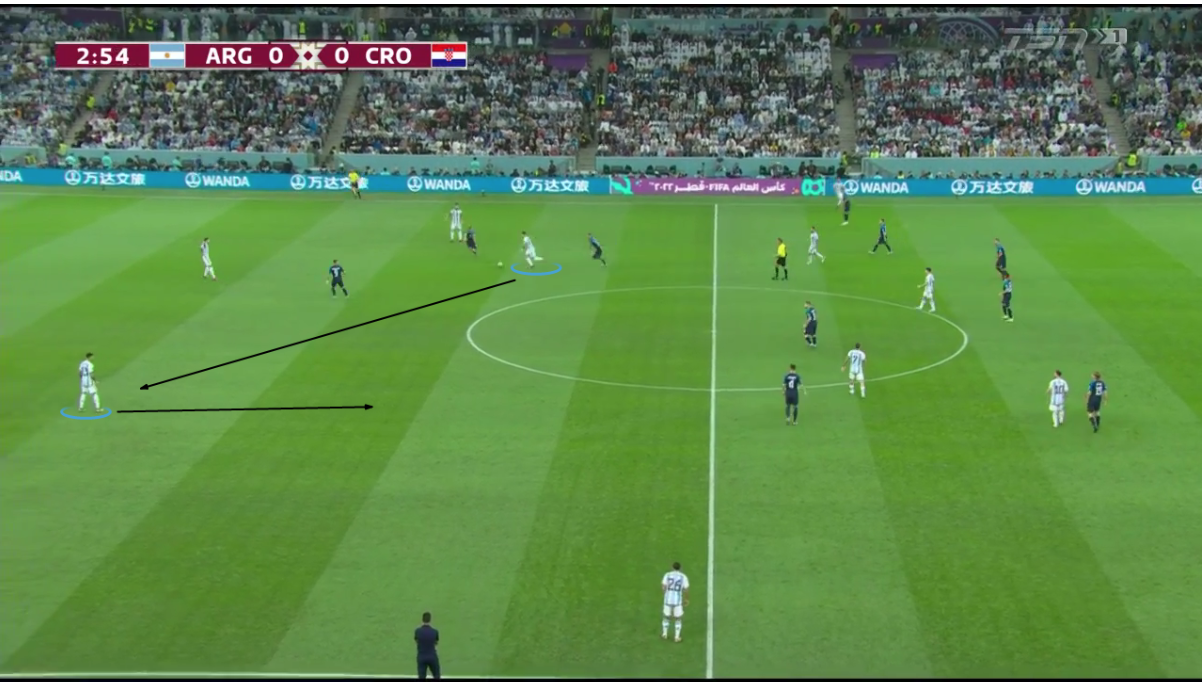 Even here we can see the same idea but with a little tweak, De Paul was the one to drop attracting Perišić and Kovačić to follow him and also press Romero, but the latter had enough time and space before Perišić reaches him. Now with such a drop, the passing lane became opened to target Messi, who began to drop in order to receive the ball.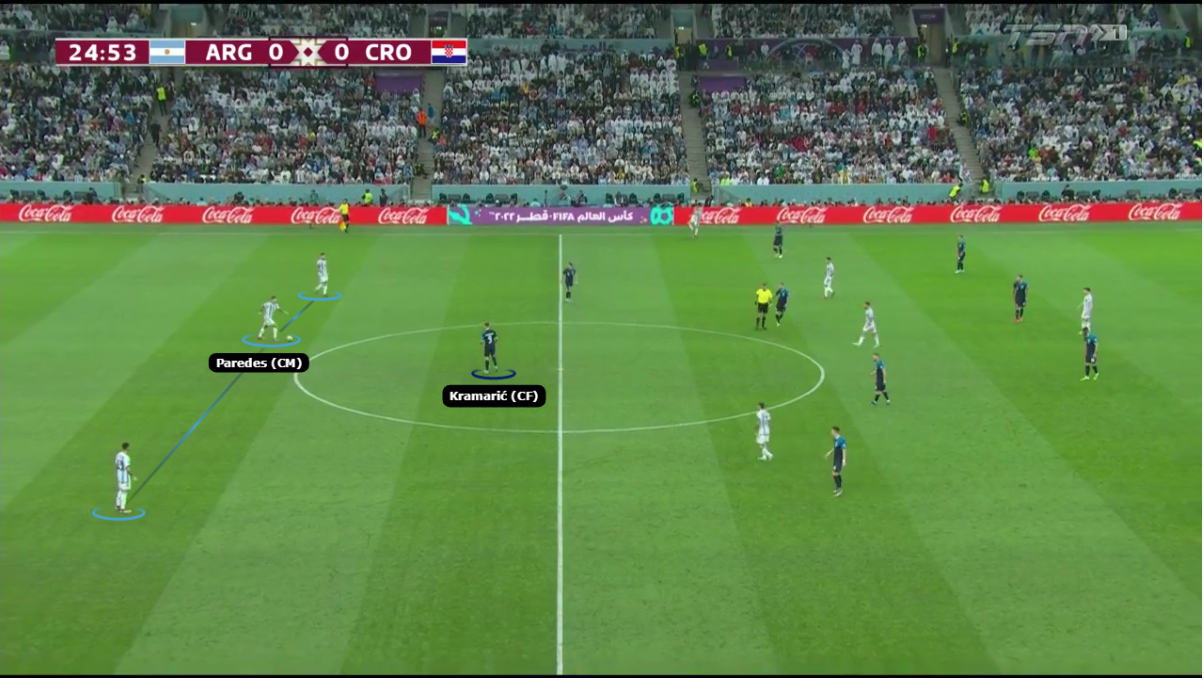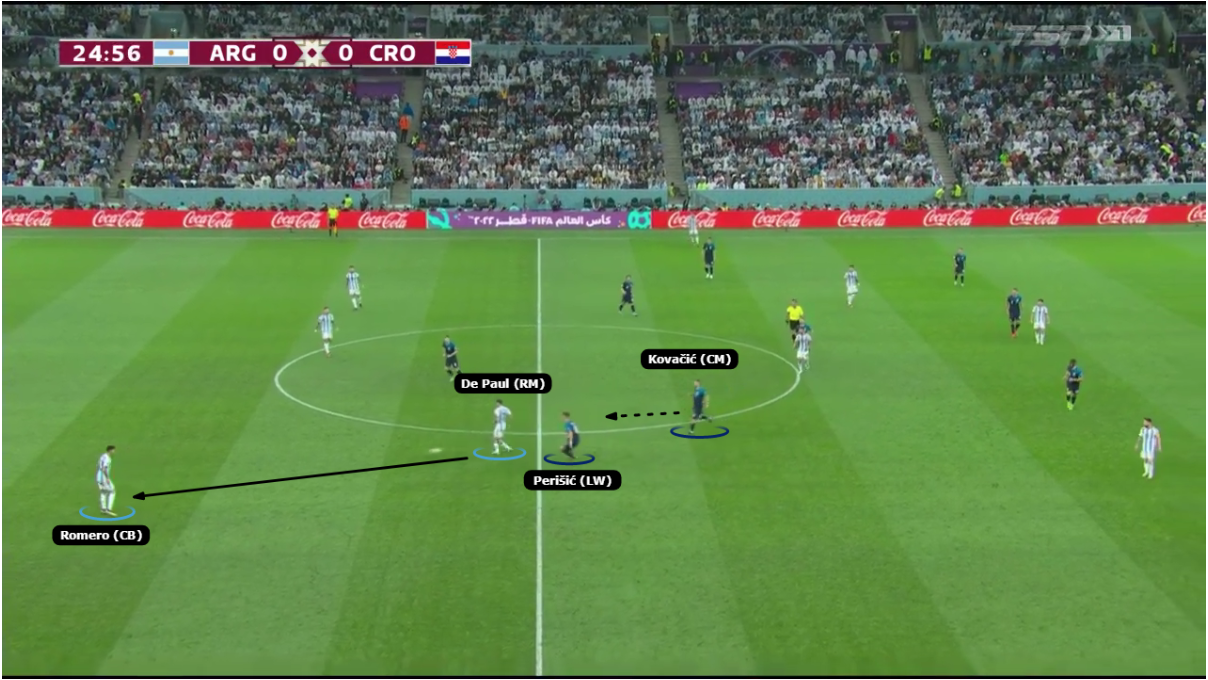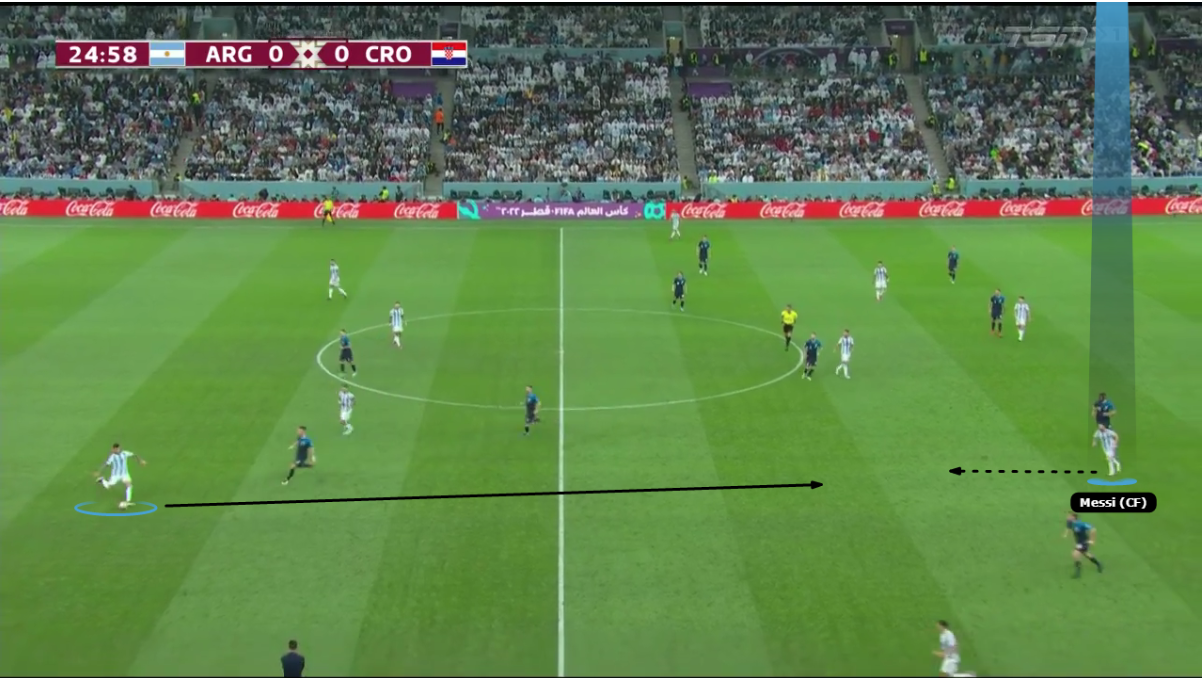 Argentina's Final Third Possession Against Croatia's Low Block
As Argentina have found the solution to move the ball to their opponent's defensive half of the pitch, here came the most difficult part: As Croatia kept the same (4-5-1) at low block, they were struggling at the very few first minutes of the match; this was mainly due to Argentina's diamond midfield shape, which kept Croatia midfield trio unable to support their teammates in wide areas, in addition to Alexis Mac Allister, Lionel Messi and Julián Álvarez's positioning, which pinned the four Croatian defenders, especially the latter's who used to stick very near from Croatia full-backs.
We can also notice Modrić position on the pitch that would make him late to press Enzo Fernández as the latter was calling for the ball so that Mario Pašalić on his right side began to push higher to do the same, and hence getting himself away from wide areas support also. With such an Argentina shape, and with high and wide full-backs, De Paul could find Nicolás Tagliafico free, high, wide and with enough time to receive the ball before Croatia's defence shift happened to allow for Josip Juranović's intervention.
But just after this attempt, we could notice that Zlatko Dalić has instructed his team to revert to back five low block. Such a shape allowed to match his opponent's front five players (Montiel, Tagliafico, Mac Allister, Messi and Álvarez) principally and made his team able to shift to the ball side, isolate the far side wide player to benefit from the advantage of an additional defender within the ball side…And this worked very well as clarified in the below screenshots.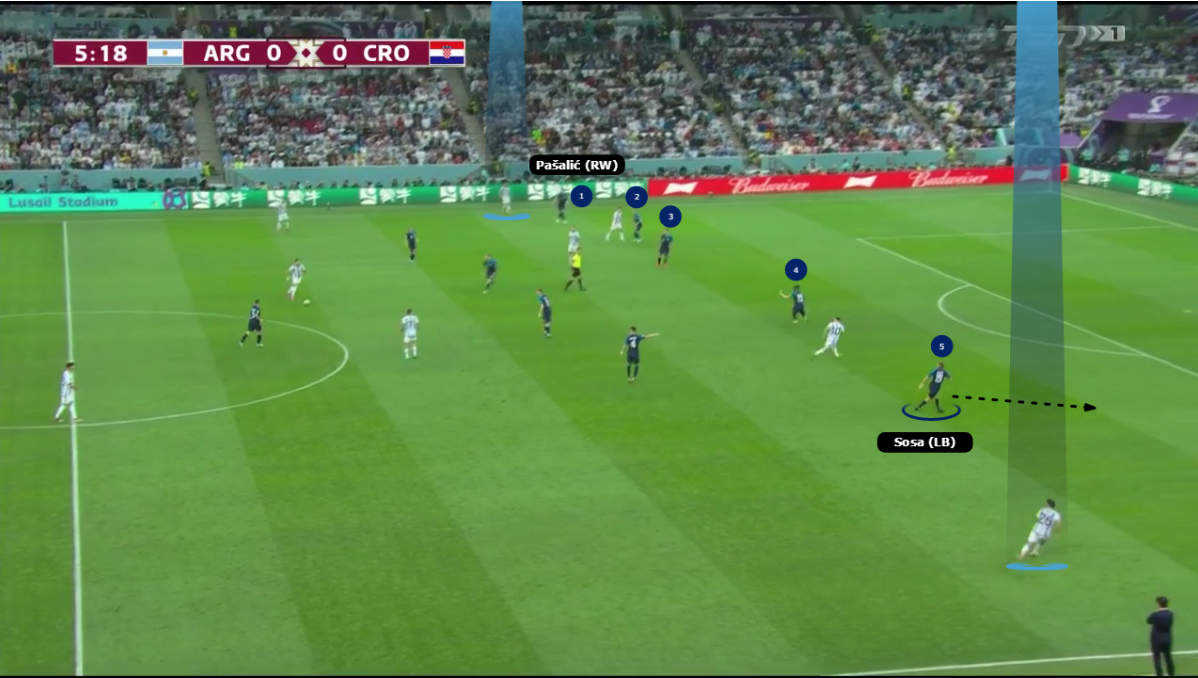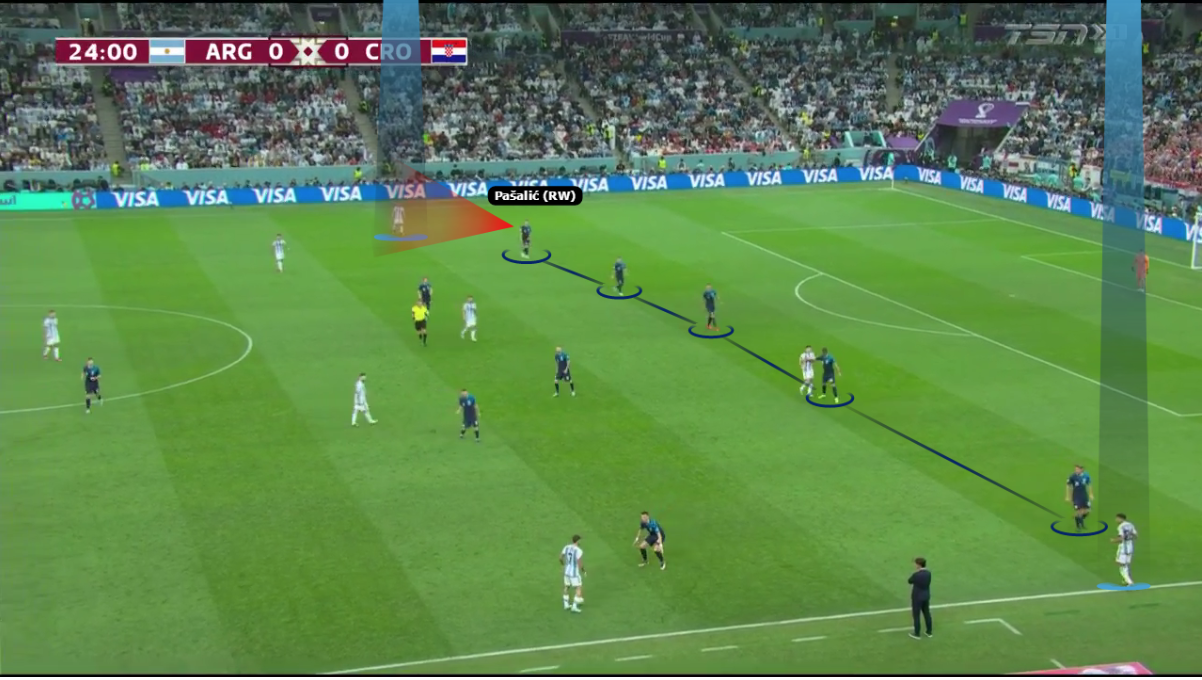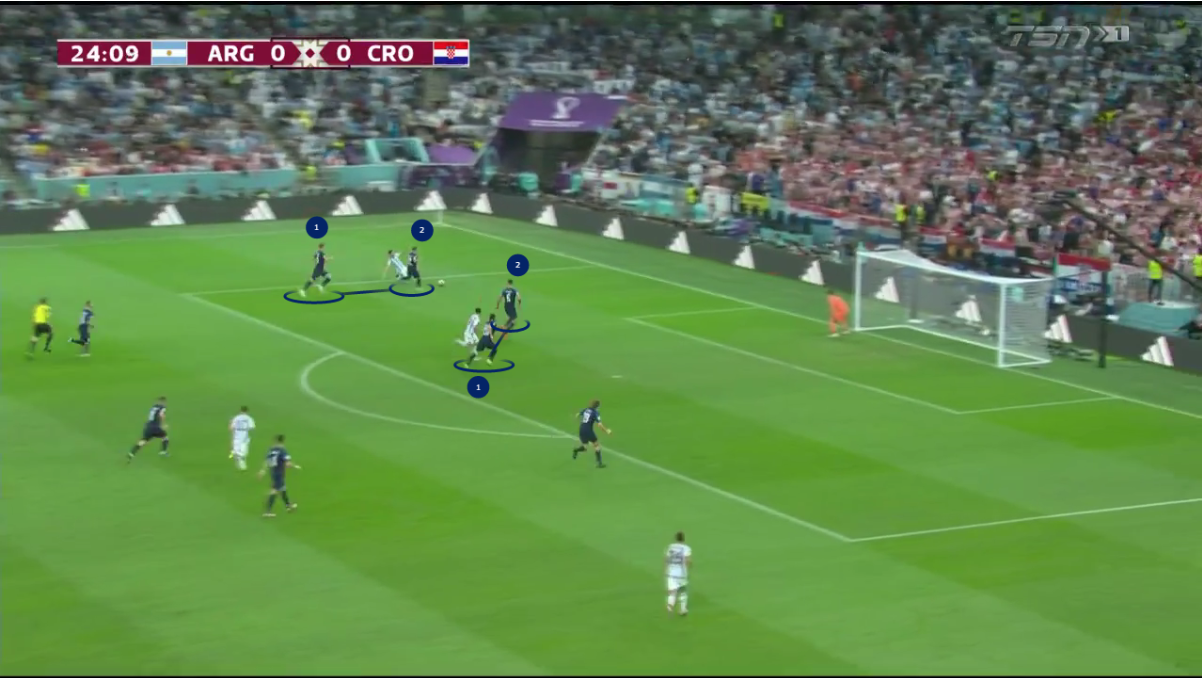 In addition, the Croatians tried to limit Messi's threat to the minimum as possible by not assigning a certain player to man-mark him while he was dropping to receive, twist and face the goal. As Messi had (as usual) much more tolerance to drop where the play direction was, the nearest two Croatian midfielders were taking the responsibility for pressing him, and this almost worked well also.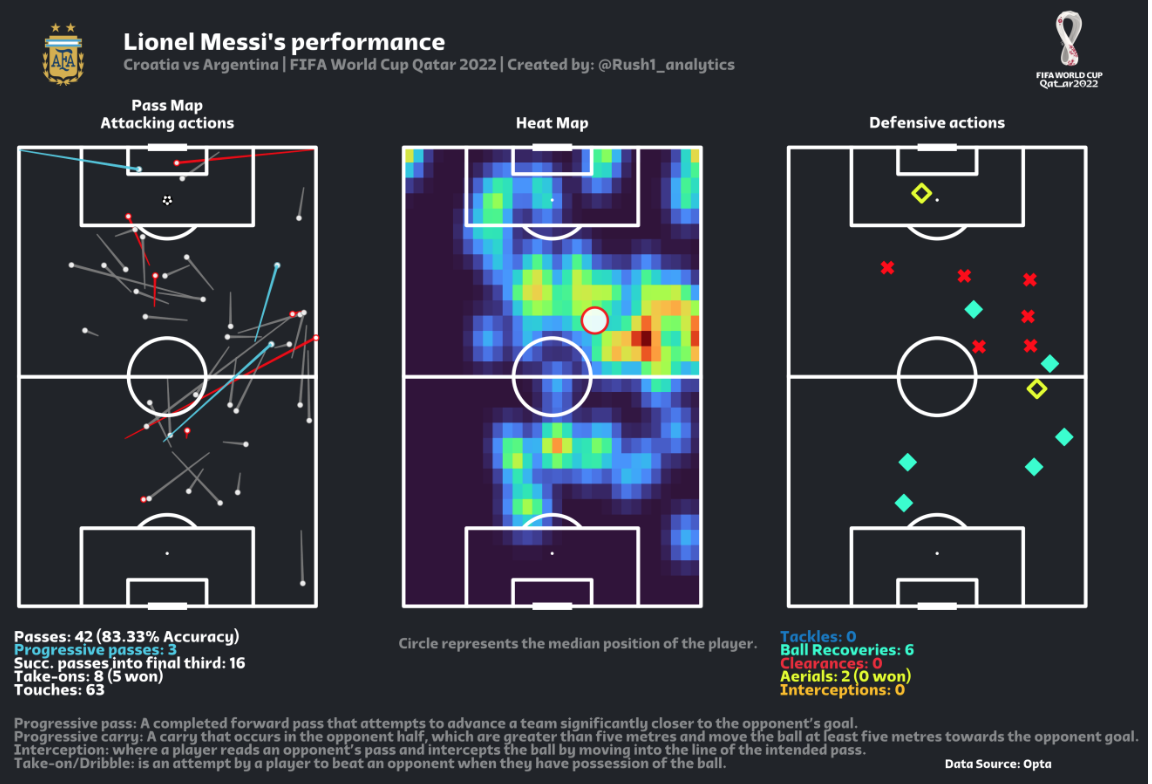 Data source: Opta – Created by: @Rush1_analytics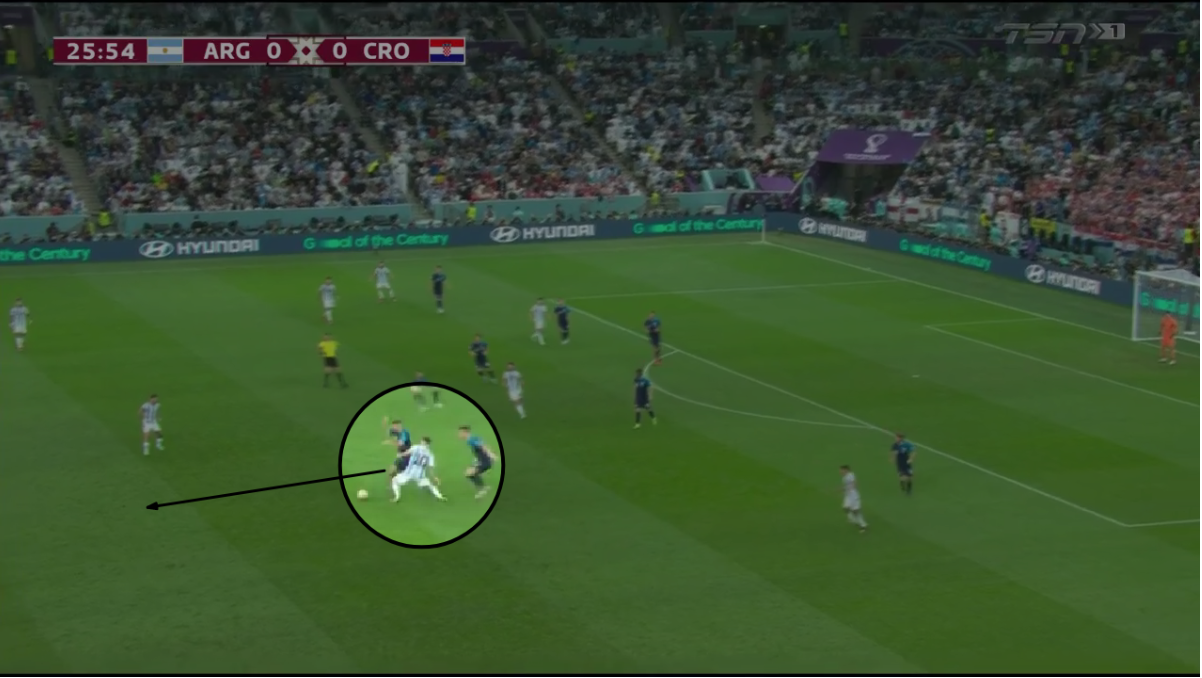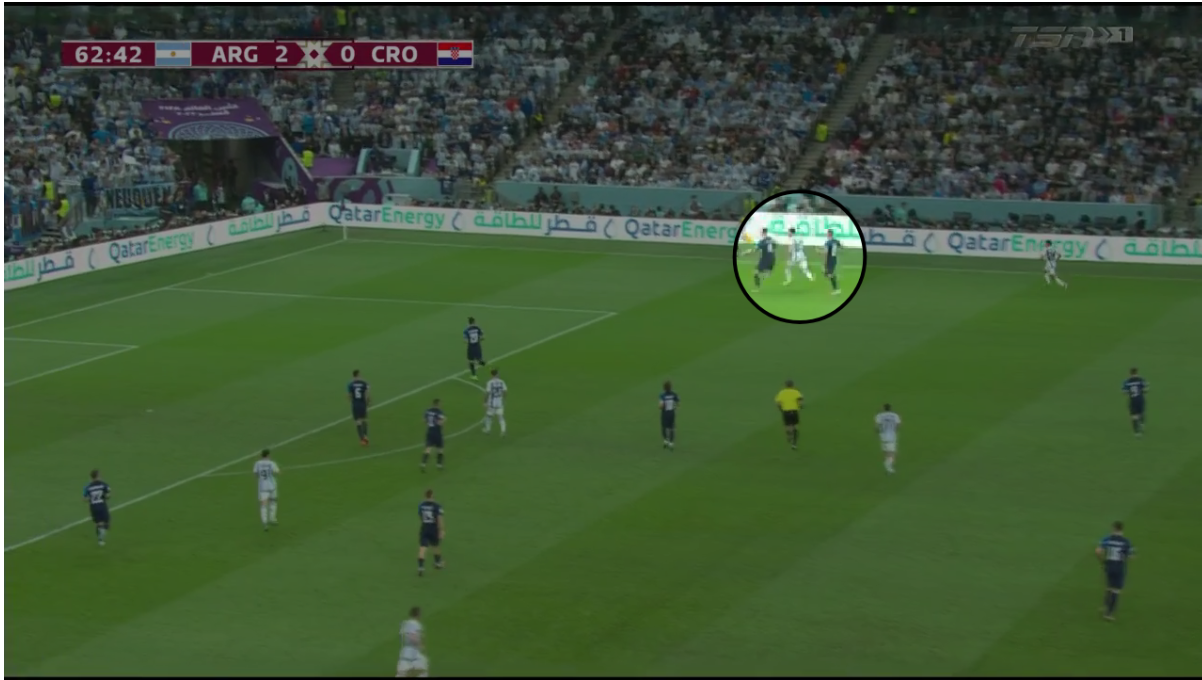 Croatia's game was not the first that Argentina's opponent could limit Messi's threat during the "organized" open play; however, it is very difficult to do the same during transitions and counterattacks; and this was the Croatian main weakness point out of possession.
The three goals, the most threatening actions from Messi or his teammates came from transitions (with the aid of individual errors from Croatia's defenders) or situations where Croatia's defence was not literally in shape (such as throw-ins); For example, Messi's top class scene while dribbling past Joško Gvardiol three times before delivering the third goal assist to Álvarez will be kept in memories for a quite long time.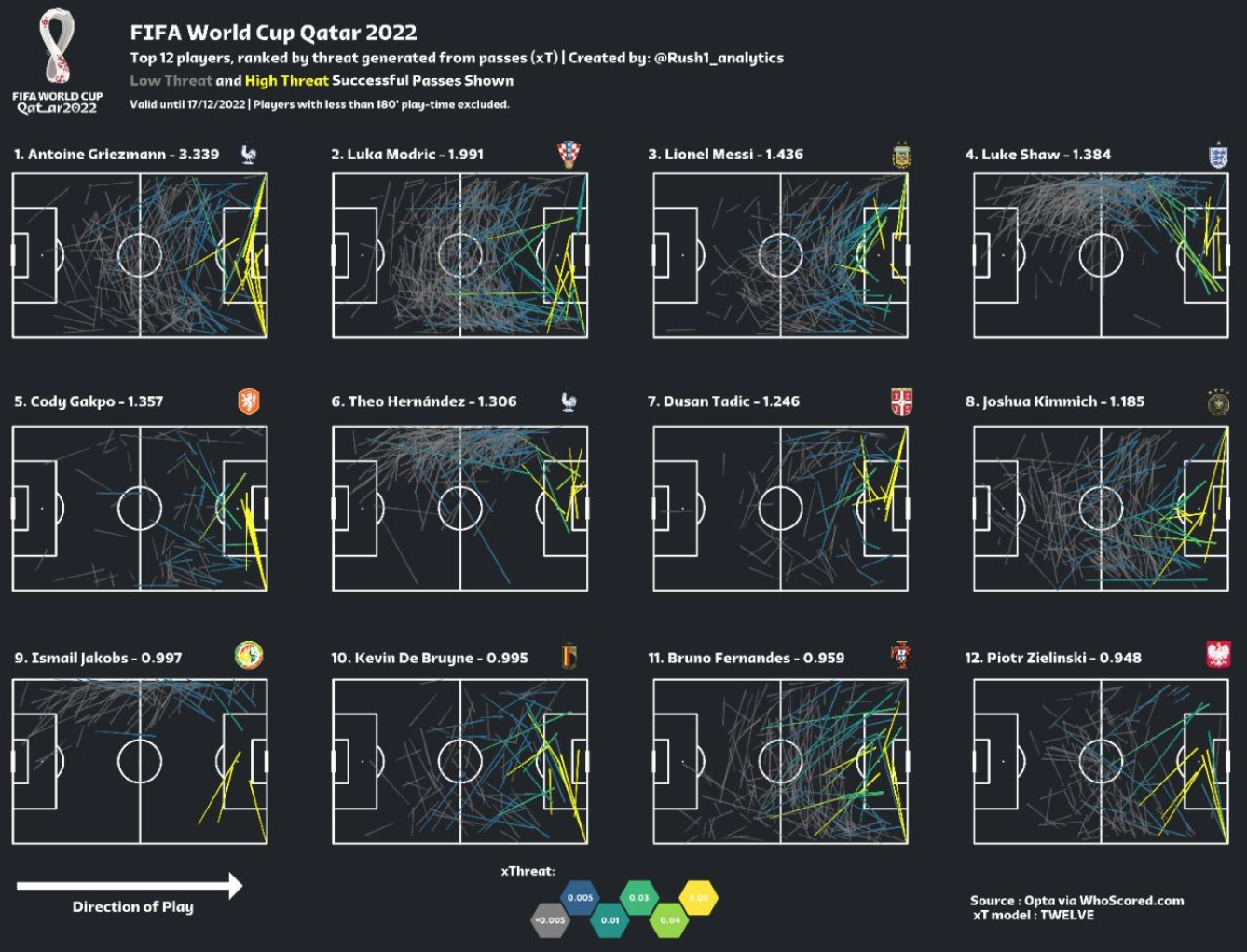 Data source: Opta – Whoscored.com – Twelve – Created by: @Rush1_analytics
Conclusion
Whilst Croatia would go on to defeat Morocco 2-1 in the third-place match, Argentina would write themselves into the history books by defeating France on penalties in the final to claim their third star. Lionel Messi has claimed the one trophy that had eluded him, La Albiceleste are champions for the first time since 1986, and whilst Messi may very well end his time in the World Cup with a trophy, other Argentine youngsters like Enzo Fernández and Alexis Mac Allister are only getting started.
By: Mina Edwar / @Mina_Edwar and Loay Mamdouh / @loay_mamdou7
Data visualization / stats by: Yahia Rashwan – Twitter: @Rush1_Analytics
Featured Image: @GabFoligno / Joe Allison / Getty Images