Tactical Analysis: Argentina 3-3 France
Argentina have claimed their third World Cup and their first since 1986, with the Albiceleste edging the defending champions France on penalties in Lusail to complete the one missing piece from Lionel Messi's glorious career. Let's take a deep look at how Argentina wrote their names into the history books in what proved to be one of the most epic finals in football history.
Lionel Scaloni would abandon the 4-4-2 formation that he went with against Croatia and instead opted for a 4-3-3 formation, with Ángel Di María coming into the team for Leandro Paredes and operating as a left winger to limit France's threat in transitions, whilst Didier Deschamps went with his typical 4-2-3-1 formation with Dayot Upamecano and Adrien Rabiot coming in for Ibrahima Konaté and Youssouf Fofana.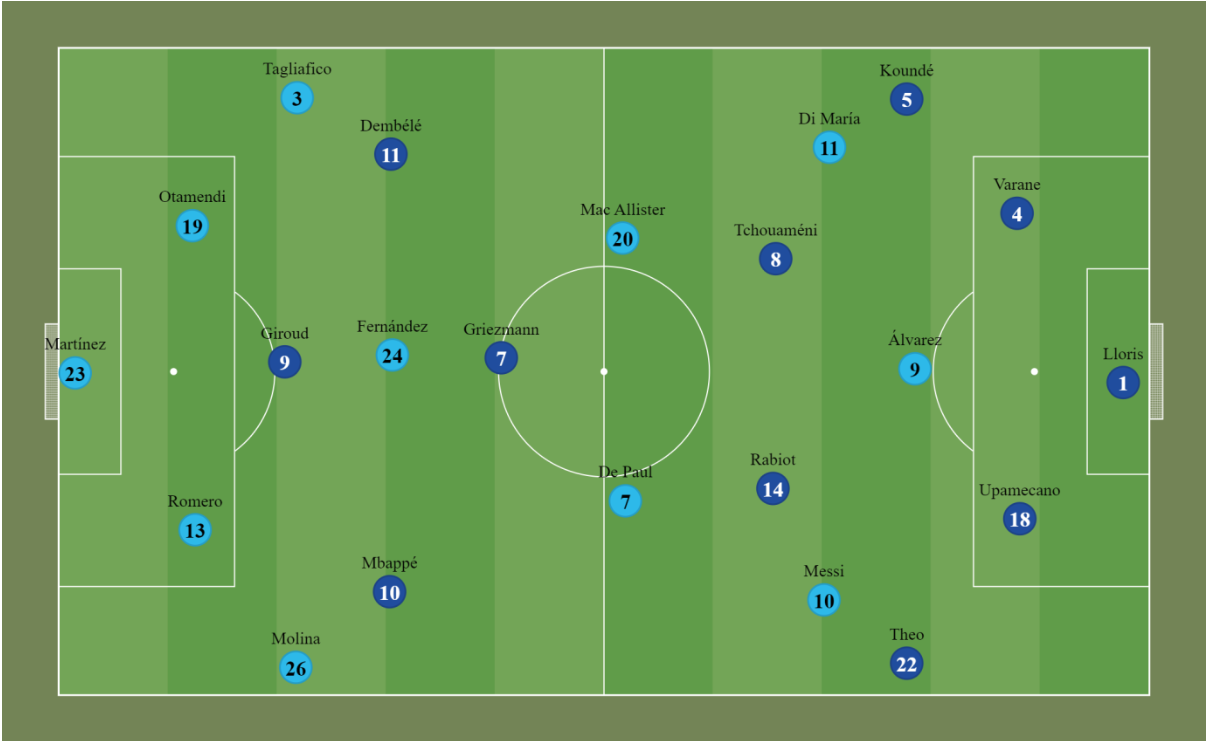 Argentina's Build-up
Argentina's build-up took a 4-3-3 asymmetric shape as Rodrigo de Paul was dropping closer to Enzo Fernández while Alexis Mac Allister's positioning was higher and horizontal, occupying the empty spaces in the opposite direction to Lionel Messi.  On the other hand, France were pressing high by Olivier Giroud and Antoine Griezmann marking their opponent's centre backs, where the former was shadow covering Enzo Fernández to close the passing angle to him, or even directly marking him when the play direction was relatively far from him.
Adrien Rabiot was man-marking Rodrigo de Paul and at the same time was trying as possible to close the passing angles to Lionel Messi, while France's wingers were taking care of Argentina's full-backs. Enzo Fernández and De Paul tried to drop deeper as much as possible to receive the ball or to drag their markers in order to create room for the dropping Julián Álvarez or even Messi to receive the pass.
As Theo Hernández was always close to Messi, Argentina's build-up was almost limited to their left flank towards Nicolás Tagliafico (as the below passing network clarifies); but with France's press shifting towards the ball direction: Griezmann vs. Nicolás Otamendi and Giroud vs. Enzo Fernández, such a build-up scheme became more and more difficult.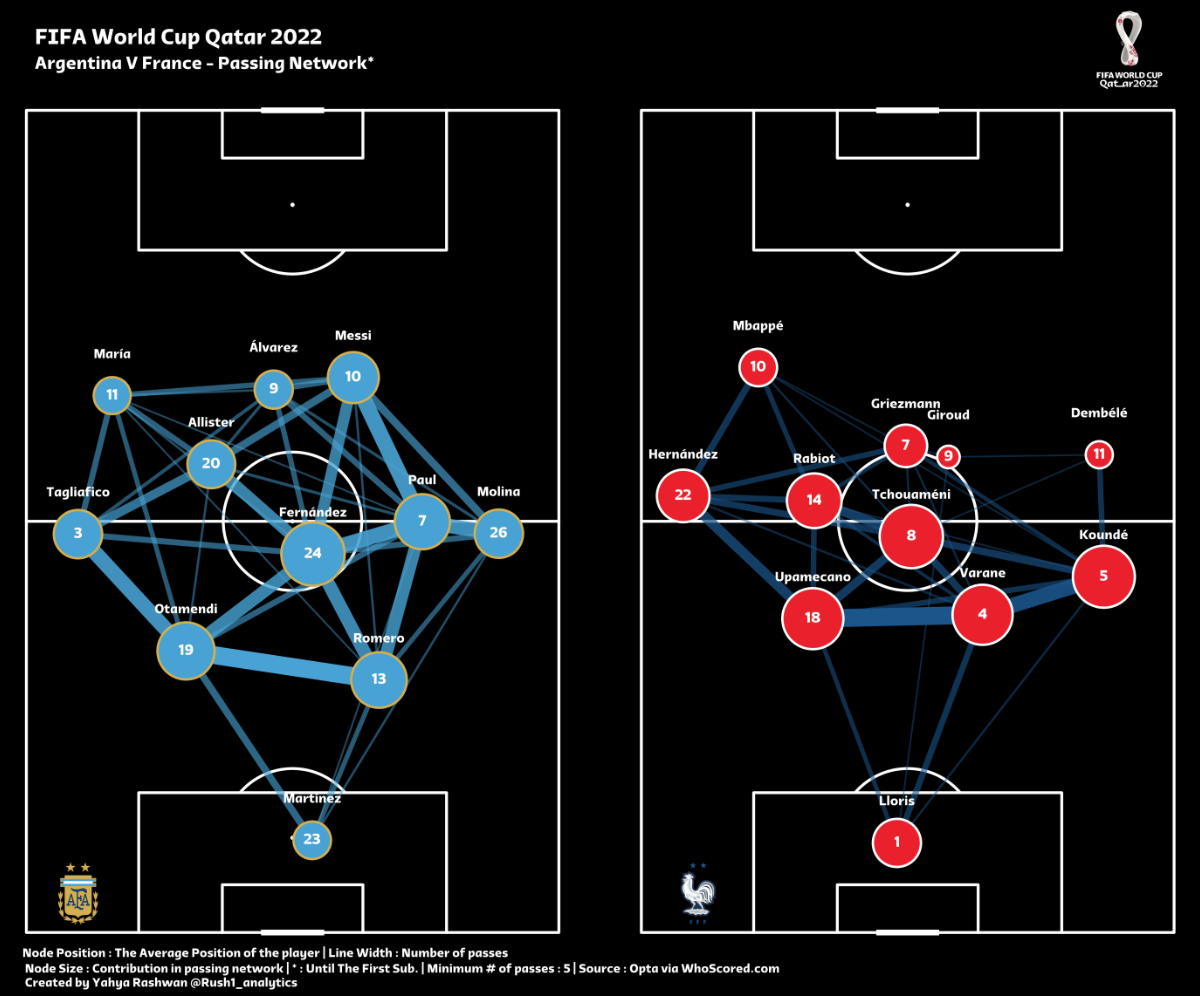 Data source: Opta / Whoscored.com – Created by: @Rush1_analytics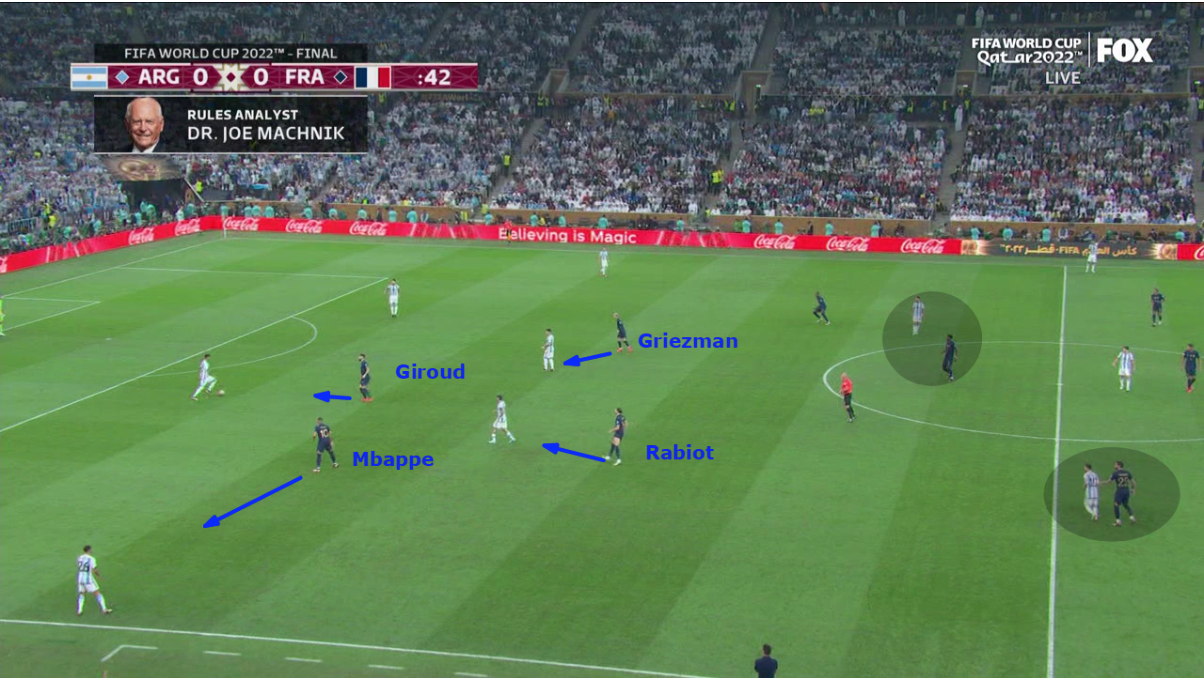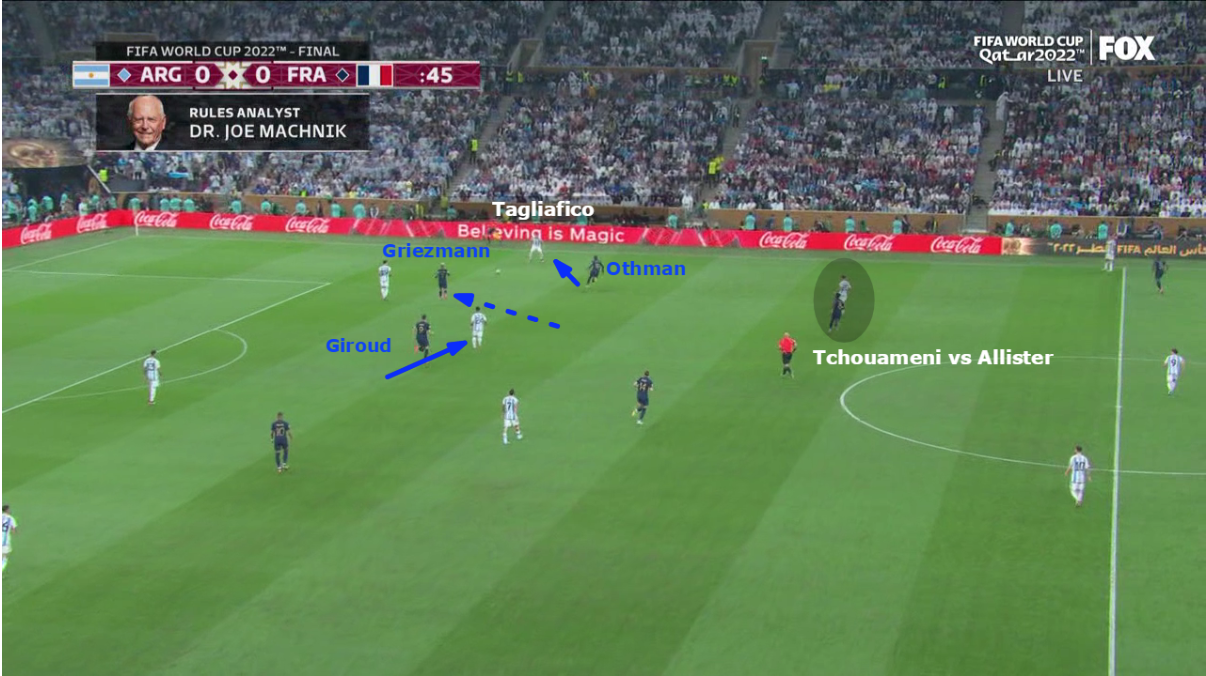 Argentina were only able to reach a successful build-up with the same scheme when there was a few seconds of delay regarding Griezmann and Giroud pressing alternation; hence Enzo Fernández became free to receive the ball and tried to find Álvarez in space where the latter was able to start passing combinations with Messi and Mac Allister to deliver the ball to Ángel Di María in 1V1 situations.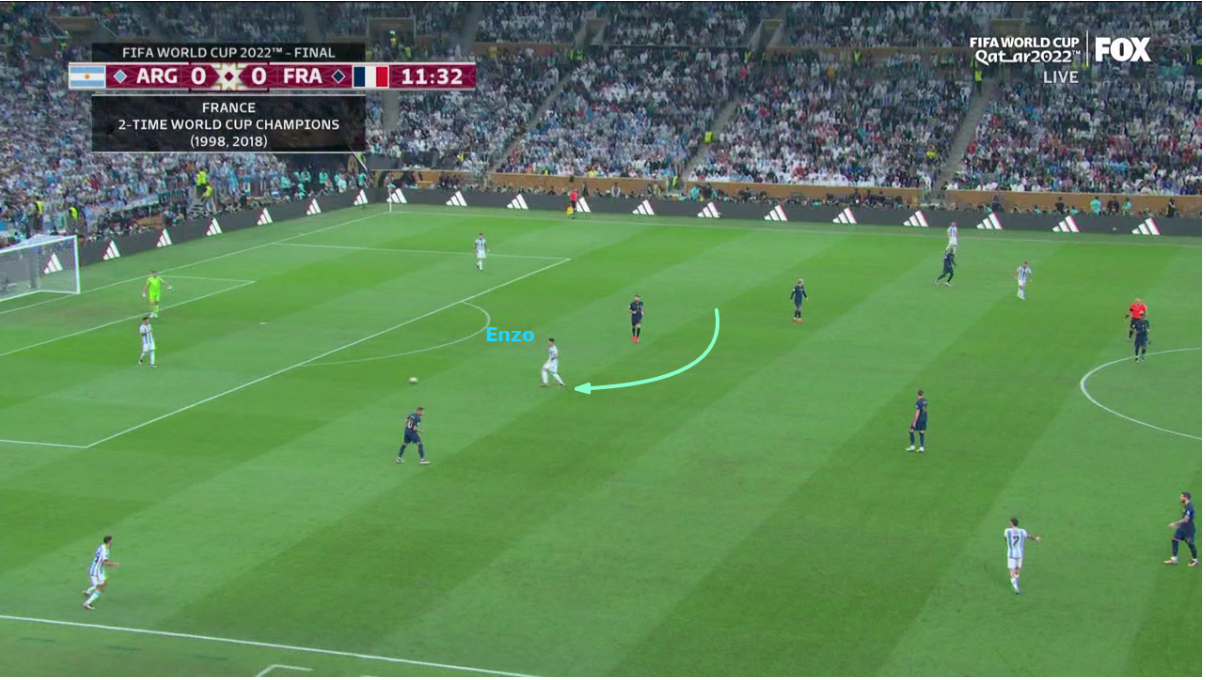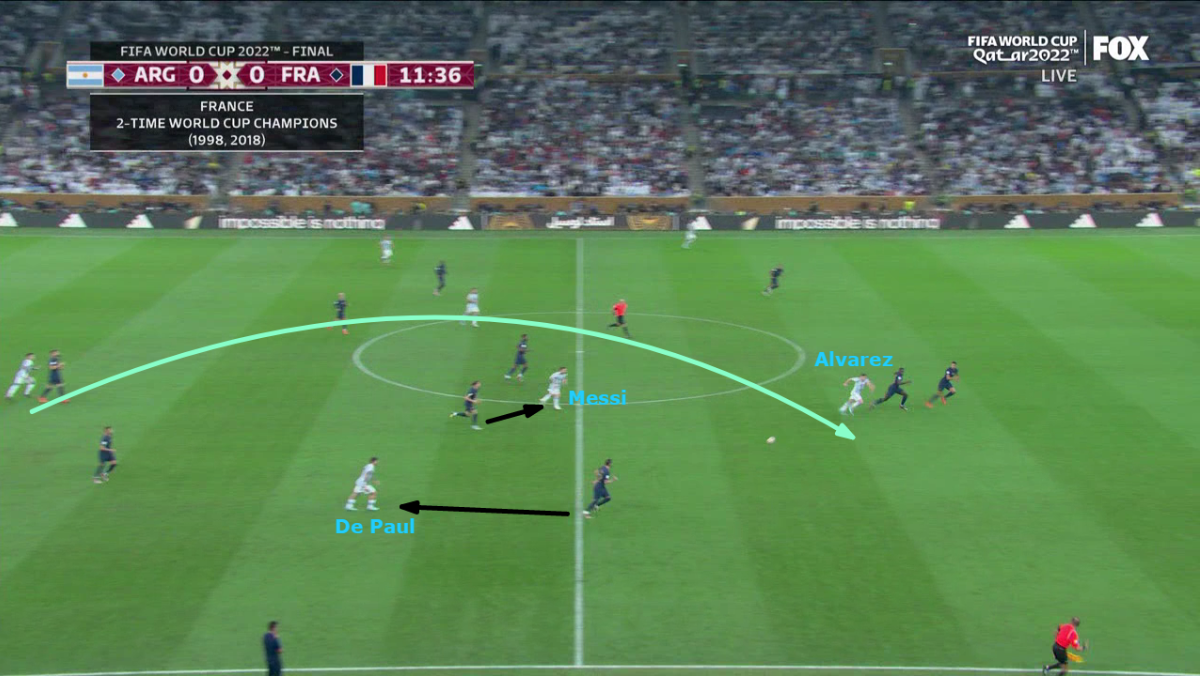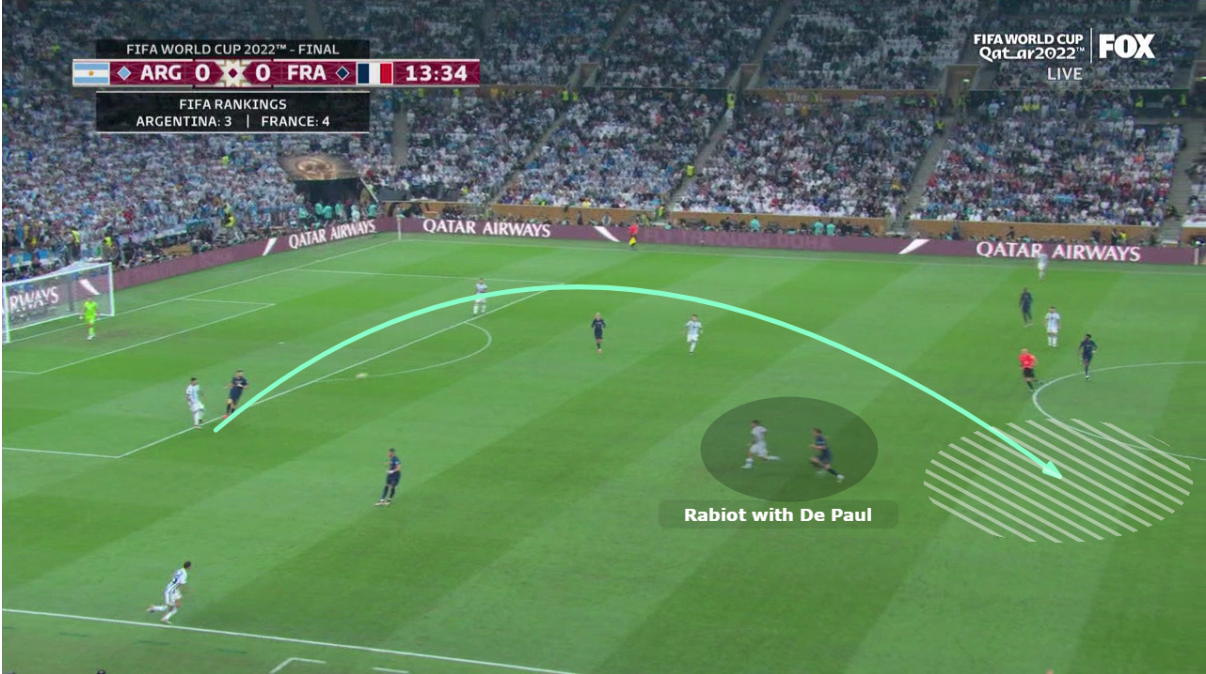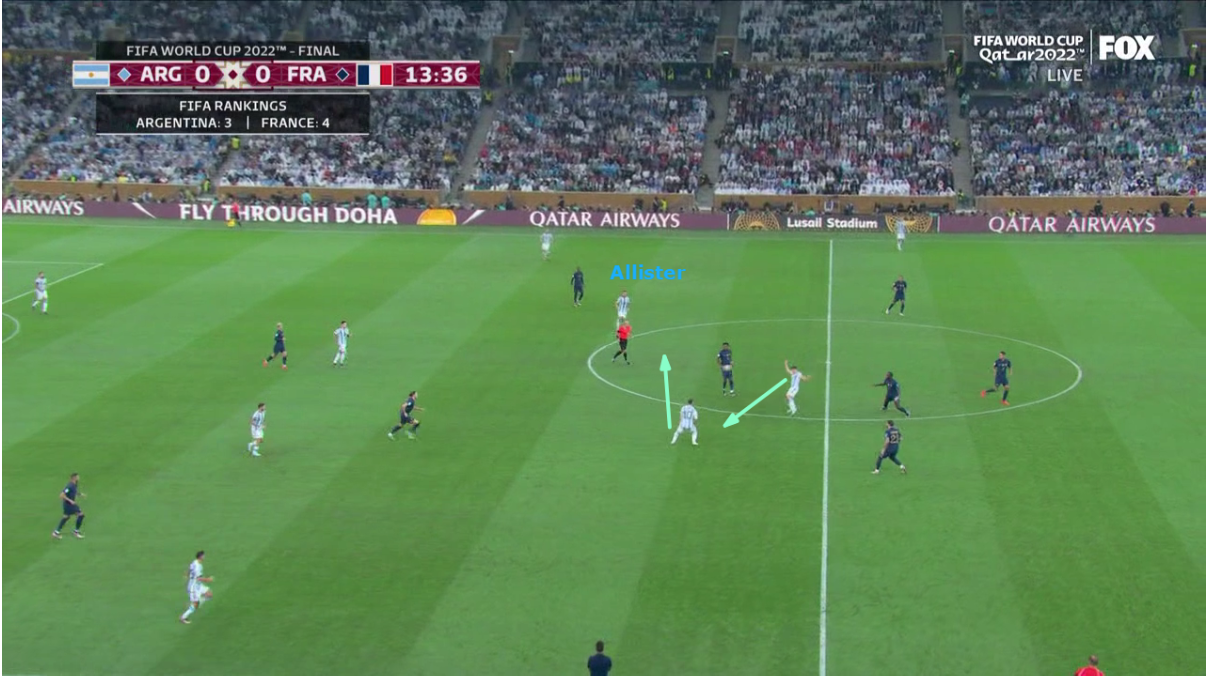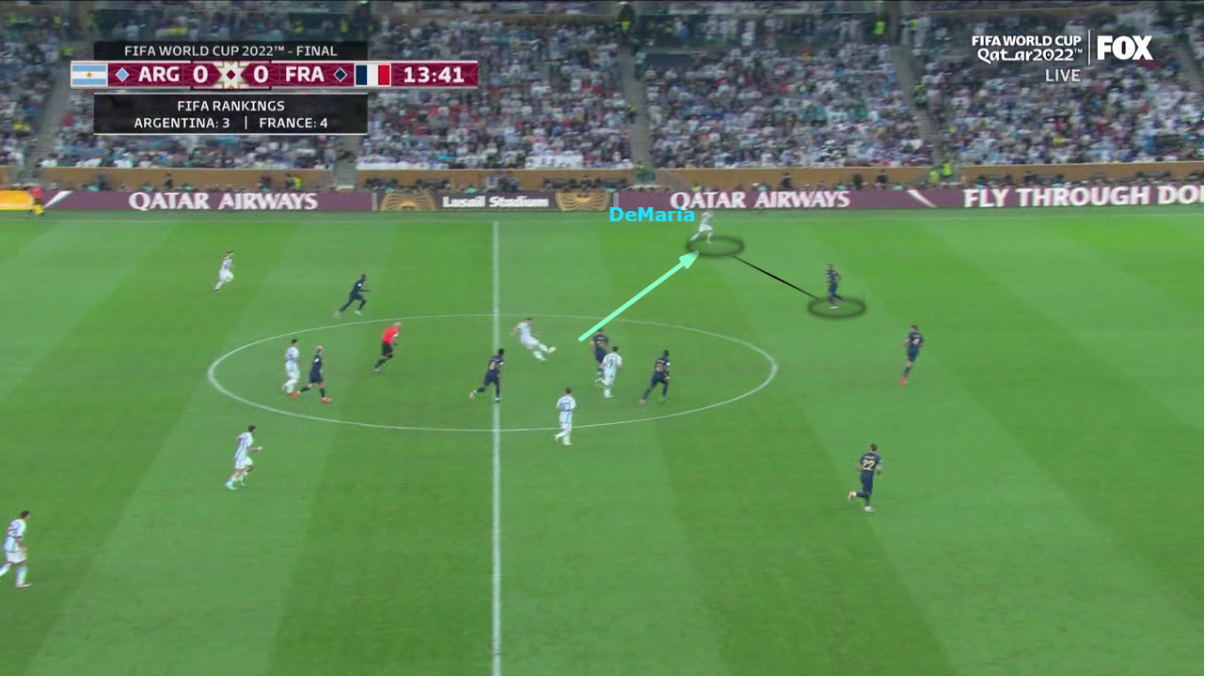 To deal with such an issue, Deschamps instructed Rabiot not to jump too high with De Paul, while taking a proper body orientation in order to be able to fall back rapidly in case of long passes were made to Argentina front line players, especially since Theo Hernández was strictly man-marking Messi and following him wherever he moved.
However, Lionel Scaloni became rapidly mindful of his opponent's tweak, so he instructed his centre backs to split the pitch horizontally by moving further from each other, while the full-backs had to stretch the pitch width to the maximum while moving higher also. This adjustment made France's high pressing more difficult and more time-consuming to track, especially for Mbappé; this forced Theo Hernández to push higher to press Nahuel Molina, while Giroud and Mbappé started to press Argentina Centre Backs, the same thing that Griezmann did with Enzo Fernández.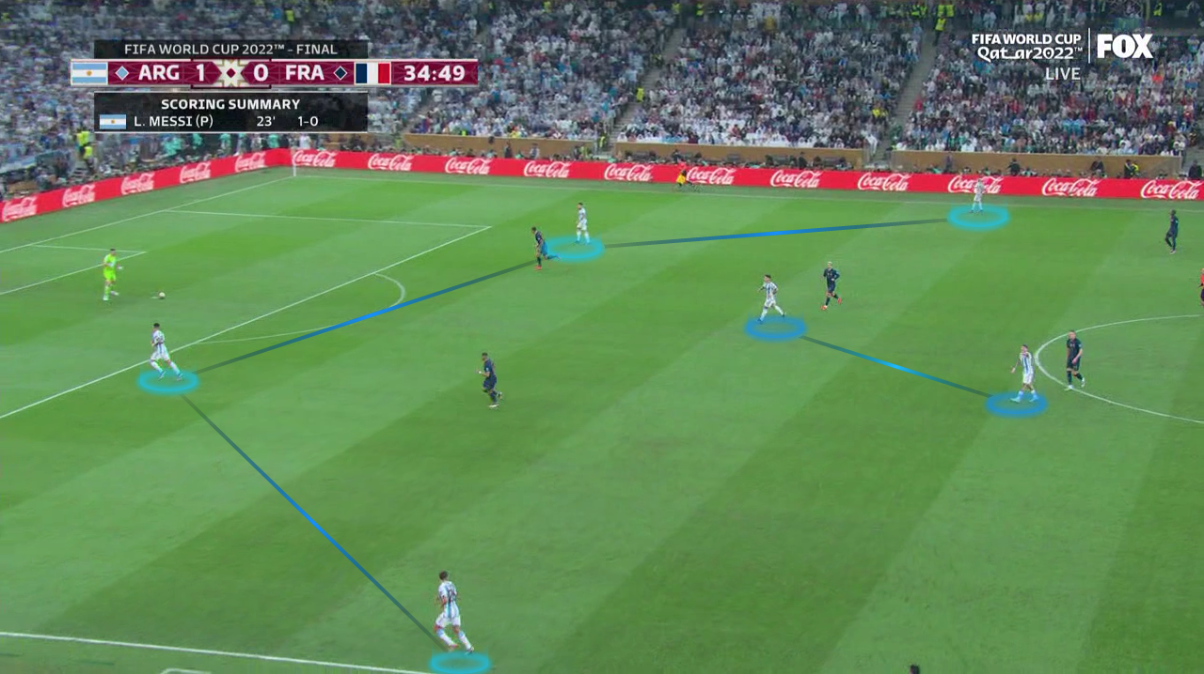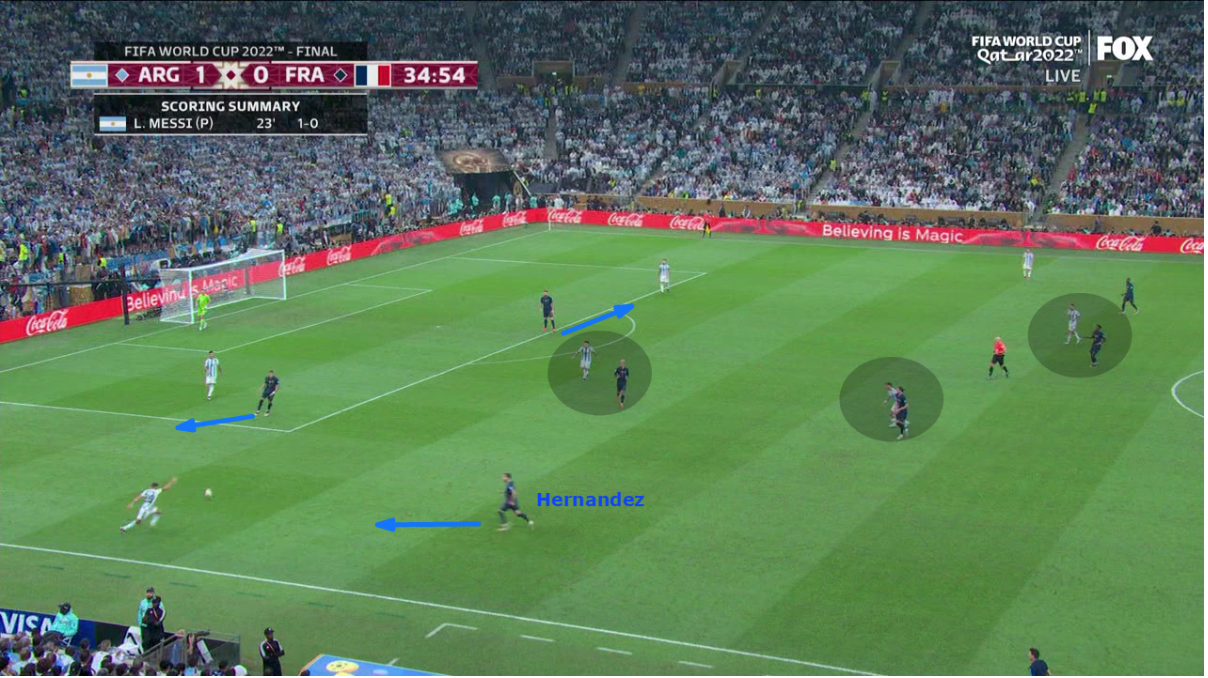 In the second half, France's high pressing shape changed to classic 4-2-3-as Mbappé was alternating pressure against his opponent's centre backs while Griezmann kept marking Enzo Fernández or at least, kept him in his shadow covering area when he jumped higher to join Mbappé in the first line of pressure and during those situations, Rabiot came in his turn closer to Argentina's defensive midfielder. Such a scheme made Argentina's build-up harder so they started to rely on long passes to Julián Álvarez.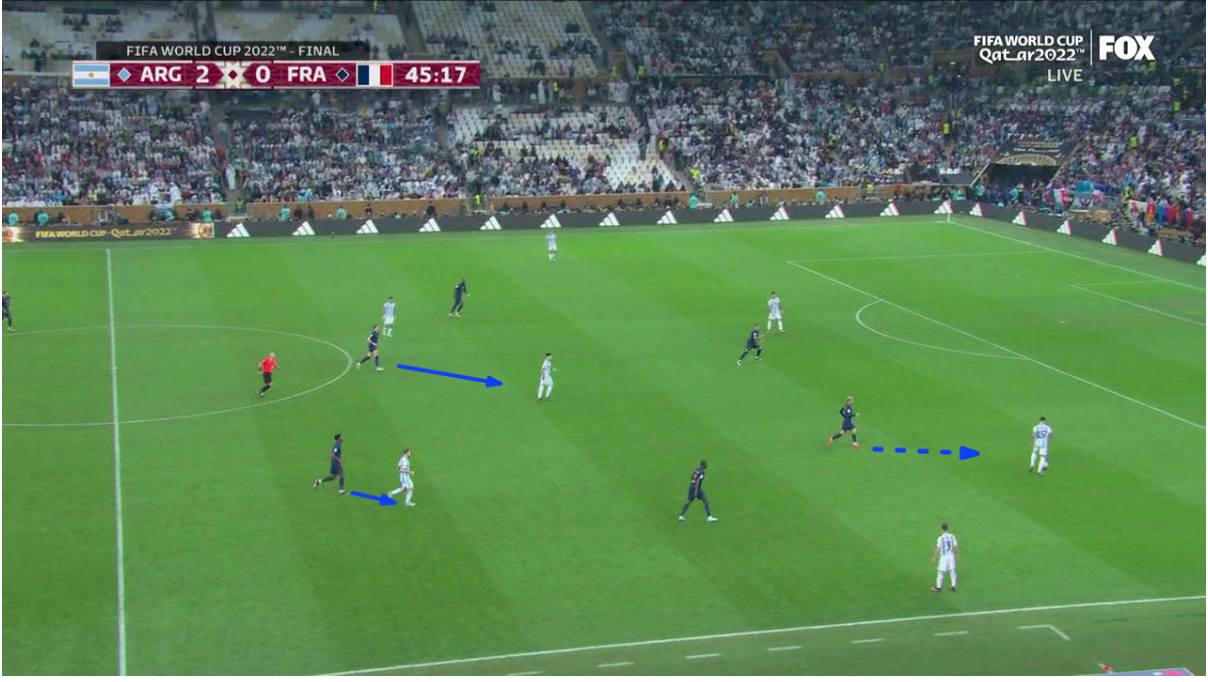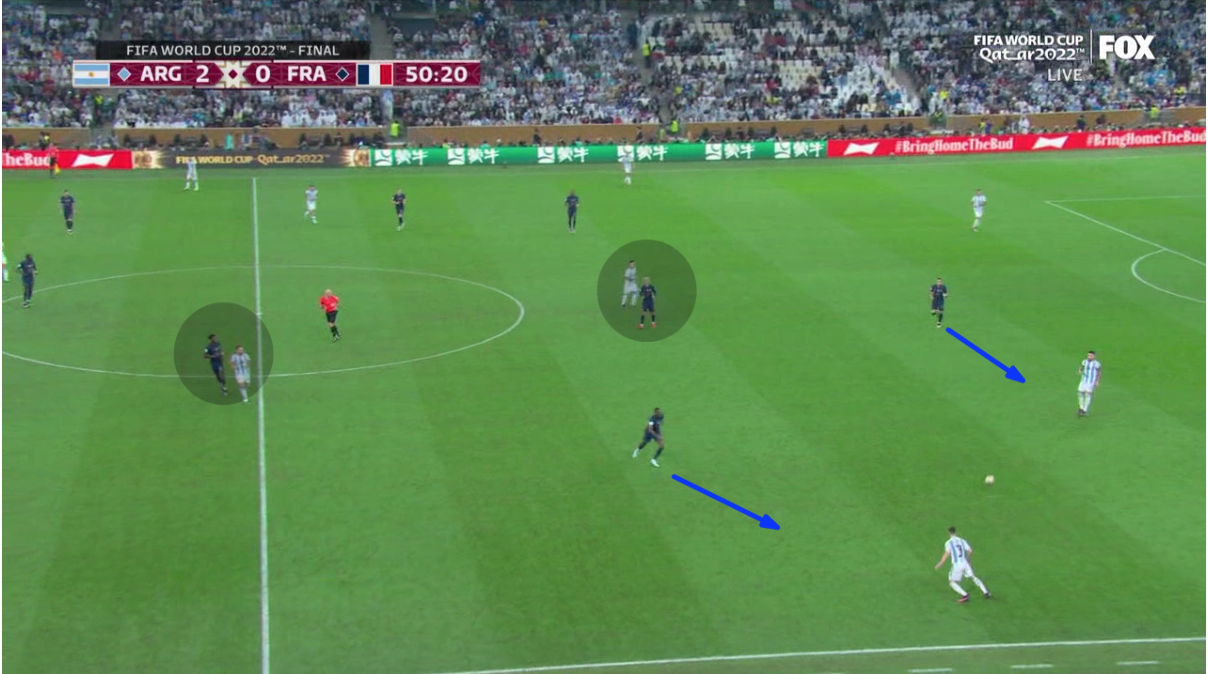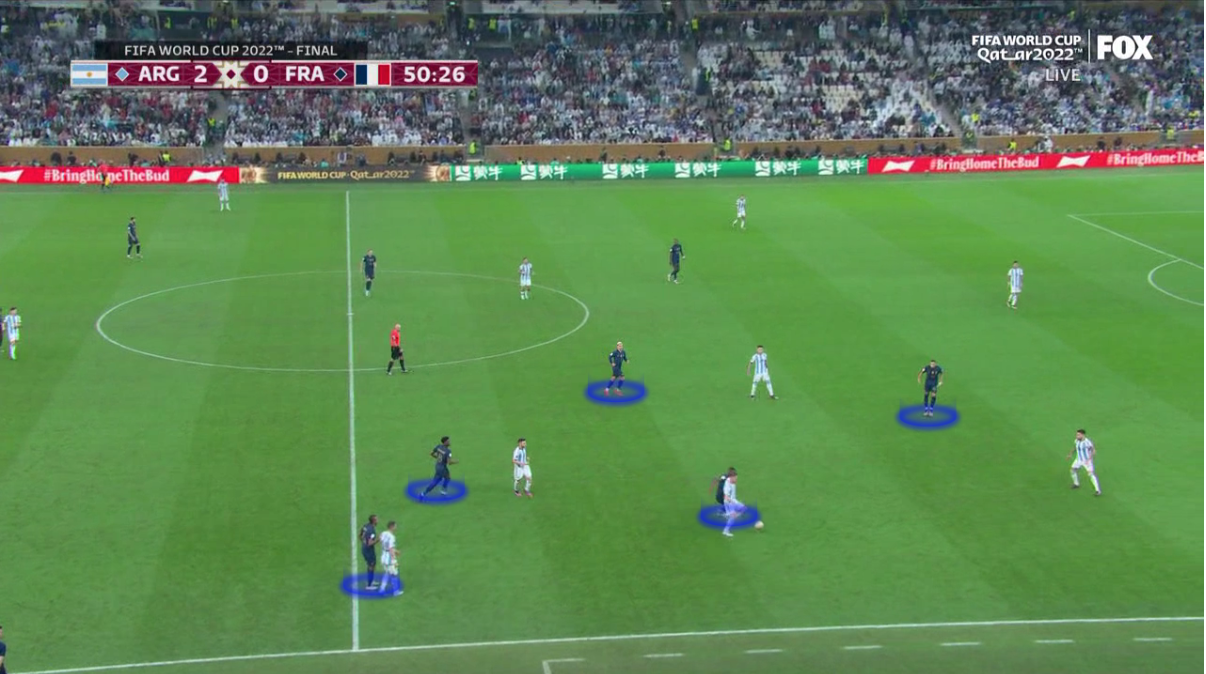 Argentina's Progression (Second Phase of Build-up) and Final Third Possession:
During such a phase, Argentina were shifting between more than one shape: 3-4-3, 2-2-6, and 3-3-4. Enzo Fernández was dropping between or closer to the centre backs while and the full-backs move forward, and stretching the pitch's width to the maximum (in case Molina as Di María played the same role on the left flank). Messi was roaming between the right half spaces and central areas while MacAllister was free to roam between the lines.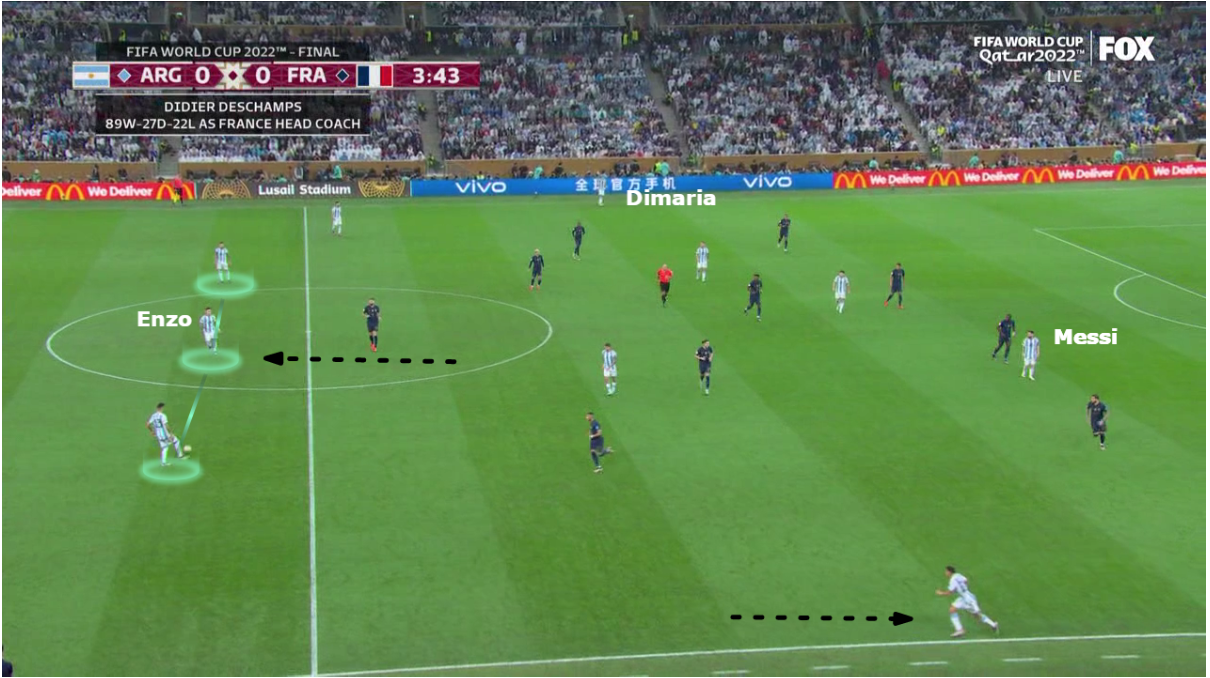 On the other hand, France relied on a 4-3-3-shaped mid-block with Griezmann joining Giroud and  Mbappé in the first line of pressure, while Ousmane Dembélé retracted to Rabiot and Aurélien Tchouaméni right side, but as Argentina could progress the ball forward, Griezmann was dropping back centrally to shift the shape to 4-4-2.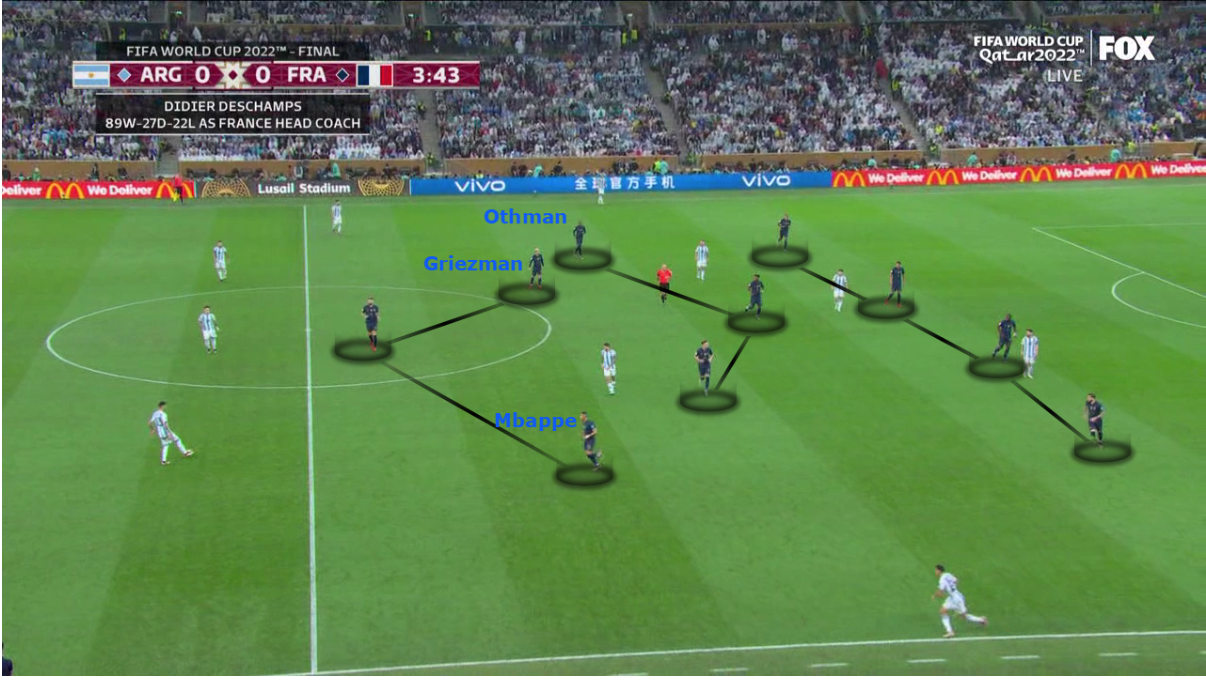 With the 3-3-4 shape, Argentina were targeting 1V1 situations for Di María with time and space to receive the ball against Jules Koundé as Tagliafico was relatively conservative to draw Dembélé and MacAllister attracting Koundé's attention in the left half-spaces.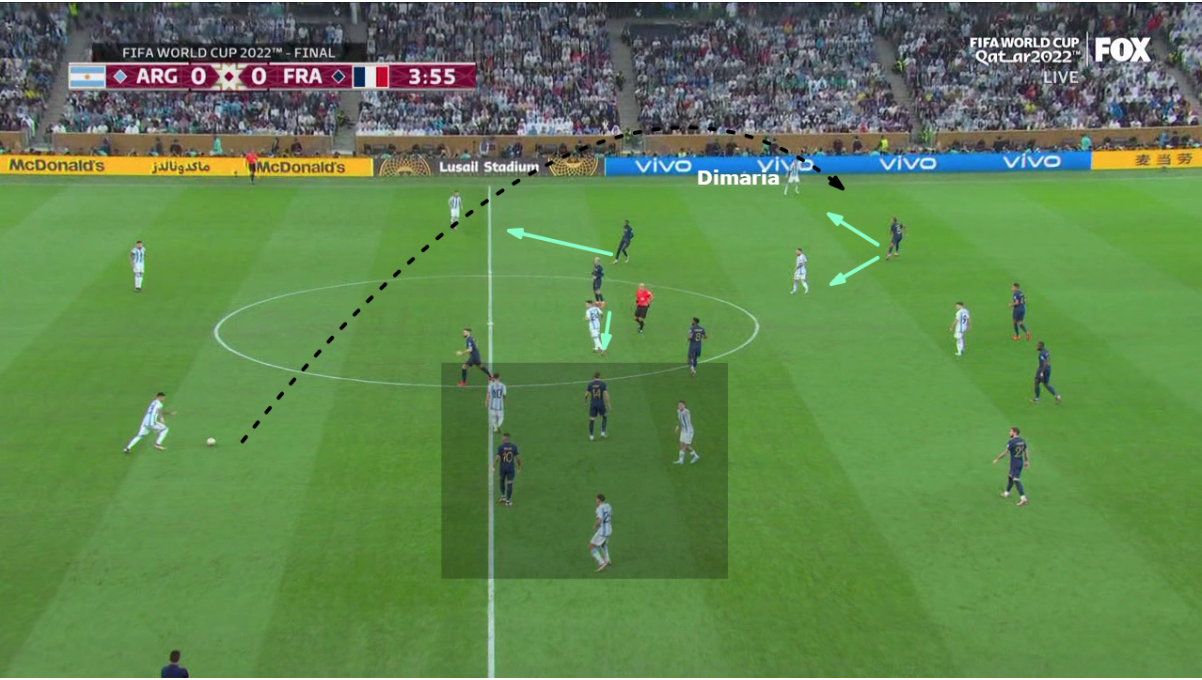 Positional rotation was dynamically applied especially on the right flank, when De Paul was drifting wider to allow room for Messi to drop deeper in central areas to receive the ball freely and create the same 1V1 situations for Di María against Koundé (which is clarified well in Di María actions maps below). The French full-back was deprived of his teammates support as MacAllister and Álvarez were pinning Griezmann and both of France's centre backs respectively.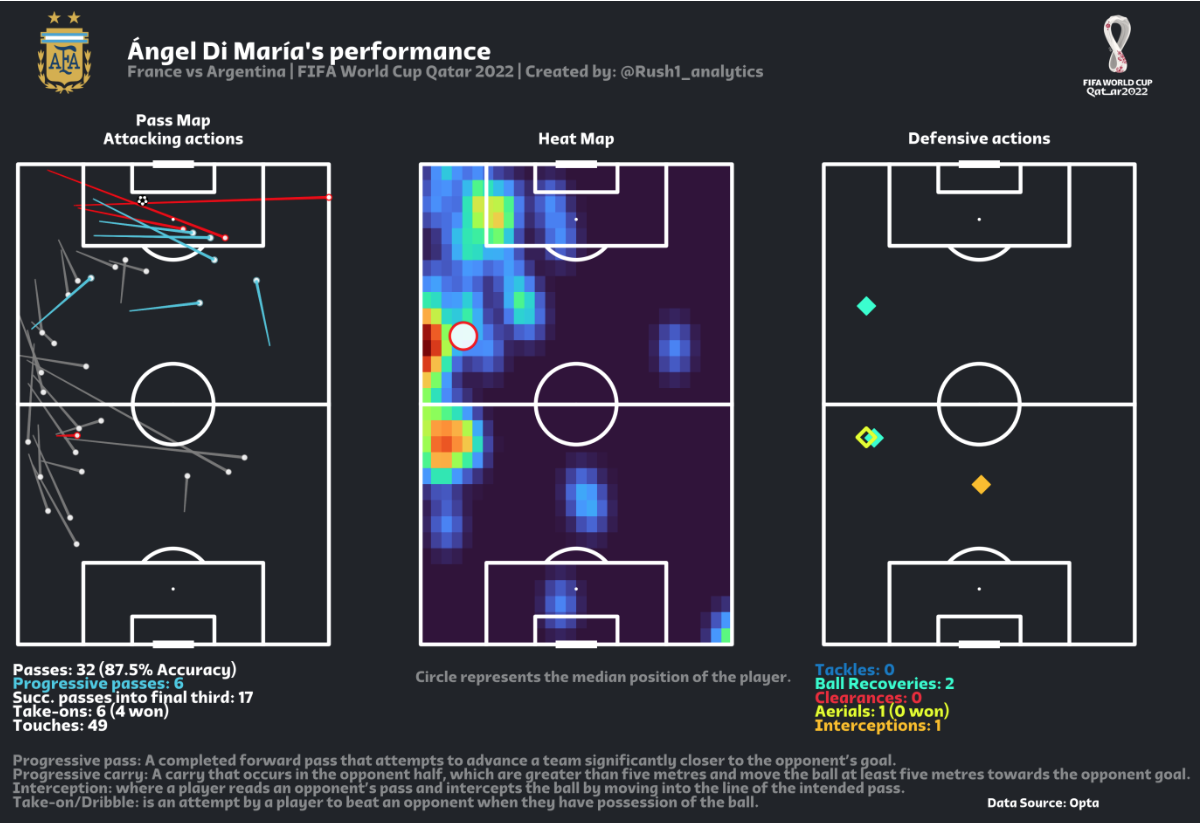 Data source: Opta – Created by: @Rush1_analytics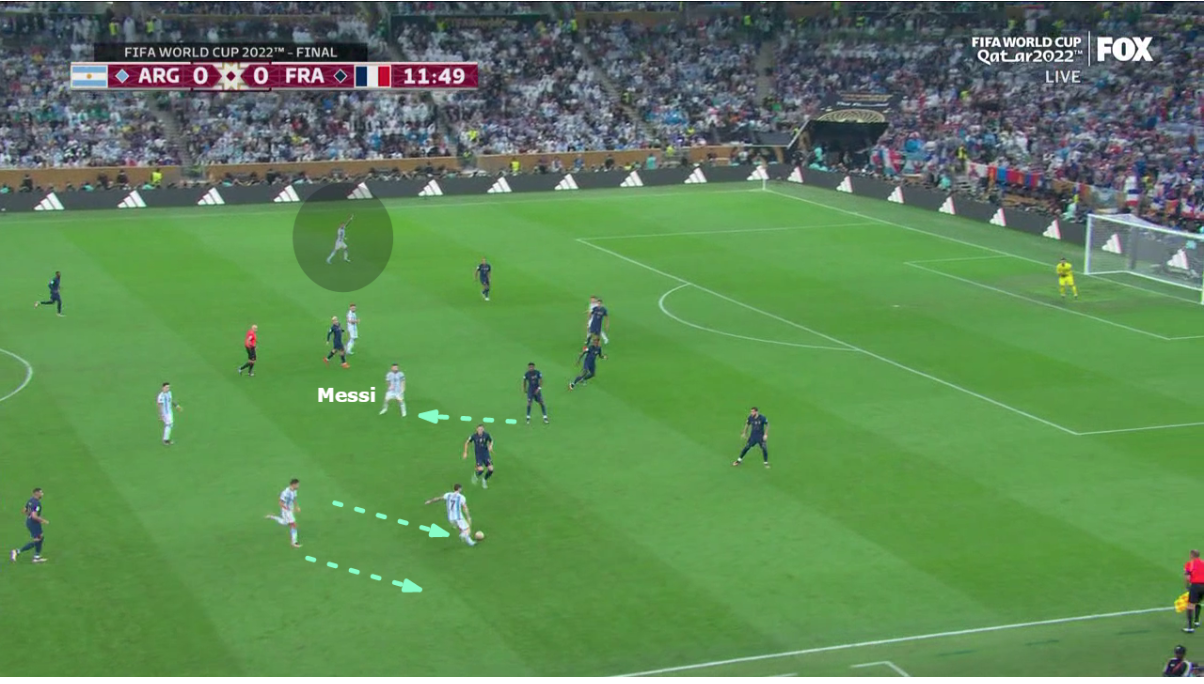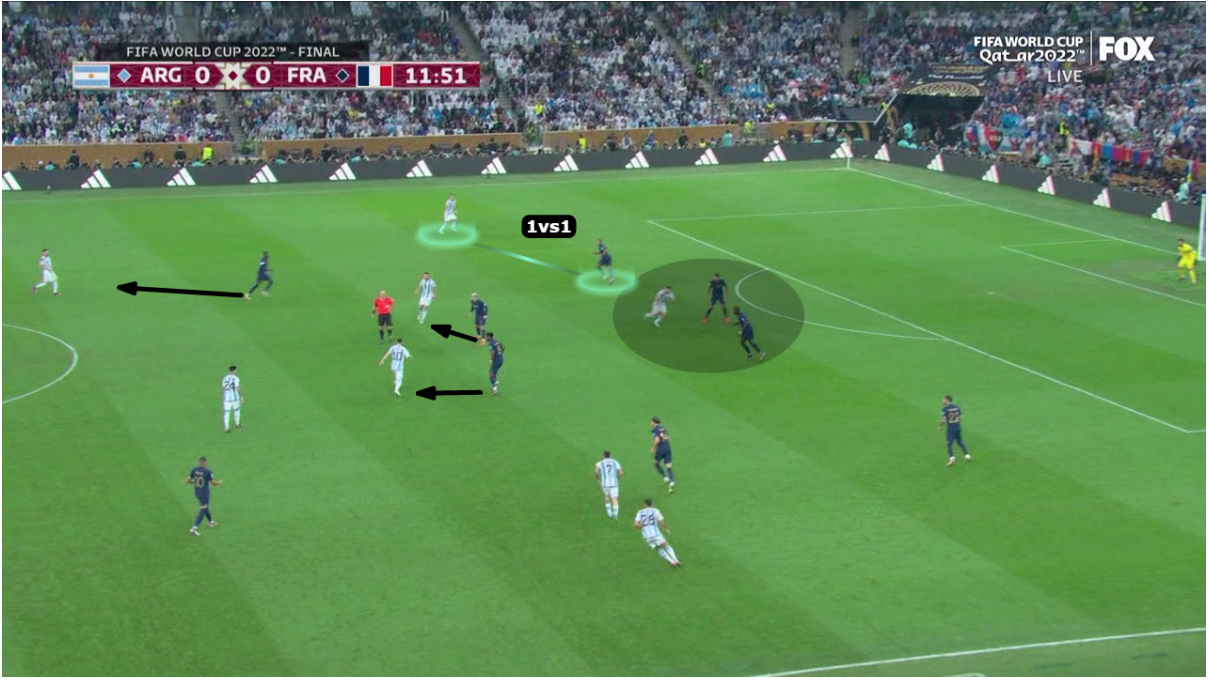 Argentina exploited the France players' poor positioning in defensive situations, as well as some defects in the pressing process, such as Giroud, Mbappé, Griezmann, and even Dembélé sometimes, by creating numerical superiorities on both flanks. Even when France's pressing shape shifted to the overloaded side, Argentina did not face any difficulties to deliver back passes and then switches to the opposite side to look for 1v1 situations again.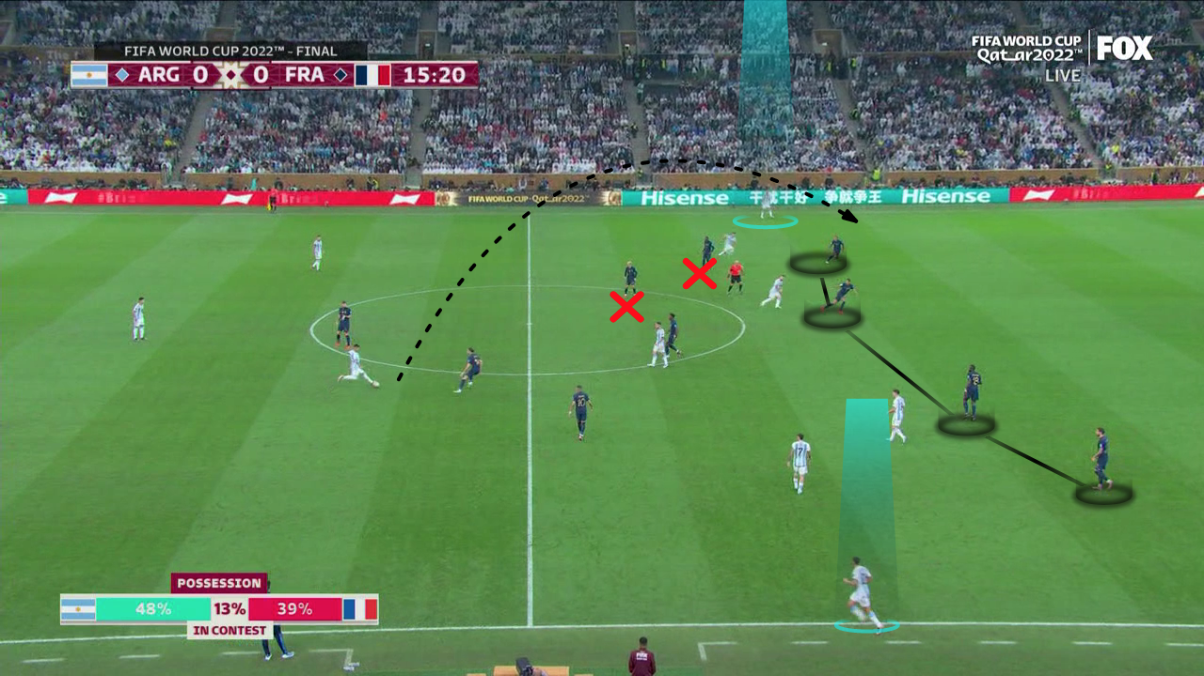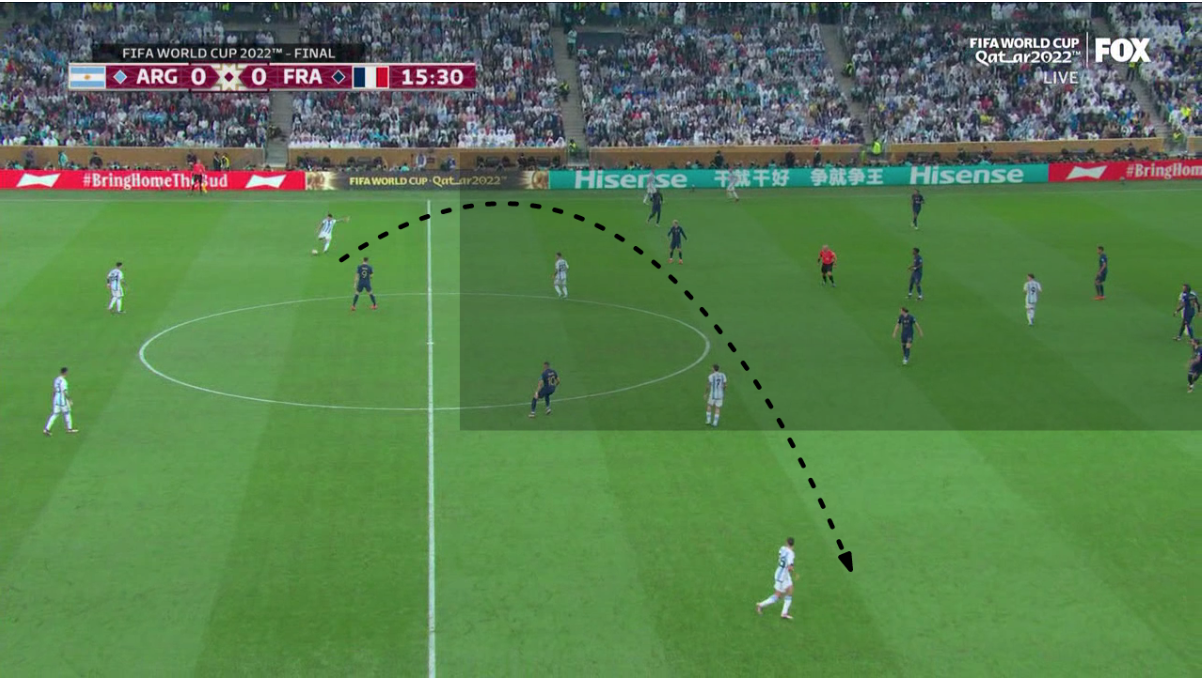 One other pattern that Scaloni used during such phases was 2-2-6, as De Paul drops back beside Enzo Fernández while MacAllister jumped higher. This shape ensured more passing options for any of the ball carriers while expanding the vertical space between France's first and second lines of pressure, and the defects in the pressing process for France's front three made sides overload, back passes and switches really easy for Argentina.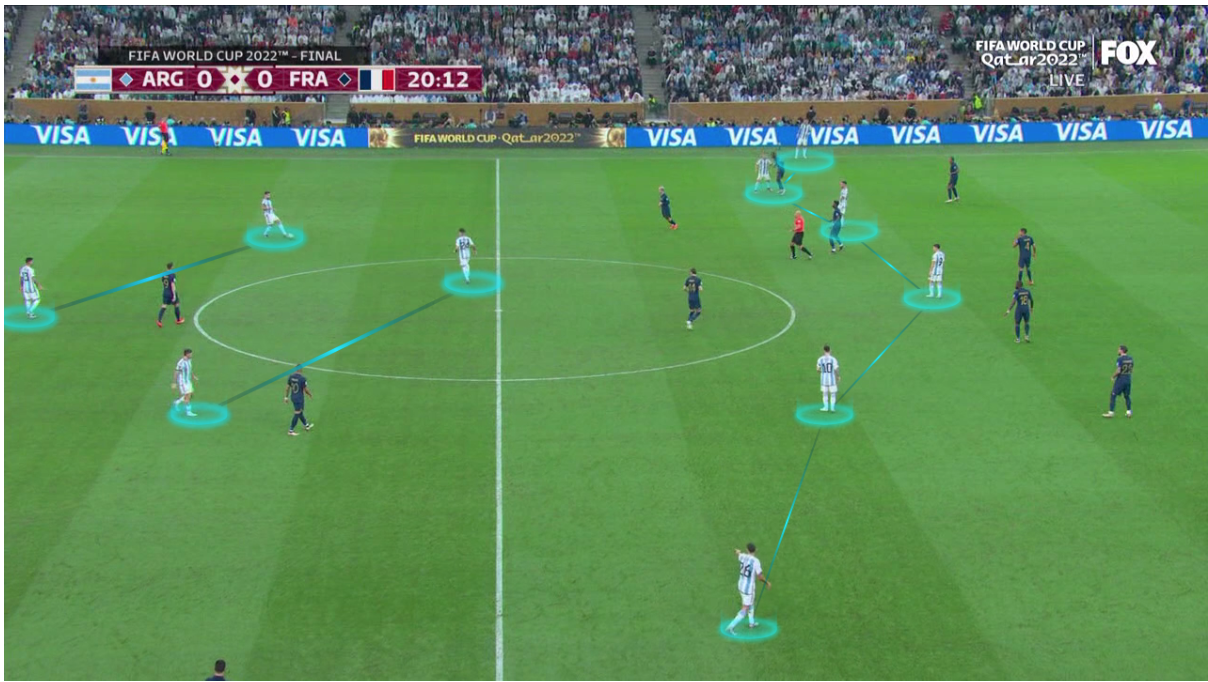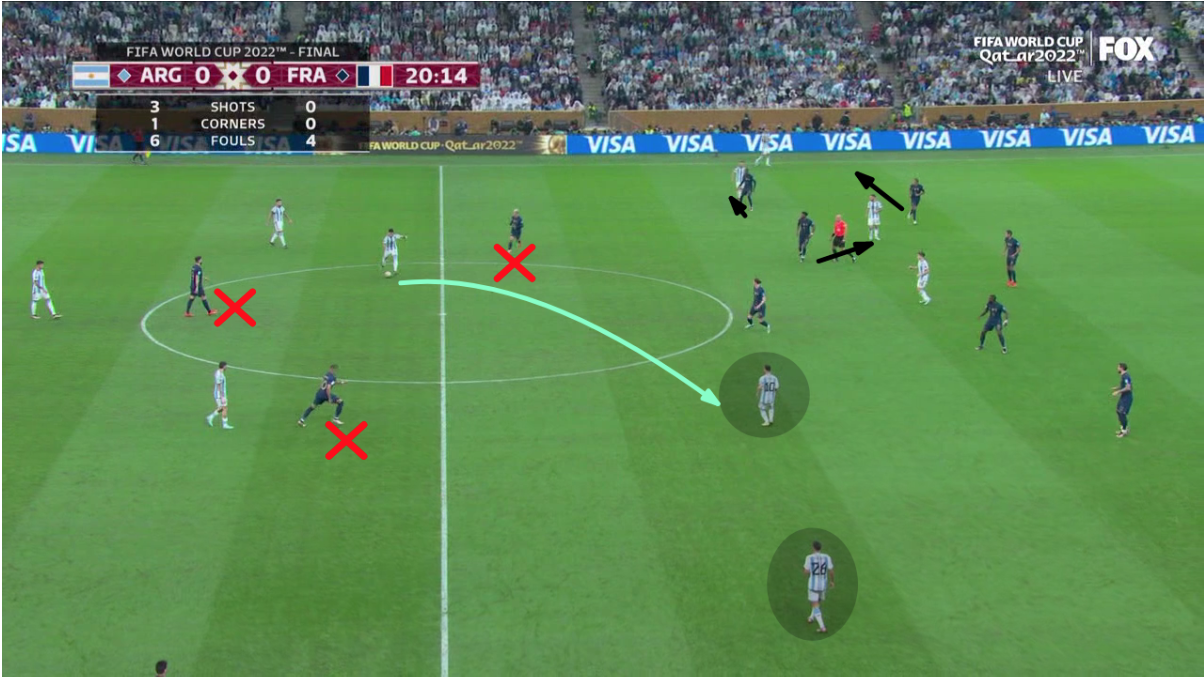 France's pressing improved as Marcus Thuram and Randal Kolo Muani were introduced before halftime for Olivier Giroud and Ousmane Dembélé due to their aggressive pressing and their ability to close passing lanes towards Argentina's attackers. That made a positive effect on improving the whole team's defensive structure, hence decreasing the threat from Argentina's left flank as the passing combination in that area became much more difficult than before.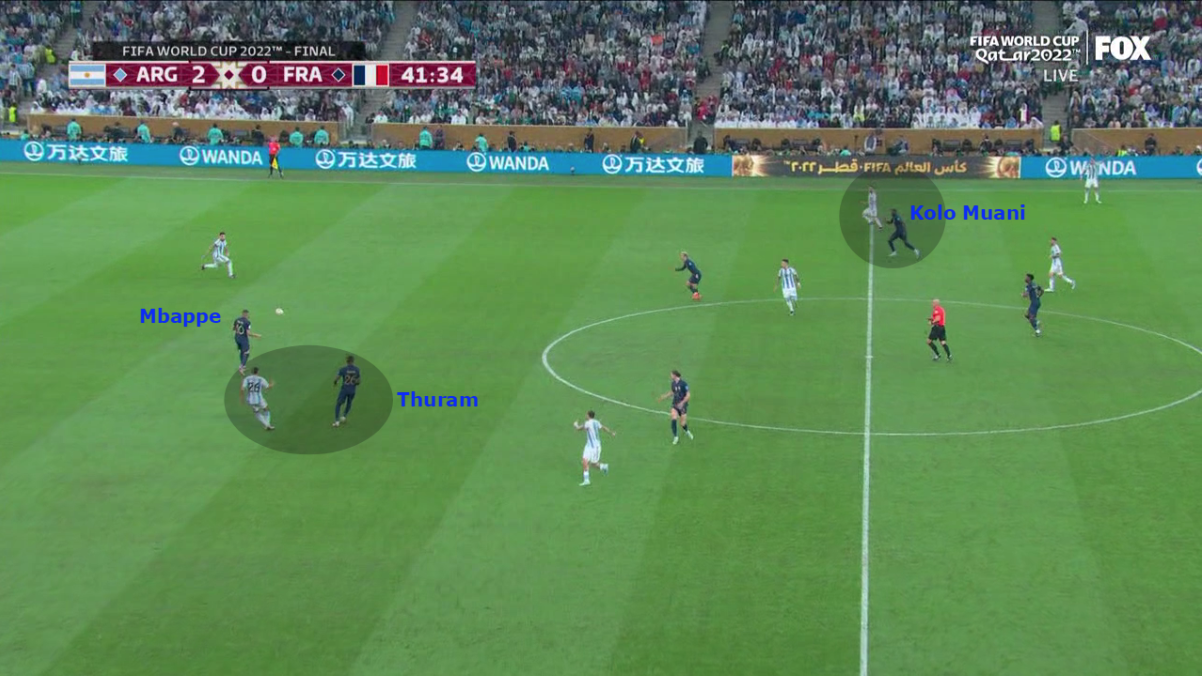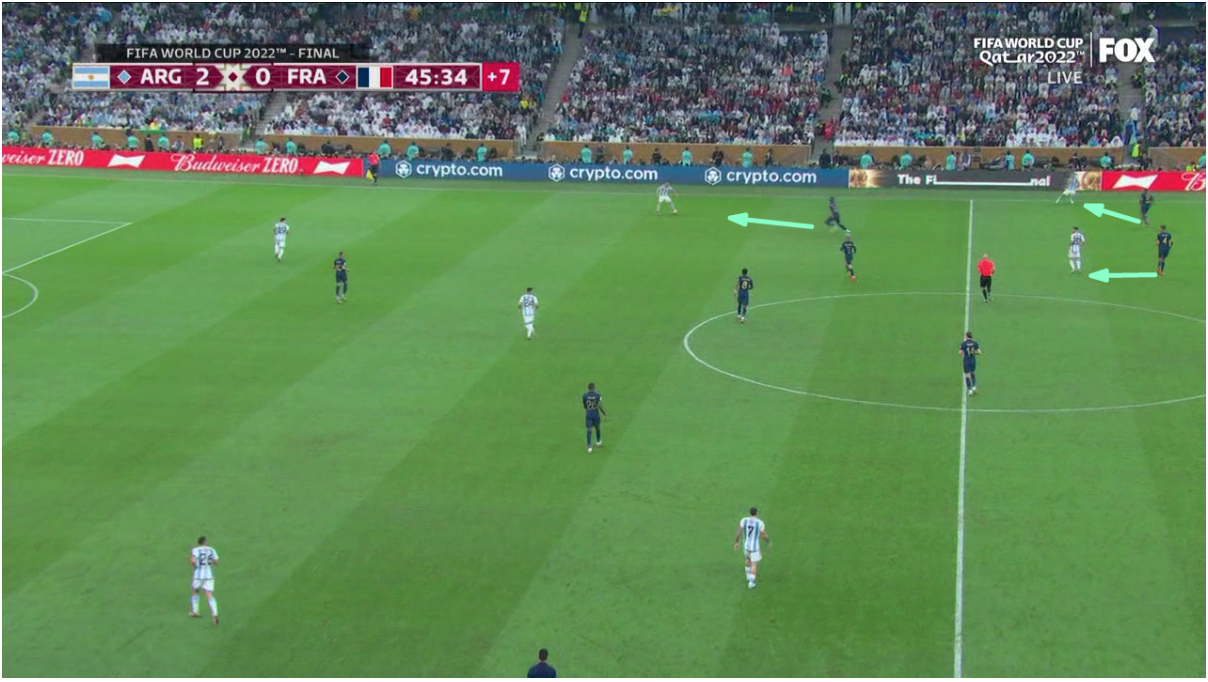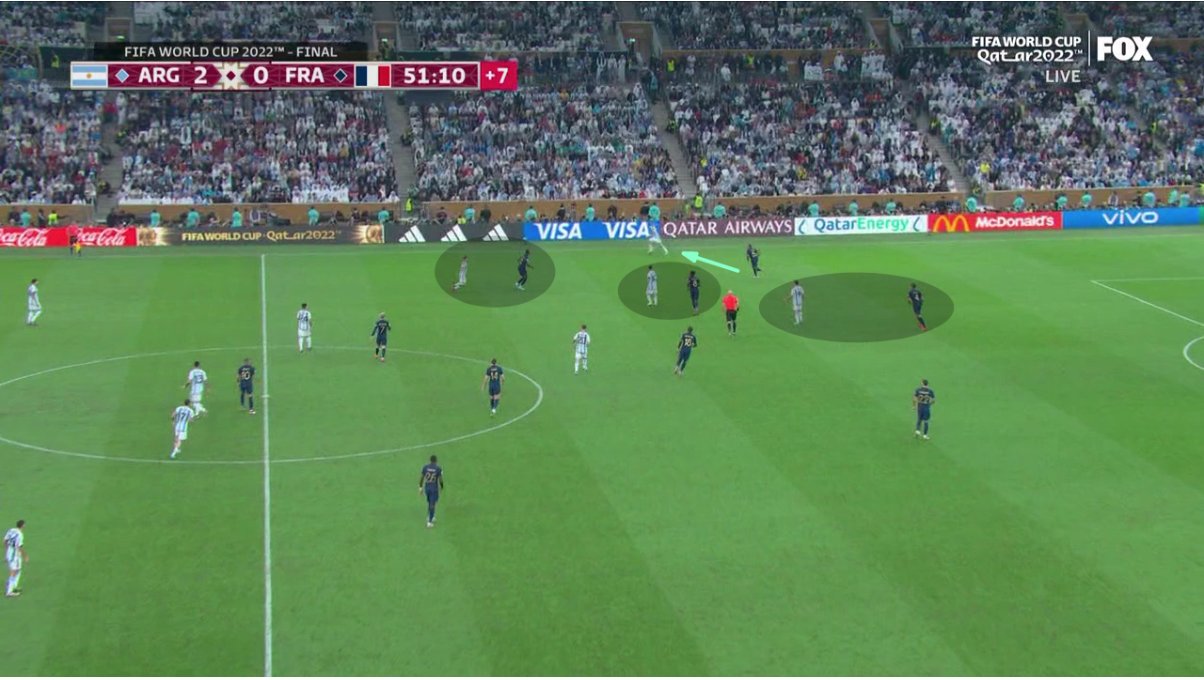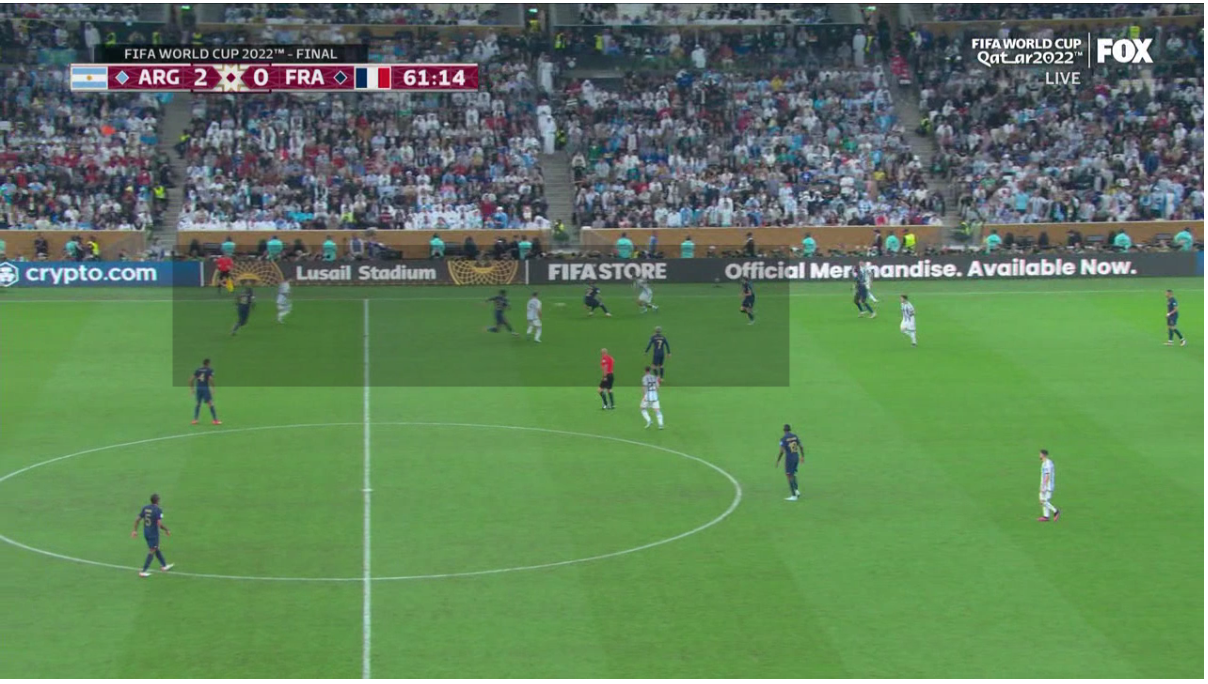 Argentina's Attacking Transitions
In this phase, the focus will not go to Lionel Messi as in most of the previous games, keeping in consideration that he had a great game and generally an awesome whole tournament performance, but during transitions, MacAllister was really impressive and eye-catching. His action map (below) provides evidence of his positional awareness and ability to occupy empty spaces in Argentina's left channels or even central areas vertically along the pitch. The same was obvious not only in organized play phases but also during transitions through which he could also excel to deliver passes out wide within France's defensive third of the pitch.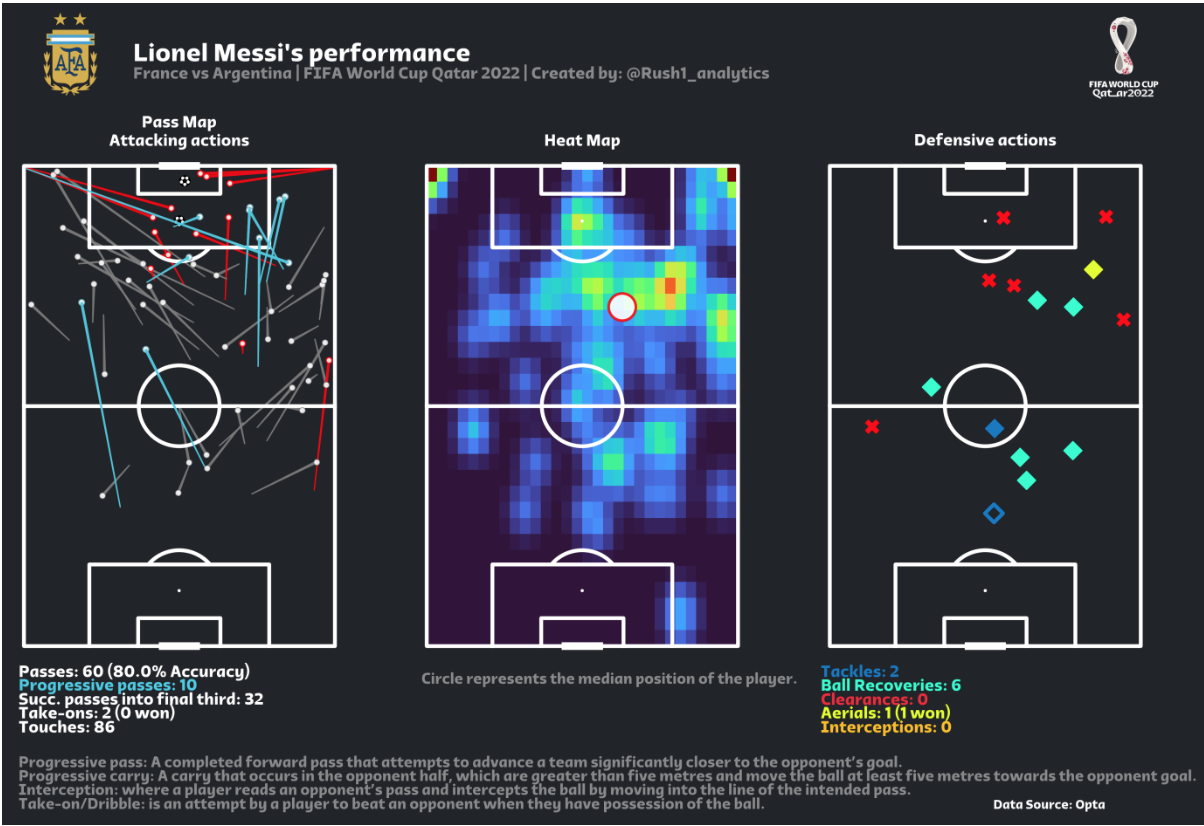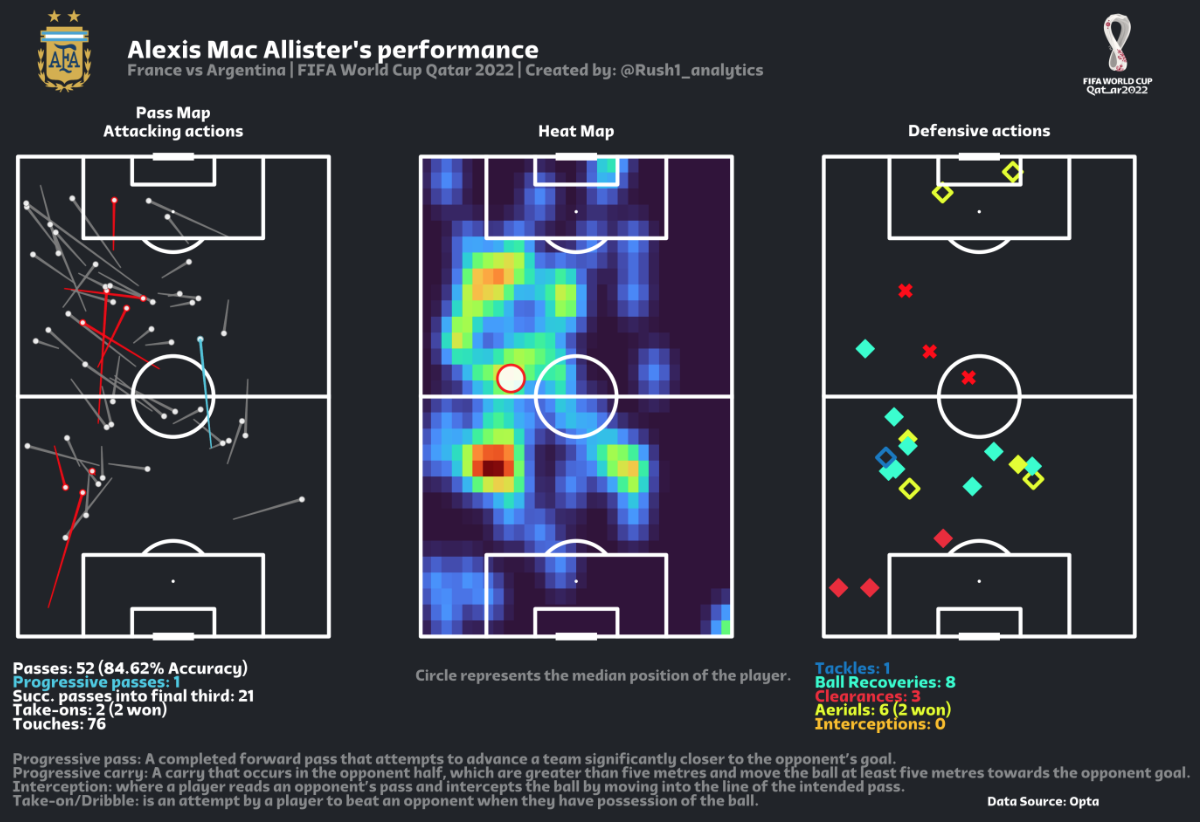 Data source: Opta – Created by: @Rush1_analytics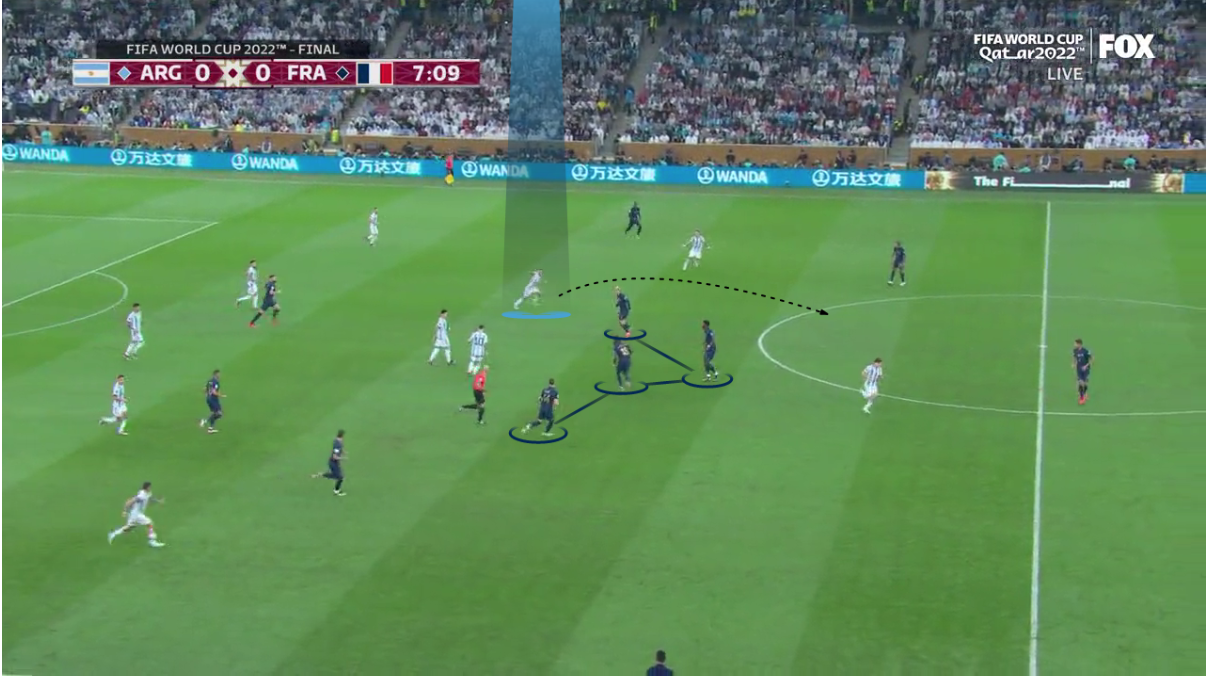 The below screenshots clarify how well he could receive, stay on the ball, dribble and make progressive carries under pressure from even France's four Midfielders. MacAllister used well the "pass and move" technique in starting passing combinations with his attacking teammates than attacking the most valuable spaces towards the opponent's goal.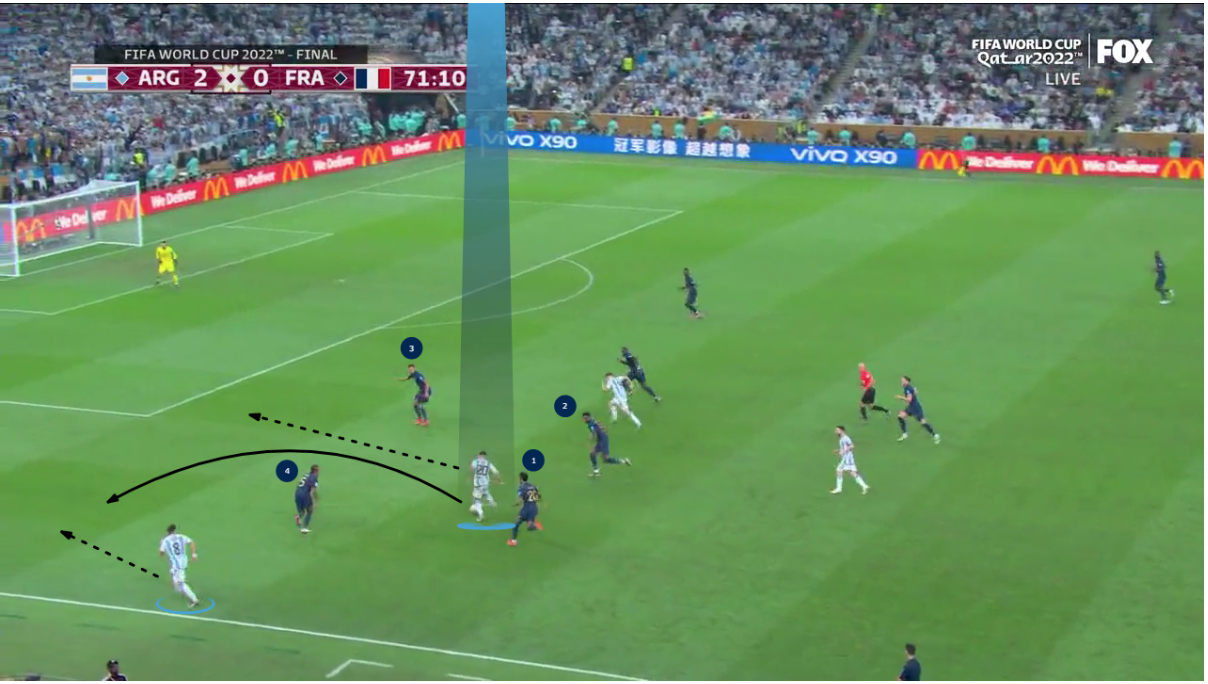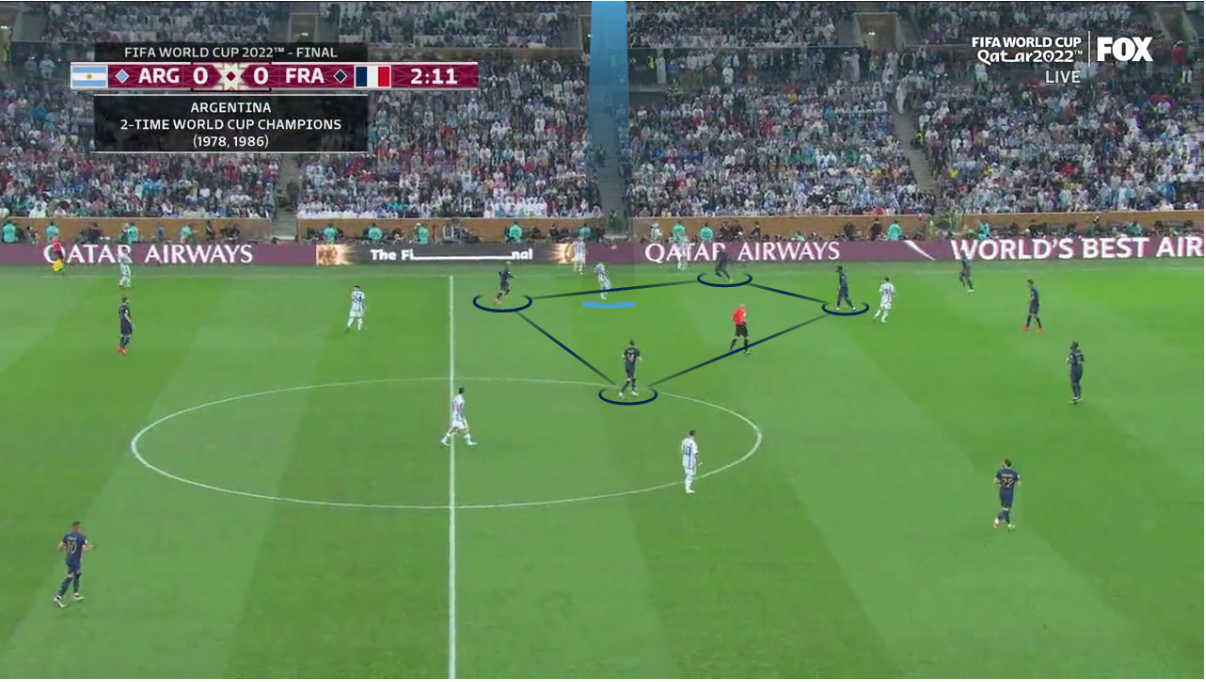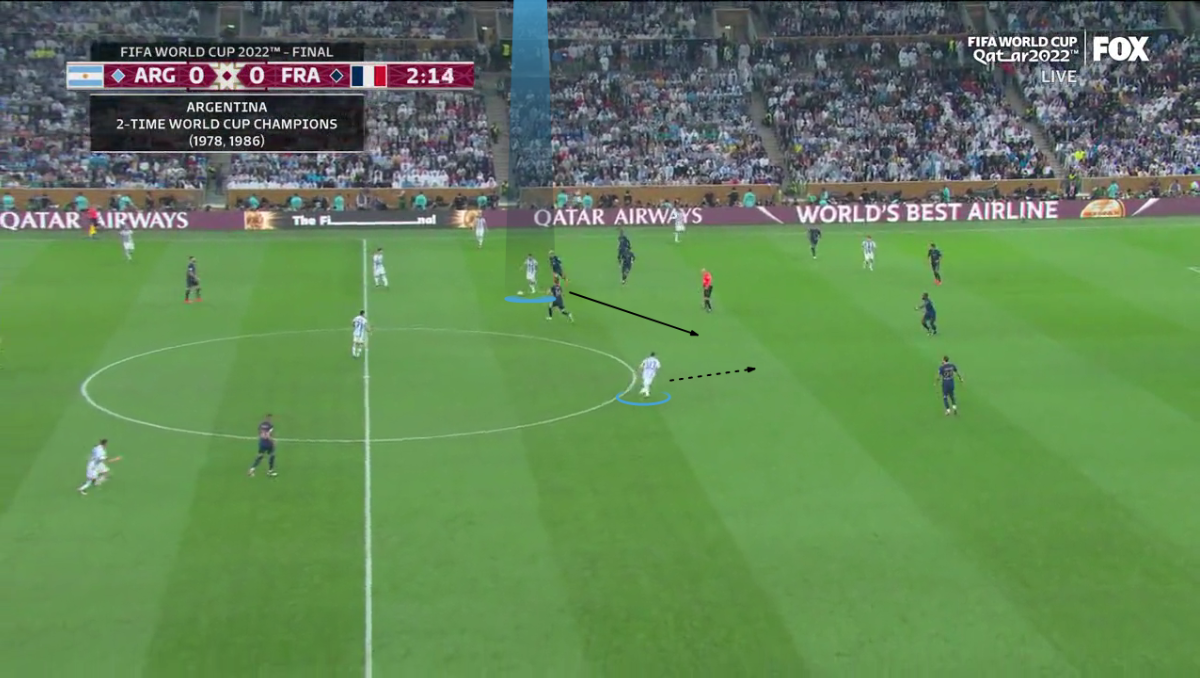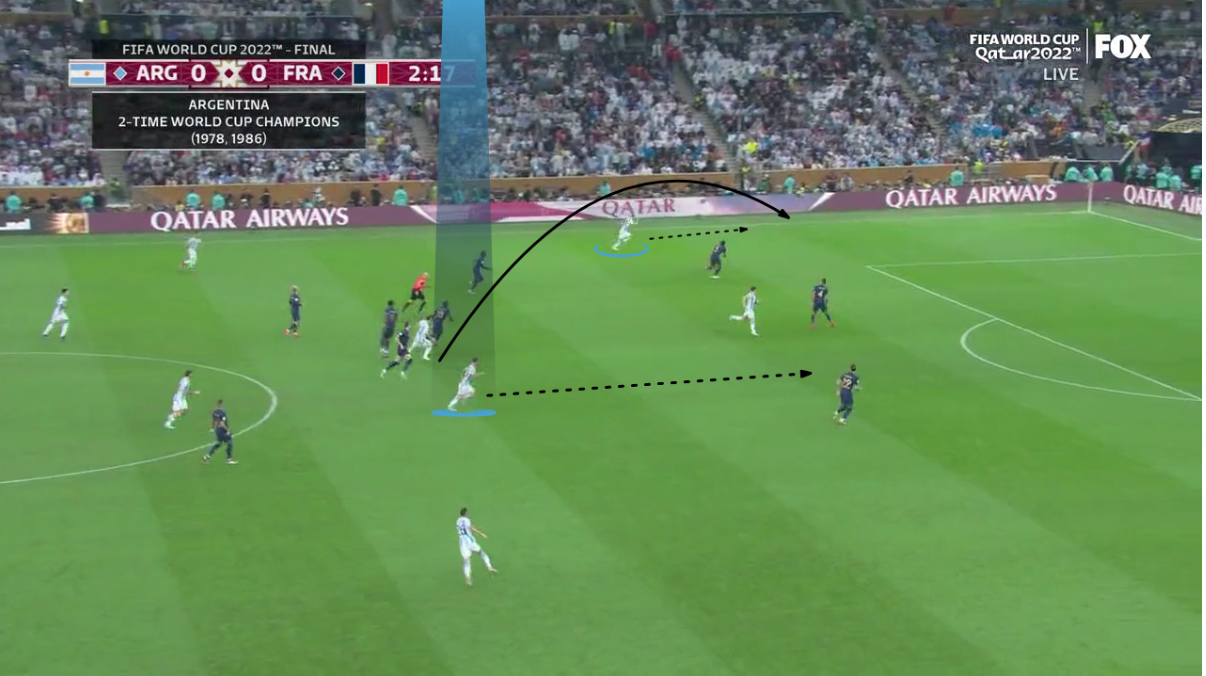 The most spectacular scene which would be remembered for a long time was his involvement in Argentina's second goal where he could apply all of the above-mentioned skills and even more: Occupying the empty space in central areas, scanning to notice Tchouaméni position on the pitch and his pressing direction as well as noticing that Messi was free and calling for the ball, receiving the ball with one touch pass to his captain just before making the body feint to evade Tchouaméni and attacking the empty huge space behind him in order to receive the ball again and deliver the assist to Di María.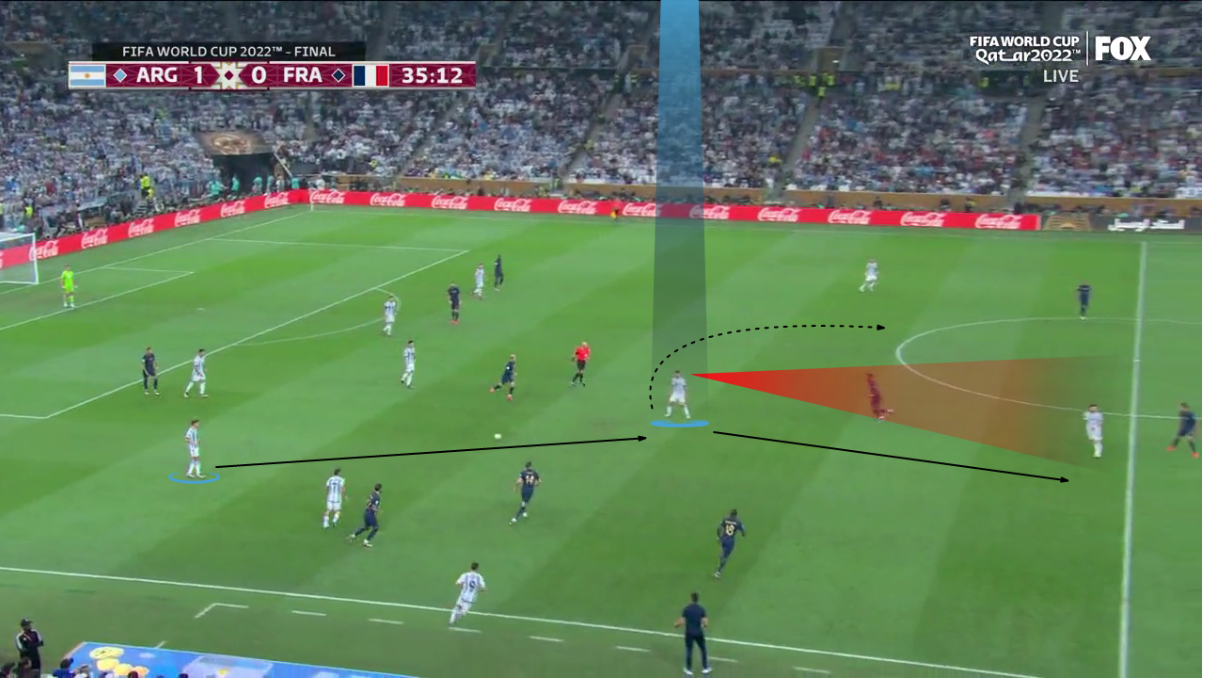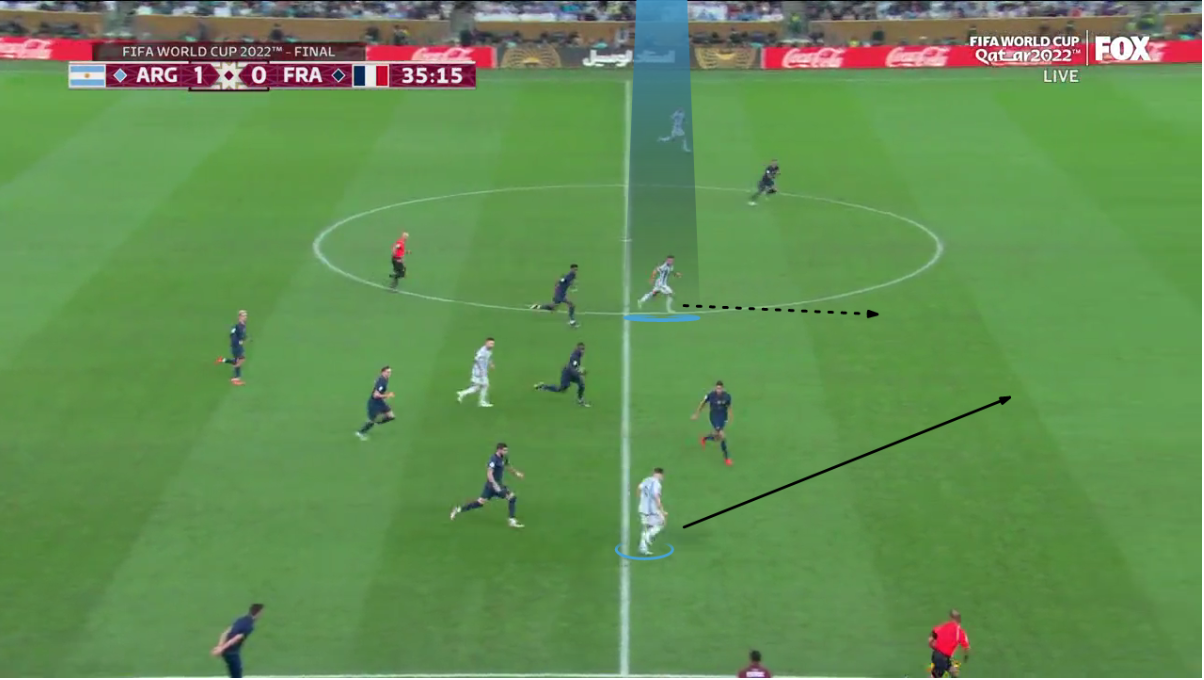 France's Progression/Final Third
The most important ideas Didier Deschamps was trying to apply while his team was in possession were based on:  Stretching the pitch width to the maximum by Ousmane Dembélé and Theo Hernández stretching the field to ensure time and space on the ball for the isolated wide player when switching the ball's direction from the back line.
In addition, Kylian Mbappé out to in movement grabbing Cristian Romero and Nahuel Molina's attention ensured the previously mentioned idea to be granted for Theo Hernández. Meanwhile, Argentina's mid-block was careful enough to prevent their opponents' central progression although the latter had numerical superiority along the mid-third of the pitch.
This issue was a result of the fact that Argentina's front three were pressing France's centre backs and Jules Koundé; while Julián Álvarez was also shadow-covering Aurélien Tchouaméni while applying direct pressure against Raphaël Varane. France were then forced to progress towards the flanks via full-backs and as this was happening, Argentina midfielders were rapidly shifting towards the ball direction to press the ball and prevent progression.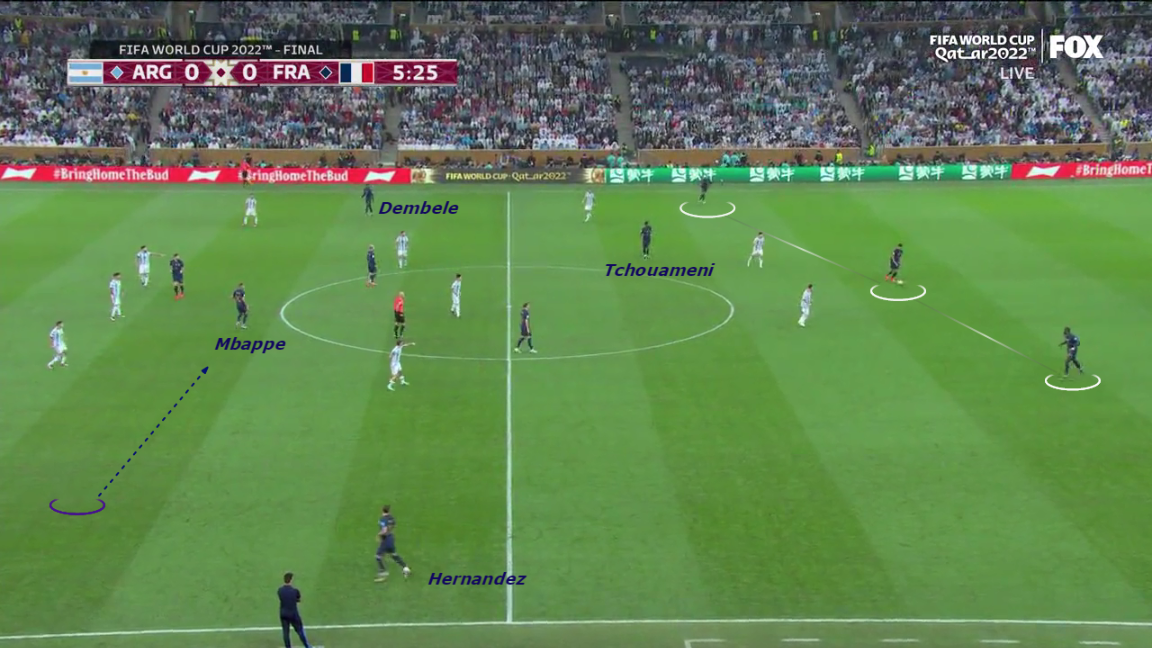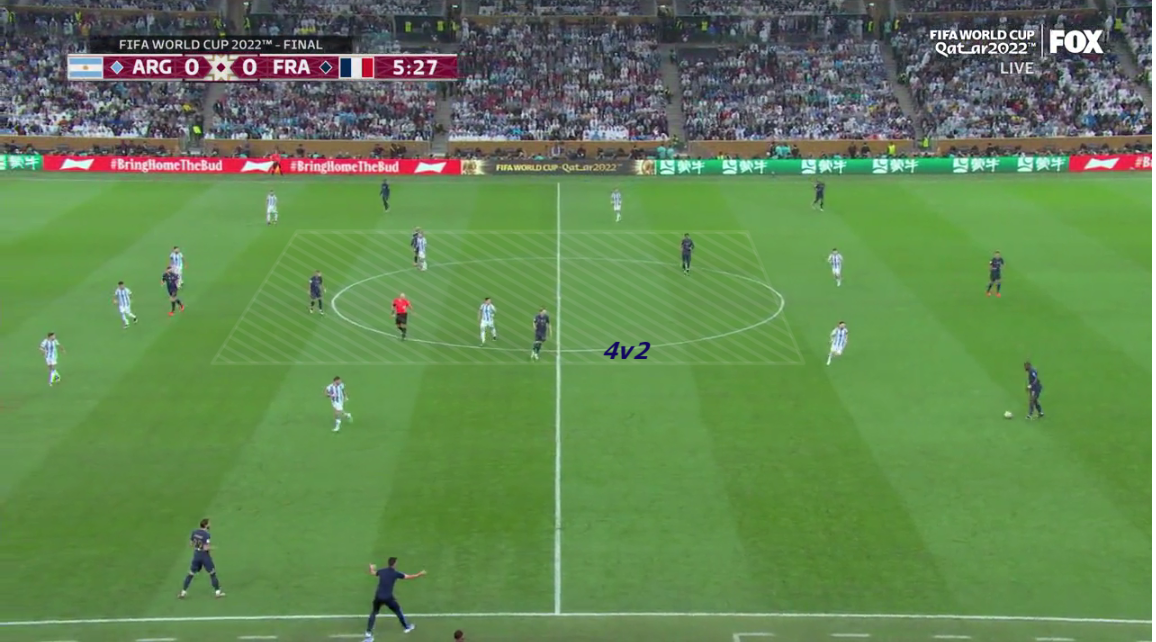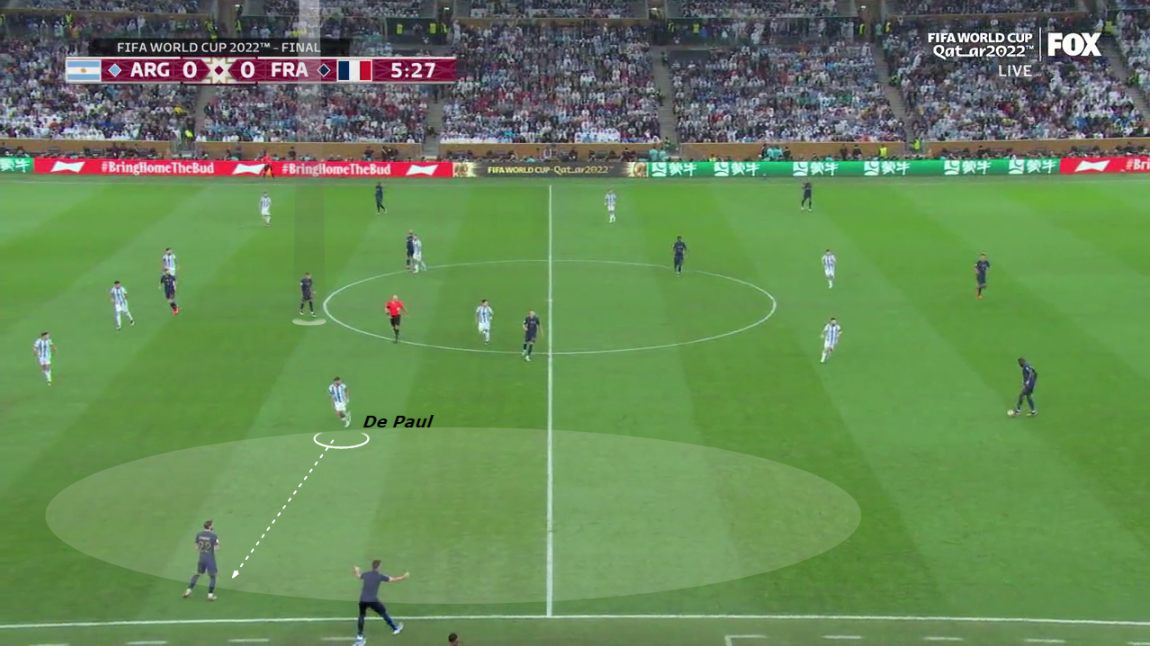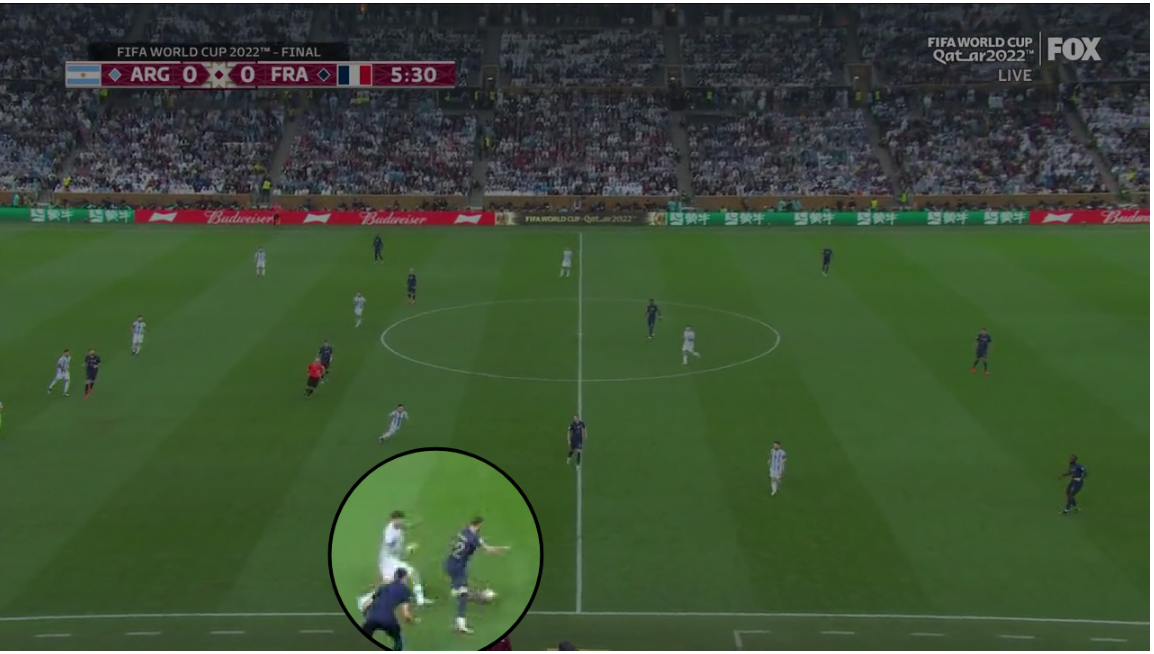 To solve this issue, Oliver Giroud dropped down often to receive the ball and link up play; but he has been followed by Nicolás Otamendi, yet the ball hasn't been passed to him.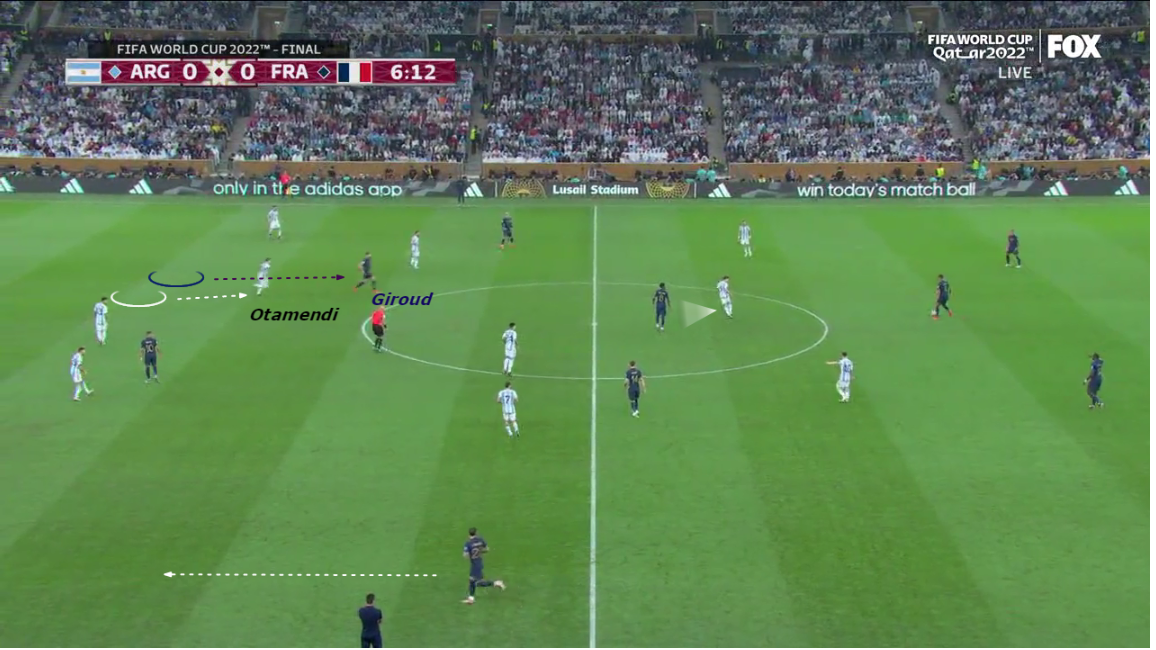 France kept rotating the ball under Argentina's front three pressing, and as the ball was covered, this gave Argentina's block the chance to advance and make the pitch smaller. As another solution to progress the ball forward, Griezmann and Rabiot dropped along the half-spaces to provide passing options, as Tchouaméni was shadow-covered by Álvarez. However, Mac Allister and De Paul kept close to them. Dembélé also dropped to ensure he had time on the ball before Tagliafico got out of position to press him, he could find Griezmann unmarked, but it ended with a tactical foul for France.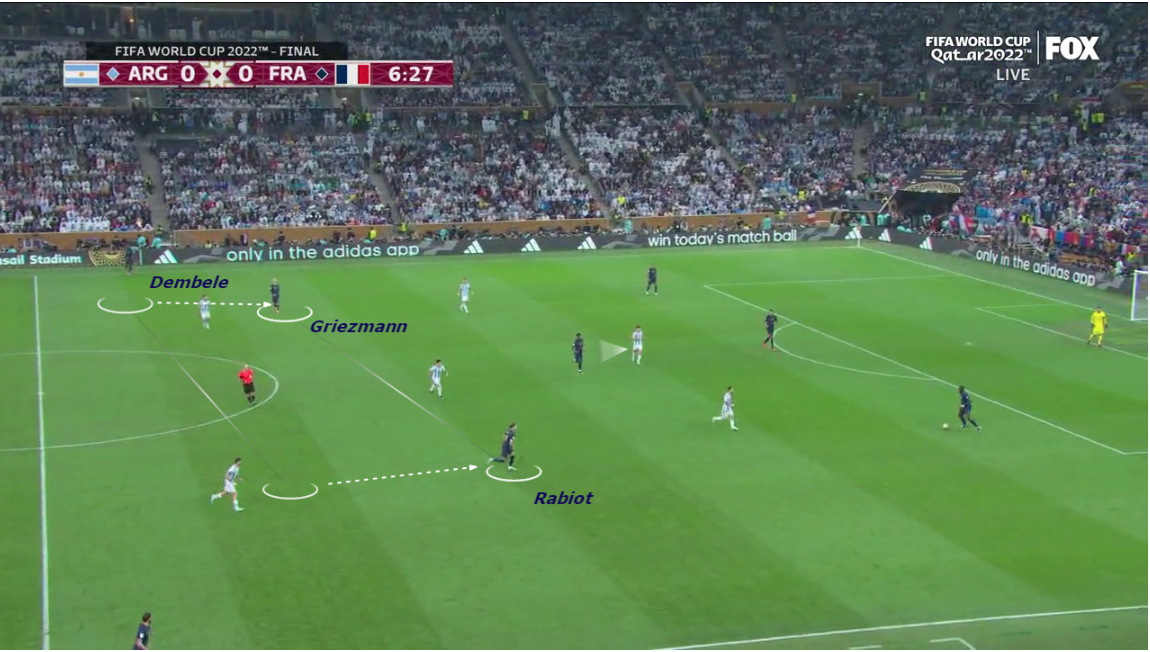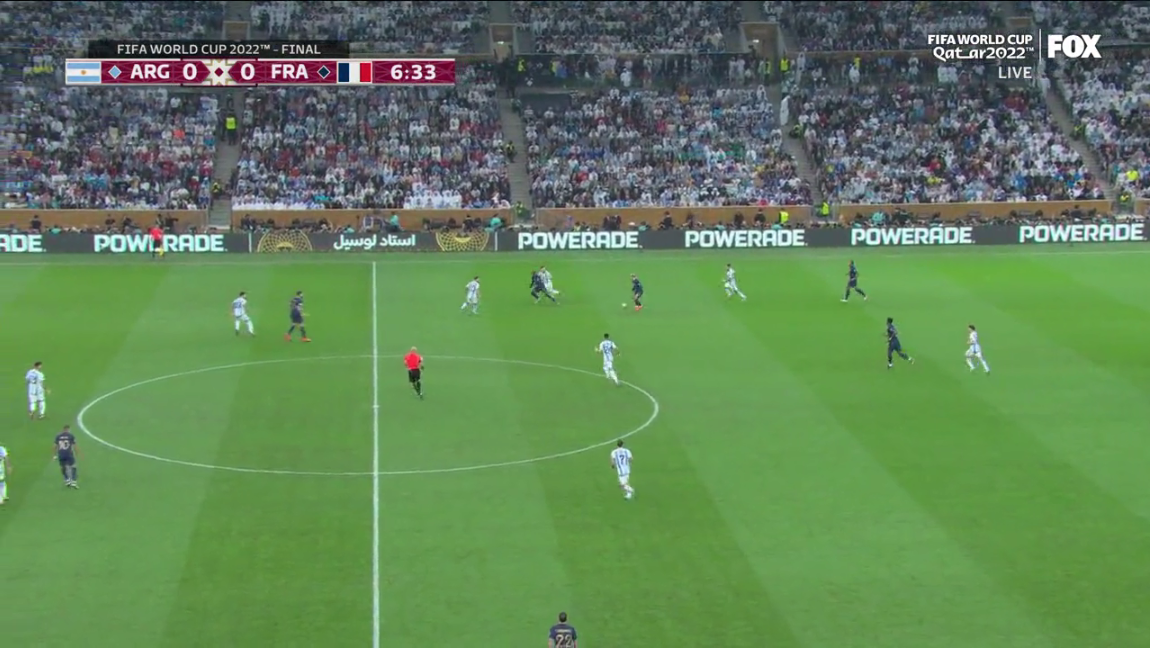 Tchouaméni and Griezmann's key movements have led to the first potentially patterned threatening attempt. It all started when Álvarez pressed Tchouaméni instead of shadow-covering him, this gave the latter a chance to manipulate the Manchester City striker away from the ball side so that Raphaël Varane could gain time on the ball.
Meanwhile, Griezmann dropped and drifted wider to escape from MacAllister's marking and call for the pass and once he received the ball, France started to overload the right flank with Giroud, Dembélé, Rabiot, Tchouaméni and Koundé in order to isolate Theo Hernández at the opposite direction; which was mainly their tactical pattern from the beginning. Although Dembélé with a highly skilled vision could find the isolated Hernández with a switch, but the latter along with Kylian Mbappé took too much time on the ball which gave Argentina the chance to retract back.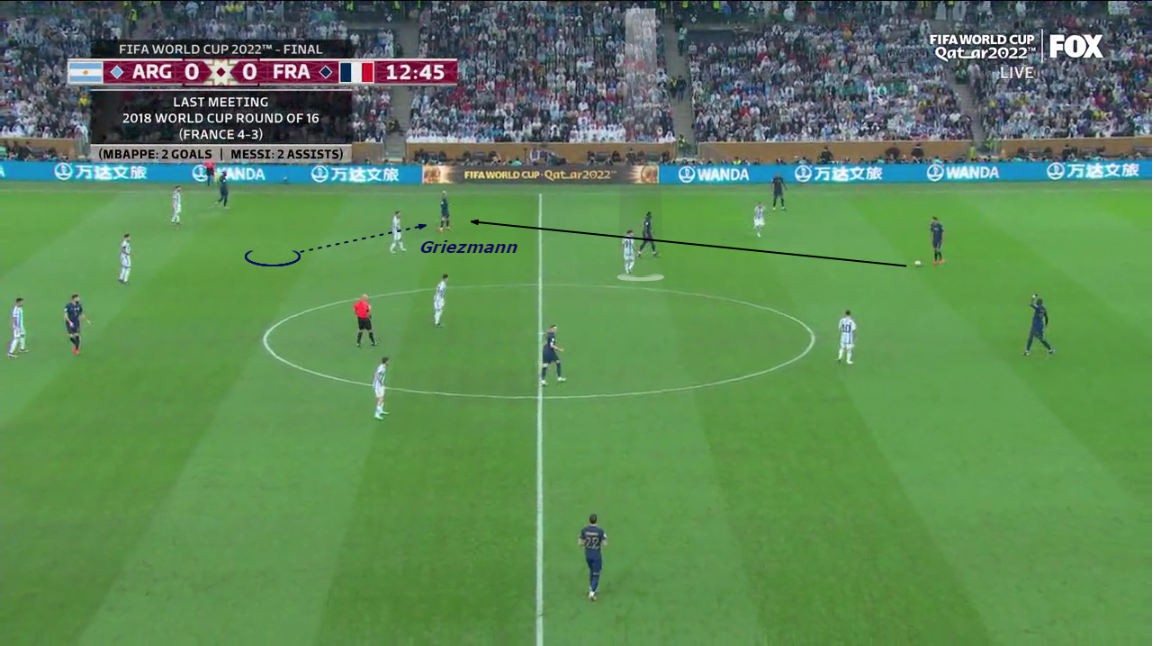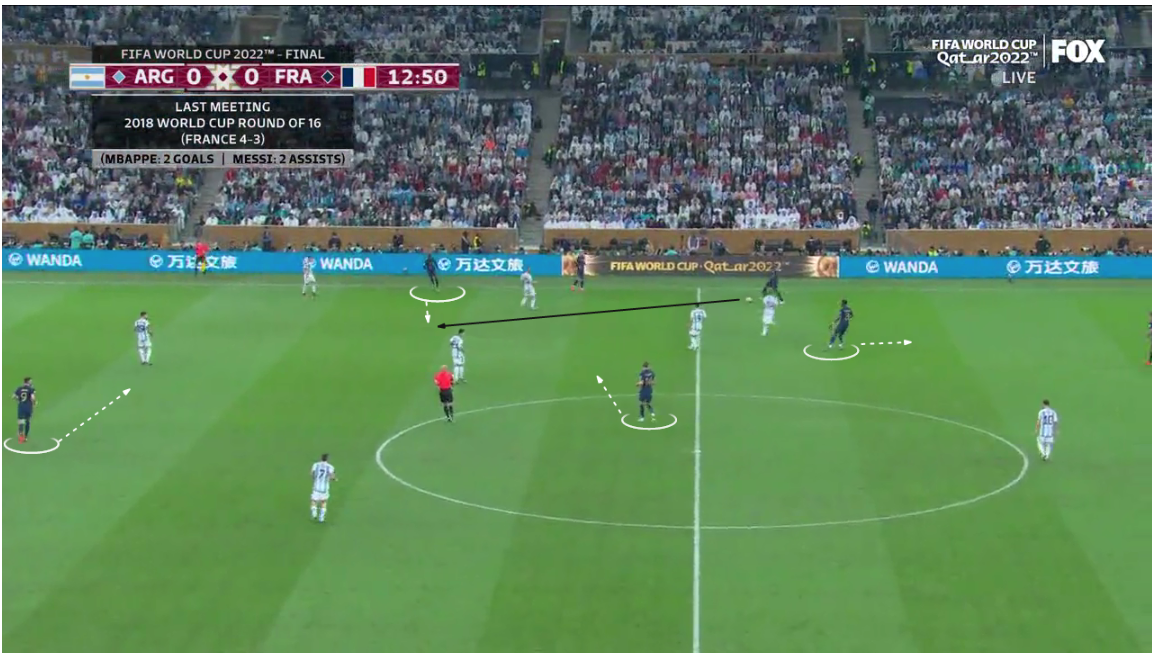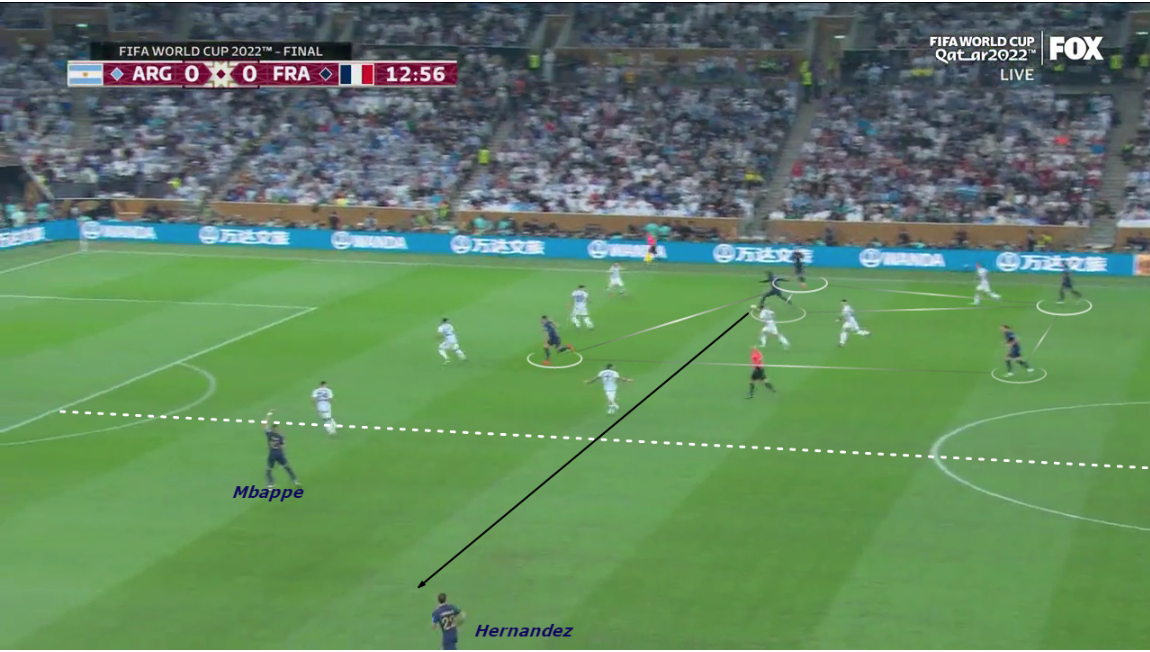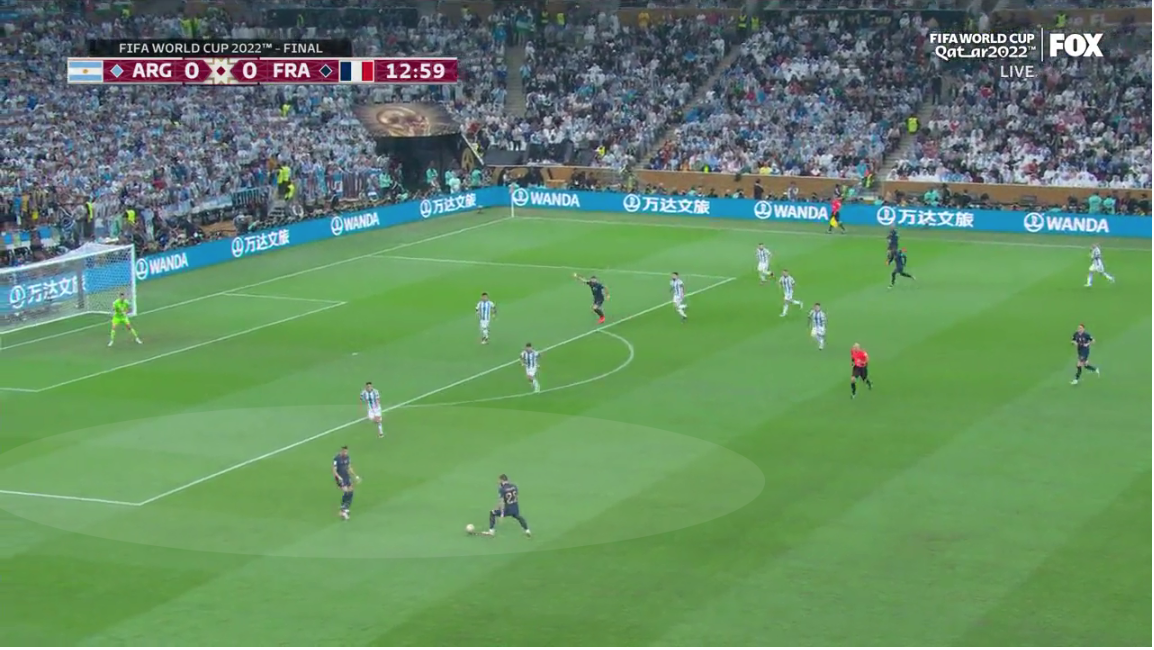 After conceding two goals, Deschamps has given Tchouaméni and Hernández more tolerance to drop deeper to progress the ball forward, then the latter could make his forward run in space, being unmarked aided by Mbappé positioning more centrally.  As they did before, France started to overload the right side, but this time Rodrigo De Paul was aware enough of what is going on.
As Mbappé was pinning Enzo Fernández, De Paul asked Molina to cover the space Hernández could exploit.  And knowing that the key movement was Grizemann escaping away from MacAllister, De Paul also shouted to Brighton's midfielder to keep his eyes fixed on Grizemann; and Argentina could win the ball back due to De Paul's high awareness of one of the best performing players during the whole tournament (as his actions maps clarify below).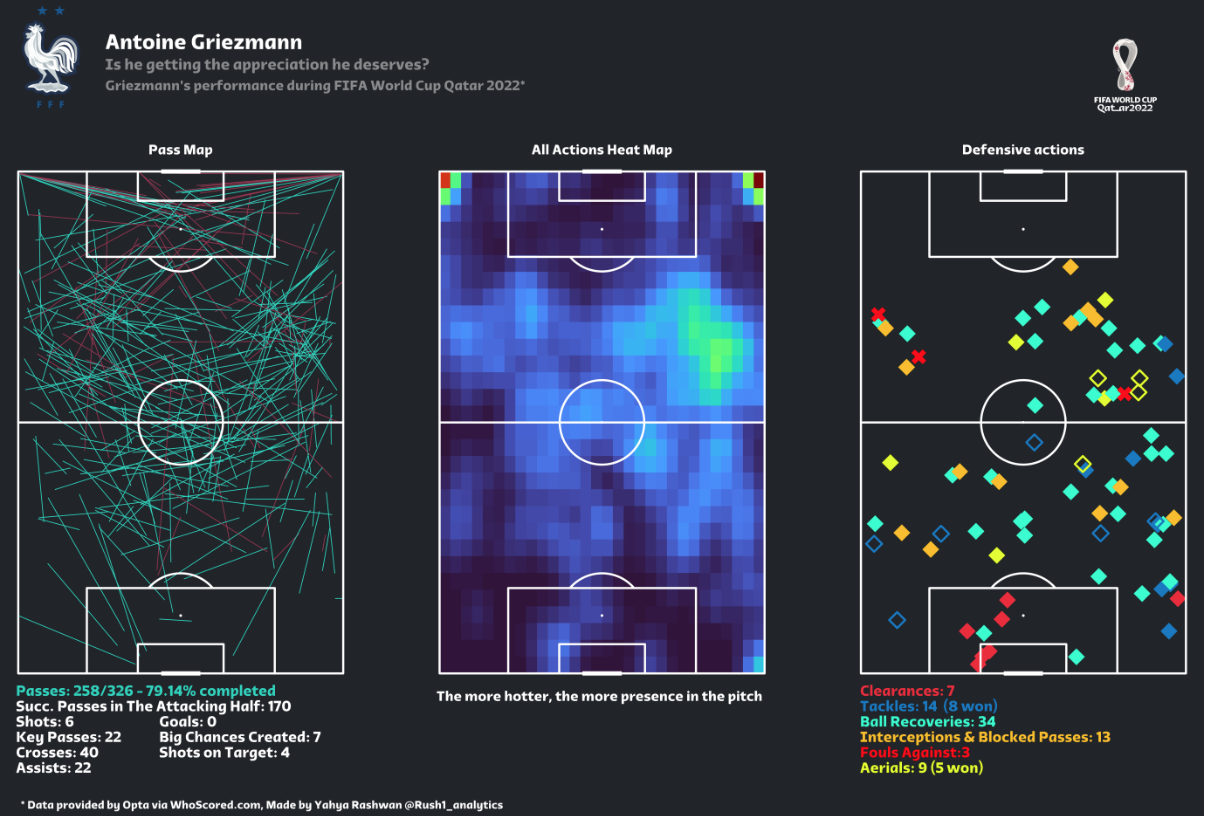 Data source: Opta – Created by: @Rush1_analytics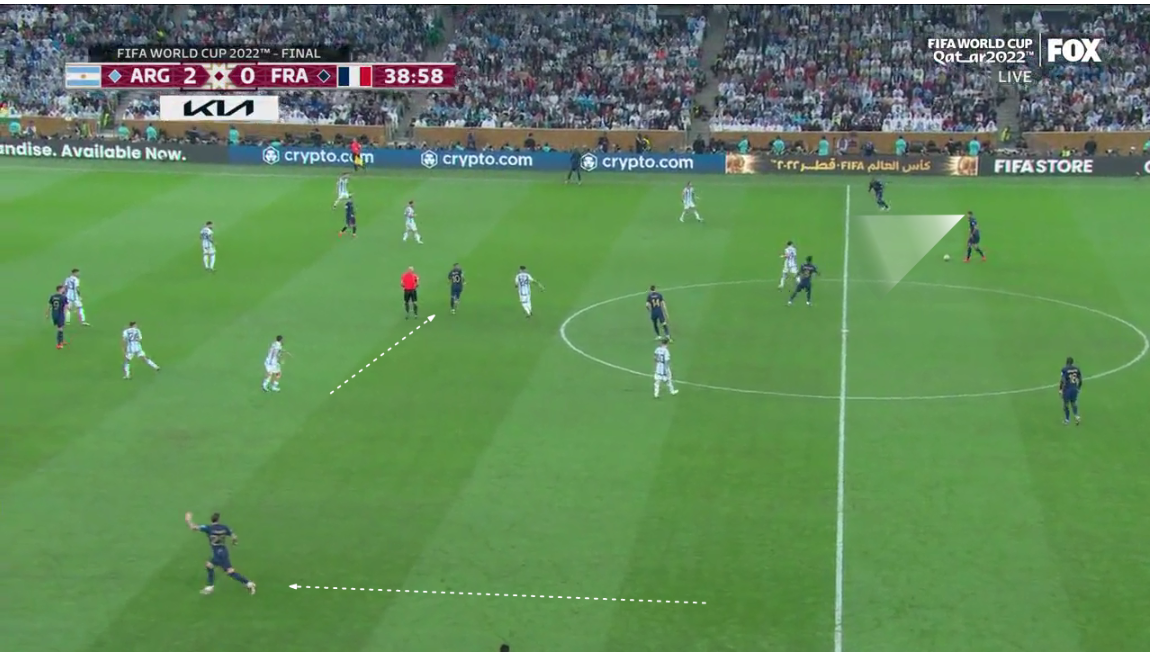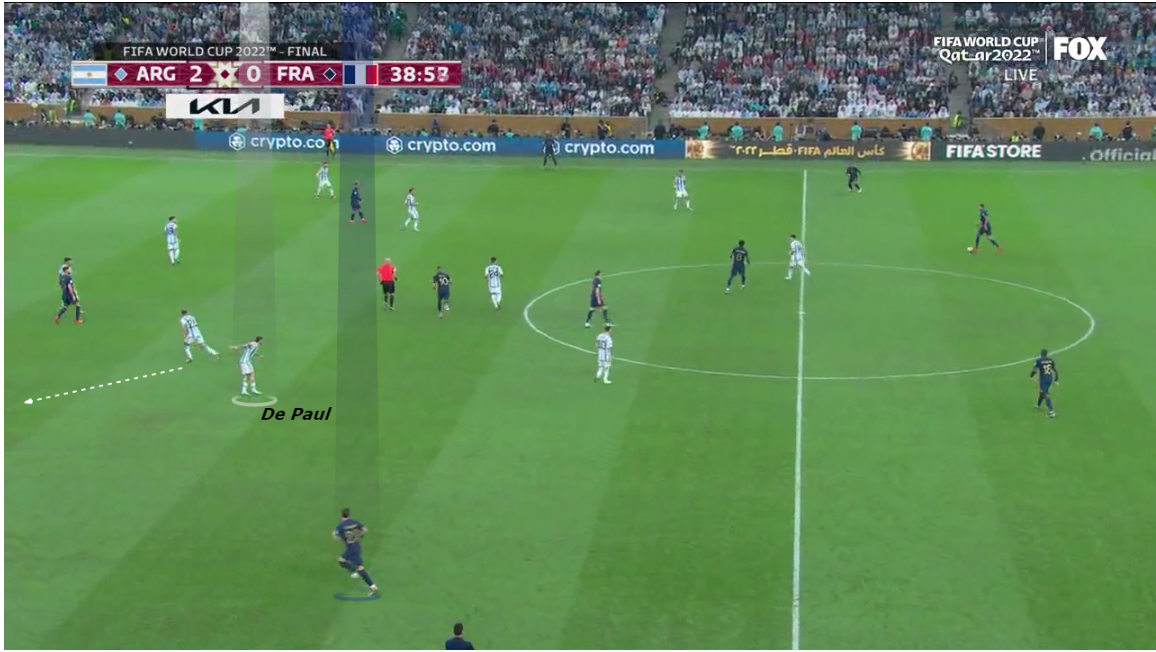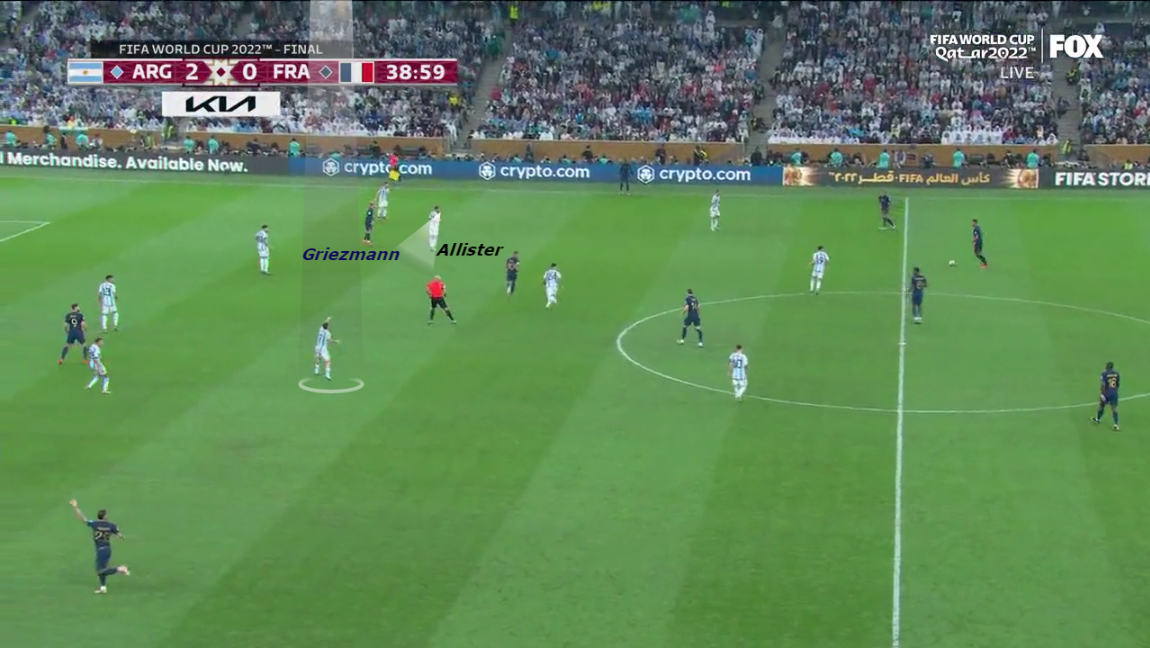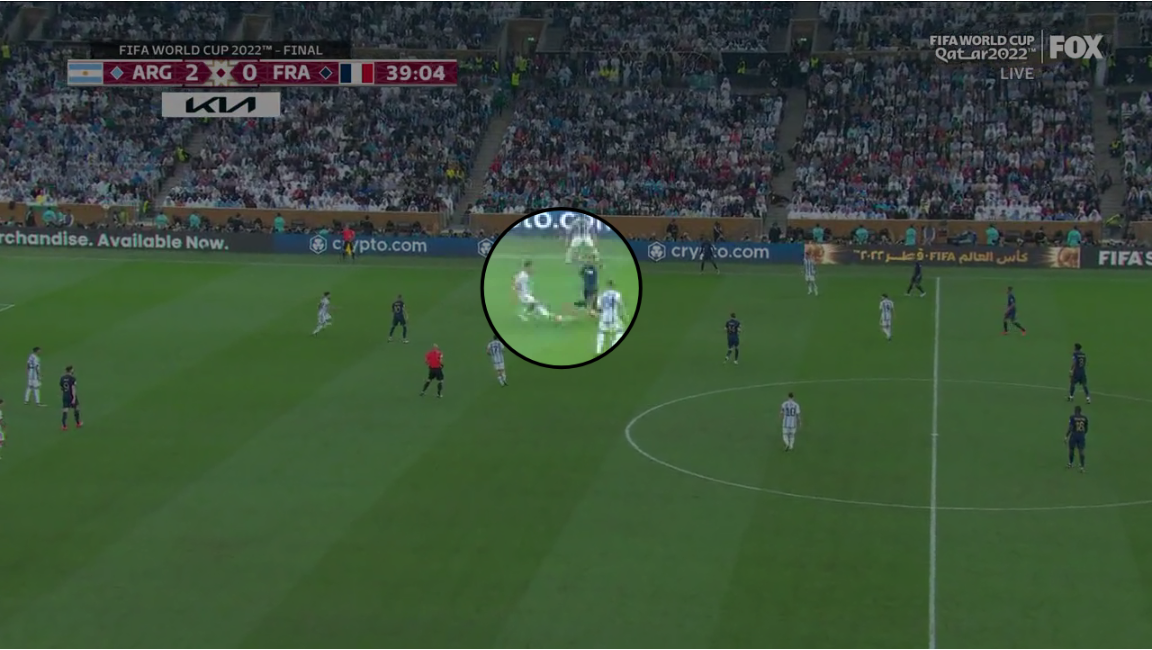 In the second half, introducing Marcus Thuram and Randal Kolo Muani has changed France in possession shape to be more likely a 4-3-3 rather than 4-2-3-1. Hernández dropping deeper than the first half ensure 4V3 situations for France during progression, and this made them able to start applying a new pattern on the left flank.
Taking into consideration that Messi's stamina was reduced as time went on, Deschamps decided to overload the left flank with Hernández receiving the ball, Thuram dropping down to provide room for Rabiot's forward runs in space, and this was a real benefit as Mbappé and Griezmann were getting closer to the ball direction in threatening areas.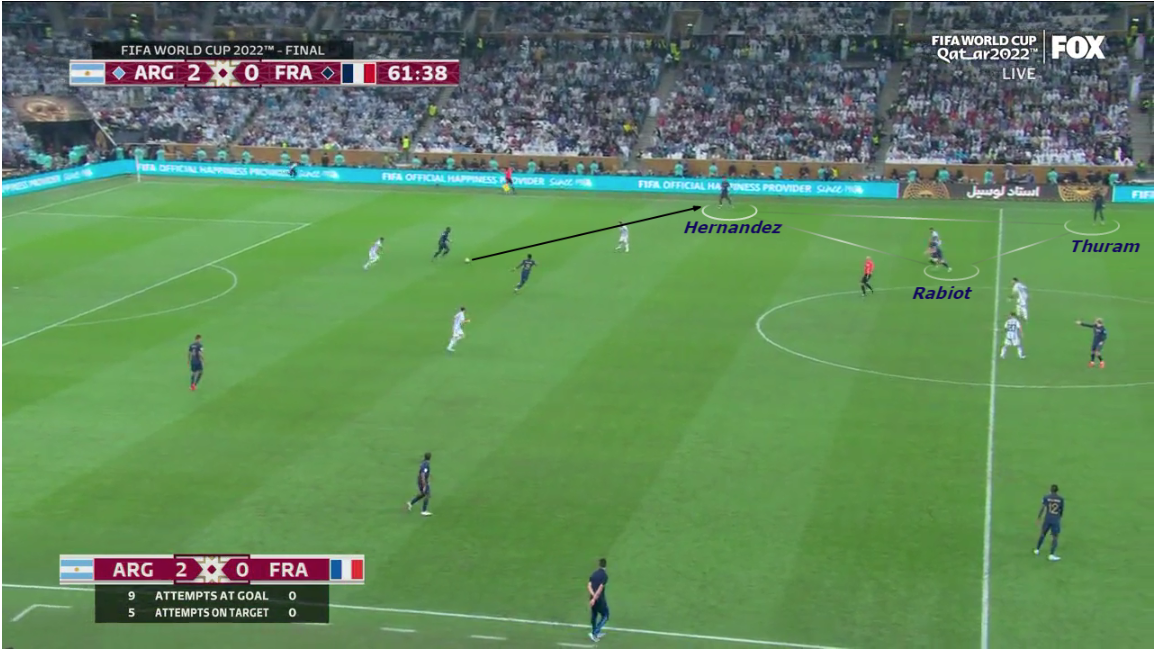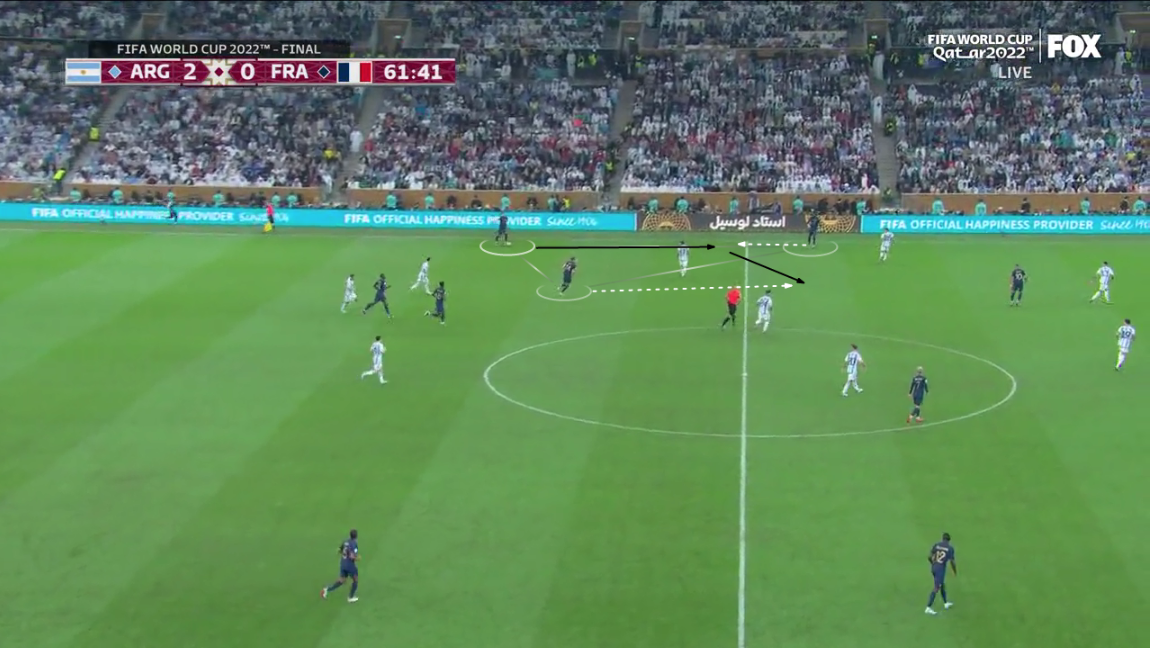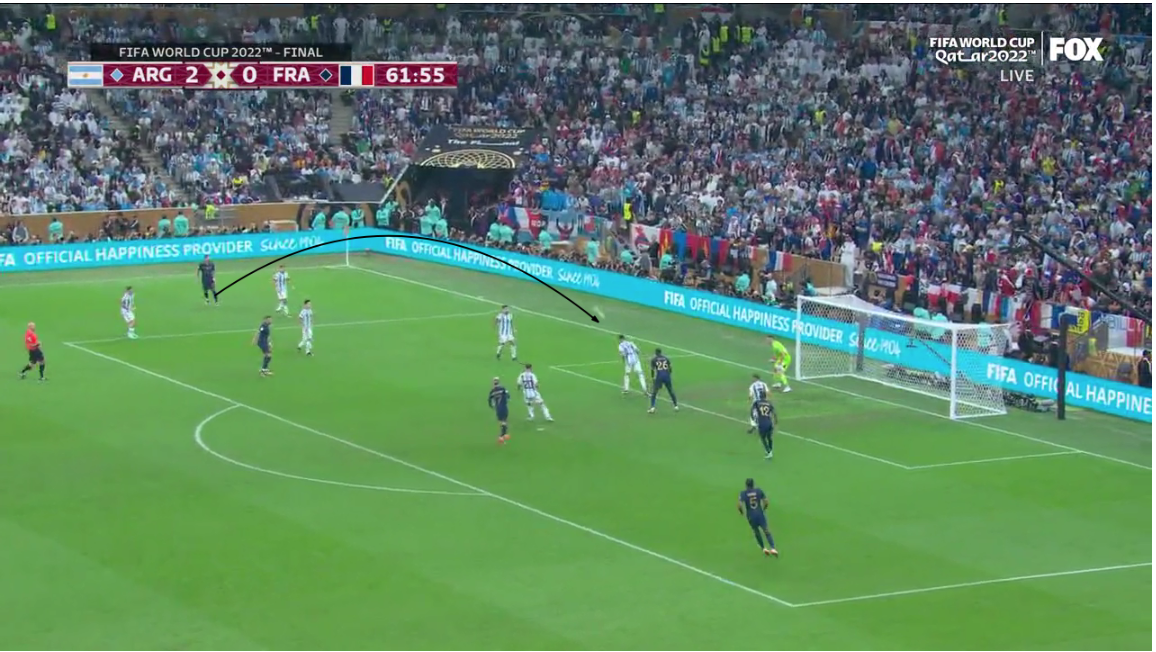 With Marcos Acuña introduced, Scaloni shifted to a 4-4-2 shape out of possession, with Messi and Álvarez up front, De Paul and Acuña by the flanks. And as he did in the first half, De Paul was Argentina's mastermind in such situations, so when France tried to apply their above-explained scheme, De Paul jumped to press Hernández while Molina was taking care of Thuram, the same did Fernández following Griezmann who was the runner this time. In addition to his initial role, De Paul could close the passing lane to the runner in order to force the back pass, and he was able to pull it from the roots and equalize France's side overload.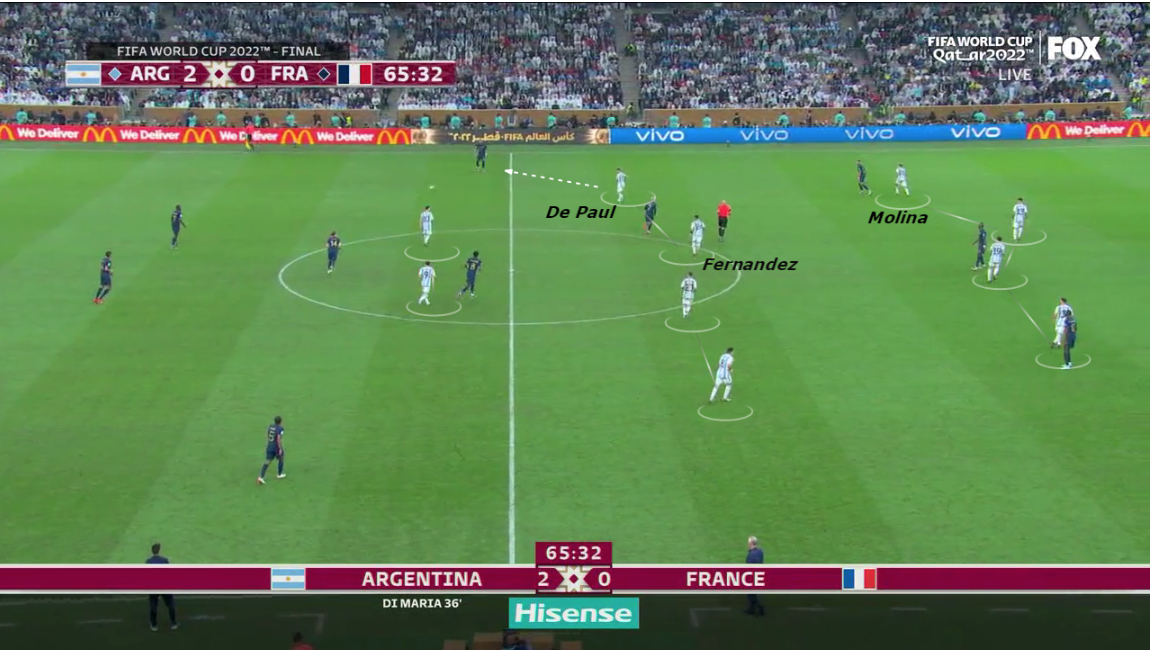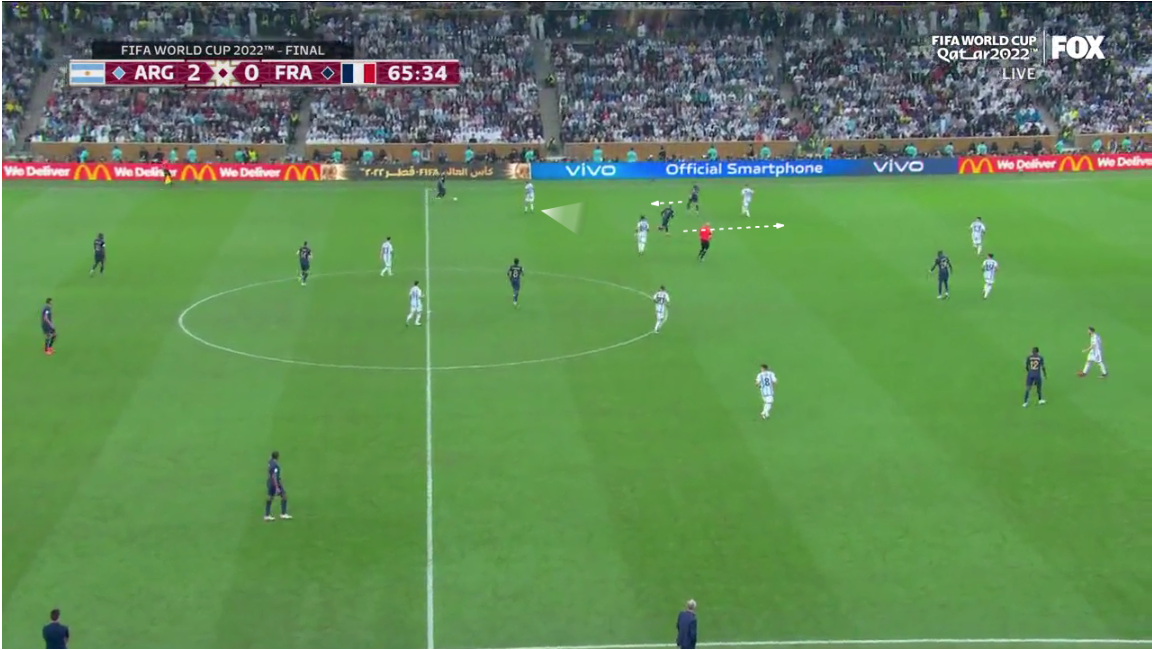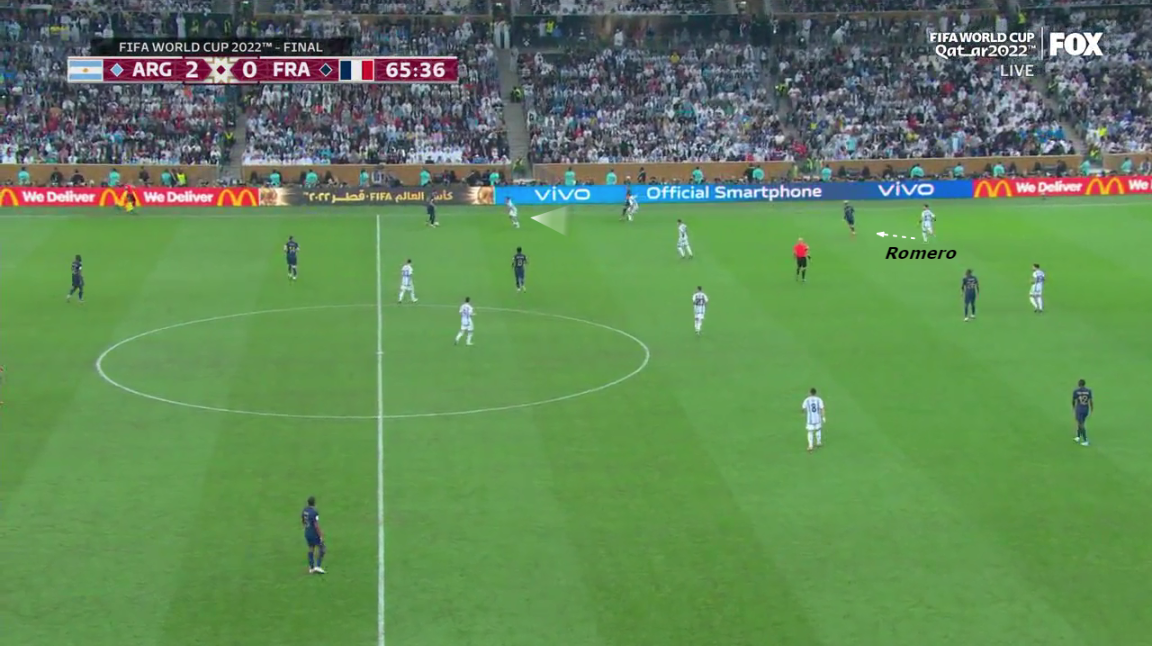 France's Attacking Transitions
As noticed within the last couple of screenshots above, Cristian Romero was aware enough to jump higher to cover Enzo Fernández when Griezmann escaped from him, the same also happened often during France transitions, and this was one of the most remarkable scenes during such a chaotic phase. Romero could excel – as he usually does – in defending on the front foot and intercepting the opponent's progressive passes proactively, and in addition to starting a transition for his team.
In the first couple of screenshots below, it is obvious how he could prevent a potential 2V1 situation inside Argentina's box from happening (Theo Hernández and Olivier Giroud against Nicolás Otamendi) if Adrien Rabiot could receive the ball and link up with Kylian Mbappé. The riskiest situation was when he could jump higher and intercept the pass before reaching Mbappé in a potential 3V3 transition; it is well known and even proved by his whole tournament actions map how can the latter provide the explosive effect when facing the goal in a transition phase.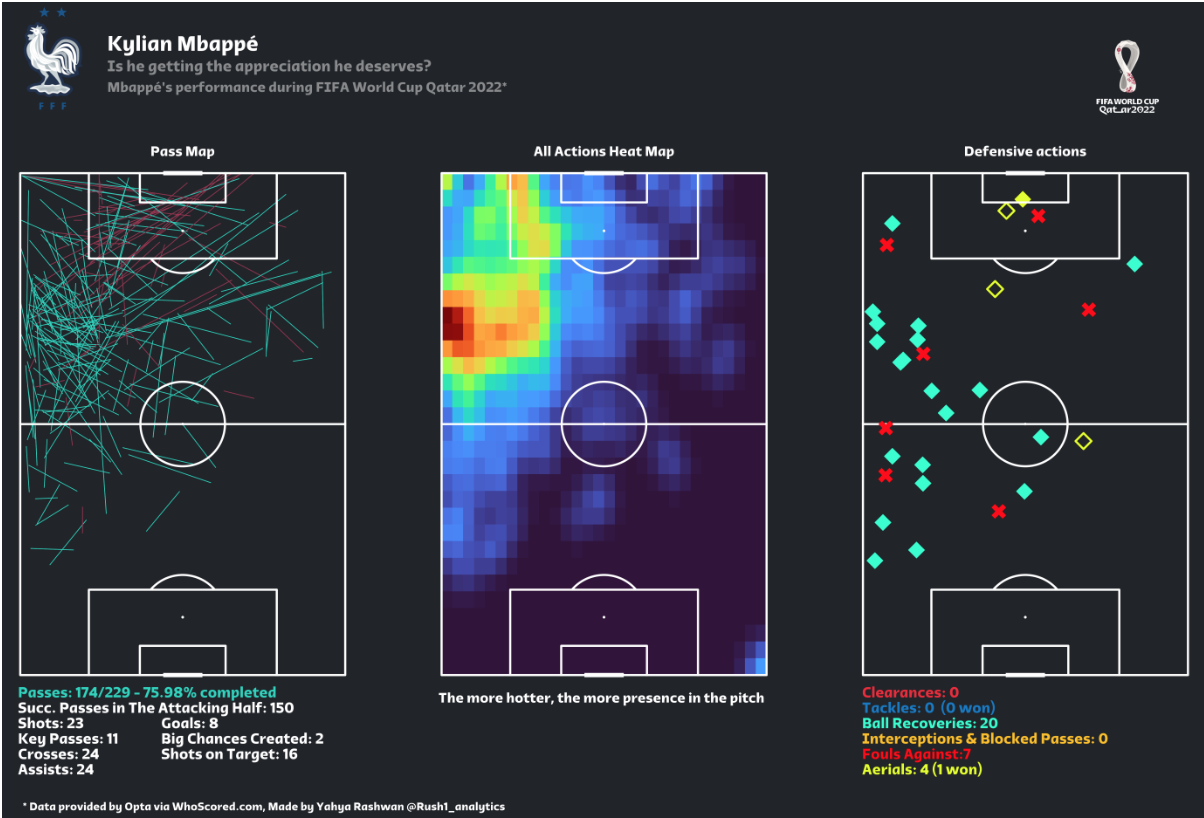 Data source: Opta – Created by: @Rush1_analytics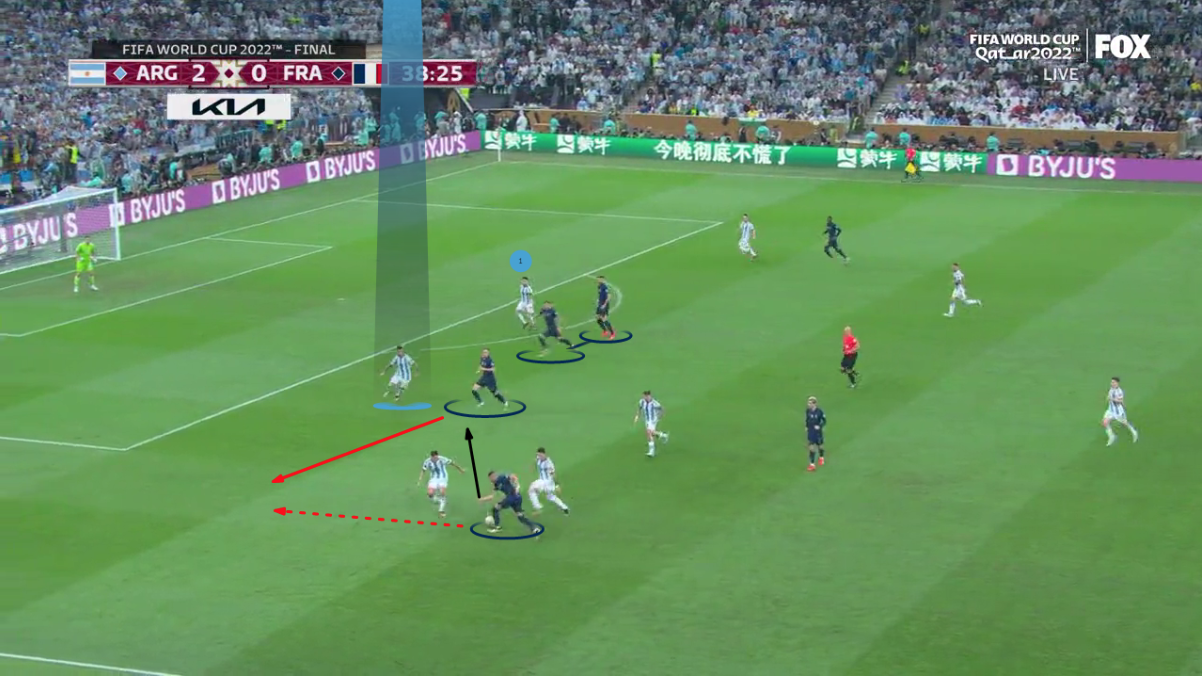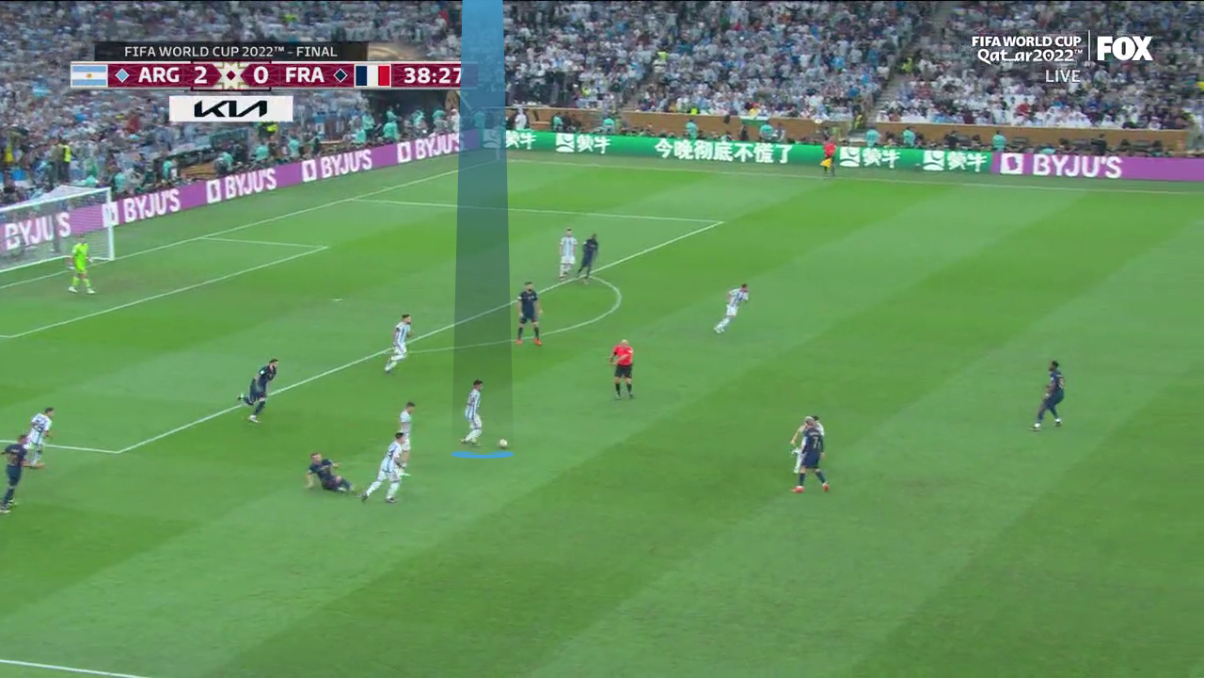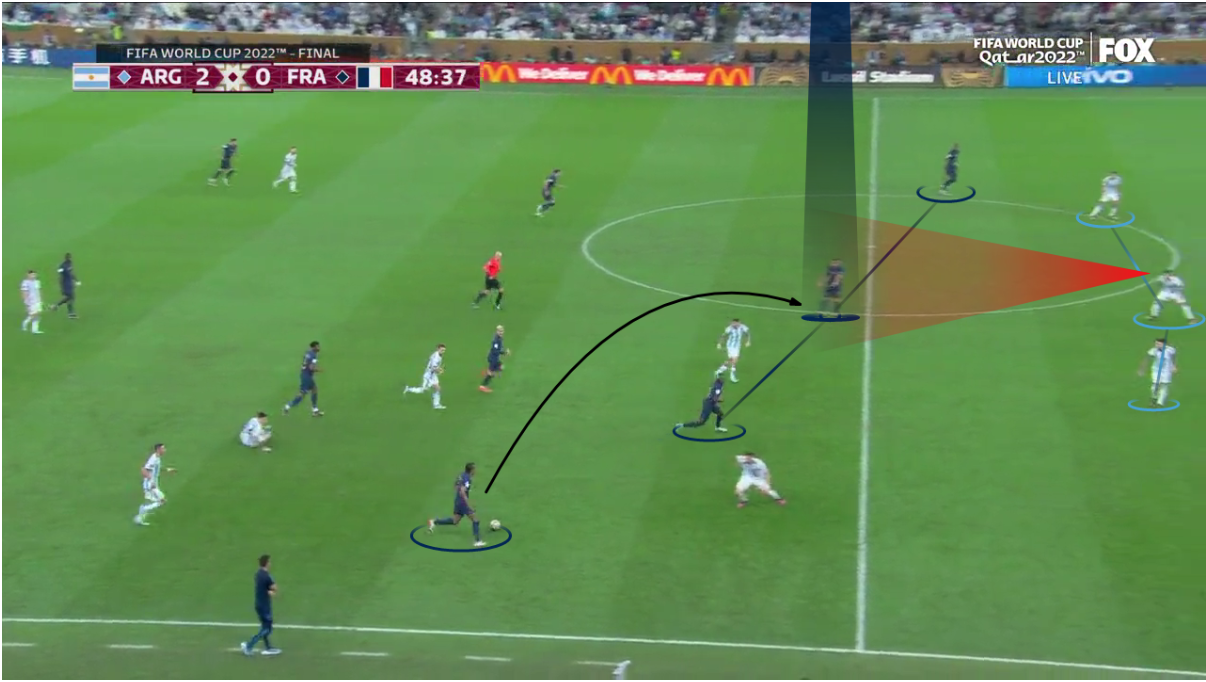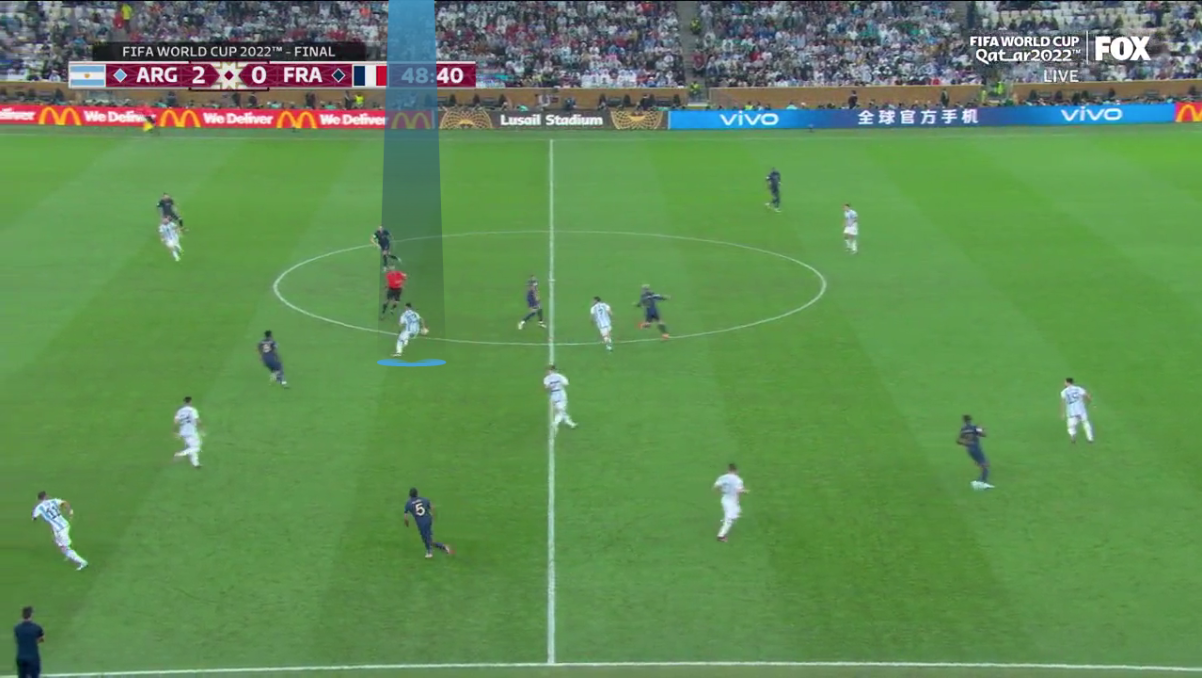 Conclusion
France braved an injury crisis and came within inches of becoming the first team to win back-to-back World Cups since Brazil '58-'62, but they have been denied at the finish line by Argentina. From losing their opening match to Saudi Arabia to prevailing against the defending champions in Lusail, it has been quite the roller-coaster journey for Lionel Scaloni's Argentina, but they have nevertheless been crowned atop the footballing podium and have ended 36 years of hurt to claim their third star.
By: Mina Edwar / @Mina_Edwar and Mohamed Bani Atta / @TacticalZone14 and Loay Mamdouh / @loay_mamdou7
Data visualization / stats by: Yahia Rashwan / @Rush1_Analytics
Featured Image: @GabFoligno / Nelson Almeida – AFP