Tactical Analysis: Australia 1-0 Tunisia
After opening their World Cup campaign with a 4-1 defeat to France, Australia defeated Tunisia 1-0 to move to second place in their group, with Mitchell Duke opening the scoring within 23 minutes and the Socceroos holding on for a much-needed three points, whilst Australia went with their trademark 4-3-3, Tunisia manager Jalel Kadri made one change to his 3-4-3 formation with Naïm Sliti coming in for Anis Ben Slimane.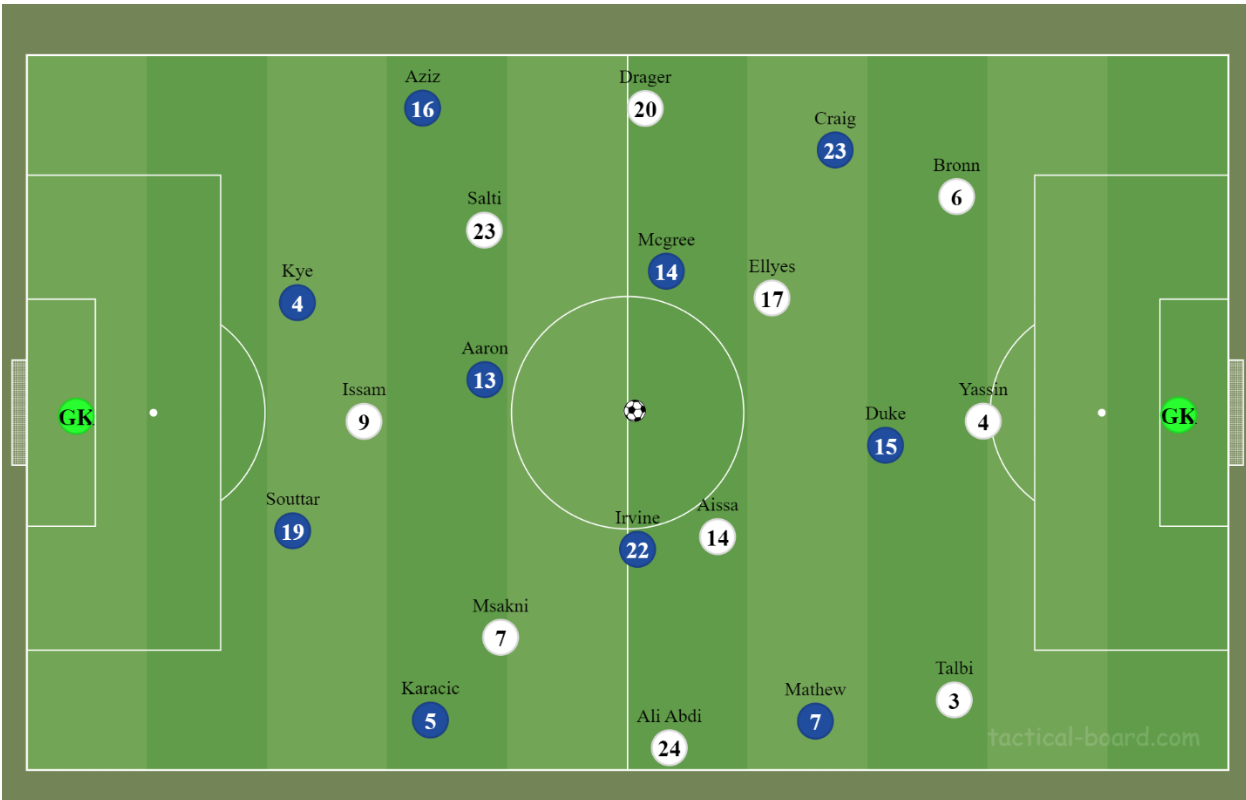 Tunisia's Build-up Phase
Tunisia was build-up the ball from the back with three CBs, Aïssa Laïdouni, and Ellyes Skhiri as a double pivot, and five players in the front line by pushing the full-back high up to fill the 3-2-5 shape. Against Australia's 4-2-4 mid-block, with Riley McGree leading the first line of the press with Mitchell Duke, Craig Goodwin, and Matthew Leckie, with Leckie positioning himself between Montassar Talbi and Ali Al-Abdi in an attempt to close the pass channel.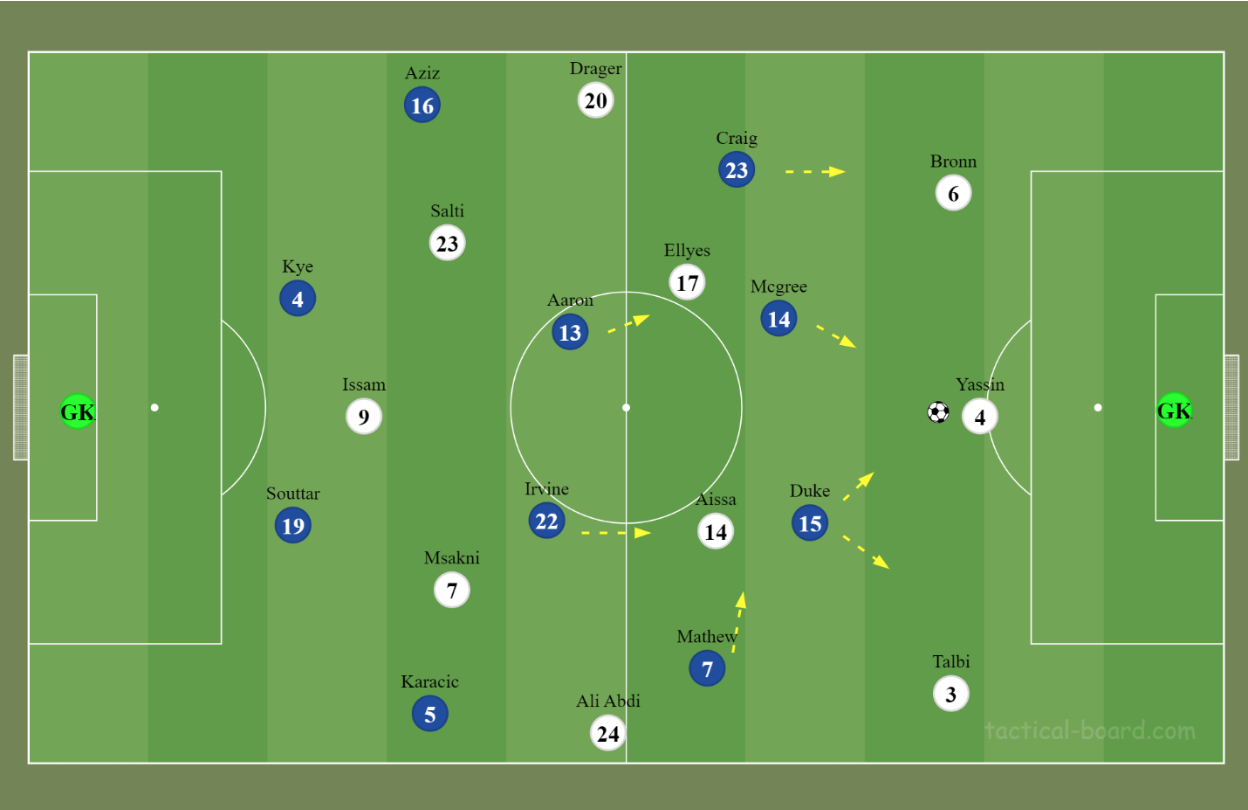 At the same time, Duke and McGree would keep Tunisia's double pivot in their cover shadow.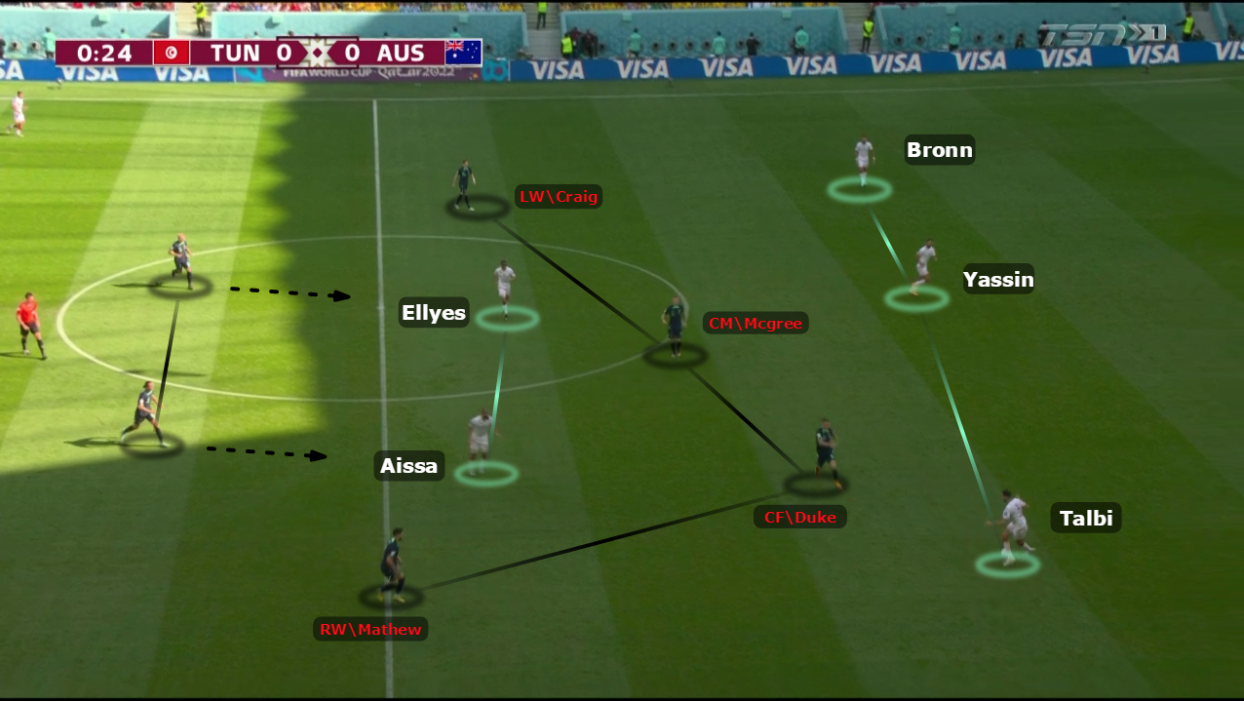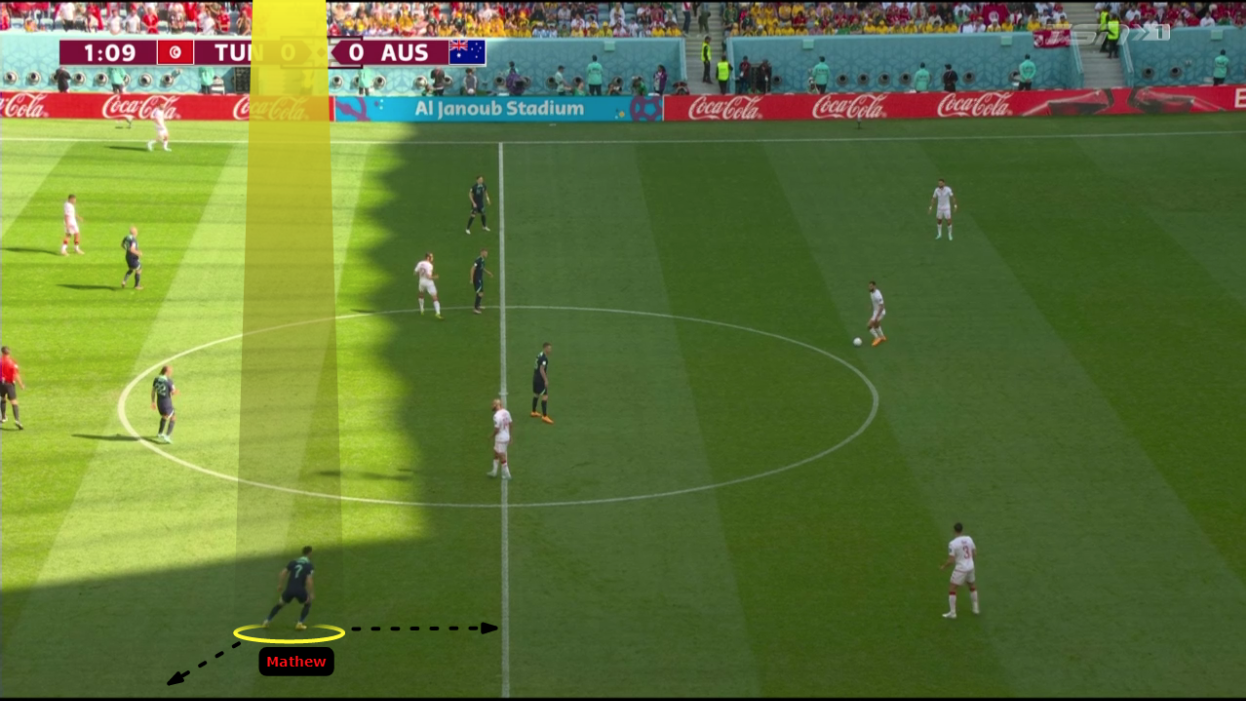 When the ball starts to move into the flank, Aaron Mooy and Jackson Irvine kept a close eye on Skhiri and Laïdouni to close the depth and force the passing option out wide. When the ball went to Ali-Abdi at the left back position, Australian right back Fran Karačić would go to mark him, whilst Laïdouni and Youssef Msakni would be man-marked by Duke and Irvine, with no free time and space and no passing option, thus forced to play a hopeful long pass or play a pass backwards to a center back.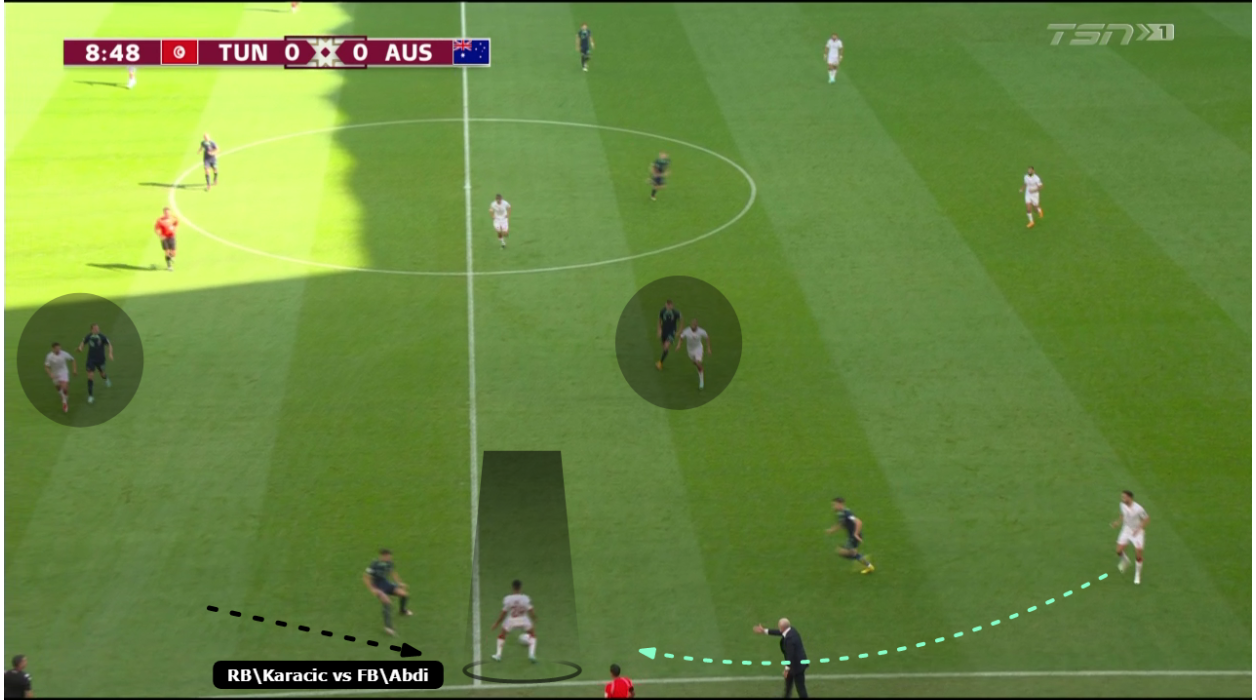 Australia's first line of press looked to close down Tunisia on the flanks, but Sliti dropped back to try to get the ball out and create a 3vs2 situation. However, by executing the cover shadow well, Mooy was free to mark Sliti and leave Skhiri without being marked. Australia would win the duel which made it more difficult for Tunisian players to retain possession over long periods of time.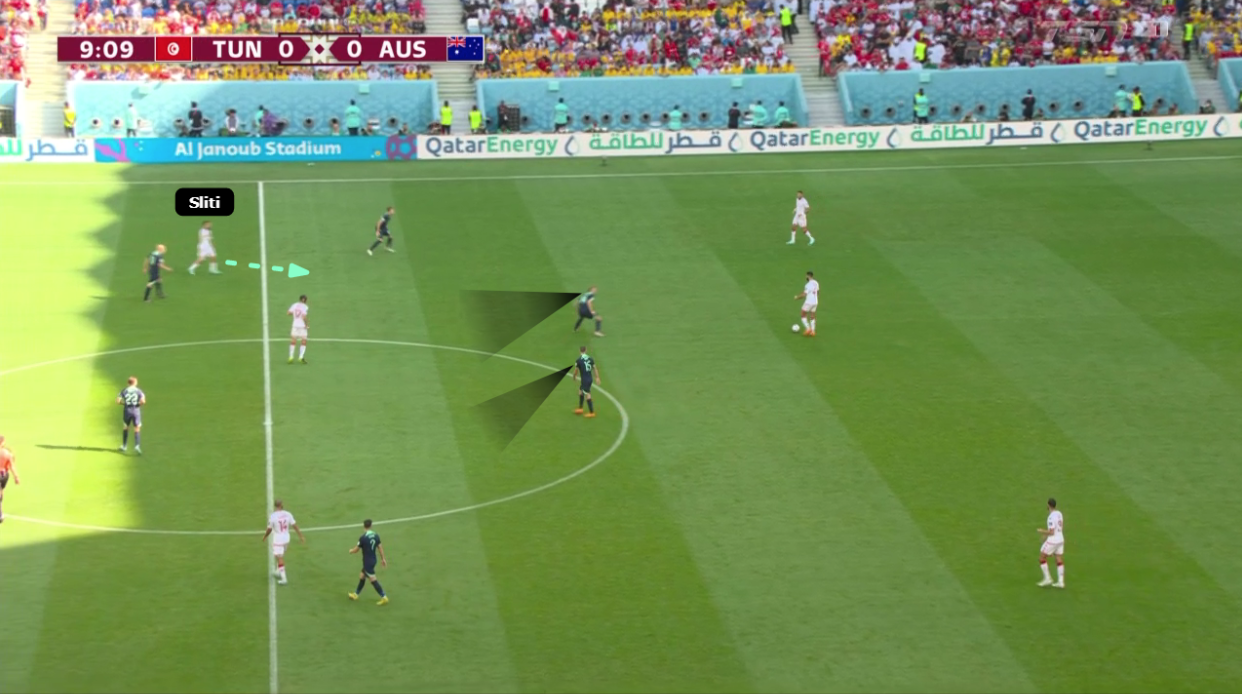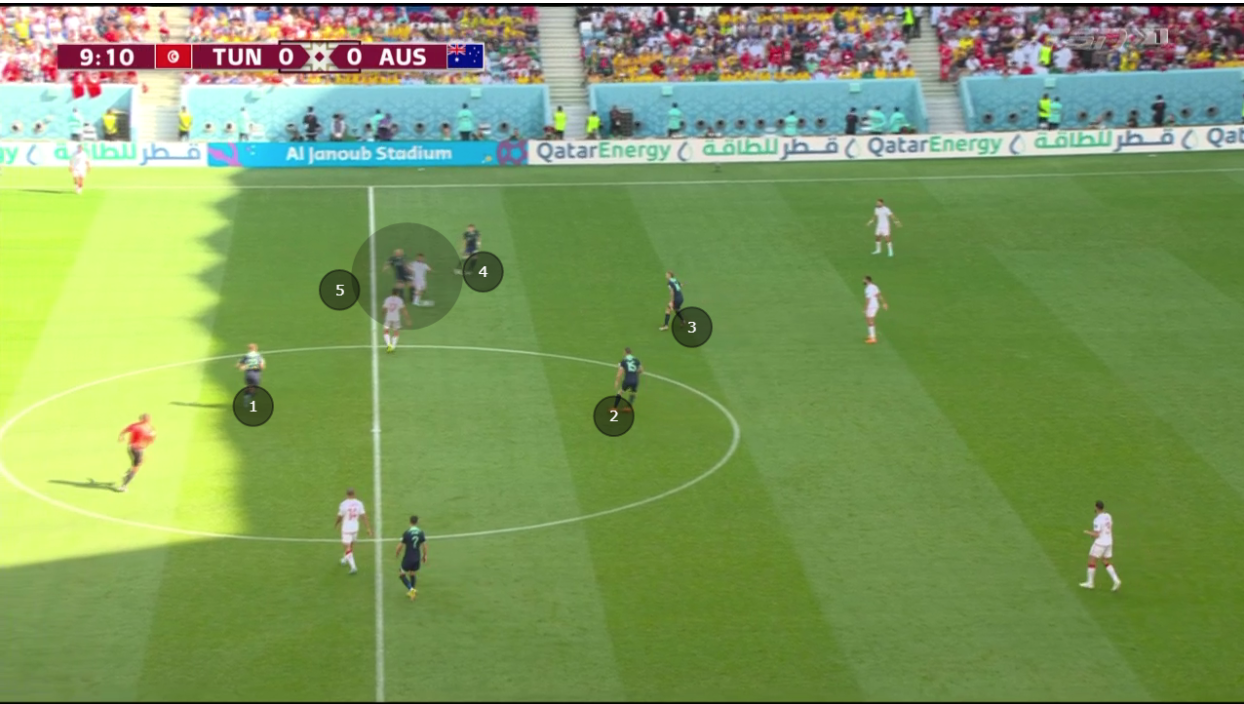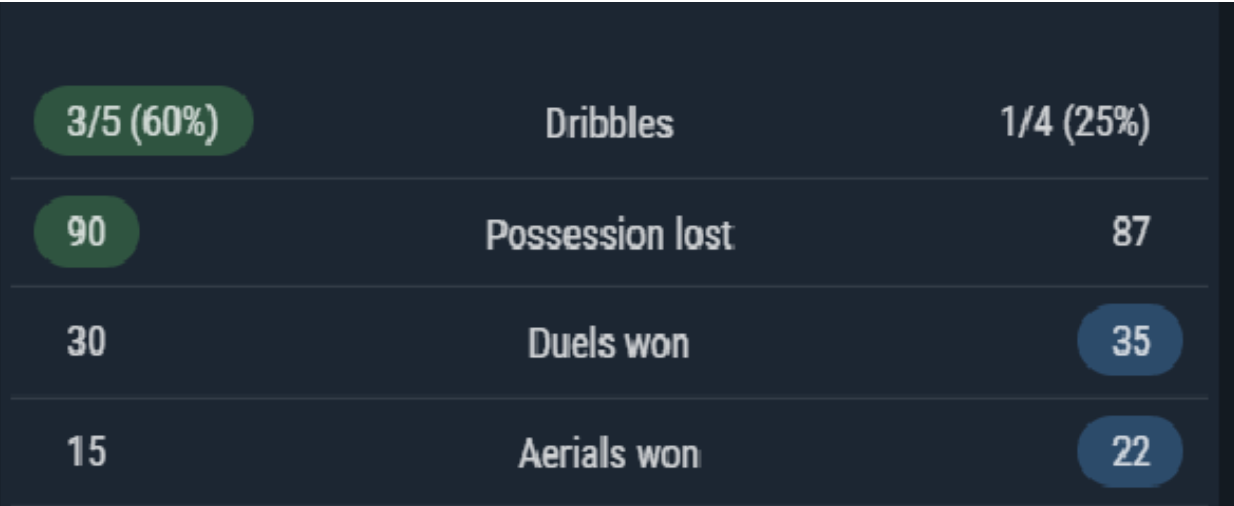 In the final minutes of the half, Kadri would try a new strategy by dropping Skhiri between the center backs, whilst the fullback would push high to stretch Australia's line of pressure to create space, but their decision-making nevertheless let them down.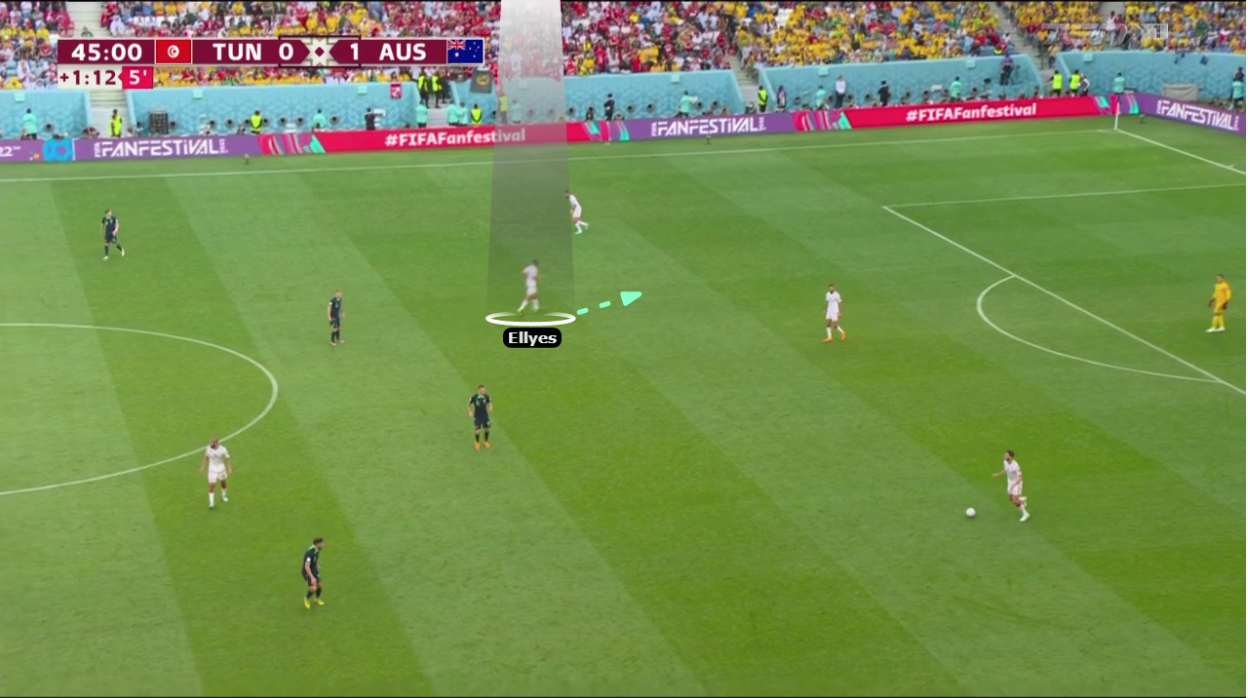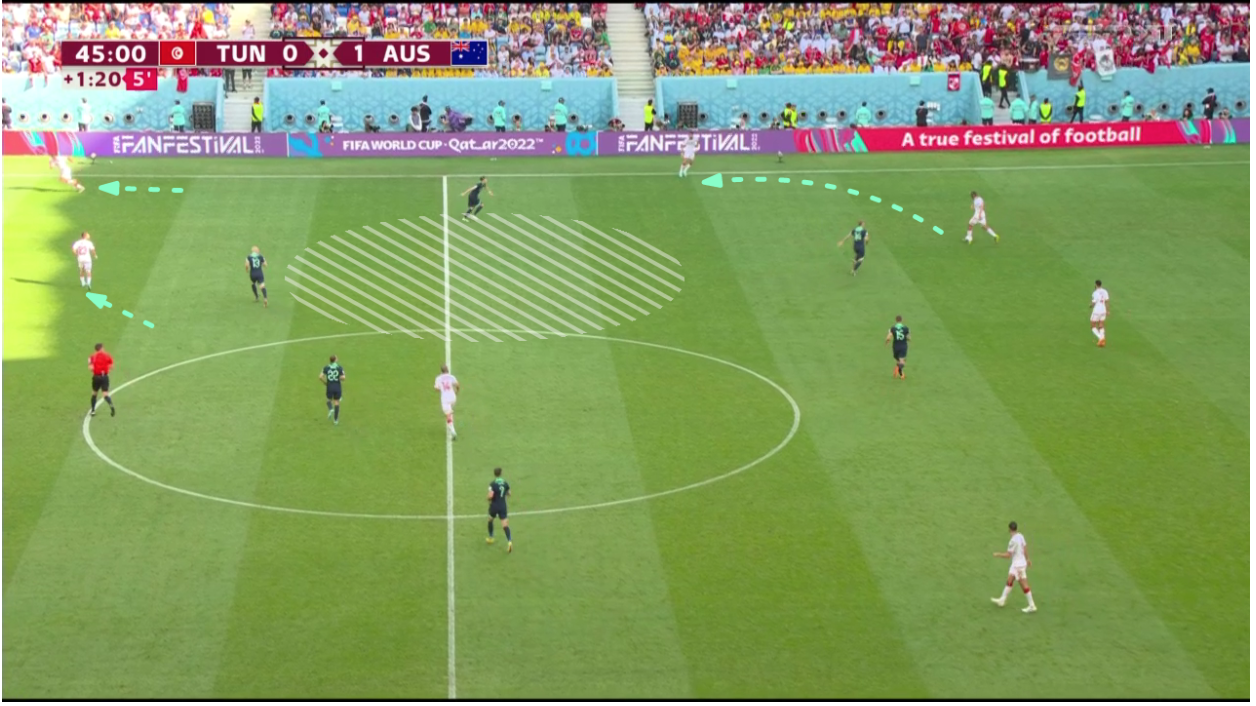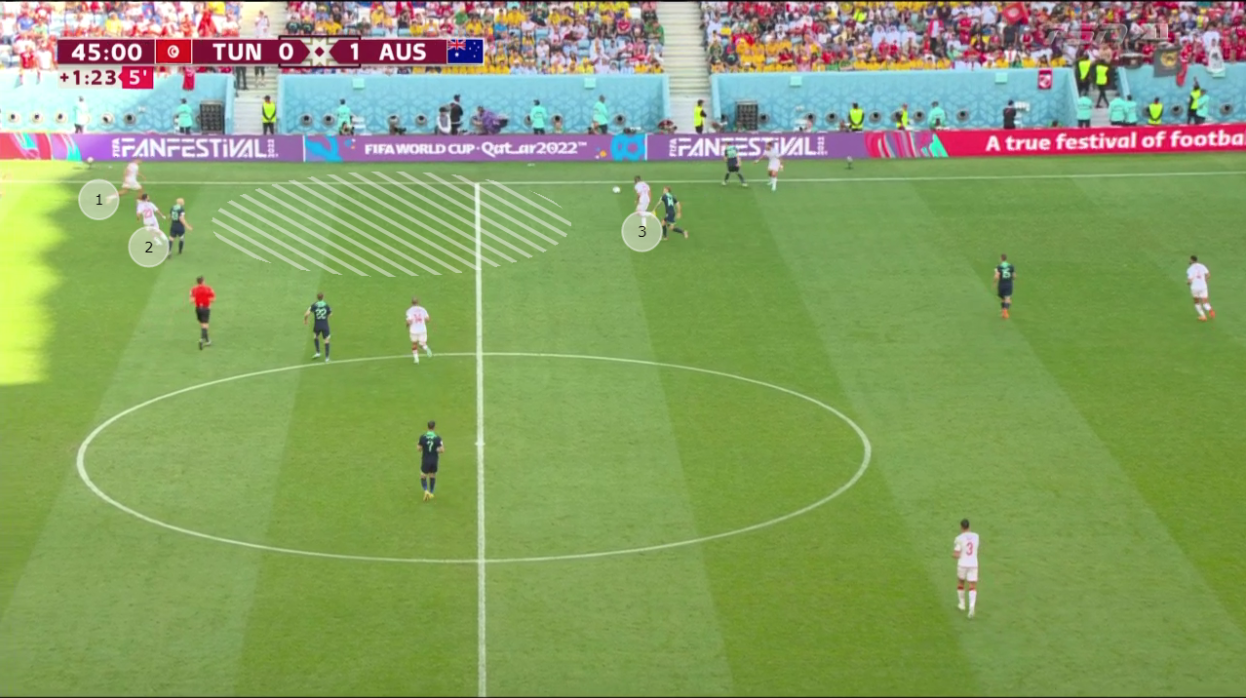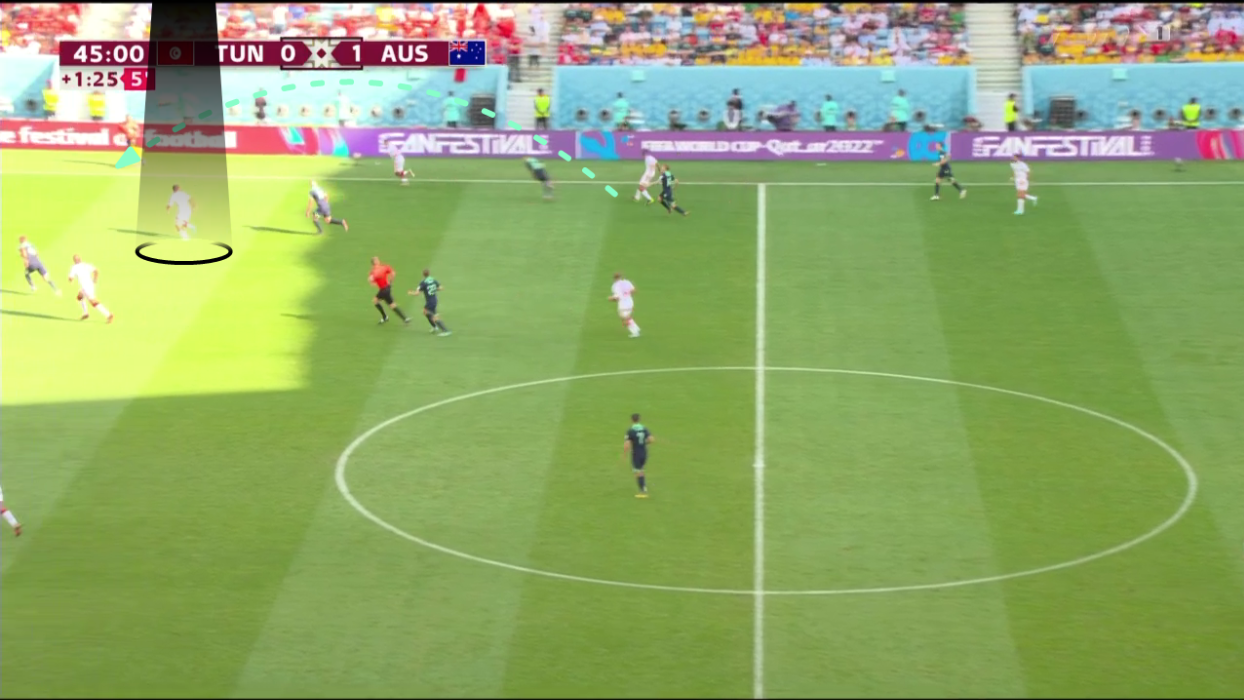 Kadri made a halftime substitution with Ferjani Sassi coming on for Mohamed Dräger, changing the formation to a 4-3-3 with Sassi and Skhiri operating as a double pivot and Laïdouni positioning himself in between the lines to create numerical superiority in the final third and creating more passing options further forward.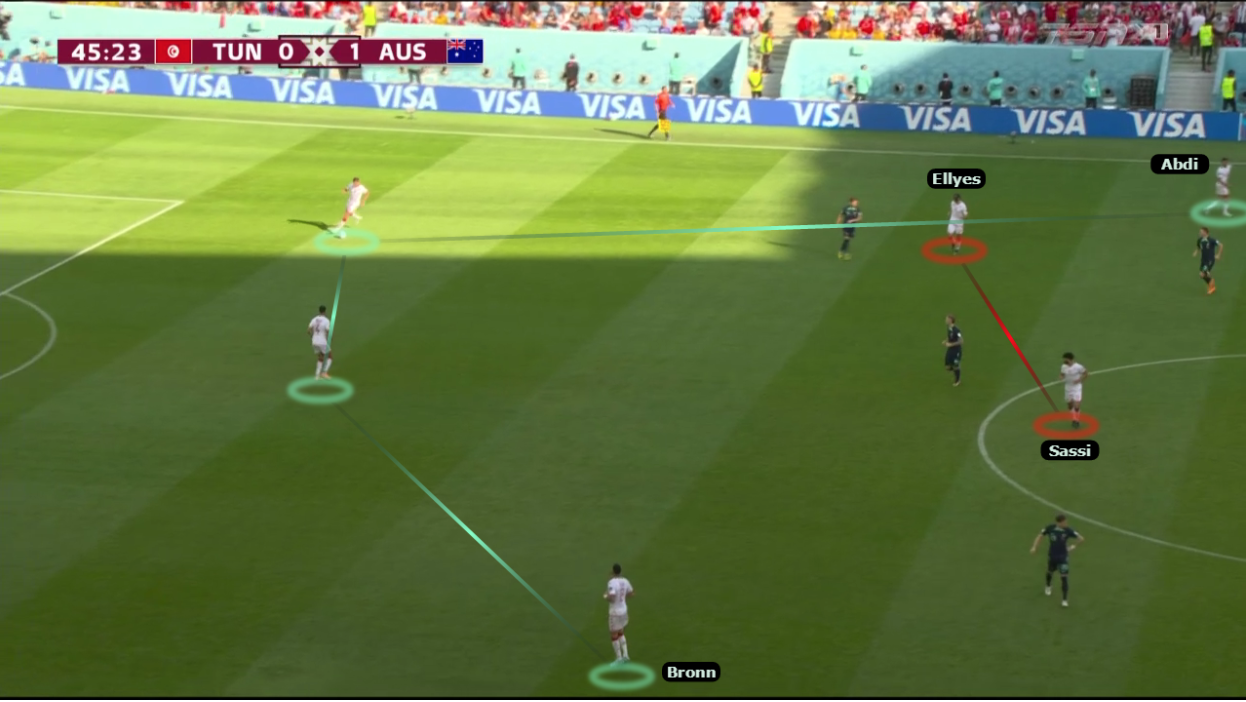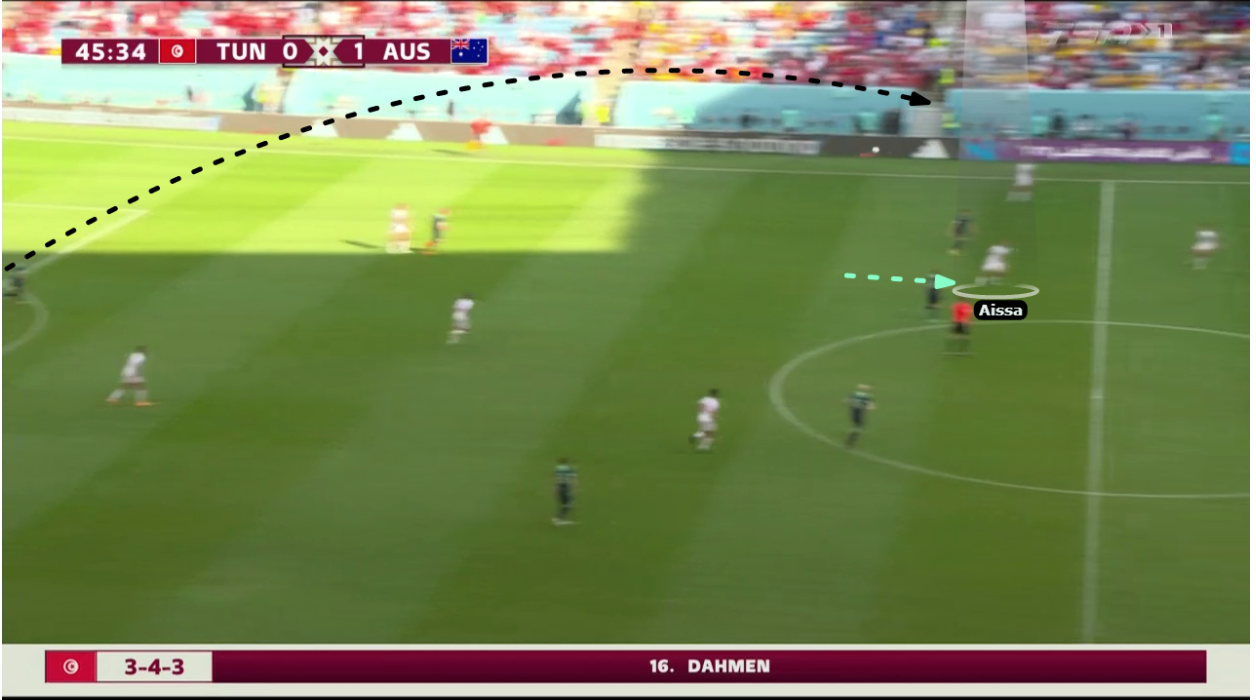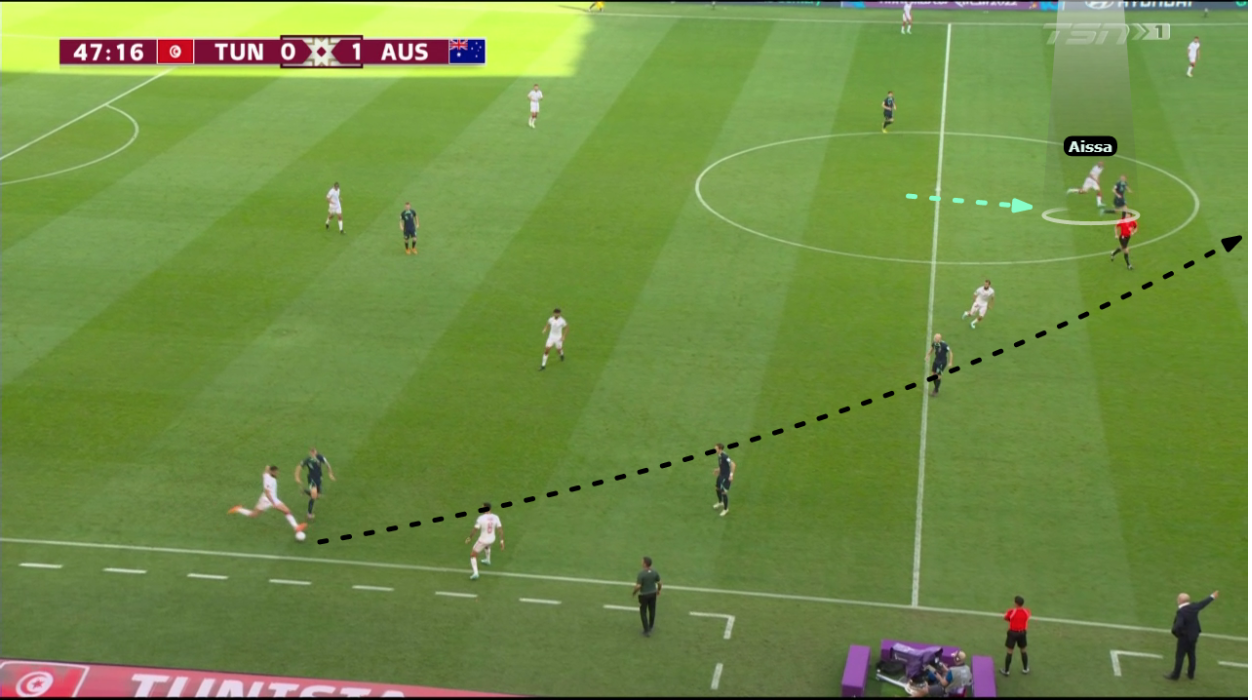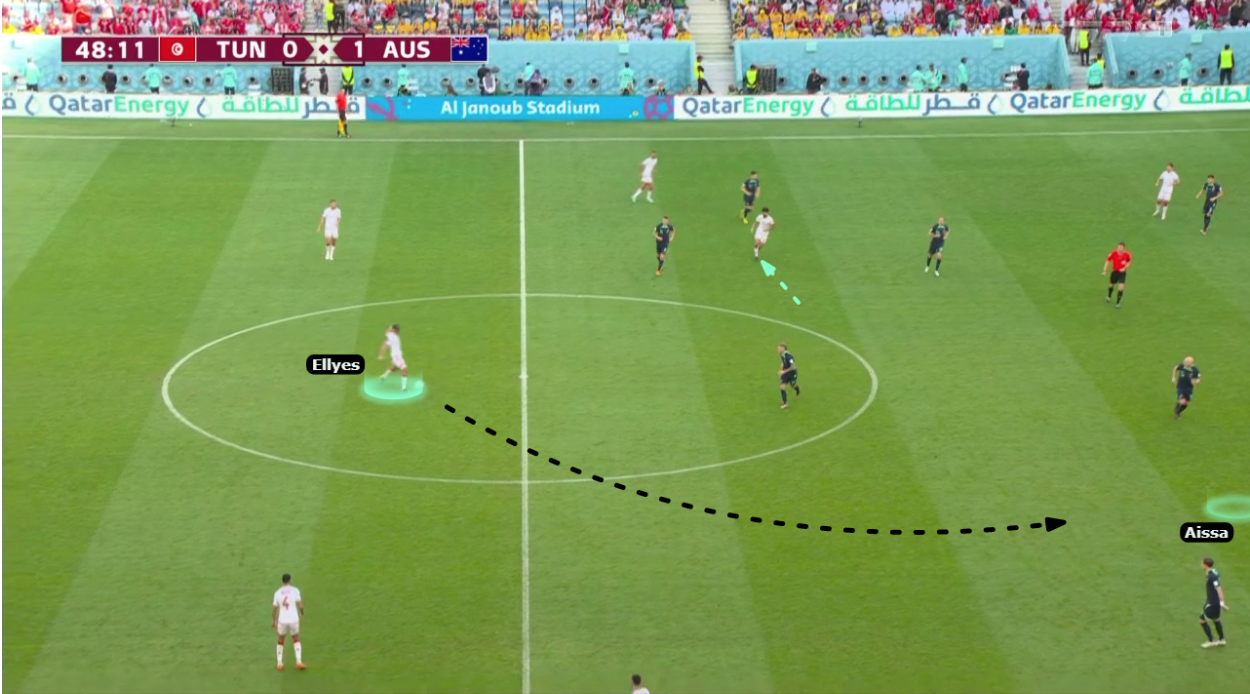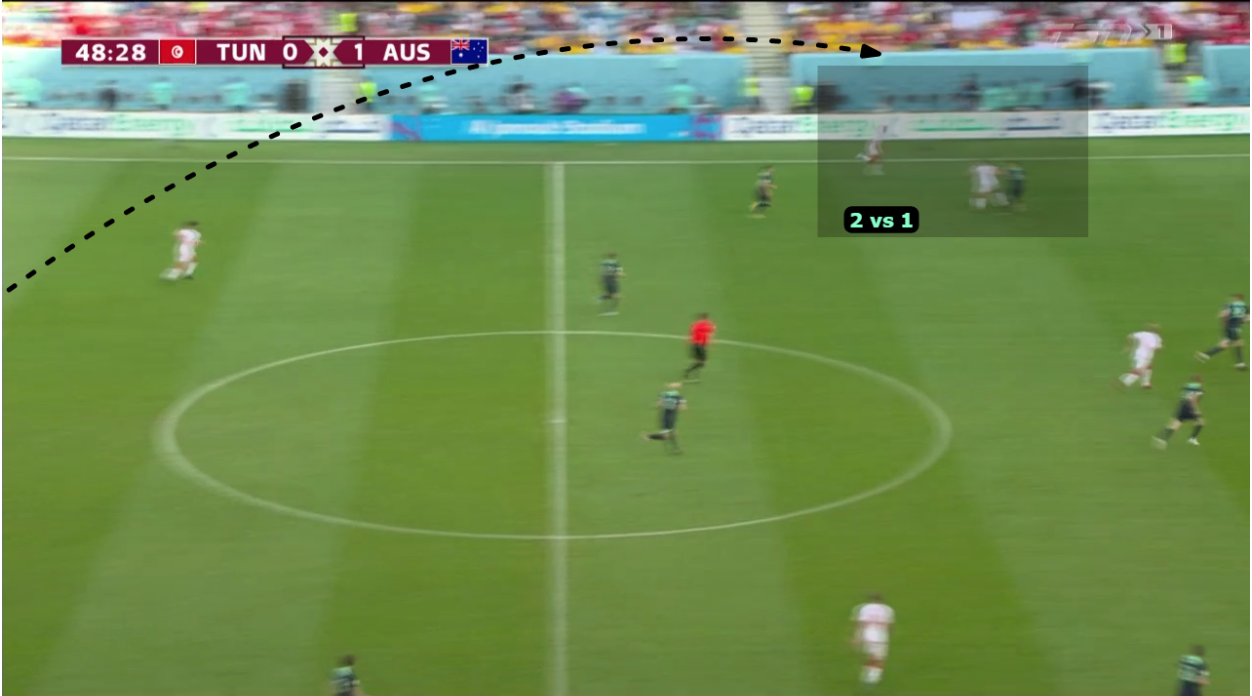 Kadri subbed on Wahbi Khazri for Laïdouni in the 67th minute and Taha Yenisse Khenissi and Wajdi Kechrida for Issam Jebali and Dylan Bronn shortly after, but their decision-making let them down and in the end Tunisia were unable to grab a goal.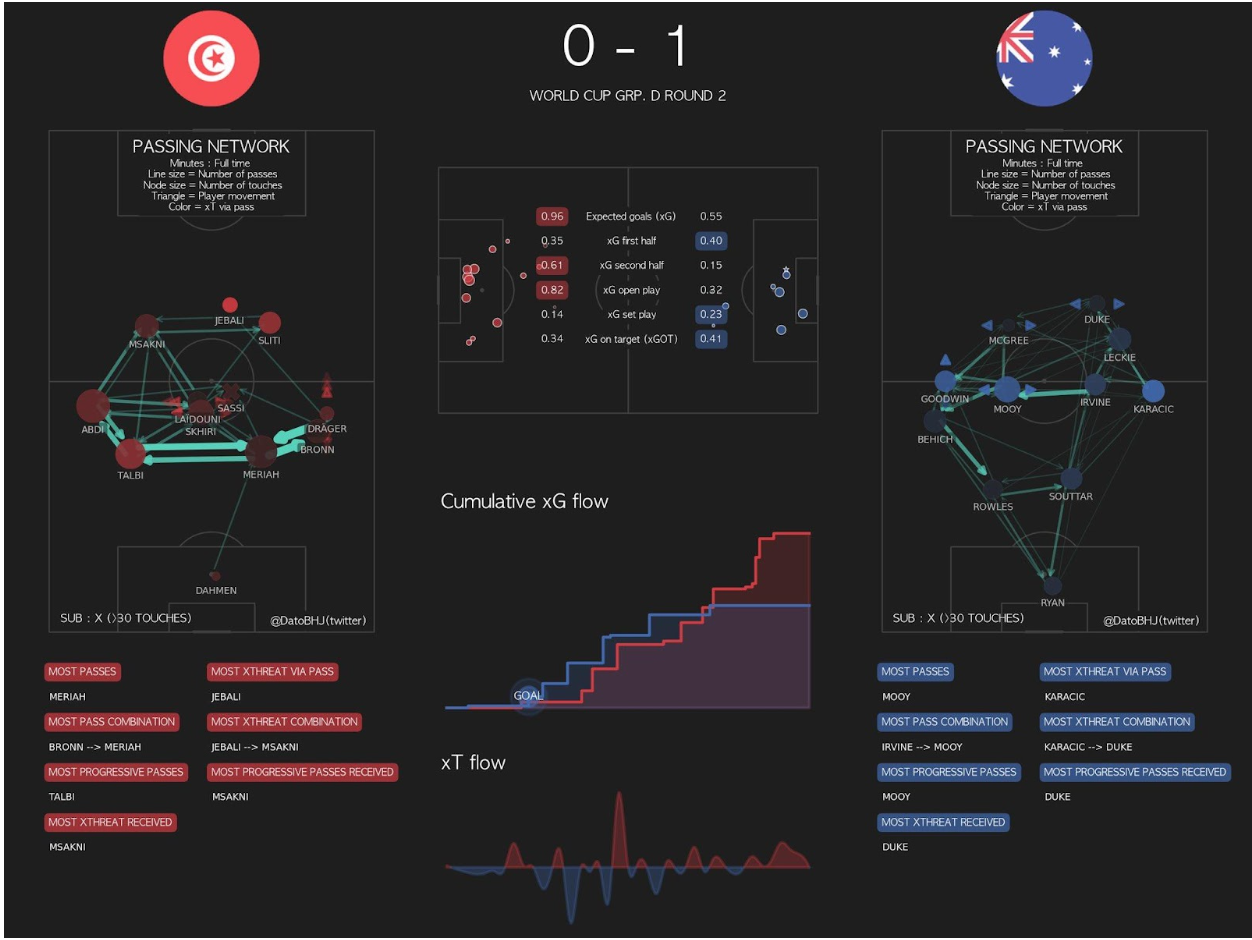 Photo: @DatoBHJ
Tunisia's Play in the Final Third
Australia operated in a 4-4-2 flat shape against Tunisia's 3-3-4 formation and struggled to close down the space between the lines with Laïdouni's continued movement and dropping into the left flank, but Tunisia's lack of attacking weapons prevented them from threatening Mathew Ryan in goal, racking up 14 shots and 4 on goal.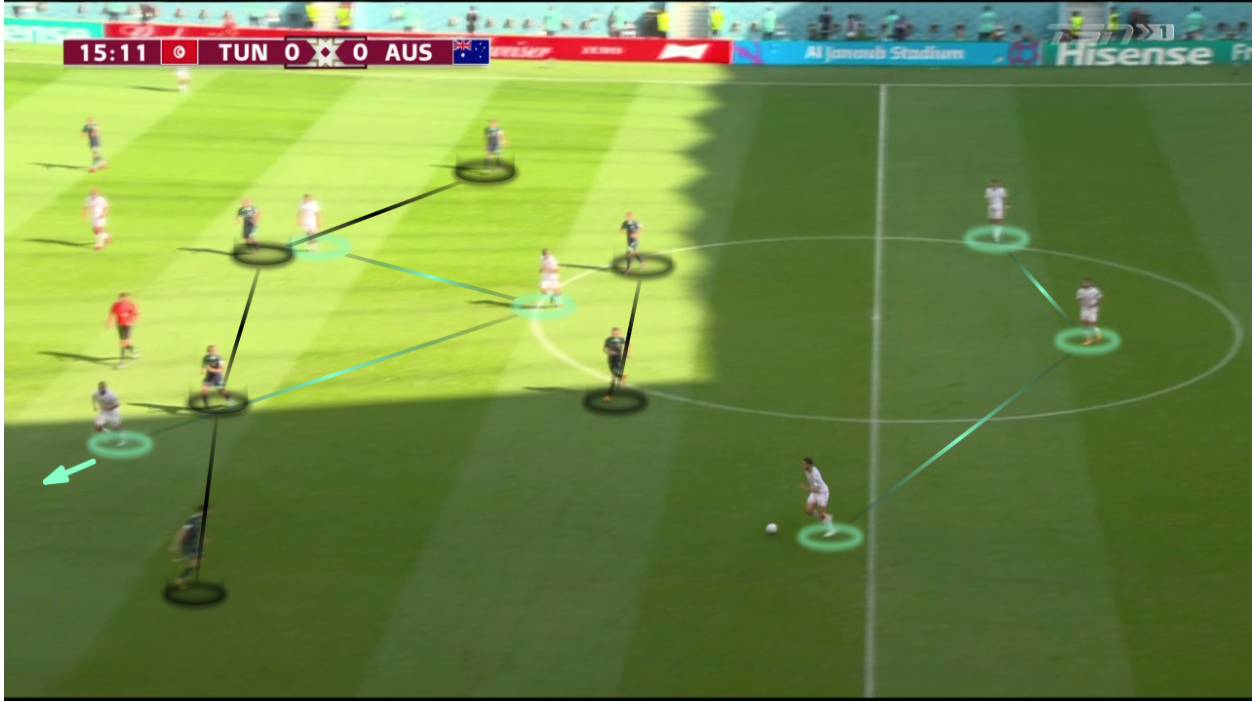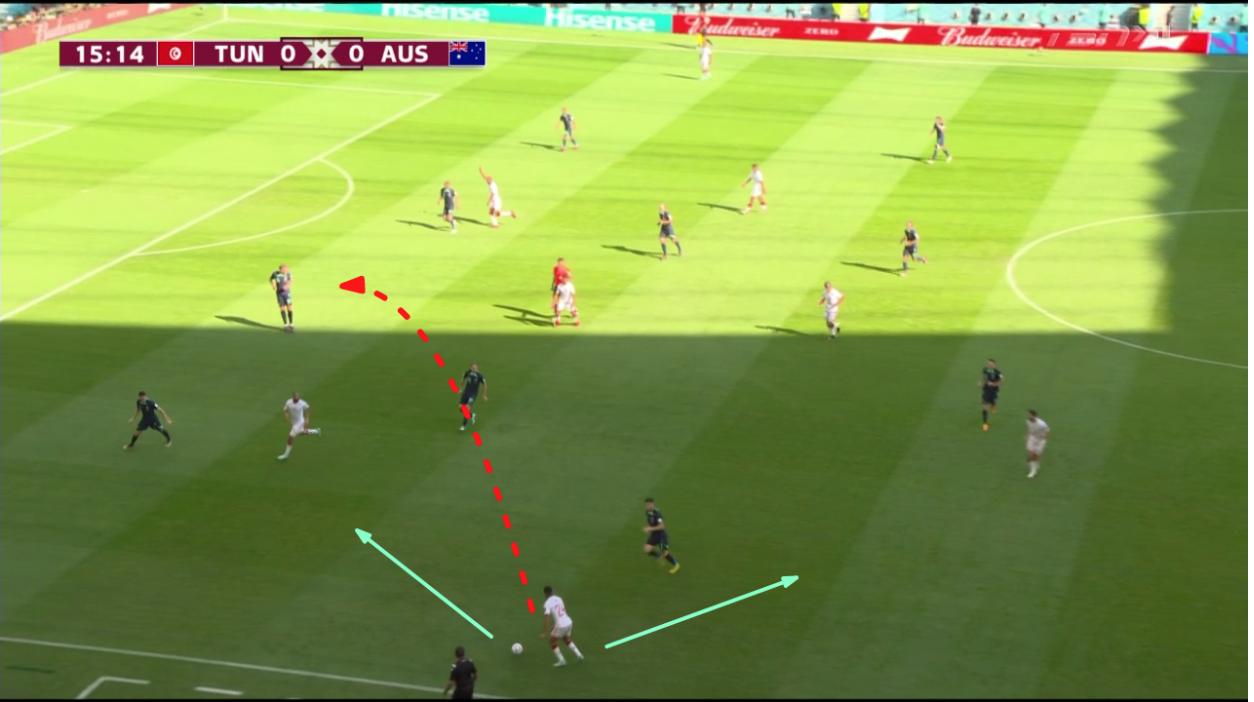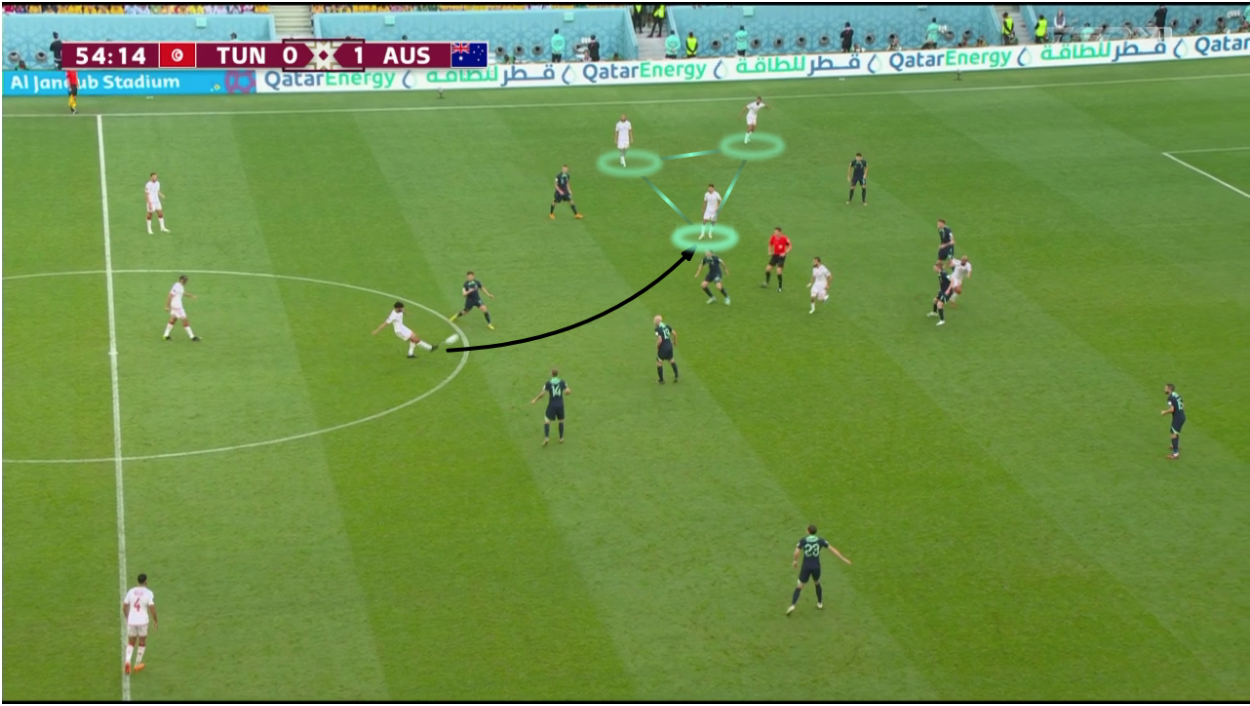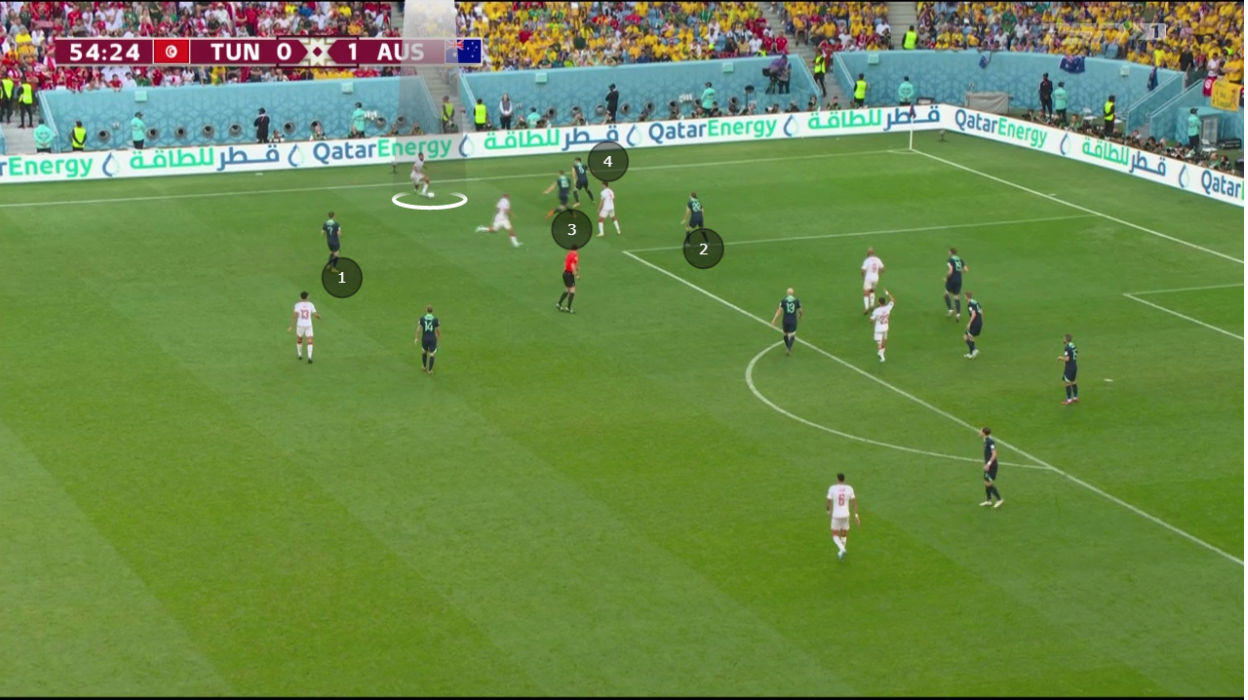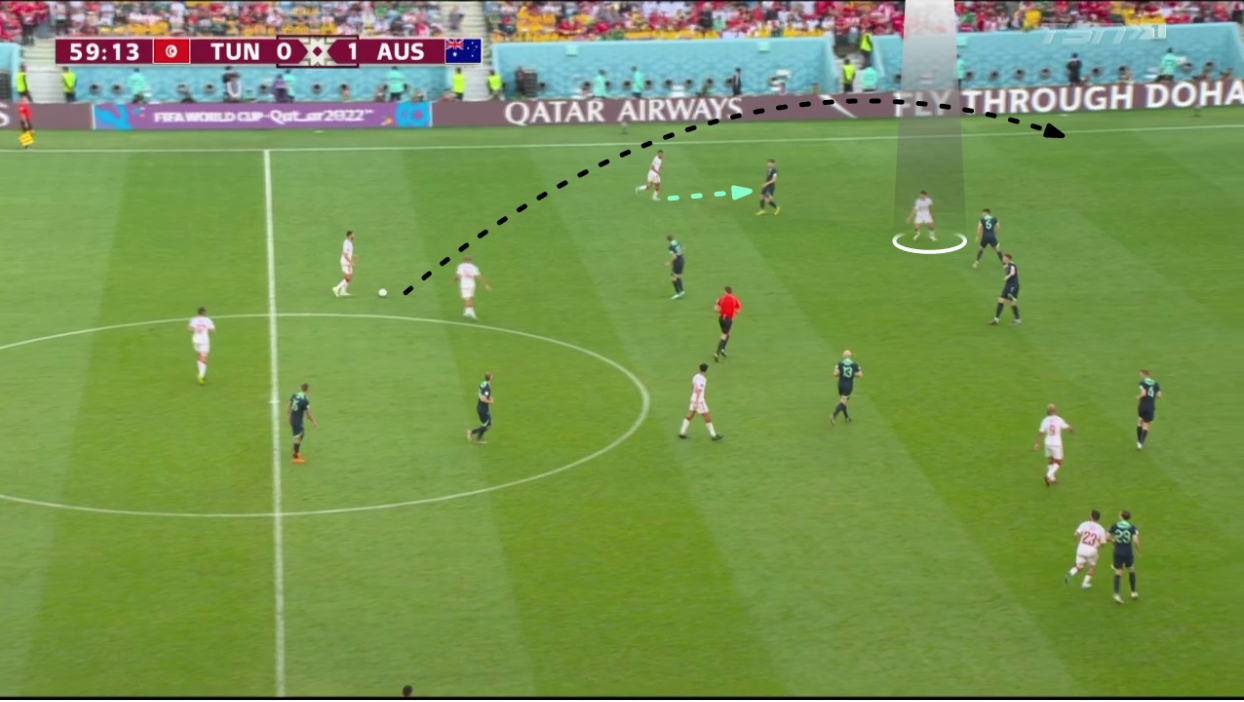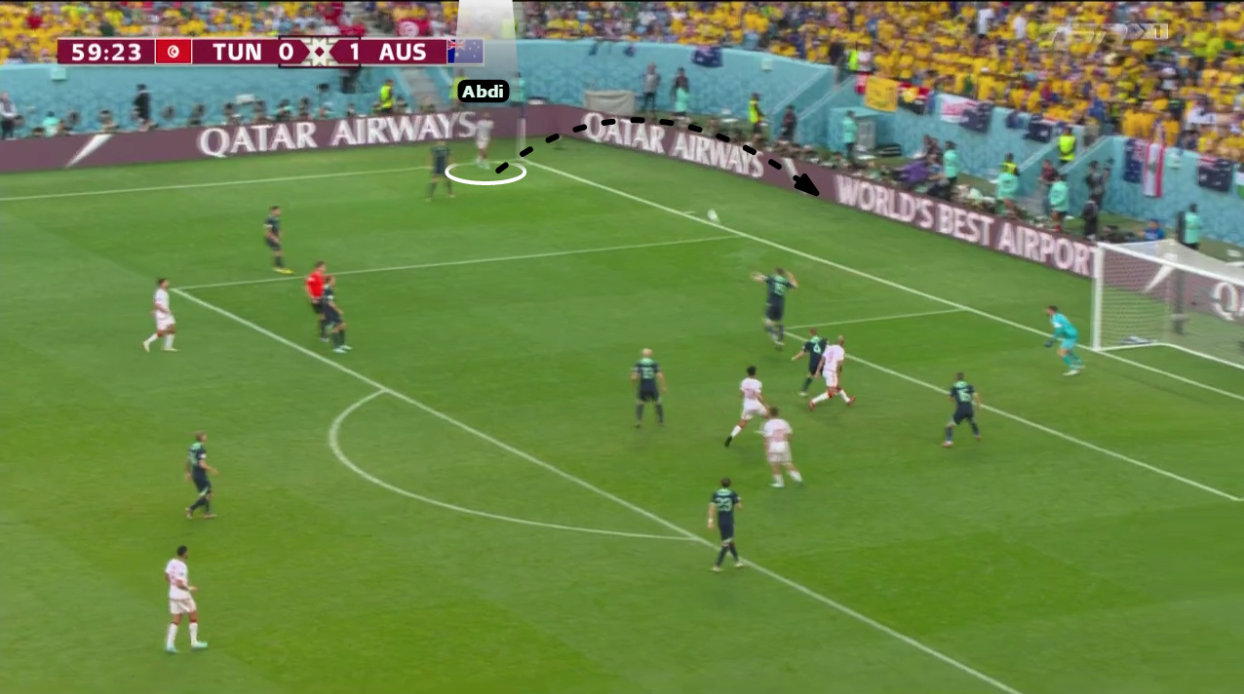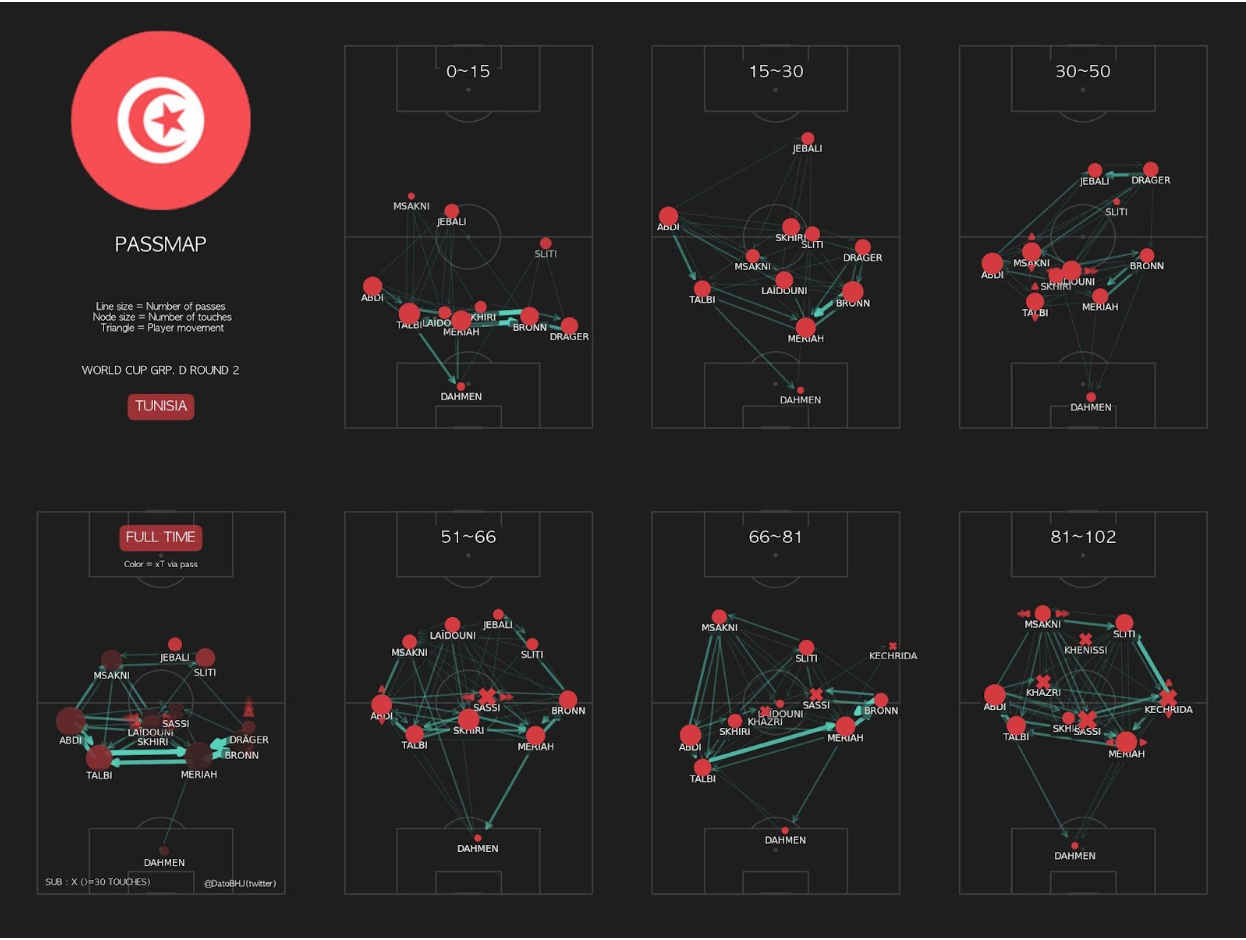 Photo: @DatoBHJ
Attacking Transitions
Australia knew very well that Msakni is the target man of Tunisia's offensive transition, so there was always a player close to him when the transition began, usually Jackson Irvine to prevent him from receiving and turning with the ball.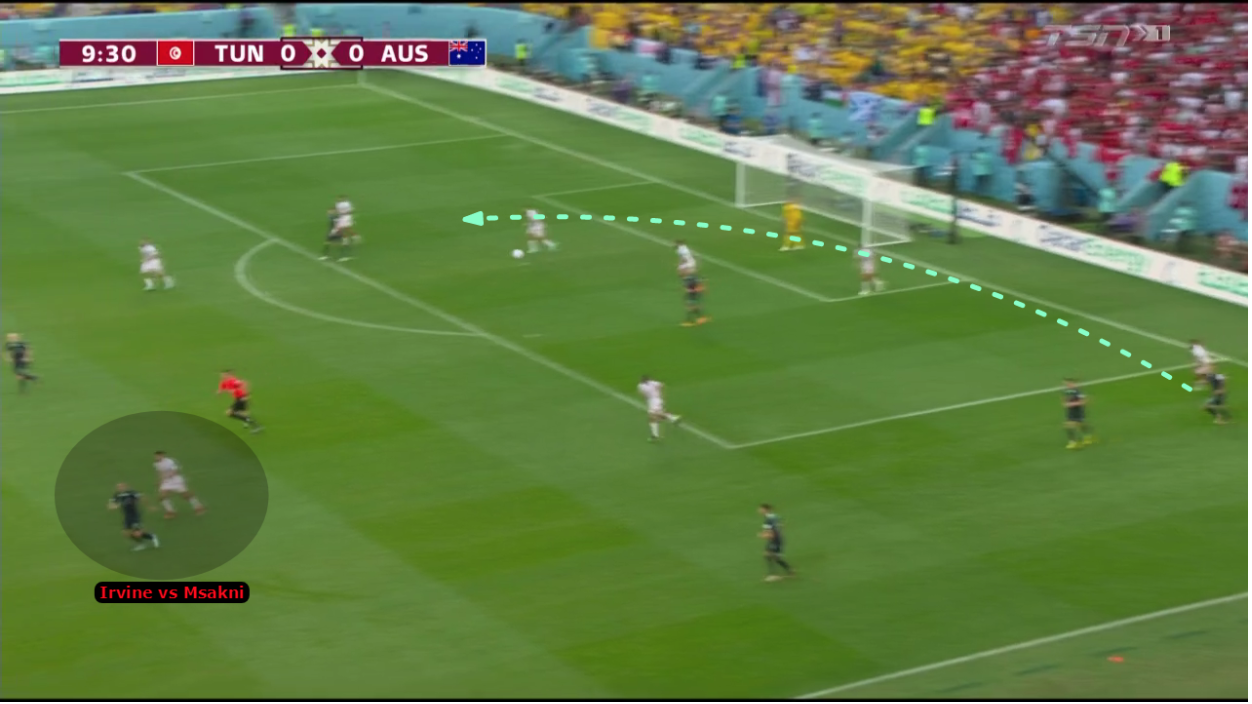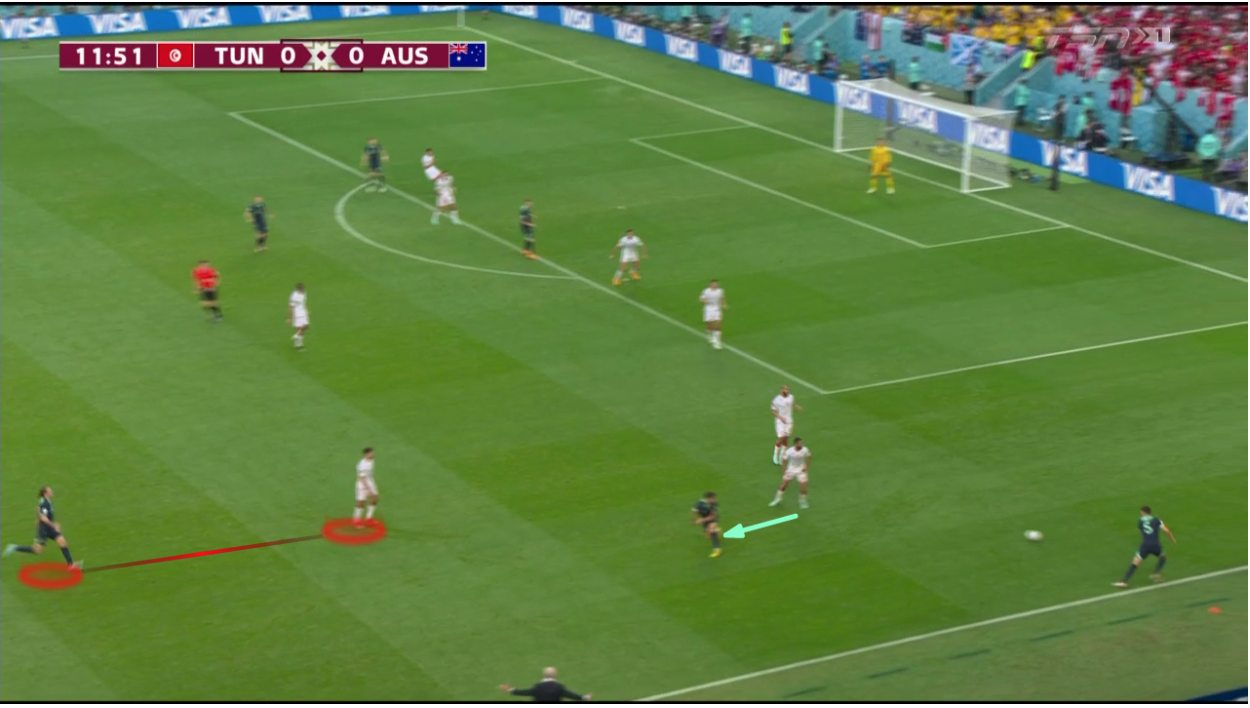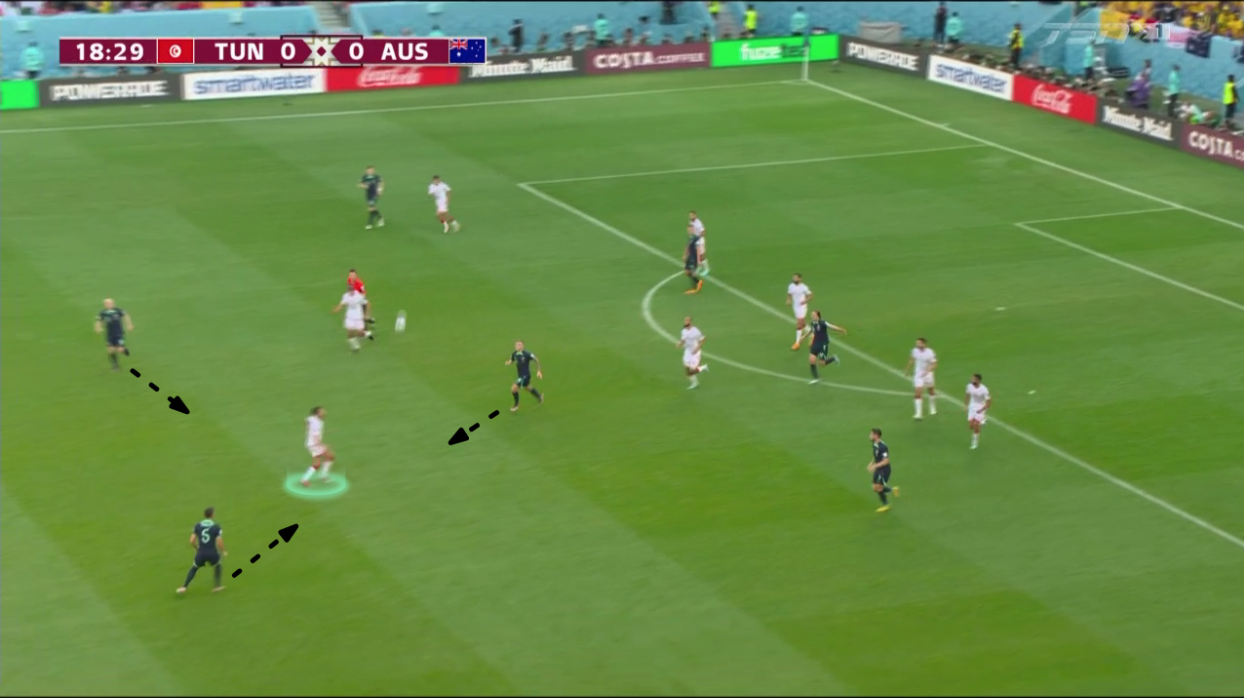 Australia in Possession
Australia started the match attacking and taking advantage of Tunisia's soft press and Australia's offense would depend on crosses, especially from the left side, which would then be dealt with the Tunisian defenders, but during a good build-up pattern, and with a little luck, Mitchel Duke scored from a cross to break the deadlock after 23 minutes.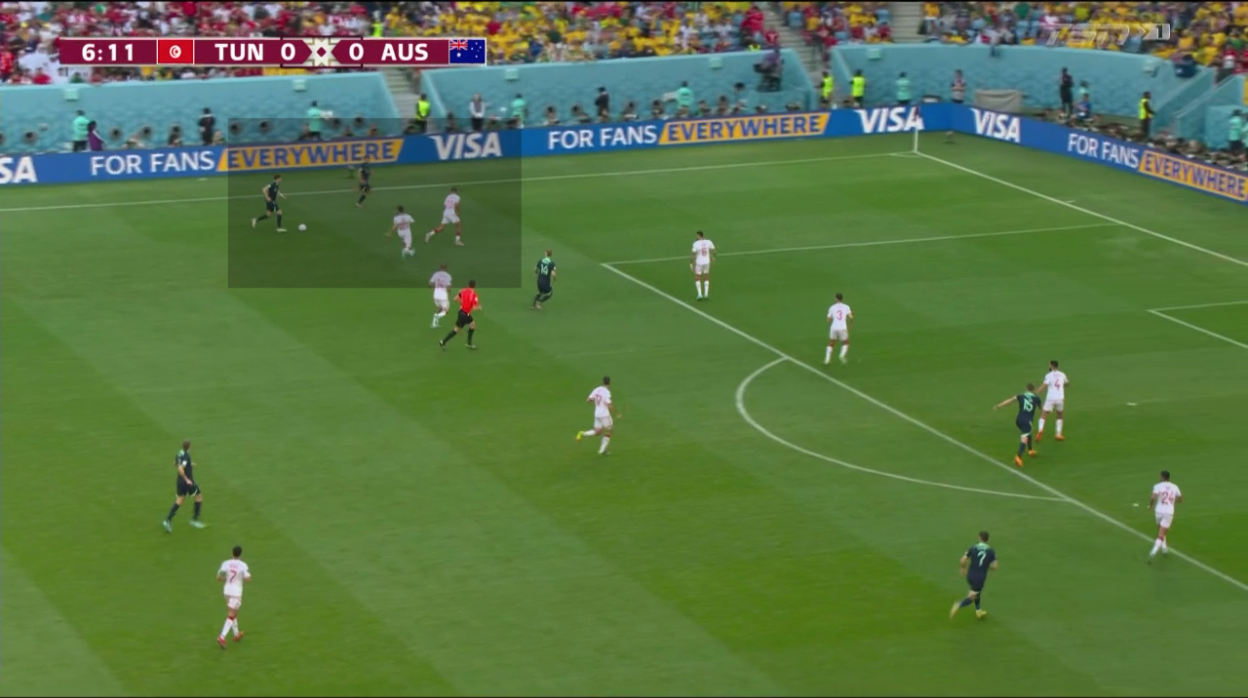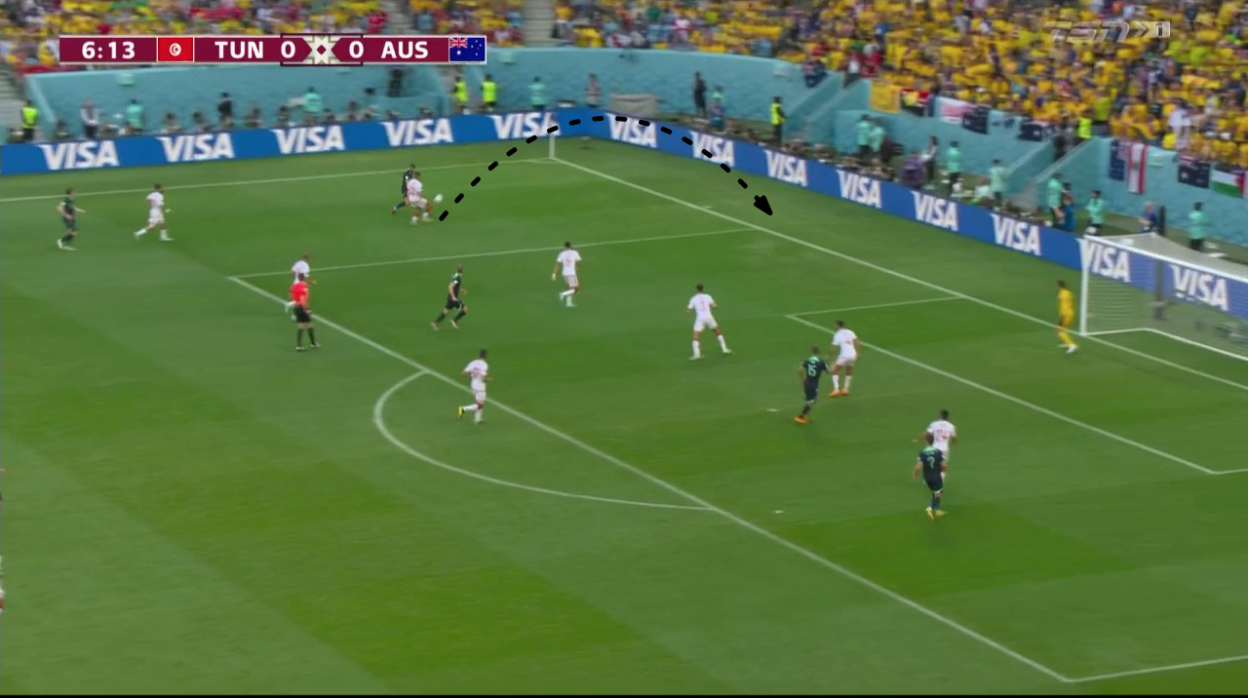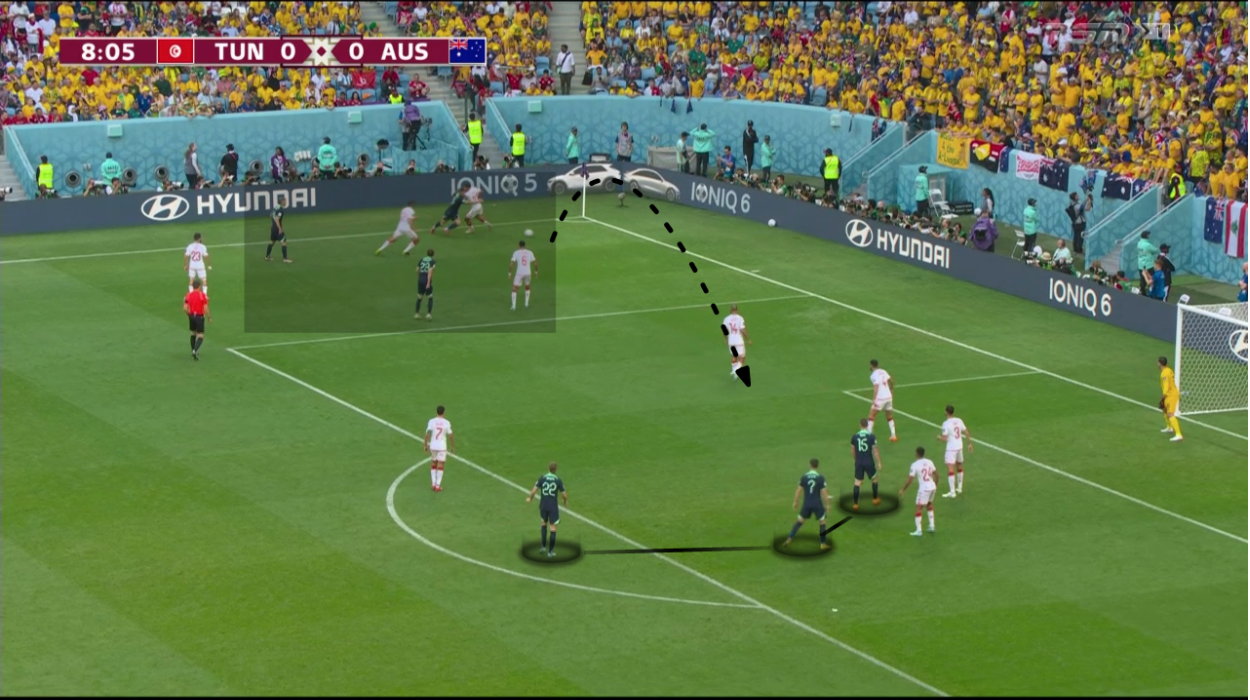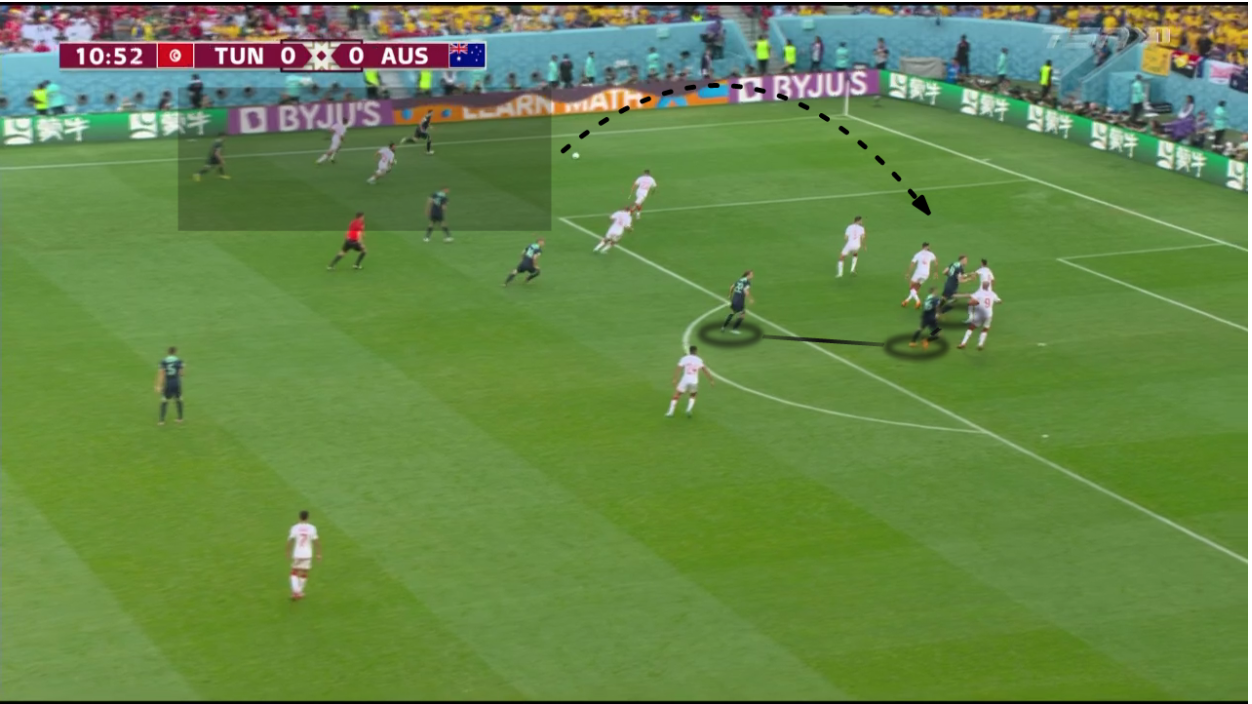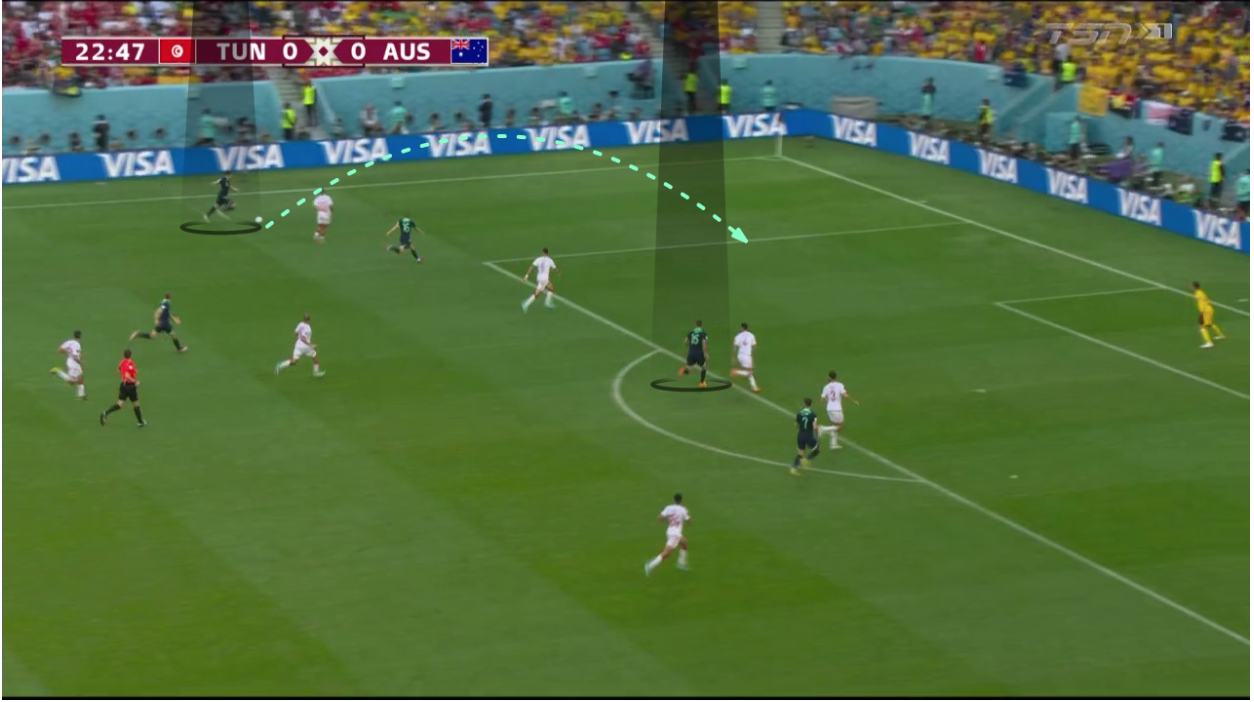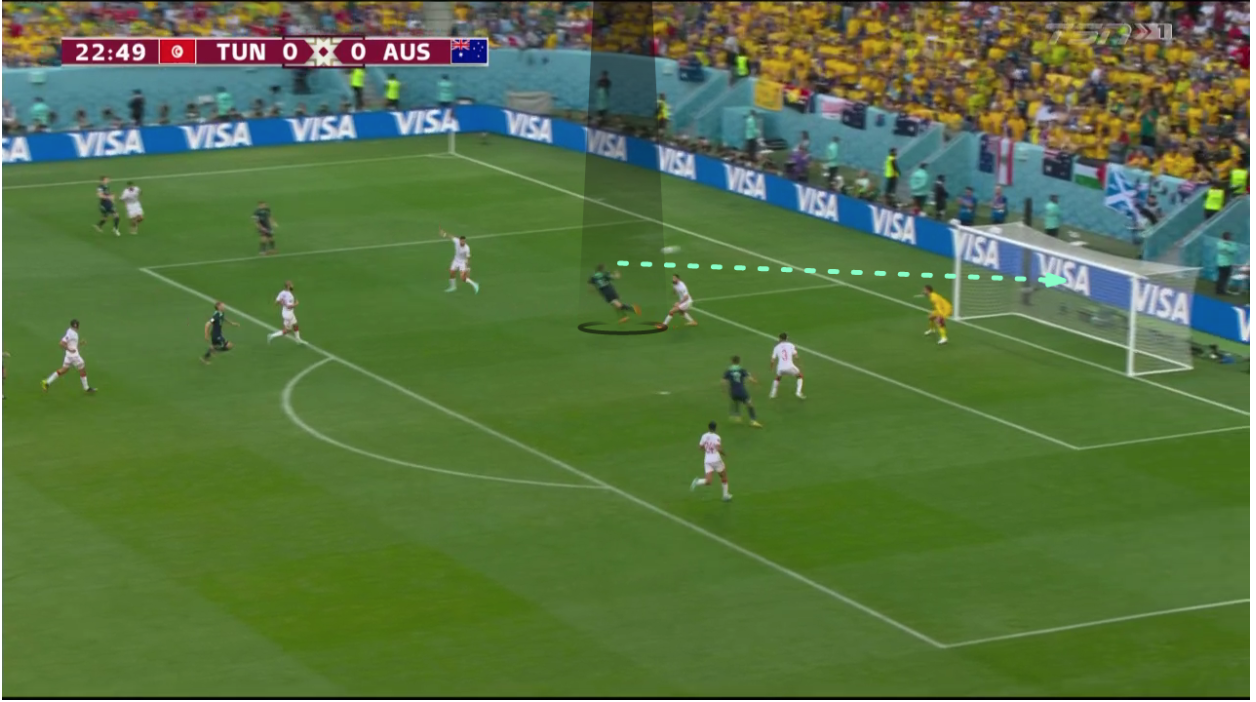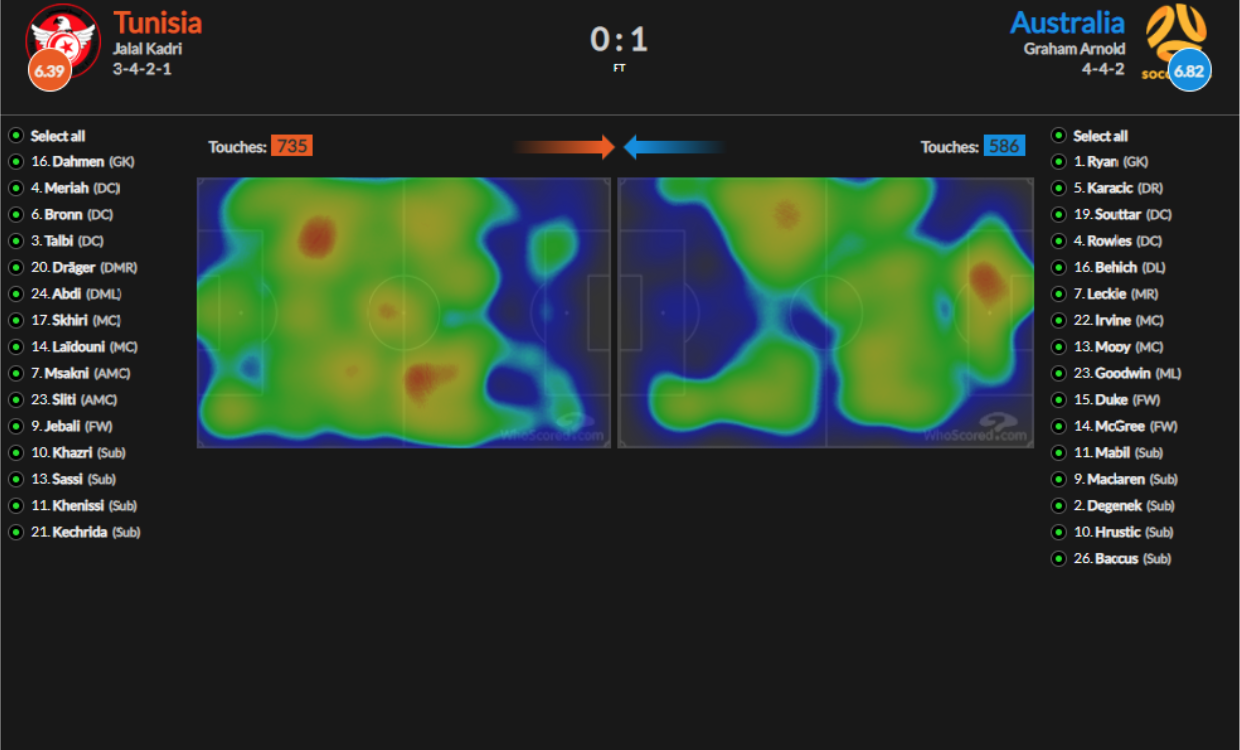 Conclusion
Contrary to the previous match, Tunisia improved in the second half after a poor first half, particularly in the pressing process. However, the team's attacking struggles and lack of firepower would end up costing them. This would prove deadly — with Tunisia beating France and Australia beating Denmark in the final group stage match, it was the Socceroos who went through to the Round of 16 alongside France.
By: Mohammad Bani Atta / @TacticalZone14
Data by: @DatoBHJ
Featured Image: @GabFoligno / Sarah Stier – FIFA