Tactical Analysis: England 3-0 Senegal
After topping their group with 7 points and 9 goals, England showed their class against the recently crowned AFCON champions, Senegal, after a challenging start in their round of 16 battle. Gareth Southgate opted with much of the same starting eleven that impressed against Wales in their final group game. Arsenal winger Bukayo Saka replaced Marcus Rashford marked the only change from this performance. On the other hand, Senegal coach Aliou Cisse's hand was forced as he was without the suspended Idrissa Gana Gueye and the injured Cheikhou Kouyate for the clash.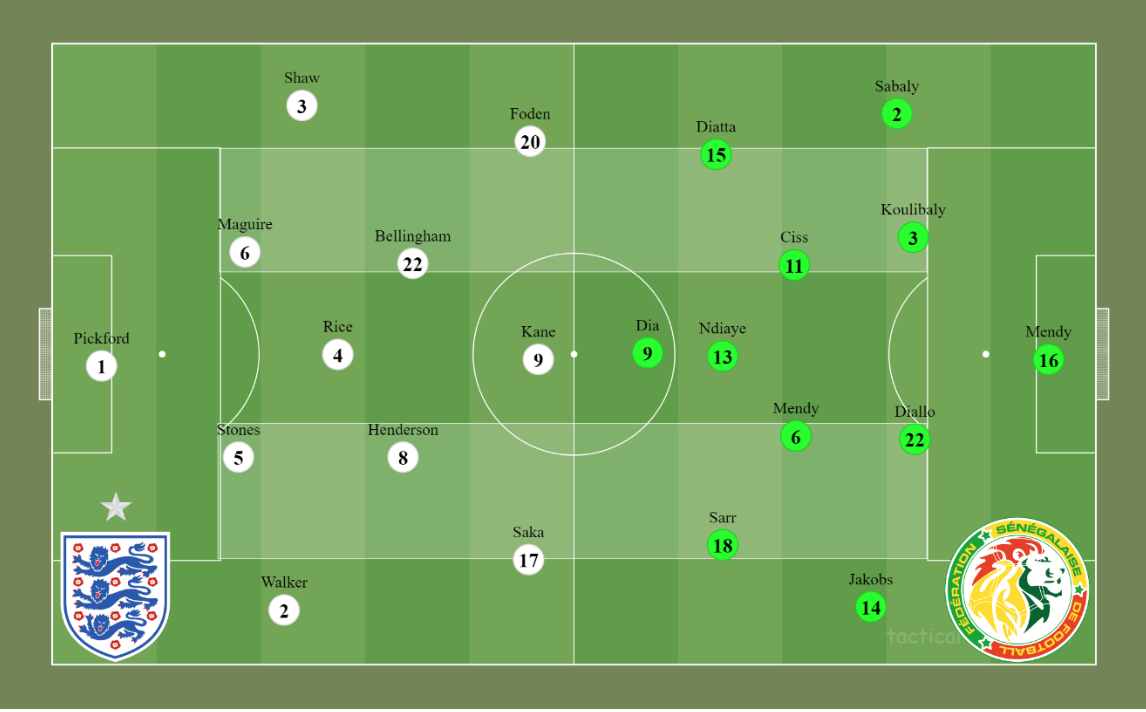 Senegal's Build-up


It was abundantly clear that Aliou Cisse had some obvious build-up principles that he wanted to apply in this game. Firstly, he made the two center-backs, Kalidou Koulibaly and Abdou Diallo, play very close to each other so as to ensure England's first line of pressure wouldn't be wide enough.


Secondly, both Senegalese full backs played high up, receiving no direct marking from the English central midfielders. This was clearly a strategy employed before the game in an attempt to break the first line of England's press.  Often, Senegal would attempt longer passes out to the full backs where pressure would rarely come from Jordan Henderson or Jude Bellingham as England's central midfielders. 
In the beginning, that's exactly what happened in the first build-up scene for Senegal. Koulibaly and Diallo are narrow with Edouard Mendy between them, making it 3v3 while Harry Kane shadow presses Senegal's holding midfielder, Nampalys Mendy, the keeper successfully chips a pass to Ismail Jakobs at left back.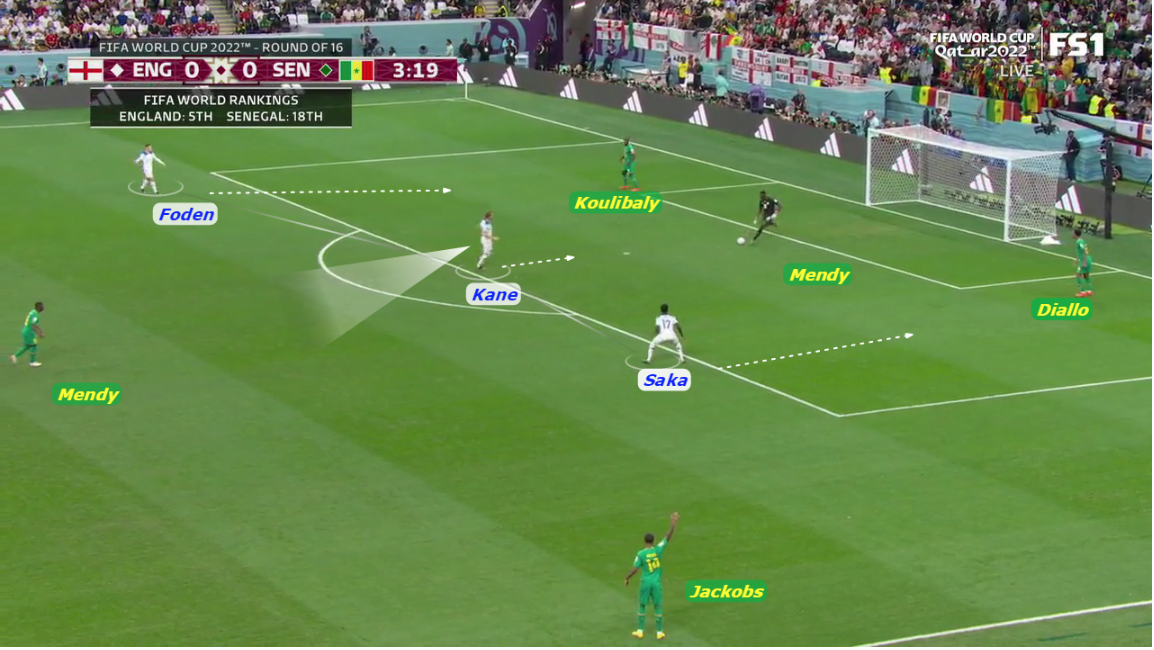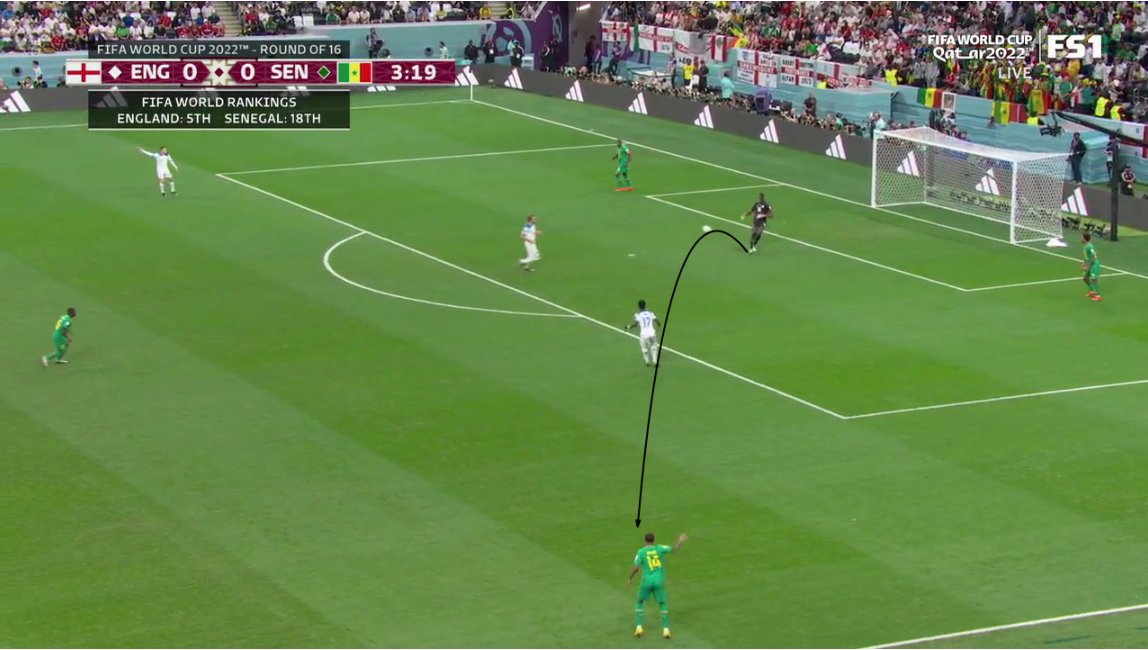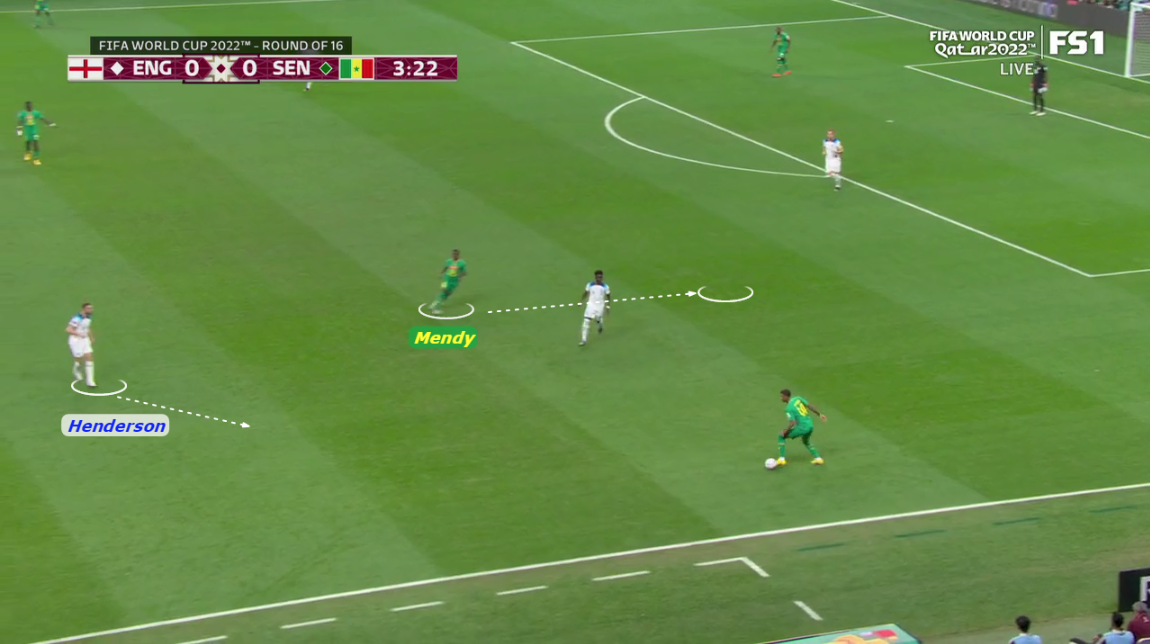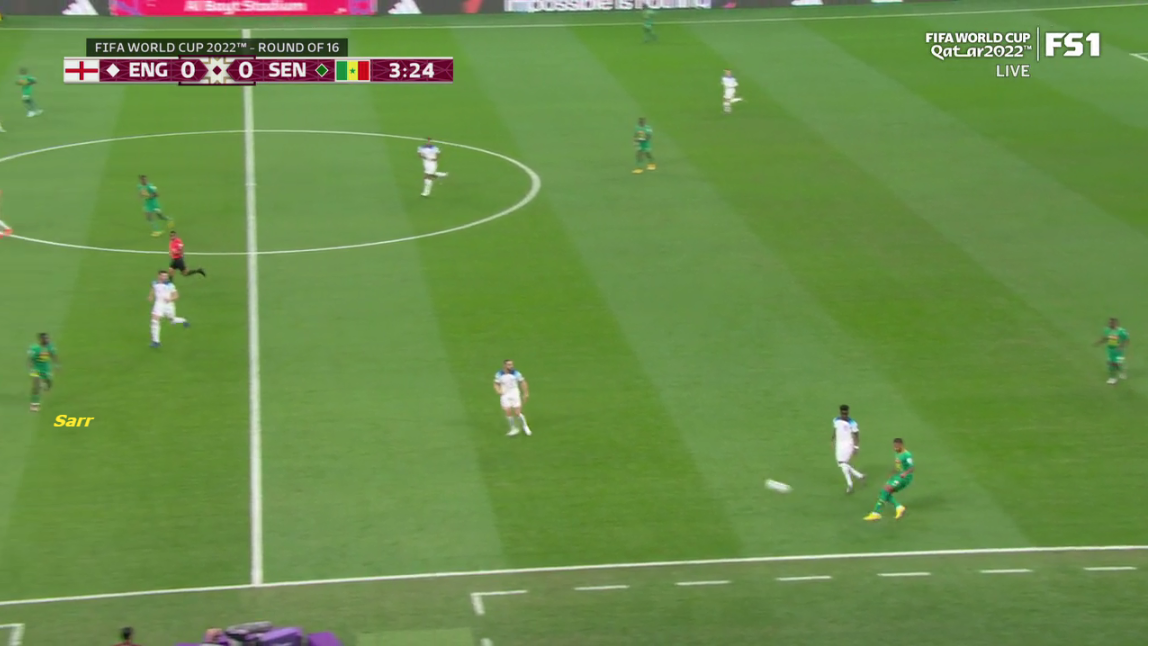 Astutely, Southgate adjusted his pressing system shorty after this sequence. Saka was instructed to stay closer to Jakobs, even as England engaged their press, as he was the obvious out-ball. Additionally, Bellingham got closer to Mendy as Senegal built up, forcing Koulibaly and Diallo to be quicker with their passes. As this pattern developed, Senegal's confidence in their build up play slowly withered. This was displayed when Diallo almost gave the ball away under pressure but the referee gave a foul against England.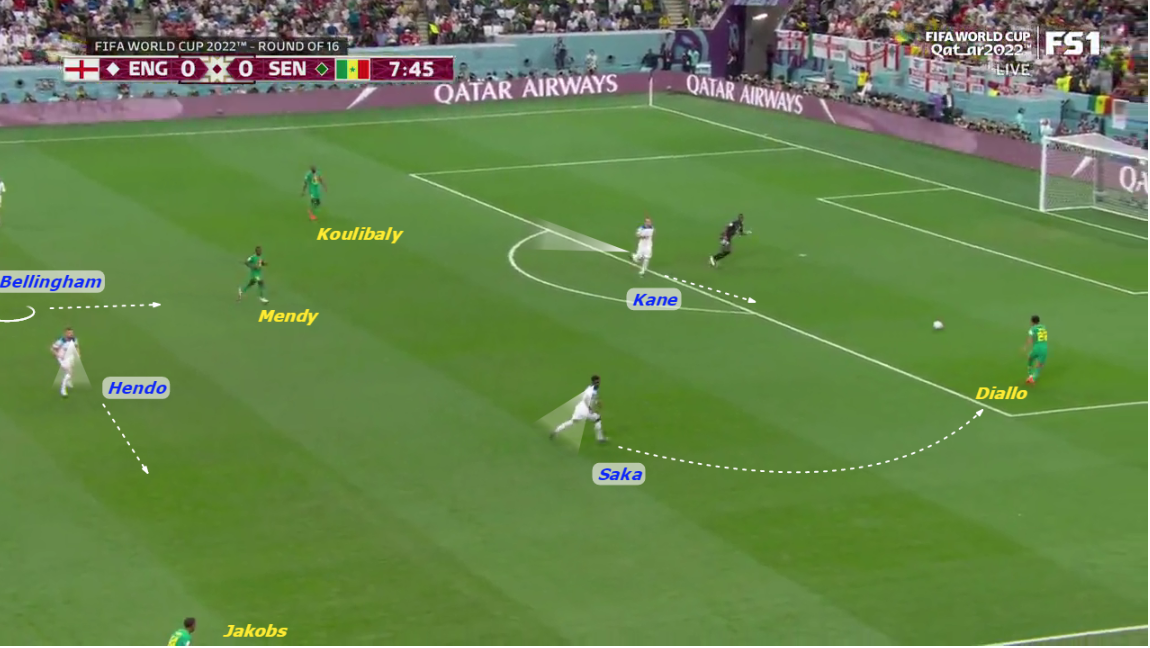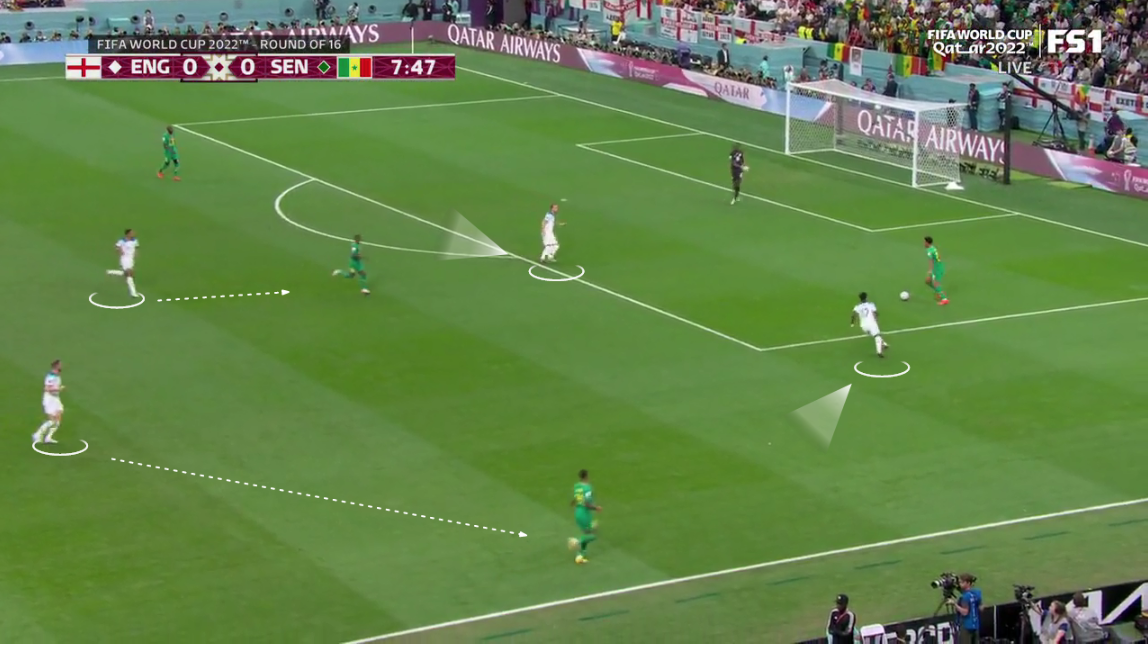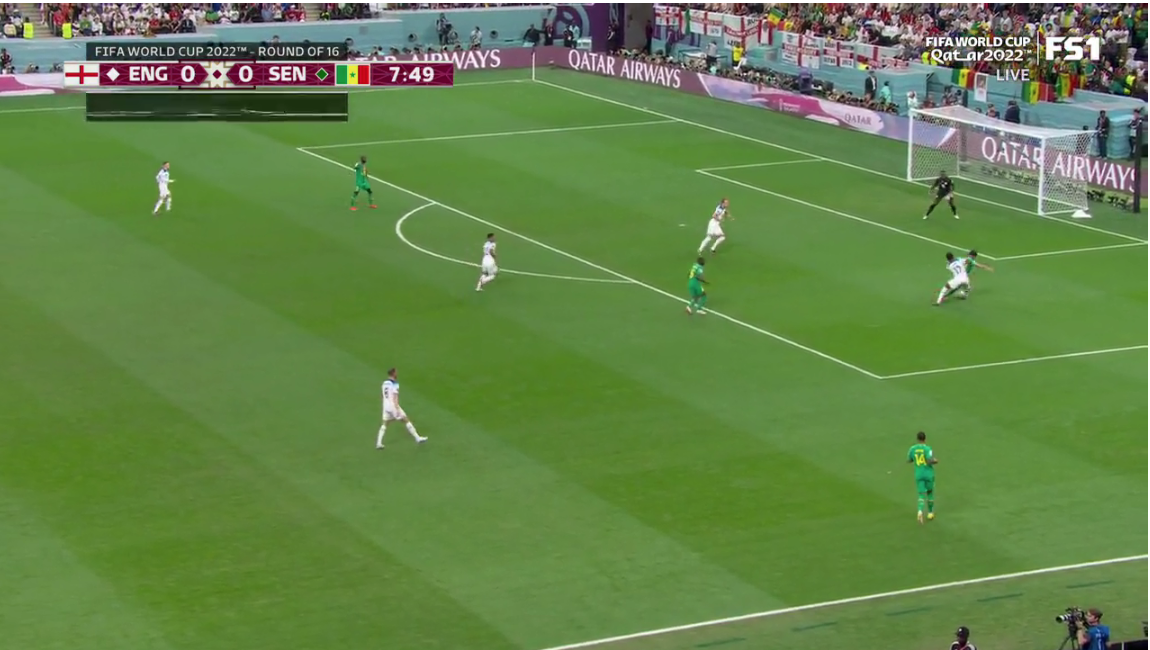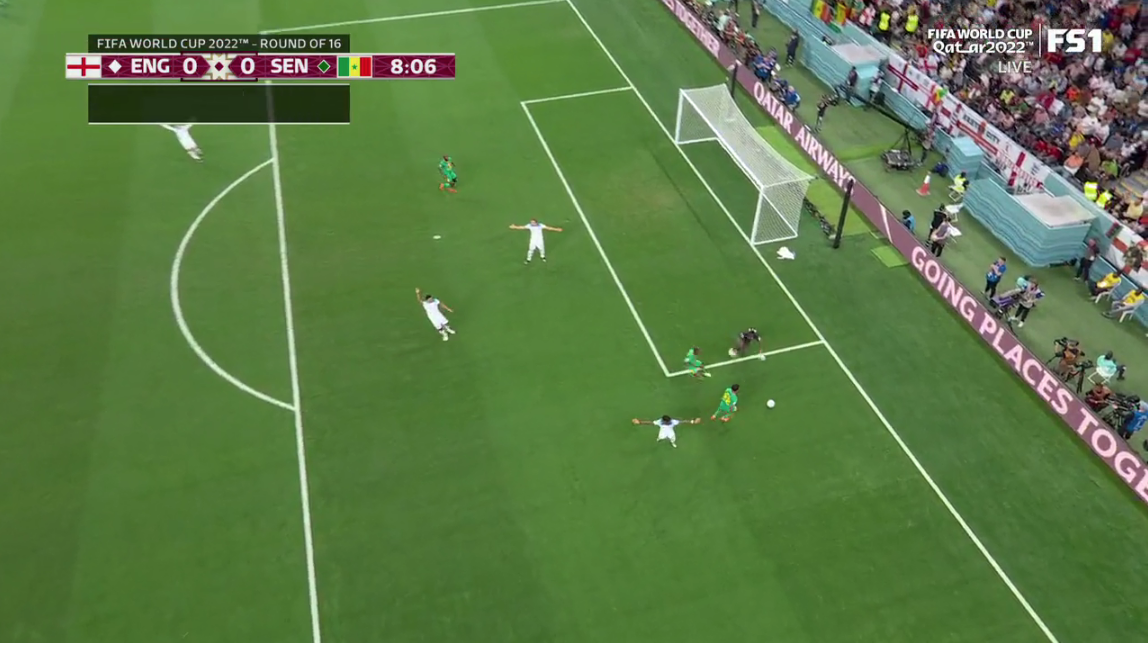 Subsequent to this, Senegal went back to their narrow build-up, high full backs and looked for Youssouf Sabaly, at right back, as a potential out-ball. Southgate once again showed his strength in pragmatism as he found solution for this, instructing Phil Foden to scan the full back positioning and shadow press him, and if the Senegalese full back dropped he becomes man marked by the winger. Meanwhile, Harry Kane pressed Koulibaly forcing him right and the combination of Henderson and Saka crowded out Mendy in midfield, thus narrowing Senegal's options in build-up.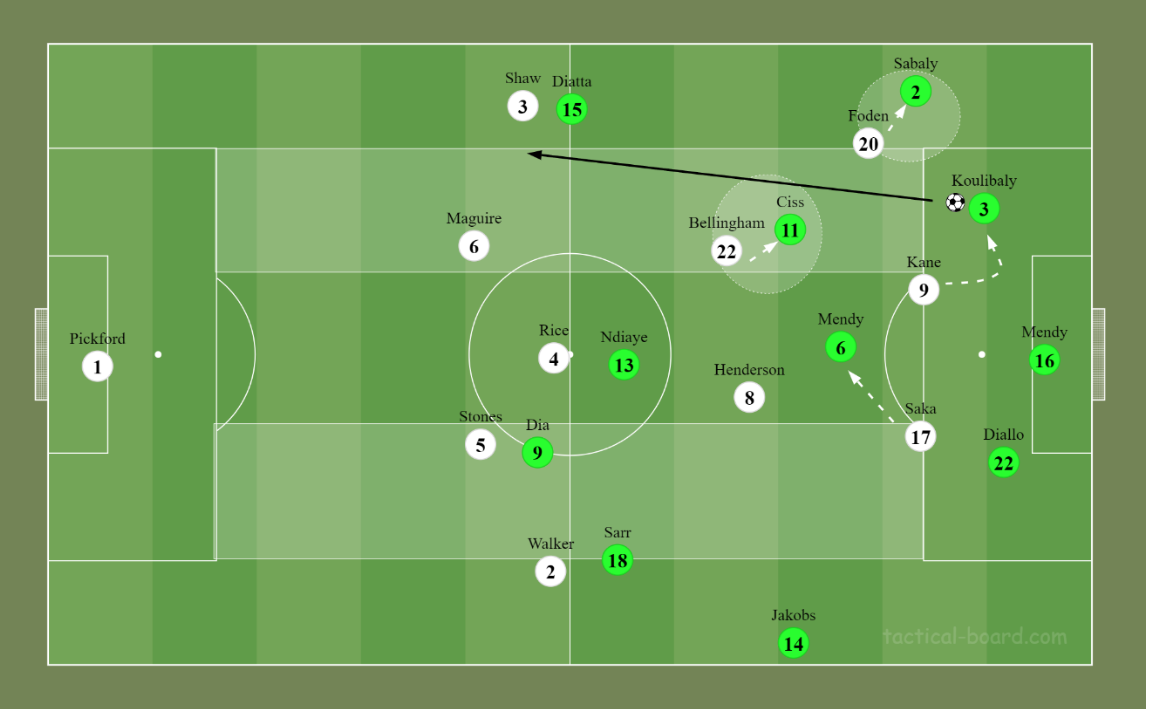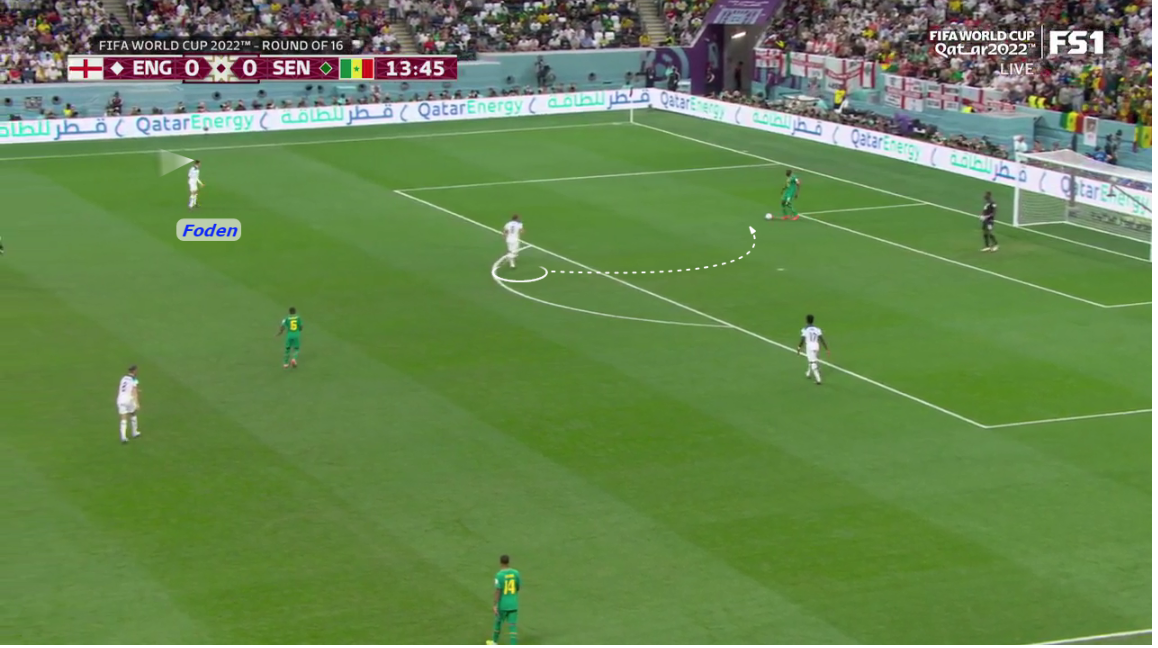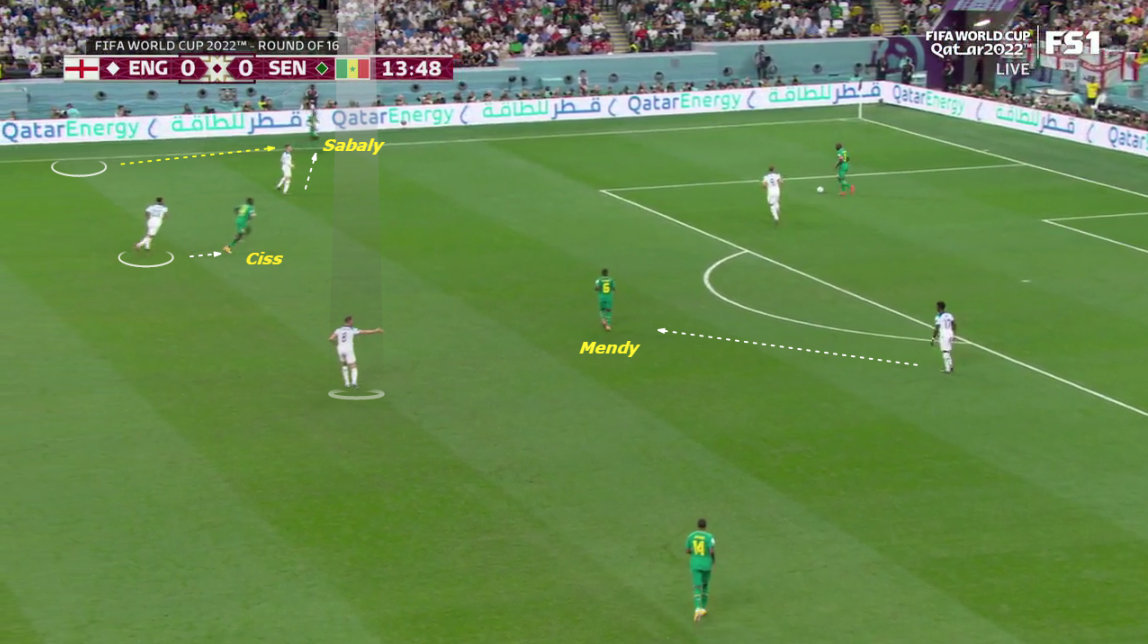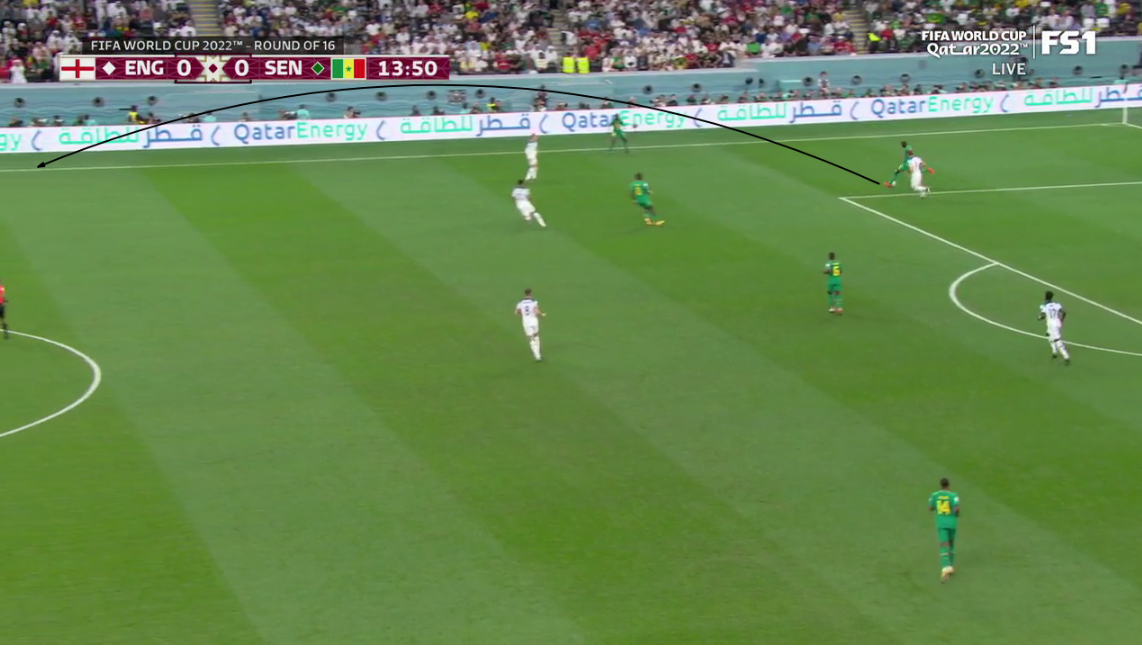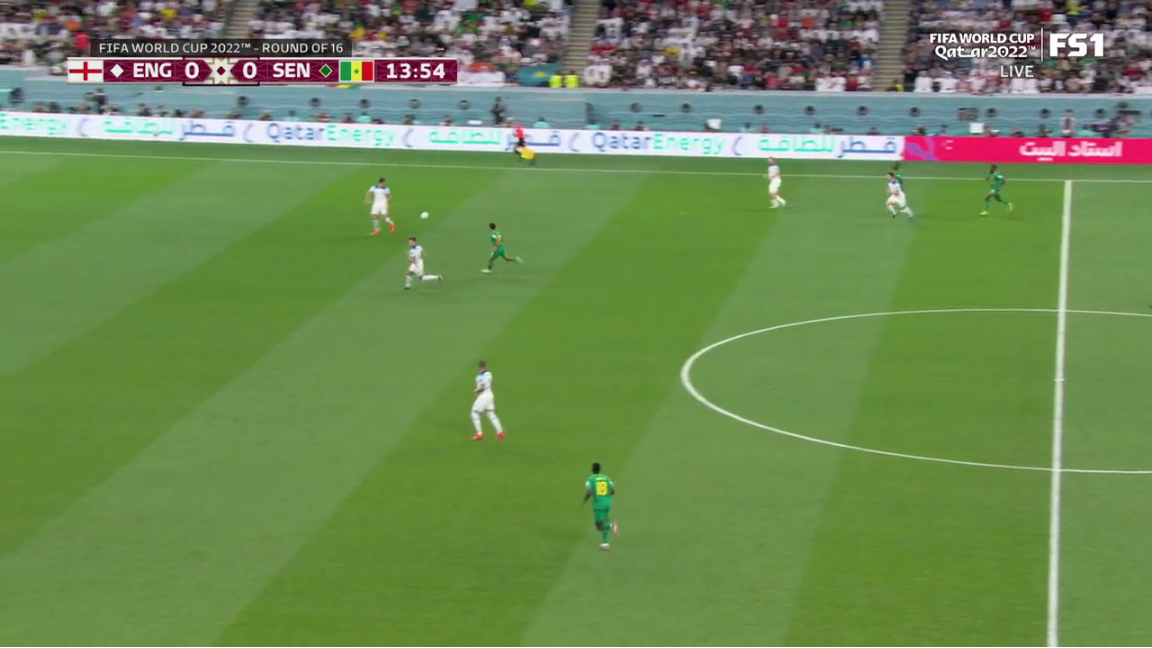 These meticulously derived strategies serve to highlight Gareth Southgate's excellent in-game problem solving and they point to an intangible quality in this England side which suggests that they may be the best version of themselves under Southgate.


England's Build-up


Expanding on the idea of Southgate's reactivity to in-game problems, this can be seen also in Senegal's pressing of England. One of the main ideas in build-up was to give Harry Maguire time on the ball. This was a strategy formulated on the basis that England depend on the linking between Shaw, Bellingham and Foden on the left after receiving the ball from Maguire on that side.


Commonly, both Boulaye Dia and Iliman Ndiaye switched the press on England's build-up triangle that consists the two center backs John Stones and Harry Maguire and Declan Rice. Consequently, if Maguire had the ball then Dia would press him while Ndiaye pressed Rice, the adverse effect would occur when John Stones had the ball and both wingers would mark England's full backs.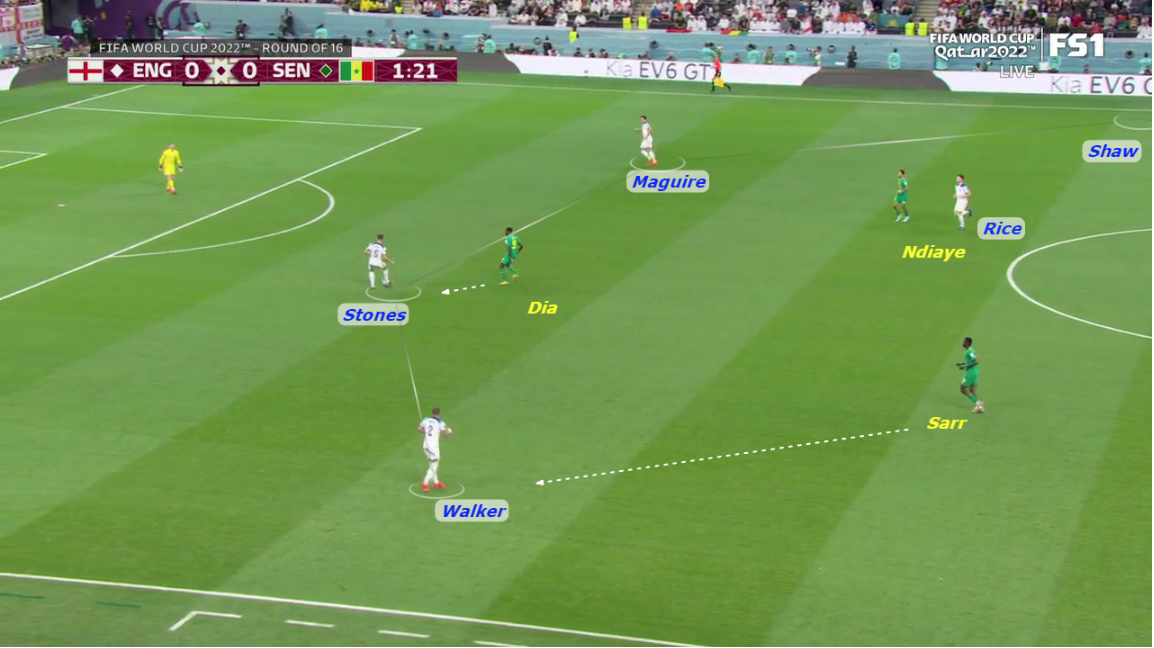 So to give Maguire time on the ball, Rice pulled his marker to the left, while Walker received the ball, making it 3v3 on the right side. This then led to Maguire having the freedom of the entire left-hand side which was, of course, the intention in England's build-up.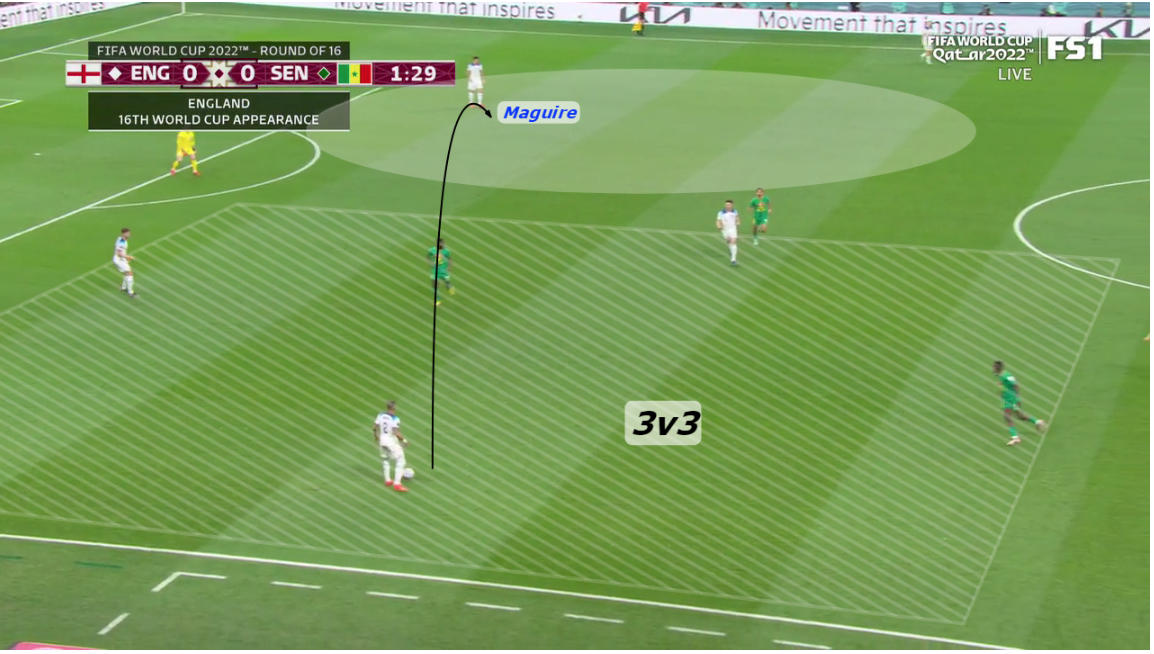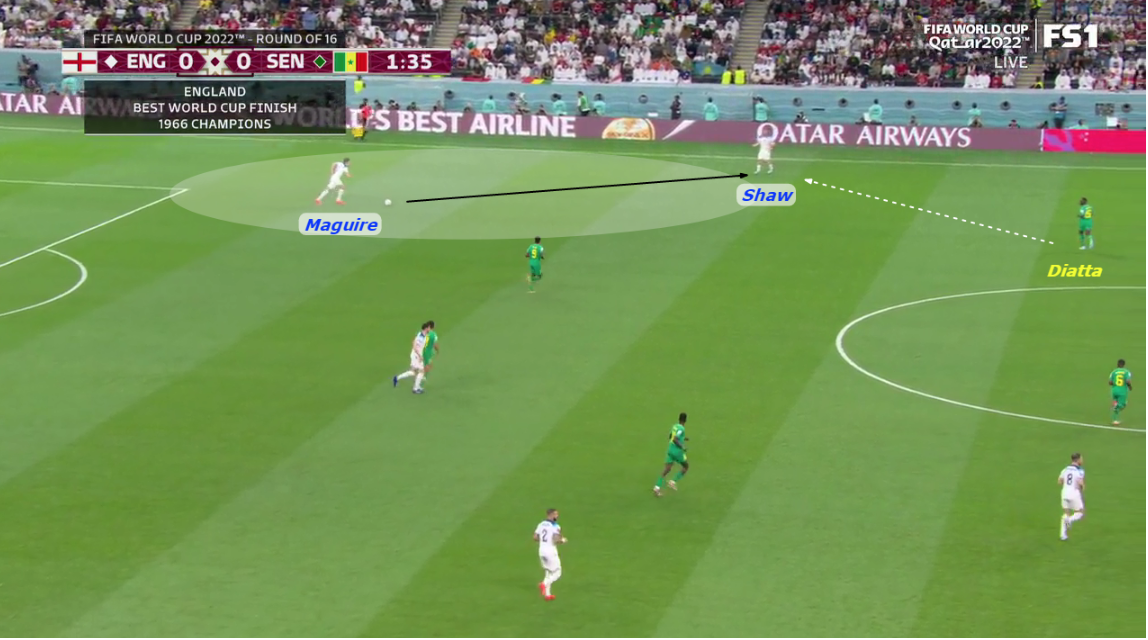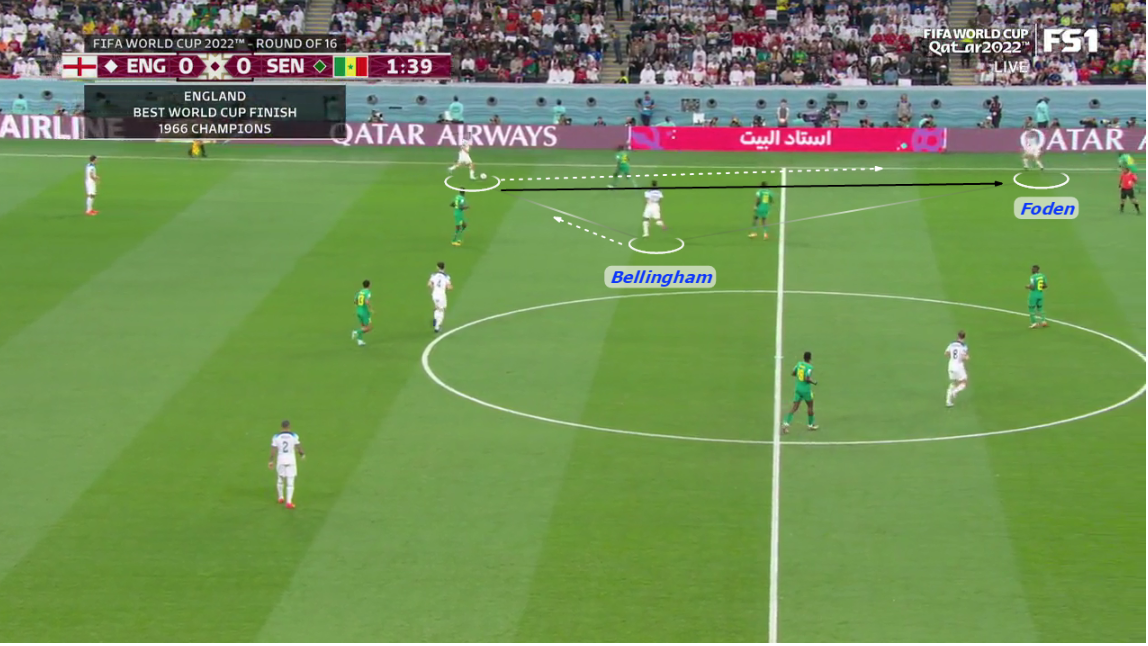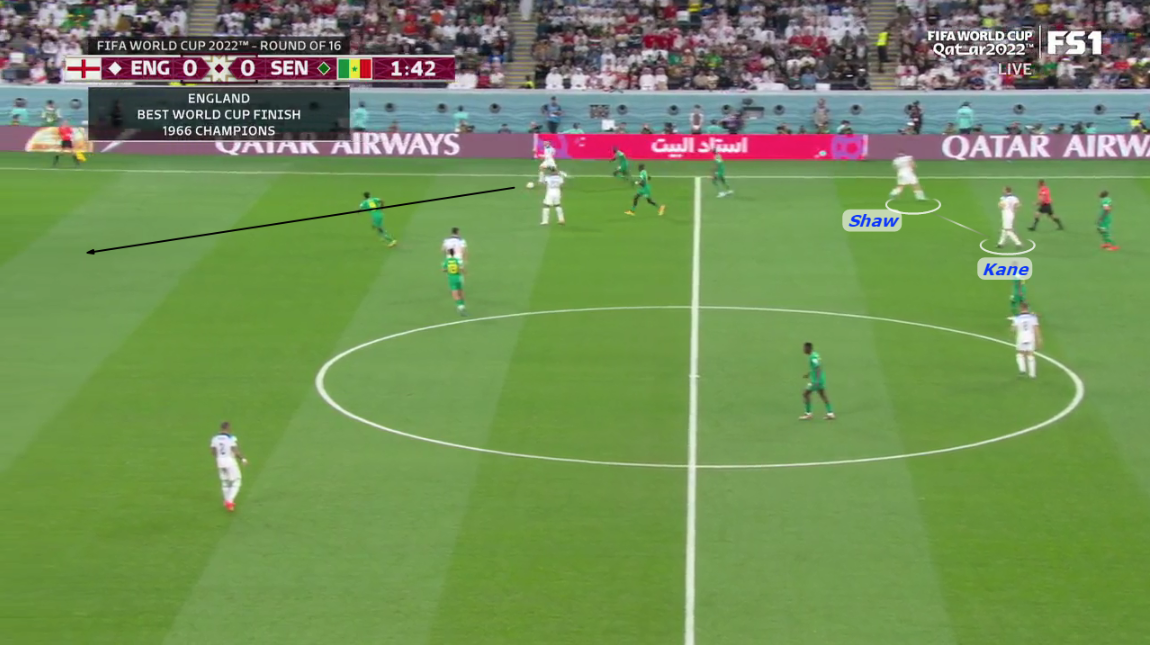 Kane then pulled Koulibaly out of position by dropping deep, as does Bellingham with Ciss and after Foden receives a pass, Luke Shaw makes a bursting overlap on the left. Although Foden opts with a pass backwards, the idea here was to isolate Maguire in the build-up to launch attacks and England proved successful in the game in achieving this. 
Throughout the game, Diatta would try and cut the passing lane to Shaw, Foden would then attempt to receive the ball as Ciss was largely preoccupied with marking Bellingham who would often make darting runs into the created space. The right back, Youssouf Sabaly, who started as Foden marker was now pressing Shaw. With Kane habitually pulling Koulibaly out to the flank and Foden produces a lot of forward runs, a 3v1 on the flank for England would often be the avenue for chance creation.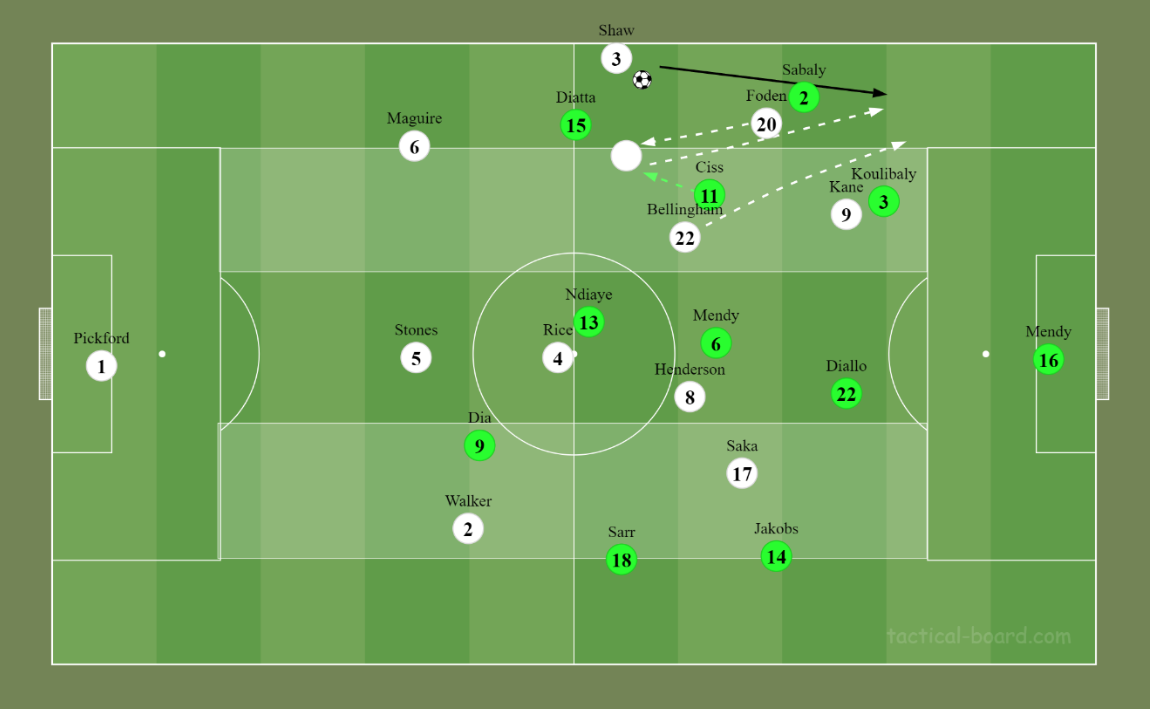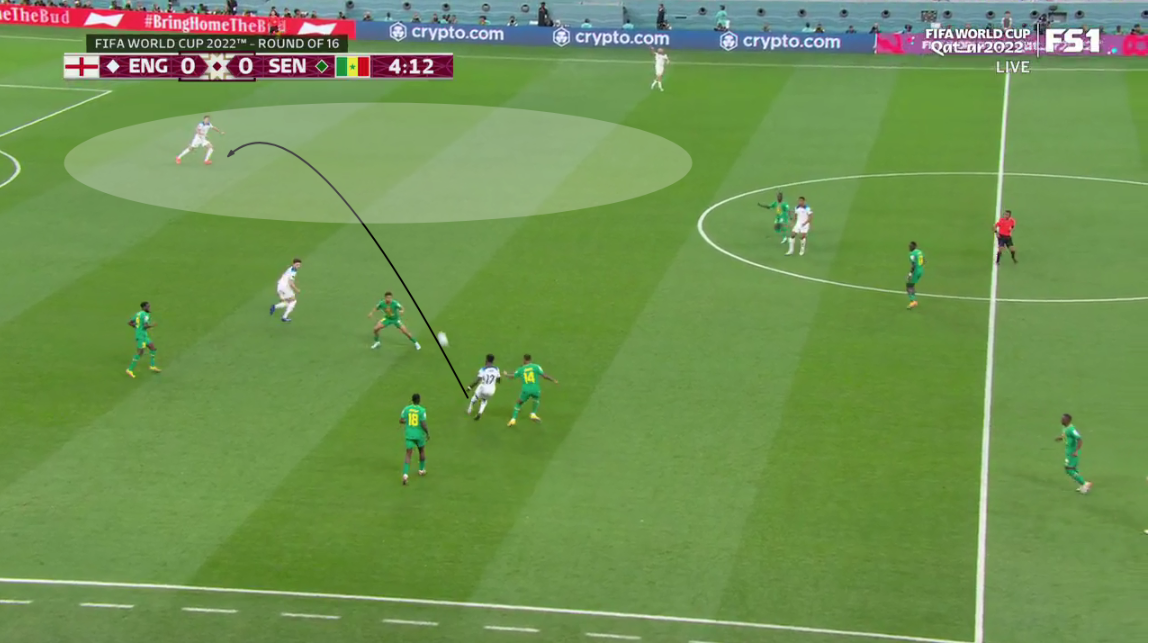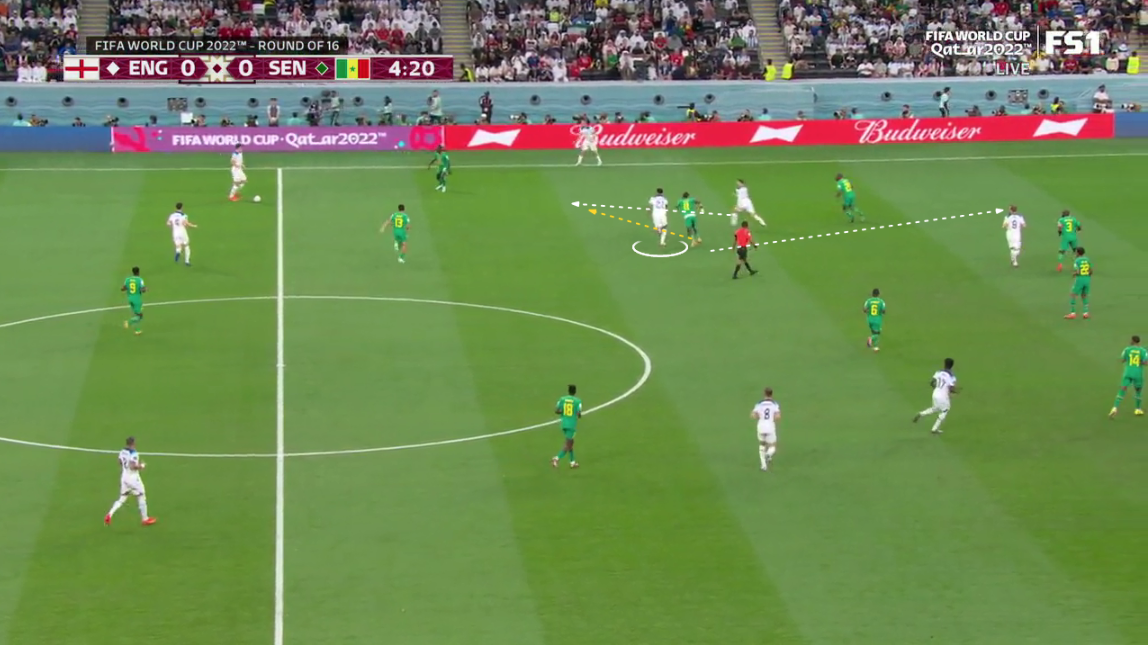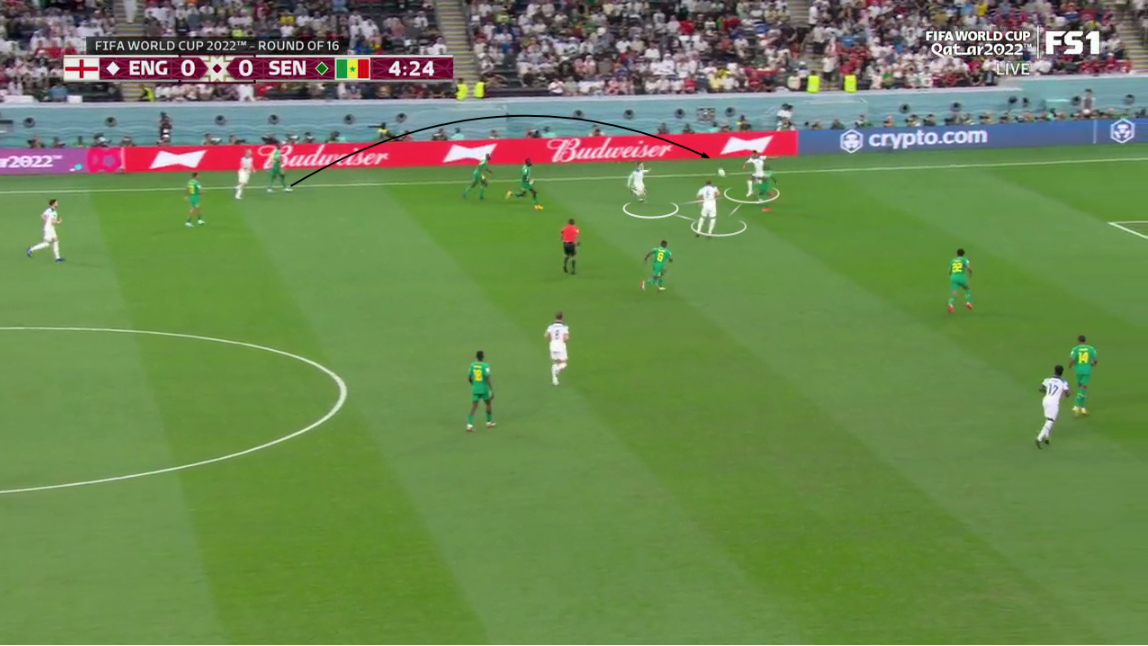 Luke Shaw's positioning so close to the line forced Diatta to press cutting the lane to him, so that made it simple for Maguire to pass inside instead of outside to either Foden or Bellingham. Whoever receives the other makes a forward run behind the full back, Kane as usual pulling Koulibaly to the flank, and as the ball ends up with Bellingham on the side, you can see Henderson making a forward run asking for the cut back pass, but Dortmund's midfielder had another opinion.



 The majority of their build-up sprung from their left flank. The trio of Bellingham, Shaw and Foden proved instrumental as Shaw was the one to receive the pass and eventually finds Harry Kane who had dropped deep and dragged Koulibaly out of position. The space in behind had allowed Bellingham to make a driving run ahead of Ciss. 

Shaw receiving on the flank with lacking of pressing intensity by Diatta, Foden sends a back heel to Kane who drifts wide as usual, creating a space behind Koulibaly to attack, Koulibaly decides to fall back once Kane receives but it was too late. Bellingham makes a forward run escaping his marker Ciss, receiving in space and sending a back pass, the rest is history.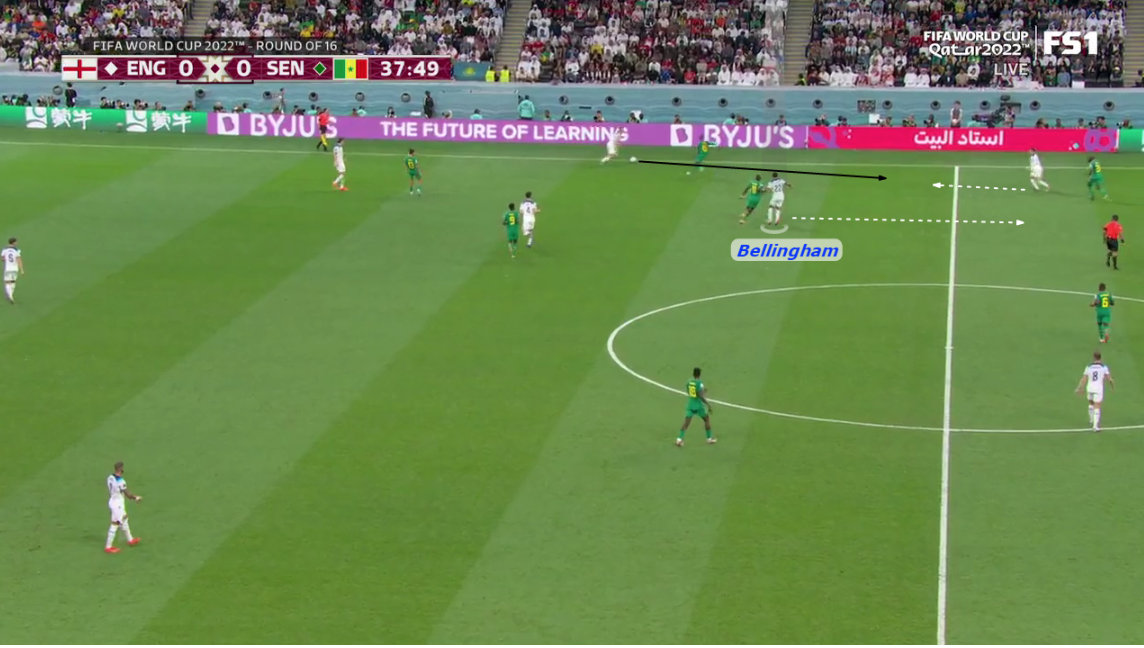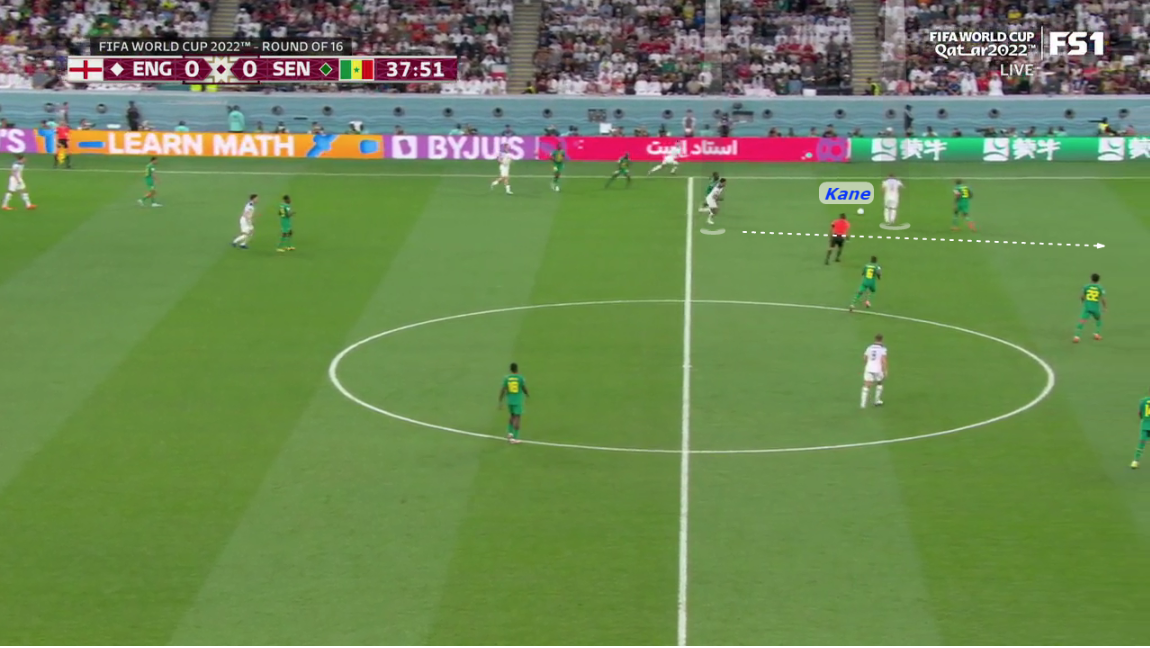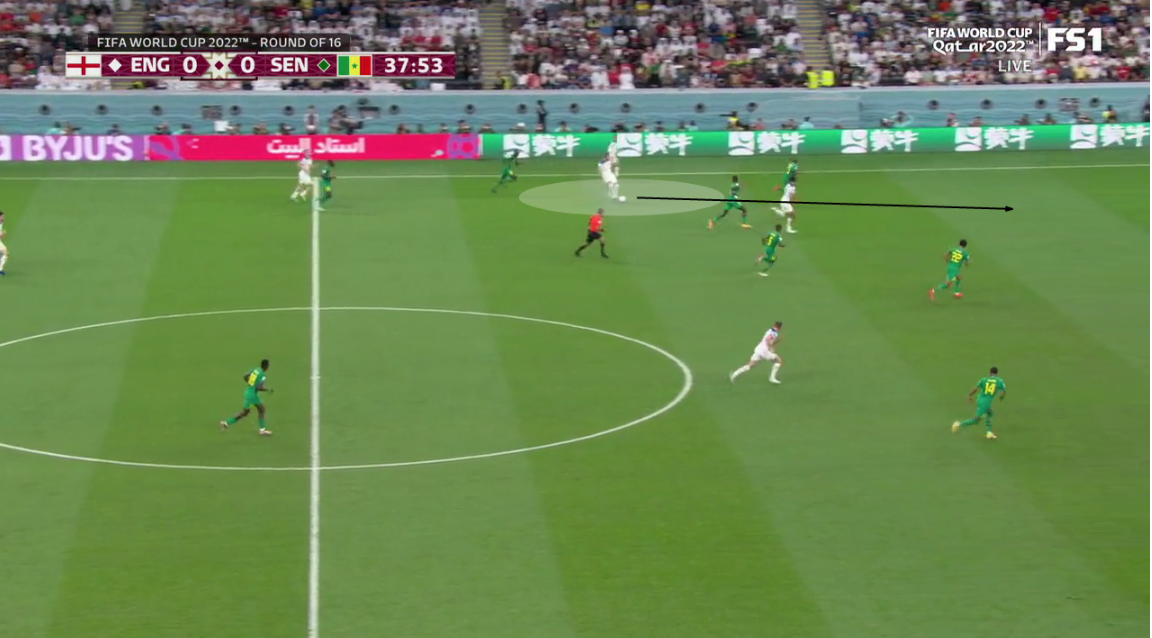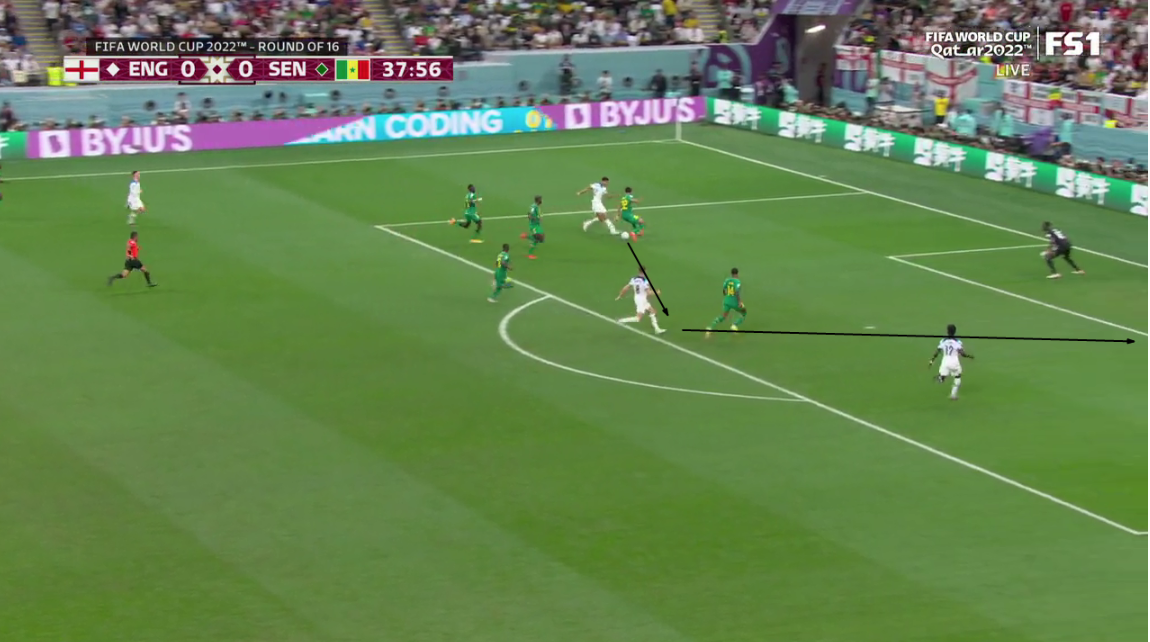 Whilst Senegal were unable to replicate the heroics of their 2002 side when they reached the quarterfinals, they nevertheless bettered the result of their 2018 group stage elimination and advanced to the knockout round despite Sadio Mané's absence. After thrashing the Lions of Teranga 3-0 via goals from Jordan Henderson, Harry Kane and Bukayo Saka, England will be looking to eliminate the defending champions as they take on France in the Al Bayt Stadium on Saturday.
By: Mina Edwar / @Mina_Edwar
Featured Image: @GabFoligno / NurPhoto