Tactical Analysis: France 2-0 Morocco
After a phenomenal run that saw them defeat Belgium and Canada, draw to Croatia, and eliminate Spain and Portugal, Morocco's Cinderella story came to an end in the semifinals of the 2022 FIFA World Cup. Having become the first African team in World Cup history to reach the semis, Morocco fell to a 2-0 defeat to France, who, in turn, became the first team to reach back-to-back World Cup finals since Brazil in 1998 and 2002.
Didier Deschamps went with his typical 4-3-3 formation with Ibrahima Konaté coming in for Dayot Upamecano in central defense and Youssouf Fofana replacing Adrien Rabiot and playing alongside his former Monaco teammate Aurélien Tchouaméni.
As for Morocco, Walid Regragui opted for a new formation with a 5-4-1 shape, with central midfielder Selim Amallah dropping out of the team to make way for a back three of Jawad El Yamiq, Romain Saïss and Achraf Dari, only for Saïss to come off for Amallah after 21 minutes, with Morocco reverting to a 4-3-3 as their two backup center backs partnered each other in defense due to Nayef Aguerd's injury-related absence.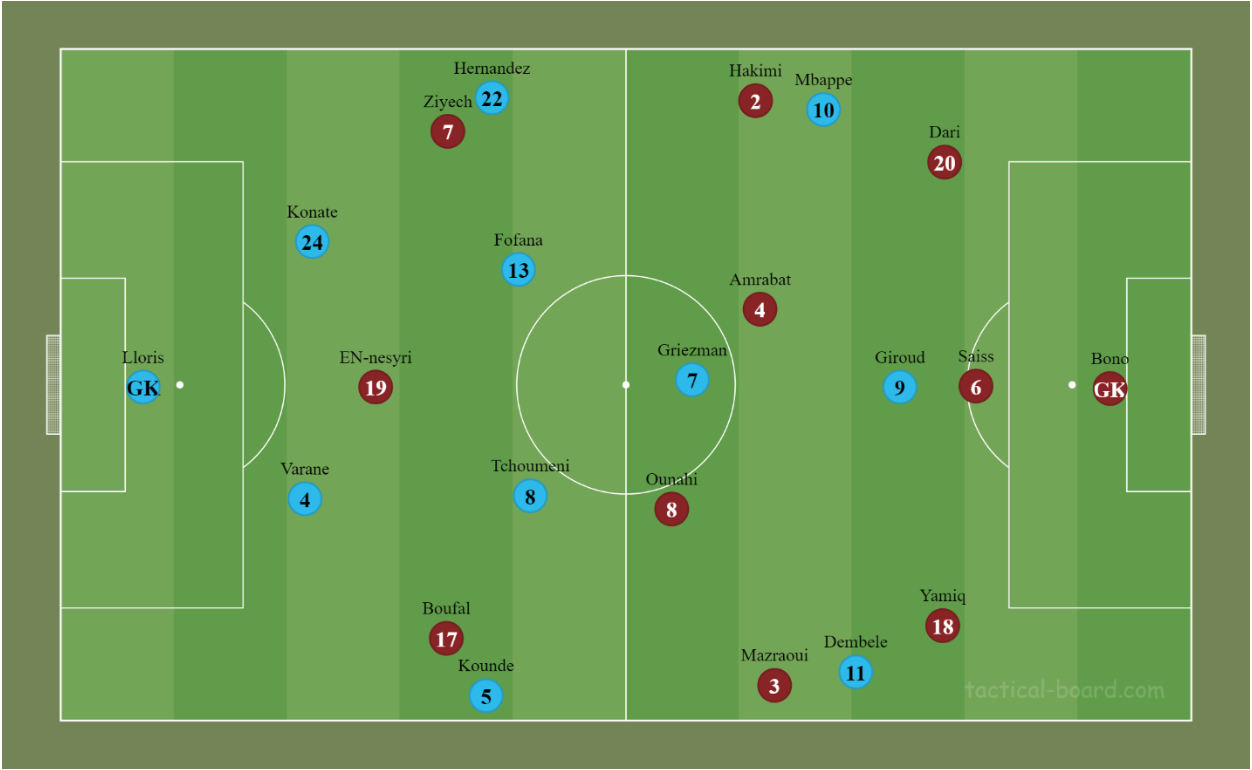 Morocco in the Mid-block Phase
France was progressing with the ball, keeping the full-backs close to the CBs, and Antoine Griezman roamed between the lines to attack the spaces, whilst Youssef En-Nesyri marked Tchouméni and closed the passing option towards him. When Konaté had the ball, Azzedine Ounahi would go out to press him and make sure that the passing channel was closed towards Fofana, whilst Sofiane Boufal closed the pass option for Griezmann while pressing the CBs when the ball reached his side.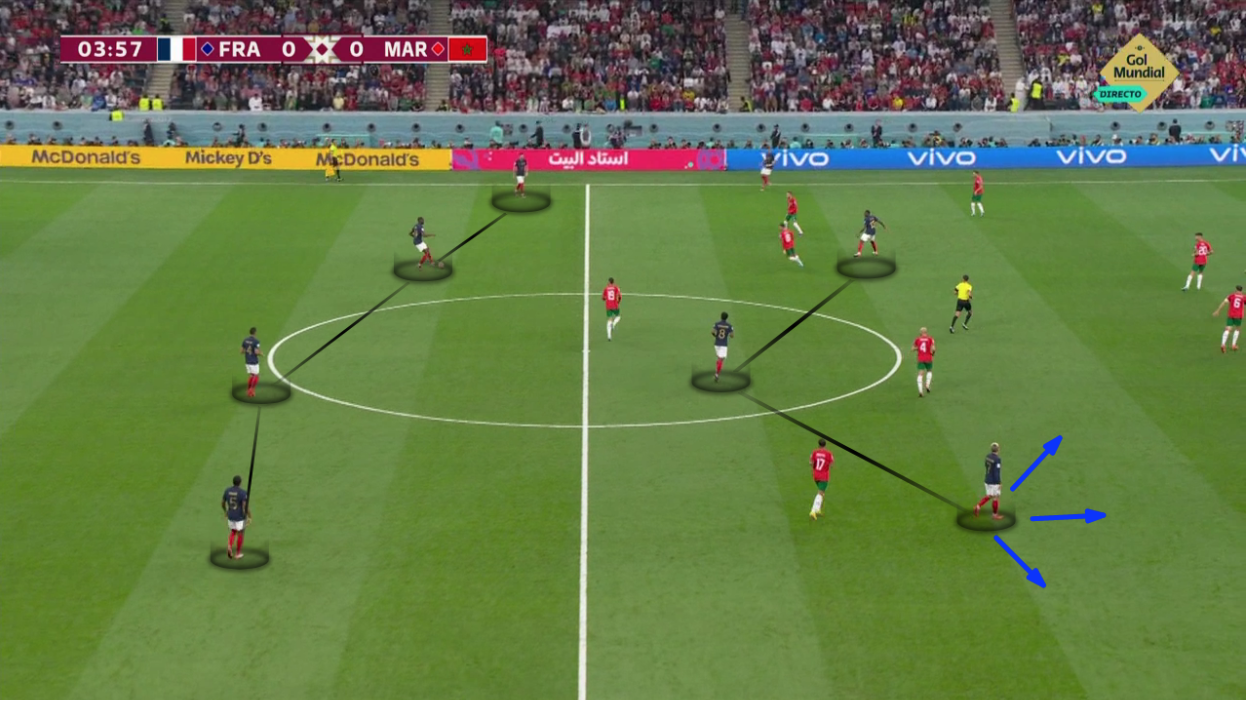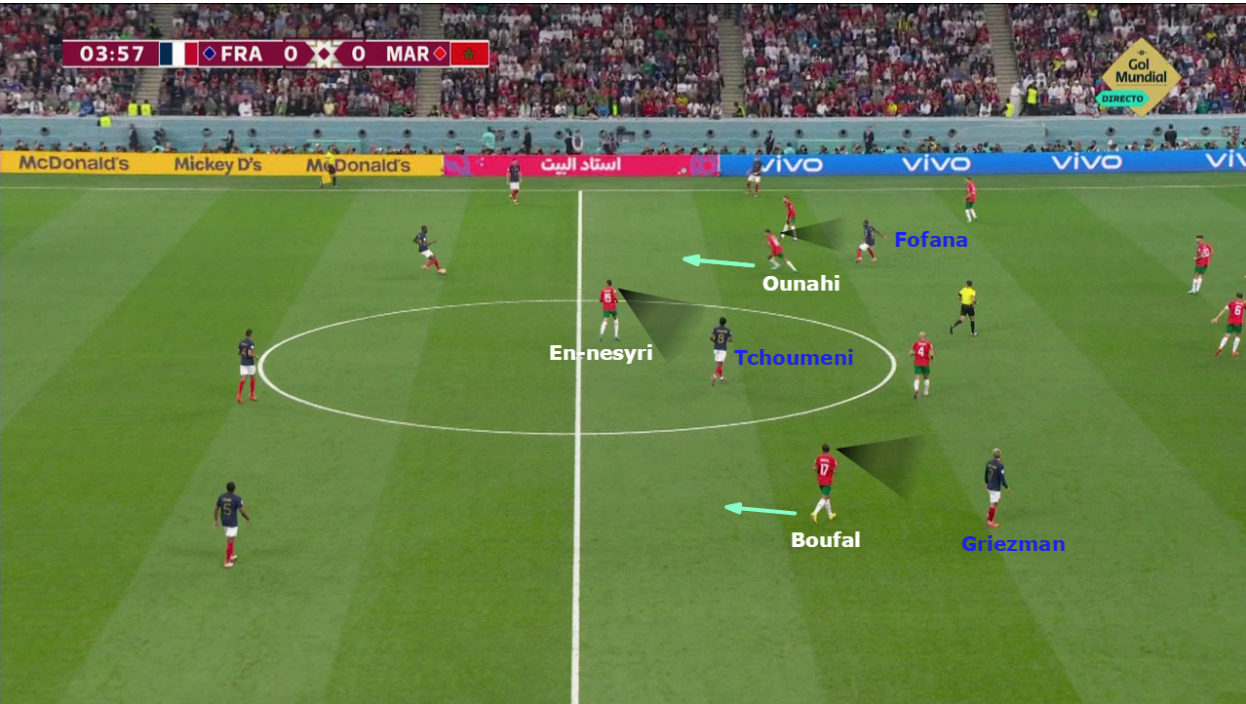 Deschamps was taking advantage of the quality of his CBs by passing carefully between the lines to try to deliver the ball to Antoine Griezman in the half-spaces. Here, Boufal and Sofyan Amrabat did not close the passing channel well and En-Nesyri was late in pressing and not closing the passing channel from Boufal and Amrabat. France won the second ball and opened the scoring after five minutes from Theo Hernandez — the first goal that Morocco conceded from an opposing player since Regragui took charge in August.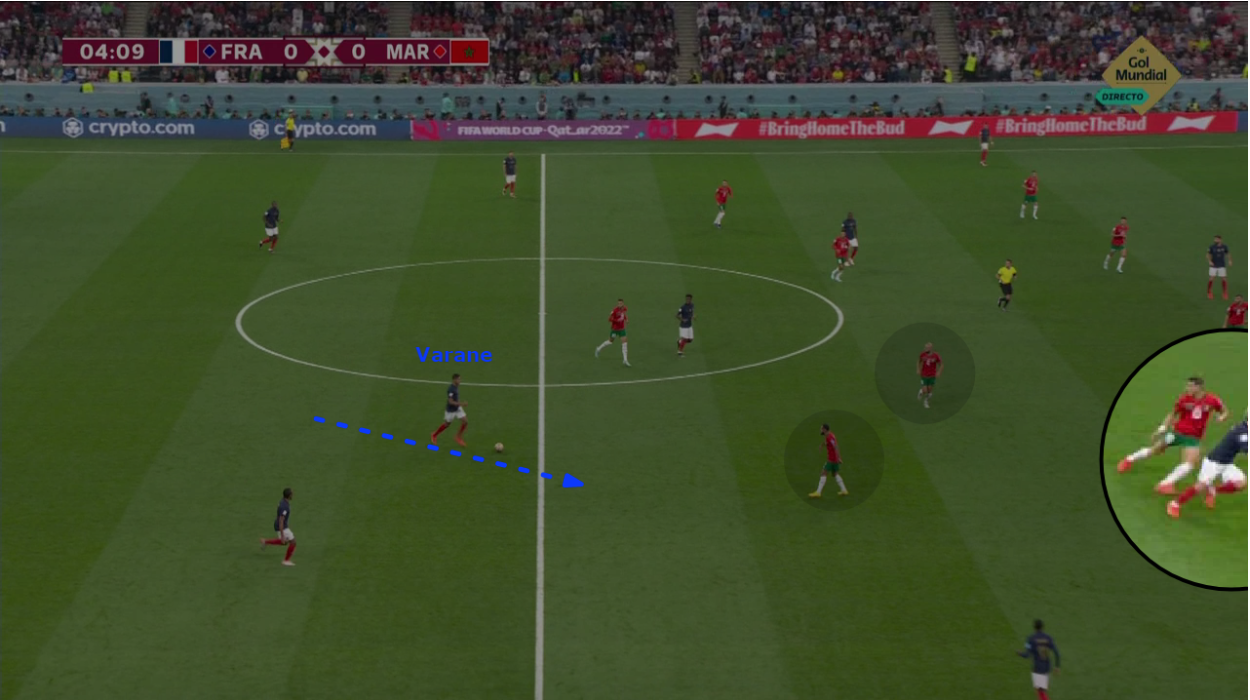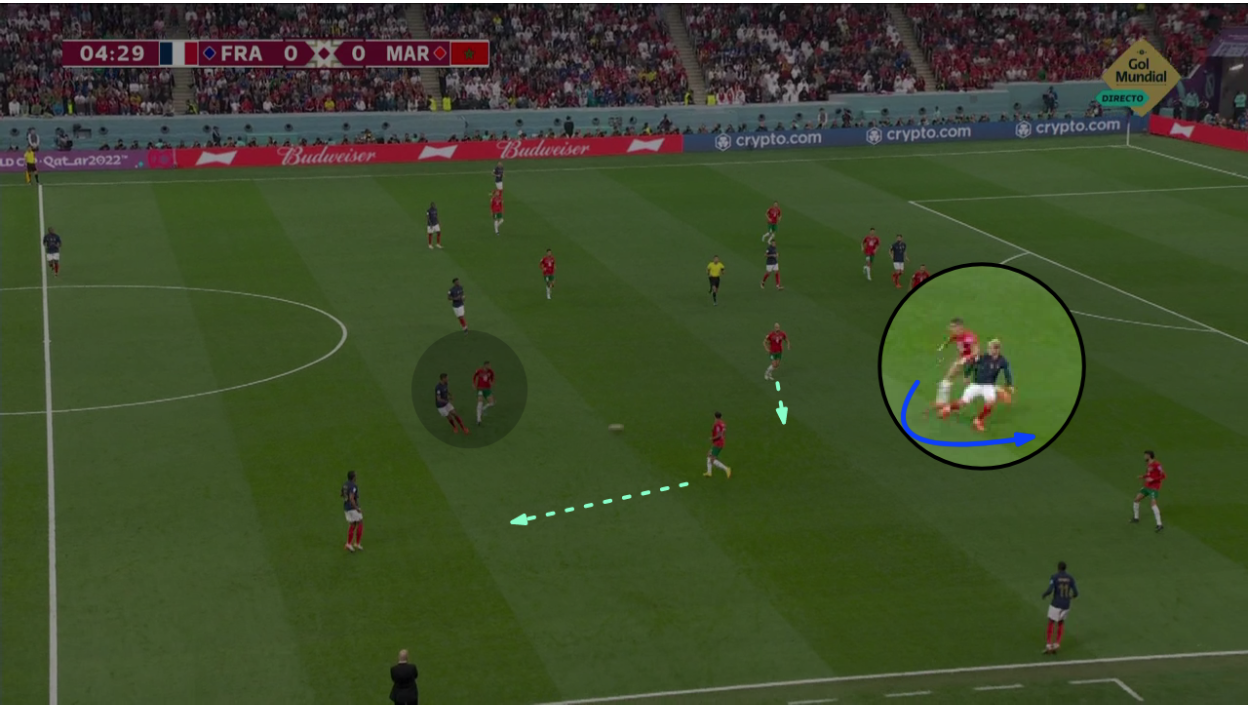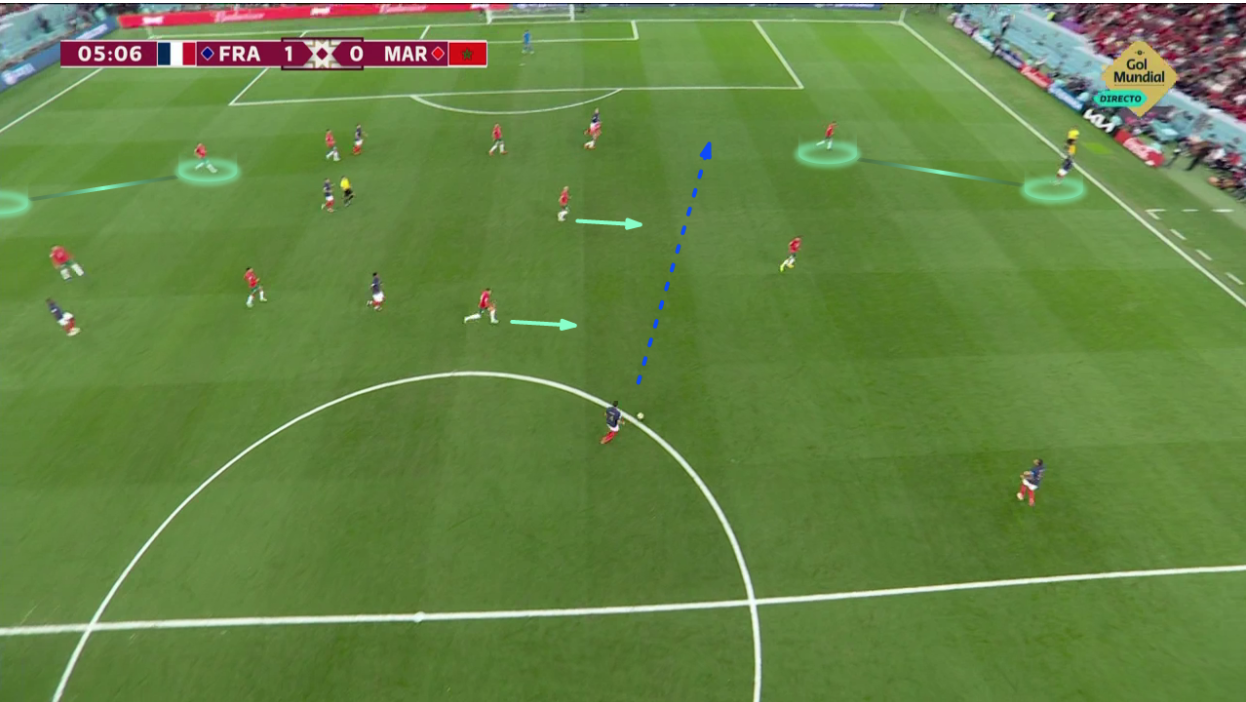 Regragui quickly reacted by shifting Ounahi to the left side to take advantage of his ability to close down the passing options, so Boufal was devoted to marking Jules Koundé and En-Nesyri kept pressing Tchouaméni, and Ounahi stayed in the half-spaces to close any passing channel, and he succeeded in that. As such, the mid-block of Morocco caused problems for the French players in creating offensive patterns and they returned to their attacking transitions and left the ball to Morocco.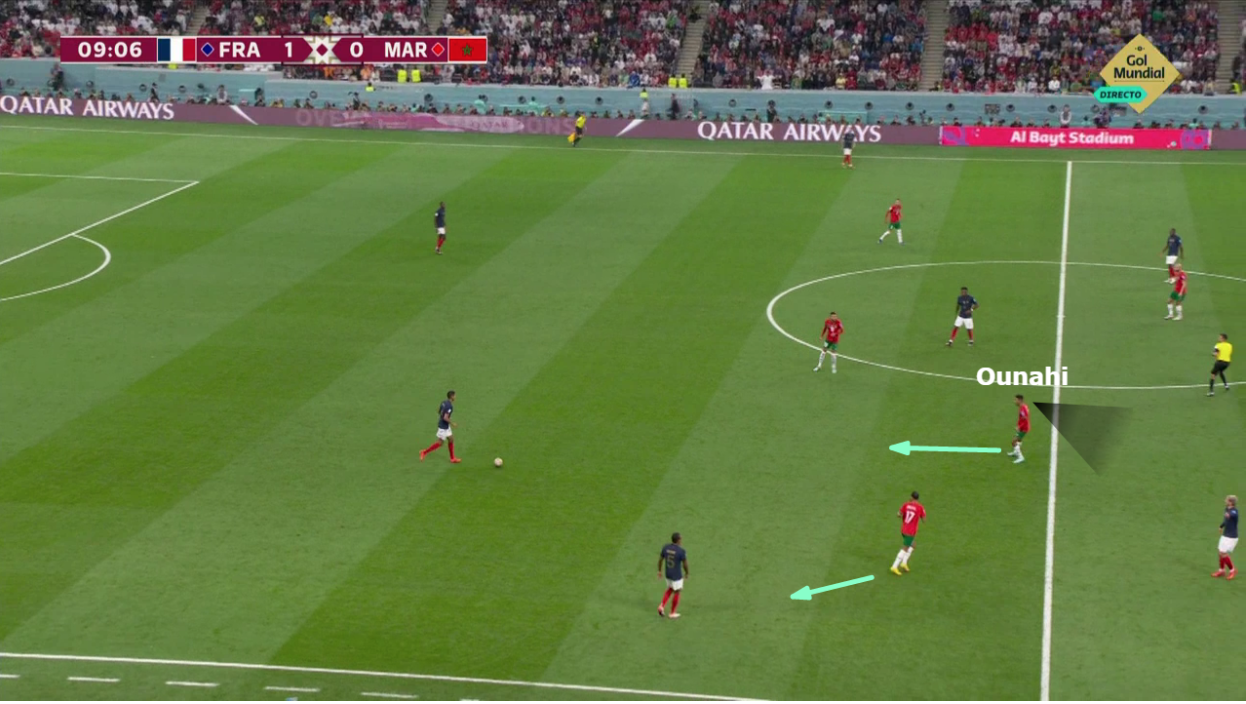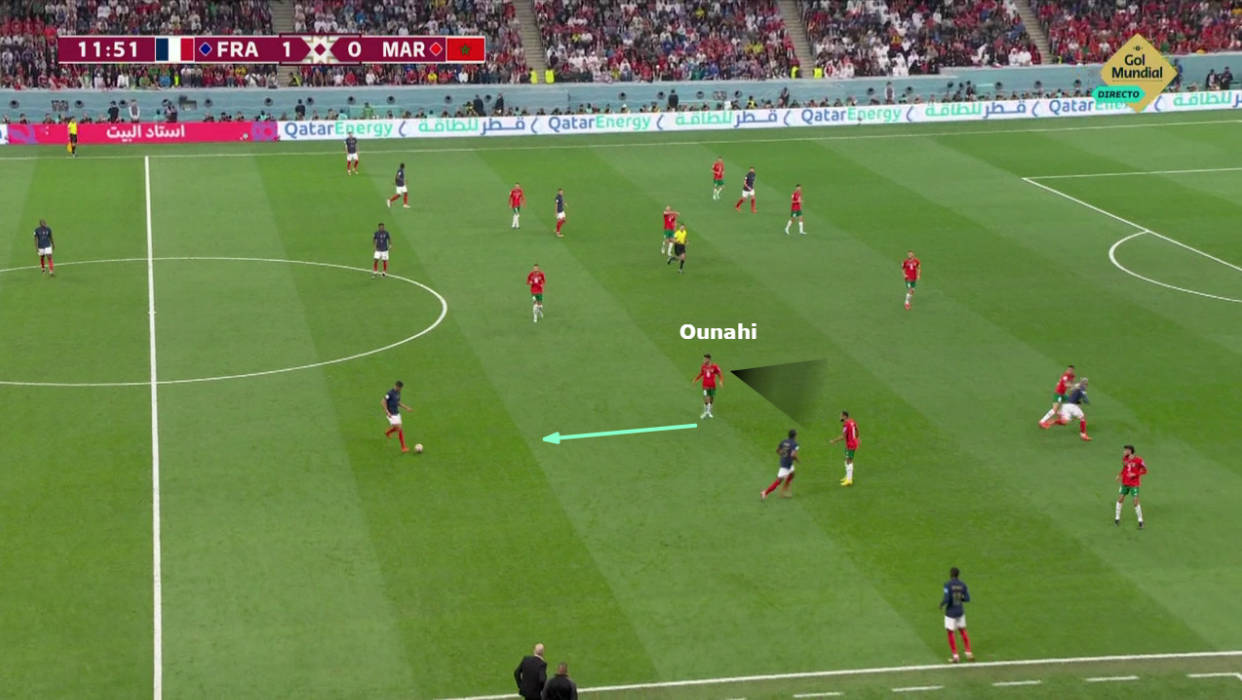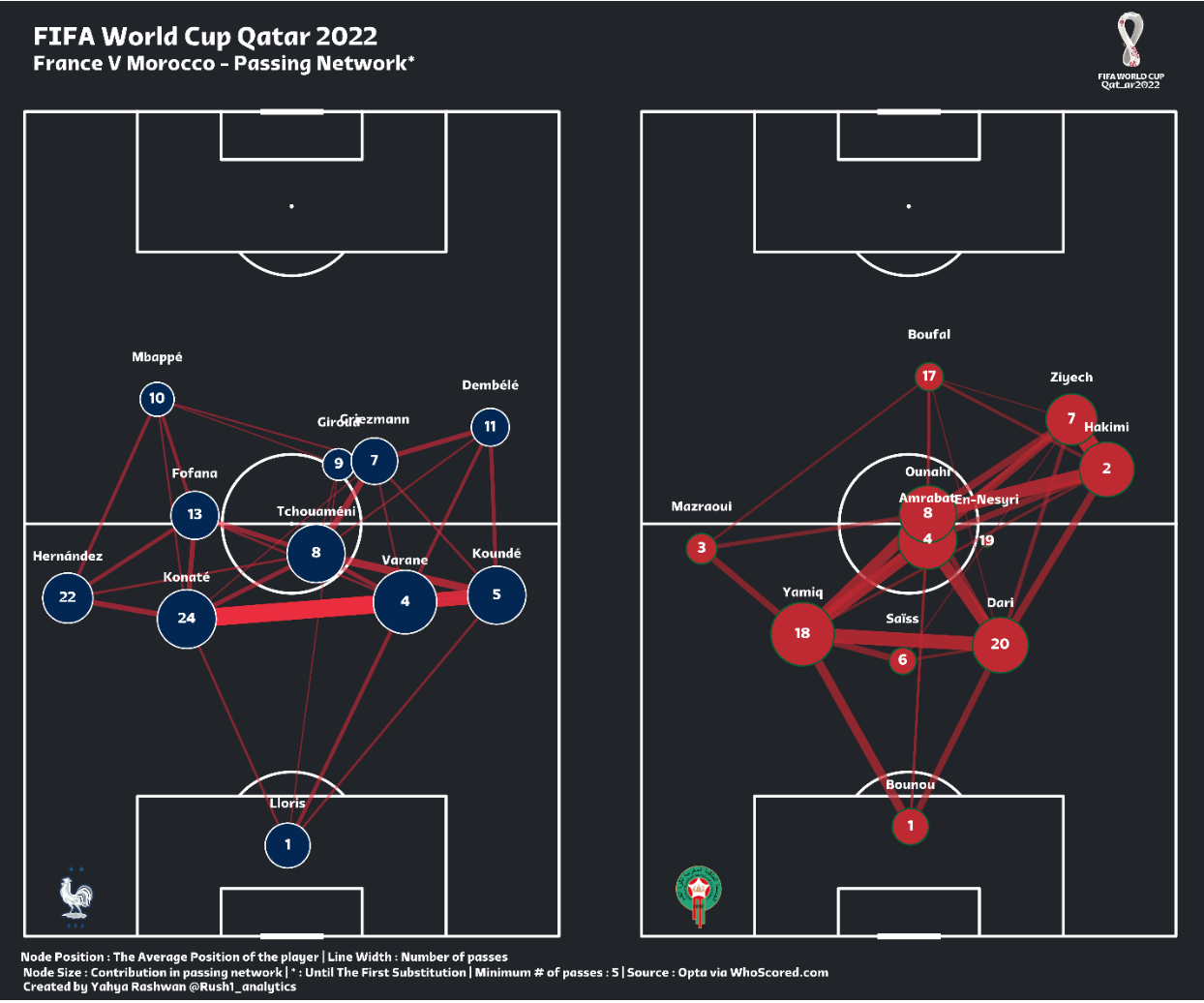 Morocco in Defensive Transitions
Regragui was aware of France's ability in transitions due to the ability of Ousmane Dembélé and Kylian Mbappé in running in space and Olivier Giroud in linking up as the target man, so Achraf Hakimi was always deep to meet the ball or its carrier, with Amrabat and Dari closely marking Giroud and Mbappé.
Here, Amrabat and Giroud compete in an aerial duel, and Dari watches Mbappé in case the ball fell to him. When Griezmann played the pass to Mbappé to begin the transition, Amrabat moved quickly to press Mbappé and left Giroud unmarked, and here Dari switched to press him. This switch between Amrabat and Dari reduced the risk of France's attack transition, except in a few individual attempts.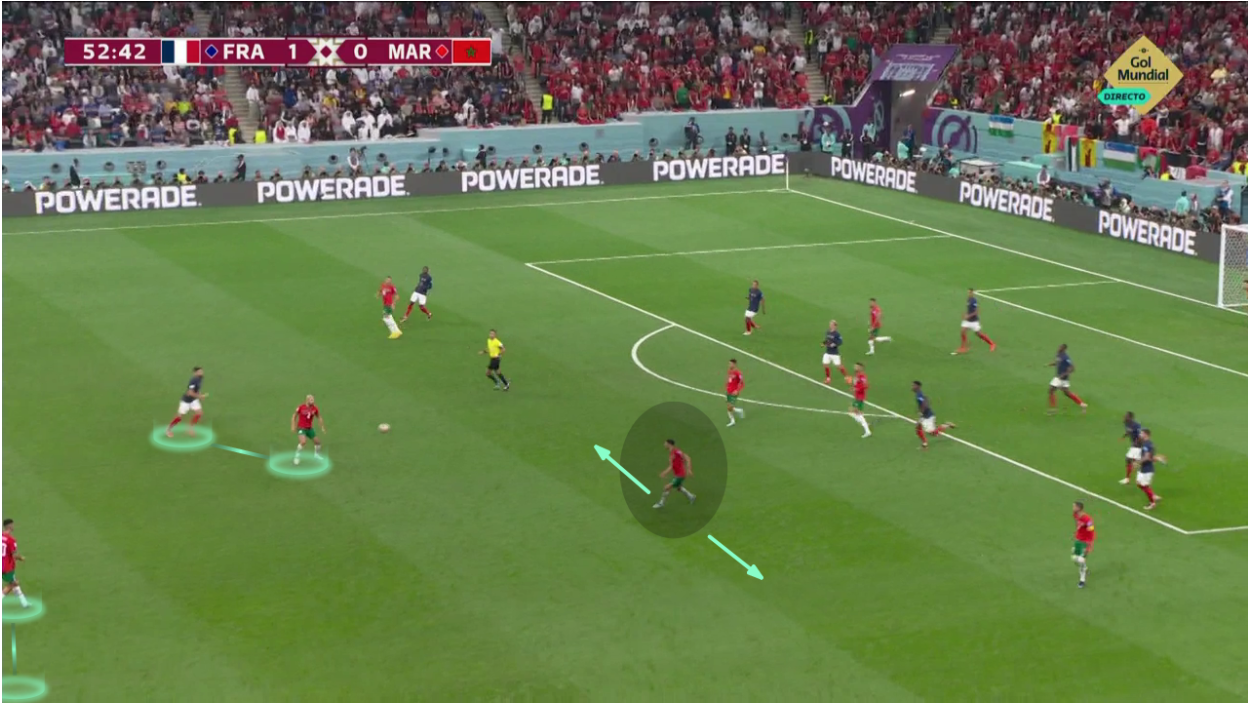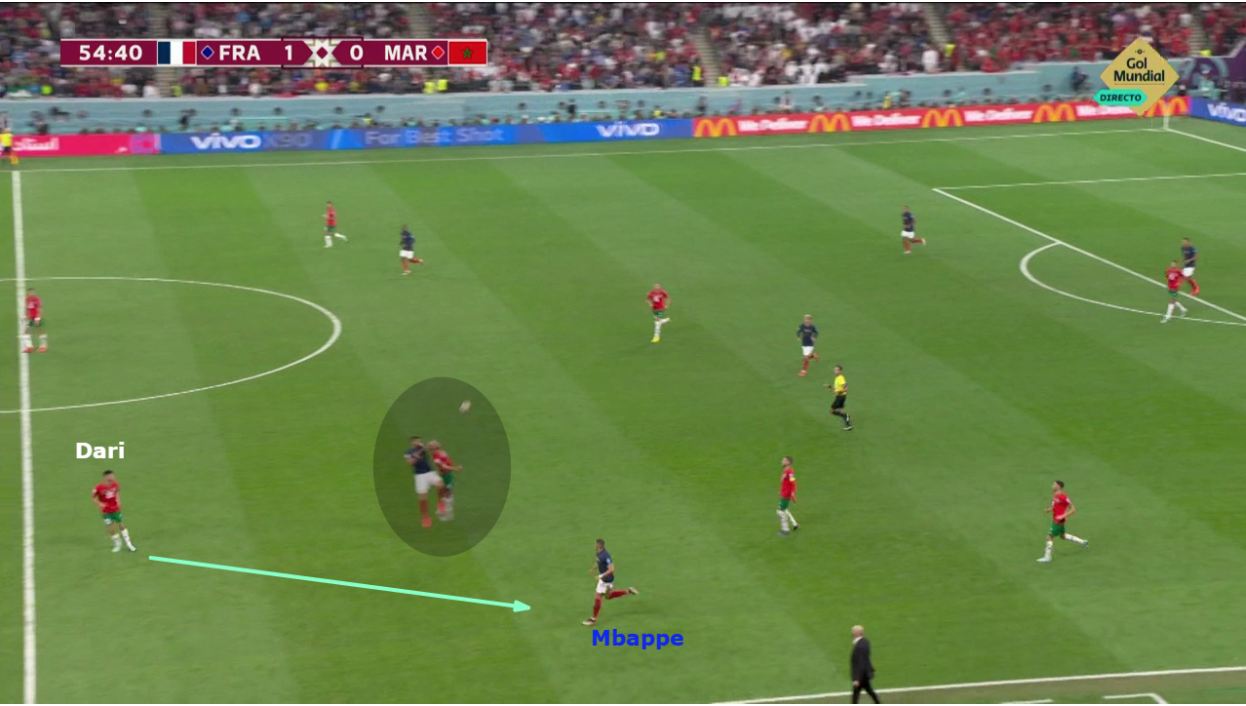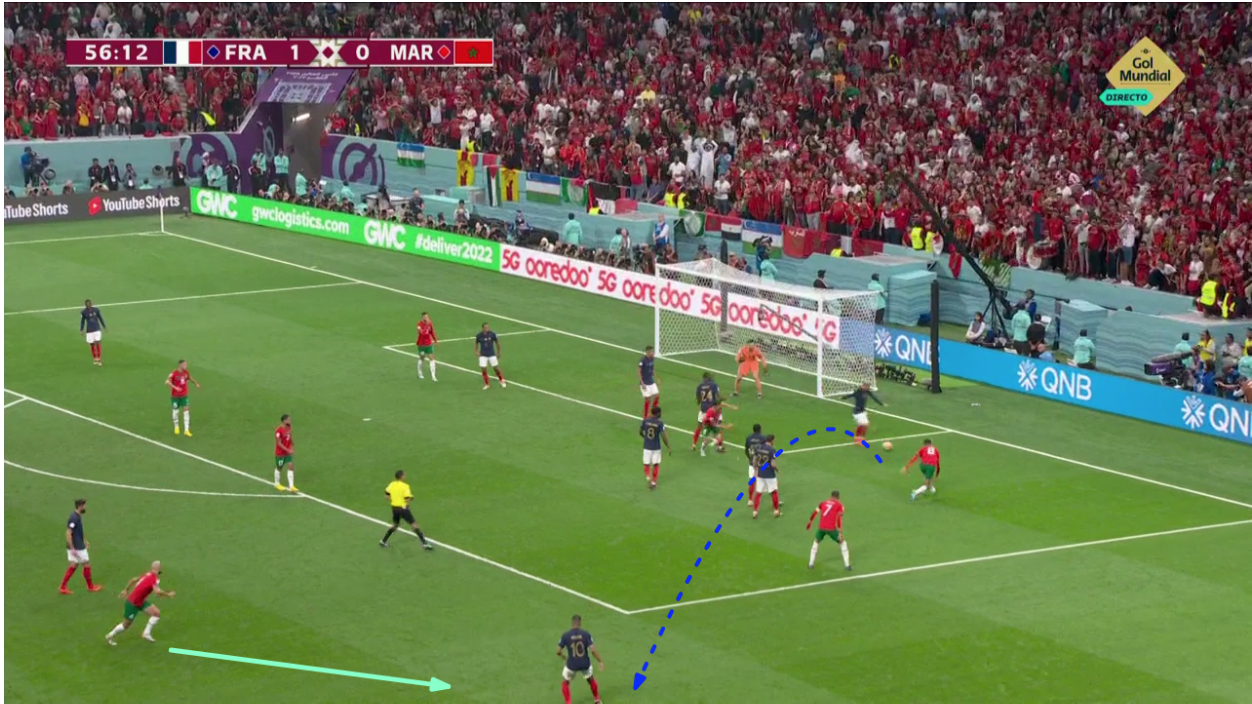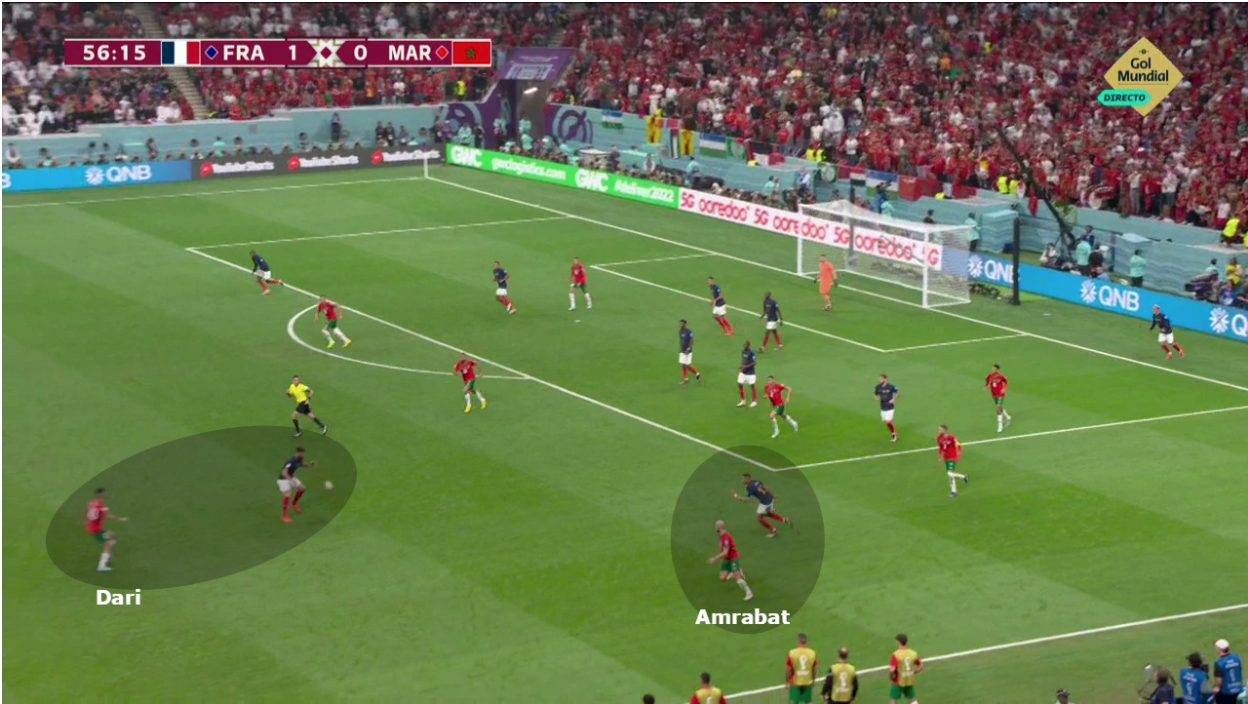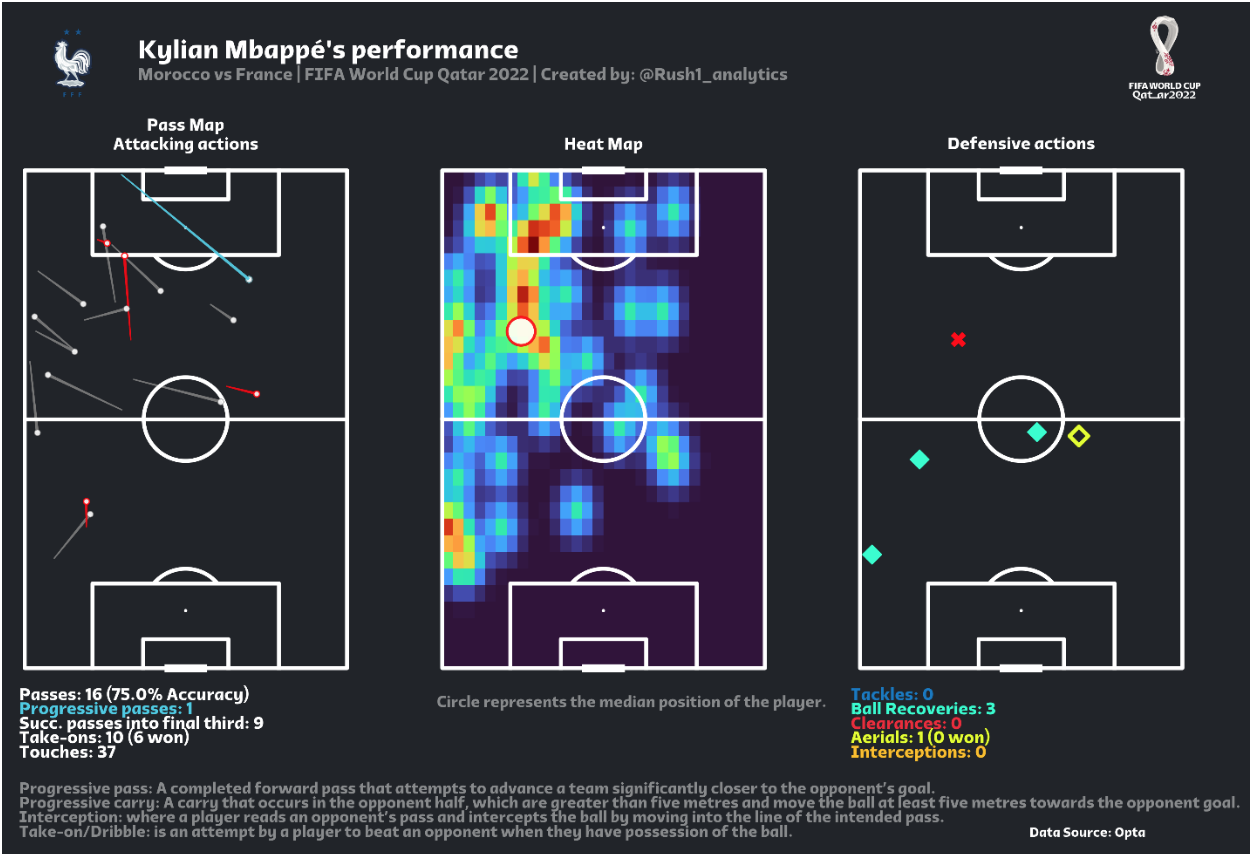 Morocco in Possession
With three CBs in the back, Noussair Mazraoui and Hakimi moved forward and Ounahi fell back close to Amrabat as a second pivot. Morocco tried to build from the back, France defended in the mid-block with Giroud in the first line of pressure to mark Amrabat and Griezman with Ounahi, Mbappe with Dari, Fofana with Hakimi and Tchouaméni with Mazraoui when they cut to the depth.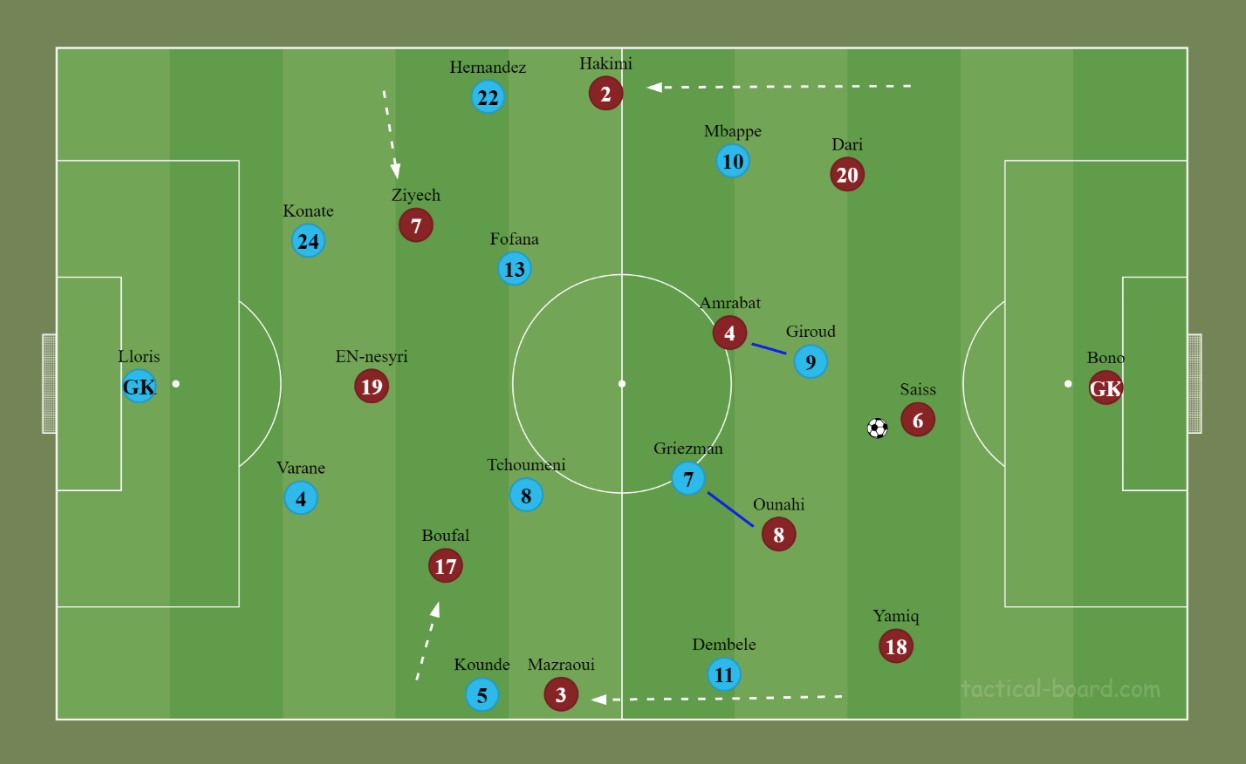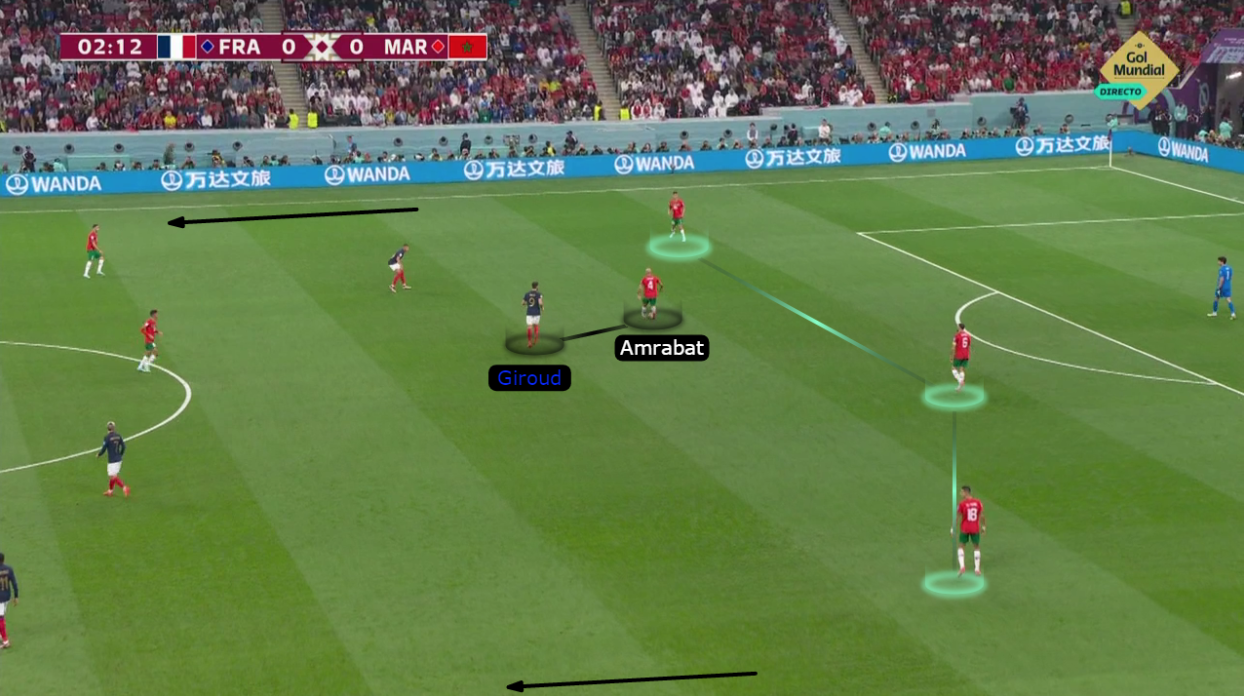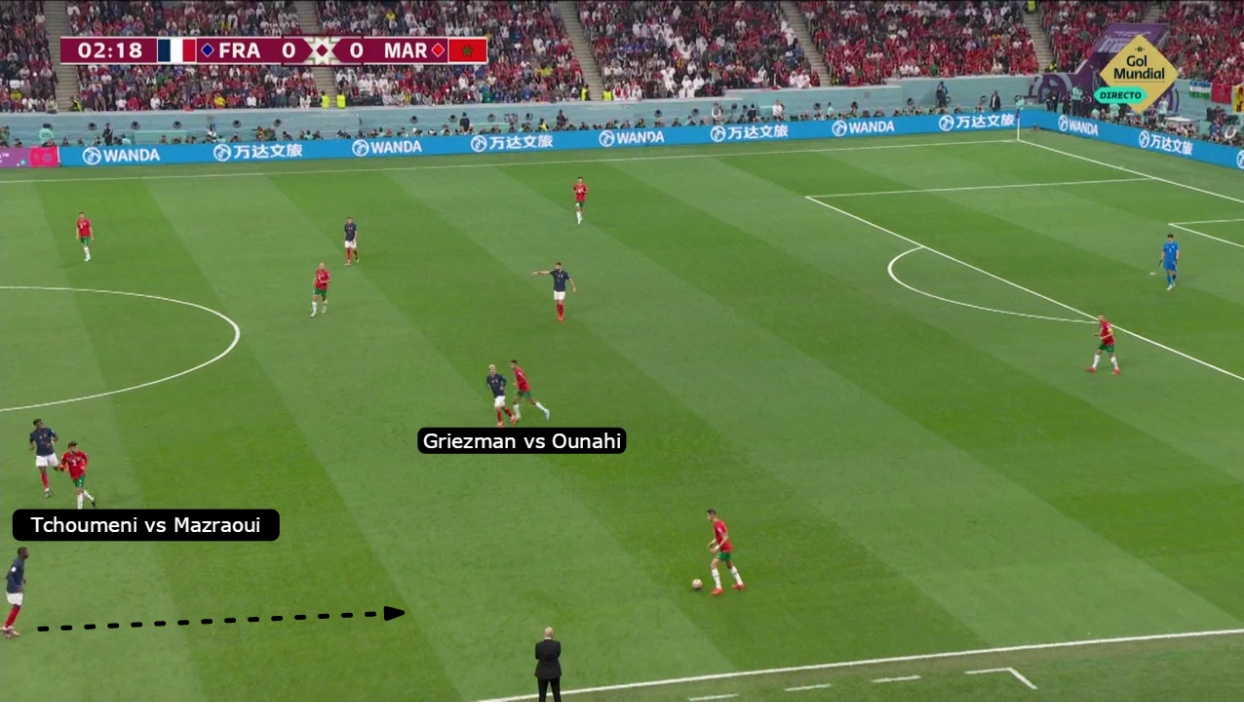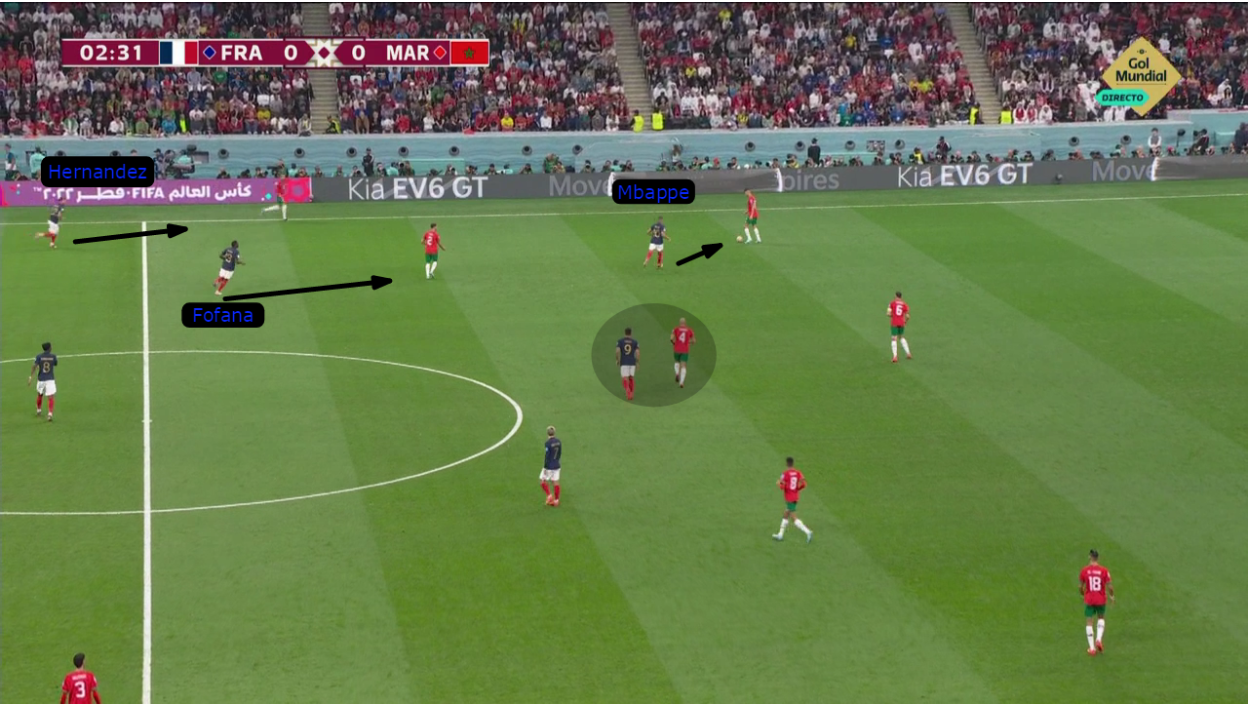 Ounahi had a great role in the ball coming out from behind by falling close to the CBs, to drag Griezmann away from the circle, and at the same time Hakim Ziyech pinned Fofana and Amrabat pulled Giroud, which opened a vertical passing channel towards Boufal, who roamed between the lines to receive a pass.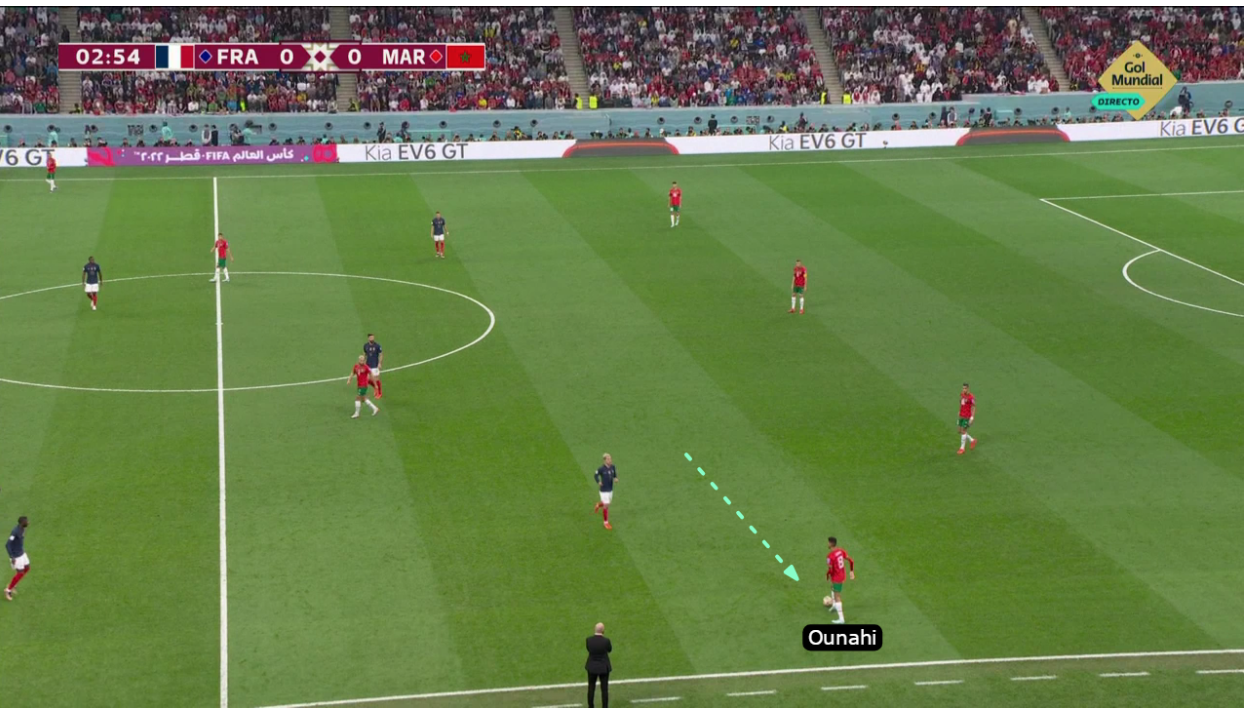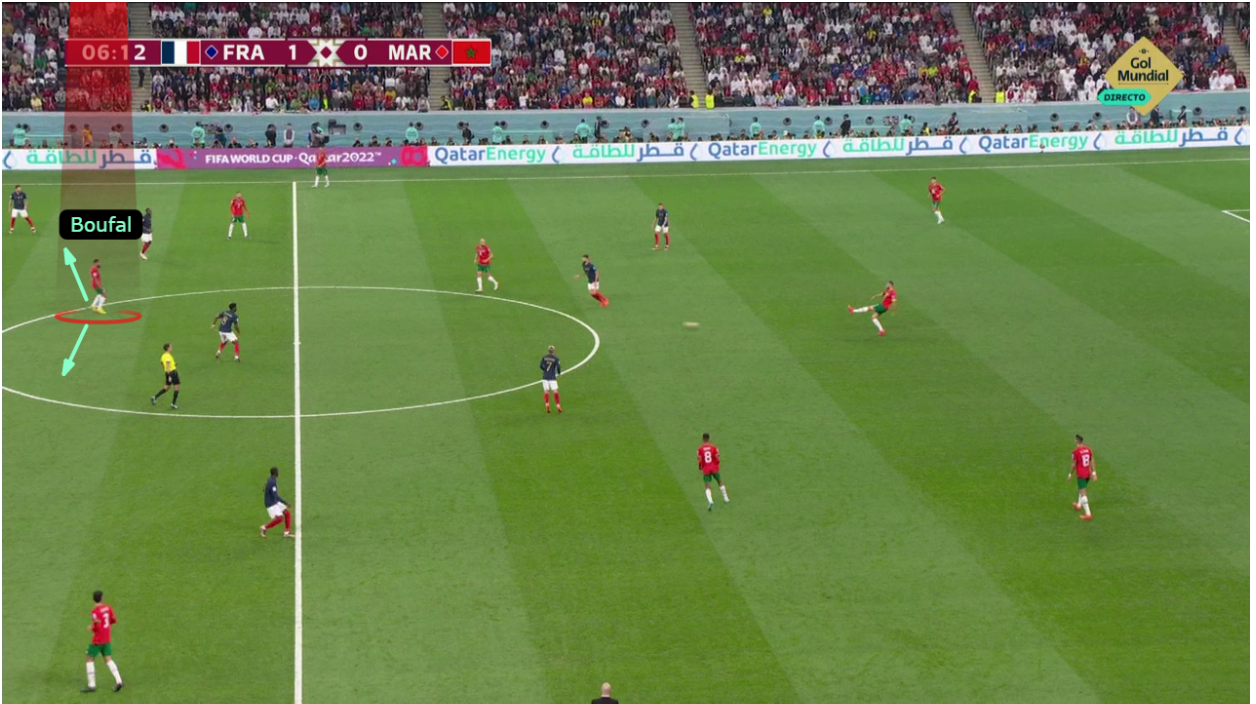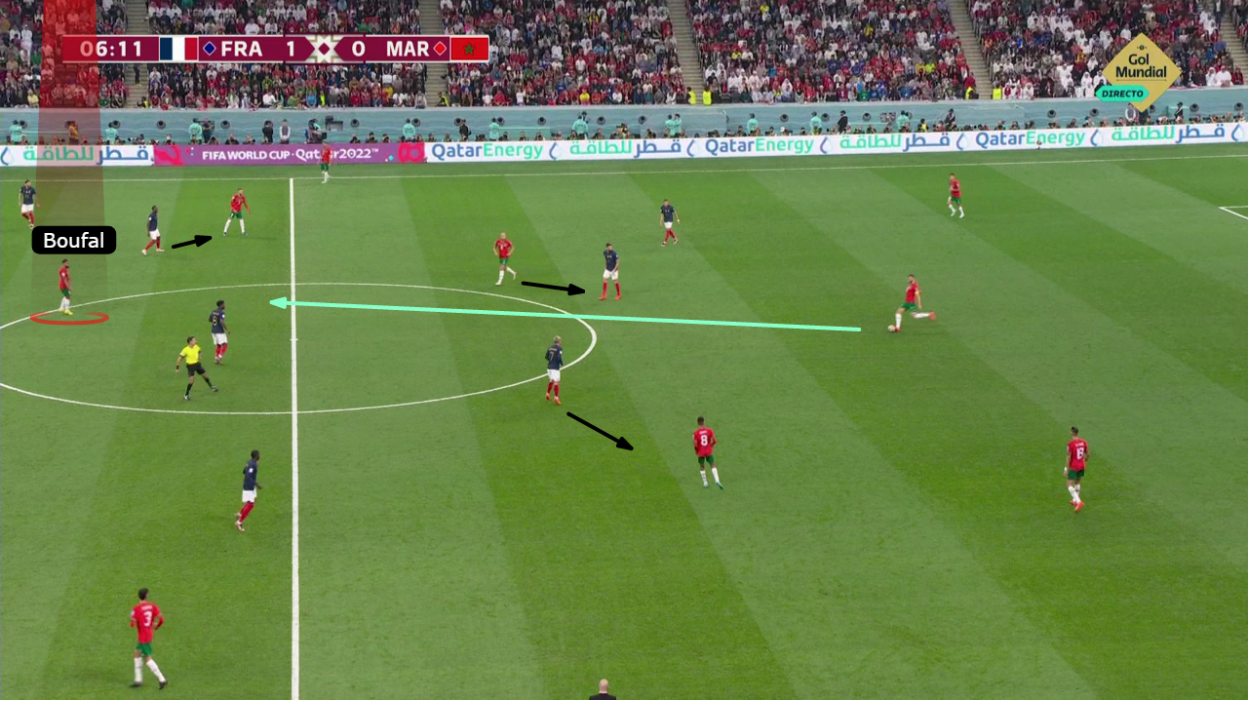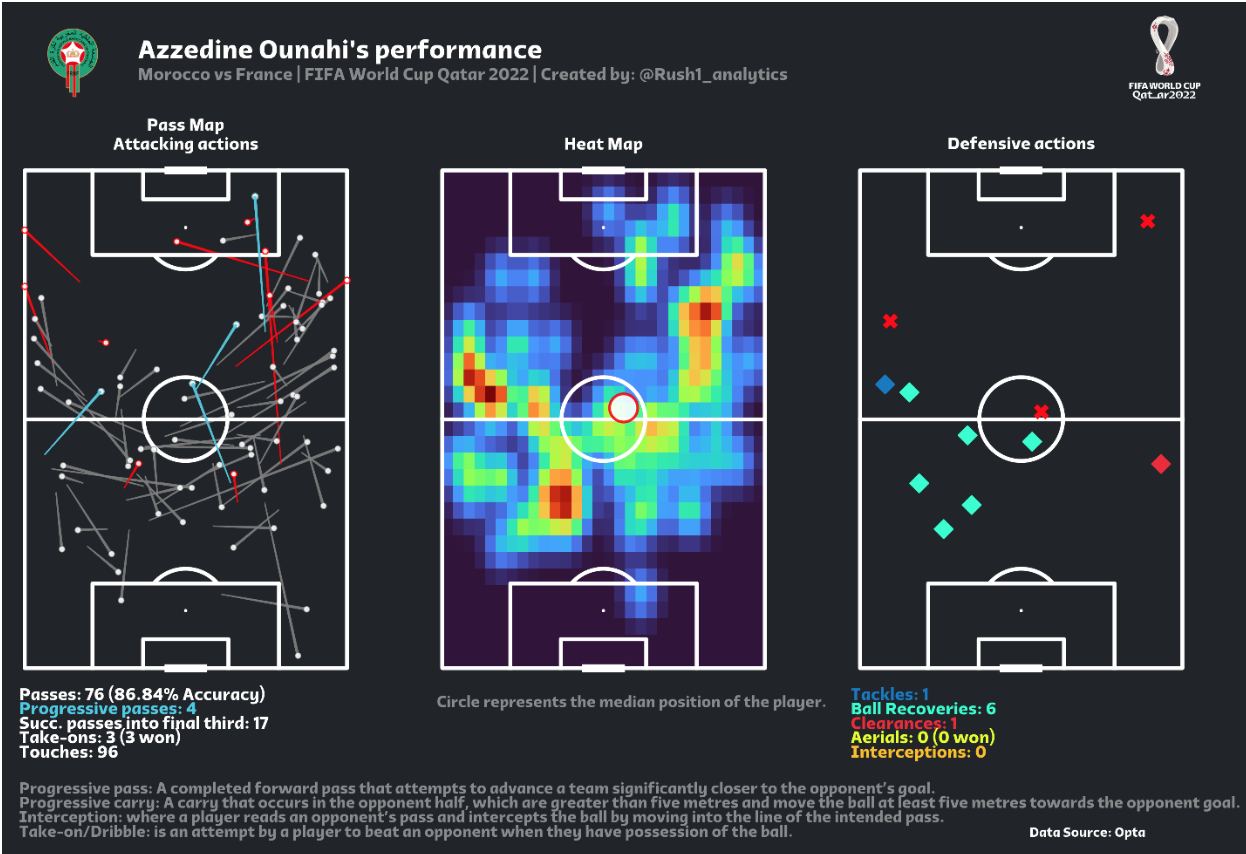 Morocco was trying to create a link-up with the ball on the flank and attack space there, with at least three players on each side. Mazraoui succeeded in linking up with Ounahi once and made a dangerous shot which was blocked by Lloris.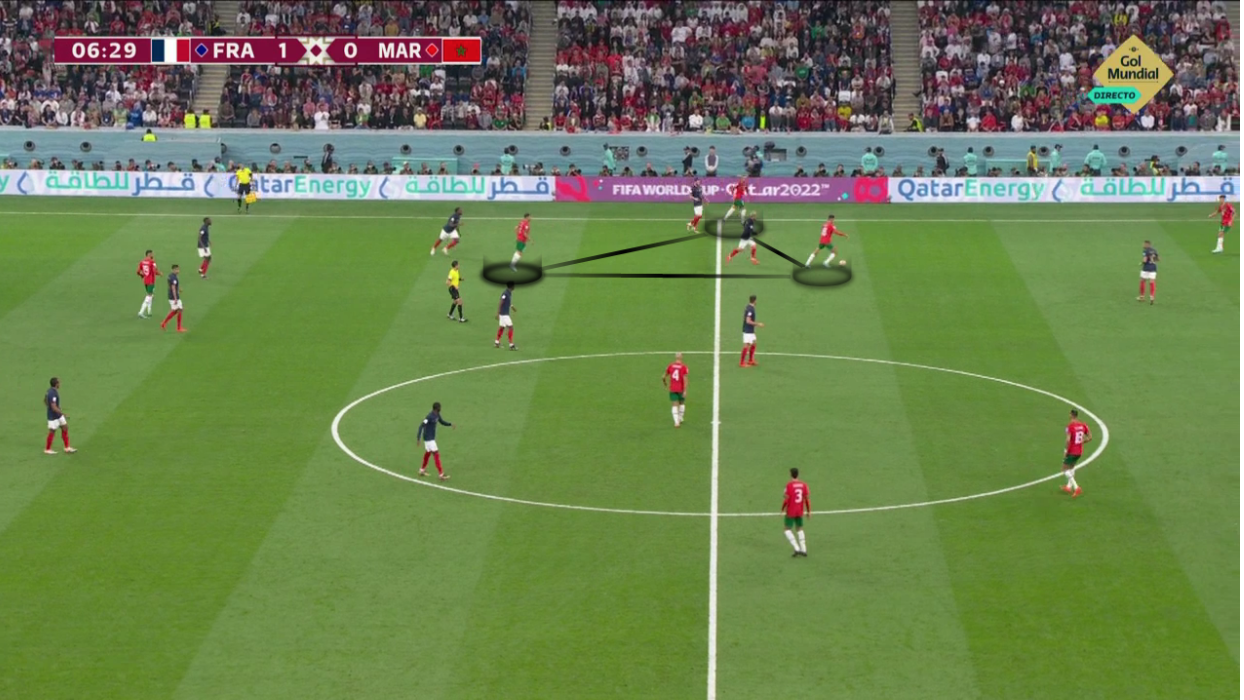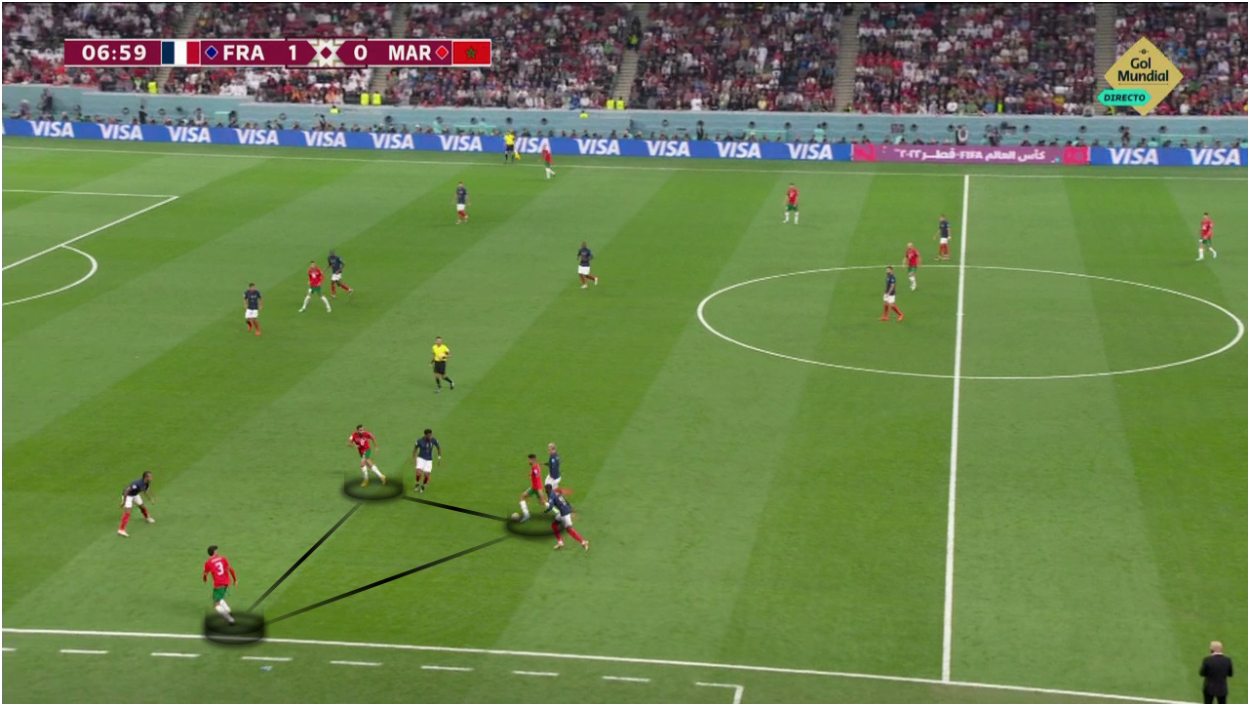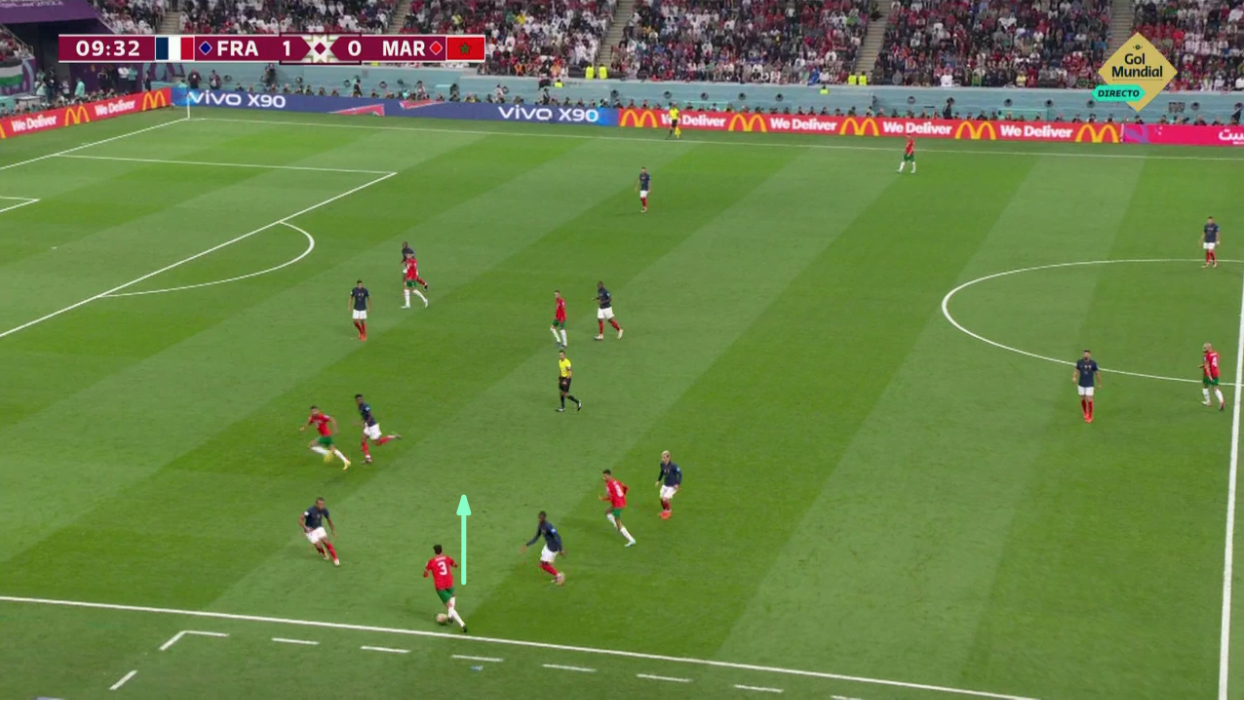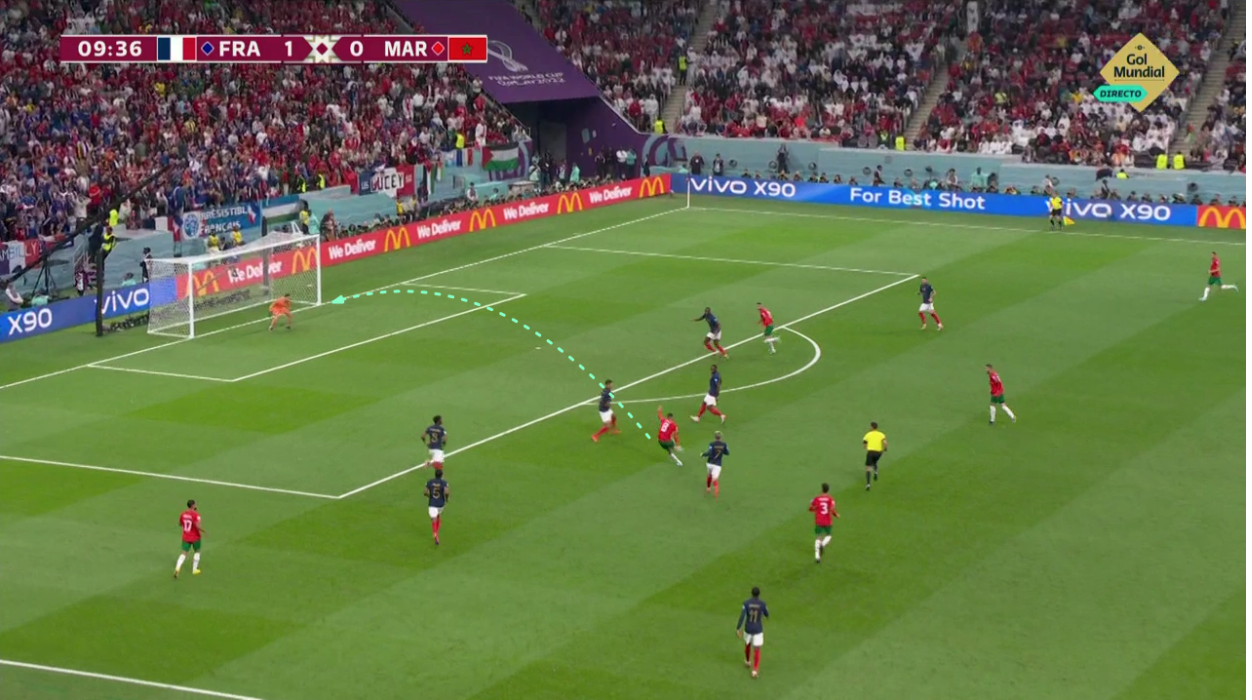 Morocco was taking advantage of Mbappé's lack of defensive output so Ziyech and Hakimi were taking turns cutting deep into Mbappé's back to receive the pass and began linking and attacking the space there.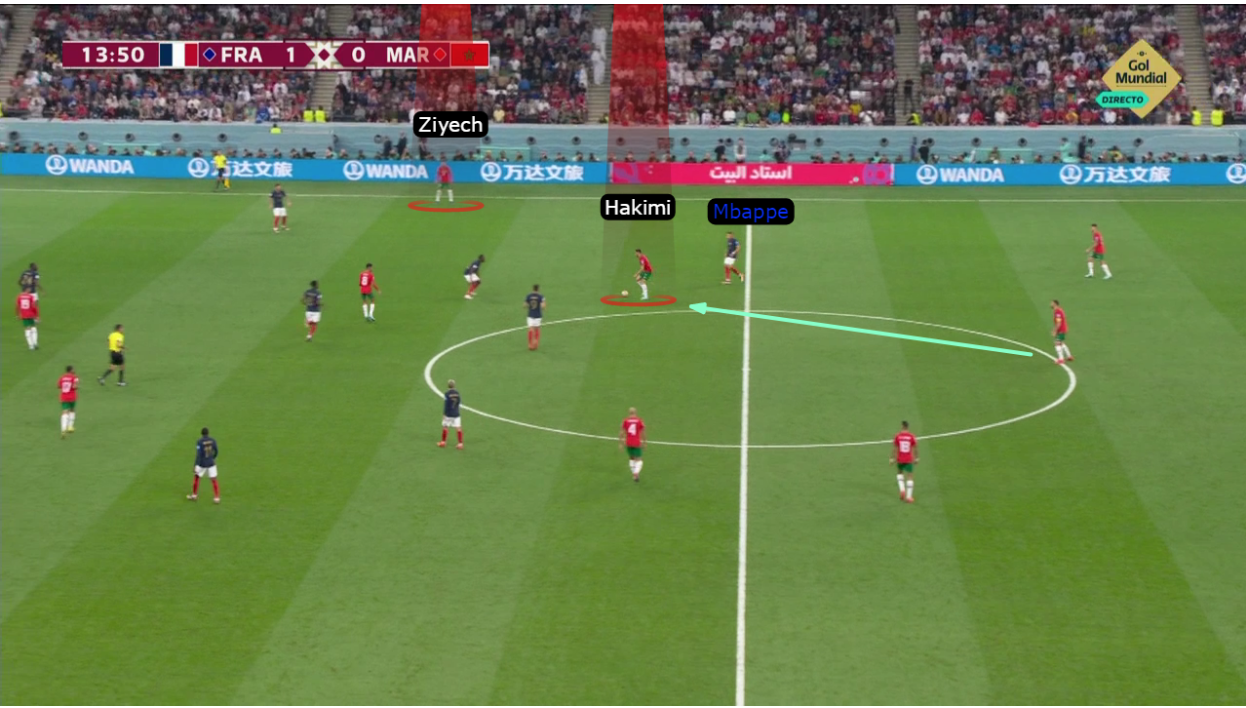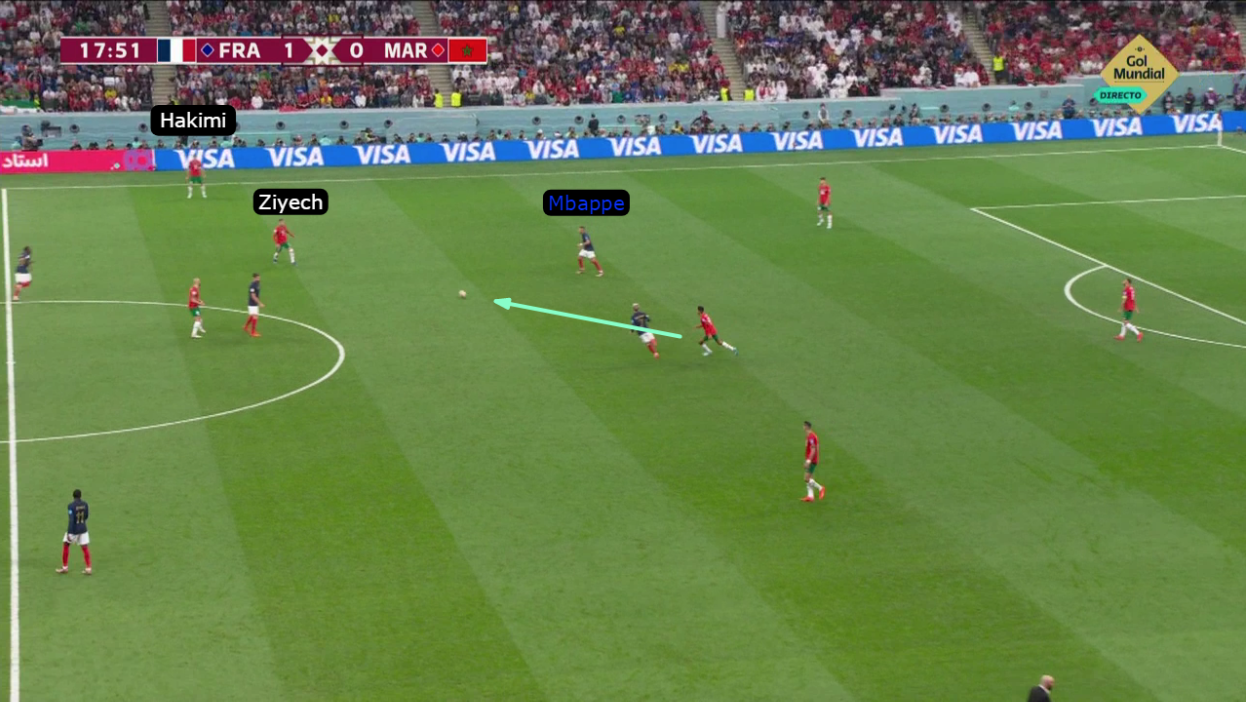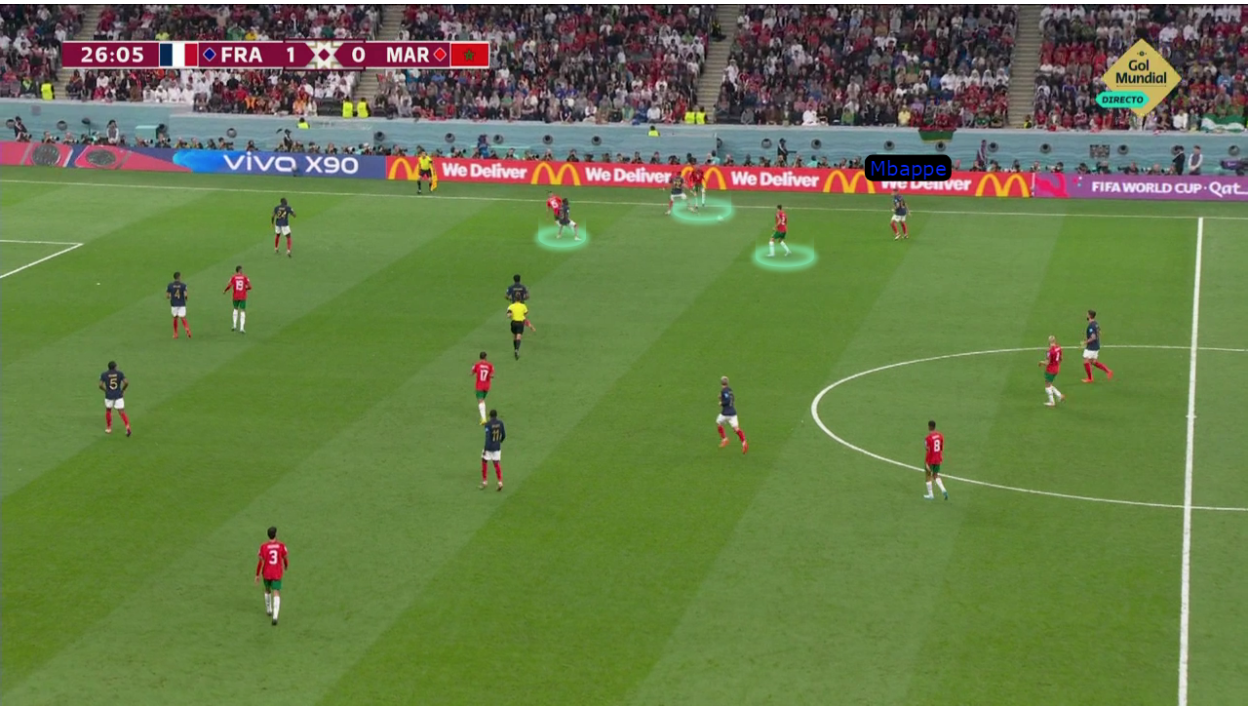 With Saïss coming off early on due to injury, Morocco reverted to a 4-3-3 with Amallah operating in midfield alongside Ounahi and Amrabat. After coming on for the Morocco captain, Amallah would move freely between the lines, especially on the side of Mbappé to receive the pass after dragging the French CM away, especially Fofana, with Ziyech or Hakimi cutting to the depth. Fofana was confused to press high on Amallah or stay with Ziyech and he chose the last option.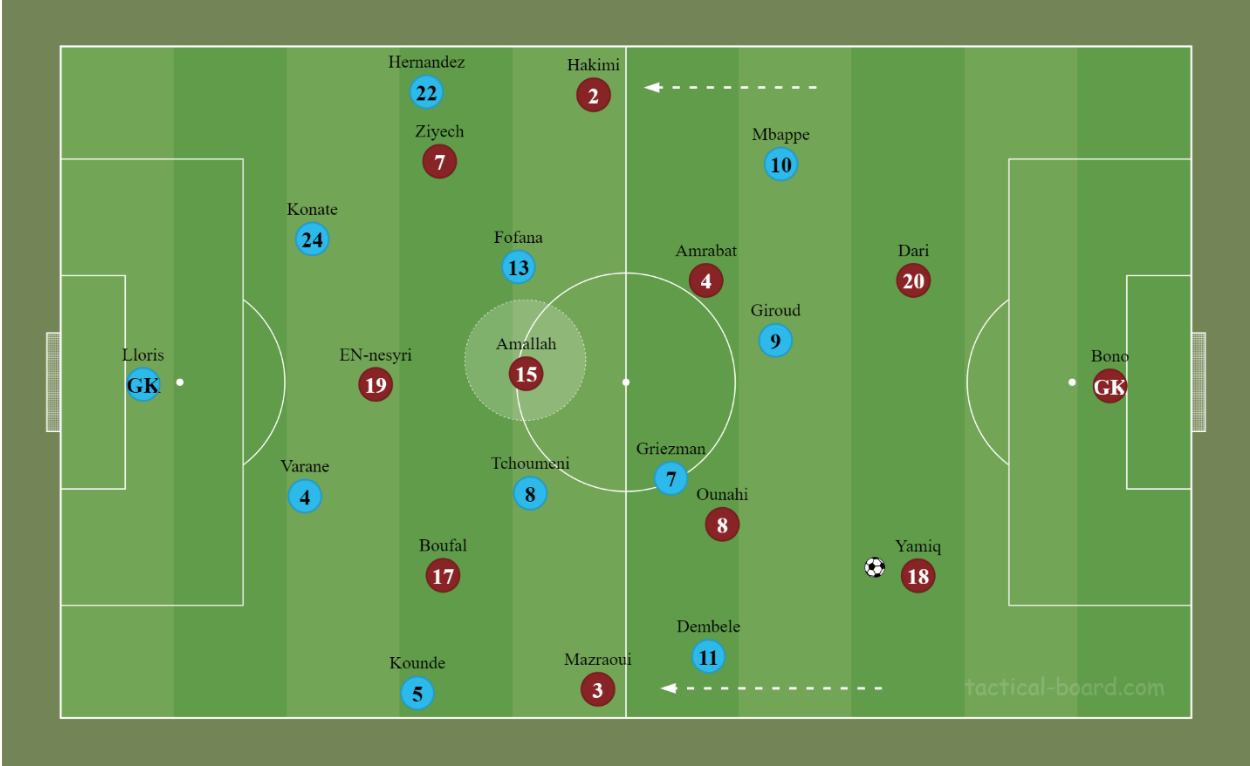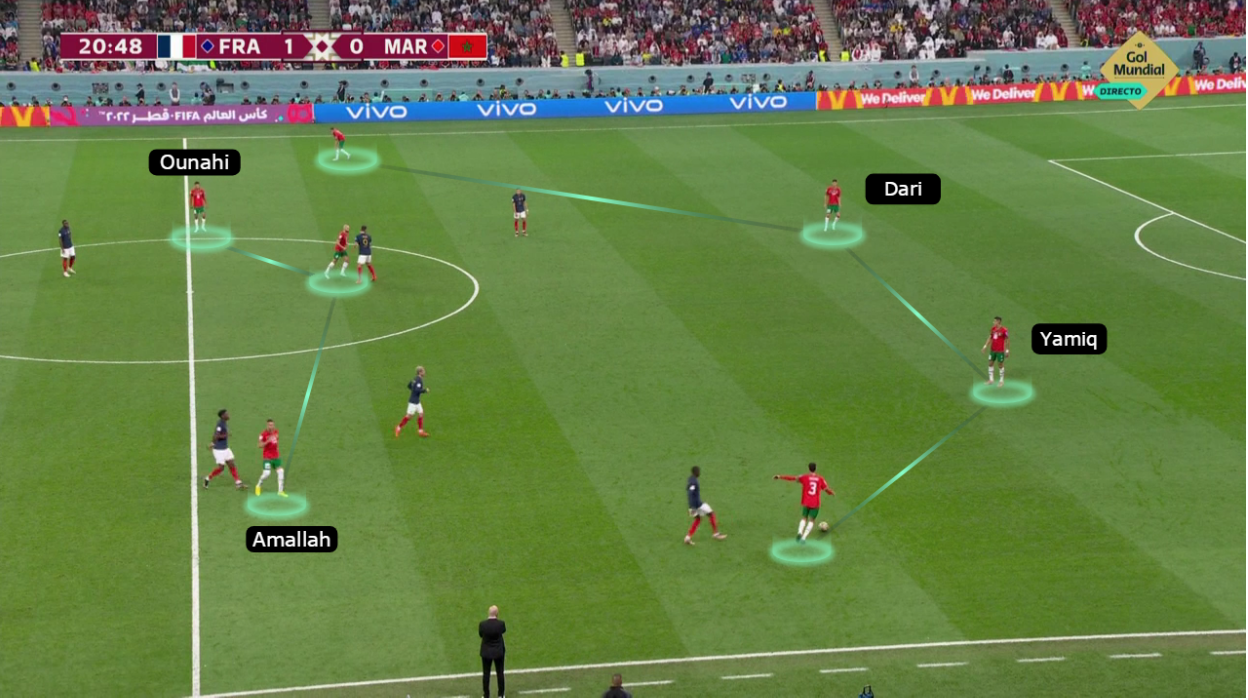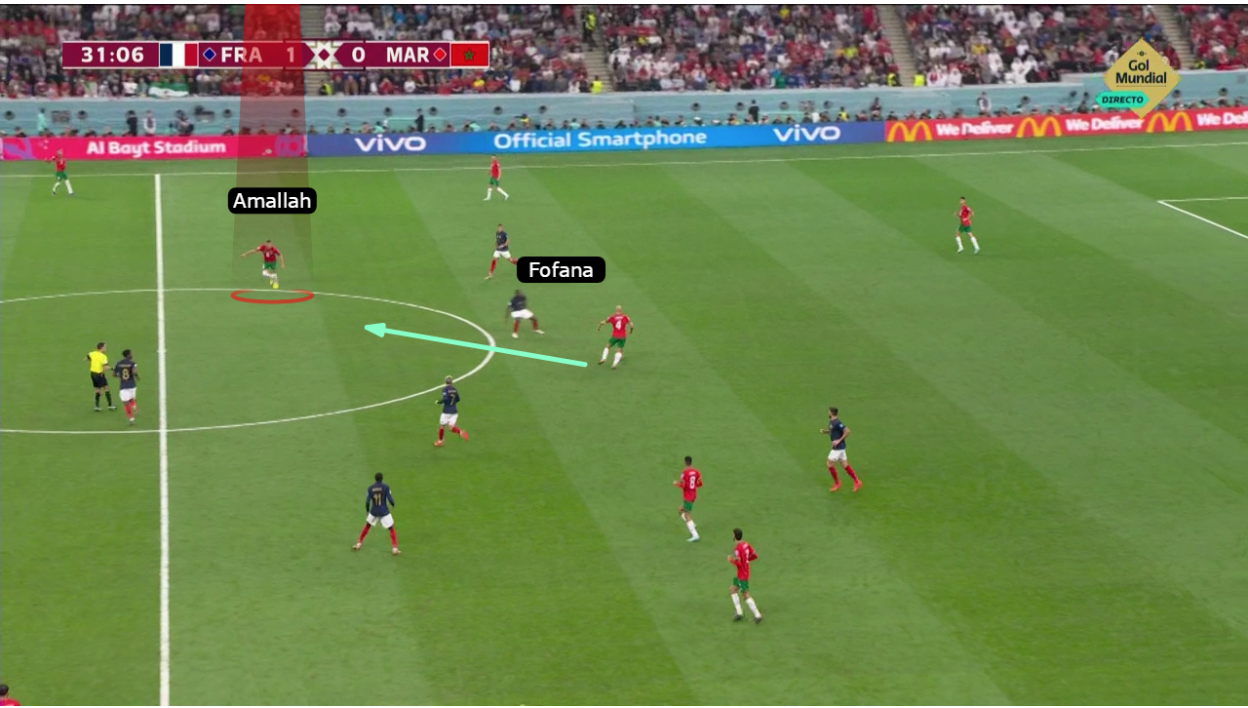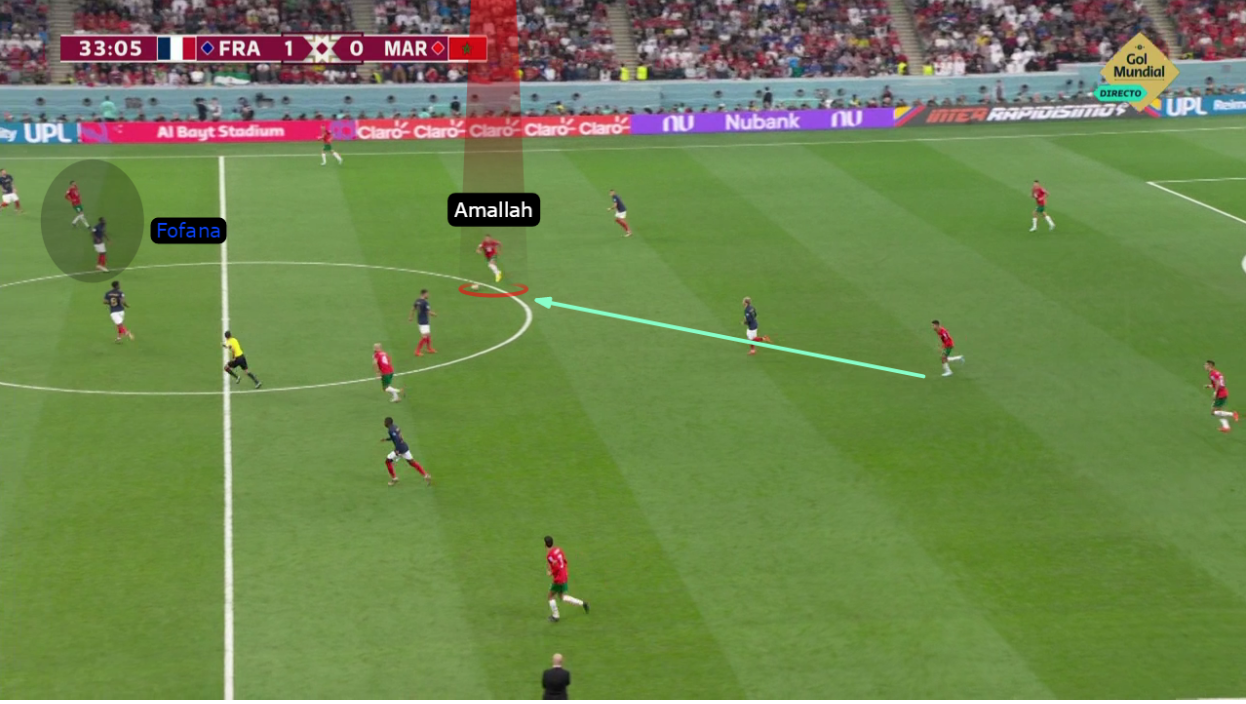 Noussair Mazraoui and Hakim Ziyech would then stretch the France defense and exploit the wide areas, hereby pushing Jules Koundé and Theo Hernandez even deeper.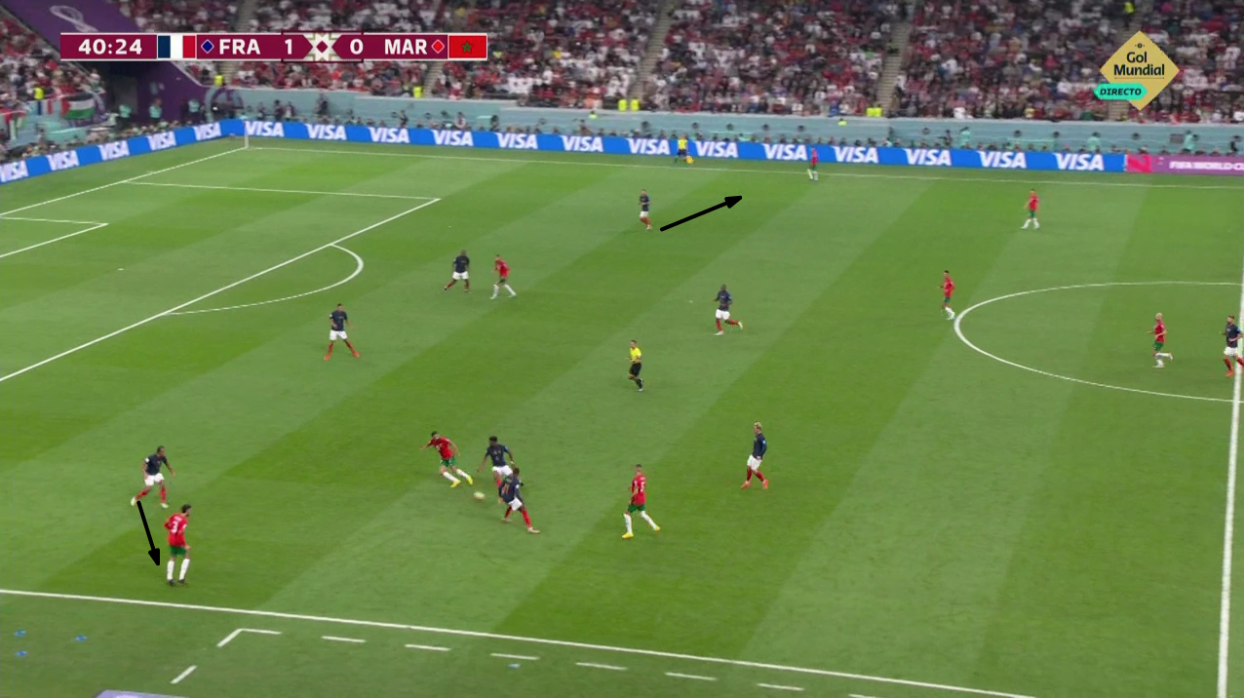 Morocco in the Final Third
In the second half, Morocco took advantage of the dropping of France's defense lines and began to create a numerical superiority on the flank of Mbappé in order to exploit his lack of defensive output, so Ziyech, Hakimi and Ounahi were linked to attacking the half-spaces and playing crosses.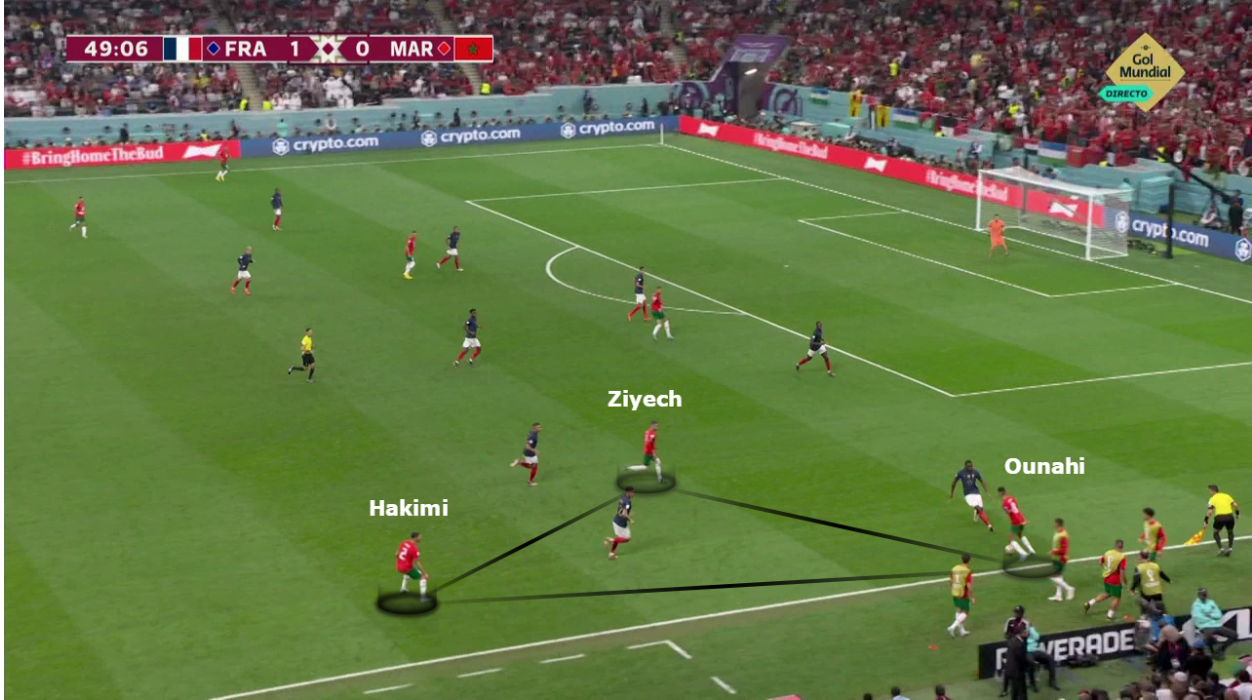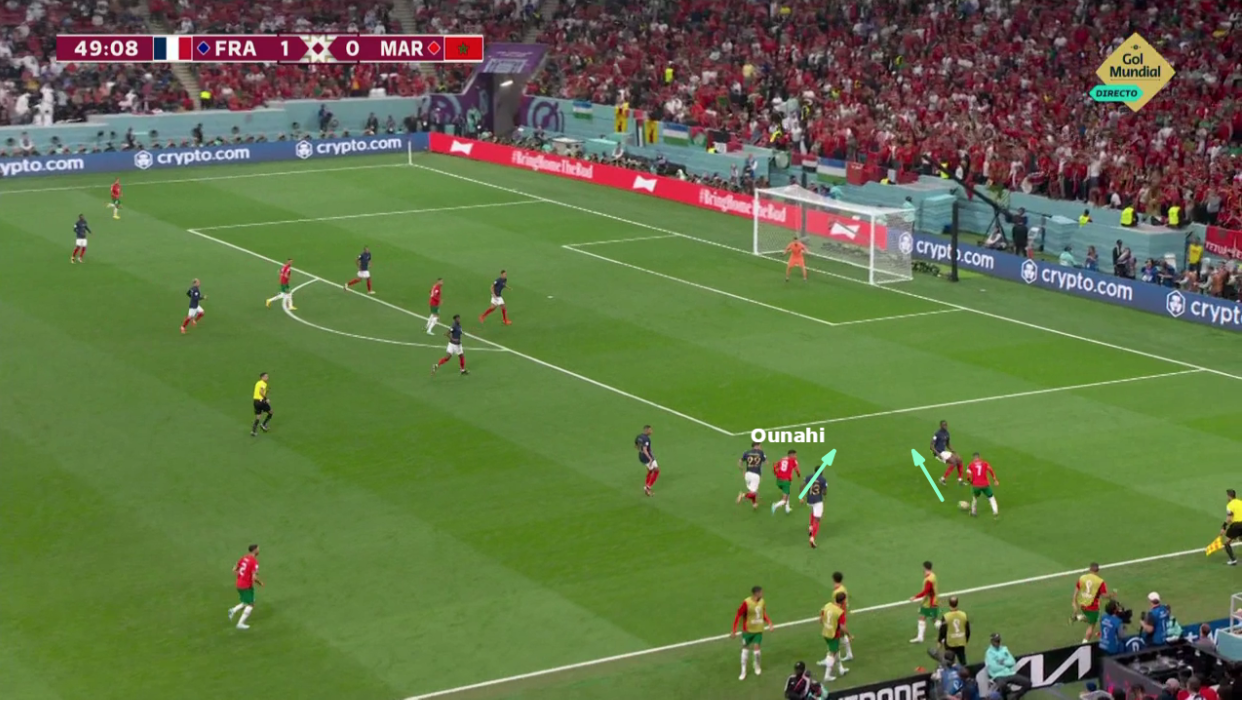 When there was Ziyech on the line, Hakimi cut to the depth to reduce the press over Ziyech and keep the situation 1 vs 1, but when Hakimi was attacking from the flank, Ziyech would cut inside.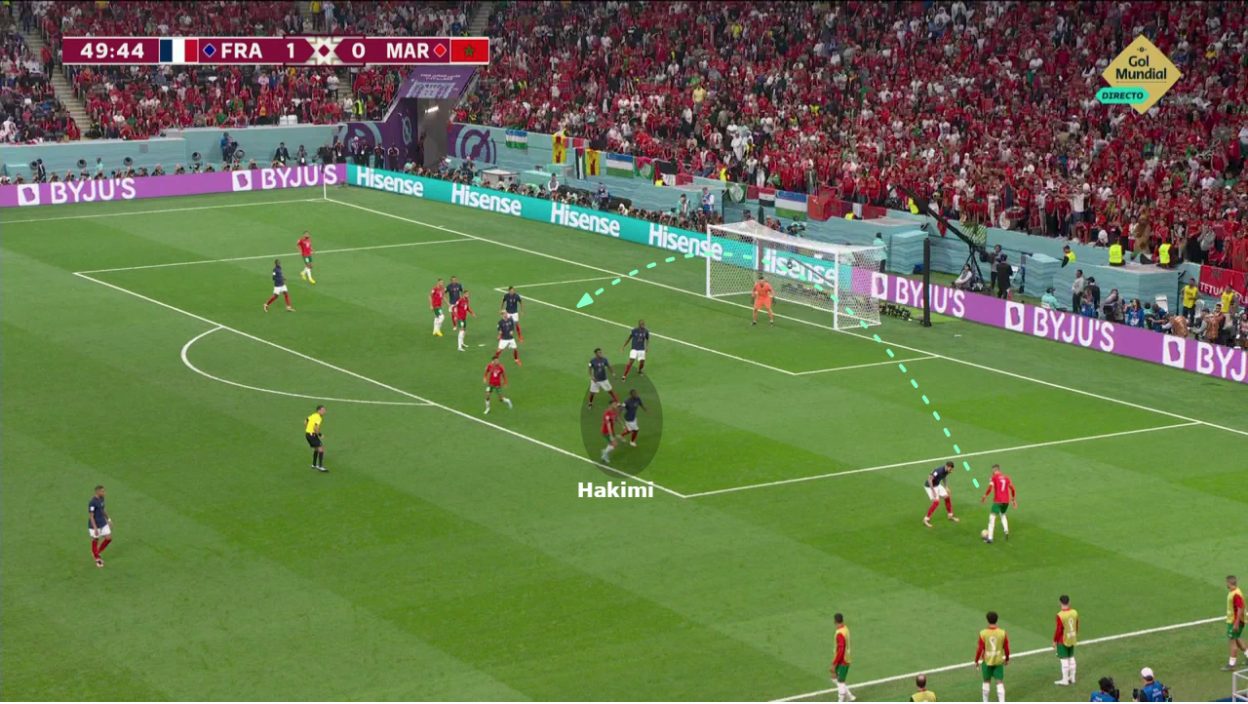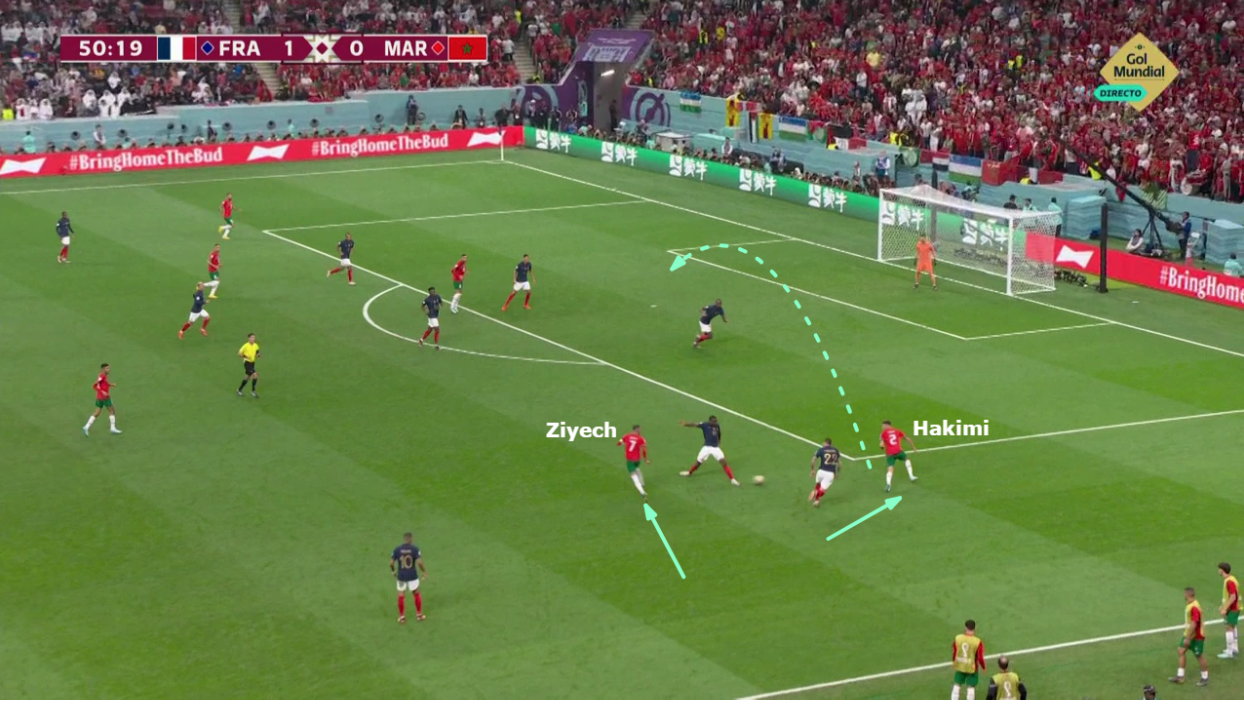 After that, Boufal began to get closer to Hakimi's side to create numerical superiority, and Ounahi's positioning dispersed the French midfielders with Boufal attacking the half-space with Hakimi, and Morocco began to reach the final third more but they were unable to make France pay due to a lack of accuracy on the final ball or cross into the penalty area.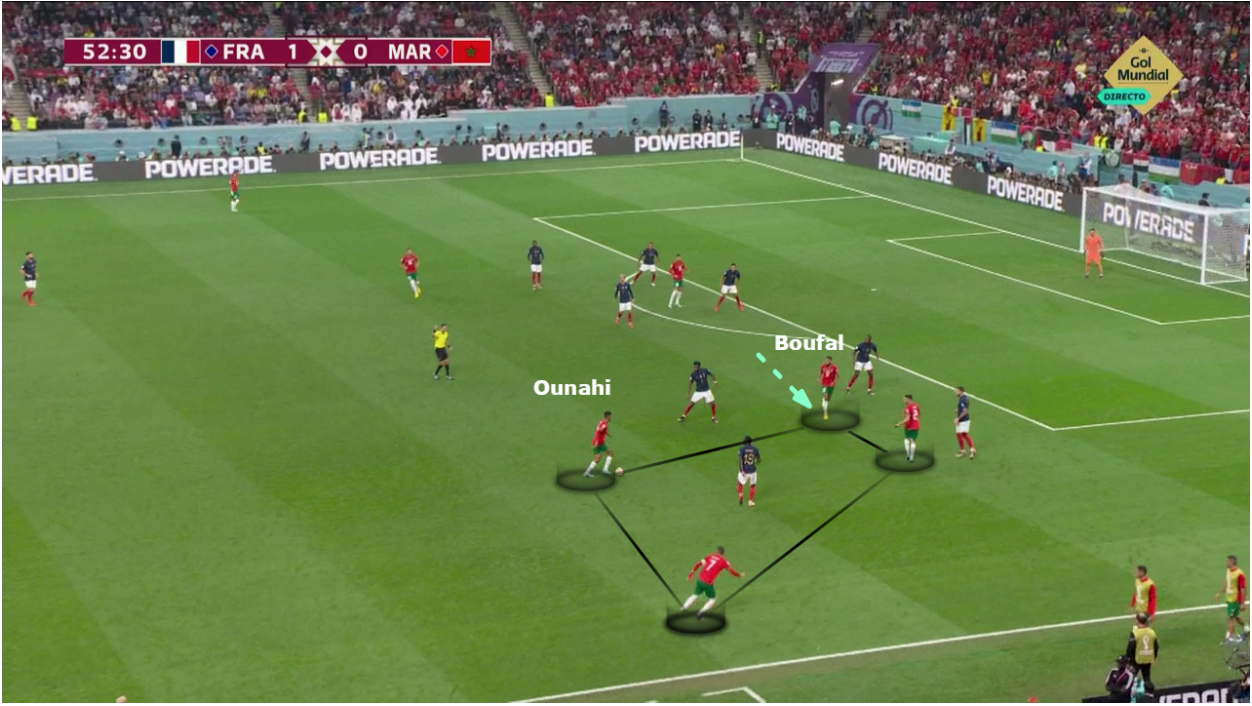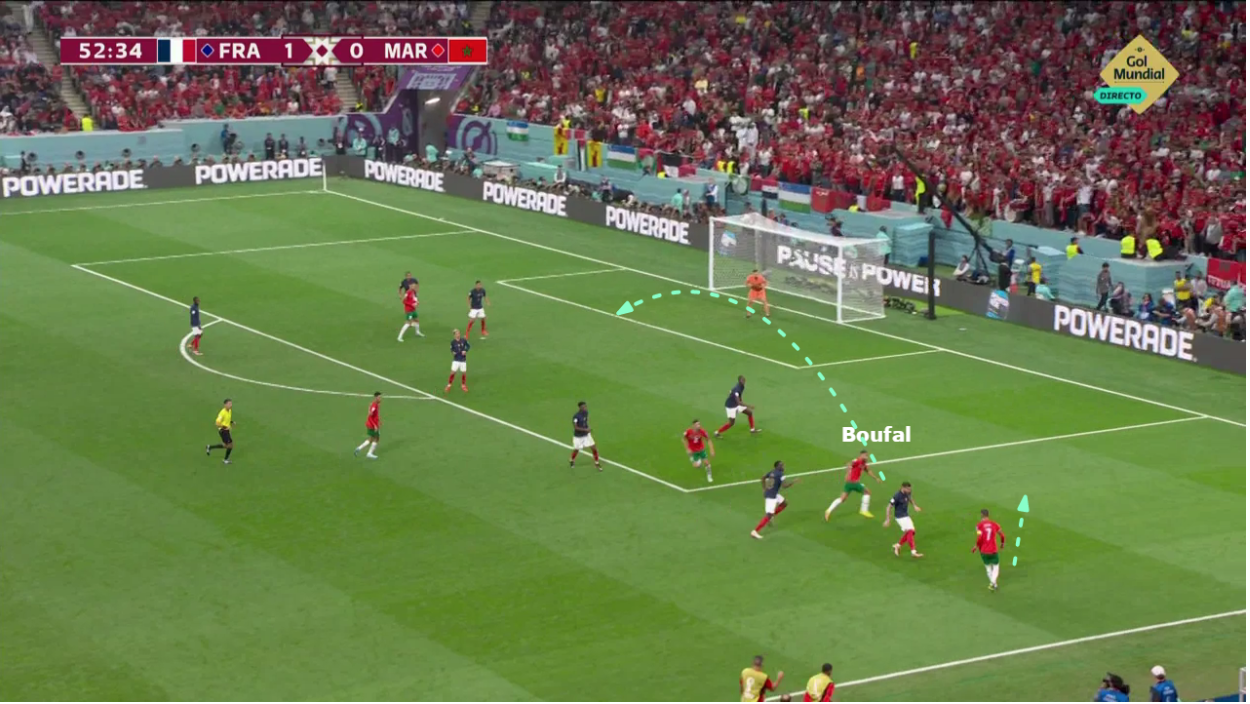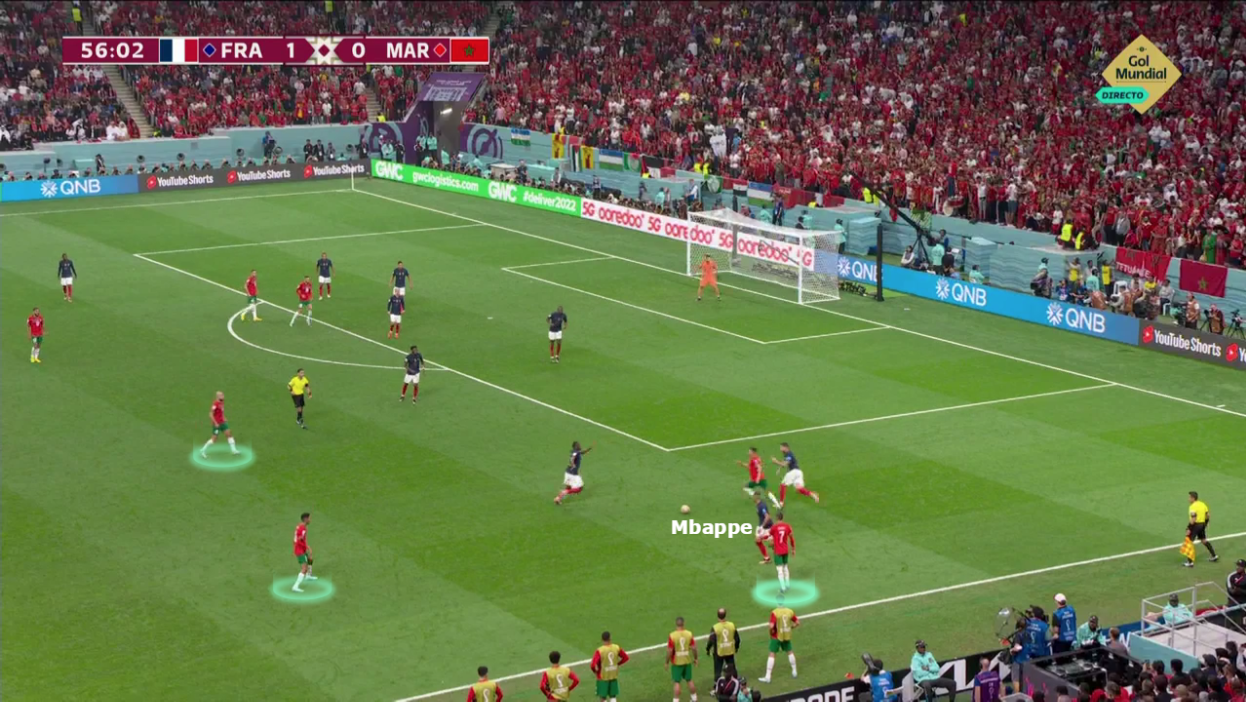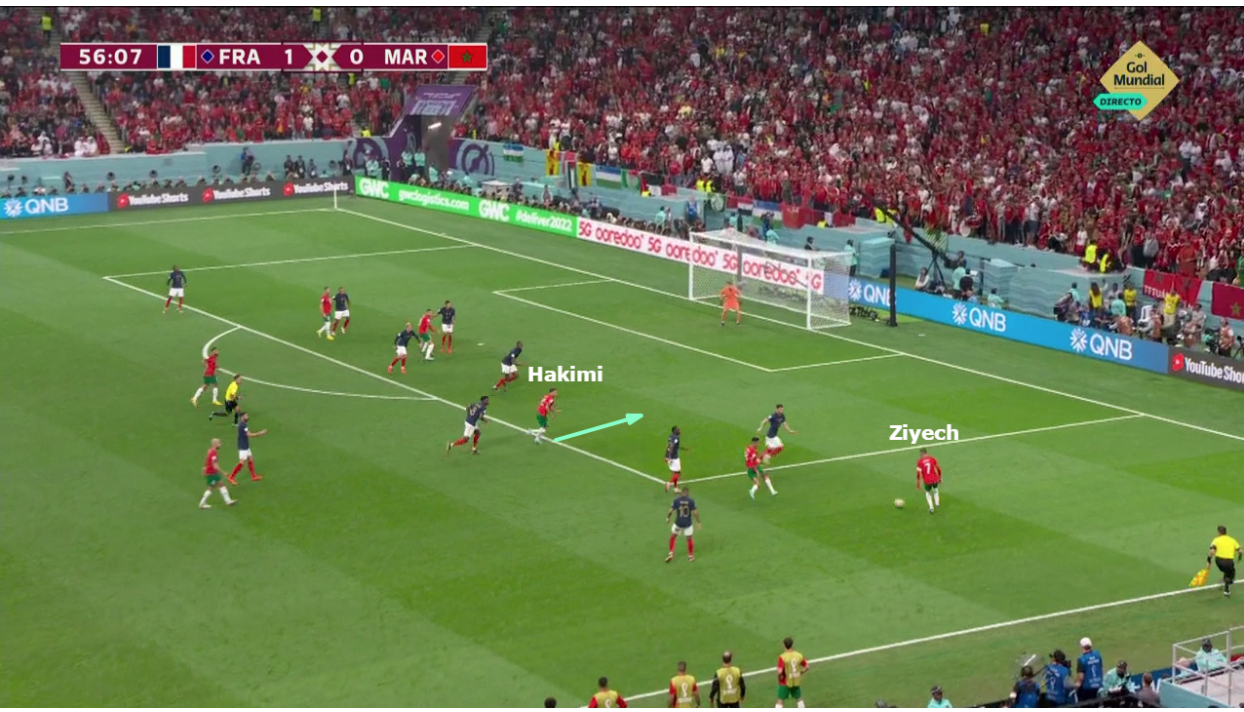 Conclusion
After losing to France in the semifinals, Morocco would proceed to lose 2-1 to Croatia in the third-place match, whilst France would lose on penalties to Argentina in the final. Nevertheless, both teams will emerge from Qatar with their heads held high — Les Bleus have braved an injury crisis and come within touching distance of a second-straight World Cup, whilst Morocco have blazed the trail for other teams on the continent and become the first African team to reach the semifinals.
By: Mohammad Bani Atta / @TacticalZone14
Featured Image: @GabFoligno / John Berry – Getty Images
Data by: Yahia Rashwan @Rush1_analytics