Tactical Analysis: France 2-1 Denmark
After beginning their campaign with a 4-1 victory against Australia, France defeated Denmark 2-1 to become the first team to book their ticket to the Round of 16. Kylian Mbappé opened the scoring at the hour-mark, Andreas Christensen equalized shortly after, and Mbappé grabbed the winner in the 86th minute to secure three points and become the first defending champion since Brazil '06 to avoid a group stage elimination.
France's Second Phase of the Build-up Play
France relied on a 4+2 shape to build their possession against a narrow 5-4-1 Danish mid-block, with Kasper Hjulmand's side tending to prevent their opponent from enjoying central progression and forcing them to play out wide; it seemed that France's progression scheme was almost perfect for such intentions, with only four French players positioned high up.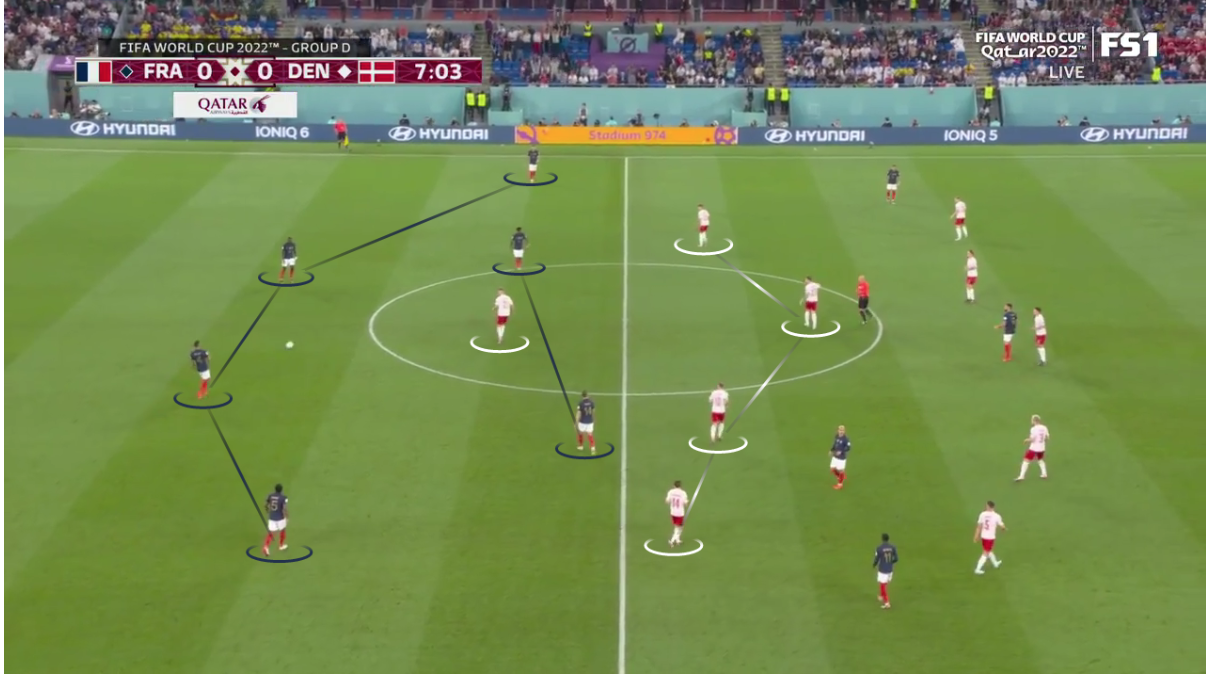 It was clear that Didier Deschamps was seeking to lure a higher number of Danish players to come out and press the ball carrier so that they could then stretch the pitch vertically to free up spaces for France's attackers to make decoy movements and runs in behind the defense, but the Danes nevertheless remained focused. As France tended to progress via the near-side fullback (Theo Hernandez in this case), the near-side winger (Mbappé) had to drop to receive the ball and ensure numerical advantage against Denmark's inside winger (Jesper Lindstrøm).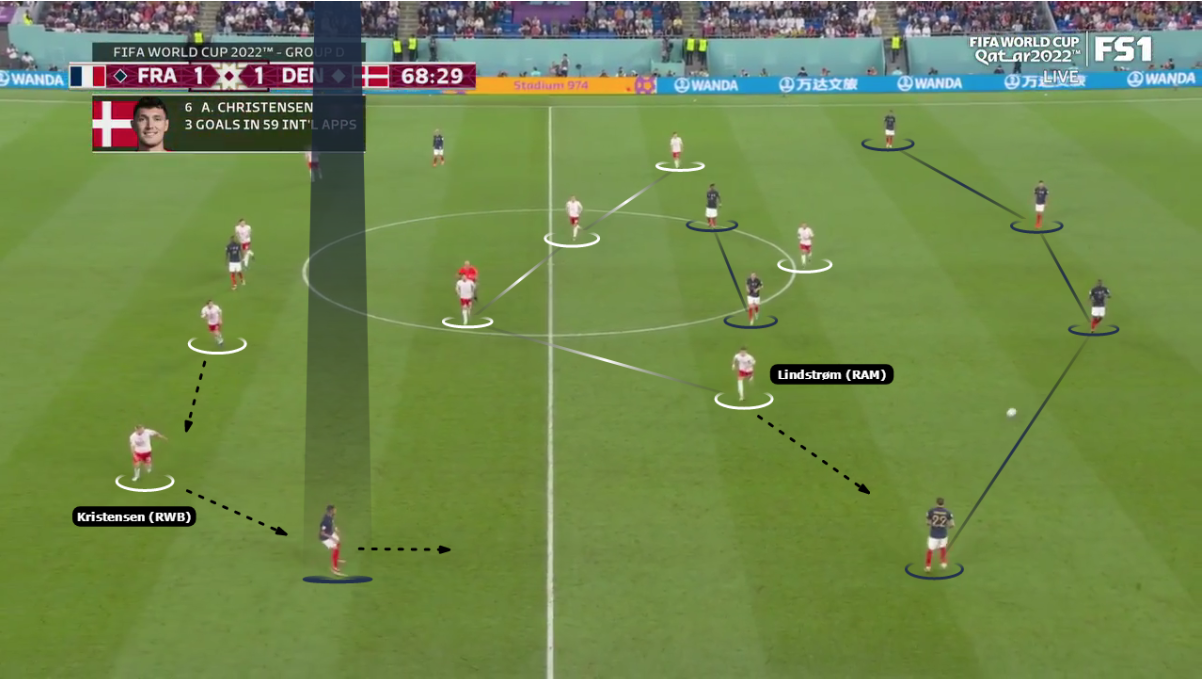 Mbappé's dropping run was followed by Denmark's near-side wingback (Rasmus Kristensen) and even the support from additional French players (Aurélien Tchouaméni) was faced by the nearby Denmark midfielder (Pierre-Emile Højbjerg) to move ball-side, while two other Danish players came near to fill gaps and to ensure greater control of the situation (Andreas Cornelius & Joachim Andersen / Andersen & Højbjerg).
It is worth mentioning that such situations occurred at maximum pitch width, which means that there was an additional player against France: the touchline. France were then forced to play back passes and switch the play's direction, which gave time for Denmark's players to react and rearrange themselves, or even to try to use their ball-holding players' dribbling skills in useless attempts of overcoming that traffic.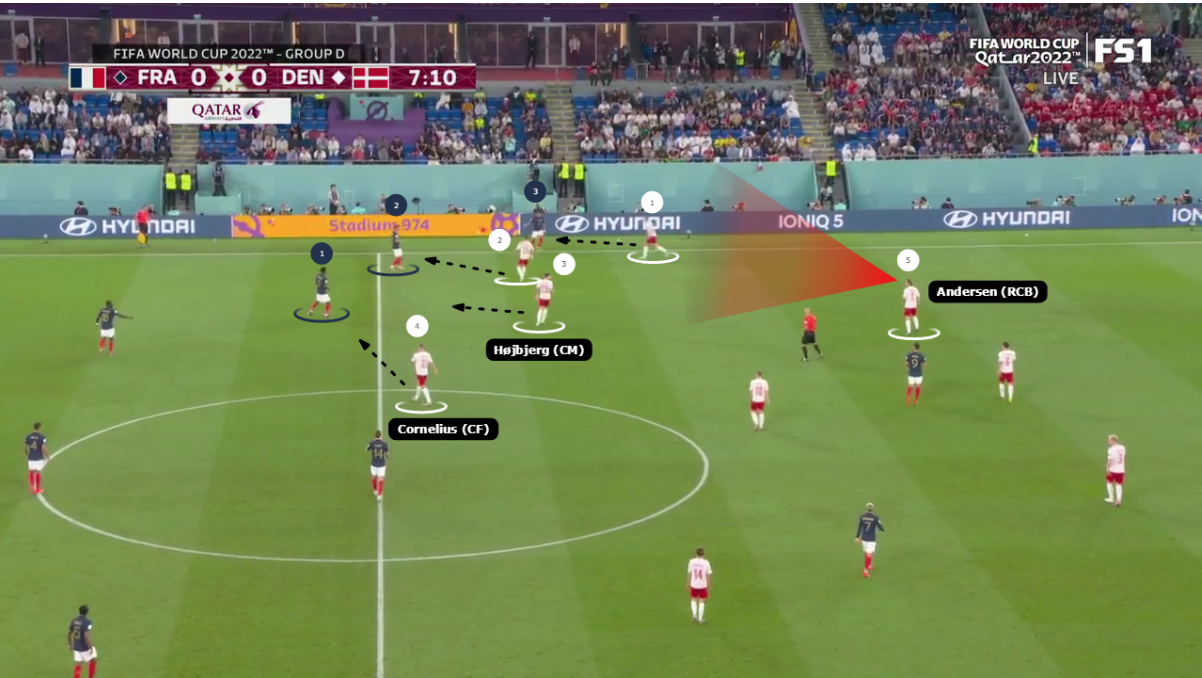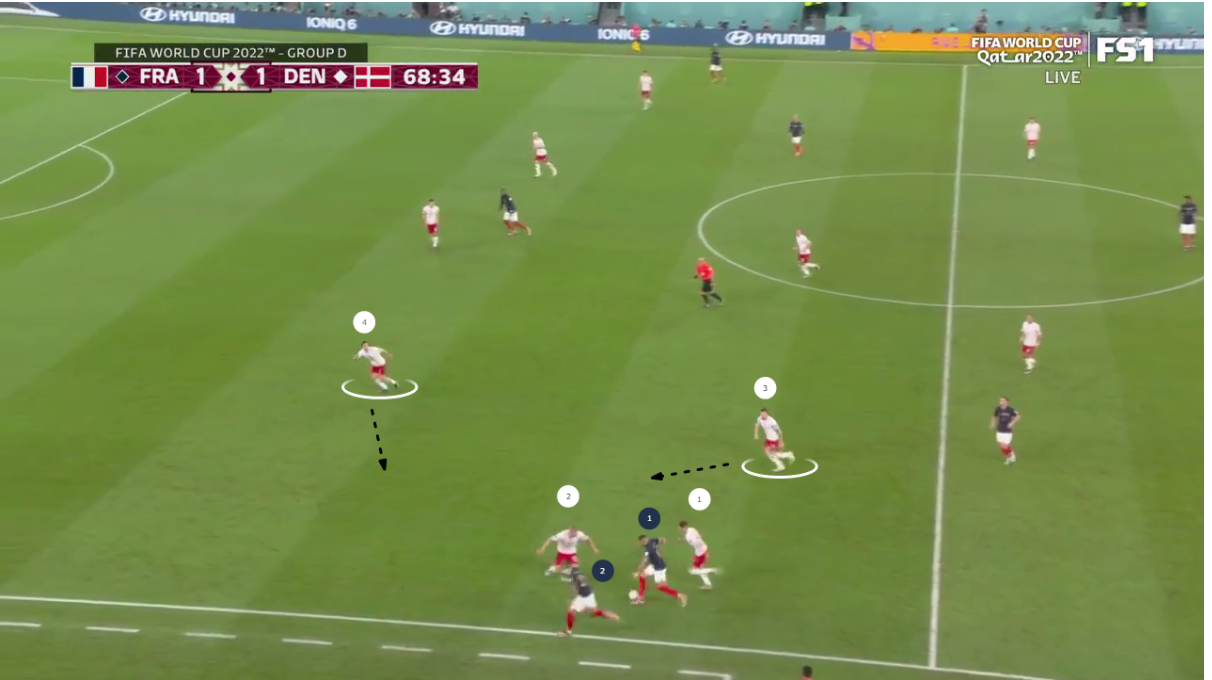 France's Final Third Possession Against Denmark's Low Block
France were forced to play the ball back and switch the play, which provided time and space for their defenders (Raphael Varane / Theo Hernandez) to carry the ball forward, and as Antoine Griezmann (AM) drops back to join his double pivots, and this could prevent any midfield support to the probable 1V1 situation between France's wingers (Ousmane Dembélé / Kylian Mbappé vs. Joakim Mæhle / Rasmus Kristensen).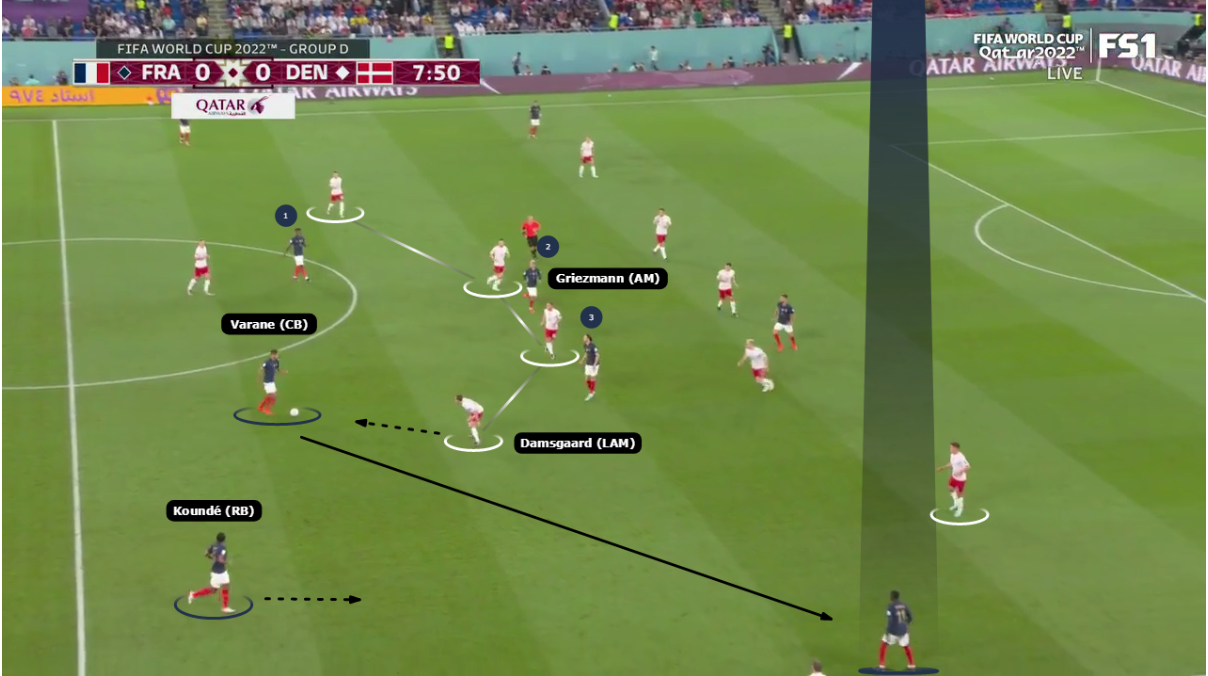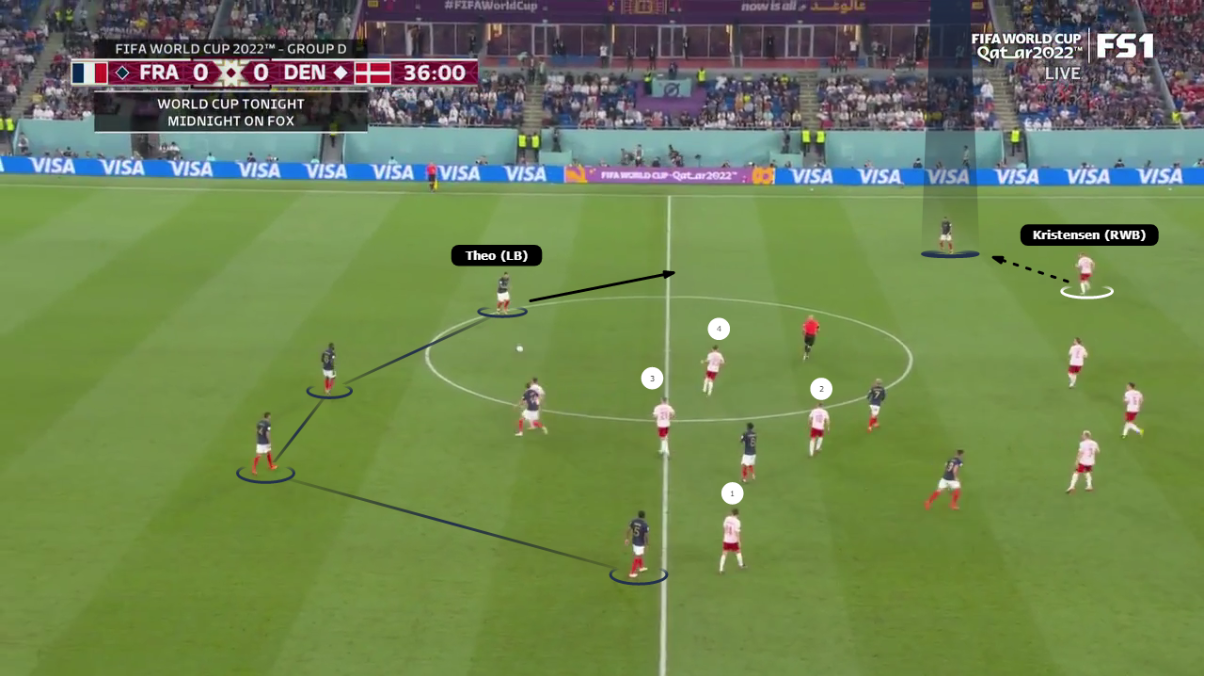 But as Denmark's previous mid-block was very compact, this could trap the winger again between two or more Danish retracting players, which forced Dembélé / Mbappé to switch the play, seeking the potential 1V1 situation again prior to relying often on crosses, which although it not exploited enough by Olivier Giroud (CF), these situations were a large source of France's attacking threat.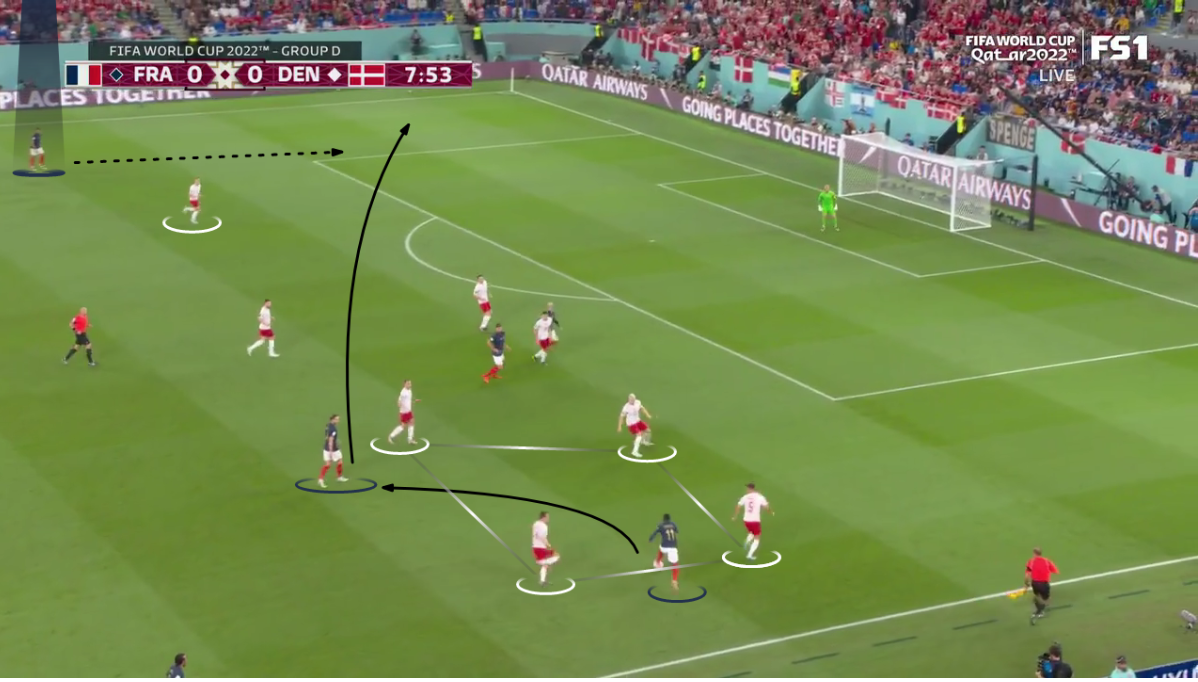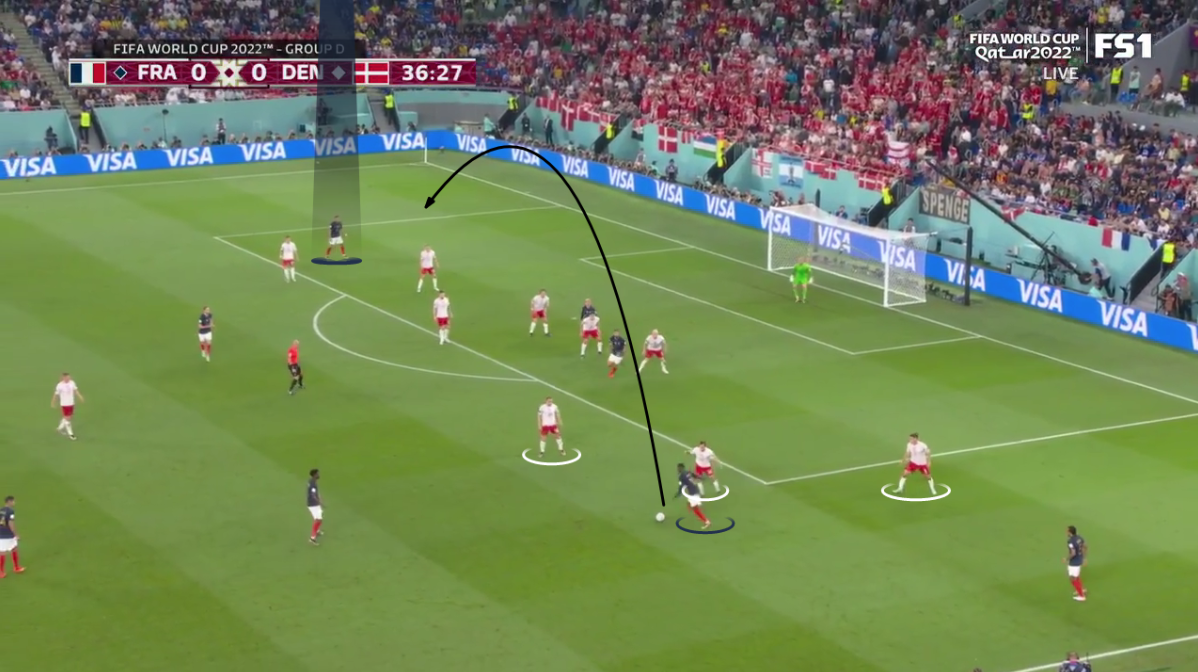 France's Attacking Transitions
But another important source of France's attacking threat was their attacking transitions: Having a player like Griezmann who has high positional awareness while his team is out of possession (rest attack), made him able to receive passes from his defenders and switch the play away from the Denmark counter-pressing, where Mbappé / Dembélé / Theo could find enough space to use their pace and dribbling skills to create big chances; and from such transitions, France could score their opening goal.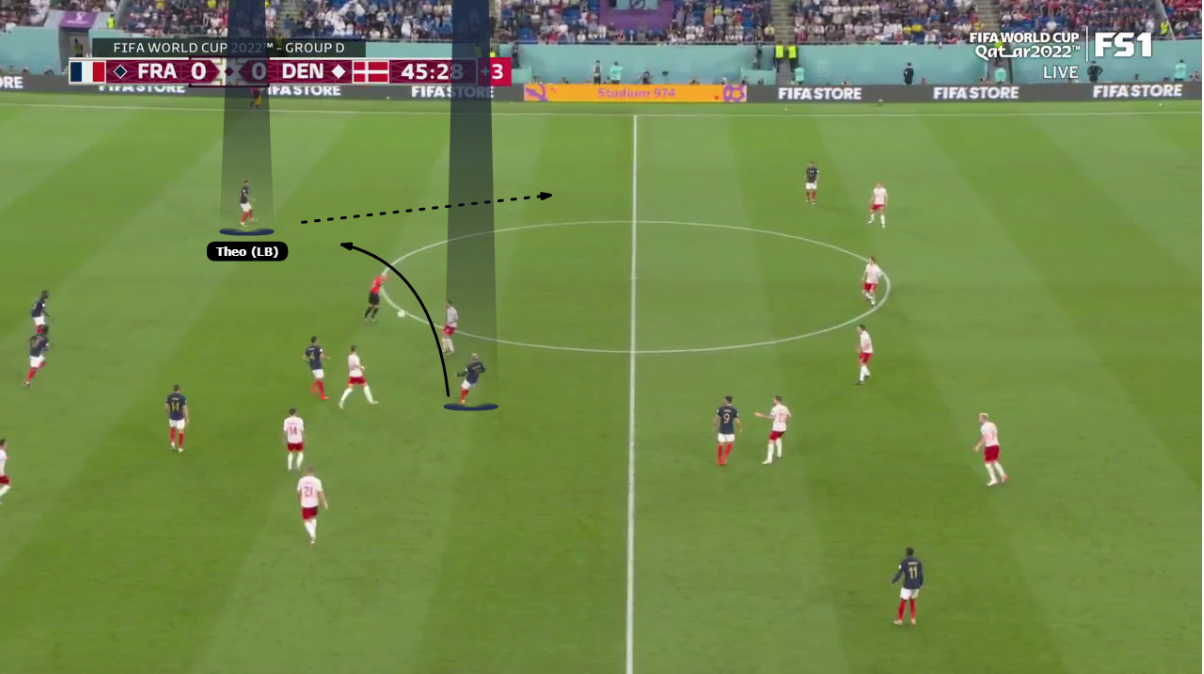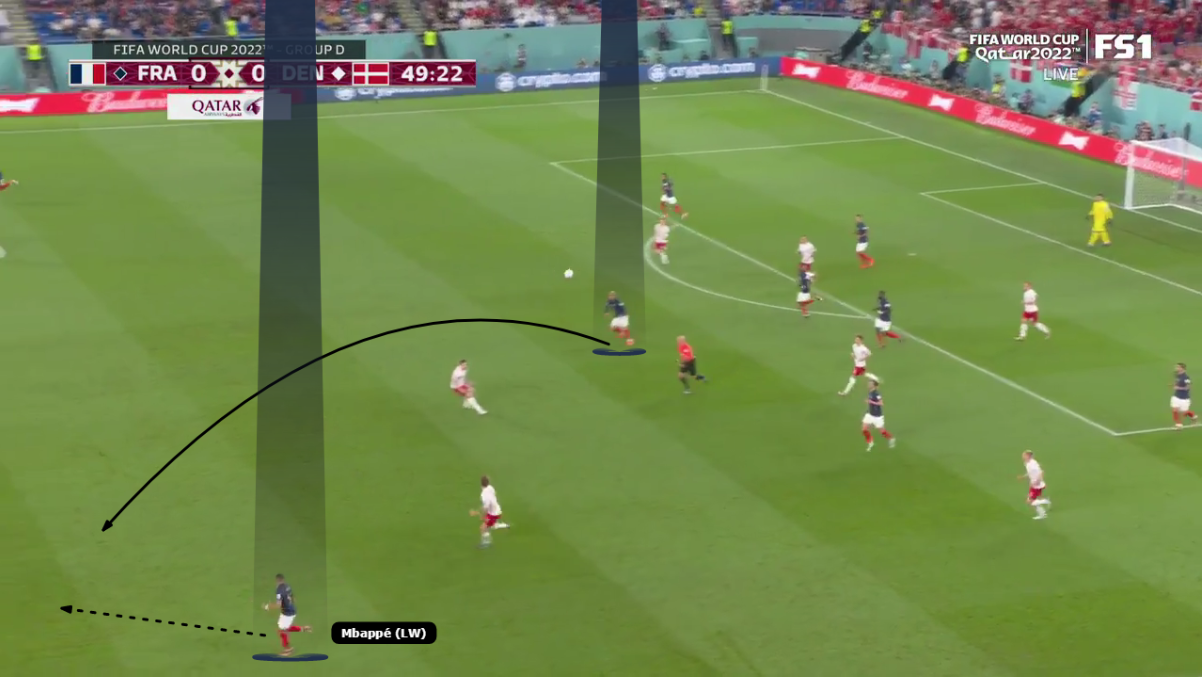 France's Mid-block Against the Danish Build-up
France's problems would emerge out of possession when Denmark were in the second phase of build-up. As a result of Mbappé's failure to track back, both Danish wingbacks could stretch the pitch high and wide and the inside wingers could move vertically in both the central areas and half-spaces to enable the team to switch between a 3-1-5-1 and a 3-2-3-2.
This would prevent France's midfielders from switching the ball with diagonal passes when released by a Danish center back (Victor Nelsson in the below example), with the defender picking out the isolated wingback (Kristensen) with a switch to the underloaded side.
The center back had the time to release the diagonal ball as Denmark's defense had the numerical advantage (3V2) while the opposite wingback was free or in the best conditions, was facing the French fullback (Theo) in 1V1 situations, as sometimes the three Danish attackers were pinning France's back four centrally.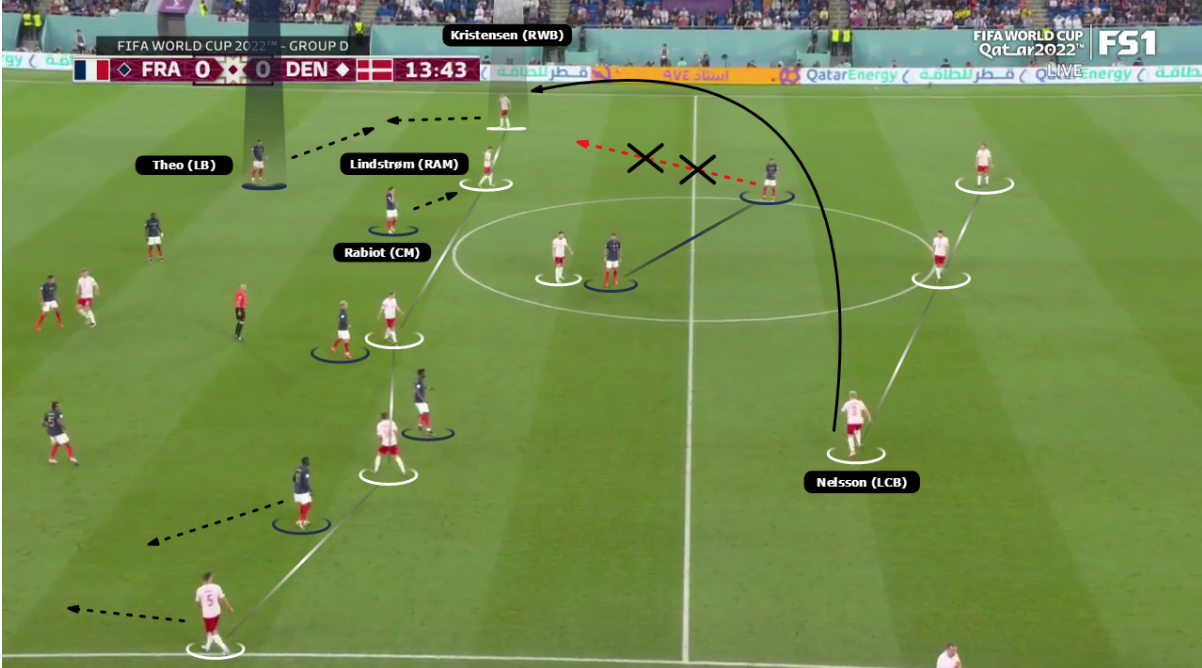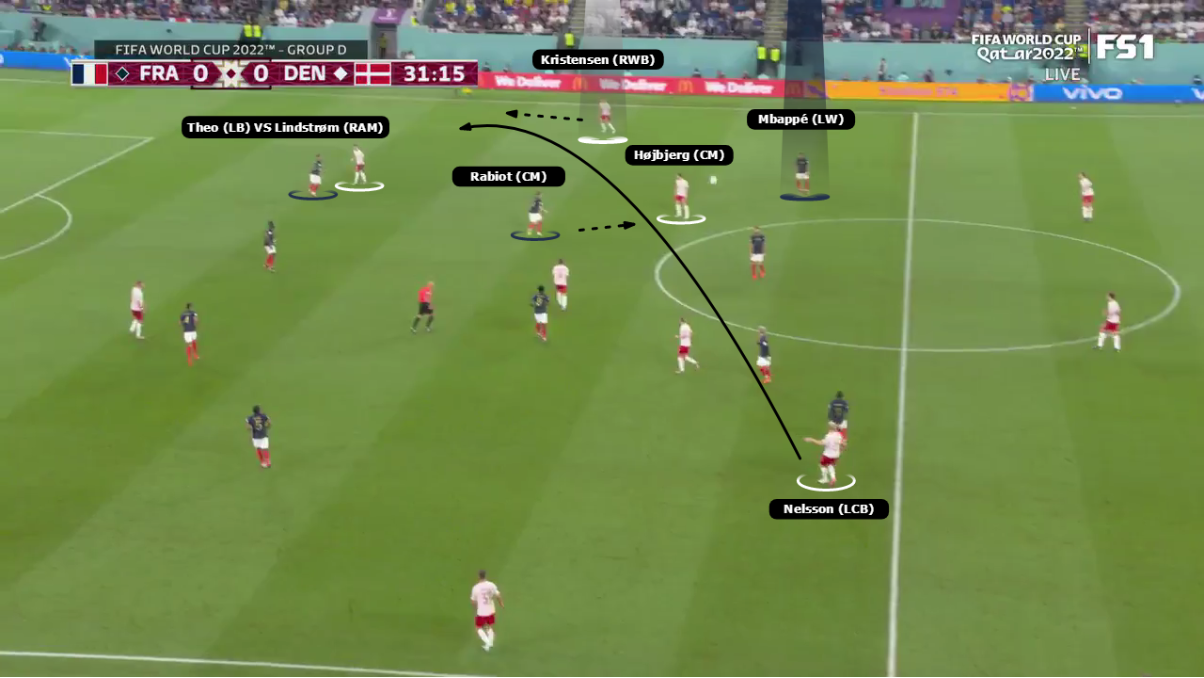 France's Low Block Against Denmark's Final Third Possession
France were tending to drop back to a low block rather than investing more time in the mid-block phase; as during the low block, French lines were compact, coherent and able to overload the wide areas with at least numerical equity while also having an additional defender around or inside the box as their opponent relatively lacked the attacking density as they were playing with three men at the back.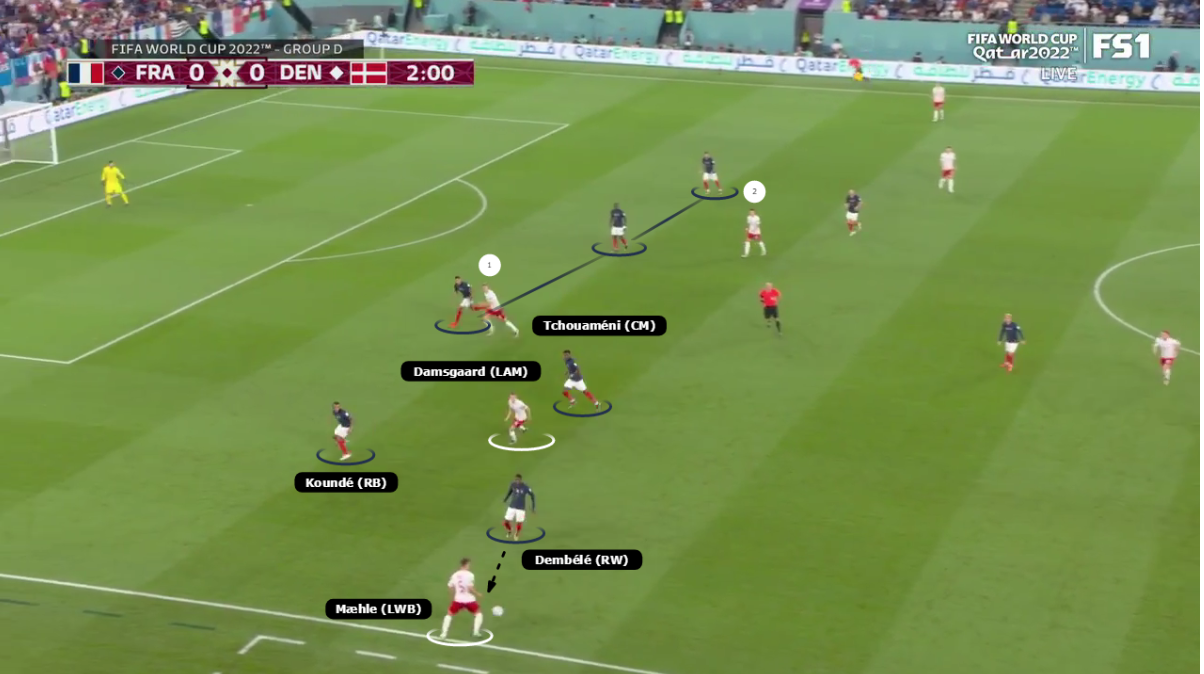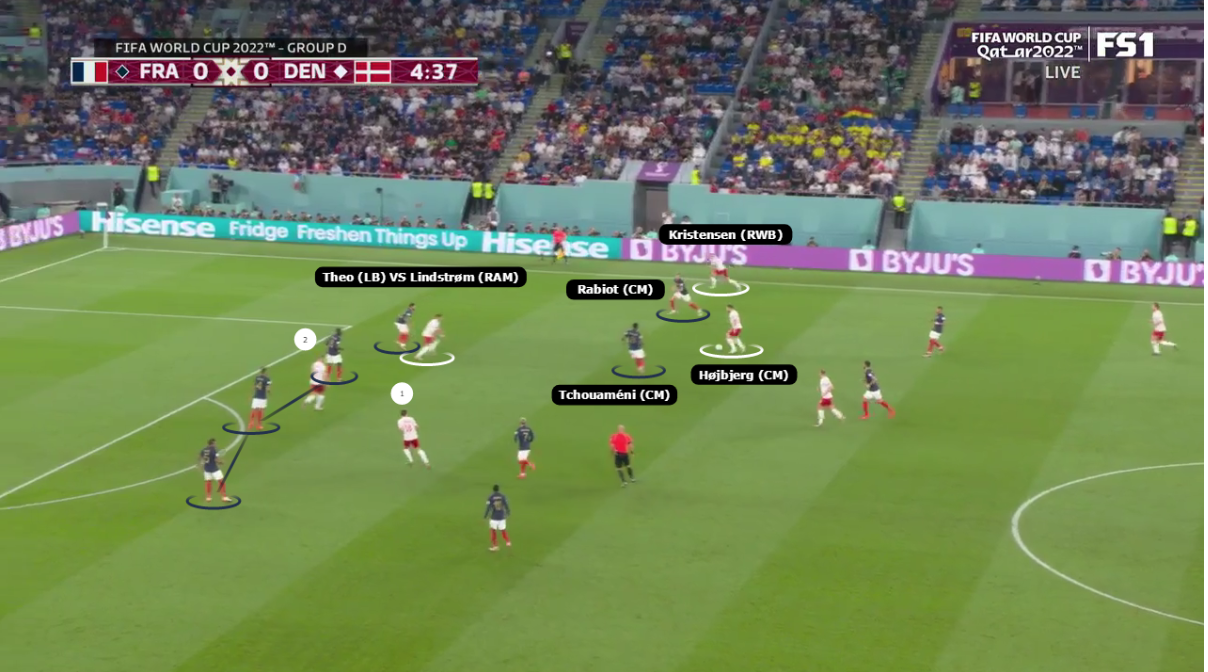 Conclusion
France are one of three teams to seal their Round of 16 qualification in the second group stage match alongside Brazil and Portugal, and after breezing past Australia and narrowly edging Denmark, they'll be looking to top their group by defeating Tunisia, whilst Olivier Giroud will be looking to add to his tally of two goals and surpass Thierry Henry as the all-time leading goal scorer in the history of the France national team.
By:: Loay Mamdouh / @loay_mamdou7
Featured Image: @GabFoligno / Franck Fife – AFP