Tactical Analysis: France 2-1 England
After exiting the 2018 World Cup at the semifinals at the hands of Croatia and losing to Italy in last year's Euros Final at Wembley, Gareth Southgate's England have once again come close to ending their 56-year trophy drought, only to come out empty-handed. The Three Lions opened their campaign in Qatar with wins against Iran, Wales and Senegal and a draw against the United States, only to fall to a 2-1 defeat to defending champions France.
Les Bleus kicked off their campaign with wins against Australia and Denmark and a defeat to Tunisia, before breezing past Poland in the Round of 16 and setting up an intriguing matchup against England in the quarterfinals. A late goal from Olivier Giroud and a missed penalty from Harry Kane proved vital, with France booking their ticket to the semifinals where they would defeat Morocco 2-0.
Didier Deschamps went with his trademark 4-2-3-1 with a 3-1 base structure in possession, with Jules Kounde playing deeper at the right back position and Theo Hernandez pushing high up on the left flank. Antoine Griezmann occupied the interior corridor whilst Ousmane Dembele stayed wide, with Hernandez, Adrien Rabiot, and Kylian Mbappe making dynamic movements from in-to-out and deep-to-high to confuse the opponent.
On the other side, Gareth Southgate's England seemed to stay in a mid-block formation. Harry Kane tried to press the ball carrier CB while covering the shadow of Aurelien Tchouameni. Phil Foden was ready to jump to press Kounde while Bukayo Saka was there between Dayot Upamecano and Hernandez according to the situation.
Luke Shaw and Kyle Walker were responsible to mark Dembele and Mbappe respectively. Furthermore, Jude Bellingham was there closing the passing lane to the right half-space and Jordan Henderson marked Rabiot meanwhile Declan Rice was ready to press Tchouameni if Harry Kane stepped up to press.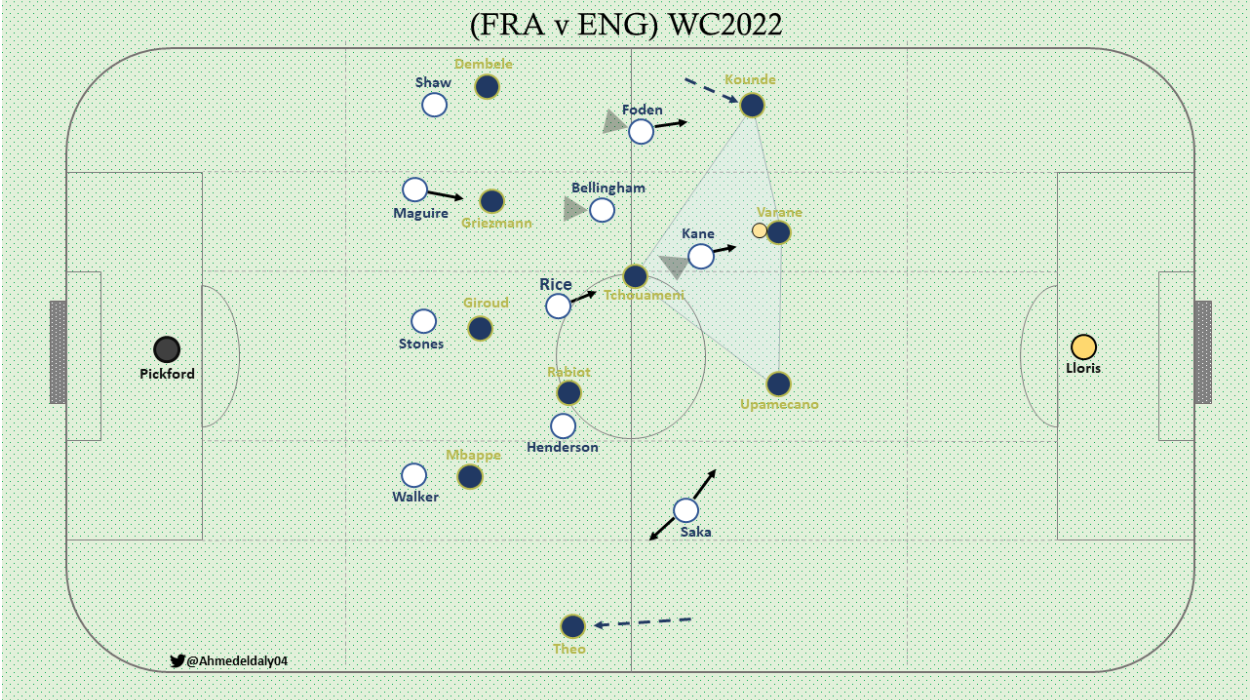 This pressure pushed France to implement some different ideas. Here below, they tried to penetrate above the block, Hernandez moved forward which provoked Saka to let his space and moved back to avoid any numerical advantage over the fullback so the space was opened to Upamecano to receive and progress with the ball then played a long forward pass behind the backline to Mbappe who tried to make a sudden run with his dynamical advantage but Walker was aware to this attitude and preventing much of danger because of his brilliant pace.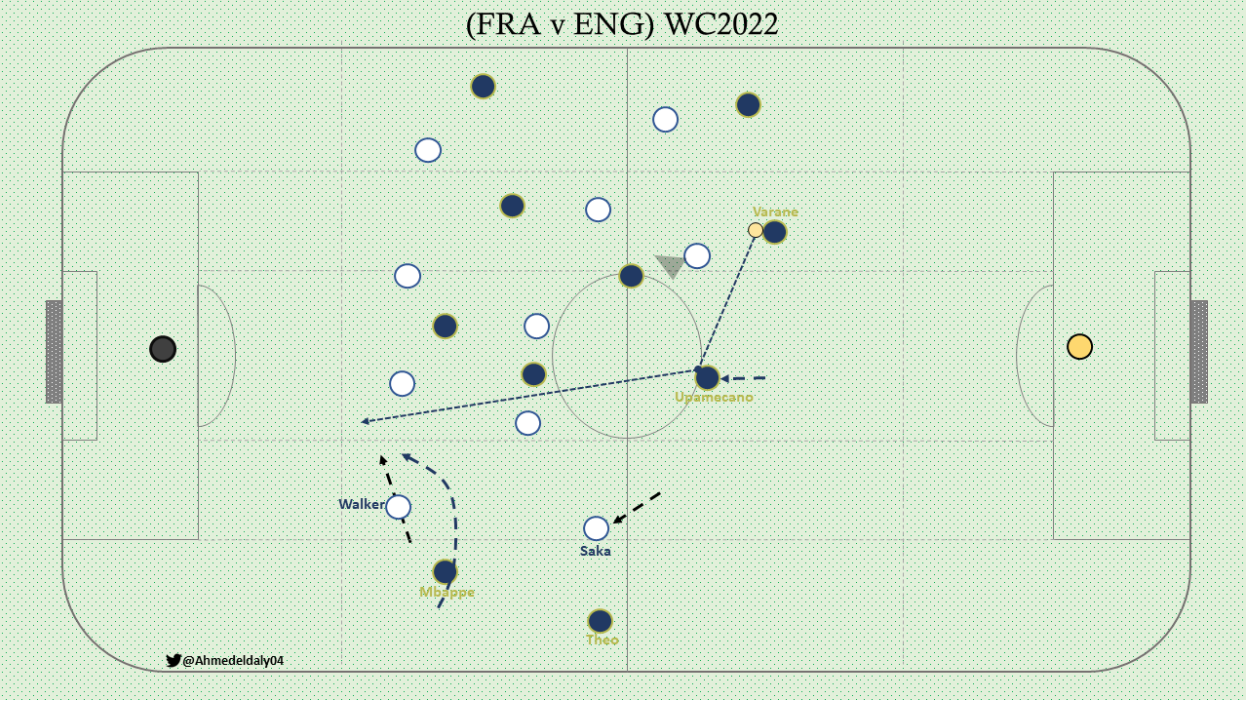 Les Bleus applied a positional play on the right side. Positional Play is searching for superiority. They tried to create a numerical superiority over the fullback Luke Shaw.  Here in the next figure, Aurelien Tchouameni did a well vertical movement away the ball to drag Harry Kane away and left time and space for Raphael Varane which provoked Jude Bellingham the stepped center-back while closing the passing lane.
The deeper position of Jules Kounde was dragged then Raphael Varane succeeded to avoid his covering the shadow of Ousmane Dembele and then passed to him. During that, Antoine Griezmann did a 3rd man run behind Luke Shaw. This 1-2 combination caused France plenty of danger with their transitions.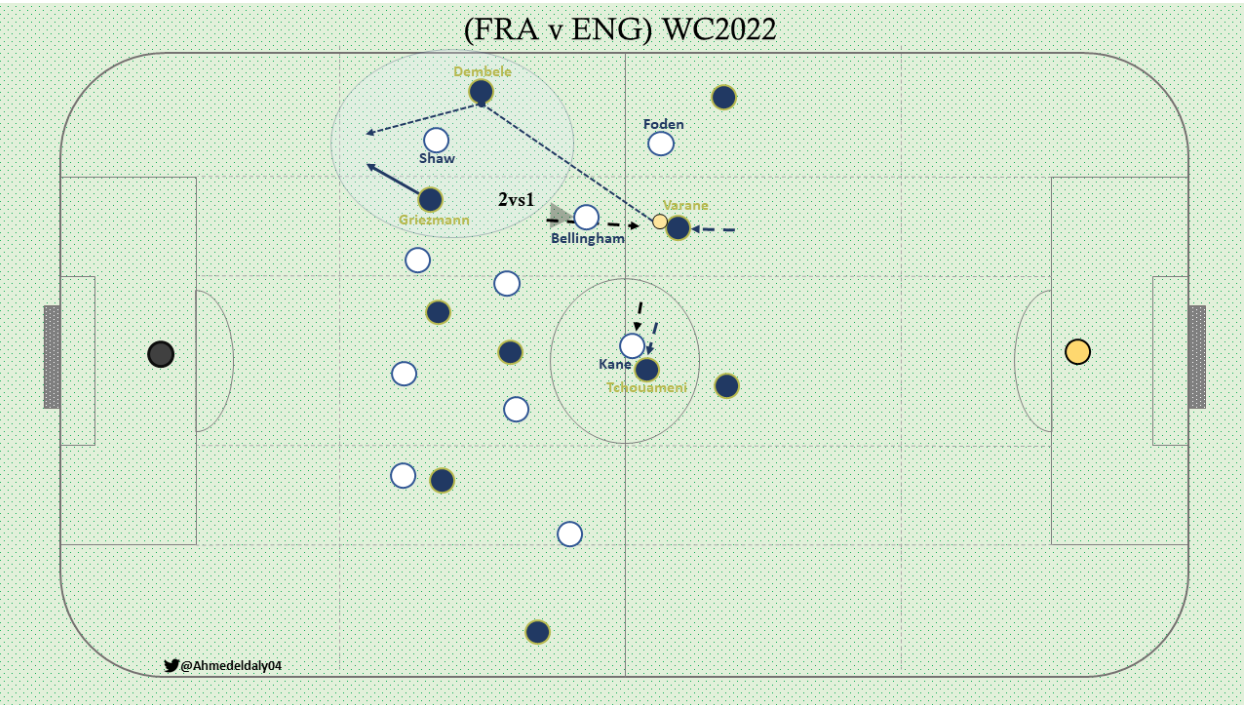 After that England tried to react to Antoine Griezmann's dangerous run. Jude Bellingham minimized the space with Antoine Griezmann and succeed sometimes got the ball back in a 1v1 situation with him. Nevertheless, it was dangerous.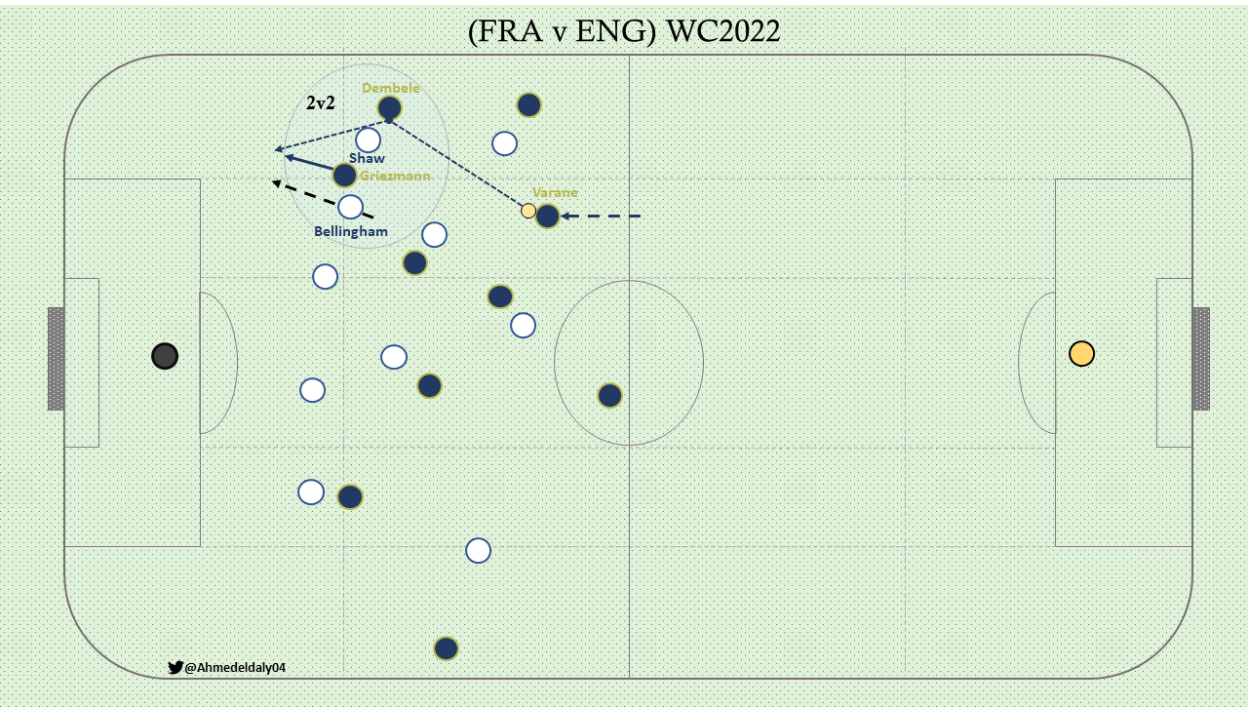 At times, the French based on the positional play principles tried to create superiority in different ways.  Here below at the right-hand side, While Raphael Varane had the ball and Luke Shaw was busy with Ousmane Dembele, Antoine Griezmann unlike his usual had dropped off which dragged Jude Bellingham with him then Jules Kounde did a diagonal deep run in behind into the space produced by Antoine Griezmann's movement. He took the dynamic advantage over Phil Foden.
Correspondingly, Adrien Rabiot had left his position and dropped off to create a 2v1 advantage with Aurelien Tchouameni over Harry Kane. Those combinations were important to penetrate the block and needed extensive reactions from England players to avoid any danger.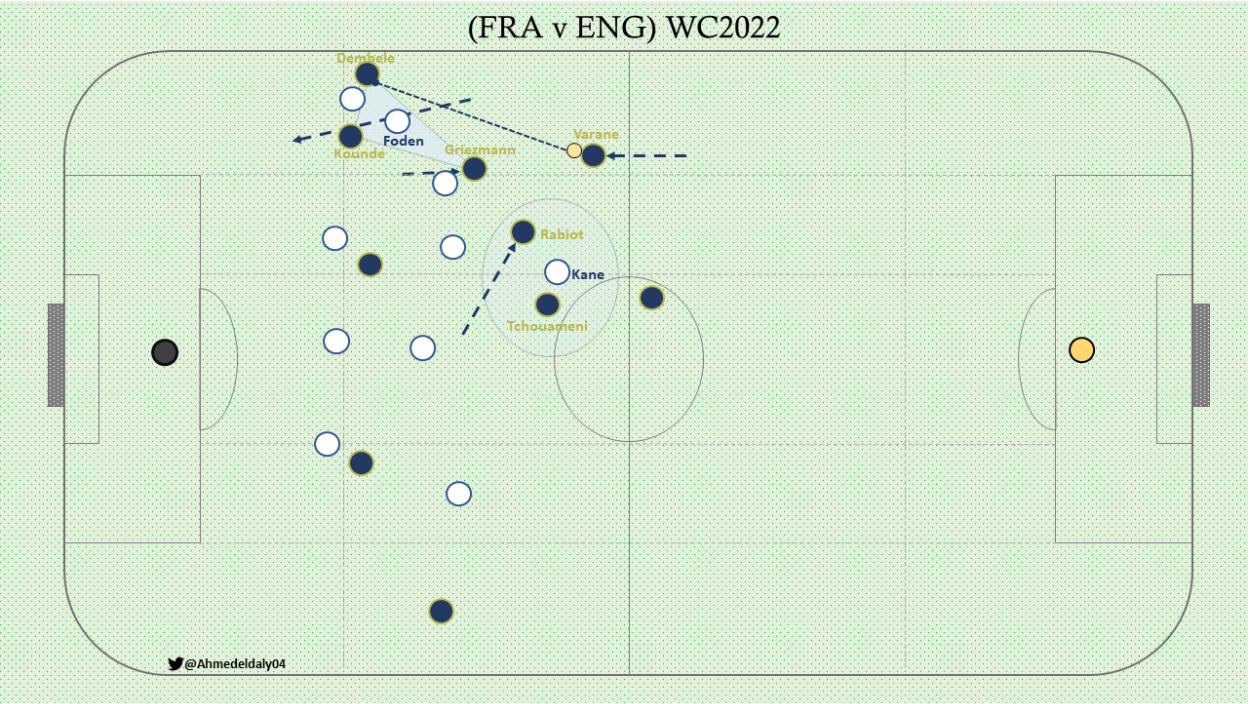 Furthermore, France benefited from the dropping of Antoine Griezmann and dragging the block to the overloaded side then switching to the other side.  They intended to create a 2v1 superiority over Kyle Walker by overlapping Theo Hernandez but at times like the situation here below, Bukayo Saka read the play well and moved back with the Milan fullback. Not all numerical parity is equality because the attackers have the individual advantage over the defenders, as putting Kylian Mbappe in 1v1 in space with any defender is so dangerous, resulting in positional superiority.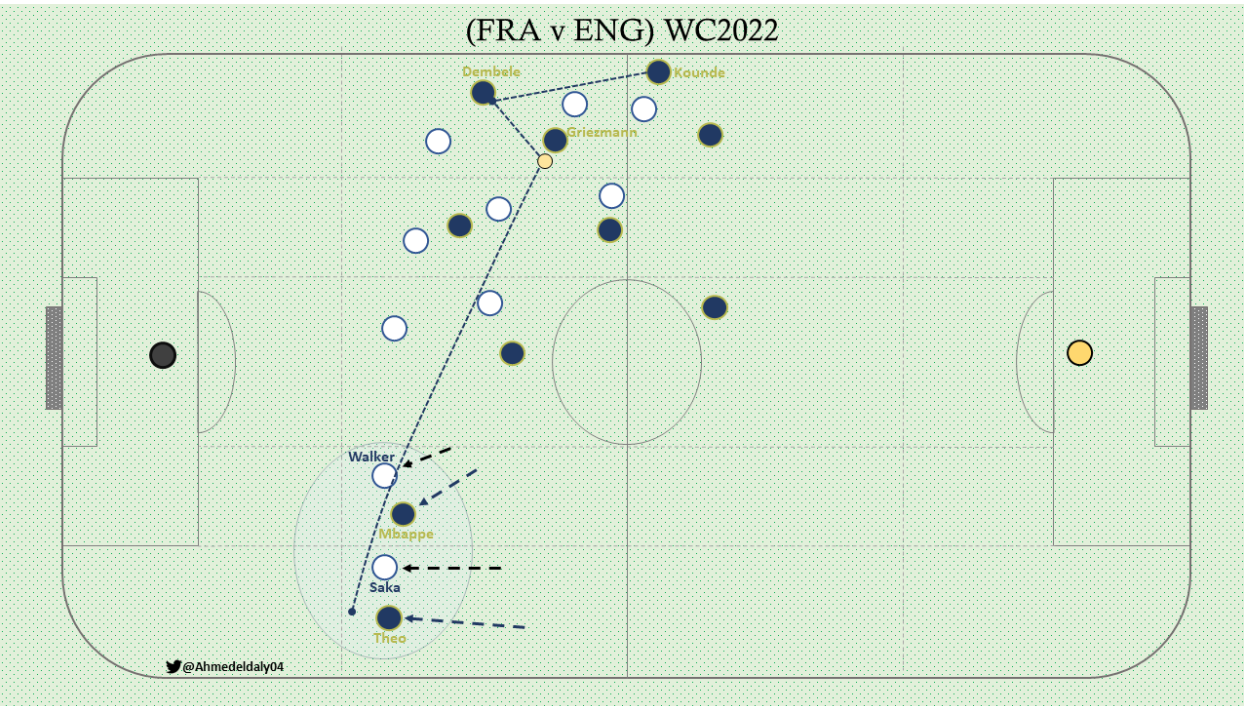 France if they entered the final third through progression or even a transition, they have a good distribution inside the opponent box. They intended the equally occupy the spaces between the defenders with different movements from the opposite winger and midfielders.
Here in the below scene, while Adrien Rabiot was crossing, Ousmane Dembele did a diagonal run in the blindside of Luke Shaw meanwhile Antoine Griezmann was running vertically in between Harry Maguire and Luke Shaw. Then Ousmane Dembele laid the ball off to Olivier Giroud who moved across the front of Harry Maguire. Furthermore, Aurelien Tchouameni, who is out of the scene, was at the edge of the box waiting for a rebound.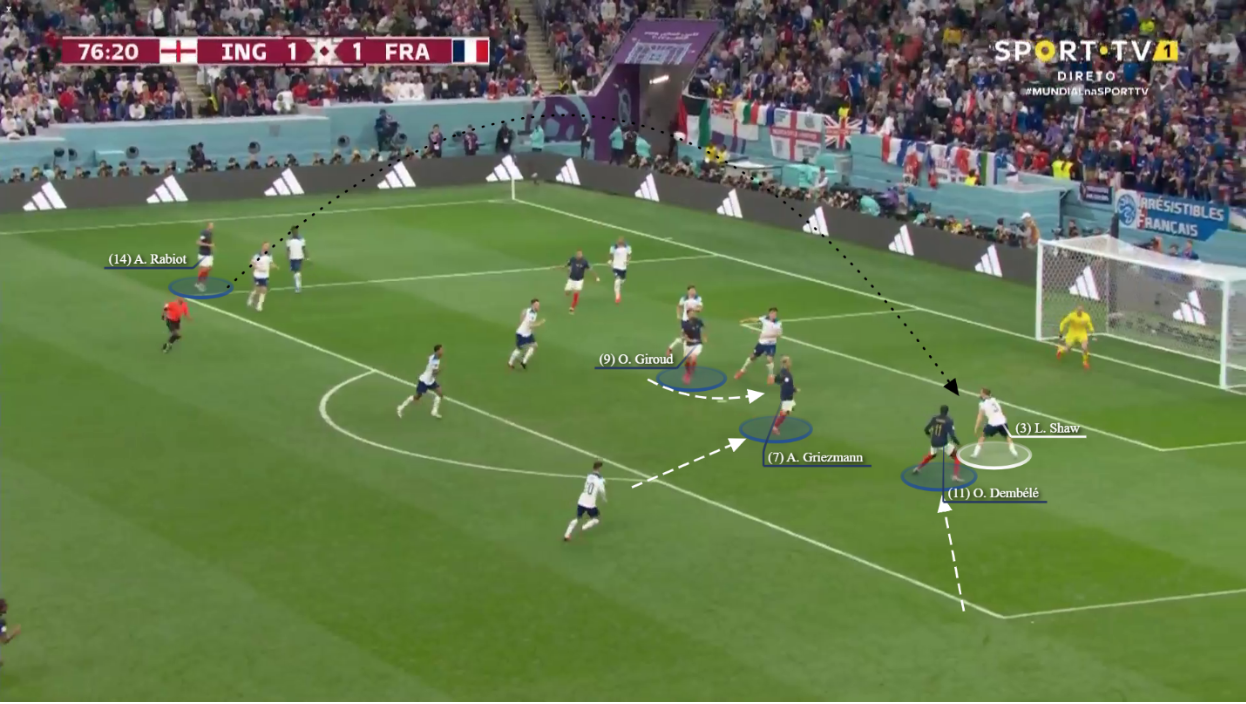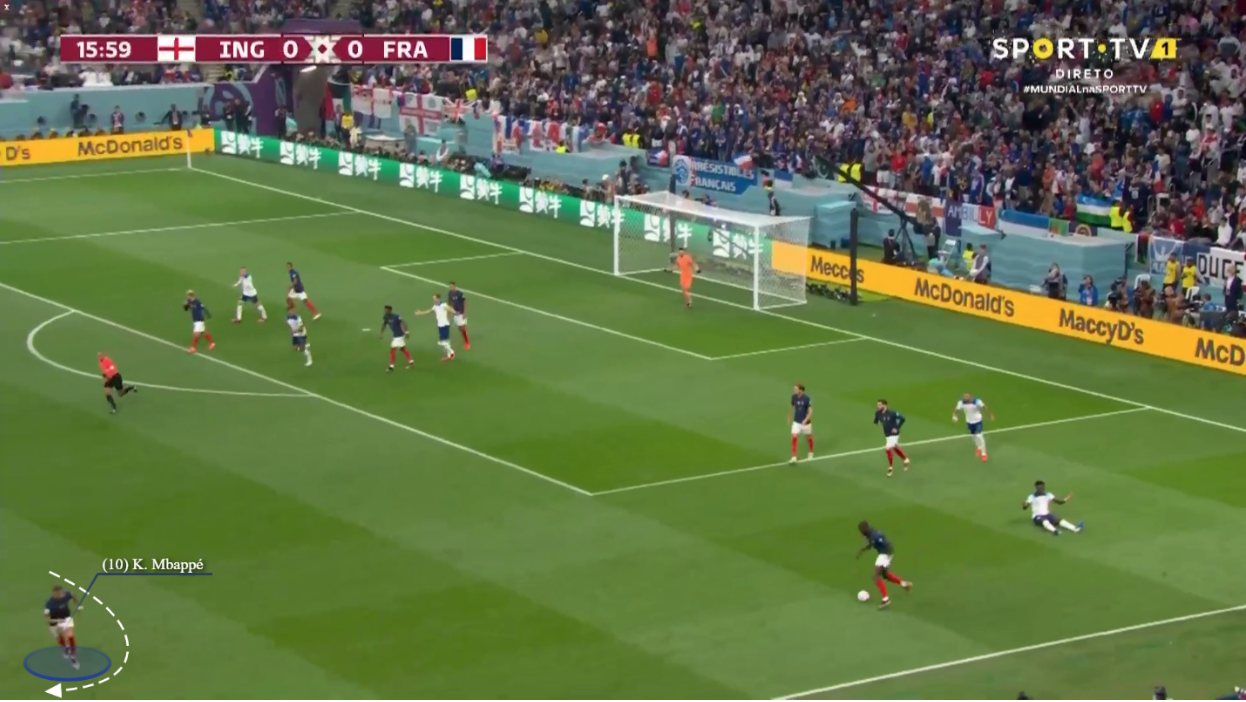 Above we can see the first goal scene; after Dayot Upamecano succeded to get the ball from Bukayo Saka and quickly run to the counter. Kylian Mbappe moved in-to-out to drag his marker and open a space for him to run. Yet, his initial position was part of the rest defense we will come to it later. After just 15 seconds, England players were back to defend the transition but the midfield all dragged away from the rebound zone then Aurelien Tchouameni received the ball in a big space and scored.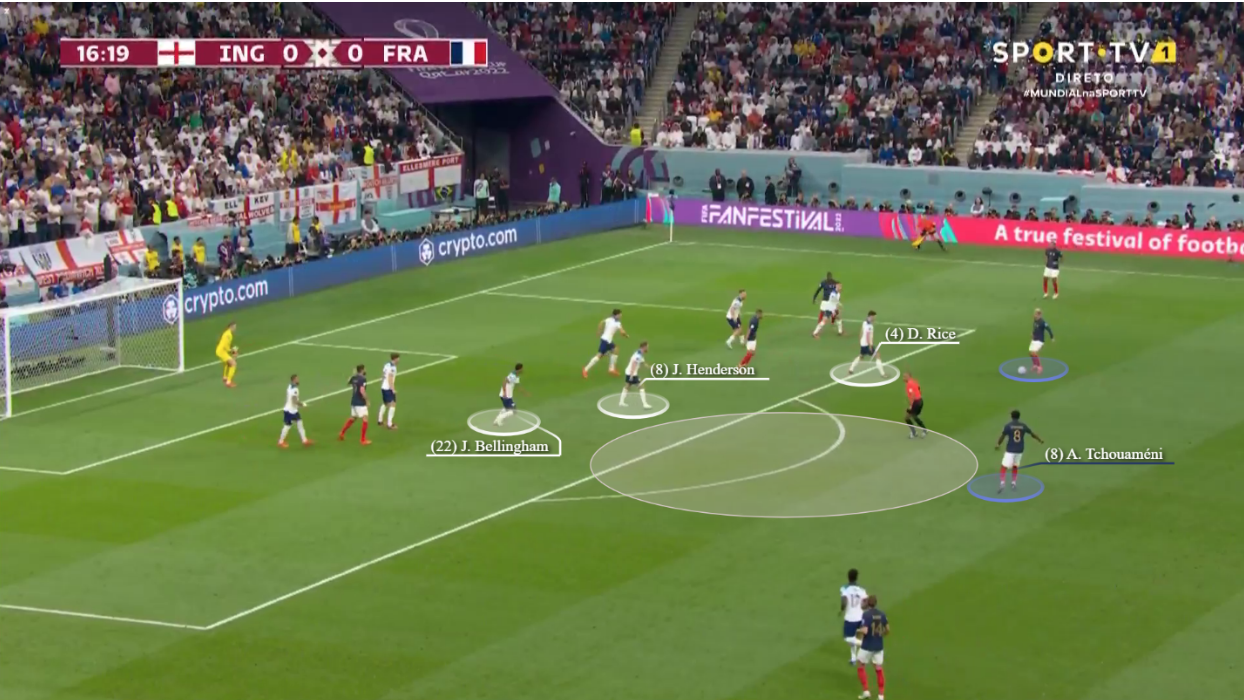 Gareth Southgate seemed to implement a 3-1-6 structure in their penetration against France's narrow defensive mid-block. England also used asymmetric fullbacks (Kyle Walker deeper and Luke Shaw higher) creating 3v2 overloading to bypass the first line of the block. Jude Bellingham was occupying the left interior corridors meanwhile Bukayo Saka was on the right wing. 
On the French side, Olivier Giroud was responsible to mark Declan Rice while Kylian Mbappe was ready to jump to press Kyle Walker. Antoine Griezmann was closing the passing lane to Jude Bellingham and when he stepped up to press the center-back, it was Aurelien Tchouameni who moved to mark Jude Bellingham.
Aurelien Tchouameni was responsible to cover the center area and covering the shadow of the striker Harry Kane. Ousmane Dembele was ready to press Luke Shaw if he could receive the ball. Jules Kounde, Theo Hernandez, and Adrien Rabiot marked Phil Foden, Bukayo Saka, and Jordan Henderson respectively. The two center-backs were containing Harry Kane.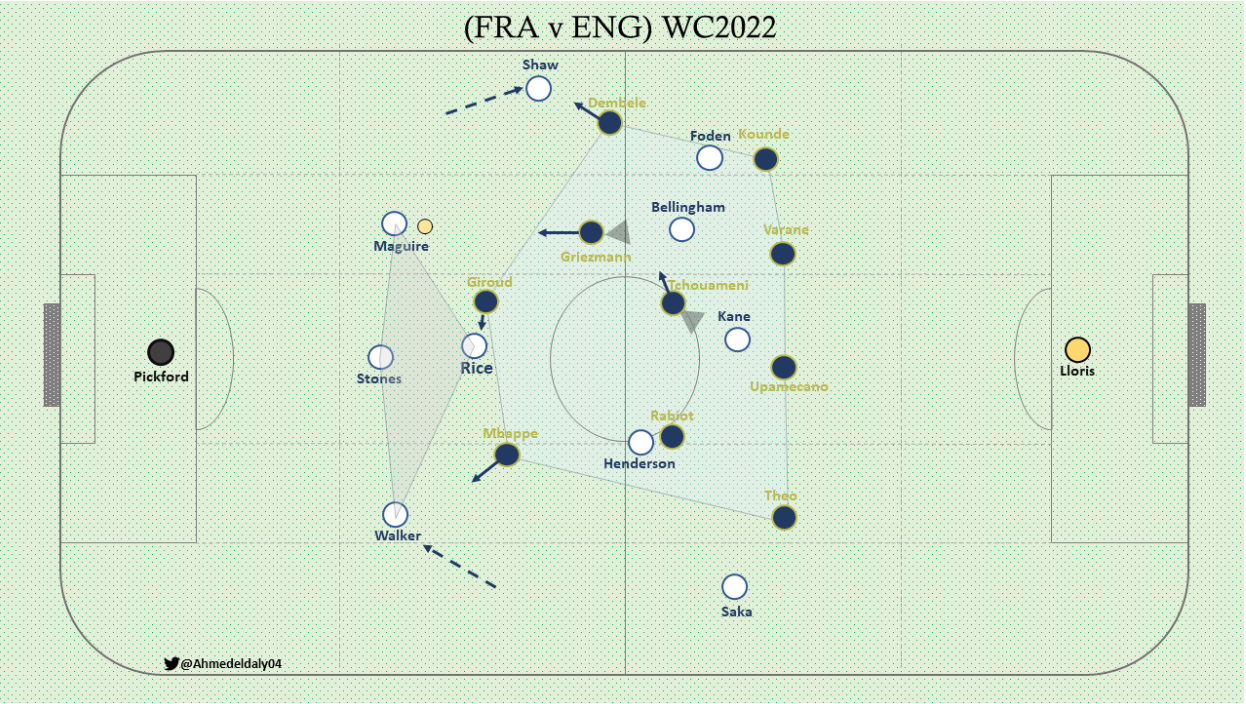 England used some actions to bypass this narrow scheme. Below, occasionally when Harry Maguire had the ball, Jordan Henderson dropped to create a 2v1 numerical advantage with Declan Rice over Olivier Giroud without any reaction from Adrien Rabiot. This idea had a little benefit in bypassing the first line but they didn't construct much on it to enter the final third.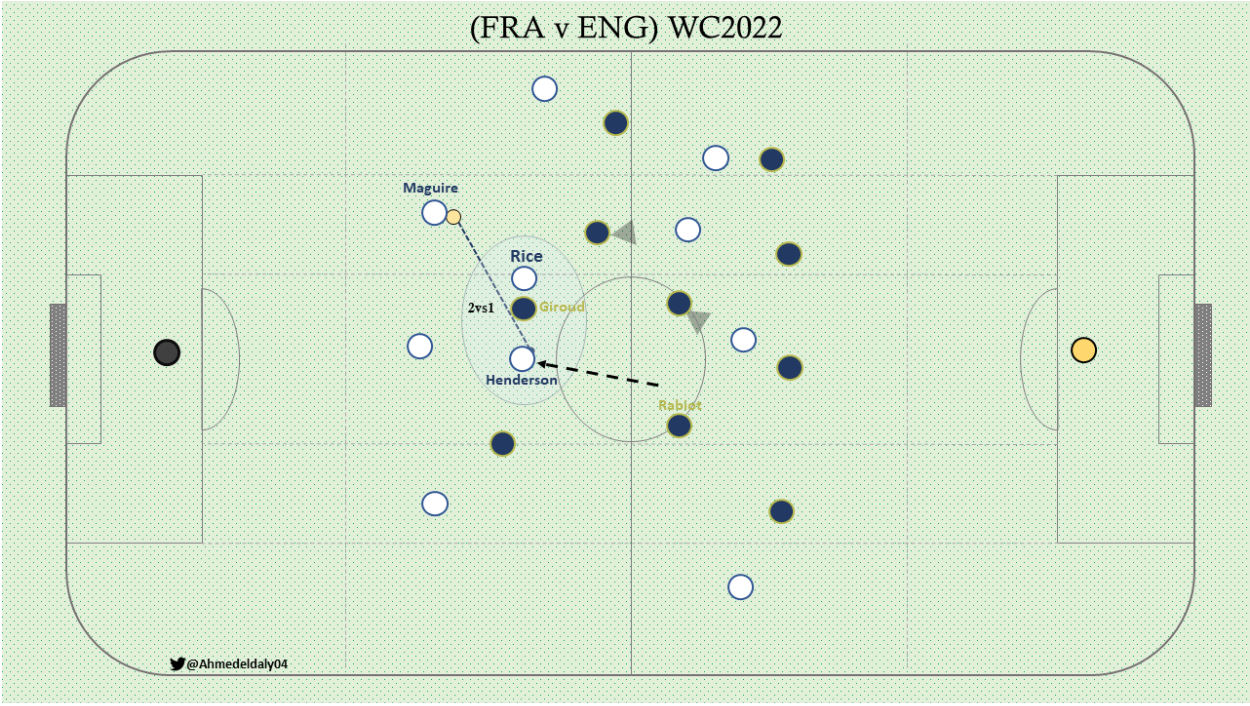 England utilized the positional play principles to produce superiorities. Below, they applied a 3rd man combination: while Luke Shaw was wide, Phil Foden moved inside to drag Jules Kounde then Jude Bellingham moved diagonally toward the touchline behind the fullback to receive the ball there. This idea caused occasionally dangerous.
While Kyle Walker was deeper and Kylian Mbappe was near to him. Furthermore, Bukayo Saka pushed forward to the last line with Theo Hernandez. At times, Jordan Henderson was reflecting his inside movement to outside in this space waiting for a switch from Harry Maguire. After that, Adrien Rabiot reacted to this and moved with him to avoid any superiority on the right flank.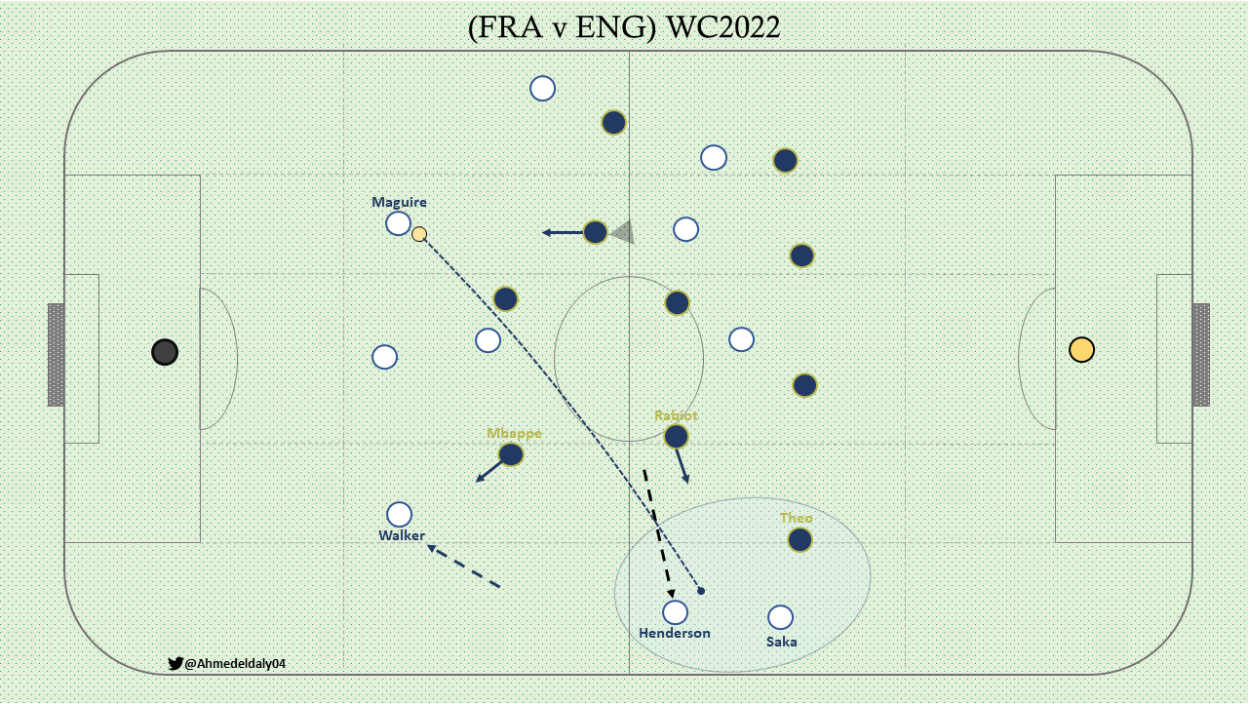 Even this numerical parity (with its positional advantage for the attackers as said earlier) was dangerous. In the scene below, it was 2v2, and Harry Kane recognize the space in the half-space very well and exploit it to run but missed the opportunity.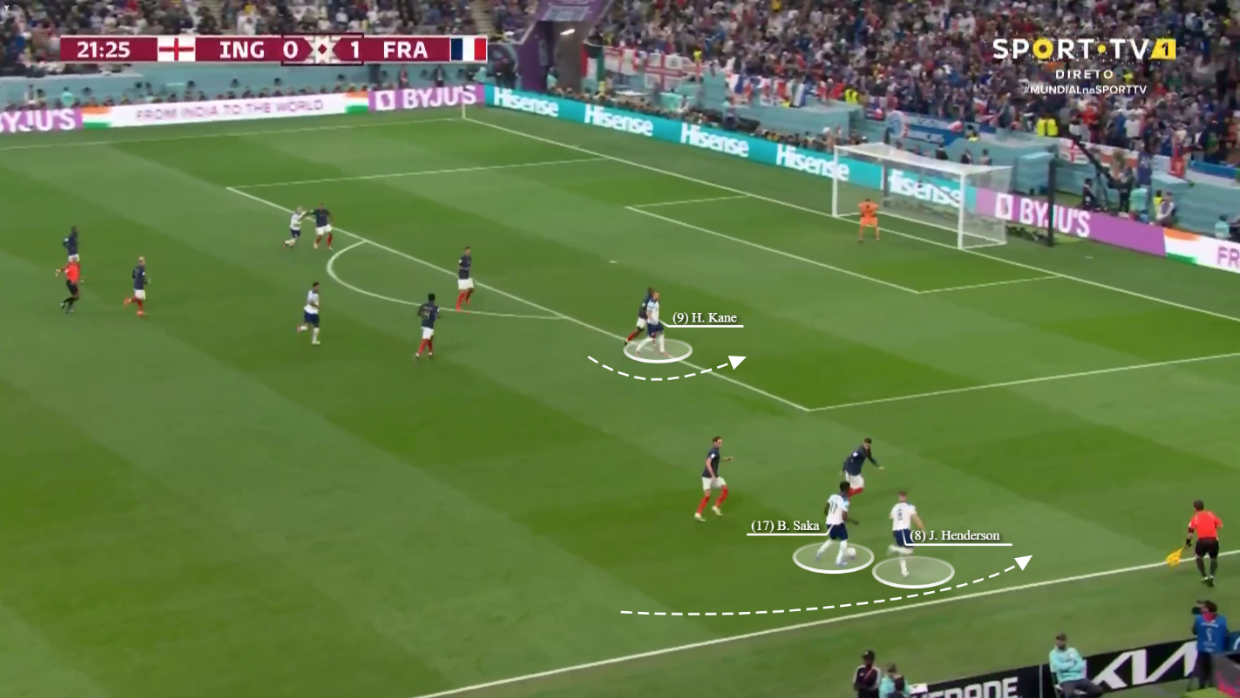 At times, when England succeeded to penetrate through the right channel, Jude Bellingham and Phil Foden were occasionally free to engage in the ball side to overload and create numerical superiority there. Below is a scene of this, their free role, to involve the right-hand side, had confused the backline and produced Bukayo Saka in a dangerous area at the edge of the box.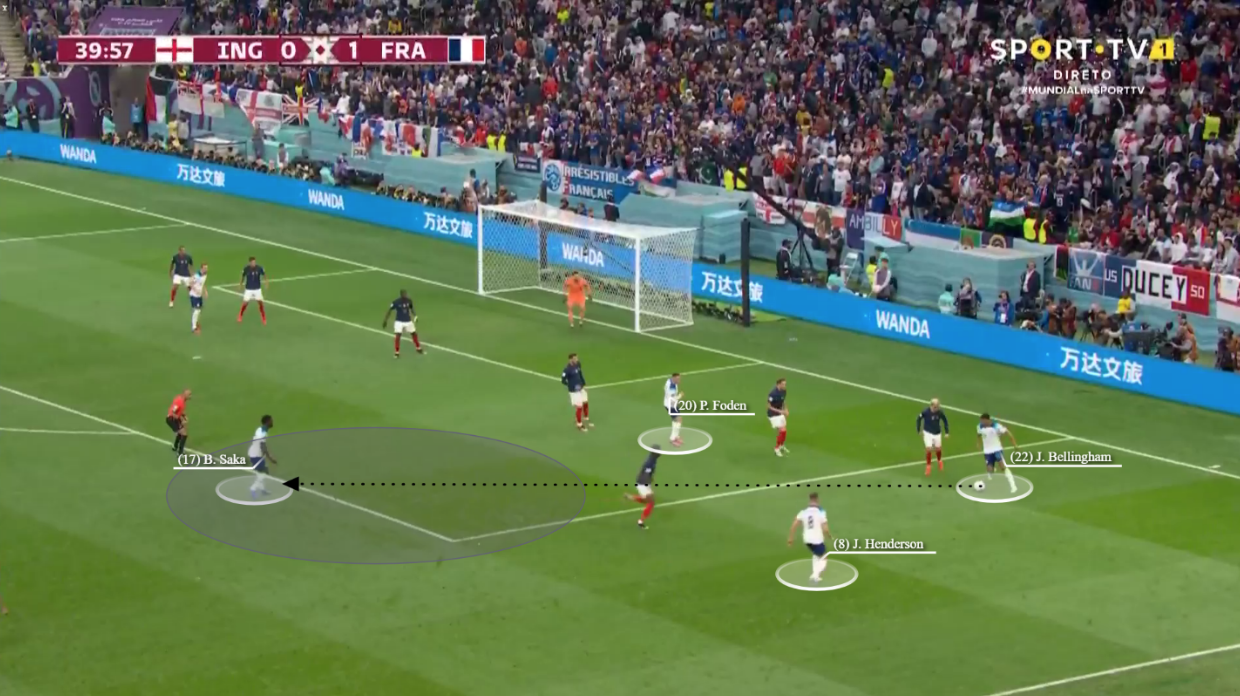 Also particularly in the second half, England tried a fresh idea to progress through the center. Bukayo Saka left his position and moved inside meanwhile Jordan Henderson had moved wide before. This attitude creates a dilemma for the midfield. Here, John Stones was smart to provoke Antoine Griezmann who covered the shadow central to jump pressing him meanwhile Declan Rice opened the room for the dropped-off Bukayo Saka to receive behind the midfield with Rabiot forced to decide between marking Henderson or Saka.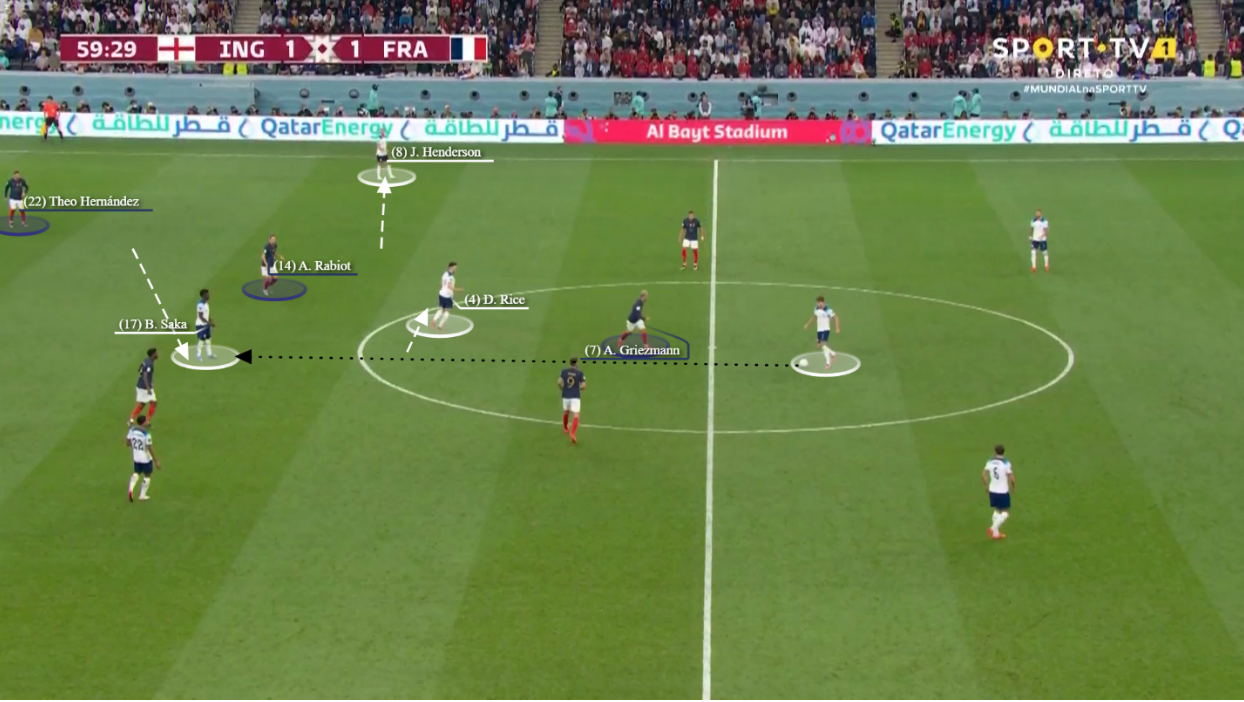 Since losing to Germany in the 2014 World Cup quarterfinals, France have lost just once in 13 World Cup matches — the final group stage match against Tunisia this year — and drawn once — a goalless stalemate against Denmark in 2018. They have done so in spite of various injuries to key players like Paul Pogba and Karim Benzema, and today, they have a chance to become the first team in 60 years to win back-to-back World Cups.
By: Ahmed El-Daly / @ahmedeldaly04
Featured Image: @GabFoligno / Baptiste Fernandez – Icon Sport