Tactical Analysis: France 4-1 Australia
No Karim Benzema, no Christophe Nkunku, no N'Golo Kanté, no Paul Pogba…no problem. France turned around an early deficit and thrashed Australia 4-1 to open their 2022 FIFA World Cup with a victory. Let's take a look at how Les Bleus defeated the Socceroos at Al Janoub Stadium.
Australia's Build-up Strategy
Australia's 2+3 build-up shape saw them rely on inverted, narrow fullbacks that would attract France's two wingers in Kylian Mbappé and Ousmane Dembélé, pulling them away from the wide areas with the former keeping Nathaniel Atkinson in his cover shadow whilst pressing the center back Harry Souttar. This provided the space for the ball-side winger (Matthew Leckie in this case) to receive the ball wide, triggering the France fullback to push wide and assist in the high pressure.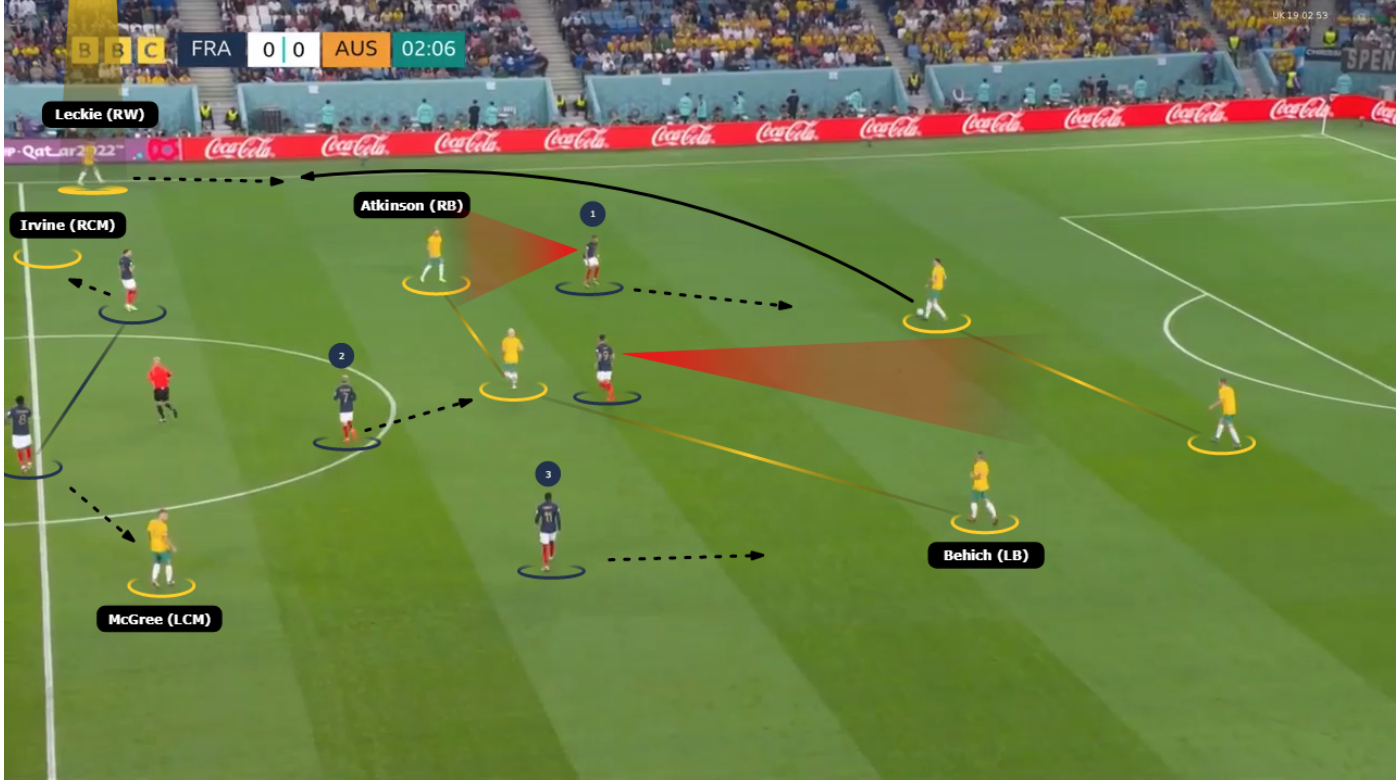 Australia could then use the vacated space by the French full-back who was out of position as their near side full back and CM (Atkinson & Jackson Irvine) moved higher and wider to occupy it; as Mbappé doesn't usually track back, Adrien Rabiot found himself against the Australian duo, and these 3v2 situations were used by Australia to progress the ball forward by passing combinations.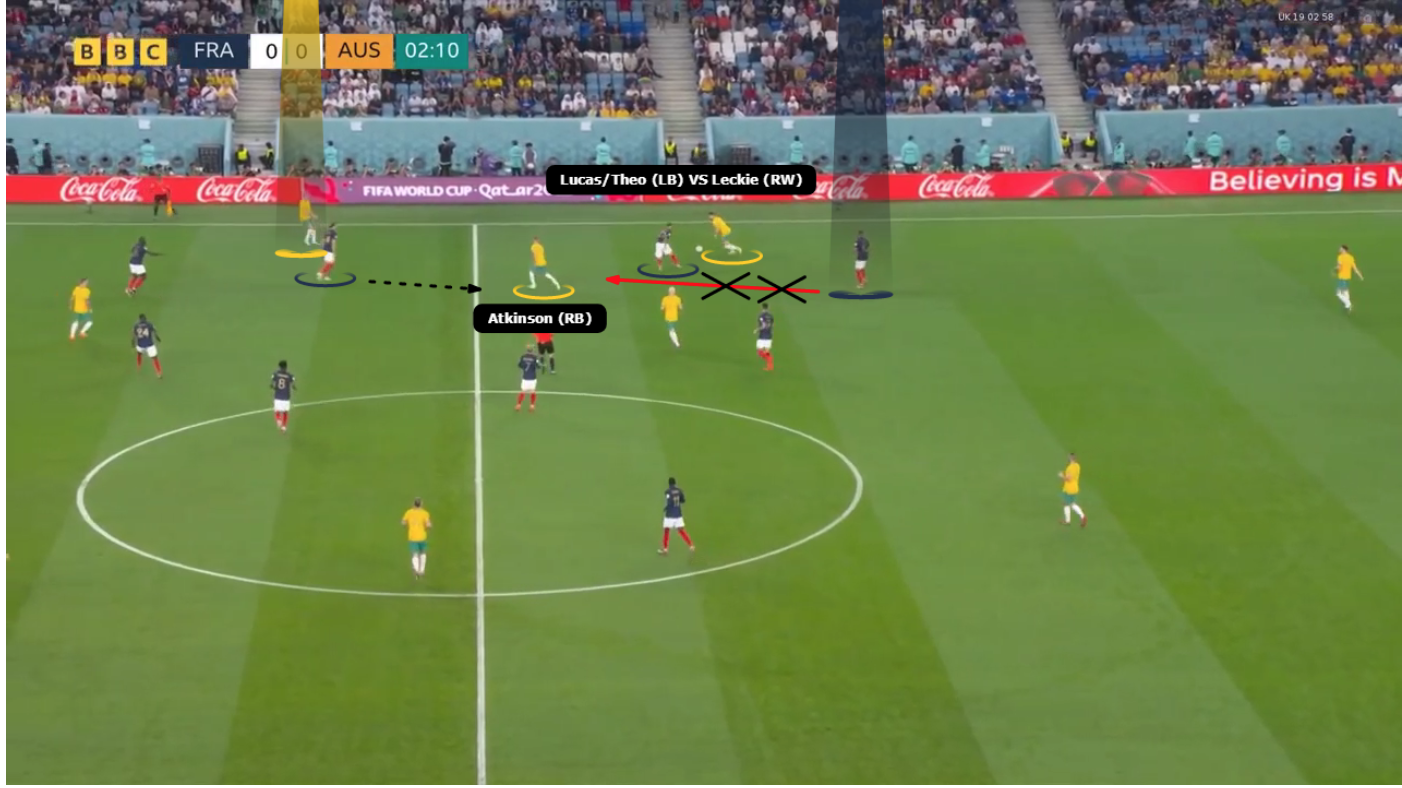 The same idea was used also on the Australian team's left side as Aziz Behich (LB) and Riley McGree (CM) could draw Dembélé and Aurélien Tchouaméni deeper and away from the wide areas.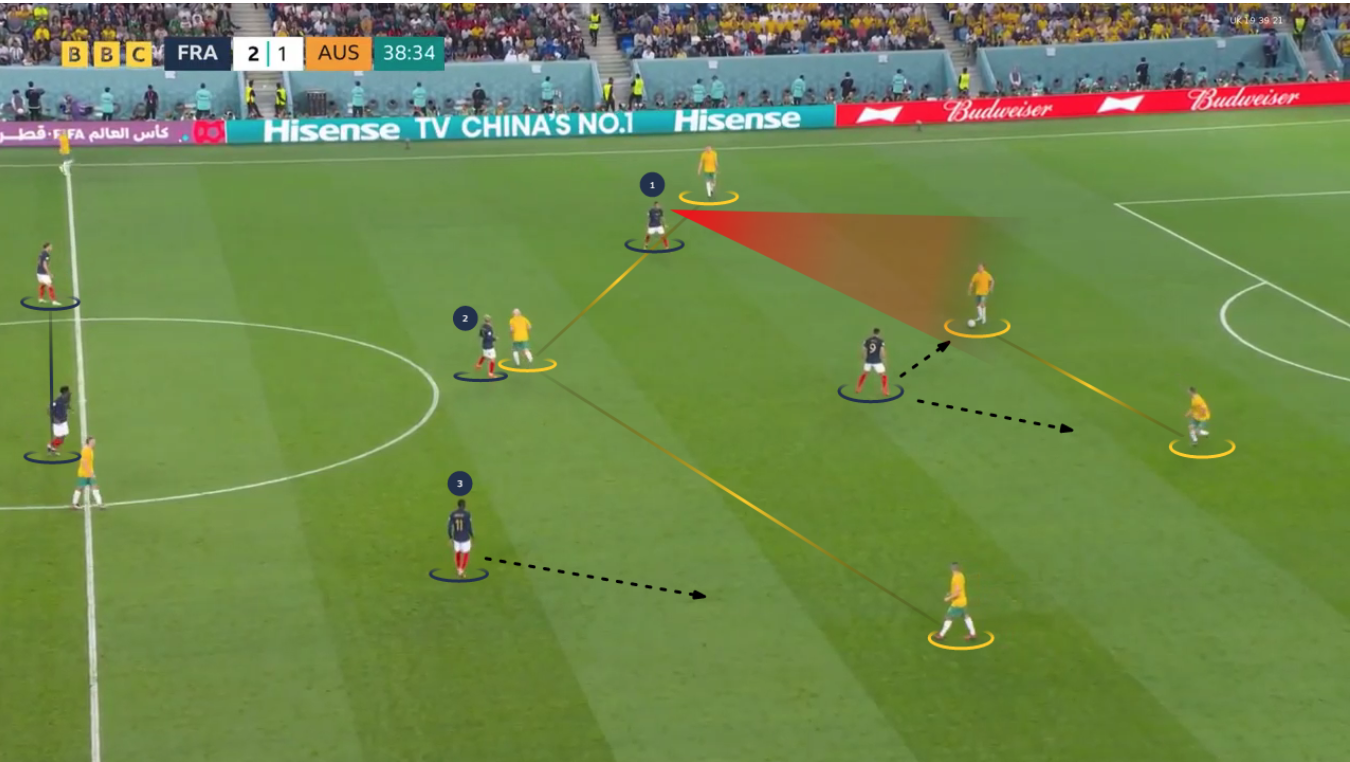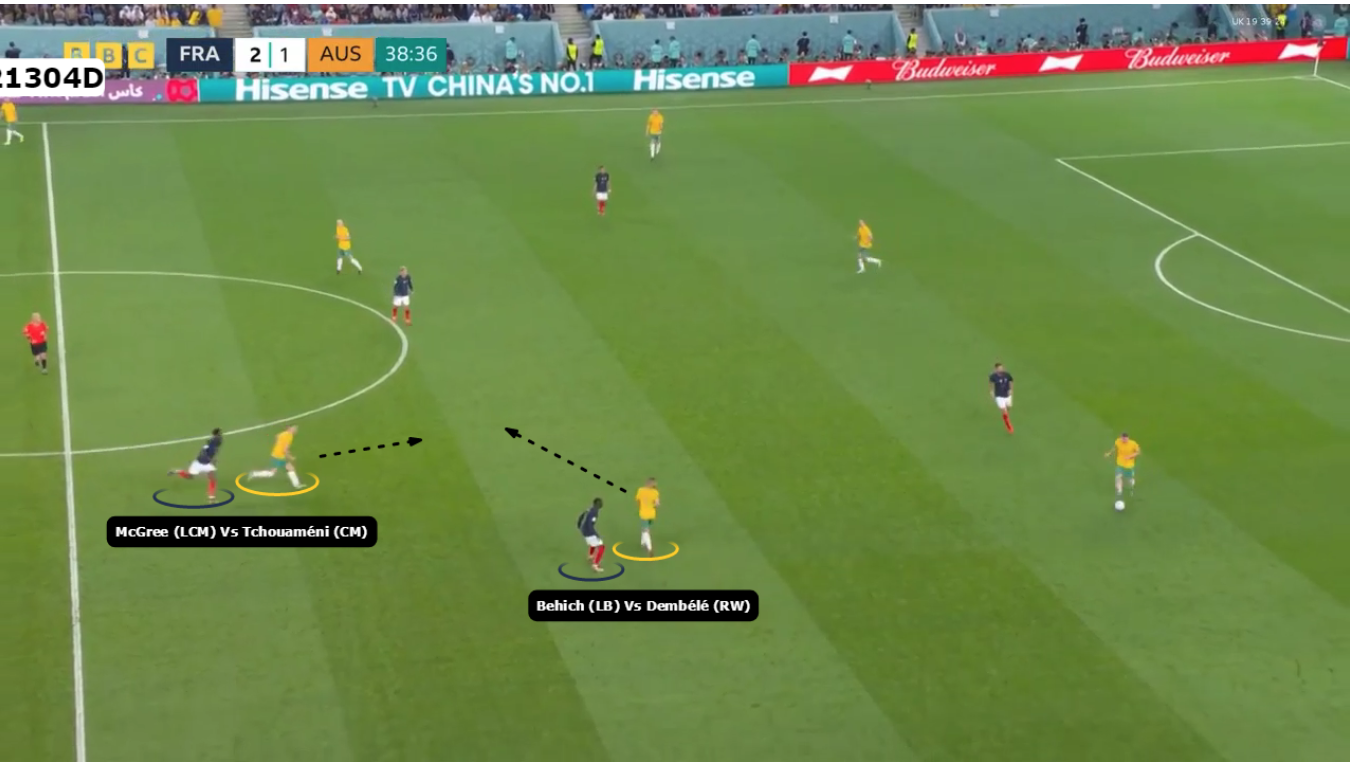 The ball-side winger would have the space to drop in and attract the France fullback (here Craig Goodwin against Benjamin Pavard), and McGree could exploit the space behind Pavard and allow Australia to progress the ball via well-worked passing combinations. Australia manager Graham Arnold was able to overcome France's high press with this set-up but the execution was not always the best, although Australia were nevertheless able to create somewhat of a threat by utilizing this build-up scheme.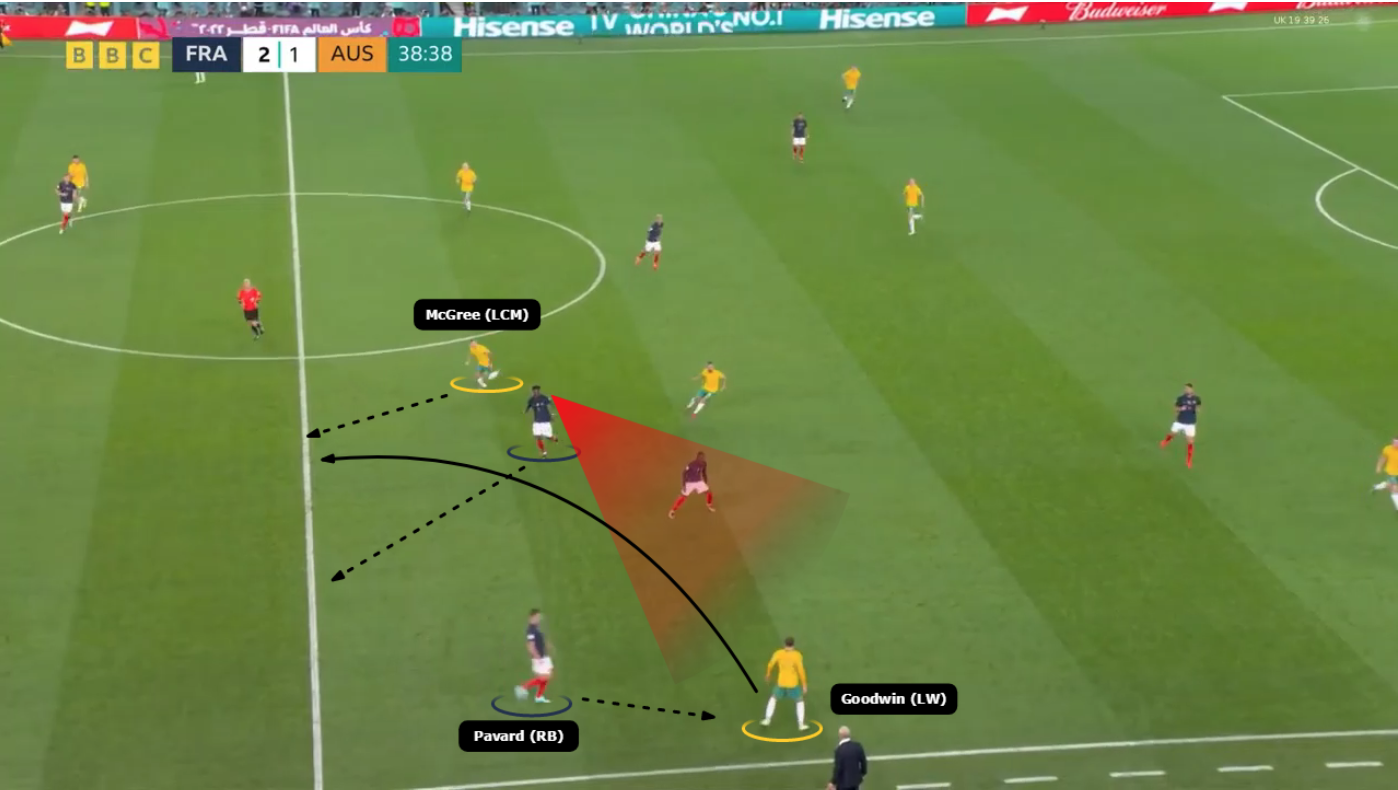 How France Retained Possession in the Final Third vs. Australia's Low Block
Australia were switching between the 4-5-1 and 5-4-1 shapes in their low block to deal with France's attempts to stretch the field wider and cover the central areas in front of/inside their box, but the French attackers could find a way out. Australia's flat formation enabled France enough space in between the lines for them to occupy, with Antoine Griezmann and Kylian Mbappé both moving behind Australia's midfield and exploiting the half-spaces and wide areas.
France could then create numerical superiorities by producing 3v2 situations with two of Theo Hernandez, Griezmann and Mbappé would pin back the two Australian wide players on that flank, and one of these players could drop deeper to draw his marker away from the box to vacate space for third-man runs into the edge of the box.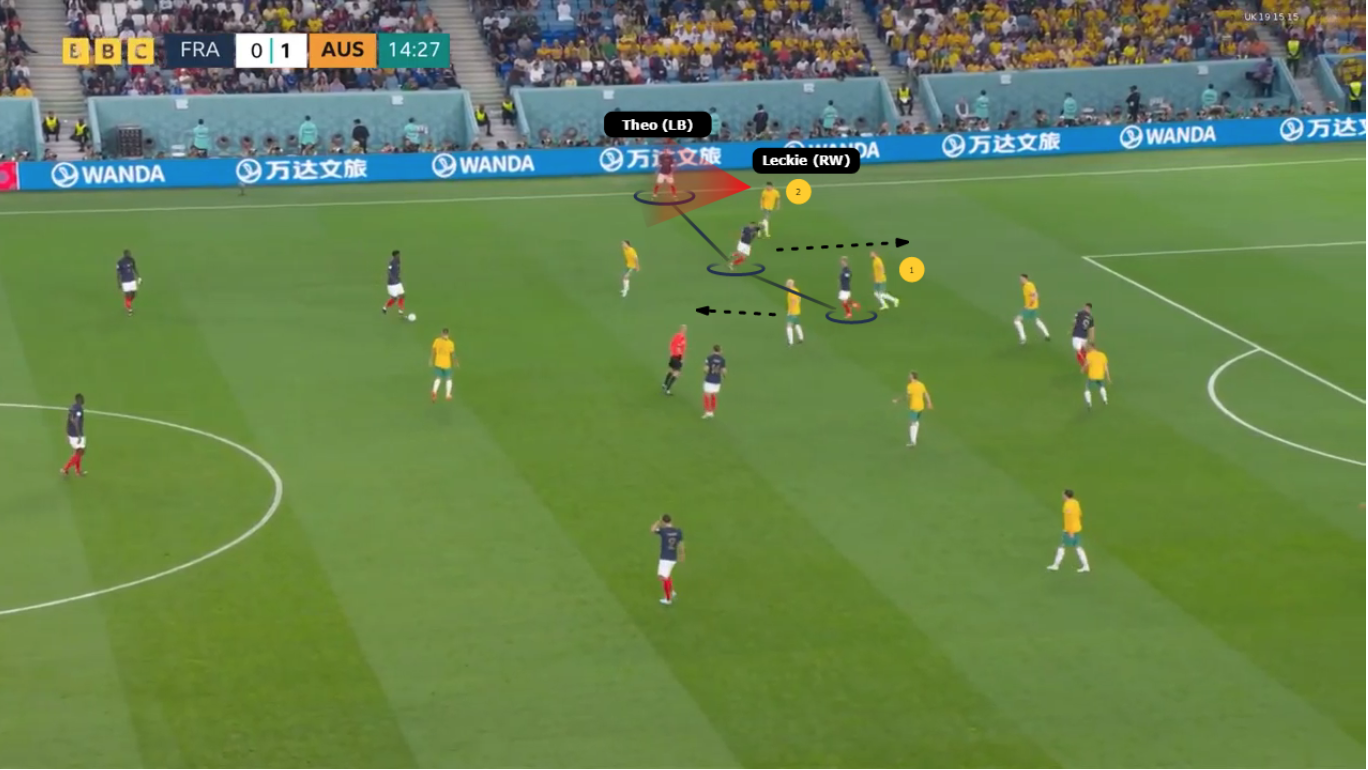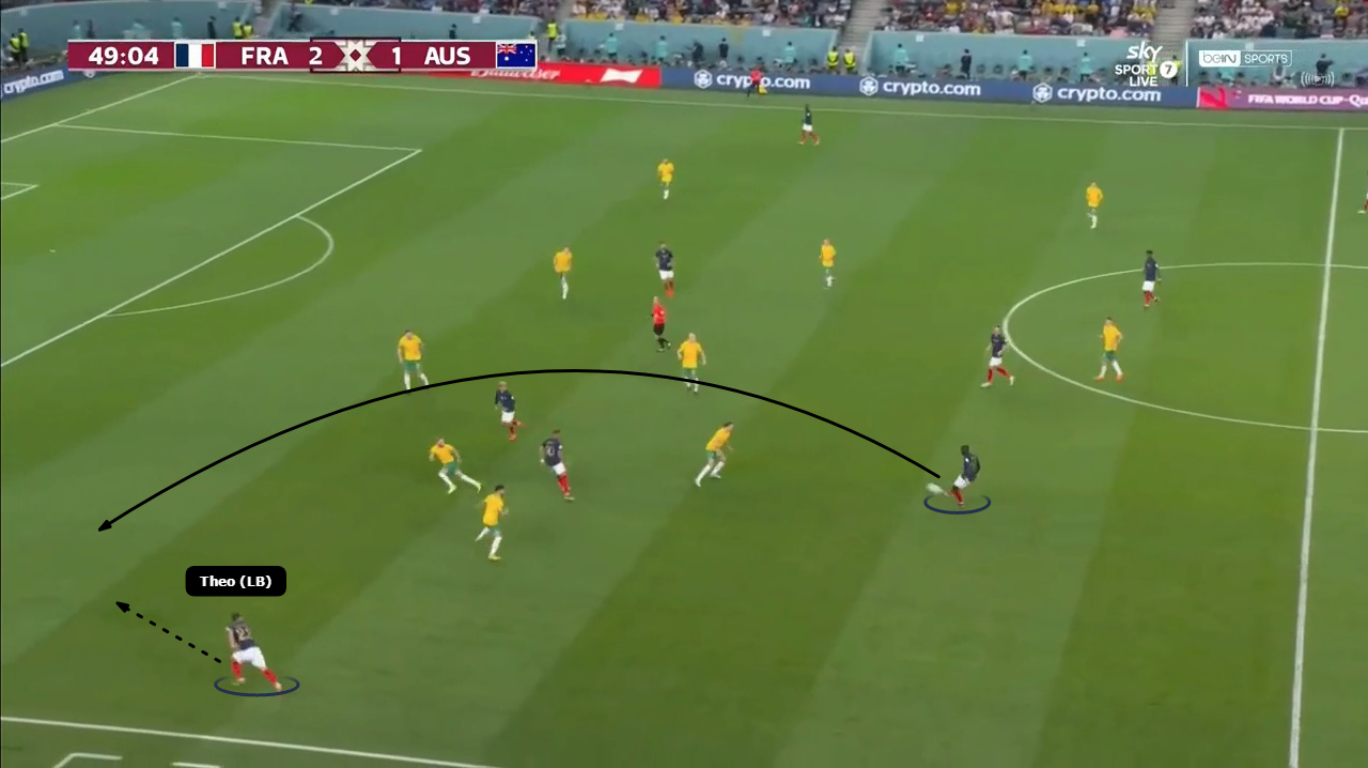 Another idea was used well by France — especially by Rabiot, Griezmann and Mbappé: decoy movement between the lines to create space and time on the ball for a teammate. As the Australian ball-side defenders and midfielders would try to contain the opponent by moving between the lines to press and recover the ball, this would then delay the intervention of France's wide forwards.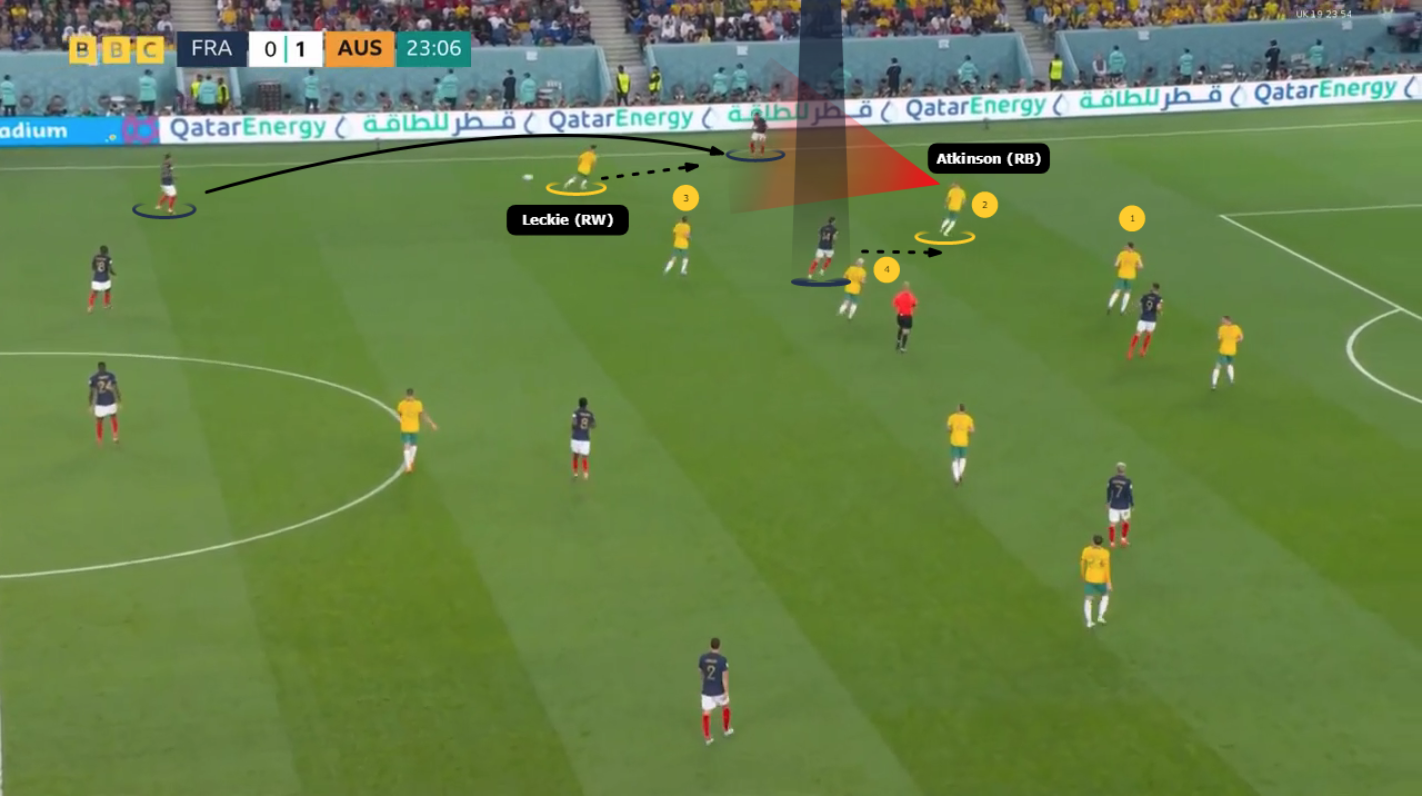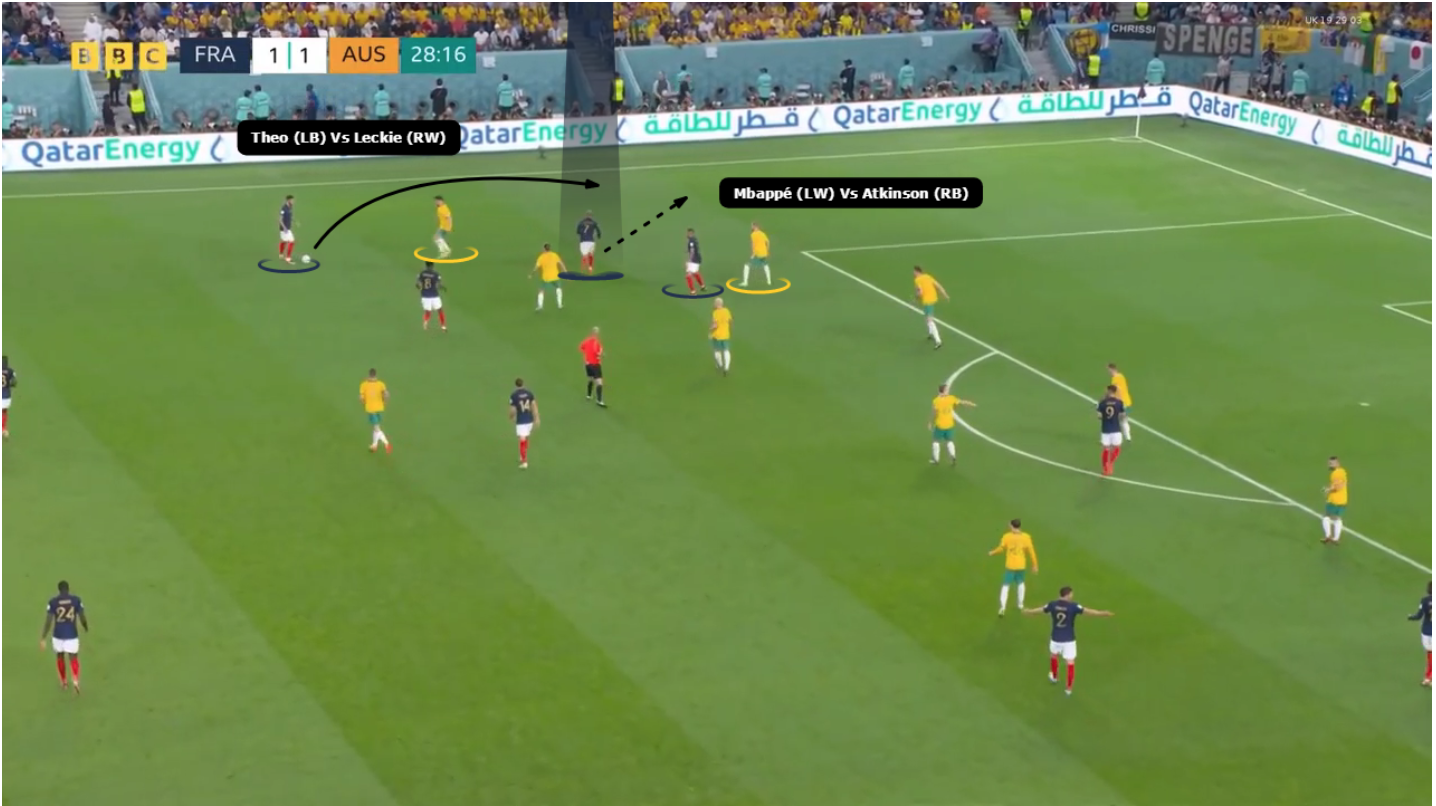 We can get a better example of Griezmann and Mbappé's role as well as France's center backs' importance in progressing the ball via dribbles and passes and how they broke down Australia's deep block by analyzing various data metrics.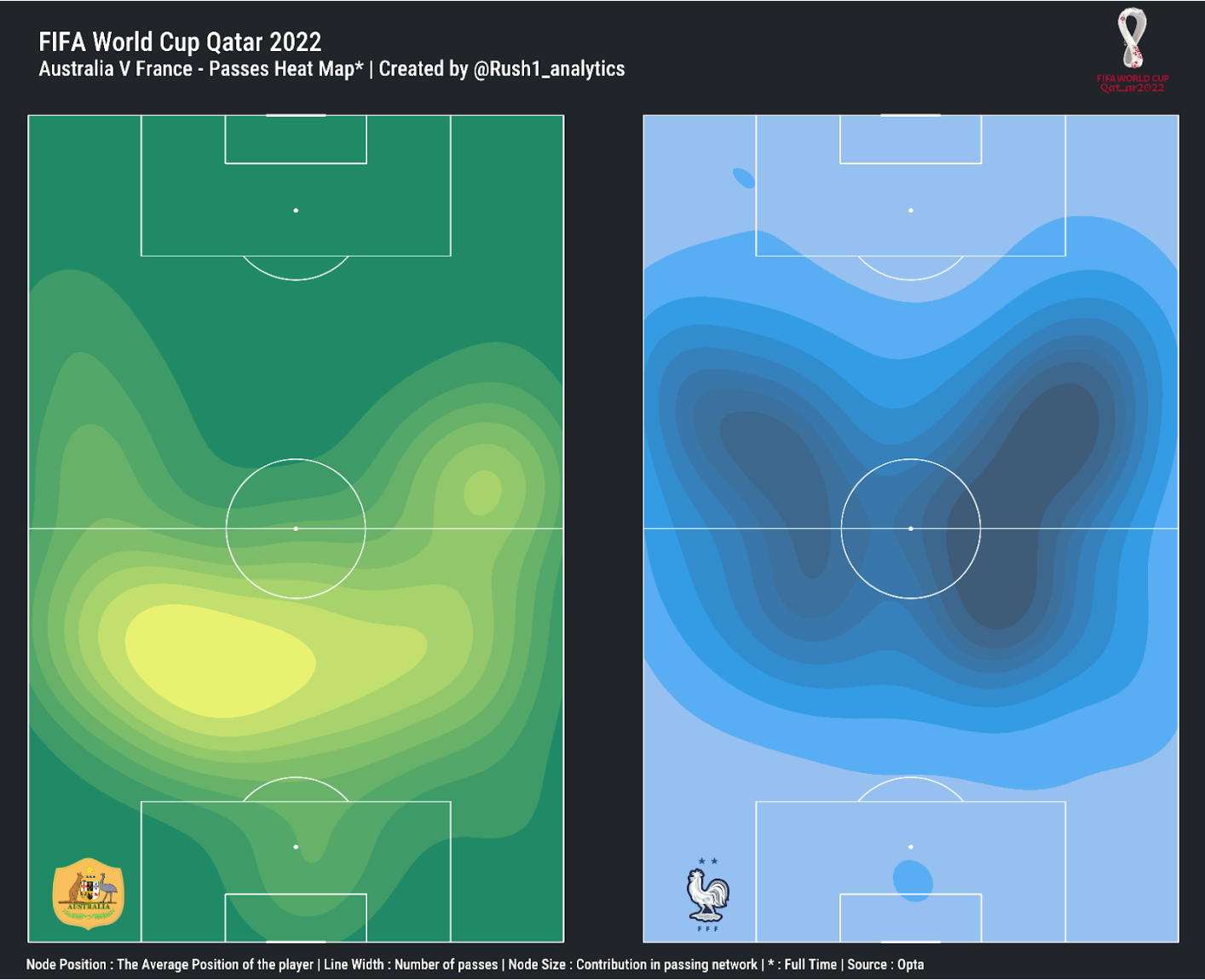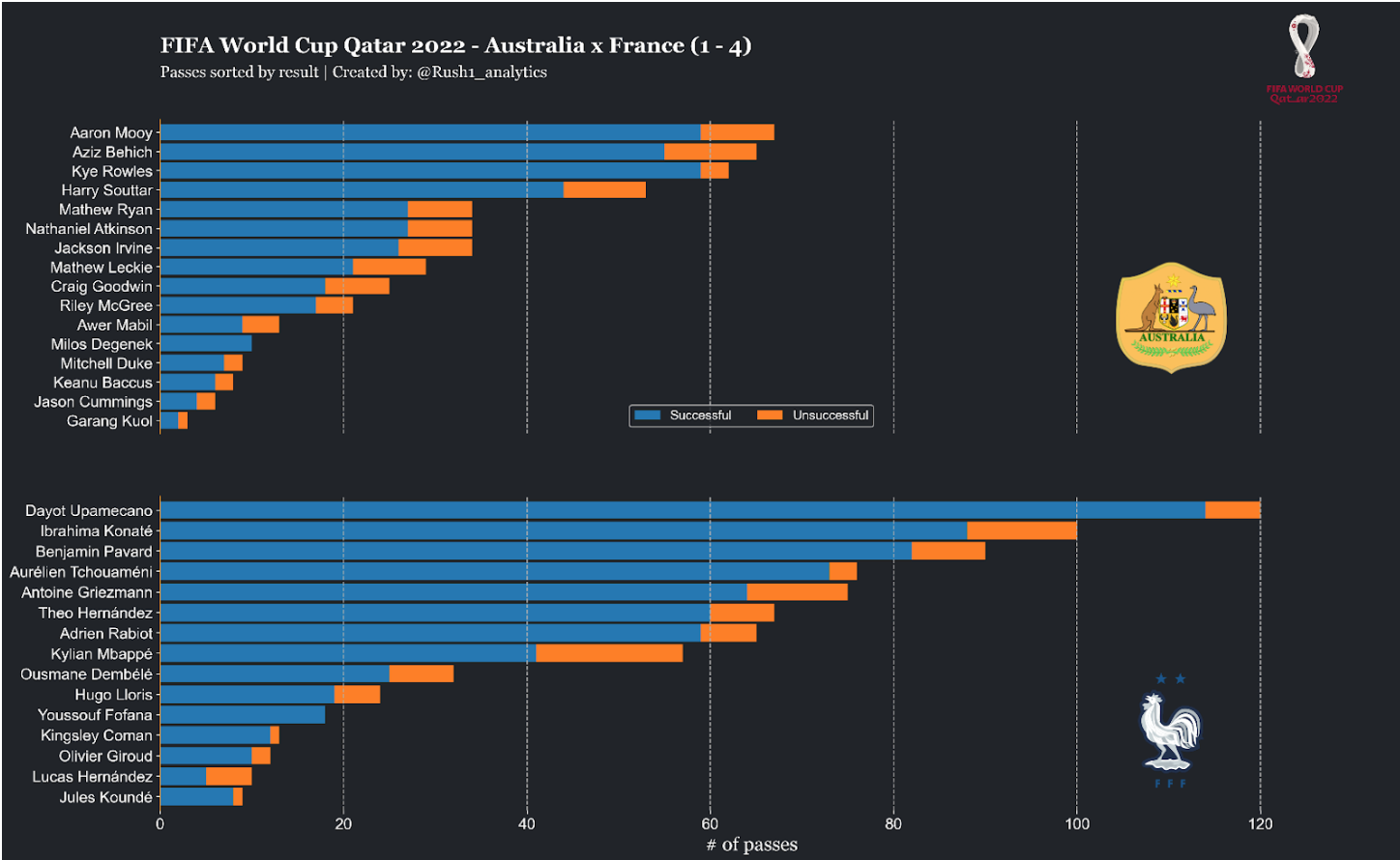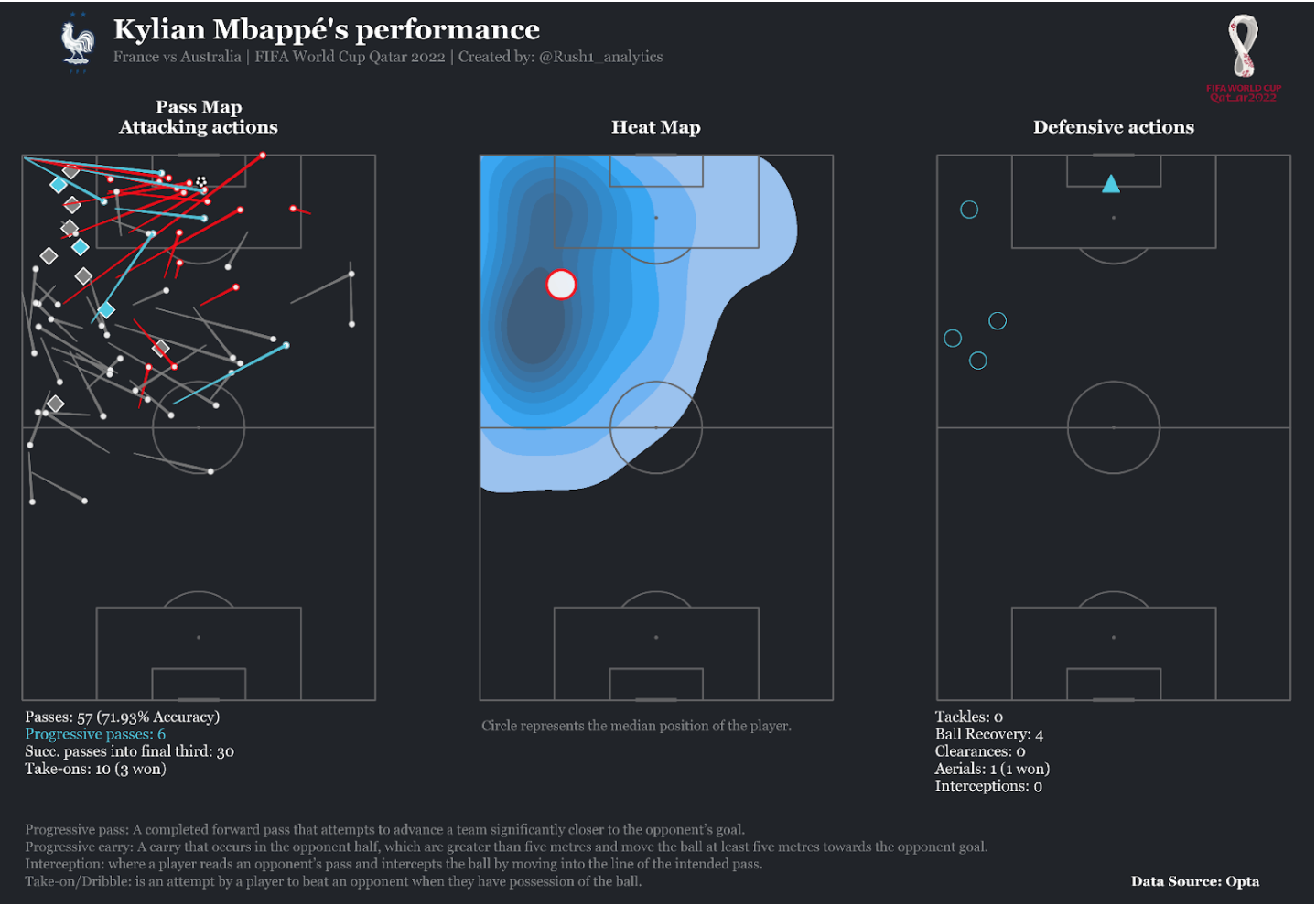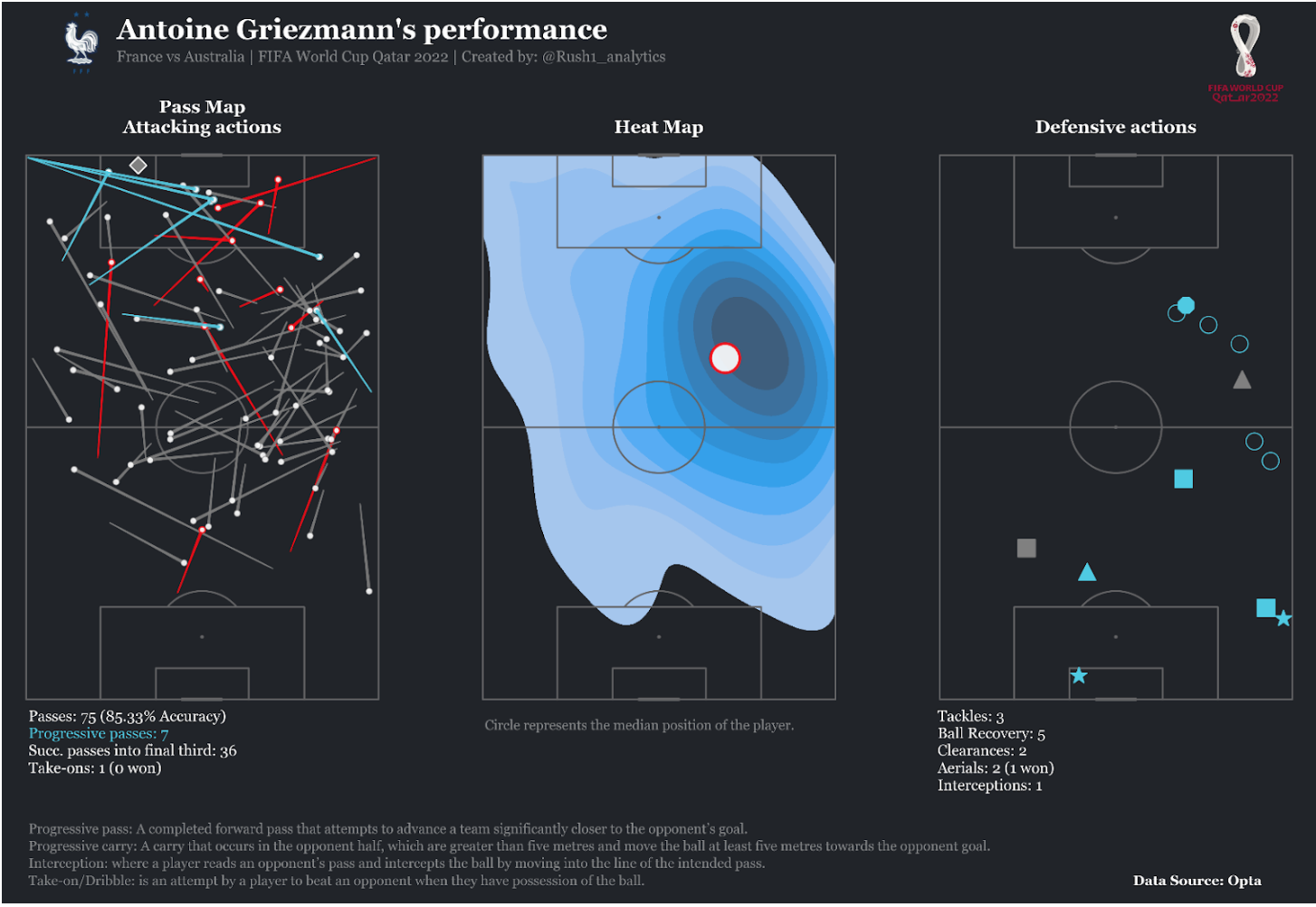 Australia suffered a lot due to individual errors from their defenders inside the box, causing them to be easily exploited by France's crosses. Poor positioning, a failure to out-muscle their opponents and leaving acres of space in behind would allow France to take control of the game. Having gone into halftime with a 2-1 lead via goals from Rabiot and Olivier Giroud, France scored twice in the span of three minutes between the 68th and 71st minute which practically killed off the game.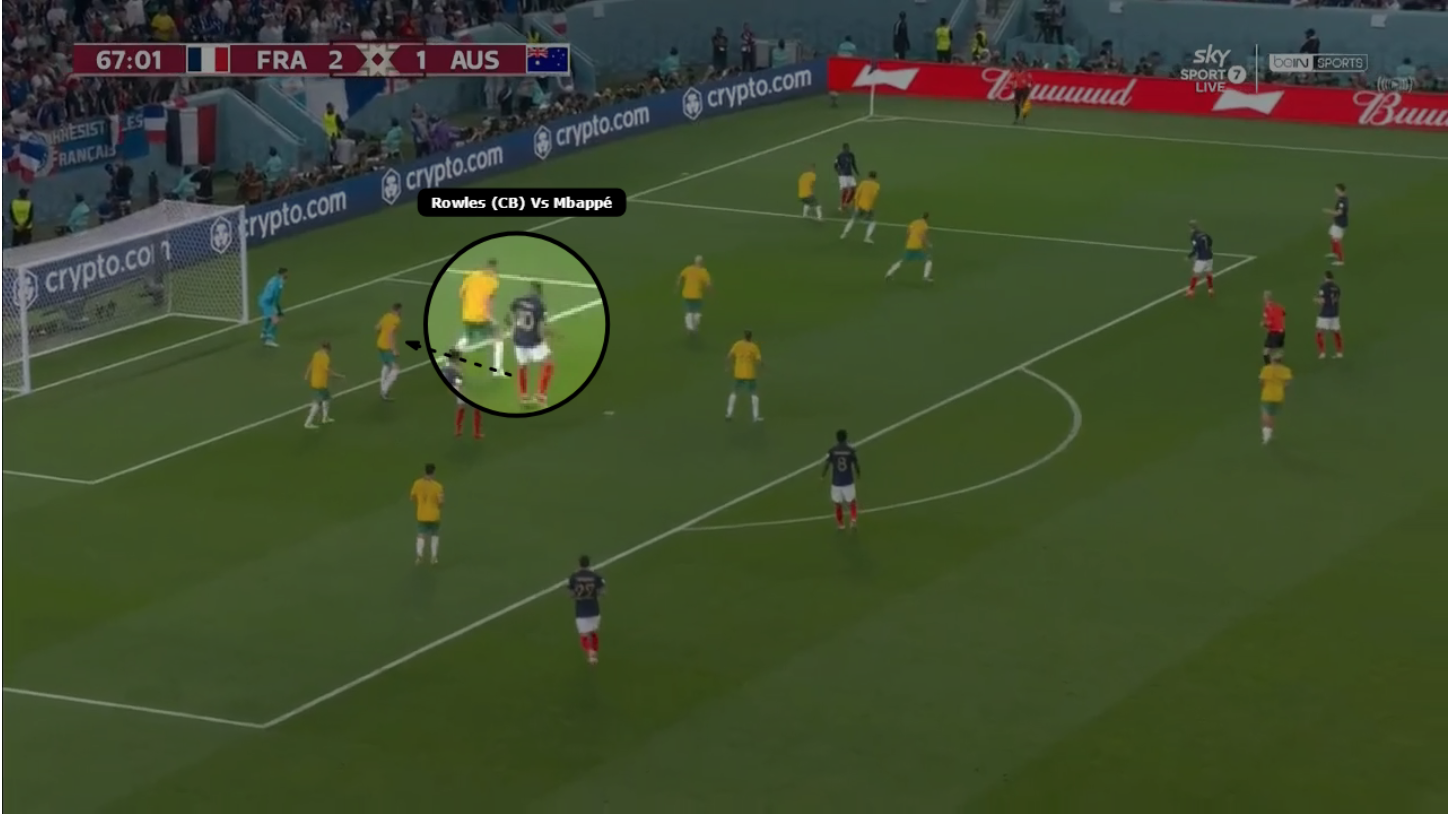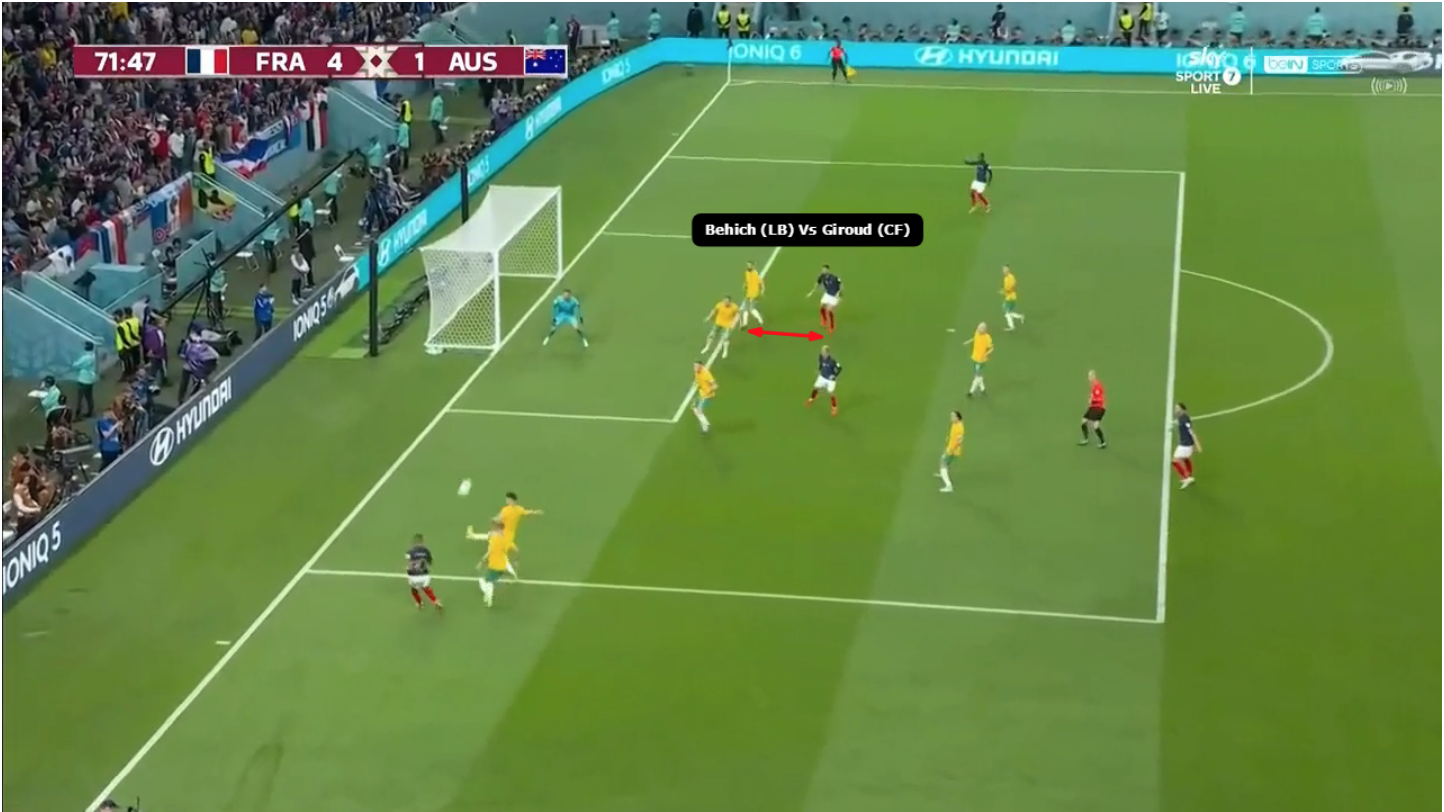 Conclusion
Despite missing various players due to injury and despite losing Lucas Hernandez to an ACL injury within the first few minutes of the game, France held their nerve and turned around an early deficit by demolishing Australia 4-1. Australia have bounced back by defeating Tunisia 1-0, and France will be looking to continue that with a win against Denmark, whilst Olivier Giroud will be looking to follow up his brace with a goal in order to surpass Thierry Henry and become the sole all-time leading goalscorer in the history of the France national team.
By:  Loay Mamdouh – Twitter: @loay_mamdou7 
Data visualization/stats by: Yahia Rashwan – Twitter: @Rush1_Analytics
Featured Image: @GabFoligno / Baptiste Fernandez – Icon Sport