Tactical Analysis: Japan 2-1 Spain
The Importance of Timing, the Art of Discipline and the Power of Humility
Heading into the final group games, it was all to play for in Group E – all four teams still had the possibility of going through. As if that wasn't suspenseful enough, both games were kicking off at the same time for fair play reasons.
As Germany went head to head with Costa Rica, needing a win to advance into the next round and avoid the embarrassment of 2018 (exiting at the group stage for the first time in their history), Japan faced Spain at the Khalifa International Stadium, the same venue Japan had managed to pull off a great upset with a 2-1 victory over Hansi Flick's side just over a week ago.
The Spaniards themselves had managed to put seven unanswered goals past Costa Rica in their opener. A statement of some sort. Surely The Samurai Blues couldn't do it again versus a buoyant & fluid La Furia Roja this time around, could they?
Well they sure could, and more impressively it was in almost the exact same fashion they had successfully pulled off the massive result against Die Mannschaft, this time turning the game on its head barely seven minutes into the second half having fallen behind early on – as a result sealing their place into the Round of 16 (for only the fourth time in their history). 
Within minutes of the game having started, Sergio Busquets & Co. had seized complete control of proceedings, as they tend to do, more so under former Barcelona manager, Luis Enrique. The Japanese on the other hand had initially pressed in the first couple of minutes looking to offset their rhythm but soon switched into a mid block (3-4-3 formation, a 5-4-1 when defending), respecting the intricate patterns being woven by the opposition.
This prompted Pedri and Gavi to drop into deeper areas in a bid to have more space to influence the game early on and in turn find a breakthrough. Their sustained pressure was soon rewarded through Alvaro Morata (who was making his first start in the tournament), coolly heading the ball into the back of a net from a beautifully flighted cross courtesy of Cesar Azpilicueta eleven minutes in. This being his third goal in as many games. Now only David Villa (13) has scored more goals at major competitions for Spain (Euros/World Cups) than Morata (9).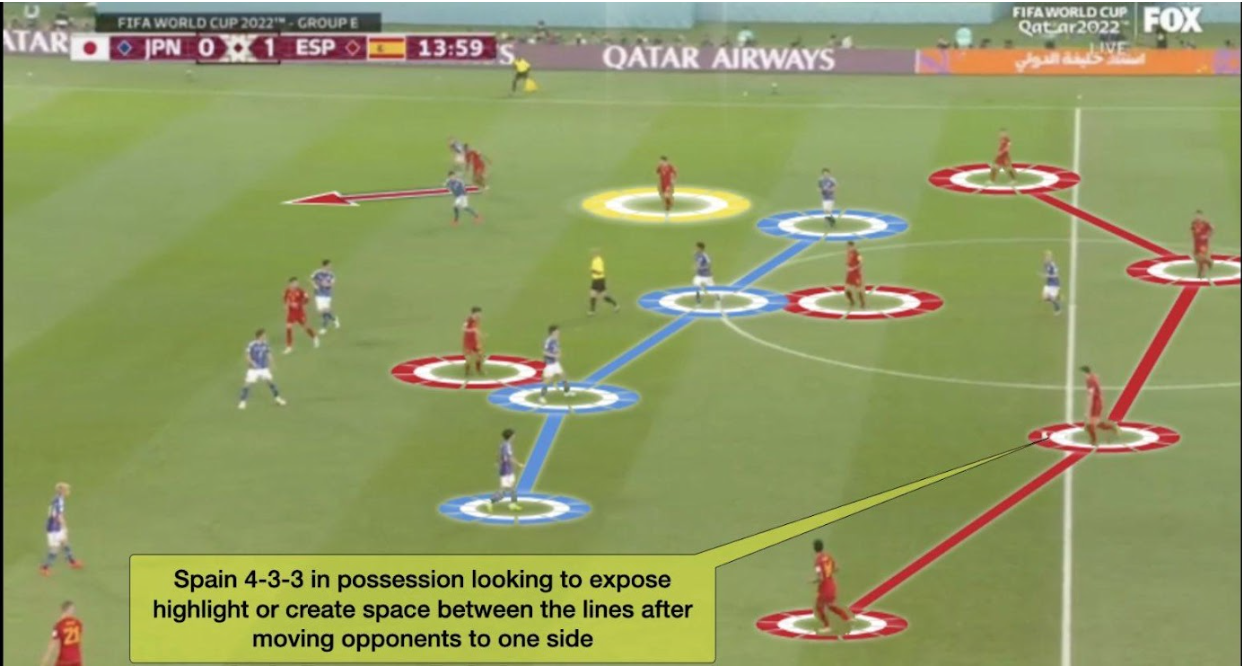 Spain's dominance would soon become the theme of the half as Enrique's men patiently moved the ball from side to side looking for a way to once more penetrate the resilient Japanese defense and put the game to bed. With Nico Williams deputizing for Ferran Torres there was no rotation between himself and Dani Olmo on the opposite side, in contrast to the previous two games, in which Marco Asensio, Olmo and Torres often took turns alternating positions between the front line.
Williams maintained the team's width by hugging the far right touchline as Azpilicueta would underlap him, with Gavi also presenting himself as an option, the intention being to create a numerical advantage over Japanese veterans Shogo Taniguchi and Yuto Nagatomo. On the other flank Dani Olmo occupied the half spaces. Alejandro Balde (in for Jordi Alba), earning his first start for Spain, overlapped him; whilst the focal figure of Morata maintained his position in the center of the pitch floating between the three man backline.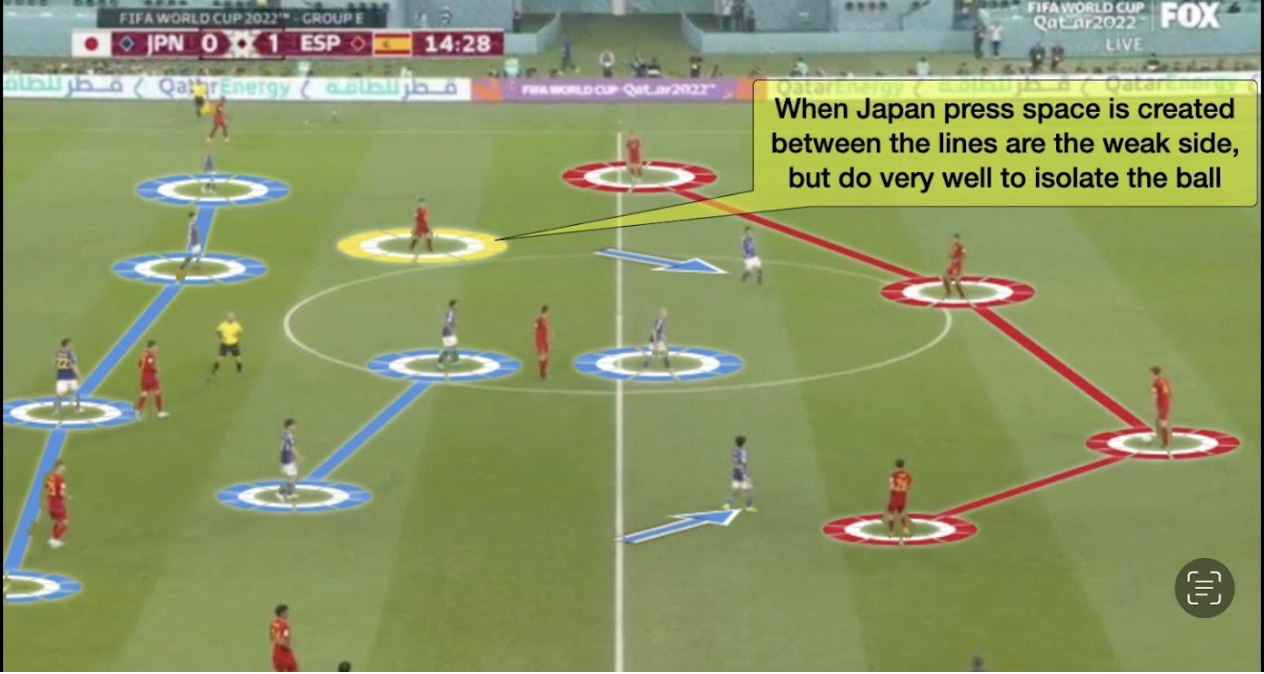 The passing and movement of the ball was almost hypnotizing, as by the 30th minute Spain were averaging an impressive 11 seconds to recover the ball compared to Japan's 72 seconds, thanks in large part to the former world champions willingness to quickly close down the opposition in their own half.
Spain favored attacking through the left half spaces, which made sense, as Olmo has been involved in more shot creating actions than any other player for Spain at the World Cup so far (10), taking six shots and creating a further four chances.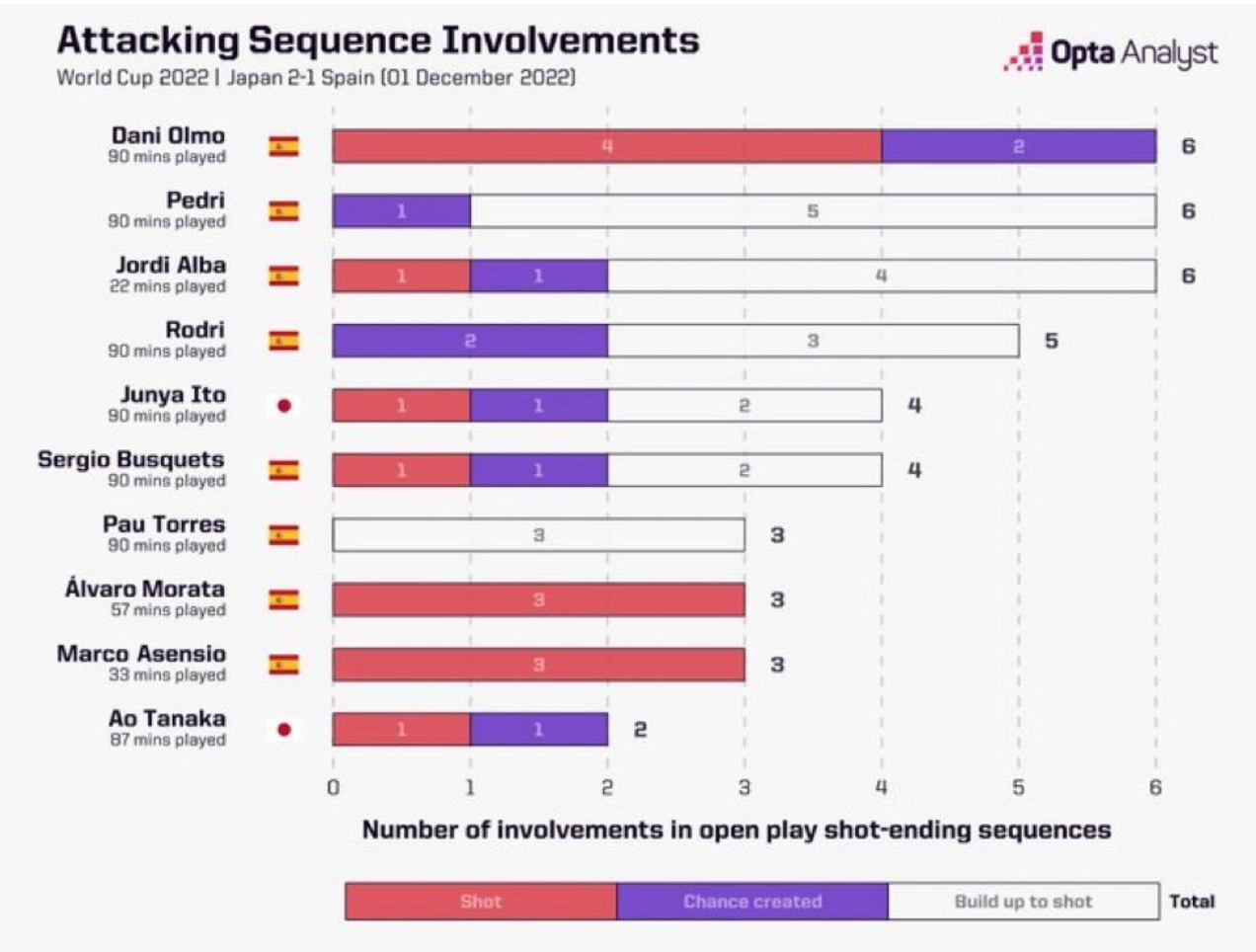 As the half wore on a couple of the players started to grow inpatient, Pau Torres (in for Aymeric Laporte) in particular, as he tried to thread passes between the lines straight to Morata or Olmo, bypassing Pedri as a result as he wasn't afforded too much space or time. This forced the Japanese backline to stay touch tight to their man, a task that soon proved a handful, as all three central defenders got booked in the span of six minutes.
All this dominance was almost all in vain however as they struggled to create any clear cut chances to double their lead. Smooth sailing nonetheless as they went into the break with a comfortable 1-0 lead, having completed 566 passes (93% accuracy) – with a staggering 83% possession to go with it.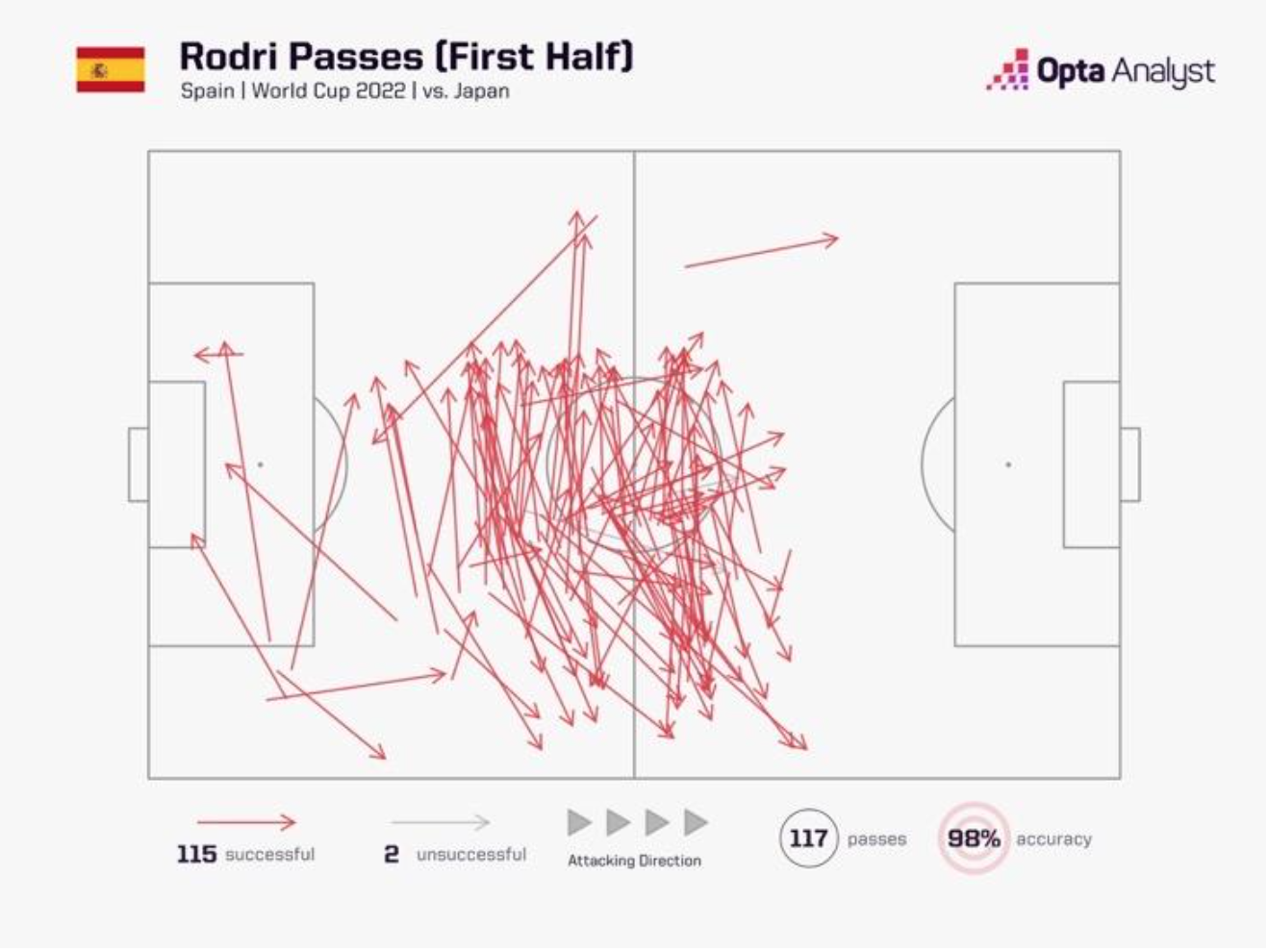 Enter Hajime Moriyasu, summoning Kaoru Mitoma and Ritsu Doan from the bench to bring some much needed energy to aid the brave Japanese front. What a master stroke it proved to be, with his courage instantly paying dividends, as Doan pounced on an errand ball following a coordinated team press in the 48th minute.
The 24-year-old Freiburg forward let fly from just outside the box, leaving Unai Simon scrambling to keep the vicious shot out but ultimately finding himself beaten. A strike that had shades of Japanese legend Keisuke Honda written all over it (he was in the stadium to enjoy it). 1-1 Japan. More drama would ensue less than two minutes later as Doan's teasing square ball across the face of goal found its way to Mitoma on the goaline, cutting the ball back into the path of Ao Tanaka who bundled it in.
A tense couple of minutes followed as there were suggestions that the ball had gone out for a goal kick before Mitoma had gotten to it. VAR and the officials insisted that the whole of the ball had not crossed the whole of the line, as the rule states. All of a sudden Japan led 2-1 and top spot in the group (at halftime they were heading out with Germany leading Costa Rica in the other game).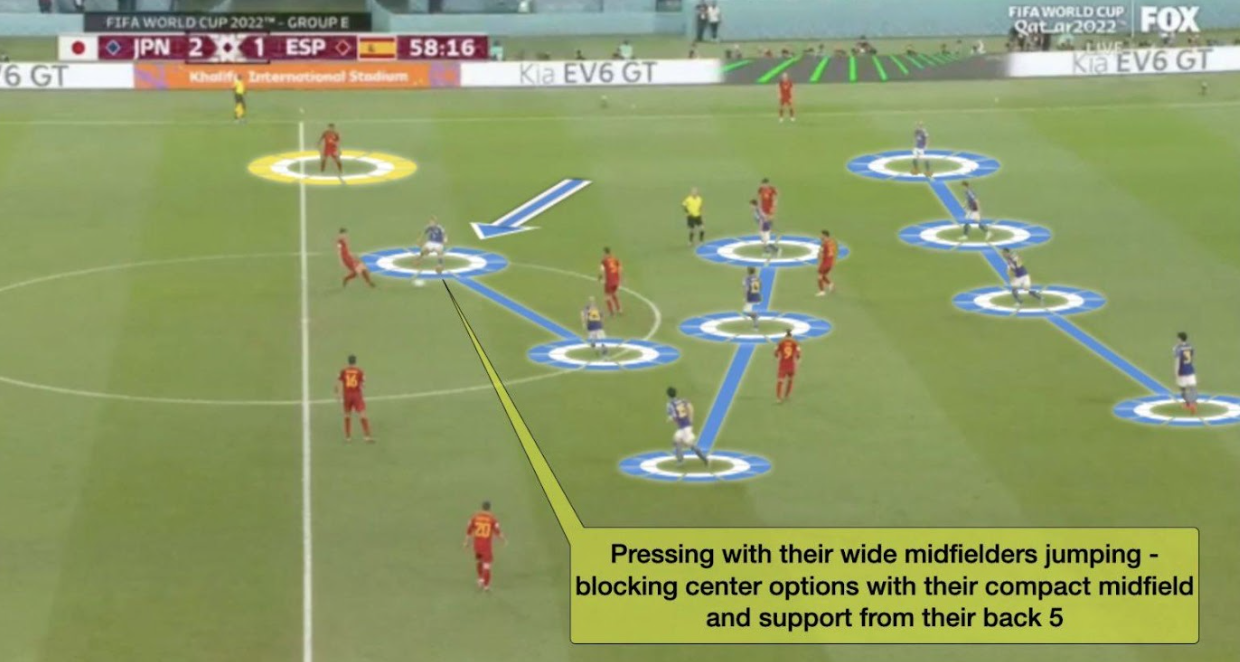 A visibly stunned Luis Enrique reacted to going down with a couple of changes of his own, Ferran Torres on for Nico Williams and Marco Asensio on for Alvaro Morata (having brought on Dani Carvajal on at halftime for Cesar Azpilicueta). This in my opinion was one of the most decisive moments in the game.
The lack of a presence like Morata to potentially cross into (considering their exceptional midfielders are not particularly prolific goalscorers), might have been what was needed to break down the disciplined and humble Japanese side. They were perfectly fine playing on the break when the opportunity presented itself, with Takuma Asano getting a half chance from a Kaoru Mitoma cross on the counter in the 70th minute.
For the remainder of the game Spain camped in the opposition half but to no avail as Marco Asensio's shot in the 89th minute was Spain's first on target since the 23rd minute. The 24th ranked Asian nation held on and claimed their second powerhouse of the tournament.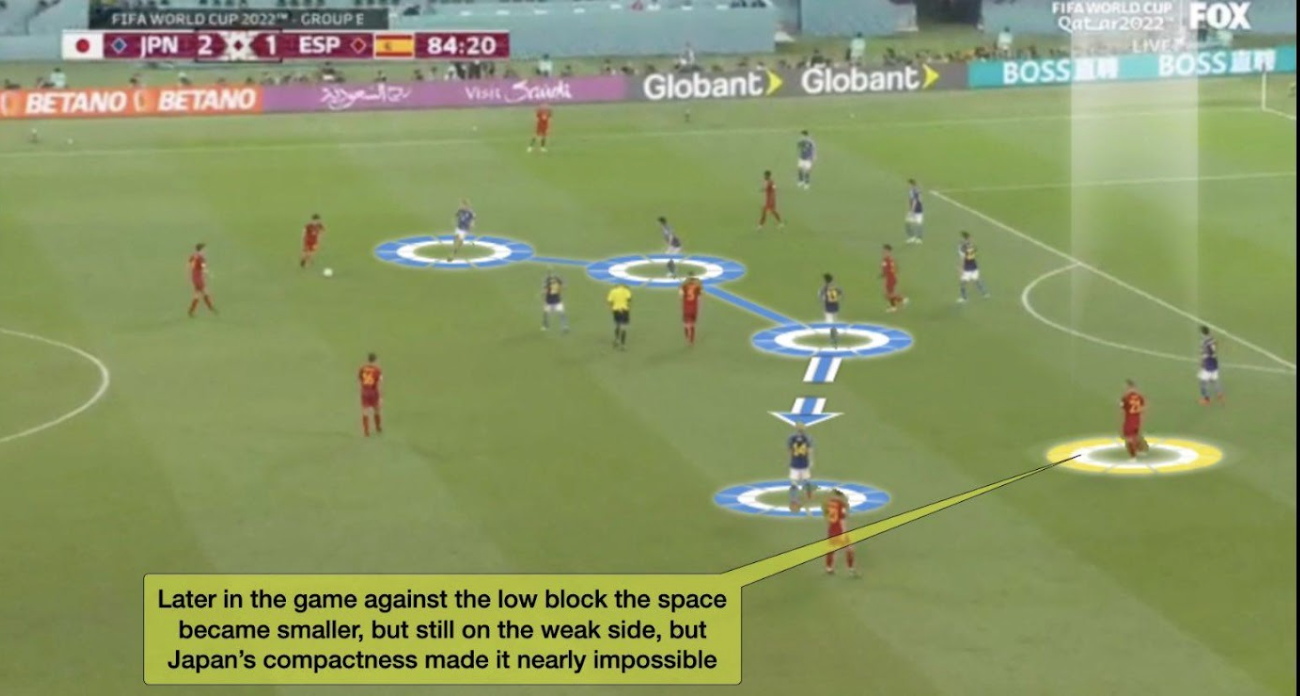 Now Croatia awaits captain Maya Yoshida and his troops in the next round. A compelling prospect for both nations as I'm sure they fancy their odds. As far as Spain is concerned hopefully it was a lesson learnt in how sometimes being pragmatic isn't particularly a bad thing.
We've often seen teams like England and France criticized for it recently given the stars they have at their disposal to play possession-heavy based football but perhaps it's not always best to so against teams who are more than comfortable defending for long periods and can hurt you on the counter because that's exactly what they'll coming up against in the face of Morocco for a ticket into the quarterfinals. In what became a tactical battle between discipline and philosophy, there were also lessons to be learnt on the importance of timing and the power that lies in being humble from the Samurais.
By: Vuyo Reggie Ndebele / @RegaloJnr
Featured Image: @GabFoligno / Adam Pretty – FIFA