Tactical Analysis: Morocco 2-0 Belgium
After beginning their World Cup campaign with a 0-0 draw against Croatia, Morocco picked up their third World Cup win and their first since 1998 by defeating Belgium 2-0 at Al-Thumama Stadium, taking advantage of their booming support to bounce back from a disallowed goal on the stroke of halftime and score two superb goals in the second half.
Belgium lined up with a 3-4-3 structure in possession with asymmetrical fullbacks — Timothy Castagne staying deeper and Thomas Meunier pushing up — whilst Kevin De Bruyne and Eden Hazard occupied the half-spaces as the two #10s and Morocco defended in a 4-1-4-1 mid-block.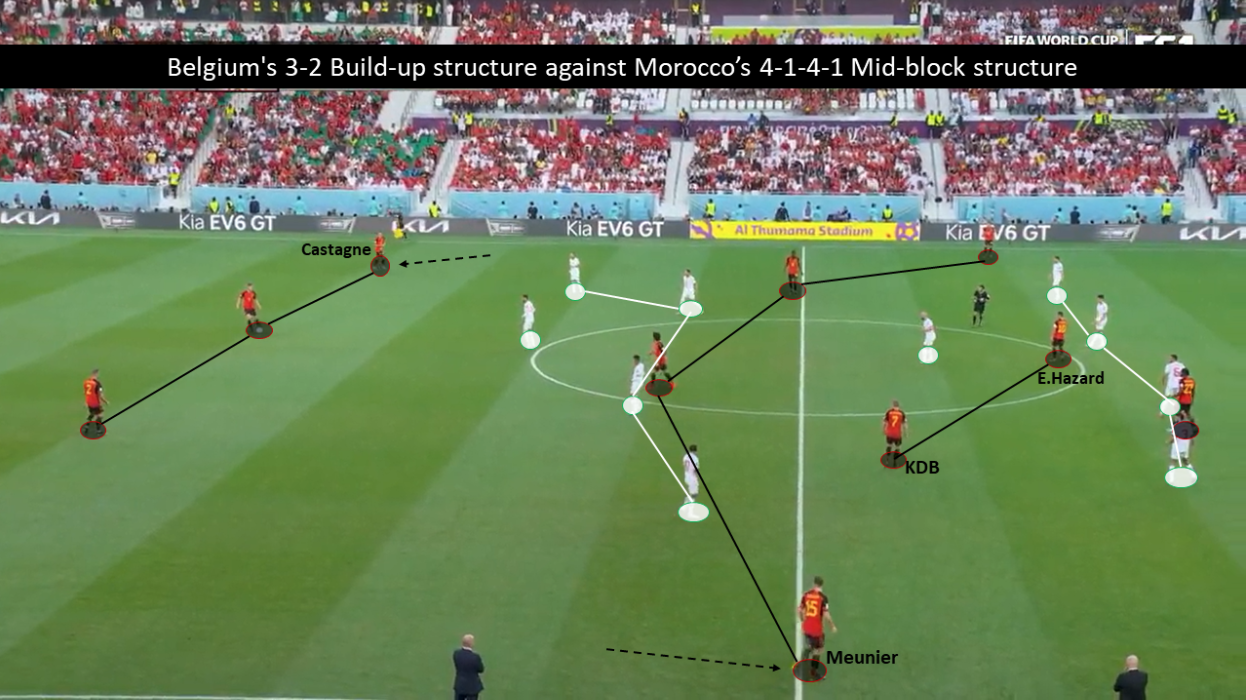 Morocco seemed to let Belgium have possession and Walid Regragui made his central block more compact and tighter. This was enough to keep Roberto Martínez in passive possession, which resulted in Belgium having 56% possession, forcing Belgium to progress from the flanks due to their lack of fluidity in midfield.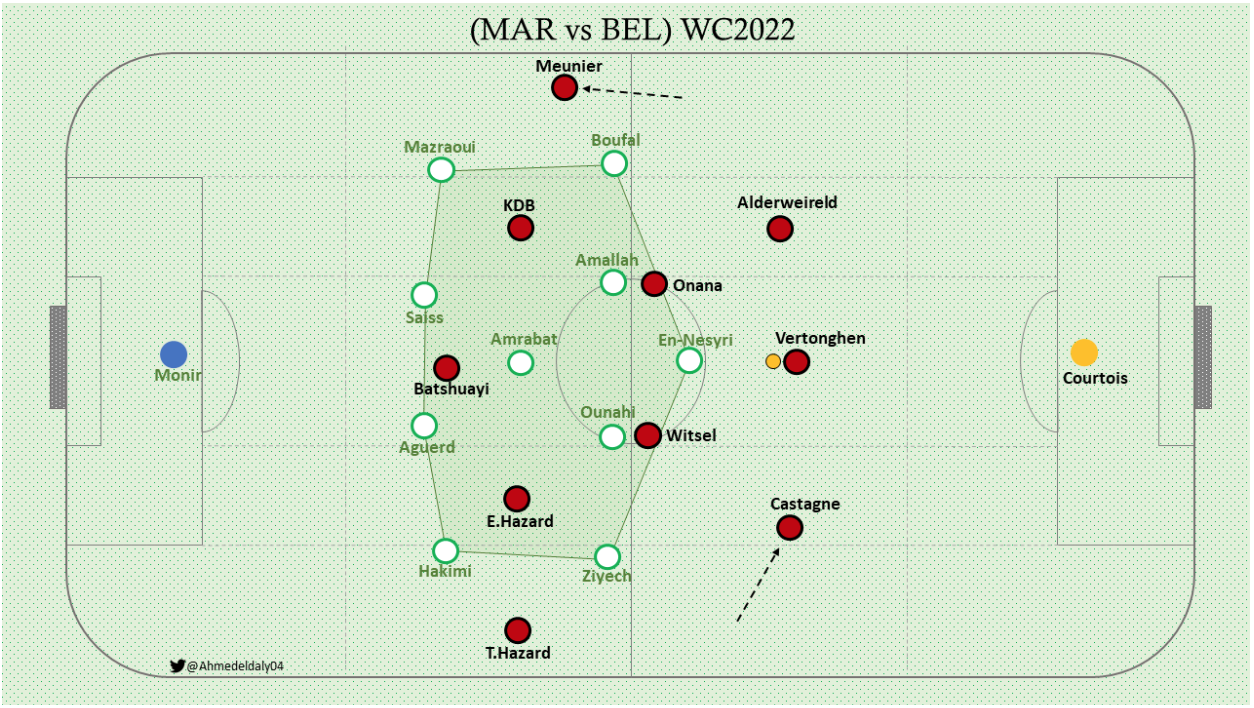 Morocco center forward Youssef En-Nesyri was chasing the center-backs and tried to restrict central passes meanwhile Selim Amallah and Azzedine Ounahi marked Amadou Onana and Axel Witsel respectively.  When the ball came to the wide center backs, then Amallah and Ounahi would press them and En-Nesyri seemed to mark the #6s while Sofyan Amrabt was like a cover to the #8s and intended to press the nearest Belgium's #10 to the ball (E.Hazard or KDB).
While the ball is with Toby Alderweireld, Amallah jumped to press him then En-Nesyri moved horizontally to mark Onana. Sofiane Boufal covered the shadow of KDB and was ready to press Meunier if the ball passed to him. Noussair Mazraoui is ready to press De Bruyne and Meunier as needed. Amrabat moved to stay with De Bruyne whilst Saïss was ready to move high to press KDB if he escaped from the chain.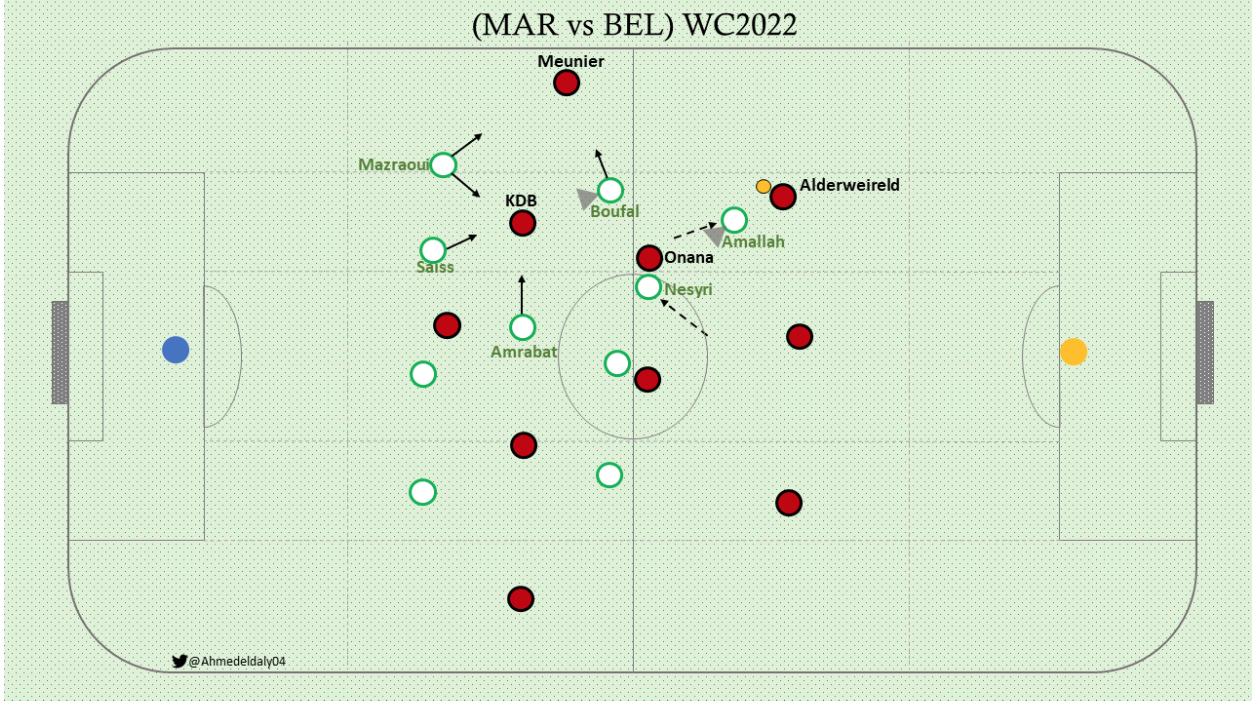 Morocco forced Belgium to progress the ball wide and then pressed them by using the touchline as an extra defender.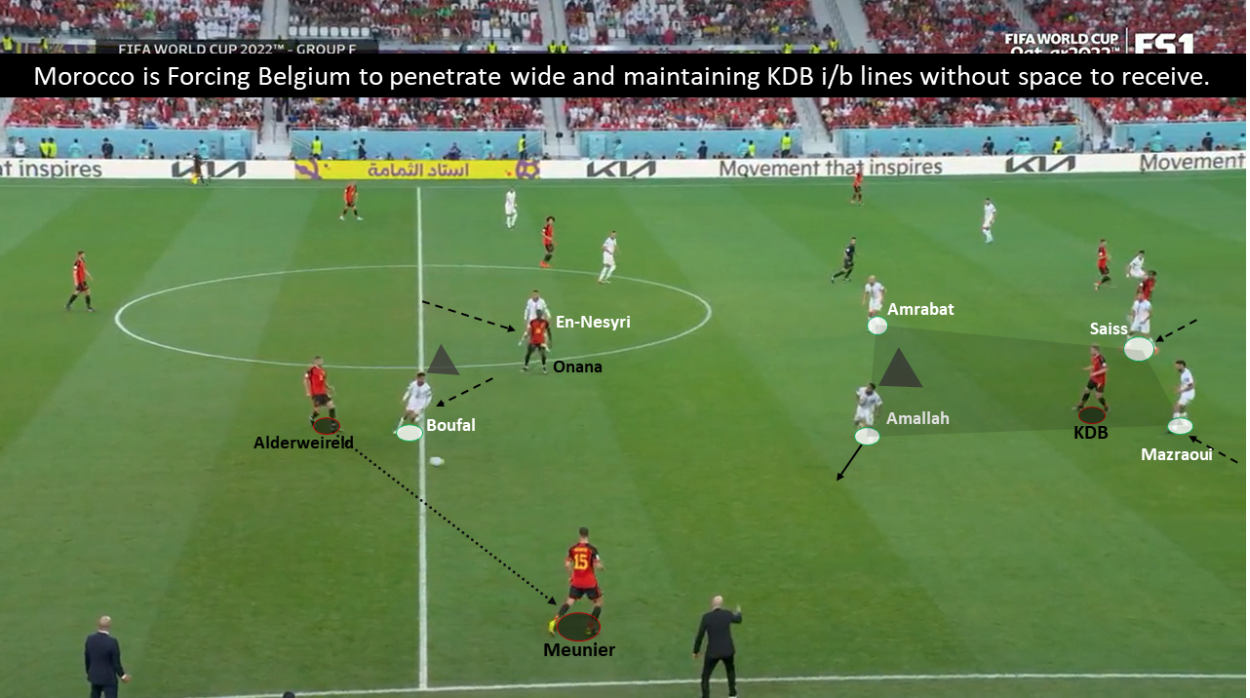 Let's take a look at Belgium's passing network.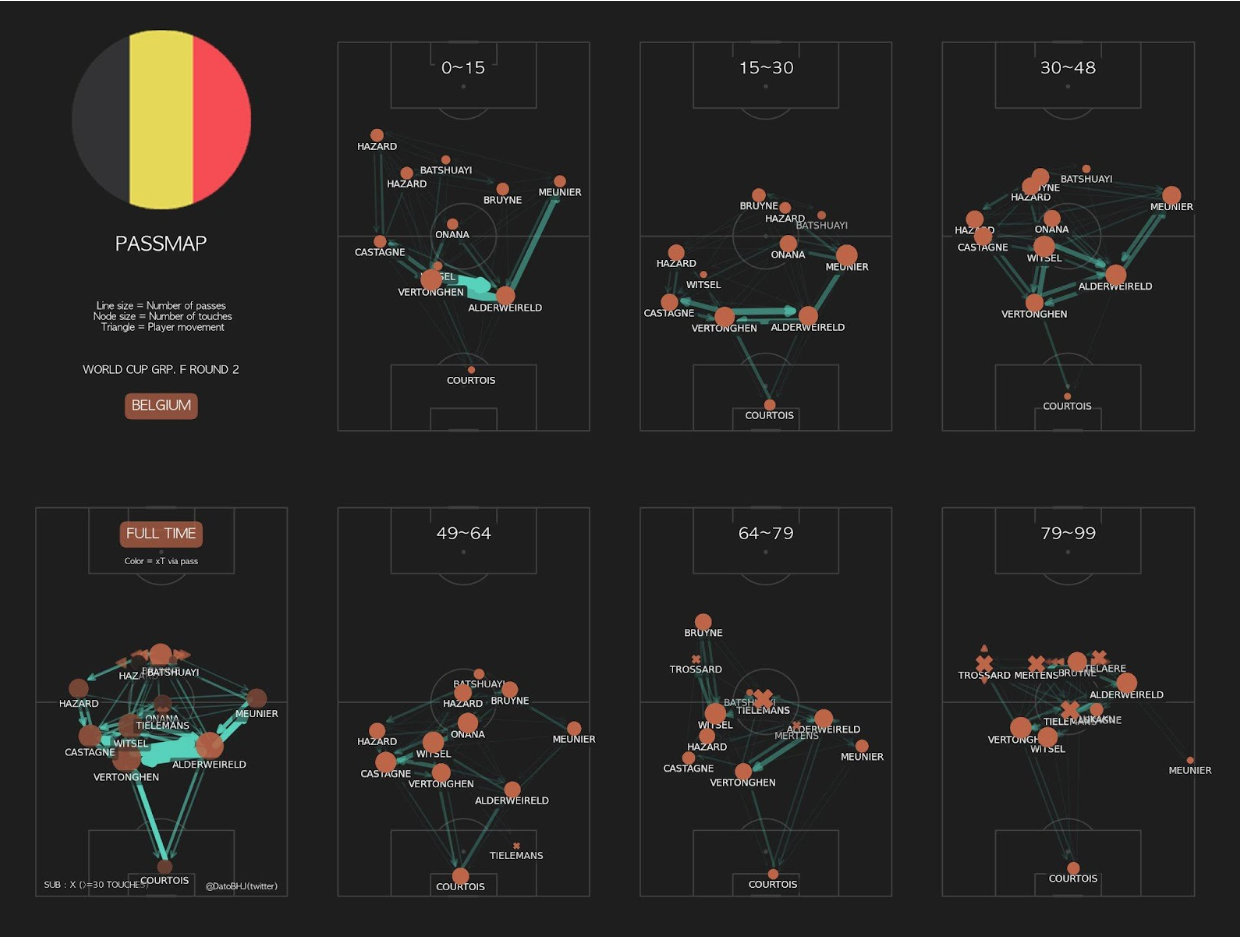 By: @DatoBHJ
This resulted in Belgium having to use other tricks to bypass Morocco's deep block, with Eden Hazard and Michy Batshuayi trying to attack the space behind Morocco's defense whilst waiting for the long ball.  Belgium used these dynamic movements from Batshuayi to run behind Saïss and Nayef Aguerd, with Batshuayi would position himself in between them and ask for the ball in behind.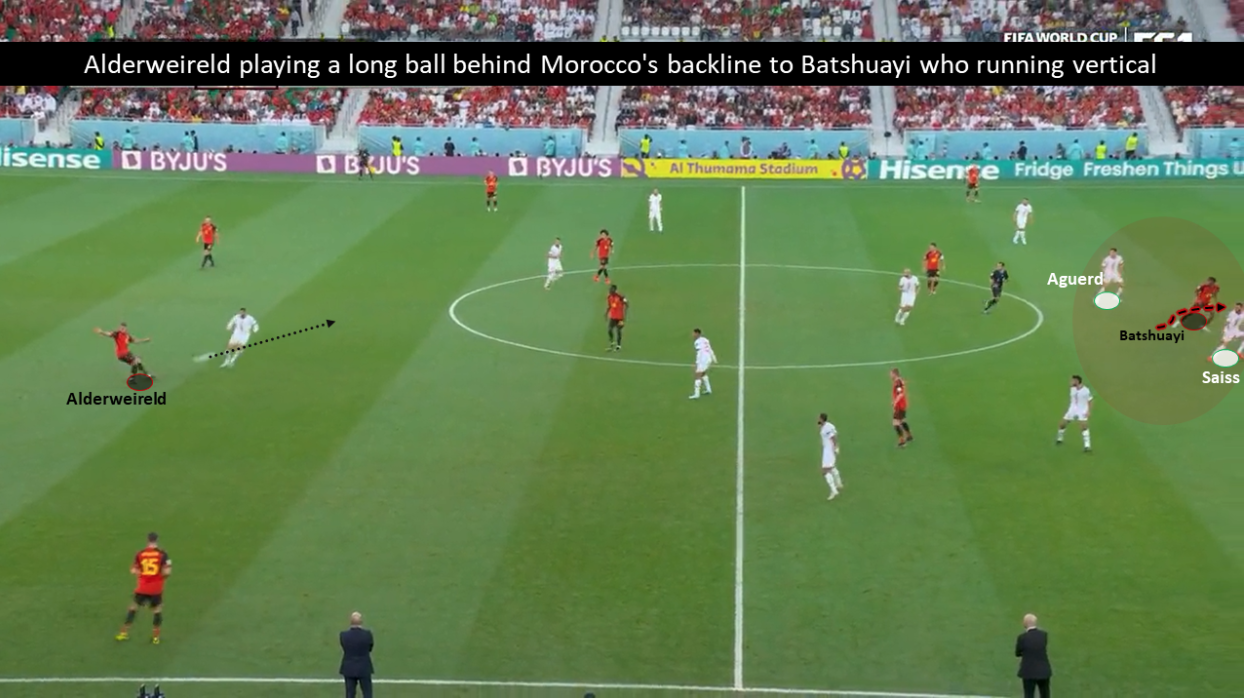 Belgium's first major chance of the match came in the fifth minute after a combination between Eden and Thorgan Hazard and Michy Batshuayi making a third-man run, with the Fenerbahçe striker facing Munir 1v1 after his vertical movement in between the center-backs and creating an xG chance of 0.22 but squandering the opportunity.
Morocco's center backs Romain Saïss and Nayef Aguerd together won 5 aerial duels out of 7 (Saïss 4 out of 4), prompting Batshuayi to move wide to receive behind the opposition fullbacks but Achraf Hakimi and Noussair Mazraoui dealt with him. In the first half, Belgium's center-back tried to bypass the block by sending long balls to the overlapping wing-back Meunier but it was not effective enough, and while the ball was in the middle, Belgium tried to play a backward pass (pressing trigger) to force Morocco's block to go high and played it in behind.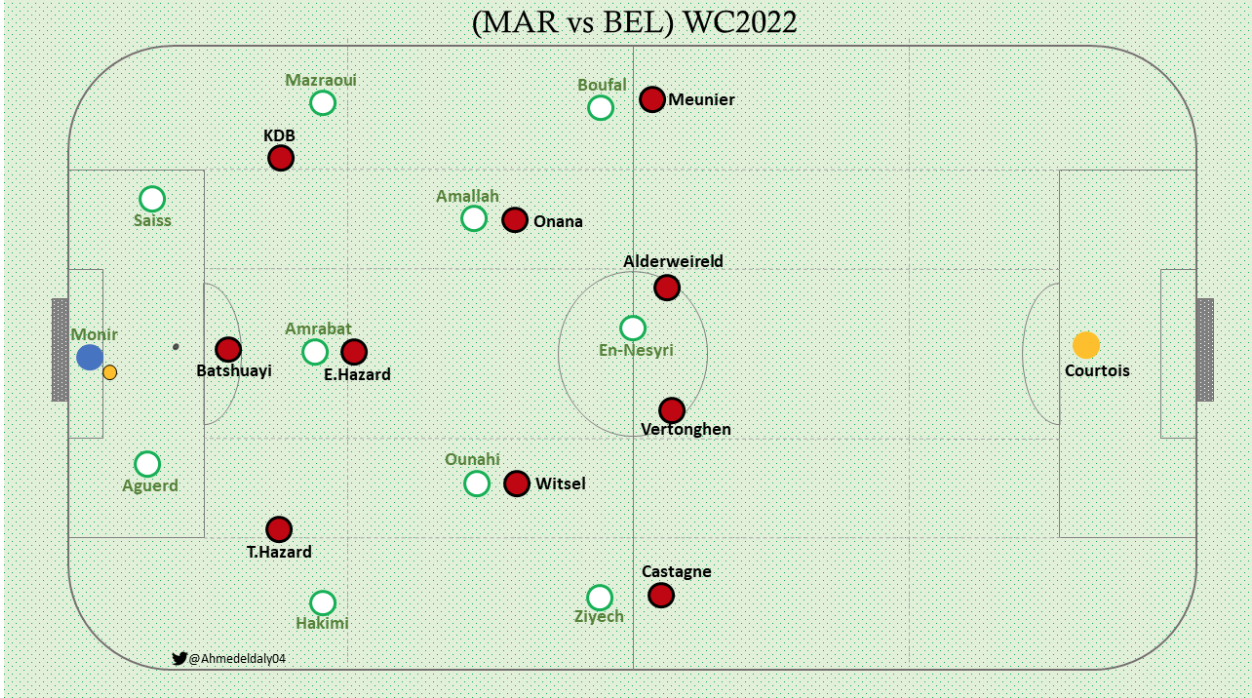 The Atlas Lions had a plan to overload the flanks and create a 2v1 numerical superiority. Munir would pass the ball to Aguerd to drag Batshuayi out before passing it to Saïss who has space and time to pass. Mazraoui moved wide to receive if De Bruyne does not track him or to drag him wide to open the channel for a pass whilst Amallah moved centrally to drag Onana away from the channel. 
Furthermore, En-Nesyri's starting point was wide to create a 2v1 combination with Boufal over Meunier who begged into question who they should mark, then Toby Alderweireld reacted and moved wide to him which forced the backline to shift.
While Batshuayi was responsible for chasing the two center-backs (pressing the ball receiver while trying to cover the shadow of another CB), E.Hazard marked Amrabat, KDB and T.Hazard were ready to press the FBs, and Belgium's double pivot marked Morocco's #8s meanwhile Meunier and Castagne had marked wingers and the center-backs contained Nesyri. Morocco implemented a 4-1 base structure.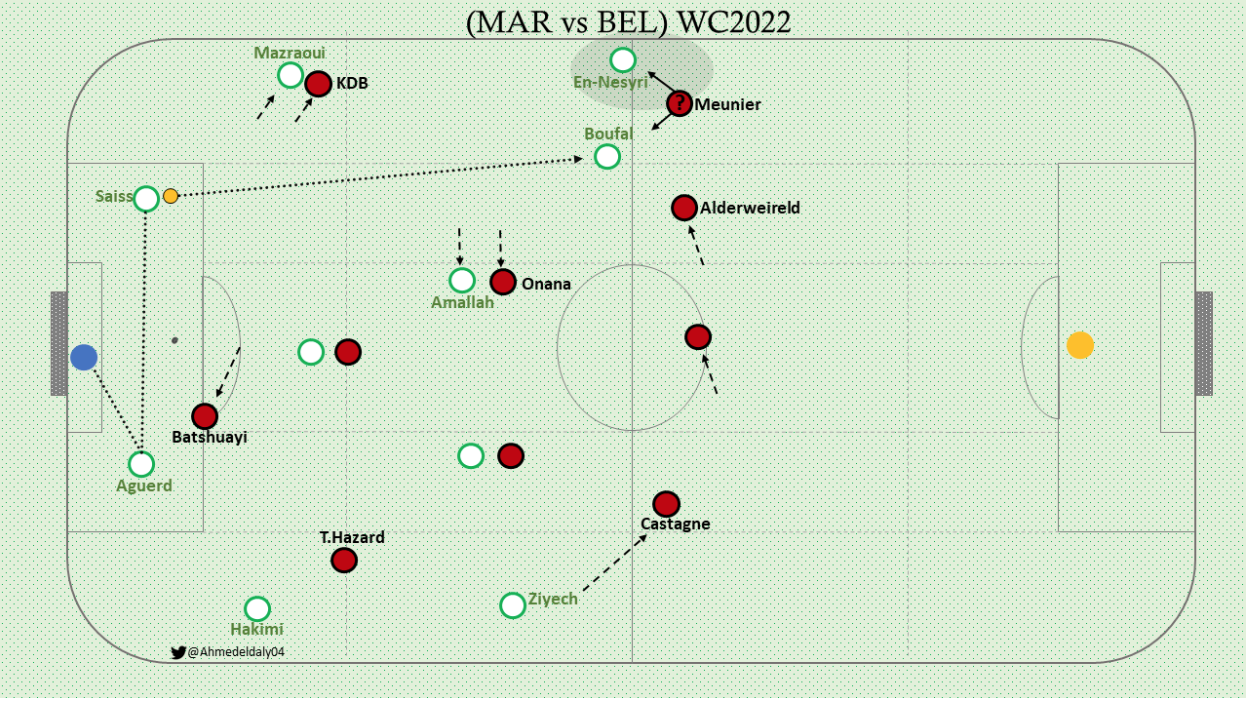 This resulted in Morocco implementing another pattern, with Hakim Ziyech becoming free after Castagne's backward movement used to drop without any marker to create a numerical advantage over T. Hazard. On occasions, Ziyech was able to receive and turn without being bothered.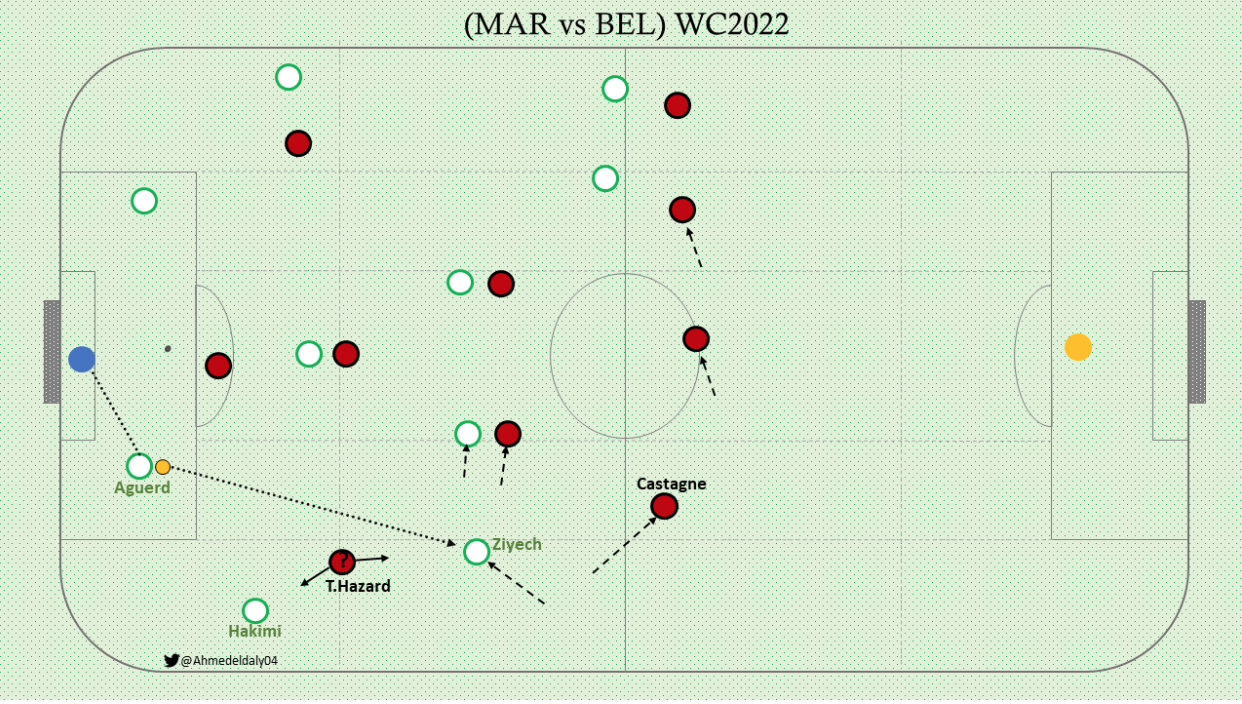 Once they had forced Belgium to return to their regular mid-block, Morocco seemed to implement ideas similar to the previous game versus Croatia. They targeted the spaces behind the fullbacks, like on this occasion with Aguerd, while E.Hazard tried to press him and passed to Amallah who had a poor body shape (considered as a pressing trigger) which provoked E.Hazard and Witsel to quickly press Amallah who passed the ball back to Aguerd. 
Moreover, Mazraoui moved forward underlapping towards Meunier and Boufal stayed wide as possible he can, and Aguerd played a long ball in space behind the FB in case of begging Meunier to question who he should mark.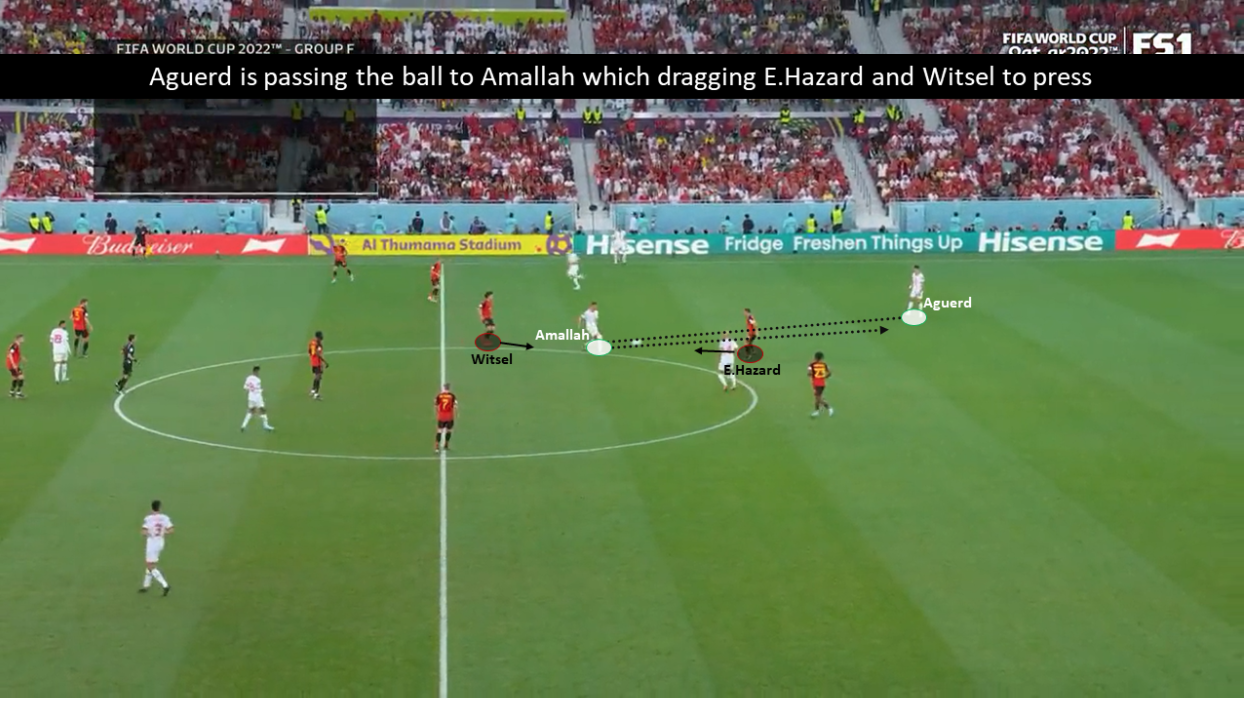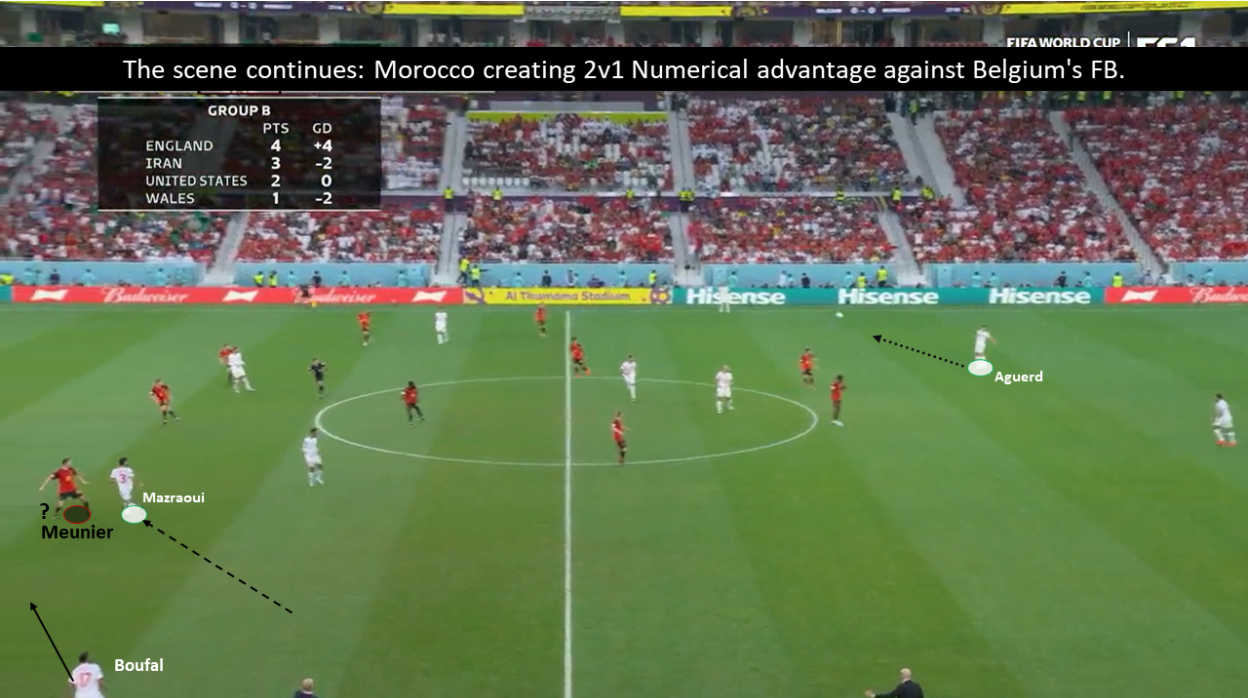 These actions disrupted Meunier, Boufal received behind him and cut inside, and En-Nesyri was dragging the defenders whilst Ziyech moved vertically to the blindside into the cutback zone and received the cross with one touch to the incoming Amallah but he missed it.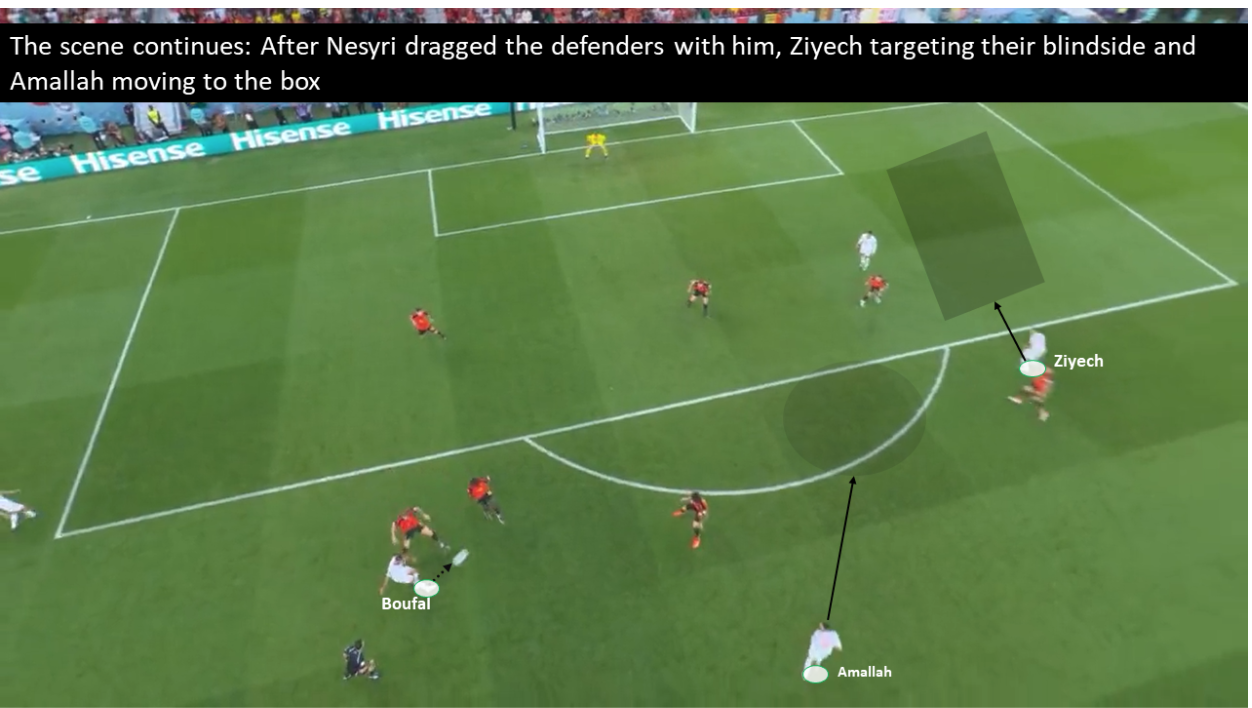 These movements from wingers (a diagonal run into the opposing blindside) and #8s (vertical to the box) were repeated in this match. Also, Morocco from the same approach (targeting space behind FB) created the most dangerous chance in the first half, and while the ball was with Aguerd, Ziyech dropped off and dragged Castagne high, and Hakimi and Amallah moved to the space behind him with the numerical advantage, but Hakimi missed the chance.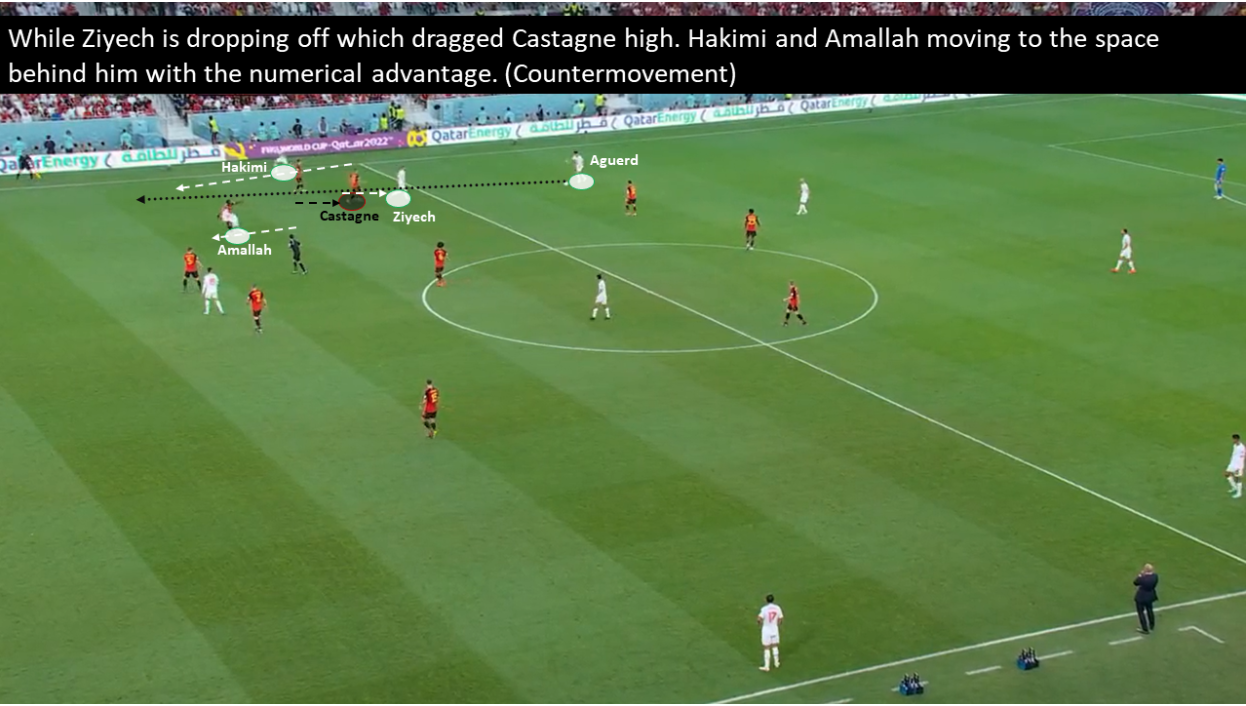 Let's take a look at Morocco's main passing flows.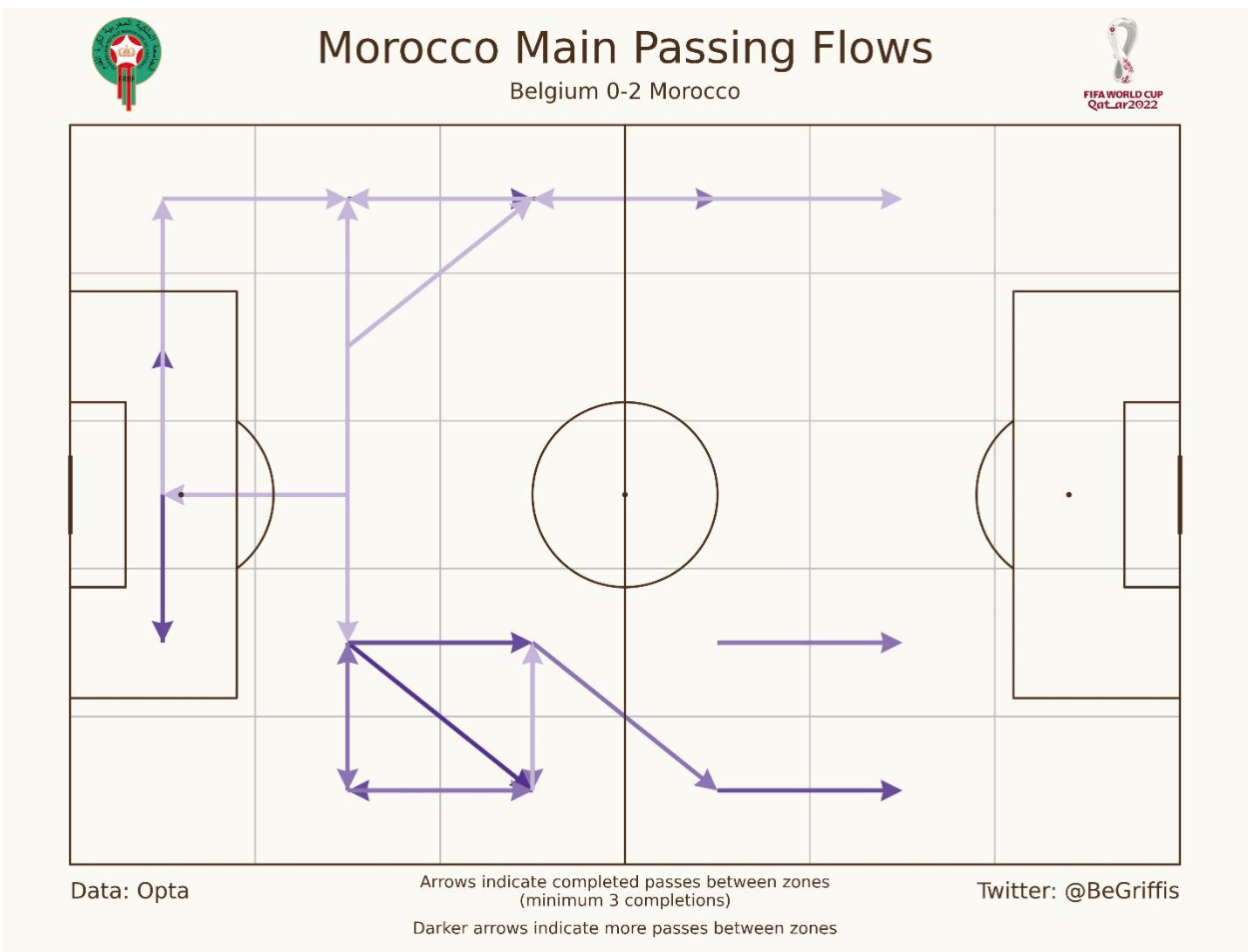 By: @BeGriffis
Belgium tried to change the shape while progressing the ball to bypass Morocco's defensive block, and Onana seemed to leave his position and drop off to confuse the opponents which opened room for Alderweireld to play a forward pass toward the laying-off Eden Hazard who tried to complete the 3rd-man combination with Batshuayi and De Bruyne but the Moroccan center-backs were aware and Saïss reacted well and got the ball back.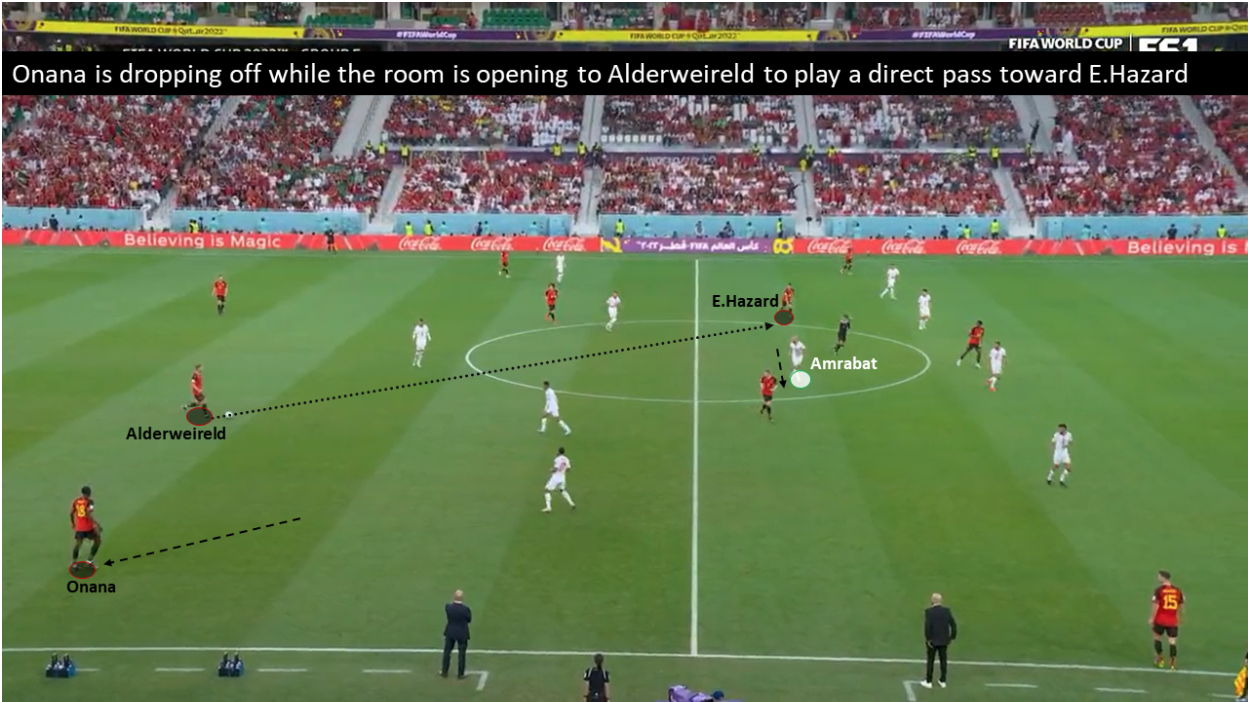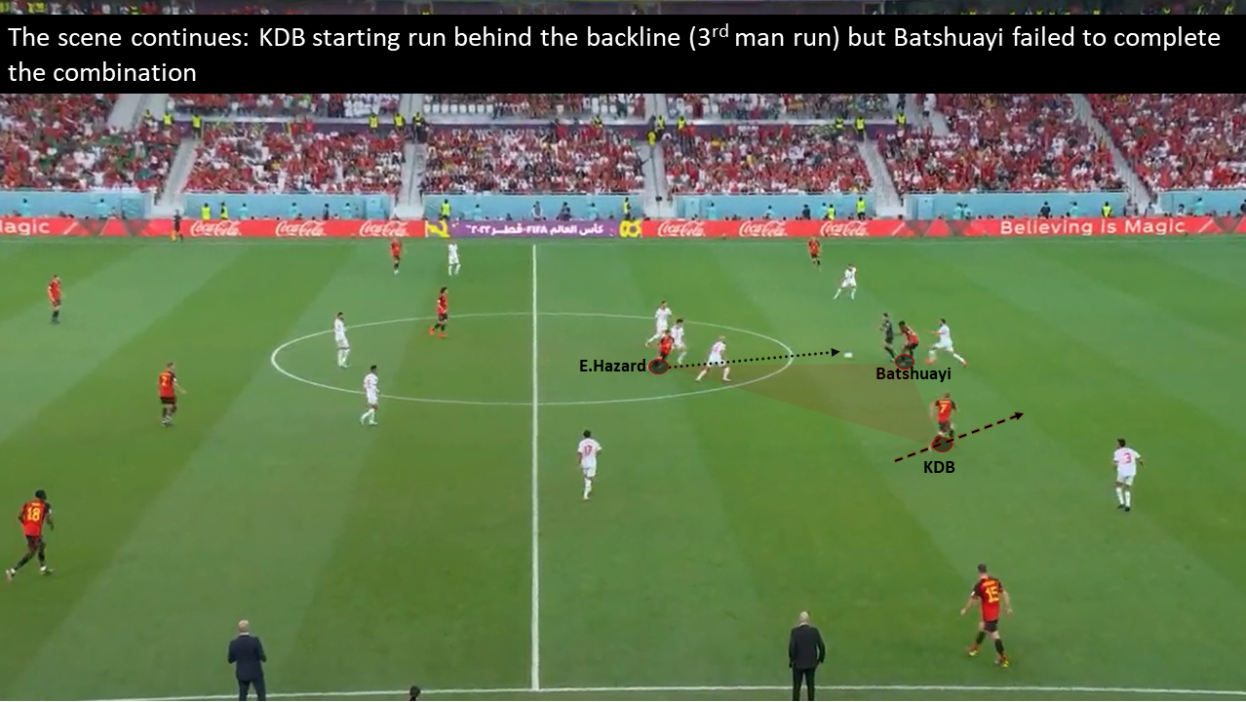 As the game continued, Belgium's main aim was finding Kevin De Bruyne and Eden Hazard between the lines or even in front of the defensive block, and they were both becoming more active and dynamic to progress the ball through the center of the pitch by finding 2v1 situations.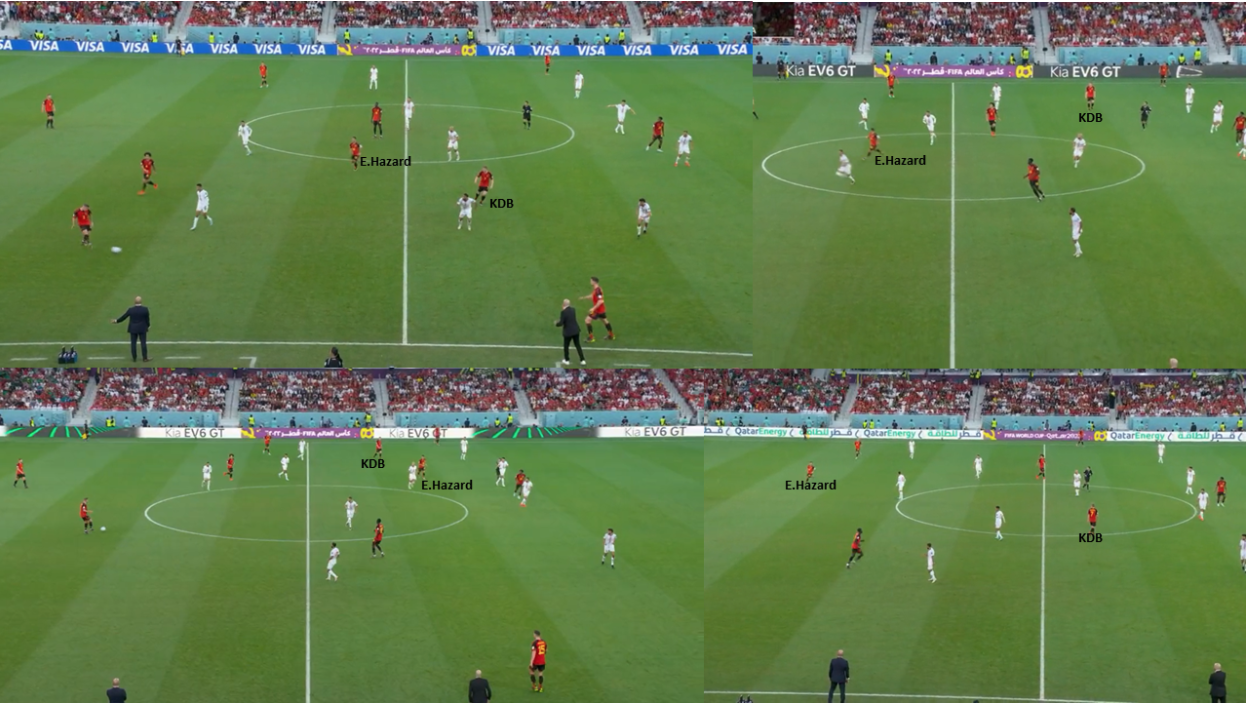 In the second half, Morocco had more courage and was active and utilized a high press scheme against Belgium's 3-4-3 build-up structure. Thomas Meunier pushed high whilst Timothy Castagne was deeper, and Youssef En-Nesyri was responsible for chasing Toby Alderweireld and Jan Vertonghen and Hakim Ziyech was ready to press Castagne meanwhile Azzedine Ounahi and Salim Amallah had marked Axel Witsel and Amadou Onana respectively.
Sofyan Amrabat marked Eden Hazard, Noussair Mazraoui took Kevin De Bruyne and was ready to press Thomas Meunier, while Achraf Hakimi was with Thorgan Hazard. Sofiane Boufal stayed away from Alderweireld because of Meunier pushing up which gave Alderweireld more time and space when the ball came to him.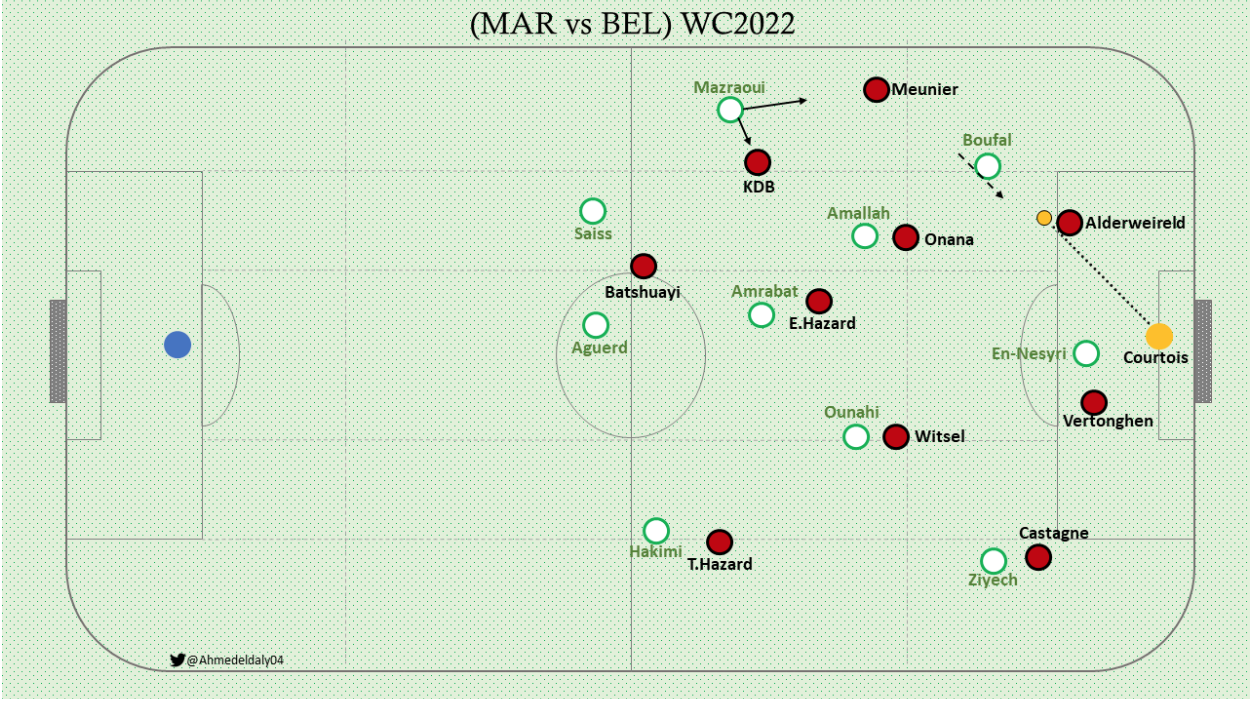 Belgium were too passive in their defensive approach which encouraged Morocco players more and more. Similarly to the annulled goal that came at the end of the first half, Morocco would go on to open the scoring in the 73rd minute, and they were overloading the near post with three players against four Belgian players, with two opponents on the far post. Morocco's aim was to distract Thibaut Courtois' attention and play a direct ball towards him.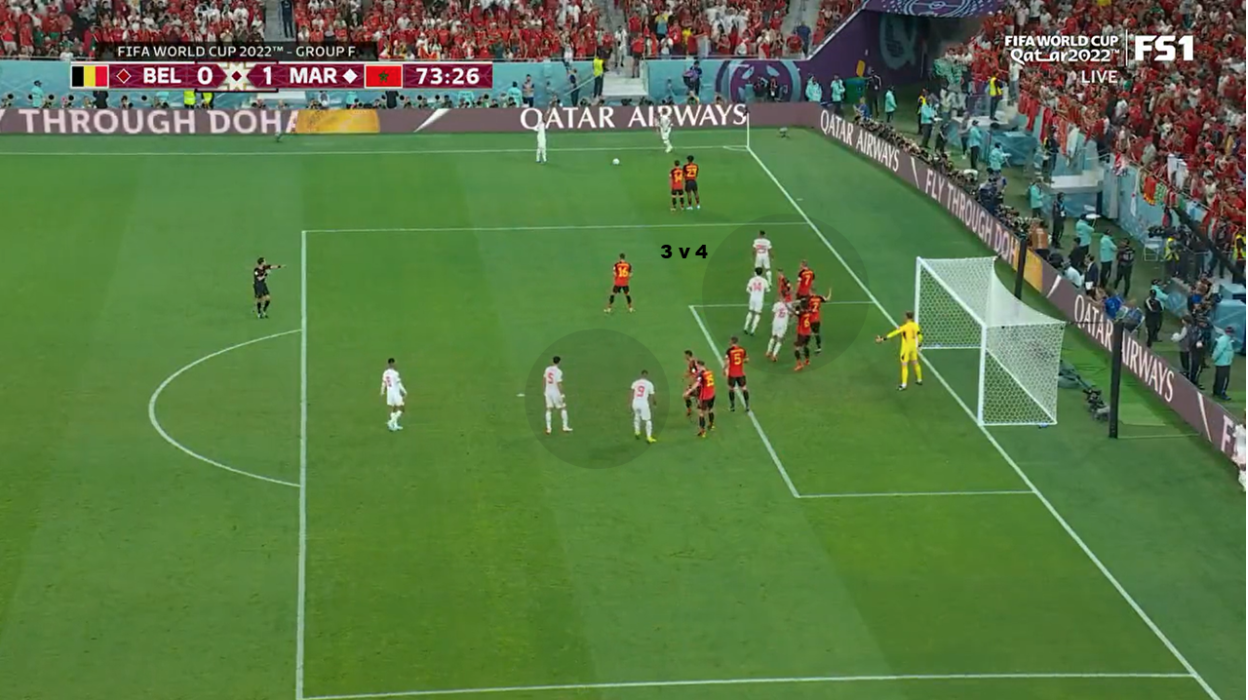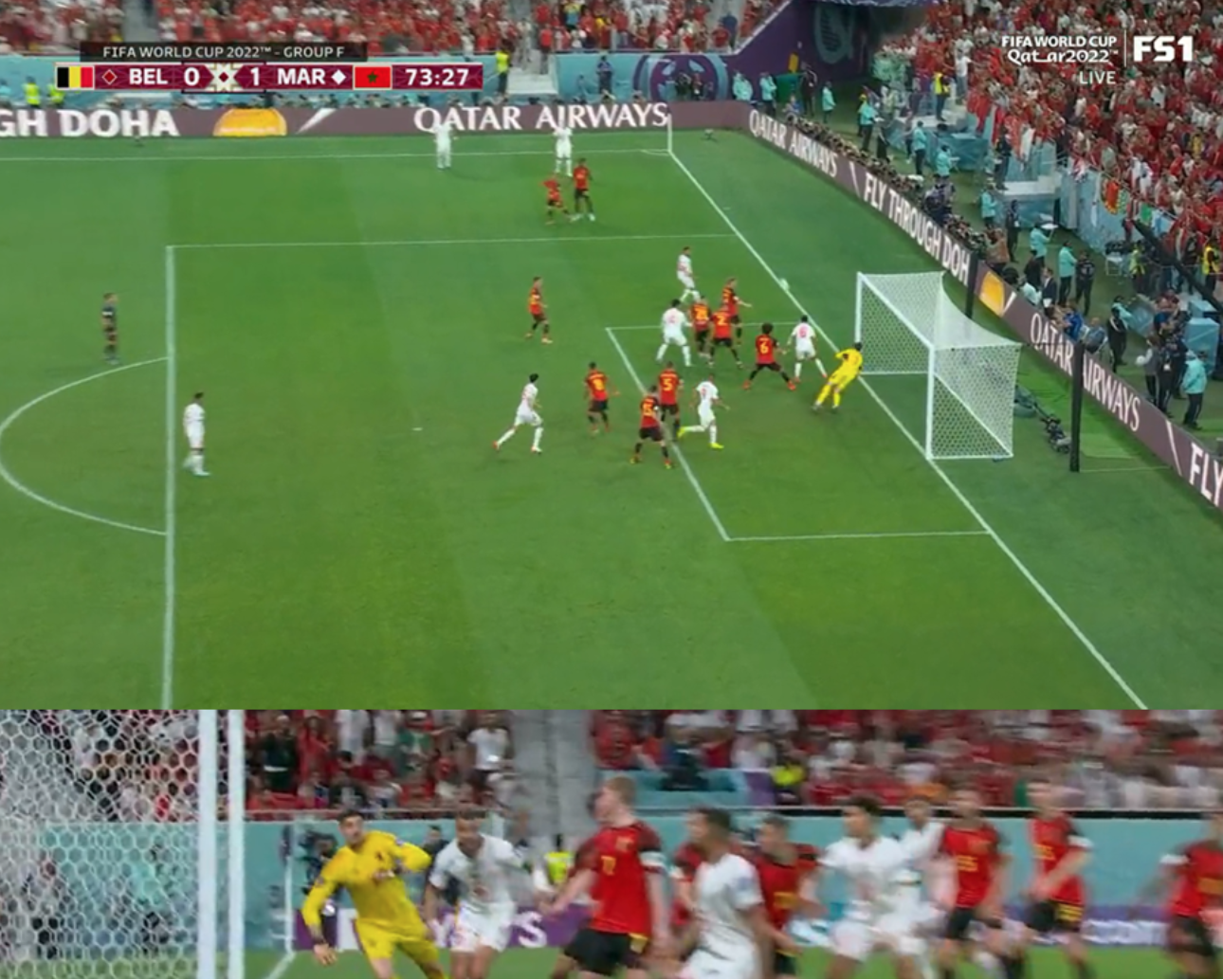 Conclusion
After taking the scoring in the 73rd minute via Romain Saïss, Morocco added a second goal in extra time via an attacking transition, with substitute Zakaria Aboukhlal sealing the victory. The Atlas Lions will be looking to polish off their campaign with an impressive result against Canada and book their ticket to the knockout round for the first time since 1986, but they will nevertheless need to improve their attacking efficiency if they are to go far in Qatar.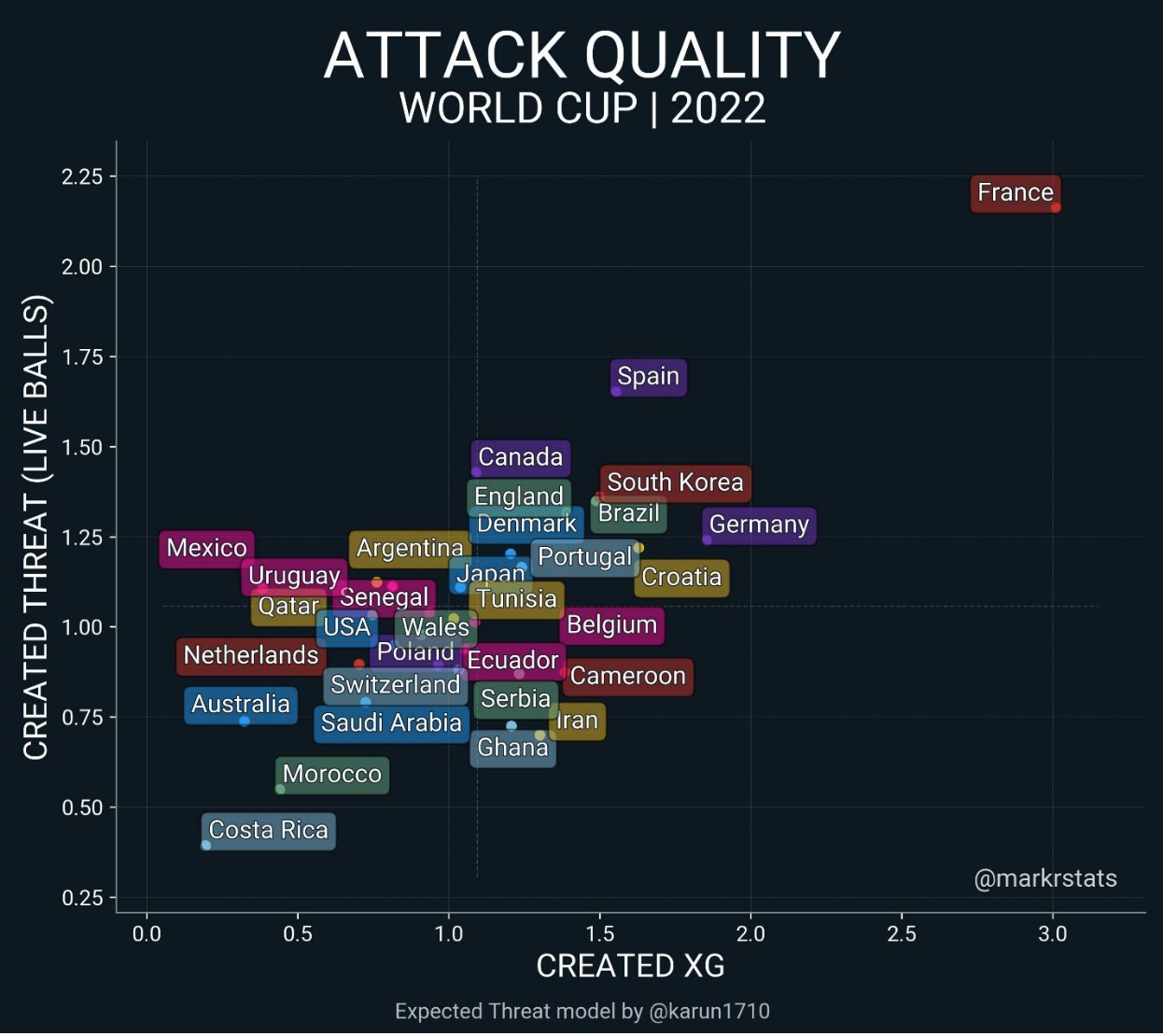 Photo: @Markrstats
By: Ahmed El-Daly / @Ahmedeldaly04
Featured Image: @GabFoligno / Matthew Ashton – AMA / Getty Images