Tactical Analysis: Portugal 2-0 Uruguay
After being held to a 0-0 draw against South Korea, Uruguay manager Diego Alonso made several changes to his line-up with Guillermo Varela coming in for Facundo Pellistri, Sebastián Coates coming in for Martín Cáceres and Edinson Cavani replacing Luis Suárez. La Celeste went with a 3-5-2 formation with Coates playing alongside Diego Godín and José María Giménez in the back three whilst Portugal went with a 4-3-1-2 with William Carvalho and Pepe replacing the injured Otávio and Danilo Pereira and Nuno Mendes coming in for Raphaël Guerreiro at left back.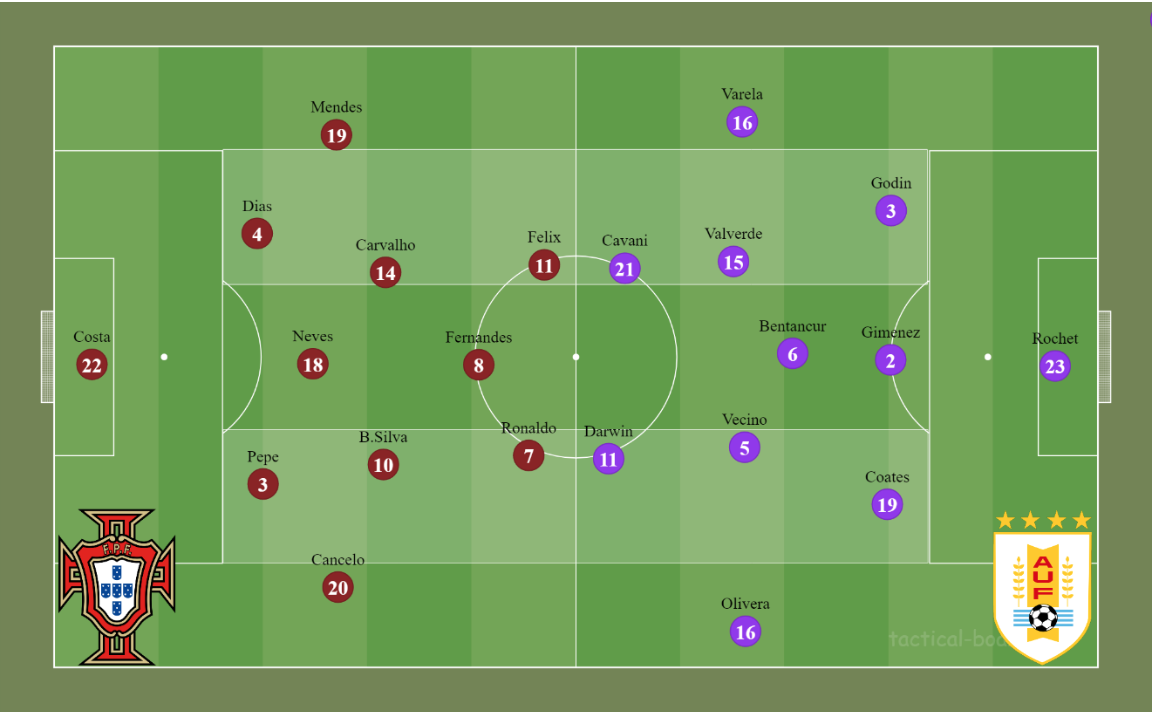 Uruguay's High Press


At first, Portugal tried to build through Bernardo Silva dropping to the right side, whilst João Cancelo would move forward on the right side, and Bruno Fernandes would move from the attacking midfielder position into the right half-space.
In return, Uruguay pressed man to man across the field, both center forwards would press center backs, Rodrigo Bentancur would press Rúben Neves, and as a reaction to Bernardo Silva's movement, Matías Vecino followed him to the right flank, Mathías Olivera would press Cancelo, and Federico Valverde with William Carvalho.
Despite Varela pushing inside, he would continue to monitor Nuno Mendes' position in case the game switched to the left, and Coates would go and follow Bruno into the half-space, with 2v2 in the back. All these movements created a 6v6 situation on the right side, with no option for Portugal but to send a long pass to Cristiano Ronaldo who tries to win the second ball. Uruguay won the header and kept possession after that.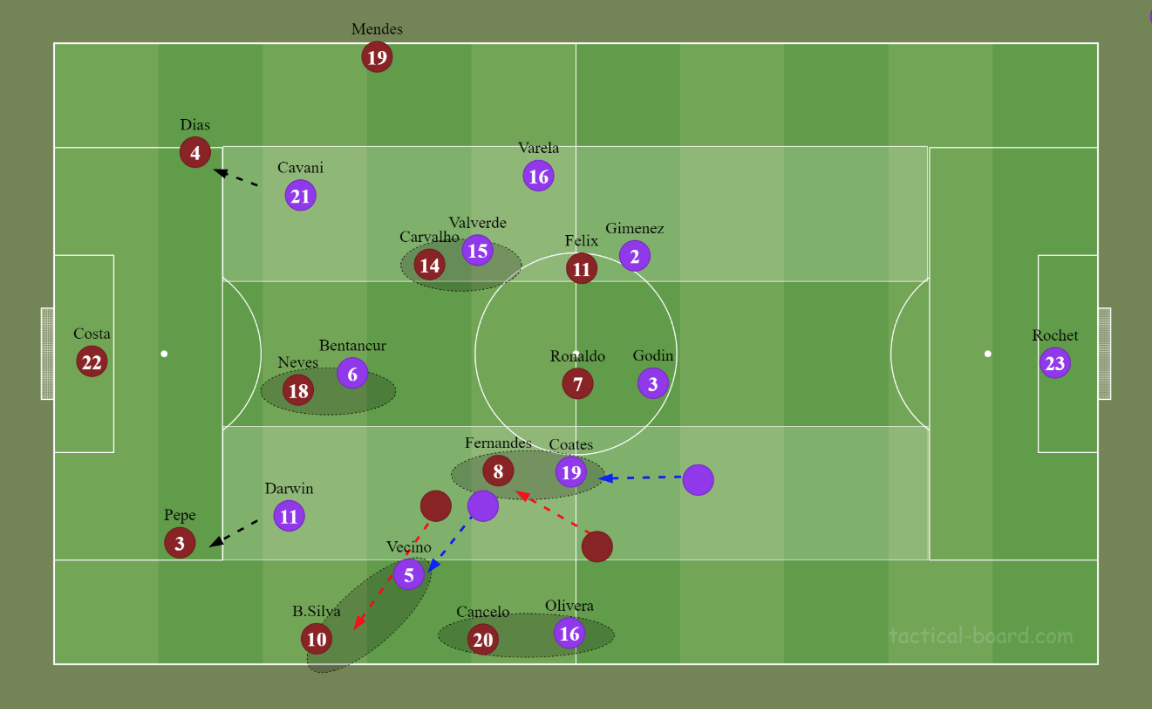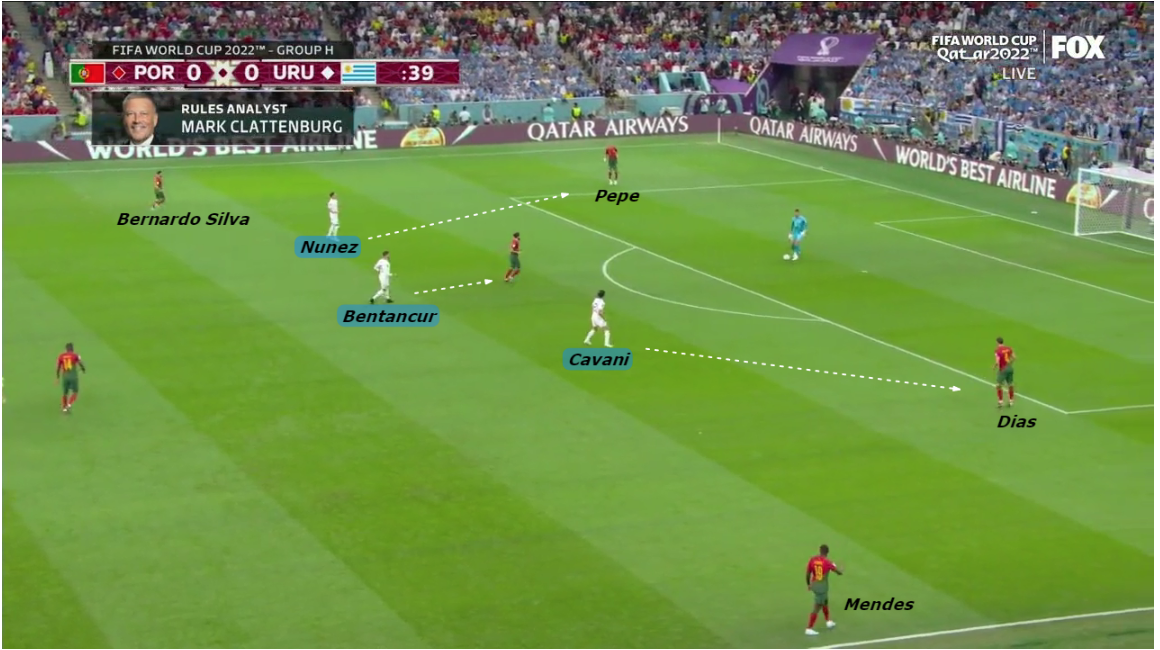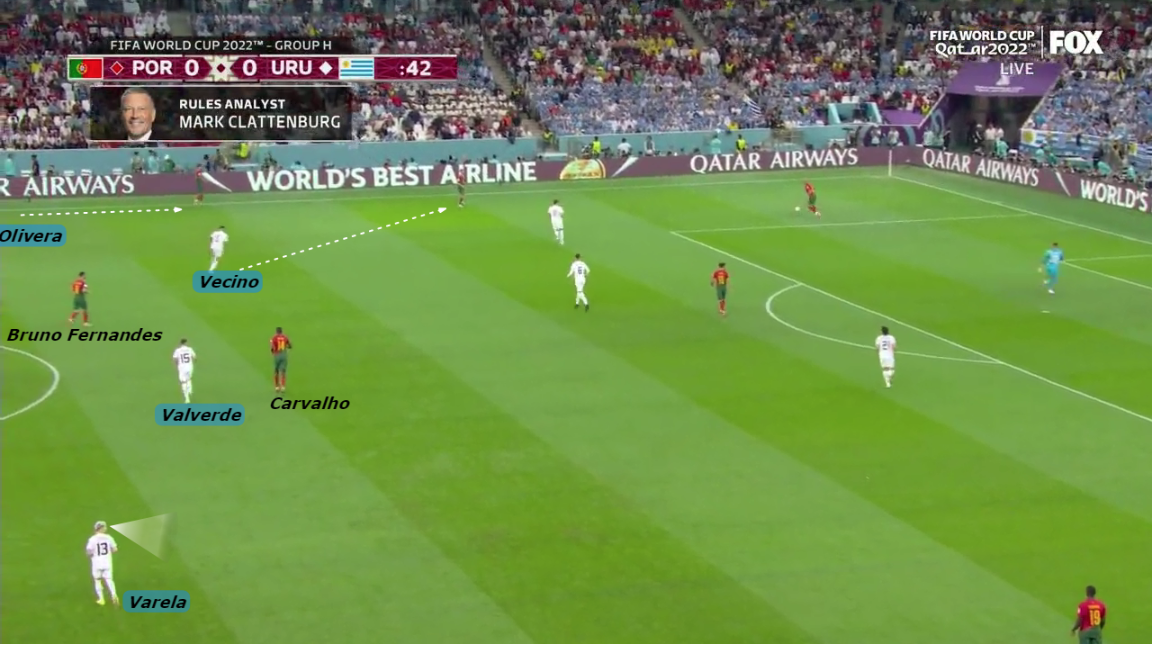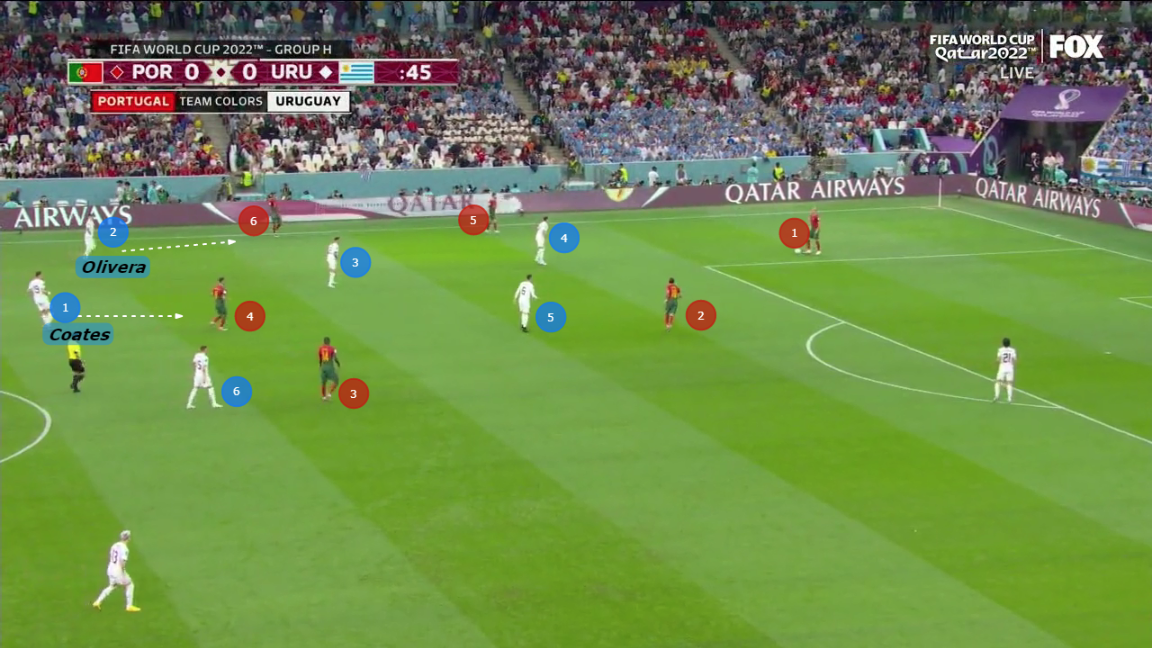 Another build-up variation would see Portugal try to use Ruben Neves dropping between the center backs, where Rodrigo Bentancur couldn't follow him, Matías Vecino would follow William Carvalho, Federico Valverde would press Bernardo Silva, and Rodrigo Bentancur is Uruguay's free man in midfield. The midfield is marked, and Portugal is forced to build up on the right side, but a bad reception from Cancelo makes it much easier for Olivera to press him and win the ball, which later became a dangerous attacking transition for La Celeste.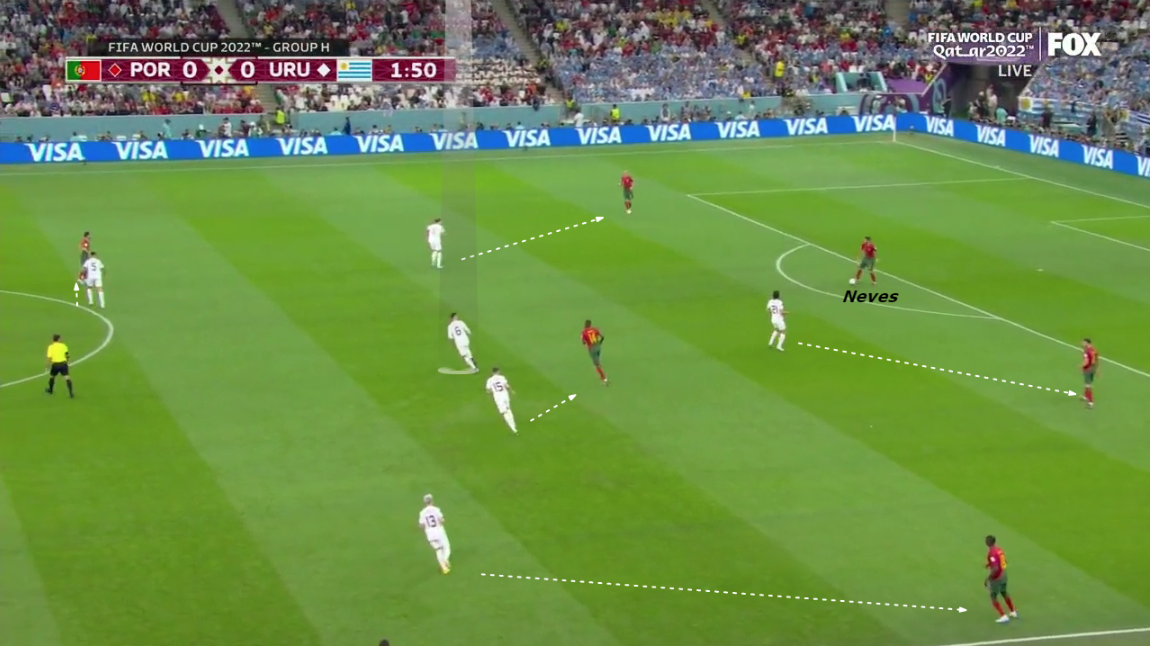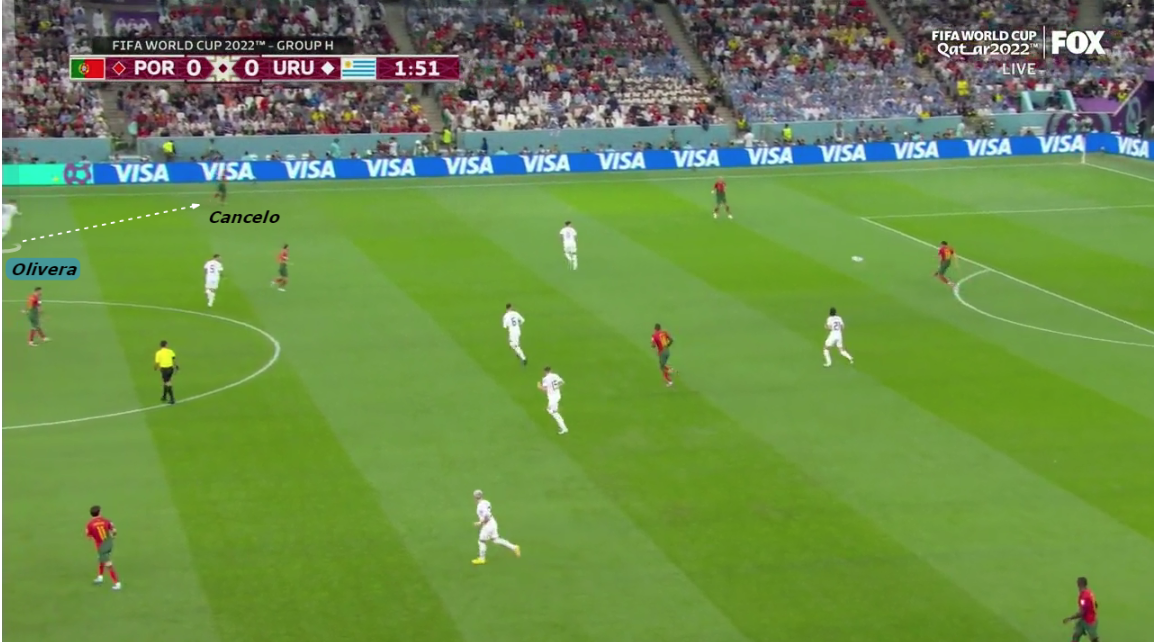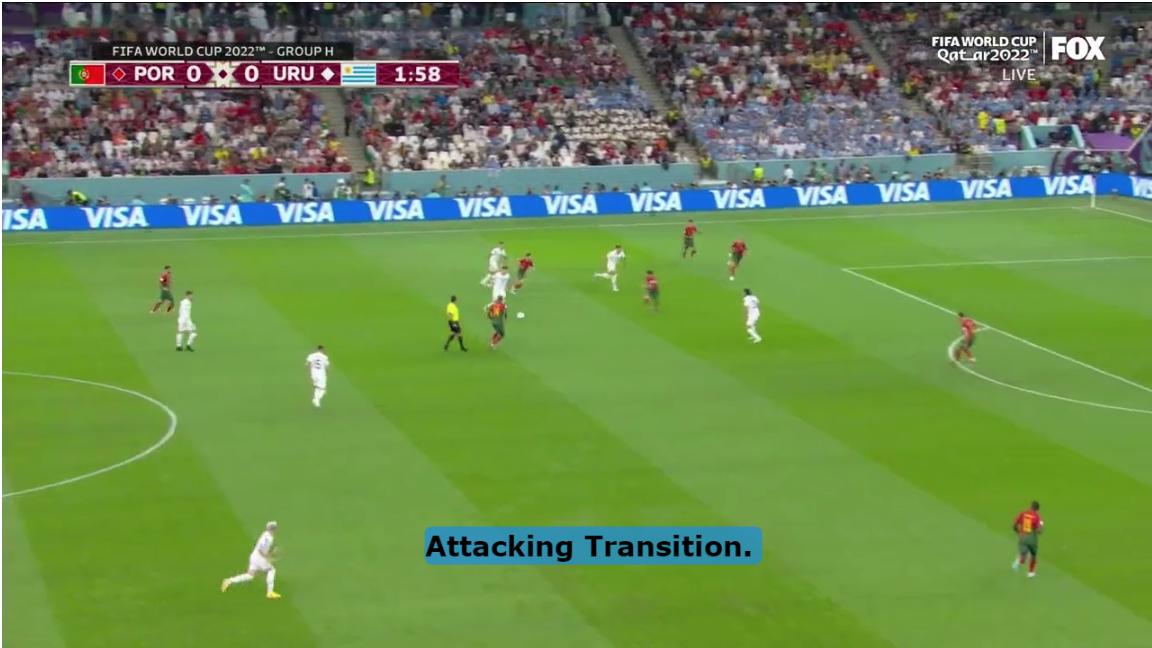 The third Portuguese variation by Fernando Santos was using Cristiano Ronaldo on the flank wherever the ball is. For example, if they're trying to build up from the left side, Ronaldo would try to receive behind the wing-back who would press the Portuguese full-back. Uruguay would simply move the ball-sided center back to cover this space and prevent Ronaldo from receiving, but this scheme failed due to both poor execution from Portugal and high awareness of covering spaces from Uruguay's defenders.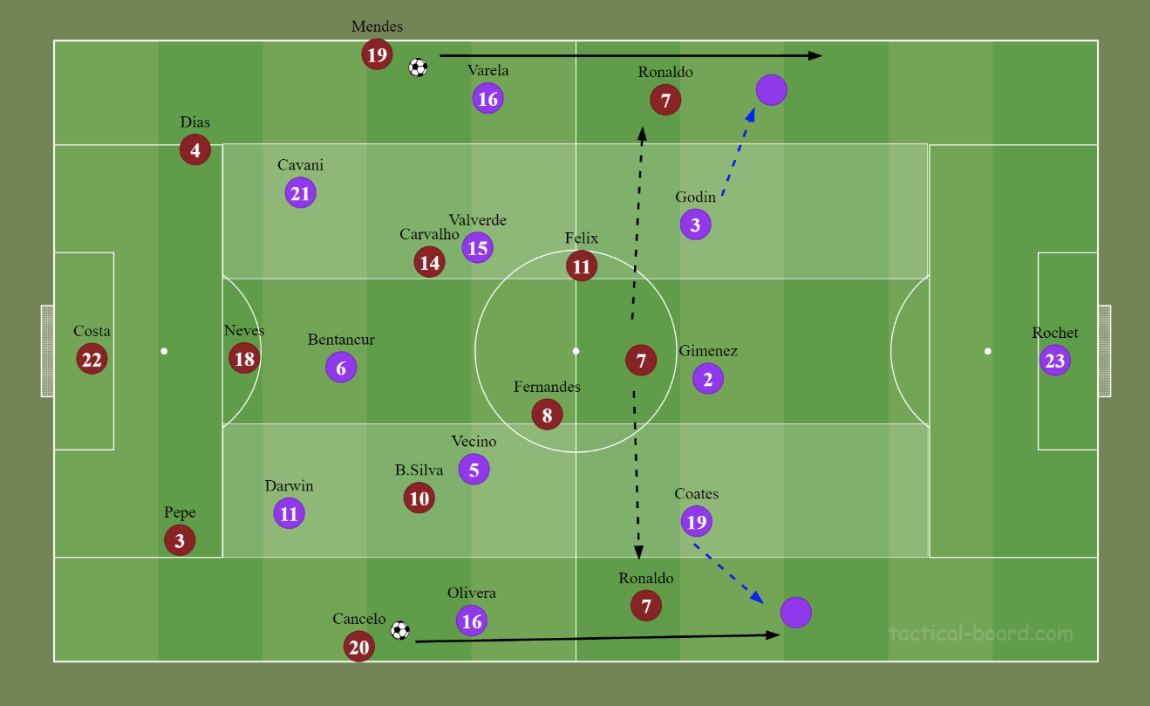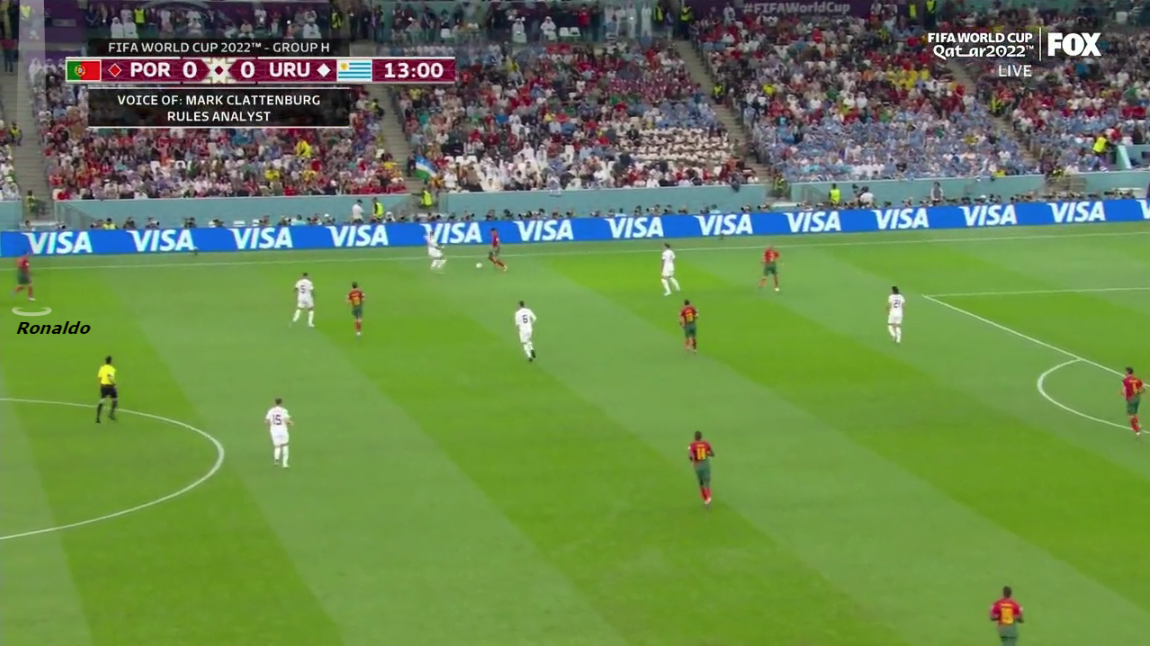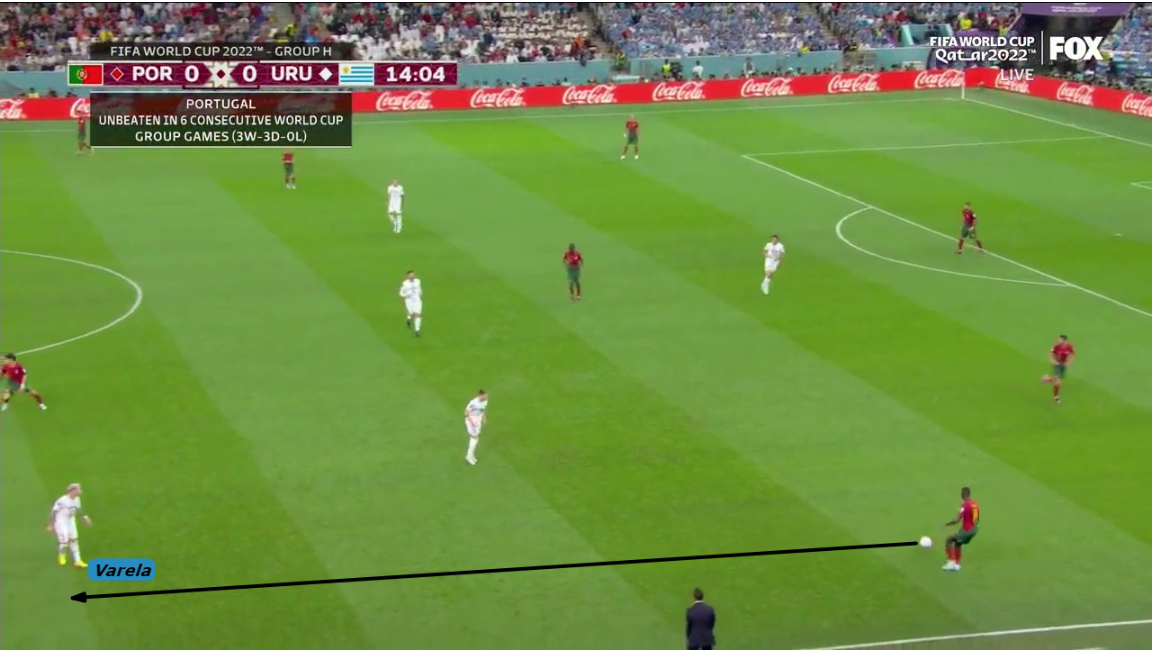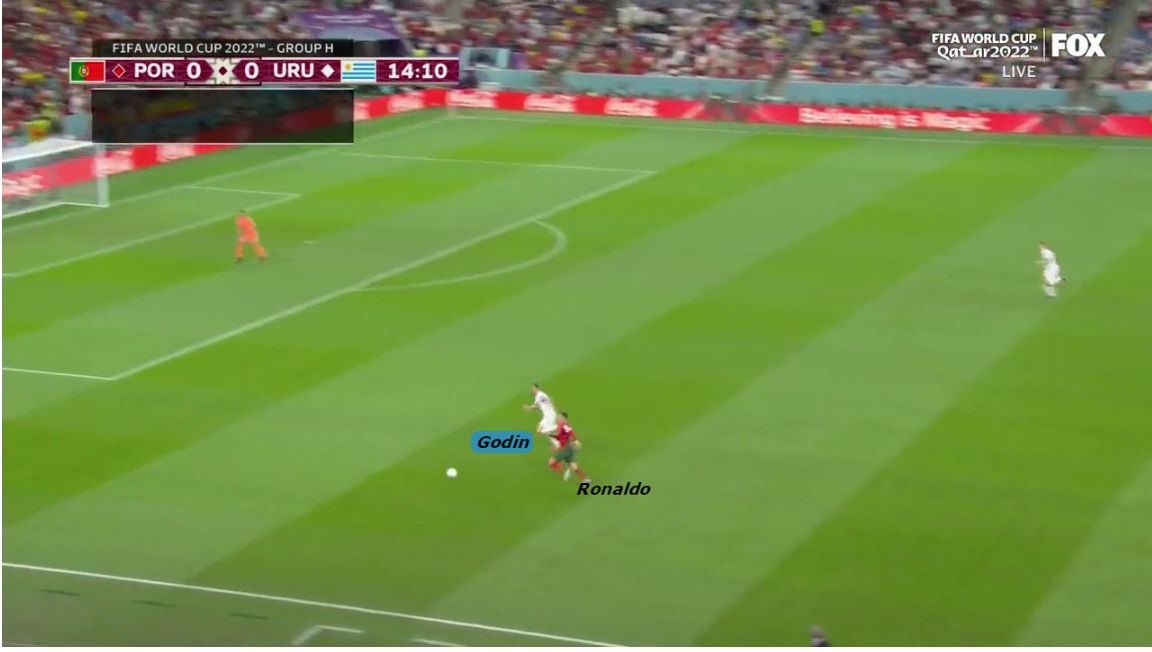 Portugal depended on long balls most of the time after that, failing to build up from the back due to the number of transitions that could have happened if they kept it this way. "We need to improve in our combinations and to prevent our opponents from attacking our area. There are things to improve, but we need to focus on positive aspects," said Fernando Santos, admitting that his team faced a problem creating good passing combinations which led to losing the ball in their own half many times.


Despite being so efficient in the high press, Uruguay's build-up was so poor as they were not ready to face a team who was going to press them high up, so they forced so many long balls and Portugal dominated the second balls.


Lay-off Passes and Bernardo Silva's Individual Display


In the first half, Uruguay showed really high intensity and aggression after losing the ball, as they prevented Portugal from creating so many potential transitions. But in the second half, especially in the last 20 minutes after the stamina rates dropped, we could see a pattern in Portugal's transitions which Uruguay couldn't stop. William Carvalho wins a second ball, Bernardo Silva is close to him so he decided to make a lay-off pass to him, then Silva does his magic.. he twists and turns with the opponent, then he sends a long pass but it found no one.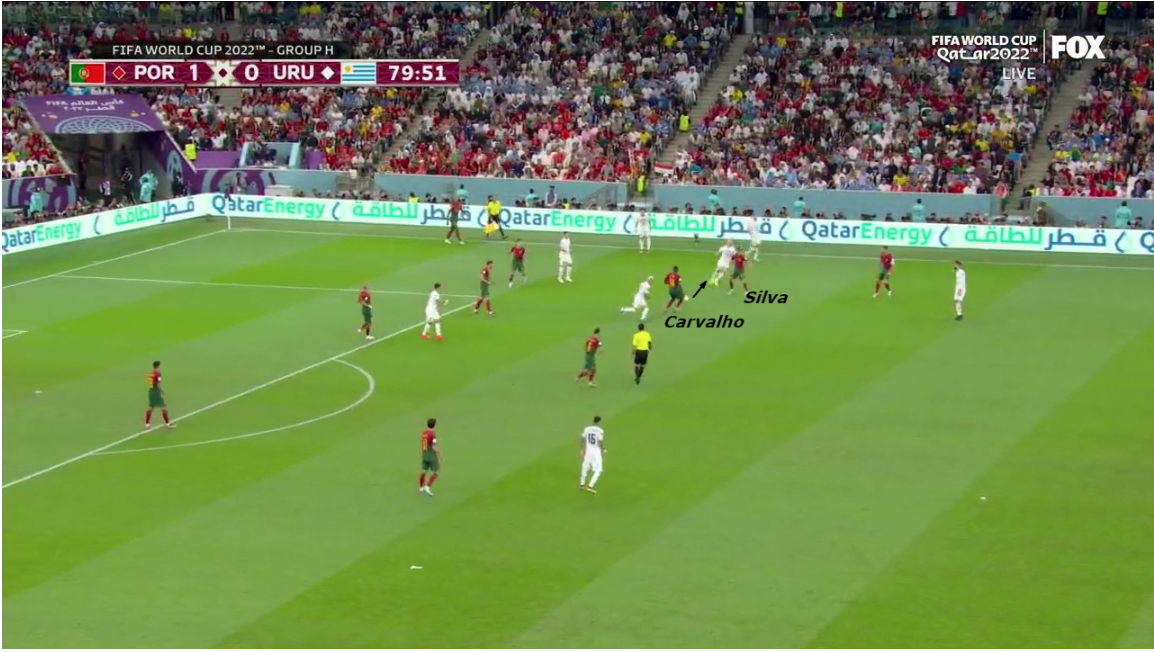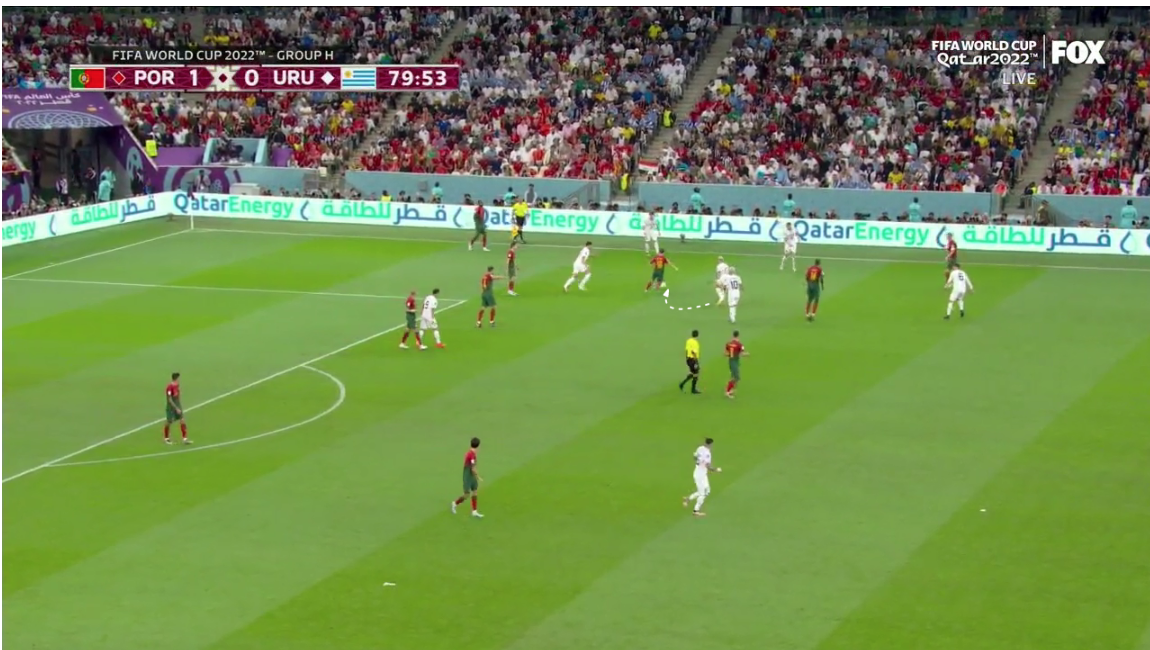 The second ball drops at Gonçalo Ramos, who plays a lay-off pass to Bernardo Silva, who makes a one-two with Bruno Fernandes who twists and turns past his opponent, eventually finding Rafael Leão who was unable to find a way past Sergio Rochet in goal.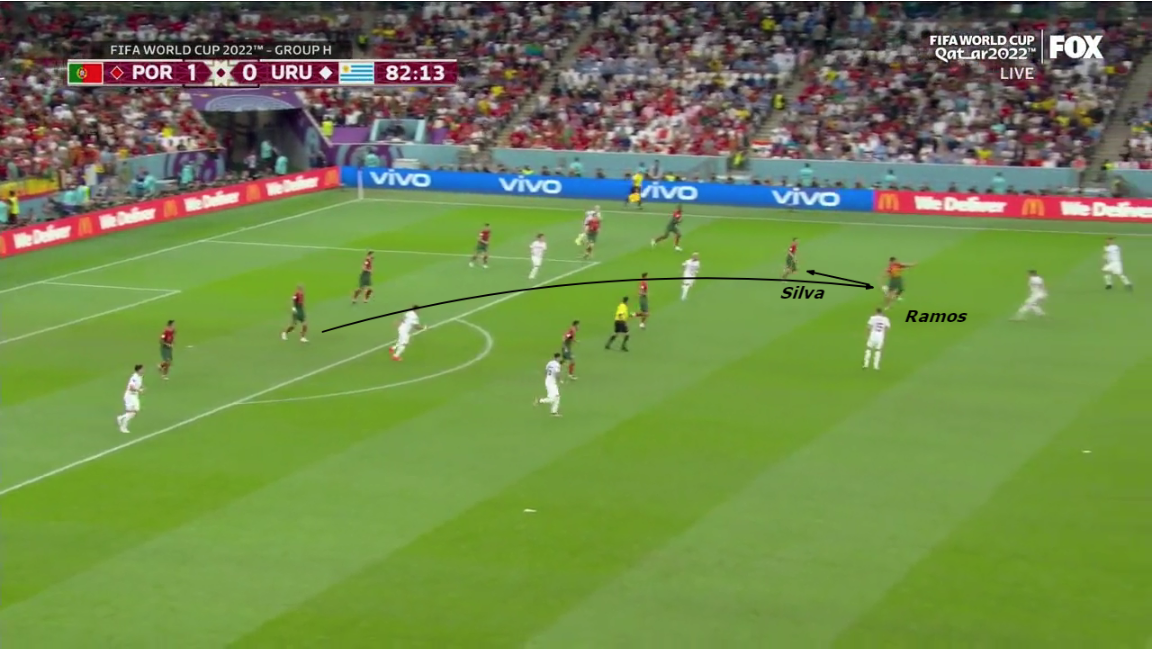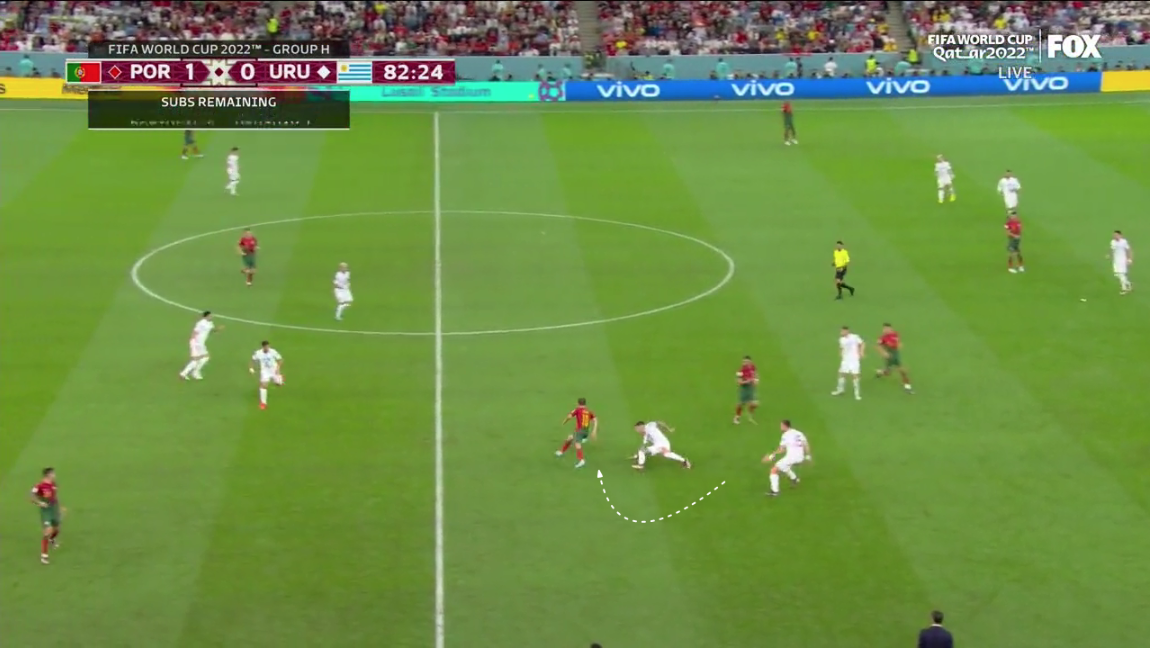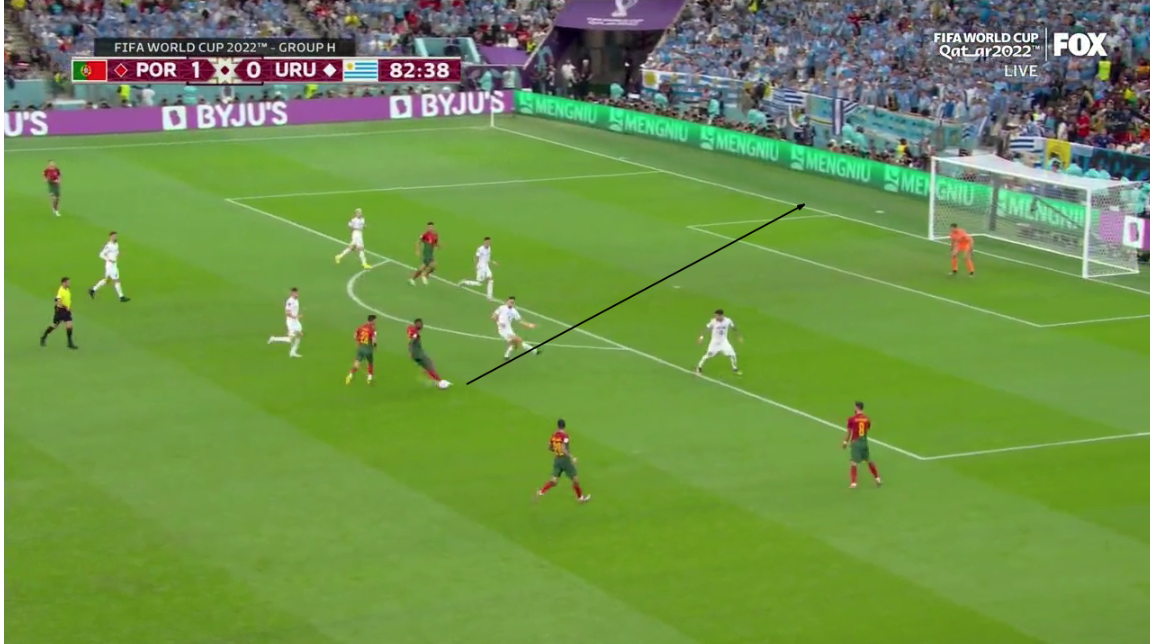 This time Bernardo is the one who makes the lay-off pass to Bruno Fernandes before making a forward run to receive. After receiving, he makes a passing combination in midfield, then makes a run and looks to play the final ball, with José María Giménéz handling the ball and conceding a penalty that would see Bruno double the lead and secure a 2-0 win.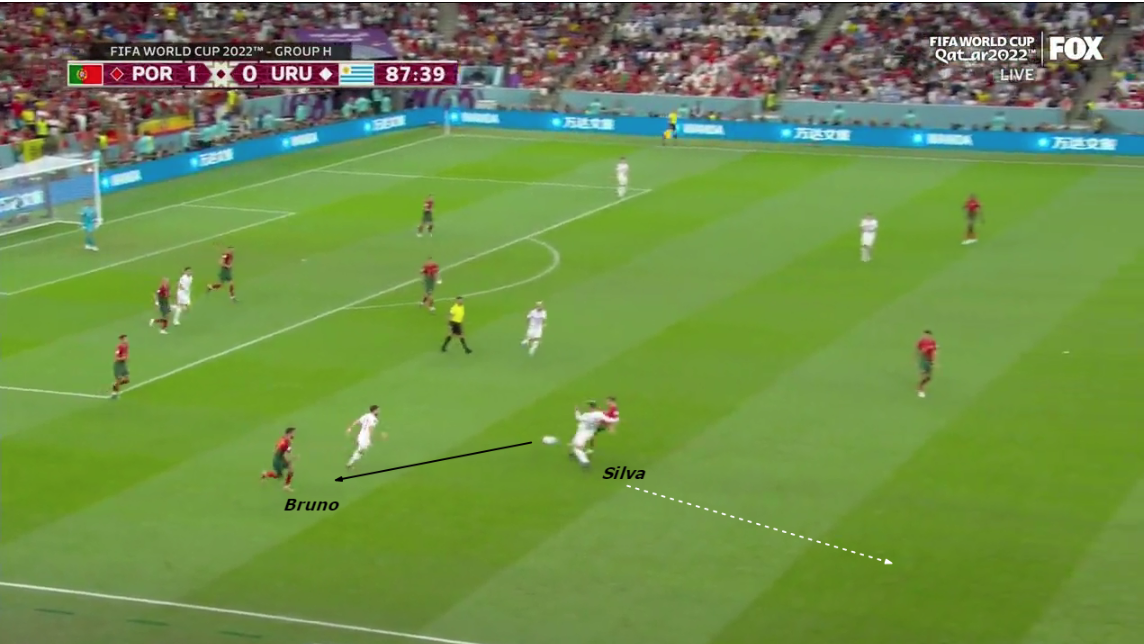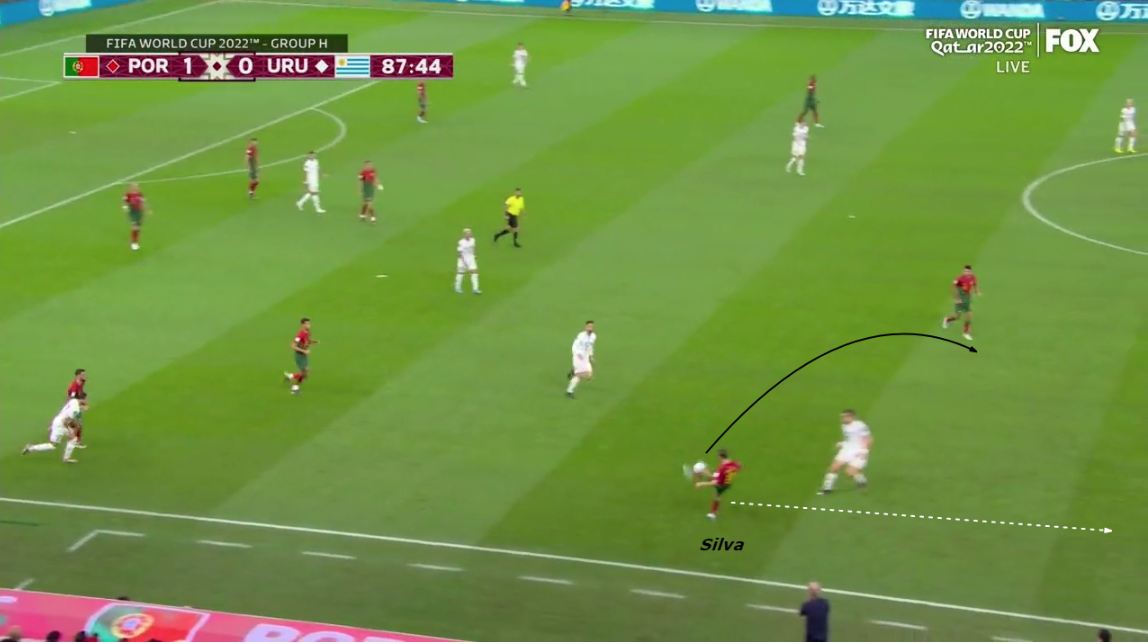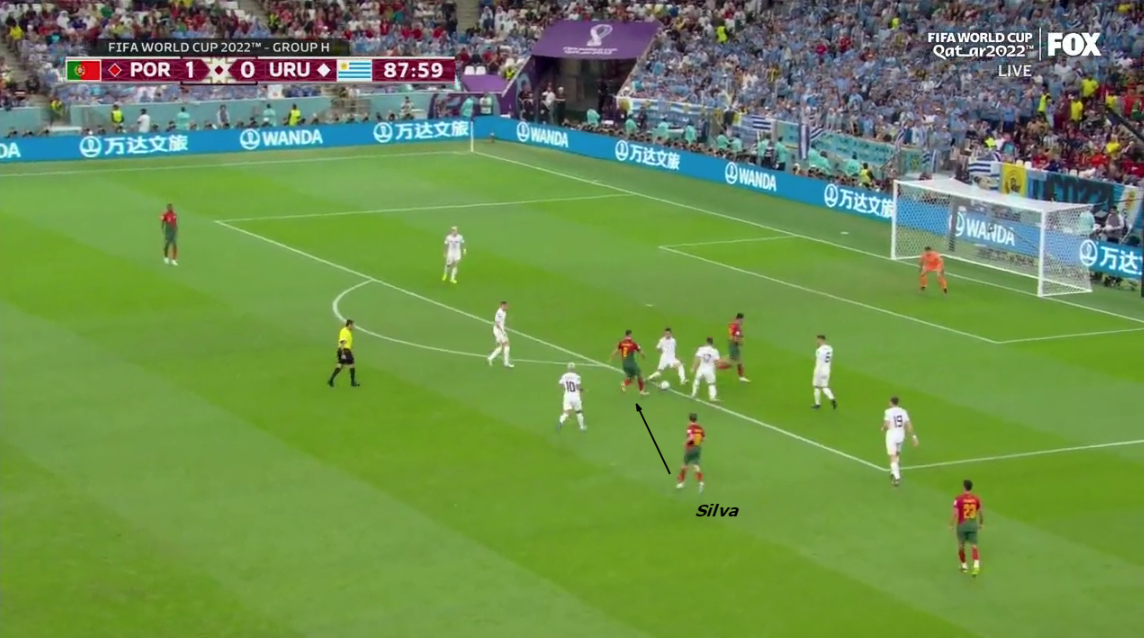 Portugal had only three shots on target during the whole 90 minutes, but they nevertheless converted their opportunities well. They took the lead in the 54th minute via Bruno — Uruguay had an 8v4 situation thanks to their dropping lines, as Bruno positions himself between the lines and Guerreiro carries the ball forward.
Diego Godín notices the potential danger of Bruno receiving and attempts to defend him on the front foot but he fails to deal with the threat. Whilst Guerreiro makes a forward underlapping run after passing the ball, forcing Varela to follow him deep, Coates looks to fill in the space left by Godín's step and occupies the position whilst Giménéz looks set to close down the defensive line.
This leaves Ronaldo closely marked by Olivera, and Godín looks to close down Bruno and capitalize on his heavy first touch whilst Guerreiro is pulling Varela away, this gives Bruno ample time and space to send in a cross, and with Guerreiro's underlapping run pulling Varela out of position and ruining Uruguay's offsides trap, Bruno can open the scoring from long range.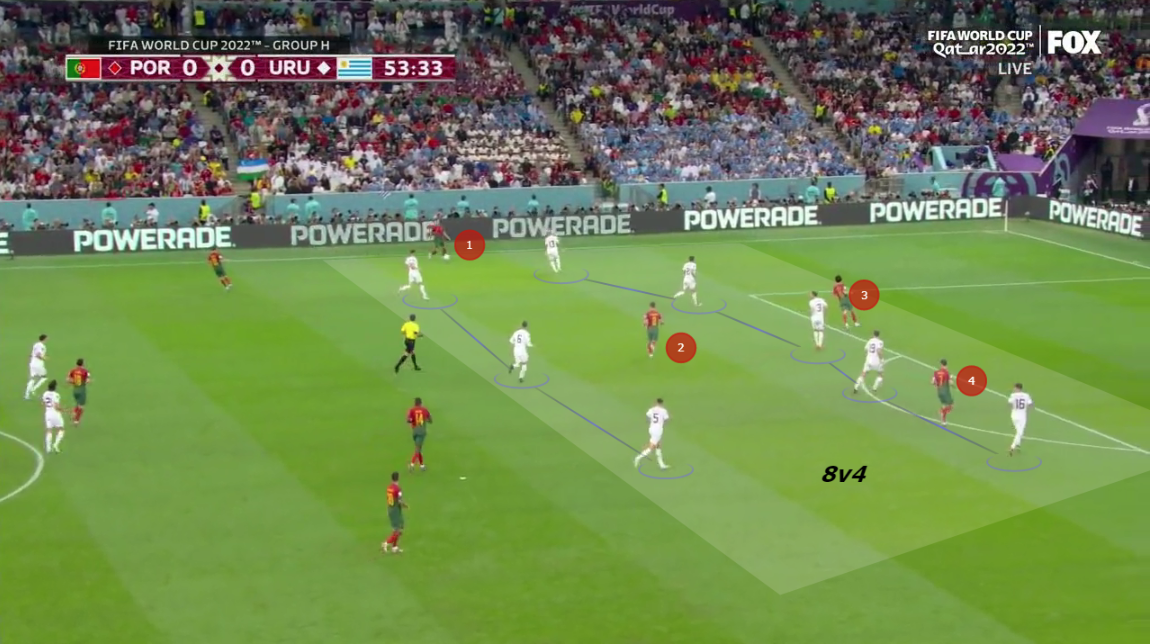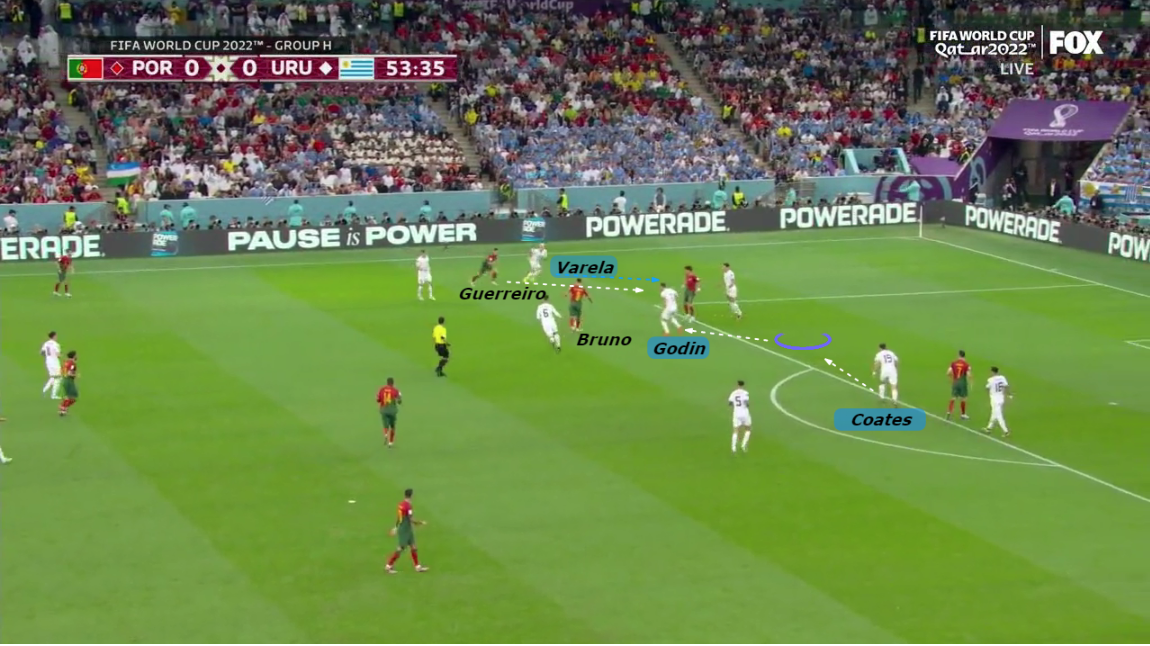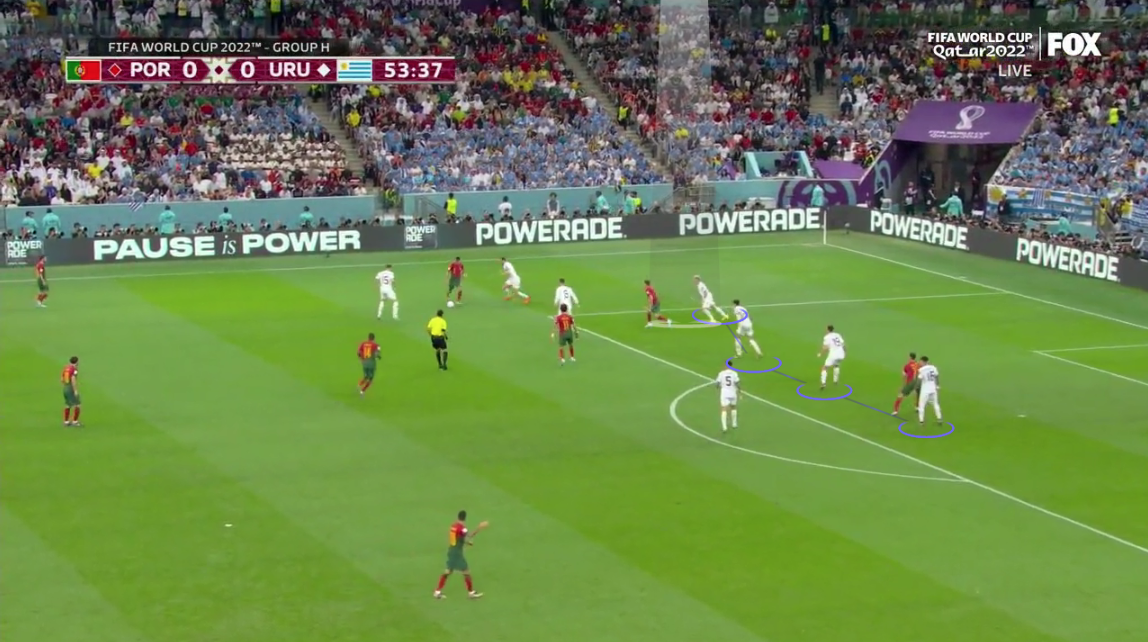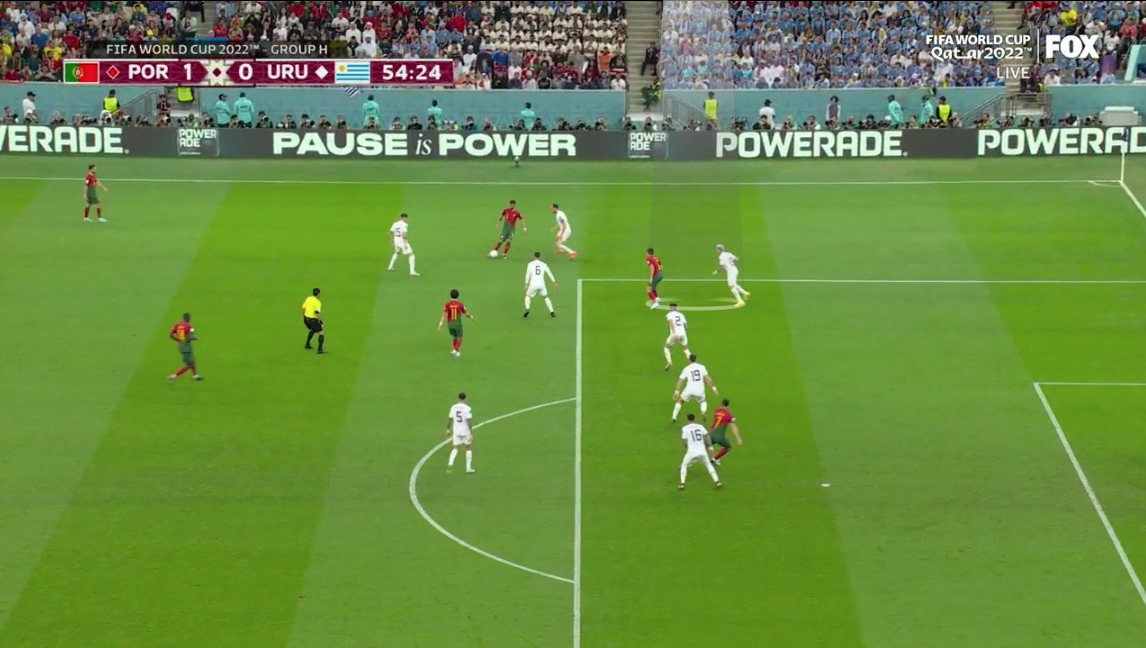 After Portugal is awarded a penalty in extra time, Bruno takes the ball away and Ramos and Silva stand on the penalty spot and prevent Coates from trying to ruin the grass. Leão and Cancelo join them in creating a circle around the spot, making sure the grass is flat, and isolating Bruno away from any distraction or mind games that the Uruguay players could do. Bruno would complete his brace to secure a 2-0 win and book Portugal's ticket to the knockout round.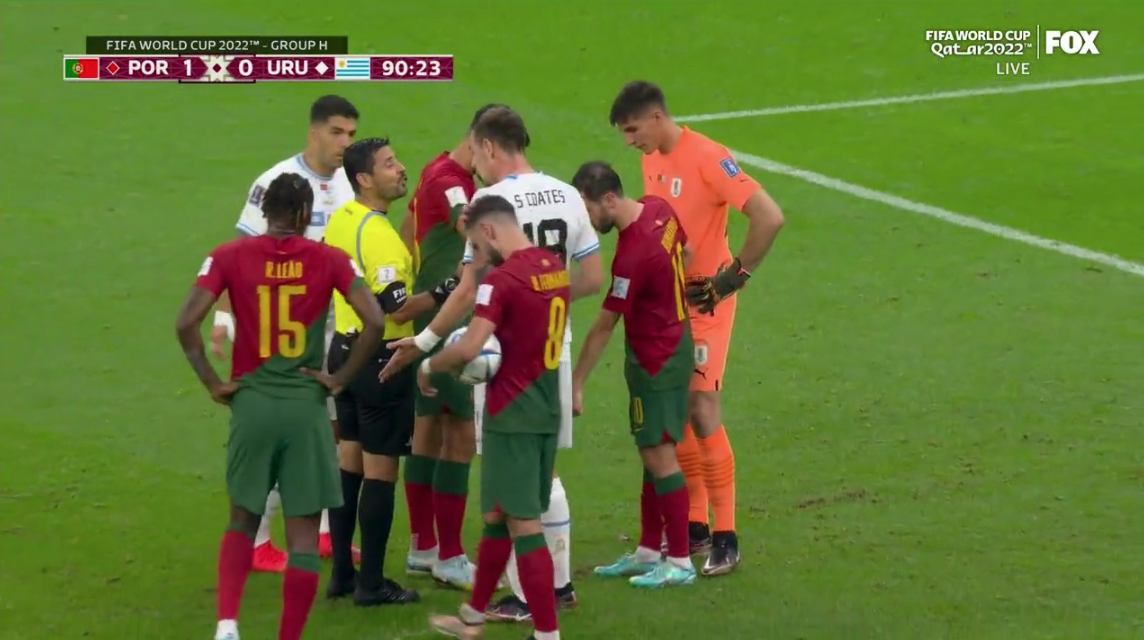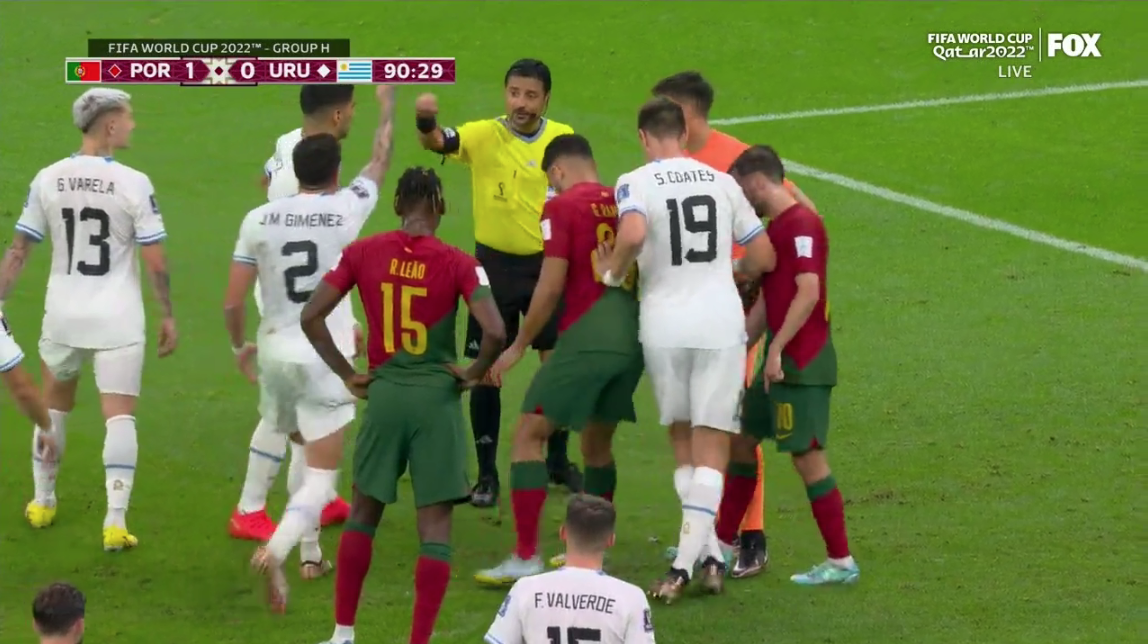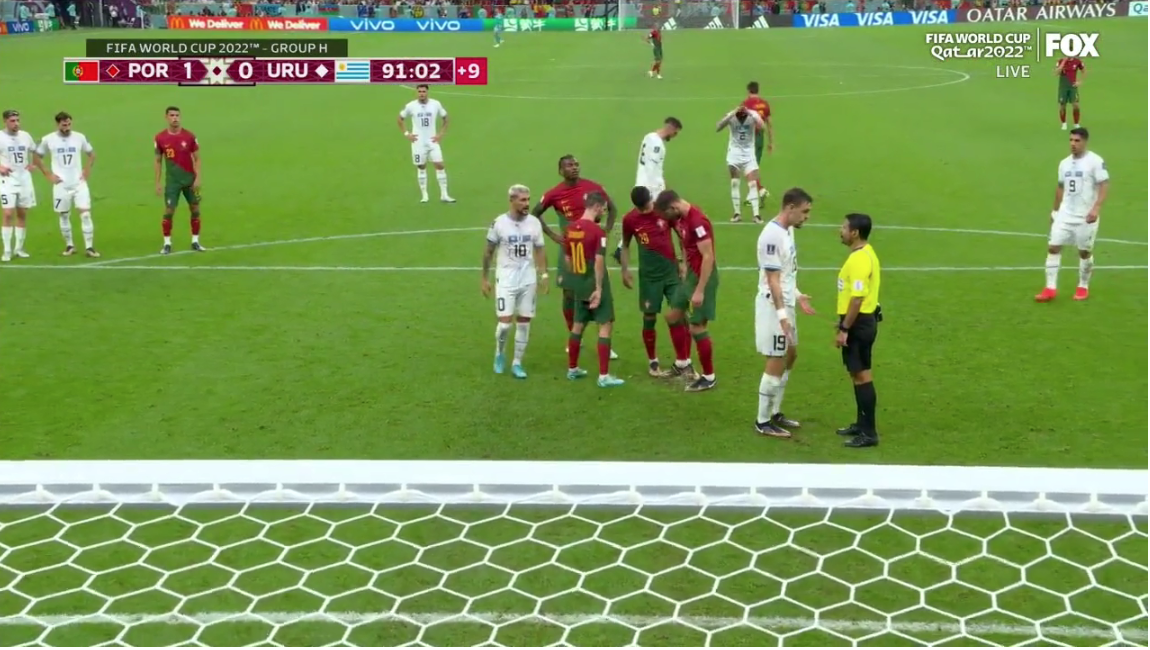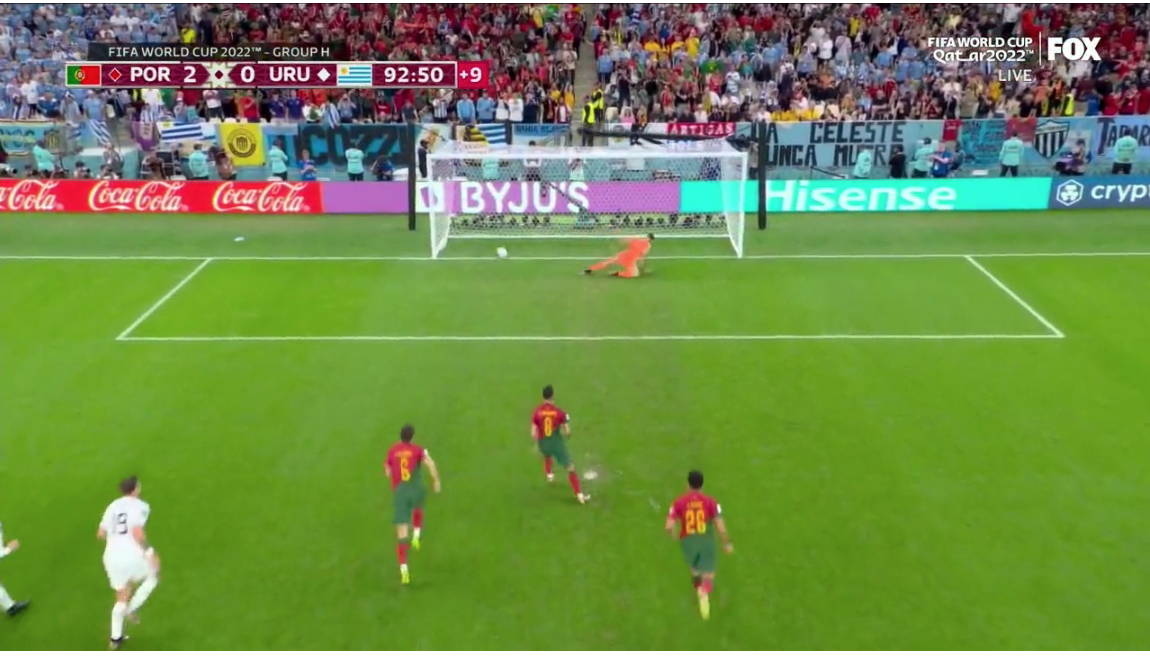 By: Mina Edwar / @Mina_Edwar
Featured Image: @GabFoligno / Quality Sport Images / Getty Images