Tactical Analysis: South Korea 0-0 Uruguay
Whilst Portugal began their World Cup campaign with a 3-2 win against Ghana, their Group H rivals Uruguay were held to a 0-0 draw against South Korea. Despite having 57% possession and 10 shots to South Korea's 7, only one shot on target was produced with La Celeste testing Kim Seung-gyu on one occasion. Diego Alonso's Uruguay started with 4-3-3 whilst Paulo Bento's South Korea went with a 4-2-3-1 that would turn into a flat 4-4-2 formation off the ball.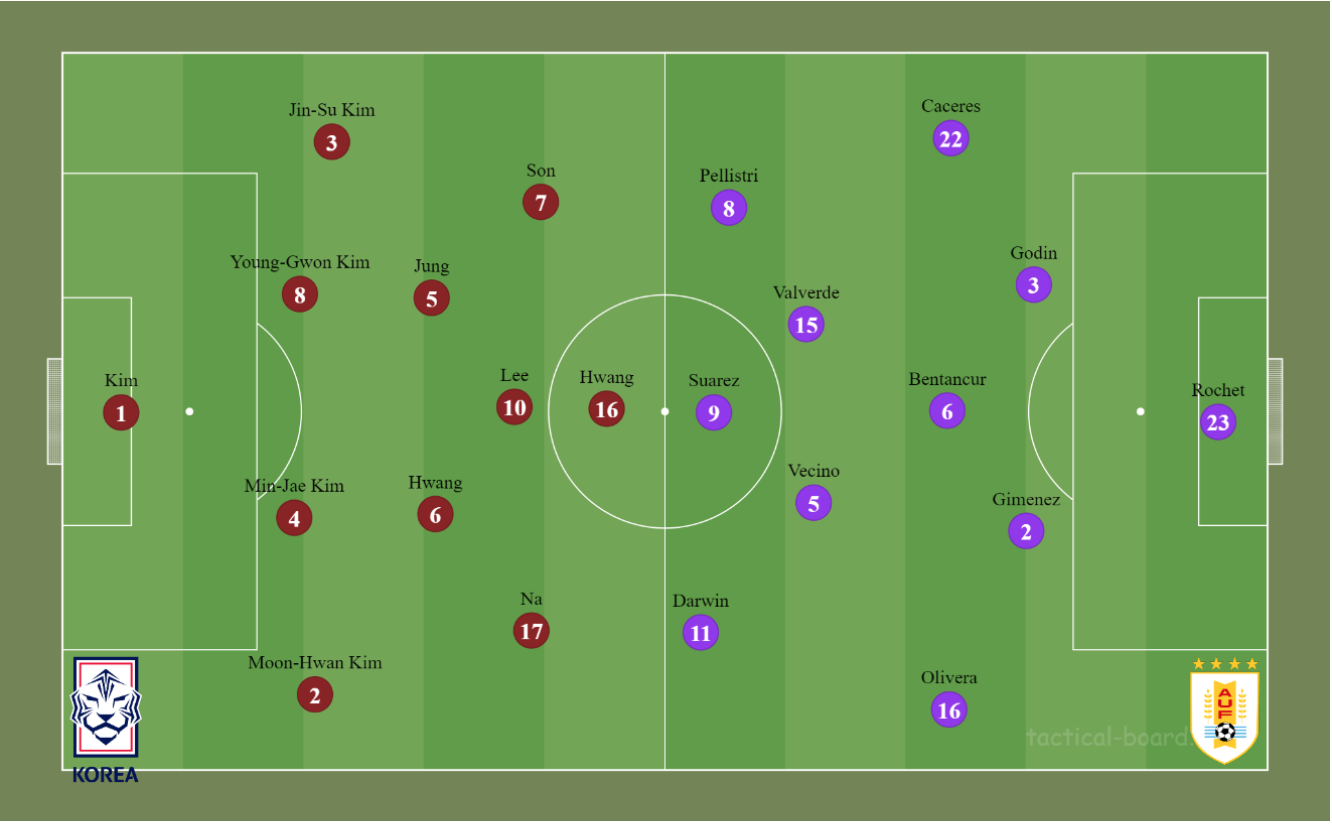 South Korea decided not to press high up the pitch from the beginning and instead varied between a mid and low block whilst out of possession, and Uruguay was forced to pass it wide to the flanks because of the compactness of South Korea and the pressing technic they adapted. At first, La Celeste tried to progress their attack through the two CBs of José María Giménez and Diego Godín with long balls into the front.
Whilst South Korea defended in a compact 4-4-2 mid/low block, their center forward Hwang Ui-jo would mark Rodrigo Bentancur. South Korea's pressing trigger kicked in when the ball reached Giménez, with Hwang making a curved run to press him, forcing the left-sided center back to pass it wide. It is then where the Korean pressing trap starts.
With South Korea's right back Kim Moon-hwan marking Darwin Núñez, Hwang In-beom took care of Matías Vecino in midfield, whilst Korean winger Na Sang-ho would aggressively press the left back Mathías Olivera. It would become only a matter of time before Uruguay lost possession.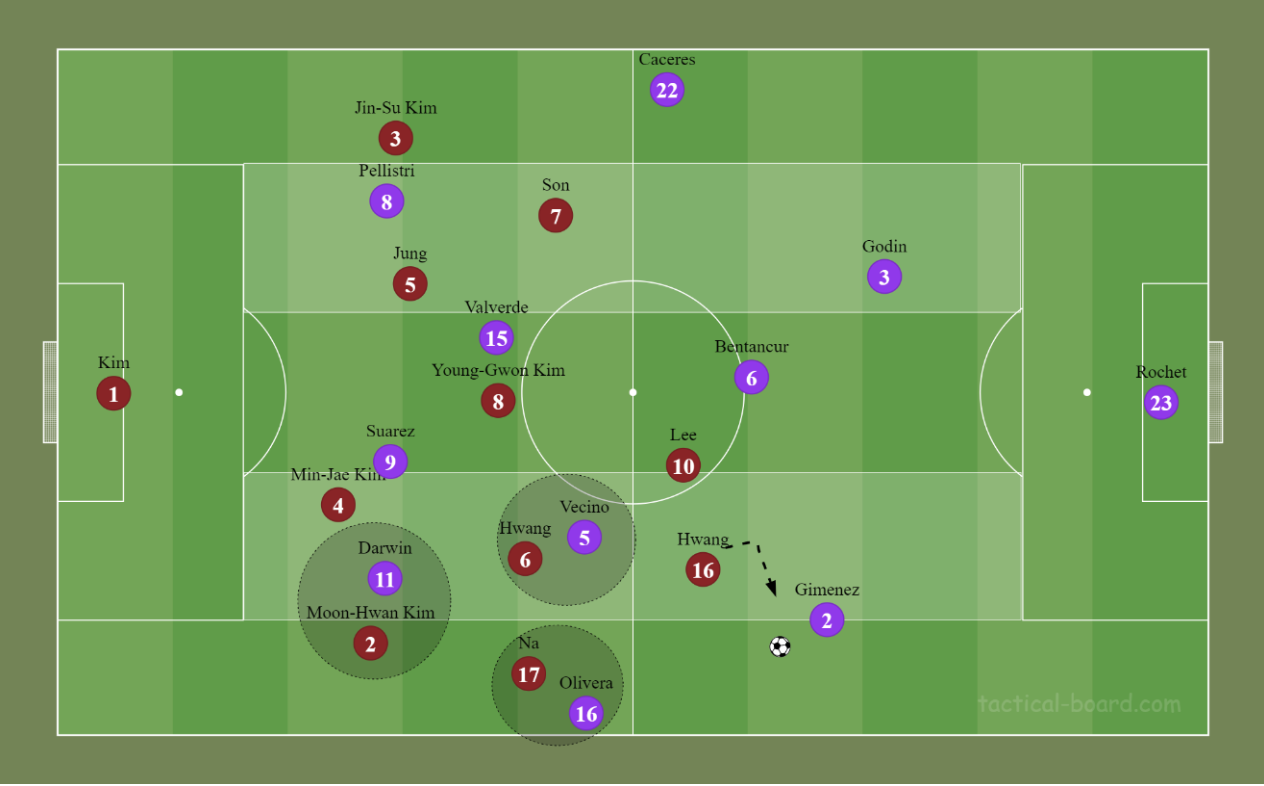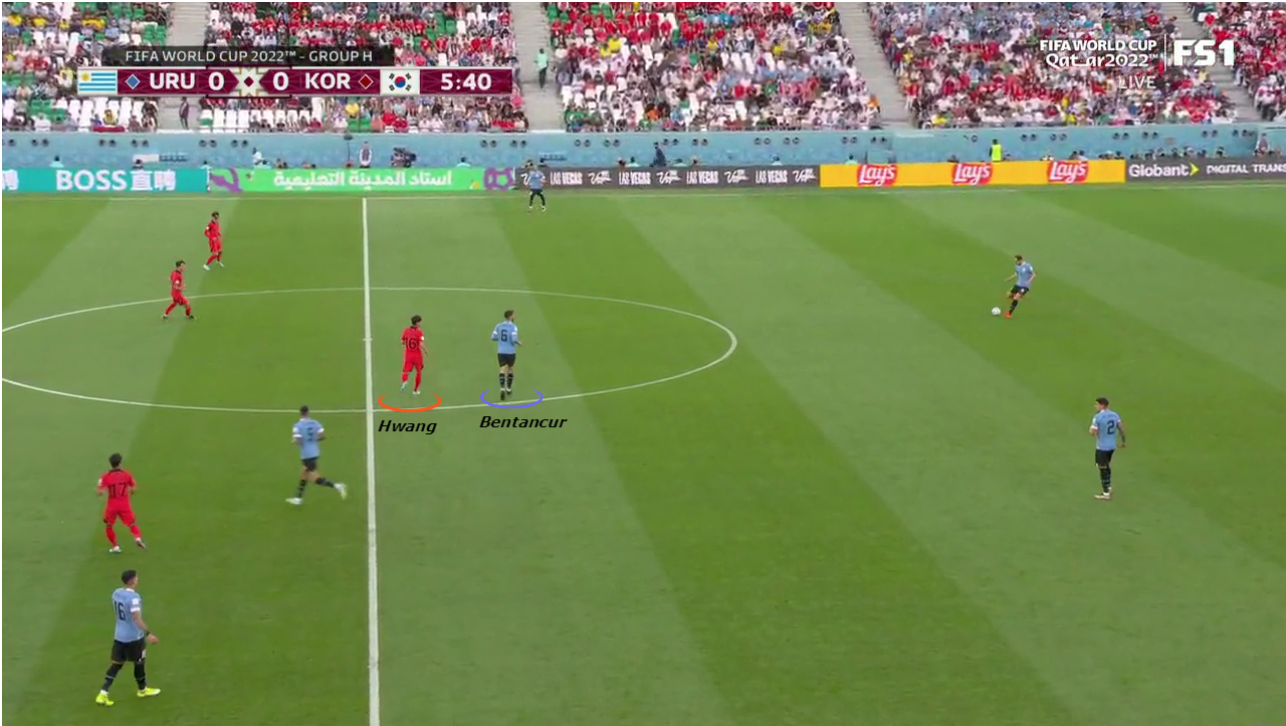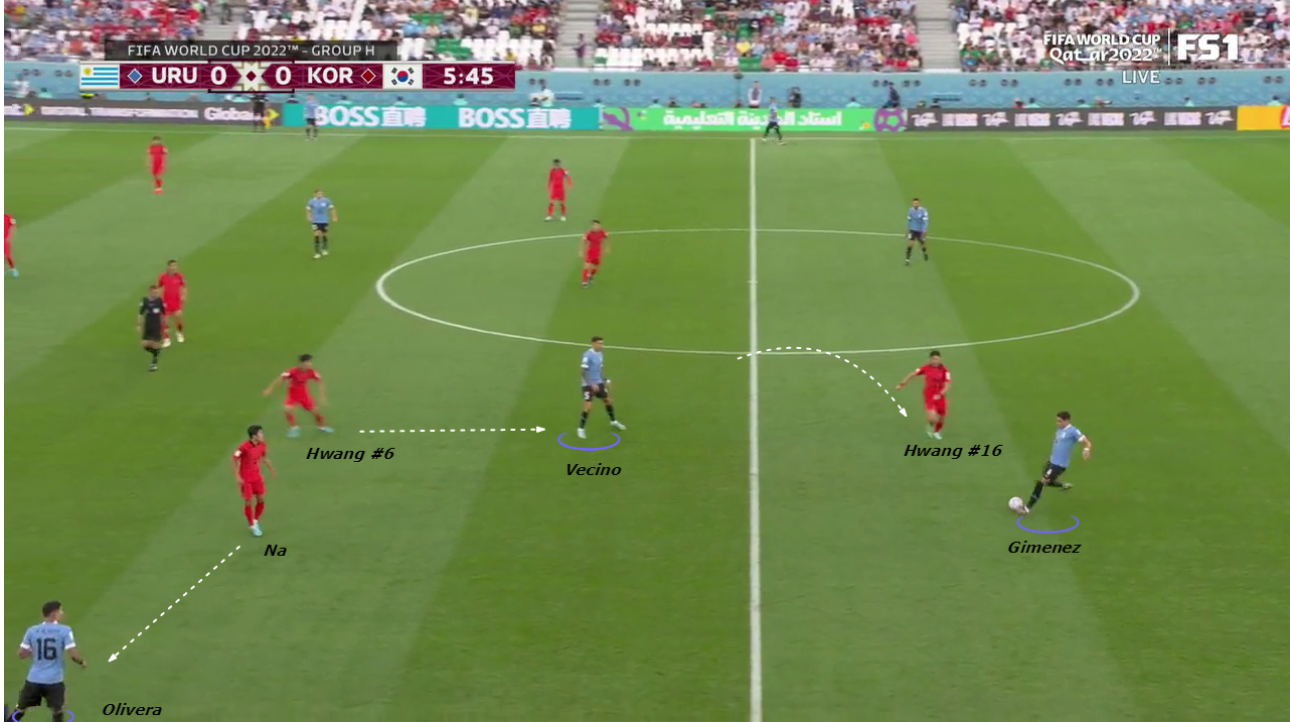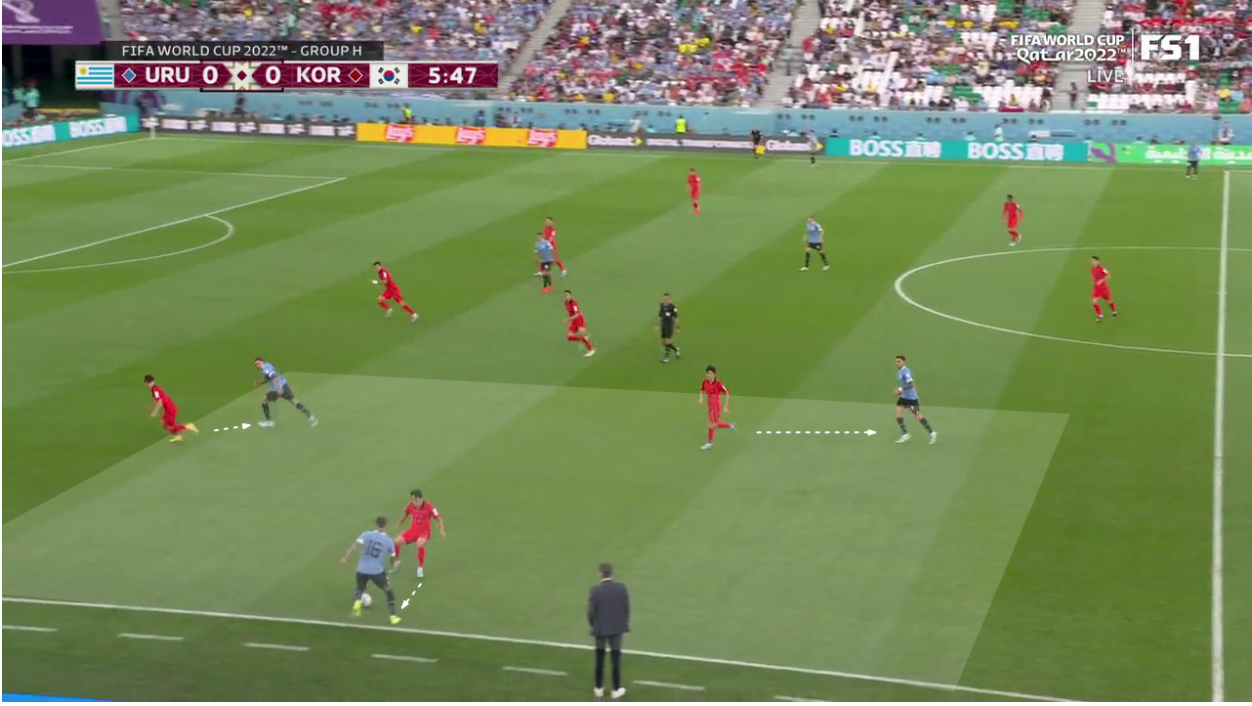 Uruguay would react to this situation by trying to stretch the field with Facundo Pellistri on the right flank and Olivera pushing forward from the left back position, with Martín Cáceres, Godín and Giménez forming a makeshift back three. But with Bentancur still being closely marked, Vecino would drop deep to receive due to Korea's compact lines, whilst Federico Valverde would position himself in the right half-space.
Before the press was triggered upon Giménez's reception, Hwang would scan the area on the right Korean side to ensure that the trap is ready before making the same curved run, whilst Bentancur tried to move behind Hwang to receive in space, but Uruguay were trapped once again as Na and Lee Jae-sung both pressed him.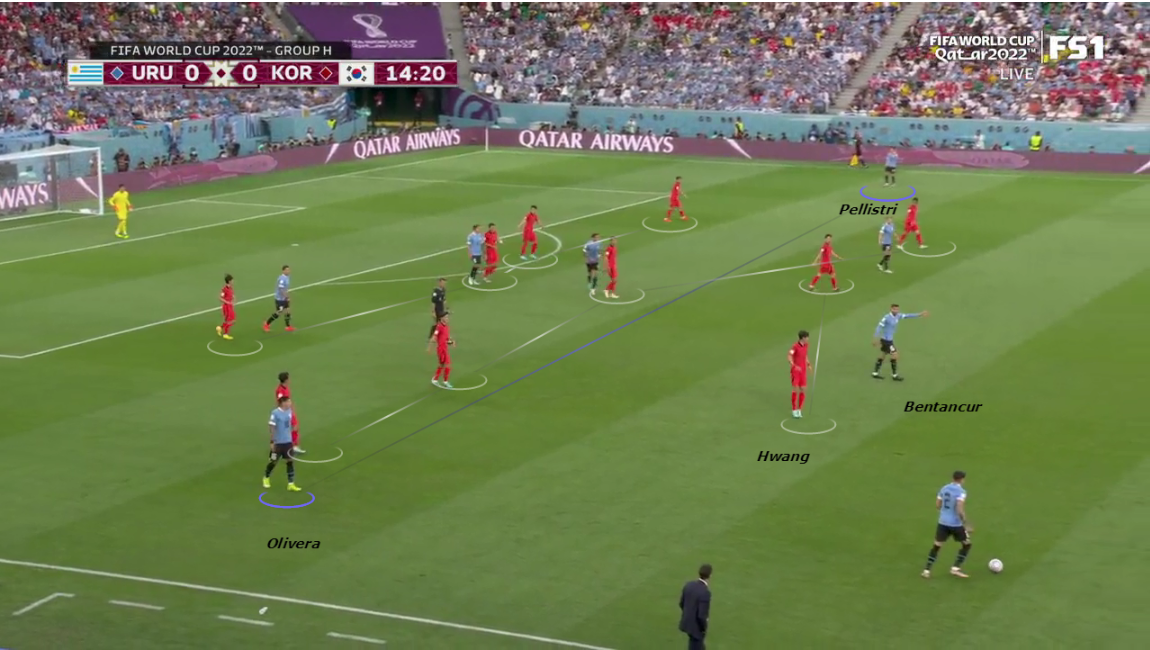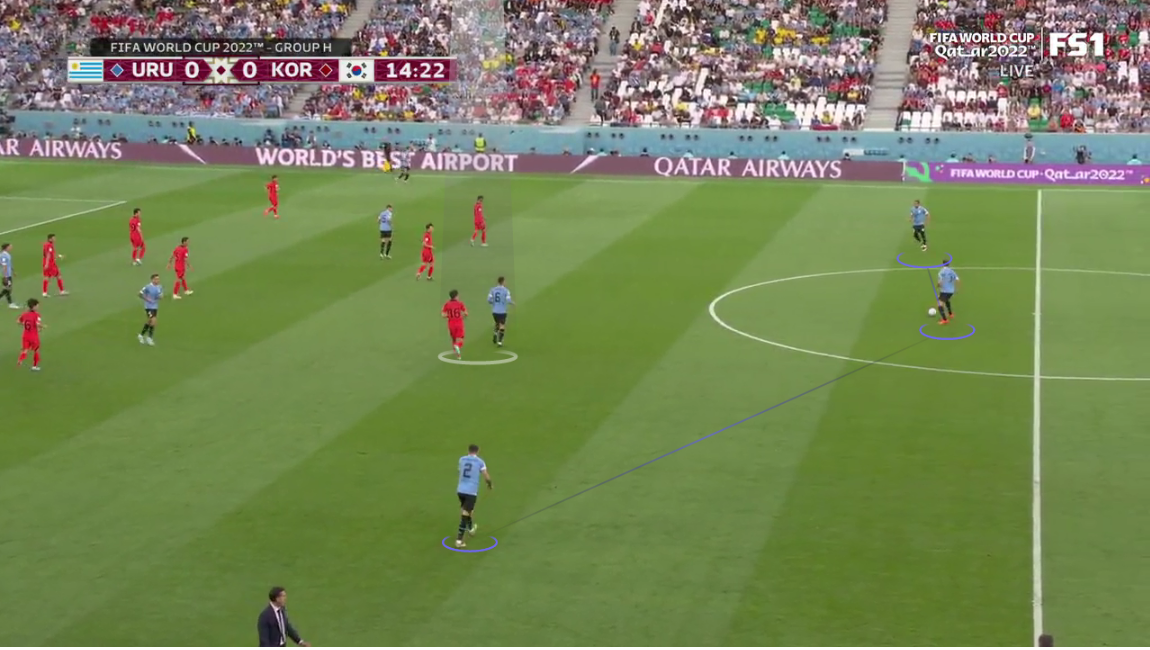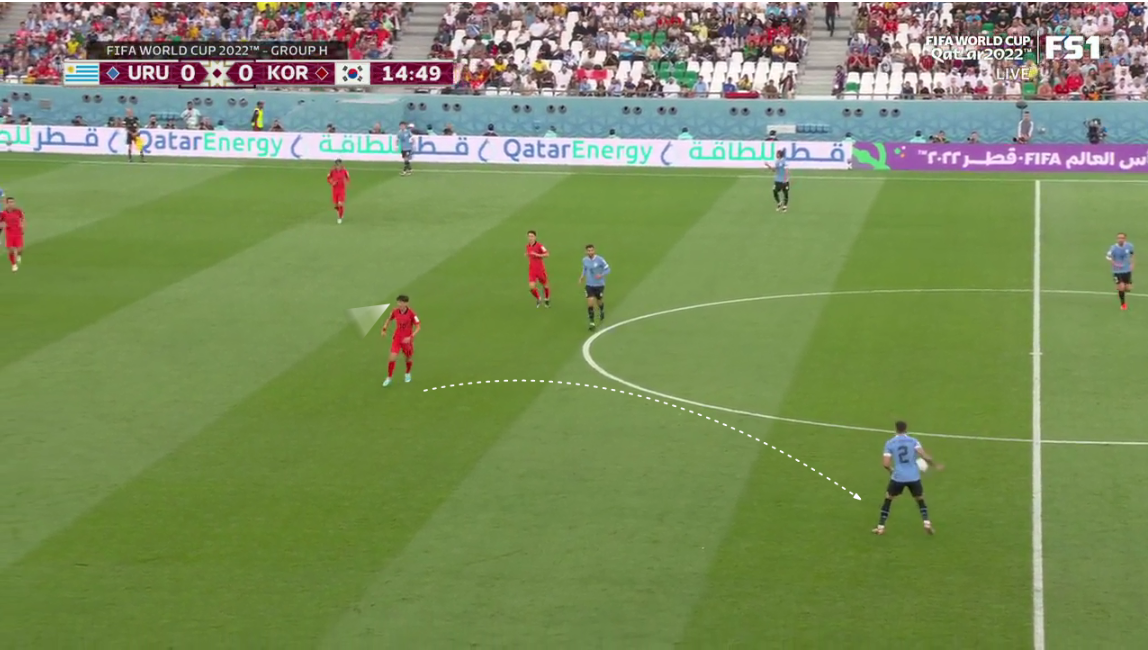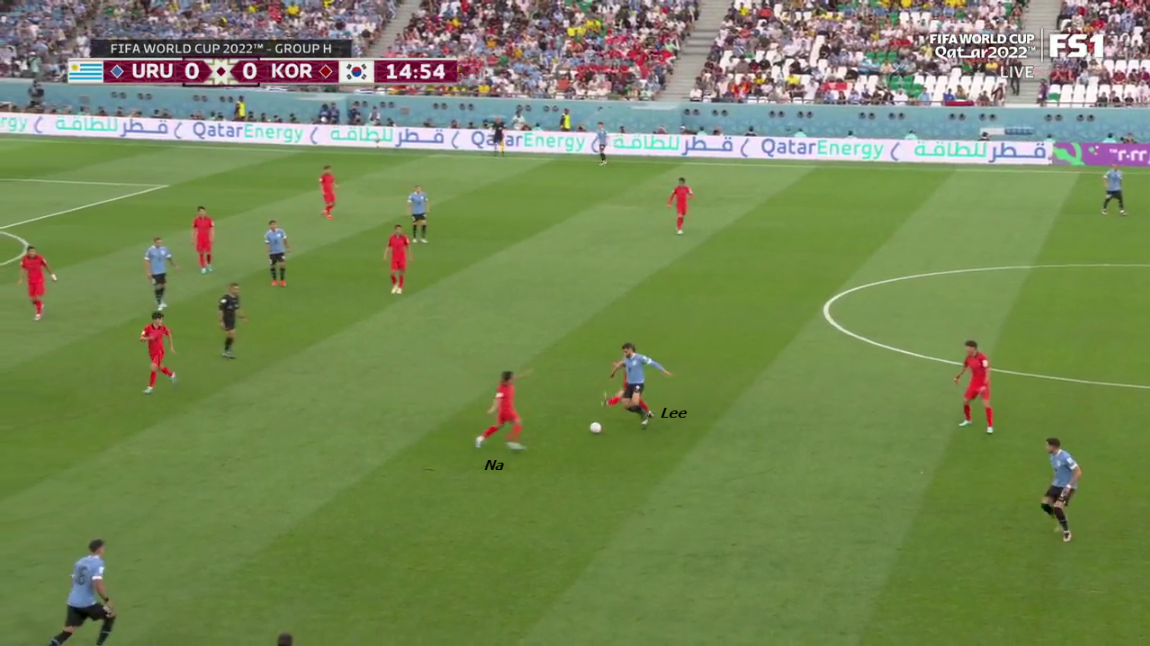 According to the possession lost map, Uruguay lost the ball more often on the left side, either down or up the pitch (mostly on their own half ) due to the Korean pressing scheme.


After 18 minutes, Diego Alonso had found a proper solution to this dilemma with Bentancur dropping between the center backs and Valverde positioning himself in the half-spaces. The ball rotation between the three center backs vs. the two Korean strikers and Vecino's positioning between the two center forwards would give Giménez time and space to execute a long pass, thereby exploiting South Korea's high defensive line. Moreover, both Pellistri and Valverde would make forward runs behind the defensive line from the right flank and right half-space respectively, but Valverde's shot failed to find the back of the net.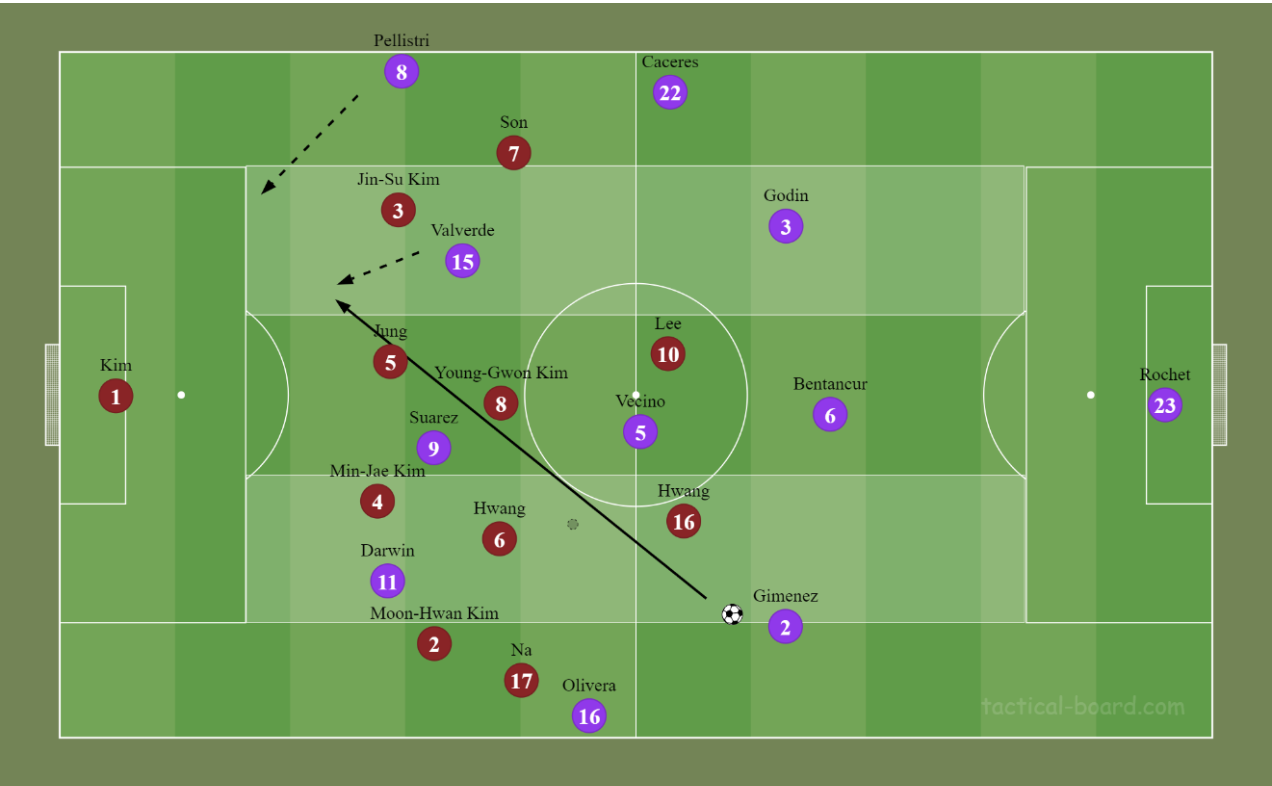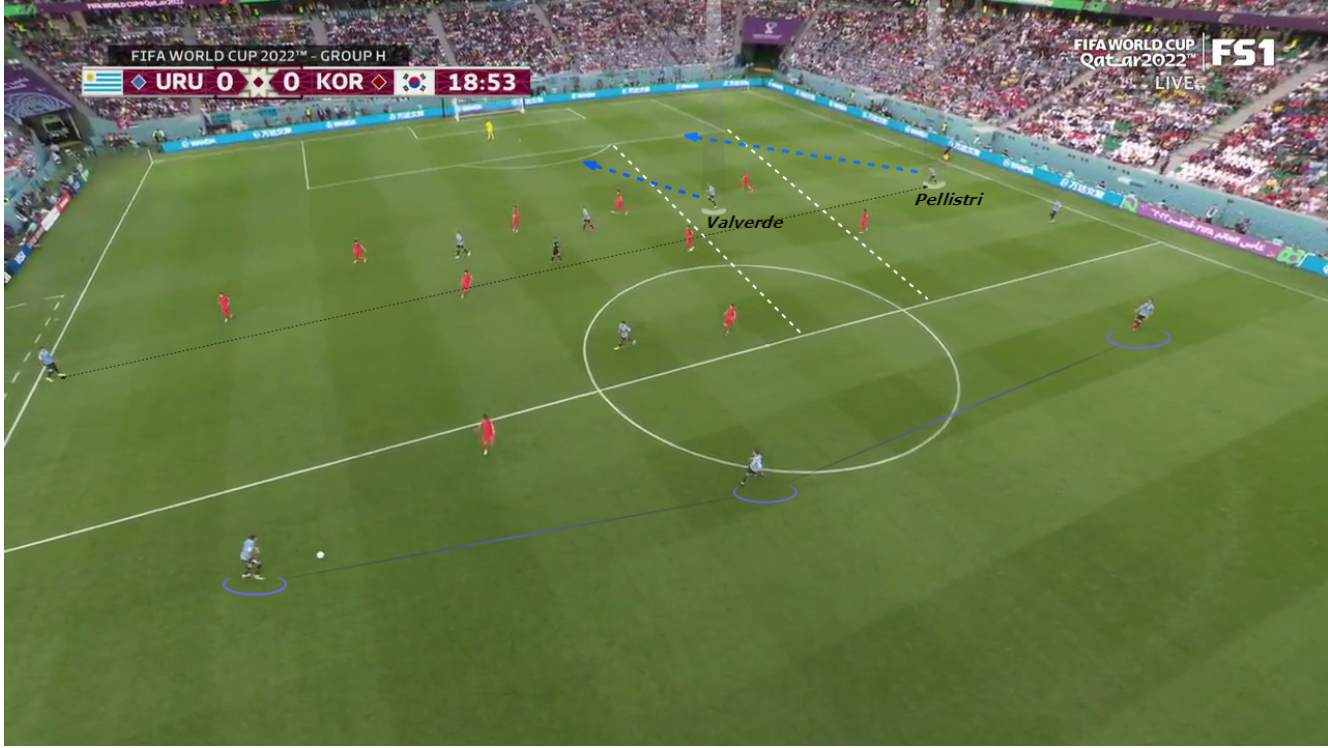 After this missed opportunity, Uruguay considered stretching the field by making a long pass towards a forward runner in behind the defense, with Pellistri making the run in behind Korea's defense and heading it towards Darwin. This would produce Uruguay's best chance of the entire first half.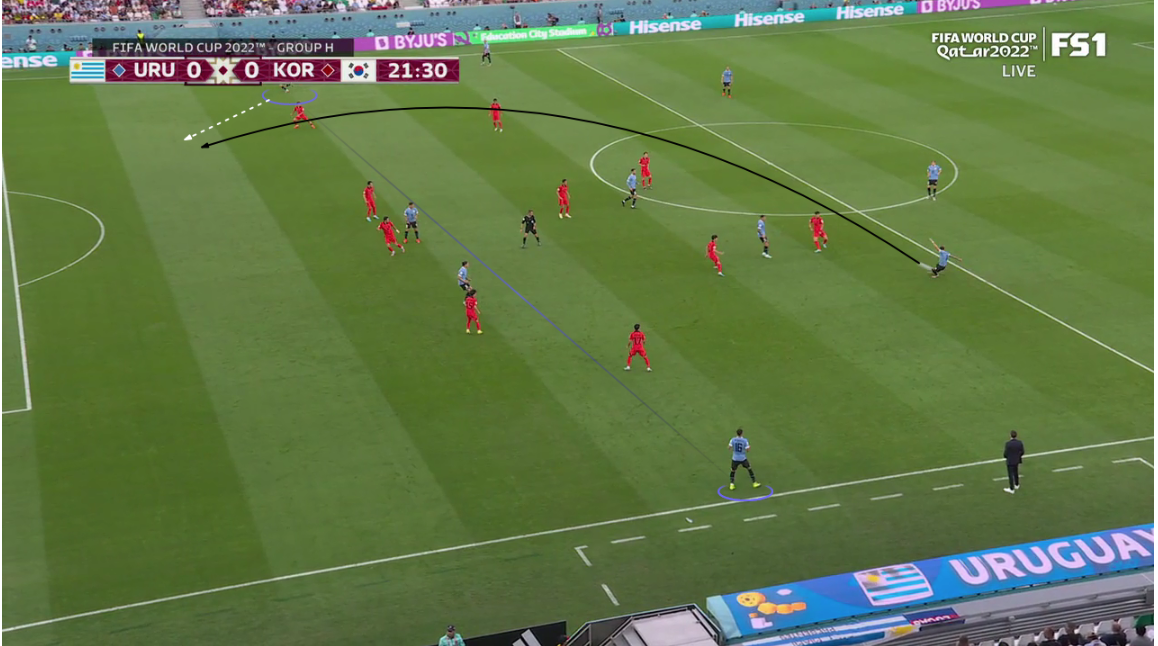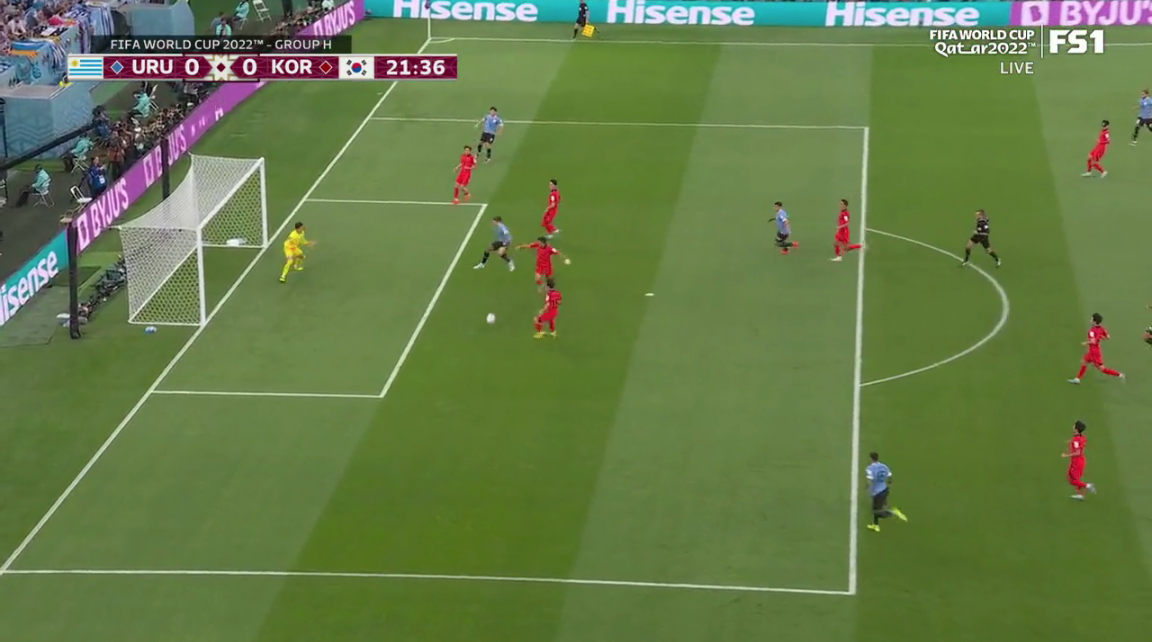 Giménez's passing map shows that all of his 9 progressive passes (Sky Blue) would be diagonal passes sent towards the right, although he failed some (Red) but nevertheless allowed his team a method to break Korea's lines. He made so many passes to the left side (Grey) but most of them were forced as he had no other option but to pass it to the side where Korea's pressing trap would begin.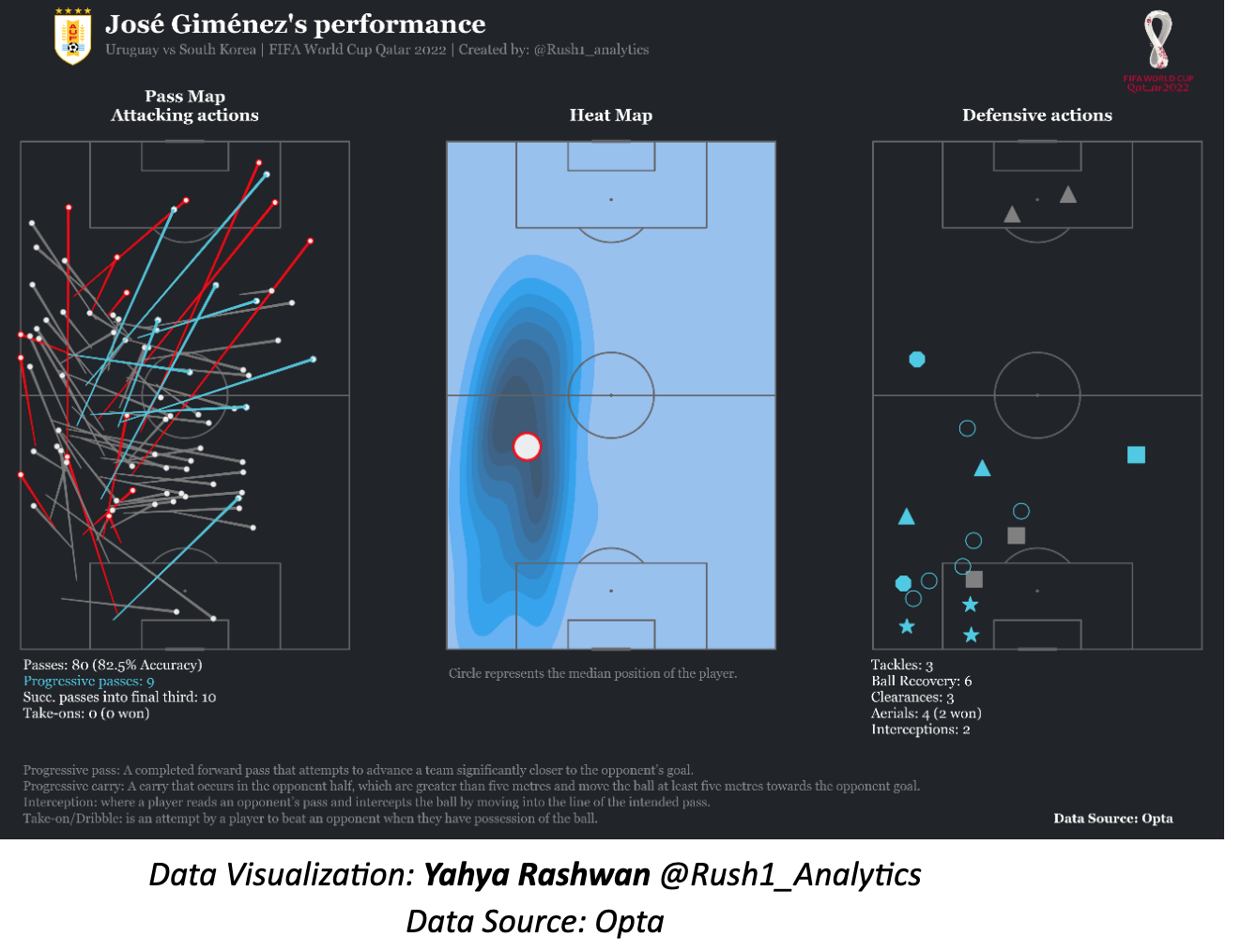 Another solution to this issue would see Bentancur drop deep into the left flank to give a passing option to Giménez, whilst Olivera would also drop deep in order to create a numerical advantage on the left flank to either switch it to the right or a send a through ball towards Darwin. However, Paulo Bento would quickly but an end to this with a quick shift to South Korea's tactical approach.
Na would press Bentancur on the flank, Lee would press Valverde, Hwang would press Olivera who was positioning himself inside in order to give Bentancur a passing lane, whilst Korean midfielder Jung Woo-young would stay close to Vecino and cover Hwang's back — however, a poor execution from Bentancur would ruin this scheme.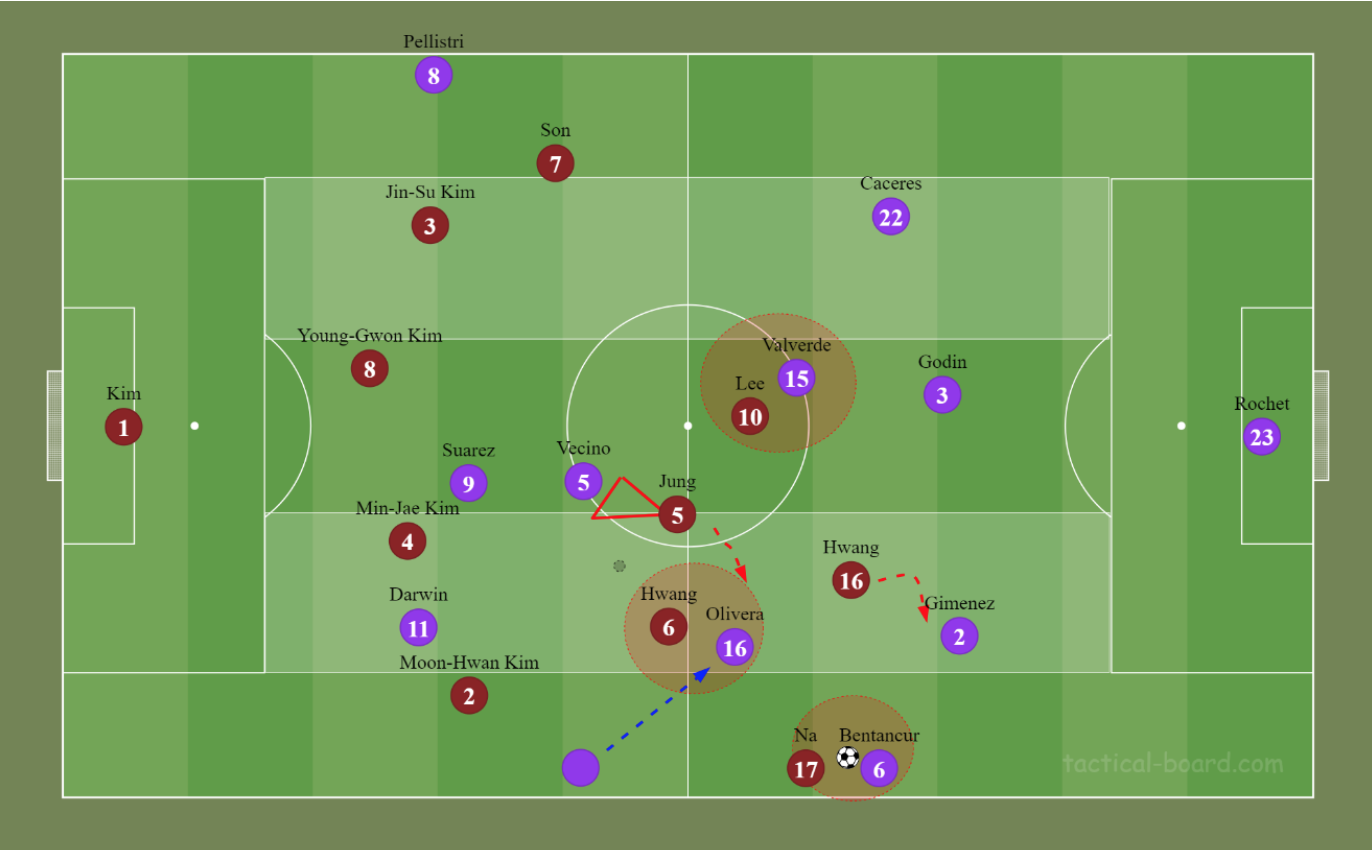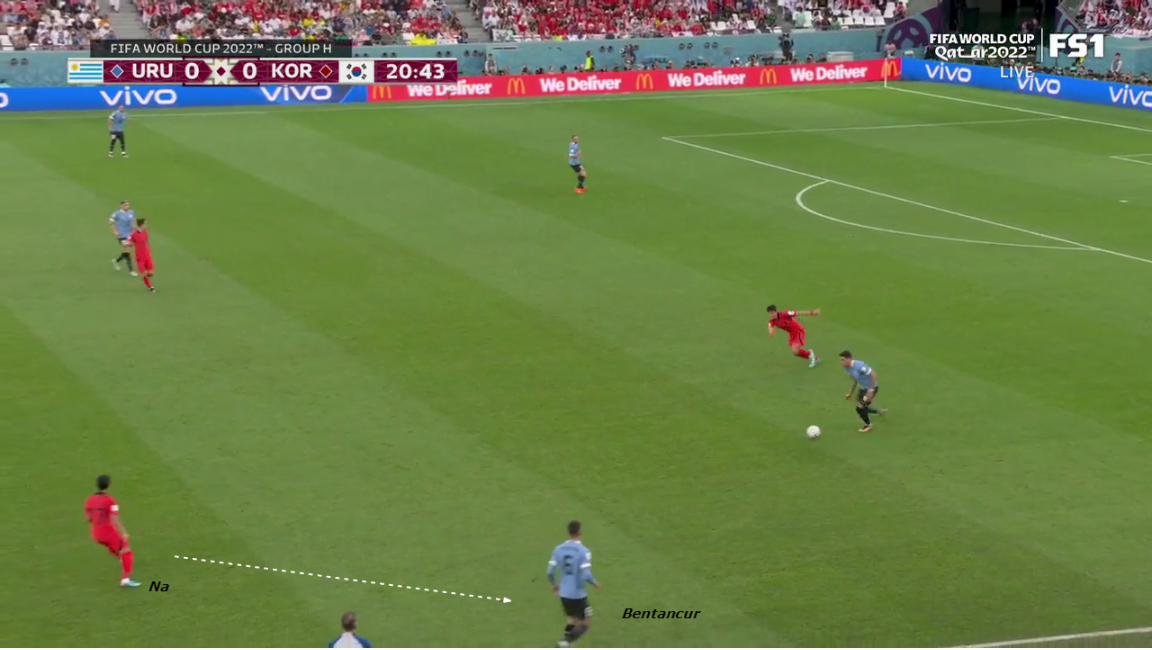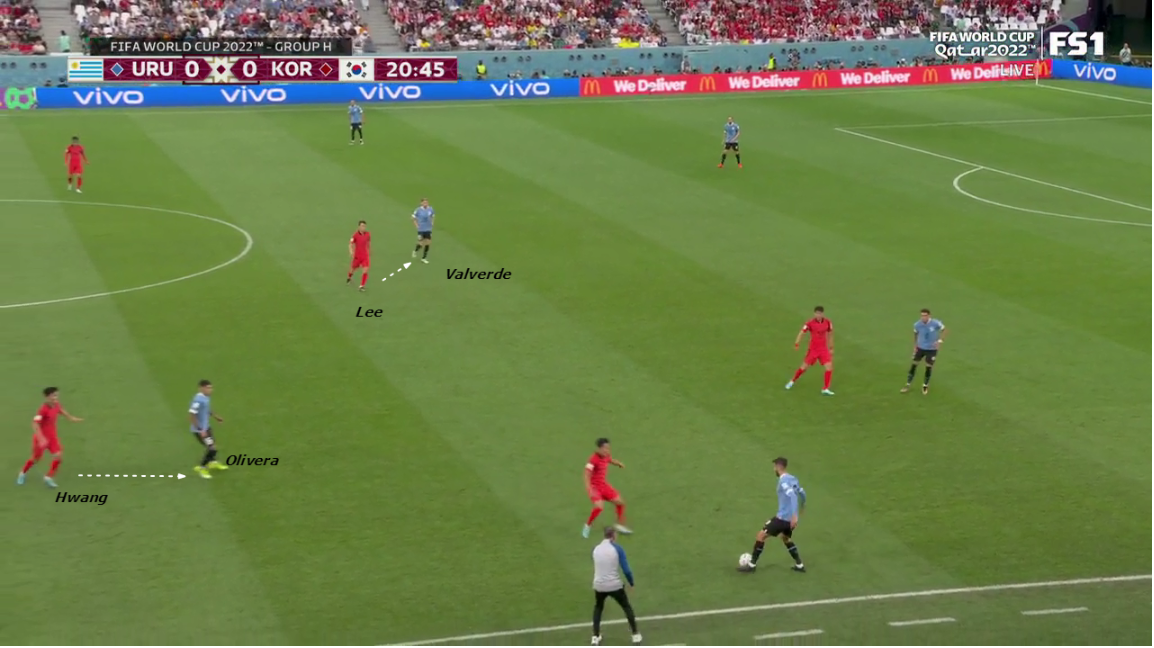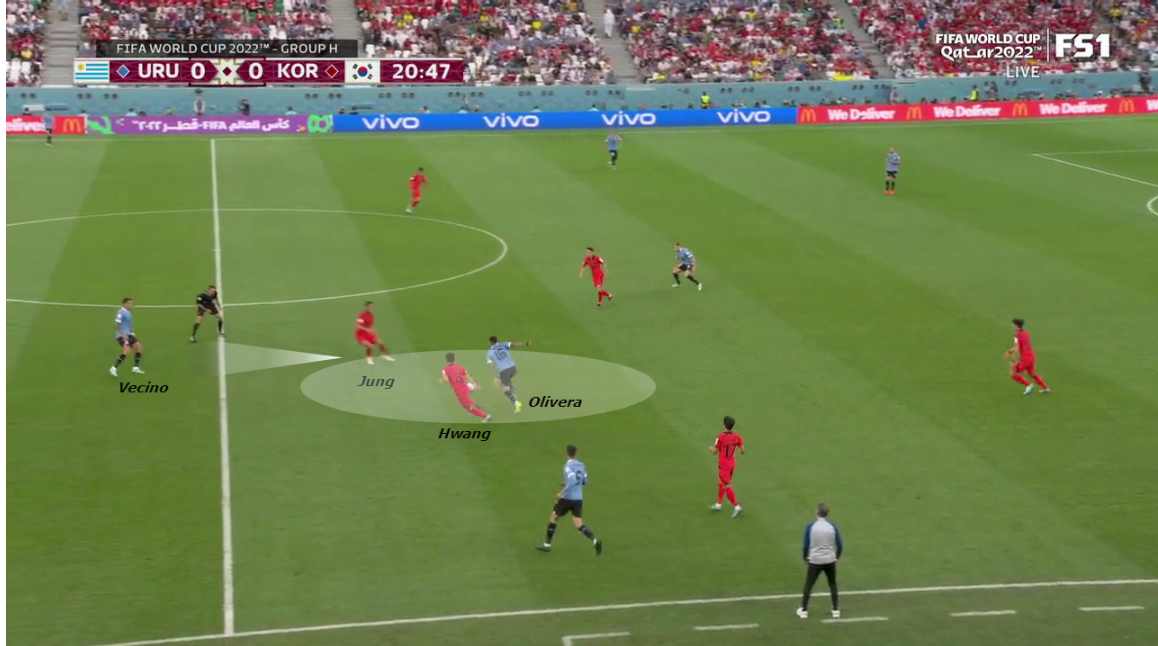 Bento solved the long passes issue by simply increasing the pressing intensity on Giménez, forcing the Atlético Madrid defender to use his weak foot to force an inside pass or pass the ball to the left flank.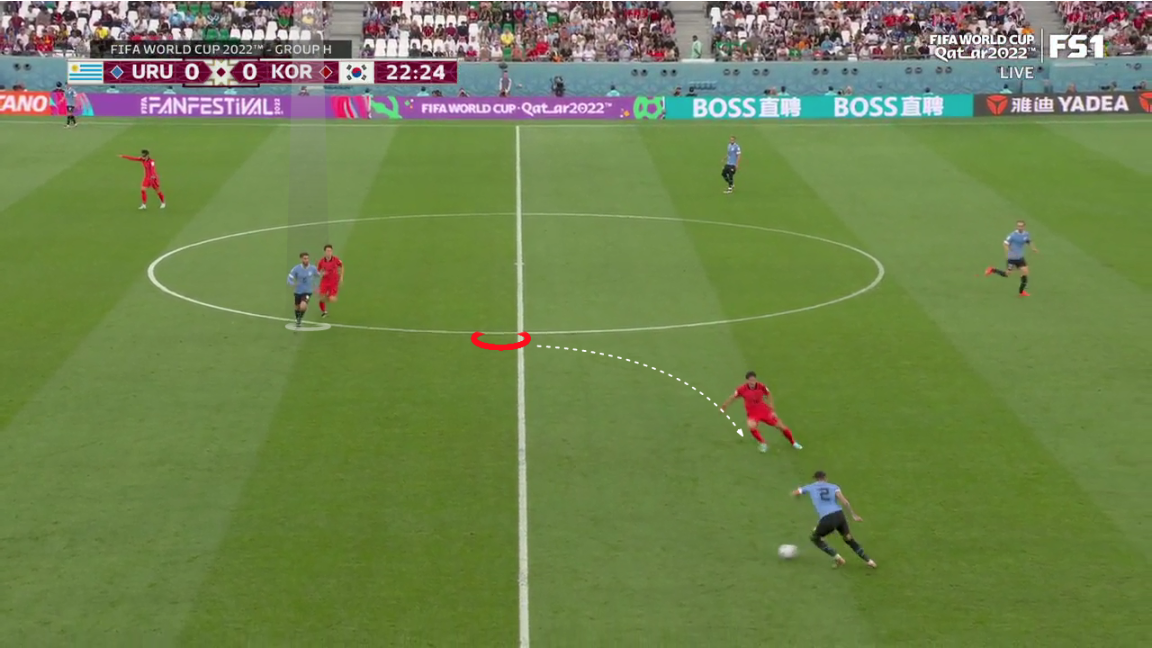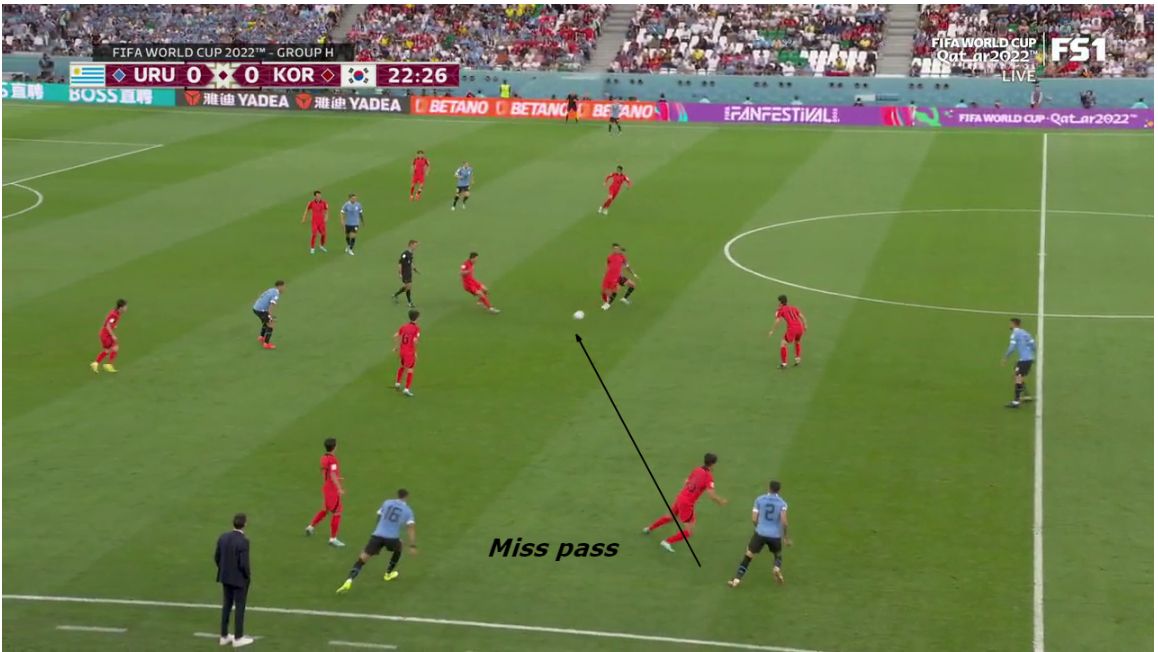 In the second half, Uruguay kept trying long passes, but it wasn't efficient enough for them, and South Korea pushed their defensive line lower in the last 20 minutes without any organized scheme worth mentioning from Uruguay.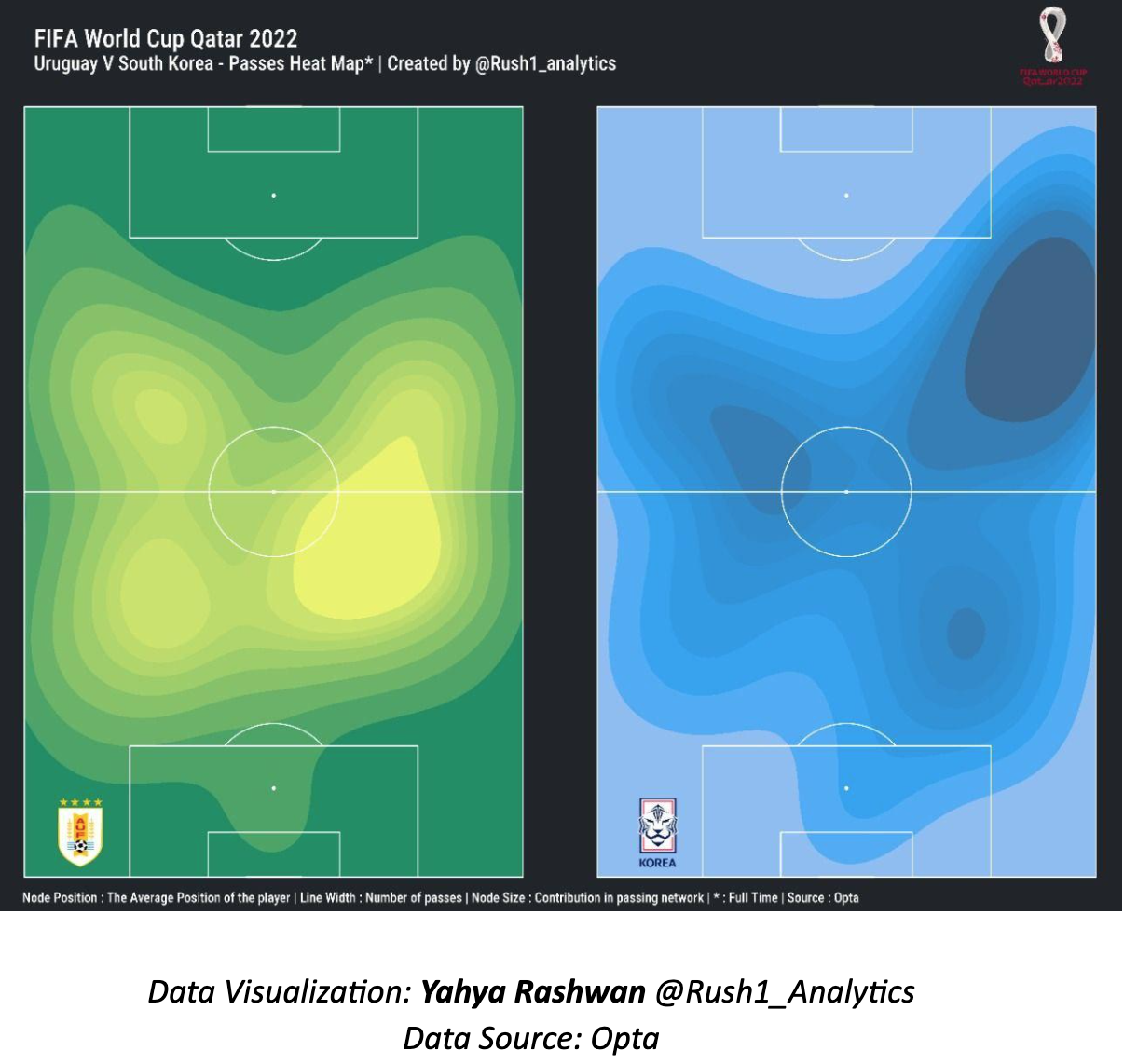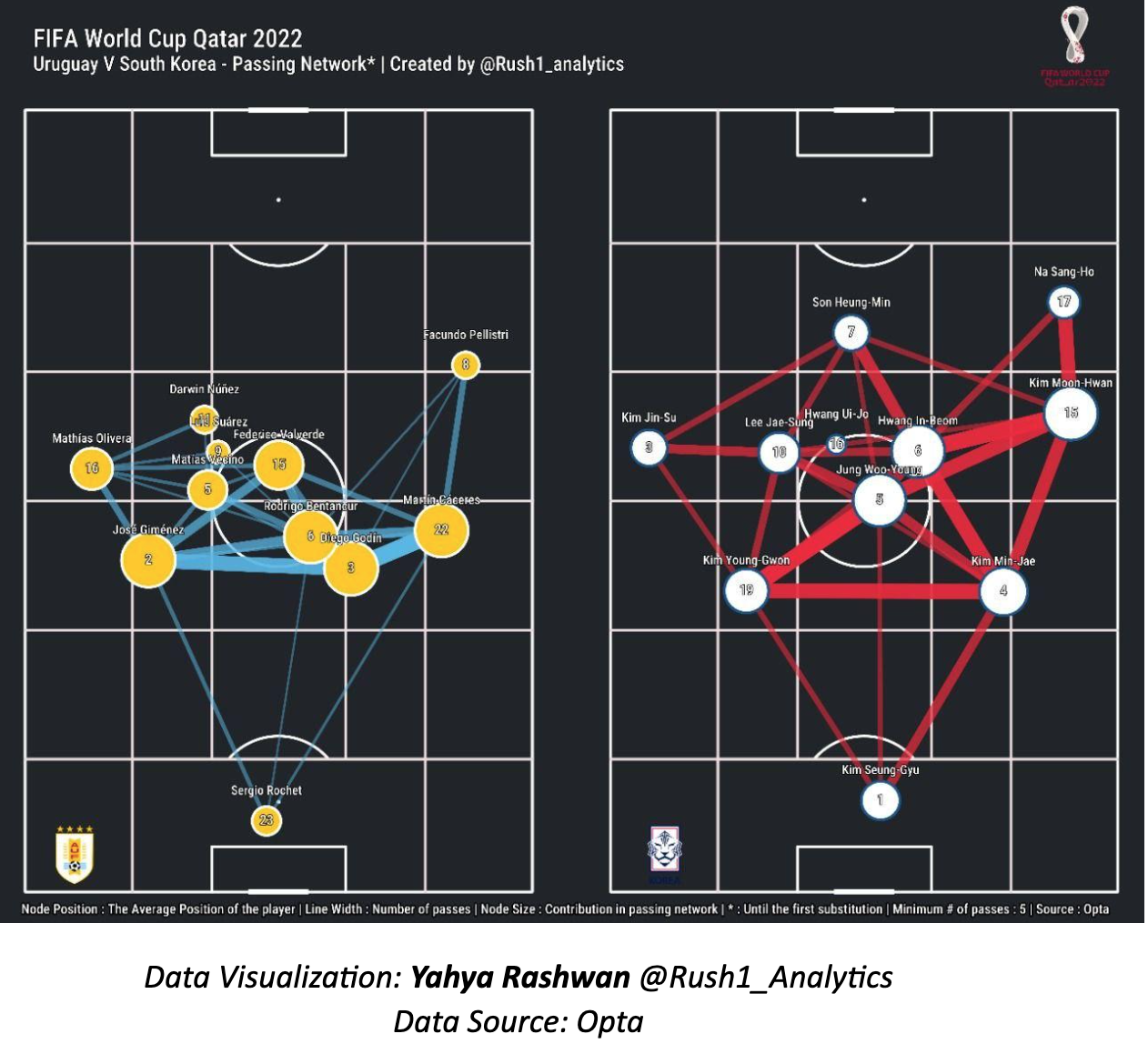 From the above passing heat map, we can see how Uruguay's passes were concentrated mainly on the left side. It is obvious from Pellistri's average positioning that he wasn't involved that much in Uruguay's possession play, and due to the way that Korea pressed, Bentancur would almost always position himself almost in between the two center backs to receive deep and evade the press.
South Korea's setup worked and they could win the ball back on the flanks by creating numerical superiorities within their organized, compact system. The main objective that South Korea wanted to achieve was to prevent any potential 1v1 situations on the flanks, especially on the left as they managed to isolate Pellistri and nullify his impact. They'll be looking to follow that up with another impressive result vs. Ghana, whilst Uruguay will be hoping to bounce back with a win vs. Portugal.

By: Mina Edwar / @Mina_Edwar

Data Visualization: Yahya Rashwan / @Rush1_Analytics

Featured Image: @GabFoligno / DeFodi Images