Tactical Analysis: Uruguay 2-0 Ghana
After a defeat against Portugal, La Celeste started their game against Ghana with a bit of hope, depending on Portugal to gift them a win or at least a draw against South Korea. While The Black Stars had two options, either to beat them which guarantee them the round 16 qualification or to get a draw while South Korea draw or get defeated by Portugal.


With Diego Godin, Matias Vecino, and Edinson Cavani benched and Giorgan De Arrascaeta, Facundo Pellistri, and Luis Suarez starting instead, Uruguay changed their starting formation for the third time, as they started with 4-3-3 against South Korea, 3-5-2 against Portugal, but Diego Alonso turned to a 4-4-2 against Ghana. Whilst Ghana operated in the same 4-2-3-1 with two changes from the previous game, Gideon Mensah was benched for Abdul Rahman Baba at left back and Alidu Seidu started at right back instead of Tariq Lamptey.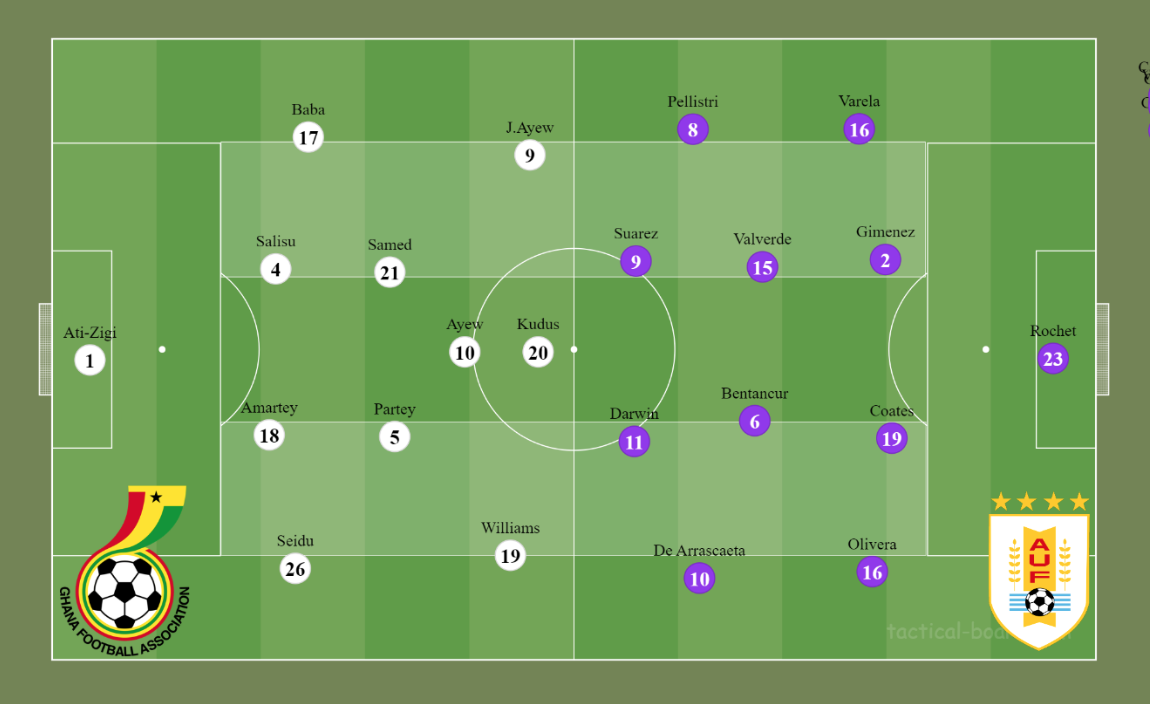 Uruguay's Build-up Play


Before taking Uruguay's build-up scheme into consideration, it's important to analyze how Ghana wanted to press them. Mohammed Kudus, the center forward, would press Sebastian Coates with a curved run that was inspired by South Korea's center forward Ui-Jo Hwang to force him left. Andre Ayew pinned Rodrigo Bentancur back centrally, whilst Inaki Williams and Jordan Ayew would wait for the ball to go wide to trigger the press whilst shadow-pressing Uruguay's wingers.


Meanwhile, Uruguay knew that Ghana would press Coates that way, so Bentancur would pull Ayew away from Coates' path, whilst De Arrascaeta would cut in from the flank into the left half-space, so neither Seidu could follow him, nor Thomas Partey could stretch the midfield and press him. Coates has two options.. either progress forward with the ball, knowing that Mathias Olivera would grab Williams' attention, or simply pass the ball to the unmarked half-space where De Arrascaeta was positioned. 
Williams solved the issue by simply taking two or three steps to left, closing the lane on De Arrascaeta, so Coates was forced to pass the ball to Olivera, then the intense pressing starts.. Uruguay lost the ball and Ghana made an attacking transition.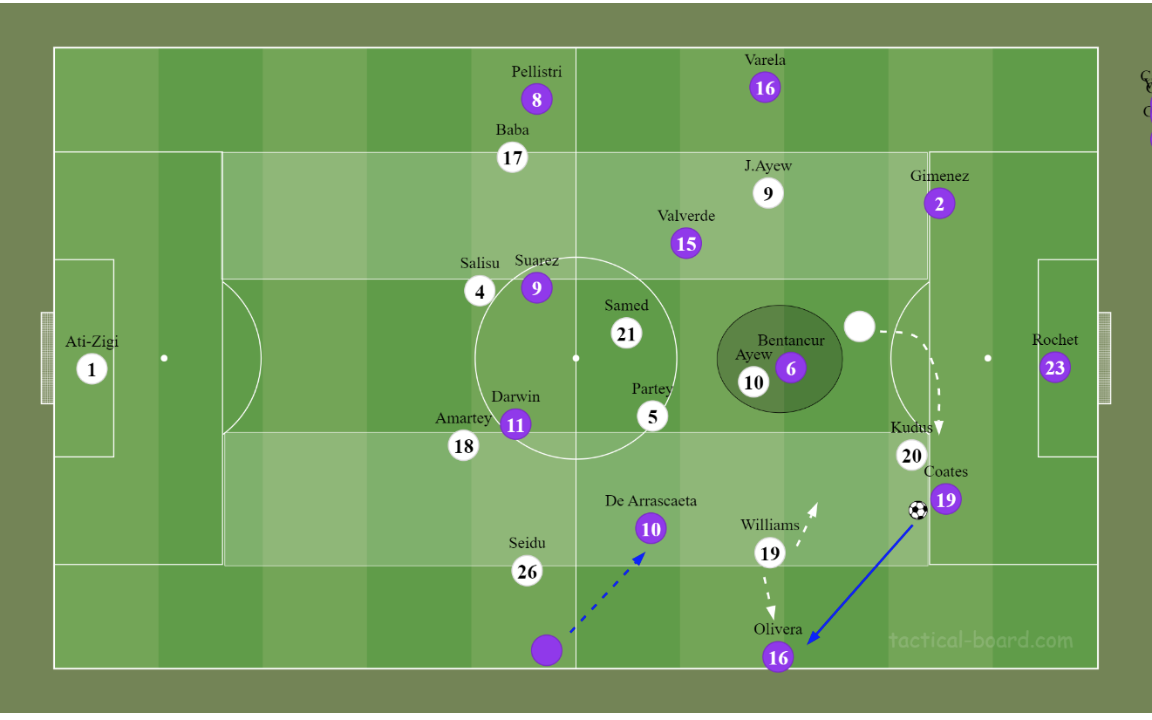 Diego Alonso tried to make the team build-up more dynamic by dropping Federico Valverde down beside Rodrigo Bentancur, knowing that Ghana's double pivot were so static and they wouldn't follow him there. Ghana's solution was that Jordan Ayew the left winger would go and press Valverde, and with the aforementioned pressing scheme, and Uruguay were once again forced left.


De Arrascaeta drops on the flank, with another Ghanian solution by Seidu following him, and as a domino effect, Darwin Nunez moves left, Suarez stays central. Ghana switched the whole back line to match La Celeste's scheme, Daniel Amartey moved to the right flank pressing Nunez, and Salisu marking Suarez.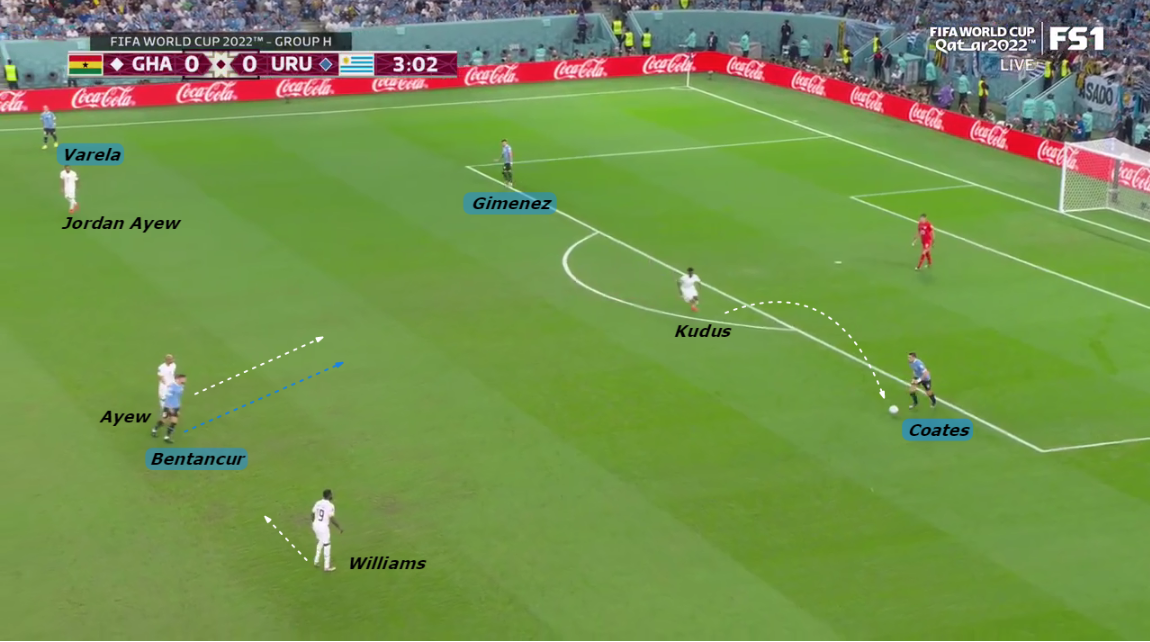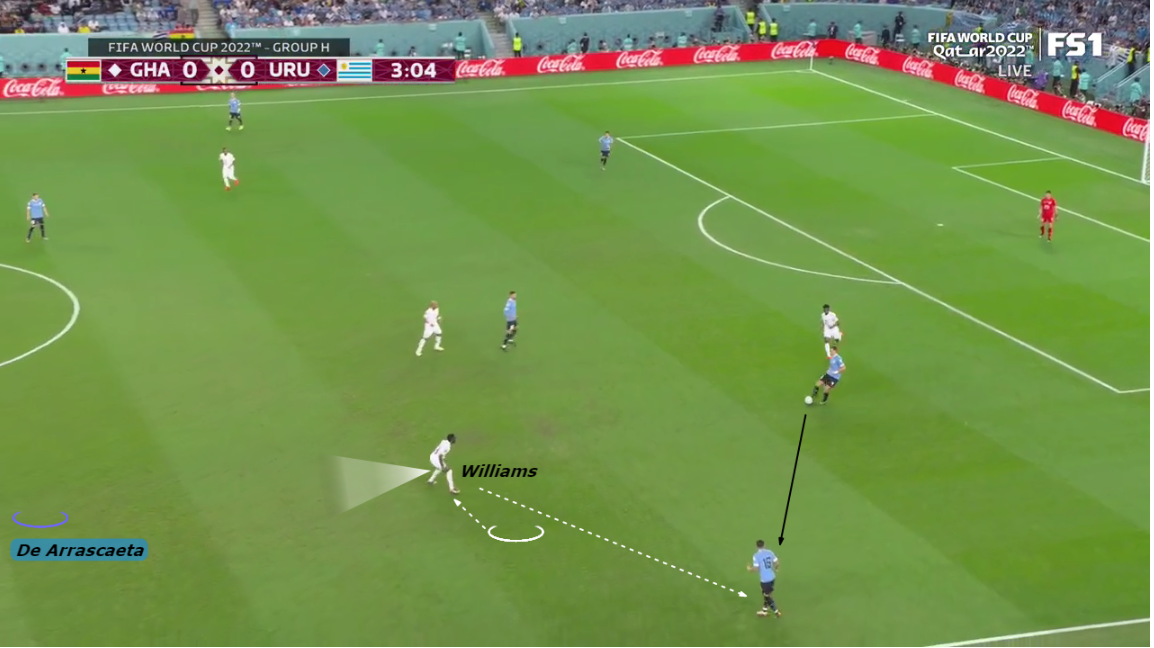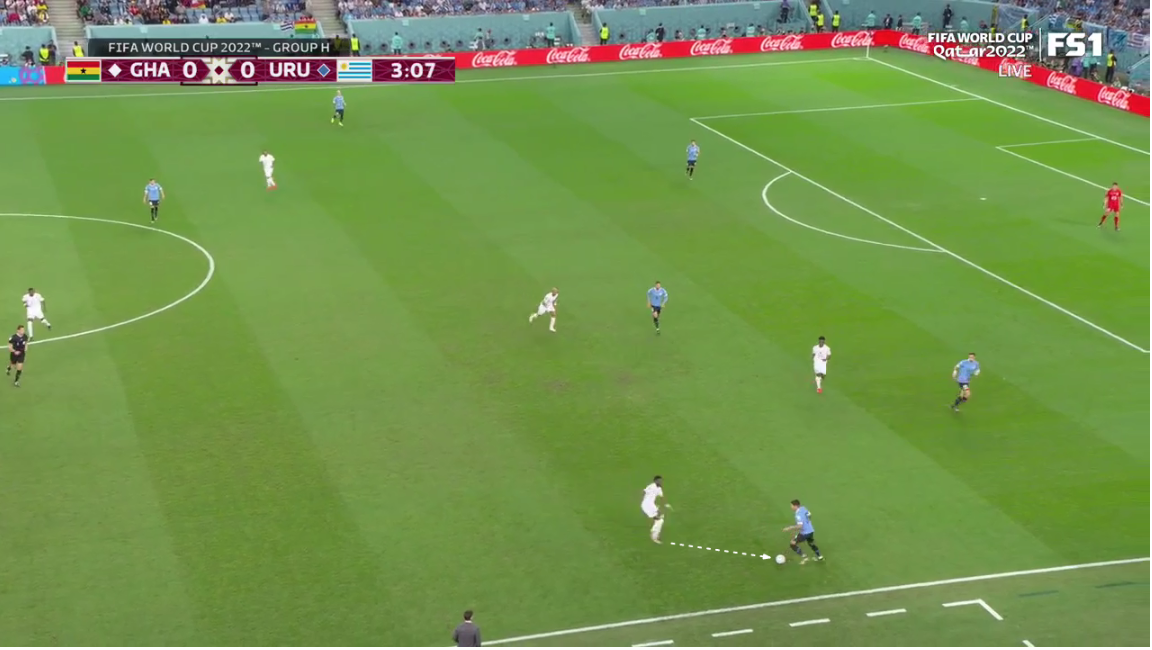 After 15 minutes, Diego Alonso found a scheme that we could call a proper solution for the build-up problem. Bentancur moves left to overload the flank, Valverde goes more centrally so Andre Ayew marked him instead of Bentancur, and with Williams marking Oliver, Uruguay made a nearly 3v2 situation (4v3) if we considered Coates and Kudus on the left flank.
Kudus understood the situation and went to press Valverde but it was too late. Time and space were given to Bentancur who's a really good ball carrier, with De Arrascaeta moving from the left wing to the central area to receive behind Ghana's double pivots, but a bad decision from De Arrascaeta after getting the ball ruined the well-planed scheme.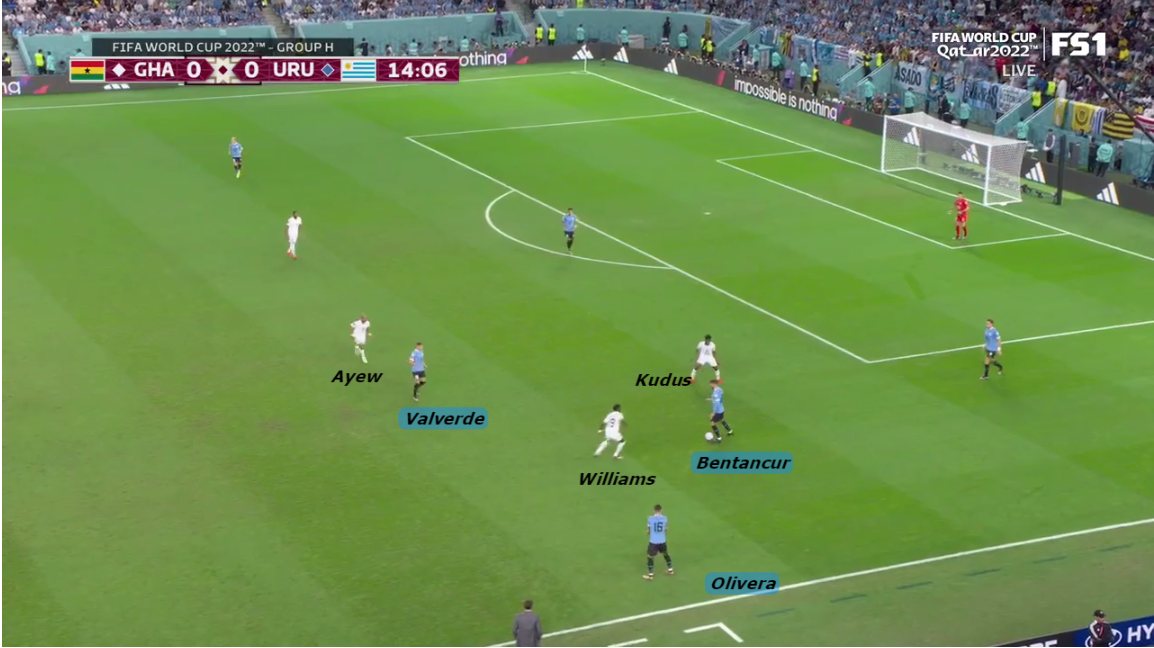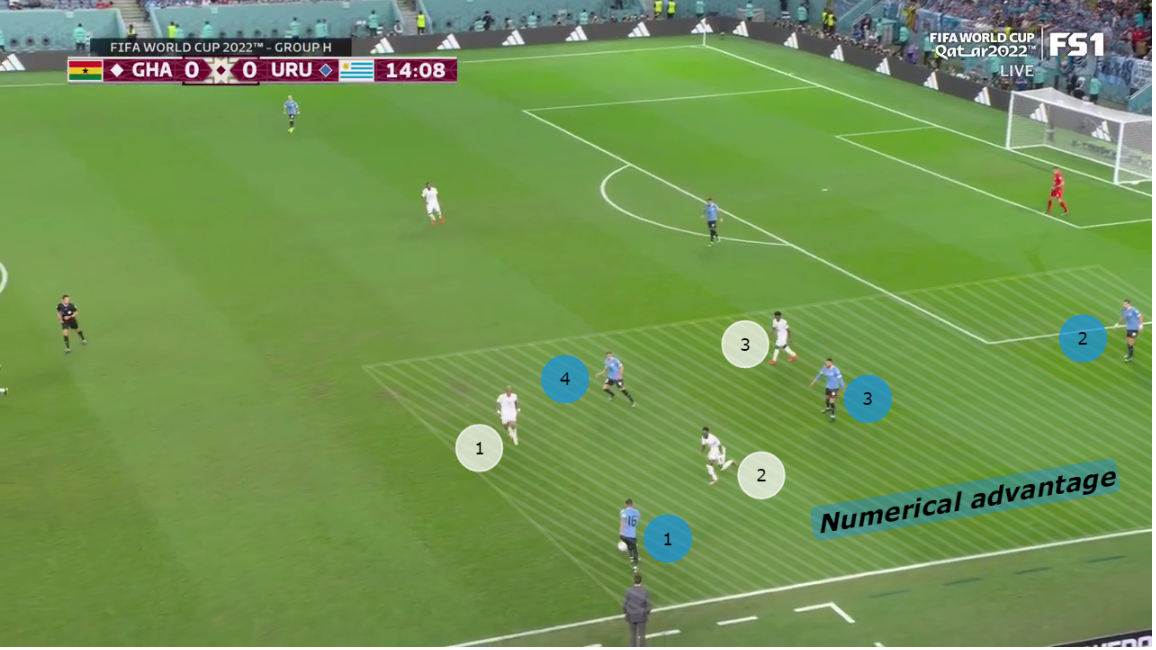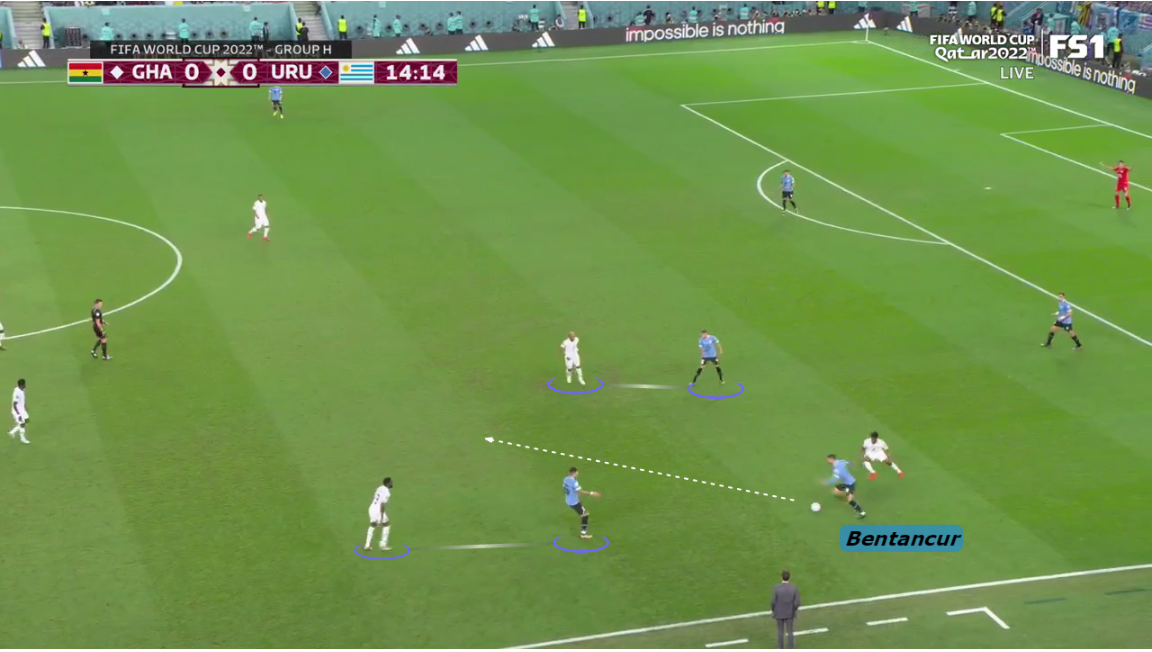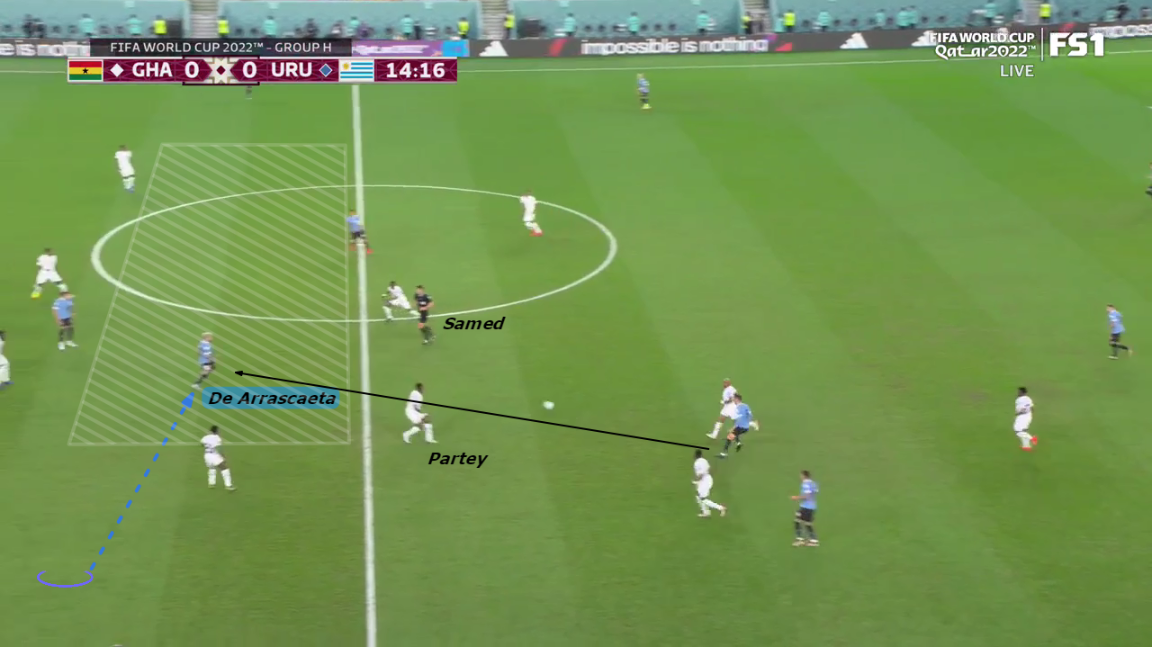 In the second half, Uruguay tried to repeat the half-successful scheme but the Black Stars used the pivots to avoid the wide numerical advantage and they did prevent Uruguay from doing their scheme and cut the problem from its roots. After that, Uruguay tried to use the left flank so many times but failed due to Ghana's well-pressing scheme.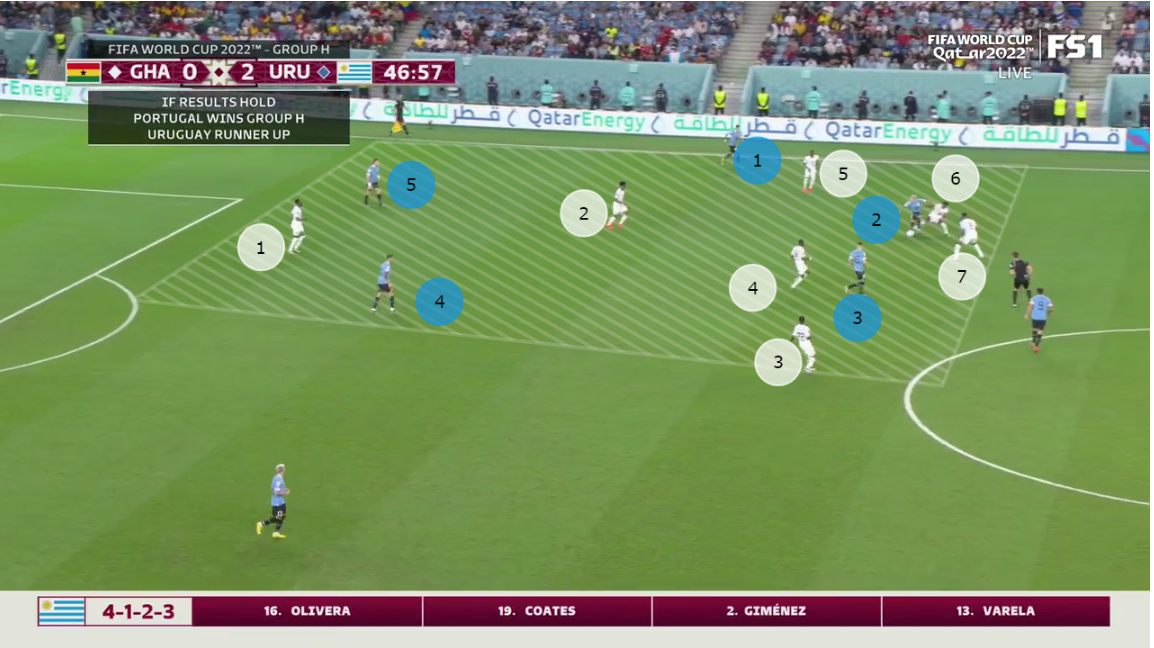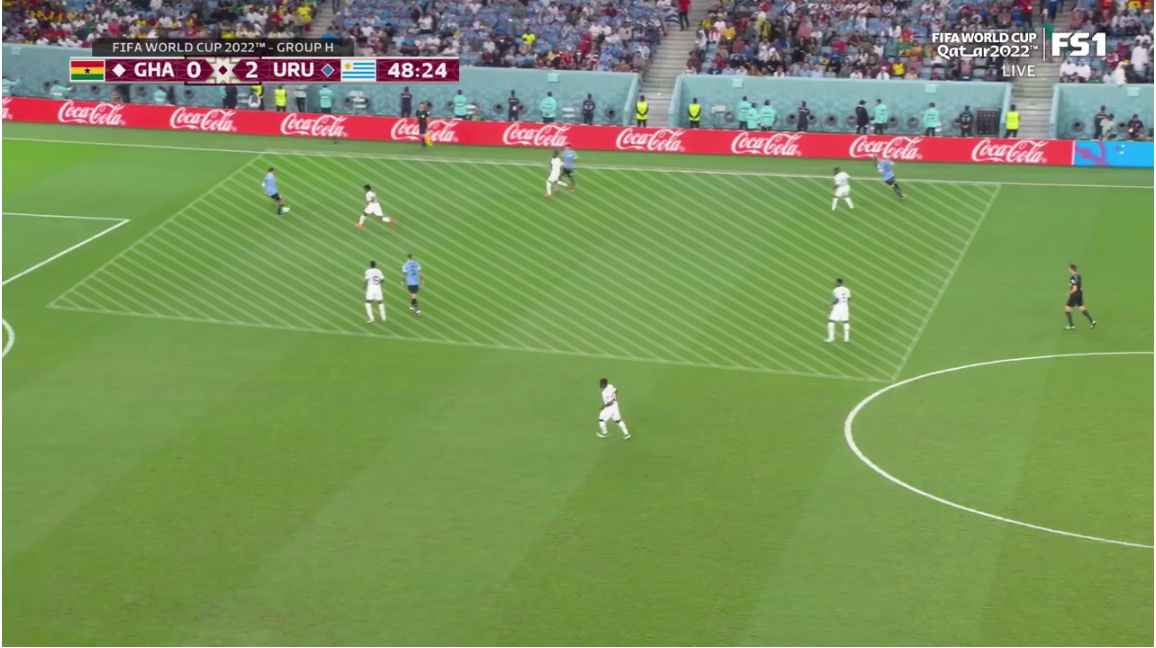 Attacking Transitions


When you have two center forwards, it would be unfair for them to be used as only box finishers, so what if those two are Darwin Nunez and Luis Suarez? Diego Alonso had a clear idea of what he would do immediately after winning the ball back.. he targeted mainly two things: individuals and space.


First things first the individuals .. he managed to use one of his center forwards in " Style Clutch " which is using the attacker to drop and receive a vertical pass and then rebound it back, meanwhile, other attackers make their forward runs and attack the spaces. The second thing is the space .. with Abdul Rahman Baba's offensive style helping Jordan Ayew up front, the thing that created huge spaces behind him to attack.


The first transition scene is a Ghanian throw in, which turns into a transition for La Celeste.. the first decision from Rodrigo Bentancur instantly after winning back possession is to send it to the dropped center forward Luis Suarez, who links up play and sends it to Guillermo Varela, and with Baba up the pitch, Varela sends a pass into space behind him, Facundo Pellistri wins the race and sends a back pass that found no one.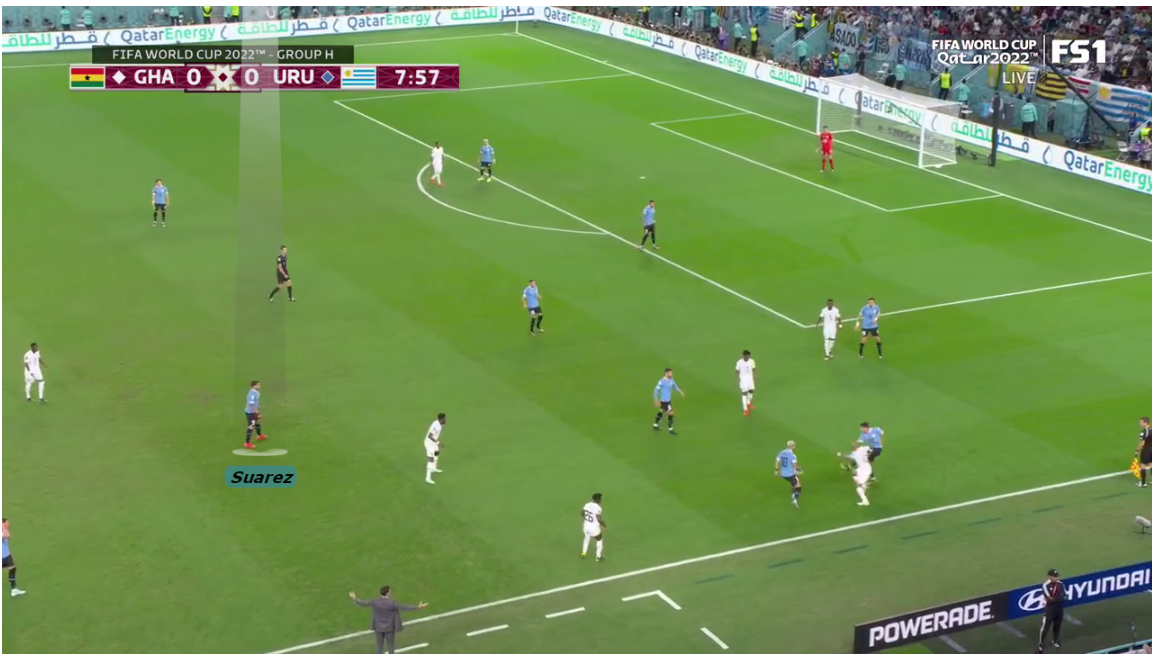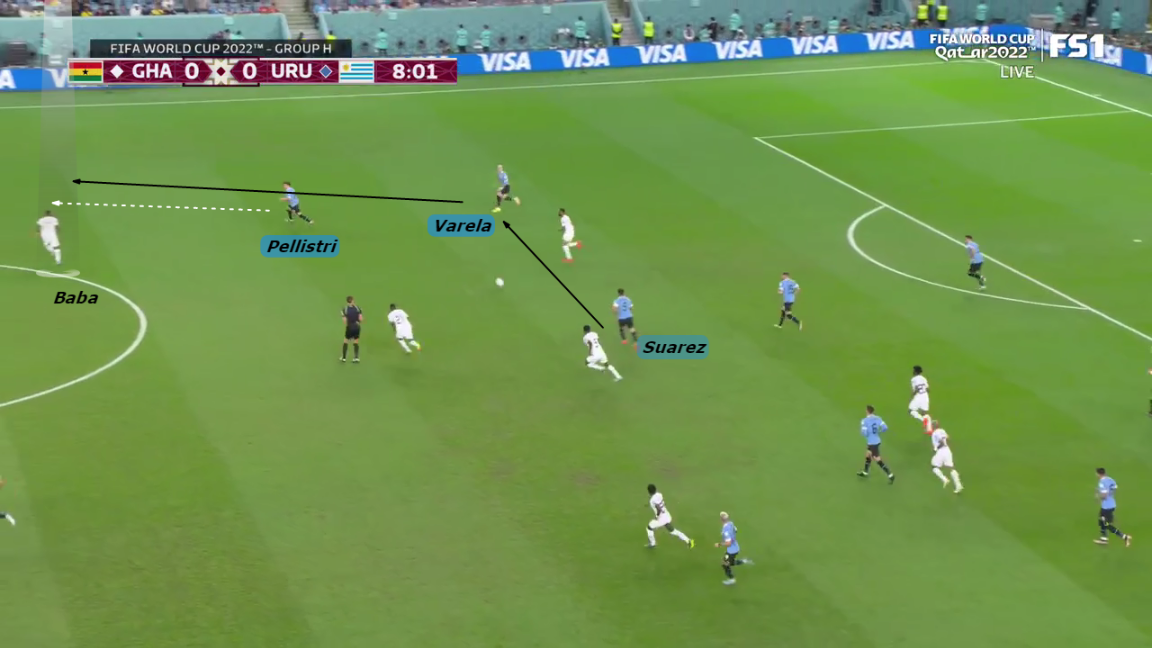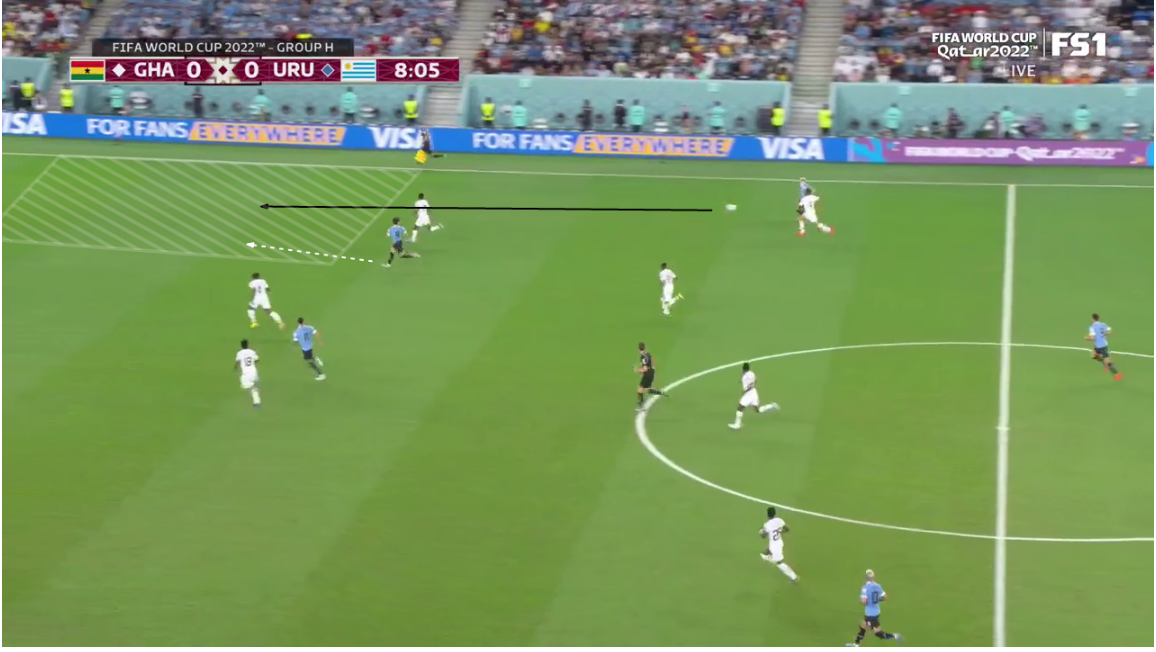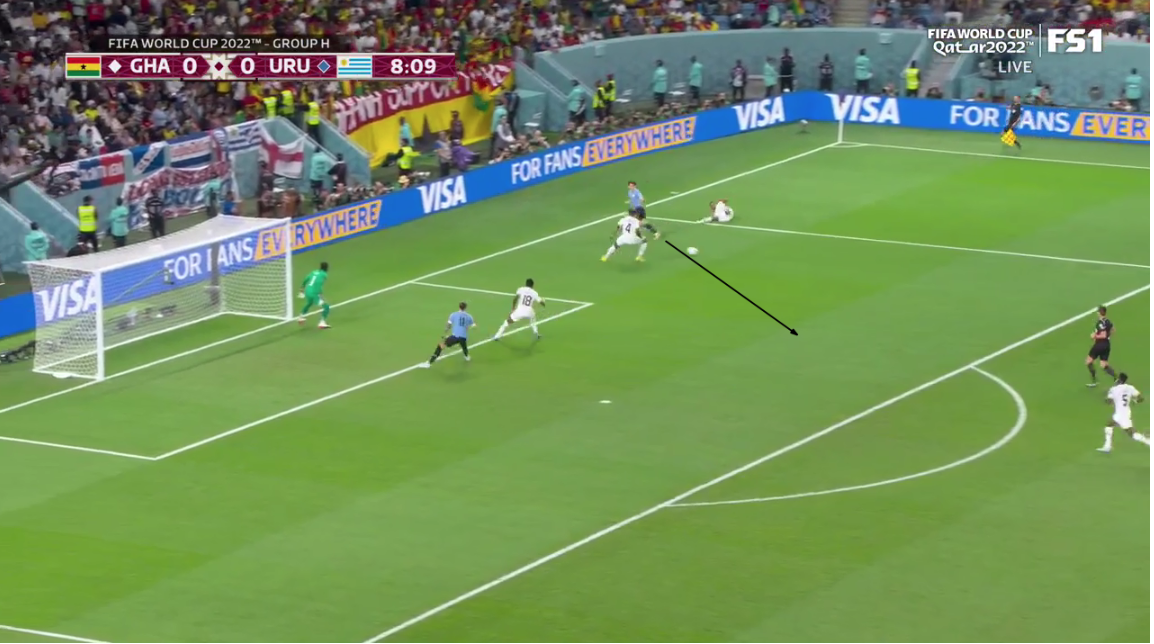 Another time, Bentancur's first decision is finding the dropped attacker..Darwin Nunez receives and links up with Suarez who pass it back to him and attacks the space, but unfortunately, Darwin lost the ball.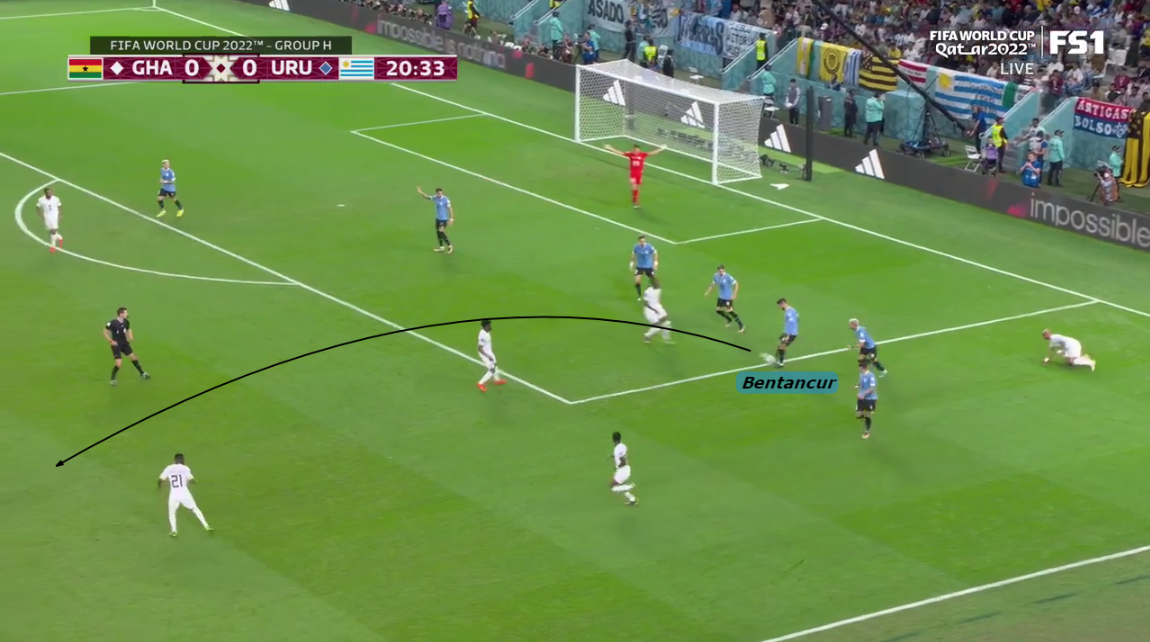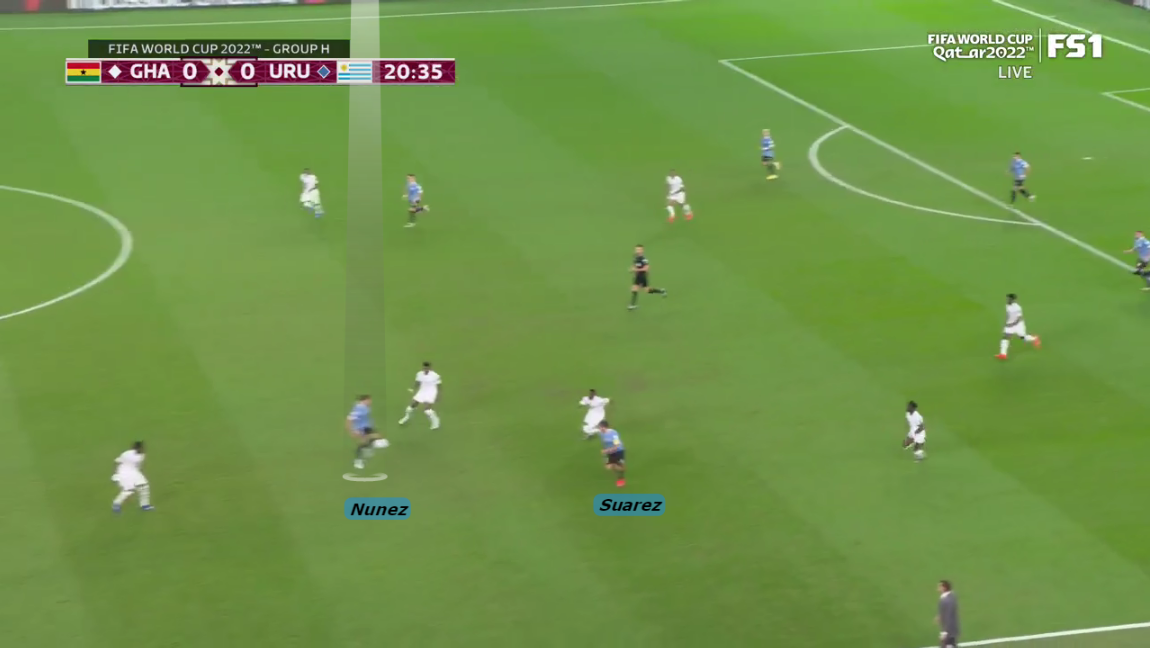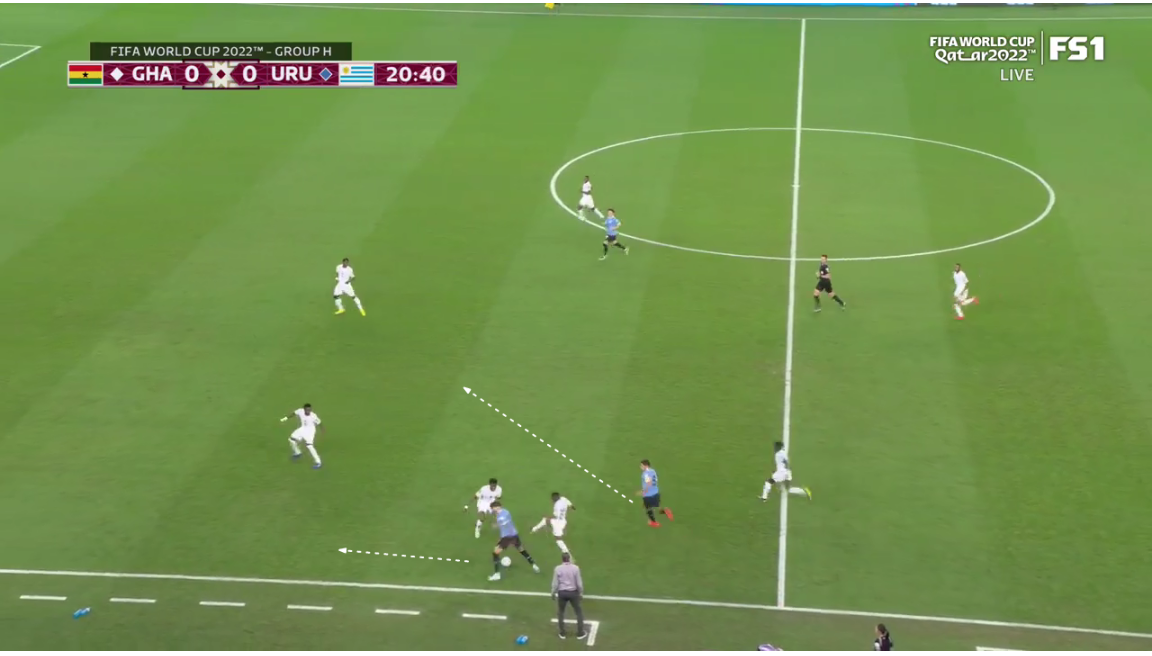 As usual, Bentancur receives after the transition, and drops the ball to Suarez who links up the play with back heel pass to De Arrascaeta who sends a pass into the space to the forward runner Darwin Nunez, who fails to send the ball into the back of the net due to an amazing block by Mohammed Salisu.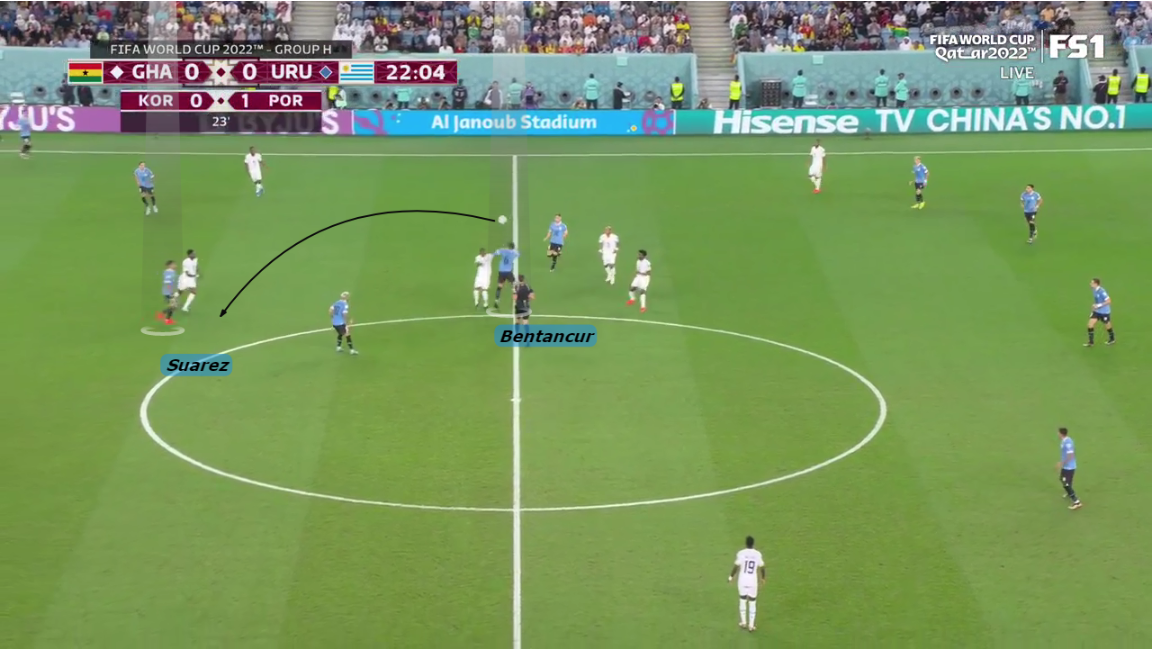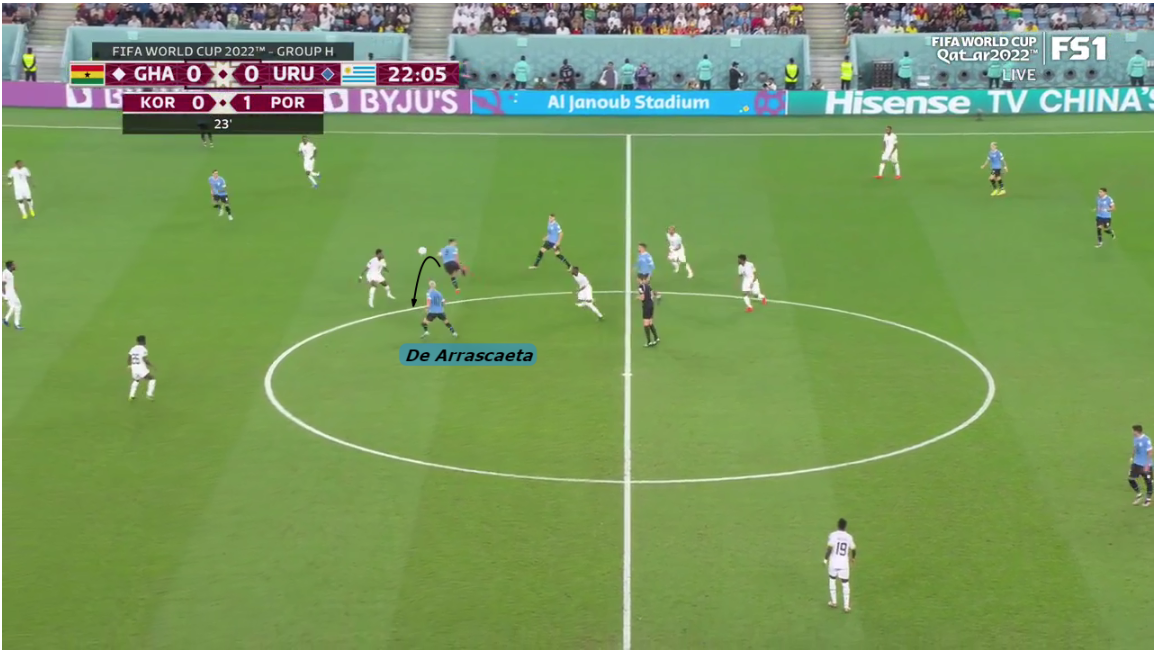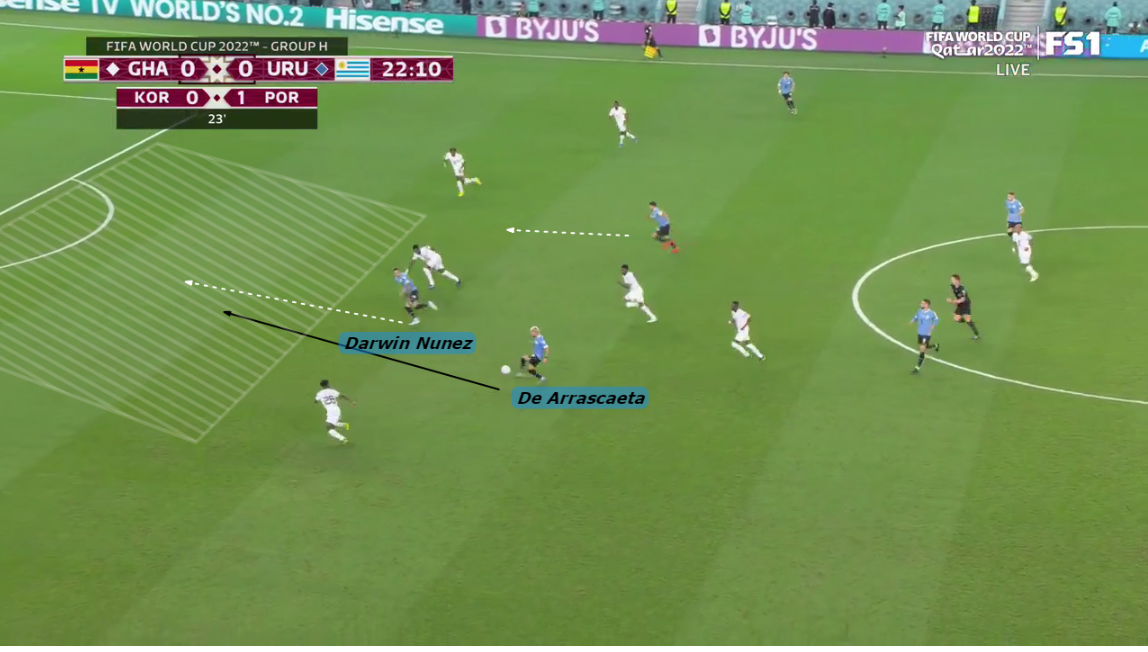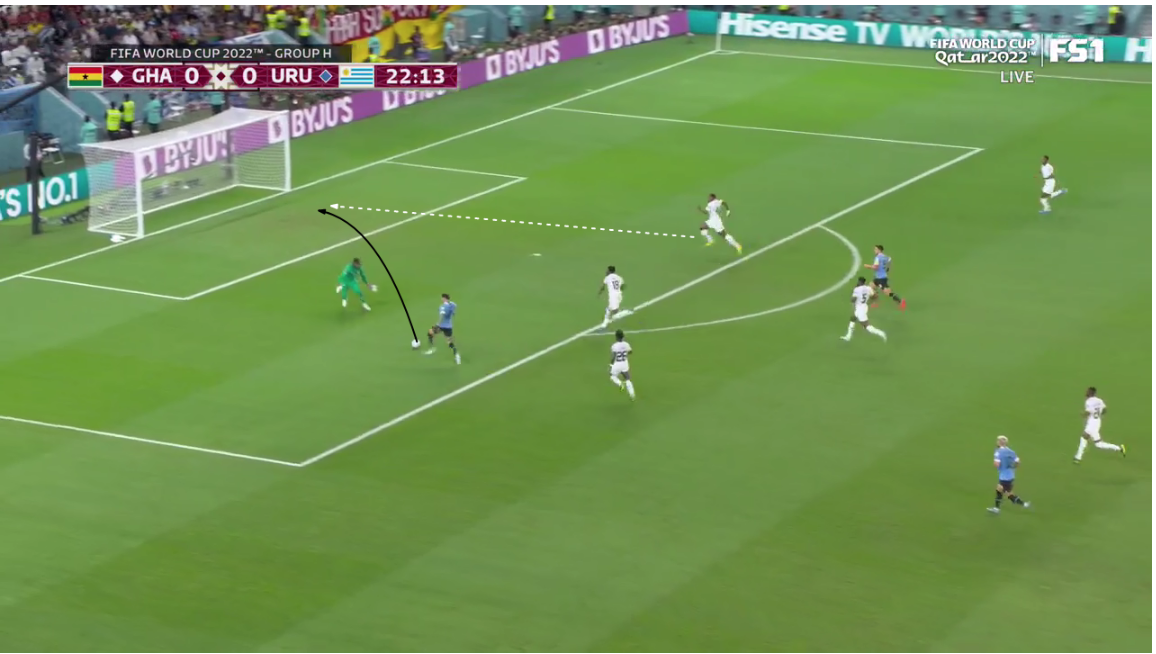 The most impactful scene that includes the previously mentioned transition ideas is the first goal..
Valverde wins back the ball with Rahman Baba in a high position, and found Nunez who's positioned behind Baba in space to "clutch" the transition process, Suarez asks for the ball on the far post, and with clumsy mistakes from Ghana's defenders, De Arrascaeta follows Suarez shot and breaks the deadlock.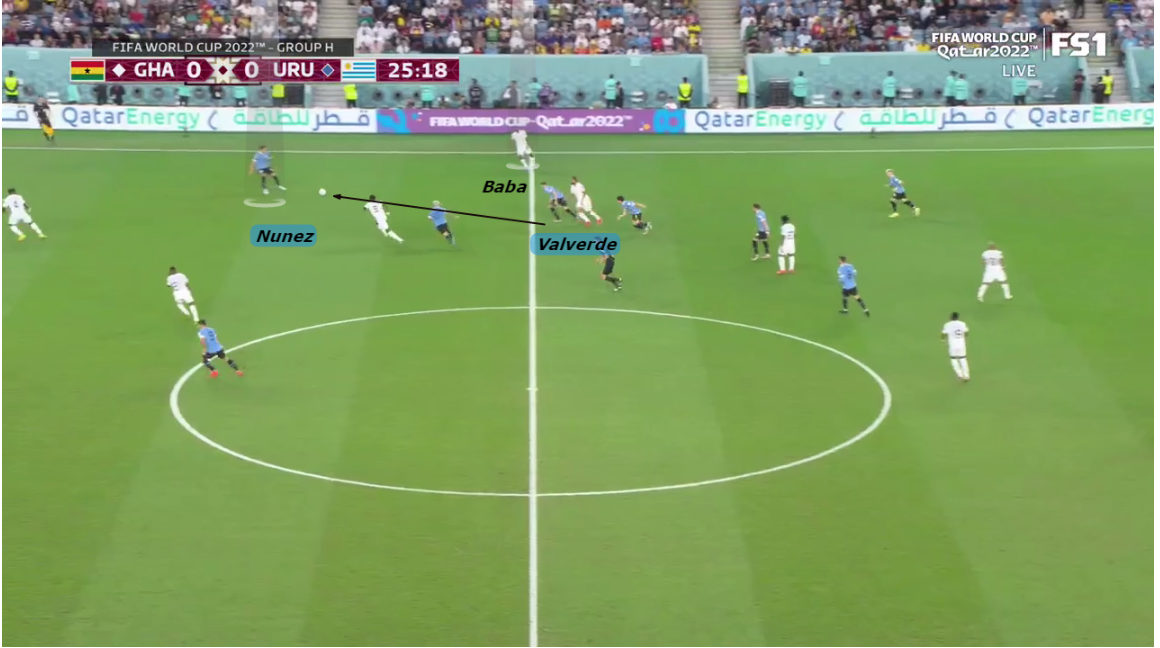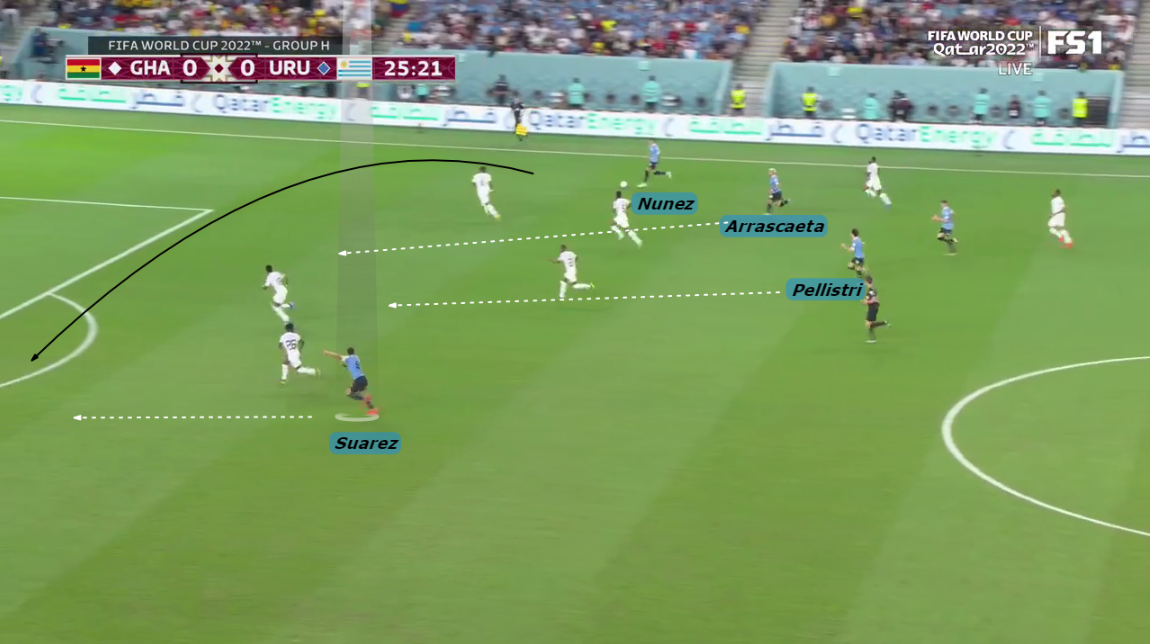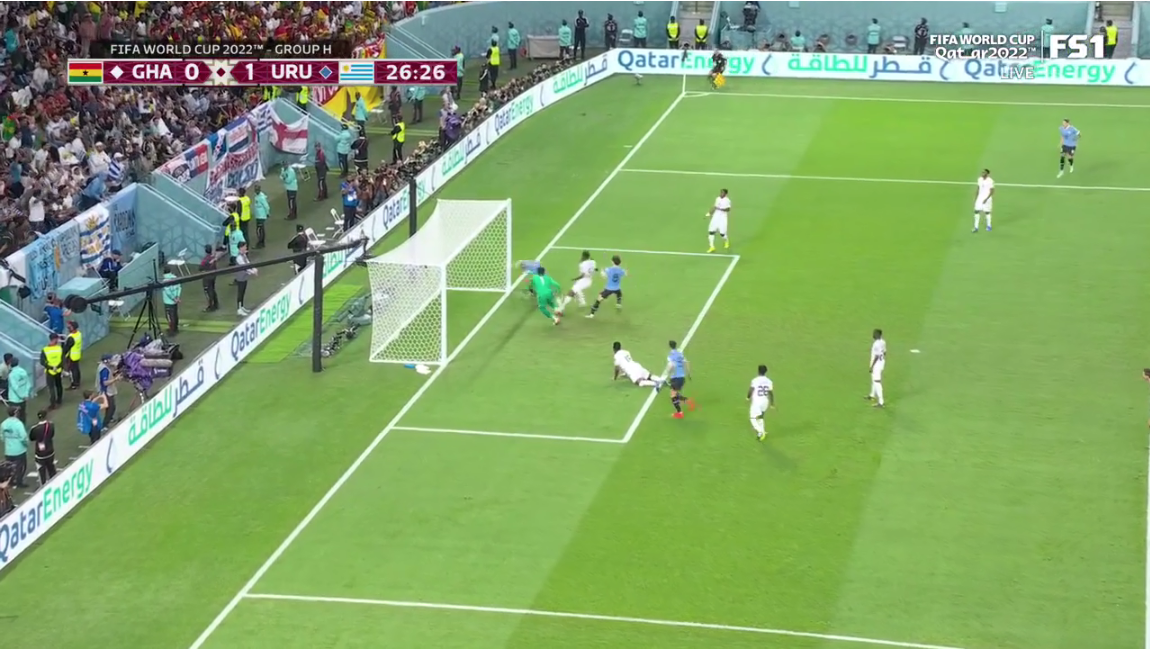 Whilst Ghana weren't able to make it to the Round of 16, they did nevertheless prevent Uruguay from achieving a three-goal margin and eliminated them from the group stage for the first time since 2002. It remains to be seen whether or not Diego Alonso will remain as La Celeste's manager, but one thing's clear: with Giorgan De Arrascaeta scoring a brace in a 2-0 win in his first start, the Flamengo playmaker could have a key role to play as Uruguay look to bounce back from their disappointing finish in Qatar.
By: Mina Edwar / @Mina_Edwar
Featured Image: @GabFoligno / Pressinphoto / Icon Sport