A Data-Based Analysis of How Jadon Sancho Would Fit at Manchester United
With the transfer rumours linking Jadon Sancho to Manchester United intensifying, how he would fit in at Old Trafford is fast becoming one of the most relevant questions in world football. This question gains further weighting given that the agreed transfer fee is likely to be north of £100 million.
For a fee that high, one must not only assume that Sancho will fit perfectly into United's team and tactics, but that he will also be expected to make a significant impact across the season. This article will discuss whether Sancho can achieve this.
What Manchester United Need
For the right wing position, Manchester United signed Daniel James the previous summer for a fee of approximately £15 million. While the Welshman has obvious limitations, he has provided some functionality, particularly in bigger games.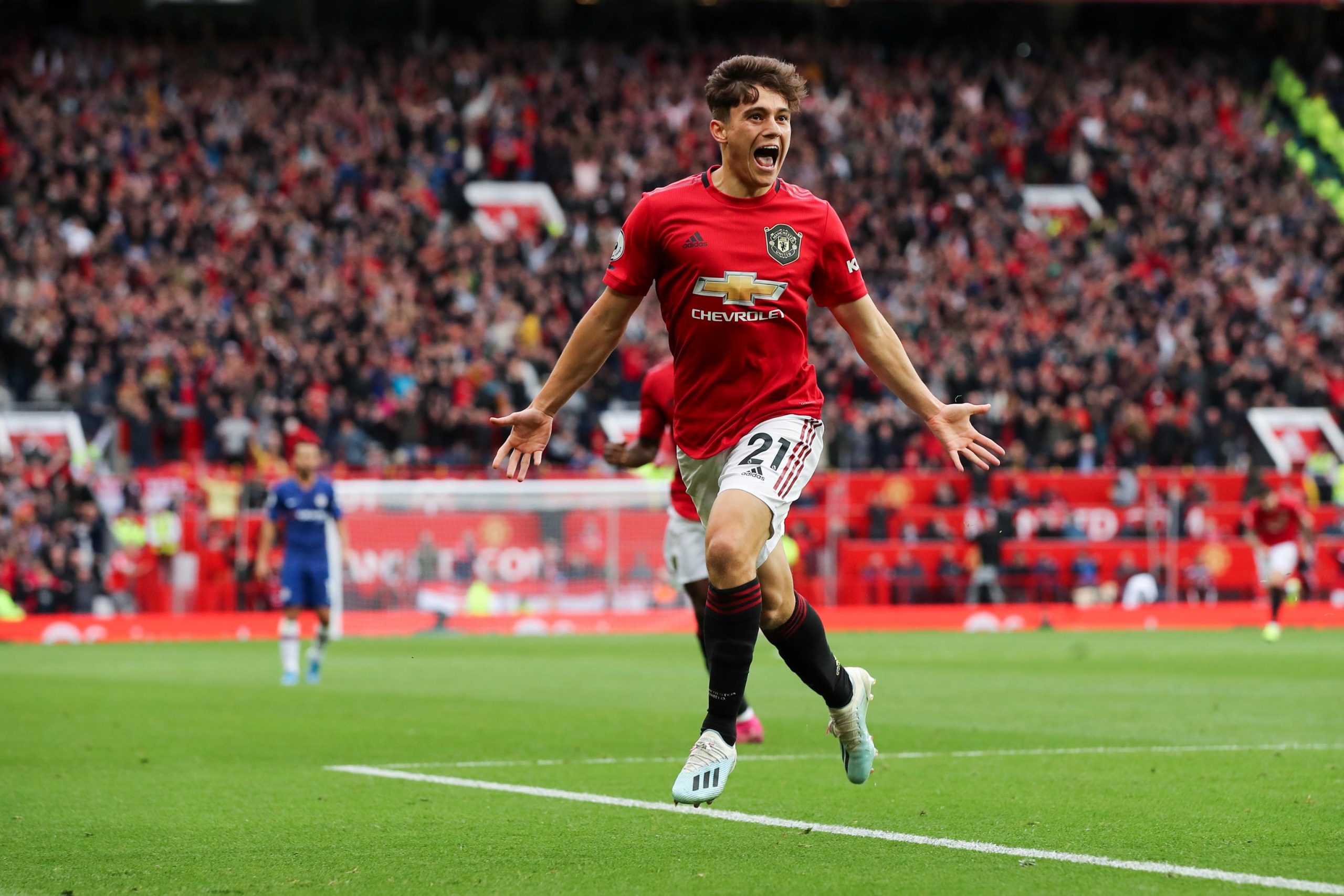 Photo: Matthew Ashton – AMA/Getty
As a non-inverted winger, James likes to receive wide and knock the ball past his defender, running into space. Against deep blocks however, James struggled; there simply isn't space to run into. Furthermore, James doesn't have much dynamism in his game; he lacks the requisite quality to create from deep and he never comes between the lines. 
With Rashford and Martial performing well in the left wing and striker positions respectively, right midfield/wing is a position Manchester United are seeking to invest in; hence being linked with the versatile and inventive Sancho, who turned a world class return in 2019/20 at Dortmund.
Jadon Sancho: Performance Level and Player Profile
Since his departure from Manchester City in 2017, Jadon Sancho has steadily improved at Dortmund. His first season showed promise and a hint of a player who could produce the fabled 20 goals + 20 assists in a season. Inconsistency and a lack of playing time curtailed his performance, as he mustered one goal and four assists in limited Bundesliga minutes.
This was by no means a meagre return from the then 17-year-old, rather an overly promising taster of Sancho's talents. The notion is exemplified by Sancho's finishing underperformance in the time he played; -1.2 goals to expected goals (xG) suggested that once Sancho got more game time he could be an extremely productive player.
His numbers are even further enhanced by the discrepancy between the player's goal creating actions (GCA/90) and shot creating actions (SCA/90), with the latter at a level so much higher than the former (0.8GCA/90 to 5.01SCA/90), suggesting that Sancho was creating shooting chances but his teammates simply weren't finishing them clinically.
One thing was already apparent though; when Sancho played, he created chances and got in positions to finish chances- a remarkable trait to have at 17 years old.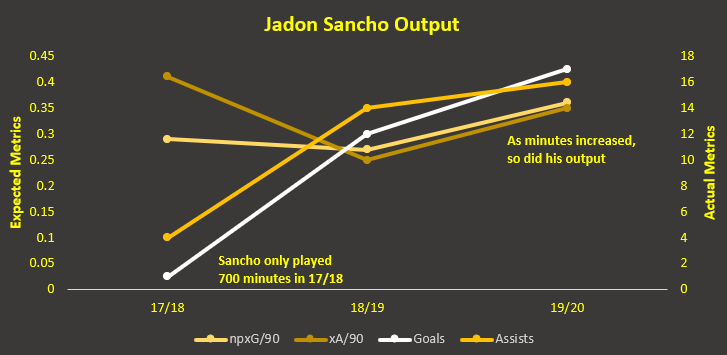 Figure 1: Sancho's output and expected output values by season that he's played at Dortmund. Data from FBref.
The following season was billed as Sancho's 'breakout' season, as the player made 12 goals and 15 assists in the league whilst simultaneously ousting Christian Pulisic (another mercurial talent) out of the team, and subsequently out of the club.
Sancho was proving his worth as a creator with an eye for goal. His season outperformance of xG by +4.6 suggested that Sancho was clinical when he got chances, while his goals per shot on target reached a career high (to date).
In terms of creation, Sancho produced remarkable numbers: 1.21 GCA/90 and 4.56 SCA/90, showing that Sancho was on average creating a higher quality of chance for his teammates. Furthermore, Sancho was making a name for himself with good European performances and earning himself an England call up; his career took off in 2018/19.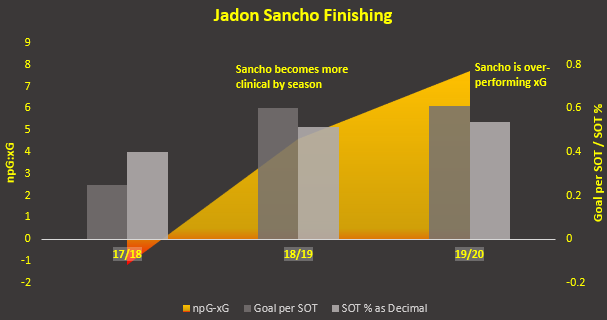 Figure 2: Sancho's career finishing by season. npG:xG effectively shows over/under-performance; or in other words, how good Sancho's finishing has been. Data from FBref.
Finally, the 2019/20 season has seen Sancho contribute 17 goals and 16 assists in the league, giving rise to the notion that Sancho is a world class talent.
Goals for England and top performances in the Champions League (such as against Barcelona) has seen Sancho's stock fly through the roof.
The two aforementioned figures as well as the two figures below highlight why Sancho is valued at approximately £100 million – Sancho is the best creator in the Bundesliga, and a top European performer.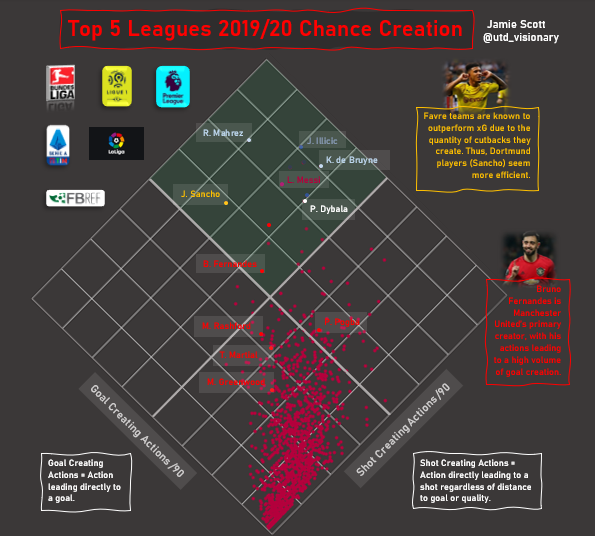 Figure 3: Goal Creating Actions per 90 and Shot Creating Actions / 90. Sancho leads the way in GCA / 90 in the Bundesliga, whilst being one of the top performers in Europe's top 5 leagues. Data from FBref.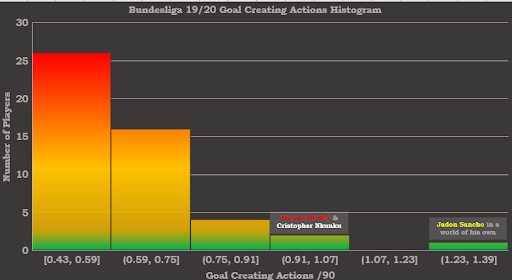 Figure 4: A histogram presenting goal creating actions amongst the Bundesliga top 50 players as grouped data, in order to show the distribution across the league. Sancho was the only player with a GCA/90 of greater than 1.07 in 2019/20. Figure only shows the top 50 players. Data from FBref.
Jadon Sancho Performance Analysis
One performance that is representative of Sancho's ability is his performance away at PSG in the Champions League. This performance can tell us a lot about Sancho, as it is against a good team, and is very recent.
Sancho was Dortmund's nominal left winger, but as usual, he roamed across the pitch to create in and around the final third. There are various conclusions that can be drawn from this, the first of which is that Sancho is a dynamic player, able to receive in a variety of positions, at a large array of angles.
Furthermore, Sancho's awareness and game-intelligence are exemplified, as Sancho seeks out good positions to help catalyse Dortmund's attacks.
Figure 5 highlights how his movement and intelligence result in Dortmund remaining well balanced when Sancho roams; he is always looking to create space and distort opposition defences with his movement when he doesn't have the opportunity to affect the game with the ball.

Figure 5: Sancho lays off to Brandt and makes a decoy run to create wide space.
Not only is Sancho's awareness when receiving in central areas at a high level, but in ball possession Sancho's dribbling technique and quick feet are conducive of retaining possession and making progressive carries in such positions. Figure 6 exemplifies Sancho's dribbling abilities.

Figure 6: Sancho (typically) beats a player with quick feet and a feint.
Another one of Sancho's main plays in the attacking third is a carry plus combination. In other words, Sancho commits defenders with a dribble, before making combinations with team-mates. These combinations include a simple 'one-two', or third man runs.
Figure 7 shows how Sancho commits the fullback with a dribble, before laying off to combine with a central player. Sancho therefore finds himself in a prime position to create, via a cross or cutback. This penetrative play is one of Sancho's primary qualities.

Figure 7: Sancho lays off centrally, before darting in behind to receive again.
Sancho's main qualities are outlined below; as most of these intangible qualities are qualitative, the format aims to reduce subjectivity.

Figure 8: Table to help aid objectivity when analysing Sancho's intangibles.
Due to his versatility, it is best to be succinct when analysing a Sancho performance: he is an incredibly smart player who roams to create.
His immense technical ability and decisiveness in the final third allows him to consistently produce when he gets in good positions. He is capable of doing this off the left and off the right, which is important regarding how he will fit in at United.
How United Will Play With Sancho
Manchester United are in need of a right winger and a final third creator. Bruno Fernandes's impact at #10 since his arrival has been profound, but the burden of creation shouldn't fall solely on his shoulders.
One benefit of Sancho playing at right wing is his tendency to invert or take up positions between the lines, such as in the half-space. This not only benefits United who have a player in a good position to help break down opposition blocks, but specifically benefits Aaron Wan-Bissaka, who prefers 1v1 circumstances over receiving deeper.
When Daniel James plays, he often hugs the touchline, leaving less space for Wan-Bissaka to overlap, and virtually no chance of a 1v1 situation. When Mason Greenwood has played with Wan-Bissaka, Greenwood often inverts, giving Wan-Bissaka the 1v1 situations that he thrives off (see figure 9).

Figure 9: Wan Bissaka gets a 1v1 situation, taking on his marker before assisting Martial with a cross.
Additionally, when looking at United's current favoured front three (Rashford, Martial, Greenwood), the profiles read: 1v1/wide forward, striker/#9 and poacher. A creator is desperately needed. This notion becomes even more evident when looking at how United set up at times in second phase ball possession and in the final third (shown in figure 10).
Having Sancho stationed between the lines gives rise to very promising combination opportunities in central positions. This could aid united significantly, particularly versus deep blocks.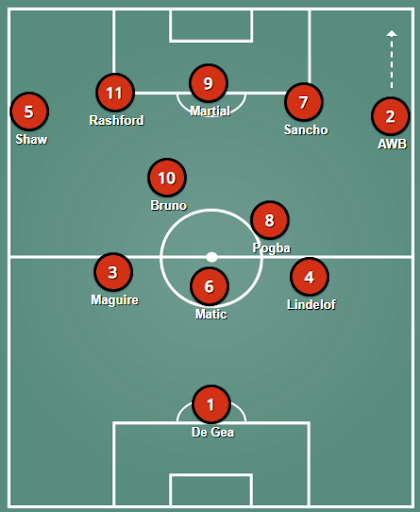 Figure 10. United's positional setup in 2nd phase ball possession is often a '5'.
Conclusion
Simply put, the signing of Jadon Sancho is killing two birds with one stone: the right-wing position and the final third creator that United are missing. In addition to that United would be getting a highly promising 20-year-old with world class potential. If the signing can be made, it's a no-brainer. 
By: Jamie Scott
Featured Image: @GabFoligno