A Theoretical and Statistical Analysis of WSL Defenders
The development of football as a sport has undeniably been enormous over the last century. Rules, tactics, infrastructure and various other aspects of the game have gradually evolved over time and continue to grow. And although it might not be the most historical on paper, the WSL (and hence, women's football too) has also undergone multiple transformations to adapt to football as we see it today. 
Investment in the women's game is a huge topic in itself but it has impacted the sport very positively. Players have better training facilities, which naturally makes them better footballers on the pitch. There is still a long way to go but the money that has been put in has led to the rise of numerous brilliant players in the league. And in this article, our aim will be to spot both the already consistent veterans as well the rising stars of our generation.
Our area of interest will be defenders, both centre-backs and fullbacks who have lit up the league time and again with their performances in the past few months. By comparing different statistics, we will be able to identify some of the most significant attributes of these players as well as some less tangible ones. [All graphical figures have been divided amongst centre-backs and fullbacks for simplicity and purpose of analysis].
Before we delve into a full-blown statistical study of the league's best defenders, it is important to understand the modernized notion of a defender's role in their team. Previously, when football was simpler and ancient, defenders had a certain physicality about them. It still exists, don't get me wrong, but the extent of it has been limited hugely as the game has progressed. Another noticeable change has been the highly emphasized ball-playing ability.
Sure, not all teams play a possession-based style of football but composure and calmness when having the ball has become a necessity nevertheless. Precise passing and clearing your lines only when it's critical has become a key feature of the sport. Alongside this, fundamentals like heading, tackling and intercepting the ball remain paramount.
Defensive Actions Successful (DAS) and Interceptions (INT)
We start our analysis with the most basic but foundational domain. Defensive actions consist of everything from aerial duels to successful tackles. Interceptions also contribute to this but have here been used because they are a stand out for all WSL defenders. Almost all centre-backs and fullbacks make about four to five times the amount of interceptions as other defensive duels. It's very hard to find a logical explanation for this but one reason for this could be forwards attempting more through/forward passes which get cut off more often than not.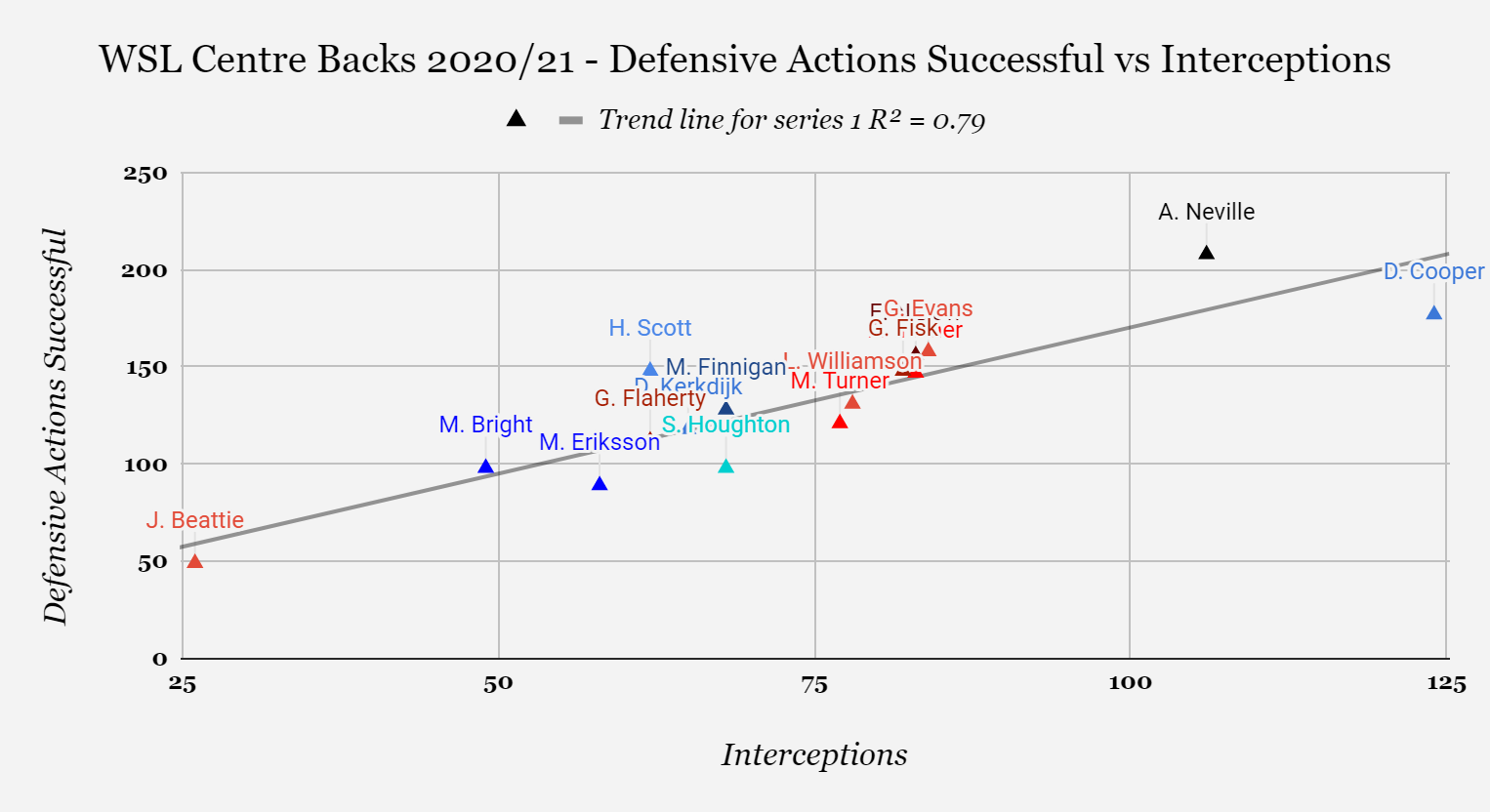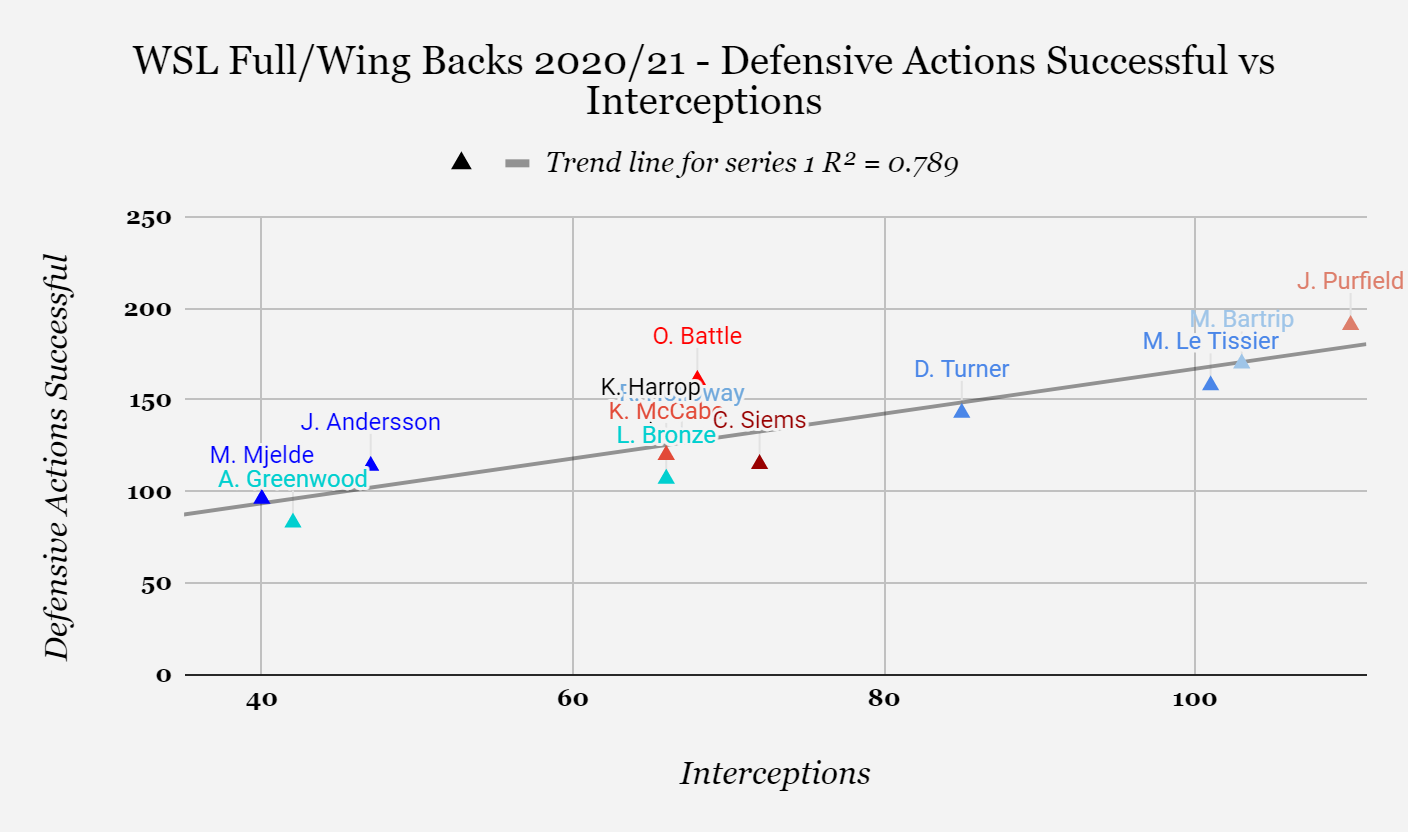 Looking at the figures above, the first clear observation is the difference in range between centre-backs and fullbacks with regards to DAS and INT. The trend line in the first graph is steeper than the line in the second graph, indicating that centre backs have a more widespread distribution of defensive actions and interceptions. However, this is contradicted by the crowded centre in the first graph, with only Arsenal's Jen Beattie, Tottenham's Ashleigh Neville and Reading's Deanna Cooper occupying the extremes of the spectrum. 
Interestingly, the likes of Chelsea's Millie Bright and Magdalena Erikkson and Manchester City's Steph Houghton have lower numbers – this comes down to the excellence of their teams in facing lesser attacking situations and hence conceding lesser goals. It lowers the overall defensive work that needs to be put in by the centre backs.
Arsenal's Leah Williamson is a little higher up but belongs to the same category given her defensive brilliance. For similar reasons, Chelsea's Maren Mjelde and Jonna Andersson, Manchester City's Alex Greenwood and Lucy Bronze, Manchester United's Ona Battle and Arsenal's Katie McCabe find themselves on the left extreme of the trend line for fullbacks.
Moving up the trend, we notice that defenders from mid-table and lower-table teams have more defensive contributions. They encounter more attacks and thus have to put in more tackles and blocks in order to prevent conceding. West Ham's Grace Fisk, Bristol City's Grace Evans and Aston Villa's Elisha N'Dow find themselves under this category. In the second graph, Everton's Deanne Turner, Brighton's Maya Le Tissier, Reading's Molly Bartrip and Bristol City's Jemma Purfield – all fall under this sub-domain. 
Surprisingly, Manchester United's Millie Turner and Amy Turner also find themselves in this sub-domain. Although United sit second in the table, they do tend to defend more, maybe because they are the most aggressive pressers in the league – causing the players to stay high up the pitch and more open to attacks. A lot of other players also lie in interesting spots on the graph. Brighton's Danique Kerkdijk, West Ham's Gilly Flaherty and Birmingham City's Harriet Scott are closer to the lower half of the trend line.
However, this is not surprising because most of these mentioned teams play in a low block with a 5-at-the-back formation, causing every defender in the backline to contribute equally, hence decreasing individual numbers. With regards to fullbacks, Birmingham City's Rebecca Holloway, Aston Villa's Caroline Siems and Tottenham's Kerys Harrop come out with related statistics.
Ball Recoveries (BRC)
Another vital aspect of defending is winning the ball back. Ball recoveries are a virtue of the WSL and always occur in high numbers in every game, implying the competitiveness of the league.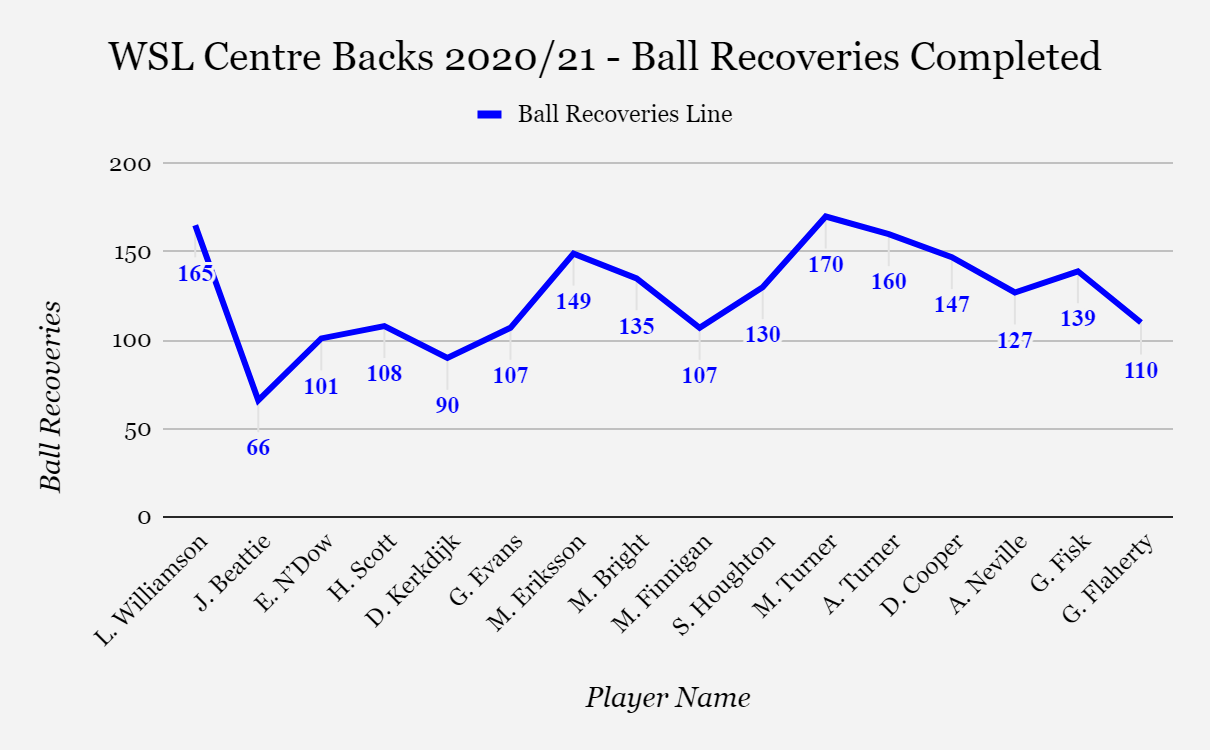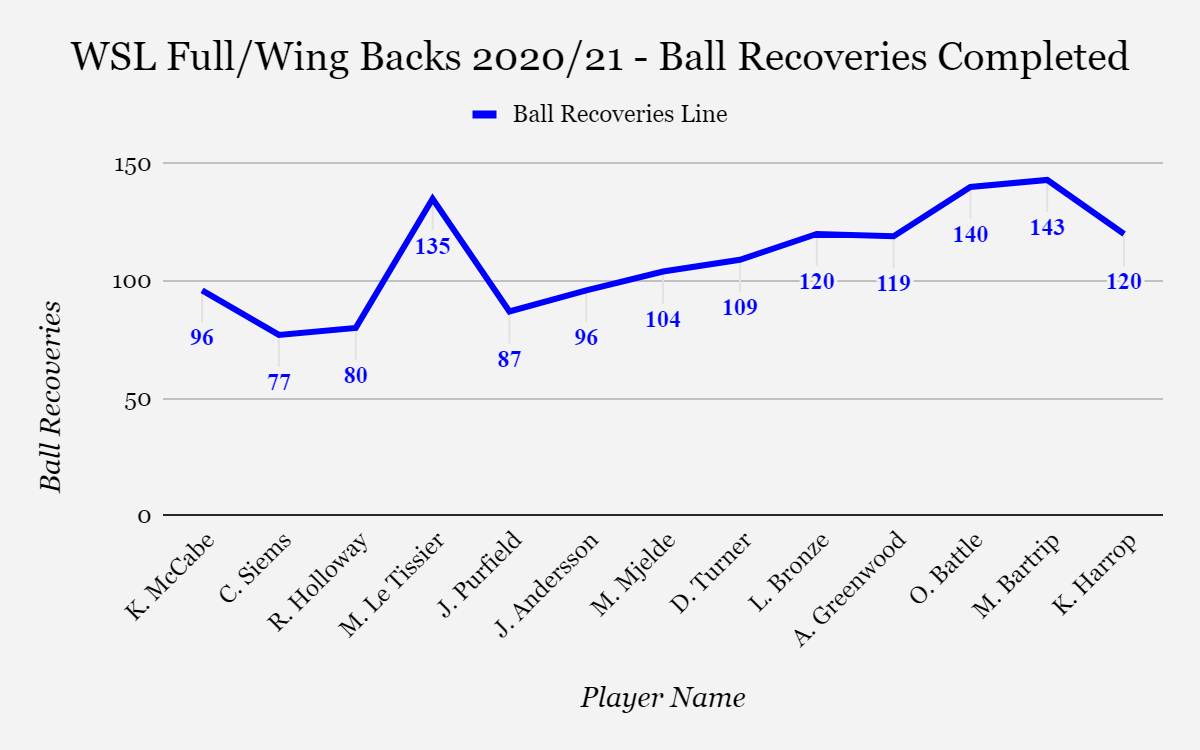 Once again, it's clearly visible that the centre-backs have a wider distribution as compared to the fullbacks. Besides Jen Beattie and Danique Kerkdijk, who have both played fewer games, all the other central defenders have over a hundred contributions in this sub-domain.
However, the highest numbers belong to the defenders who play for the top teams. Millie Turner leads the line with 170, with her partner Amy Turner in third with 160. Sandwiched between them in second is Leah Williamson, with 165. Chelsea captain Magdalena Erikkson is also up there with 149 with her Manchester City counterpart, Steph Houghton at 130. 
What is fascinating here is the difference between individual players from the same club. The only proper example of this from the figure is Grace Fisk and Gilly Flaherty, who have a difference of 29 ball recoveries, meaning that Fisk averages almost 2.5 more BRCs every game. This defines a gap in quality but this gap is almost negligible. There are very many examples of the same among other teams but it only shows the level of consistency required by all centre-backs at such a high level.
The chart for fullbacks has a slight contrast. The highest numbers are possessed by players who do not play for the bigger teams per se. For instance, Reading's Molly Bartrip has racked up 143 ball recoveries and Brighton's Maya Le Tissier is close behind with 135. This is in line because wing-backs who play for the "Big Four" teams tend to attack more and stay high up the pitch, while the others spend more time winning the ball back in their own third.
All this helps us infer that BRCs cannot be overlooked when analysing defenders. It's a vital aspect of the game and always needs to be considered.
Playmaking and Distribution
As mentioned earlier in the article, modern football not only requires defenders to make challenges and blocks but also the ability to pass the ball around with precision. Of course, they must know when to clear their lines because keeping possession for too long can smell danger, especially if the opposition press is active and intense. Having said that, the WSL has seen the evolution of passing over the years, with players becoming more technically equipped.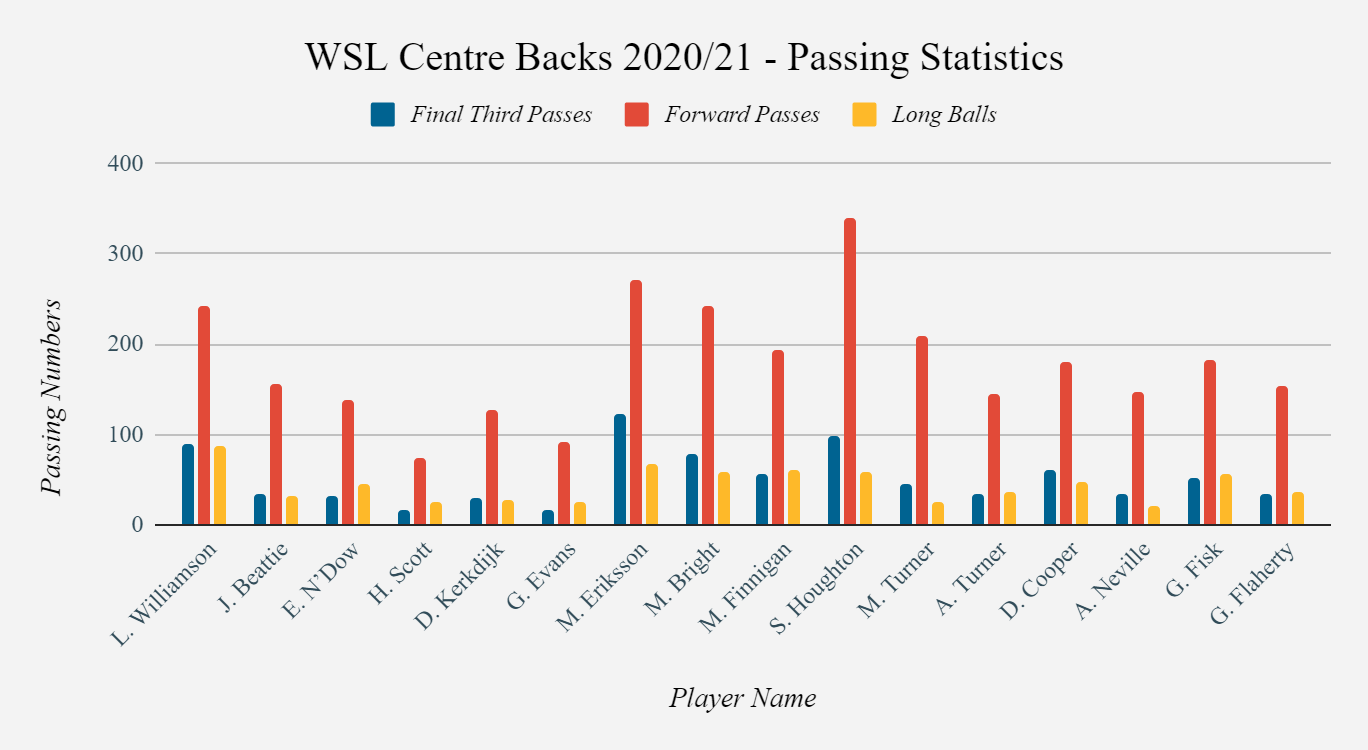 In an overall comparison, the centre-backs play more forward passes than the fullbacks on average; while the number of final third passes as well as long passes seems to be equally spread across both figures.
A captivating observation that can be made is the existence of a huge gap between defenders from the best teams in the land and ones from the mid-table and lower-table teams. Steph Houghton has a stunning 339 successful forward passes while Magdalena Erikkson, Leah Williamson, and Millie Bright have 271, 243, and 243 respectively. Millie Turner is the final player to join them in the elite list of more than 200 successful forward passes, having completed 210.
From this, we can deduce that the top teams like to dominate possession in games, which is most often the case. The other players all lie in lower segments of the chart, indicating that they average lesser forward passes every game – but also lining up with the fact that teams outside the top four are more comfortable with taking their chances as and when they can win the ball, and not by building up from the back.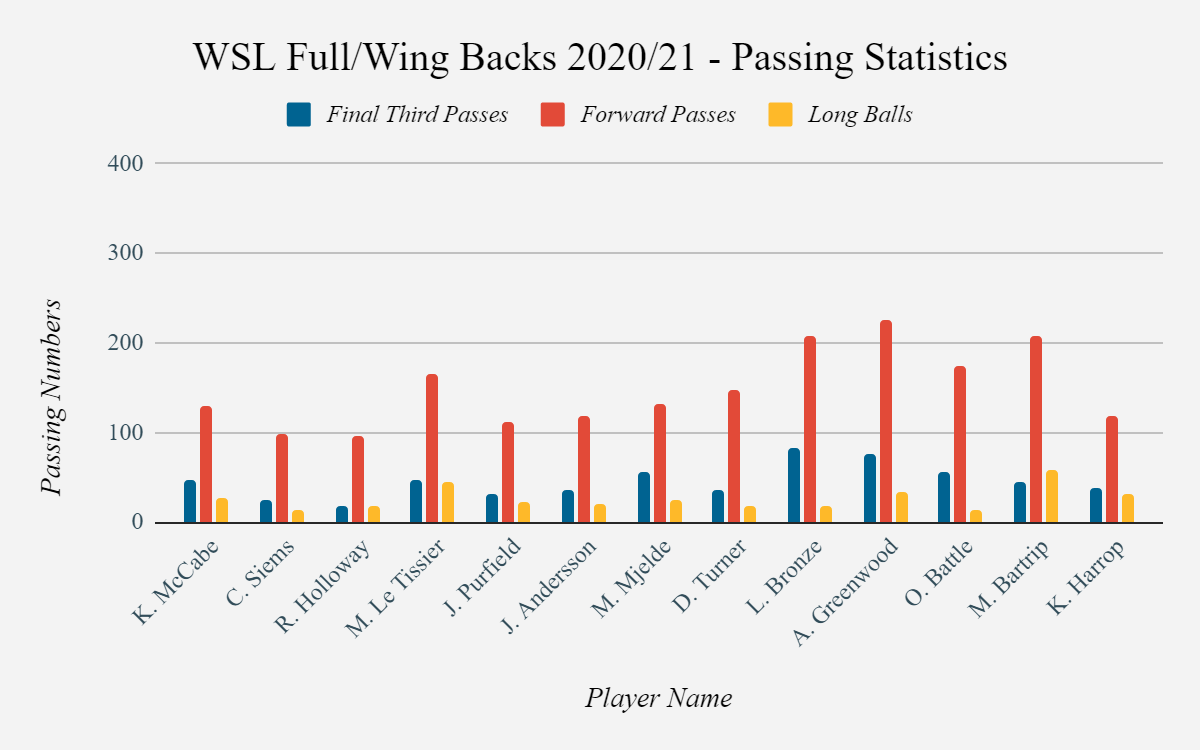 This deduction is also seconded by the figure for the fullbacks. Alex Greenwood and Lucy Bronze lead the line with 226 and 207 successful forward passes respectively. Close behind are Ona Battle, Maren Mjelde, and Katie McCabe with 174, 131, and 129. Surprisingly, there are two players from outside the top four who find themselves in this group – Brighton's Maya Le Tissier (166) and Reading's Molly Bartrip (208). They are both fantastic young talents and these numbers reflect that they always attempt to play riskier forward passes.
Passing has become an important hallmark of modern defenders and is making itself a more fundamental part of their game as football becomes more contemporary.
Spotting the Consistent Veterans and the Rising Stars
Magdalena Eriksson
Chelsea's 27-year-old Swedish centre half has been one of the league's best defenders for quite some time now. Magda's reading of the game is excellent and her composure on the ball makes her an accurate passer. With a passing success rate of 88.16% and the highest defensive numbers in the league, the Chelsea captain has transformed her team into a defensive powerhouse.
Steph Houghton
One of the most experienced players to grace the WSL, Manchester City's 32-year-old skipper induces not only leadership but also confidence into her team. Houghton is strong in the air, an aggressive but sensible tackler and has a sensational range of passing. She is also City's dead-ball specialist alongside Alex Greenwood and has a passing success rate of 89.59%.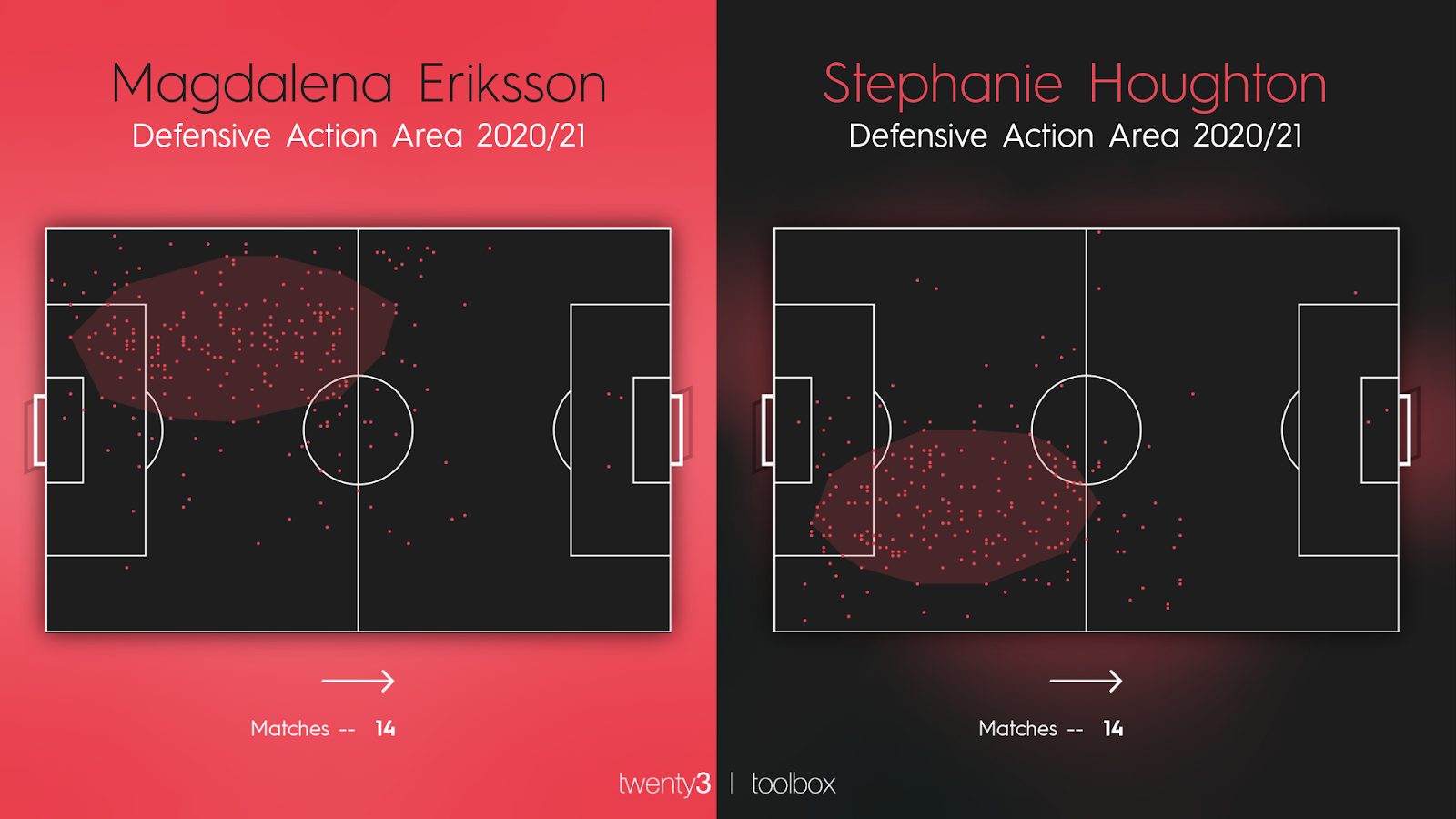 Photo: Twenty3 / Wyscout
Leah Williamson
Arsenal's blooming young Englishwoman is one of the brightest talents in the league. Williamson is a highly mature centre-back despite her tender age of 23 and has already captained her side on a couple of occasions. Her distribution is nothing less than praiseworthy and her anticipation as a defender is extraordinary. Unsurprisingly, she is also a prominent figure in the English national team.
Ona Battle
The 21-year-old Spanish left back is arguably Manchester United's most explosive player. Even at such a young age, Ona performs as if she's been around forever. She is fast, has great defensive awareness, and can also threaten opposition defences with her crossing ability. Sure, there is a lot of room for improvement but she is slowly cementing her place as one of the league's best fullbacks.
Lucy Bronze
Not talking about Lucy Bronze would almost be equivalent to committing a crime! FIFA's Best and Manchester City's veteran fullback, Bronze is one of the most complete fullbacks in the world. She's an adroit defender all right but her unpredictability on the ball while running forward makes her even more tricky to play against. She also has a sensational xA of 3.02 and a passing success rate of 84.45%.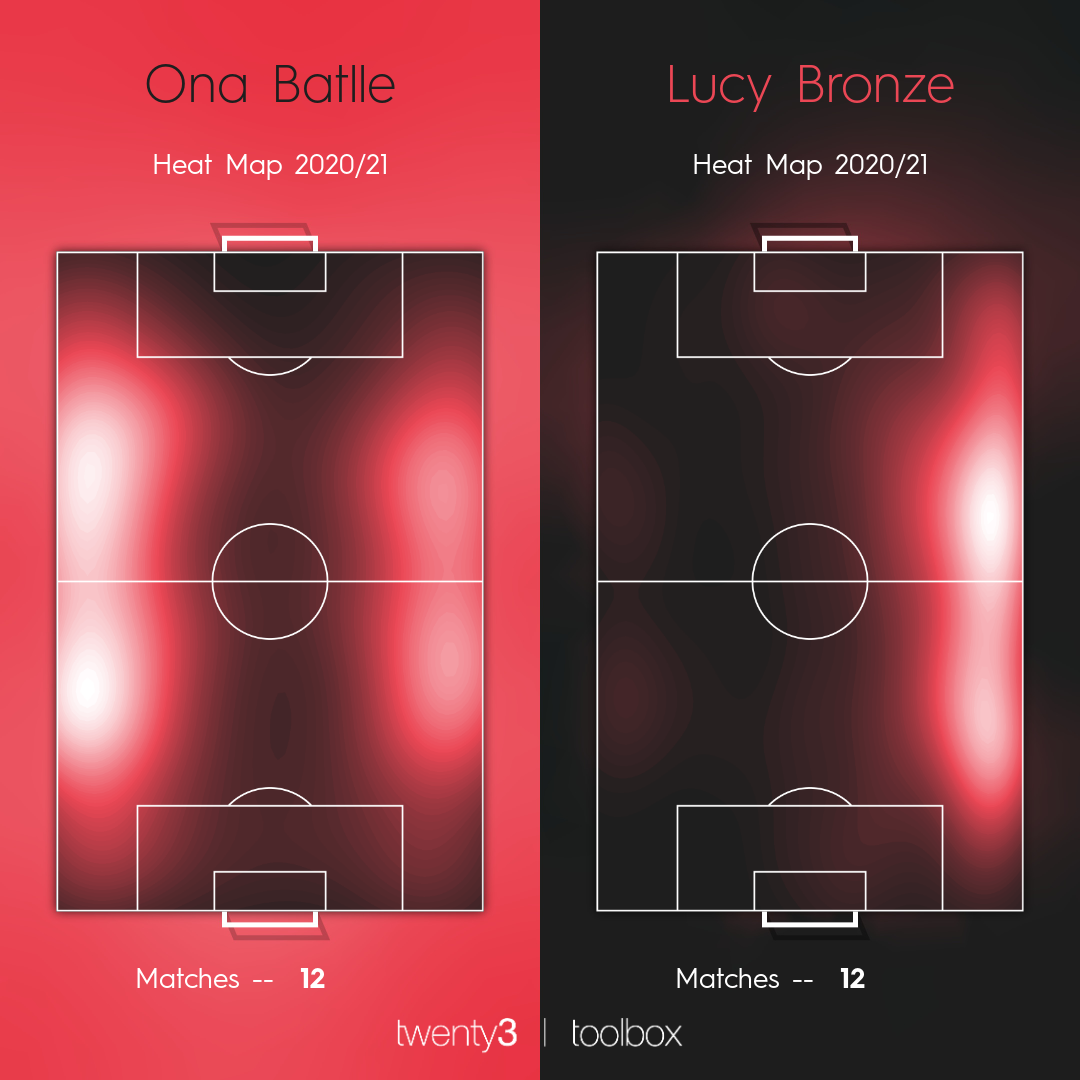 Photo: Twenty3 / Wyscout
By: Rahul Agarwal
Featured Image: @GabFoligno / David Price / Arsenal FC / Tom Flathers / Man City / Harriet Lander – Chelsea FC