Analyzing the Numbers Behind Stefano Pioli's Scudetto-Winning Milan
After an 11-year title drought that saw managers such as Vincenzo Montella, Gennaro Gattuso and Marco Giampolo come and go, a decade-long 'banter era' filled with horrendous signings and pitiful performances, Milan have reclaimed their spot atop Italian football.
The Rossoneri have edged last year's champions Inter Milan by just two points, snatching the Scudetto on the final day of the season after beating Sassuolo 3-0. They have vindicated their decision to pull the plug on Ralf Rangnick's appointment in 2020 and instead renew the contract of Stefano Pioli — just two years later, Pioli has brought the glory days back to San Siro.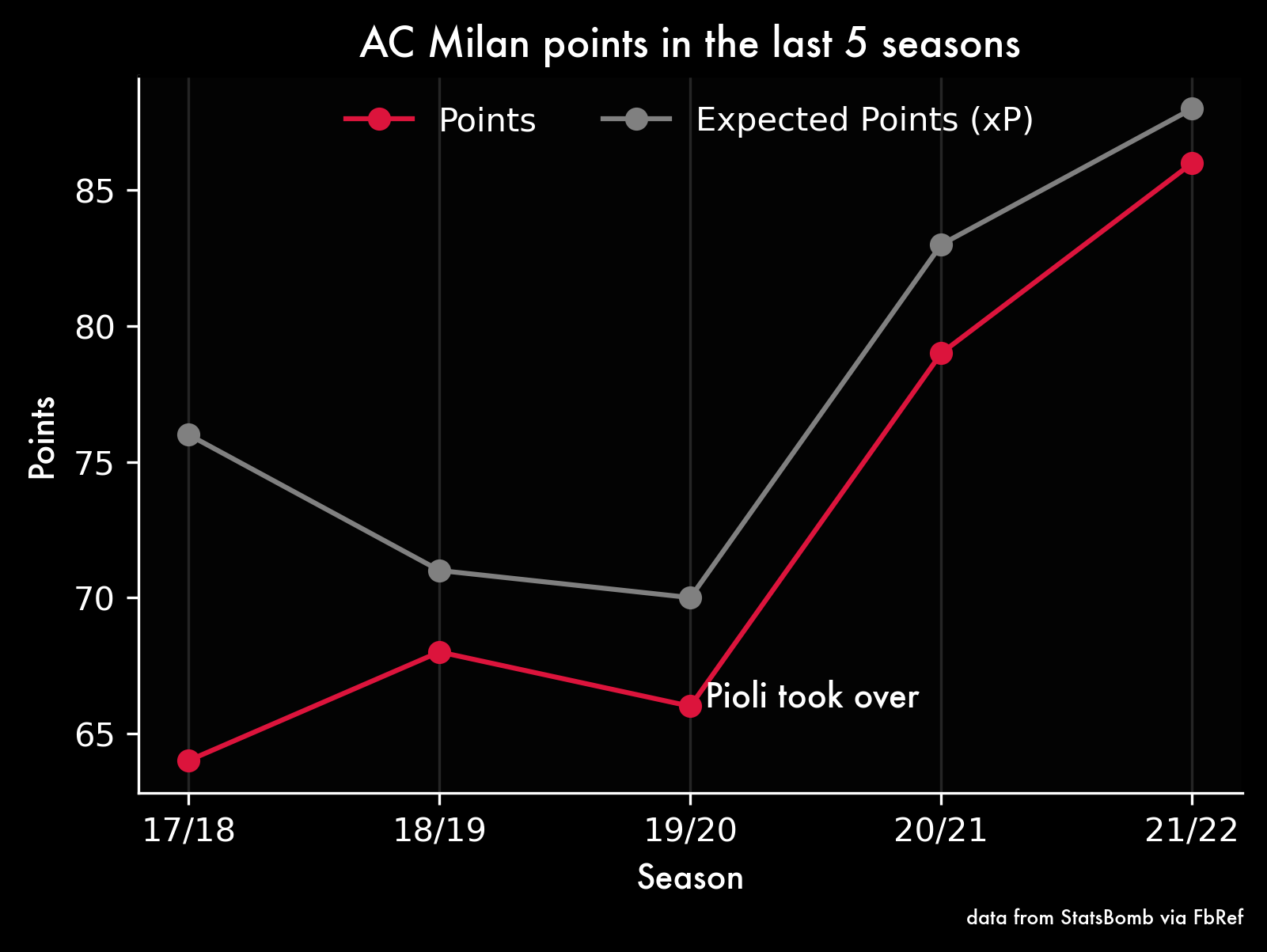 As we can see from the above chart, Milan had been underperforming in terms of their actual points when compared to their expected points, but this pattern would soon change. When Pioli took over for Marco Giampaolo in October 2019, he took a team that was 13th in the league and gradually stabilized their form, securing a sixth-place finish.
Whilst there were rumors that Rangnick would take over at the end of the season, the club pulled a U-Turn and instead renewed Pioli's contract whilst also splurging heavily in the summer transfer window, with Alexis Saelemaekers, Simon Kjaer, Pierre Kalulu, Ante Rebic, Sandro Tonali, Brahim Diaz, Diogo Dalot, Jens Petter Hauge and Ciprian Tatarusanu joining.
It proved to be the right decision. Whilst Antonio Conte's Inter ran away with the Scudetto, finishing 12 points above their crosstown rivals and ending Juventus' domestic reign, Milan nevertheless finished second in the league to return to the UEFA Champions League after eight long years. Their 79 points was also their highest tally in the league since 2012/13.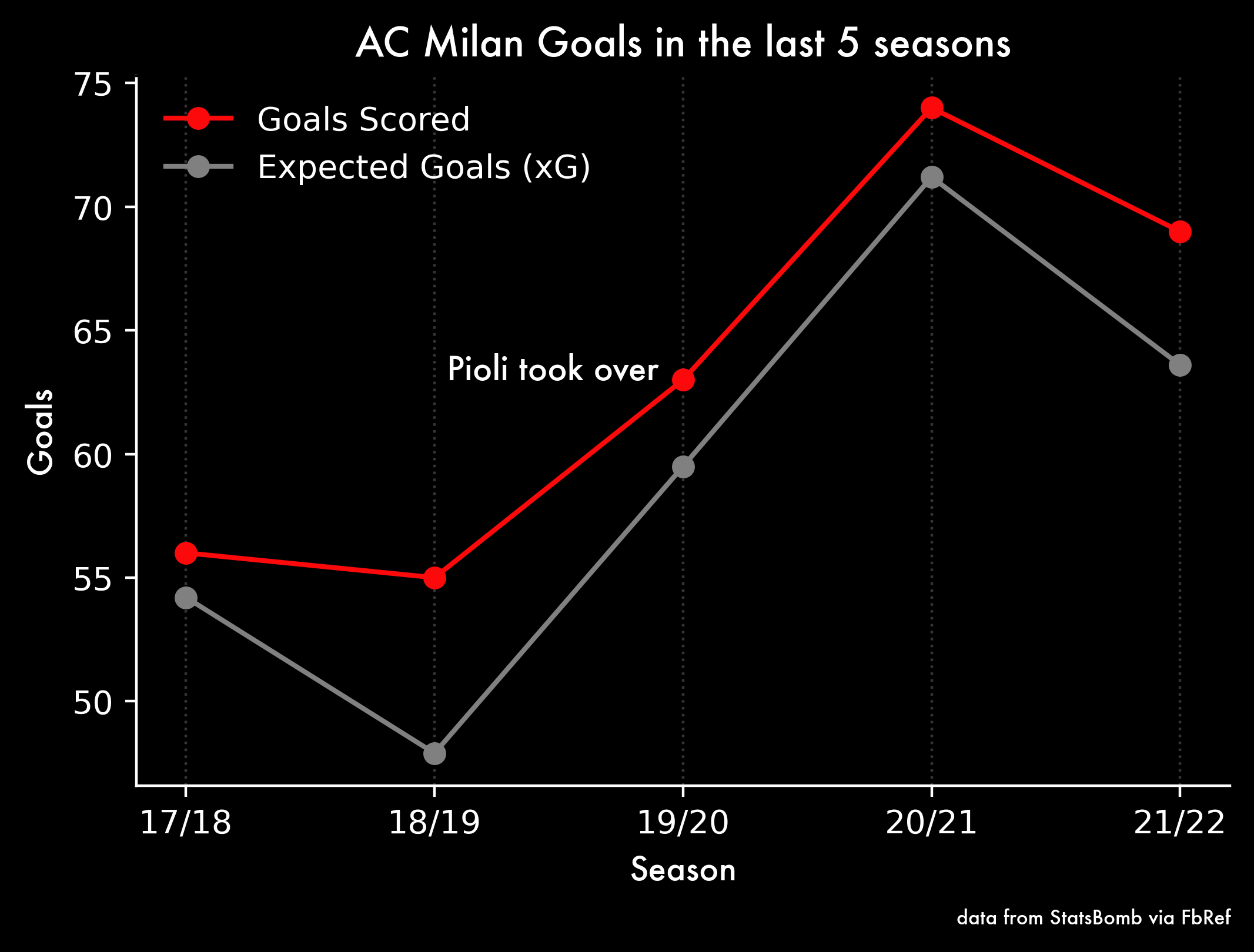 What's more, their expected goals tally (xG) was also improving under Pioli. In 2018/19, Milan's quality of chances was so poor that they weren't even expected to score over 50 goals — they would nevertheless score 55 under Gattuso and finish fifth in the league. This xG rapidly increased under Pioli as Milan became a more dangerous attacking threat and created better goalscoring chances.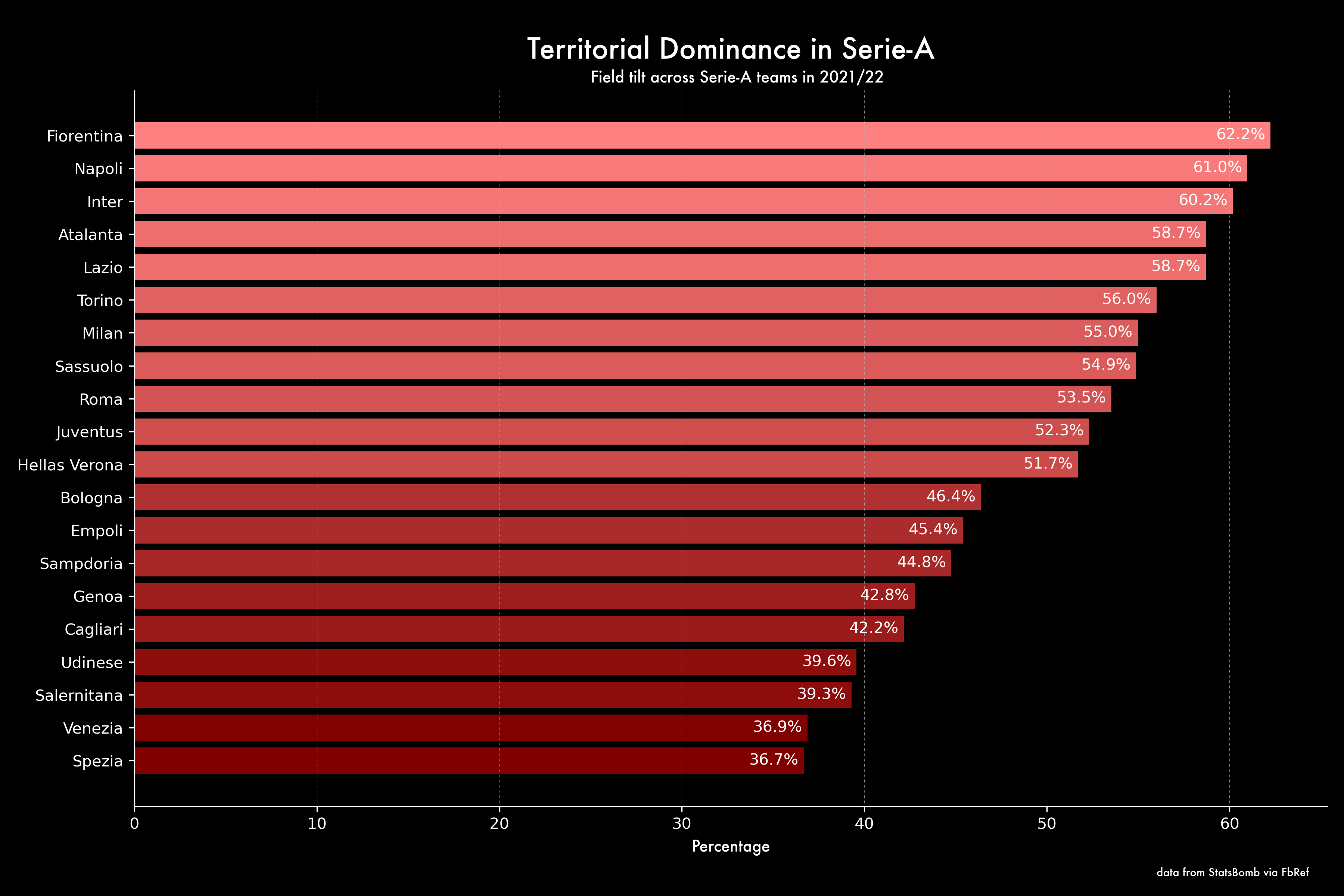 By analyzing their field tilt — the percentage of passes made in the final third compared to their opponents — we can get a better sense of Milan's territorial dominance.
Milan did not necessarily dominate this metric this season with a field tilt of 55% across the 2021/22 season, but this was also due to their direct style of play that saw them quickly advance into the box without needing to take an ample amount of touches in the final third.
On the contrary, the most dominant Serie A team in this metric was Vincenzo Italiano's Fiorentina, who finished 7th — their best finish since 2015/16 — and sealed qualification for the UEFA Europa Conference League.
Whilst Pioli has played an invaluable role in Milan's Scudetto, technical director Paolo Maldini has once again reached legendary status for the club — only this time, for his work off the pitch.
Fikayo Tomori – The Forward-Thinking Defender Constructed by Cobham, Made in Milan and Now Vying for an England Starting Spot
The Rossoneri lost Hakan Calhanoglu and Gianluigi Donnarumma to Inter and Paris Saint-Germain on free transfers last summer, but whilst Calhanoglu would suffer his second-straight second-place finish in Milano, Donnarumma has arguably been upgraded upon with the signing of Mike Maignan from Lille. What's more, completing permanent transfers for Fikayo Tomori and Sandro Tonali and adding the veteran experience of Olivier Giroud have also proven vital in their triumph.
The playing time of the squads this season also showed the trust of Pioli in the team's young core: their average age of 26 makes them the youngest squad to win the Scudetto in the three-points era — since 1994, teams in Serie A have been given three points for a win.
Goalkeeper Mike Maignan (26) and center back Fikayo Tomori (24) sit atop the list, followed by left back Theo Hernández (24), left winger Rafael Leão (22), and midfield duo Sandro Tonali and Franck Kessié — the latter of whom looks set to leave Milan on a free transfer with Barcelona linked with a move.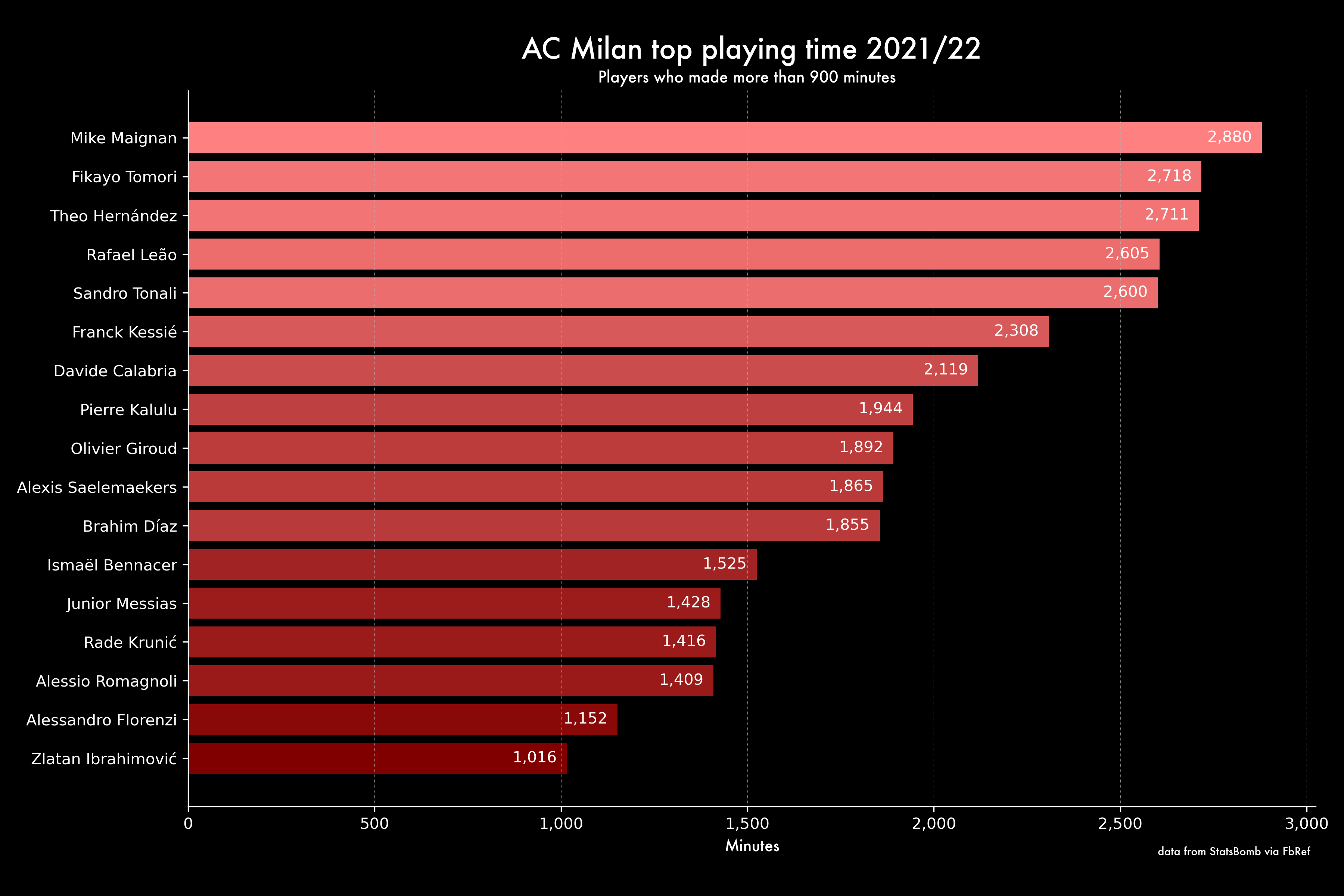 It is clear that Milan's Scudetto triumph has been a team effort, but perhaps the most important player behind their title has been Rafael Leão, who provided a hat-trick of assists in the final matchday, setting up Olivier Giroud's brace and Franck Kessié's goal as Milan went up 3-0 against Sassuolo within 36 minutes to give them some breathing room in the second half, holding onto a 3-0 win to seal the title.
The 22-year-old Portuguese forward provided 11 goals and 10 assists and deservedly earned the Serie A Most Valuable Player award. Among other U-25 forwards who played at least 900 minutes last season, he was above the 80th percentile in terms of goals and shots creating action per 90 minutes. He was also at the top percentile with his 10 assists last season.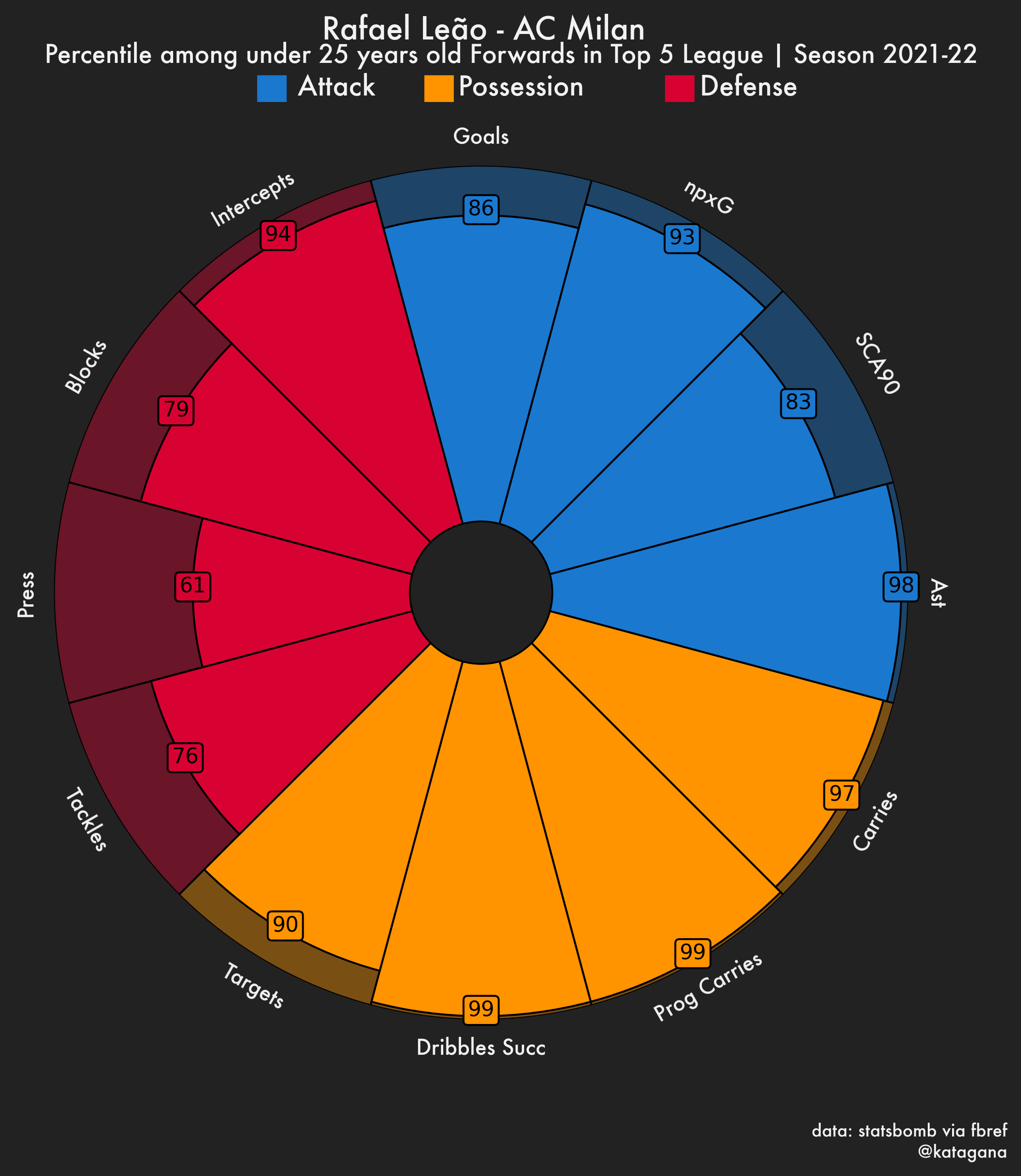 What stands out the most about Leão is his rapid pace and dribbling ability, ranking in the top percentile in terms of progressive carries and dribbles whilst also being one of the top targets to receive the ball when Milan was in possession.
Moreover, he was quite active in defending actions as Pioli demanded his side to be active to regain  the possession, with Milan only allowing 8.86 passes per defensive actions (PPDA) to put them in the top 5 most aggressive pressing sides in Serie A.
The Rossoneri are back atop Italy's footballing pyramid and have returned to the UEFA Champions League, but with a young core boasting Fikayo Tomori, Sandro Tonali, Rafael Leão and many more, they've also ensured their prosperity and success on a long-term basis going forward.
By: @ktagana
Featured Image: @GabFoligno / Pier Marco Tacca / AC Milan