Fikayo Tomori – The Forward-Thinking Defender Constructed by Cobham, Made in Milan and Now Vying for an England Starting Spot
The defensive lynchpin, and a vital cog in AC Milan's youngest team to win the Serie A title, Fikayo Tomori has progressed massively since leaving Chelsea.
Playing the most minutes of any outfield player in Milan's Scudetto-winning outfit, the importance of Tomori to Stefano Pioli's side cannot be understated. And now, the centre-back has returned to contention for an England starting place after being called up to Gareth Southgate's squad for the summer internationals.
Born in Calgary, Canada to Nigerian parents, Tomori moved to England before the age of one and after impressing whilst playing for Riverview United in Kent – he joined Chelsea at eight. His progression through the youth levels at Cobham was impressive and he became a part of two successive successful seasons as part of the academy outfits.
Winning the FA Youth Cup and UEFA Youth League in both 2014/15 and 2015/16, Tomori proved himself to be a standout performer and scored in both 15/16 finals. Making nine appearances in the Youth League in 14/15 and eight in the 15/16 campaign, the centre-back became an essential part of Chelsea's most successful European youth team.
He also became the Chelsea Academy Player of the Year for 2016 after such a defining season for the then 19-year-old. The youngster was rewarded with a new long-term contract with a view to loan moves to grab some experience.
Firstly came Brighton and Hove Albion, where Tomori would receive his only promotion to date, whilst only making nine appearances – the bright spark would have gained invaluable first-team experience under Chris Hughton.
With a senior debut established and making only one appearance for Canada's under-20 side, Tomori switched to England in an attempt to weave his way up the rankings. In doing so he gained a call-up for Paul Simpson's England under-20's, who were heading to South Korea for the FIFA U-20 World Cup.
Despite scoring a calamitous own goal in their group stage clash with Guinea, his wayward back pass evaded goalkeeper Dean Henderson and rolled into the back of the net – the defender strutted his stuff. He played all seven games as the Young Lions marched to the winners' medal in South Korea.
Managed by boss Paul Simpson, now Carlisle manager, Tomori stood alongside the likes of Henderson, Dominic Calvert-Lewin and Ainsley Maitland-Niles as they battled through the final against a tricky Venezuela side at Suwon World Cup Stadium. The reward from Chelsea – another loan, and a trip to Humberside with Hull City.
After their relegation was confirmed in 2016, the Tigers let go of 13 senior players as they had to refresh an ageing ex-top flight outfit. In doing so they propped up their squad with loans from the likes of Chelsea and Liverpool, as Ola Aina, Michael Hector, Harry Wilson and Tomori joined.
They managed to finish 18th, with the help of Jarrod Bowen's goals to keep them afloat in the second tier. Tomori played his part, making 25 appearances in a season-long loan spell, becoming a fans' favourite at the KCOM Stadium.
But despite an impressive season, Tomori couldn't quite secure a Premier League loan, and instead opted to join a Chelsea legend in his first managerial exploit. Frank Lampard had taken the job at Derby County and freshened his squad at Pride Park with the immediate loan signings of Tomori and Mason Mount.
This move would very much be considered the making of him, making 44 appearances and scoring one goal, he flourished well and truly. After guiding them to a play-off final, the guardian at the back became the Rams' player of the year.
His stock had risen and the time to go back to his parent club had come, with the defender admitting it was a difficult task to break into the first team."It's always going to be difficult to break in, you need to be at the top of your game." – Tomori before returning to Chelsea.
But a stroke of luck had hit Tomori, as his return to Chelsea coincided with Lampard's who moved from Derby alongside the centre-back. This became perfect for the defender as he was successfully integrated into his dream role in Lampard's side.
Holding down a role in the back four throughout the first half of the campaign, Tomori excelled and represented an exciting new project under Lampard which would utilise the famous Cobham academy in a way not seen in recent years. Pairing up with Kurt Zouma in defence (nicknamed 'Zoumori') they looked progressive with the ball, and did well when pulling wide to play out from the back.
He also scored with his first shot in the top flight, his curling effort finding the top corner in a 5-2 win over Wolverhampton Wanderers which went on to win the club's goal of the season. This also led to him getting his first England call-up, along with his seven-minute cameo debut against Kosovo in Euro Qualifying.
However, Tomori's season was halted by a hip injury, and along with Project Restart, he failed to reintegrate himself into the starting eleven. In his final game before lockdown, he only managed 64 minutes in their 2-2 draw with AFC Bournemouth and looked nervy on the ball and out of sorts in comparison to the cool and collected ball player previously seen.
He rarely featured during the rest of the campaign, and as the next one drew in, Tomori was offered out by Lampard as the arrival of Thiago Silva meant he was forced down the pecking order. But only four appearances would follow after rejecting a loan move to West Ham United, and as the realisation sunk in, he decided to switch to AC Milan in January on loan.
The six-month loan included a £25,000,000 buyout clause as they struck a deal to take the defender to the San Siro. After just 16 Serie A appearances, Tomori was snatched away from the Blues with the centre-back believing he'd be taken permanently after a lack of contact with new boss Thomas Tuchel. The following season would bring his greatest plaudits, however.
Under the stewardship of Stefano Pioli, an elegant yet aggressive stopper in his playing days, and we can see that beginning to rub off onto Tomori. The defender's style is forward-thinking and assertive when attempting to pick possession from opposition forwards.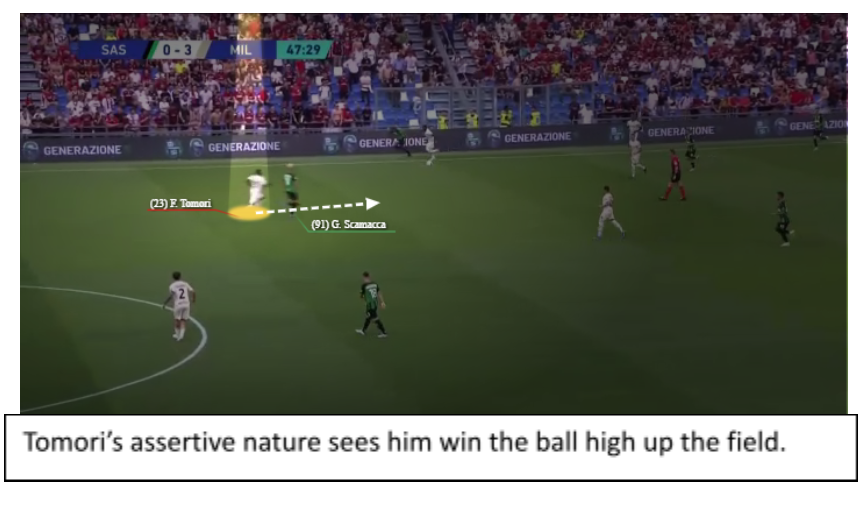 Tomori's relentless attitude to following his forward into deeper areas takes a lot of reassurance that his partner will be effectively covering behind him, just in case his forward move to the ball is unsuccessful. He found the perfect candidate to do so, pairing with another Frenchman in Pierre Kalulu who adds the pace on the cover when needed.
His ability to help Milan box the opposition in makes him incredibly effective when they try to squeeze high up the pitch with him adding 10.11 recoveries in the opposition half per 90 minutes played. Without him, their high squeezes up the pitch wouldn't be possible.
Although his long-range passes leave a bit to be desired, when Tomori isn't asked to perform a no-nonsense role in the back four he is capable of adding a good width of mid-range passing to the defence. Often sweeping the ball out wide when opening his body up, the former Chelsea man can play when asked to.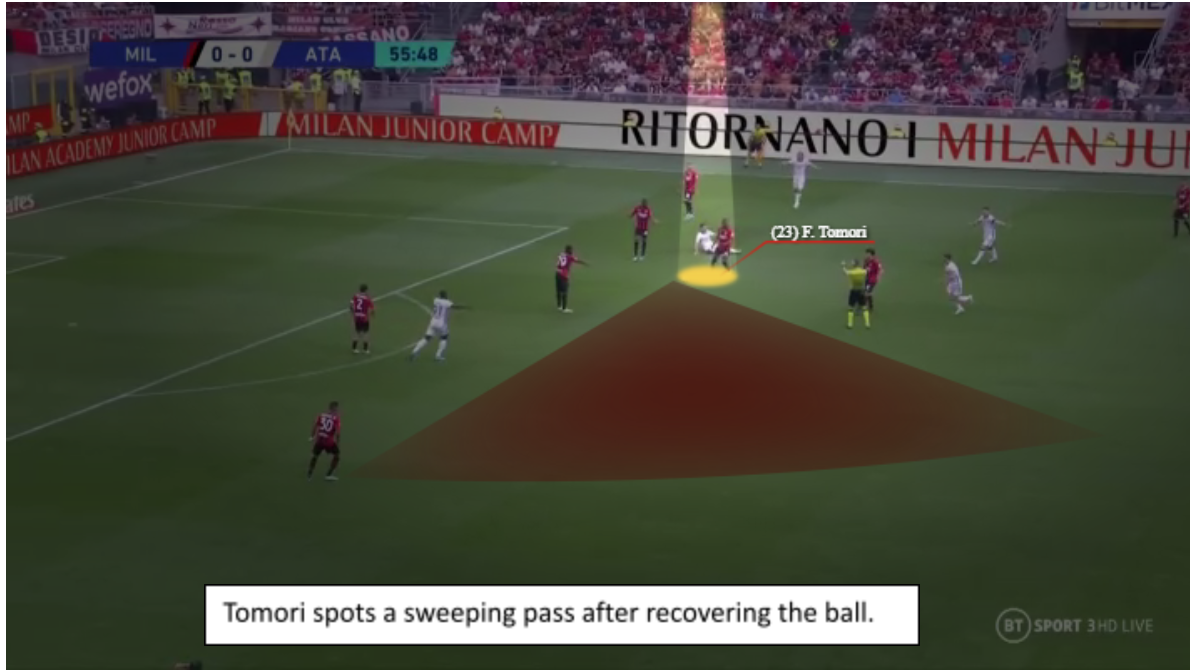 It is this development to his game that Southgate may have become attracted to, with him needing all of his defenders to play out of tight spaces calmly as they aim to break the frantic organisation of other international sides.
His contribution to the joint tightest defence in Serie A isn't understated and thankfully has now been recognised once again on the international stage. But Tomori cannot stop now, there's a spot up for grabs in the England back-line that he must compete for – and he's got every chance.
By Louis Bent / @louisbent_
Data + Images via WYSCOUT
Featured Image: @GabFoligno / Nicolò Campo / Light Rocket