Data Analysis: Albert Sambi Lokonga
Top teams in the Premier League rarely purchase players from outside of Europe's top five leagues. If they do, they tend to be young talents who go out on loan or develop in the academy system rather than players who move straight into the first-team squad.
Arsenal broke this trend when they signed Albert Sambi-Lokonga from R.S.C Anderlecht for £14.3 million this summer. 
Initially, it seemed unlikely that Lokonga would receive significant minutes for the Gunners and that Mikel Arteta had acquired the Belgian as an understudy and long-term replacement for Thomas Partey.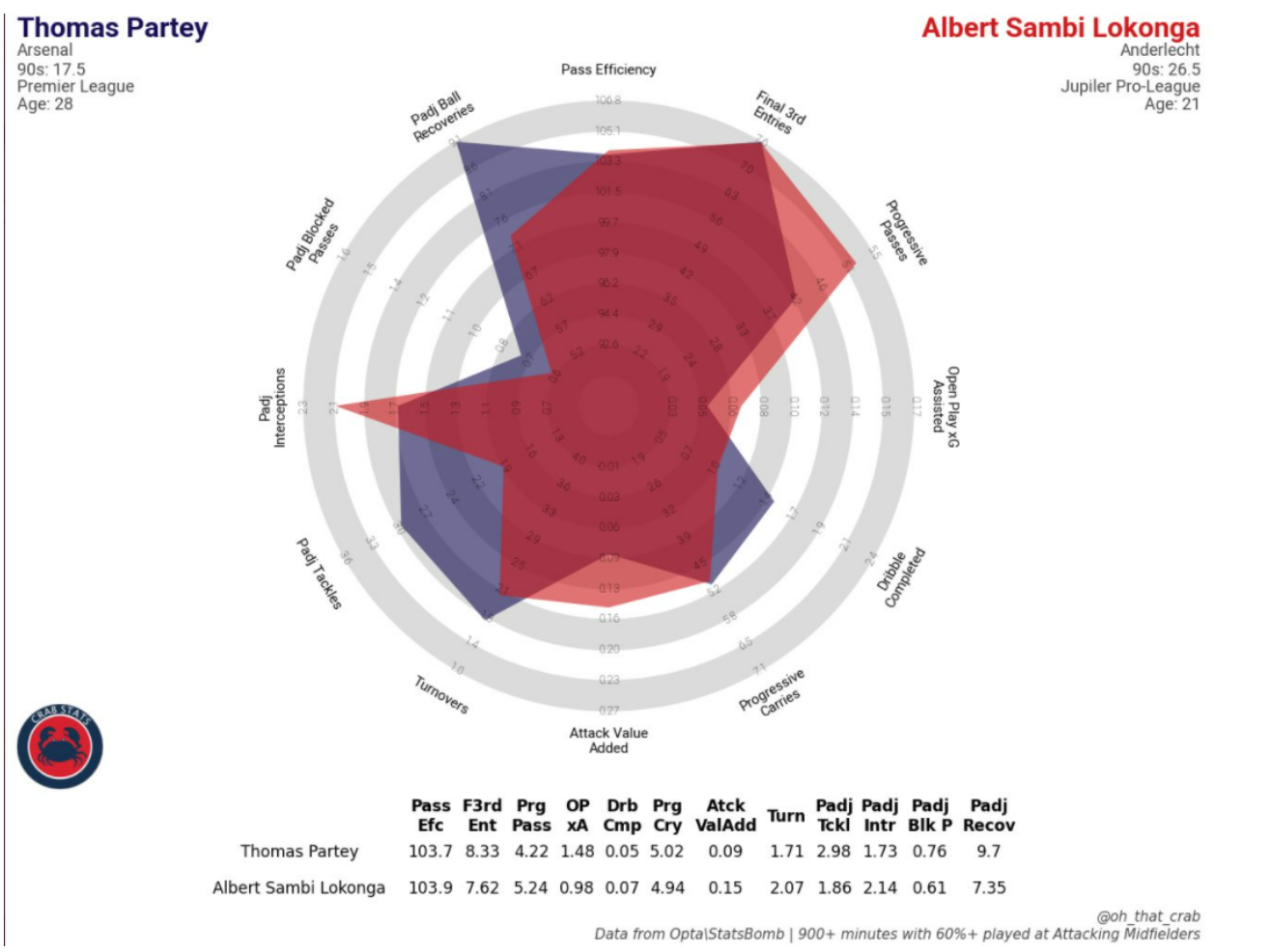 Photo: @oh_that-crab
The radar above shows how similar Lokonga and Partey are from a statistical perspective based on their performances during the 2020/21 season. Both are effective progressors of the ball through their passing and dribbling and both have significant contributions defensively, although Partey is more productive in this respect. 
With Lokonga just turning twenty-two in October and jumping straight from the Belgian first division to the Premier League, it made sense to view him as an eventual heir to Partey rather than an immediate midfield partner for him. 
However, Lokonga has already made thirteen appearances in the Premier League this season and cemented himself as one of the best midfield talents in the country. Playing in the double pivot alongside Partey, the Belgian has shone as a progressive midfielder through his physicality and ball-carrying.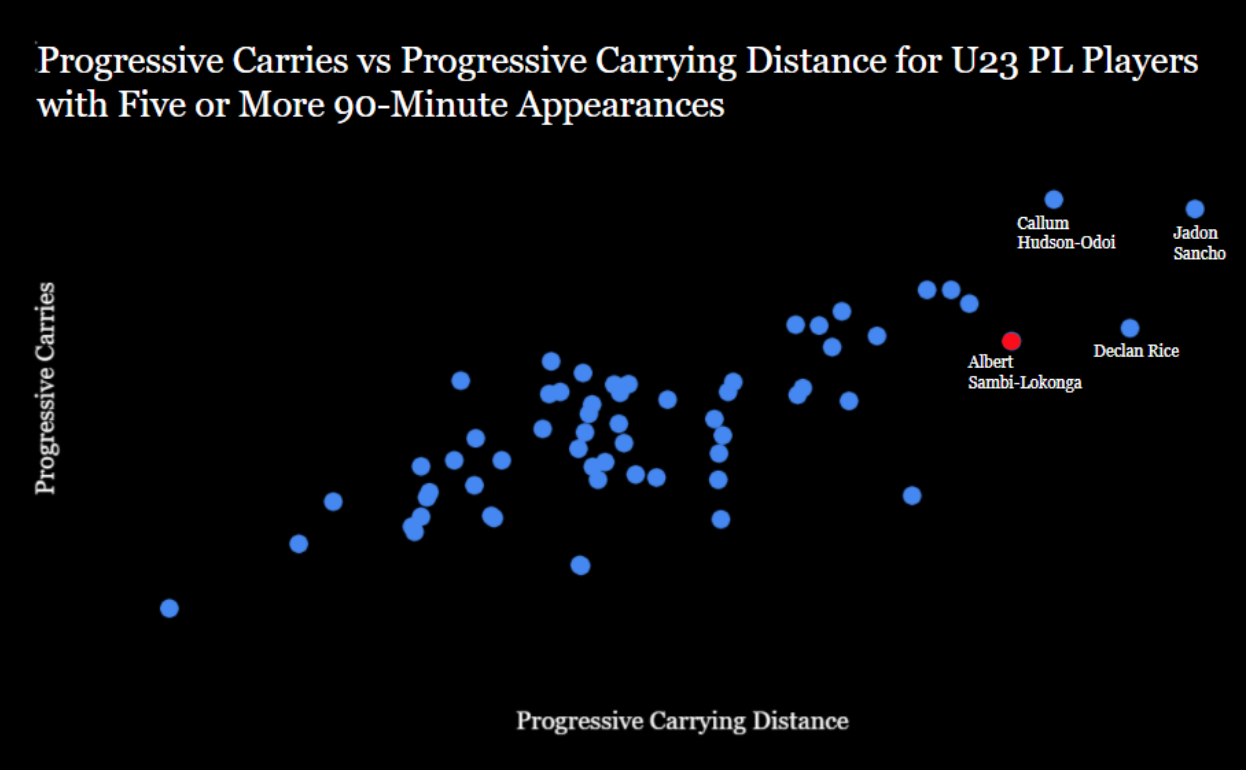 Data sourced from FBRef
The above scattergram shows the progressive carries (carries that move the ball ten yards or more closer to the opposition goal) and progressive carrying distance (total yards a player moved the ball towards the opposition goal through dribbling) of every under twenty-three player in the Premier League.
Progressive carries are useful in assessing the volume of a players' dribbling, while the carrying distance reveals how far those carries move the ball up the pitch. 
Only three players perform better than Lokonga for both metrics and just one of these players — Declan Rice —  is a central midfielder. It's not an exaggeration to say the Belgian is one of the best ball-carrying midfielders in the league within his age group. 
For Arsenal, this caliber of ball-carrying is crucial to their success. Under Arteta, the Gunners have often excelled at dominating possession but have only recently developed into a truly lethal goal-scoring force.
Part of the reason for this is because they lacked the necessary midfielders to transition the team from careful, methodical build-up at the back to direct, incisive attacking play in the final third. 
Lokonga's dribbling enables Arsenal to redress this issue. His capacity to collect the ball from deep and drive forwards with it himself not only enables Arsenal to move the ball forward but also disjoints the opposition defensive structure as they attempt to retrieve possession from him. This, in turn, creates space in other areas of the pitch for the attackers to receive the ball. 
Furthermore, Lokonga is an astute passer of the ball. He's not quite as bold and risky with his passing as he is with his dribbling, with his 4.51 progressive passes only placing him in the 68th percentile among midfielders in Europe's top five leagues.
He still makes an impressive 1.43 passes into the penalty area (81st percentile), but at present, Lokonga is best at facilitating possession through his passing rather than being a creative force. A particularly useful aspect of this for Arsenal is his ability to make passes while resisting opposition challenges.
His 9.67 passes under pressure (84th percentile) makes him a reliable distributor of the ball and also allows Arsenal to direct opposition pressure towards him, creating pockets of space elsewhere which they can exploit. 
While Lokonga made frequent starts in the earlier part of the season off the back of these useful traits in possession, Granit Xhaka's return from injury has relegated the former Anderlecht midfielder to the bench.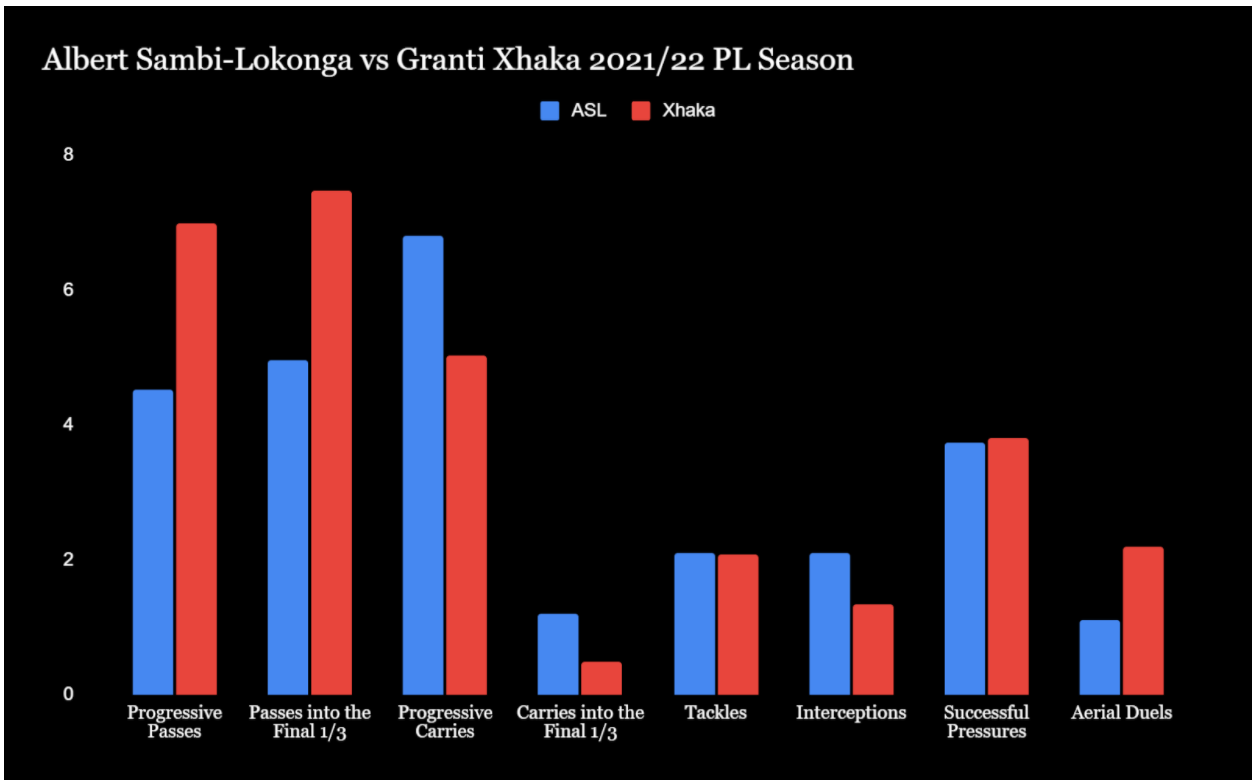 Data sourced from FBRef
Comparing the two players, Xhaka and Lokonga are broadly similar but clearly offer different qualities to Arsenal's midfield. Where Xhaka is a more adept progressive passer, Lokonga is a better ball-carrier. Neither are especially productive defensively, with Lokonga a better interceptor and Xhaka better in the air. 
Given the similarities between Lokonga and Partey, Arteta may feel that the Swiss is a better complement to him in midfield. He also brings specific qualities to the team with his switch passes, ability to drop into the left-back or left-center back position in possession, and goal-threat from range.
Crucially, he also brings experience and leadership to an otherwise young Arsenal team. For the moment, it seems Lokonga may have to settle for a rotational role in midfield. 
But while Xhaka may be Arsenal's present, Lokonga is undoubtedly their future. As he develops his passing and defensive abilities, he will become a mainstay in the Gunners' midfield.
For the first time in a long time, Arsenal appear to be an upwardly mobile club. Whatever success they achieve under Mikel Arteta, Albert Sambi-Lokonga will be crucial to it. 
By: Vishnu Anandraj / @vishnua711
Featured Image: @GabFoligno / Stuart MacFarlane – Arsenal FC