Data Analysis: Vinicius Junior
It's hard to imagine the scope and scale of pressure Vinicius Junior has had to face at Real Madrid. As an eighteen-year-old, he walked into the Santiago Bernabeu with his €46 million price tag looming large over him, a constant reminder of his status not just as an exciting young player but as the impending face of the club's new era.
Of course, he was never meant to enter the first team immediately and make a significant impact. Yet as Vinicius developed in a slow, methodical way rather than enjoying a meteoric rise to the highest echelons of the game, people lazily labelled him as a flop who Madrid needed to move on from.
He didn't score enough goals, didn't have the right final product, and was simply not of the requisite quality to become the linchpin of Los Blancos' attack.
This season, however, Vinicius is proving his doubters wrong. His gradual improvement over the past few campaigns has manifested into fantastic performances this year, something that is reflected in his statistics. His most obvious improvement has been in his goal-scoring.
Vinicius has always been an explosive, tricky winger who gave Madrid a direct attacking threat down the wings, but his greatest criticism was that he rarely turned that offensive danger into a tangible end product. However, he's already scored ten goals this La Liga campaign while also contributing four assists.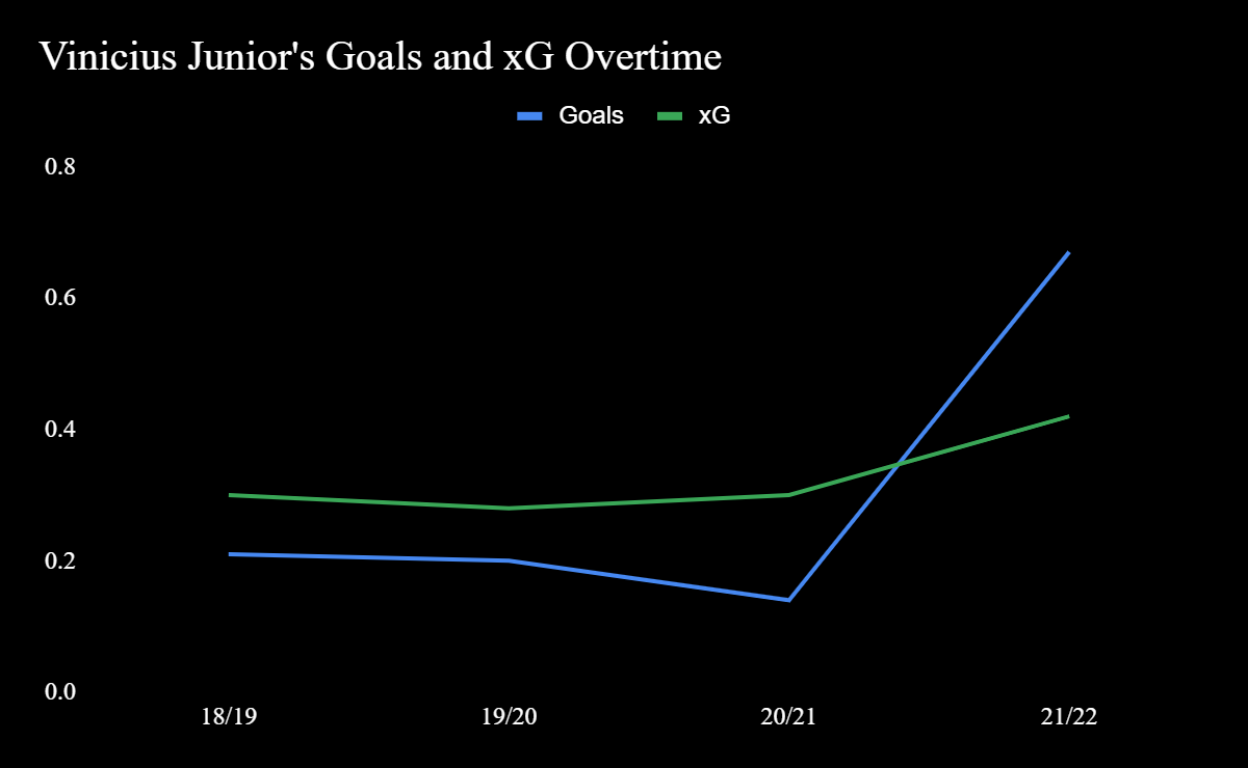 Data sourced from FBRef
As the above graph shows, Vinicius has long underperformed in terms of goal-scoring relative to his expected goals in La Liga until this year, where he is massively overperforming it. In one sense, this shows that Vinicius' goal-scoring isn't necessarily sustainable.
There's a big gulf between his 0.42 expected-goals tally per 90 and the 0.67 goals per 90 he's scoring, and generally, that suggests he will be less lethal in the months to come. 
However, most of the elite goal-scorers in world football routinely overperform their expected goals — such is their quality. Looking at his shot map from La Liga this year, it becomes clear that Vinicius could indeed follow that same trajectory and continue to score above his xG.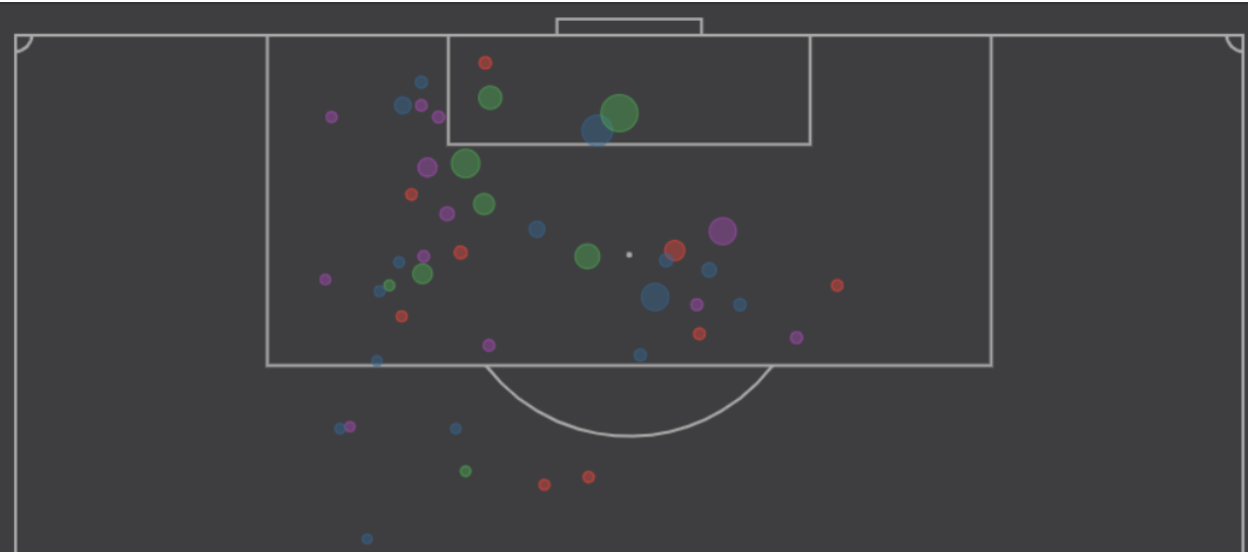 Data sourced from Understat
While Vinicius has scored a few goals from shots that were unlikely to be a goal, most of his goals are from the left inside channel of the penalty area. For most players, this is a difficult area to score from since the angle is tighter and opposition keepers can easily cover more of the goal as compared to a central area. 
Yet for Vinicius, the way he opens his body and his specific technique enable him to regularly score from these positions. He's developed a shooting repertoire that facilitates putting away chances in the left half-space, meaning that he should continue to score a healthy tally of goals from this area despite its nominal low-expected goals value. 
Furthermore, Vinicius has also improved as a ball-carrier. While he's always been a willing dribbler, his efficiency has dramatically increased this campaign.
At the time of writing, he leads La Liga for players dribbled past, progressive carrying distance (total yards a player moved the ball towards the opposition goal through dribbling), progressive carries (carries that move the ball ten yards or more closer to the opposition goal), carries into the final third, and carries into the penalty area. 
His success for progressive carries and progressive carrying distance is particularly noteworthy. Previously, Vinicius was best known for being able to isolate against an opposition fullback and use his trickery to beat them one on one.
Now, though, he's also shown himself to be capable of carrying the ball over longer distances to progress the ball from deep and drive his team forwards. This is partly due to subtle differences in his role for Madrid under Carlo Ancelotti as compared to his predecessor Zinedine Zidane.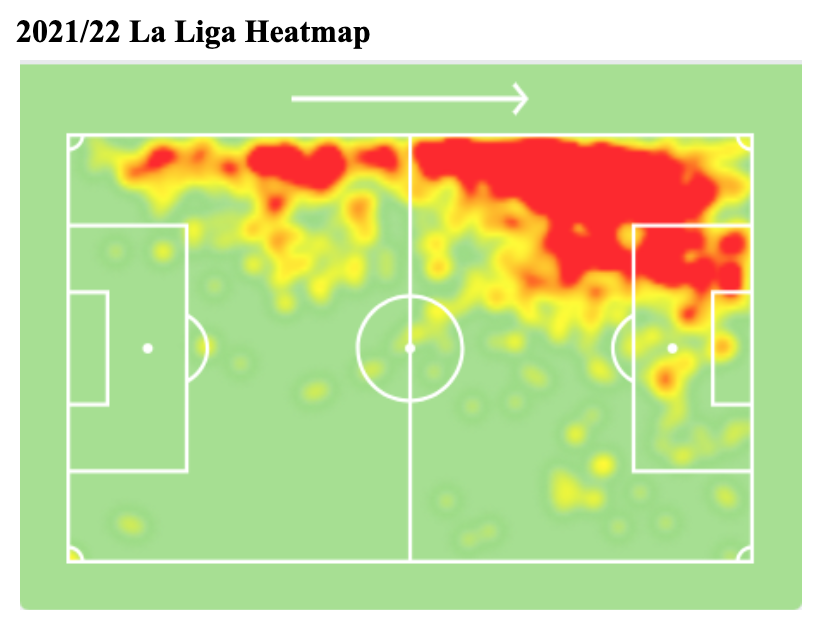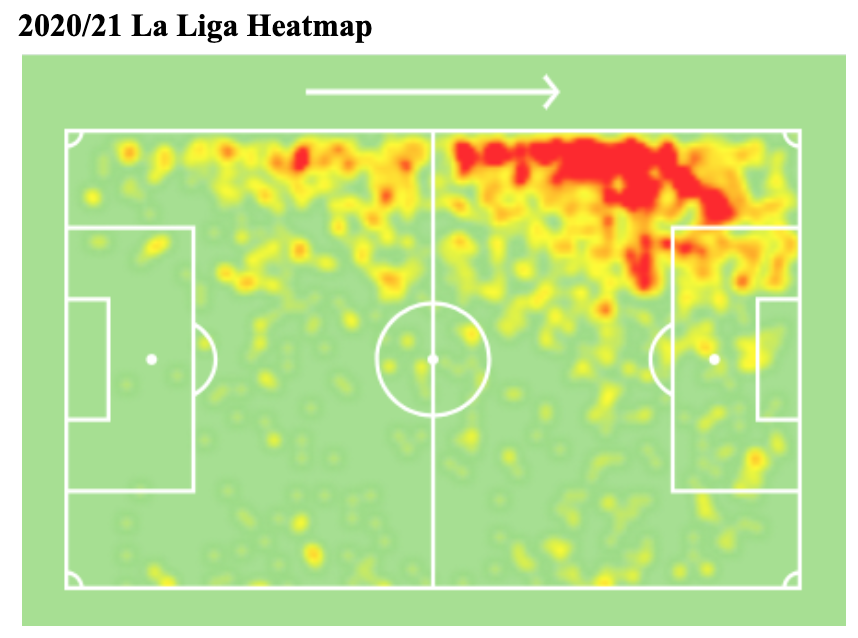 Heat maps sourced from SofaScore
As these heatmaps show, Vinicius is not only spending more time in the opposition penalty area under Ancelotti, he's also collecting the ball from deep more frequently. While the Italian boss has generally kept the same tactical setup implemented by Zidane, his willingness to let more of the attacking play run through Vinicius has enabled the Brazilian to shine as a more complete ball-carrier than before. 
It's worth noting that despite being labelled as someone who loses the ball frequently, Vinicius' pass completion metrics all rank above the 90th percentile for wingers and attacking midfielders in Europe's top five leagues.
This is largely a reflection of how Vinicius primarily seeks to take risks through dribbling rather than passing. He is yet to become a truly creative winger, and so instead will often choose to play safe, short passes so he can better position himself to receive the ball and carry it. 
What's exciting about Vinicius, though, is that he will only continue to get better. Carlo Ancelotti has largely based the team's attacking play around him, and it seems that under his tutelage, the Brazilian will continue to take significant strides in fulfilling his vast potential.
Four years after earning a €46 million move to Real Madrid, the exhilarating, tricky attacker that burst onto the scene for Flamengo has now added cutting-edge variety and end product to his game, and is fast becoming one of the finest players in his position. With 12 goals and 9 assists in 24 appearances, he has become a lethal presence for Los Blancos, and at 21 years of age, he's only just getting started.
By: Vishnu Anandraj / @vishnua711
Featured Image: @GabFoligno / DeFodi Images