European Club Competitions 2022-23: What Is on the Line for Countries as the 2024-25 UEFA Reforms Loom Large on Horizon
We enter one of the most crucial seasons of European club competition of all time. There are just two years to go before a major shakeup to the Champions League and its sister tournaments. It will see the three-decade-old group stage round make way for a single league table for the first half of the campaign. 
For clubs and their respective national associations, this season will be of utmost importance. Why? The 5-year national association coefficient ranking at the end of the season will be the basis for filling the access list for the first season under the previously mentioned changes. 
For some countries, the difference between positions like 12th and 13th in the access list will carry more weight to it than now, or ever. Similar can be said about 22nd and 23rd, 33rd and 34th, and, like now, 50th and 51st.
Whether that be an extra Champions League spot, a chance at Europa League qualification, or a certain number of clubs a country has in Europe, just two adjacent places in the access list can be so diverse in what it rewards. 
In the second of a three-part series on Breaking The Lines, we will go through which places are at stake, who are involved, and what we can expect in the 2022-23 UEFA club competition season. In some cases, we will even go as far as what significance that position in the 2024-25 access-list contains. 
The Race for Sixth
Place 
While some may argue that the battle for 5th is alive, I cannot see either Netherlands nor Portugal catching France for that extra Champions League place for 2024. However, the two will lock horns once again for 6th place in preparation for the reforms.
An extra spot in club football's most prestigious tournament is on the line between the Dutch and Portuguese. Here is a list of the clubs participating in Europe for each association, which competition they will start in next season, and the round.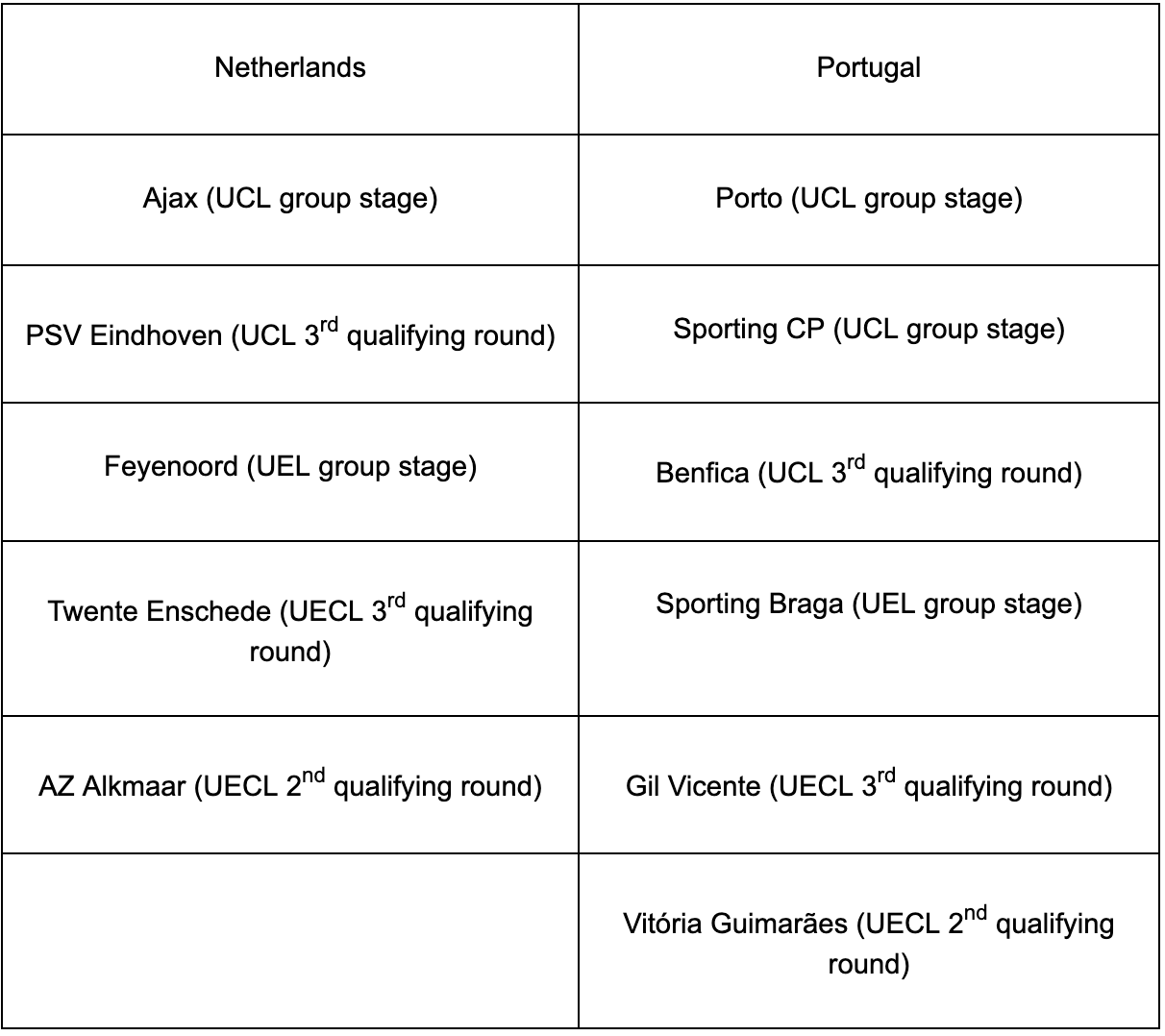 Before a ball is even kicked, the Netherlands has been guaranteed 0.800 points as a result of Ajax's place in the Champions League group stage. Portugal has 1.333 with Porto and Sporting CP already assured their places in the main stage of the tournament.
Taking that into consideration, the Dutch start with an advantage of two points over Portugal, largely thanks to an incredible campaign last time out. The first three teams listed for the Netherlands and first four for Portugal will partake in at least the Europa League group stage come September.  
From the look of things, the Dutch have a solid advantage here with a two-point buffer. Should they repeat last season and have all of their teams reach a group stage at a minimum, it will be quite difficult to see them being stopped.  
The only realistic way Portugal can overtake them at the season's end is by having Benfica join Porto and Sporting in the Champions League proper, while at least one of Gil Vicente and Vitória Guimarães successfully negotiate their Conference League qualifying rounds.  
As I see the former as the likelier outcome, I favour Netherlands to hold on to 6th and enjoy the perks of two automatic Champions League spots come 2024. 
Battle for Places 12
th
and 15
th
I decided to combine the battle for places 12th and 15th in the national association coefficient rankings as this race is so tight, any of the countries I bring up here have a shot at both. 
What is the importance of both positions? While I cannot go too much into 12th place, I will say that it will cause quite the potential ripple, ending up in the top 12, as the reforms roll in. I would argue that the changes to the access list surrounding a top 12 spot is the biggest adjustment that will be seen. 
Tension at the Tail-end – The Crazy Conclusion to the 2001/02 European Football Season
As for 15th, not too much will change from the status quo, with a second Champions League qualifying place and thus an extra European spot on offer. Finishing 15th will be slightly more rewarding than it is now, and will almost surely be identical to ending up 13th or 14th regarding the significance it will bring. 
So, who is involved in this fascinating race? Currently Russia is occupying 12th place, but since their clubs will not partake in Europe this season, they are as good as out of this race. Serbia in 11th has a comfortable enough distance to be as good as ensured a top 12 place. 
The group of countries that will compete for both 12th and 15th, in order of their starting positions, are Ukraine, Norway, Switzerland, Greece, Czech Republic, Croatia, and Denmark.
Turkey has an outside chance at 15th, but due to the sheer number of national associations involved in this battle, I fear that there are just too many variables for them to properly be of relevance. Here are the countries' clubs and starting places for the 2022-23 season: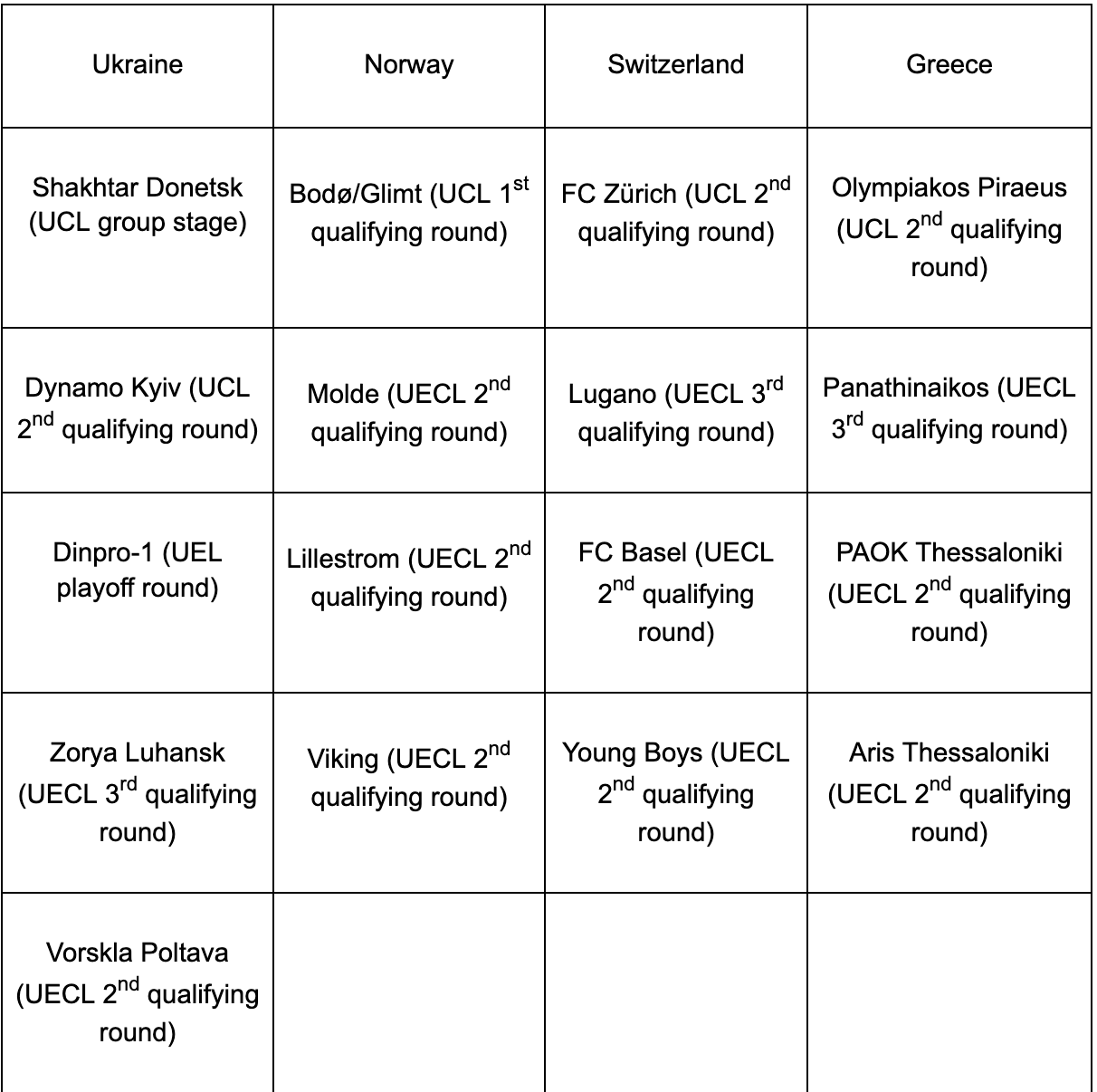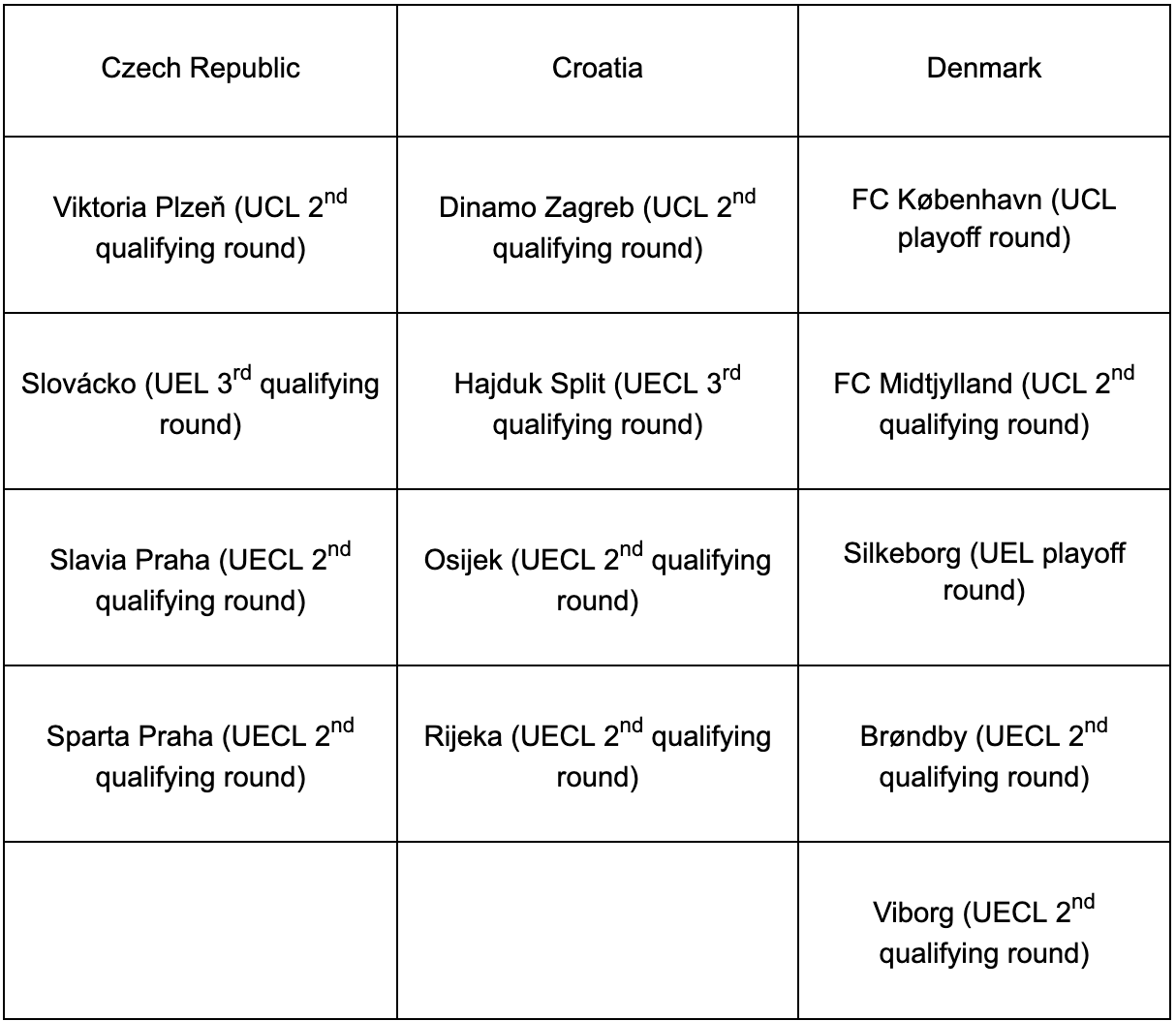 What a group we have here. Seven countries are separated by under three points, with the difference among them being extra Champions League/European places, and starting rounds, among other benefits. But, the question to pose is, who has the advantage in this enticing race? 
To start off, Ukraine and Denmark have the disadvantage of earning fewer coefficient points per point won by their clubs (0.250 for everyone else versus 0.200 for Ukraine and Denmark). The difference might not seem substantial, but at this point, every little thing matters.  
However, to offset this, both Ukraine and Denmark are the only ones of the seven to be guaranteed group stage places in a European club competition for next season, both holding two assured spots. With Shakhtar already in the Champions League group stage, Ukraine has that potentially crucial head start in this race.  
As for the rest of the countries, I would point to Switzerland and Czech Republic. Looking at the clubs they have representing them in Europe, they are in a more favourable position. Add to the fact that they both have multiple teams with high enough club coefficients, those clubs will have a better chance at making a group stage. This could be the difference-maker in this race. 
For 12th place, I think Switzerland has the best chance. Basel and Young Boys will both be projected to make the Conference League group stage and very likely make a deep run in the tournament.
Lugano joining the two in the tournament's group stage is also not a stretch, given that they only need to get through two rounds of qualifying. Add the fact that Zürich just needs to progress once across three qualifying ties to make a group stage, and things look very promising for the Swiss. 
For 13th, 14th, and 15th, I think Ukraine will do enough to finish in one of these places. Despite the ongoing situation there, they will surely have at least three clubs in a group stage, possibly four. For the remaining two places in the top 15, it is a slight toss-up from here. I have to tip Greece and Czech Republic, just looking at the teams they have in Europe.  
I expect Denmark to just miss out on 15th as they have some catchup to play in order to sneak in. Norway only has two sides that can pose any serious run in Europe to me, and I think that will be the resulting factor in them missing out.
As for Croatia, they have their four best clubs in Europe (by UEFA club coefficient), but I fear it will be a continuation of the norm; Dinamo Zagreb doing their part while everyone else falters in qualifying. 
In order of how they think they will finish at season's end, I will go with Switzerland, Ukraine, Czech Republic, Greece, Denmark, Croatia and Norway. 
Race For 22
nd
(and Possibly 24
th
) 
A 22nd place spot in the access list for 2024 will award a higher chance at a group stage spot than now. Although officially 22nd place is the aim, 23rd and 24th will very likely yield the same results as well, so it will be worth adding them into this. Overall, positions 16 down to 24 in the 2024-25 access list will be very similar in what is given to those countries.  
Turkey and Cyprus should still finish in the top 22, so I project that Israel, Sweden, Bulgaria, Hungary and Romania will be the primary perpetrators for the final 1-3 places. Here are each countries' clubs in Europe heading into the new campaign: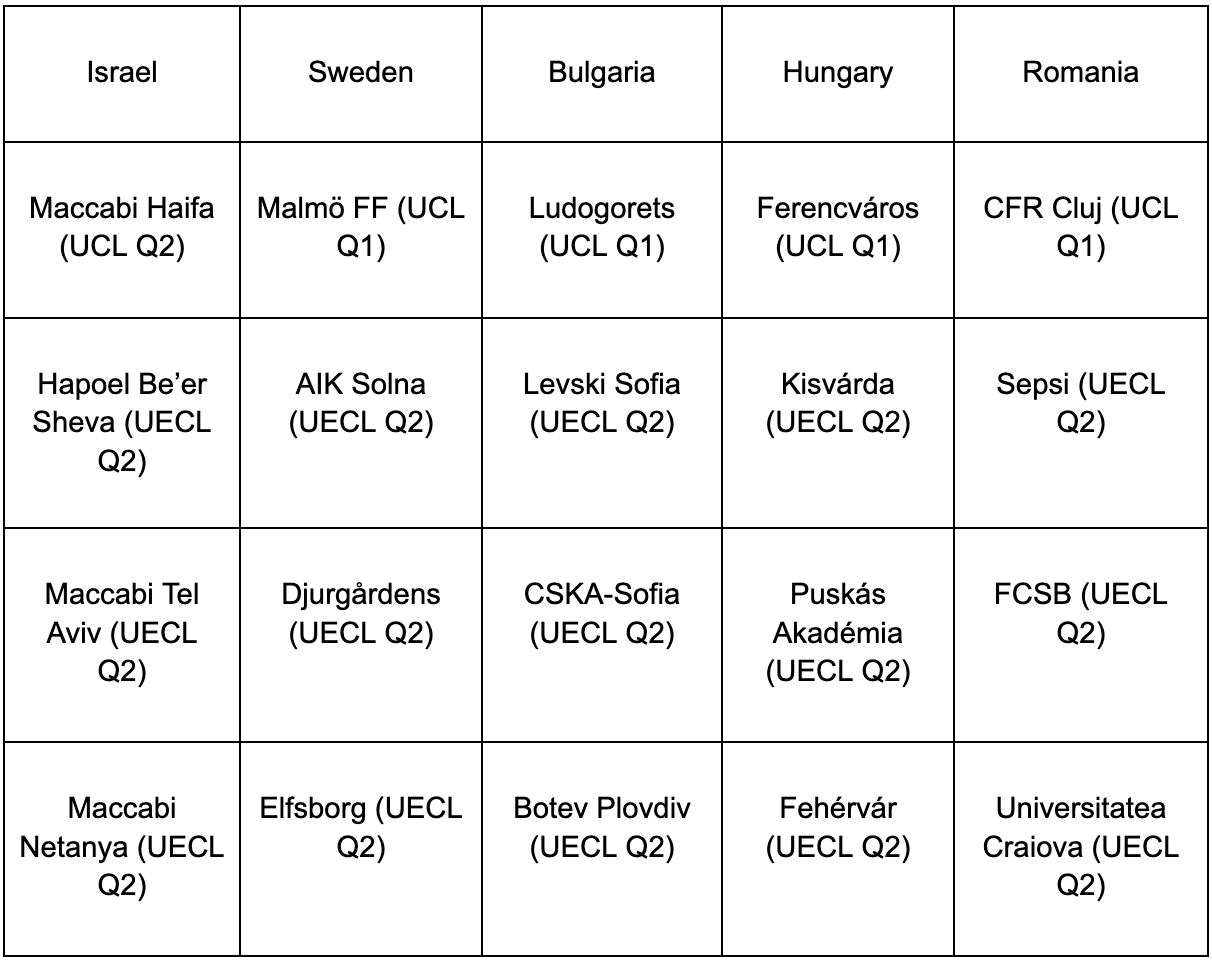 Several lesser lights will feature from these associations as we go further down the ranking. Israel has to be considered firm favourites, principally due to who they have in Europe. I fully expect Maccabi Haifa and Maccabi Tel Aviv to feature in a group stage, with Hapoel Be'er Sheva also a good possibility to join them. The only other countries on this list where I can forecast multiple teams in a group stage are Bulgaria and Romania.  
With that said, Israel will maintain 22nd for me. For the 23rd and 24th places, I will have to go with Bulgaria and Romania. If any of the domestic champions make the Champions League group stage, I tip them to finish in the top 24, but otherwise Sweden and Hungary, in that order, I expect to miss out. 
Faceoff for 33
rd S
pot 
The other major reform for 2024 being covered here is that at least 33 domestic cup winners will now have a shot of Europa League football. With that in mind, a top 33 place, the minimum cut-off for a place in Europa League qualifying, is a massive opportunity for the countries that end up there. 
Note here that I said minimum 33 cup winners. After doing some reasoning and research, I realized that we could see as many as 39 countries be represented in the Europa League (qualifying) via their cup winner. However, going by likelihood, I only expect at most 35 cup champions to have such a privilege in any one season as the prospect of more is just too unlikely. 
I totalled 11 countries in the running for at least a 35th place finish while that number dwindles to six for a top 33 finish. Starting from 32nd place, I categorize Belarus, Moldova, Kosovo, Latvia, Luxembourg, and Bosnia and Herzegovina as the ones in the race for top 33. I will focus on these six as they are the ones with the most realistic chances at 33rd. A look at their clubs in Europe for the upcoming season: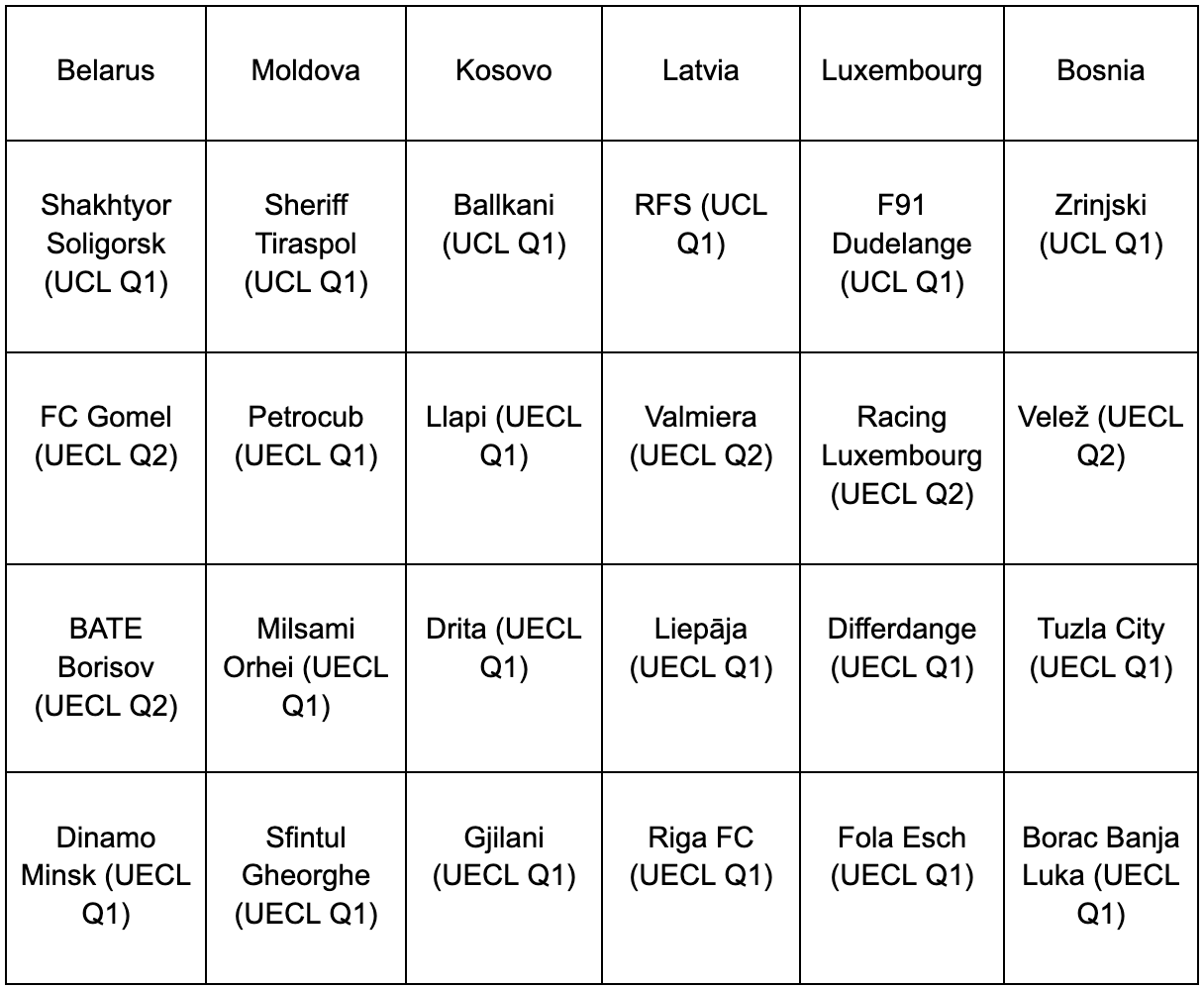 Very few if any names are known here, maybe outside of Sheriff and Dudelange. Regardless, we are looking at a very small number of clubs that have the potential to make a group stage here. So, the aim for these sides, particularly the ones that are not domestic champions, is to go as far as possible in qualifying. That will be the only feasible way to collect a sufficient amount of coefficient points to end up 33rd or even 35th. 
Keeping that in mind, I tip Belarus and Moldova to hold on to the final two places in the top 33. For the latter will largely depend on what Sheriff does this time. Another Champions League group stage appearance will certainly be enough. Looking at 34th and 35th, I think Latvia and Luxembourg will have the upper hand in their hopes of a potential Europa League place for their cup winners in 2024. 
Outside of the associations I mentioned, I only see Finland and Lithuania having a chance at finishing 35th. The likes of Armenia, Northern Ireland, and the Republic of Ireland have an outsider's shot, but I think too much would have to go their way in order to make such progress. 
Battle for 50
th
(or 49
th
) place 
Lastly, we go to the foot of the rankings, where as many as eight countries will be pushing to avoid the bottom five. What is so bad about the bottom five? Only three European spots are given to those countries, one less than the others above that line. 
A note here. Liechtenstein only has one European place available, regardless of their position. That is because they do not organize their own national league, but rather a cup (the clubs there compete in the Swiss football system, and cannot qualify for Europe via league performance).
Thus, should Liechtenstein finish 51st or lower, then the 50th place country will also have only three European places available for the 2024-25 season. Liechtenstein starts in 50th spot, just 0.001 ahead of Andorra. 
Roma and José Mourinho Were the Conference League's Perfect Winners: A Review of Its Inaugral Season
For the purpose of this analysis, I will cut down the number of countries in this battle from eight to six, as North Macedonia and Montenegro are virtually doomed to finish lower than 50th.
The six national associations who could end up on either side of 50th are Malta, Albania, Wales, Gibraltar, Andorra and Iceland. Here are clubs from those countries partaking in this summer's qualifying rounds: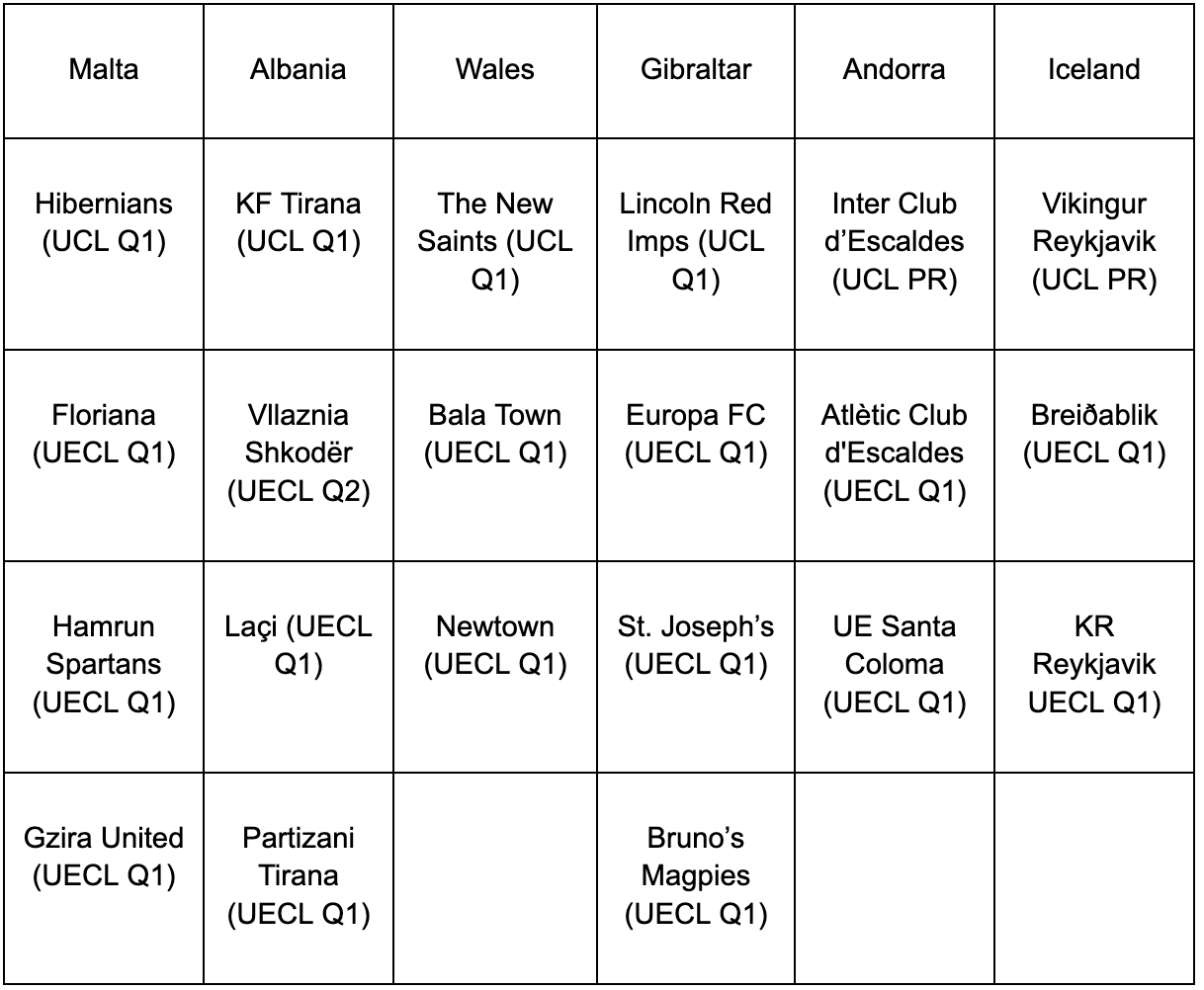 The difference between 46th place Malta and 52nd Iceland is a bit over a point, which highlights just how close the competition is here. Of course, Wales, Andorra and Iceland have the biggest advantages with one less team in Europe. Keeping in mind that the latter two countries will also see their champions start in the Champions League preliminary rounds, that is two chances to get even more points. 
Lincoln Red Imps made the Europa Conference League group stage a year ago, and a repeat outing should allow Gibraltar to keep their European spots heading into 2024. As for everyone else, it is simply earning as many points as possible. 
Which two associations will join North Macedonia, Montenegro and San Marino in having three European places for 2024? I still think Andorra will be one of them. There have been steps to improve football in the landlocked country, but I still think there is more needed to break the top 50.  
Joining them will either be Wales or Iceland. Between the two, I slightly tip Iceland here. I just am not convinced that The New Saints will get enough help from Bala Town and Newtown to bring up the Welsh coefficient. I have more confidence in the Icelandic clubs to make up the 0.750 points separating the two associations. 
So that is the preview of what to look out for as teams from all over Europe will have to do their part to give their national association the highest finish possible. With the 2024-25 UEFA club competition reforms on the horizon, this upcoming season promises to be one of the biggest in history when it comes to the UEFA national association coefficient rankings. Much will be on the line and worth keeping tabs on as over 200 clubs will embark on what they hope to be a long European campaign.
By: David Parkes / @dpnina10
Featured Image: @GabFoligno / Icon Sport