Finding a Paul Pogba Replacement
Assuming that Manchester United persist with the 4-2-3-1 formation that has become part and parcel of Ole Gunnar Solskjaer's time at the club, which is looking likely due to Bruno Fernandes's immense form in the #10 position, replacements for Paul Pogba, who has shown no signs of extending his contract past its current expiry of 2022, and Nemanja Matić, who will turn 33 next August, must be entertained. While these replacements by no means have to be like-for-like, personnel must be drafted in to prevent United from heading into the 2021/22 season with just two central midfielders.
Paul Pogba's Role
The analysis of Pogba's role and performance helps to narrow down the criteria for which we can compare potential replacements. Pogba is a vertical passer, an attacking catalyst from deep for Manchester United. In a double pivot, he is the player feeding into the likes of Anthony Martial or Juan Mata between the lines, or over the top for Marcus Rashford and Mason Greenwood.
In transition, Pogba often receives fairly quickly after the turnover, in order to spring counter-attacks for United. His relationship with Kylian Mbappé at the 2018 FIFA World Cup suggested that Pogba can be an elite distributor from deep, and United sought to replicate this with Rashford running in behind.
Although this dynamic never consistently came to fruition, Pogba did showcase his abilities to distribute from deep, amassing the most progressive passes per 90 out of United's midfielders last season. Progressive passing is an attribute that a Pogba replacement must show competency in.
Positionally, Pogba often played on the right of the double pivot in a 4-2-3-1 in 2019/20. This is mainly due to Matić being so left-side dominant, however, and it is common knowledge that Pogba has a tendency to drift across into the left-interior spaces anyway, so lateral positioning should be all-but disregarded in this search.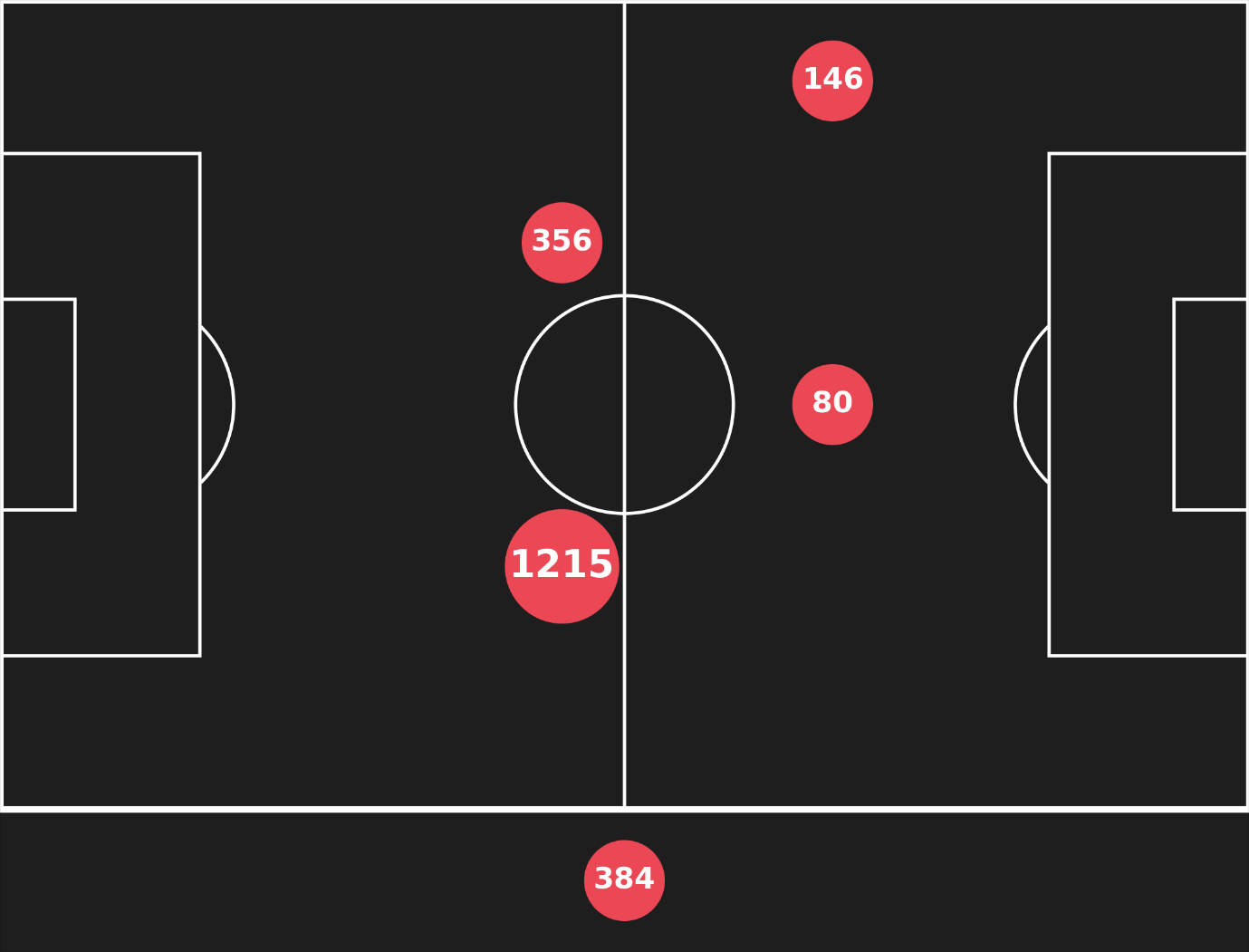 Photo: Twenty3 / Wyscout
In terms of possession, ground-based actions (simple passes, smart passes, crosses, and attacking duels), Pogba's 2020/21 volume and success by area are shown below. It is obvious he prefers the left side to roam to, where he averages 80.01% success in such actions.
On the right, he averages 77.5% success, an insignificant decrease, but his volume of attempted attacking actions is decreased by a significant 51. In other words, Pogba favours making space for himself (by feinting/dribbling) and cutting in.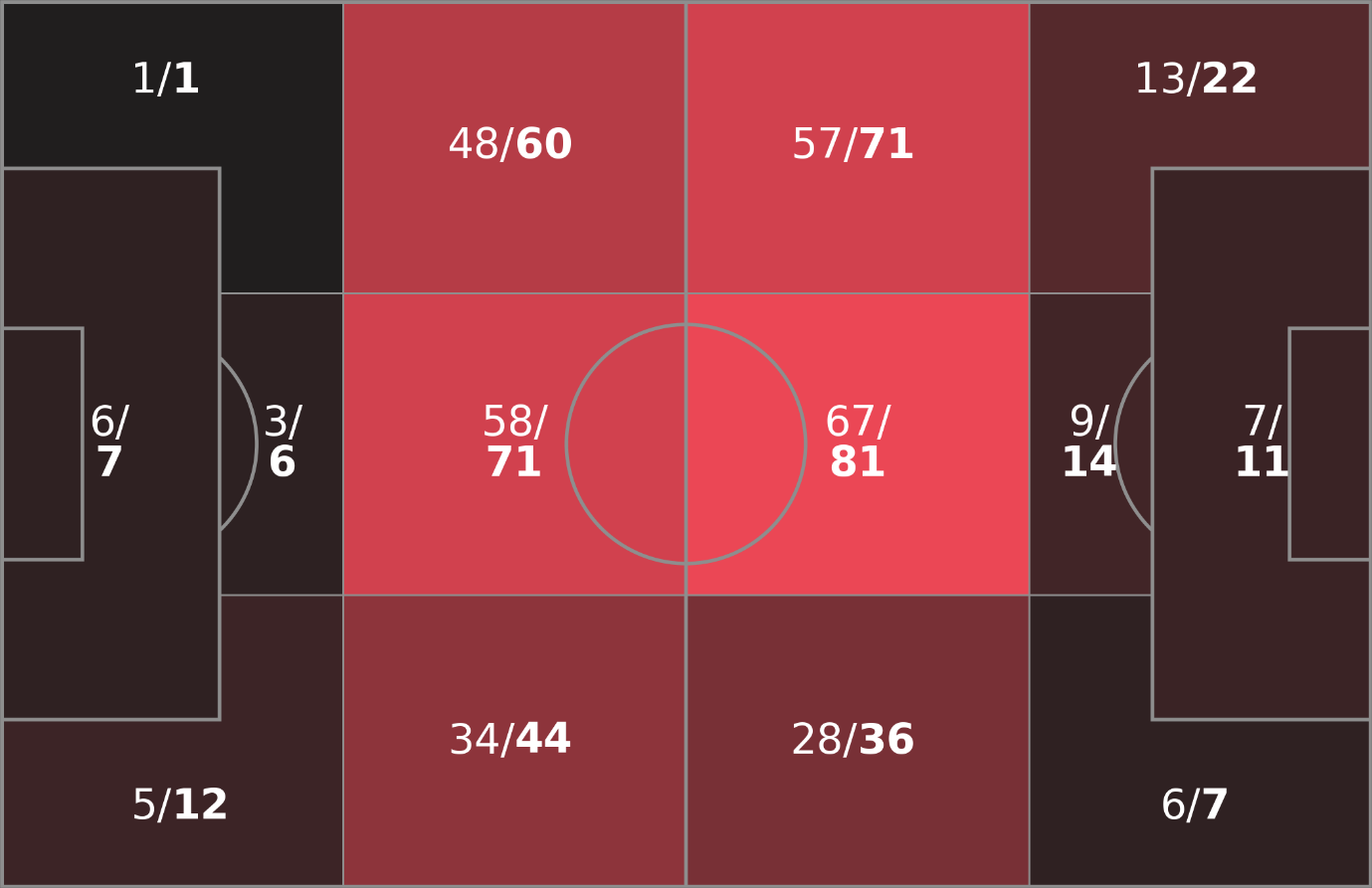 Photo: Twenty3 / Wyscout
A prime example of such actions is his assist for Greenwood in Matchday Two of the UEFA Champions League group stage, which saw United defeat RB Leipzig by a 5-0 scoreline at Old Trafford. Pogba received on the half-turn, carried the ball with strength and intent, before slotting Greenwood through, and the English forward opened the scoring for the hosts in the 21st minute.
Pogba was playing on the left side of a diamond in this match, but the skills he presented are transferrable: receiving in the second phase, carrying to reach the final third, and progressive/key passing to open the chance. Not every pass has to be a killer pass; merely progressing the ball into the final third is primarily sufficient for a player in this role.
Ultimately, when searching for a Pogba replacement, the writer suggests searching for a midfielder with the following traits:
High progressive passing distance numbers – progressive distance quantifies the accumulated distance progressive passes travel; a larger distance accumulated per 90 suggests the player is passing from deeper, which is where they will be playing for United assuming then 4-2-3-1 is the preferred formation.

A reasonable ratio of progressive passes to regular – again this can be done using ratios of relevant passing distances.

Impact on the team – a deep-lying catalyst for ball progression is optimal; positions receiving, distribution sonars and pass maps can be useful.
Preliminary Criteria and Reducing the Pool of Options
The visualisation below acts as a benchmark from which we can narrow the pool of Pogba replacement options. Aforementioned factors progressive passing distance, progressive passing ratio are included (on the X-axis and colour scheme respectively); passes into the final third and key passes are presented on the Y-axis. Expected assists help to present the expected output of a player, but this is less integral as Fernandes is United's primary creator.
Photo: @UTD_Visionary using data from @FBref
From this visualisation of the data, we can draw a shortlist of options:
Top tier: Ismaël Bennacer, Rodrigo Bentancur, Manuel Locatelli, Jude Bellingham.
Good tier: Youri Tielemans, Florian Neuhaus, Mattéo Guendouzi, Bruno Guimarães, Boubakary Soumaré.
Ismaël Bennacer
Age: 23
Team: AC Milan
Transfermarkt value: €33 million
Contract expiry: 2024
It is clear to see that Ismaël Bennacer is the progressive player alongside the more defence-minded Franck Kessié in Stefano Pioli's 4-2-3-1. The Algerian likes to make progressive passes centrally, which is integral for teams who play with a #10, such as United. Additionally, Bennacer distributing from the right side of a double pivot is similar to the role United deployed Pogba in post-lockdown in 2019/20.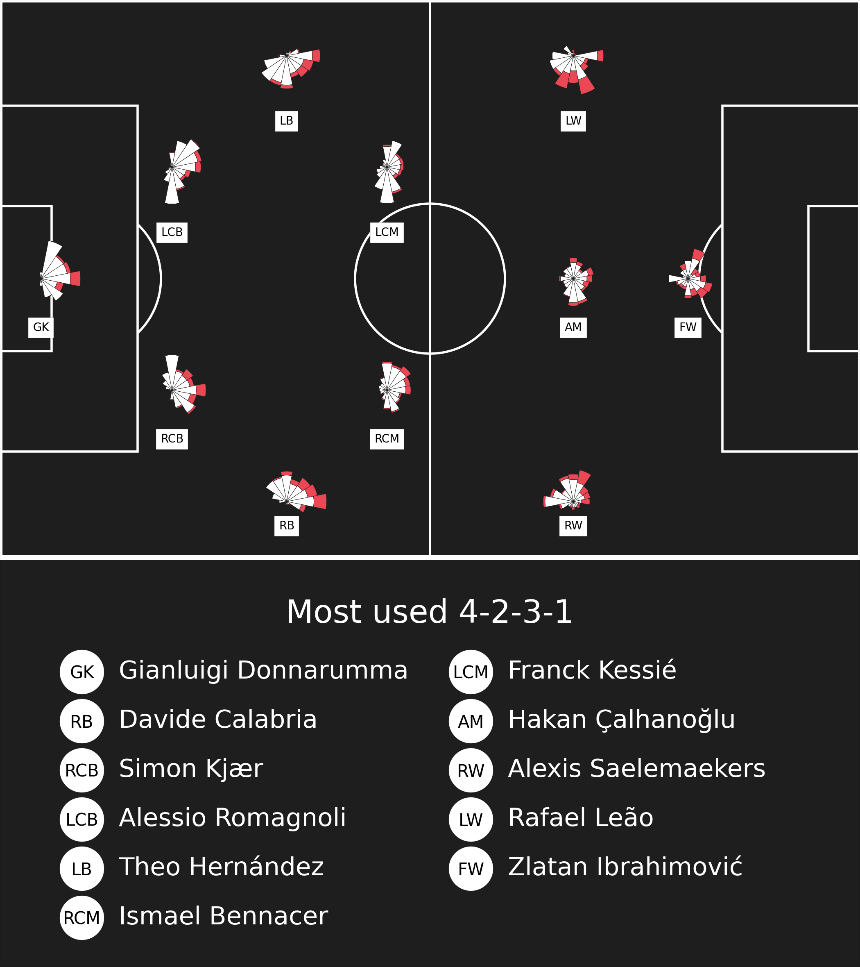 Photo: Twenty3 / Wyscout
Rationalising Bennacer's distribution with Milan's average positions helps to contextualise his role in the team's play. Milan push their fullbacks up and invert their wingers; their double pivot almost forms a back four in a box shape. Bennacer appears to be more of a functional cog than an individual in this team.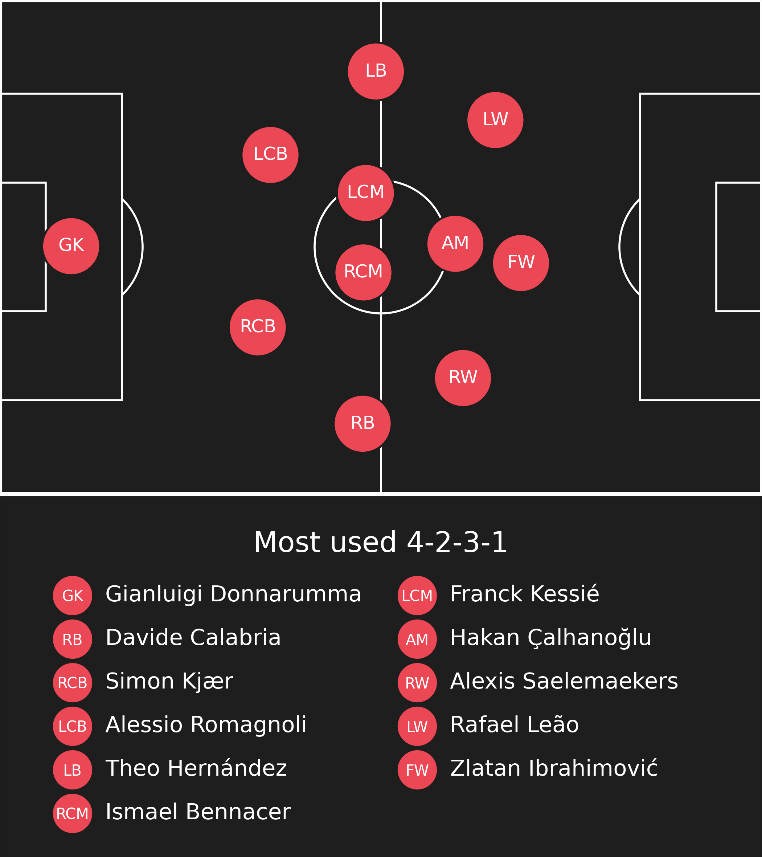 Photo: Twenty3 / Wyscout
Finally, Bennacer's pass network does suggest that he often finds the #10, which is important (as discussed prior) to United, if they are to remain in the 4-2-3-1.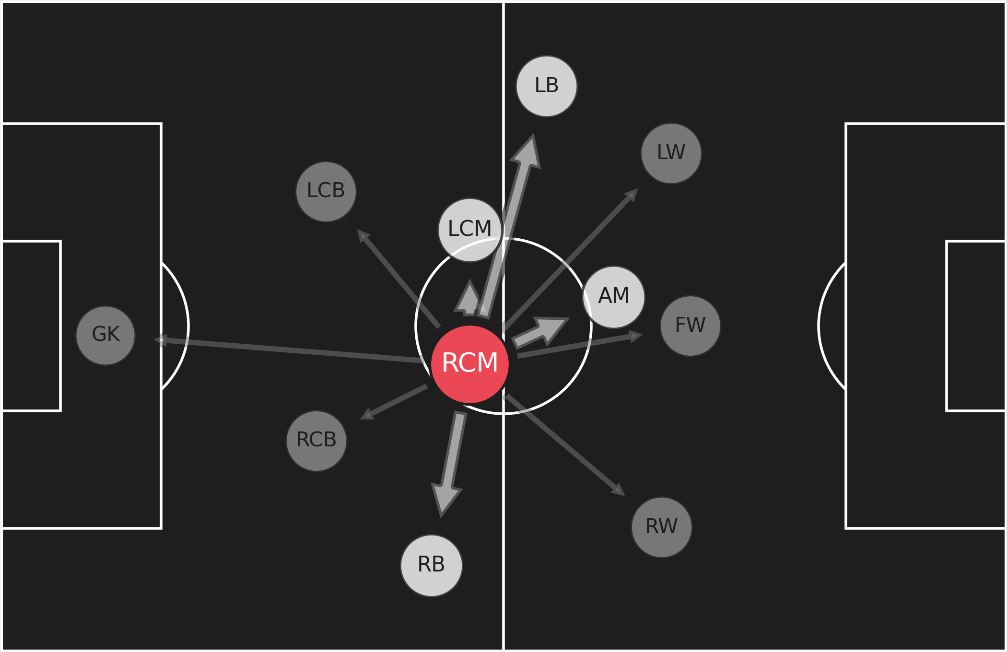 Photo: Twenty3 / Wyscout
Rodrigo Bentancur
Age: 23
Team: Juventus
Transfermarkt value: €50 million
Contract expiry: 2024
Like Bennacer, Rodrigo Bentancur appears to distribute a fair proportion of his progressive passes centrally, although as Juventus don't play a conventional #10, we won't see quite the central progression that Bennacer managed.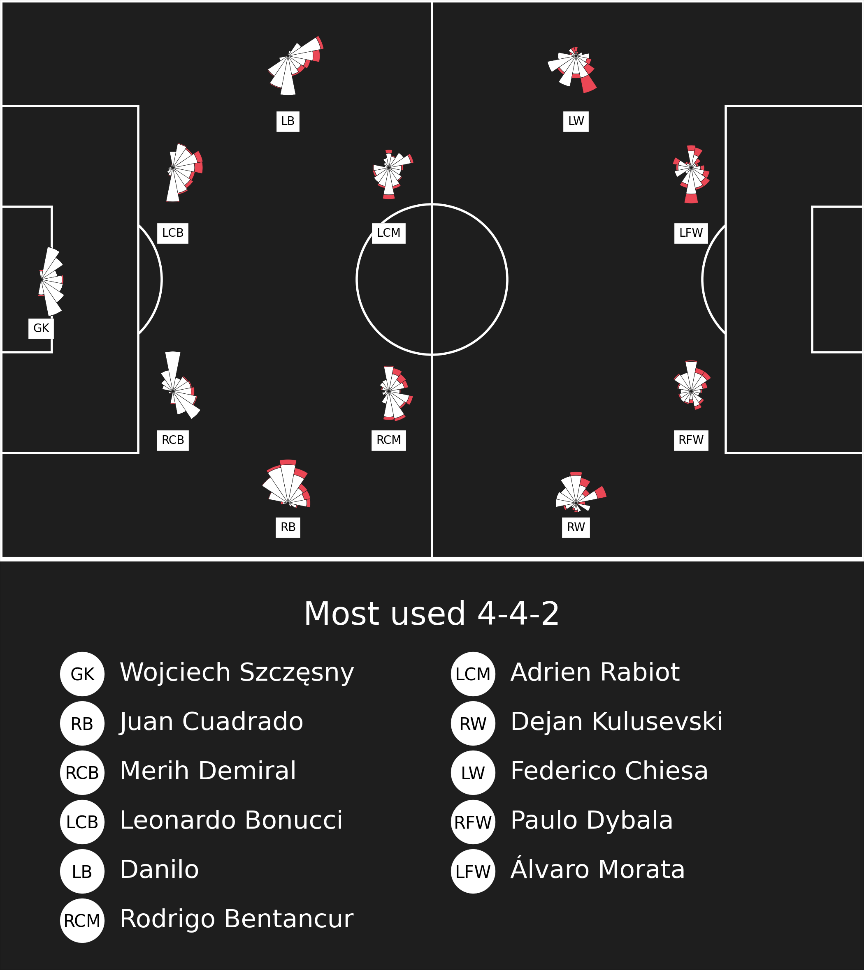 Photo: Twenty3 / Wyscout
Bentancur seems to operate as the deepest midfielder for Andrea Pirlo's side, which makes his progressive distance from the first visualisation all the more impressive. Perhaps he will offer more centrality in possession, receiving in the centre of the pitch rather than on either side of the central zone/in the right half-space.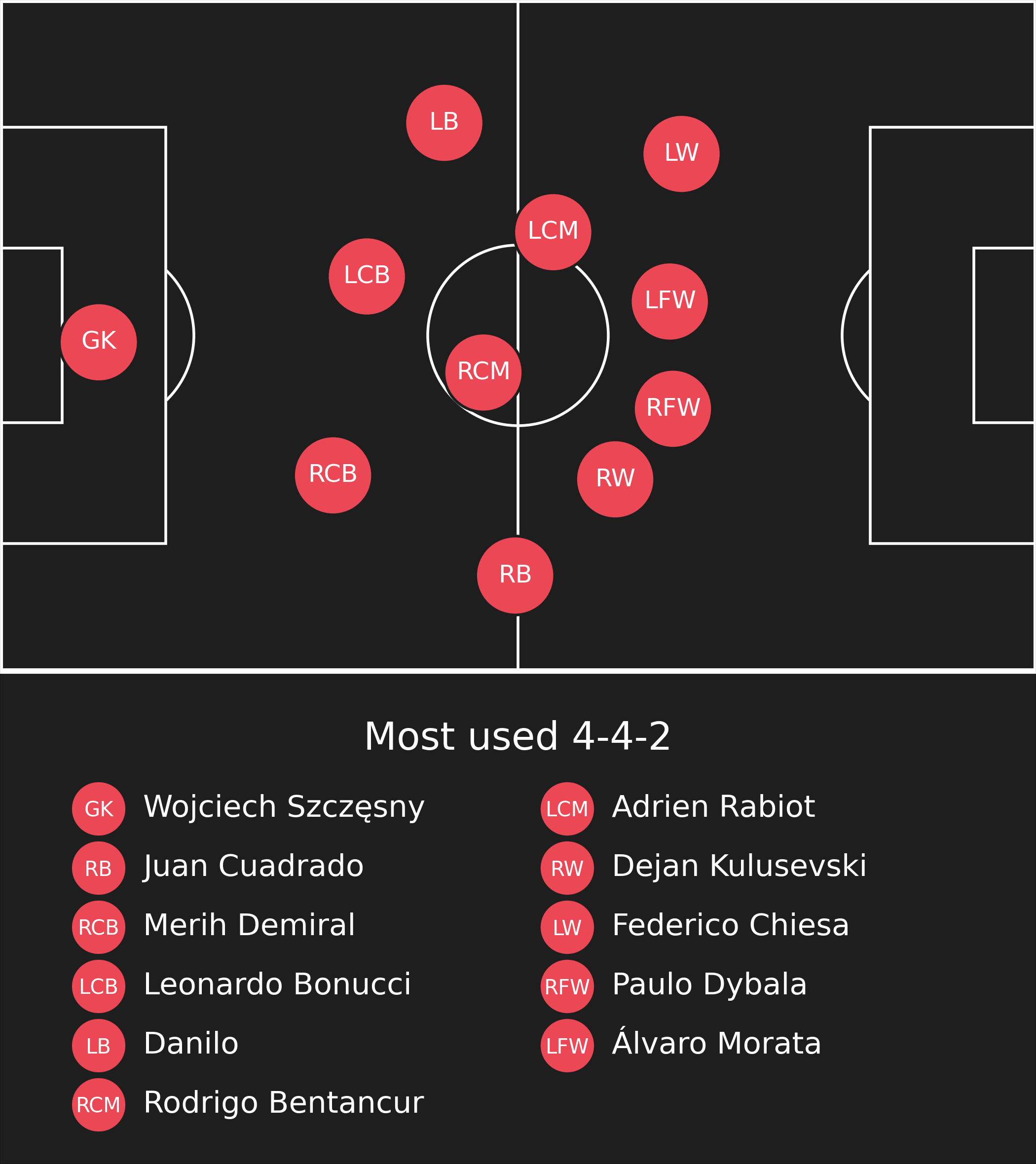 Photo: Twenty3 / Wyscout
This suggests he could anchor a midfield that contains somebody less positionally disciplined, such as Fred. The Uruguayan's central positioning is highlighted in his pass network below.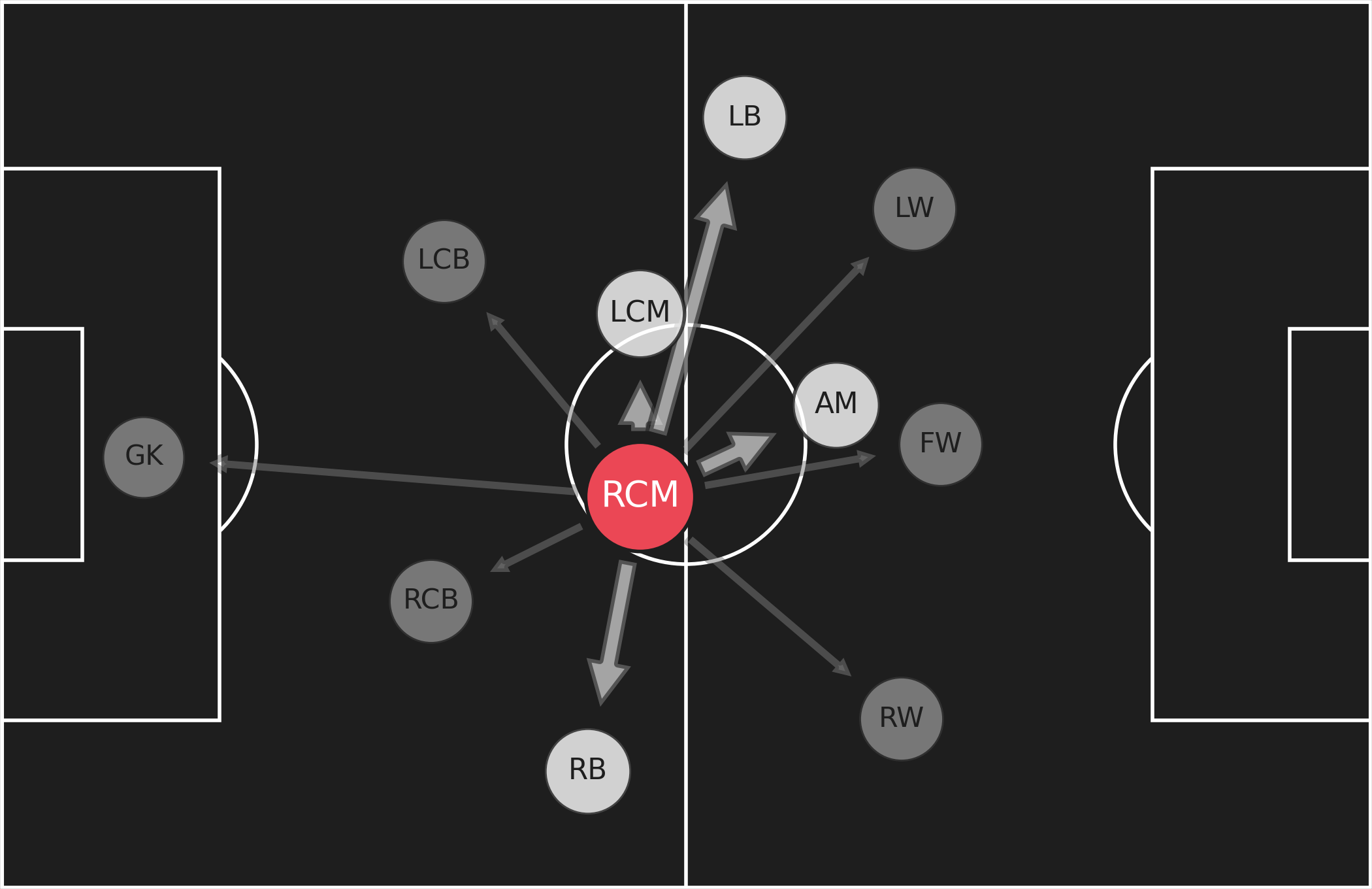 Photo: Twenty3 / Wyscout
Jude Bellingham
Age: 17
Team: Borussia Dortmund
Transfermarkt value: €27 million
Contract expiry: 2023
Jue Bellingham doesn't appear to progress the ball centrally; as much as Bennacer or Bentancur anyway. Under Lucien Favre, Dortmund's pivot has been encouraged to progress to the wide men as quickly as possible, so his role may be a bigger determinant than his progression abilities in this scenario, although his role in possession may change under new manager Edin Terzić.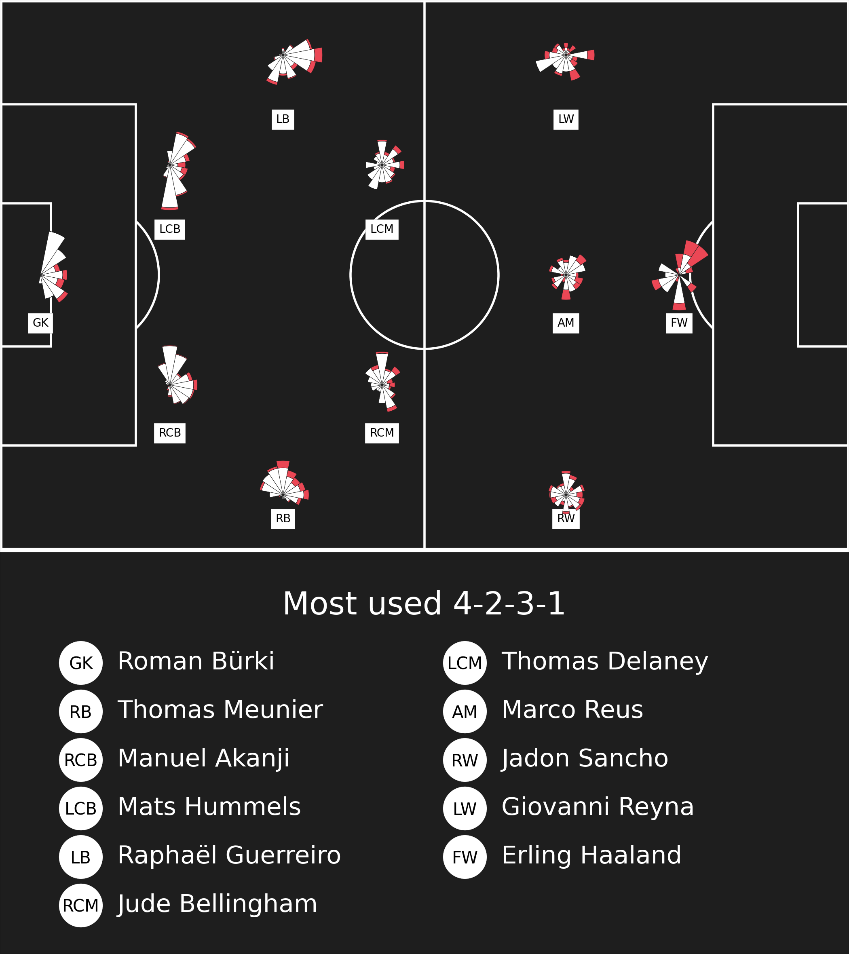 Photo: Twenty3 / Wyscout
It is clear to see that Bellingham has more license to roam than his pivot partner, Thomas Delaney. This could help suggest why he accumulates over 0.3xA per 90, the most in Europe for under 23-year old midfielders with over 3.9 90s. He not only progresses the ball but makes incisive high-value passes. At 17 years old, he looks like an immense talent, although his role may need altering should he join United.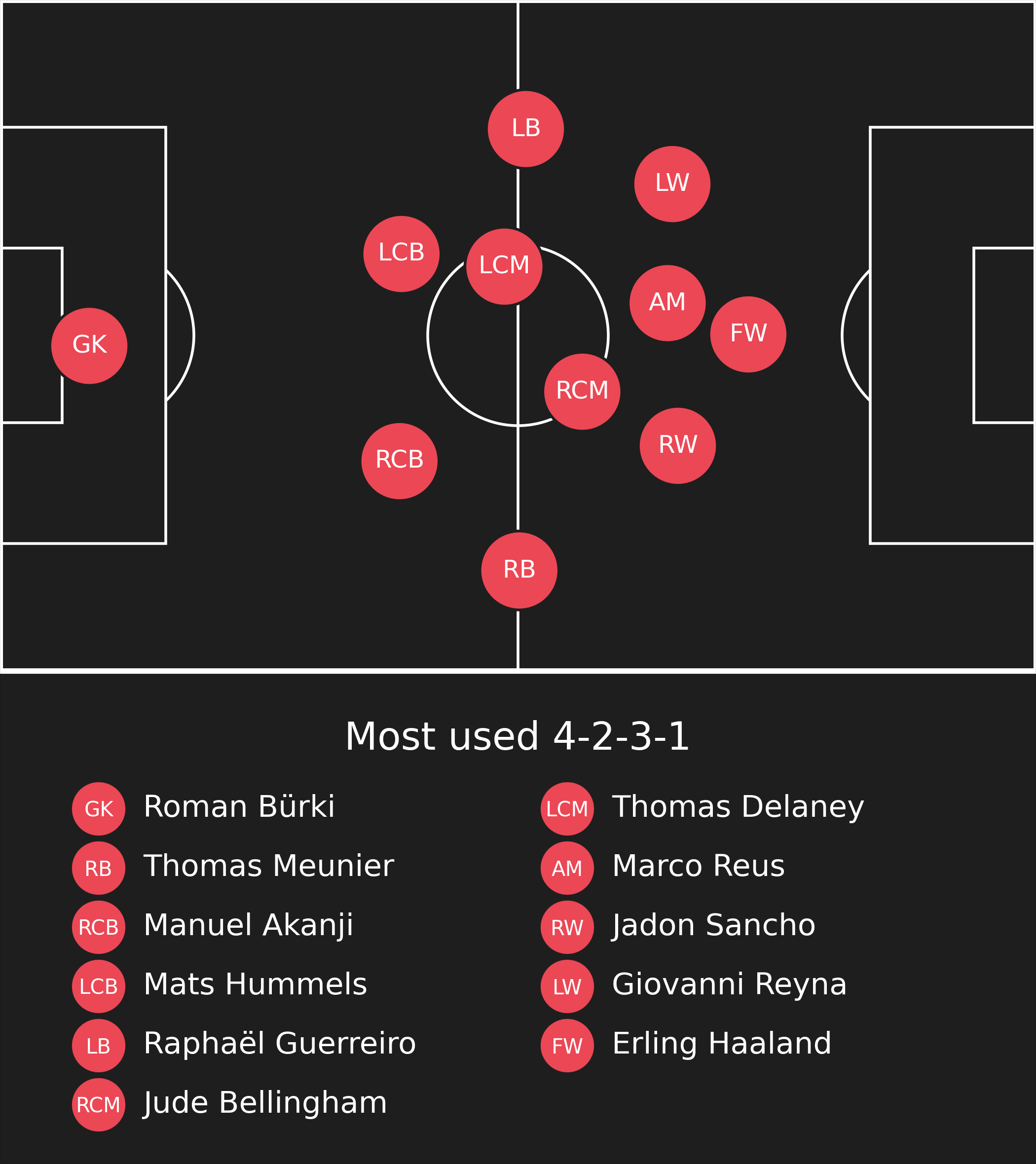 Photo: Twenty3 / Wyscout
The pass network suggests Bellingham appears to approach the forward line frequently, again suggesting his current role isn't that of a conventional deep-lying playmaker/double pivot member.
Photo: Twenty3 / Wyscout
Manuel Locatelli
Age: 22
Team: Sassuolo
Transfermarkt value: €30 million
Contract expiry: 2023
Manuel Locatelli appears to be the progressive passer alongside a defensive-minded partner, Pedro Obiang. This is similar to Bennacer and Pogba in the role. The Italian utilises his passing abilities more than both Pogba and Bennacer, who have better ball-carrying abilities.
Alongside a player such as Fred, who offers intensity off the ball, and good locomotion (particularly in transition), Locatelli could be more of a belated Michael Carrick replacement rather than a Pogba successor. This should not be looked upon to his detriment, however; his distribution and progressive passing are both incredibly impressive.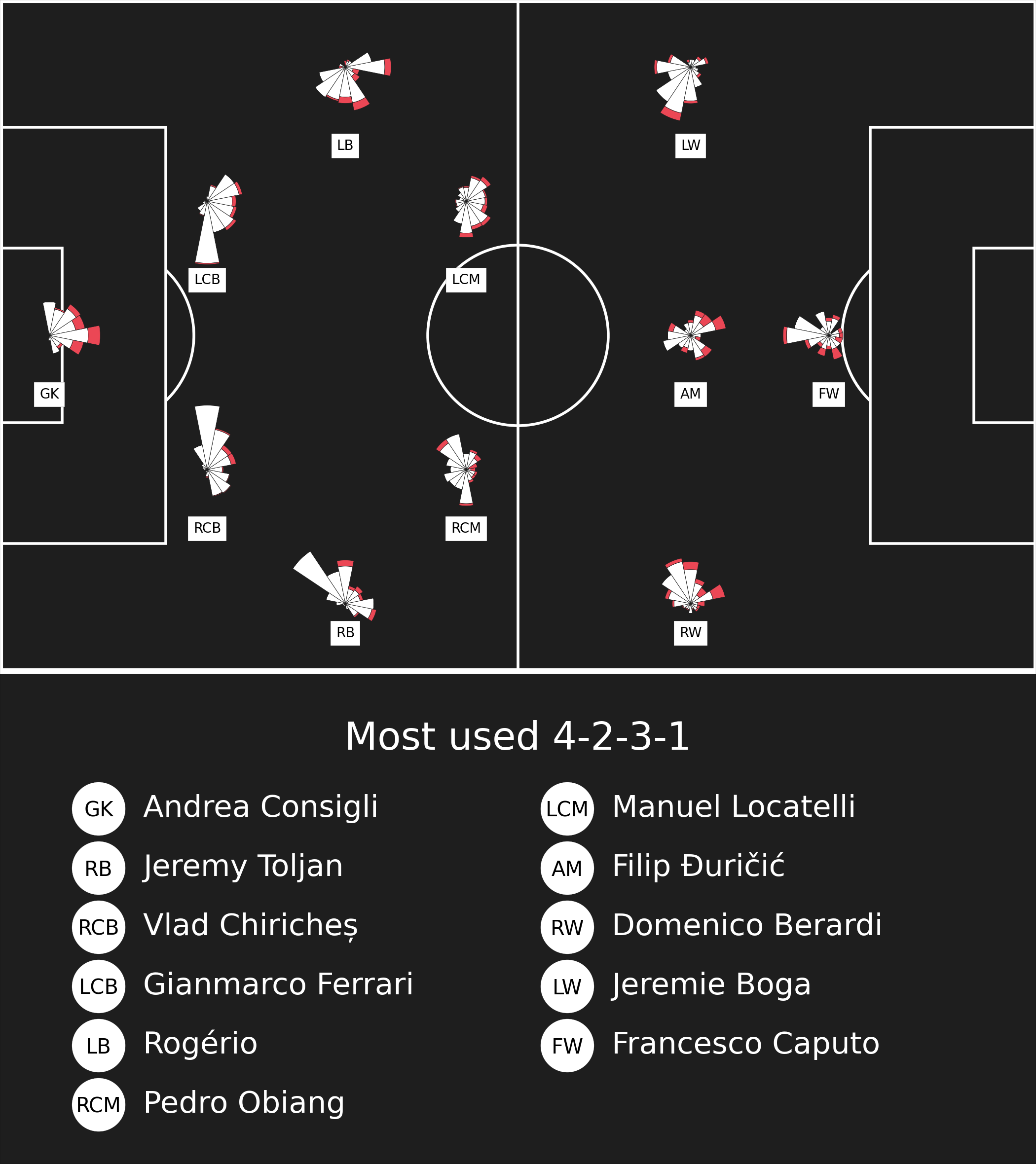 Photo: Twenty3 / Wyscout
Locatelli offers centrality in a disciplined pivot; he will fit in very well in a 4-2-3-1 alongside Fred, Scott McTominay, or even Donny van de Beek, who played in a deeper role under Ajax manager Erik Ten Hag during the 2019/20 season despite being a natural attacking midfielder.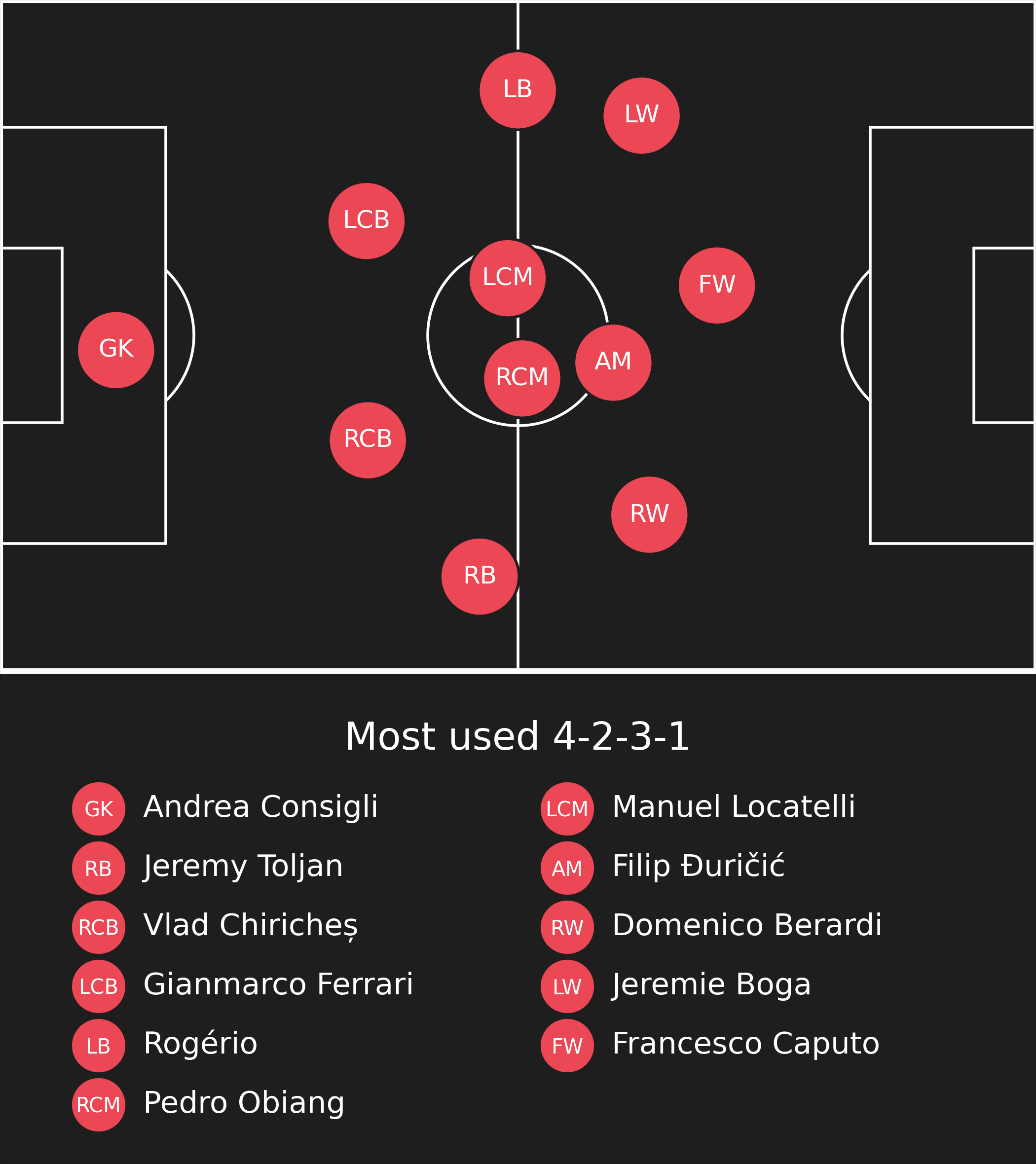 Photo: Twenty3 / Wyscout
The Milan primavera product does distribute centrally, but primarily he likes to find his fullback and offer progressive options for his centre-backs in the first phase. Locatelli would be perfect alongside a second phase player such as Fred, but doesn't appear a like-for-like Pogba replacement.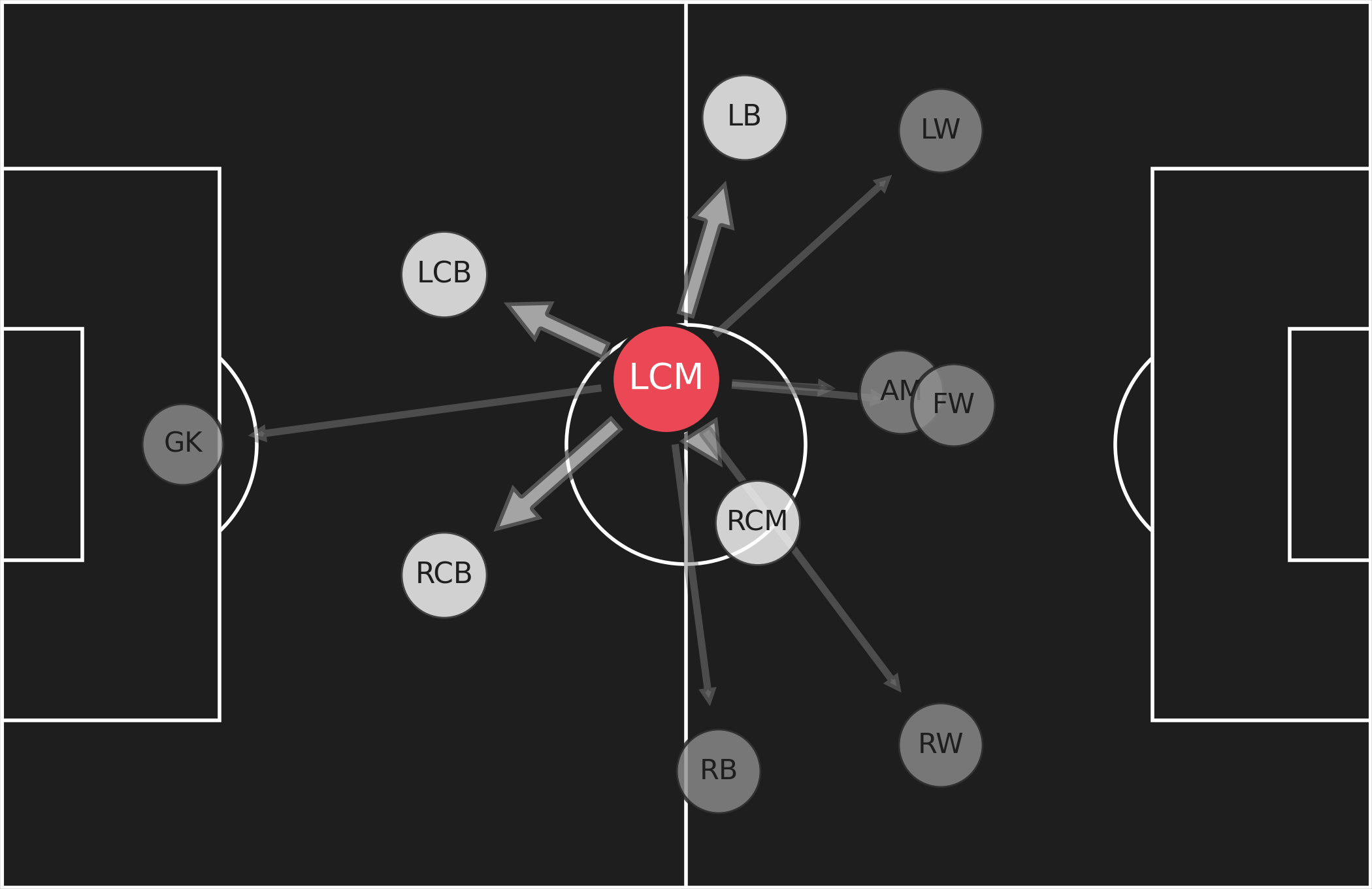 Photo: Twenty3 / Wyscout
Conclusion
Out of all the potential signings, Ismaël Bennacer appears to be a readymade replacement for Paul Pogba in terms of positioning and the context of his ball progression, which is often in central areas as opposed to that of a #10. However, Milan will be loath to lose the reigning AFCON winner, and with the Rossoneri on pace for their first Champions League qualification since 2012, they'll charge a pretty penny on the €16 million that they paid Empoli in 2019.
Rodrigo Bentancur is capable of excelling in multiple midfield roles and offers more than enough ball progression, physical power, and positional awareness to be a functional member of a double pivot. Moreover, with Juventus reportedly eyeing a summer move for Pogba, United could cash in on the French midfielder and replace him with a player four years his junior for a marginal profit.
Jude Bellingham has taken Europe by storm since breaking through the Birmingham City first team last season, but his profile would be better suited as an advanced interior midfielder in a 4-3-3 as opposed to a box-to-box midfielder in a 4-2-3-1. Furthermore, Borussia Dortmund are known to demand top dollar for their prized possessions, as United know all too well from their failed pursuit of Jadon Sancho, and they'll be looking to land a mouth-watering fee after splurging an initial fee of £25 million in June.
Manuel Locatelli offers the strongest passing progression in the pool of options, although he appears to be more of a metronome than a catalyst. Whilst he would certainly be the most affordable of the aforementioned options (Sassuolo's record sale is €20 million for Matteo Politano), Locatelli's profile is perhaps best suited towards replacing Nemanja Matić rather than Pogba.
By: Jamie Scott
Featured Image: @GabFoligno / Phil Noble – PA Images