The search to find the next Nemanja Matić
When Manchester United announced the contract extension of Nemanja Matić on July 6, many eyebrows were raised within the fanbase. Matić was set to turn 32 within a month; this new contract would extend his stay at the club until 2023, when he would be 34. However, those concerns about his age should not obfuscate the fact that United do not have a single player capable of replacing Matić's profile in their squad, and it's no coincidence that the Serbian was one of the first names on the team sheet during United's red-hot form in Project Restart.
Matić is part of a dying breed of midfield destroyers, a player who can provide defensive cover to the back four, who can evade the opposing press with his dribbles, who can keep the ball ticking with a simple pass, who can break up attacks with his combination of positional awareness and physicality, and who naturally gives the team balance.
He has been a force of nature in the Premier League since joining Chelsea in 2014, but at 32 years of age, it's clear that his prime is now in the rearview mirror. By using data from @GoalAnalysis and @MarkCarey93, we can find which young midfielders are best suited to replacing Matić's profile for Manchester United.
Starting off by using Mark Carey's data, we can find which players in Europe's top five leagues are most similar to Matić by analyzing 25 different metrics.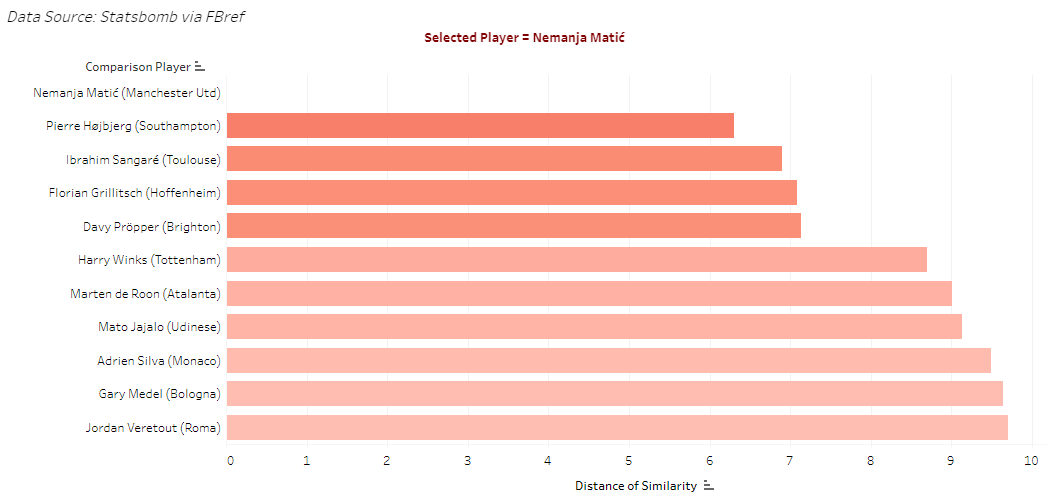 Such is Matić's unique playing style and skill set that no player comes close to him in the Player Comparison search. The most similar profile is Pierre-Emile Højbjerg, who only has a Distance of Similarity of 6. However, Højbjerg only joined Tottenham Hotspur two months prior for £15 million plus add-ons, and it's clear that chairman Daniel Levy would demand an arm and a leg to sell him, with the Dane's contract running until 2025. As such, he will be eliminated from the initial shortlist despite his similar profile.
Davy Pröpper, Florian Grillitsch, Mato Jajalo and Marten de Roon all show up relatively well in terms of Distance of Similarity, but like Højbjerg, they are all 25 or older, and as such, they will be eliminated from the player search. Two players who meet the age requirement and who show up amongst the 10 most similar midfielders are Harry Winks, who is second-choice to Højbjerg at Tottenham, and Ibrahim Sangaré, who joined PSV Eindhoven in September.
By using Sam's data (@GoalAnalysis), we can find players who, whilst perhaps not having a similar statistical output to Matić, have akin playing styles. Matić excels in a Metronome role and ranks fairly well in the Direct Progressor role as well, and by analyzing hundreds of u-23 midfielders from 32 different leagues, we can get a glimpse of which players come close in terms of mirroring Matić's role for United.


The two players who come closest to mirroring Matić's playing style are Winks and Njegoš Petrović. Whilst both players are far from being guaranteed starters at their respective clubs, with Red Star Belgrade manager Dejan Stanković often preferring veteran Sékou Sanogo at the holding midfield role, both players rank strongly in the Metronome and Direct Progressor departments.
After grinding the numbers for both statistical and stylistic profiles that rank similarly to Matić, we can narrow our search down to three u-23 midfielders: Ibrahim Sangaré, Harry Winks, and Njegoš Petrović.
Out of the three players on the short list, Sangaré is the best prepared to assume the challenge of being Matić's long-term successor. The Ivorian tends to dribble out of deeper positions with a greater frequency, which can lead to him being dispossessed in dangerous areas, but his technical prowess makes it well worth the risk. Moreover, he has a similar range of passing and also excels at timing his challenges, although his passing accuracy isn't quite at the same level of the Serb.
Sangaré joined PSV on a five-year deal on September 28 following Toulouse's relegation, and he has since become one of the first names on the team sheet for Roger Schmidt's side. The 22-year-old midfielder blends raw physicality with impressive vision, and he also boasts an impressive facility to break the lines with his dribbles; between 2017/18 to 2018/19, only Tanguy Ndombele registered a better dribble success rate in Ligue 1 than Sangaré.
At 24 years of age, Winks has impressed in a holding midfield position for both José Mourinho and Mauricio Pochettino, gaining a reputation for his composure on the ball, vision and in-game awareness. He always looks to make the right pass, even if it isn't the Hollywood pass, is always in the right position to keep the flow of possession ticking, he is the textbook definition of a 'midfield metronome.'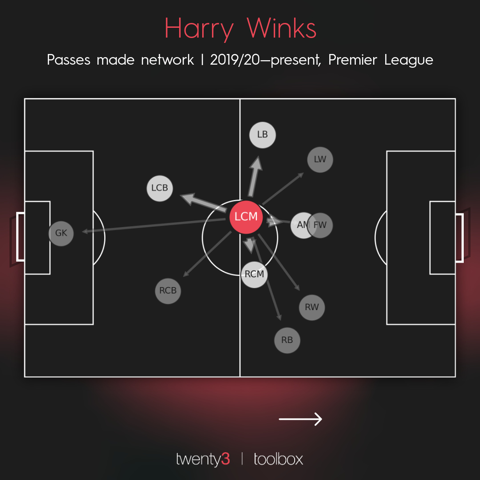 Photo: twenty3sport / Wyscout
The Englishman has the anticipation and positional intelligence to snuff out opposition attacks, but his biggest flaw is his lack of physicality. Winks stands at 1.76 m, a whopping 18 cm shorter than Matić, whilst he weighs 65 kg; Matić weighs 83 kg. Matić's physical prowess allows him to win both ground duels and aerial duels with ease whilst also providing cover against long balls from the opponent; Winks simply doesn't have this in his locker and likely never will.
If United were to sign Winks to be Matić's long-term replacement, it would behoove them to play Winks in a two-man midfield alongside a taller, more physical midfielder. Nevertheless, despite his significant physical shortcomings, Winks has a similar profile to Matić, especially on the ball. If United do sign Winks on a permanent transfer next summer, he would be the same age that Michael Carrick was when he left Tottenham for United.
Having excelled against the likes of Real Madrid and Manchester City, Winks is certainly the most ubiquitous option out of the bunch, and with a contract that ties him to Tottenham through 2024, it's unlikely that he will be leaving anytime soon. However, if he fails to make his way back up Mourinho's pecking order, he may be inclined to seek greener pastures at Old Trafford.
Before he became one of the most dominant midfield destroyers in Europe, Matić developed in Red Star Belgrade's academy from 2000 to 2004. Two decades later, Petrović finds himself at the same exact club after joining from FK Rad for €400,000 in August 2019. Upon the player's unveiling, Red Star Belgrade sports director Mitar Mrkela commented, "Petrović is the best player in [his] position in Serbia."
Petrović hasn't quite set the world alight at the Serbian capital yet, with just 8 of his 17 appearances this season coming as a starter. Nevertheless, he has the physical prowess, the ability to play medium distance line-breaking passes, and the quick decision-making to make the right move under pressure. Such is Petrović's potential that Sporting were reportedly willing to make an offer of €4 million for the player in June, well below Red Star Belgrade's asking price of €5 million and a 15% resale clause.
By: @DBAFootball
Featured Image: @GabFoligno / David Horton / CameraSport